Tag: alex bourque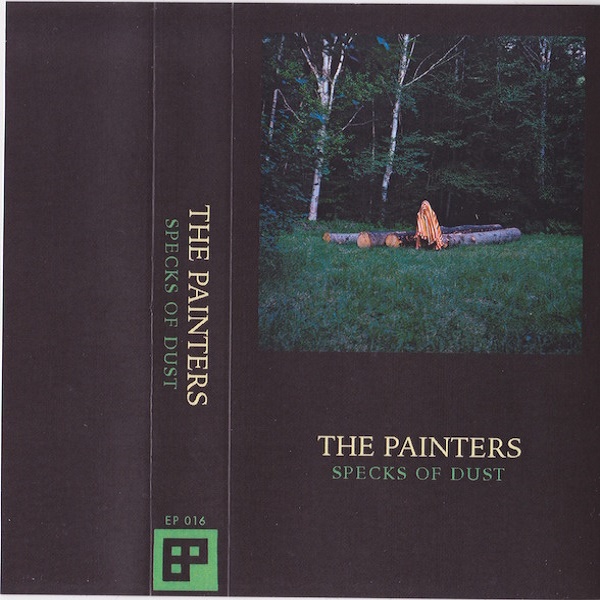 The Painters
Specks of Dust
Montreal, QC
From the mass spillage of Claire Marie Guimond:
Less than dust on the cosmic scale and we still all got sucked into the same nanohole. Some people never find their people, you hardly had to try. Screw your accidents. Have you ever heard your sister say she's lonely? It's because she needs people; her heart is filled to the valves with love and nowhere to let it spill. Truth is, I just had more chances than her, if only for you bloodletters. And I have lots of blood to give… but when the moment comes I can't believe you're really there to drink up.
Des débordements massifs de Claire Marie Guimond:
(Traduit par les désirs à rebours de Marie-Pier Chevrier)
Plus petits que poussière sur l'échelle cosmique et nous sommes tout de même coincés dans le le même trou microscopique. Il y a de ceux qui ne trouvent jamais, et toi qui auras à peine eu à essayer. Au diable tes accidents. As-tu déjà entendu ta sœur dire qu'elle se sentait seule? C'est parce qu'elle a besoin de gens; son cœur est rempli jusqu'aux valves d'amour qui n'a nulle part où aller. En vérité, j'ai eu plus de chance qu'elle, si ce n'est que de tes lettres ensanglantées. Et j'ai tant de sang à donner… mais quand le temps viendra, je n'arrive pas à croire que tu y seras pour le boire.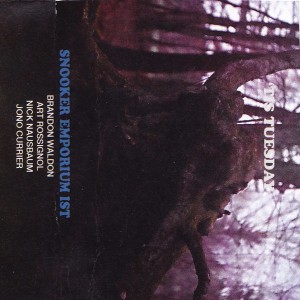 Snooker Emporium
'Tis Tuesday
(Self Released)
Montreal, QC
From the Etch-a-Sketch of Alex Bourque:
Montreal crazies Snooker Emporium make their cassette debut with 'Tis Tuesday. Join them in their acid-circus with ringleader Arthur Rossignol's spookily soulful vocals, Jono Curry's unpredictably poppy guitar leads and Nick Nausbaum's creepily catchy keyboard lines, all held together by Brandon Waldon's untameable drums. Do your best to sing along as they take you on a psych-pop jaunt, filled with unexpectedly eerie twists and turns. It's Tuesday; sing, dance, be afraid.
De l'Écran magique d'Alex Bourque:
(Traduit par JanKarza)
Snooker Emporium, les fous de Montréal, font leurs débuts sur cassette avec 'Tis Tuesday. Joignez-les dans leur cirque acid , avec les chants terrifiants et émouvants du meneur Arthur Rossignol, les solos de guitare pop imprévisibles de Jono Curry, et les lignes de clavier effrayants et accrocheurs de Nick Nausbaum, qui sont tenus ensemble par la batterie indomptable de Brandon Waldon. Faites de votre mieux pour chanter au son de la musique, alors qu'ils vous amènent faire une balade psych-pop remplie de rebondissements inattendus et inquiétants. C'est mardi…chantez, dansez, ayez peur.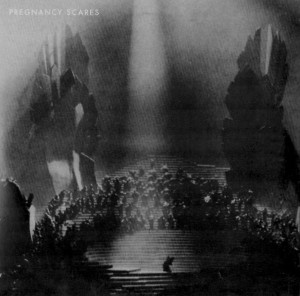 Pregnancy Scares
7"
(Deranged)
Ottawa, ON
From the gut wrench of Alex Bourque:
If you ever find yourself at one of Pregnancy Scares' shows, you'll probably be in and out in 10 minutes, covered in someone else's spit, with your heart trying to beat its way out of your chest. The Ottawa hardcore warriors' Deranged debut is no departure from their live set: relentlessly quick rhythms and dirty guitar leads, topped off with gut-wrenching vocals. Fasten your seatbelts, kids.
Des entrailles déchirées d'Alex Bourque:
(Traduit par le cœur battant d'Andréanne Dion)
Si jamais vous vous retrouvez à un show de Pregnancy Scares, vous serez probablement sortis en 10 minutes, couvert des crachats de quelqu'un d'autre, alors que votre cœur bat à vous en sortir de la poitrine. Le premier album de ces guerriershardcore d'Ottawa, paru sur Deranged, n'est pas différent de leur performances live : des rythmes rapides sans relâche et des guitares sales, couronnés de voix qui vous déchirent les entrailles. Attachez vos ceintures, les enfants.
Pregnancy Scares – Cross-Eyed Man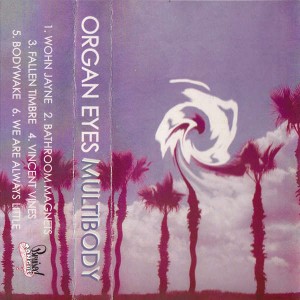 Organ Eyes
Multibody
Ottawa, ON
From the marmalade mind of Alex Bourque:
Ottawa space-case trio Organ Eyes' Bruised Tongue debut is a stack of fuzzancholic ethereal pop jams. Sam Secord's hauntingly shimmery vocals float over thick chunks of bass-fuzz and electronic drum patterns to create an expanse of echo-y avant-grunge ambience. Something's cooking in the nation's capital, and we're hungry.
De l'esprit mêlé d'Alex Bourque Alex Bourque:
(Traduit par le cerveau troublé de Dominic Mpilé)
Les débuts du trio ottavien aux frontières du réel Organ Eyes, sur l'étiquette Bruised Tongue, se manifestent par une abondance de tubes pop excessivement flous et éthérés. La voix envoûtante et chatoyante de Sam Secord domine la basse distortionnée et la batterie électronique pour créer un écho qui se répand dans une ambiance grunge avant-gardiste. Quelque chose se prépare dans la capitale, et nous avons hâte.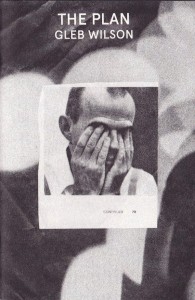 The Plan
Written by: Gleb Wilson
Montreal, QC
From the internal struggle of Alex Bourque:
Despondent Soviet soldiers. Directionless Hollywood hacks. Status-seeking high school burnouts. In The Plan, Gleb Wilson collects heart-wrenching stories of boys and men alike, trying and failing to fulfill goals shaped by their own skewed sense of self. Hopelessness. Decay. Dissatisfaction. The subtly humorous and melancholic dialogue between characters exposes their lack of empathy as they attempt to play their part. The inability to communicate and relate reveals a facade embedded in our understanding of happiness, success, and masculinity. Facades of life, social media superficiality personified, appearances on top of appearances on top of appearances, with personality, expression, and internality buried so deep, it's hardly there; and so their struggle continues.
Du combat interne d' Alex Bourque:
(Traduit par la déprime soviétique de Vincent Rondeau)
Des soldats soviétiques déprimés. Des écrivains médiocres de Hollywood sans direction. Des burnouts d'école secondaire en quête de statut social. Dans The Plan, Gleb Wilson recueille les histoires déchirantes de garçons et d'hommes qui tentent sans succès d'atteindre des objectifs dictés par une vision déformée d'eux-mêmes. Le désespoir, la décadence, le mécontentement. Le dialogue subtilement comique et mélancolique révèle le manque d'empathie des personnages qui tentent de jouer leur rôle. Cette incapacité à communiquer et à s'identifier aux autres trahit un blocage inhérent à notre compréhension du bonheur, du succès et de la masculinité : les apparences des apparences des apparences, la superficialité des médias sociaux, les façades de la vie, tandis que la personnalité, l'expression de soi, la subjectivité sont reléguées si profond qu'elles sont à peine présentes, et le combat continue.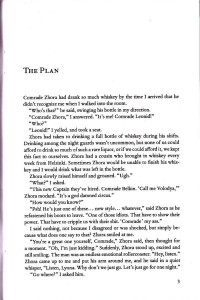 ---