Tag: alberta Wish Lash
Altar of Doubt
Calgary, AB
From the distant party of MCLF:
One hand reaches out and the world opens up. We're not bound by the wires, we're bound up in the silent air, our words tender in the the precious dirt and the greens emerging. These are our bodies. We're dancing.
A mutant weirdo crew holding together this mass of circuits and wires, deep trouble, pulsing and smoking hot where things cross, where the solder wears thin. Thousands of tendrils drift over us, around us, pulling us apart and back together again: different, better.
Du souffle de feu de MCLF:
Une main se tend et le monde s'ouvre. Nous ne sommes pas liés par les câbles, nous sommes liés dans le silence , notre mots dans le précieux dirt et les greens en émergence. Ce sont nos corps. Nous dansons. Une équipe de weirdos mutants tenant ensemble cette masse de circuits et de fils, ennuis profonds , pulsant et fumant à chaud là où les choses se croisent, où la soudure s'use très peu. Des milliers de vrilles dérivent sur nous, autour de nous, nous séparant et nous ressaisissant: différent, meilleur.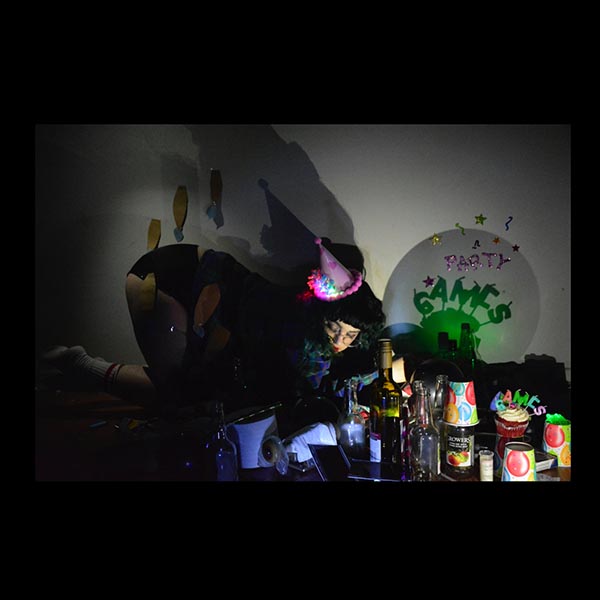 Caity Fisher
Party Games
(Self-Released)
Edmonton, AB
From the empty red cup of Laura Stanley:
There's a stain in the carpet, a drink in your hand, and out of someone's crappy computer speakers Caity Fisher plays her Party Games. Her pop has enough power to rise above the din of the drunken party goers; her fuzzy licks match the fuzz on your tongue. As Fisher croons about feeling good, you drink more and the room begins to spin. She convinces you to dance. At first you're alone but then others join in. You lock eyes with someone on the other side of the room…
The party ends and you don't go home alone. A cruel hangover, puke, and a stranger greet you in the morning, but the next round of Party Games is not too far away.
De la coupe rouge vide de Laura Stanley:
(Le lendemain de veille cruel d'Odile Leclerc)
Il y a une tache sur le tapis, un verre dans ta main et venant des haut-parleurs merdiques de l'ordinateur de quelqu'un, Caity Fisher joue sa Party Games. Sa pop a assez de puissance pour s'élever au-dessus des gens saouls qui font la fête, ses rythmes flous correspondent au duvet sur ta langue. Alors que Fisher roucoule à propos du fait qu'elle se sent bien, tu continues à boire et la pièce commence à tourner. Elle te convainc de danser. Au début, tu es seul, mais ensuite d'autres te rejoignent. Tu croises le regard de quelqu'un à l'autre bout de la pièce… La fête se termine fin et tu ne rentres pas seul chez toi. Un lendemain de veille cruel, de la vomissure et un étranger t'accueillent au matin, mais la prochaine partie de Party Games n'est pas trop loin.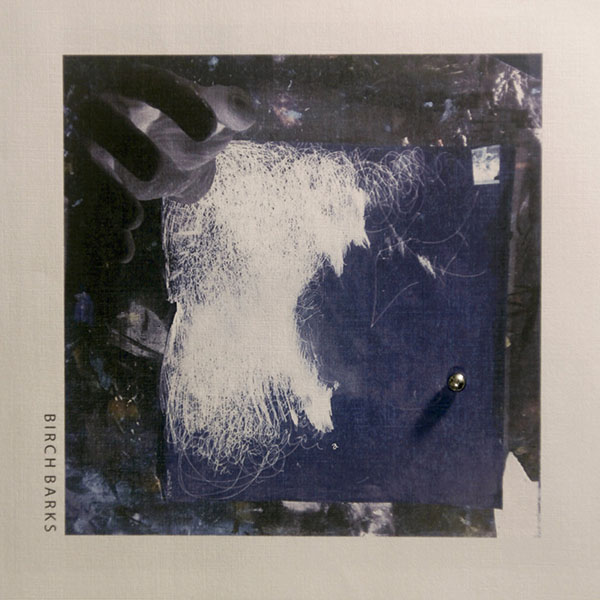 Birch Barks
abcc
(Self-Released)
Lethbridge, AB
From the anachronistic alarm clock of Brian Fauteux:
Under layers of swelling voices we hear a pulsing timeline. The embrace of a subconscious metronome. Keeping pace. Knocking from ear to ear. A comforting companion on an introspective early morning drive, well in advance of the warming light. Birch Barks' abcc connects on the second lowercase "c." A second note that beckons, anchoring our ears for a repeated listen.
Du réveil-matin anachronique de Brian Fauteux:
(Traduit par les oreilles contentes de Maya Keshav )
Sous les couches des voix qui s'élèvent, on entend une chronologie pulsante. L'étreinte d'un métronome subconscient. Il suit l'allure. Il frappe d'une oreille à l'autre. Un compagnon rassurant sur la route introspective du petit matin, bien avant la lumière chaleureuse. L'album abcc de Birch Barks s'unifie sur le deuxième "c" en minuscule. Une deuxième note qui attire, en ancrant nos oreilles pour nous le faire écouter en boucle.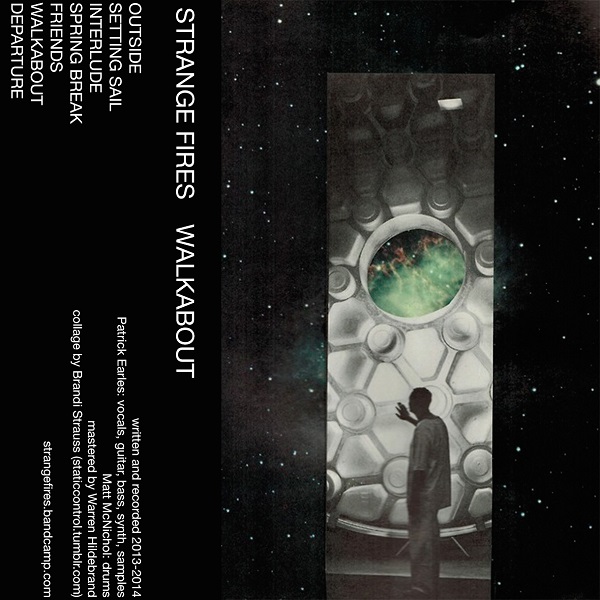 Strange Fires
Walkabout
Edmonton, AB
From the twinkly toes of Kelly MacNeil:
Walkabout is a tumble through town, showing us all of the secret and special places. Edmonton's Strange Fires yips into culverts, taping the echoes and keeping them warm in their front breast pocket. Together we wander, throw stones in ponds, staring at the ripples, watching fish dart. Walkabout is a time of solemn remembrance, the kind that fills your heart with sparks and makes your toes wriggle. Beneath layers of dust, dirt, and snow we come to see the beauty in the old places we know.
Des orteils brillants de Kelly MacNeil:
(Traduit par Julie Mayer)
L'album Walkabout nous montre tous les endroits secrets et spéciaux de la ville qu'il traverse à la course. Originaire d'Edmonton, le groupe Strange Fires jappe dans les caniveaux, enregistre les échos et les garde au chaud dans sa poche poitrine. Ensemble, nous vagabondons, nous lançons des cailloux dans les mares, nous fixons les ondes et regardons les poissons s'enfuir. Walkabout est un moment de commémoration solennelle, du genre qui remplit votre cœur d'étincelles et fait tortiller vos orteils. Sous les couches de poussière, de saleté et de neige, nous parvenons à voir la beauté des lieux qui nous sont bien familiers.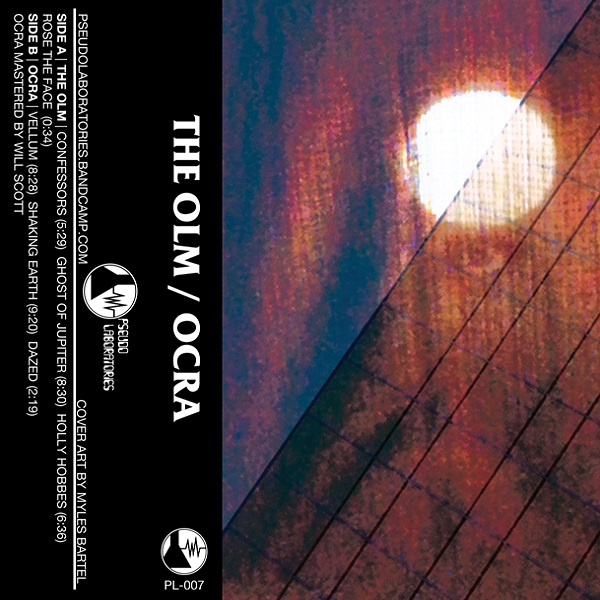 The Olm / Ocra
The Olm / Ocra
Edmonton, AB
From the timeluscent west of Heather Lune:
The Olm moans like a metal wraith, a fossil of the prehistoric ocean that lives in the mountains – badland epigrams malformed. They're a beacon sculling over the solid hide of the skyline, where the sea is held inside sun-risen fumes.
The Ocra hears a ghastly echo of our industrious carvings. Inscriptions knocking into the wind of falling bodies, the mechanisms used to slip through tap dancing waves. The scraping, digging, probing, mining. The generations, the millenia – waterbed bones compressing into an arid ocean floor.
Belonging to us, as we to it, a locked-soul.
Par l'ouest tempslucide de Heather Lune:
(Traduit par l'écho ésotérique des vents ténébreux d' Émily Traichel)
L'Olm gémit comme un spectre en métal, un fossile venu de l'océan préhistorique qui vit dans les montagnes – épigrammes malformées des badlands. Il y a un flambeau qui godille sur la peau solide de l'horizon, où la mer est enfermée dans des émanations solaires.
L'Ocra entend un écho épouvantable de gravures industrieuses. Des inscriptions cognent dans le vent de corps en chute, les mécanismes employés afin de glisser à travers les vagues qui dansent la claquette. Le grattage, creusage, sondage, l'exploitation minière. Les générations, les millénaires – les os du lit d'un fleuve qui se blottissent dans un fond d'océan aride.
Nous appartenant, comme on leur appartient, une âme-barrée.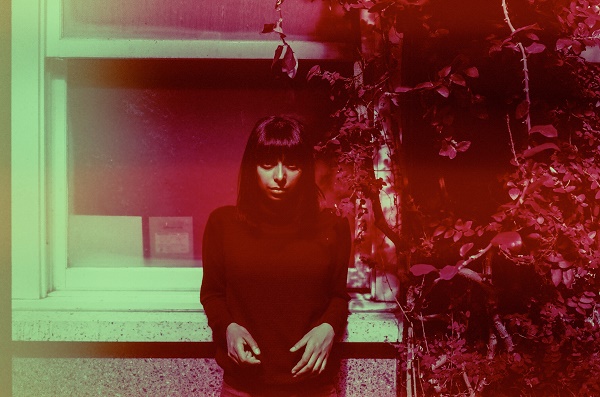 Aleem Khan
Aleem Khan
(Self-Released)
Calgary, AB
From the salty lip of Hailey Celesse McCarthy:
Aleem Khan's self-titled release achieves a synthesis of delicately and intimately arranged sounds. The bay of Aleem's vocals acts as an estuary for the emotive, sensuous and, nostalgic elements of each piece. The album is like a river meeting a sea: blurring is diffused, the curves of sediment emerge and, the salient, spatial variability allows us to escape delineation. Flooded with cinematic freak folk murder ballad tones, Aleem Khan is a specimen not to be left undiscovered.
De la lèvre salée de Hailey Celesse McCarthy:
(Traduit par la dent sucrée de Joannie Pharand)
L'album éponyme d'Aleem Khan fait entendre une synthèse de sons arrangés délicatement et intimement. La baie de la voix d'Aleem agit comme une entrée pour des éléments émotionnels, sensuels et nostalgiques sur chaque pièce. L'album est comme une rivière qui rencontre la mer : la confusion est estompée, les courbes des débris ressortent et la variabilité saillante et spatiale nous permet d'échapper à la délimitation. Submergé par les tons d'une ballade meurtrière cinématographique de folk déformé, Aleem Khan est un spécimen à conserver sous la loupe.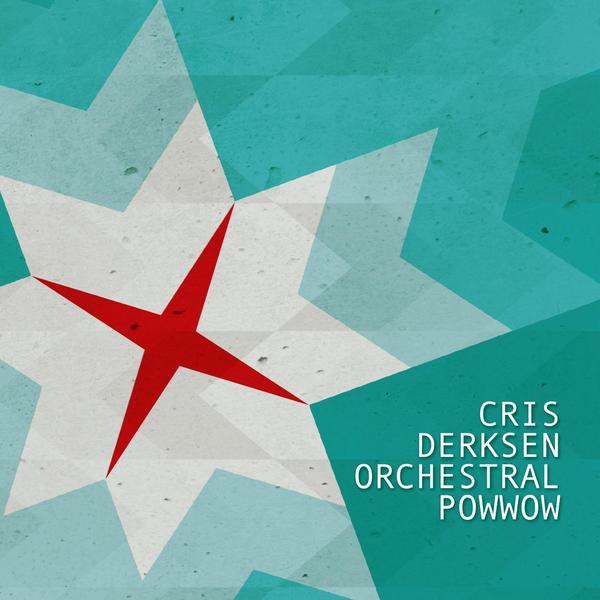 Cris Derksen
Orchestral Powwow
Northern AB
From the wandering spirit of Charlotte White:
Enter through the East facing door. You are immediately drenched in the tears of spirits desperate to be heard over the deafening chatter of demons. You feel the vibrations of howling ghosts as they weave through intricate threads of conflicting comforts: loud and soft, weak and strong, destroyed and rebuilt, mourning and hopeful. In a daze, white light crashes into your body, rejuvenating lost hope and fusing the spirit world with your own. Electrified and covered in flecks of gold, you exit through the West door gasping for air.
De l'esprit en errance de Charlotte White:
(Traduit par Aliké Harel)
Entrez par la porte qui fait face à l'Est. Vous êtes instantanément noyé dans les larmes des esprits désespérés de se faire entendre dans le brouhaha assourdissant des démons. On sent les vibrations des fantômes hurlant pendant qu'ils s'immiscent dans la trame d'un canevas complexe de conforts contradictoires : strident et apaisant, faible et puissant, démoli et rebâti, endeuillé et nourri d'espoir. En un éclair, une lumière blanche s'abat sur votre corps, ravive l'espoir éteint et fusionne le monde des esprits au vôtre. Électrifié et émaillé d'or, vous sortez par la porte de l'Ouest en cherchant à reprendre votre souffle.
Cris Derksen – Round Dance ft. Northern Voice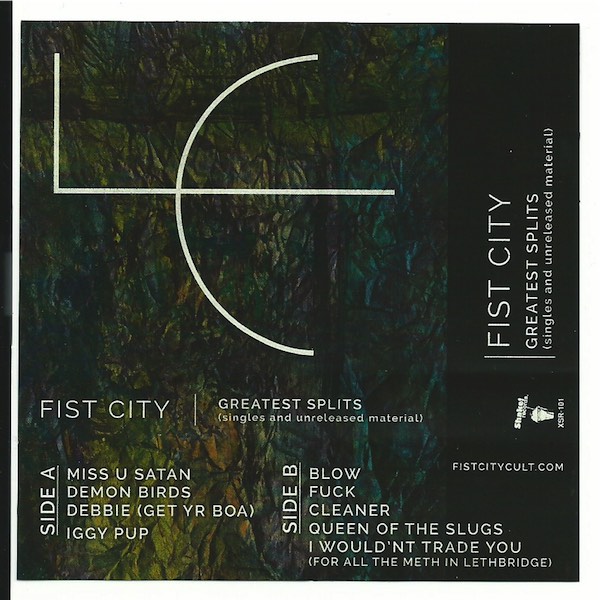 Fist City
Greatest Splits
Lethbridge, AB
From the ginger ale pizza bong runoff of Mitch Jackson:
If any band truly represents the pinnacle of all that is weird and good in Canada, it would be Fist City. Greatest Splits lets the Satan worshiping reptilian fiends inject terror into the hearts and minds of I AM Canadian™ Canada over riffs, noise and anthems buried underneath the fires and fuzz of hell. But that fuzz can only cover up so much of the unholy union. You too will realize that you miss Satan and you'll take him back at the Lethbridge Denny's tonight. Let him baptize you in meth and grand slams.
Des restants de bong, pizza et gingerale de Mitch Jackson:
(Traduit par les bribes sautillantes de Marie-Pier Chevrier)
S'il existe un groupe qui sache illustrer la somme de tout ce qui ce fait d'étrangement beau au Canada, il s'agit bien de Fist City. Greatest Splits laisse les bêtes reptiliennes satanistes injecter la terreur dans les coeurs et les esprits de I AM Canadian™ par-dessus les riffs, le bruit et les hymnes qu'enterrent les feux et les furies de l'enfer. Mais cette furie ne peut couvrir l'entièreté de cette union damnée. Vous réaliserez que Satan vous manque aussi et vous l'accueillerez à nouveau au Denny's de Lethbridge ce soir. Laissez-le vous baptiser de meth et de grands slams.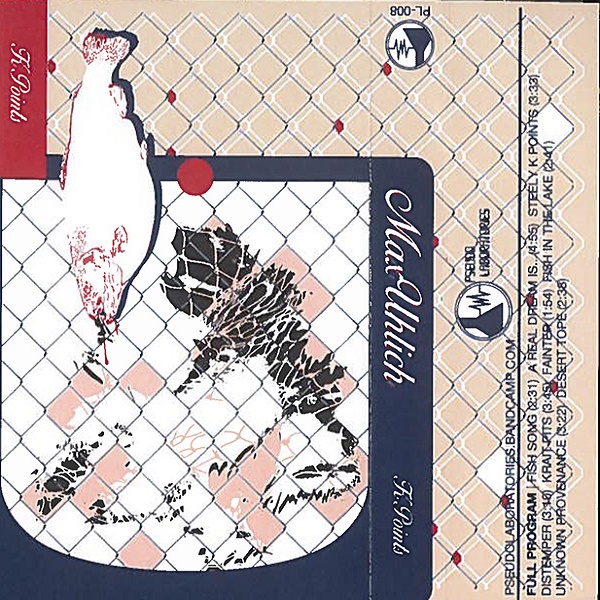 Max Uhlich
K Points
Edmonton, AB
From the negative geography of Jared Majeski:
The trappers' cabin, the anglers' wharf, the axiomatic loneliness of the barren and the beautiful. Here in the fertile twilight of K Points, the epicedium wafts light and airy. Like wet spiderwebs in the wind, smokey poems billow and twist and make us question the penetralia we don't yet know exists. Through comforting creaks, falsetto layers and upside-down counties, we begin to thirst for answers to our toponymous queries. As Max declares, "Why did we grow up so?/What gave us a heart and a soul?"
De la géographie en négatif de Jared Majeski:
(Traduit par Aliké Harel)
La cabane du trappeur, le quai du pêcheur, la solitude axiomatique du dénué et du beau. Ici, dans le crépuscule foisonnant de K Points, l'homélie insuffle lumière et légèreté. Comme des toiles d'araignée humides au vent, les volutes de vers tourbillonnent et se tortillent pour remettre en question le noyau dont nous ignorons encore l'existence. Grâce aux grincements réconfortants, aux voix de fausset en trame et aux comtés sens dessus dessous, nous devenons assoiffés de réponses pour assouvir nos quêtes toponymiques.Dans les mots de Max : « Why did we grow up so?/What gave us a heart and a soul? ».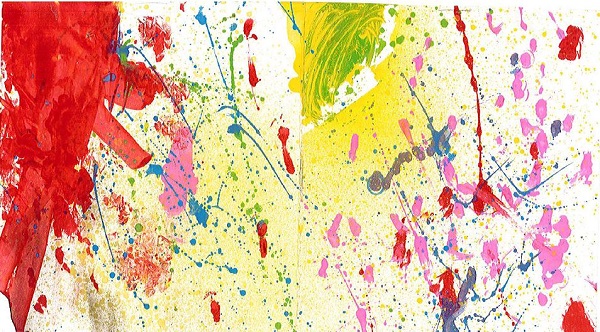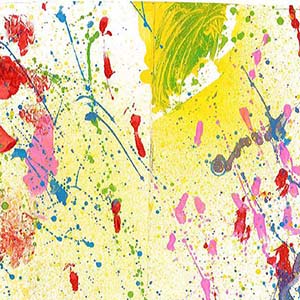 Virgins
Everyone Lost
(Self-Released)
Edmonton, AB
From the bleak worldview of Trevor Angst:
Be still, don't breathe. Doomsday is anthropogenic and takes the form of bio-cybernetic revolt. The planet is threatened and engages to resurrect its biomechanical engines of destruction from its underground dormancy to obliterate humankind. It's the found percussion of hard struck cathedral bells and the incline of a chain hill wooden roller coaster on Everything Dies that mimics dialogue and AI takeover. The droning, Tripod-bass growls are impending. Seismic strides can be mistaken for the sunken heart throbs of those who are enduring a post-apocalyptic world.
Du point de vue austère de Trevor Angst:
(Traduit par les soirées mentholées de Marie-Pier Chevrier)
Immobile, pas un souffle. L'apocalypse est anthropique et prend des airs de révolte biocybernétique. La planète est menacée et s'apprête à ressusciter de leur dormance souterraine ses engins de destruction biomécaniques pour anéantir l'humanité. La percussion retrouvée des cloches de cathédrale sonnées violemment et la pente d'une chaîne de montagnes russes de bois sur Everything Dies mimiquent les dialogues et conquêtes de l'IA. Le bourdonnement et les grognements de basse à Trépied survolent le tout, menaçants. Les éclats sismiques ressemblent à s'y méprendre aux battements de coeur en noyade de ceux qui perdurent dans un monde post-apocalyptique.
Virgins – The Air We Are Breathing (Be Still)
---