Tag: ajay mehmi
Kira May
Health
(Self Released)
Toronto, ON
From the tonal shapes of Ajay Mehmi:
Kira May's sound is comprised of a seemingly colossal foundation, which allows for primitive utterances to surface above its texture and richness. She and instrumental collaborator Charles Tilden create earthy soundscapes that are driven by the beautifully manipulated notes responsible for breathing life and nuance into the core of the music. May's voice forms lush, tonal shapes ranging from ethereal hums to bold cries, effortlessly sliding from pitch to pitch. Each song on the Health EP unfolds to reveal a process guided by intuition, creating a natural and intimate vibe so the listener can follow every breath to the beating hearts at the centre of it all.
Des formes tonales d'Ajay Mehmi:
(Traduit par la litanie vibrante de David Kohler)
Le son de Kira May est composé d'une apparente et colossale fondation qui permet à des émissions sonores primitives de faire surface au-dessus de sa texture et de sa richesse. Elle et son collaborateur instrumentiste, Charles Tilden, créent des paysages sonores terreux dirigés par des notes magnifiquement manipulées, qui insufflent de la vie et de la nuance au coeur de la musique. La voix de May crée des formes tonales luxuriantes, qui vont du bourdonnement éthéré aux cris audacieux, glissant de ton à ton sans aucun effort. Chaque morceau du EP Health s'ouvre délicatement pour révéler un processus guidé par l'intuition, créant une ambiance naturelle et intime afin que la personne à l'écoute puisse suivre chaque souffle du coeur battant, au centre de toute chose.

Kira May – Cut Off Your Shadow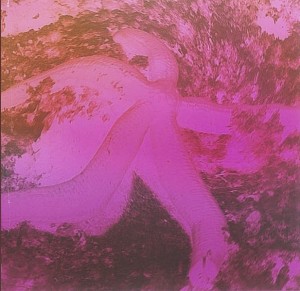 Lambs
Blister EP
(Self Released)
Cambridge, ON
From the dreamlike distance of Ajay Mehmi:
Lambs seek to paint their bright and vivid sound for the listener with tonal simplicity and emotional complexity. The music connects us with the psychedelic outfits of yesteryear, paying homage to an era of freedom and modernity. From the colourful and nostalgic sounds of "Palms of Your Hands" to the raw and expressive emotions of "Wolf," their sound is a reflection of those ideals. The Blister EP maintains a delicate interplay between what we observe as quintessential rock revivalism, and what we feel when dreamlike distance finds a place between, above and at the bottom of every note.
De la distance onirique d'Ajay Mehmi:
(Traduit par les idéaux modernes d'Andréanne Dion)
Lambs cherchent à peindre leur son enjoué et vif pour l'auditeur à l'aide de tons simples et d'émotions complexes. La musique nous met en contact avec les groupes psychédéliques d'autrefois, payant hommage à une ère de liberté et de modernité. Des sons colorés et nostalgiques de « Palms of Your Hands » jusqu'aux émotions à vif et expressives de «Wolf », leur musique est le reflet de ces idéaux. Blister conserve une interaction délicate entre ce que l'on considère être la renaissance du rock typique, et comment on se sent quand la distance onirique trouve une place entre, au-dessus et au fond de chaque note.
---