Tag: afterburners
Various Artists
Afterburners Vol. 3
Asterisk, Canada
From the cryogenic dream pod of Johnnie Regalado:
The latest offering from Ottawa super-label Bruised Tongue is a curatorial holy grail. Doubling down on their contributors to the first and second Afterburners compilations, Vol. 3 showcases 27 stellar jams from some key players and new heroes in weirdo rock. How are there this many shred-heavy bands in our country, let alone compacted onto a single comp? A feast of fuzz and freak-outs, Afterburners Vol. 3 could be the centerpiece of a twisted time capsule, blowing even more minds when it's cracked open after a few millennia underground.
Du cocon cryogénique de Johnnie Regalado:
(Traduit par les affolements bizarres d'Andréanne Dion)
La dernière parution de Bruised Tongue, le super-label d'Ottawa, est un saint graal de sélection minutieuse. Redoublant les contributions retrouvées sur les première et deuxième compilations Afterburners, le volume 3 présente 27 excellentes chansons de quelques-uns des principaux acteurs et nouveaux héros du rock bizarre. Comment peut-il y avoir autant de groupes portés sur le shred dans notre pays, sans compter sur une seule compilation? Un festin de bourdonnements et d'affolements, la compilation Afterburners Vol. 3 pourrait être la pièce maîtresse d'une capsule historique tordue, qui sera encore plus hallucinante lorsqu'elle sera ouverte après quelques millénaires sous terre.
Organ Eyes – Teenage Kingdomdom
Grime Kings – One Of Us Is Lonely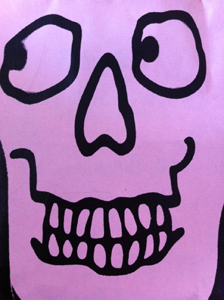 Various Artists
Afterburners Vol. 2
Asterisk, Canada
From the supersonic engine of Jesse Locke:
Bruised Tongue continues to do the lord's work on the second edition of its jam-stacked cassette comp. Perennial / recent faves like the shoeglazed slack-pop of Monomyth, moody night-moves of Boyhood, junk mountain warble of Occular Gymnastics, old man miasma of Mark Alexander McIntyre, ghoulie groovies Bruised Knees and a liquefied Dylan homage from Andy Boay don't fail to impress, but what's even more exciting is the unfamiliar names on this roster. Varying shades of rock are represented by the Hali-facsimile of Organ Eyes, drum machine twang of Black Train and hits from the pit of Greasy Skeletons and Swollen Eyes. The horizon gets blackened with a drone-out from Sky Pup before Jason Parent and RAAS bring the beat blitz. Amidst all this madness, Mark F. sticks out with a warped falsetto strummer conjuring Mellow Gold memories of a pre-Starbucks age. Grip it or rip it and give thanks.
Du moteur supersonique de Jesse Locke:
(Traduit par les remerciements de Maya Keshav)
Bruised Tongue continue de réaliser le travail du Seigneur avec la deuxième édition de leur compilation cassette remplie de tounes. Les préférés perpétuels / récents comme la slack-pop shoeglazed de Monomyth, les pas nocturnes mal lunés de Boyhood, le gazouillis junk montagne d'Occular Gymnastics, le miasme vieillard de Mark Alexander McIntyre, les balançants hantés Bruised Knees et un hommage liquéfié à Dylan n'échouent pas à impressioner, mais ce qui est même plus génial est les noms inconnus sur cette liste. Les nuances variables de rock sont représentées par le Hali-fac-similé qui est Organ Eyes, le son nasillard de boîte à rythme de Black Train et les succès du fond de Greasy Skeletons et Swollen Eyes. L'horizon se noircit avec une crise de drone de Sky Pup avant que Jason Parent et RAAS apportent le blitz de rythme. Parmi toutes ces folies, Mark F. sort du lot avec un morceau grattant déformé de fausset qui fait apparaît les souvenirs Mellow Gold d'un âge avant-Starbucks. Achetez-le ou volez-le et certainement soyez reconnaisant.
Mark Alexander McIntyr – A Birthday Party In The Dew
---