Tag: adjective-punk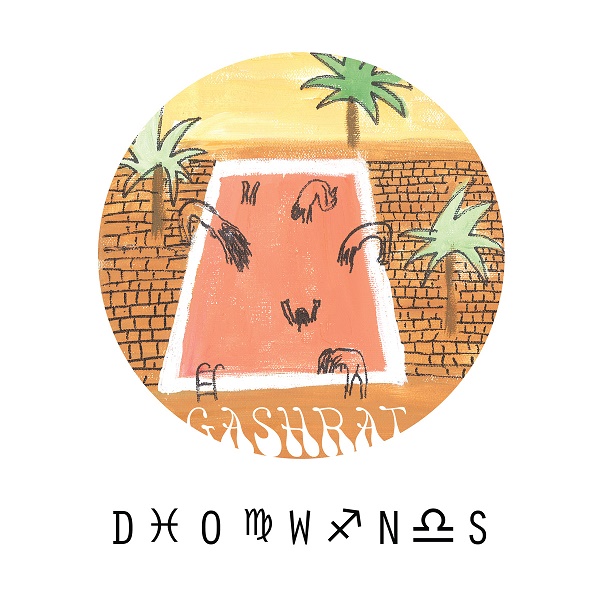 Gashrat
Downs
Montreal, QC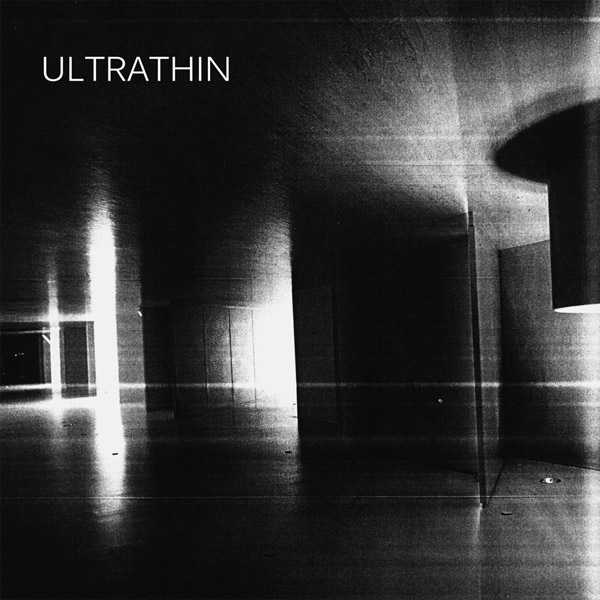 Ultrathin
Untitled
Montréal, QC // Toronto, ON
From the scum badge of Jesse Locke:
Ultrathin's long overdue long-play slab rides the Megabus red line to the edge of juvenalia. Setting phasers on scum, the rangy trio crank out raw powered loboto-thud of the highest order. Toss a brick through the window and snatch your copy at all costs.
Du badge de salopard de Jesse Locke:
(Traduit par la brique ramassée par Jessica Grenier)
Le long-jeu tant attendu de Ultrathin prend finalement la ligne rouge de Megabus jusqu'aux frontières de la juvénilité. Réglant les phasers à salopards, la force brute du trio errant produit un loboto-bruit de premier ordre. Il te faut absolument une copie, quitte à lancer une brique dans une vitrine.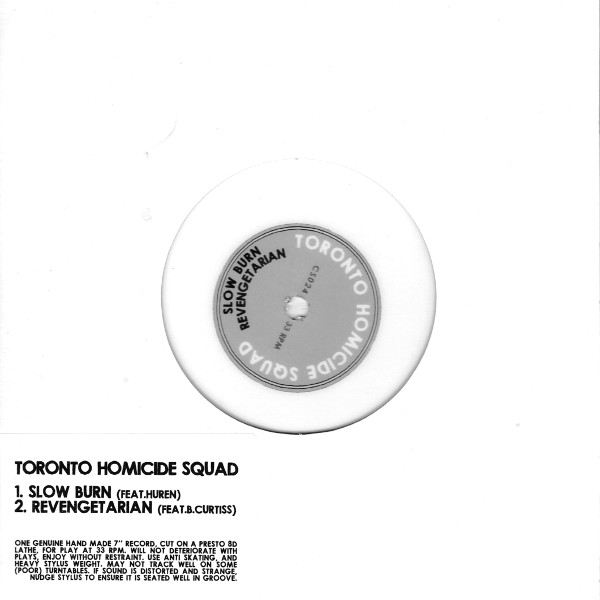 Minimal in construction but maximal in sound, reigning noise champions Toronto Homicide Squad have returned with a towering 7" lathe on Craft Singles. "Slow Burn" and "Revengetarian" are explorations of this polarity: between noise and quiet, rushed and languid, drums and bass (with a monstrous guitar solo thrown in for good measure). These are aggressive statements that take their time— ornery, almost luxurious.
Toronto Homicide Squad
Slow Burn
Toronto, ON
From the reverberant basement of Brennan McCracken:
Minimal in construction but maximal in sound, reigning noise champions Toronto Homicide Squad have returned with a towering 7" lathe on Craft Singles. "Slow Burn" and "Revengetarian" are explorations of this polarity: between noise and quiet, rushed and languid, drums and bass (with a monstrous guitar solo thrown in for good measure). These are aggressive statements that take their time— ornery, almost luxurious.
Des pulsations du sous-sol de Brennan McCracken:
(Traduit par Jessica Grenier)
Toronto Homicide Squad, c'est une construction minimale, mais un son maximal. Les rois du noise sont de retour avec un vinyle chez Craft Singles. « Slow Burn » et « Revengetarian » explorent cette polarité entre le bruit et le calme, le brusque et le languissant, la batterie et la basse (avec un solo de guitare monstrueux pour faire bonne mesure). Ce sont des déclarations agressives qui prennent leur temps – ronchonneuses, presque luxueuses.

Toronto Homicide Squad – Slow Burn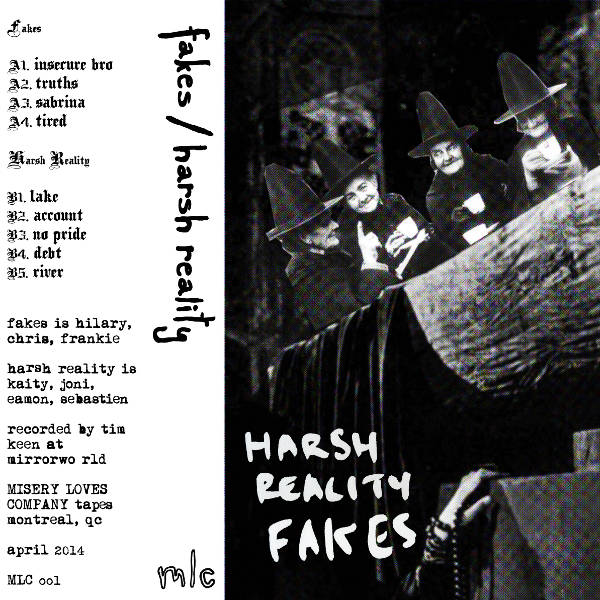 Fakes // Harsh Reality
Split
Montréal, QC
From the gravelly punk playgrounds of Cassilou Landra:
Newly christened Montreal collective Misery Loves Company packs a vicious split of grainy punk pastures and noise rock destruction. Side one has Fakes asserting a charged jolt of weirdo primitive punk held up by a simple trifecta of fuzzy guitar, pounding drums, and a voice that either sounds like shuffling feet on gravel or the sky splitting open during a particularly harsh rainstorm. Speaking of harsh, side two comes fully stocked for the feedback-fanatics thanks to Harsh Reality. Bringing to mind The Dead C's free post-punk approach to composition, this four-piece sets their amps to 111 and never stops to make sure their (or our) ear drums haven't burst.
Des terrains de jeux gravement punk de Cassilou Landra:
(Traduit par Peter Particule)
Le collectif montréalais fraîchement baptisé Misery Loves Company livre un split vicieux fait de pâturage punk granuleux et de destruction noise rock. Sur la face A, Fakes envoie une secousse chargée de punk primitif étrange soutenue par un tiercé simple : des guitares fuzzy, une batterie fracassante et une voix qui oscille entre le bruit des pas sur du gravier et le déchirement du ciel lors d'un orage particulièrement violent. En parlant de violence, Harsh Reality entasse de quoi ravir les fans de feedback tout le long de la face B. Avec une composition qui rappelle l'approche free post punk de The Dead C, ce groupe de quatre musiciens aux amplis réglés à 111 ne s'arrête pas un seul instant pour vérifier si leurs (ou nos) tympans ont explosé.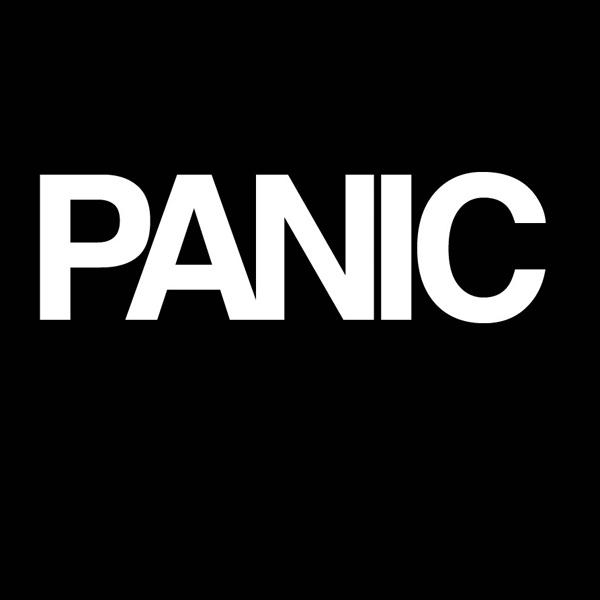 PANIC
Bad Fantasies
(Self Released)
Toronto, ON
From the rollicking swagger of Kevin Hainey:
There's something spreading all over Canada and it's shaking the people it reaches down to their Liberally conditioned, usually motionless cores; a solid black record with a purely white sensation bursting out of it in five tall, arresting letters demanding — PANIC. The music is just as jarring, all leggy riffs sprinting their minimal feet forever fast forward as the keys and theremin twist and writhe around them like fingers with rings on them, and arms flailing behind them. This is post-punk played so pure you could consider it more suitably labelled a pre-punk homage; these five guys are channelling Rocket From The Tombs over Pere Ubu, The Sonics over The Mummies, The Seeds and The Stooges over The Hives and The Strokes…
You get the picture. PANIC like it pure, but that's always the wonderful and alarming way frontman Simon Oates has played it, from his recent days leading No No Zero, to his years with The Exploders, and his illustrious low-down, dirty time with The Starkweather Fix (called Starkweather before that). I'll never forget Starkweather nailing me to the wall of The Eclipse in Oshawa with my first taste of post-punk's raw power in all its amplified glory, back when I was barely a teenage kid still discovering what punk was. Oates is crafting a Starkweather multi-LP set of timeless archival material for the ages, but in the meantime, you can consider PANIC a current address of the state worth heeding.
Depuis le joyeux fanfaron de Kevin Hainey:
(Traduit par Jan Karza)
Il y a quelque chose qui se propage partout au Canada et qui agite les gens en les atteignant profondément à leur centre généreusement conditionné et généralement immobile; un enregistrement solide et noir avec une sensation purement blanche et éclatante muni de grandes lettres saisissantes exigeant la présence de– PANIC. La musique est aussi discordante, avec les refrains tout en jambes courant plus vite de leurs petits pieds toujours en accélérés, que les touches et la tournure qu'apporte le Thérémine en se contorsionnant et se tortillant autour d'elles comme des doigts portant des anneaux et des bras qui s'agitent derrière elles. C'est du postpunk joué d'une façon si pure qu'il devrait être classé comme un hommage au prépunk; ces cinq gars canalisent davantage Rocket From The Tombs que Pere Ubu, The Sonics plus que The Mummies, The Seeds et The Stooges plus que The Hives et The Strokes…
Vous voyez le genre, PANIC adore la pureté, mais c'est toujours la seule façon, alarmante et merveilleuse, dont le leader Simon Oates veut la jouer depuis ses plus récents jours lorsqu'il dirigeait No No Zero, jusqu'à ses années avec The Exploders, et ses illustre moments sales et mesquins avec The Starkweather Fix (mieux connu sous le nom de Starkweather). Je ne vais jamais oublier comment Starkweather m'a cloué au mur de l'Eclipse à Oshawa avec mon baptême du pouvoir brut du postpunk dans toute sa gloire amplifiée, à l'époque où je n'étais qu'un jeune ado encore en train de découvrir ce qu'était le punk. Oates réalise, à la manière de Starkweather, un microsillon hétéroclite intemporel faisant matière d'archives, mais en attendant, vous pouvez considérer PANIC comme étant une adresse courante de l'État qui vaut la peine d'être écouté attentivement.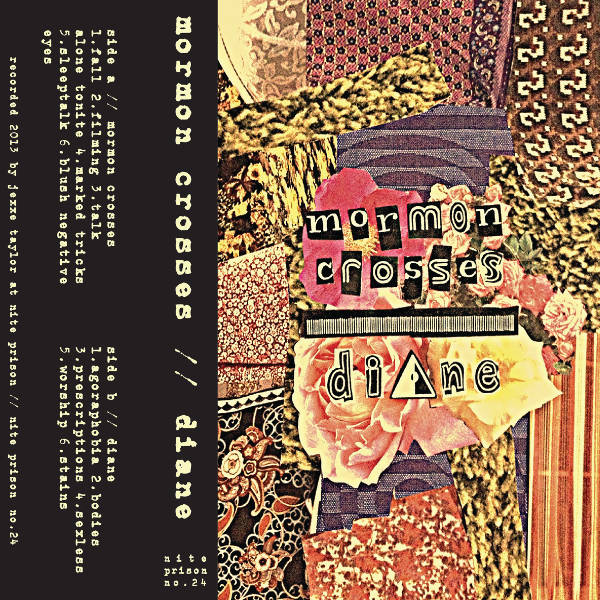 Mormon Crosses // Diane
Split Tape
(Nite Prison)
Vancouver, BC
From the crackling disdain of Kristian North:
Sometimes I wonder what the fuck is going on. I know these things are subjective, but I also question one's grasp on their own subjectivity when flooded with so much useless information, which begs questions like: Does anyone even make it through a song that isn't accompanied by HD visuals anymore? Can you get excited about music with 10 windows open? Do you even bother with bass or is it just iMac speakers, or your smartphone in a cup? A brief look at the ratios of your Bandcamp page stats should show you what the future of music listening looks like for us. Thanks, Steve Jobs!
Mormon Crosses and Diane are too warm and full of emotion for this cold, digital pseudo-reality. Your computer is cheap plastic and this music makes it a paperweight. Why would you waste your time with memes and YouTube nostalgia when you could be trying to play drums like Bryce? Hit the three-minute mark of "Blush Negative Eyes" and your computer speakers will crackle with disdain (and anyways, when was the last time you hit a three-minute mark on the Internet?). "Worship" contains a kind of explosive, youthful energy that tomorrow's tablet zombies will read about on their government mandated, surgically implanted, hitchhiker's guides to the boring galaxy. Buy the tape or go stream some minimal synth music from your grandma's Facebook page.
Du dédain crépitant de Kristian North:
(Traduit par l'effervescence puérile de Geneviève Faubert)
Veux-tu bien me dire ce qui se passe? Je sais que ces choses-là sont subjectives, mais je remets aussi en question le contrôle que nous détenons sur notre propre subjectivité lorsqu'autant de renseignements inutiles nous submergent. Des questions du genre s'ensuivent : peut-on encore écouter jusqu'à la fin une chanson dénuée d'effets visuels de haute définition? La musique arrive-t-elle à t'emballer lorsque l'écran devant toi affiche dix fenêtres différentes? Les sons graves comptent-ils pour toi, ou n'utilises-tu que les haut-parleurs de ton iMac, ou ceux de ton téléphone intelligent amplifiés par un gobelet? Un bref coup d'œil à la proportion des statistiques de ta page Bandcamp devrait suffire à te montrer à quoi ressemblera, selon nous, l'écoute musicale à l'avenir. Merci Steve Jobs! Mormon Crosses et Diane sont beaucoup trop vivants et remplis d'émotions pour cette pseudo-réalité froide et numérique. Ton ordinateur est fait de plastique bon marché, et ce genre de musique le transforme en presse-papiers. Pourquoi perdre ton temps avec la nostalgie des mèmes et de youtube quand tu pourrais t'exercer à jouer de la batterie comme Bryce? Écoute "Blush Negative Eyes" pendant plus de trois minutes, et ton ordinateur crépitera tout son mépris mais peu importe : à quand remonte la dernière fois où tu as écouté une chanson en ligne pendant plus de trois minutes? "Worship" possède une sorte d'énergie juvénile et explosive, que les zombies à comprimés de demain découvriront dans leur guide ennuyant du voyageur galactique imposé par le gouvernement et implanté par chirurgie. Achète la cassette ou va écouter de la musique minimale synthétique en lecture en continu sur la page Facebook de ta grand-mère.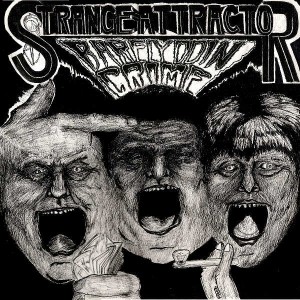 Strange Attractor
Barely Doin' Crime
Sudbury, ON
From the personal cheque of Brendan Lehman:
With the coals of Back To The Cruel World still warm, Strange Attractor gas the fire again with an equally raucous EP. Probably cooked in the same lab as the infamous Noise Tape, these six jams crammed into a 7" run the gamut from a dangerous trip to a dangerous trip and a press release. Mental corruption runs thick through these driving bangers, rife with breach of trust and altered documents: the seedy underbelly of a drunken façade. We're burning down the walls of conservative values, one screaming riff at a time. Sounds like my kind of party.
Du chèque personnel de Brendan Lehman:
(Traduit par le doux murmure d'Anaïs Njike)
De la braise encore chaude de Back To The Cruel World, Strange Attractor rallume le feu avec un EP tout aussi tapageur. Probablement conçu dans le même labo que la notoire Noise Tape, cet ensemble de 6 morceaux condensés sur un 7 po vous fait voyager d'un danger à l'autre en passant par un communiqué de presse. La corruption mentale tourne à fond dans ces débris à roulettes, blindés d'abus de confiance et de faux documents : la face cachée miteuse d'un ivrogne. On fait tomber les barrières du conservatisme, un riff criant après l'autre. Ça c'est mon genre de fête.

Strange Attractor – I Need to Kill My Neighbours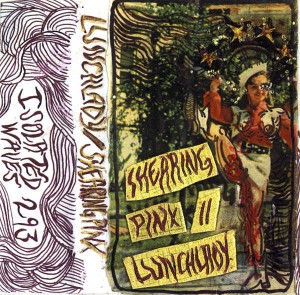 Lunch Lady // Shearing Pinx
Take That, The Devil!
Vancouver, BC
From the Denny's Restaurant of Don L'Orange:
One day, men will stop confidently singing alongside other men. They will stop strumming like it means something and move to Greece. They will argue it was forced displacement. Sue Greece, then. Anyway, back to real music: this split tape is New Anglia's "Old Time Religion". Lunch Lady churches that shit, while the North's most-hated preachers throw a cup of hot strap oil onto the baptismal candidate. The burning abates when we wrap them in a giant maple leaf. Maple-infused Polysporin! Cool that burn and tuck in to a buttermilk short stack!
Du restaurant Denny de Don L'Orange:
(Traduit en Grèce par Raphaël Foisy)
Un jour, les hommes arrêteront de chanter avec assurance côte à côte. Ils cesseront de gratter leur guitare comme si cela signifiait quoi que ce soit, puis ils déménageront en Grèce. Ils prétendront que c'était un déplacement forcé. Alors, poursuivez donc la Grèce. Bon, de retour à la vraie musique : cette cassette split est le « Old Time Religion » de la Nouvelle Anglia. Lunch Lady vénère cette chose, alors que les prédicateurs les plus détestés du Nord lancent une coupe d'huile bouillante sur le candidat au baptême. Le brûlement diminue lorsque nous les enroulons dans une feuille d'érable géante. Du polysporin infusé d'érable! Refroidissez cette brûlure, puis attaquez-vous à une pile de crêpes au babeurre!

Lunch Lady – Recipe for Congealed Ambrosia Salad

Shearing Pinx – Dose of Strap Oil / Alaska (Ext. Version) / Like a Bolt from the Blue / Crack the Balance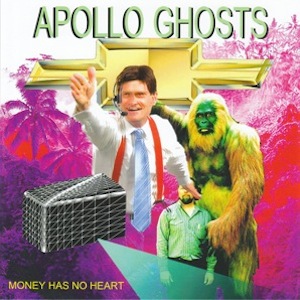 Apollo Ghosts
Money Has No Heart
Vancouver, BC
From the ultra koolness of Paul Lawton:
To quote the press release, this single is "an homage to the Vancouver punk scene circa 2007-2010… i.e. a post-30 interpretation of Nu Sensae/B-Lines/Chris-a-riffic… an allegiance to the Nanaimo 4-track scene and Lethbridge garage." The new wave of adjective-punk has arrived folks — post-adjective-punk, or perhaps more fittingly, subjectivity-punk; the end result of talented individuals swimming in the ocean of access, filtering music like baleen whales filter krill. Success in this new musical epoch will require talented people (people like Apollo Ghost's Adrian Teacher) to actually do something creative with all of this excess. It's not even December and I will already declare this the best 7" to come out in 2011. Impossibly good musics.
De la ultra Koolité de Paul Lawton: (Traduit par Odile Leclerc)
Pour citer la sortie de presse, ce solo est '' un hommage à la scène punk de Vancourver circa 2007-2010…i.e. une interprétation post-30 de Nu Sensae/B-Lines//Chris-a-riffic…… un allégeance à scène de 4 pistes de Nanaimo et le garage de Lethbridge.'' La nouvelle vague de punk adjectif est arrivée peuple—du punk post-adjectif, ou peut-être de façon plus appropriée, de la subjectivité punk; le résultat final d'individus talentueux nageant dans l'océan d'accès, filtrant la musique comme des fanons baleine filtrent le krill. Le succès dans cette nouvelle époque musicale requerra des gens talentueux (des gens comme Adrian Teacher de Apollo Ghost) pour actuellement faire quelque chose de créative avec tout cet excès. Ce n'est même pas décembre et je vais déjà déclarer que c'est le meilleur 7'' à sortir en 2011. Musiques impossiblement bonnes.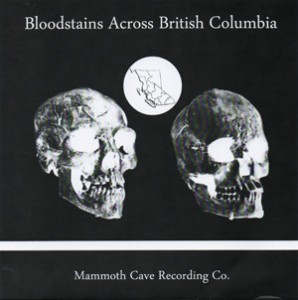 Various Artists
Bloodstains Across British Columbia
Vancouver, BC
From the park-side rippery of Aaron Levin:
In a show of ridiculous viscosity, Mammoth Cave have focused massive gravity waves on the festering Vancouver fringe-punk milieu, condensing their sinusoids into ten bursts of minute-long mayhem. It's the second in their Bloodstains series of Provincially-minded polaroids capturing this psychotic wave of ADD. Bands include: Nü Sensae, Role Mach, White Lung, Shearing Pinx, AHNA, Shipyards, Needles//Pins, B-Lines, Manic Attracts, Indian Wars, Young Mums, Timecopz, and Student/Teacher. Shred.
Du shred du parc d'Aaron Levin: (Traduit par la viscosité de Maya Keshav)
En signe de viscosité ridicule, Mammoth Cave se sont concentrés avec les énormes ondes de gravité sur le milieu pourrissant de fringe-punk de Vancouver, en condensant leurs sinusoïdes en dix une-minute éclats de pagaïe. C'est le deuxième dans leur série Bloodstains de polaroïds d'esprit provincial qui saisissent cette vague psychotique de TDA. Les groupes incluent: Nü Sensae, Role Mach, White Lung, Shearing Pinx, AHNA, Shipyards, Needles//Pins, B-Lines, Manic Attracts, Indian Wars, Young Mums, Timecopz, et Student/Teacher. Déchirez.
---