Tag: adam bradley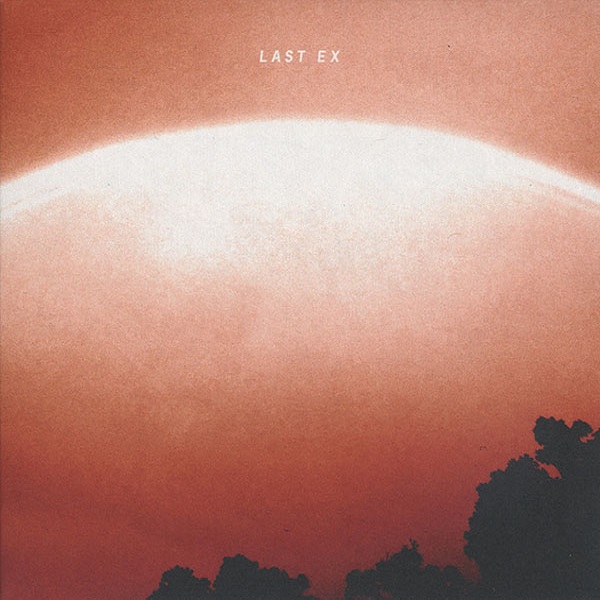 Last Ex
Last Ex
Montréal, QC
From the heavy energy of Adam Bradley:
Nightmare walls bend around you. The colours are mute and shapes are miscarried. The floor heaves like a linoleum ocean as a baby mobile tinkles hazily, each talisman representing a failure or fear. A chasm roars open. Specks at the bottom are a man of fire and a woman of water, waltzing barely, blankly in the semi-light. Through a rectangle hole you are drawn, lit by candles that writhe as snakes, nipping at your clothing. An aquamarine crystal seeps through the stone, emits waves of heavy energy. Sink to your knees. Shut your eyes. Shut your eyes.
De l'énergie pesante d'Adam Bradley:
(Traduit par la transe pétrifiée de Jessica Grenier)
Des murs cauchemardesques s'incurvent vers toi. Les couleurs sont silencieuses, les formes, inachevées. Le plancher déverse un océan de linoléum, un mobile pour bébé scintille paresseusement; chaque talisman représente un échec ou une peur. Un gouffre s'ouvre en éclatant. Tu vois des étincelles tout au fond, dans la pénombre : un homme de feu et une femme d'eau, leur presque valse, leur regard vide. Ton corps est attiré par une ouverture rectangulaire éclairée par des chandelles qui se tortillent comme des serpents en essayant de mordre tes vêtements. Un cristal aigue-marine sourd du roc en émettant des ondes d'énergie pesante. Tu tombes à genoux. Ferme les yeux… Ferme les yeux.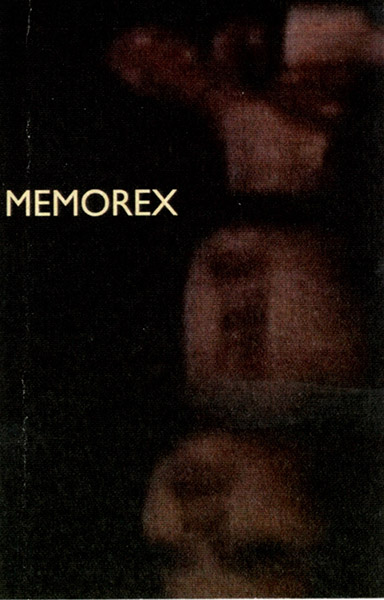 Memorex
Tape One
(Self Released)
Toronto, ON
From the wagging retinas of Adam Bradley:
Magenta velvet curtains part to reveal a hominid encased in a tight-woven web of polychrome synth patches and steel lacework. Eyes distant-darkened and muscles a'twitch, a crispy drum machine clicks in and his five-toed feet start to sway, his shoulders lumber, his tongue wags. Warbly synthesis and gauzy arpeggiation pounds out of his blood. Cells orbiting and dancing through plasma rivers. Frowning retinas pierce cold cosmic shadow and peer across all the landscapes of human experience. The germination of the first failure and the decay of the final glory.
Des rétines remuantes de Adam Bradley:
(Traduit par Kevin Godbout)
Des rideaux de velours magenta s'ouvrent et révèlent une figure humanoïde enveloppée dans une toile faite de polychrome synthétique et de dentelle d'acier. Ses yeux sont distants et sombres, ses muscles agités, une boîte à rythmes craquante commence à claquer et ses pieds à cinq orteils bougent, ses épaules avancent lourdement, sa langue remue. Son sang martèle une synthèse gazouillante et des arpèges transparents. Ses cellules orbitent et dansent à travers des rivières de plasma. Ses rétines froncées percent l'ombre cosmique froide et elles regardent le paysage entier de l'expérience humaine. La germination du premier échec et la décomposition de la gloire finale.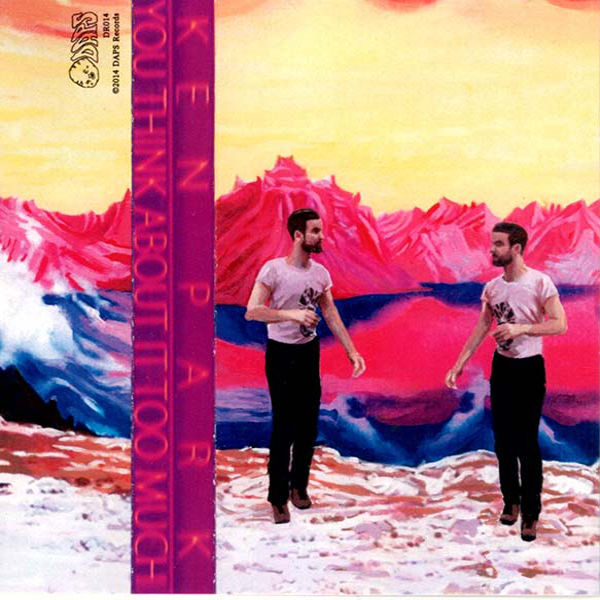 Ken Park
You Think About It Too Much
Toronto, ON
From the 2D nerve cluster of Adam Bradley:
It starts by summoning the nerve cluster of a NES last boss battle: 2D shifting skillfully along electric planes. Then cuts in the voice, sounding drawn from the moment Piano Magic's Glen Johnson realized the world ain't so perfectly grim. Crispily sizzling tumble-drums hum, hollowed out oil drum synthesizers thrum. A wide-eyed urgency exists here, vibrating with imperative grace. A joyful darkness, wrenched from a disaffected, Wintery generation.
De l'amas nerveux en 2D d' Adam Bradley:
(Traduit par l'ampoule sur le pouce de Jessica Grenier)
Ça commence en faisant appel à l'amas nerveux du combat contre le dernier boss sur NES : en manœuvrant habilement en 2D à chaque niveau électrique. Puis une voix apparait, comme tirée du moment où Glen Johnson de Piano Magic a réalisé que le monde n'était pas complètement sombre. Crissement crépitant de batterie bourdonnante, vrombissement d'anciens barils à pétrole devenus synthétiseurs. Ici, il y a une urgence, les yeux écarquillés, qui vibre d'une grâce impérative; une obscurité joviale, arrachée à une génération hivernale désabusée.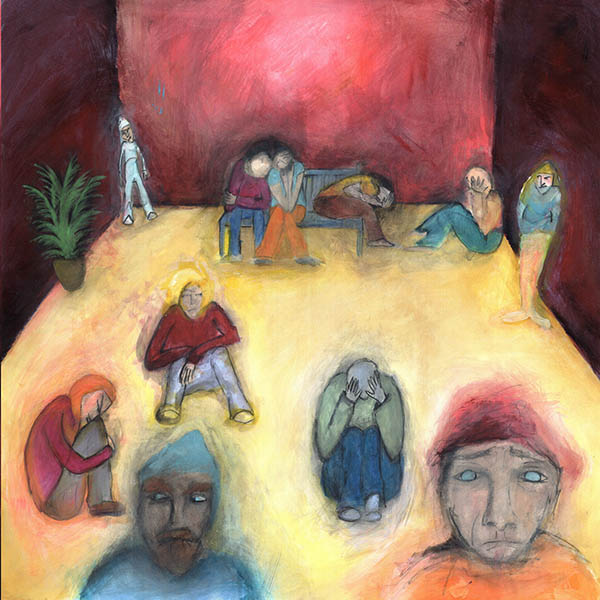 Alpha Strategy
Alpha Strategy
(Ownness Records)
Toronto, ON
From the painfully arcane morsels of Adam Bradley:
Waking up to a screaming alarm clock, a bookshelf collapsing onto your half-awake head, getting up to step on a mousetrap, trip-falling into a pile of electric instruments. Agitated, aggravated post-punk with hollerin' don't-give-a-damn vocals and deranged electronic accoutrements. Shadows of The Birthday Party loom along the record, including a cover of the band's 'Roland Around in That Stuff'. Painfully stitched together from infinitesimally arcane samples of 60's girl groups and film soundtracks, then fleshed out by a merry band, this eponymous morsel is a shambling, outlandish masterpiece.
Des morceaux douloureusement obscurs d'Adam Bradley:
(Traduit par Jessica Grenier)
Se faire réveiller par le cri du réveil matin, juste avant qu'une tablette n'écrase ta tête à moitié endormie. Mettre un pied hors du lit, le second dans une trappe de souris, puis tomber de façon semi-contrôlée dans un paquet d'instruments électroniques. Du post punk tapageur énervé, des chants criant de je-m'en-foutisme et un attirail électronique dément. L'ombre de The Birthday Party pèse sur l'enregistrement – qui comprend d'ailleurs une reprise de « Roland Around in That Stuff ». D'abord péniblement cousu à l'aide d'infimes extraits obscurs de groupes de filles des années 60 et de bandes sonores de films, puis épaissi par un joyeux groupe, ce morceau éponyme est un chef-d'œuvre chancelant et insolite.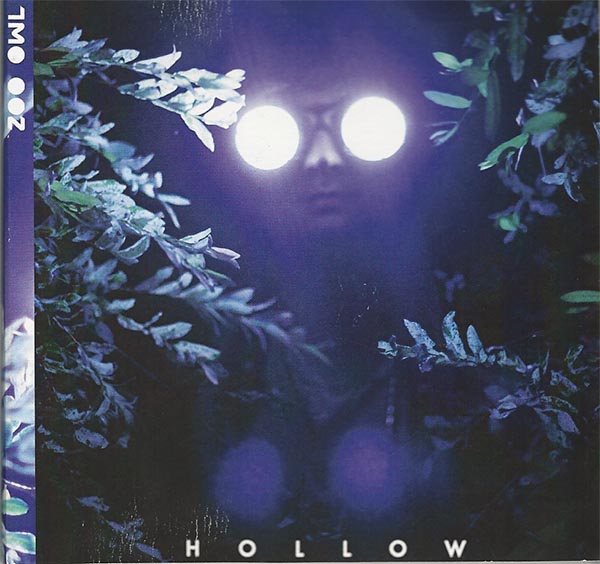 Zoo Owl
Hollow
(Self Released)
Toronto, ON
From the melted metamorphosis of Adam Bradley:
Twin orbs of blue-white flash to life in the murky marshland pitch. With jerky movements slowly approaching, radiating horror-truth with its eyes. Born of iridescent crystals. Vessel of animal music. Buzzing synthesis, tumbling rhythm, cavern echoes, jungle sweat, desert delirium. To stand atop the mesa and melt into metamorphosis, drenched in spiritual sun. Spirit is quenched, body is renewed, cast in living obsidian.
De la fonte métamorphique d' Adam Bradley:
(Traduit par le Ça dégoulinant de Jessica Grenier)
Deux orbes de lumière bleutée s'allument dans l'obscurité glauque d'un marécage. Vaisseau de la musique animale né de cristaux iridescents, la chose avance par lents mouvements saccadés, ses yeux répandant d'horribles vérités. Bourdonnements synthétiques, rythme acrobatique, écho caverneux. Sueur amazonienne et délire désertique. Se tenir debout au sommet de la mesa, trempé par le soleil spirituel; se liquéfier en un amas métamorphique. L'esprit est submergé, le corps renouvelé, fondu en de l'obsidienne vivante.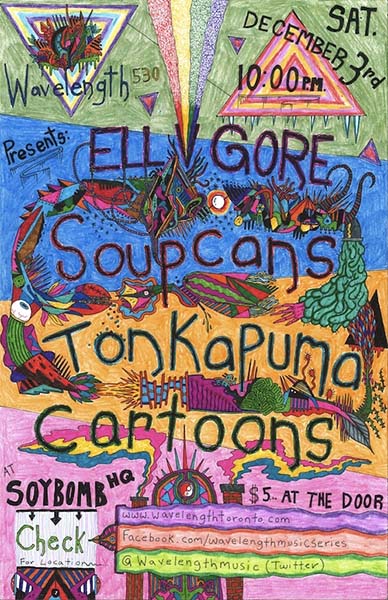 How To Do Hand Designed Poster Production and Distribution
Words & Art by Adam Bradley
Toronto, ON
From the crayons of Adam Bradley:
Welcome! This is a step by step guide to one way of making handmade show posters and getting them around town. I figured out the process from scratch and it's been pretty simple and effective. I'm a visual artist and I put on shows a lot, so I figured I'd try and combine those things. It's a fun project either way. Anyone can do poster art. Anyone. You can make something fun and funny even by using the wrong hand to draw with an old chocolate Easterbunny you found behind your TV. Don't do that though probably.
1. Gather all necessary information. Make sure all info for your show is 100% confirmed before you start creating the poster. This includes stuff like:
a) Band names
b) DJ names
c) The full date (Friday, April 21). Year is optional.
d) Doors open time
e) Location with address
f) Price (At the door and in advance with location of sale, if necessary.)
g) The logos of any affiliated organizations you may be working with.
h) It may also be useful to list any relevant points of social media promotion, such as Facebook pages, websites or Twitter accounts that you'll be using to spread the word.
2. If you are making it by hand, a good starting point would be to find a local print shop and purchase some paper. You can experiment with different sizes, but an especially eye catching size is 11" X 17". Card stock in this size is very easy to draw on and will help keep your unfinished product from getting crushed or wrinkled.
3. When hand designing, make sure to allow for about half an inch of space around the edge that is free of important design elements or information. During the printing process, a white track line often appears, cutting off whatever was in that space.
4. Feel free to be as busy or as minimal with the design as you like, as long as you avoid unnecessary clutter that detracts from the text and the message you're trying to convey. You only have a split second to catch someone's attention. You can achieve this by making them ask themselves "What on earth is going on with that poster?". Bright and interesting coloring or art is effective but the same can be true for the intrigue of a simple, to-the-point design. Avoid providing more information than is necessary. People don't need to see hyperbolic quotes from your local paper/blog on the poster. Save that stuff for social or print media promotion.
5. Once you're satisfied with the design, bring the original copy to the print shop. Tell them the number of copies, the size and type of paper you like. An employee should be happy to show you which varieties of stock they have. While it's a bit more expensive, 11" X 17" glossy card stock will make colours stand out and give you a durable and impressive product. As is often the case though, cost efficiency is the goal, so any kind of regular stock will do. As for the number of copies, it usually isn't necessary to print 100 copies and spend tons of time plastering the streets. About 20-40 is a good number, just enough to target key places and save you some cash. These days, the online presence of a poster is just as or more effective than the physical.
6. Another thing you may want to do while at the shop is ask if they can print copies of the poster image in clusters of four on regular printer paper. You can cut these out, usually on site, to create useful hand bills to distribute casually to friends and colleagues. You can often leave these at cafes and record stores to increase visibility.
7. Bring along a portable USB stick/jump drive so that the print shop can provide you with a digital copy of your poster for use in online / social media promotion. If you don't have a portable drive, often you can ask to have the file burned onto a CD at little to no cost. They may only give you a PDF file of the scan. These can be a little trickier to edit, so it may be a good idea to ask for a .jpg file as well.
8. Now that you've got posters in hand, you can either start putting them up yourself or get a friend to help you out with it. If you ask someone else to do it, a standard rate is about $50 for a run, but that's entirely variable.
9. The most important places to target are cafes, bars, restaurants, bakeries, rehearsal studios, book shops, record stores or even laundromats. Pretty much anywhere you'd imagine to have good visibility to your target demographic. It's also good idea to put one or two up at the venue your show is happening at.
10. It's also good etiquette to ask permission before sticking up posters anywhere, if you can. Often there are designated spots or boards for use, and sometimes places like to provide their own painters tape to save the walls from getting damaged.
11. Putting posters on poles is usually pretty ineffective as people will just tear them down, poster over them or just plain ignore them. In some places it's illegal to do at all, and if someone's feeling brazen enough to report it, they can get you or the venue you've booked slapped with a fine.
12. Remember to save a few copies for yourself to archive and/or sell at the show. Keep the original art too.
So yes, there you have it. Making a poster can be a really fun and rewarding part of putting on a show. If people dig your stuff, they might even ask you to make posters for them, which is sweet and you might get money for pizza. Postering around town yourself is also a super great way to get to know your town or city and all it's sweet little cultural nooks. Plus you can find out about other stuff going on while you're at it.
Adam Bradley is Weird Canada's shadowy lizard Assistant Editor for New Canadiana and one of the concert programmers for Toronto's Wavelength concert series. He's made a bunch of handmade show posters with crayons and Crayons is sometimes his nickname.
Des crayons d'Adam Bradley:
(Traduit par Jessica Grenier)
Bonjour! Voici un guide qui explique les étapes à suivre pour faire des affiches de spectacle à la main, et la façon de les distribuer ensuite. Je l'ai élaboré en partant de zéro, il est plutôt simple et fonctionne bien. Je suis un artiste visuel et j'organise beaucoup de spectacles, alors je me suis dit que j'essaierais de combiner les deux. C'est un projet amusant à faire dans tous les cas. Tout le monde peut faire de l'art sur des affiches. Tout le monde. On peut même s'amuser en faisant une affiche drôle, par exemple en utilisant la mauvaise main pour dessiner avec un vieux lapin en chocolat qui trainait derrière la télé… Ce serait peut-être mieux de ne pas le faire par contre.
1. Il faut commencer par recueillir l'information nécessaire, et s'assurer que tout a été confirmé à 100 % avant de commencer à créer l'affiche, ce qui veut dire des trucs comme :
a) le nom des groupes
b) le nom des DJ
c) la date complète – l'année est facultative – (le vendredi 21 avril)
d) l'heure d'ouverture des portes
e) les coordonnées de l'endroit du spectacle
f) le prix (à la porte et, si c'est le cas, en prévente avec les lieux où on peut acheter les billets)
g) le logo des organismes affiliés
h) Ce serait une bonne idée de faire une liste avec toutes les informations pertinentes pour la promotion sur les médias sociaux qui seront utilisés pour répandre la nouvelle, comme les pages Facebook, les sites web ou les comptes Twitter.
2. Un bon point de départ pour une affiche faite à la main serait de trouver une imprimerie proche et d'acheter du papier. On peut faire des essais avec différents formats de papier, mais celui 11" X 17" est une bonne grandeur pour attirer le regard. Ce format est très facile à utiliser, tant pour le dessin que pour conserver les affiches qui ne sont pas encore terminées (et éviter qu'elles se froissent ou s'écrasent).
3. Durant la conception, il faut s'assurer de laisser un espace d'environ un demi-pouce sur les bords de l'affiche où il n'y a pas d'information ou d'éléments importants : lors de l'impression, il y a souvent une ligne blanche qui apparait là, par-dessus peu importe ce qui s'y trouvait.
4. Le concept de l'affiche peut être très minimal ou très baroque, c'est au goût. L'important, c'est d'éviter qu'un paquet de détails inutiles viennent détourner l'attention du message qu'on veut transmettre. On n'a qu'une fraction de seconde pour attirer l'attention des gens. On peut y arriver en les faisant se demander « Mais qu'est-ce qui se passe sur cette affiche? » Les couleurs vives, attrayantes et l'art fonctionnent bien, mais c'est aussi vrai pour une affiche simple et intrigante, qui va droit au but. Il faut éviter de donner plus d'information que nécessaire. Les gens n'ont pas besoin de voir les citations hyperboliques du journal local ou d'un blogue. Ce genre de trucs peut être réservé pour la promotion sur les médias sociaux ou imprimé.
5. Quand le dessin est terminé, apportez l'original à l'imprimerie, puis dites-leur le format, le type de papier et le nombre de copies désirés. Les employés sont généralement heureux de montrer ce qui est disponible en magasin. Bien que ce soit un peu plus cher, le papier 11" X 17" glacé rendra les couleurs plus vibrantes et donnera un fini impressionnant et plus durable. Ceci étant dit, comme le but est souvent de diminuer les coûts, n'importe quel type de papier régulier fera aussi l'affaire. Pour le nombre de copies, ce n'est généralement pas nécessaire d'en imprimer une centaine et de passer des heures à les afficher partout en ville; 20 à 40 copies sont suffisantes, c'est juste assez pour cibler les endroits clés (et économiser de l'argent). De nos jours, une affiche disponible en ligne fonctionne aussi bien que la version papier, parfois même mieux.
6. Une autre bonne chose à faire sur place est de demander s'ils peuvent faire des copies de l'affiche sur du papier régulier, en groupe de quatre par page. Après les avoir découpées, (souvent sur place), on obtient des dépliants qui peuvent être distribués facilement aux amis et aux collègues. Il est souvent possible d'en laisser dans des cafés ou des magasins de disque pour rejoindre plus de gens.
7. Apportez une clé USB pour que l'imprimerie puisse vous donner la version numérique de l'affiche. Ceci est utile pour la promotion en ligne et sur les réseaux sociaux. Si vous n'en avez pas, il est souvent possible, sur demande, de faire graver le fichier sur un CD gratuitement ou pour un moindre coût. Il se peut qu'ils ne fournissent que la version PDF de l'affiche numérisée. Si c'est le cas, demandez un fichier .jpg aussi puisque les PDF sont parfois difficiles à modifier.
8. Une fois les affiches en main, l'affichage peut commencer. Ça peut se faire seul ou en demandant un coup de main. Si vous le demandez à un ami, le tarif est généralement autour de 50 $ pour une tournée, mais c'est très variable.
9. Les endroits les plus importants à cibler sont les cafés, les bars, les restaurants, les boulangeries, les librairies, les studios de répétition, les magasins de disques et même les laveries. En fait, pas mal partout où vous pensez rejoindre le public visé. C'est aussi une bonne chose d'installer une ou deux affiches sur les lieux du spectacle.
10. Demander la permission avant de coller des affiches partout, quand c'est possible, est une bonne habitude à avoir. Il y a souvent des babillards ou des endroits réservés aux annonces, et il y a parfois des endroits où du ruban de peintre est fourni, histoire d'éviter que les murs ne soient endommagés.
11. Poser des affiches sur les poteaux est généralement inutile, puisque les gens vont souvent les déchirer, mettre d'autres affiches par-dessus ou simplement ne pas les voir. Dans certains quartiers, c'est même illégal de le faire et si quelqu'un a l'impudence de le signaler, ça peut valoir une amende (à vous ou à la salle de spectacle qui a été réservée).
12. Il ne faut pas oublier de conserver quelques copies pour vous-même, pour les garder et/ou les vendre au spectacle. Aussi, gardez l'original.
Alors voilà, c'est terminé. Concevoir une affiche peut être une partie vraiment amusante et gratifiante dans l'organisation d'un spectacle. Si les gens aiment ce que vous faites, ils vont peut-être même vous demander de dessiner des affiches pour eux, ce qui est vraiment bien, et qui peut même vous donner de l'argent pour acheter des pizzas. Installer les affiches par soi-même est aussi une super bonne façon d'apprendre à connaitre votre ville et de trouver tous ses recoins culturels cachés. Et en plus, tant qu'à y être, ça permet de découvrir les choses qui se passent.
Adam Bradley est le rédacteur adjoint lézard des ombres pour la section New Canadiana de Weird Canada, ainsi qu'un des programmateurs pour les séries de concerts torontois de Wavelength. Il a lui-même conçu un paquet d'affiches de spectacles avec des crayons – et "Crayons" est parfois son surnom.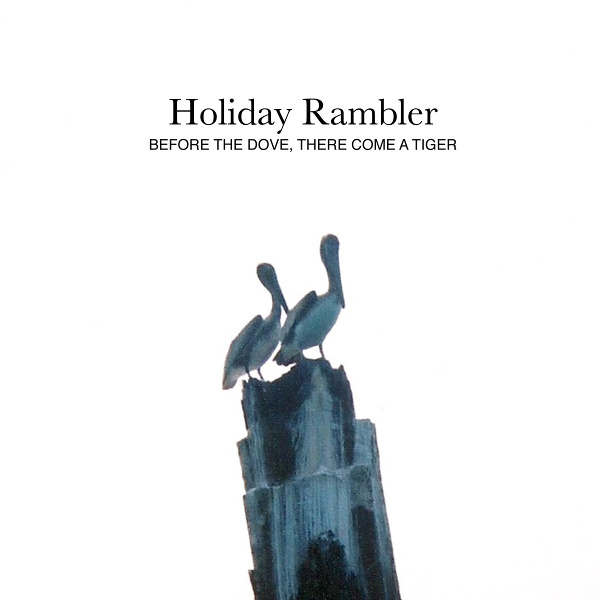 Holiday Rambler
Before the Dove, There Comes a Tiger
Toronto, ON
From the rusted shut chest of Adam Bradley:
From a humid country fog the Holiday Rambler comes. Will-o'-the-wisps gather and trail behind a missioning man of firm countenance and calculated composure, suitcase in hand, hat brim low. The songs of relic found here are of a dark alchemy. Each tune was sung and archived to tape in the belly of a great farm silo. Gems this way crystallized. The brightest of which is "Florida", a hallowed cover of the late and missed Vic Chesnutt. Before the Dove… is a rusted shut chest of ashen memory.
Du coffre scellé par la rouille d'Adam Bradley:
(Traduit par le familier festif de Jessica Grenier)
Holiday Rambler sort d'un humide brouillard de campagne. Les feux follets se sont regroupés à la suite de l'homme en mission, mallette à la main et chapeau enfoncé sur la tête, exhalant un calme composé et une contenance résolue. Les reliques se trouvant ici produisent le son d'une sombre alchimie. Chaque mélodie a été chantée et gravée sur une pellicule dans le ventre d'un gigantesque silo à grain – des gemmes cristallisées dont la plus scintillante est « Florida »; une reprise bénie du regretté Vic Chesnutt. Before the Dove… est un coffre scellé par la rouille qui renferme des souvenirs cendreux.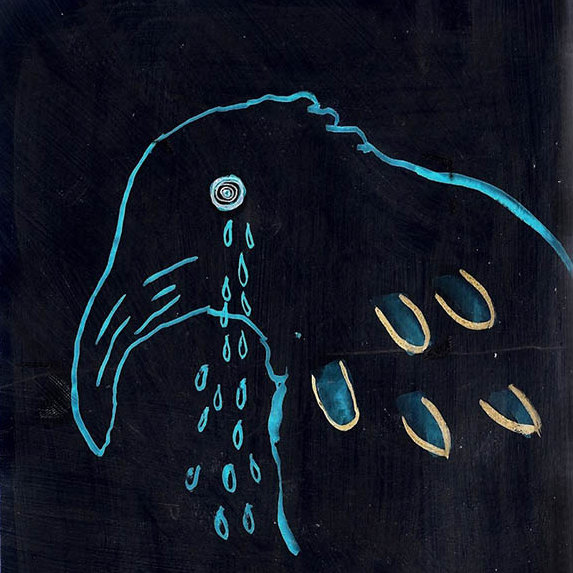 Pulsating mounds of thought gravel. Strands of consciousness reverberating infinitesimally. Thom Huhtala and his compatriots sit in a circle of vine-covered thrones to beam psychic waves toward a focal point. A jewelled jewel case appears, rattling to the floor. Smoked psych, smouldering from the recent hail of meteors, stands like marble hero in a cataclysmic wasteland. Radioactive eyeball plants curl up from the loam and emit frequencies not unlike these songs.
Bad River
Button Battery Syndrome
(Self Released)
Toronto, ON
From the jewelled eyeballs of Adam Bradley:
Pulsating mounds of thought gravel. Strands of consciousness reverberating infinitesimally. Thom Huhtala and his compatriots sit in a circle of vine-covered thrones to beam psychic waves toward a focal point. A jewelled jewel case appears, rattling to the floor. Smoked psych, smouldering from the recent hail of meteors, stands like marble hero in a cataclysmic wasteland. Radioactive eyeball plants curl up from the loam and emit frequencies not unlike these songs.
Des joyaux oculaires d' Adam Bradley:
(Traduit par Jessica Grenier)
Des monticules pulsant de pensées minérales. Des fils de conscience, résonnant de façon infinitésimale. Sur des trônes détrempés de vin, Thom Huhtala et ses compatriotes envoient des ondes psychiques vers un même point. Un boitier serti de joyaux apparait en raclant le sol; psyché fumante toujours rougeoyante du dernier passage de météores, héros de marbre dans un dépotoir cataclysmique. Des plantes oculaires radioactives se déroulent depuis le sol, émettant des fréquences qui ressemblent étrangement à ces chansons.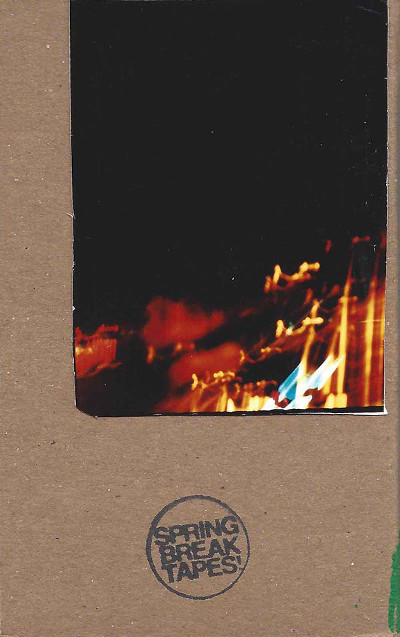 Junior Pande
The Red Tape
Toronto, ON
From the multichrome tilt-a-whirl of Adam Bradley:
Justin Peroff of thee Broken Social Scene delivers a gumbo of wonder to the wilful ear with this here tape. Dribbling globules of jazz fusion cause no alarm but rather accentuate as delectable seasoning. Hobbling, bobble-headed spurts of curiosity abound, carried on limp-lipped babbling, chop-chop-train flute, electronic bubbling and grizzled industrial fizzle. It's a different vibe every handful of clock ticks, and a multichrome tilt-a-whirl it is.
Du manège multichrome d'Adam Bradley:
(Traduit par le bafouillis bredouille de Jessica Grenier)
Justin Peroff, de l'excellent Broken Social Scene, livre sur cette cassette un mijoté de merveilles pour oreilles obstinées. Un filet de jazz fusion, goutte à goutte, ne déstabilise pas; il accentue plutôt comme une épice exquise. Des curiosités à tête branlante sont lancées, portées par un babil bancal clopin-clopant, un cliquetis clinquant de flute, des bulles électroniques et un pétillement industriel grisonnant. Chaque poignée de tic-tac horloger amène une nouvelle atmosphère; et quel manège multichrome!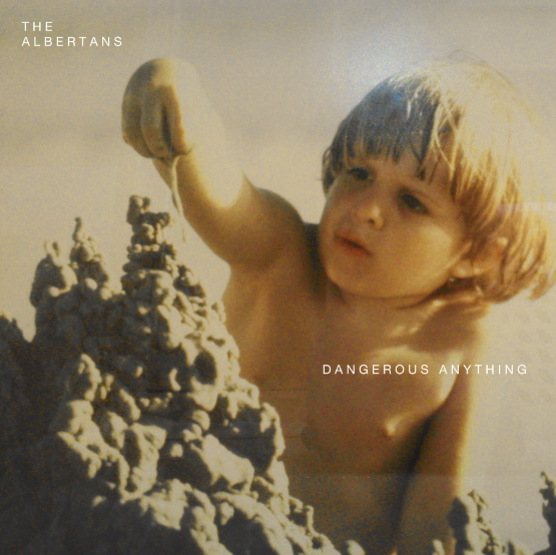 The Albertans
Dangerous Anything
Vancouver, BC
From the antimatter incantations of Adam Bradley:
So much is deliciously deceptive about this band. They are called The Albertans. They are from Vancouver. They masterfully dart around a palette of genres, confounding the box-minded and pleasing puzzle-solvers. Like the masks of Hexadecimal, faces swap fluidly. Krautrock, wistful indie pop, Floydian space-outs, post-punk jank and Low-core are woven together in a curious helix. The meaty, slinking bass of "Begin The Beguin" drives through rainy Noir streets carrying a sultry, insidious female voice, thee '80s riding shotgun. Yet more surprising is "Invisible Fortress", an antimatter lo-fi sludge-punk number that feels like something incanted from the Dirty Beaches gospel.
Des incantations antimatière d'Adam Bradley:
(Traduit par Andréanne Dion)
Il y a tant de choses délicieusement trompeuses à propos de ce groupe. Ils s'appellent The Albertans, mais sont de Vancouver. Ils passent habilement d'un genre à l'autre, déconcertant ceux qui ont l'esprit étroit et régalant ceux qui aiment les casse-tête. Comme les masques dans Hexadecimal, leurs visages changent avec fluidité. Krautrock, indie pop pensif, rêveries Floydiennes, trucs post-punk et Low-core sont tissés ensemble pour former un curieux ensemble. La basse lourde et tanguante de « Begin The Beguin » se déplace dans les rues noires, transportant une voix féminine voluptueuse et insidieuse, avec les années 80 assises côté passager. Plus surprenante encore, « Invisible Fortress » est une chanson lo-fi sludge-punk antimatière qui pourrait avoir été tirée du gospel de Dirty Beaches.

The Albertans – Begin The Beguin
---