Tag: adam bradley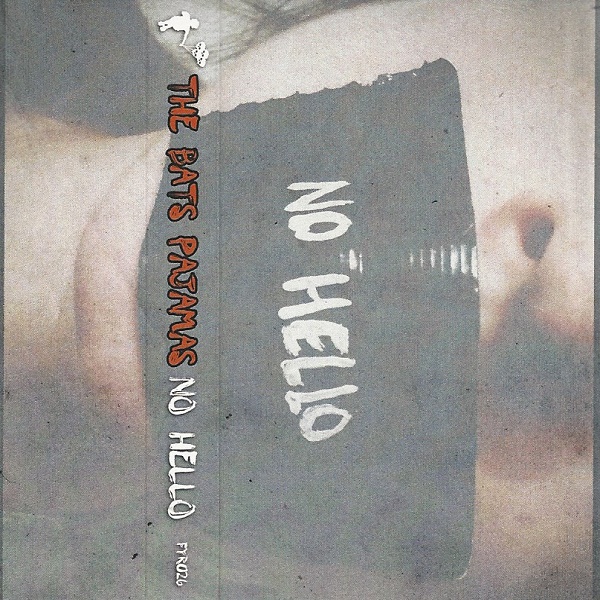 The Bats Pajamas
No Hello
Toronto, ON
From the curdled misanthropy of Adam Bradley:
A primo specimen of Toronto's malformed and curdled species of garage rock. Septic distortion and scummed up bass slop on top of misanthropic, snotty vocals. Kickin' shit over riffs. Window smashing ugliness. Skipped off again, pizza in the alleyway, beer in a bag. Slacker maniac grudge-grunge, hacking a lung, an infected mess bubbling up throbbing puce-goldenrod.
De la misanthropie caillée de Adam Bradley:
(Traduit par le yogourt glacé de Julie Mayer)
Un spécimen de première formé d'espèces torontoises difformes et caillées de garage rock. Une distorsion septique et une basse crasseuse se déversent sur des voix misanthropiques et snobs. Des riffs ravageurs. Une laideur de fenêtres fracassées. Encore à foxer l'école, à manger de la pizza dans la ruelle, une bière dans le sac. Du grunge rancunier, fainéant et maniaque qui charcute un poumon, bordel infecté d'où s'échappe une mousse de pulsations couleur puce-jaune paille.
The Bats Pajamas – Feel Like Shit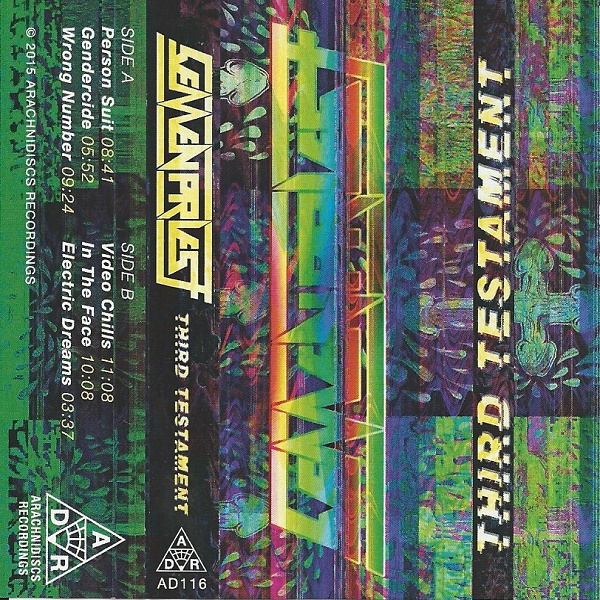 Semen Priest
Third Testament
Toronto, ON
From the masterful sleaze of Adam Bradley:
A grinning, skeletonized and sunglass-eyed Right Said Fred strutting through strobe lit hell-waste, lava sloshing to the groovy thrust. Rowland S. Howard rolled up in a rug made of disco ball shards, thwacked with sticks by little gremlin versions of A Certain Ratio. Masterful sleaze drips viscous. Fat cherry lips pout in the darkness and lick salaciously. Clammy palms rub together. Teeth gnash anticipation. The air is sulphur and cigarette.
De la savante débauche d' Adam Bradley:
(Traduit à grosses gouttes par Nicolas Coutlée)
Lunettes fumées et sourire aux lèvres, les squelettes des membres de Right Said Fred défilent dans une décharge infernale illuminée au stroboscope tandis que clapote la lave au rythme du groove. Rowland S. Howard enroulé dans un tapis de tessons de boule disco, fracassée à coups de bâton par les musiciens de A Certain Ratio version Gremlin. Savante débauche qui tombe en gouttes visqueuses. De pulpeuses lèvres rouge font la moue dans le noir et se pourlèchent d'un air salace. Des mains moites se frottent l'une contre l'autre. Des dents qui grincent d'anticipation. L'air n'est que souffre et cigarette.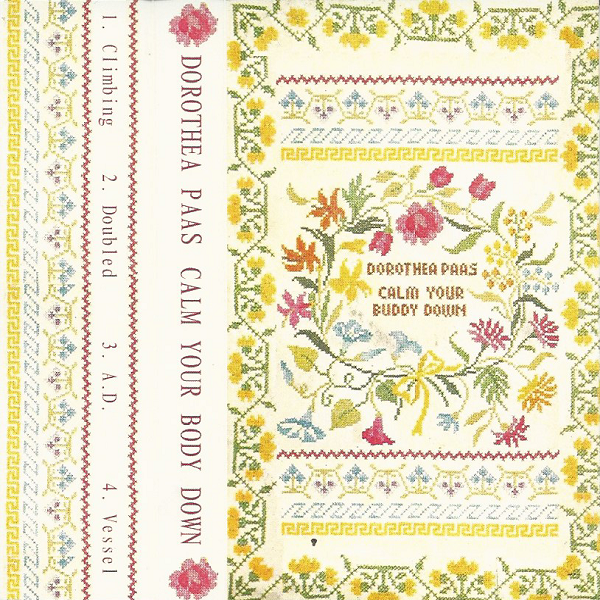 Dorothea Paas
Calm Your Buddy Down
(Self-Released)
Toronto, ON
From the pulsing skull of Adam Bradley:
Crunchy turtle Sunday mornings. Cold coffee sips and house plants swaying green in cool Spring window breeze. Swollen unsure memories pore over the night before. A small kiss, a rip in your favourite old t-shirt, accidentally smashed highball glass. Regretful rolling into wistful, the soft ache in the skull pulsing out questions. Denim and plaid clad reaper sits in a chair close by, whispering dead-leaf nostalgic elegies. Stained and heavy curtains billow while dust motes drift on yellow beams.
Sorti des pulsations du crâne d' Adam Bradley:
(De l'hémisphère gauche de Diane Beaupré)
Dimanches matins paresseux. Gorgées de café froid et plantes tirant sur le vert dans la fraîche brise printanière. Souvenirs confus de la veille. Un petit bec, un trou dans votre t-shirt préféré, un verre accidentellement cassé. Les regrets font place à la mélancolie, la douleur lancinante sous vos cheveux bat au rythme des questions. Jeans et chemise à carreaux jetés sur une chaise récitent un poème automnal. Les rideaux épais et tachés se gonflent tandis que la poussière est poussée par le vent sur les poutres jaunes.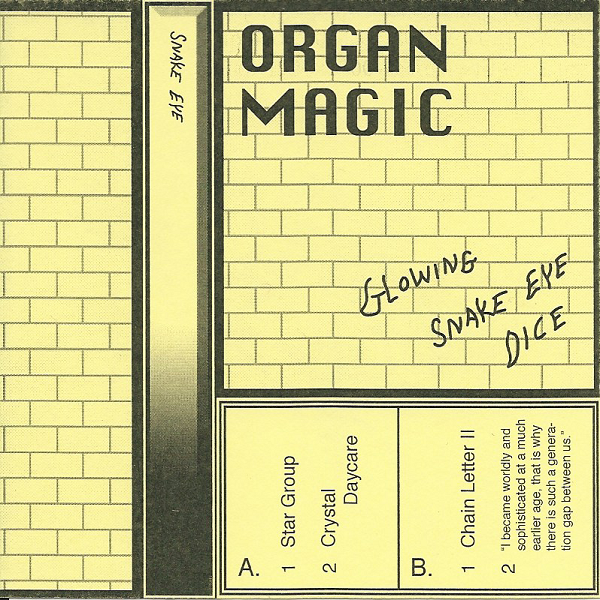 Organ Magic
Glowing Snake Eye Dice
(Self-Released)
Halifax, NS
From the solipsistic thwomping of Adam Bradley:
Stride into the house, the house built of interwoven, interlocking glowsticks, all activated and emanating a jumping energy. Fluorescence omnipresent save for the black of the hollow dancehall far ahead, flashing, heaving, thwomping. A mist of sweat travels through the maniac strobe and envelops like a druggy hug. Floor is condensation slick and rubbery like a dead balloon that's been sucked on. Ceiling is disco tiles, pulsing spastic morse. The atmosphere is dovetailed with a solipsistic confidence and the horn of plenty promises a bubbling bounty of vice.
Du *thwompage* solipsiste d' Adam Bradley:
(Traduit par l'optique épileptique de Julie Mayer)
Entrez dans la maison, la maison faite de bâtons lumineux entrelacés et interconnectés, tous activés et desquels émane une énergie bondissante. Une fluorescence omniprésente vous garde de la noirceur du dancehall creux qui clignote, se soulève et thwompe loin devant. Une brume de sueur voyage à travers la lumière stroboscopique maniaque et vous enveloppe comme un câlin de junkie. Le sol, rendu glissant par la condensation, est aussi caoutchouteux qu'un ballon dégonflé dont on a aspiré l'air. Le plafond aux allures de boule disco pulse du morse spasmodique. Une assurance solipsiste se joint à l'ambiance et la corne d'abondance promet une prime pétillante de vice.
Organ Magic – I became worldly and sophisticated at a much earlier age, that is why there is such a generation gap between us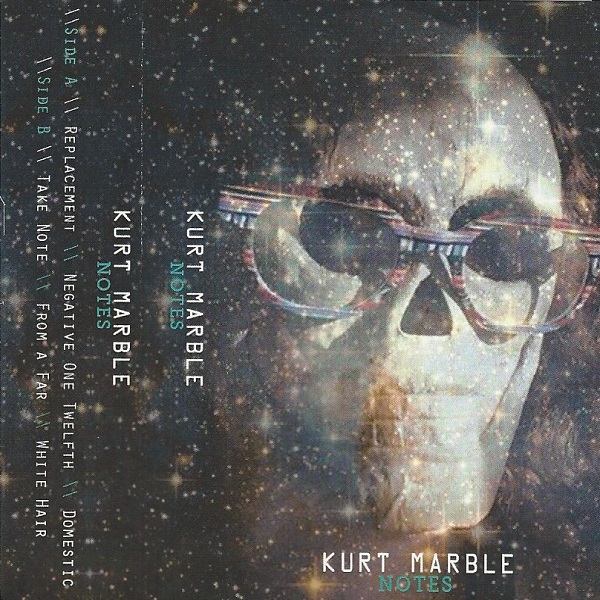 Kurt Marble
Notes
(Self Released)
Toronto, ON
From the impeccable hyperbole Adam Bradley:
Huck the holy hatchet slow-mo into the event horizon. Cement fisted, muscles taut, teeth cracking. A flash of lightning light and a tremendous boom. Kurt Marble emerges from the seething black sphere, all beings of hot, golden energy. Six songs of adamantine garage rock godliness lie herein, slashing on harsh curvature, pummeling like ancient anger. Giant riffs quake, an Olympian voice belts in echo, pensive moments seep through the cracks. The golem comes, prepare thy ears.
De l'hyperbole impeccable d' Adam Bradley:
(Traduit par Jessica Grenier)
La hachette sacrée est lancée, au ralenti, dans l'horizon des événements. Poings de ciment, muscles prêts, dents fendillées : Kurt Marble émerge de la sphère noire nébuleuse en une créature d'énergie rouge et or. Voici six chansons consacrées au rock de garage adamantin, tronçonnant les courbures brutes et martelant telle une rage ancienne. Un tremblement de riffs titanesques fait écho à une voix olympienne; des instants pensifs s'infiltrent par les crevasses. Le golem arrive, soyez avertis.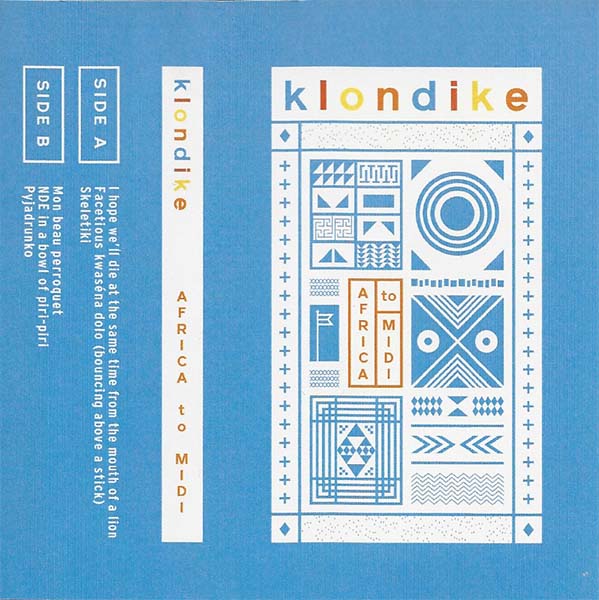 Klondike
AFRICA to MIDI
Montréal, QC
From the wide-eyed infinity of Adam Bradley:
Transmissions from a universe of fractal beings, pulsing and morphing through all colours in a cosmic dust cloud. Dancing with twitchy grace, small spheres and spinning triangles climb over one another, racing to the top of a hill of green fire. Strange caverns drip with digital stalactites, carpeted with code, inhabited by spritely sprites and wide-eyed A.I. Birds bobbing in chipper chirping mechanical harmony, singing in infinite combinations of every sound ever known.
De l'infinité aux yeux écarquillés d'Adam Bradley:
(Traduit par Jessica Grenier)
Des transmissions provenant d'un univers habité par des êtres fractals pulsant et se transformant à travers le spectre des couleurs dans un nuage de poussière cosmique. Dansant avec une grâce nerveuse, de petites sphères et des triangles tournants s'imbriquent les uns dans les autres, essayant d'arriver au sommet d'une montagne de feu vert. Des stalactites numériques se forment au-dessus du sol composé de code d'étranges cavernes, habitées par des farfadets follets et des oiseaux dotés d'intelligence artificielle, les yeux écarquillés, s'agitant au rythme d'une harmonie mécanique en chantant les combinaisons infinies de tous les sons jamais connus.
Klondike – I hope we'll die at the same time from the mouth of a lion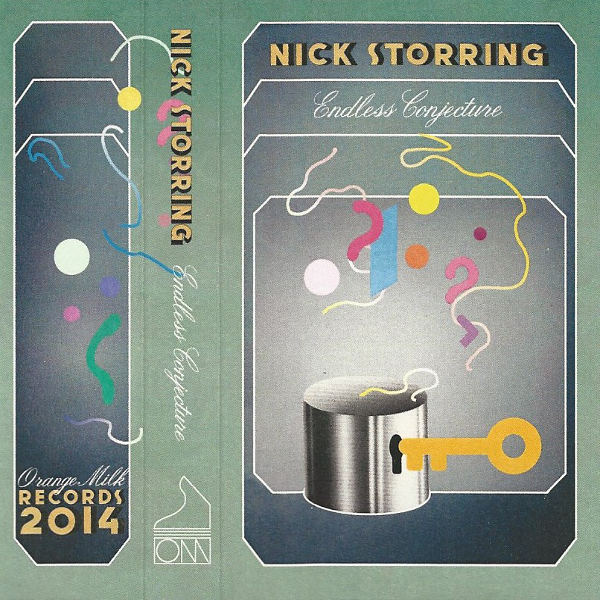 Nick Storring
Endless Conjecture
Toronto, ON
From the churning memory of Adam Bradley:
Gulp down a glass of orange milk. Fall forward slowly on the hinge of the toe, flat grimace, saucer eyes. Poof into the sandbox sand. Garnets and amethysts trickle from the clouds, dark green evergreen bows bend down to make a blanket. Sink into the sand. Slow, slower. Darkness first, then emergence into a viscous semi-void, rattling with the ghost of every toy you ever owned. Rusty clockwork cranks and twangs. Twiggy fingers pluck at your clothes. Climb into Grandma's cupboard, the size of a bear cave, filled from floor to ceiling with pots and pans, sentient and looming. The teeth of age clatter, the guts of memory churn.
De la mémoire emmêlée d'Adam Bradley:
(Traduit par Jessica Grenier)
Avales un grand verre de lait d'orange. Glisse doucement la tête vers l'avant jusqu'à être sur la pointe des orteils avec une grimace figée, les yeux en soucoupes. Pouf! : tu es dans le carré de sable. Il pleut des grenats et des améthystes, des nœuds papillons-conifères s'inclinent en une couverture. Enfonce-toi dans le sable lentement, plus lentement. D'abord l'obscurité, puis émerge un demi-néant visqueux, hanté par les fantômes de tous tes anciens jouets. Un vieux mécanisme rouillé toussote en grinçant. Des doigts rachitiques pincent tes vêtements. Grimpe dans le placard de grand-mère, celui gros comme l'antre d'un ours, remplis de casseroles et de poêlons animés et menaçants. Les dents de l'âge s'entrechoquent, les boyaux de la mémoire s'entremêlent.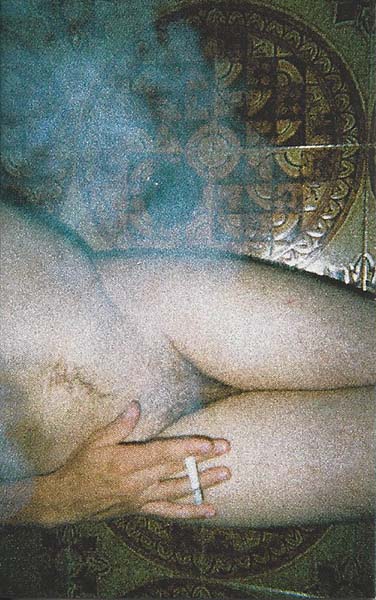 Dirty Frigs
Dirty Frigs
(Self Released)
Toronto, ON
From the pallid reflection of Adam Bradley:
Quartz golem wielding a crystal chandelier, baring down on the imp of banality. A sonic mountain growing geometrically forever, piercing the atmosphere and penetrating the tapestry of space-time. Frequencies shuddering and bass creating earthquakes indiscriminately. The cavernous voice of a trapped beast of the deep. Dust-bowl breath, searing eyes, gnashing jaws. Circles of salt, sage burnt in corners, a pallid, sick reflection of a thing that lived before. The walls twist and rend, nerves crackle under skin.
Du reflet blafard d' Adam Bradley:
(Traduit par Jessica Grenier)
Un golem de quartz brandit un chandelier en cristal, dévoilant le diablotin de la banalité. Une montagne sonore géométrique grandit à l'infini, perçant l'atmosphère pour pénétrer la toile spatio-temporelle. Les fréquences frissonnent : une basse crée aveuglément des tremblements de terre. La voix caverneuse d'une bête abyssale emprisonnée : souffle sablonneux, yeux ardents, dents exhibées. Des cercles de sel, de la sauge brûlant dans les coins, le reflet maladif d'une chose ayant déjà vécu. Les murs se tordent puis fendent, les nerfs crépitent sous la peau.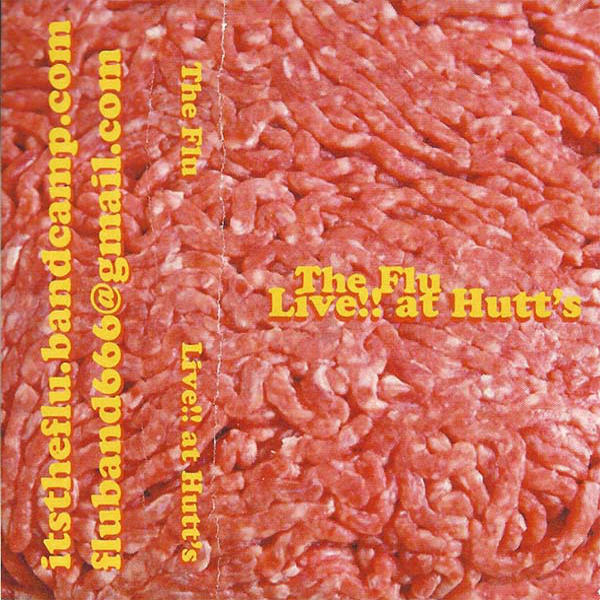 The Flu
Live!! At Hutt's
(Self Released)
Toronto, ON
From the balloon animal veins of Adam Bradley:
Ultra skuzz-buzz brain blasting snaggle-tooth punk slop. Four hundred mph, eyelids like parachutes, tongue flappin' like a thirsty dawg. Tall glass o' toxic slime with black tapioca balls, hands down the beef grinder, makin' a little dinner. Armadillos roll down into hell's mouth, highfive all the buds. Hurl a busted amp off a skyscraper, veins inflated like balloon animals, eyeballs googling 'round all bingo ball. Grin like a doofus, spontaneously combust, pile of ash crawling towards the bar.
Des veines gonflées comme des ballounes en forme d'animaux d'Adam Bradley:
(Traduit par le corps tombant plus vite que le cri de Jessica Grenier)
C'est une bouette punk sur un buzz de skuzz à s'en péter la tête. Quatre cent mille à l'heure, les paupières étirées en parachutes, la langue battant au vent comme chien. Un grand verre de glue toxique avec de boules de tapioca noir, les bras jusqu'au coude dans le hachoir : on se fait un petit souper. Armadillo se jetant dans la bouche de l'Enfer pour donner des highfive à ses chums. Lancer un ampli sauté du haut d'un gratte-ciel, les veines gonflées comme des ballounes en forme d'animaux, les yeux googlant comme des balles de bingo. Sourire comme un crétin, spontanément prendre en feu : un tas de cendre rampant vers le bar.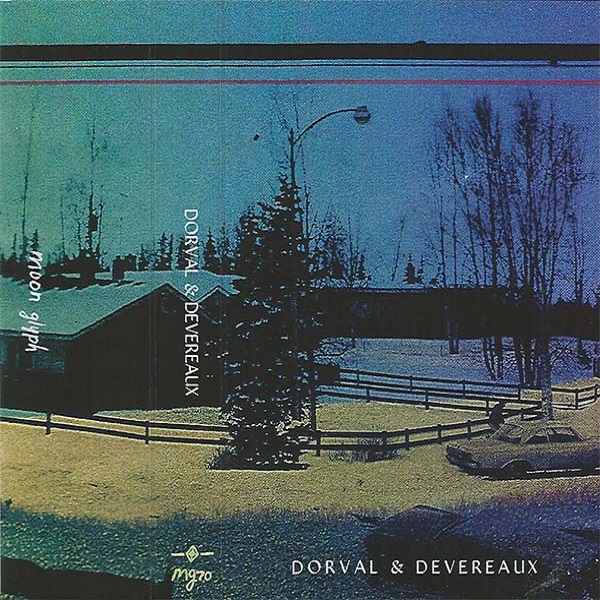 Dorval & Devereaux
Dorval & Devereaux
Vancouver, BC/Madison, WI
From the magic hour brainscape of Adam Bradley:
A tight, warm hug from an alien species comprised of light and tangible time. Tumbling electronic curvature interspersed with holy, healing veritas. Inerrant peace of mind, trundling across the tumultuous biomes of thy brainscape. Wings of bundled cotton and mist thrust from bony blades to assist in a guided glide to wakefulness. Balancing tip-toe on a mountain's highest heave, head cradled by an aureola of magic hour sun.
De l'heure magique du paysage cérébral d'Adam Bradley:
(Traduit par l'instant lunaire de Jessica Grenier)
C'est un gros câlin réconfortant fait par une espèce extraterrestre constituée de lumière et de temps matériel. Des courbes électroniques déferlantes entrecoupées de saintes veritas apportant la guérison. Une paix d'esprit infaillible parcourant le binôme tumultueux d'un paysage cérébral – le vôtre. Une descente vers l'éveil, guidée par des ailes de coton duveteux et leurs poussées vaporeuses sur deux plaques osseuses. Du bout des orteils, être en équilibre sur le sommet le plus élevé d'une montagne, la tête au creux de l'auréole solaire de l'heure magique.

Dorval & Devereaux – Heavy Hands
---