Tag: acid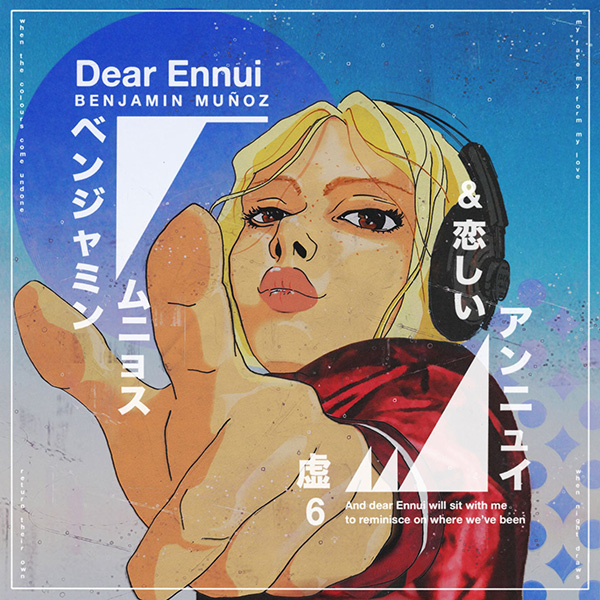 Benjamin Muñoz
Dear Ennui
Hamilton, ON
From the hygge of Rolf Klausener:
The chalky timbre of TUMS rattling in their bottle, the infinite drum roll of heavy rainfall: the right poly-rhythms have a way of both soothing us and sparking contemplation. With its heavy industrial past—echoes of primitive robots stamping out die-cast auto parts—Hamilton seemed destined to be Canada's home of arrhythmic pop. Benjamin Muñoz cobbles warm, percussive electro, where tumbling woodblocks spoon seamlessly with avant-garde jazz-breaks. Delayed pianos dovetail sampled vocals forging sweater-weather melodies. Easily at home among Berlin's Leaf Label, or Caribou's debut explorations as Manitoba, Dear Ennui offers daydream voyages on pleasantly unpredictable oceans, slave to rogue waves, and bound by no anchor.
De l'hygge de Rolf Klausener:
(Traduit par la saudade de Louis-Félix de Chevigny)
Le timbre crayeux d'un flacon de TUMS que l'on secoue, le roulement de tambour perpétuel d'une pluie battante: les bons motifs polyrythmiques apaisent et invitent à la contemplation. Avec son lourd passé industriel -lors duquel retentissait la résonance de robots primitifs martelant des pièces d'automobile moulées – Hamilton semblait destiné à être le foyer canadien du pop arythmique. Benjamin Muñoz nous concocte de l'électro percutante et chaleureuse dans laquelle s'harmonisent le wood-block et les interludes jazzy avant-gardes. Des mélodies de temps frisquet issues de l'accord entre des notes tardives de piano et des échantillons vocaux. Bien à sa place aux côtés de la maison de disque berlinoise Leaf Label, ou de Caribou à ses débuts, sous le pseudonyme Manitoba; Dear Ennui offre une rêverie de voyages sans ancre sur des eaux imprévisibles, esclave aux vagues scélérates.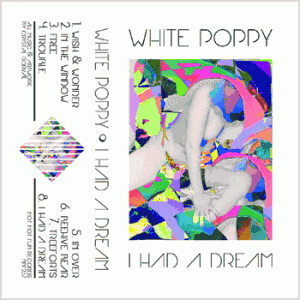 White Poppy
I Had A Dream
Vancouver, BC
From the beachside burnitude of Aaron Levin:
Billowing acid casualties litter the emergent form of our friend Wallis. I Had A Dream is a blown-out saturnalia of junglic trance wrapped with incandescent layers of popular catch. The anthemic wash of lysergic fuzz and drum machine clamour drives like veins bursting with empathy and bliss. The perfect triangulation of beachside burnitude, west coastral mellow, and magnetic jammery. Shred.
De la fainéantise de la plage d'Aaron Levin: (Traduit par Maya Keshav)
Les victimes gonflés de l'acide tachettent la forme émergeante de notre ami Wallis. I Had A Dream est une fête explosée de transe junglique emballée dans les couches incandescentes de popularité entraînante. Les ondes hymnales de flou lysergique et de chaut boîte à rythme balancent comme les veines qui débordent d'empathie et de joie. La triangulation parfaite de la fainéantise de la plage, la détente de la côte ouest, et les bœufs magnétiques. Achetez-le.
Omma Cobba
Faster Acid Sun, Burn Burn
Toronto, ON

A
million watts of attitude
throughout, Omma Cobba's thick reverb smoke go bursting barometers, leaving my throat sore. The bass slips and slides through the pressure, until
consciousness snaps
in the 12-minute one-way ticket to the asylum
Faster Acid Sun, Burn, Burn
. Drenched.
Du « que s'est-il passé hier? » de Gabriel Jasmin:
Un million de watts d'attitude, Omma Cobba fait sauter les baromètres avec leur reverb lourd et impénétrable, et me laisse ma gorge sèche. La basse navigue à travers la pression et vire mollement de gauche à droite, jusqu'à ce que la conscience trébuche sur un ticket aller-simple vers l'asile, le jam de 12 minutes Faster Acid Sun, Burn, Burn. Hallucinant.
[audio:http://weirdcanada.com/binary/Weird_Canada-Omma_Cobba-Faster_Acid_Sun_Burn_Burn.mp3|titles=Omma Cobba – Faster Acid Sun, Burn Burn] Omma Cobba – Faster Acid Sun, Burn Burn
[audio:http://weirdcanada.com/wp-content/uploads/2012/07/08-Up-And-Run.mp3|titles=Omma Cobba – Up And Run] Omma Cobba – Up and Run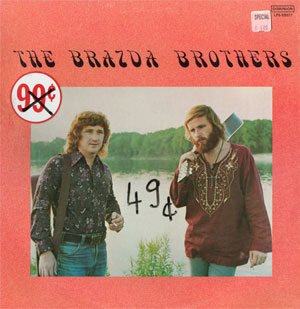 The Brazda Brothers
The Brazda Brothers
(Dominion)
??, ON
Originally Released, 1973
From the Russian imports of Aaron Levin:
These two Russian hippie-bros emigrate to Ontario and release an album celebrating the pastoral scenery of their new home. With thick, stilted Ruskie accents and strange instruments (Cordovox?) they weaved twelve streams of folk-rock textures in dedication to our unique landscape. Their foreign perspective is the album's greatest strength; take their journey and visualize the vast industrial heartland through outside, lysergic eyes. The resulting innocence, both serene and moving, place the Brazda Brothers alongside other nationalized fringe-folk canon whose trails into uncharted territory shaped our anomalous soundscape (Riverson, Ptarmigan, PCC, etc). The band claims that 5,000 copies were pressed but the number of known copies states otherwise. Released on a budget label concerned mostly with fiddle and children LPs. I flipped my lid when I found a sealed copy of this!
Des impôts russes d'Aaron Levin: (Traduit par l'espionne Russe qui est Maya Keshav)
Ces deux hippie-frères émigrent en Ontario et publient un album qui célèbrent les paysages pastoraux de leur nouveau chez-eux. Avec les accents russes guindés et les instruments bizarres (le Cordovox?) ils tissent douze flots des textures trad-rock dédiés à nos paysages uniques. Leur perspective étrangère est la force de l'album; faites leur voyage et voyez le coeur vaste et industrialisé avec leurs yeux étrangers et lysergiques. L'innocence qui résulte, aussi sereine qu'émouvante, met les frères Brazda aux rangs des autres groupes fringe-trad maintenant nationalisés, les chemins desquels dans un territoire inexploré ont formé nos paysages difformes (Riverson, Ptarmigan, PCC, etc). Le groupe soutient qu'ils ont imprimé 5 000 numéros mais la quantité des numéros connus dit autrement. Enregistré avec un label budget qui publie pour la plupart les LPs du violon et pour les enfants. J'était bouleversé quand j'ai trouvé ce LP scellé!
The Brazda Brothers – 20th Century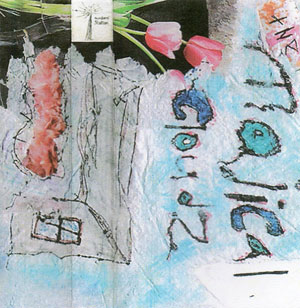 Majical Cloudz
Majical Cloudz
Montreal, QC
From the spike top spittin' cloud of Aaron Levin:
Numbers Station are solidifying themselves as Canada's premier psychedelic cassette label, with more swirls of lysergic prowess and fractured dissertations from Montreal's Majical Cloudz. This side-project from Pop Winds front-man Devon Welsh and Toronto-obscurity Matthew Duffy is further evidence of Montreal's hidden fortress of L.S.Druids, hitting record on the boom-box as they obsecrate the altar of left-field pop occultism. The cassette sifts through your mind like a dream: blissful meanderings through fields of granular echo; pop one minute and droning visions of euphoria the next. To be played at full stone.
Du sommet pointu crachant des nuages d'Aaron Levin:
(Traduit par Odile Leclerc)
Number Station se solidifient en étant la première maison de cassette psychédélique au Canada, avec plus de remous de prouesse lysergique et de dissertations brisées de Majical Cloudz de Montréal. Ce projet en parallèle du leader de Pop Winds, Devon Welsh et l'obscurité de Toronto Matthew Duffy est la preuve encore plus grande que la forteresse cachée de L.S. Druids de Montréa atteignant des records sur le boombox alors qu'ils font l'obsécration de l'autel due l'occultisme pop du champ de gauche. La cassette tamise à travers votre esprit comme un rêve; des méandres divines à travers des chants d'échos granuleux; elle saute une minute et drone des visions d'euphorie par la suite. Doit être joué quand complètement gelé.
---