Tag: 90s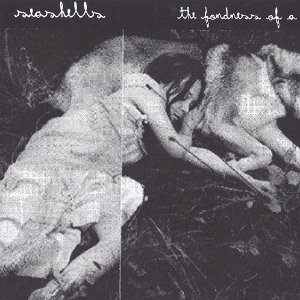 Seashells
The Fondness of a Memory
(Inyrdisk)
London, ON
From the transcending clock of Javier Fuentes:
Disorienting and sometimes harsh zones are par for the course when digging through the Inyrdisk crates, but this latest release from Seashells throws its curveball in the form of unassuming pop precision. Soft strums brush off our troubles with a melodic sleight of hand. Teresa Daniele's vocals announce their calming presence without waking the silent spaces. Cut through your radio static and pay close attention to how the signal mixes with the hushed breeze outside. Your unfound memories from simpler times will transcend the clock through these saccharine gems.
De l'horloge transcendante de Javier Fuentes:
(Traduit par la mélodie déroutante de Julie Forget)
Des zones déroutantes et parfois discordantes sont courantes quand on cherche parmi les boîtes d'Inyrdisk, mais cette récente sortie de Seashells lance sa balle courbe avec une précision de pop modeste. Des grattements doux écartent nos difficultés avec une dextérité mélodique. Les voix de Teresa Daniele annoncent leur présence calmante sans réveiller les espaces silencieux. Choisissez votre radio statique et prêtez attention à la manière dont le signal se mélange avec la brise feutrée à l'extérieur. Vos souvenirs cachés de temps plus faciles transcenderont l'horloge grâce à ces pierres précieuses saccharines.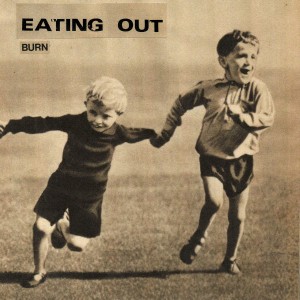 Eating Out
Burn
Vancouver, BC
From the cloudbursts of Alison Lang:
Supergroup is a funny word. It summons visions of older men in sharp hats, or maybe younger men in eyeliner. Eating Out is a supergroup in that it features four punx from three super bands, but there is not a shred of ego heard in the music, nor a single note wasted. The songs on Burn sparkle and crunch like a smashed bottle on pavement darkened by West Coast cloudbursts. And then the closer, "That's My Man," is a ghostly-winsome grunge-pop dream. 100% fun.
Des averses d' Alison Lang:
(Traduit par le déchaînement de Julie Forget)
Le terme « supergroupe » est amusant. Il rassemble les visions de vieux hommes portant d'élégants chapeaux, ou peut-être d'hommes plus jeunes portant du eye-liner. Eating Out est un supergroupe dans le fait qu'il comporte 4 punks provenant de 3 super groupes, mais aucune trace d'ego ne se trouve dans leur musique et aucune note n'y est perdue. Les chansons de Burn éclatent et craquent comme une bouteille se brisant sur la chaussée assombrie par les averses de la côte Ouest. Et puis, le dernier morceau, « That's My Man », se voit être un rêve pop grunge fantomatique-charmant. Voilà 100 % de plaisir.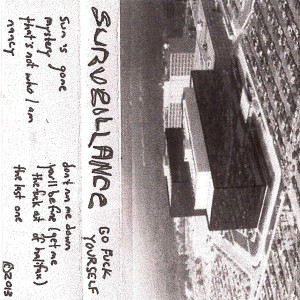 Surveillance
Go Fuck Yourself
(Self Released)
Halifax, NS
From the stereo mountain of Jesse Locke:
Tucked inside a zine-grade cassette sleeve with the sinister image of NSA HQ, this shambly Halifax trio upholds the Nova Scotian no-fi tradition. Slashing through the hiss with a barrage of blurred hooks, caterwaul harmonies and Mascisized overdrive, Surveillance alternate between sensitive slack and slam-dance squeal. Just because you're paranoid doesn't mean they aren't after you…
De la montagne stéréo de Jesse Locke:
(Traduit d'un pied de chèvre par Nicolas Coutlée)
Derrière une pochette de cassette arborant la sinistre image du QG de la NSA, ce chaotique trio d'Halifax perpétue la tradition néo-écossaise no-fi. Se frayant un chemin à travers le grichage à coups de mélodies embrouillées, d'harmonies de miaulements et de distortion mascisisée, Surveillance alterne entre la mollesse sensible et les cris perçants du mosh pit. Ce n'est pas parce que vous êtes paranoïaque qu'ils ne sont nécessairement pas après vous…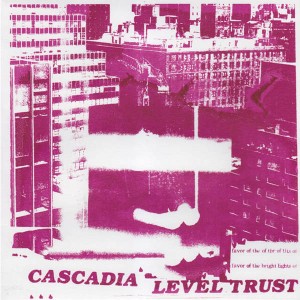 Cascadia
Level Trust
Vancouver, BC
From the passed deadlines of Christopher Laramee:
Here's a lean and mean one from our friends on the left coast. Melodic fury recalling Boston's finest, The Swirlies, duking it out with a punch-drunk and possibly deafened Jesus Lizard. Shoegaze (starting to hate that word) styled lackadaisical vocals push "Yours" into a sonic space few venture near. KARP meets MBV? Yeah, I'm down. Flip the fucker and the b-side's opener "Deny" hits all the right spots with railroad guitars nudging the vocals into a late-night meeting by the bridge for some FINALIZING of a situation. Closer "Ever" pulls the rug out with some neat sludge action and a speed-up that shows the folks to be no mere grunge (hate that one too) copyists. Check this Van City trio quick and maybe they'll drive you into the woods. And leave you there.
Du délai expiré depuis longtemps de Christopher Laramee:
(Traduit par la bougie enflammée de Julie Forget)
Voici tout un EP de nos amis de la côte Ouest. Une fureur mélodique rappelant les meilleurs de Boston, The Swirlies, jouant avec un Jesus Lizard sonné et possiblement assourdi. Les voix apathiques de style shoegaze (je commence à haïr ce mot) poussent « Yours » dans un espace acoustique que peu osent approcher. KARP rencontre MBV? Ouais, j'suis partant. Retournez ce connard de disque et la première pièce de la face B, « Deny », vise juste à l'aide de chemins de fer de guitares, encourageant les voix vers un rendez-vous de fin de soirée près du pont pour FINALISER une situation. Le dernier morceau, « Ever », coupe l'herbe sous le pied avec de l'action boueuse intéressante et une accélération qui montre que ces gens ne sont pas de simples copieurs de grunge (j'haïs ce mot-là aussi). Jetez un coup d'œil à ce trio de Vancouver, ils vous mèneront peut-être dans les bois. Et vous y laisseront.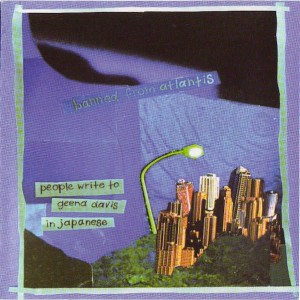 Banned from Atlantis
People Write to Geena Davis in Japanese
(Sister Records)
Winnipeg, MB
Originally Released: 1995
From the prairie myth of Joe Strutt:
Winnipeg makes an effective backdrop for a personal struggle to understand how a benevolent God could have created such a hostile universe.
Kingwell would go on to bestow the name "Plague City" on the town he grew up in, as a not-quite-fond nod to its general hostility toward eking out a comfortable life in any season. It's the sort of place where there's not much to do, so you start a band. I guess that was sort of the case for Banned From Atlantis — I remember reading an interview where they joked that they got together because they were the only Superchunk fans in the city. Starting with some good songs on a decent self-recorded cassette, People Write to Geena Davis in Japanese would emerge as something startlingly transformed, with thunderous drums and aggressively slacker-ish guitars provided by Bob Weston who was brought in to produce the record. The album would be released against the backdrop of the funeral for the Jets (the real Jets, still exiled in Arizona, not the new, fake, militarism-humping Jets). The team would last for one more lame-duck season, but the band would be done by year's end.
Things were grim in Plague City, with an unsavoury right-wing political-correctness ("how did they ever get so good at calling other people names?") establishing a flimsy "Save Our Jets" narrative where we weren't supposed to question the elites' plans to cut a blank cheque for the city's failed and cowardly capitalists. The home I grew up in got sold, and on the cusp of getting my degree (alongside — and this is a true story — no less than Fred Penner) I moved downtown, into my first apartment and quickly learned to recognize the local gang signs. Waving goodbye to all my friends left and leaving, I decided to stay for one more year. I put my polisci courses to work in a dead-end job that involved breathing in other people's cigarette smoke and watching them piss away their paycheques on VLTs. I put my philosophy courses to work by settling into a winter-long existential funk, wondering what the hell I was going to do with my life.
Long story short: the things you don't know about yourself in 1995 are going to be the things you don't know about yourself in 2013. There's a prairie myth of winter stoicism — that it toughens you up, makes things endure — but in the end it simply breaks some things, like the ice on the rivers at the city's heart: solid ground heaved into fragments by remorseless, unseen forces. Long story short: the band would break up (though guitarist Doug McLean would notably move on to The Bonaduces and The Paperbacks), the Jets would leave, and I too would leave. "Because the thing about a Plague City summer is that it's never quite long enough to let you forget that winter."
Joe Strutt blogs at Mechanical Forest Sound, a slow-paced investigation of a wide range of artists — mostly reflecting on concerts as shared experiences, acts of citizenship and a chance to get down. Fuzzy photographs and clear-sounding original live recordings a specialty.
Du mythe des Prairies de Joe Strutt:
(Traduit par la peste urbaine de Vincent Rondeau)
Winnipeg est un endroit particulièrement propice à la crise de conscience de l'individu qui tente de comprendre comment un Dieu bienveillant aurait pu créer un univers aussi hostile.
Kingwell a aussi donné à la ville de son enfance le surnom pas si affectueux de « Plague City » (la ville de la peste), en référence à la difficulté d'y trouver une vie confortable, peu importe la saison. C'est le genre d'endroit où il n'y a pas grand chose à faire, alors on part un band. J'imagine que c'est le cas de Banned From Atlantis : je me rappelle avoir lu une entrevue avec les membres du groupe qui disaient s'être rencontrés parce qu'ils étaient les seuls fans de Superchunk en ville. À partir de quelques bonnes chansons sur une cassette enregistrée maison, People Write to Geena Davis in Japanese s'est métamorphosé en un album surprenant, plein de percussions retentissantes et de guitares slacker agressives offertes par le producteur invité Bob Weston. Le disque a paru pendant les funérailles des Jets (les vrais Jets encore exilés en Arizona, pas la fausse nouvelle équipe aux tendances militaristes). L'équipe a continué de jouer pour une saison pitoyable, mais le groupe s'est dissolu avant la fin de l'année.
Tout allait mal alors à Plague City : des relents déplaisants de rectitude politique de droite alimentaient un point de vue « sauvez nos Jets! » selon lequel on n'était pas supposé remettre en question l'idée des élites de faire un chèque en blanc aux capitalistes ratés et lâches de la ville. La maison de mon enfance a été vendue, et juste au moment où j'allais compléter mon diplôme (en même temps que Fred Penner, sans blague) j'ai emménagé dans mon premier appartement au centre-ville, où j'ai rapidement appris à reconnaître les symboles des gangs locaux. Au moment où tous mes amis partaient, j'ai décidé de rester en ville pour un an de plus. À l'aide de mes cours de science politique, j'ai décroché un emploi sans avenir où je respirais la fumée de cigarette des gens venus gaspiller leurs chèques de paye à la loterie vidéo. À l'aide de mes cours de philosophie, j'ai sombré dans le doute existentiel tout l'hiver en me demandant ce que j'allais faire de ma vie.
Bref, ce qu'on ne connaît pas à propos de soi-même en 1995, on ne le connaît pas plus en 2013. Il y a un mythe du stoïcisme hivernal qui veut que l'hiver des Prairies bâtit le caractère, qu'il permet de mieux endurer toutes sortes de vicissitudes, mais au fond, tout finit par casser comme la glace des rivières au coeur de la ville, un bloc solide fragmenté par des forces invisibles et impitoyables. Bref, le groupe s'est dissolu (toutefois, le guitariste Doug McLean a ensuite fait partie des Bonaduces et des Paperbacks), les Jets sont partis et moi aussi. « Parce que le problème avec l'été à Plague City, c'est qu'il n'est jamais assez long pour oublier l'hiver. »
Joe Strutt écrit pour le blog Mechanical Forest Sound, qui examine en profondeur un large éventail d'artistes en réfléchissant sur la notion du concert en tant qu'expérience partagée, acte de citoyenneté et occasion de s'amuser. Points forts : les photos floues et les enregistrements originaux clairs.
Banned From Atlantis – Sovereign Thug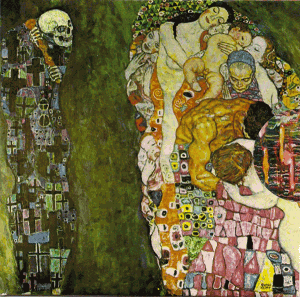 Grime Kings
First View of the New
Belleville, ON
From the dream-inducing corollaries of Aaron Levin:
Gnarly basement moves form this Belleville loner. Stalwart sonic penetrations into dream-inducing corollaries peppered with Gen X vibes for the 2.0 webfed. Inconceivable catch runs concurrent through clamourous permutations of height: rock riffery, piano balladry, proto-rappery, and experimental reppiditry. At the prodigious life-length of 17, Grime Kings unravels new layers of popular shred. Gripfest y2k12.
Des corollaires rêve-provoquants d'Aaron Levin: (Traduit par Maya Keshav)
Les pas tordus du sous-sol forment ce morceau solitaire de Belleville. Les pénétrations soniques loyales tachetés avec les ondes Gen X pour ceux qui sont nourris par l'internet 2.0. Les accroches inimaginables coulent à travers les permutations bruyantes de l'hauteur: les riffs du rock, les ballades au piano, les proto-raps, et la rapidité expérimentale. À l'âge extraordinaire de 17, Grime Kings dévoile des nouvelles couches de shred populaire. Acheterfest 2k12.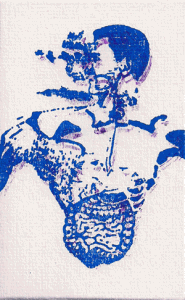 WTCHS
Wet Weapons EP
(Perdu)
Hamilton, ON
From the steeltown reverie of Aaron Levin:
Strange sounds upon strangewinds emerge from a newly born Steeltown oasis. The strangled snare of gnarled guitars harken upon the nethersteps of Haligonia, but it's the hooded nihilism of WTCHS' droning vocals that yield unlimited satisfaction. Hope comes in a multitude of flavour. Hand-stamped package complete with 6-minute tape-only drone-out. Grip sicc widdit.
De la rêverie haligonienne d'Aaron Levin:
(Traduit par Maya Keshav)
Les bruits bizarres au-dessus des vents bizarres sortent d'une nouvelle oasis à Halifax. Le collet étranglée des guitares tordues rappellent le paysage de Halifax, mais c'est le nihilisme sinistre du chant bourdonnant de WTCH qui fournit la satisfaction illimitée. L'espoir est disponible en plusieurs saveurs. Un emballage tamponné à la main, même avec une crise de drone de 6 minute seulement disponsible sur la cassette. Sautez dessus, okay?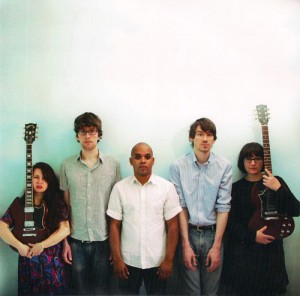 Jay Arner
Bad Friend
(Self Released)
Vancouver, BC
From the distorted cruise of Aaron Levin:
Sometimes it's just the feeling that perseveres. Not the delicate soundscape nor the sparing metaphor; just a pervasive memory lingering; echoes and ambers from the fires of pop and catch. "Black Horse" is a rare breed of languid summer burners and ethereal dissonance, capturing a bleary, pitch-shifted vision into one of the most enduring songs of the season. Bad Friend provides a welcomed balance to "Black Horse"'s minor-key nostalgia with the title track "Bad Friend": a distorted cruise through granular addiction and classic 90s jammery. An unsurprising favorite at the HQ. Grip+++.
De la croisière déformée d'Aaron Levin: (Traduit par la nostalgie en mode mineur de Maya Keshav)
Parfois, il y a juste la sensation qui persévère. Pas le paysage délicat ou la métaphore parcimonieuse, juste un souvenir répandu qui reste; les échos et l'ambre des feus de pop et d'accroche. "Black Horse" est une espèce rare de succès langoureux d'été et de dissonance aérienne, qui saisit une vision troublée et transformée d'une des chansons les plus durables de la saison. Bad Friend fournit un équilibre bienvenue à la nostalgie en mode mineur de "Black Horse" avec la titre chanson "Bad Friend": une croisière déformée à travers l'addiction granulaire et les tounes classiques des années 90. Un préféré sans surprise au QG. Achetez+++.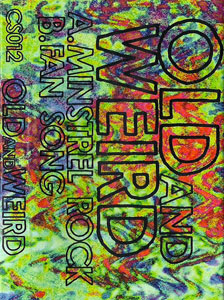 Old and Weird
Minstrel Rock b/w Fan Song
Halifax, NS
From the fan death of Jesse Locke:
The hypercolor sleeve of this cassingle is at odds with the understated pop contained within. Like sonic compatriots Brave Radar the moves here are delicate, floating freely between any particular sound or style with the softest layer of peachfuzz coating the low end of "Fan Song." All the ramshackle sweetness you need in less than three minutes.
De la mort d'un admirateur de Jesse Locke: (Traduit par le jus de Maya Keshav)
La couverture hypercoloriée de cette cassingle est en désaccord sur la pop discrète qui est dedans. Comme les compatriotes soniques Brave Radar, les pas ici sont délicats, en volant librement entre n'importe quel son ou style avec la couche la plus douce du duvet de pêche enrobant le bout en bas de "Fan Song". Toute la douceur délabrée que t'en as besoin en moins de trois minutes.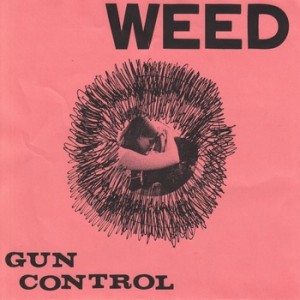 Weed
Gun Control
Vancouver, BC
From the nine mili meters of Aaron Levin:
Ease back into 90s sluritude with Weed's latest quad-platter offering of bummed-out grunge. The newly formed melancholy drips mighty rhythms into a painful chorus of subterranean solitude; the glimmering sun, locked into grooves laced with peaks and valleys, rarely yielding a morning dew more suffocating than the BOSS distortion warming each track on Gun Control. Minimal synth aficionados will be fooled by "Ben's Tour"'s opening riff, but the real heads will dive for the mail-order-only grippage. Vinyl is limited to 200 copies with a cassette-version offered via Green Burrito.
Des neuf milli mètres d'Aaron Levin: (Traduit par l'isolement banlieusard de Maya Keshav)
Laisse-toi tomber dans la marmonnitude des années 90 avec le dernier don quad-plateau de Weed du grunge maussade. La mélancolie nouvellement créée trempe les grands rythmes dans un refrain douloureux d'isolement souterrain; le soleil scintillant, coincé dans les rainures trempées de pics et de vallons, qui donnent rarément une rosée du matin plus étouffante que la distorsion BOSS qui réchauffe chaque morceau sur Gun Control. Les aficionados du synthé minimal seront trompés par le premier riff de "Ben's Tour", mais les vrais experts vont sauter dans l'achat qui est disponible exclusivement par la poste. Il n'y a que 200 copies en vinyle avec une version cassette disponible via Green Burrito.
---