Tag: 80s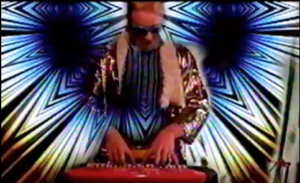 Heinz und Herdzvelt
Plastic Flowers
([Directed By: Heinz und Herdzvelt])
Montreal, QC
From the confused mind of Aaron Levin:
Totally bizarre throwback shrouded in 80s mystery and 90s burnitude. Don't be fooled by the Encino Man mic-gripper or the vibrantly damaged key player, the sinusoids emanating from your speakers are almost more wasted than the visuals. Bass-throttled drumfoolery, pulsing digi-synth, red-washed dread-locks, top-of-the-line-wine green-screen, etc. Just amazing. And certainly not made in 1987 but incredibly difficult to tell either way. From a pseudo-secret society meandering around Montreal under the moniker Haunted Clockwork. CANTGRIPBUTWISHICOULD.
De l'esprit confus d'Aaron Levin:
(Traduit par Odile Leclerc)
Un retour totalement bizarre enseveli dans le mystère des années 80 et la brûlé-attitude des années 90. Ne soyez pas trompé par l'agrippeur de micro Encino Man et le joueur de clavier dynamiquement endommagé, les sinusoïdes émanant de vos haut-parleurs sont presque plus décharnés que les visuels. Des stupidités de batterie de basse étranglée battant des synth digitales, des dreads lavées de rouge, l'écran vert du vin-haut-de-gamme, etc. Simplement formidable. Et certainement pas fait en 1987, mais incroyablement difficile à dire d'une façon ou d'une autre. D'une société pseudo secrète serpentant autour de Montréal sous le sobriquet de Haunted Clockwork. PEUTPASMETTRELAMAINSDESSUSMAISJEVOUDRAISBIEN.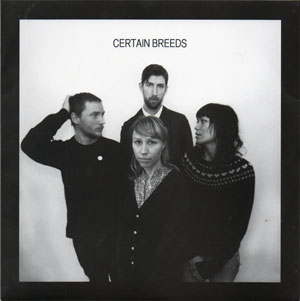 Certain Breeds // Terror Bird
(Walk in Sleep b/w Who's Sorry Now?)
Vancouver, BC
From the unapologectia of Aaron Levin:
There couldn't be a better pairing of 80s pop glamor. Driving Hollywood-vibes permeate both somber-summer jams from these Vancouver new-jacks. Certain Breeds emerge subtly with their 50-second build into devastating romantic nihilism; urgent bass-lines, sweeping synthetic horns, and a latter-third that blows our cohesive cosmic identity into brilliant shards of chromatic dust. Terror Bird's side is a welcomed breather, moving seamlessly into beguiled piano-pop balladry, pulling this strange gaunt through iconic anthemy back into our future reality. Limited, colour vinyl versions exist for the hasty gripper!
Du sans-regret d'Aaron Levin:
(Traduit par Odile Leclerc)
Il ne pouvait pas y avoir un meilleur assortiment de glamour pop des années 80. D'entraînantes sensations d'Hollywood se répandent dans les jams sombres d'été de ses nouveaux gars de Vancouver. Certain Breeds émerge subtilement avec leur ascension de 50 secondes vers un nihilisme romantique; d'urgentes lignes de basse, de balayant cors synthétiques et a dernier tiers qui explose nos identités cosmiques en brillants éclats de poussière chromatique. Le côté de Terror Bird est un répit bienvenu, bougeant harmonieusement dans des ballades séduites de piano pop, tirant à nouveau cet étrange décharné à travers un hymne iconique vers notre réalité future. Limité, les versions vinyles en couleur existent pour ceux qui ont la main rapide!
Certain Breeds – Walk In Sleep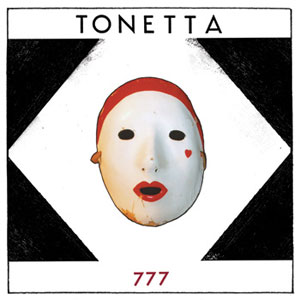 From the there-is-no-describing-this-confusion of Paul Lawton & Aaron Levin:
Long overdue debut LP from Toronto-based sexual hyperbole that collects material recorded between 1983 and 2009. Tonetta's recipe for success consists of wasted erotic lo-fi dripping in wet bass, fruity drum loops, and occasional 80's guitar sleaze; backdrops for his variety show of graphic sexual acts, perverts, prostitutes, drug use, hedonism and occasional political rhetoric. Once a song is recorded, Tonetta dons a costume (g-string, Kabuki mask, demon makeup, etc), takes off most of his clothes, and dances. After the initial sexual overload, a gripping desire to break through the facade takes over. The songs are compelling enough to dive right in and the LP, removed from the visceral overload, allows a new entry-point into Tonetta's garish existence. As a compilation of material spanning 25 years, the album is one highlight after another, from the soaring 80's cheese of "Drugs Drugs Drugs" and "I Want to Marry a Prostitute" (which could be a viagrafied Jimmy Buffett song), to the Bowie-esque album standout "I'm Still a Slave." In the tradition of musical oddities like Jandek, J.T. IV, or more recently Blank Dogs, Tonetta is a mystery best left unsolved. Weird Canada grants this our highest recommendation.
De l'on-ne-peut-pas-décrire-cette-confusion de Paul Lawton et d'Aaron Levin: (Traduit par les boucles fruitées de Maya Keshav )
Le début LP qui aurait dû être fait il y a tellement longtemps de sexual hyperbole de Toronto, qui ramasse la matière qui était enregistrée entre 1983 et 2009. La recette du succès selon Tonetta comprend le lo-fi bourré, érotique, et trempé de basse mouillée, les boucles fruitées de batterie et la vulgarité occasionnelle de la guitare aux années 80; ce sont les toiles de fond pour son spectacle de variétés qui comprennent le sexe cru, les pervers, les prostitués, la toxicomanie, l'hédonisme, et parfois la rhétorique politique. Une fois qu'une chanson est enregistrée, Tonetta met un costume (un string, un masque de kabuki, le maquillage de démon, etc), il enlève la plupart de ses vêtements, et il danse. Après la première surcharge sexuelle, il arrive une envie folle de démolir la façade. Les chansons sont aussi captivantes qu'on peut sauter là-dedans, et le LP, retiré de la surcharge viscérale, est un nouveau point d'entrée à l'existence criarde de Tonetta. En tant que compilation de matière de 25 ans, l'album est un flot de temps forts, du kitsch volant des années 80 de "Drugs Drugs Drugs" et "I Want to Marry a Prostitute" (qui pourrait être une chanson Viagra-lisé de Jimmy Buffett), jusqu'au morceau extraordinaire et Bowie-esque "I'm Still a Slave". Dans la coutume des bizarreries musicales comme Jandek, J.T. IV, ou plus récemment Blank Dogs, Tonetta est une énigme mieux non résolue. Weird Canada vous la présente avec la meilleure recommandation.

Tonetta – Still A Slave

Tonetta – Drugs Drugs Drugs

Tonetta – John And Yoko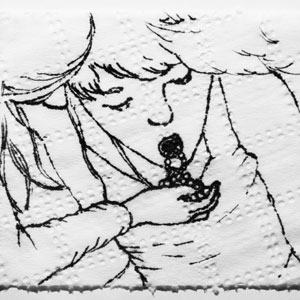 Silly Kissers
Precious Necklace
Montreal, QC
From the perilous necklace of Aaron Levin
I want to live Precious Necklace. I want tight sweaters. VIP access to the clurb. Double martinis. False love. Teen soundtracks blasting. I want the whole world in a song and I want to dance; pulsing drum machines, echoey vocals and exaggerated pop-harmonies. Let the music take you back in time. Nintendo, cocaine, plastic people, and radio hits. Sex in bathrooms and parental neglect. Stereotypes. We've lost our youth. We can take it back. The Silly Kissers, in a futuristic act of heroism, are our only hope. Their fourth and most realized effort to-date showcases their perfected 80s-pop ventriloquism. Precious Necklace is a re-imagining that only nostalgia can deliver; glossing over the weaknesses of an era we will never truly understand and manipulating the pearls of its bounty to deliver every genre's saving grace: synthetic pop perfection. Precious Necklace, released as a limited-edition 10″ on Montreal's Arbutus Records, is a 10/10 major-scale heart-melt. The world has never needed so much. They will deliver. GRIP. IT. NOW.
Du collier périlleux d'Aaron Levin
(Traduit par Maya Keshav)
J'ai envie de vivre Precious Necklace. J'ai envie des pull-overs moulants. L'accès VIP à la boîte. Les martinis doubles. L'amour faux. Les bandes-son adolescentes passées à fond. Je veux le monde entier dans une chanson et je veux danser; les boîtes à rythme pulsantes, les chants résonnants, et les pop-harmonies exagérées. Laisse la musique te fait remonter dans le temps. Nintendo, la cocaïne, les gens plastiques, et les succès de radio. Le sexe dans les toilettes et la négligence parentale. Les stéréotypes. On a perdu notre jeunesse. On peut le récupérer. The Silly Kissers, dans un acte futuriste d'héroïsme, sont notre seul espoir. Sa quatrième entreprise (la plus accomplie jusqu'à maintenant) met en vedette leur ventriloquie perfectionnée du pop des années 80. Precious Necklace est une recréation que seulement la nostalgie peut fournir; en passant sous silence les faiblesses d'une époque qu'on va jamais vraiment comprendre et en manipulant les perles de sa munificence pour fournir ce qui sauve chaque genre: la perfection pop synthétique. Precious Necklace, enregistré comme une 10" édition limitée avec Arbutus Records de Montréal, est un coup de coeur dix sur dix. Le monde n'a jamais eu besoin de si beaucoup. Ils sont magnifiques. ACHETE-LE. MAINTENANT.
Silly Kissers – You Could Even Like Me
Silly Kissers – Treat Me Like You Do
---