Tag: 7″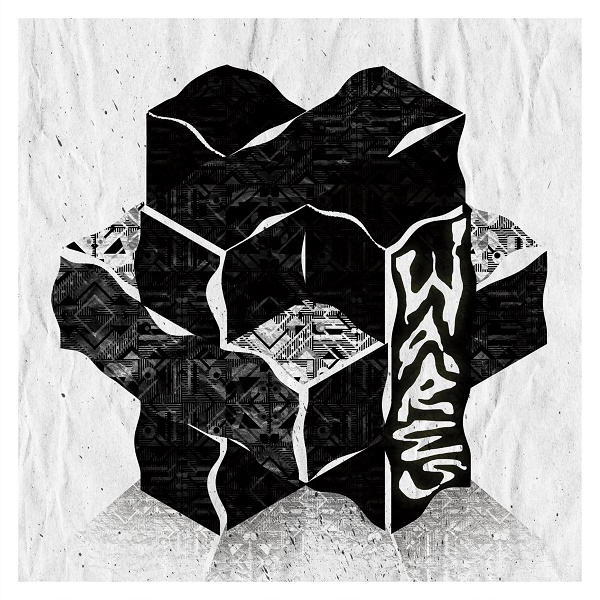 Wares
Missed the Point b/w Beach Date
Edmonton, AB
From the curtained catharsis of Josh Rohs:
School's in, city kids, and attendance is compulsory. On "Missed the Point", Wares' opening salvo of ring mod punk rock capitulates to capital-p Power pop. On the b-side: brass-coupled lakefront nostalgia, sunbleached ivories sufficiently tickled – now with extra curtain-drawn catharsis. Knock down the door and, fuck it, let 'em see you bleed.
De la catharsis garnie de rideaux de Josh Rohs:
(Traduit par la nostalgie académique de Maya Keshav)
L'école est ouverte, les enfants de la ville, et la présence est obligatoire. "Missed the Point" de Wares s'ouvre sur une salve de modulation en anneau (ring mod) punk rock qui capitule jusqu'à p-majuscule Power pop. Sur la face B: la nostalgie du bord du lac conjuguée aux cuivres, les ivoires blanchis au soleil assez chatouillés – maintenant avec plus de catharsis rideaux-fermés. Défoncez la porte et d'la marde, laissez-les vous voir saigner!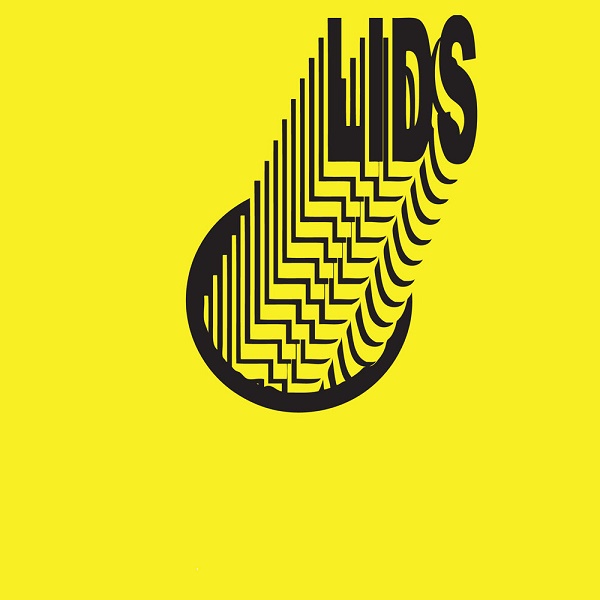 LIDS
SARSFEST B/W BLANK FLAG
Toronto, ON
From the hellish belles of Kevin Hainey:
Lids are rolling thunder, pouring rain. Lids are coming on like a hurricane. Lids' lightning's flashing across the sky. Lids are only young but they're gonna die. Lids won't take no prisoners, won't spare no lives. Lids are putting up a fight. Lids gotta kill, they're gonna take you to hell. Lids gonna get ya, these sides will get ya. Lids kills!
Lids gives ya three sensations from up and down the scene. If you're into METZ then you're a friend of thee. See a fine guy from Constantines who hits notes right. Holy Fuck's Brian Borcherdt's picking it out tight. Lids won't take no prisoners, won't spare no lives. Lids are putting up a fight. Lids gotta kill, they're gonna take you to hell. Lids gonna get ya, these sides will get ya. Lids kills!
Des cloches infernales de Kevin Hainey:
(Traduit par le poète mort de Nicolas Coutlée)
Lids est tonnerre et pluie battante. Lids s'amène dans la tourmente. Lids strie le ciel de ses éclairs. Lids est jeune, mais finira sous terre. Lids ne fait pas de prisonnier, personne ne sera épargné. Lids est prêt pour la bataille. Lids, c'est la mort, prépare-toi pour le croque-mort. Lids aura ta peau, ces chansons auront ta peau. Lids, c'est la mort!
Lids te donne trois sensations de haut en bas de la scène musicale. Si tu aimes METZ, prépare-toi à un régal. Un gars des Constantines qui ne manque pas une note. Brian Borcherdt de Holy Fuck qui n'y va pas de main morte. Lids ne fait pas de prisonnier, personne ne sera épargné. Lids est prêt pour la bataille. Lids, c'est la mort, prépare-toi pour le croque-mort. Lids aura ta peau, ces chansons auront ta peau. Lids, c'est la mort!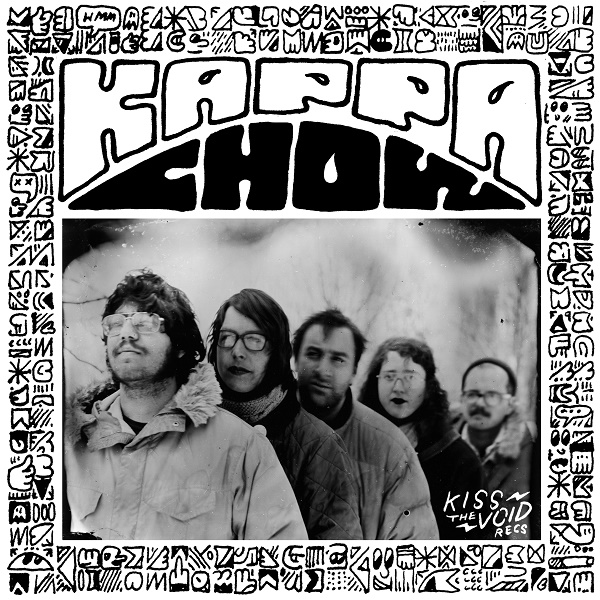 Kappa Chow
Jump / Something Better To Do
(Kiss the Void)
Sackville, NB
From the skull of Luke Mumford:
Straight outta the legendary Sackville, New Brunswick comes another great release from Kappa Chow. The A-side, "Jump" is a psychedelic masterpiece fit for the gods, with a punchline that sounds slightly familiar with way dreamier vocals. Flip the record and you're hit with a garage rock number that you'll be sure to love. The latter is a heavy-duty track. Both will be a great aid to any night of partying, or just sitting around at George's Roadhouse. These songs are mind warpers.
Du crâne de Luke Mumford:
(Traduit par Jessica Grenier)
Un autre excellent album de Kappa Chow, tout droit sorti de la légendaire Sackville, Nouveau-Brunswick. Sur la face A, « Jump » est un chef d'œuvre psychédélique digne des dieux; sa finale a des sonorités familières, mais avec une voix beaucoup plus onirique. En retournant l'enregistrement, tu seras happé par une piste de garage rock à toute épreuve que tu vas adorer. Les deux sont parfaites pour une soirée passée à fêter, ou à juste glander au George's Roadhouse. De vrais doudous pour le cerveau.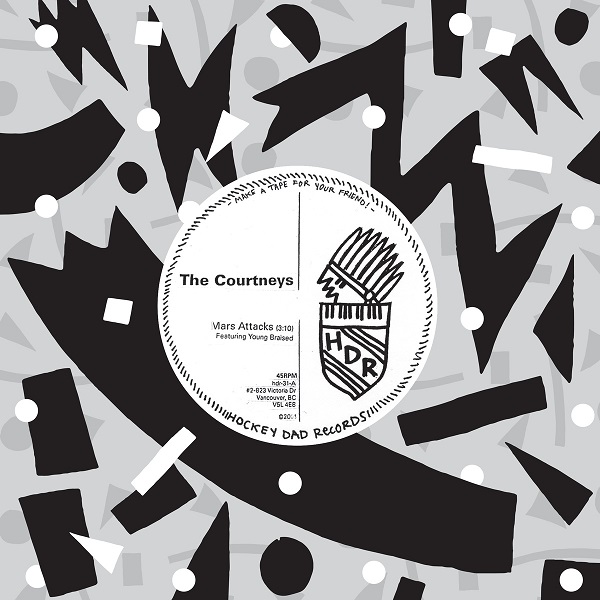 The Courtneys
Mars Attacks 7″
Vancouver, BC
From the dreaded mini tart of Jibril Yassin:
Dragging feel good down into the suburban darkness from whence it came, The Courtneys have shown restraint for not following up a lauded collection of summer goodness with something similar. The summer vacation is winding down and as one can expect, it's starting to get dark – dreams of aliens, under-lit streetlights and Mel Gibson trying to light a joint are what's keeping you awake. But the magic of The Courtneys is you'll likely forget most of this by the time that final chorus comes in. The literature has changed and the cold beer is gone, let's keep up with the times.
Des mini-tartelettes craintives de Jibril Yassin:
(Traduit par Marie-Pier Chevrier)
Traînant les beaux jours jusqu'au fond des ténèbres banlieusardes d'où ils sont venus, The Courtneys se garde bien de donner suite à leur recueil adulé de joies estivales avec quelque chose dans le même ton. Les vacances d'été s'achèvent inévitablement, il se fait tard et des rêves d'étrangers, de lampadaires vacillants et de Mel Gibson tentant d'allumer un joint sont là pour vous garder éveillés. Mais la magie de The Courtneys est telle que vous aurez tout oublié d'ici l'arrivée du dernier refrain. La littérature a changé et la bière froide n'est plus, essayons de garder la cadence.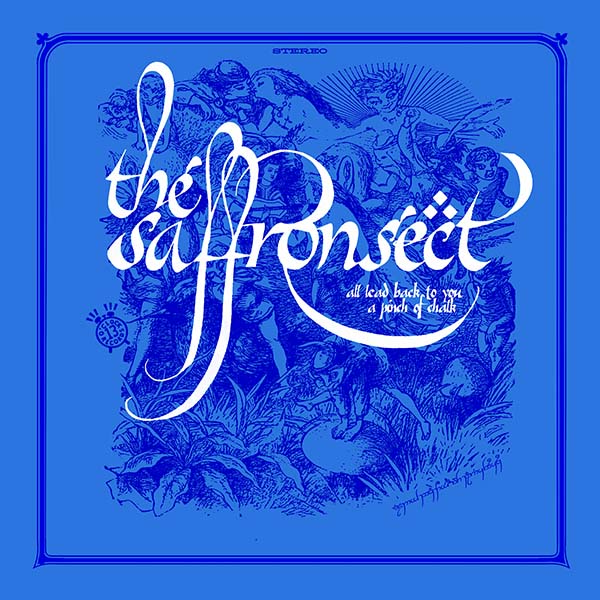 The Saffron Sect
All Lead Back To You b/w A Pinch of Chalk
Toronto, ON
From the one nights stands of Gabe Girard:
13 O'Clock Records, Austin's psych-pop repository extraordinaire indulges us with something more than a one night stand. The Saffron Sect alternate between sultry open-ended jams and glittering hooks loaded with bait attractive enough to catch fish for days. Not just faithful rehashes of 50s, golden era pop/rock psychedelia, this 7" inch carves out its own trajectory. Fishing for a good time starts with throwing in your line.
En direct des histoires d'un soir de Gabe Girard:
(Traduit par Diane Beaupré)
13 O'Clock Records, extraordinaire vitrine de la musique pop psyché d'Austin nous offre bien plus qu'une aventure d'un soir. Saffron Sect passe des improvisations endiablées aux mélodies accrocheuses qui nous hantent pendant des jours. Ce vinyle ne présente pas de reprises remâchées des succès de l'âge d'or du rock pop psychédélique, il trace son propre chemin. Il faut sortir des sentiers battus pour découvrir des trésors.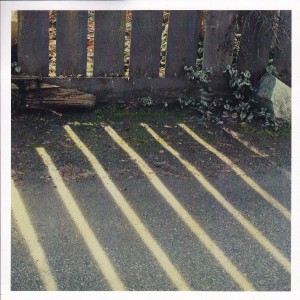 Rose Melberg
Distant Ships
Vancouver, BC
From the glittering prizes of Penny Clark:
Rose Melberg's striding drums and sunny melodies pedal her song like a bicycle through a bright green day. Recorded as part of the Kingfisher Bluez Single Sided Singles club, this 7" has the hazy, warm quality of a projection film reel. Her vivid guitar tone and calm-breeze vocals sail across the horizon, while the song disappears over the glittering waves just as abruptly as it begins. Melberg offers a brief memory of summer, the scent of the rich earth and gentle salt air.
Des récompenses étincelantes de Penny Clark:
(Traduit par la hâte du printemps de Catherine Gaucher)
Grâce à ses percussions marquantes et à ses mélodies ensoleillées, Rose Melberg pédale sur ses chansons comme sur une bicyclette défilant lors d'une radieuse journée. Enregistré pour Kingfisher Bluez et sa collection Single Sided Singles, ce 7 pouces possède une qualité diffuse, chaleureuse et comparable à celle même d'une bobine de projection de film. Ses tonalités vives de guitares et sa voix légère comme la brise voguent à l'horizon, tandis que ses chansons disparaissent tout aussi soudainement qu'elles étaient apparues, parmi les vagues scintillantes. Melberg nous livre un bref souvenir de l'été, un riche parfum de terre et d'air salin léger.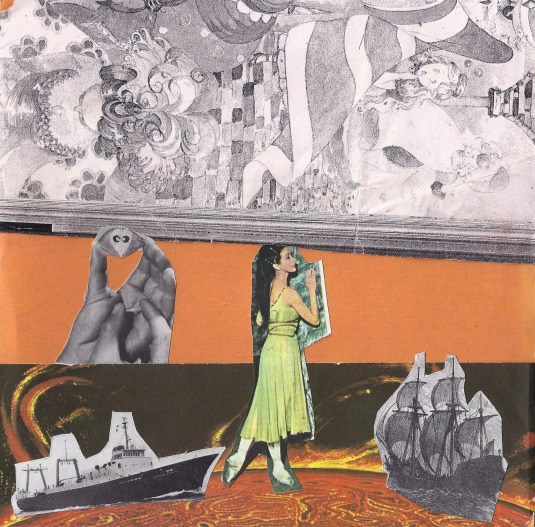 The Pink Noise // Man Made Hill
Split 7″
(Inyrdisk)
Montréal, QC // Toronto, ON
From the cryptic decisions of Jesse Locke:
This split disk surpasses expectations with a pair of institutions in peak form. The three-piece Pink Noise lurches like a post-punk Prometheus juiced on daisy-chained FX pedals as it wobbles askew and utters its first blasé words. The tightly coiled configuration that arrived on Greedy Heart has never sounded more menacing. Meanwhile, the man made mystery known as Randy Gagne shows off his vocal mutations with the burbling kiss and tell "Sweeter Than Ice" and ghoulish synth-pomp falsetto of "Cryptic Decision." Available with risograph cover art or 50 unique collages, like the fever dream scene up above.
Des décisions cryptiques de Jesse Locke:
(Traduit par les contorsions spiraloïdes de Nicolas Coutlée)
Ce split réunissant deux institutions en pleine possession de leurs moyens surpasse toutes les attentes. Le trio Pink Noise titube comme un Prométhée post-punk fou raide de pédales à effets interconnectées, alors qu'il gigote dangereusement et prononce ses premières paroles désenchantées. Les arrangements ficelés serrés de « Greedy Heart » n'auront jamais sonné aussi menaçants. Pendant ce temps, le mystère érigé de main d'homme, connu sous le nom de Randy Gagne, fait étalage de ses mutations vocales sur le secret d'alcôve guttural « Sweeter Than Ice » et de son fausset macabre aux accents de synthé cérémonieux sur « Cryptic Decision ». Offert avec une pochette imprimée sur risographe ou cinquante collages uniques, comme la scène de rêve fiévreux ci-dessus.
Man Made Hill – Cryptic Decision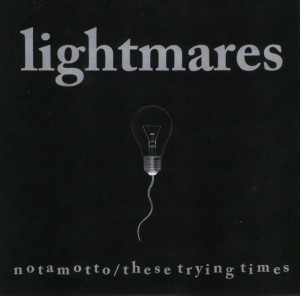 Lightmares
Notamotto b/w These Trying Times
(Self Released)
Sudbury, ON
From the trying times of Joel French:
It must have been seven or eight years now since I first saw Lightmares play a show. These three dudes weren't old enough to stay in the bar after their set, but that didn't stop them from giving out an insanely captivating and raw performance — or from handing out their demos to everyone as we went out to smoke. Since then they've tightened up their live show, songwriting and banter quite a bit, yet they seem just as hungry every time I see them play. This pair of weirdo pop-rock songs is a great representation of what these boys are capable of.
Des temps difficiles de Joel French:
(Traduit avec fébrilité par Andréanne Dion)
Ça doit maintenant faire sept ou huit ans que j'ai vu Lightmares en spectacle pour la première fois. Ces trois gars n'étaient pas assez vieux pour rester dans le bar après leur prestation, mais ça ne les avait pas empêchés de donner une performance extrêmement captivante et brut, ou de distribuer leur démo à tous ceux qui sortaient fumer. Depuis, ils ont pas mal amélioré leur spectacle, la composition de leurs chansons et leurs plaisanteries, mais ils semblent toujours aussi avides à chaque fois que je les vois jouer. Cette paire de chansons pop-rock étranges représente bien de quoi ces gars sont capables.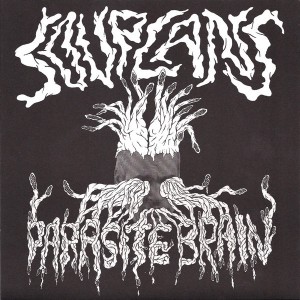 The Soupcans
Parasite Brain EP
Toronto, ON
From the substantia nigra of Brendan Lehman:
Enter the Soupcans. Enter the Soupcans into a world of dystopian chaos, one of grinding distortions and impenetrable walls of sound. Manic screams guide you through dim-lit alleyways vaguely remembered. Living here, it sometimes calms down into a groove, but more days than not it's the unceasing noise of your state oppressor, eating away at your once-sane consciousness. It's hard to tell if it's the cocktail your guy down the street cooked up for you or if that's just the way it has become. Thoughts are fleeting, and you begin to wonder if anyone could ever help. Until you re-emerge, standing in the crowd of your local punk bar, listening to the Soupcans blow your mind. Thankfully it's not the brain-oozing hell you thought it would be, just really good punk.
De la substantia nigra de Brendan Lehman:
(Traduit de la contre-utopie effrayante de Catherine Debard)
Entrez dans Soupcans. Entrez dans Soupcans, dans un monde dystopique, un cauchemar chaotique de distortion écrasante et de murs du son impénétrables. Des cris déments vous guident le long de sombres ruelles vaguement familières. Ici, parfois, ça se calme dans une sorte de groove, mais la majorité du temps, les journées sont imprégnées du bruit incessant de votre oppresseur, qui bouffe tranquillement votre conscience jadis intacte. C'est assez nébuleux, à savoir si c'est le cocktail que ce type en bas de la rue a cuisiné pour vous ou si c'est juste ce que les choses sont devenues maintenant. Les pensées s'enfuient et vous vous demandez si quelqu'un pourra un jour vous aider. Jusqu'à ce que vous émergiez debout dans une foule, dans votre bar punk local, en écoutant Soupcans et en hallucinant carrément. Heureusement, ce n'est pas l'enfer cérébral suintant que vous imaginiez, c'est juste du punk vraiment bon.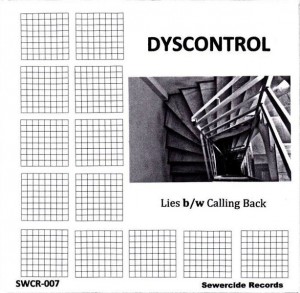 Dyscontrol
Lies b/w Calling Back
Halifax, NS
From the disapproving dirge of Mark Streeter:
Dyscontrol's songs are soaked with urgency. They grab me by the collar, pull me up to eye level and demand to know if am living my life to the best and fullest of my abilities. "Sure I am," I reply, dropping the needle on "Lies." Sweat beads on my brow as a telecaster unsheathes itself, its clear tone gleaming through the speakers. By the time the band has pummeled through to its disapproving dirge chorus, I am thinking that it's time I took a long look in the mirror about a few things.
That should be enough, but the band's not done yelling at me. "Calling Back" is all defiant resolve, rising to a gotta-go-I-got-something-in-my-eye quaver by the end. Sometimes I look back on my life and see only one set of footprints. Those are the moments when Dyscontrol is carrying me. They could've left me behind with all the other lying liars who don't call back, but they care about me and they want me to stop wasting my life right now. So many lies, indeed. I am going to the gym now.
Du chant funèbre désapprobateur de Mark Streeter:
(Traduit par Claudine Maclure)
Les chansons de Dyscontrol sont imbibées d'urgence. Elles m'attrapent par le collet, me tirent à la hauteur des yeux et me demandent si, dans ma vie, j'exploite au maximum le meilleur de mes capacités. Je réponds « bien sûr » en déposant le bras de lecture sur « Lies ». Des perles de sueur glissent sur mon sourcil quand la chaîne se dégaine; sa sonorité cristalline brille à travers les haut-parleurs. Au moment où le groupe roue de coups son funèbre refrain désapprobateur, je me dis qu'il est temps d'examiner longuement mon reflet dans le miroir pour réévaluer certaines choses.
Tout cela pourrait suffir, mais le groupe n'a pas fini de me crier après. « Calling back » est un rebelle déterminé qui soulève, vers la fin, une croche « je-dois-partir-j'ai-quelque-chose-dans-mon-œil ». Parfois, je regarde le chemin que j'ai mené et je ne vois qu'une paire d'empreintes. C'est dans ces moments que Dyscontrol me transporte. Il aurait pu me laisser derrière avec tous les autres menteurs menteurs qui ne rappellent jamais, mais il se soucie de moi et il veut que j'arrête de gaspiller ma vie. Trop de mensonges, en effet. Je vais m'entraîner au gym.
---