Tag: 1988
Kitty Rouler
My Boyfriend b/w Version
(Classic Sounds)
Toronto, ON
Originally Released: 1988

The physical connections between
Jamaica and Toronto
have been well documented by one
Kevin Sipreano
. Less known amongst the gripper elite are the abundance of fantastic dancehall singles produced in the heart of TO. Kitty Rouler's stock-label entry on the ubiquitous Toronto imprint
Classic Sounds
is an addictive conjuring of dancehall-fuzed 80s R&B. Kitty's staccato, pseudo-rap delivery, with pitched melodies, strangely anthemic flow, and relentless pursuit of her lyrical boyfriend, mutates traditional rhythms into a netherworld of clurb bangin' and ep swingin'. It's immediacy and nuanced personality made it an instant classic at WC HQ after
Brandon Hocura
dropped the bomb on us. "My Boyfriend" pre-dates
Mike Jones
' telephone # drop by 20 years, making it a proto-Swishahouse classic. Super grip.
[audio:http://weirdcanada.com/wp-content/uploads/2012/05/01-My-Boyfriend.mp3|titles=Kitty Rouler – My Boyfriend] Kitty Rouler – My Boyrfriend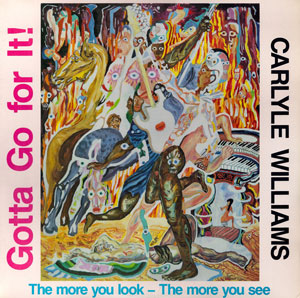 Carlyle Williams
Gotta Go For It!
(Eternal Art & Music)
Montréal, QC
Originally Released: 1988

Here it is: the Patron Saint of weird Canadian records. Alongside
Corpusse
's
Delusions
and
Bernard Bonnier
's
Casse-Tête
, Carlyle Williams'
Gotta Go For It!
forms the Holy Trinity of '80s Montreal
private press
beauty; each of them summing their parts and transcending with a one-man-one-wholly-formed vision possessed of unbridled id and utter disdain for the prevailing rules and praxis.
Forgotten in the usual fetishizing of the "filles du roi" cypher (1), beyond bloodlines French-royal and First Nation, is that Montreal's women posses the ultimate sexy quality: good taste. And so it went that Leila Majeri (2) and Marie-Douce St. Jacques (3) played me Gotta Go For It! and on each separate occasion, my mind split open, the air charged, everything changed, and the damn crew hasn't been the same since.
Released in 1988 and recorded at the Unidisc studios (4) in Montreal's St. Henri neighbourhood, Gotta Go For It!'s qualities are many: blocky Chung King Studios drum programming, a careening non-chops guitar style that sounds like The Birthday Party minus the fireworks-display fay hairdos, and streams of vocal overdubs that make whomever Tim Buckley thought he was on Starsailor seem like a sane and well adjusted man. Some tracks have a synthetic tropical vibe that predicates the various fi's (5) of the last half-decade like a boss, raising bloody hell in the listener's mind, forcing one to reconsider every aesthetic category.
For all its sonic density and deistic power, Carlyle's message, via truly inspiring vocal work, is positive: obsessive self-awareness and accompanying self-criticism can be reality forming, that the more you look INSIDE the more you will see. That, as he says on "No Reason", "There is no reason for your next depression. And that's the truth." Which as an underlying vibe makes Gotta Go For It! unique amongst the great works of 20th century Canadian art.
Gotta Go For It!'s sleeve states: "The more you look – The more you see", and like all amazing ass records, the more you listen, the more you hear.
(1)
These women, who were poor and undereducated, often orphaned, and in their teens or early twenties, were sent over from France for the men of Canada. The rumour-that-won't-die is that they were prostitutes.
(2) Screen printer extraordinaire, often using the nick Alphonze Raymond, and also the drummer in the amazing Yomul Yuk.
(3) Editor-in-chief of the awesome aMAZEzine, which lasted a few issues, came with a GYBE! 7" and generally covered a zone, Marie-Douce was also the Farfisa player and vocalist in Pas Chic Chic! I sat down with her to discuss this piece.
(4) Obviously, as the '80s wore on and disco, particularly the French-Canadian kind, receded in popularity, Unidisc fell on hard times and started renting out their facilities cheap. They were based in the RCA building, who obviously were slowing down themselves.
(5) Lo, no, slow, glow, hi and high fidelities, be it Ariel Pink, Spencer Clark, James Ferraro and the rest, you can hear Carlyle in the faux madness. The incredible Afternoon Penis tape on Heavy Tapes is the most obvious student of Gotta Go For It!, however. Worth looking into for fans of Carlyle.
---