Tag: 12″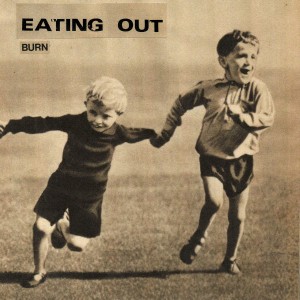 Eating Out
Burn
Vancouver, BC
From the cloudbursts of Alison Lang:
Supergroup is a funny word. It summons visions of older men in sharp hats, or maybe younger men in eyeliner. Eating Out is a supergroup in that it features four punx from three super bands, but there is not a shred of ego heard in the music, nor a single note wasted. The songs on Burn sparkle and crunch like a smashed bottle on pavement darkened by West Coast cloudbursts. And then the closer, "That's My Man," is a ghostly-winsome grunge-pop dream. 100% fun.
Des averses d' Alison Lang:
(Traduit par le déchaînement de Julie Forget)
Le terme « supergroupe » est amusant. Il rassemble les visions de vieux hommes portant d'élégants chapeaux, ou peut-être d'hommes plus jeunes portant du eye-liner. Eating Out est un supergroupe dans le fait qu'il comporte 4 punks provenant de 3 super groupes, mais aucune trace d'ego ne se trouve dans leur musique et aucune note n'y est perdue. Les chansons de Burn éclatent et craquent comme une bouteille se brisant sur la chaussée assombrie par les averses de la côte Ouest. Et puis, le dernier morceau, « That's My Man », se voit être un rêve pop grunge fantomatique-charmant. Voilà 100 % de plaisir.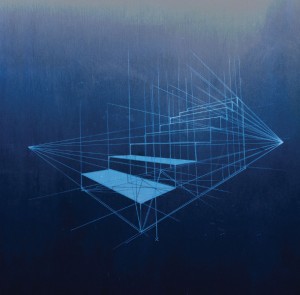 Violence
Erlebnis
Ottawa, ON
From the soiled smock of Nicolas Coutlée:
(Translated by Emily Estelle Belanger)
The needle goes in, the specimen falls still. The experiment can begin. Wielding their instruments of torture with medical precision, our two plastic surgeons of sound, Julie Morand-Ferron and Éric Trottier, patiently carve away the flabby body's flesh, revealing the angular skeleton underneath. The pulse beats on undisturbed, mechanical, amplified and filtered by the EKG. A dark and unsettling halo, the mute shadow of some German mad scientist, hangs over the operating table. While the chilling whine of an electric saw grates on in the rooms of the abandoned hospital, the patient is lost in soft, sedated visions, oblivious to the liberating violence inflicted upon him.
Du sarrau souillé de Nicolas Coutlée:
L'aiguille s'enfonce, le cobaye cesse de remuer. L'expérience peut débuter. Maniant leurs instruments de torture avec une précision chirurgicale, nos deux plasticiens du son, Julie Morand-Ferron et Éric Trottier, dépouillent la carcasse de sa chair flasque, en dévoilent patiemment l'ossature anguleuse. Le pouls demeure imperturbable, machinal, amplifié et filtré par l'électrocardiogramme. Halo sombre et inquiétant, l'ombre muette de quelque savant allemand fou plane sur la table d'opération. Et tandis que retentit le grincement glacial d'une scie électrique dans les salles sombres de l'hôpital abandonné, le patient, lui, se perd dans de douces visions anesthésiantes, inconscient de la violence libératrice qui s'abat sur lui au même instant.
Violence – The Curse of Dimensionality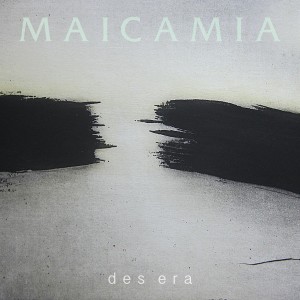 MaicaMia
Des Era
(Self Released)
Montréal, QC
From the post-apocalytic transmission of AnneMarie Papillon:
(Translated by AnneMarie Papillon)
At WC, we were slow to register the existence of MaicaMia. In 2012, back when the band was playing as a duo, they recorded Sparcity Blues, a beautiful work of dimly lit folk and slowcore sadness. Most of us missed it, but the album was acknowledged here.
Since being joined by GY!BE's Mauro Pezzente in the past year, the group has now released Des Era, a collection of dark experiments where the raw complexity of dreadful feelings is used to their advantage. Like a magnetic force of nature, it draws you in. Sparse arrangements chart ethereal explorations of the moon in a post-apocalyptic transmission. It is a blackened aurora borealis awash with sonic experimentation streaking across our winter sky. The hypnotic haziness of Maica Armata's vocals seem to melt all over the cathartic clashes of drums and dense bass notes. MaicaMia deal with an uneasy 21st century blues; pained and haunting, melodic and challenging.
Des transmissions post-apocalyptiques d'AnneMarie Papillon:
Chez WC, nous avons été lents à réaliser l'existence de MaicaMia. En 2012, alors que le groupe n'était qu'un duo, ils enregistrent Sparcity Blues, une excellente oeuvre de folk tamisé et de tristesse slowcore. La plupart d'entre nous ne l'ont pas vu passer, mais l'existence de l'album est reconnue ici.
Au cours de la dernière année, Mauro Pezzente de GY!BE a rejoint le groupe. Ils sortent maintenant Des Era, une collection de sombres expérimentations où la complexité brute de ces émotions qui font peur est utilisée à leur avantage. Comme une force de la nature empreinte de magnétisme, ils nous attirent à eux. Les arrangements minimes semblent évoquer les explorations éthérées de la lune, dans une transmission post-apocalyptique. C'est une sombre aurore boréale inondé d'une expérimentation sonique, laissant ses trainées lourdement teintées dans notre ciel d'hiver. La brume hypnotique qui voile la voix de Armata semble se fondre partout sur les clashs cathartiques de batteries et les denses notes de basses. Maicamia maîtrise habilement un blues quasi perplexe en ce 21e siècle : peiné et obsédant, ambitieux et mélodique.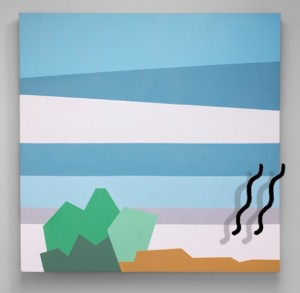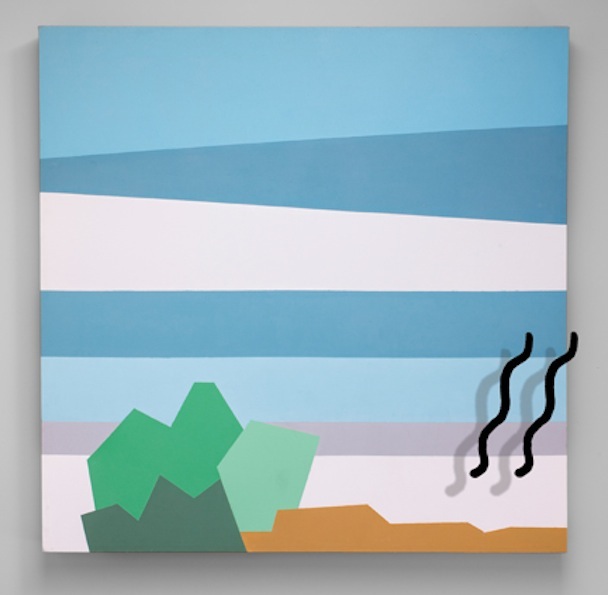 Absolutely Free
On The Beach
Toronto, ON
From the polyrhythmic stew of Javier Fuentes:
Hidden behind a wall of synthesizers, a group of forward thinking architects conspire to fit the Autobahn on Saturn's rings. Modifying a stolen NASA vessel into a time-warp capable automobile, they carve out each groove with synesthesia-inducing laser beams. Beta testing follows, leaving a trail of jubilant sweat from kosmische burnouts. The roads open up and our drivers are granted chaos-inducing control. Time for our ears to merge onto this expressway.
Du ragoût polyrythmique de Javier Fuentes:
(Traduit par la voie express de Virginie Langlois)
Dissimulé derrière un mur de synthétiseurs, un groupe d'architectes visionnaires complote pour intégrer l'Autobahn aux anneaux de Saturne. Après avoir transformé un vaisseau volé à la NASA en automobile capable de remonter le temps, ils façonnent chaque sillon à l'aide de rayons laser vecteurs de synesthésie. Vient ensuite le temps des tests beta, qui laissent une traînée de sueur radieuse provoquée par l'épuisement kosmische. Les routes s'ouvrent à nos conducteurs qui sont désormais aux manettes et roulent vers le chaos. Il est temps pour nos oreilles de rejoindre cette voie express.
Absolutely Free – On The Beach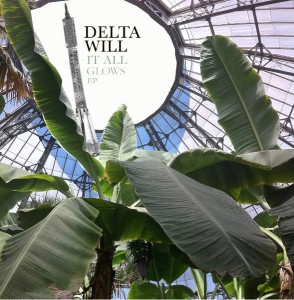 Delta Will
It All Glows
(Self Released)
Toronto, ON
From the stargazing telescope of Ryan Warner:
Aliens are among us. Most keep it a secret. Delta Will is one such alien and has openly confessed to inhabiting the body of Charles Tilden. Through this vessel, Delta Will explores what it means to be human. Within the run time of It All Glows the alien muses on connectivity and the perplexity of human emotions. However, it is not the alien's proclivity for philosophy that entices listeners, but rather its mastery of our human tools. Delta Will's superb utilization of drum machines, samplers, and electric guitars (not to mention an abundance of pedals) creates a platform for our visitor to showcase his cosmic croon. It All Glows drapes itself in voluptuous tones that orbit propulsive songs, occasionally arousing apocalyptic visions. "Holy Ghost" finishes the EP in beautifully hushed tones evoking a motionless night beneath the neverending stars.
À travers le télescope rêveur de Ryan Warner:
(Traduit par les grandes nébuleuses de Catherine Gaucher)
Les extraterrestres sont parmi nous. La plupart d'entre nous avons décidé de conserver le secret. Ayant ouvertement admis être l'hôte du corps de Charles Tilden, Delta Will est l'un de ces extraterrestres. Installé dans ce vaisseau corporel, Delta Will explore la symbolique de l'être humain. Dans l'exécution de It All Glows, l'extraterrestre pose une réflexion sur les liens et la complexité des émotions humaines. Cependant, ce n'est pas l'intérêt de cet extraterrestre pour la philosophie qui séduit ses auditeurs, mais plutôt la façon dont il maîtrise les outils humains. La superbe utilisation de Delta Will de boîtes à rythmes, d'échantillonneurs et de guitares électriques (sans parler d'une abondance de pédales) crée une tribune mettant en valeur le chant cosmique de ce visiteur. Se drapant dans des tons voluptueux, It All Glows propulse en orbite ses chansons et évoque par moments des visions apocalyptiques. Clôturant ce EP, « Holy Ghost », grâce à de magnifiques voix chuchotées, évoque une nuit immobile sous un ciel infiniment étoilé.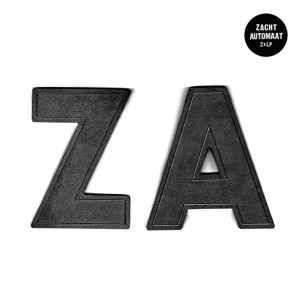 Zacht Automaat
Zacht Automaat
Toronto, ON
From the passing phrase of Javier Fuentes:
Walk through the luminescent sliding doors and feel the weight evaporate from your body. Step through the archives of time and look out at the glass walls that hold back the drifting stars. Notice the spectral starships crossing paths in the distant view. The cosmic residue of their flight path carries waves of sound as they intercept the room's speaker system. A digital screen scrolls like a conveyer belt filled with passing phrases, "Ancaster Heights", "The Smiling Wilderness", "Disturbed Ground'", the script runs endlessly. The words are given meaning as each wave grows to an audible strength. On the outside, the distant vessels can be seeing touching down near foreign embassies, welcomed by euphoric sounds. The speculation is confirmed. Our own takeoff has begun, bound for the farthest reaches of these celestial zones. Set yourself free and take in the spectacular view.
This collection is a bag of magic borrowed from the enchanted hands of a band that evades hyperbole. Veterans of the interstellar scene, Carl Didur and Michael McLean have parsed the cryptex of popular music and entered into a new dialogue as Zacht Automaat. Adopting new methods and strategies, they have sewn together opposing forces before pulling them apart again to see all the pieces in a different perspective.
Through three years and 11 albums, ZA have melted countless minds and challenged the strength of an equal number of hard drives. Running in at around 80 minutes, this monolithic double LP and bonus CD nevertheless stands in a much bigger pool of music that is no less crucial. Those lucky enough to still find copies of the early Medusa tapes should not resist the urge to grip. Each album is a new zone to explore and this release should be considered the official tour for prospective visitors. Many thanks are owed to Calico Corp. for giving these songs the treatment they deserve.
Depuis l'expression passagère de Javier Fuentes:
(Traduit par Jan Karza)
Procédez pas à pas par les portes coulissantes luminescentes et ressentez votre poids s'évaporer de votre corps. Parcourez les archives du temps et faites attention aux murs de verre qui retiennent les étoiles dérivantes. Remarquez les vaisseaux spectraux traversant ces sentiers dans le lointain. Le résidu cosmique de leur route de vol porte des vagues de son qui interceptent le système de haut-parleurs de la pièce. Un écran numerique se déroule comme une bande transporteuse remplie d'expressions passagères, "Ancaster Heights", "The Smiling Wilderness", "Disturbed Ground", le script court infiniment. Les mots acquièrent une signification aussitôt que chaque son grandit à une force audible. À l'extérieur, les vaisseaux lointains peuvent êtres vus atterrissant près des ambassades étrangères, accueillis par des sons euphoriques. La spéculation est confirmée. Notre propre décollage a commencé, entraîné vers des confins plus lointains de ces zones célestes. Libérez-vous et profitez de la vue spectaculaire.
Cette collection est un sac de magie emprunté des mains enchantées d'un band qui évite l'hyperbole. Les vétérans de la scène interstellaire, Carl Didur et Michael McLean ont analysé le cryptex de musique populaire et sont entrés dans un nouveau dialogue en tant que Zacht Automaat. adoptant de nouvelles méthodes et des stratégies, ils ont cousu ensemble des forces opposées les ont rédéfaites pour pouvoir voir tous les morceaux d'une perspective différente.
Pendant trois ans et 11 albums, ZA a fait fondre bon nombre d'esprits et a défié la force d'un autant bon nombre de disques durs. Courant jusu'aux alentours de 80 minutes, ce monolithique double LP et son CD bonus se situ quand même dans une bien plus grande piscine de musique qui n'en est pas moins essentielle. Ceux qui ont la chance de trouver des copies des premières cassettes de Medusa ne devraient pas réffreiner un besoin urgent de s'en saisir. Chaque album est une nouvelle zone à explorer et cette libération devrait être considérée comme le tour officiel pour les visiteurs potentiels. Mille mercis sont dus à la Calico Corp. pour offrir à ces chansons le traitement qu'elles méritent.
Zacht Automaat – Triumphant Bridge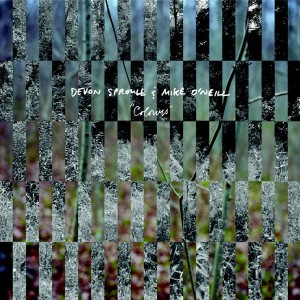 Devon Sproule and Mike O'Neill
Colours
Toronto, ON
From the cottage fireplace of Gabe Girard:
Devon Sproule has one of those genuine voices that sounds like talking and singing at the same time. Colours finds Sproule joined by Mike O'Neill of The Inbreds, who provides tasteful guitar accompaniment to the well travelled singer/songwriter, plus ringers Thom Gill, Ryan Driver and the rhythm section from Bernice. The record goes through a wide variety of moods and feels, but always comes back to the soft, warm, folky sound Sproule is known for. Like sitting by a cottage fireplace with your slippers on. Opener "You Can Come Home" really draws you in with sly hooks and a beautiful chorus. The vocals and harmonies on "Walking In The Folly" are especially noteworthy, even reminiscent of Emmylou Harris. Exuding warmth and innocence, the artists' thoughtful chord choices, sincere lyrics and lighthearted approach coalesce, creating a pleasurable and calming album. Best served with a cold winter evening and a cup of tea.
Du foyer de maison de campagne de Gabe Girard:
(Traduit par les pantoufles de Julie Forget)
Devon Sproule possède une de ces voix authentiques qui sonne comme du parlé et du chant en même temps. Colours voit Sproule rejoint par Mike O'Neill de The Inbreds, ce dernier apportant un accompagnement de guitare de bon goût à l'auteur-compositeur ayant beaucoup voyagé, par Thom Gill, Ryan Driver et par la section rythmique de Bernice. L'album passe par une grande variété d'émotions et de sensations, mais revient toujours au son doux, chaleureux et folky qui fait la marque de Sproule. C'est comme être devant un foyer, dans une maison de campagne, en pantoufles. Le premier morceau, « You Can Come Home », vous attire à l'aide de hooks malins et d'un superbe refrain. Les voix et les harmonies de « Walking In The Folly » sont particulièrement remarquables et évoquent même Emmylou Harris. La chaleur et l'innocence des artistes ainsi que les choix d'accords réfléchis, les paroles sincères et l'approche lègère s'unissent pour former un album plaisant et calmant. Il est mieux servi lors d'une froide soirée d'hiver avec une tasse de thé.
Devon Sproule and Mike O'Neill – You Can Come Home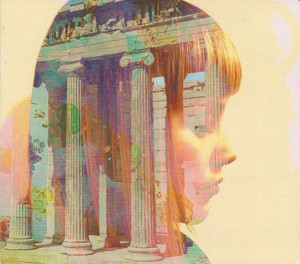 White Poppy
White Poppy
Vancouver, BC
From the post-existential reverie of Adam Bradley:
For White Poppy's eponymous Not Not Fun LP, Crystal Dorval transmutes the soft, grey clay of her shimmering ambience into sparkling, etch-textured gold. A splendorous idol aloft an ionic column, she looms down and imparts the power to dance upon its worshipers through the fog of a post-existential reverie. An impermanent rave in purgatory. The air becomes honey, sparks crackle from footfalls and the stirring clouds whorl with a pastel palette. Here, there is a distant joy and an eternal promise of beautiful things.
De la rêverie post-existentielle d' Adam Bradley:
(Traduit par l'instruction éphébique de Nicolas Coutlée)
Sur l'album homonyme de White Poppy paru chez Not Not Fun, Crystal Dorval transmue l'argile grise et friable de ses ambiances chatoyantes en lingots d'or ciselés et étincelants. Telle une idole sublime perchée sur une colonne ionique, elle pose son regard sur ses adorateurs et leur accorde le pouvoir de danser à travers le brouillard de cette rêverie post-existentielle. Un rave éphémère au purgatoire. L'air devient miel, des étincelles jaillissent de sous les pieds nus et des nuages s'élèvent en tourbillons pastels. Ici, le bonheur n'est jamais loin et promet à jamais la beauté infinie.
White Poppy – Darkness Turns To Light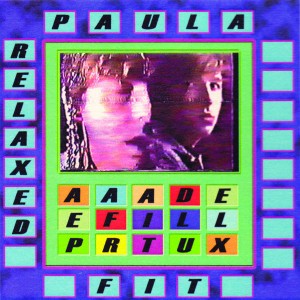 Paula
Relaxed Fit
Montréal, QC
From the blue sunrise of Simon Frank:
More than a year after it was released online, Paula's Relaxed Fit hits the vinyl big time. In the meantime, Tops guitarist David V. Carriere's alter ego has helped me soundtrack 12-hour bus rides, poured out of roommates' speakers during exam season, and made it to the playlist at a party or two. Relaxed Fit is a high-quality collection of semi-electronic, hyper-positive pop miniatures. Punchy drum machines, synth hooks, and cut-up processed guitars set up meaningless/meaningful, melancholic/euphoric lyrics. Even Cadence Weapon stops by for a guest verse, and on "Totally Nice" (one of two previously unreleased tracks) most of the chorus is just "ecstasy!" shouted out. So only one question remains: when we will get the Prime Cuts 12"?
American dreamers: David Carriere from Paula is currently on tour with his other band TOPS. They're playing shows with Sean Nicholas Savage and King Krule. See the Arbutus Records page for more info!
Du lever de soleil bleu de Simon Frank:
(Traduit de l'aube azur de Catherine Gaucher)
Plus d'un an après sa sortie en ligne, Relaxed Fit de Paula nous frappe de plein fouet en vinyle. Entre-temps, l'alter ego de David V. Carriere, guitariste de Tops, m'a déjà fourni la bande sonore pour mes interminables périples d'autobus, a joué dans les haut-parleurs de mes colocs durant les fins de session et s'est immiscé dans une fête ou deux. Semi-électronique et ultra-positif, Relaxed Fit est une brillante collection de miniatures pop. De percutantes boîtes à rythmes, des synthés entraînants et des collages de guitares modulées mettent la table pour des paroles insignifiantes/signifiantes, mélancoliques/euphoriques. Même Cadence Weapon s'invite le temps d'un couplet, tandis que le refrain de «Totally Nice!» (l'un des deux titres précédemment inédits) est un pur cri d'« extase! ». Une seule question demeure : quand aurons-nous droit au 12 pouces de Prime Cuts?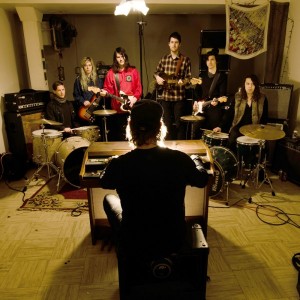 V. Vecker Ensemble
In The Tower
Vancouver, BC
From the dark tower of Selina Koop:
No stone is left unturned in this dark and epic transmutation led by Vancouver's Keith Wecker. A haunting and timeless approach to a fully formed aesthetic comes to life with a pulse and many heads. True visionaries and boundary pushers are few and far between. Enter V. Vecker Ensemble.
De la sombre tour de Selina Koop:
(Traduit par le pouls et la tête d' Aliké Harel)
Rien n'est laissé pour compte dans cette sombre transmutation épique dirigée par le vancouvérois Keith Wecker. Lancinante et intemporelle, son approche esthétique portée à maturité prend vie avec un pouls et plusieurs têtes. Les vrais visionnaires et les êtres qui transcendent les fontières sont loin d'être nombreux. Découvrez le V. Vecker Ensemble.
---