From the memory box of Fouad Oveisy:
Image one: I glimpse the face of Her father in the midst of the audience. Just the glimpse is enough for the trauma, Her trauma, to bubble up to the surface once more. And here I am, about to review Forgiveness: A Theatrical Poem. How could I ever forgive fate for such poetic injustice?
Image two: There is an empty chair on the stage with a recorder placed on top of the seat. A microphone descends from the ceiling, hovering on top of the recorder, giving voice to its recorded memories. The recorder recalls a separation, its memories, and its traumas. Kristoffer Louis Andrup Pedersen, one of the two Danish performers, grabs on to the recorder, trying, seemingly, to take the box of memories away. Where to?
Nowhere: Stavroula Logothettis is holding on to the cord from the other end of the stage, never letting go. Of who? Of the memories, or of Kristoffer? It is difficult to determine who is, indeed, holding on to what. In my head I keep urging Kristoffer to let go of the box, but he won't. He is struggling to let go of what he is holding on to, clinging to what he appears to detest.
This struggle seems to embody the attitude of Forgiveness toward forgiveness. I can relate to the ambivalence. Ever since She left, She has tried every year, in vain, to ask for my forgiveness. I even did forgive Her once, only to relapse into rage once more.
Image three: The memory box whispers on. It tells the story of a father who wiped out a village, and of a daughter who hung herself for the guilt of her father's crime. How could she not forgive herself for his crimes? I see her on the stage floor, just before she hangs herself. Andrea Nann's body convulses in choreographic rhythms; her neck twists in hysterics fits of guilt.
Juxtapose this image with the scene of a group therapy session. The actors discuss kitsch questions about forgiveness. The discussion is tantamount to the sleazy blog posts in the social media on the nature of forgiveness – in particular, those asked by Peter Farbridge, who is doing a fantastic job of portraying the annoying asshole: is refusing to forgive a manifestation of selfishness? Is forgiveness an act? Is there anything to forgive in the first place? Do you feel, inside your body, a harm done to you, which you must then forgive? Soheil Parsa, the director, has a twisted sense of humor. I laugh, quite hard and quite guiltily. The juxtaposition has already siphoned both the kitsch and the cuddly down the crapper.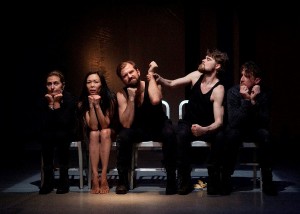 Image four: Field hospital circumstances. They bring in a body on a stretcher. The body is dying. The microphone descends from the ceiling. The body barely lifts from the stretcher, and whispers into the microphone: "Water! Water!" I think in my head: Get this body some damn water! The nurse reads the body's medical file aloud. The name mixes with the memories, signifiers, and the traumas that it recalls: Asadollah Lajevardi, the warden, the interrogator, torturer, the butcher of the Evin Prison in Tehran, Iran. I can't forgive the voices in my head: Don't get this man any water! Let him die! Rot!
Somewhere else, the memory box whispers on: "I was just doing my job." "I just did my duty." It sounds familiar. It is from Hannah Arendt's report on the trial of Adolf Eichmann, the bureaucrat behind the Final Solution. According to the evidence, Eichmann had displayed no traces of anti-Semitism or pathological damage while carrying out the 'Solution,' and, moreover, his attitude toward his own friends and family was described as "highly desirable." He was simply a cog in the Nazi bureaucratic machine – and a very well-oiled one at that. Arendt calls this, famously or infamously, depending on your take on the essence of creative evil, a manifestation of banal evil. Nonetheless, she refuses to see it as proof to a lack of moral choice under dire circumstances:
Under conditions of terror most people will comply but some people will not, just as the lesson of the countries to which the Final Solution was proposed is that 'it could happen' in most places but it did not happen everywhere. Humanly speaking, no more is required, and no more can reasonably be asked, for this planet to remain a place fit for human habitation.
Image five: The play ends on, I suspect, a note that celebrates the freedom in letting go of rage, in forgiving, etc., etc. And frankly, I cannot agree more?? It is indeed good to let go of the memory box, of the visceral spasms, of the voices condemning helpless bodies to eternal thirst. Forgiveness: A Theatrical Poem, with its symbolic dances, smart staging, bitter humor, and memorable acting, image after image complicates my relationship to forgiveness, and in doing so, provides that necessary reflective distance between me, my pain, and subject of my wrath. And it manages this without waxing kitsch.
When my relationship with Her ended the way it did, I cried all the way to work, during the lunch break, on the way back home, when I went for a run in the evening, and before going to bed, day after day for three months. Years later, I leave the theatre on a more mature note, but, nevertheless, while still trying to avoid Her father's face. I think one of the points that Forgiveness tries to make is that one should not enforce the virtues of forgiveness as moral injunctions, turning forgiveness into an unforgiving super-ego. Try to comprehend the complexities, but then, move on. After all, as T.S. Elliot remarks, "after such knowledge, what forgiveness?"
De la boîte à souvenirs de Fouad Oveisy: (Traduit par les songes de Joannie Pharand)
J'aperçois le visage de Son père parmi les spectateurs. Cette brève apparition suffit pour que le traumatisme, Son traumatisme, remonte à la surface une fois de plus. Et me voici, sur le point d'écrire une critique de Forgiveness : A Theatrical Poem. Comment pourrais-je pardonner au destin d'offrir une telle injustice immanente?
Deuxième image : Une chaise vide sur la scène avec un enregistreur sur le siège. Un micro descend du plafond, rôdant au-dessus de l'enregistreur, donnant voix aux souvenirs enregistrés. L'enregistreur se souvient d'une séparation, de pensées, de traumatismes. Kristoffer Louis Andrup Pedersen, l'un des deux interprètes danois, essayant visiblement de saisir la boîte aux souvenirs, attrape l'enregistreur. Pour l'amener où?
Nulle part : Stavroula Logothettis retient le fil de l'autre bout de la scène, sans jamais renoncer. Renoncer à qui, à quoi? Aux souvenirs, ou à Kristoffer? Difficile de répondre, difficile de déterminer qui retient quoi. Dans ma tête, j'insiste pour que Kristoffer lâche la boîte, mais il ne la lâche pas. Il lutte pour lâcher ce à quoi il essaie de s'accrocher, absorbé par ce qu'il semble détester.
Cette lutte semble refléter la position de Forgiveness par rapport au pardon. Je peux comprendre cette ambivalence. Depuis Son départ, Elle a tenté chaque année, en vain, de me demander pardon. Je Lui ai même déjà pardonné, pour mieux rechuter vers la rage une fois de plus.
Troisième image : La boîte aux souvenirs continue de chuchoter. Elle raconte l'histoire d'un père ayant anéanti un village et de sa fille qui s'est pendue, se sentant coupable des actes de son père. Comment ne pouvait-elle se pardonner à elle-même pour les crimes de son père? Je la vois sur le plancher de la scène, juste avant qu'elle ne se pende. Le corps d'Andrea Nann convulse selon des formes rythmiques chorégraphiées : son cou se tortille sous l'effet de crises hystériques de culpabilité.
Juxtaposez cette image avec une scène de séance de thérapie de groupe. Les acteurs débattent de questions kitsch sur le pardon. La discussion fait penser aux publications sordides sur les blogues et les réseaux sociaux par rapport au pardon, surtout celles où Peter Farbridge (qui fait un travail remarquable en dressant le portrait de cet enfoiré irritant) pose ces questions : le refus de pardonner est-il une manifestation d'égoïsme? Le pardon est-il réel? Y a-t-il quelque chose à pardonner de prime abord? Ressentez-vous qu'un mal physique vous a été fait et que vous devez pardonner? Soheil Parsa, le metteur en scène, a un sens de l'humour tordu. Je ris, très fort, de façon coupable. La juxtaposition a déjà réduit à néant le kitsch et la douceur.
Quatrième image : Une situation dans un hôpital de campagne. Ils transportent un corps sur une civière. Le corps est à l'agonie. Le micro descend du plafond. Le corps se soulève à peine assez pour chuchoter : « Water, Water » (de l'eau, de l'eau.) Je me dis : mais donnez de l'eau à ce corps, merde. L'infirmière lit le dossier médical du corps à voix haute. Le nom se mélange aux souvenirs, à des indicateurs et au traumatisme qu'il a en mémoire : Asadollah Lajevardi, le gardien, l'interrogateur, le bourreau, le boucher de la Prison du Mal de Téhéran, en Iran. Je ne peux pardonner les voix dans ma tête : ne lui donnez aucune eau, laissez-le mourir. Pourrir!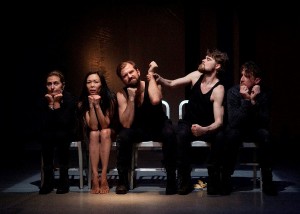 Ailleurs, la boîte aux souvenirs chuchote : « I was just doing my job. » « I just did my duty. » (« Je ne faisais que mon boulot ». « Je ne faisais que mon devoir »). Cela semble familier. Cela provient de la publication de Hannah Arendt sur le procès d'Adolf Eichmann, le bureaucrate derrière la Solution finale. Selon les preuves, Eichmann n'avait démontré aucune trace d'antisémitisme ou de dégâts pathologiques lorsqu'il appliquait la « Solution »; de plus, son comportement envers ses propres amis et sa famille était qualifié de « hautement désirable ». Il n'était qu'un rouage de la machine bureaucratique du nazisme, une machine franchement bien huilée. Dans une position tristement célèbre, Arendt estime qu'il y a là une manifestation de la « banalité du mal ». Toutefois, elle refuse d'y voir la preuve d'un manque d'éthique dans ces terribles circonstances :
(Under conditions of terror most people will comply but some people will not, just as the lesson of the countries to which the Final Solution was proposed is that 'it could happen' in most places but it did not happen everywhere. Humanly speaking, no more is required, and no more can reasonably be asked, for this planet to remain a place fit for human habitation.)
Dans des circonstances de terreur, la plupart des gens obéissent, mais certaines personnes n'obéiront pas. Ce sont aussi les enseignements qui ont été tirés dans les pays où la Solution finale fut proposée : cela pourrait arriver dans la plupart des endroits, mais ça n'est pas arrivé partout. Sur le plan humain, on ne demande rien de plus et rien de raisonnable ne peut être demandé, car cette planète demeure un endroit apte à la vie humaine.
Cinquième image : La pièce se termine, je suppose, sur une note qui célèbre la libération de la rage, le pardon, etc. Et honnêtement, je ne peux pas être plus d'accord ?? Il est en effet rassurant de laisser aller la boîte aux souvenirs, les spasmes viscéraux, les voix condamnant des corps impuissants à la soif éternelle. Avec les chorégraphies symboliques de Forgiveness : A Theatrical Poem, la mise en scène bien pensée, l'humour amer, la formidable performance d'acteur, d'image en image, ma relation au pardon se complique, et de ce fait, m'assure une réflexion éclairée et nécessaire entre moi, ma douleur et la cause de ma colère. Elle accomplit tout cela sans devenir kitsch.
Lorsque ma relation avec Elle s'est ainsi terminée, j'ai pleuré tout le long pour me rendre au travail, pendant la pause dîner, sur le chemin du retour à la maison, en allant courir le soir et avant d'aller me coucher, jour après jour, pendant trois mois. Plusieurs années plus tard, je quitte le théâtre sur une note plus mature, mais toujours en essayant d'éviter le visage de Son père. Un des points importants que la pièce tente de démontrer est que personne ne doit faire respecter les vertus du pardon comme des injonctions morales, en transformant le pardon en un surmoi qui ne pardonne pas. Essayez de comprendre les complexités, puis passez à autre chose. Après tout, comme T.S. Elliot le remarquait : « Après un tel savoir, quel pardon?».