If there is anyone who can testify to the vibrancy of Vancouver's music scene, it is surely Tim Clapp (a.k.a. Tim the Mute). Since 2008, he's released 33 records from his one-man label, Kingfisher Bluez. Those releases have been exclusively on vinyl — generally 7-inches — and mostly made up of local artists. The sounds of the KFB discography range from the sweet-sounding melodies of The Albertans to the haunted croons of Dirty Beaches and the power-punk of the B-Lines. With another release appearing every time I go to the record store, it's hard to keep up with Kingfisher Bluez's prolific blast of activity. Thankfully, Tim was nice enough to tell us how he does it.
Tim Clapp: No, not really. If mean, if I wanted to sell out of records, I'd just press 200 or whatever. The goal is to have the records, you know what I mean? I don't want to sell out of records. It's nice to sell records, but if I'm going to sell a thousand records I'll print 2,000. If I'm going to sell 200 records I'll print 300-400. I usually do 300 of my 7-inches and 500 of my LPs. The idea is that I'm building a label that I want to be running for the rest of my life. So I want to have enough records so that I don't have to repress them.
I just thought "I wonder if there's a project I could to do to show my love of the city?" I looked at compilations like the Vancouver Complication, the Vancouver Independent and the Emergency Room comp. These are compilations that mean a lot to the people that were in those scenes, you know what I mean, like Emergency Room is these old fogeys that are like 30 years old now or whatever. And Vancouver Complication, I don't know when that was, like 1980 or something [Ed's Note: 1979]. But you look at these records and you just think "It's so cool that there's a document of that scene", you know what I mean, and there's always at least one band that just snuck on there. And that could be your new favourite band. So I thought, I want to do a compilation of all my favourite bands in Vancouver. I could just do a record, like a compilation record, but I thought "I want to do something big", you know? "I want to do a singles club and just have one song from each band" or whatever. So I chose the most expensive way to do it.
People were sayin' "you should do splits" or whatever. And I fuckin' hate splits. Like, how do you file a split? You just think "Oh, what band do I put this under?" The worst is when you have two covers and you don't know what one to face.
The better band?
Yeah, but then you're telling the other band that they don't sound good enough. You want to listen to the other record and you don't know where to find it. So I thought I'd just make one-sided records so each of the singles club records is one side, one song, or whatever. And the other side's just blank. It costs the same amount as pressing two sides. But I thought it's better, you know? Each band deserves their own cover, their own side. I'd always rather press a single-sided record than a split.
The singles club is 80 bucks. You get 15 records. Well, it's 12 records and then three bonus records. If you sign up now — the bonus records are for people that are signed up at the time — so there's still one more bonus record. But really I've been chuckin' in the other records if I have a couple left. The first bonus record was Zen Mystery Fogg.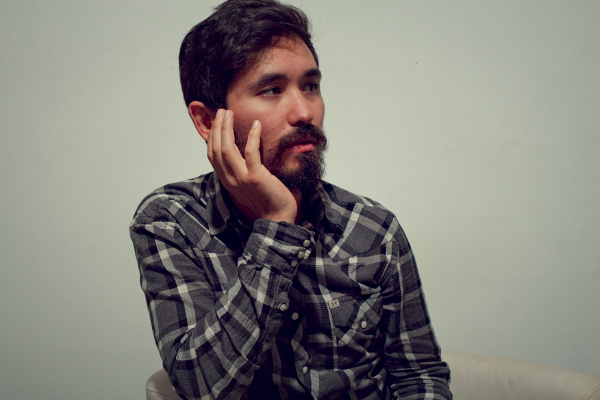 A lot of the artists you've released are from Vancouver. How do you choose them?
It's a lot of my friends' bands. I want to put out records by people that I really like. Music is available all the time, so I want to curate a really specific selection. I feel like people are going to remember Kingfisher Bluez as a Vancouver label, so I want to put out a lot of Vancouver bands, or whatever. And it sort of helps me give back to the community. I've been enjoying Vancouver music for so long. It's nice to be able to help out these bands in any way I can, even if it's just a little bit.
What made you decide to start the label?
I started the label in 2008 as a blog where I would post my friends' songs — like mp3s or whatever. In 2011, I was just feelin' a bit depressed and I thought "I should just kill myself, my life is so shitty." And I thought if I'm gonna do that I might as well just sell all my shit and then start that record label I've always wanted to do, you know what I mean? Cuz what's the point? "I'm so sad", or whatever. I've got so many fuckin' records and books and amps and stuff, I should just sell off this shit and have enough money to do all the things that I want to do — just give it a shot. I thought "What's stopping me from doing this?" What do I really need this shit for? The records of myself, Tim the Mute, will only cost me like a thousand bucks to make, so I'll just sell a thousand bucks worth of my shit. So I thought fuck it. Let's just do it. I mean, I guess people just go through weird periods of their life where they just think "What am I doin'?" Especially when they're 23. So I thought, "I'll just do it."
Do you do all of the work for the label yourself?
Yeah, I do everything myself. Except for a lot of the design — that's Ryan from Hockey Dad Records. The artists will choose images and then I'll vet them or whatever. All these records have sort of trees or outdoor stuff. I want to show a lot of what we see in our normal lives: Instagram photos, that sort of chillwave, hazy, summery stuff. I feel like that represents the current musical climate well. So I want something that looks like 2013. I want it to look like the records came out in 2013.
I try not to pick out stuff that looks tacky. I hate black and white collage. A lot of bands are doing it — it's sort of retro. I want something that's new. I don't use photos of dead animals or mangled limbs or dicks or anything like that. I don't want some grotesque drawing. I want everything to look really nice. And it's not because I want them to be easy to look at. I just want them to be nice looking, beautiful records. That's important to me. I just don't want to release anything that's mean-spirited.
Would you recommend starting a label?
Not as a business, I wouldn't recommend that. But I think it's great that more labels are starting up. It's a great community. A lot of people I know have record labels — I know people because they have record labels. We all hang out and talk shop and stuff. And it's fun, you know? We all compare. We all think we're givin' a better rate than the next guy. We're really tryin' to make the best stuff. And no one does it to make money. There's part of you that wants to curate this great selection of records. I wouldn't recommend that anyone does it to make money, but I would recommend that everyone just put out a record and start a label or whatever. Why not? It's as easy as doing it. As long you have a credit card you can do it. Just make a great collection of music.
Do you have any regrets?
No, but If I put out a band's record, I don't want them to break up right after. It's a little annoying. So usually I won't do a record for a band that has no other records. I want there to be a Discogs page for the band. I want there to be a history of the band. A band like Village with no records out is okay. I was there at the beginning of that band, so when they wanted to do a record, I thought that those guys were in for the long haul. And now I'm doing their second record, and hopefully doing their LP next year. And I hope they get signed to a bigger label than me.
Do you have any favorite records that you've released?
Oh yeah. I mean, anything where I get to play with the physicality of the medium. Like the record where you hear the sound of yourself turning it over. It's a bit wanky or whatever, but it's fun to do stuff like that. On my new record, Song, I say [singing] "I made this record for a girl / I put my number in the run-out groove / So call me if you think it's you." And my phone number is in the run-out groove for that record. If you hold the record up you can see my phone number written out. So anything where I get to play with that, you know? There's no way to get that unless you have one of 300 physical records, which is cool.
All of my records have little messages etched into them. The Zen Mystery Fogg record says "Everytime I listen to music I think I'm a bride." That line is from Nightwood by Djuna Barnes. I use a lot of books — a lot of weird queer lit and sort of alternative classic books. It's nice. It's fun. I get to reference my favourite books, my favourite songs, and stuff. Sometimes I just make them up, and sometimes I take something out of a song or whatever. All of my records also have a B-side message on the label as well. The Eeek record says "Something inside so strong." The Zen Mystery Fogg record says "Everything is meaningful right now." I just put these sweet little earnest messages on the label. As a record collector and a curator you're really hyper-aware. You want to reference things, and you want to have your spot in record history.
What do you think is the role of the record label?
Like I was saying before, in an age where all music is available on demand, the role of the record label is curation. There are labels that I will buy literally everything they put out without even listening to it, because I know it's gonna be good. Because I trust the people that run them. Labels like Shelflife, Mississippi or Neon Gold — I buy everything those guys put out. I want people to buy KFB releases knowing that I've chosen these records, and the way they're designed, like the white border around the 7-inches. I want people to see the way I've curated the label to be my favourite stuff without bias towards genre or any of that stuff. And all that. I'm really happy with it. I just put out stuff that I like and I don't worry about it.
KFB is a project made through sampling other music and making a bigger thing out of it. This is the one thing that I'm doing. I'm taking all of musical history and everything that songs and records and images stand for and making one thing out of all of it. It's a powerful tool, you know what I mean? The record label lets you say so much with just one thing.
Kingfisher Bluez Discography (To Date)
7"s:
KFB001 - Sebastian Fleet + Count Oak - Sun 7"
KFB002 - Teen Plaque - Teen Plaque Text Message / Fuck The Revolution!!!
KFB003 - Tim The Mute - Anything You Want
KFB004 - Eeek! - Potential
KFB005 - The Shiny Diamonds - Such A Sucker
KFB006 - Village - Nowhere
KFB007 - Zen Mystery Fogg - Raccoon
KFB008 - Xiu Xiu - Quagga
KFB009 - Tim The Mute / Old Phoebe - Kingfisher Bluez Christmas Single 2012
KFB010 - White Poppy - Mirage Man
KFB011 - Dirty Beaches - Elizabeth's Theme
KFB012 - Apollo Ghosts - Night Witch
KFB013 - Capitol 6 - No One Came
KFB014 - B-Lines - Tell Me
KFB015 - Dead Ghosts - 1000 Joints
KFB016 - Student Teacher - Left For Dead
KFB017 - Korean Gut - Lava Flow
KFB018 - Rose Melberg - Distant Ships
KFB019 - Love Cuts - Back To You
KFB020 - Wee'd - I Think I Just Wee'd Myself
KFB021 - Needles//Pins - Polaroid
KFB022 - Jungle Green - The One I Love
KFB023 - Tim The Mute - Song
KFB024 - The Albertans - Casual Encounters
KFB025 - Standard Fare - Rumours
KFB026 - Reverter - No More Haircuts
KFB027 - Village - Stranger Thoughts
KFB028 - Let's Talk About Space - Luna Oscillators
KFB029 - Laura Veirs - July Flame
KFB030 - Rose Melberg and Gregory Webster - Kingfisher Bluez Christmas Single 2013
KFB031 - Nice Try - Convinced
KFB032 - Tim The Mute - Doctor Who Cosplay
KFB033 - Mesa Luna - Shutting Down
KFB034 - The Stevens - The EP
KFB035 - The Passenger - jxpg
LPs:
KFB6001 - Eeek! - Move Real Slow
KFB6002 - OK Vancouver OK - Food. Shelter. Water.
KFB6003 - The Albertans - Dangerous Anything
KFB6004 - Adam Stafford - Imaginary Walls Collapse
KFB6005 - Bad Channels - Bad Channels