From the wastepaper basket of Megan Arnold:
Extra Ordinary was contained within the walls of 
Forest City Gallery
– Canada's first established artist-run-centre – in April 2014, and it's still fresh gum under the desk. Curated by tiny cyclist 
Jenna Faye Powell
, the exhibition showcased three Toronto-based artists: 
Bree Zorel
, Matt King (of 
Absolutely Free
), and 
Sam Mogelonsky
.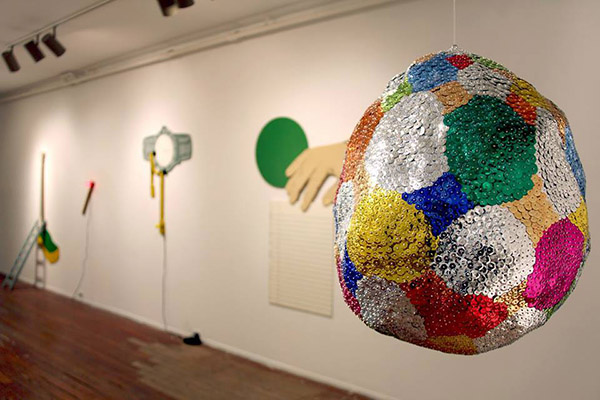 Mogelonsky's pin-stuck cylinders and Shiny Spinning Thing (pictured) demanded to be touched and twirly-whirlied. This was no stay-a-metre-back and don't-you-dare-touch-the-art kind of exhibition, but a temporary playground. The work was devoid of function, but invited viewers to play as well as look. The title of Extra Ordinary was a clever summation of the show. Everyday objects (books, a ladder) and simple materials (sequins, paper, pins) presented a more playful version of reality, transforming the ordinary into the extra-ordinary. It zapped away at daily life and transformed the viewers into curious children, once again 
excited about little things
. Look at this – life is cool! Life is fun!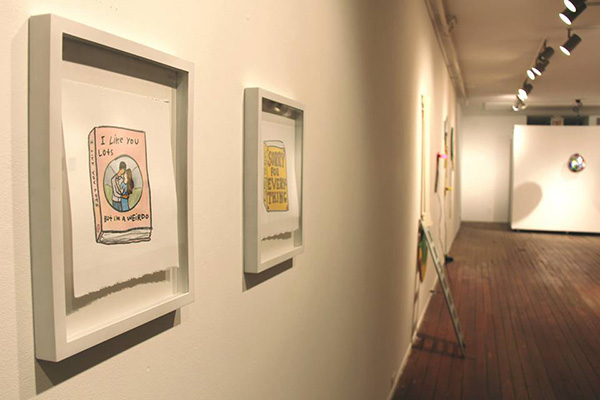 Zorel's I Like You Lots But I'm A Weirdo (pictured) was available for free in postcard form. Fall in love with its Harlequin-esque smoochie cover and send it to your honey.
De la corbeille à papier de Megan Arnold: (Traduit par Mylène Gump Quevillon)
Extra Ordinaire a été présentée à l'intérieur des murs de la
galerie Forest City
– le premier centre dirigé par des artistes au Canada – en avril 2014, et c'est encore tout chaud comme un pain fraîchement sorti du four. Réalisée par la toute petite cycliste, Jenna Faye Powell, l'exposition nous fait découvrir trois artistes travaillant à Toronto : [Bree Zorel], Matt King (membre du groupe[Absolutely Free]), et [Sam Mogelonsky].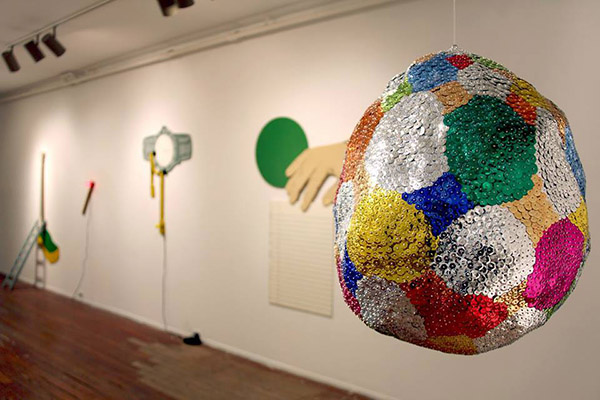 Les créations de Mogelonsky, que ce soit le cylindre enchâssé dans sa base et la chose brillante qui tourne (illustrée), exigeaient qu'on les touche et les fasse tourbillonner. Ce n'était pas une exposition froide où il est interdit de toucher aux oeuvres, mais plutôt un terrain de jeux temporaire. Les oeuvres n'avaient aucune fonctionnalité particulière, mais elles conviaient plutôt les visiteurs à s'amuser autant qu'à regarder. L'appellation Extra Ordinaire était un résumé intelligent de l'exposition. Des objets utilisés quotidiennement (livres, échelle) et des matériaux simples (paillettes, papiers, épinglettes) ont servi à présenter une version plus ludique de la réalité, transformant l'ordinaire en extraordinaire. La vie quotidienne a été occultée par cette présentation qui a métamorphosé les visiteurs en enfants curieux, émerveillés par les petites choses simples : La vie est cool! La vie est amusante!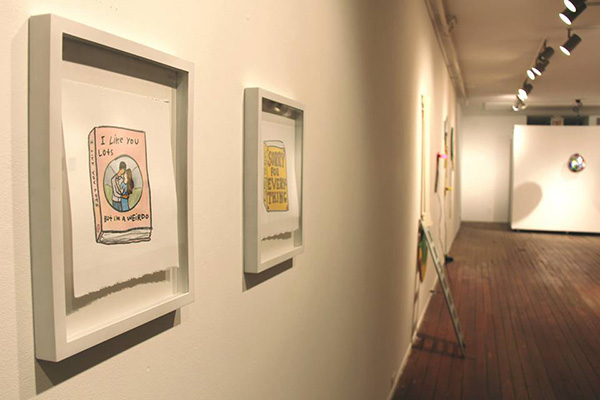 L'oeuvre de Zorel I Like You Lots But I'm A Weirdo (photographiée) était disponible gratuitement sous forme de carte postale. Laissez-vous tomber en amour avec son look « Harlequin-lover » et envoyez-en une à votre chéri(e).