From the serrated mandibles of Kate Fane:
In Ant Colony, Toronto's Michael Deforge holds a magnifying glass up to a psychedelic underworld, revealing a gleefully grotesque community of anthropomorphised insects that struggle to find significance in their "itty bitty lifestyle."
The plot is loosely structured around a drug-induced war between colonies of red and black ants, and we follow the five who manage to survive the massacre thanks to their cowardice, sadism, or just dumb luck (in one case, the psychic powers they got from ingesting a worm smoothie). Meanwhile the parade of life's minutiae marches on; ants eat, bicker, fuck, and agonize over the meaning of any of it.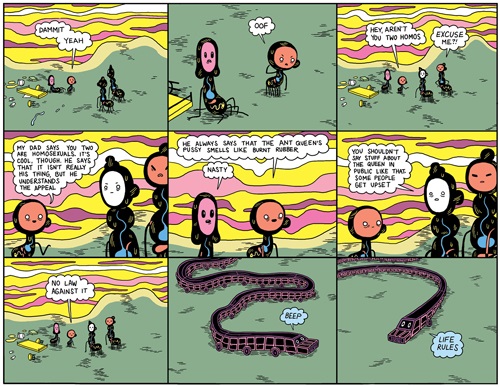 Originally published in an online format, each two-panel spread works as a standalone story. Read in one burst, it's an eerily accurate representation of modern life in fast forward: equal parts pleasure, pathos, and fart jokes.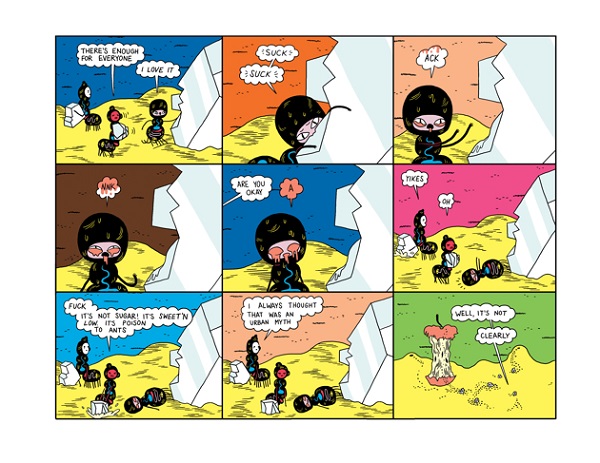 Des barbes bipèdes de Kate Fane: (Des barbes bipèdes de Ana Lasevitch)
Dans "Ant Colony", le Torontois Michael Deforge met un monde psychédélique sous la loupe, révélant une communauté grotesque d'insectes anthropomorphiques qui essaient à tout prix de trouver leur raison d'être.
La narration tourne autour d'une guerre où s'affrontent des colonies de fourmis rouges et noires, et présente cinq témoignages de survivants, s'en étant sortis grâce à leur lâcheté, leur sadisme, ou simplement sur un coup de chance (dans l'un des cas, des pouvoirs psychiques acquis à la suite de l'ingestion d'un smoothie saveur ver de terre). Entretemps, la parade du quotidien suit son cours; les fourmis mangent, se chamaillent, fourrent et agonisent sur le sens de tout cela.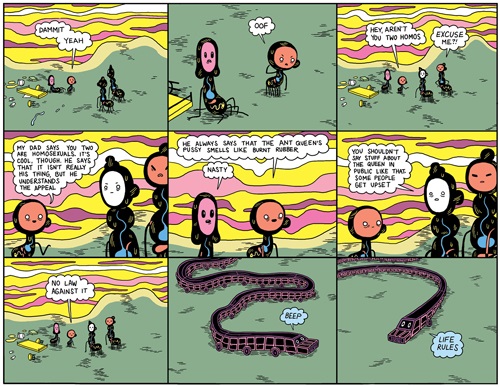 Paru à l'origine sous un format en ligne, chacun des épisodes de deux cases relate une histoire en soi. Lu d'un coup, ceux-ci tissent une représentation sinistrement précise d'une vie moderne en accéléré - répartis en parts égales de plaisir, pathos et des blagues de pets.