Search Results for "Marie-Pier Chevrier"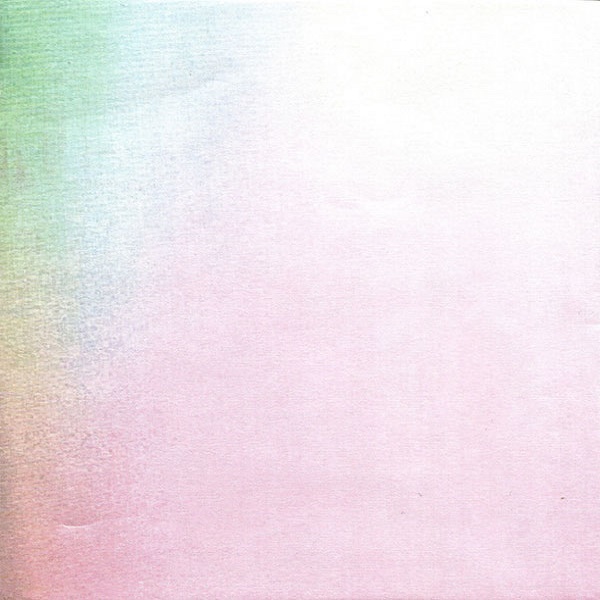 Prison Hair
Relief Patterns
(Self-Released)
Vancouver, BC
From the loose eyelash of Katie Jensen:
Syrupy synths drip over kitchen countertops, warming to the temperature of the human body. From the living room comes a faint, high-pitched whistle; the whirring of a broken television set.
Thick, sluggish beats pulse like cotton balls dabbed on the trembling skin of closed eyelids. Soothing, soft, wet. A rattling snare chews through its harness and rocks itself to sleep.
The radio dial twists past the frequencies of a million collapsing stars, folding inwards like laundry. Galaxies form in cotton creases.
In a house made from memory foam, every surface remembers, and is remembered.
Traduit par les aléas endimanchés Katie Jensen:
(Traduit par les aléas endimanchés Marie-Pier Chevrier)
Des synthétiseurs sirupeux dégoulinent des comptoirs de cuisine et se réchauffent jusqu'à atteindre la température du corps humain. Du salon nous parvient un sifflement aigu et étouffé; le ronronnement d'un téléviseur brisé.
Des rythmes épais et engourdis pulsent comme des balles de coton tamponnant la peau tremblante de paupières closes. Apaisants, doux, humides. Une caisse claire clinquante mâchonne et scinde sa bride et se berce elle-même jusqu'au sommeil.
Le fredonnement de la radio se tord pour atteindre la fréquence d'un million d'étoiles en chute libre, repliées sur elles-mêmes tel le linge propre. Des galaxies se forment dans les plis du coton.
Dans une maison faite de mousse mémoire, chaque surface se souvient et l'on se souvient de chaque surface.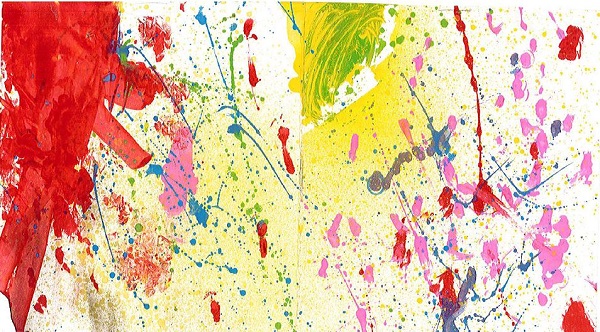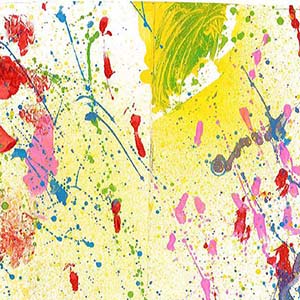 Virgins
Everyone Lost
(Self-Released)
Edmonton, AB
From the bleak worldview of Trevor Angst:
Be still, don't breathe. Doomsday is anthropogenic and takes the form of bio-cybernetic revolt. The planet is threatened and engages to resurrect its biomechanical engines of destruction from its underground dormancy to obliterate humankind. It's the found percussion of hard struck cathedral bells and the incline of a chain hill wooden roller coaster on Everything Dies that mimics dialogue and AI takeover. The droning, Tripod-bass growls are impending. Seismic strides can be mistaken for the sunken heart throbs of those who are enduring a post-apocalyptic world.
Du point de vue austère de Trevor Angst:
(Traduit par les soirées mentholées de Marie-Pier Chevrier)
Immobile, pas un souffle. L'apocalypse est anthropique et prend des airs de révolte biocybernétique. La planète est menacée et s'apprête à ressusciter de leur dormance souterraine ses engins de destruction biomécaniques pour anéantir l'humanité. La percussion retrouvée des cloches de cathédrale sonnées violemment et la pente d'une chaîne de montagnes russes de bois sur Everything Dies mimiquent les dialogues et conquêtes de l'IA. Le bourdonnement et les grognements de basse à Trépied survolent le tout, menaçants. Les éclats sismiques ressemblent à s'y méprendre aux battements de coeur en noyade de ceux qui perdurent dans un monde post-apocalyptique.
Virgins – The Air We Are Breathing (Be Still)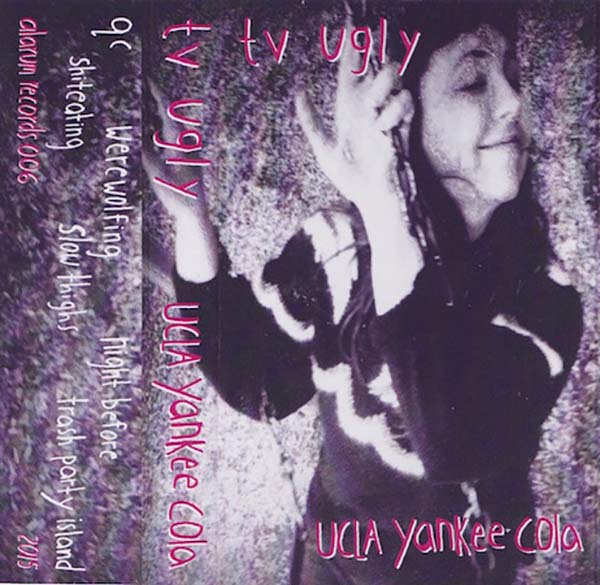 TV Ugly
UCLA Yankee Cola
Vancouver, BC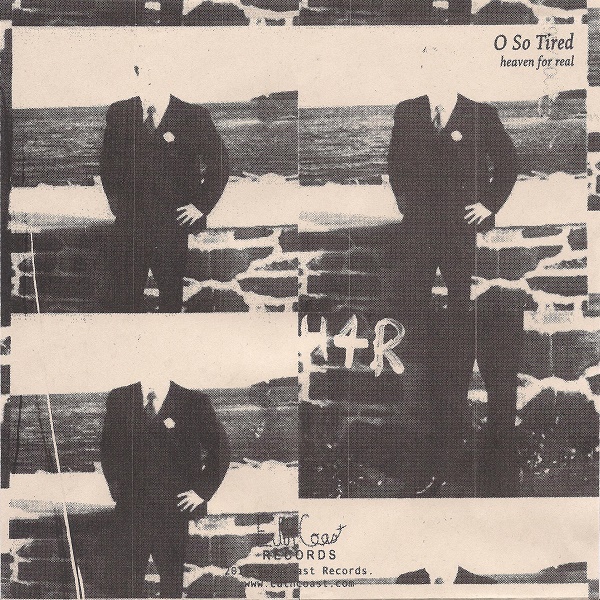 Heaven For Real // Homebody
Split
Halifax, NS
From the gnawed appendages of Piper Curtis:
Tired and roadworn, Heaven For Real trudge along an open roadway, dusty and without an end in sight. Directionless and meandering. Sunrises melt into sunsets, the passing of each day constant and unrelenting. They shed their skins, feet dragging, trying to find something, or some place, destination unknown. Their loss is palpable, yet there is no yearning, only an exhausted search.
Something comes into view and the pace quickens. They break into a run, only to be faced again with loss as it fades: a mirage.
The road continues.
Des appendices rongés de Piper Curtis:
(Traduit par les entrailles ravagées de Marie-Pier Chevrier)
Fatigués de toujours rouler, Heaven For Real se traînent le long des kilomètres de route, poussiéreux et à perte de vue, en errance dans les méandres. Aurores qui se fondent en crépuscules, le cours des jours et sa constance impitoyable. Ils changent de peau, traînant des pieds en quête d'un quelque chose, d'un quelque part inconnu. Leur perte est palpable, mais aucun désir en vue, rien d'autre que cette quête épuisée.
Quelque chose à l'horizon, le pas s'accélère. Ils commencent à peine à courir que la vision se perd déjà. Mirage…
Et la route continue.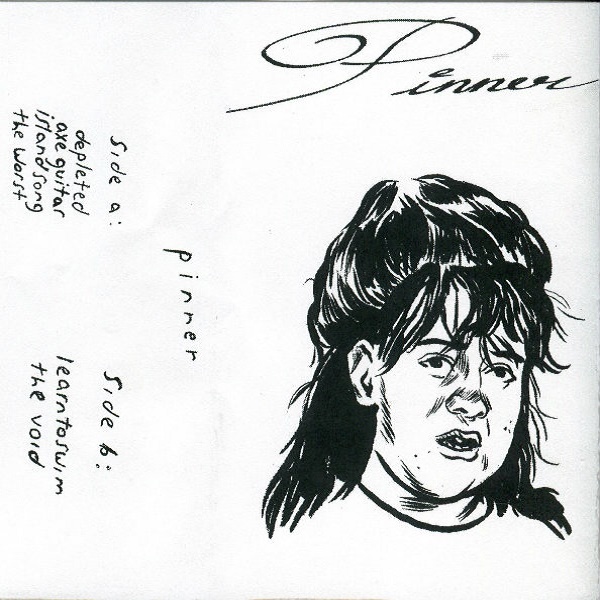 Pinner
#2 Demo
(Self-Released)
Victoria, BC
From the hundred watts of Bryce Warnes:
They may tag themselves "slacker" on Bandcamp and share their name with a lunch-break-sized marijuana cigarette, but Pinner work their asses off. Playing countless local shows has honed the four-piece into something acerbic, heartfelt and completely their own. See: "Island Song," where a lover is discarded for their detrimental effects on mellow. See: "Learn to Swim," a disaster fantasy set on the Queen of Victoria's smoke deck. Three vocalists, each coly their own beast, deliver indefatigable hooks. Pinner is making music that almost forces a reviewer to use the adjective "timeless."
Des cent watts de Bryce Warnes:
(Traduit par les pieds de vent de Marie-Pier Chevrier)
Ils ont beau se définir comme paresseux sur Bandcamp et avoir adopté le nom d'un petit joint de marijuana, les membres du groupe Pinner travaillent d'arrache-pied. Offrir d'innombrables performances locales a affûté le groupe de quatre membres, pour en faire quelque chose d'acerbe, de senti et qui lui est entièrement propre. Voir Island Song, où un amant est rejeté à cause de ses effets néfastes sur l'humeur. Voir Learn to Swim, un désastre imaginaire se déroulant sur le pont des fumeurs du Queen of Victoria. Trois chanteurs, trois bêtes en soi, qui jouent des vers d'oreille infatigables. Pinner crée de la musique qui oblige presque les critiques à la décrire comme «intemporelle».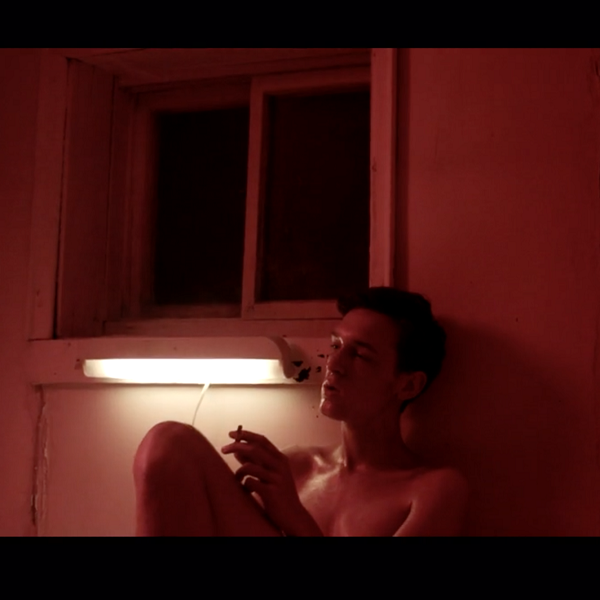 Fish Food
Untitled
Dawson City, YK
From the sweaty, humid atmosphere of Kimberly Edgar:
The rose-tinted reality of this video is all wanting and waiting. The song is a 'wish-you-were-here' postcard sealed with a french kiss. The sweaty, humid atmosphere is caused by the sexual tension leaking out of your pores. You are waiting for your lover to come home, with nothing to do but lounge about in your underwear. Waiting, waiting, waiting.
De l'atmosphère humide, en sueur de Kimberly Edgar:
(Traduit par les accalmies rafraîchissantes Marie-Pier Chevrier)
La réalité teintée de rose de cette vidéo n'est que désir et attente. La chanson est une carte postale à la j'aurais-aimé-que-tu-y-sois, scellée d'un baiser. L'atmosphère humide de sueur est due à la tension sexuelle s'échappant de tous vos pores. Vous attendez le retour à la maison de votre amant, avec rien d'autre à faire que de vous prélasser en sous-vêtements. Et attendre, et attendre, et attendre.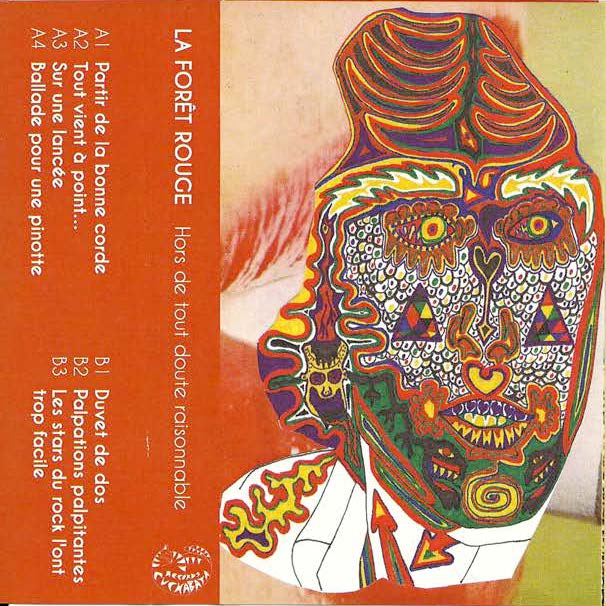 La Forêt rouge
Hors de tout doute raisonnable
Montréal, QC
From the love nest of Katie Jensen:
Percussion scatters like a stick dragged around the inside of a ridged tin can. Growling fingernails drag up coiled strings, arguing with whirring tape. Taut strings snap in a whiplash of stinging heat. The cacophony ends as quickly as it began. Clambering faces press against the glass. A twisted plastic bag crinkles slowly while a guitar stretches its legs. A low thunder of drumbeats hold council with sycophants of rewinding feedback. A howling voice grows from nothing before swallowing itself whole.
Du nid d'amour de Katie Jensen:
(Traduit par les matines résonnantes de Marie-Pier Chevrier)
Des éclats percussifs comme un bâton que l'on frotte sur l'intérieur ondulé d'une conserve. Ongles grondants, traînants des cordes qui s'enroulent, débattant avec la bande magnétique qui frémit. Cordes raides qui cèdent dans un grand fracas de chaleur saisissante. Et la cacophonie qui se termine aussi vite qu'elle a commencé.
Des visages déformés, écrasés contre la vitre. Un sac de plastique froissé se tord lentement alors qu'une guitare s'étire les jambes. Un sourd tonnerre de tambours délibère avec les adorateurs des feebacks rembobinés. Une voix grondante naît du néant et grandit jusqu'à s'avaler en entier.
La Forêt rouge – Sur une lancée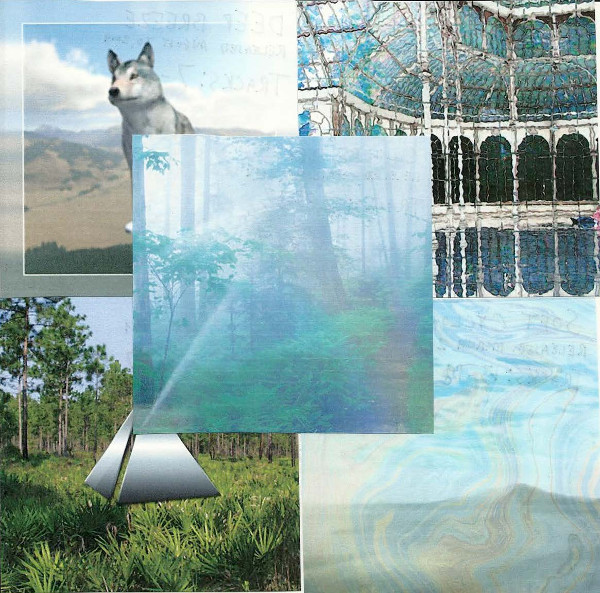 TELOZKOPE
Soft Cyclone
Winnipeg, MB
From the ghost level of Katie Jensen:
Supercharged rainbows push forward without knowing the outcome. A long, familiar road stretches into a glitching sunset, breaking apart with each shimmering, equal chord.
A tape rewinds to reveal the mundanity of your afternoon. Hesitantly at first, but then with more confidence, a zither takes up a slow dance with a harp, preoccupied with its own rhythms. The harp's lazy ramble finishes with a knowing wink, its smooth arm brushed by the side scrolling of toppling gold coins.
De l'étage fantôme de Katie Jensen:
(Traduit par les baies de genèvrier de Marie-Pier Chevrier)
Des arcs-en-ciel surchargés courent droit devant sans connaissance des conséquences. Une route longue et familière se perd dans un coucher de soleil clignotant, tombant en morceaux à chaque accord juste et chatoyant.
La cassette rembobine, révélant la banalité de votre après-midi. Hésitante d'abord, puis plus confiante, une cithare entame une danse lascive avec une harpe, suivant son propre rythme. Le discours divaguant et paresseux de la harpe se termine d'un clin d'oeil complice, son doux bras caressé par les pièces d'or y roulant.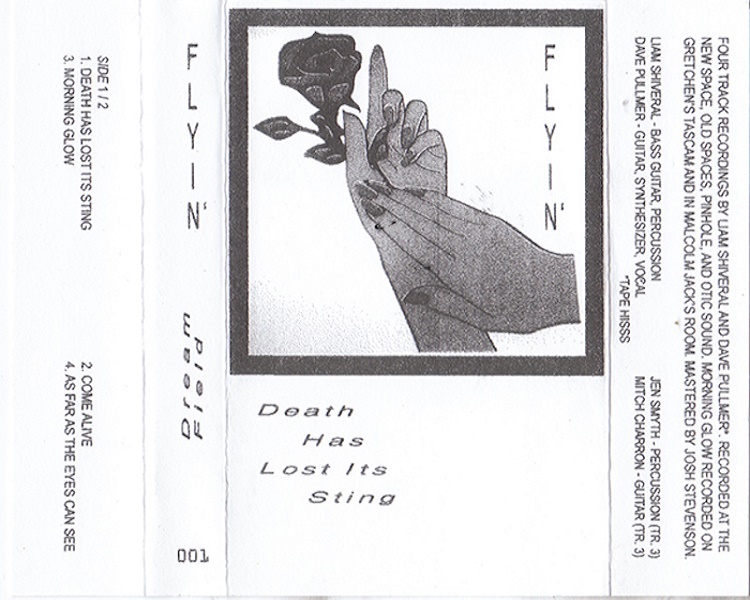 FLYIN'
Death Has Lost its Sting
(Dream Field)
Vancouver , BC
From the hand of Morgan Cook:
Soft and undulating like the light of the moon, Death has lost its sting and become a velvety space for one's sobless tears. Pitter-pats and janglies as far as the eye can see. Feedback and organ fuse and transform into the hum of heat and the cicada . Everything is fine, everything is divine.
De la main de Morgan Cook:
(Traduit du bout des doigts de Marie-Pier Chevrier)
Doux et ondulatoire comme la lumière de la lune, la Mort a perdu son dard et se fait refuge velouté pour les larmes qu'on ne pleure pas. Tapotements et tintements aussi loin que porte le regard. Feedback et orgue se fusionnent et se transforment en bourdonnement de chaleur et de cigales. Tout va bien, tout est divin.
Flyin' – Death Has Lost its Sting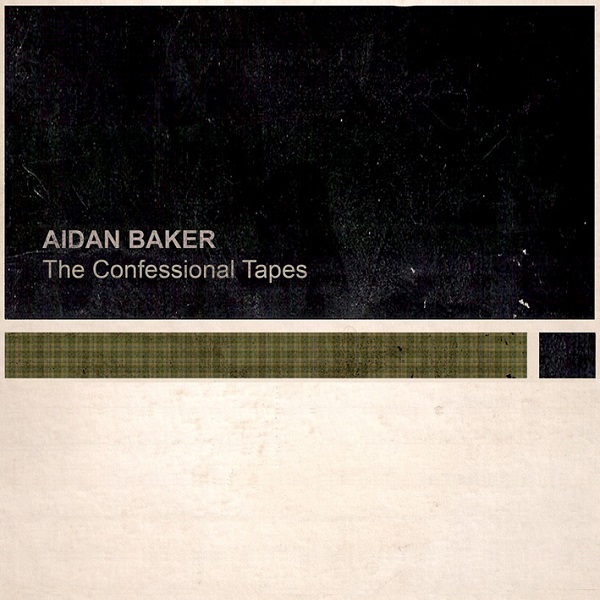 Aidan Baker
The Confessional Tapes
Toronto, ON
From the unfiltered musings of Griffin Martell:
Art is but an accident. This is an inevitable realization at the moment of creation. The creator proclaims life in the same breath that bemoans it. Aidan Baker, being no stranger to the contingency of creation, deftly cultivates material indifference on his Pleasence debut. Breathlessly gliding through gauzy passages of brush percussion and delicate jazz guitar, Baker confesses discrete yearnings and reflections. While a torpid, Lynchian ambience creeps in, errant clicks and squiggles accent the sonic landscape with sobering reminders of digital reality. Baker is firmly aware of his limitations yet he does not balk at them, he indulges them.
Des réflexions non filtrées de Griffin Martell:
(Traduit par les cocktails fleuris de Marie-Pier Chevrier)
L'art est tout sauf un accident. C'est l'inévitable réalisation au moment de la création. Le créateur [insuffle la vie] du souffle-même avec lequel [il la maudit]. [Aidan Baker], loin d'etre étranger au [caractère contingent de la création], cultive adroitement l'indifférence matérielle dès ses débuts musicaux avec [Pleasence]. Glissant, haletant, au travers de passages translucides de balais percussifs et de guitare jazz délicate, Baker fait de discrets aveux d'aspirations et de réflections. Alors qu'une ambiance Lynchesque léthargique vous envahit, d'ambulants cliquetis et gribouillis accentuent le paysage sonore de tristes rappels à la réalité numérique. Baker est bien conscient de ses limites sans pour autant s'y arrêter; au contraire, il leur donne libre cours.

Aidan Baker – I Want to See (More of You)
---