Search Results for "ramshackle day parade"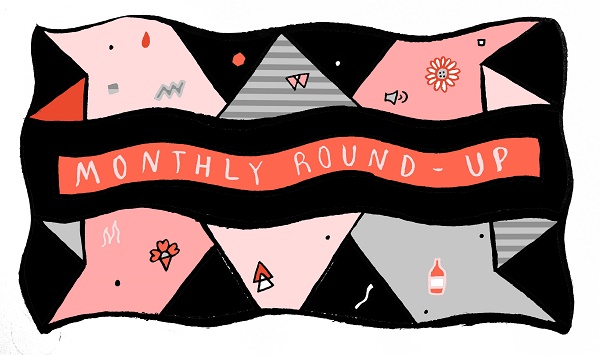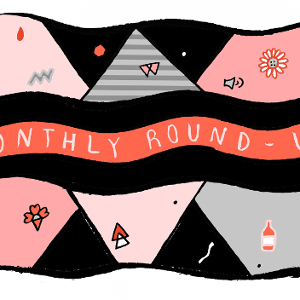 From the Lizard Cove:
In our ongoing pursuit to encourage, document, and connect creative expression across Canada, we cut through waves upon waves of ethereal sounds, wyld shreddery, and brooding drones. It is magnificent. Some of the best grips escape our grasping fists. We list them here:
Gel Nails : Iridescence (Ramshackle Day Parade :: Ponoka, Alberta)
Corinthian : Eurozone Ghost (Deep Sea Mining Syndicate :: Calgary, Alberta)
Persona Mercure : Replacement (Archive Officielle :: Montréal, Québec)
PROTO PROTO : Zero Power (concrete data) (Vacancy Recs. :: Niagara, Ontario)
Chris Strickland Mathieu Ruhlmann : This Heap is Greater Light(Glistening Examples :: Montreal and Vancouver, Québec)
White Blackmail : Revival (Self Released :: Richelieu, Québec)
Sigh Down One : Memory is Short Longing (L'Oeil du Tigre :: Montreal, Québec)
Iceberg Ferg : In the Valley of the Purple Prince (Triple Crown Audio Recordings of Canada :: Vancouver, British Columbia)
Russell Louder : I'm Thinking Hard About My Work (Self-Released :: Charlottetown, PEI)
J Ryan Halpenny : Future Used (Self-Released :: Newmarket, Ontario)
From the Lizard Cove:
Notre quête constante visant à encourager, à mettre en contact et à décrire les pratiques d'expression créatrice au Canada nous fait traverser vague après vague de sons éthérés, de shreds déchaînés et de sinistres bourdonnements; et c'est magnifique. De véritables joyaux échappent parfois à nos mains avides. Ils sont énumérés ici :
Gel Nails : Iridescence (Ramshackle Day Parade :: Ponoka, Alberta)
Corinthian : Eurozone Ghost (Deep Sea Mining Syndicate :: Calgary, Alberta)
Persona Mercure : Replacement (Archive Officielle :: Montréal, Québec)
PROTO PROTO : Zero Power (concrete data) (Vacancy Recs. :: Niagara, Ontario)
Chris Strickland Mathieu Ruhlmann : This Heap is Greater Light(Glistening Examples :: Montreal and Vancouver, Québec)
White Blackmail : Revival (Self Released :: Richelieu, Québec)
Sigh Down One : Memory is Short Longing (L'Oeil du Tigre :: Montreal, Québec)
Iceberg Ferg : In the Valley of the Purple Prince (Triple Crown Audio Recordings of Canada :: Vancouver, British Columbia)
Russell Louder : I'm Thinking Hard About My Work (Self-Released :: Charlottetown, PEI)
J Ryan Halpenny : Future Used (Self-Released :: Newmarket, Ontario)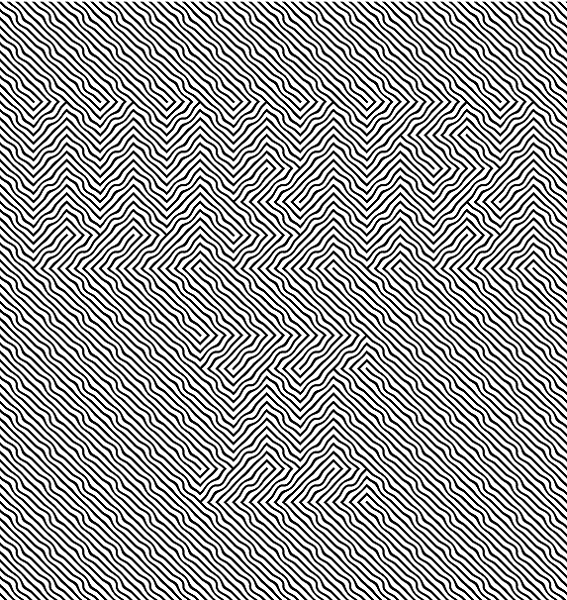 Wyrd Distro
is Canada's only non-profit store and distribution service for physically-released music from experimental and emerging Canadian artists.
We've been around a couple years now, and decided to draw up an illustrated document of the first two years: the great parts, the bad parts, and the road ahead.
The Good Parts
Community
Wyrd is a community: 600+ people from all kinds of backgrounds. We are high school students, beloved misanthropes, accountants, campus radio DJs, crust punks, Francophone skateboarders, bejeweled electro queens, and miscreants squinting at you from behind the record store counter.
Our community has always been really supportive and strong, and the distro has amplified and tightened our bond. Wyrd Distro was built by Wyrdians. Over a hundred people copy-edited and contributed to the grant application alone.
Winning a grant bound us together in a way that only an underdog can understand. Groups like us simply don't get funding: the way we work and self-govern doesn't align with the demands of funding organizations.
We stood together in unexpected success under the mountain of work that suddenly loomed over us.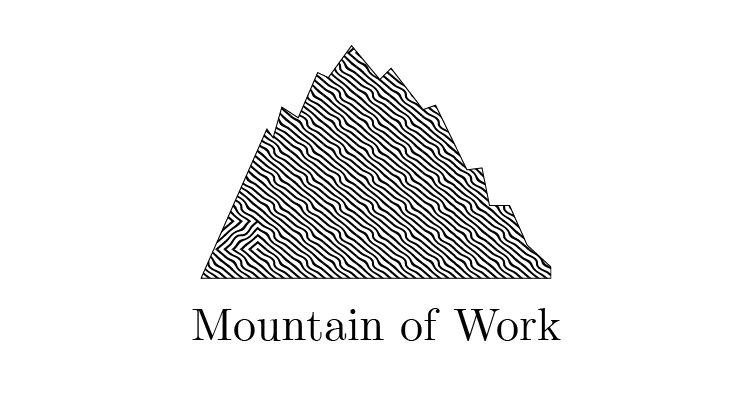 So much money!
In our seven years of existence, we've never had any major project funding and certainly no operational funding: we do everything through volunteer labour and out of pocket.
The grant allowed us to pay people for their work. We hired developers to build our web-portal, designers to design our web-portal, people to manage the first few months of artist relations, someone to do outreach, and someone to do administration.
We purchased materials to build a physical holding space (shelving and organizational materials), threw a cross-Canada launch party, subsidized shipping materials for the distro, and promoted the project while supporting campus & community radio through ads-buys.
Launch Parties
To celebrate the launch, we held parties all across Canada. Each party had a drop box: that anyone could put their music into and get free shipping to the distro. We released a cassette celebrating the launch, and gave out free copies at the parties.
It was the first time we had ever held a nationwide celebration, and it was incredible to feel the resonance with the community on such a large geographic scale.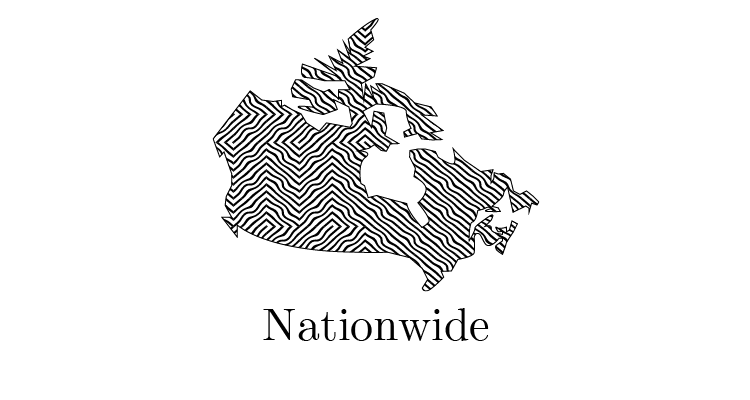 Press Coverage
Wyrd Arts Initiatives had never really gotten a lot of press. There are a few beloved journalists who have given us a lot of support over the years, but nothing like the deluge of national press we suddenly received (with the help of Darcy at Pigeon Row).
Here is a selection of some of the coverage: Globe and Mail, ChartAttack, Now Magazine, CBC 3, Waterloo Record, The Cord, Quick Before It Melts, Soundvat, BlogTO, Prairie Dog Magazine, BeatRoute, Hartzine, Decoder, Guelph Mercury, Fast Forward Weekly, The Chronicle Herald, The Coast, The Main, The Revue, Uniter, Cult Montreal, National Post, Ominocity, Edmonton Journal, Music Lives, Discorder, BlogTO, Groundwire (nationally syndicated college radio show), Kreative Kontrol, CBC Daybreak, CBC – All In A Day, CBC Radio (NB), CKCU – Morning Special Blend (David Yazbeck), Now Magazine, Mixtape Magazine, Reflector, Decoder, Barb Barb Barb, Giraffe Cycle, Ramshackle Day Parade, A Journal of Music Things, BlogTO, National Music Centre, Mixtape Magazine, Leigh Wright.
Strong launch
The distro launched strong. It was a desperate pitch at the end, trying to organize national parties and launch on time, but the support was overwhelming. Packages of new cassettes poured in every day, and packages flowed out to excited listeners.
In the first two years, we stocked 455 different cassettes, 203 12"s, 193 CDs, 126 7"s, and a variety of other formats.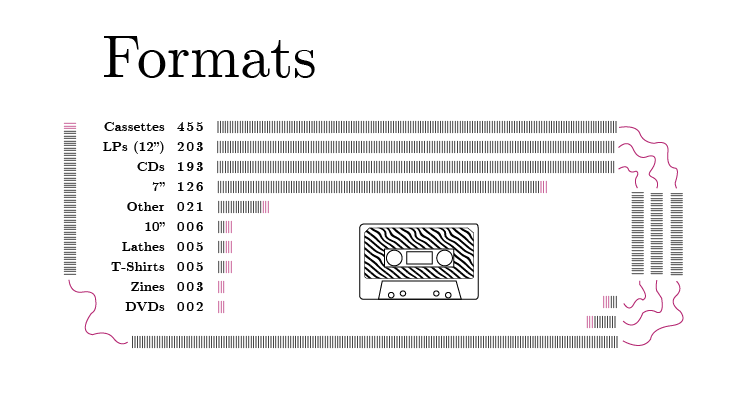 Design: Marie Claire
We shipped packages all over Canada, to America, Japan, Spain, Germany, Portugal, Argentina, France, England, Switzerland, Sweden, Slovenia, Romania, Singapore, Norway, and Colombia.
Pop Ups and Hand Delivery
Since our launch we have done pop-ups and hand delivery missions in Halifax, Sackville, Montreal, Sudbury, Hamilton, Guelph, Toronto, Ottawa, Waterloo, Edmonton, Saskatoon, Regina, Winnipeg, Medicine Hat, Lethbridge, Calgary, Kelowna, Vancouver, Nanaimo, and Victoria
We've found pop-up-shops to be a very successful way to bring music to music fans. We also successfully experimented with hand delivery (free shipping!) promotions whenever we travelled to festivals, picking up music and bringing orders to enthusiastic and remote buyers.
Support
In the first two years, we served 231 active consignors.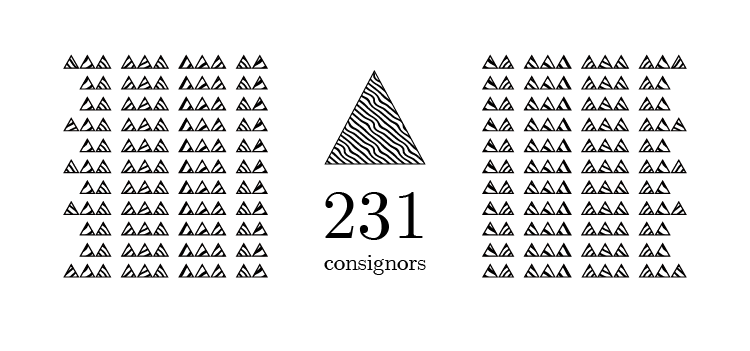 Many artists expressed excitement about having their art available through the distro. Labels were especially grateful for the extra income, and money flowed abundantly from the pockets of listeners to their favourite artists.
Struggles
Round Peg, Square Hole
The FACTOR grant was the first major grant we ever received. Applying for the grant was new ground for us. In our effort to find shared ground with FACTOR and finesse our project into something fundable, we ended up lost in a mission-creep landslide.
We are good at scrappy and DIY, at evolving a product alongside the changing needs of our community; instead we created an unwieldy behemoth that was hard to manage and reshape.
We allotted much of our money and resources towards building a scalable platform for the distro, focusing on quantities of artists and labels served in order to show FACTOR that we were serious about growth. Instead, we should have been building something small and easy to maintain.
We don't know if FACTOR even wanted what we thought they wanted. But this is the mystery of grants, and one of the biggest challenges. When looking for grants, one observes who gets grants and who doesn't, and this becomes the key-code for deciphering how one should behave to get funding. (Note: our FACTOR granting officer was the best granting officer we have ever interacted with, and definitely helped us find our way. As a first-timer and outsider, applying for the grant felt entirely mysterious and ritualistic. If we apply for future grants, we'll spend a lot more time asking the granting officer for guidance and support).
Money Challenges
As discussed above, winning the grant was massive. It's difficult to talk about "money challenges" in the context of a big windfall like that, but the money challenges are important to disclose.
In the crunch of trying to make it happen we found out that FACTOR couldn't send us half of the money until after the entire project was complete, and until all reporting finalized. This infused an already stressful launch with financial stress as we tried to move money around to cover all the expenses. Even with all our accounts, credit cards, and favours maxed out, we barely pulled it off.
In compliance with our marketing plan, we spent a lot of money on ads, including a few very expensive ads whose benefit to our project was questionable. In retrospect, we should have put that marketing money into zines, campus and community radio, or other grassroots marketing.
Ongoing maintenance costs for the distro were higher than projected. Even with a non-profit rate at shopify we found ourselves tethered down with hosting fees, shopify fees, and a variety of other expenses.
We always intended to run the distro as a non-profit, but didn't realize that aiming to keep our margins at zero meant that we were destined to lose money. Aiming for zero meant that we didn't have any buffer room when a package disappeared on the way to Japan or when packages were damaged on their way to us. Setting up harsh terms of service was an option, but that didn't seemed very appealing as a community organization.
Shipping Costs
It's impossible to talk about distribution and physical music sales in Canada without running into the challenge of shipping costs. It was the biggest and most prohibitive cost for all our operations.
In January 2014, a month before the distro launched, Canada Post increased their fees significantly, and they continue to rise. It's difficult when the cost of the LP is $10 and the shipping can be up to an additional $14 within Canada.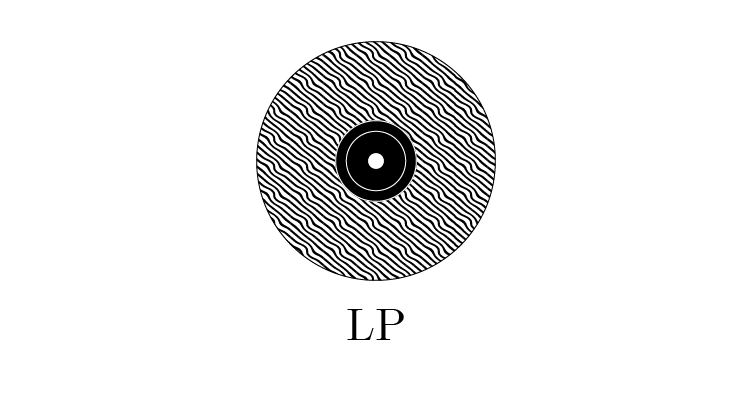 Shipping costs have also been a major barrier for artists and labels in sending us music. It's a huge expense for them to send us music: and if they have paid to ship it to us, and it doesn't sell in the distro, they need to pay to get it shipped back to them. For an artist whose music isn't selling, it's a terrible deal. But on our end, if we paid return shipping, our admin fees would rise to impossible heights.
Shipping costs are also the biggest barrier in working with record stores across Canada. We tried to initiate relationships with 241 record stores. Many stores were very supportive of the initiative (shout out to Reneu Boutique for being the best beta tester, to June Records for being so supportive, Sonic Boom for housing us for 4 months, and all the record stores who hosted launch parties and popups).
Most small record stores are barely breaking even, so they can't afford to buy merch that they might not move and can't affordably return. Major labels and distributors cut unbelievable deals to pay a fractional amount with shipping companies, allowing for easy returns. We don't have that luxury.
We considered partnering with touring bands to deliver packages to record stores, but one spilt slurpee, robbed tour van (it happens), or a hot trunk (melting music) would set us back months, so it seemed wiser to abstain.
Volunteer Power
Our plan (supported by our projected sales) would have allowed us to hire a very part-time staff person to process sales and lead the volunteers. This never happened, in part due to increases in shipping costs and low sales.
As a result, we found ourselves entirely powered by volunteers. All of our work is powered by volunteers, but the nature of the distro work demanded too much: volunteers with high tech skills, strong communication skills, impeccable organization, and absolute 5-day-a-week responsibility. Obviously, people with all these skills are rare. We burnt out and exhausted some of our best volunteers on distro duty.
Running people to the point of burnout is never good, and resulted in other problems: dropped balls, critical communication failures, lagging speed in uploads, slowly packaged materials, expensive errors in data entry and shipping, and broken hearts.
What about the rest of Wyrd?
An unexpected side-effect of the distro was that it absolutely took over the Wyrd agenda. As the only project (of 35 objectives) with funding, with press attention, and with so many directly invested parties, it took center stage and pushed everything else to the back.
It was incredibly disheartening, as many of the other projects felt more important and pressing for the community, but suddenly there was minimal time for them. Everything but the distro became peripheral.
Curation vs Inclusion
A large issue and point of contention for us was balancing the tension between curation and inclusion. Weird Canada (weirdcanada.com) has always been curated. The vision of Wyrd Arts Initiatives (the umbrella nonprofit that contains Weird Canada and Wyrd Distro) was to focus more on being an inclusive resource. That's not to say we ever intended it to be a free-for-all. Our community has shared interests, and our interests are an important part of what brings us together. But the intent with Wyrd Distro was to make a resource that could serve more musicians, more labels, more people.
Occupying this space of wanting to be more inclusive but still curating was incredibly difficult. We struggled to balance curation, inclusivity, and practicality when selecting which submissions to carry. It's a difficult balance, especially when every rejection letter we send out causes bad feelings and fragments our community.
Each item we accept to the distro would ultimately translate to 2-5 copies of a cassette/LP/CD on a shelf (with the exception of best sellers). As it turns out: selling 3-5 copies of 600 different things is a logistical nightmare.
Each item translated into a huge labour overhead. We needed to communicate with the artist, fill in various forms, upload information to the portal, photograph the product, post-photo edit in photoshop, file the product, communicate more with the artist, and eventually pay out the artist.
Again, this was an issue of trying to serve many people broadly instead of a few people well, a decision that we made in an attempt to be more inclusive and appeal to our funders. The logistics of dealing with so many consignors was an incredible amount of work, and we built complex systems to manage the nuances, but it still ate a lot of time and energy.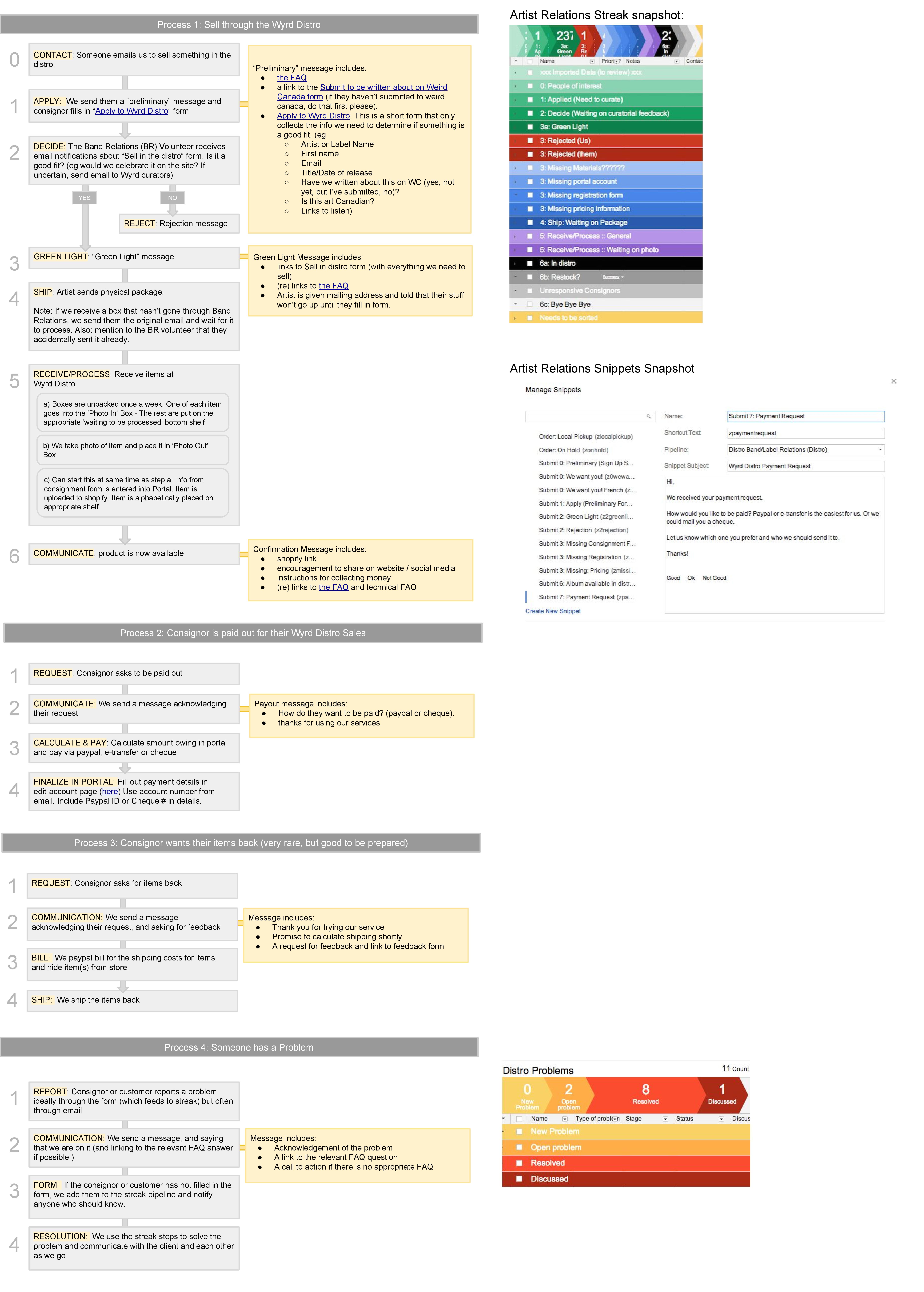 Click image to access PDF version
Finally, as mentioned above, our launch parties all included uncurated drop boxes where anyone could send us their music. The idea was to build feelings of inclusion and excitement, and offer free shipping for our earliest adopters. Unfortunately, the result was boxes of uncurated music, some of it American, some of it ethically objectionable to use (misogynistic band names and racial slurs in track listings), and some of it sonically unappealing to our community.
Unsold releases:
Even with the strictest curation, only asking for items that our community loves (as deduced by page views on Weird Canada, excitement of volunteers, and curatorial votes) we sometimes couldn't sell the music. This left everyone disappointed and sad, accruing major labour expenses on our end and major shipping expense on the artists' end.
Sales were initially very strong, but dropped over time, correlated to how much money we could invest in marketing (that last bump in the sales was from a major sale where we asked all consignors to drop prices before we moved the distro across the country).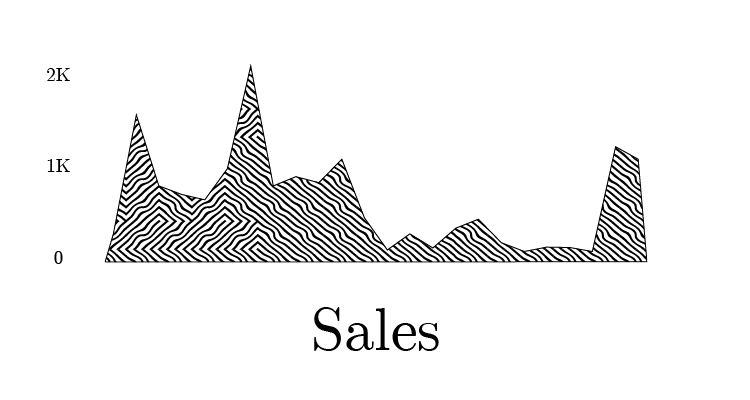 We knew this was a reality of running a business in capitalism, but when it came to actually emailing some of our favourite noise musicians and telling them that they "needed to pick up stuff" that hadn't sold in two years, it was devastating.
It was very painful to ship unsold materials back to artists, often at their own expense. It felt like a personal failing, and the art in the distro is art that we personally love and are excited about, so it was doubly difficult. The community was very graceful about it, but it was agonizing for us and financially difficult for them.
Vision forward
Lowering admin Costs
One immediate change we are making is to reduce our hosting/web-store costs. We are in the process of moving to a much more affordable hosting solution, cutting our costs by $50/month. This comes with some sacrifice: we can no longer use the portal, which we custom built to make the distro transparent and user-oriented.
More pop-ups and events
The portal sacrifice is worth it. Moving forward we can use our admin fees to pay for new ways of promoting and moving music: investing in pop-ups, creative ideas for reaching more people, and small/grassroots marketing.
Tighter curation
We will tighten curation: trying to ensure that we only take on music that we love and feel confident we can sell. This will mean saying no a lot of music, even to music we love. But if we can't sell it, we aren't serving anyone by accepting it.
Funding
In future we need to enter the grant application process with a clear sense of what we need, what we want, and what we can be flexible about.
There's not really much to learn about not having money. Many grant applications require you to put forward matching funding, and in a community where no-one has money (not the festivals, not the businesses, not the labels, not the artists, not the press, not the record stores) that's a huge barrier. Without totally compromising our values, there is no easy way to come into money. If you find a way, please let us know.
Creative Projects
Moving forward we will experiment with low-cost creative projects for marketing and outreach. One idea is to experiment with curated subscriptions, themed for cohesion, and regularly mailed out.
TLDR
Running a nonprofit distro for experimental music is very hard but also rewarding. We learned some stuff and are going to make improvements.
Thanks
Some thanks: Thank you to the volunteers first. The Wyrdian volunteers are the life-blood of all of this. Thank you to Phoenix, Emily, Aaron, Rachel, Kevin, Katie, Ellen, Sam, and our tireless Canada-summer-jobs interns. Thank you to Jenn Kitagawa for conjuring our amazing logo and creating the eye-bleeder! Thank you to the artists and labels who sell through the distro. Thanks to Tim for the help and FACTOR for the money! Thank you to the record stores who hosted our launch parties, our pop-ups. Thank you to the festivals who let us do popups. Thank you to the campus and community radio stations that ran our ads. Thank you to the blogs and zines that ran our ads. Thank you to every customer who ever bought something from the distro. Thank you to the volunteer editors who edited this long document. Thank you to the people who I forgot to thank and are sitting there feeling overlooked. Thanks to the distro kittens, who powered us with their cuteness.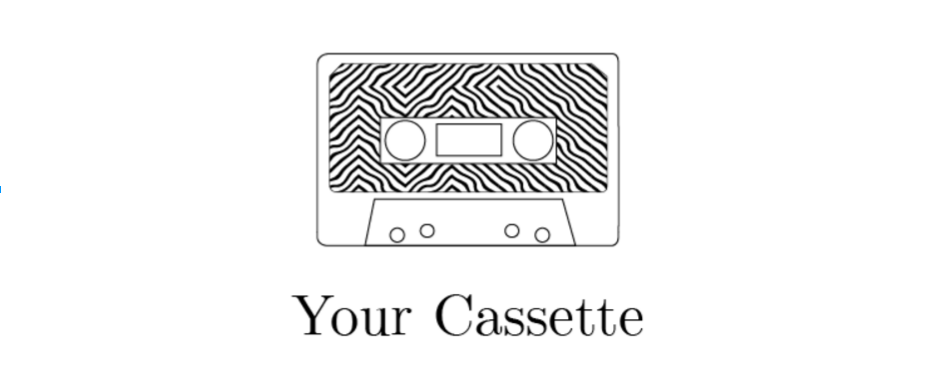 We're really grateful to the community for shopping wyrd distro in the past few years, and look forward to selling your your next noise tape!
Marie LeBlanc Flanagan and the Wyrd Team
PS: Buy a WYRD II T-Shirt
Wyrd Distro
est le seul magasin et service de distribution à but non lucratif au Canada pour la musique expérimentale physiquement sortie aux artistes canadiens émergeants.
Nous avons été dans les alentours depuis quelques années maintenant et avons décidé d'élaborer un document illustrer des deux premières années : les parties super, les parties moins super et la route devant.
Les Bonnes Choses
Communauté
Wyrd est une communauté: 600+ personnes venant de toutes sortes de contextes. Nous sommes des élèves du secondaire, des misanthropes adorés, des comptables, des DJ de la radio du campus, des crusts punk, des skateboardeurs Francophones, des reines électro richement ornées et des mécréants plissant les yeux dans votre direction de par derrière le comptoir du magasin de record.
Notre communauté a toujours été très supportante et forte et le distro s'est amplifié et a resserré notre lien. Wyrd Distro fut bâtit par des Wyrdiens. Plus de cent personnes ont fait le travail éditorial et ont contribué à la demande de subvention à eux seuls.
Gagner une subvention nous à lié ensemble d'une façon que seul un perdant peut comprendre. Des groupes comme nous n'obtiennent tout simplement pas de fonds : la façon dont nous fonctionnons et l'auto-gouvernance ne s'alignent pas avec les demandes d'organismes de financement.
Nous étions unis dans le succès inattendu sous la montagne de travail qui planait soudainement au-dessus de nous.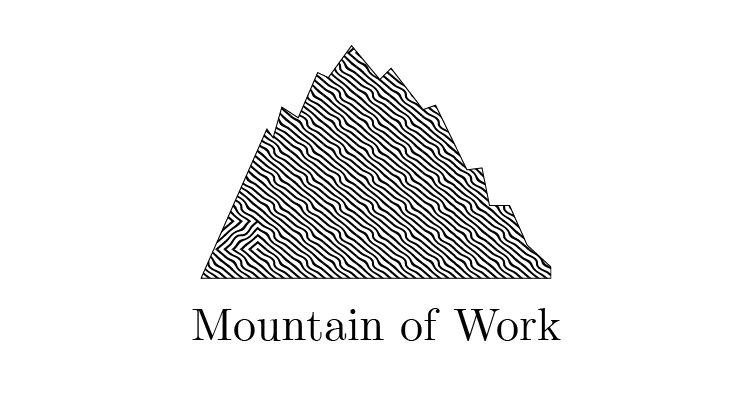 Tellement d'argent!
Dans nos sept années d'expériences, nous n'avions jamais eu un quelconque des fonds pour un projet majeur et certainement pas un financement opérationnel : nous faisons tout à travers le travail bénévole et avec ce que nous avions en poche. La subvention nous a permis de payer les gens pour leur travail. Nous avons engagé des développeurs pour bâtir notre portail web, des designers pour faire la conception de notre portail web, des gens pour gérer les quelques premiers mois des relations avec les artistes, quelqu'un pour faire la diffusion d'info et quelqu'un pour faire l'administration. Nous avons acheté du matériel pour bâtir une espace physique d'attente (des matériaux de tablettes et organisationnels), nous avons fait un party de lancement à travers le Canada, avons subventionné le transport de matériaux pour le distro et promu le projet en supportant les campus et les radios communautaire à travers l'achat de publicités.
Fêtes de lancement
Pour célébrer le lancement, nous avons fait des fêtes partout au Canada. Chaque fête avait une boîte de dépôt : où n'importe qui pouvait mettre leur musique et obtenir une expédition gratuite au distro. Nous avons sorti une cassette célébrant le lancement et avons donné des copies gratuites aux fêtes.
C'était la première fois que nous n'ayons jamais fait une célébration à la grandeur du pays, et c'était incroyable de ressentir la résonnance avec la communauté sur une telle échelle géographique.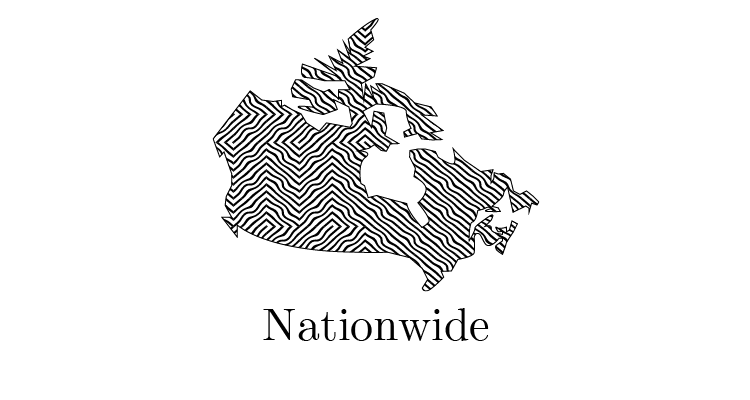 Couverture médiatique
Wyrd Arts Initiative n'avait jamais vraiment eu beaucoup de presse. Il y a quelques journalistes adorés qui nous ont donné beaucoup de support au fil des ans, mais rien comme le déluge de média national que nous avons soudainement reçu (avec l'aide de Darcy à Pigeon Row ).
Voici une sélection de quelques couvertures: Globe and Mail, ChartAttack, Now Magazine, CBC 3, Waterloo Record, The Cord, Quick Before It Melts, Soundvat, BlogTO, Prairie Dog Magazine, BeatRoute, Hartzine, Decoder, Guelph Mercury, Fast Forward Weekly, The Chronicle Herald, The Coast, The Main, The Revue, Uniter, Cult Montreal, National Post, Ominocity, Edmonton Journal, Music Lives, Discorder, BlogTO, Groundwire (Collège de radio syndiqué au niveau national), Kreative Kontrol, CBC Daybreak, CBC – All In A Day, CBC Radio (NB), CKCU – Morning Special Blend (David Yazbeck), Now Magazine, Mixtape Magazine, Reflector, Decoder, Barb Barb Barb, Giraffe Cycle, Ramshackle Day Parade, A Journal of Music Things, BlogTO, National Music Centre, Mixtape Magazine, Leigh Wright.
Un lancement fort
Le distro s'est lancé fort. C'était un tire désespéré à la fin, essayer d'organiser des fêtes nationales et un lancement à temps, mais le support était accablant. Des emballages de nouvelles cassettes arrivaient en déversement chaque jour et des emballages sortaient vers les auditeurs exciteurs. Dans les deux premières années, on a stocké 455 cassettes différentes, 203 12''s, 183 CDs, 126 7''s, et une variété d'autres formats. On a expédié des parquets partout au Canada, en Amérique, au Japon, en Espagne, en Allemagne, au Portugal, en Argentine, France, Angleterre, Suisse, Suède, Slovénie, Roumanie, Singapour, Norvège et Colombie.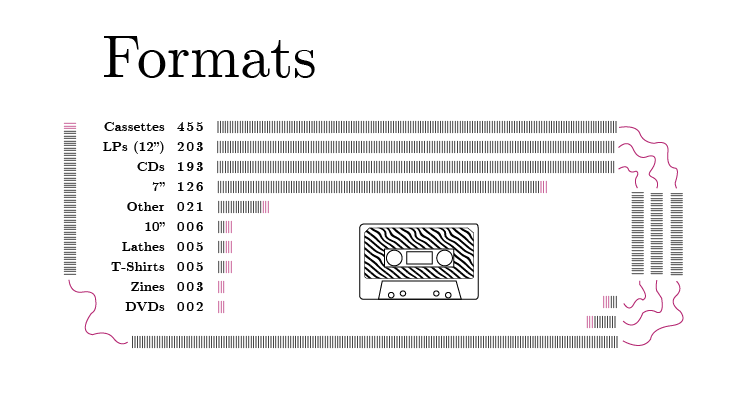 Apparitions et Remise en main.
Depuis notre lancement nous avons fait des missions d'apparitions et de remise en main à Halifax, Sackville, Montréal, Sudbury, Hamilton, Guelph, Toronto, Ottawa, Waterloo, Edmonton, Saskatoon, Regina, Winnipeg, Medicine Hat, Lethbridge, Calgary, Kelowna, Vancouver, Nanaimo, et Victoria.
Nous avons trouvé que les magasins d'apparitions étaient une façon très fructueuse d'apporter la musique aux fans de musique. Nous avons aussi expérimenté de façon réussie avec la promotion de remise en main (transport gratuit!) peu importe quand nous voyagions aux festivals, ramassant la musique et apportant les commandes aux acheteurs enthousiastes et éloignés.
Support
Dans les deux premières années, nous avons servi 231 consignateurs actifs.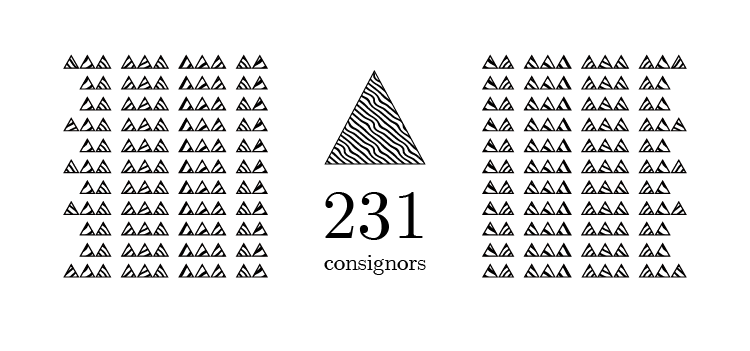 Plusieurs artistes ont démontré de l'excitement à propos d'avoir leur art disponible à travers le distro. Les labels étaient spécialement reconnaissants pour le revenu de surplus et l'argent coulait abondant à flot des poches des auditeurs de leurs artistes préférés.
Difficultées Cheville
ronde; trou carré
La subvention de FACTOR était la première subvention majeure que nous n'ayons jamais reçue. Appliquer pour une subvention nous amenait en terrain nouveau. Dans notre effort de trouvé un terrain d'entente avec FACTOR et de raffiner notre projet en quelque chose de finançable, nous avons fini par nous perdre dans un éboulement de dérapage. Nous sommes bons à être chaotique et au DIY, à évoluer un produit avec les besoins changeant de notre communauté; à la place nous avons créé un lourd monstre qui était dure à gérer et remouler.
Nous avons attribué une grosse partie de notre argent et ressources pour bâtir une plateforme évolutive pour le distro, se concentrant sur la quantité d'artistes et de labels servi afin de pour montrer FACTOR que nous étions sérieux à propos de la croissance. À la place, nous aurions dû bâtir quelque chose de petit et de facile à maintenir.
Nous ne savons pas si FACTOR voulait même ce que nous pensions qu'ils voulaient. Mais c'est le mystère des subventions, et un des plus gros défis. Quand on regarde pour des subventions, l'un doit observer qui obtient des subventions et qui n'en n'obtient pas et ceci devient le code-clef pour décrypter comment l'un devrait agir pour avoir du financement. (Note : notre agent de subventionnement de FACTOR était le meilleur agent avec lequel nous n'ayons jamais interagis et nous a définitivement aidés à trouver notre chemin. En tant que petit nouveau et étranger, appliquer pour une subvention sonnait entièrement mystérieux et rituel. Si nous appliquons pour des subventions futures, nous allons passer beaucoup plus de temps à demander l'agent de subventionnement pour des directions et du support). Défis monétaires.
Comme discuté ci-haut, gagner une subvention était quelque chose de gros. C'est difficile de parler à propos de ''défis monétaire'' dans le contexte d'une grosse aubaine comme ça, mais les défis monétaires son important à divulgué. Dans la crise d'essayer de faire en sorte que ça arrive nous avons découvert que FACTOR ne pouvait nous envoyer la moitié de l'argent qu'après que le projet en entier fût complet, et jusqu'à ce que tout les rapports soit finalisés. Cela a infusé un lancement déjà stressant avec un stress financier alors qu'on essayait de bouger de l'argent autour pour couvrir toutes les dépenses. Même avec tous nos comptes, nos cartes de crédits et des faveurs à leurs limites, nous y arrivions à peine. En accord avec notre plan d'affaire, nous avons dépensé beaucoup d'argent sur des publicités, incluant quelques unes vraiment chères dont les bénéfices pour notre projet étaient questionnable. En rétrospective, nous aurions du placer cet argent de marketing dans les magazines, les campus et les radios communautaires, ou d'autres bases de marketing.
Les coûts de maintenance en cours pour le distro étaient plus hauts que prévu. Même avec un taux de non- lucratif à Shopify, nous payions 35$ par mois et nos portails arrivent à 60 $ mensuellement en frais d'hébergement. Nous avons éventuellement baissé nos frais d'hébergement à 15$ par mois, mais 50$ par mois voulais encore dire que nous devions vendre 33 cassettes par mois pour simplement rester en ligne.
Nous avons toujours eu l'intention de gérer le distro comme un non-lucratif, mais n'avions pas réalisé qu'en visant pour garder notre marge à zéro voulait dire qu'on était destiné à perdre de l'argent. Viser zéro voulait dire que nous n'avions pas de pièce tampon quand un paquet disparaissait sur le chemin vers le Japon (on perdait 130$!), ou quand des paquets étaient endommagés sur leur route vers nous. Placer de rude termes de services était un option, mais ça ne semblait pas très attrayant en tant qu'organisation communautaire.
Frais de Transport
C'est impossible de parler à propos de la distribution et des ventes de musique physiques au Canada sans rencontrer des défis des frais de transport. C'était le plus gros coût et le plus prohibitif de toutes nos opérations.
En janvier 2014, un mois après que le distro se soit lancé, Poste Canada ont significativement monté leurs tarifs et ils ont continué à monter. C'est difficile quand le coût du LP est 10$ et le transport peut coûter un 14$ additionnel dans le Canada.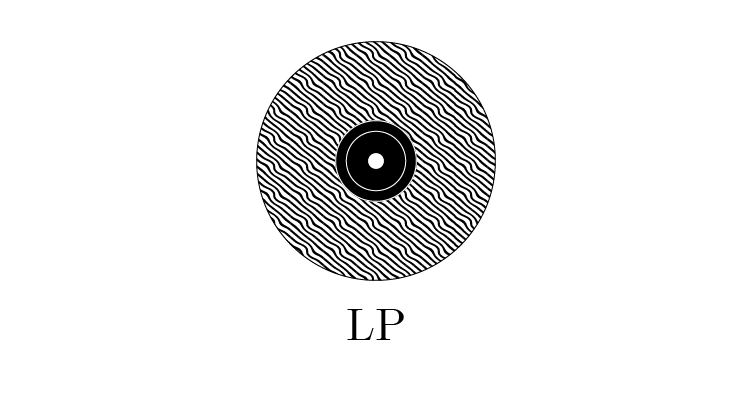 Les frais de transport ont aussi été une barrière majeure pour les artistes et les labels pour nous envoyer de la musique. C'est une grosse dépense pour eux de nous envoyer de la musique : et s'ils avaient payé pour nous l'expédier, et que ça ne se vend pas dans le distro, ils doivent payer pour qu'elle leur soit renvoyée. Pour un artiste dont la musique ne se vend pas, c'est une entente terrible. Mais à notre bout, si on paie le transport de retour, nos frais administratif monteraient à des hauteurs impossibles.
Les frais de transport sont absolument la plus grande barrière quand on travaille avec les magasins de records à travers le Canada. On a essayé d'initier des relations avec 241 magasins de records. Plusieurs magasins étaient très supportant de l'initiative (cri pour Reneu Boutique pour être le meilleur testeur beta, pour June Records pour être si supportant, pour Sonic Boom pour nous avoir accueilli pendant 4 mois, et tous les autres magasins de records qui été les hôtes des fêtes de lancement et des popups).
La plupart des petits magasins de records s'en sortent à peine, ils ne peuvent pas se permettre d'acheter de la marchandise qu'ils ne vont peut-être pas bouger et qu'ils ne peuvent pas abordablement renvoyer. Les labels majeurs et les distributeurs font des ententes incroyables pour payer une fraction du montant avec les compagnies de transport, permettant les retours faciles. Nous n'avons pas ce luxe.
Nous avons considéré un partenariat avec les groupes en tournée pour livrer des paquets aux magasins de records, mais une slush renversée, un van de tournée volé (ça arrive), un coffre chaud (fonte de musique) nous ramènerait des mois en arrière, alors il semblait plus sage de s'en abstenir.
La Puissance Bénévole
Notre plan (supporté par nos ventes prévues) nous aurait permis d'engager un employé à temps très partiel pour traiter les ventes et diriger les bénévoles. Ça n'est jamais arrivé, en partie à cause de la hausse des frais de transport et des ventes basses.
Comme résultat, nous nous sommes retrouvés à marcher entièrement à l'aide de bénévoles. Tout notre travail est alimenté par des bénévoles, mais la nature du travail du distro en demandait trop : des bénévoles avec des compétences en technologie avancée, de fortes compétences en communication, une organisation impeccable et une responsabilité absolue de 5 jours semaine. Évidemment, les gens avec toutes ces compétences sont rares. Nous avons brûlé et épuiser quelques uns de nos meilleurs bénévoles au devoir du distro.
Gérer les gens jusqu'à l'épuisement n'est jamais bon et cela a résulté en d'autres problèmes : des lacunes de communications, des bénévoles qui ne répondent pas aux emails, des bénévoles qui ne communiquaient pas les problèmes, du lâchage, des mises à jour lentes au distro, du matériel lentement emballé et des erreurs très couteuses dans les entrées de données et d'envoi, et des cœurs brisés.
Et quoi du reste de Wyrd?
Un effet secondaire inattendu du distro était que ça l'avait absolument pris le contrôle sur l'agenda de Wyrd. En tant que seul projet (de 35 objectifs) avec un financement, avec une attention médiatique et avec tellement de parties directement impliqués, il a pris une place principale et a poussé toutes autres choses derrière.
C'était terriblement décourageant, alors que plusieurs autres projets semblaient plus importants et urgent pour la communauté, mais soudainement il y avait un temps minime pour eux. Tout sauf le distro est devenu périphérique.
Conservation vs Inclusion
Un gros problème et un sujet de conflit pour nous était de balancer conservation et inclusion. Weird Canada (weirdcanada.com) a toujours été conservé. La vision de Wyrd Arts Initiatives (le parapluie non lucratif qui contient Weird Canada et Wyrd Distro) était de se concentrer plus sur être une ressource inclusive. Ce n'est pas pour dire que nous n'avions jamais eu l'intention d'être une mêlée. Notre communauté a partagé des intérêts et nos intérêts sont une partie importante de ce qui nous rassemble. Mais l'intention avec Wyrd Distro était de faire une ressource qui pourrait servir plus de musiciens, plus de labels, plus de gens.
Occuper cet espace de vouloir être plus inclusif, mais encore conservateur était incroyablement difficile. Nous nous sommes démenés pour balancer, conservation, inclusivité et le pratique en choisissant quelles soumissions poursuivre. C'est dur à balancer, spécialement quand chaque lettre de rejection que nous envoyons cause des mauvais sentiments et fragmente notre communauté.
Chaque item que nous acceptons au distro traduirait ultimement de 2 à 5 copies d'un cassette/LP/CD sur une étagère (avec l'exception des meilleures ventes). Comme il s'avère : vendre 3-4 copies de 600 choses différentes est un cauchemar logistique.
Chaque item s'est traduit en gigantesque travail général. Nous devions communiquer avec les artistes, emplir plusieurs formulaires, télécharger l'information vers le portail, photographier le produit, éditer le post-photo dans photoshop, claser le produit, communiquer plus avec les artistes et éventuellement payer les artistes.
Encore, c'était un problème d'essayer de servir plusieurs gens largement à la place de servir bien quelques personnes, une décision qui nous avons fait dans une tentative d'être plus inclusif et d'être attrayant pour nos financeurs. Les logistiques de s'arranger avec tellement d'expéditeurs était un incroyable montant de travail et nous avons bâtit des systèmes complexes pour gérer les nuances, mais ça mangeait encore beaucoup de temps et d'énergie.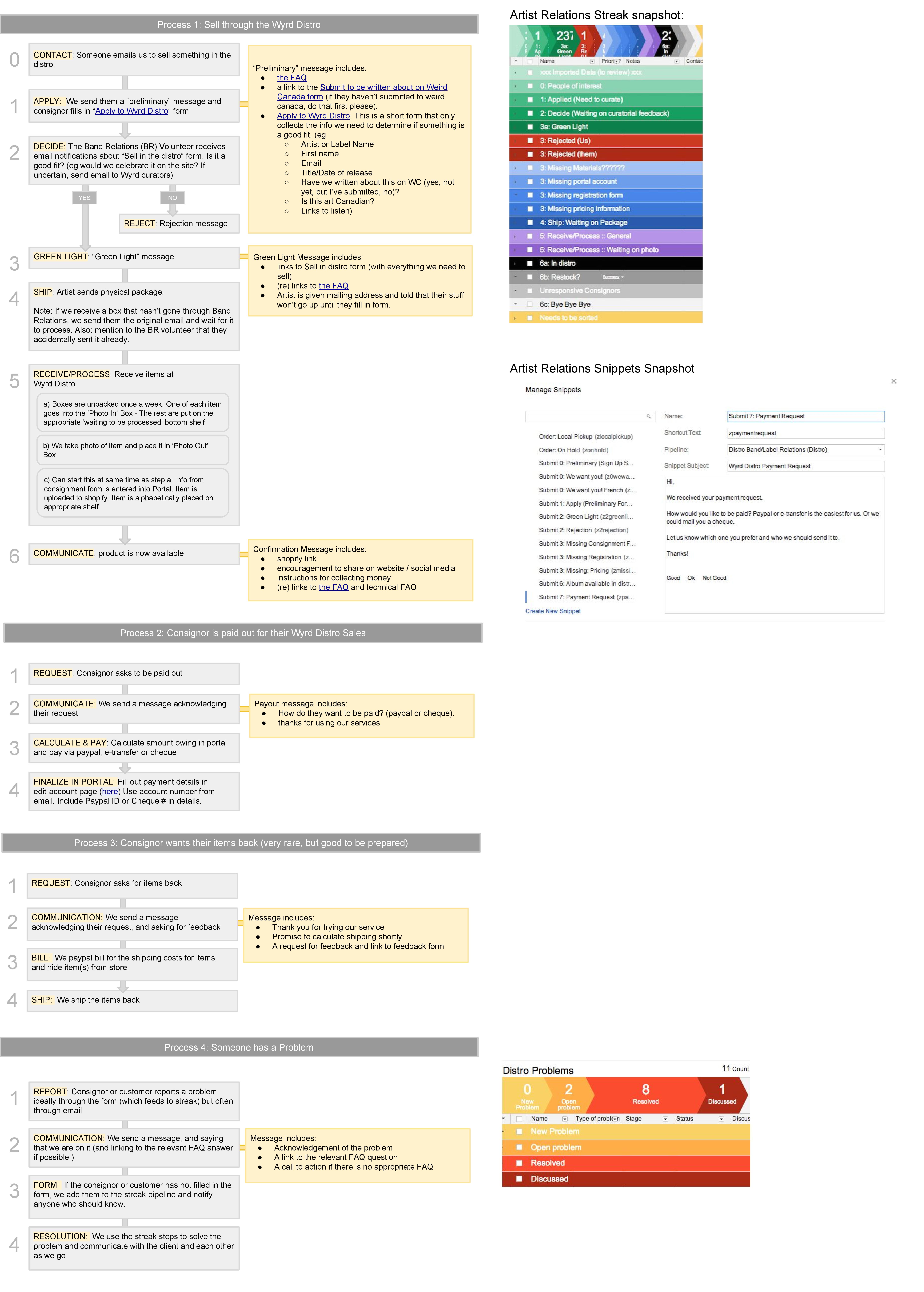 Cliquez sur l'image pour voir le PDF.
Enfin, comme indiqué en ci-dessus, nos lancements ont tous inclus les boîtes de dépôt ouvertes où n'importe qui pouvait nous envoyer sa musique. L'idée, c'était d'encourager les sentiments d'inclusion et d'enthousiasme, et d'offrir la livraison gratuite pour les adoptants en premier. Malheureusement, le résultat était les boîtes de musique non filtrée, y compris la musique américaine, la musique que nous n'avions pas envie d'utiliser pour les questions d'ordre éthique (les noms de groupes misogynes et les insultes raciales dans les titres des morceaux), ainsi que la musique qui ne plaisait pas aux goûts soniques de notre communauté.
Les albums qui n'étaient pas vendus
Même avec les critères les plus sévères, en demandant seulement les articles que notre communauté adore (déduit grâce aux pages vues, l'enthousiasme des bénévoles, et les votes), parfois nous n'étions pas capable de vendre la musique. Cela a rendu tout le monde triste et déçu, et il y avait les dépenses élevées de main-d'œuvre pour nous et les dépenses élevées d'expédition pour les artistes.
Au début les ventes étaient fortes, mais elles déclinent au fil du temps, étant corrélées à nos investissements dans le marketing (la dernière hausse de vente était grâce aux grands soldes quand nous avons demandé à tous les consignataires de baisser les prix avant que nous ayons déménagé le distro à travers le pays).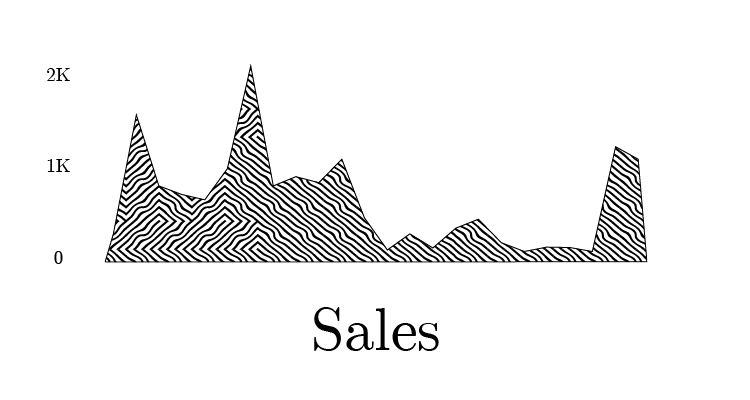 "Les ventes"
Nous avons connu que c'était une réalité de gérer une entreprise dans le capitalisme, mais c'était quand même accablant d'envoyer des courriels à quelques uns de nos musiciens préférés de noise pour leur dire qu'ils avaient besoins de "récupérer les choses" qu'on n'a pas vendu après deux ans.
C'était tellement douloureux, renvoyer ce qui n'était pas vendu, souvent aux dépense des artistes. Il y avait l'air d'un échec personnel, et l'art dans le distro et l'art qu'on adore personnellement et pour lequel on a hâte, alors il était doublement difficile. La communauté était tellement gracieuse, mais c'était bouleversant pour nous et fiancièrement difficile pour eux.
La vision prospective
Baisser les frais administratifs
Un changement immédiat que nous faisons, c'est de réduire nos frais d'hébergement sur le Web. Nous sommes en train de déménager à un hébergement beaucoup moins cher, qui va réduire les côuts par 50 $ chaque mois. Mais il y aura des sacrifices: nous ne pouvons plus utiliser le site-web, qu'on a construit expressément pour rendre le distro transparent et orienté sur l'utilisateur.
Plus de boutiques pop-up et d'événements
Le sacrifice du site-web vaut le coup. Dans le futur, nous pouvons utiliser nos frais administratifs pour payer les nouvelles façons de promouvoir et de transporter la musique: investir dans les pop-ups, les idées créatives pour joindre plus de gens, et le petit marketing de base.
Les critères plus sévères
Nous allons rendre plus sévères les critères pour accepter les soumissions: nous allons essayer d'assurer que nous acceptons seulement la musique que nous adorons et que nous sommes sûrs de vendre. Cela veut dire que nous avons besoin de refuser beaucoup de musique, même la musique qu'on adore. Mais si nous ne pouvons la vendre, nous n'aidons personne par l'accepter.
Le financement
Dans le futur nous avons besoin de commencer la procéedure de demande de subventions avec une idée définie à propos de ce que nous avons besoin, ce que nous voulons, et ce que nous pouvons laisser tomber.
Il n'y a pas vraiment grande chose d'apprendre à propos de n'avoir pas d'argent. Plusieurs demandes de subvention éxigent qu'on trouve le financement de contrepartie, et dans une communauté où personne n'avoir d'argent (ni les festivals, ni les entreprises, ni les étiquettes, ni les artistes, ni la presse, ni les disquaires), c'est une énorme barrière. Sans complètement compromettre nos valeurs, il n'y a aucune façon facile pour trouver l'argent. Si vous trouvez un moyen, veuillez nous laisser savoir.
Les projets créatifs
Dans le future nous allons expérimenter de projets créatifs bon marché pour le marketing et la publicité. Une idée, c'est d'essayer les abonnements, organisés pour la cohérence, et envoyés régulièrement.
Bref
Gérer un distro à but non lucratif pour la musique expérimentale est tellement difficile, mais en plus enrichissant. Nous avons appris quelques choses et nous allons améliorer quelques choses.
Les remerciements
Quelques remerciements: Merci en premier aux bénévoles. Les bénévoles de Wyrd sont l'élément vital de tout cela. Merci à Phoenix, Emily, Aaron, Rachel, Kevin, Katie, Ellen, Sam, et nos stagiaires infatigables des emploi-d'été-Canada. Merci à Jenn Kitagawa pour avoir créé notre logo génial ainsi que l'illusion optique! Merci aux artistes et aux étiquettes qui vendent avec le distro. Merci à Tim pour l'aide et à FACTOR pour l'argent! Merci aux disquaires qui ont accueilli nos lancements, nos boutiques pop-up. Merci aux festivals qui nous ont permis de faire les pop-ups. Merci aux stations de radio des campus et des communautés qui ont diffusé nos publicités. Merci aux blogs et aux zines qui ont publié nos publicités. Merci aux rédacteurs bénévoles qui ont édité ce longue document. Merci à ceux que j'ai oublié de remercier et qui ont le sentiment d'être ignorés. Merci aux chatons du distro, qui nous propulsent avec leur douceur.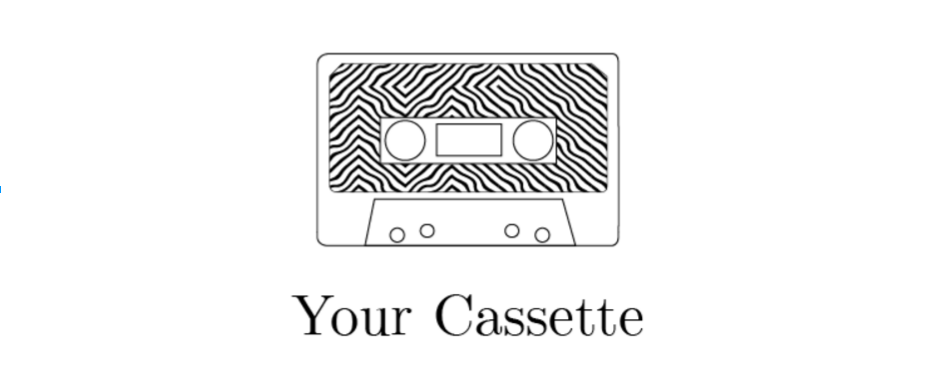 Nous sommes tellement reconnaissants à la communauté pour frequenter le wyrd distro depuis quelques ans, et nous avons hâte de vendre votre prochaine cassette de noise!
Marie LeBlanc Flanagan et l'équipe Wyrd
PS— Achetez un t-shirt WYRD II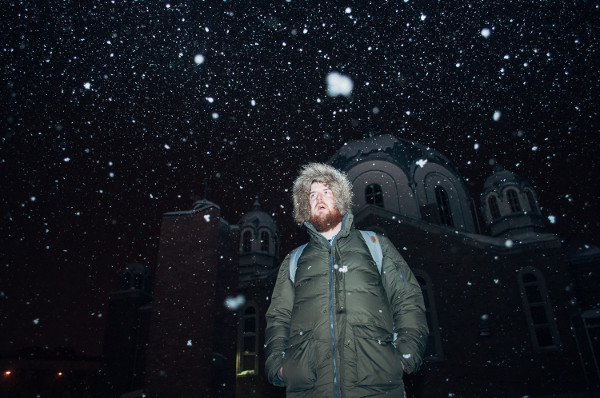 From the purple city of Jared Majeski:
Edmonton feels alone up north. Our geography, our isolation and our resources help shape us; there is an enduring adventurousness in the things created here. The pockets where society and expression percolate do so out of passion, fun and above all: survival.
So what is this place that's a bit too far north for many touring bands to come to? Edmonton is a small town. Edmonton is part work camp, a subtly aware and modern haven burgeoning; a youthful city eager to grow. The imminent changes (good or bad) from an ever-fracturing future help incubate energy and inspiration.
Before the arrival of explorers and immigration, the Edmonton area was home to tribes of Cree, Dene, Nakota Sioux, Saulteaux, Blackfoot and Metis people. In the early 1900s Alberta's economy, and inevitably its future, changed from respecting the land to resource extraction and influence-peddling from all corners of the globe. Our role as a confused world player in the oil game has thickened people's skin, for good and bad.
Along with the intended structures and tangible places that facilitate creative endeavour, inspiration penetrates through the intangible: seasons, geography and rural sensibilities. Our summers are fleeting and busy; our winters long and eerily comfortable, and more than you know were raised in small towns off secondary highways. Our public art and our distinctive architecture sheen metallic and utilitarian.
Thanks in part to the irreplaceable CJSR, and our remaining arts weekly, people soon find out there's an impressive genre-span in Edmonton. Delightfully opposite to the deep suburban "contributors", bands in town get 'er done at home, while the performance and pageantry bears out within intimate dwellings and in the Great Whyte Schlubbery.
Because Edmonton is geographically sheltered from many (most) major centres, there's an incubatorial element to this city. Artists and bands try anything they want, and if and when it catches on beyond Lloydminster, those that make their name beyond Alberta tend to relocate to larger places. There is money and opportunity for many; and dim prospects for the same. What manifests itself is creativity that's honest, supportive and grounded: working class. The winds of change are beginning to blow all around the province, and people here take what they know and what they love and just do their thing.

Rhythm of Cruelty – Nothing's Left
<<< read more >>>
Summer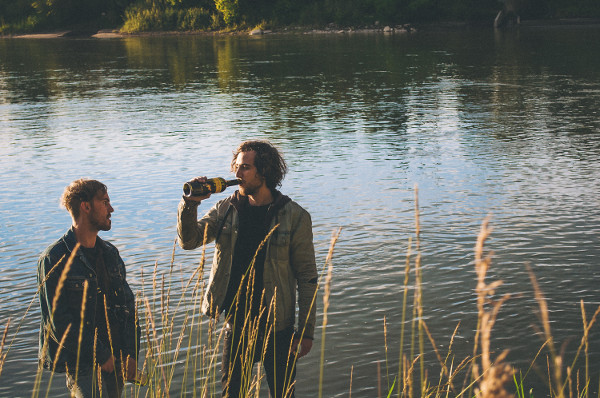 Summer is the comforting riposte to the (usually) soul-sucking, snail's-pace winter. Will summer be two months long this year, or three? Edmonton summers are green, invigorating and the best excuse to do as much as possible. Lots of time spent in our precious river valley, one of the largest urban green spaces around. It's part local lore, campsite, performance space and existential blanket.
Festivals
Hot Plains: http://hotplainsmusic.com/
Endless Bummer: https://www.facebook.com/endlessbummeredmonton
Bermuda Fest: http://bermudafest.com/
Interstellar Rodeo: http://interstellarrodeo.com/
Up + Downtown Festival: http://updt.ca/
Fringe Festival: https://www.fringetheatre.ca/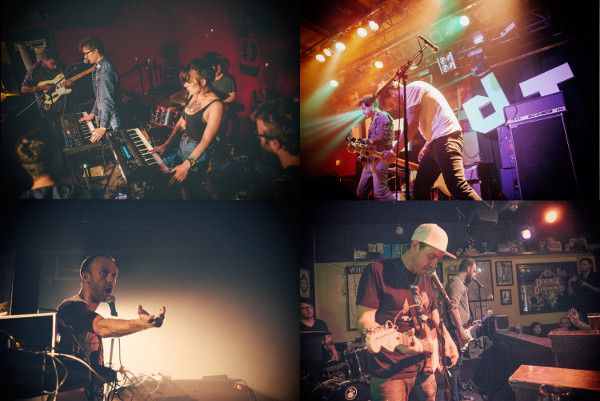 There's a
need
to be festive here, born from the geography and fleeting warm seasons. Bursts of creativity, loosening the blue and white collars (mostly blue) to celebrate all genres in groovy compartmentalization. These days, there's more thirst and more support for regularly large hoe-downs. Newer festivals continue to grow right along with the modern weirdness alive here today.
Wunderbar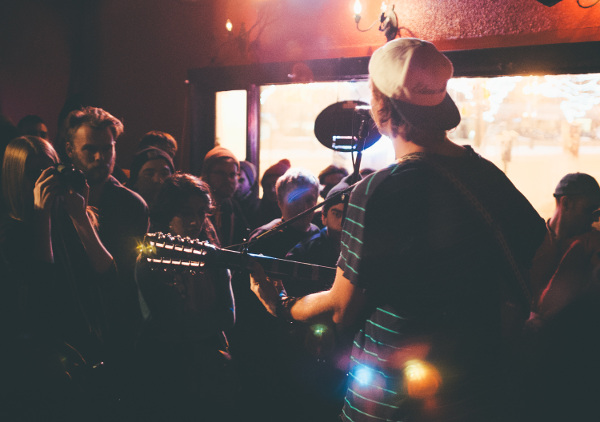 Address: 8120 101 Street
Contact: http://wunderbar-edmonton.com/
(LGBTQ friendly)
It's hard to put into words the personal and financial sacrifice that has gone into turning an old German soccer pub with
extremely
questionable clientele into a venue bands from around the country know about
(and love)
. But here goes: for almost half a decade, Martell and the fellas have been the doorway darkening facilitators for all kinds of music all across this damn northern epic, and around the world. In over four years, Wunderbar has become the epicentre of the weird, beautiful and unkempt musicians, artists, comedians and people who dig what they do. For bands who've had the task and pleasure of touring the country, Wundi is a very necessary stop. And for the uninitiated, show some passion, sensibility (and a with-it sound) and you may get a spot on a bill.
Update: As of this writing, Craig and his partners have officially put the Wunderbar up for sale.
Ramshackle Day Parade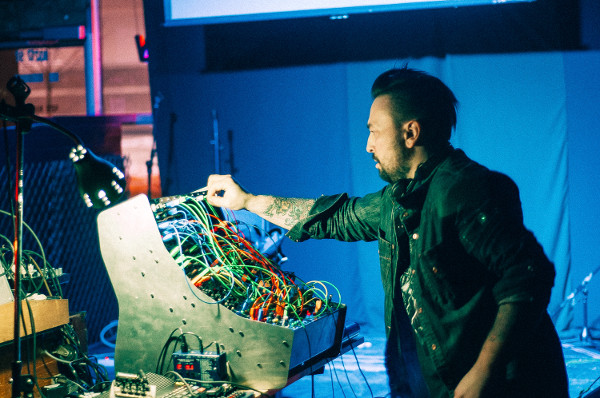 Contact: http://ramshackledayparade.wordpress.com/
(LGBTQ friendly)
Started around 2008, Ramshackle Day Parade (RDP) is the creation of
Parker James Thiessen
: a means to host performance,
release records
and expose the city to the outsiders and their experiments. Damn-near seven years later, RDP continues to be thee showcase of weirdness, mind expansion and destitute expression of those trapped in this icy fortress; sinistral cigarettes burn and the future looks unknowingly bright.
Whyte Avenue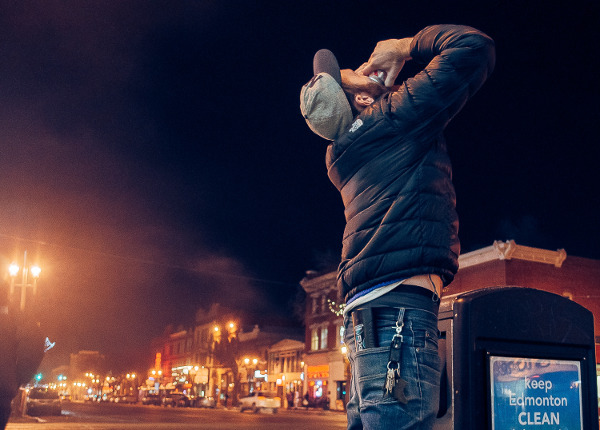 One of the more salient examples of our urbanity – Whyte Avenue – starts the day as a hub of shops, food, drink,
one-armed pushups
and buskers. At night, the historic strip turns into a haunted vestige of money, booze and disconcerting moments of stabby avoidance. Artists and musicians happily pass through the weekend; the drudgery and money is but a blip on the righteous path to good times.
The Log Cabin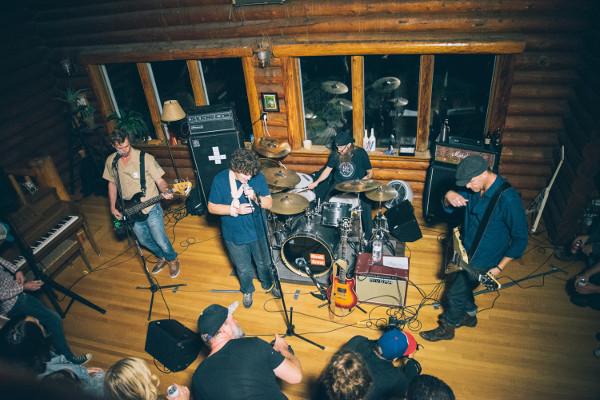 (LGBTQ friendly)
A fortunate situation has manifested itself in a safe, beautiful space to do the familiar things we enjoy – eat, drink, experience. Belonging to a local social worker, she along with family and friends have used this unique space, at one point to another, as a
vegan breakfast joint
, wedding venue, film set,
stand-in studio
and performance space. Edmonton has a tendency to put aside forethought and bulldoze irreplaceable structures. But here we are…a log cabin in the city, standing the test of time.
Listen/Freecloud/Blackbyrd

Blackbyrd: http://www.blackbyrd.ca/
Listen: http://listenrecords.net/
Freecloud: http://www.freecloud.ca/
Listen: Part of the underpinning of a renewed 124 Street west of downtown, Listen ain't large but there's a good chunk of everything there. Always good finds in the world music and international reissure section. Freecloud: Located across the street from the city's major arts high school (coincidence?!), Freecloud seems to have a classic, old punk record shop kind of vibe. Large curated used section and lots of local gems. Blackbyrd: Maintained by the consumers and creators, Blackbyrd's the magnet for neighbourhood dwellers and curios determined Northsiders. Located smack-dab in the midst of Whyte, stop by for a chat, and a dig through reissues and local sounds.
De la ville violette de Jared Majeski:
(Traduit par les curieuses mains d'AnneMarie Papillon)
Edmonton semble toute seule là-bas, au nord. Son emplacement géographique, son isolement et ses ressources nous façonnent : il y a une audace persistante dans toutes les choses créées ici. Société et expression s'animent dans ces creusets par passion, par plaisir mais surtout, pour survivre.
Alors, c'est quoi cet endroit, juste un peu trop au nord pour que les groupes viennent y jouer? Edmonton, c'est une petite ville c'est un havre moderne subtilement conscient, toujours en chantier : c'est une ville jeune qui ne demande qu'à grandir. Les changements imminents (bons ou mauvais) de son futur de plus en plus fragmenté aident à y faire éclore énergie et inspiration.
Avant l'arrivée des explorateurs et les vagues d'immigration, Edmonton était la terre des Cris, des Dénés, des Nakota Sioux, des Saulteaux, des Blackfoots et des Métis. Au début des années 1900, l'économie de l'Alberta – et inévitablement son futur – a changé. Elle est passée du respect de la terre) à l'extraction des ressources et au trafic d'influence venant de partout autour du globe. Son rôle en tant que joueur incertain dans le grand jeu du pétrole a endurci les gens, pour le meilleur et pour le pire.
En plus des structures et des lieux tangibles encourageant l'esprit créatif, l'inspiration provient de l'immatériel : les saisons, la géographie et la sensibilité rurale. Nos étés sont fugaces et sans repos, nos hivers sont longs et étrangement confortables. Plus de gens qu'on ne le pense ont grandi dans des villages sur le bord d'une route secondaire. Notre art public et notre architecture distincte ont le reflet métallique et utilitaire.
Les gens sont de plus en plus conscients de la panoplie de genres artistiques d'Edmonton, en partie grâce à l'irremplaçable CJSR et à notre dernier hebdomadaire artistique. S'opposant délicieusement à leurs collaborateurs des banlieues profondes, les groupes locaux remportent la coupe à la maison, comme dans le bon vieux temps.
Puisqu'Edmonton est éloigné géographiquement de nombreuses (presque toutes) grandes villes, on s'y retrouve comme dans un incubateur. Les artistes et les groupes essaient ce qu'ils veulent et si ça se rend jusqu'à Lloydminster; ceux qui ont réussi à se faire un nom au-delà des frontières de l'Alberta ont tendance à déménager vers de plus grandes villes.
Il y a de l'argent et des occasions pour plusieurs, mais le contraire est aussi vrai. Ce qui ressort est honnête, encourageant et solide : une créativité ouvrière. Les vents de changement commencent à souffler sur la province et ses habitants utilisent ce qu'ils connaissent et ce qu'ils aiment pour faire leurs trucs.

Rhythm of Cruelty – Nothing's Left
<<< la suite >>>
L'été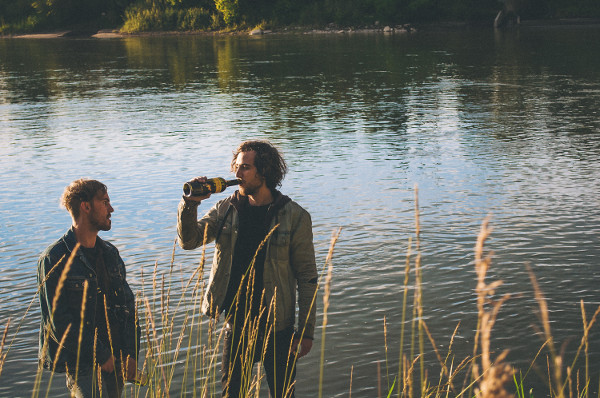 L'été est la riposte réconfortante à un hiver (trop) souvent éreintant et interminable. Est-ce qu'il durera deux mois cette année, ou trois? Les étés d'Edmonton sont verts et revigorants : la meilleure des excuses pour en profiter au max. On passe beaucoup de temps dans notre chère vallée fluviale, un des plus grands espaces verts urbains aux alentours. C'est tant une tradition locale, un terrain de camping et un lieu de performance qu'une doudou existentielle.
Festivals
Hot Plains : http://hotplainsmusic.com/
Endless Bummer : https://www.facebook.com/endlessbummeredmonton
Bermuda Fest : http://bermudafest.com/
Interstellar Rodeo : http://interstellarrodeo.com/
Up + Downtown Festival : http://updt.ca/
Fringe Festival : https://www.fringetheatre.ca/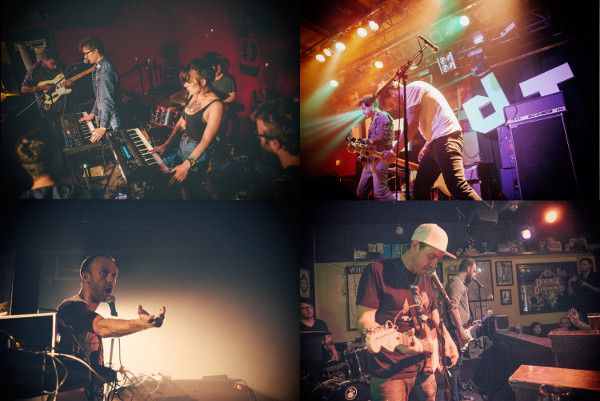 Ici, il y a un profond besoin d'être festifs causé par la géographie et la saison chaude fugace. Ces festivals sont des explosions créatives desserrant les cols bleus et blancs (surtout les bleus), pour célébrer tous les genres en morcellement groovy. Il y a aujourd'hui une plus grande soif et un meilleur soutien pour les festivals à grande échelle. Les festivals plus récents continuent de grandir au même rythme que la bizarrerie contemporaine caractéristique d'Edmonton.
Wunderbar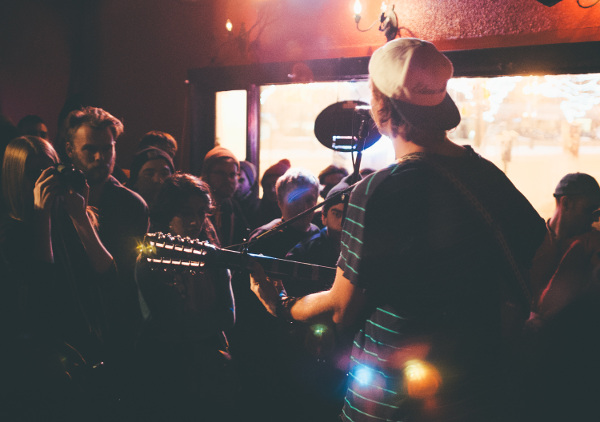 Adresse : 8120 101 Street
Contact : http://wunderbar-edmonton.com/
(Bienvenue aux LGBTQ)
Il est difficile de décrire tous les sacrifices personnels et financiers qui ont été faits pour ce projet : transformer un vieux pub sportif allemand, où on présentait des matchs de soccer à une clientèle
extrêmement
douteuse, en un lieu de spectacle connu (et
adoré
) par des groupes de partout au Canada. Mais je me lance : pendant près d'une demi-décennie, Martell et ses chums ont soutenu ce foutu bled nordique pour présenter de la musique de tout genre en provenance des quatre coins du globe. Sur plus de quatre ans, Wunderbar est devenu l'épicentre des musiciens, comédiens et artistes bizarres, superbes et débraillés; et des gens qui aiment ce qu'ils font. Pour les groupes qui avaient la mission (et le plaisir) de partir en tournée au Canada, Wundi est un arrêt incontournable. Et pour les non-initiés, si vous montrez de la passion, de la sensibilité et un son qui va avec, vous obtiendrez peut-être votre place pour une soirée.
Mise à jour : Au moment d'écrire ces lignes, Craig et ses associés avaient officiellement mis en vente le Wunderbar.
Ramshackle Day Parade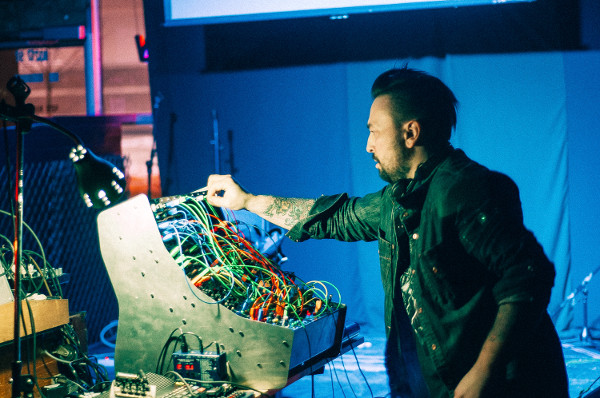 Contact : http://ramshackledayparade.wordpress.com/
(Bienvenue aux LGBTQ)
Ramshackle Day Parade (RDP) a été créé en 2008 par
Parker James Thiessen
. C'est un moyen de présenter des performances, de
sortir des disques
et d'exposer la ville à toutes ces expériences marginales. À peu près sept ans plus tard, RDP continue d'être la référence en matière de bizarre, d'ouverture d'esprit et de l'expression démunie de ceux prisonniers de cette forteresse de glace; une sinistre brûlure de cigarette et un futur semblant plus clair, à notre insu.
Avenue Whyte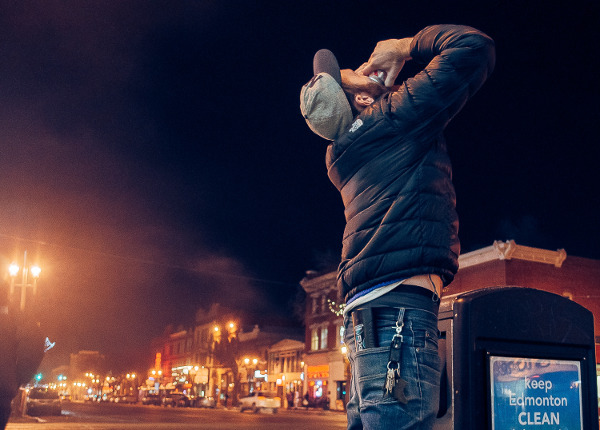 L'avenue Whyte est un des meilleurs exemples de notre urbanité : de jour, c'est un bourdonnement de boutiques, de nourriture, de boissons et de
pushups à un bras
; de nuit, ce coin historique devient un endroit hanté par les fantômes de l'argent, l'alcool et d'instants tranchants qu'on aimerait éviter. Les artistes et les musiciens passent des fins de semaine heureuses, la corvée et l'argent ne sont qu'un courant d'air sur le chemin menant au plaisir.
The Log Cabin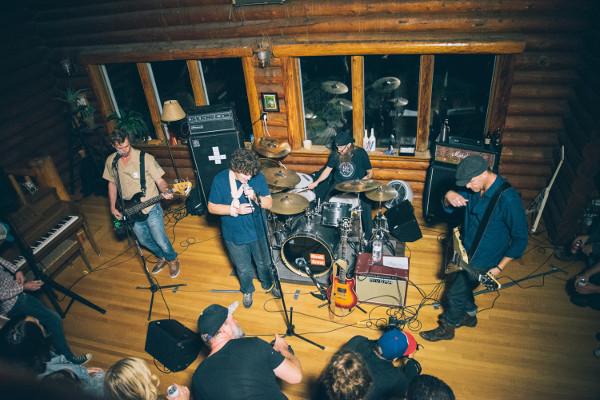 (Bienvenue aux LGBTQ)
Un évènement heureux s'est réalisé dans un bel endroit sécuritaire pour nous permettre de faire les choses que nous aimons : manger, boire, expérimenter. L'endroit appartient à une travailleuse sociale de coin, et à un moment ou un autre, elle et ses amis ont utilisé l'endroit comme
resto de déjeuners végétaliens
, salle de réception de mariage,
plateau de tournage
, et lieu de performance. Edmonton a cette tendance d'ignorer les prévisions et de détruire les structures indispensables. Mais nous voilà, une cabane en rondin au milieu de la ville, à l'épreuve du temps.
Listen/Freecloud/Blackbyrd

Blackbyrd : http://www.blackbyrd.ca/
Listen : http://listenrecords.net/
Freecloud : http://www.freecloud.ca/
Listen
: Faisant partie de la revitalisation de la 124e Ouest du centre-ville, Listen n'est pas très grand, mais on y trouve une bonne pelletée de tout. Il y a toujours des trouvailles dans les sections musique du monde et rééditions internationales.
Freecloud
: Situé en face d'une école secondaire spécialisée en art (coïncidence?!), Freecloud a une atmosphère classique, style vieux magasin de disques punks. On y trouve une superbe section de trucs usagés.
Blackbird
: Entretenu par ses fondateurs et ses clients, Blackbyrd est un aimant pour les citadins curieux. Fais-y un arrêt pour discuter et pour fouiller dans la section rééditions et découvertes locales.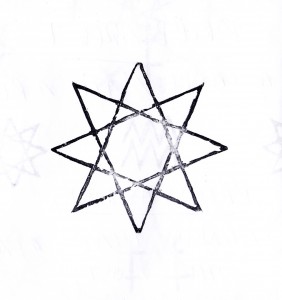 Citadel
Torchbearer
Calgary, AB
From the closeted greys of Joshua Robinson:
Where are we when we awake? This place. Its frozen fog. Its blanketing damp. You, the Stargazer, as I play Torchbearer. These glistening divides between empty bedrooms. We traverse the distance as if we too are a current between two poles; points separated by great space. But why are we here? Why do we awake within this calamitous sprawl? This frailty; this void; this vast unknown. We pivot and turn, but our axis is bronzed by the rust of the years we spend dancing in one place. You pirouette, I conduct, and at the end, all that's left is this still-frame of analogue sepia-tone sway. And all will carry on, as the frozen fog settles. In these points separated by great space we grow evermore, so frayed by these ticking clocks and closeted greys.
Des gris enfermés de Joshua Robinson:
(Traduit par les rêves cachés de Julie Forget)
Où sommes-nous quand nous nous réveillons? À cet endroit. Son brouillard gelé. Son voile humide. Toi, le Stargazer, quand je joue Torchbearer. Ces séparations brillantes entre des chambres vides. Nous parcourons la distance comme si nous étions nous aussi un courant entre deux pôles; des endroits séparés par le grand espace. Mais pourquoi sommes-nous ici? Pourquoi nous réveillons-nous dans cette étendue calamiteuse? Cette fragilité; ce vide; ce vaste inconnu. Nous pivotons et tournons, mais notre axe est recouvert de bronze par la rouille des années que nous passons à danser dans un même endroit. Tu pirouettes, je dirige, et à la fin, tout ce qui reste est ce cadre immobile d'un mouvement analogue de couleur sépia. Et tout continuera, alors que le brouillard gelé s'installera. Dans ces endroits séparés par le grand espace, nous grandissons toujours, exaspérés par le tic-tac de ces horloges et par ces gris enfermés.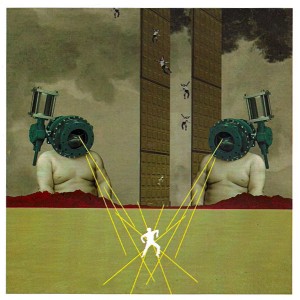 Zebra Pulse
Heh, Vay Bae-Bays
Edmonton, AB
From the bald ego of Jared Majeski:
Now comfortably ensconced in four-piecedom, Peace Country picaros Zebra Pulse have a new full length of electronic boundary-making: phonetic digital trills, cracked vinyl fuzz and percussive gangles steering the ship (close) to oblivion. Possibly less harsh but more layered and clear, Heh, Vay Bae-Bays is somewhat surprisingly their first studio recording, and if the song titles are any indication, proves to be a weird, funny and uncomfortably profound experience. This latest noise confessional was released to the world the only way possible: enlisting a droid-inspired street artist and hiding said droids along with cassettes of b-side studio recordings around the city for people to find.
Have you ever taken a trip and not known at all where you were heading? That's the kind of steeze oozing from the Zebra Pulse gaskets. Just another day in The City of Champs.
De l'ego flagrant de Jared Majeski:
(Traduit par Natalie Binda)
Maintenant confortablement constitué en quatuor, Zebra Pulse, les picaros de la Rivière de la Paix, repousse les frontières de l'électronique avec leur nouvel album : trilles vocales numériques, crépitements de vinyle fuzzé et rythmes dégingandés guidant le navire jusqu'à l'oubli (ou tout près). Sans doute moins cru mais plus limpide et texturé, Heh, Vay Bae-Bays, étonnamment leur premier enregistrement studio, se révèle, si on se fie aux titres de chansons, une expérience bizarre, drôle et inconfortablement profonde. Ce plus récent cri du coeur noise a été livré au monde de la seule façon possible : avec l'aide d'un artiste de rue passionné de droïdes, des cassettes de b-sides accompagnées des dits droïdes ont été dissimulées en ville afin d'être retrouvées. Avez-vous déjà fait un voyage en ignorant votre destination? Voilà exactement le genre d'attitude pénarde qui émane de la mécanique de Zebra Pulse. Un autre jour dans la Ville des Champions.
Zebra Pulse – The Rusted Bones of Home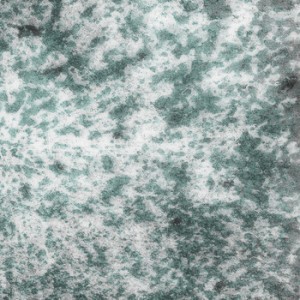 Pigeon Breeders
Luminous Debris
Edmonton, AB
From the fulgent wreckage of David Ferris:
Pigeon Breeders, one of the more meditative crown-jewels of Edmonton's experimental/free-improv scene, allow us to overhear their wide-screen conversation: a psychic space where vast celestial strings vibrate slowly, played by solar winds (which are actually disembodied vocals sent by astral projection), and the players float freely through the burnt-out husks of various interminable ruins. Luminous Debris is a truly singular beast: one-part expansive drone via Natural Snow Buildings, one-part empyrean searching via Cluster, and the rest comprised of various kitchen sink tomfuckery. The two pieces are called "Interior" and "Exterior", but this is a clever ruse. On the Cosmic Scale, one will eventually pan out far enough to notice that both topologically rest on the same side of some vast and ecumenical coin.
Du flamboyant naufrage de David Ferris:
(Traduit par la facette médusée de Nicolas Coutlée)
Les Pigeon Breeders, un des joyaux du versant méditatif de la scène de musique expérimentale et improvisée d'Edmonton, nous laissent surprendre leur conversation sur grand écran : un espace psychique où d'immenses instruments à cordes célestes retentissent doucement sous l'effet des vents solaires (de fait, il s'agit de voix désincarnées se déplaçant par voyage astral) et les musiciens flottent librement entre les décombres calcinés de ruines s'étendant à l'infini. Luminous Debris est réellement une bête singulière : une part de drone tentaculaire à la Natural Snow Buildings, une part de quête sidérale à la Cluster et du zigonnage d'évier de cuisine pour compléter le tout. Les deux pièces s'intitulent « Interior » et « Exterior », mais ce n'est qu'une habile supercherie. Sur l'échelle cosmique, le spectateur s'aventurera tôt ou tard suffisamment loin pour s'apercevoir qu'elles ne forment qu'une seule face topologique de quelque vaste écu œcuménique.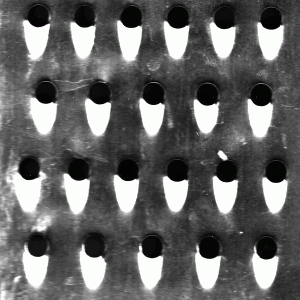 Various Artists
2012
Edmonton, AB
From the deaf ears of David Ferris:
In Edmonton — a city where the fringes often seem unusually frayed — there is a Galapagos-style splitting off from the rest of reality. This has clearly manifested itself in the sheer strangeness of its experimental/noise scene, which exists without any scene-politics, division or egos: just a bunch of genuinely weird people getting together once or twice a month to make some really "out-there" shit under the guise of the Ramshackle Day Parade shows. The 2012 Ramshackle compilation pulls a raw core-sample out of this underbelly of outsiders-among-outsiders.
Listen carefully and the following will eventually become quite audible, coming into focus like a Magic Eye: dads loading their massive home-made analog synthesizer rigs into the backdoor of Bohemia; stoned overtone singing in sewer pipes (perhaps the work of some C.H.U.D.-like entities); every fourth performer burning incense and every fifth performer requiring decoder rings and/or 3D glasses; classical composers trying to make your fucking ears bleed; people listening without earplugs, risking tinnitus but savouring it like sex without a condom; a strict 5:1 contact mike to saxophone ratio; dozens of people collaboratively blasting noise generated by custom software on their smartphones, which have been networked together by a performer; Fluxus gags; shows with loyal turnouts of 5-60; revisionist Noir and cosmic keys; sometimes a drunk random in the back, yelling "play some songs"; Potier piling layers of brutal scrapings onto further layers of brutal scrapings; performers with crippling stage-fright playing underneath blankets like trembling ghosts; a bizarro world where extended technique is the norm and normal musicianship has become alienating; the homeless and marginalized constantly pounding at the venue's glass window, peering in, drawn to something that sounds universally unfamiliar, then coming into the front door and trying to barge in for free. Check it out.
Des oreilles sourdes de David Ferris:
La culture d'Edmonton, dont les marges sont particulièrement éclectiques, semble aussi déconnectée de la réalité que les îles Galapagos. Ceci se manifeste nettement dans l'étrangeté pure de sa scène expérimentale/noise, sans division, ego ni politique : tout simplement, une ou deux fois par mois, une poignée de gens complètement bizarres se rassemblent sous la bannière Ramshackledayparade pour créer des sons excentriques. La compilation Ramshackle 2012 expose le noyau vital de ce groupe de marginaux de la marge.
L'écoute attentive révèle des images audibles, à la manière d'un autostéréogramme, de pères de famille transportant des installations massives de synthétiseurs analogues dans la porte arrière du Bohemia; de chants diphoniques intoxiqués dans les égouts (à la C.H.U.D.); de l'encens que le quart des artistes font brûler sur scène; d'anneaux de décodage et de lunettes 3D; de compositeurs classiques qui essaient de vous faire saigner des oreilles; d'auditeurs sans bouchons, risquant l'acouphène pour le plaisir; de pas moins de cinq micros contact par saxophone; de douzaines d'artistes émettant simultanément et sans coordination des bruits générés par des logiciels qu'ils ont eux-même construits sur leurs téléphones intelligents; de gags à la Fluxus; d'auditoires de 5 à 60 personnes; de claviers cosmiques et de styles film-noir révisionnistes; d'un ivrogne occasionnel au fond de la salle qui crie « Jouez des chansons! »; de Potier qui empile couche par-dessus couche de raclures sonores brutales; d'artistes qui jouent sous des couvertures, comme des fantômes tremblants, parce qu'ils ont un trac paralysant. C'est un monde de Bizarro où les techniques de jeu étendues et alternatives sont de mise et les musiciens « normaux » sont aliénants, et où les sans-abri et les marginaux frappent à la fenêtre du bar en regardant à travers, attirés par ce qui est universellement dépaysant, et essaient d'entrer gratuitement. Écoutez pour voir.
Meat Force – Drifting Towards Darkness At Noone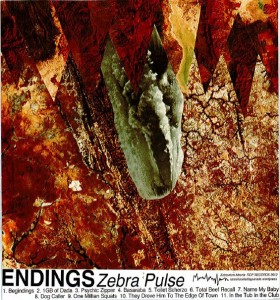 Zebra Pulse
Endings
Edmonton, AB
From the blown Rockfords of Jared Majeski:
Zebra Pulse (ZP) is Parker Thiessen, Owen Strasky and Dave Schaefer — three small-town technotricians, who for the past five years have schlepped around Western Canada hawking music that's more art and science; harshly beautiful and intriguing. Left, right, up and down the EQ meter they go, leaving one of two schools behind: the confused or the converted. Right now, the noise "scene" in Edmonton has grown mightily thanks in-part to ZP, including a ramshackle record label, monthly noise showcase and a cadre of talented multimedia creators. ZP has accomplished in a short few years what many other musicians dream of: wearing diapers and blimp suits on stage, smashing through glass tables in Lethbridge, and embarking on their own no-lympic tour happening at the same time as the actual Olympics. But on their latest release Endings, ZP have outdone themselves. The trio is now a quartet, and features an acoustic musician for the first time: former Outdoor Miners savant percussionist Sean Macintosh. With warbled cassette abstracts, homemade noisemakers, an ever-growing collection of electronics and layers upon layers of sampled vinyl, this may be the group's most "accessible" record to date. ZP has pushed — and will likely continue to push — the boundaries of what one considers "music" this side of the Medicine Line. Cover art by Brandi Strauss.
Des amplis pétés de Jared Majeski:
Zebra Pulse est constitué de Parker Thiessen, Owen Strasky et Dave Schaefer, trois technotriciens originaires de petites villes, qui parcourent l'Ouest du Canada depuis cinq ans pour promouvoir leur musique aussi artistique que scientifique, d'une beauté étrange et rude, qui ne laisse personne indifférent :à l'issue de leurs bidouillages effrénés, on est soit confus ou converti. La scène noise d'Edmonton a beaucoup grandi grâce à eux, accueillant maintenant une maison de disques « délabrée », une série de concerts mensuels et un noyau de créateurs multimédia talentueux. Les membres de Zebra Pulse ont accompli en quelques années ce dont beaucoup d'autres rêvent : concerts en couches pour bébé et costumes de ballons dirigeables, destruction de tables en verre à Lethbridge, et même leur propre tournée « no-lympique » en même temps que les Jeux olympiques. Et pourtant, ils se surpassent encore sur ce nouvel album, Endings. Le trio est désormais quatuor suite à l'intégration de leur premier musicien acoustique, l'ancien percussioniste savant des Outdoor Miners, Sean Macintosh. C'est peut-être leur album le plus accessible à date, rassemblant des sonorités de cassettes chevrotantes, des machines à bruit bricolées maison, de plus en plus de sons électroniques et des échantillons de vinyles superposés. ZP repoussent de nouveau les limites de ce que l'on appelle de la musique au nord du 49e parallèle… et ils ne sont pas près d'arrêter. Pochette de l'album par Brandi Strauss.
---