Search Results for "man meets bear"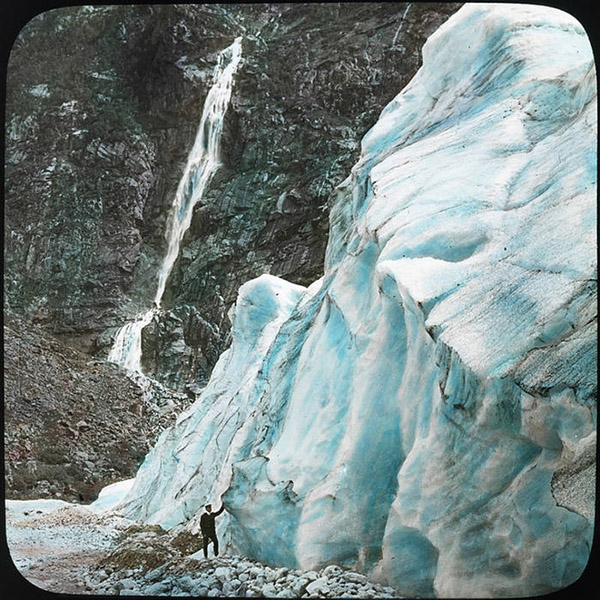 Man Meets Bear
I Want to Be a Gallant Rider Like My Father Was Before Me
Toronto, ON
From the S.A.D. mind of Laura Stanley:
Winter is steadily encroaching; I can see it on the lake. Its once affable body has grown cold and still. Man meets Bear speaks of this change. The swirling reluctance of autumn to end ("Elm"), the ice glistening on the lake's exterior ("Garrison Creek"), how an icy arm will plunge deep below the surface ("The Humber"). Despite the melancholy caught in their talk, Man meets Bear also presents small comforts for those who dread the dark days ahead. They remind us of the warmth of the holidays ("Xmas at Palais Royale"), how Spring always surfaces ("Fortunately, We Survived") and the world blooms anew once again ("Sun's Back").
De l'esprit triste de Laura Stanley:
(Traduit avec de la reconnaissance par Traducteur Interne)
L'hiver s'en vient. C'est constant. La surface du lac en témoigne. Une masse affable devint froide. Man meets bear parle de ce changement. De la réticence tourbillonnante d'automne qui s'éteint : (« Elm »). La glace étincelante du lac : (« Garrison Creek »). Comment un bras refroidi plongera profondément en dessous de la surface (« The Humber »). Malgré l'évidence de la mélancolie, Man meets Bear présent aussi des petits réconforts pour ceux et celle qui redoutent les journées sombres qui s'en viennent. Ils nous rappellent la chaleur des Fêtes: ('Xmas at Palais Royale »), que le printemps refleurit toujours (« Fortunately, We Survived ») et du fait que le monde s'épanouit de nouveau (Sun's Back »).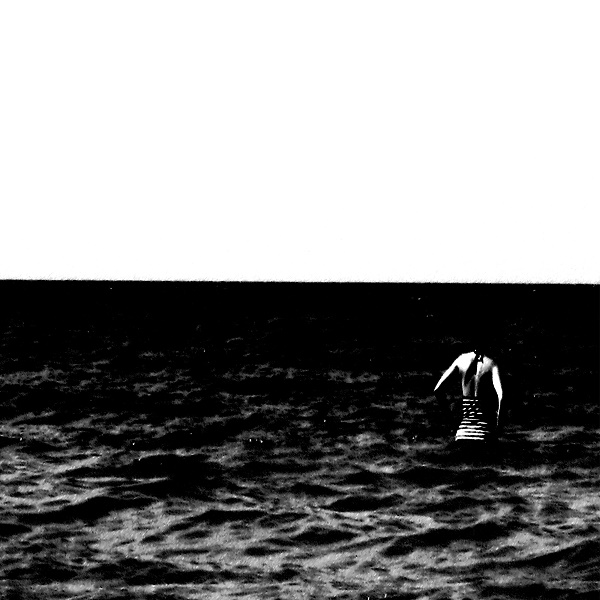 Man Meets Bear
Huronian Cadence
(Ur)
Kitchener, ON
From the acousitc water dance of Trevor Angst:
The photo of collaborating artist Experimental Housewife standing in Lake Huron is reminiscent to Man Meets Bear's cover art. Songwriter Soren Brothers wears his art on his sleeve, bridging his composition with his dedicated hours to limnology with visual transparency.
Huronian Cadence is an ethereal voice resting on nylon string. Soft textures of Latin and classical folk invoke images of a crash test dummy awaiting the ravage of a jersey barrier of heavy modulation. "Go Wild" is particular with cartoonish wails, becoming scratchier and alluring with high gain vocals. Other tracks feature a gated and compressed percussion, adding a closed dimension to the roofless, ambient siren call of Soren Brothers from across the lake.
De la danse de l'eau acoustique de Trevor Angst:
(Traduit par Hugo Hyart)
La photo de l'artiste collaboratrice Experimental Housewife se tenant dans le Lac Huron rappelle les pochettes d'album de Man Meets Bear. Le chansonnier Soren Brothers joue son art à coeur ouvert, et fait le pont avec ses longues heures dédiées à la limnologie avec transparence visuelle.
Huronian Cadence est une voix éthérée posée sur un fil de nylon. De douces textures latines et de folk classique invoquent les images de mannequins de crash test en attente du ravage que leur causera une barrière jersey de lourde modulation. "Go Wild" est particulière, avec ses gémissements cartoonesques, devenant de plus en plus éraflée et allusive avec les voix traitées avec intensité. Les autres morceaux contiennent une percussion filtrée et compressée qui ajoute une dimension fermée au chant de sirène ambiant et sans toit de Soren Brothers venant de l'autre côté du lac.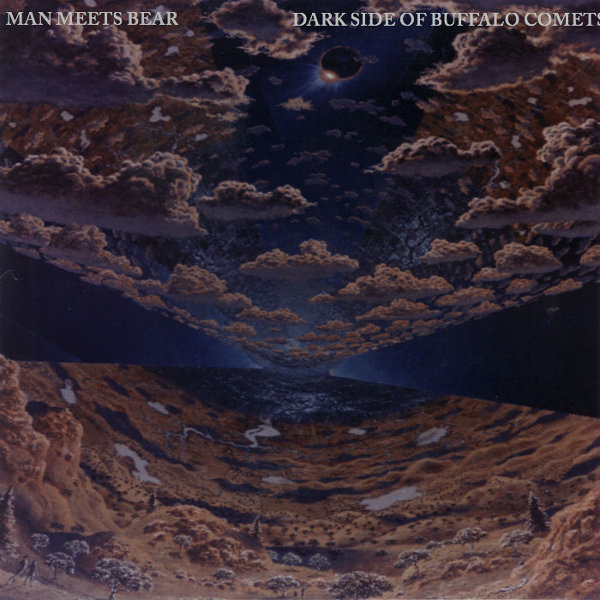 Man Meets Bear
Dark Side of Buffalo Comets
Kitchener, ON
From the digital beach of Javier Fuentes:
Travelling songbooks wash their way across northern shores, propelled by melodic winds and calming tides. Cosmic energy slides through organic terrain as lifted spirits awake from their slumber. Vast palettes of sound transform our worn-down trails into paths of of psychic discovery. Warm thoughts stick with us as we unravel the foreign spaces sleeping in our imagination, hidden in the textures of each song. Islands of beauty descend upon our memory before flashing through the unattainable grasp of our senses. Avoid the metaphysical barriers and grip quickly.
De la plage digitale de Javier Fuentes:
(Traduit par les espaces étrangers de l'imagination de Hugo Hyart)
Des recueils de chansons trouvent leur chemin sur le dos de vagues du Nord, propulsés par des vents mélodiques et des marées apaisantes. De l'énergie cosmique glisse sur un terrain organique tandis que des esprits élevés sortent de leur torpeur. De vastes palettes de son transforment nos sentiers défoncés en des chemins de découvertes psychiques. Des pensées chaleureuses restent dans nos têtes alors que nous découvrons les espaces étrangers dormant dans notre imagination, cachés dans la texture de chaque chanson. Des îles de beauté descendent sur notre mémoire avant d'apparaître dans l'inatteignable compréhension de nos sens. Évitez les barrières métaphysiques et attrapez ça rapidement.
Our Mission
Weird Canada exists to encourage, connect, and document creative expression across Canada.
Weird Canada is a project of Wyrd Arts Initiatives
Our values
We are a space for artistic, literary, and musical enthusiasm.
We aim to connect the disparate communities that feed the creative cosmos of Canada.
We capture the physical ephemera that contains and surrounds art, literature, and music.
We welcome the makers of art, literature, and music who take risks and experiment.
We welcome excited minds.
Our obligations
We will treat all living beings with dignity and respect. We will listen to each other, and try to understand each other. We will challenge ourselves to be kinder and smarter human beings.
We acknowledge that we are biased, and accept that our bias is not always visible. We strive to make this bias visible, and challenge our relationship with it. We do not tolerate racism, homophobia, misogyny, or any other body-based discrimination.
We exist to encourage, connect, and document creative expression across Canada.
Our movements should reflect our vision, and we will remain open to and excited about creativity and community.
PS – This site exists to promote obscure bands; however, if any artist would like to have their mp3s removed, just contact us and they will be taken down promptly.
We have a lot of fun playing with hyperbole.
To reach all of Weird Canada or submit music, art, literature, etc. click here!
Lizard Government
Lizard Army
Lizard Friends and Alumni
Adam Binet
Adria Young
Aidan Connolly
Alessia Ricciuti
Alex Micati
Alexandra Downing
Alexandra Spence
Alexandre Vaillancourt
Alfred Hu
Alison Lang
Amanda Balsys
Amanda Taylor
Andrea Cownden
Andrew Clark
Andrew Wilson
Anu Miskin
Anum Khattak
Anvar Gazizov
Ariel Sharratt
Arin Gintowt
Ashley Bedet
Ashna Haji
Ashna Haji
Asja Salihspahic
Audrey Roy
Benjamin Hedley
Brandon Hocura
Breanna Morrison
Brendan Reed
Brian Chaput
Caroline Azan
Catherine Glynn
Catherine Venne
Catherine Vien-Labeaume
Cesare
Chloe Mittens
Chris Taggesell
Christopher Bateman
Colin Gallant
Colin To
Colin Alexander Forbes Fisher
Courtney Chapman
Craig Currie
Danielle Drolet
David Howlett
David B Hobbs
Derek Brooks
Diandra
Edwin Jiang
Emily Belanger
Emma Howarth-Withers
Eve Tagny
Frédéric Trempe
Genevieve Lavoie-Mathieu
Graeme Langdon
Harriet Wild
Heather Ogilvie
Ian Malcolm
Jarrett Samson
Jesse Ship
Jessica Faulds
Jessie Stephenson
Joel Mak
Jordan Voith
Josefa Cameron
Josh Apostolopoulos
Kelly McGahey
Kevin Stebner
Khari Wendell McClelland
Kristin Cheung
Kyle Brenders
Lauren Huston
Laurence Ouellette
Marie-Ève Duchesne
Marie-Pier Gagnon
Mark Teo
Matt Mazowita
Matt Rockwell
Meghan Sangster
Mehmood Ahmad
Melanie Hill
Melissa Brandt
Michelle Macklem
Miriam
Molly Kubes
Moshe Rozenberg
Nasir Hasan
Nathaniel
Nguyen Dinh
Nicholas Cameron
Pam Haasen
Patrick Du Tremble
Paul K. Lawton
Paula Perri
Peter Bradley
Phil Regalado
Pierre Richardson
Rachel Wilson
Ramis
Rebecca Dawe
Reece Steinberg
Rhys Cameron Gall
Rigel Nadaf
Roksana
Roxanne Navai
Ryan Warner
Sacha KW
Sandy Joe
Sarah Kirkwood
Sasha Campbell
Saw-mon
Sergio Aguilar
Shelby Lee
Sophie
Steve Horvath
Steven Reed
Tania Maria Elisa
Taylor Benjamin Burgess
Ted Ferris
Thom Gill
Tobias Rochman
Vanessa Liu
Yveline "Evey" Jean-Charles
Zachary Devereux Fairbrother
Notre mission
Weird Canada a pour but d'encourager, de mettre en contact et de décrire les pratiques d'expression créatrice au Canada.
Nos valeurs
Nous offrons un espace consacré à l'enthousiasme pour les arts, la littérature et la musique.
Nous tentons de relier les communautés disparates qui forment la constellation créative canadienne.
Nous répertorions les objets éphémères qui véhiculent ou qui complémentent l'art, la littérature et la musique.
Nous encourageons les artistes, écrivain-e-s et musicien-ne-s prêt-e-s à prendre des risques et à expérimenter.
Nous apprécions les esprits vifs.
Nos obligations
Nous espérons traiter tous les êtres vivants avec dignité et respect. Nous nous engageons à nous écouter les uns les autres et à tenter de nous comprendre. Nous nous mettons au défi de devenir des êtres humains plus chaleureux et intelligents.
Nous reconnaissons notre partialité et nous acceptons qu'elle n'est pas toujours visible. Nous nous efforcerons de la rendre visible et de la contester. Nous ne tolérerons pas le racisme, l'homophobie, la misogynie ou toute autre forme de discrimination corporelle.
Nous avons pour but d'encourager, de mettre en contact et de décrire les pratiques d'expression créatrice au Canada.
Nos actions doivent refléter notre vision. Ainsi, nous resterons ouverts et enthousiastes en ce qui a trait à la créativité et à la communauté.
P. S. : Ce site vise à promouvoir le travail d'artistes méconnus. Cependant, si vous souhaitez que vos fichiers mp3 n'apparaissent plus sur le site, contactez-nous et ils seront rapidement retirés.
Nous nous amusons beaucoup avec l'hyperbole.
PPS – Pour joindre tous les rédacteurs et rédactrices de Weird Canada, soumettez votre musique, art, livre ou zine ici!
Gouvernement des Lizards
Armée des Lizards
Les Amis Lézard et les Anciens Amis
Adam Binet
Adria Young
Aidan Connolly
Alessia Ricciuti
Alex Micati
Alexandra Downing
Alexandra Spence
Alexandre Vaillancourt
Alfred Hu
Alison Lang
Amanda Balsys
Amanda Taylor
Andrea Cownden
Andrew Clark
Andrew Wilson
Anu Miskin
Anum Khattak
Anvar Gazizov
Ariel Sharratt
Arin Gintowt
Ashley Bedet
Ashna Haji
Ashna Haji
Asja Salihspahic
Audrey Roy
Benjamin Hedley
Brandon Hocura
Breanna Morrison
Brendan Reed
Brian Chaput
Caroline Azan
Catherine Glynn
Catherine Venne
Catherine Vien-Labeaume
Cesare
Chloe Mittens
Chris Taggesell
Christopher Bateman
Colin Gallant
Colin To
Colin Alexander Forbes Fisher
Courtney Chapman
Craig Currie
Danielle Drolet
David Howlett
David B Hobbs
Derek Brooks
Diandra
Edwin Jiang
Emily Belanger
Emma Howarth-Withers
Eve Tagny
Frédéric Trempe
Genevieve Lavoie-Mathieu
Graeme Langdon
Harriet Wild
Heather Ogilvie
Ian Malcolm
Jarrett Samson
Jesse Ship
Jessica Faulds
Jessie Stephenson
Joel Mak
Jordan Voith
Josefa Cameron
Josh Apostolopoulos
Kelly McGahey
Kevin Stebner
Khari Wendell McClelland
Kristin Cheung
Kyle Brenders
Lauren Huston
Laurence Ouellette
Marie-Ève Duchesne
Marie-Pier Gagnon
Mark Teo
Matt Mazowita
Matt Rockwell
Meghan Sangster
Mehmood Ahmad
Melanie Hill
Melissa Brandt
Michelle Macklem
Miriam
Molly Kubes
Moshe Rozenberg
Nasir Hasan
Nathaniel
Nguyen Dinh
Nicholas Cameron
Pam Haasen
Patrick Du Tremble
Paul K. Lawton
Paula Perri
Peter Bradley
Phil Regalado
Pierre Richardson
Rachel Wilson
Ramis
Rebecca Dawe
Reece Steinberg
Rhys Cameron Gall
Rigel Nadaf
Roksana
Roxanne Navai
Ryan Warner
Sacha KW
Sandy Joe
Sarah Kirkwood
Sasha Campbell
Saw-mon
Sergio Aguilar
Shelby Lee
Sophie
Steve Horvath
Steven Reed
Tania Maria Elisa
Taylor Benjamin Burgess
Ted Ferris
Thom Gill
Tobias Rochman
Vanessa Liu
Yveline "Evey" Jean-Charles
Zachary Devereux Fairbrother
---