Search Results for "bart records + jesse locke"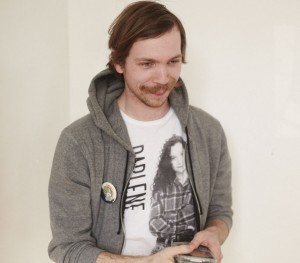 Ephemera of: GreyScreen
Existing during the recording of: Thrillogy
Calgary, AB
[Photos: Landon Speers]

Kevin Stebner is the only guy we know who can fit his gear into a lunchbox. While he wears many hats —
Bart Recs / Revolution Winter
founder,
Stalwart Sons
howler and
Ghost Throats
head stoker — his chiptune project
GreyScreen
is the focus of this particular feature. Jamming harder on his GameBoys than most can with a Stratocaster, Stebs charges the Nintendo kingdom full steam ahead. On his recent trip to support the new tape
Thrillogy
, we linked him up with WC's resident lensman
Landon Speers
to spotlight some essential tour items.
Jesse Locke
Weird Canada // Texture Magazine
weirdcanada.com // texturemagazine.ca/wordpress
[audio:http://weirdcanada.com/binary/Weird_Canada-Greyscreen-Thrillogy-No_East_Or_West.mp3|titles=Greyscreen – No East Or West] GreyScreen – No East Or West
[audio:http://weirdcanada.com/binary/Weird_Canada-Greyscreen-Thrillogy-Deer_Into_a_Noose.mp3|titles=Greyscreen – Deer Into a Noose] GreyScreen – Deer Into A Noose
(click to enlarge)

Game Boys

As with many chiptuners, having a stock of Game Boys is your bread and butter. That Game Boy Light right there, though… that's my pride and joy; a Japanese exclusive backlit Game Boy that I managed to track down at the legendary Super Potato in Akihabra. That was a holy grail find for me. Nowadays, we backlight-mod these things so you can rock them in the dark (as is that yellow DMG there), but even with the buzz the Game Boy Light puts out, I've got a soft spot for that thing.

Permastruct / Lunchbox

With the 4×12's I normally haul around for bands, it's nice to pack your entire set-up into a single lunchbox. Ride the Via with nothing but a backpack and lunchbox in tow. The Permastruct cases were from NES rentals from Hollywood Video back in Red Deer. Such a bittersweet moment going to that closing-out sale; my favourite video store was closing its doors, but I managed to snag a ton of gems before it did. Permastruct became the title for the first GreyScreen tape.

Power Glove

Got this on the tour. Major gift from a major pal. Any child of the Nintendo generation should know what this, and chances are you wanted one with every fibre of your being. You saw Lucas in The Wizard, and you most certainly wanted to be him. This Power Glove is for the Famicom (Japanese NES) and I've only just recently managed to work it into the set and utilize it live. I love the Power Glove… It's so bad.

Robert Kroetsch Novels

Keep your enemies close, but keep Alberta closer. The absolute brilliant and hilarious Robert Kroetsch, my favourite writer ever to emerge from Alberta. Studhorse Man in particular. No resounding ovations from the world at large, even with his passing this past year, but to me he is such an inspiration. It speaks more to the attitude of being an artist from Alberta, to simply keep making good things, and hope that some kid discovers it. May his legacy live.

Anti-Nukes Pin

The welcome sign to my hometown reads "Welcome to Red Deer / A Nuclear Weapons-Free Zone." I've always been a strong contender of singing and wearing where you're from, reflecting your place, your community, your family, your actual culture. In an age of internet world-wide universalism, the notion of regional situation and pride is waning. Since I've lost my "HI, I'M FROM RED DEER" pin, this will do as a close second.

Red Apple Arizona Iced Tea

Dubbed 'Zonas by us in the know. Arizona is the only company I have ever written a fan letter to (wherein we received hats for being "super fans"), and subsequently when they discontinued Red Apple in Canada, a complaint letter. Red Apple may be the greatest liquid ever to grace my throat – nectar of the gods – thus, being able to find them while on tour in the East makes the excuse to tour all the greater.

Dead-stock Trading Cards

I found these crazy things while on tour at a wholesale liquor shop in Pittsburgh. The accusation is constantly, be it directed at chiptune or anything else tied to this by-gone era, that what we are doing is simply reveling in nostalgia. But the truth of it is that the late '80s and early '90s produced a "popular" culture that was so out there, one so transfixed on youth, in music, fashion, film, adventure, exploding video game technology, and especially a culture so irony-free, one where "radness" was all that was needed, that odd music could make it on TV or prairie-born heroes like the Hitman putting greasy shades on your face was the coolest thing in the world. Is it any wonder that a fascination of that era exists – to partake and respond and produce art and music out of such a rich and insane cultural heritage as that?