Search Results for "HEALING POWER"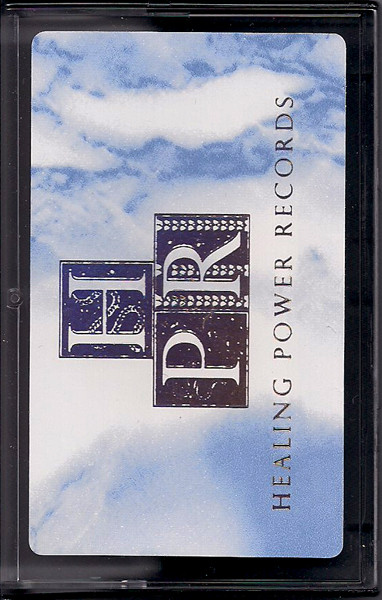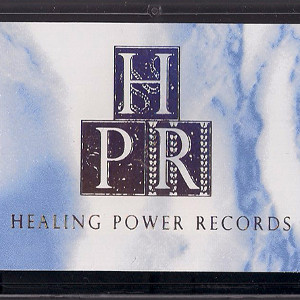 Various Artists
The Many Moods of Healing Power Records
Toronto, ON
From the many moods of Kevin Hainey:
Beating deeep within Toronto's vast underground for roughly half a decade, Healing Power has been shining strong with a sunny alternative to all manner of rock bands and the often stark and self-admittedly alienating experimental sounds permeating from the city. A small selection of the moods you'll find in this highly eclectic 80-minute flow include colourful electronic pop with daring vocals (Petra Glynt, Bile Sister), psychedelic synth showers (Wildlife Rodeo, Hover Puffin), soaring avant-folk (Jennifer Castle, IC/JC/VC), and post-jazz sub-bop (Brodie West, Gravitons). Stranger still, more undefinable drones, tones and sound poems are provided by long-running mainstays of the Toronto scene (Fleshtone Aura, Man Made Hill, Skull Bong). If you've ever needed a tangible connection to Toronto's heavenly underground, you couldn't find yourself a better obelisk than this cassette.
Des nombreux états d'âme de Kevin Hainey:
(Traduit par Jessica Grenier)
Les profonds souterrains de Toronto vibrent au rythme de Healing Power depuis près de cinq ans – faisant briller fortement sa solution ensoleillée à tous les types de groupes rock et aux tonalités souvent dures et volontairement aliénantes des sons expérimentaux qui s'infiltrent depuis la ville. Quelques-uns des états d'âme qu'on retrouve dans ces 80 minutes très éclectiques comprennent de l'électro-pop coloré avec des voix audacieuses (Petra Glynt, Bile Sister, des douches de synthétiseurs psychédéliques (Wildlife Rodeo, Hover Puffin), de l'avant-folk planant (Jennifer Castle), IC/JC/VC) et du post-jazz sub-bop (Brodie West, Gravitons). Plus étrange encore, du drone, des tonalités et des sons-poèmes indéfinissables sont offerts par des piliers vétérans de la scène torontoise (Fleshtone Aura, Man Made Hill, Skull Bong). Si vous avez jamais éprouvé le besoin d'une connexion tangible avec le souterrain céleste de Toronto, cette cassette est le meilleur obélisque que vous puissiez trouver.

<class="audioTrack">New Chance – Desperation

<class="audioTrack">Toblerone Boys – Nugget Vacancy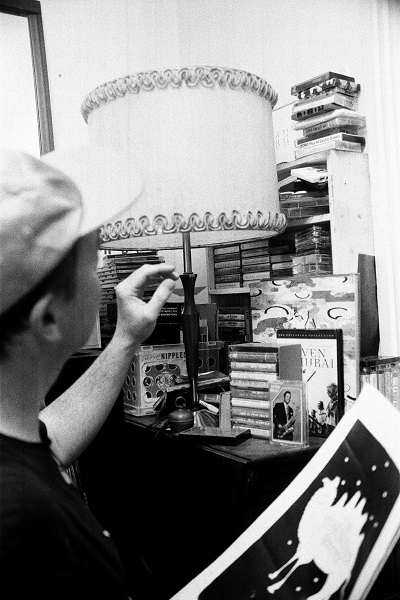 Ephemera of Brodie West
Existing during the recording of Fascination In Sound
(Photos: Josh Silver)
Toronto, ON
From the banjolele idylls of Joe Strutt:
Back a few seasons ago, while he was preparing to decamp to Hamilton, we ducked into the Kensington Market apartment of Brodie West, leader of the avant-calypso all-star band Eucalyptus. Brodie keeps busy as a father, saxophone soloist and sideman with many units, including Drumheller, The Ryan Driver Sextet, and the Lina Allemano 4 locally (and with legends like The Ex, Han Bennink and Getatchew Mekuria internationally). We spoke about banjo-ukuleles, grandmothers, cassettes (spooled and unspooled), and the nuances of heating foil as Brodie showed us the objects that inspire and move his art.
Album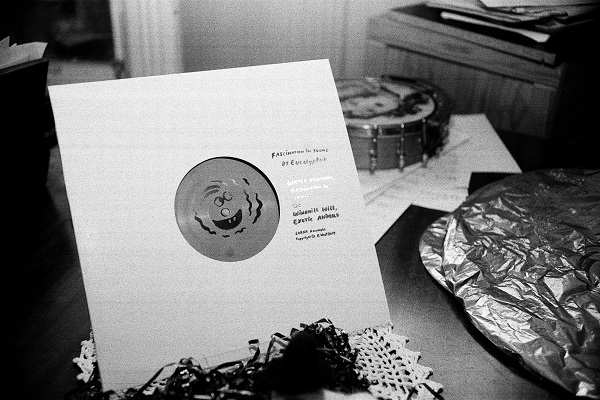 This the second 10″ Eucalyptus has done. The art's a collaboration again with Sandy Plotnikoff and Seth, just like the first one. They're all handmade, and each has slight variations with the design.
Stamp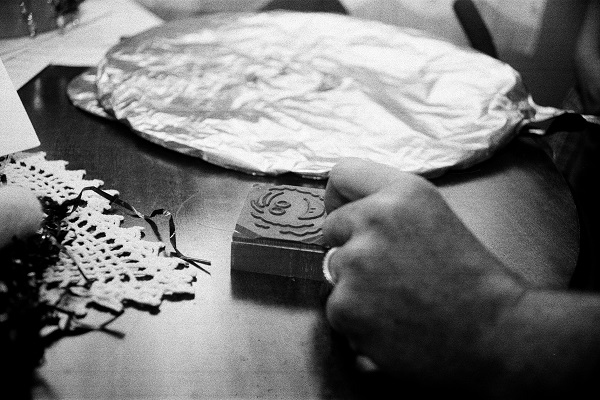 This is the stamp used for the face on the record. It was really fun to make all the little decisions about which foil, what colour to use… we tried so many things, I still have a bag of leftover foil bits. Just getting the right temperature was also tricky… we had to find out as we went along what was going to work and what didn't, cause Sandy has a lot of foil options, but not all of them were sticking. And the other thing was dealing with the heat, how much it heats the record up. People have asked if that's meant as a picture of my son Willie, but it kind of just came together that way. Seth brought a few options for different directions to go and we just made a quick decision. This one seemed really fun and playful… Sandy and I actually made a video of the record spinning, 'cause it actually pulsates, it shimmers in a really cool way as it's spinning around and catches the light.
Fuzzy + Tape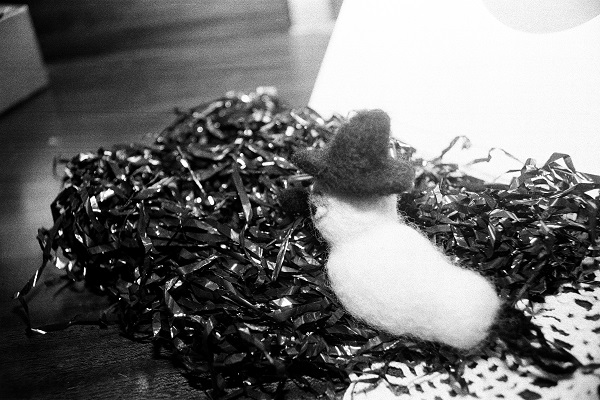 We had this as part of our series of release gigs at Hirut. One of the nights was my son's first birthday, so this is something that Meagan LaCroix made to give to him. This is a character of Seth's, from the movie Asphalt Watches. Megan liked the film and made a reproduction of this guy. The tape it's resting on was something Sandy gave me for my birthday eight or so years ago. It's a tape of the band Blurt.
Charts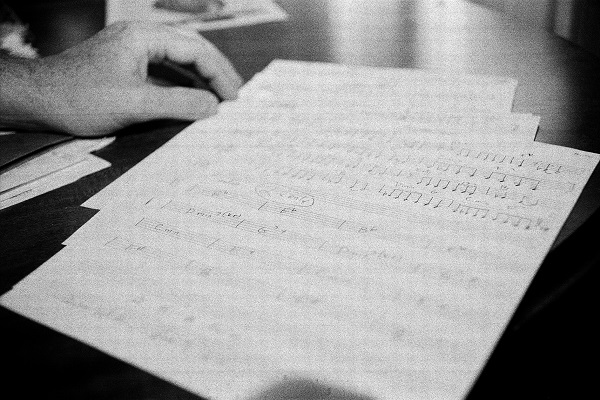 These are the charts for some of the songs. There aren't arrangements for every member of the band. I mostly say, "here's the tune", and then we rehearse and talk about the arrangements. I wish I could say everything everyone needed to know right from the beginning. That's the ultimate aim, but I'm learning as I do it. Ryan Driver's really good at seeing what little thing I missed, what little details aren't there, because he really reads. He's a good person to test your accuracy with.
Sax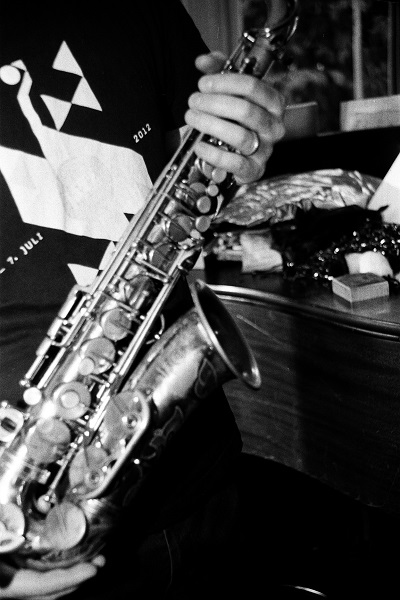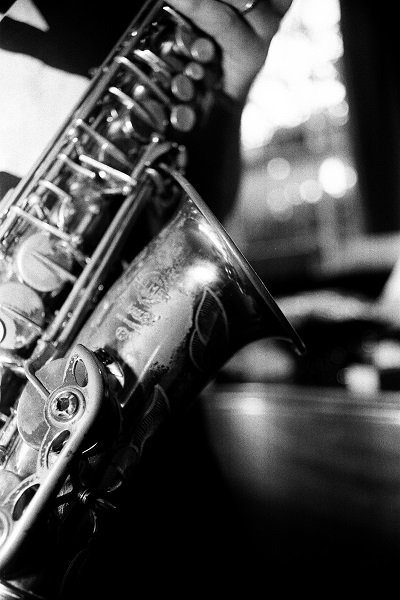 My mom bought this for me when I was in high school. She was a high school teacher and she knew a student who was selling his horn. I was fourteen or fifteen when I got it and I was lucky to get a really nice one straight from the beginning. It's been amazing to have one horn all that time. It's certainly a precious thing, and it has a lot of nice details on it in the engraving.
Cassettes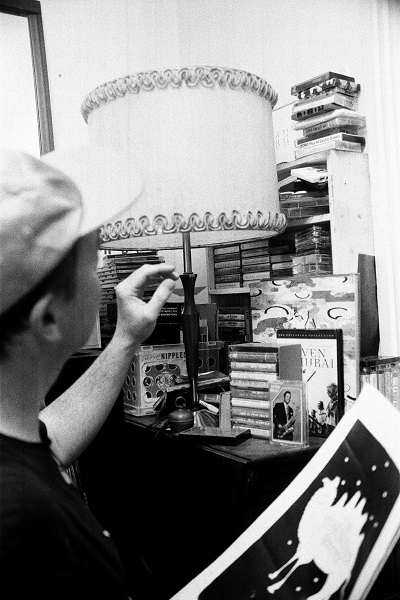 I like cassettes a lot. To have stuff like CCMC, a lot of Healing Power, and things that I found in Ethiopia. I've been there three times. The first time we didn't have any gigs, but the second time we played in big theatres and everything. I've been playing with Getatchew Mekuria and The Ex for almost ten years now. The first album with Getachew, there was a cassette edition for Ethiopia, made for sale in Addis. I think they made 3000, because that was the smallest amount the label would do!
Mighty Blue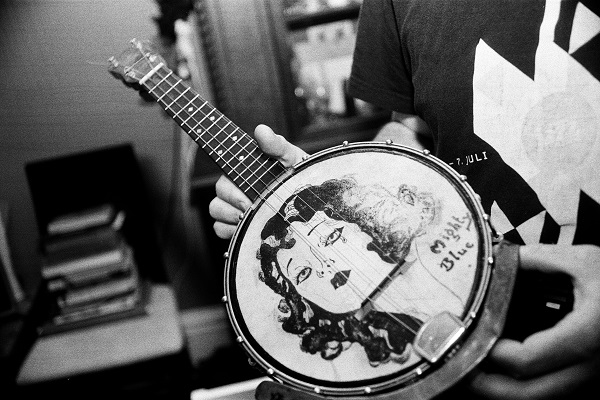 My grandmother taught me how to play ukulele. She gave me a George Formby book, she was really into him. He played banjolele, which is what this is. This was something she left to me in her will… she must have found it at a garage sale. I don't play it any more, not much. I did play it with Zebradonk. My grandmother's name was Lorna, so that's why my label's name is Lorna Records. She had a lot of musical instruments and she loved music. She took me under her wing as soon as I started showing any interest in music. She was the first to teach me jazz songs, 30's-style tunes. She subscribed to sheet-music magazines and she always had music in her house, a piano in the living room so the whole family with six kids would sing together. A really cool grandma, and really outgoing. She was a big influence on me.
Du bajo-ukulélé sous l'arbre à palabres de Joe Strutt:
(Traduit par Alike Harel)
Il y a de cela quelques saisons, lorsqu'il se préparait à décamper pour Hamilton, nous avons fait une escapade à l'appartement de Brodie West, leader du groupe étoile avant-calypso Eucalyptus, dans Kensington Market. Brodie est un homme occupé par la vie de père, de saxophoniste soliste et de collaborateur à plusieurs ensembles, dont Drumheller, The Ryan Driver Sextet, et Lina Allemano 4 sur la scène locale (et avec des légendes comme The Ex, Han Bennink et Getatchew Mekuria sur la scène internationale). Nous avons jasé de banjo-ukulélé, de grand-mères, de cassettes (bobinées et débobinées), et des nuances sur une pellicule sous l'effet de la chaleur pendant que Brodie nous présentait les objets qui inspirent et donnent forme à son art.
L'album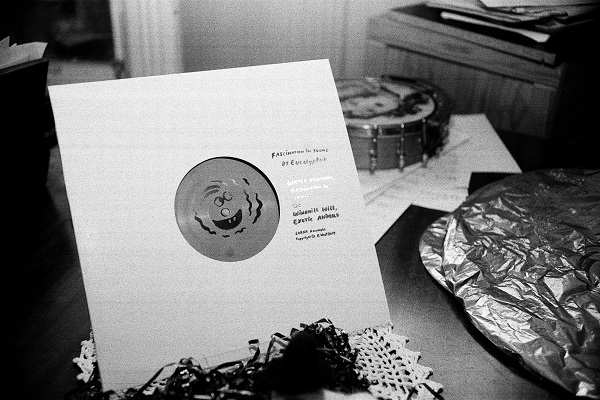 C'est le deuxième vinyle de 10 po qu'Eucalyptus a fait. L'illustration est encore une fois une collaboration avec Sandy Plotnikoff et Seth, tout comme pour le premier. Ils sont tous faits main et le design de chacun varie un peu.
L'étampe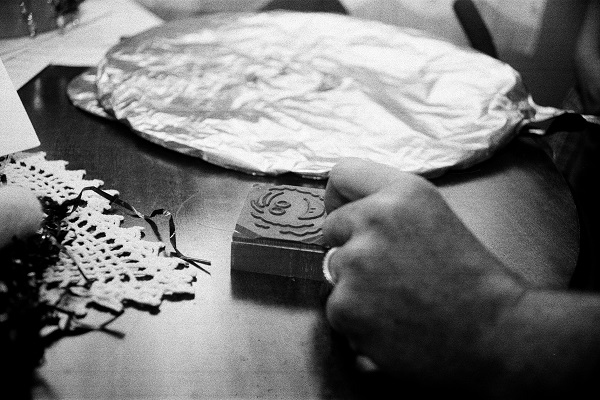 Cette étampe est utilisée sur le dessus de l'album. C'était vraiment génial de prendre toutes les décisions sur la sorte de pellicule, le choix de couleur… On a essayé tellement de choses, j'ai encore un sac de retailles de pellicules. Obtenir la bonne température était laborieux… on devait apprendre au fur et à mesure ce qui fonctionnait ou pas parce que Sandy offre beaucoup d'options de pellicule. L'autre aspect était de manipuler la chaleur et de savoir quelle quantité de chaleur l'album pouvait tolérer. Les gens m'ont demandé s'il s'agissait d'une représentation de mon fils Willie, mais je crois que c'est juste sorti comme ça. Seth a proposé différentes avenues et nous avons pris la décision rapidement. L'idée semblait amusante et joviale… Sandy et moi avons même filmé l'album pendant qu'il tourne puisqu'il fait des pulsations. Il scintille d'une façon vraiment cool et, en tournant, reflète la lumière.
Toutou + Cassette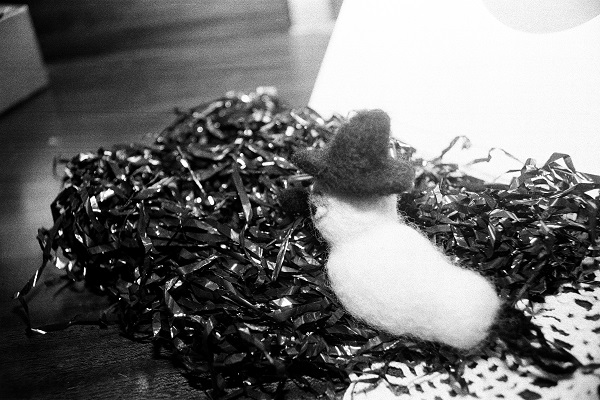 Nous avions ceci pendant notre série de représentations de lancement au Hirut. L'anniversaire de mon fils a eu lieu un de ces soirs, Meagan LaCroix l'a fabriqué pour lui en faire cadeau. C'est un personnage de Seth's, du film Asphalt Watches. Megan a aimé le film et a fait une version en peluche de ce personnage. La cassette sur lequel il repose est un truc que Sandy m'a donné pour mon anniversaire il y a environ huit ans. C'est une cassette du groupe Blurt.
Feuilles de musique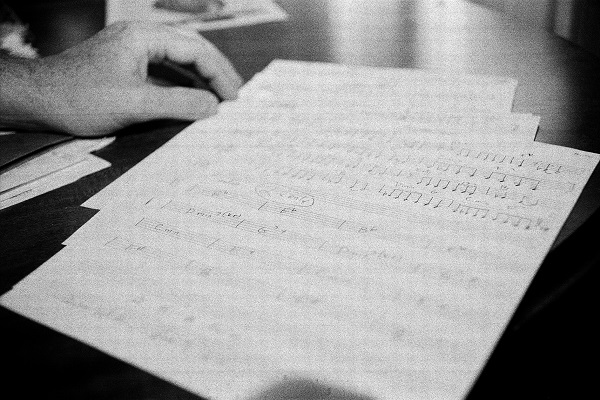 Ce sont les feuilles de musique de certaines chansons. Je n'ai pas d'arrangement pour chaque membre du groupe. En somme, je dis « voici l'air », puis on pratique et on discute des arrangements. J'aimerais pouvoir expliquer à tout le monde ce qu'ils ont besoin de savoir dès le départ. C'est le but ultime, mais j'apprends au fur et à mesure. Ryan Driver a vraiment l'œil pour voir les petits détails que j'oublie, étant donné qu'il lit vraiment. Il est la personne idéale pour vérifier sa justesse.
Sax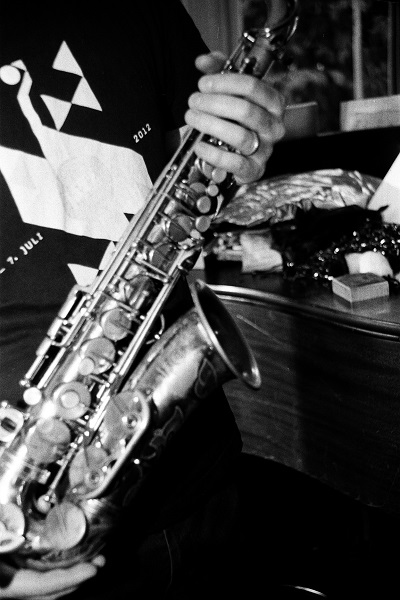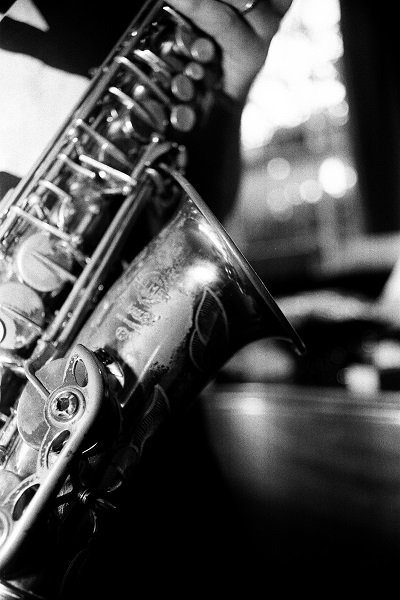 Ma mère me l'a acheté quand j'étais au secondaire. Elle était une enseignante au secondaire et elle connaissait un élève qui voulait vendre son instrument. J'avais quatorze ou quinze ans et j'ai eu la chance d'en avoir un bon dès le départ. Ce fut génial d'avoir un sax tout le temps. C'est vraiment un objet précieux, et il a beaucoup de gravures détaillées.
Cassettes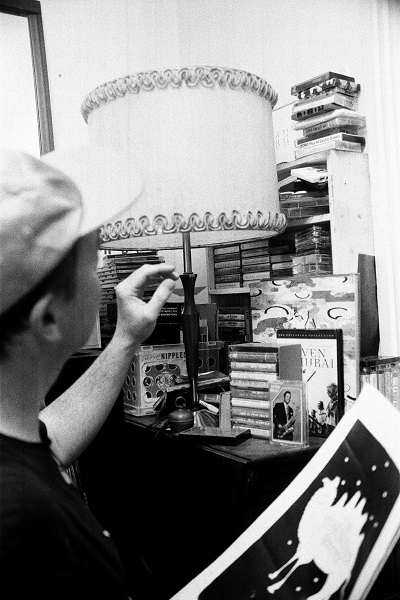 J'aime beaucoup les cassettes. Avoir des trucs comme CCMC, beaucoup de Healing Power, et d'autres choses que j'ai trouvées en Éthiopie. J'y suis allé trois fois. La première fois je n'avais pas de concert, mais la deuxième fois, on a joué dans de grandes salles et tout. Je joue avec Getatchew Mekuria et The Ex depuis presque dix années. Au premier album avec Getachew, on a fait une édition sur cassette pour l'Éthiopie pour la vente à Addis. Je crois qu'ils en ont enregistré 3000 parce que c'était le nombre minimal que la maison pouvait faire!
Mighty Blue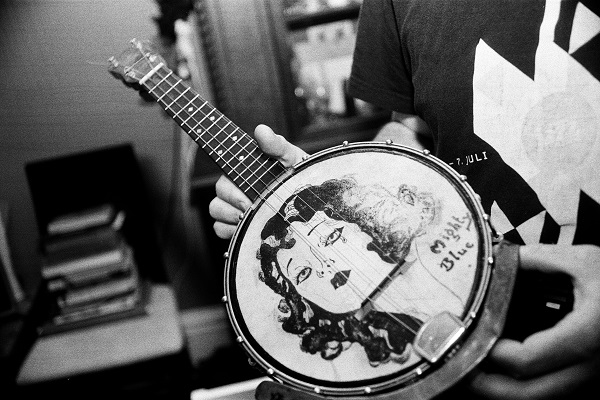 Ma grand-mère m'a appris à jouer le ukulélé. Elle m'a donné un livre de George Formby,elle l'aimait vraiment. Il jouait du banjo-ukulélé, et c'en est un. Elle me l'a donné en héritage… elle l'a probablement trouvé dans une vente-débarras. Je n'en joue plus vraiment, mais j'en ai joué avec Zebradonk. Ma grand-mère s'appelait Lorna, c'est pourquoi le nom de la maison de disques est Lorna Records. Elle avait beaucoup d'instruments et adorait la musique. Elle m'a prise sous son aile dès que j'ai commencé à montrer de l'intérêt pour la musique. Elle a été la première à m'apprendre du jazz, des airs des années 30. Elle s'est abonnée à des revues avec des feuilles de musique et il y avait toujours de la musique dans la maison, un piano au salon pour que toute la famille puisse chanter ensemble. Une grand-mère vraiment cool et dégourdie. Elle a eu une grande influence sur moi.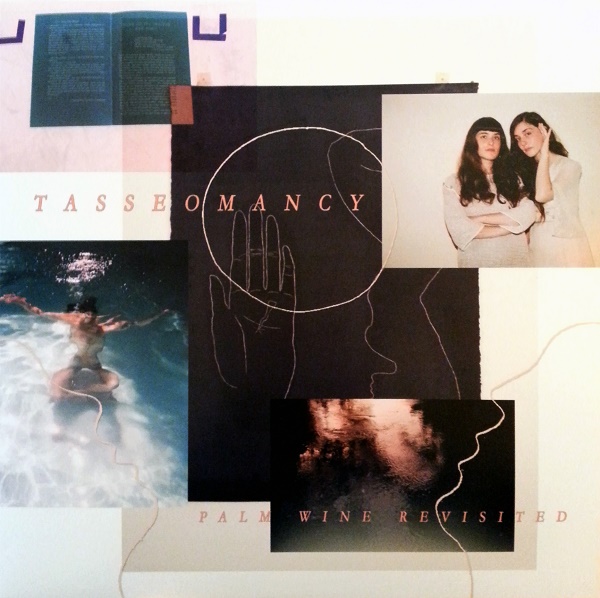 Tasseomancy
Palm Wine Revisited
Toronto, ON
From the wine drunk mutterings of Matthew Swann:
One step beyond madness lays ecstasy. Beyond the 3D, 4D, 4AD, beyond Kate Bush, the Burning Bush, beyond hungry ghosts howling over ethereal darkwave … beyond freaks, and future folk, and avant dark synthesis. Beyond Beyond Beyond – the Lightman sisters' voices sublimely converge. 10 disembodied chorales fill up limitless space. Synthesizers, and steelpans drone. Two twins singing a soundtrack to the killing and creating of worlds, from behind the veil, seated outside the reach of both. The Palm wine makes the colours brighter, the visions more vivid, and reality clearer.
Des marmonnements ivres de Matthew Swann:
(Traduit au vin savoyard par Nicolas Coutlée)
Un pas par-delà la folie se trouve l'extase. Par-delà la 3D, la 4D et 4DA, par-delà Kate Bush et la bouche de Yahvé, par-delà les fantômes affamés qui hurlent sur du darkwave éthéré… par-delà les freaks, le folk futuriste et la sombre avant-garde synthétique. Par-delà Par-delà Par-delà – là où convergent sublimement les voix des sœurs Lightman. Dix chœurs spectraux remplissent l'espace infini. Sur fond de synthés et de steeldrum. Derrière le voile, reposant hors d'atteinte l'une de l'autre, deux jumelles chantent la trame accompagnant la mort et la naissance d'univers. Le vin de palme rend les couleurs plus brillantes, avivent les visions et éclaircit la réalité.
Tasseomancy – Braid. Wind Is Coming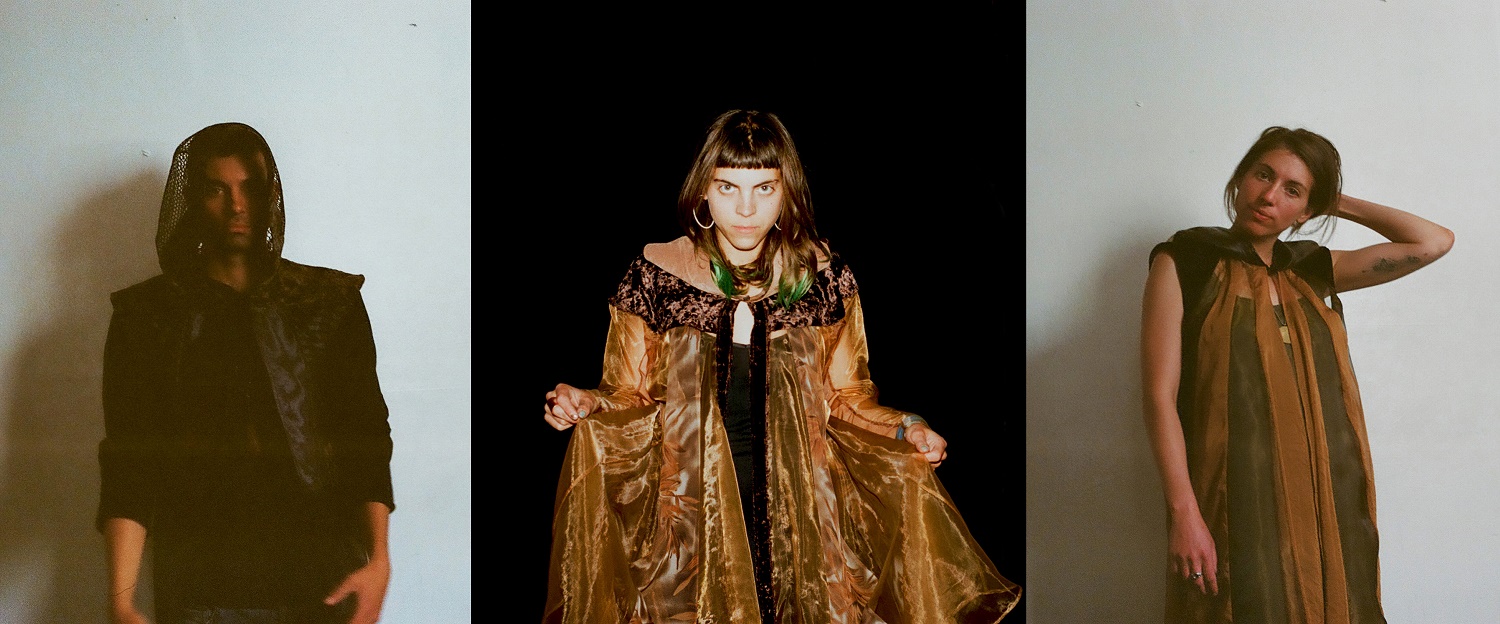 Ephemera of DOOMSQUAD
Existing During the Recording of the Pageantry Suite EP
Toronto, ON
Photos by Brad Casey
From the "yeah"s and "amazing"s of Brad Casey:
Jaclyn Blumas of brother/sister trio DOOMSQUAD is a woman open to the world from the perspective of another world entirely. She talks about mystical experiences with a casualness that most people would reserve for a story about a trip to the grocery store. She moves with an airy quality, like a dancer, but with a childlike nature, a wonderful gracelessness. Everything that comes from her mouth is positive. It's all, "yeah!" and "amazing!", and she speaks to you directly, you're her only focus. When she moves away she's away and somewhere else completely. Her home, which teeters between gypsy comfort and organized mess is warm and well composed. It's no wonder the music that DOOMSQUAD produces is deceivingly complex. It's like a hypnosis wheel; from a distance it's simple and contrasting colours but get close and it's moving uniform into what seems like infinity.
DOOMSQUAD, comprised of Jaclyn, Allie and Trevor Blumas, formed in 2010, making formal, Carter family-like folk music. They quickly and rightly set their acoustic instruments aside for an electro-journey beginning with their Land 'O the Silver Birch EP. That trip brought them into their first full length album, Kalaboogie, a reverb drenched and chant filled album with a light touch of pop sensibility, then into their latest Pageantry Suite EP, which is influenced as much by Talking Heads as it is smoke-filled, bass heavy, dark after-hours weekend parties. They've toured with Tanya Tagaq and Fucked Up, and their next full length album, scheduled to be released in late 2015, will surely bring them to another level of success entirely.
Jaclyn was kind enough to allow us at Weird Canada to photograph some of the ephemera that keeps her moving forward as an artist and a person and to touch on the stories of what gives her precious objects weight.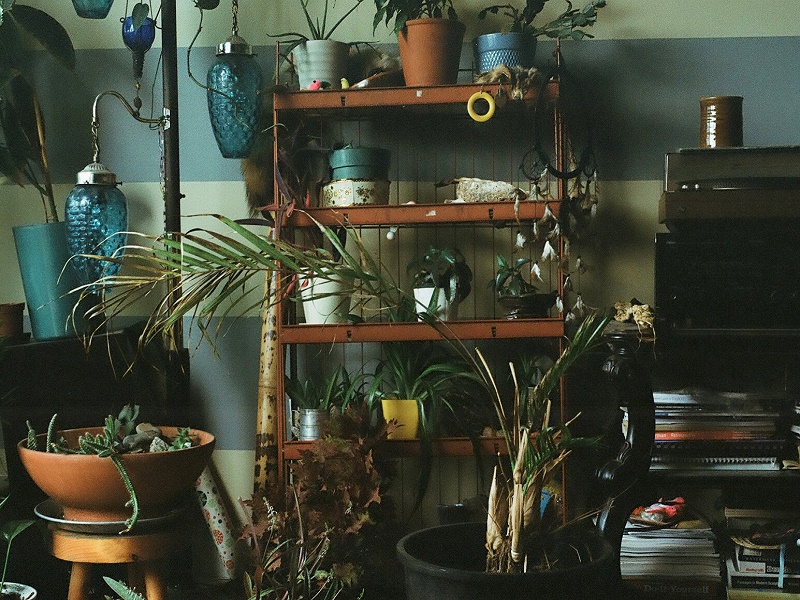 Plants
They're all different, some of them are from my roommate's girlfriend. This one is from my Nanny, we used to decorate it like a Christmas tree. This is a Christmas cactus, this plant turns red in the summer and green in the winter. I don't know the names of anything. I know how to take care of them though, I move them around until they're happy.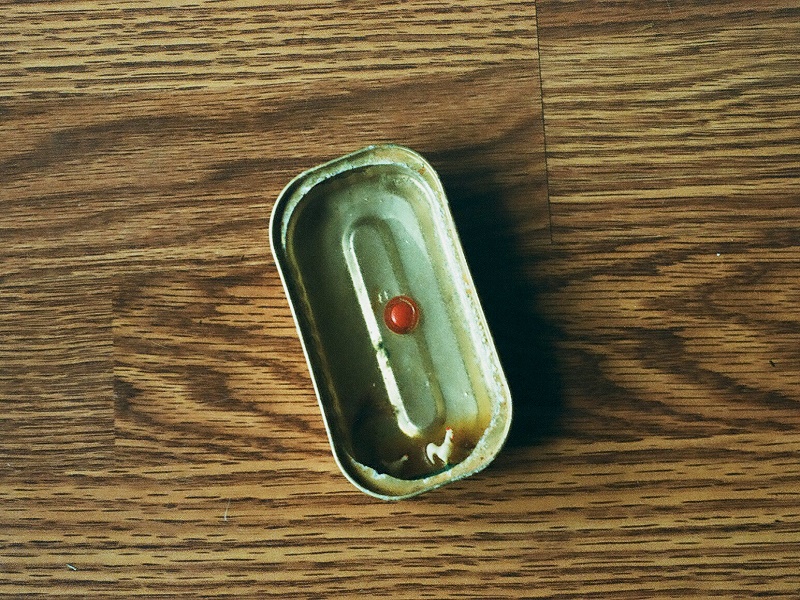 Found Item Art
My roommate and his girlfriend made this. They make these kinds of things then throw them out but I wanted this. It's a sardine can, resin, a little chicken and a sun.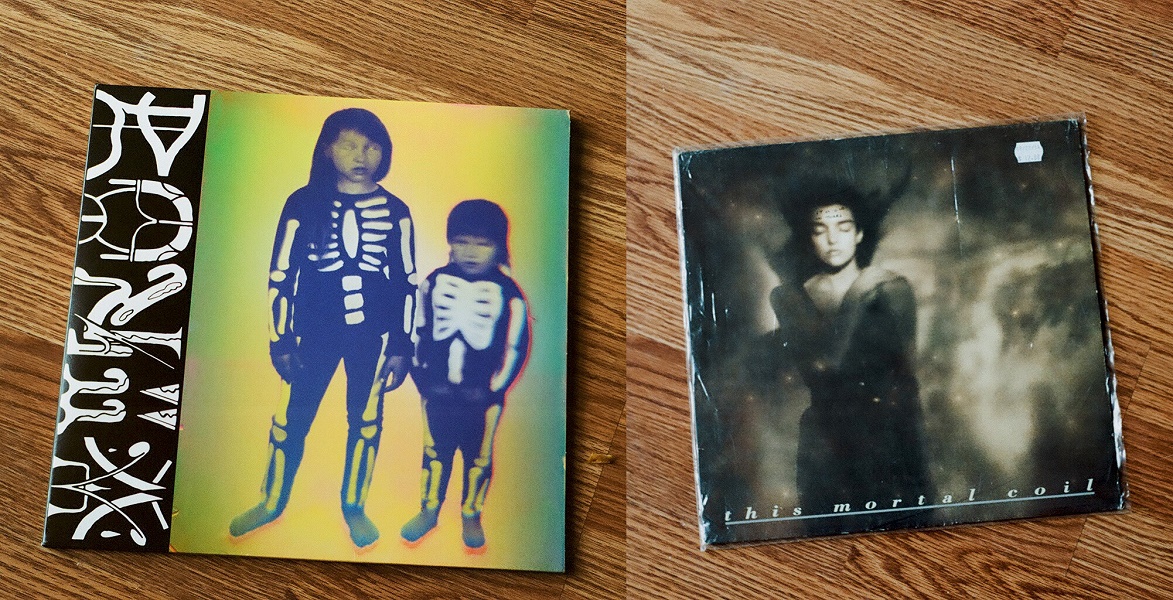 Favourite Records
I'm trying to promote the shit out of Roniia. This is one of my favourite records right now. We know these guys from North America and Roniia are friends of theirs, we hung out with them in Minneapolis. They're so fucking good. They should be playing stadiums, they've got it all figured out. Also, This Mortal Coil. It's a compilation from the 80s, it's so good, it has these great covers of Kangaroo and Song to the Siren.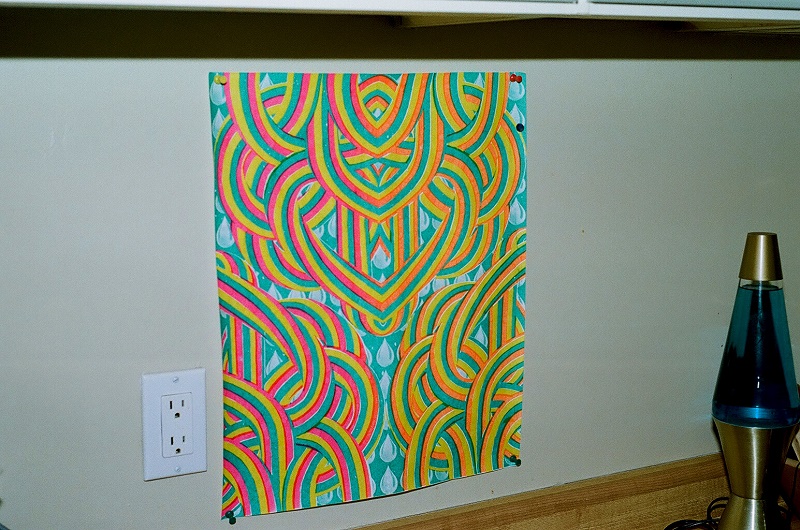 Alex MacKenzie's Art
Alex did this for Come Up to My Room, an event I helped organize at The Gladstone. She made a Moroccan tent with this design. When the light changed from blue to red this would pop out and move. It was this active, moving tent. This is a print of that.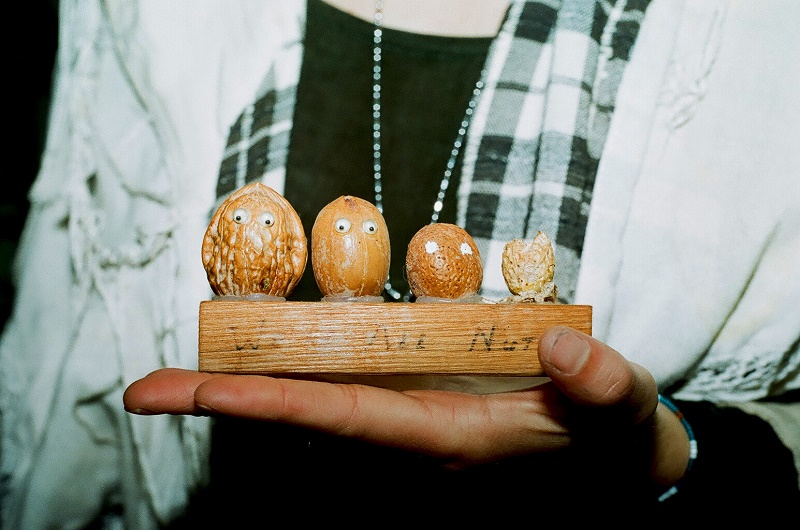 We Are All Nuts
Our family cottage was in Calabogie. We ended up saying goodbye to it last year. It's where we wrote our album Kalaboogie. The cottage was full of things that were important to my grandparents and this was one of them. A little mouse came and ate the peanut out of this nut on the end. It says "We Are All Nuts."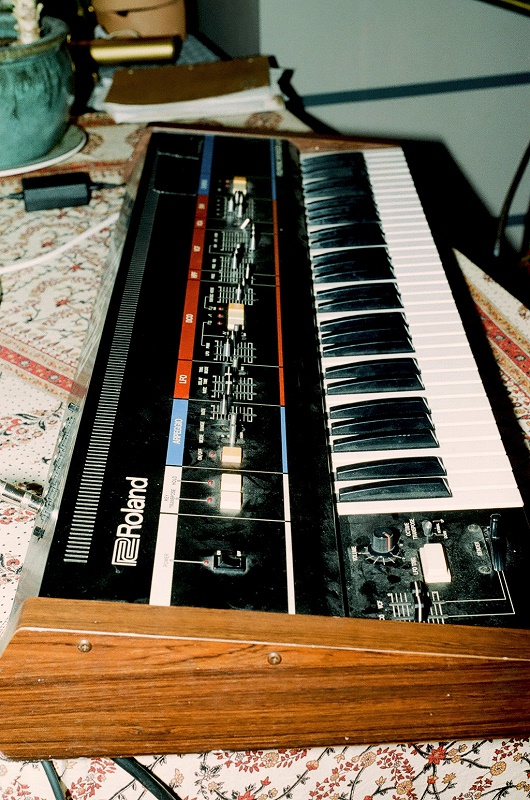 Roland Keyboard
This was given to me to borrow indefinitely. The person hasn't asked for it back yet, I've had it for seven years. His grandparents had it and he didn't know what it was. I've used it on almost every DOOMSQUAD recording. It's too finicky to travel around with.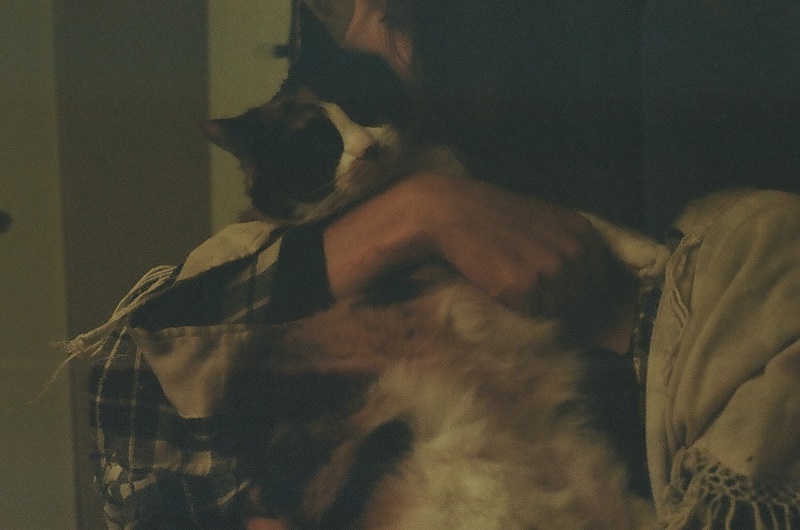 Bowie the Cat
This is Bowie. I got her in Vancouver from a whore house in Surrey, BC. They said she was a boy. All I wanted was a boy cat because all I've ever had were girls, so I was like, "Can you please just make sure it's a boy." The girl was like, "Girl, I've been doing this for years," she had zit cream all over her face and was like, "it's a boy." So for three months me and Bowie were hanging out and I was treating her like a boy. I took Bowie in to get neutered and she came out spayed. The vet was like, "Well, she's a girl." I said, "Are you sure?" and they were like, "Yup. We spayed her." I've had her for nine years.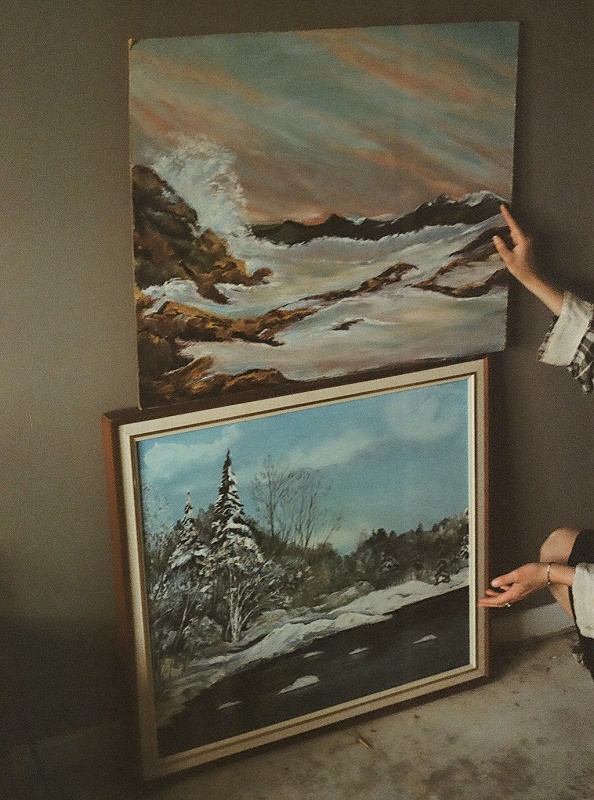 Family Paintings
My grandmother painted both of these. She's a painter, she has nine fingers. She still paints every day.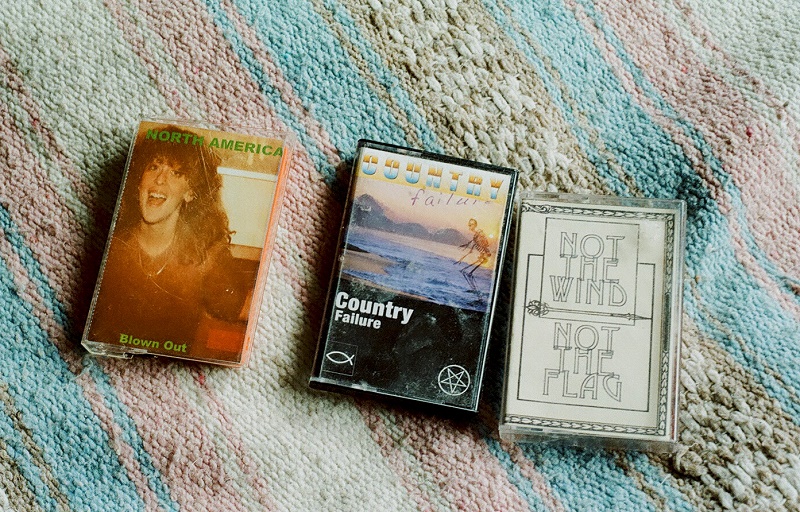 Favourite Cassettes
These are the three cassettes I listen to the most. North America, babes from New York. Their music was love at first sight, for me. It's two brothers who play psychedelic desert rock. Country from Montreal, Beaver Sheppard is the front guy. He's doing all these amazing new things, it's like apocalyptico pop music with freaky dance vibes. This Not the Wind Not the Flag is from a live show that they did a few years ago, Healing Power put it out. I was listening to this tape all through a break up, through moving out of a studio space, everything I did that was traumatizing for me and didn't know how to get through. I would put this tape on and go to another place.
Par les "yeah" et les "génial" de Brad Casey:
(Traduit par les méninges riches en fructose d' Émily Traichel)
Jaclyn Blumas du trio frère/soeur DOOMSQUAD est une femme ouverte au monde, à la perspective d'un autre monde entier. Elle parle d'expériences mystiques avec une désinvolture que la plupart des gens se réserverait pour raconter une simple course à l'épicerie. Elle se déplace avec légèreté, comme une danseuse, mais avec une nature enfantine, une merveilleuse inélégance. Tout ce qui sort de sa bouche est positif. On entend que des "yeah!" puis des "génial!", et elle s'adresse à nous directement, on est son unique centre d'intérêt. Lorsqu'elle nous quitte, elle est complètement ailleurs dans un autre monde. Sa maison, qui vacille entre le comfort bohémien et le bordel organisé, est chaleureux et bien équilibré. Ce n'est pas surprenant que la musique produite par DOOMSQUAD nous trompe avec sa complexité. C'est comme une spirale d'hypnose; de loin c'est simple et les couleurs se contrastent, mais lorsqu'on s'approche, elle avance uniformément vers ce qui semble être l'infini.
DOOMSQUAD, qui comprend Jaclyn, Allie et Trevor Blumas, s'est formé en 2010, créant de la musique trad formelle, style famille Carter. Ils n'ont pas tardé (à juste titre) de mettre leurs instruments acoustiques de côté en échange d'un nouveau départ électro-voyage avec leur EP Land 'O the Silver Birch. Ce voyage les a mené à leur premier album complet Kalaboogie, un album trempé de réverbération et rempli de chants scandés avec un léger brin de sensibilité pop, ensuite vers leur dernier EP, Pageantry Suite, qui fut autant influencé par Talking Heads que par de ténébreux partys de weekend «after-hours» enfumés et lourds de basse. Ils ont tourné avec Tanya Tagaq et Fucked Up, et la sortie de leur prochain album complet, prévu pour fin 2015, leur rapportera surement un tout autre niveau de succès.
Jaclyn était assez sympa pour nous permettre, nous à Weird Canada, de photographier certains articles éphémères qui la motive en tant qu'artiste et en tant que personne, et d'aborder les histoires qui donnent de l'importance à ses objets précieux.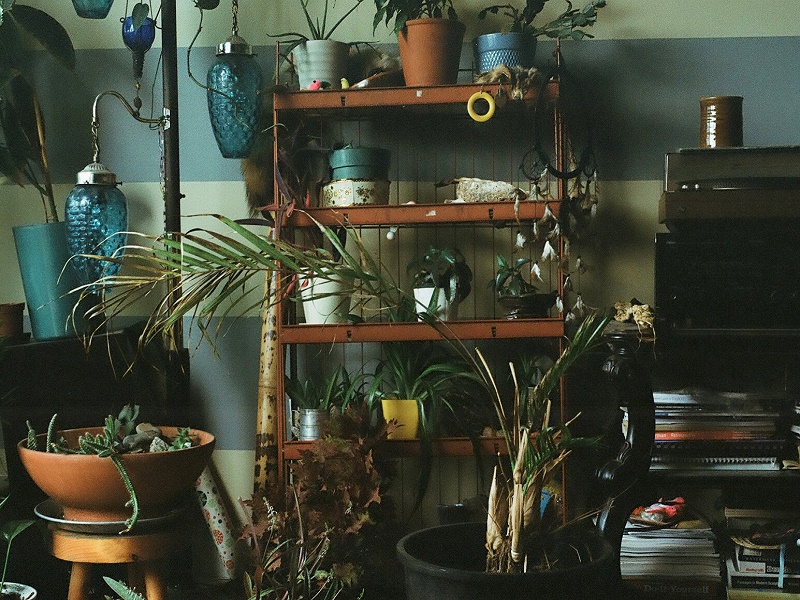 Plantes
Elles sont toutes différentes, certaines viennent de la blonde de mon colocataire. Celle-ci vient de ma nanny- on s'habituait à la décorer comme un sapin de Noël. Voici un cactus de Noël: cette plante devient rouge pendant l'été et verte pendant l'hiver. Je ne connais aucun des noms. Je sais comment m'en prendre soin par exemple, je les déménage de place en place jusqu'à ce qu'elles soient heureuses.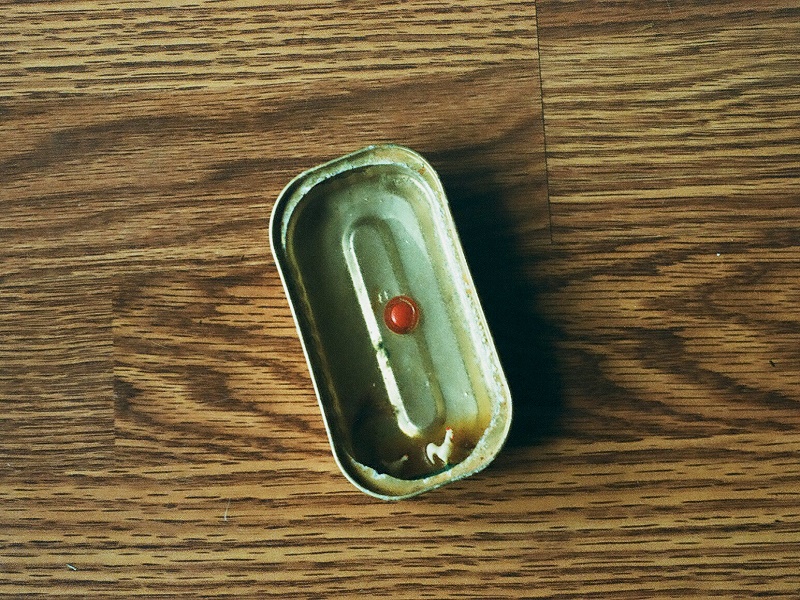 Art objet trouvé
Mon colocataire et sa blonde ont créé ça. Ils créent ce genre de choses et ensuite les jètent, mais celle-ci je voulais la garder. C'est une canette de sardines, de la résine, un petit poulet et un soleil.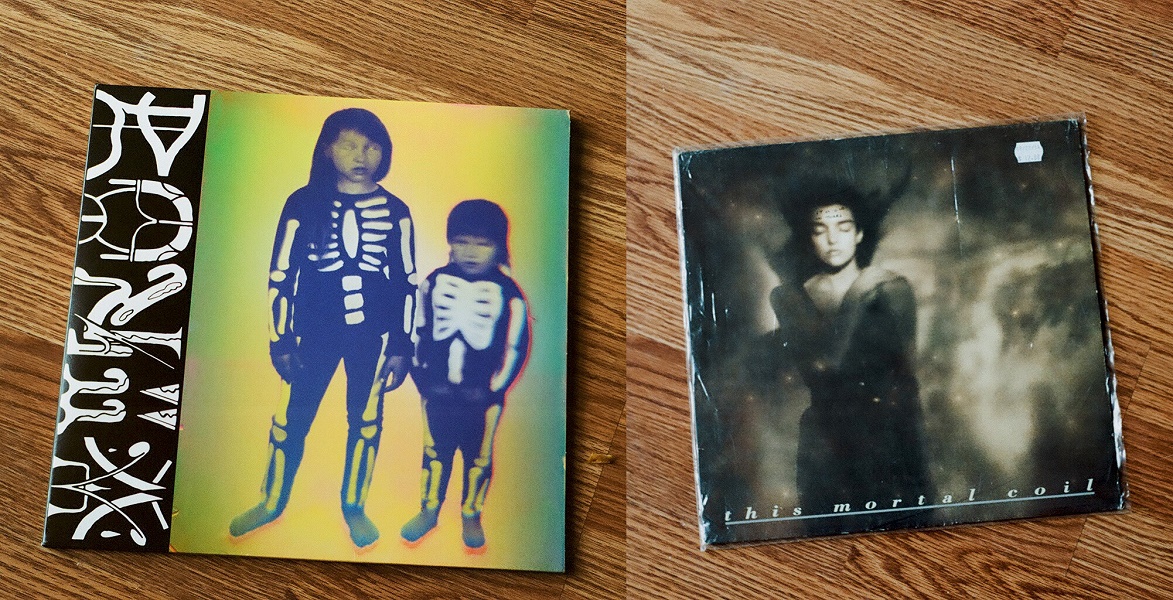 Albums préférés
J'essaie de promouvoir Roniia au max. Voici un de mes albums préférés en ce moment. On les connait de North America et Roniia sont amis avec, on s'est tenu avec eux à Minneapolis. Ils sont crissement bons. Ils devraient jouer dans les stades, ils l'ont vraiment leur affaire. Aussi, This Mortal Coil. C'est une compilation des années 80s, c'est trop bon, il y a des reprises géniales de Kangaroo et de Song to the Siren.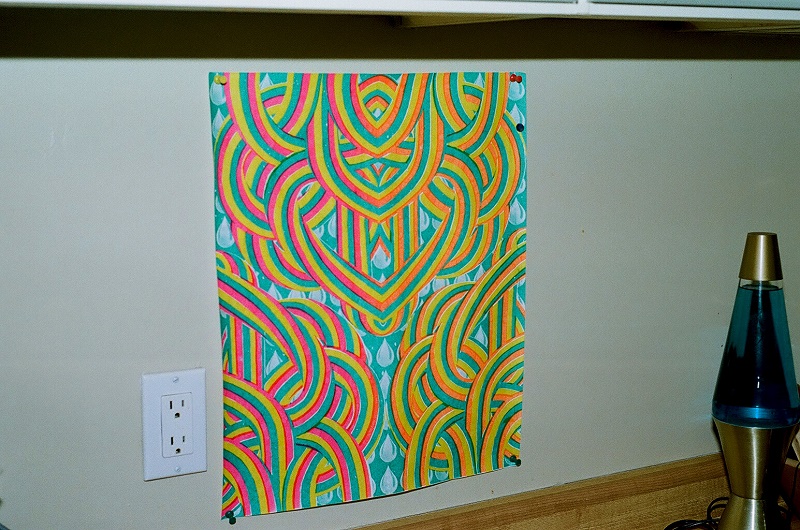 L'art d'Alex MacKenzie
Alex a fait ça pour Come Up to My Room, un évènement que j'ai aidé à organiser au Gladstone. Elle a fabriqué une tente marocaine avec ce motif. Quand la lumière changeait de bleue à rouge, ça sautait aux yeux et ça bougeait. C'était une tente active, dynamique. Ceci en est une image.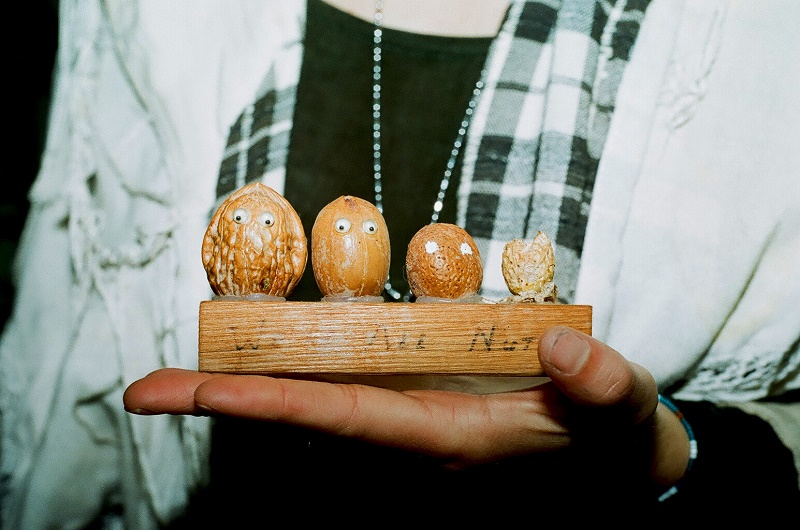 « We Are All Nuts »
Notre chalet de famille était en Calabogie. On y a fait nos adieux l'année passée en fait. C'est là où on avait écrit notre album Kalaboogie. Le chalet était rempli de choses qui étaient importants pour mes grand-parents et ceci en était une. Une petite souris est venue manger la peanut ici au bout. Ça dit « We Are All Nuts. »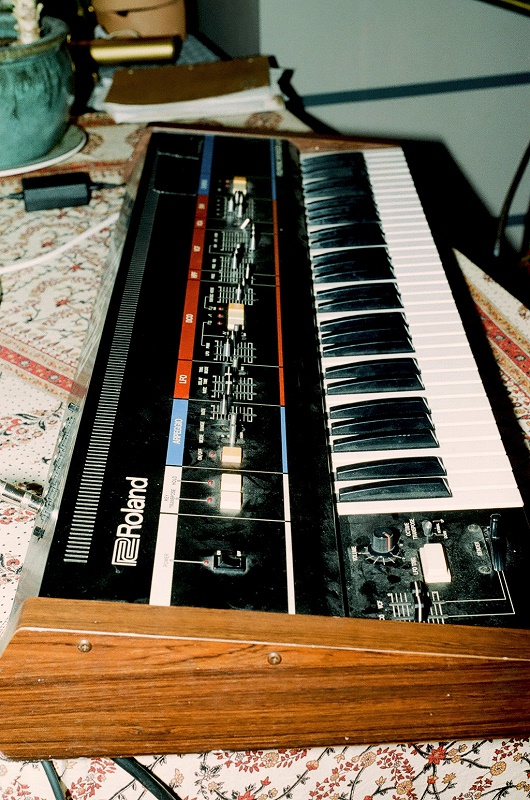 Clavier Roland
Ceci m'a été donné à emprunter indefinitivement. La personne n'a pas encore demandé de le ravoir, ça fait sept ans que je l'ai. Ça appartenait à ses grand-parents puis il ne savait pas ce que c'était. Je m'en suis servie pour presque chaque enregistrement de DOOMSQUAD. Il est trop capricieux pour amener en voyage.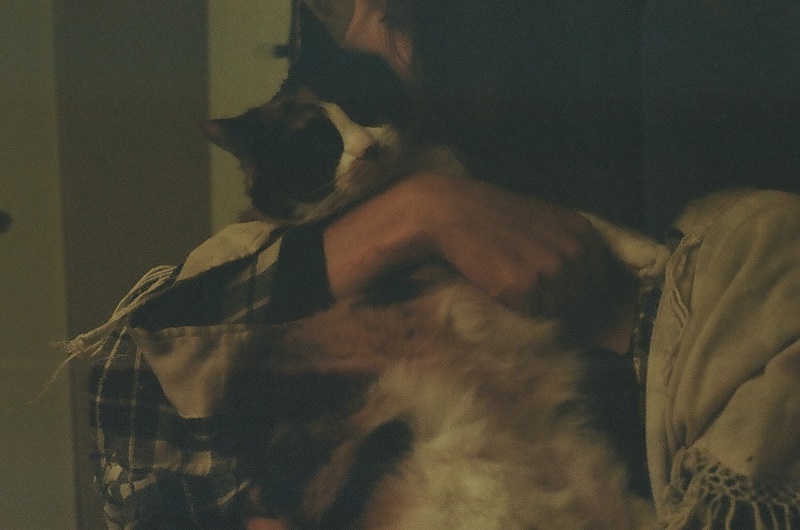 Bowie la chatte
Voici Bowie. Je l'ai eue à Vancouver dans un bordel à Surrey, CB. Ils ont dit qu'elle était mâle. Je voulais surtout un chat mâle parce que je n'ai eu que des chattes, alors j'ai dit, « Pouvez-vous s'il vous plaît juste vérifier que c'est un mâle. » La fille a dit « Écoute, ça fait des années que je fais ça, » elle avait la face pleine de crème pour les boutons et me dit, « c'est un garçon. » Alors pendant trois mois moi et Bowie on se tient ensemble puis je la traite comme un garçon. J'ai amené Bowie se faire stérélisé puis ils lui ont fait une hystérectomie. Le vétérinaire il dit, « Eh bien, c'est une fille. » J'ai dit « Êtes-vous sûr? » puis ils disent, « Oui. Nous lui avons fait une ovariectomie. » Ça fait neuf ans que je l'ai.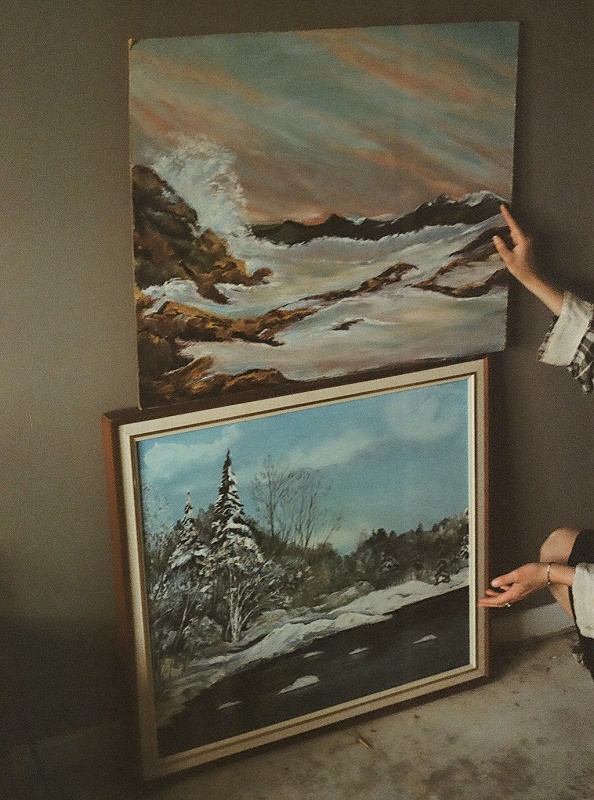 Peintures de famille
Ma grand-mère a peint ces deux-cis. Elle est peintre, elle a neuf doigts. Elle peint encore à tous les jours.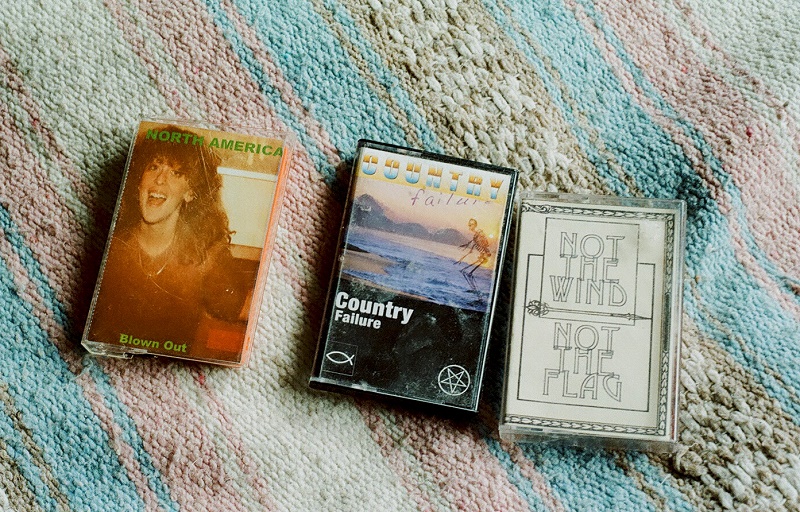 Cassettes préférées
Voici les trois cassettes que j'écoute le plus. North America, mes chéris de New York. Leur musique était le coup de foudre pour moi. Ce sont deux frères qui jouent du desert rock psychédélique. Country de Montréal, Beaver Sheppard est le leader. Il fait plein de nouvelles choses interessantes, on dirait de la musique pop apocalyptico avec un air de danse marrant. Celle-ci de Not the Wind Not the Flag vient d'un gig qu'ils ont fait il y a quelques années, Healing Power l'a publié. J'écoutait cette cassette tout au long d'une rupture, pendant que je déménageais d'un studio, tout ce que je faisais qui m'était traumatisant et que je ne savais comment endurer. Je branchais cette cassette puis je voyageais ailleur.
From the inspirational model of Malcolm Fraser:
Early this year, the Blocks Recording Club announced it was shutting down after 10 years. The Toronto-based label was run as a workers' co-op, and released records from Final Fantasy (including the Polaris-winning He Poos Clouds), Fucked Up, Katie Stelmanis (pre-Austra), Bob Wiseman, and dozens more. Blocks was a key mover in the early-2000s "Torontopia" moment, a joyous celebration of Toronto's underground music scene. The city the Rest of Canada loves to hate suddenly found itself offering an inspirational model for local communities.
Steve Kado was a co-founder of the label, president of its first board, and member of some of its prominent bands including Barcelona Pavillion and Ninja High School. Today, he's a visual artist and composer who divides his time between Toronto and L.A. I spoke to Steve about the history and legacy of the label.
Malcolm Fraser: Tell me about when and how the idea for Blocks first came together.
Steve Kado: Like a lot of things I think it came together out of frustration. On the one hand Mark McLean and I were both doing and seeing music we thought was exciting, but also we had just had pretty negative experiences with prior bands, and we thought we could have a better personal relationship with people and goals in music that would be more interesting. Kind of the normal reason why people do things. Also, the recording industry, which had seemed very opaque, was becoming more transparent — home recording was getting really easy and powerful, so there was a whiff of possibility around the idea of issuing recordings.
How did you decide on the workers' co-op model?
After Mark took off for Ottawa I worked with Lisa Graham to run the whole thing and eventually, it was getting out of control. There was too much for me to do, people volunteered but there was no structure to it, no responsibility outside of just "ask Steve." Also at the time, there was a lot of talk about "collectives" in Canadian Indie Rock and I felt like that collectivisation was phony, those decisions were all getting made by one guy not a group decision-making process — so I felt like it would be interesting to try the opposite approach, to make the entire thing democratic and primally socialist, like an agricultural co-op or a credit union.
Also, that artists would be the only ones with a stake in what got released, there would be no suspicious middlemen involved, just musicians working with musicians. In the indie-rock industry, with something like Arcade Fire, you have so many people working on it that it becomes like a version—a much less serious version—of Hannah Arendt's "banality of evil," where people are just cogs in the machine without any direct connection to the music. The hope was that if it took off and worked there'd be a huge shortcut around these weird bureaucrats in Canadian Pop Music and we'd all be "free" or something. It was a stab at producing more solidarity between us Toronto musicians and in keeping ourselves "punk" in at least a marginally legal sense, while at the same time reducing the amount of vile capitalism that circulates in a place where maybe we thought it shouldn't circulate? Initially I had these fantasies of pan-sector solidarity: like that we'd bank at a credit union and form alliances with farmers and unions and such. But the co-op secretariate of Ontario was singularly unhelpful. I went in there imagining a grand union of agriculture, physical and cultural labour and they were like "please go away, we're very busy." That kind of overarching solidarity did not materialize from the other side of the co-op world.
Can you tell me about how that worked on a practical level – what did the organization look like?
On a practical level it meant that every year there would be board elections and members would go to an annual general meeting and vote for people to be on the board. Releases would require board approval. The hope was that instead of volunteers burning out they'd just stand down come the next AGM, and there'd always be a competent and motivated core staff running the whole thing. I'm not sure it ever worked that way. Which isn't to say that the board system didn't bring in some very competent people, but it also would really drive some of those people hard, they'd burn out and sometimes on their way out there'd be really gnarly fights. It brought people together, but you can't always control what happens when people get together.
What are some of your favourite Blocks releases?
I like a lot of them: the best Blocks releases are the Hank records we put out. All those records are amazing.
Blocks had a policy of (almost) exclusively working with local artists, and you were very passionate about the Toronto music community in the early days. Do you still feel that way?
I like a lot of music from Toronto still—Healing Power Records, Man Made Hill, some Daps bands, obviously New Fries… I think a lot of the regionalism I was pushing for was kind of misplaced. The music community I belonged to was so focused on a small part of downtown Toronto with a few suburban offshoots that it didn't really cover Toronto properly. Like a really big deal in a really small area. Looking back now I wish I'd figured out a way to describe what it was like in Toronto. To grow up there. Maybe I just didn't do a good enough job?
Tell me about the decision to close Blocks – what were the reasons behind that?
There are lots of reasons. One: nothing was really happening. Nothing had happened at Blocks for a year. There hadn't even been an AGM in a while. People had drifted off. Two: the music industry objectively changed. Do you really need to make some CDs? Everyone listens to music on their phones and computers, you can distribute it to them in a totally effective way through something like Bandcamp at a fraction of the price it would take to do it physically. It's even easier now to record music yourself. You don't need even the flimsiest mediator anymore. Most of the distributors that were like taking me to lunch back in the day being like "Hey kid, let me tell you how the music biz works…" are closed now. Their jobs don't exist anymore. And major distribution doesn't mean anything. It would be better to have a great relationship with eight great record stores in the world. In a way Blocks' goals were achieved but in an entirely different way and for entirely different reasons. For most of the music Blocks dealt with something like Bandcamp would have worked out fine.
Are you sad about Blocks folding, or are you philosophical about it?
I have mixed feelings. I don't blame anyone for the way it faded out, but it's the problem with a lot of collective projects: people change and it doesn't have the same place it did in their lives, and then it doesn't get passed on to another generation. I can't be sad about it. Everyone's doing great. There's still great Hank records, Bob Wiseman's records, Owen Pallett's new record is the best he's ever made. But I am sad that… I was hoping to get out of this weird culture dungeon and broaden the universe. I'm still kind of sore about that. And the packaging side of things, that it went towards expediency and not towards making outrageously beautiful objects forever. But there were reasons for those decisions.
Would you have any advice for someone trying to start a label and/or artists' co-op today?
I would say starting a cultural thing within the co-op sector from my experience was needlessly hard given how idealistic and posi I was at the time. If you are at all less posi and less idealistic than me in 2004 then don't do it.
It's hard to dissolve co-ops. If one is tanking it's easier to let it just drift than it is to shut it down, you have to get people together and it's hard to get people together, least of all if they all left off working at the co-op with slamming doors and mic drops.
By doing things in this weird different way we also talked our way out of getting any fancy funding like all those labels that have FACTOR Direct Board Approval do. So when we were trying to do things like mass-releases of Final Fantasy records we had to do that all ourselves, whereas something like Last Gang would have gotten a bunch of dosh to ramp up for production like that. So in a way it wasn't that smart.
If I was giving someone advice now I'd say start small, work with your friends and keep it clever and small. Don't produce piles of records that might risk sitting around in boxes and do most of your distribution via the internet. Make the thing you do make really special and in small amounts.
Écrit par l'inspirant modèle Malcolm Fraser:
(Traduit par celle qui entend 'maman' un million de fois par jour, Jeneviève Brassard)
Plus tôt cette année, le Blocks Recording Club a annoncé sa fermeture après une activité de 10 ans. Cette coopérative de Toronto a produit les disques de Final Fantasy (incluant He Poos Clouds gagnant du prix Polaris), Fucked Up, Katie Stelmanis (pre-Austra), Bob Wiseman, et plusieurs autres. Au début des années 2000, le Blocks Recording Club a été un élément clé lors de la célébration de la scène musicale émergente « Torontopia ». La ville que tout le Canada adore détester a soudainement offert un modèle inspirant pour la communauté locale. Steve Kado était le co-fondateur de cette maison de disque, le président du premier conseil d'administration et un membre de quelques-uns de ses éminents groupes dont Barcelona Pavillion et Ninja High School. Aujourd'hui, c'est un artiste visuel et un compositeur qui partage son temps entre Toronto et Los Angeles. J'ai parlé à Steve à propos de l'histoire de la maison de disque et de son héritage.
Malcolm Fraser: Expliquez-moi comment l'idée de créer le Blocks Recording Club a germé.
Steve Kado: Comme pour plusieurs choses, l'idée est venue à la suite d'un sentiment de frustrations. D'une part, Mark McLean et moi faisions et écoutions de la musique que l'on qualifiait d'excitante, mais nous venions d'avoir des expériences négatives avec d'autres groupes. On avait l'impression qu'on pourrait avoir une meilleure relation avec les gens tout en ayant des objectifs plus intéressants dans le domaine de la musique. C'est le genre de raison ordinaire du pourquoi que les gens font des choses. Par la même occasion, l'industrie de la musique, qui semblait très opaque, devenait plus transparente. Les enregistrements faits maison étaient de plus en plus simples et efficaces, il y avait donc une légère possibilité autour de l'idée d'enregistrer de la musique.
Comment en êtes-vous venu au modèle de coopérative de travailleurs?
Après le départ de Mark pour Ottawa, j'ai travaillé avec Lisa Graham pour faire rouler la machine, mais par la suite, il y a eu une perte de contrôle. J'avais trop de choses à faire, il y avait des bénévoles, mais aucune structure à laquelle se rattacher sauf celle de « demander à Steve ». À ce moment-là, on parlait aussi beaucoup des collectifs de musique dans les groupes canadiens indie-rock et j'avais l'impression que cette collectivisation était fausse, ces décisions étaient prises par un seul homme, et non dans un processus de décision de groupe. J'ai pensé qu'il serait intéressant de prendre une approche inverse, de faire en sorte que ce soit démocratique et principalement socialiste, comme une coopérative agricole ou une coopérative de crédit. De cette façon, les artistes seraient les seuls à avoir les pleins pouvoirs sur la parution du matériel, il n'y aurait aucun intermédiaire suspect d'impliqué, uniquement des musiciens travaillant avec d'autres musiciens. Dans l'industrie indie-rock, si on pense à un groupe dans le genre d'Arcade Fire, il y a tellement de personnes qui y travaillent que cela devient comme une variante, beaucoup moins sérieuse, de « La banalité du mal » d'Hannah Arendt où les gens n'ont aucun lien avec la musique et ne sont que les rouages d'une machine. Si tout fonctionnait comme prévu, les étranges fonctionnaires du milieu de la pop canadienne n'auraient pas lieu d'être et nous serions tous libérés ou quelque chose du genre. C'était une manière marquée de créer plus de solidarité entre nous, musiciens de Toronto, et ainsi, de rester marginaux d'un point de vue juridique. En même temps, l'ignoble capitalisme serait en baisse dans un milieu où nous pensons qu'il ne devrait pas exister. Au début, j'avais le fantasme d'une solidarité sectorielle : comme si nous avions un compte dans une coopérative de crédit et que nous formions des alliances avec des fermiers, des coopératives et autres. Mais le secrétariat de la coopérative d'Ontario n'a été d'aucune aide. J'y suis allé en imaginant une grande coopérative d'agriculture, autant physique que culturel, mais ils m'ont dit de partir puisqu'ils étaient « très occupés ». La solidarité à laquelle je m'étais attendue ne s'est pas concrétisée de l'autre côté du monde des coopératives.
Pouvez-vous me dire comment ça se passait concrètement, de quoi avait l'air l'organisation?
Concrètement, il y avait l'élection d'un conseil chaque année, les membres allaient à une rencontre générale annuelle et votaient pour les personnes qui seraient sur le conseil. Les communiqués auraient besoin de l'approbation du Conseil. L'idée était d'avoir toujours une équipe de base compétente et motivée pour faire le travail au lieu d'avoir des bénévoles qui s'épuisent. Ce système nous a emmené plusieurs personnes compétentes, mais les a beaucoup éprouvés, elles étaient épuisées et en quittant, les disputes n'étaient pas rares. Ça a rapproché les gens, mais on ne peut pas toujours contrôler ce qui arrive lorsque les gens sont ensemble.
Quelles sont vos sorties de disque préférées?
J'en aime plusieurs, mais le meilleur est l'enregistrement de Hank. Tous ces disques sont géniaux.
À vos débuts, vous étiez un passionné de la communauté musicale de Toronto. Et le Blocks Recording Club avait comme politique de travailler presque uniquement avec des artistes locaux. Est-ce que vos sentiments ont changé?
J'aime encore beaucoup la musique de Toronto tel que Healing Power Records, Man Made Hill, quelques groupes Daps, et, bien entendu, New Fries… Je crois que plusieurs des groupes régionaux dont je faisais la promotion n'étaient pas à leur place. La communauté musicale dont je faisais partie n'avait dans leur mire qu'une petite partie du centre-ville de Toronto et quelques autres endroits autour. En réalité, Toronto n'était pas entièrement représenté. Un gros problème dans un petit milieu. Avec du recul, j'aurais aimé trouver le moyen de décrire comment c'était de grandir à Toronto. Peut-être que je n'ai simplement pas fait un assez bon travail?
Parlez-moi de la décision de fermer le Blocks Recording Club. Quelles sont les raisons?
Il y a plusieurs raisons. Premièrement, il ne se passait plus rien. Il ne s'était rien passé depuis un an. Il n'y avait même pas eu d'assemblée générale annuelle depuis quelque temps. Les gens sont passés à autre chose. Deuxièmement, l'industrie de la musique a fondamentalement changé. Devons-nous vraiment faire des CD? Tout le monde écoute de la musique sur son téléphone ou son ordinateur, il est maintenant possible de distribuer la musique de façon efficace comme avec Bandcamp et ce, à une fraction du prix que ce que ça coûte de faire un CD. Maintenant, c'est encore plus facile d'enregistrer de la musique soi-même. Même le plus infime intermédiaire est maintenant inutile. La plupart des distributeurs qui m'invitaient à dîner à mes débuts pour m'expliquer les rouages de l'industrie musicale sont maintenant fermés. Leur travail n'existe plus. Et les grandes compagnies de distribution n'ont plus de raison d'être. Il serait plus avantageux d'avoir une bonne relation avec huit bons magasins de musique dans le monde. Dans un sens, le Blocks a atteint ses objectifs, mais d'une façon complètement différente et pour d'autres raisons. Pour la plupart de la musique gérée par le Blocks, un système comme Bandcamp aurait amplement suffi.
Êtes-vous triste concernant la fermeture de Blocks Recording Club ou êtes-vous plutôt philosophique à ce sujet?
Mes sentiments sont mitigés. Je ne blâme personne pour la façon dont ça s'est terminé, mais c'est le problème avec plusieurs projets collectifs: les gens changent et le projet n'a plus la place qu'il avait au départ. Et la génération suivante ne prend pas le relais. Je ne peux pas être triste à propos de cela. Tout le monde va bien. Il y a encore les enregistrements géniaux de Hank, Bob Wiseman et les nouveaux enregistrements de Owen Pallett sont ses meilleurs à ce jour. Mais je suis triste à propos de … J'aurais aimé me retirer de cette étrange culture fermée et élargir l'univers. C'est un peu douloureux quand j'y pense. D'un côté superficiel des choses, nous avons privilégié ce qui était avantageux plutôt que de faire quelque chose d'outrageusement magnifique qui durerait toujours. Ces décisions ont été prises pour différentes raisons.
Aujourd'hui, auriez-vous des conseils pour qui voudrait partir une compagnie de disques et/ou une coopérative d'artistes?
Je dirais que selon mon expérience, partir un truc culturel dans un milieu de coopérative était inutilement difficile si je considère l'idéalisme et le positivisme dont je faisais preuve au début. Si vous êtes moins positif et moins idéaliste que moi en 2004, ne le faites pas. Il est difficile de défaire une coopérative. Si elle est en train de couler, c'est plus facile de juste la laisser dériver que de la fermer. Il faut rassembler les gens et c'est difficile à faire, surtout s'ils ont quitté la coopérative en claquant la porte et en laissant tomber le micro. En faisant les choses de façon différente et étrange, nous nous sommes empêchés d'avoir des subventions comme certaines maisons de disque qui ont l'approbation du conseil d'administration du consortium FACTOR. Donc, lorsque nous essayions de sortir de façon massive l'enregistrement de Final Fantasy, nous étions seuls pour tout faire. Alors que quelque chose comme Last Gang aurait eu pas mal d'argent pour augmenter la production. Dans un sens, ce n'était pas très intelligent.
Aujourd'hui, si j'avais à donner un conseil à quelqu'un, je dirais de commencer plus petit, de travailler avec ses amis, de garder ça ingénieux et petit. Ne produis pas une pile de disques, car ils risquent de ramasser la poussière dans des boîtes, et fais ta distribution principalement via internet. Fais les choses que tu fais de manière spéciale et en petites quantités.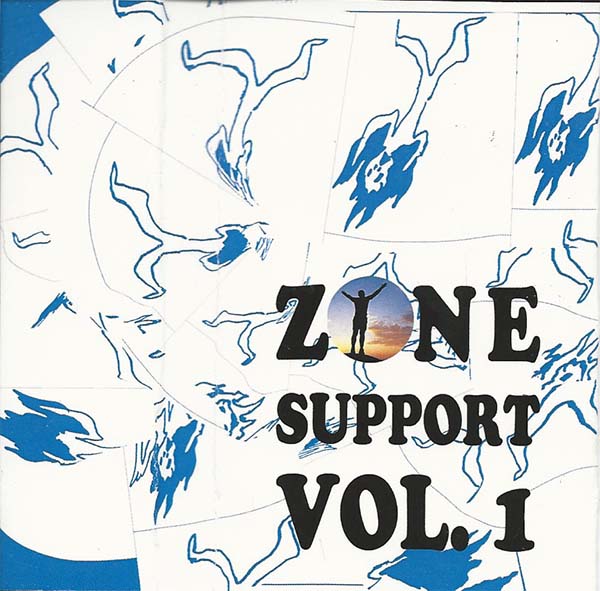 Zone Support
Vol. 1
Toronto, ON
From the truuuuuue feeeelings of Adam Bradley:
Trail close behind your gurus, Kevin Hainey and Randy Gagne as they hover, eyes closed, toward the pale green light of deepest inner repose. Touch with awe the sheer crystalline facets of your true being. Lie placid in a pool of ASMR dyed New Age self-hypnosis, diamonds trickling slowly all around. At the heart of this recording, you are told that you do not neeeed sandwiches, but if you are hungry you should make a light sandwich. To meditate on an empty stomach is not good for your chakras. Heed these wise words and come to know the core of your truuuuue feeeeelings.
Des sandwichs au chakra d'Adam Bradley:
(Traduit par Jessica Grenie)
Suis de près les gourous Kevin Hainey et Randy Gagne alors qu'ils lévitent les yeux fermés vers la pâle lumière verdâtre du repos intérieur profond. Effleure avec émerveillement les facettes cristallines pures de ton moi authentique. Étends-toi dans une mare d'ASMR aux couleurs d'autohypnose New Age pendant que des diamants tombent lentement tout autour de toi. Au cœur de cet enregistrement, on te dit que tu n'as pas vraiiiiment besoin d'un sandwich, mais que si tu as faim, tu pourrais t'en faire un petit. Méditer l'estomac vide n'est pas bon pour les chakras. Écoute ces judicieux conseils pour en venir à connaitre tes véritables sentiments.
Zone Support Vol. 1 – Side 1 (excerpt)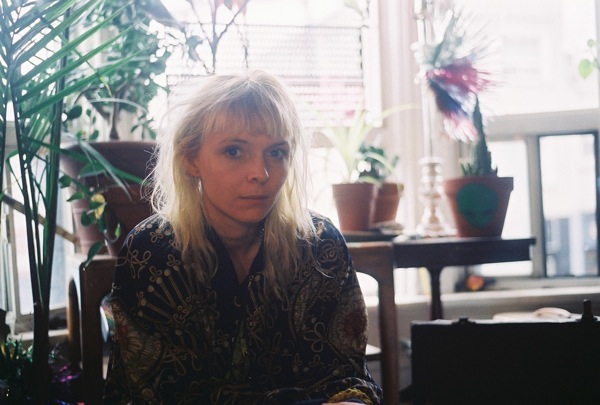 Ephemera of: Alexandra Mackenzie
Existing the recording of: Petra Glynt
Toronto, ON
Photos by: Brad Casey
From the yoyo hand of Brad Casey:
"Is this ephemera?" Alex Mackenzie, who is Petra Glynt, keeps asking me. Alex has a nervous energy that comes across charming, she fiddles with her fingernails and looks into the middle distance, away from you, when she speaks. When she does make eye contact she opens her eyes wide, her eyes constantly asking, "Right? You know what I mean?" with a demure, reserved sort of affection. She giggles a lot. She gets you on her wavelength this way. I reassure her constantly that whatever she wants to show me can be ephemera, as long as it's important to her. Everything seems important to her. She covers every object she owns with her personality. She chooses her few words in quick bursts. She expresses herself most strongly in her visual art and her music. And her music is expressive. Sharp, multi-layered, foreboding, warm, with a darkness that doesn't overpower her very bright light.
Petra Glynt released her lush 5-song EP Of This Land in 2013. Currently she is recording a full length which she aims to release late 2015. The photos contained herein were taken both at her Toronto apartment on Bloor St and at her partner Brian's apartment in Parkdale.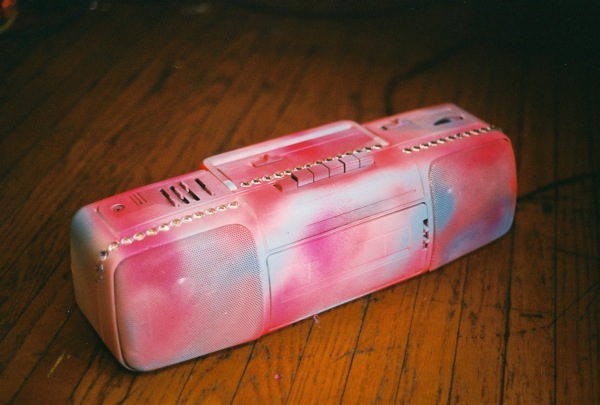 I got this to listen to the radio. I listen to Coast to Coast a lot. It's a conspiracy radio show. Sometimes it's good, sometimes it's super out there. It's really entertaining.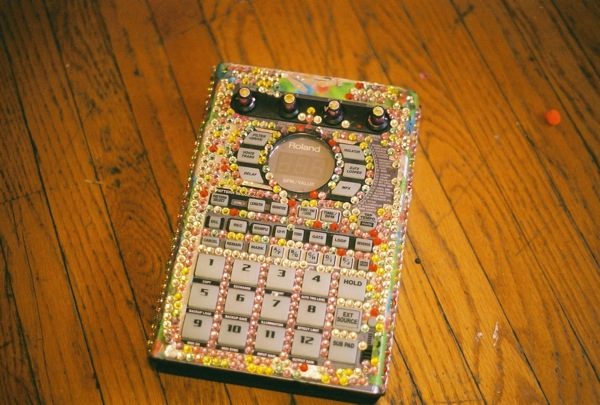 I cover a lot of things in rhinestones. Mostly I don't like to look at the brands. I use this sampler for live shows a lot.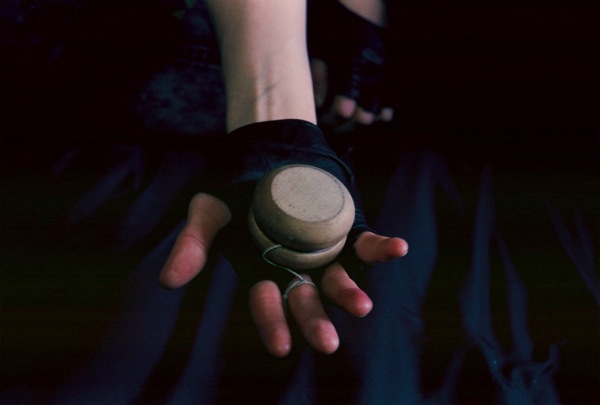 One day I decided I really wanted a yo-yo. My friend, she's a bike courier, she was delivering stuff and she went out of her way and delivered this to me. I can't do any tricks on it, it's the kind you just use. I want to get one of those fancy weighted ones.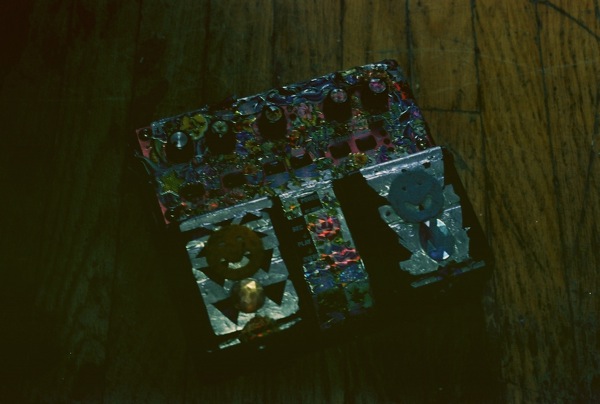 This one has lots of stories. It was one of my first pedals I ever got and it opened up my whole world. I was like shit, I can jam with myself. So I started doing that a lot, it's a lot of fun.
I used these patterns for an event at the Gladstone recently. I was DJing reggae songs in this huge tent and this pattern was surrounding it. I used three screens to make this print, which I've used a couple times now.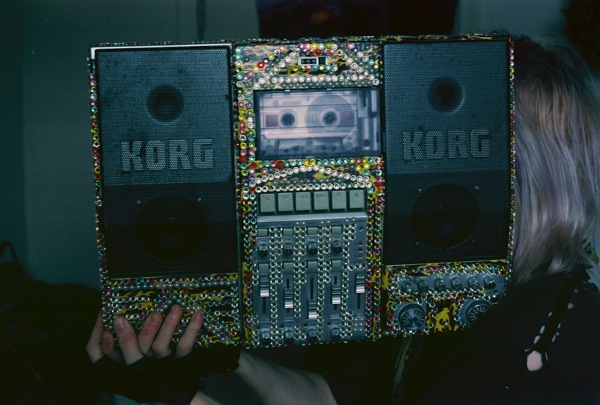 I bought this off eBay. It's really funny, it has speakers and effects. It has a doom metal setting! It's very tacky, like serious kitch. I used to record to it all the time. Not as much anymore though.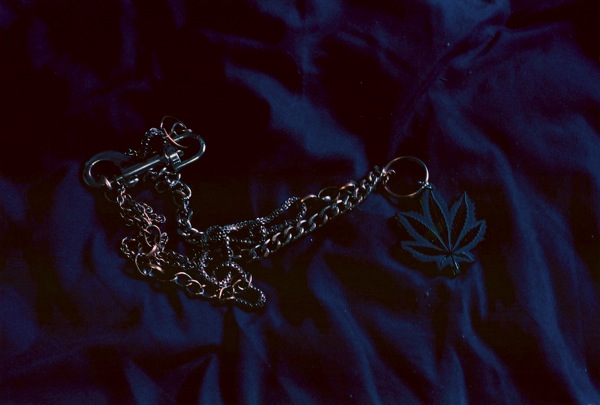 I wear this a lot. My friend made it. He works at Toronto Laser Services and he made it at work with lasers. I attached it to a bunch of metal chains.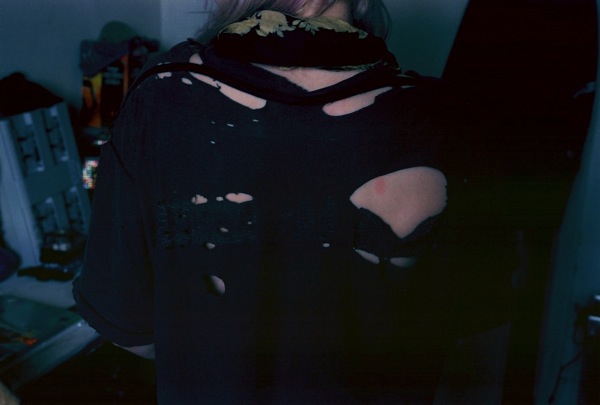 It's not nice but it's my friend Blake's Dad's shirt so it's important. Blake is my buddy. We lived together, he made the video for "Sour Paradise". I don't see him much now. I miss him.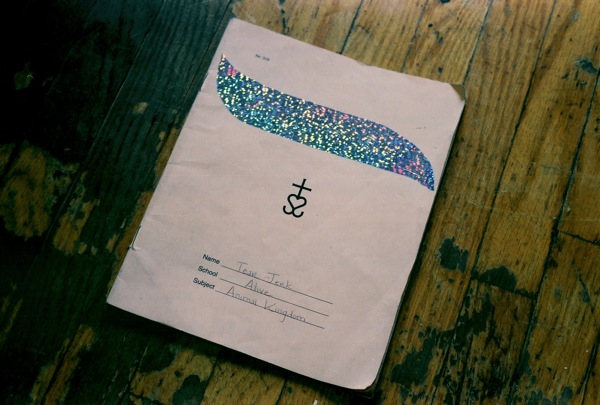 This is a journal. I write dreams and songs in it. I have a bunch of these. I like them because they are short and small so I can fill them quick and move on to the next one. I like to start a new book, it's exciting that way.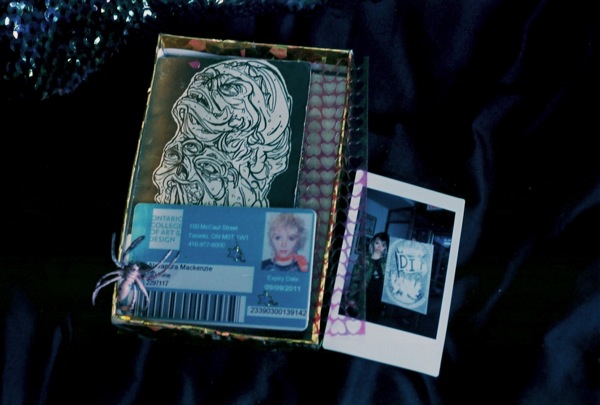 This is a box I gave to Brian. There's a spider ring, my old student ID, an old business card and a picture of me. That's ephemera, right?
De la main au yo-yo de Brad Casey:
(Traduit par Jessica Grenier)
« Est-ce que c'est éphémère? » C'est ce qu'Alex Mackenzie, alias Petra Glynt, n'arrête pas de me demander. Son énergie nerveuse la rend charmante : elle joue après ses ongles et quand elle parle, elle regarde dans le vide, à mi-chemin entre elle et moi. Quand elle établit le contact visuel, elle écarquille les yeux, comme s'ils demandaient, à chaque instant, « Tu vois ce que je veux dire? », avec une cordialité timide, pudique. Elle ricane souvent, et c'est de cette façon qu'elle t'amène sur sa longueur d'onde. Je la rassure sans cesse en lui disant que tout ce qu'elle veut bien me montrer peut être dans Ephemera, tant que c'est quelque chose d'important pour elle. Et tout semble important pour elle. Elle étale sa personnalité sur tous les objets qu'elle possède. Elle choisit ses quelques mots par élans impulsifs. Elle s'exprime plus fortement en art visuel et en musique – et sa musique est expressive : incisive, multidimensionnelle, précurseure, chaleureuse, avec une obscurité qui ne parvient pas à éclipser son éclat brillant. C'est en 2013 qu'est sorti Of This Land, son premier EP de cinq chansons luxuriantes. Elle enregistre présentement un album complet, qui devrait être terminé vers la fin de 2015. Les photos figurant ici ont été prises dans son appartement sur la rue Bloor, à Toronto, et dans celui de son copain, Brian, à Parkdale.
Chanson : (Of This Land) Chanson : (Sour Paradise)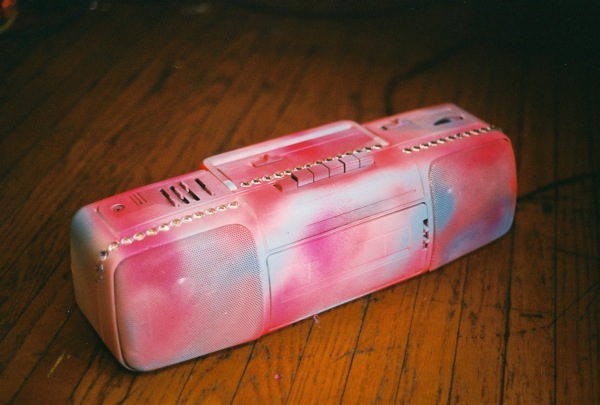 Je l'ai achetée pour écouter la radio. J'écoute souvent l'émission conspirationniste Coast to Coast. Des fois c'est bon, des fois c'est vraiment n'importe quoi, mais c'est toujours divertissant.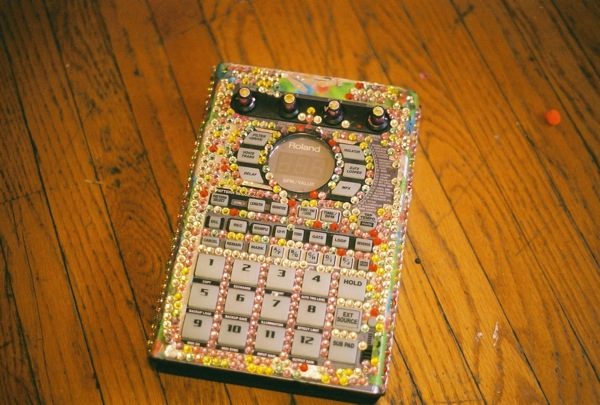 Je recouvre plein de trucs de faux brillant, principalement parce que je n'aime pas voir les noms de marque. J'utilise souvent cet échantillonneur pour mes spectacles en direct.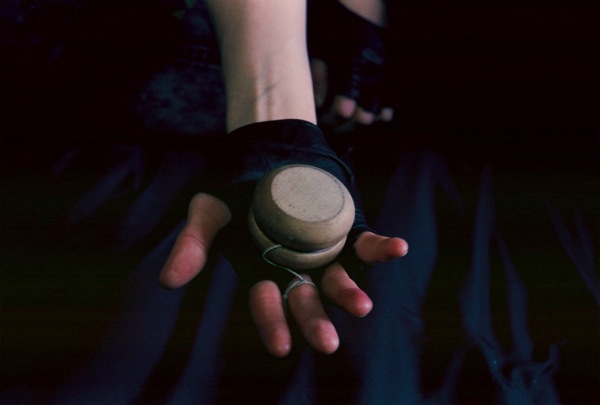 Un jour, j'ai décidé que je voulais vraiment avoir un yo-yo. Une amie, qui est messagère à vélo, était en pleine livraison, mais elle a fait un détour pour venir m'en porter un. Je ne sais pas faire de figures, c'est plus le genre avec lequel tu ne fais que jouer. J'en veux un lesté, de luxe.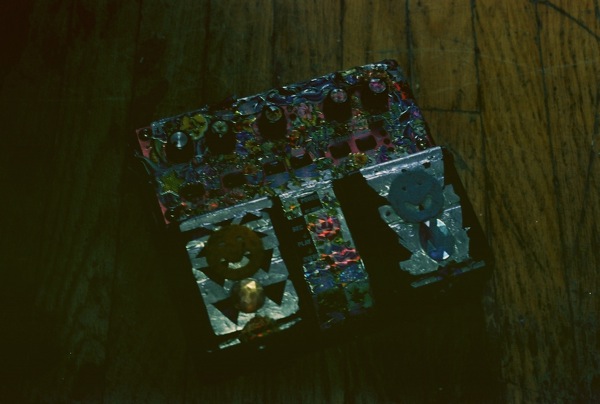 Il y a beaucoup d'anecdotes sur celle-là : c'est une de mes premières pédales, elle a ouvert mon univers. J'étais comme : shit, je peux jammer toute seule. Alors, j'ai commencé à le faire souvent, c'est vraiment l'fun.
J'ai utilisé ces motifs récemment, pour un événement au Gladstone. Je faisais jouer des chansons reggae sous un chapiteau qui avait ce motif tout autour. Ça fait quelques fois que je l'utilise, il a fallu trois pochoirs pour le faire. (4-Track)
Je l'ai acheté sur eBay. C'est vraiment drôle parce qu'il a des haut-parleurs et des effets. Il y a même un réglage doom metal! C'est vraiment quétaine, genre kitch assumé. Avant, j'enregistrais plein de trucs dessus, mais c'est plus vraiment le cas aujourd'hui. (Chaîne avec feuille de pot)
Je la porte souvent. C'est un ami qui l'a faite où il travaille, avec des lasers (il travaille chez Toronto Laser Services). Je l'ai attachée à des chaînes en métal. (Chandail déchiré)
Il n'est pas beau, mais c'est le chandail du père de mon ami Blake, alors il est important pour moi. Blake, c'est un copain, on a déjà habité ensemble. Il a fait le vidéo pour « Sour Paradise ». Aujourd'hui, je le vois moins souvent. Je m'ennuie de lui.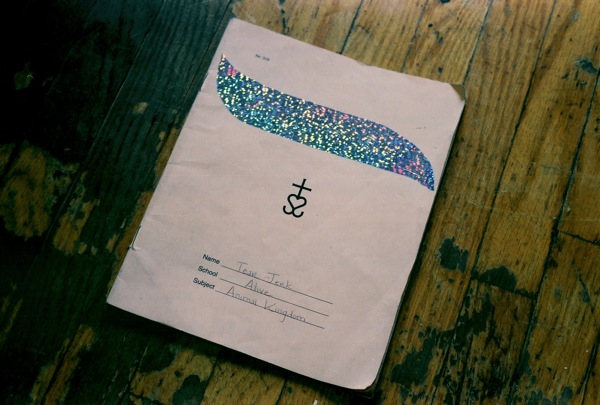 C'est un journal où j'écris des rêves et des chansons. J'en ai plein comme ça. J'aime ces cahiers parce qu'ils sont petits et minces, alors on peut les remplir rapidement et en commencer un autre. J'adore commencer de nouveaux carnets, c'est stimulant.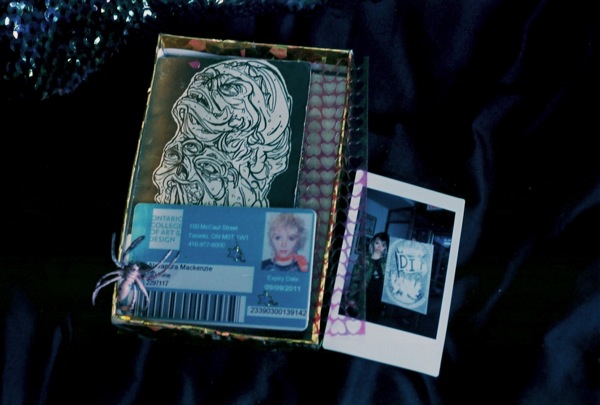 J'ai donné cette boîte à Brian. Dedans, il y a une bague en araignée, mon ancienne carte étudiante, une vieille carte d'affaires et une photo de moi. C'est éphémère, tu crois?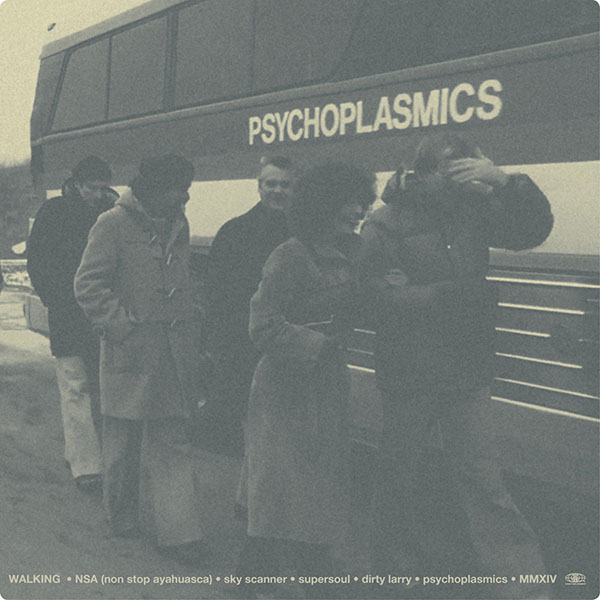 Walking
Psychoplasmics
(Self Released)
Montréal, QC
From the built up mystery of Christina Bell:
Psychoplasmics is a psychological technique wherein patients undergo treatment in the hopes that they will be freed from "troubling emotions." Obviously tuned into the deep healing power of their aural creations, Montréal duo Walking adopted the name as the title of their prolonged psyche-jam of an album. Aside from a bit of distant background chatter, the tracks are instrumental, leaving the extra smooth drum lines and guitar riffs to keep up the coolly sedated narrative of the album. Title track "Psychoplasmics" plays like it could be the soundtrack to a hazy quasi-western movie with an ultimately nonchalant feel. This album gives off the kind of kaleidoscopic positive vibes that you almost forget to notice because you're feeling so damn good.
Du mystère édifié de Christina Bell:
(Traduit par la paupière lourde de Jessica Grenier)
Psychoplasmics est le nom d'une technique utilisée lors du traitement psychologique des patients dans l'espoir de les libérer de leurs « émotions pénibles ». C'est aussi celui choisi par le duo montréalais Walking – manifestement concentré sur le pouvoir guérisseur de ses créations auditives – pour cet album de psyché-jam prolongé. Si ce n'est des murmures que l'on entend, les pistes sont instrumentales, laissant les riffs de guitare et la batterie très douce veiller à la narration sédative de l'album. La piste éponyme aurait pu être la trame sonore d'un quasi-western brumeux penchant vers la nonchalance. Cet album émet un genre d'ondes positives kaléidoscopiques qu'on ne remarque presque pas parce qu'on se sent juste trop bien.

Walking – NSA (non stop ayahuasca)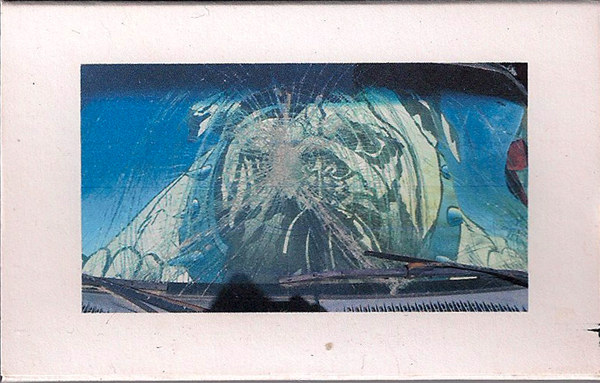 Guy Dallas
Words Like Violence
Toronto, ON
From the rolling eighth of Magnus Tiesenhausen:
We enter the longest hallway at an abrupt keel to the darkness on the other side of nine-to-five. Subterranean house four-counts with a delinquent rolling eighth. Stillness in the pitch passageway, as hundreds of human beings thrash in ecstasy or despair. The underworld divides into simultaneous movement/stasis. Translucent layers collide, revealing architectural narratives orbiting slowly through the smoke. Melodic taut steel springs and mercenary vocal samples drive our well-oiled bodies into endless production. Moving our hands in frenetic flurries, we tense and bend to the merciless handclap. The jack, the roll, the keep-pushing-on.
Des mesures à huit temps de Magnus Tiesenhausen:
(Traduit par Andréanne Dion)
Nous pénétrons dans le plus long des couloirs, avec un chavirement brusque dans la noirceur à l'envers du neuf à cinq. Des maisons souterraines abritent des mesures à quatre temps et des mesures à huit temps délinquantes. C'est le calme dans les couloirs rythmiques, alors que des centaines d'humains commencent à se débattre d'extase ou de désespoir. Les Enfers se divisent, à la fois en mouvement et immobiles. Des couches translucides entrent en collision, révélant des récits architecturaux qui gravitent lentement à travers la fumée. Des ressorts tendus d'acier mélodiques se cassent et des échantillons vocaux mercenaires conduisent nos corps bien huilés dans une production sans fin. Bougeant nos mains en rafales frénétiques, nous nous crispons et nous plions aux impitoyables applaudissements. La prise, le roulement, le mouvement continuel.

Guy Dallas – Words Like Violence
Eucalyptus
Fascination in Sound
Toronto, ON
From the smoky speakeasies of James Lindsay:
On his most recent blow job, sax man Brodie West takes his easygoing solarium-jazz ensemble, Eucalyptus, away from the tropical lounges they previously haunted to smokier speakeasies. Here, the septet gives the arrangements more freedom to nod and sway away under the dim lights of table candles. This whirl-around feels slightly sad, as if the night is almost over and the music knows it. It reluctantly unwinds itself while it's still dark, before the sun comes up and the basement-bar's patrons have to face the day.
Des bars clandestins enfumés de James Lindsay:
(Traduit par les journées ensoleillées de Julie Forget)
Sur sa plus récente petite gâterie, le saxophoniste Brodie West déplace son orchestre de jazz solarium Eucalyptus loin des bars tropicaux qu'ils ont hantés dans le passé, et se rend dans des bars clandestins plus enfumés. Ici, le septuor laisse les arrangements plus libres de se balancer et de tituber sous la lumière faible des chandelles sur les tables. Ce tourbillon semble plutôt triste, comme si la nuit était presque terminée et que la musique le savait. Il se déroule avec réticence pendant qu'il fait encore noir, avant que le soleil se lève et que les clients du bar souterrain doivent affronter le jour.

Eucalyptus – Fascination in Sound
---