Category: ontario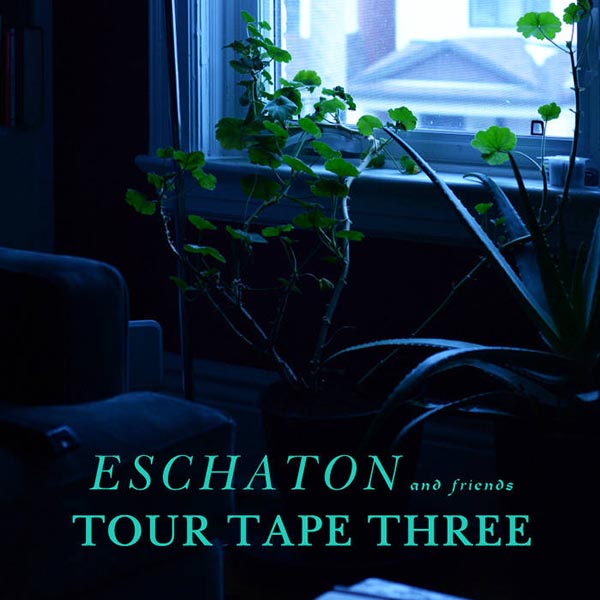 Eschaton
Tour Tape Three
Hamilton, ON
From the bottom line of Rolf Carlos Klausener:
You're in a pitch black room as time slows. A flash goes off. As each fraction of a second passes, a scene reveals itself: colourless shapes, then a face, shadows, furniture, the texture of the stucco ceiling, dust and flakes of dead skin floating weightless past your eyes. Fast or slow, mercilessly loud or impossibly quiet, improvised music is a slow reveal. In this live tour series, Hamilton's Eschaton and friends Strangebarn bask in the resonance of brass bells before sinking into a tension-filled horror show of grinding electric drones, cursing saxophones, and vulgar percussion on the verge of manic violence. A slow-motion assault, perhaps a reflection of ancient tensions, the kind that even among earth's most peaceful denizens emerges when the wrong buttons are pushed.
De la ligne du bas de Rolf Carlos Klausener:
(La résonnance des cloches de Odile Leclerc)
Tu es dans une pièce complètement noire alors que le temps ralentit. Un flash apparaît. À chaque fraction de seconde qui passe, une scène se révèle : des formes sans couleurs, puis un visage, des ombres, des meubles, la texture d'un plafond stuc, de la poussière et des résidus de peau morte flottent légèrement devant tes yeux. Rapide ou lente, cruellement bruyante ou impossiblement silencieuse, la musique improvisée est une révélation lente. Dans ces suites de visites en direct, Eschaton de Hamilton et amis Strangebarn se prélassent dans la résonance des cloches en laiton avant de s'enfoncer dans un spectacle tendu d'horreur de drones électriques grinçant, de saxophones qui jurent et de percussions vulgaires au bord d'une violence maniaque. Un assaut au ralenti, peut-être une réflexion d'anciennes tensions, du genre qui même parmi les habitants les plus paisibles de la terre émergent quand on appuie sur les mauvais boutons.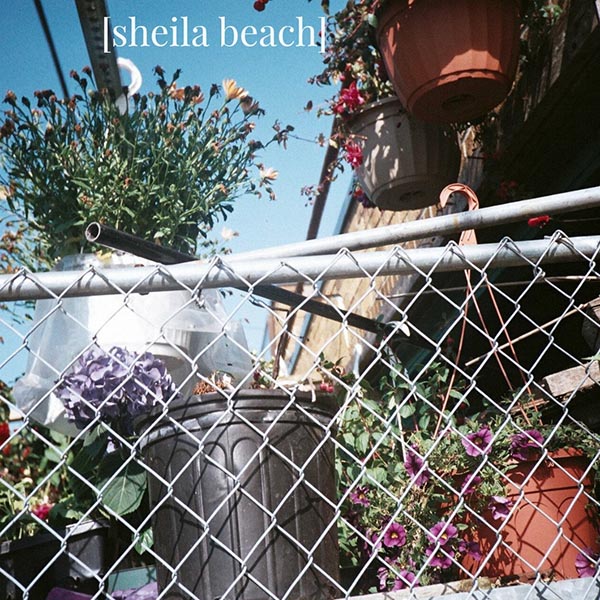 Sheila Beach
Walk Home
(Self-Released)
Peterborough, ON
From the suburban submarine of Mike Roy:
Taking cues from their other projects in The Lonely Parade and Faux Cults, young Peterborough innovators Charlotte Dempsey and Luca Mo spread their undeniable chemistry over the length of Sheila Beach's "Walk Home". Their crunchy and gravelly stride strikes a DIY approach to finely tuned pop gems with results as warm, earnest and glossy as a memory of teenage romance. The album standout "Wally M" is playfully ephemeral like the gentle caress of an unassuming summer love, washing waves of feedback through messy hair and rosy cheeks.
Du sous-marin de banlieue de Mike Roy:
(La chimie indéniable de Odile Leclerc)
Suivant l'exemple de leurs autres projets dans The Lonely Parade et Faux Cults, les jeunes innovateurs de Peterborough, Charlotte Dempsey et Luca Mo, répandent leur indéniable chimie sur tout de "Walk Home" par Sheila Beach. Leur foulée crissante et graveleuse frappe une approche DIY aux joyaux de la pop avec des résultats aussi chaleureux, sincères et reluisants qu'un souvenir d'une romance d'adolescent. Le remarquable album "Wally M'' est joyeusement éphémère comme la douce caresse d'un amour d'été modeste, faisant des vagues de réactions qui se brisent à travers des cheveux en bataille et des joues rosées.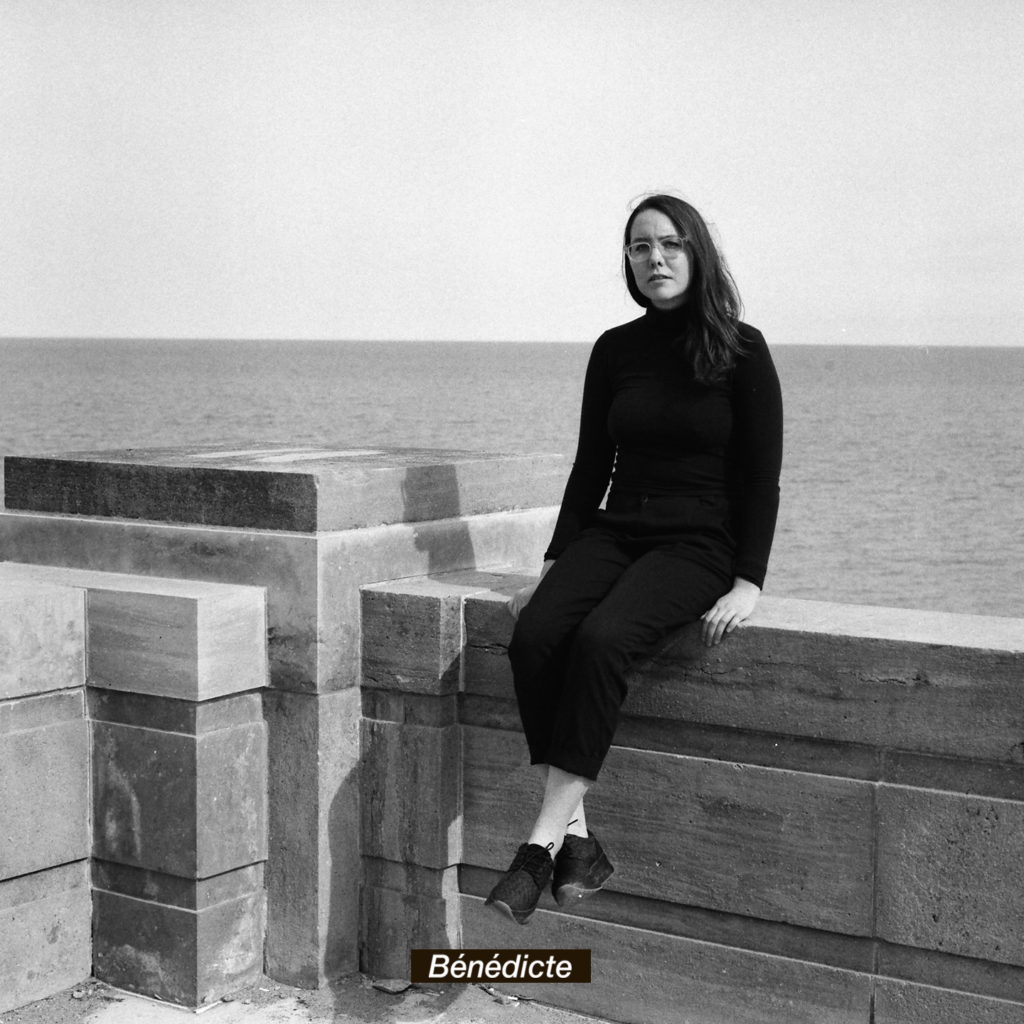 Bénédicte
Bénédicte
(Self-Released)
Toronto, ON
From the Famicon of Aaron Levin:
It's 1993 and your parents just got divorced. You don't really understand why because your entire life is Nintendo and there's no such thing as "divorce lawyers" in Bubble Bobble. But you persevere. Alone. Drifting. The universe is so big you just swim from planet to planet. You jam with some aliens on Mars before napping in the tidal overtures of Jupiter's gravity waves. It's 10,000 years before you realize you're being watched. Every move, thought, and frequency is permeated by The Watcher. The eyes. The gaze. The warrant-less destruction of private sanctity. It's arresting. It's jarring. You hate it. You want out. But how? You are the universe. Your death is the death of everything, all things, even the watcher itself. ¿ƃuᴉɥʇʎuɐ uǝʌǝ sᴉ ʇɐɥʍ ¿puǝ sƃuos ʇǝᴉnb ǝɥʇ op ǝɹǝɥʍ
Bénédicte's new EP, produced/performed entirely by Maxime Gordon, will be released on the 8th of September, grip it at their SoundCloud here.
Du Famicon d'Aaron Levin:
(Traduit par le Bubble Bobble d'Odile Leclerc)
C'est 1993 et tes parents viennent juste de divorcés. Tu ne comprends pas vraiment pourquoi parce que ta vie entière est le Nintendo et qu'il n'y a pas de chose comme des « avocats de divorce » dans Bubble Bobble. Mais tu persévères. Seul. Dérivant. L'univers est tellement grand que tu nages simplement de planète en planète. Tu jam avec des extraterrestres sur Mars avant de faire une sieste dans le raz-de-marée des ouvertures de la gravité de Jupiter. Ça prend 10 000 ans avant que tu réalises que tu es surveillé. Chaque mouvement, pensée et fréquence est filtré par les Observateurs. Les yeux. Le regard. La destruction sans garantie de la sainteté privée. C'est frappant. C'est choquant. Tu détestes ça. Tu veux t'en aller, mais comment? Tu es l'univers. Ta mort est la mort de tout, de toutes les choses, même des l'observateur lui-même. ¿ɐç ʇnoʇ uoçɐɟ ǝʇnoʇ ǝp ʇsǝ'ɔ ǝnb ǝɔ-ʇsǝ'no ¿sǝllǝ-ʇuǝssᴉuᴉɟ sǝsnǝᴉɔuǝlᴉs suosuɐɥɔ sǝl ùo
Le nouvel EP de Bénédicte, produit/réalisé entièrement par Maxime Gordon, sera publié le 8 Septembre, la saisir à leur SoundCloud ici.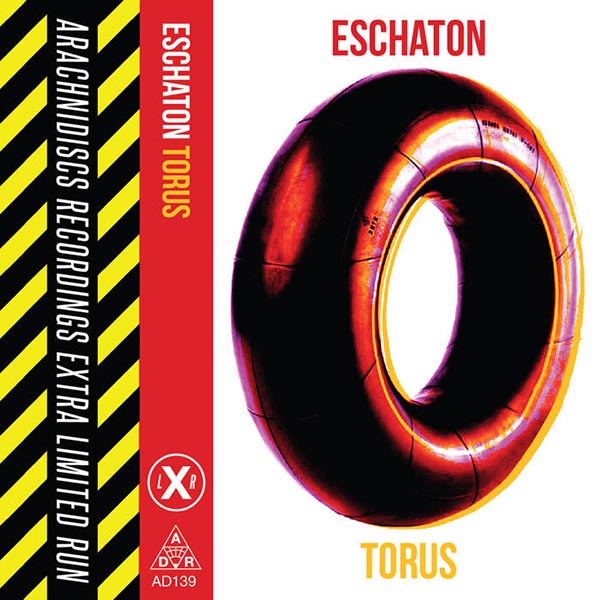 Eschaton
Torus
Hamilton, ON
From the Coffee Sweats of Bobby Andrews:
The hypnotic nature of dreaming, softly re-etched within Eschaton's album Torus, calls for a careful ear from the listener. Through provocative distortion and trill tones, this album takes the consciousness on an extended lucid dream, birthed through musical improvisation. An experience of expertly-crafted beats created by architects of both ear and the mind. E, emotional chaos ensues as the senses meet in an eruptive ballet. Restless tunes of intense dissonance are quickly followed by immense solace as the album's narrative shakes the eardrum.
De la sueur de café de Bobby Andrews:
(Traduit par les trilles douces de Maya Keshav)
La nature hypnotique du rêve, doucement regravée dans l'album Torus d'Eschaton, demande une oreille méticuleuse de l'auditeur. Grâce à la distorsion provocatrice et aux tons de trille, cet album prend amène la conscience dans un rêve lucide prolongé, auquel l'improvisation musicale a donné naissance. Une expérience de rythmes fabriqués de mains expertes qui est créée par les architectes de l'oreille et de l'esprit. Le chaos émouvant s'ensuit au fur et à mesure que les sens se retrouvent dans un ballet éruptif. Le réconfort immense suit rapidement les mélodies agitées de la dissonance intense alors que le récit de l'album agite le tympan.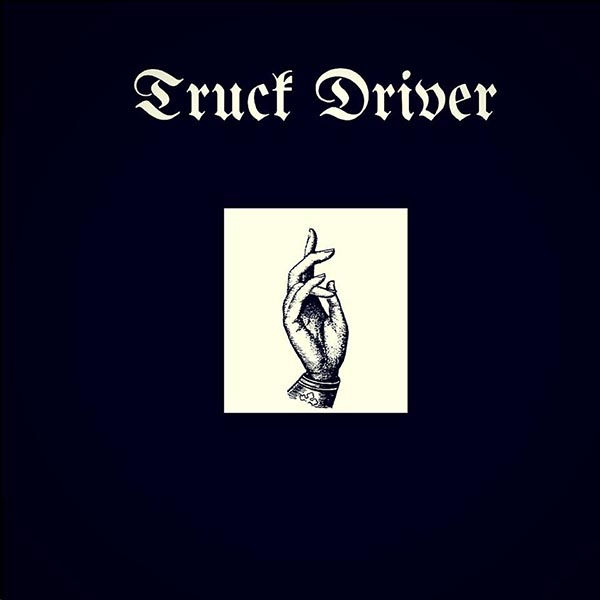 Truck Driver
Truck Driver
Montréal, QC // Kitchener, ON
From the peripatetic mind of Jason Rule:
Another night of endless exams, revising, staring at the wall, drowning your sorrows. Locked out of the club yet again; a red velvet curtain has smothered your senses. Sitting on a bench at 3 AM near St. Joseph's Oratory with a pack of cigarettes, listening to your dad's old folk cassettes. Occasionally a quiet voice rises up through interference, low organ drones, and gentle guitar riffs; other times it mumbles about how being cool is really important, warped with severe granular synthesis pulsating around the mainframe, sharp attack, no decay, no sustain, no release. It's not your fault. C'est dans tes yeux.
De l'esprit péripatétique de Jason Rule:
(Traduit par l'âme urbaine de Maya Keshav)
Une autre soirée d'examens interminables, tu étudies, tu fixes le mur, tu noies ton chagrin. T'es encore enfermé à l'extérieur de la boîte de nuit; un rideau de velours rouge a étouffé tes sens. T'es assis sur un banc à 3 h du mat près de l'Oratoire Saint-Joseph avec un paquet de cigarettes, t'écoutes les vieilles cassettes folk de ton père. De temps en temps, une petite voix émerge de l'interférence, des drones d'orgues basses et des riffs doux de guitare; d'autres fois, elle marmonne qu'il est vraiment important d'être cool, tordue avec la forte synthèse granuleuse qui palpite autour de l'unité centrale, l'attaque soudaine, aucune chute, aucune décomposition, aucun soutien, aucun relâchement. C'est pas ta faute. It's in your eyes.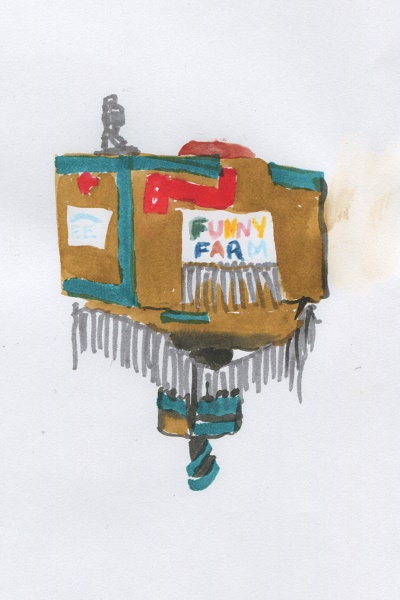 Electric Eclectics
(Illustrations by: Megan Arnold // Photos by: Josh Cwintal)
Meaford, ON
Various Artists: Jennifer Castle, Scott Hardware, Castle If, Ice Cream, Sourpussy, Darknesses, HSY, Bile Sister, Scattered Clouds, Doom Tickler, Xuan Ye
From the mydriasis of Sara Bortolon-Vettor:
We are at the peak of Scotch Mountain. Beings of the weirdo variety, charming locals of Meaford and the artists within us all are called to the funny farm to gather. As the sun sets, beautiful beings adore the fuscia lit sky while our auditory senses are tickled with wonder. Electric Eclectics is a fantasy world to many who seek to escape their concrete surroundings and experience artistry in nature.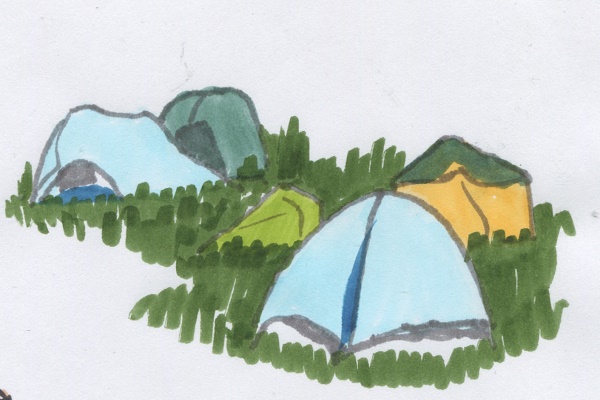 Camping on top of Scotch Mountain.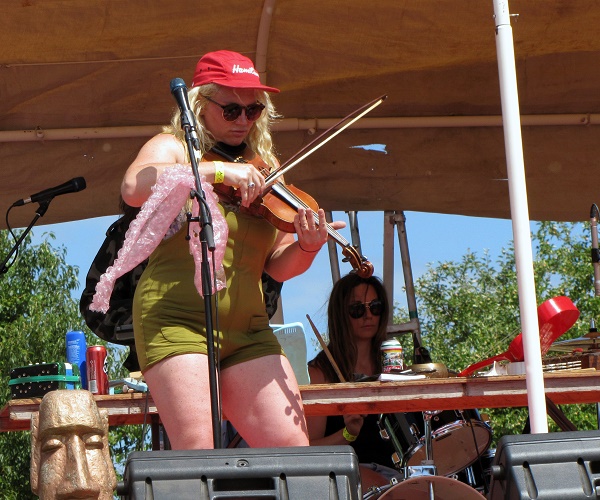 Sourpussy brings humor and cacophony to any willing ear.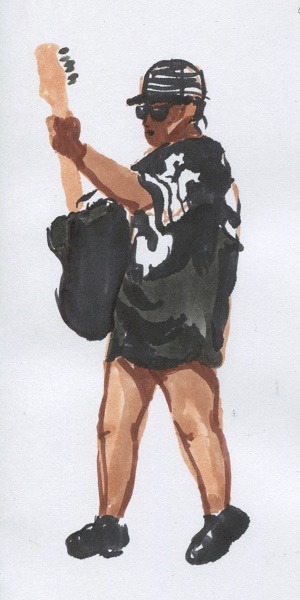 Darknesses performs a noisy-sludge of dark-pop on the EE mainstage.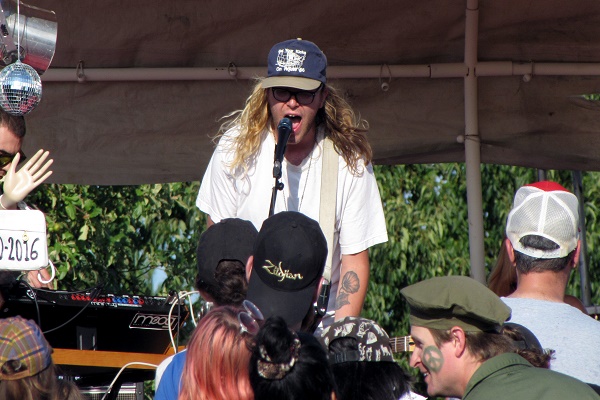 HSY coaxed the relaxed crowd into a captivated fervor.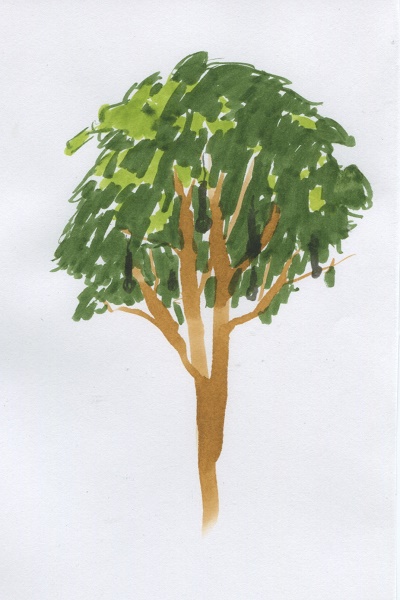 A single tree amidst the fields of wheat and grass.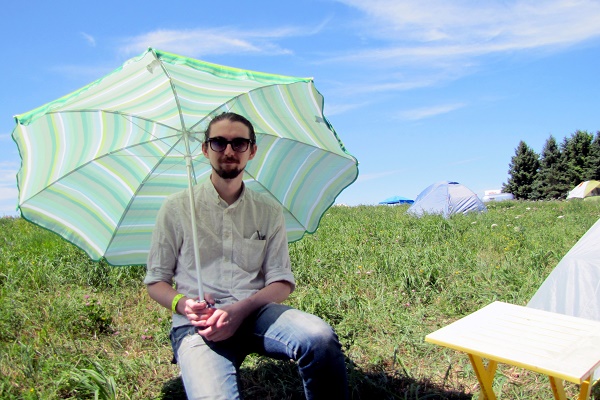 Taking a much needed retreat from the unrelenting heat rays.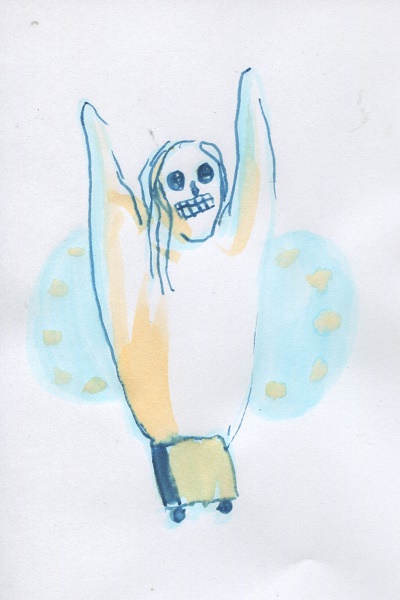 Apetechnology's ghostly being welcomes the crowd at EE mainstage.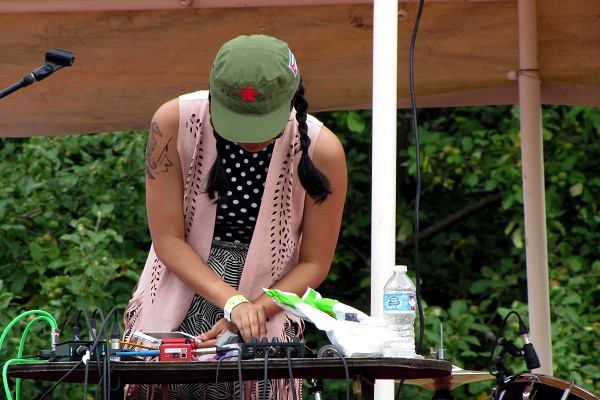 "This isn't working" Xuan Ye said right before leaving the knobs behind and asking the crowd if she should sing instead.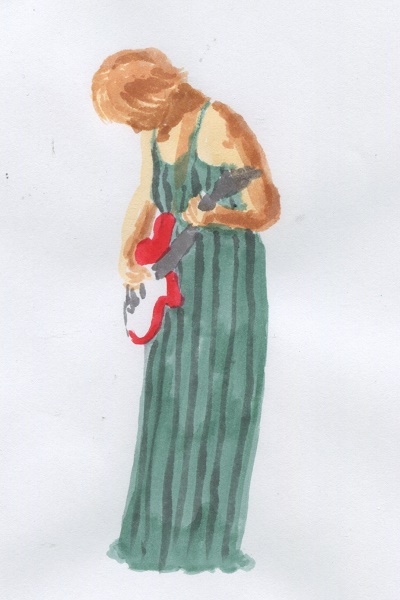 Audience members listen intently to the warm voice of Jennifer Castle.
EE's curation by Chris Worden (Co-director/Natural Thirst) is eccentrically diverse and distinctive. Thanks to the incomparable artists, Gordon Monahan (Co-director/Sound Artist/Owner) and Laura Kikauka (Performance Artist/Owner) for welcoming us all to their funny farm.
De la mydriase de Sara Bortolon-Vettor:
(Traduit par le paysage sonore de Maya Keshav)
On est au sommet de Scotch Mountain. Les drôles d'êtres, les résidents charmants de Meaford et les artistes que nous conservons à l'intérieur se ressemblent à la maison de fous. Au coucher du soleil, les belles âmes adorent le ciel illuminé en fuchsia, pendant que nos sens auditifs sont chatouillés par l'émerveillement. Electric Eclectics est un monde fantastique pour ceux qui cherchent à échapper leurs environs en béton pour vivre l'art dans la nature.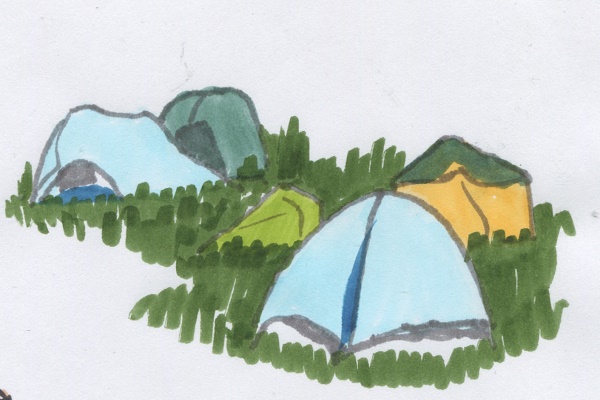 Le camping au sommet de Scotch Mountain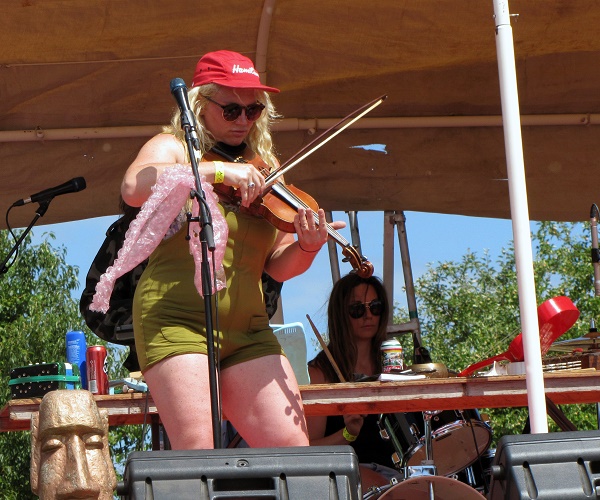 Sourpussy apporte l'humour et la cacophonie à n'importe quelle oreille enthousiaste.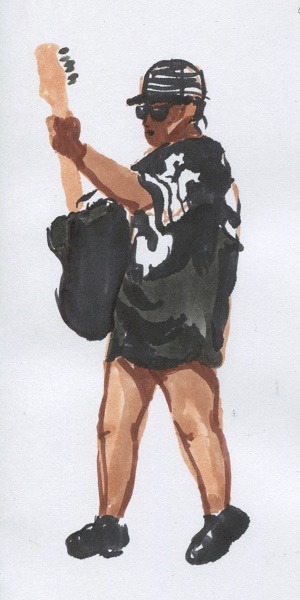 Darknesses joue une boue bruyante de dark-pop sur la scène principale d'EE.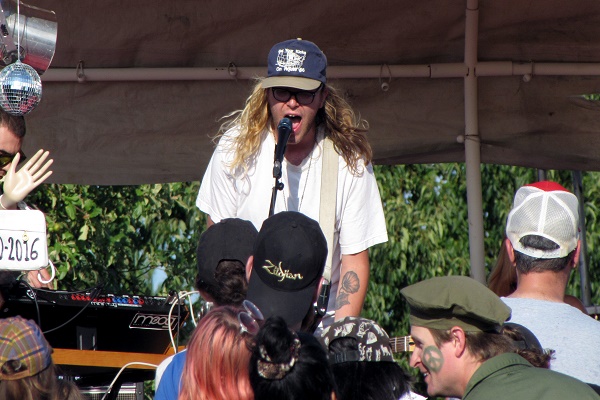 HSY provoque une ferveur captivée dans la foule détendue.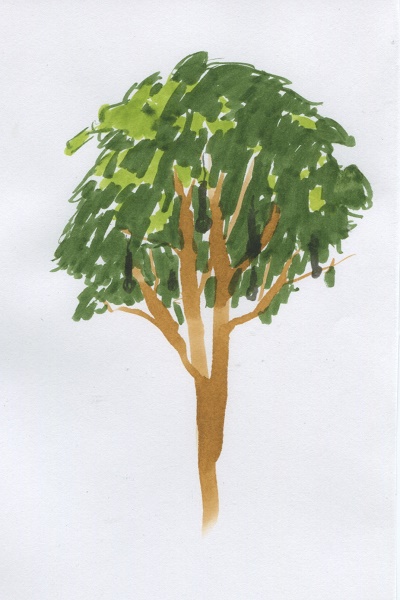 Un seul arbre parmi les champs de blé et d'herbe.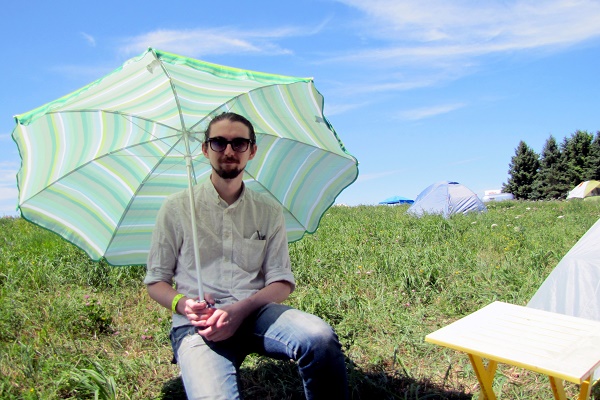 En faisant une pause bien nécessaire de la chaleur continuelle.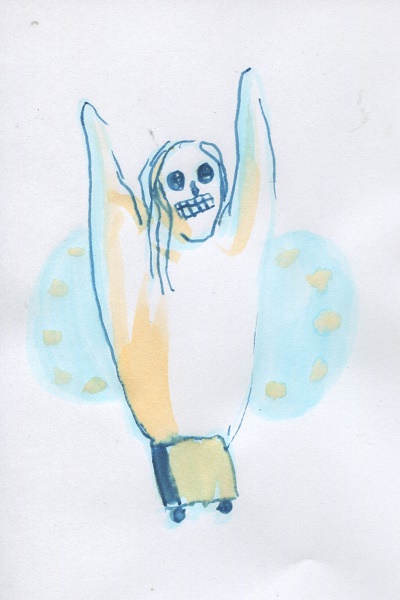 L'être fantomatique d'Aptechnology accueille la foule sur la scène principale d'EE.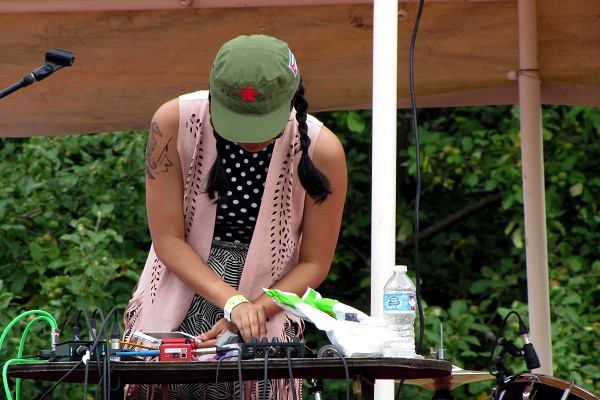 Xuan Ye a dit « Cela ne marche pas » avant qu'elle ait quitté les boutons et demandé à la foule si elle pouvait chanter à la place.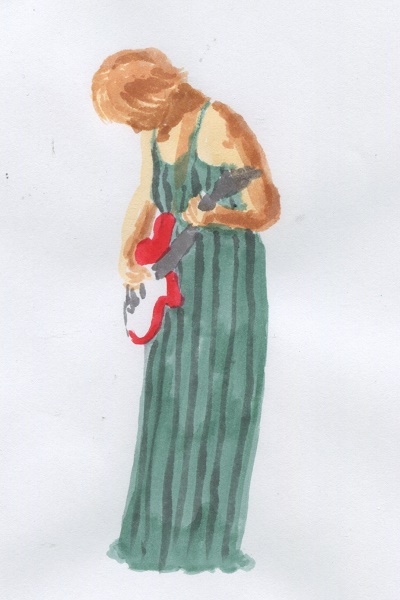 Les membres de l'auditoire écoutent attentivement la voix chaleureuse de Jennifer Castle.
Conclusion— La gamme de musique à EE organisée par Chris Worden (co-réalisateur/ Natural Thirtst) est excentriquement diverse et distincte. Merci aux artistes incomparables, à Gordon Monahan (co-réalisateur/ artiste sonore/ propriétaire) de nous avoir accueilli à leur maison de fous.
Good Anya
Good Effort
(Self-Released)
Hamilton, ON
From the ears and eyes of Jackson Reed:
Good Anya's wet dreams and sunshine. Daytime music submerged in post-high school nostalgia. The Good Effort EP discloses youthfulness. Hopeful kisses, holding hands, and accidentally sleeping in. Leaning toward a new phase that holds dramatic changes. Love and loss of faith in modern society, strange relationships and life's consequences. Snuggle rock meets pop absurdity.
Depuis les oreilles et les yeux de Jackson Reed :
(Traduit par Odile Leclerc)
Les rêves érotiques et les rayons de soleil de Good Anya. La musique de jour est submergée dans une nostalgie post-école secondaire. Le Good Effort EP révèle la jeunesse. Des baisers pleins d'espoir, des mains entrelacées et des grasses matinées accidentelles. Penchant vers une nouvelle phase qui promet des changements drastiques. L'amour et la perte de foi dans la société moderne, les relations étranges et les conséquences de la vie. Le rock confortable rencontre l'absurdité de la pop.
Good Anya – Good Neighbours (Making Love)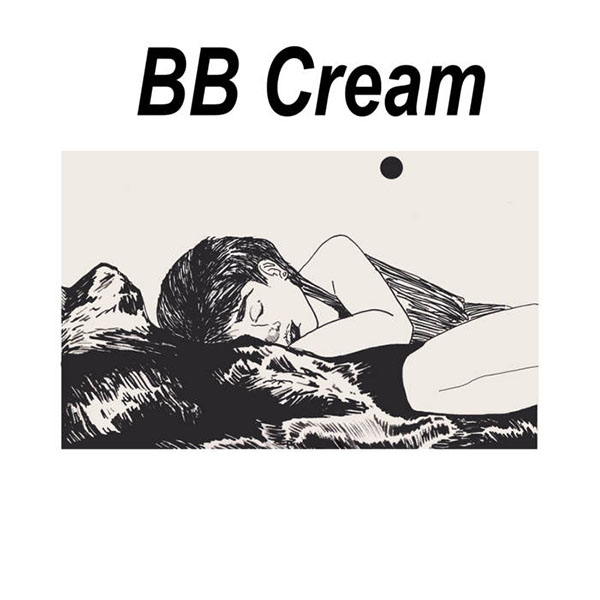 BB Cream
BB Cream
Ottawa, ON
From the sweaty bangs of Christine McKenna:
The inaugural release from Ottawa's BB Cream is an unconcealed visage, a spectacle of intimate feelings, a candid display of self-actualization on tape. A basic trio of instruments forms a Neapolitan ice cream of sound: a guitar, a bass, and set of drums are churned by the phantom hand of Marc Bolan, and a cold and sweet sonic treat drips onto thighs that ache from dancing the previous night. Catch a glimpse of yourself reflected in someone else's glasses and notice the sweaty bangs stuck to your forehead, enclosing the pop hooks stuck into your brain.
Par les franges en sueur de Christine McKenna:
(Traduit par Odile Leclerc)
La sortie inaugurale de BB Cream d'Ottawa est un visage non caché, un spectacle de sentiments intimes, une démonstration candide d'autoréalisation sur cassette. Un trio d'instruments de base forme une tranche napolitaine de sons : une guitare, une basse et un ensemble de batteries sont retournées par la main fantôme de Marc Bolan, et un dessert sonique froid et sucré dégoutte sur des cuisses douloureuses à force d'avoir dansé la nuit précédente. Regarde-toi dans le reflet des lunettes de quelqu'un d'autre et remarque les franges en sueur qui collent à ton front, entourant les idées de musique pop dans ton cerveau.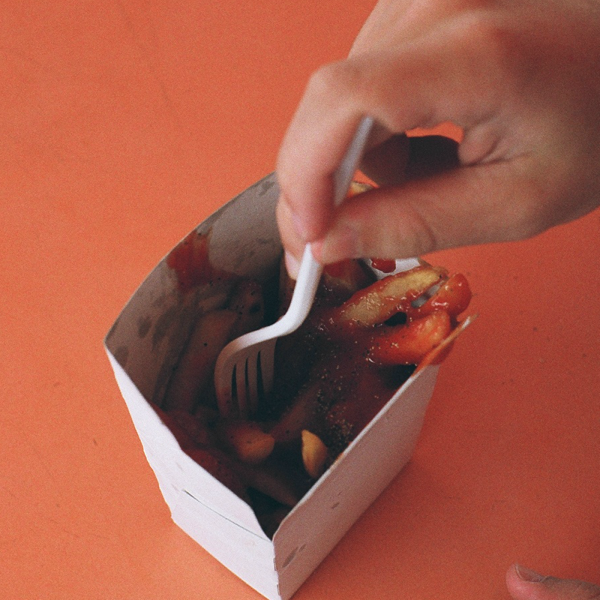 LA ROSE
lean period
(Self-Released)
Toronto, ON
From the scraped knees of Joshua Robinson:
Bedroom sophistry unfurls late-night curlicues, its lo-fi heartache screaming synthesized apologies that bounce off walls to rest, at long last, in the deepening emptiness of the space between weary ears. A catalogue of downtrodden pop-plunderphonics that bleed soft-spoken requiem; these entries are retreating voices and cigarette smoke, turning bright and polished daydreamed lovery into pale, ghostly, mournful parables. Intoned sepia dreams; clouded glasses and knees scraped against sharp pavement. The answer to the echoes that dance upon an upside down stage eyes hooked to the shadows that move across quiet ceilings.
Des genoux râpés de Joshua Robinson:
(Traduit par les roucoulades douces de Maya Keshav)
Le sophisme d'alcôve déroule des enjolivures nocturnes, pendant que son chagrin lo-fi hurle des excuses synthétisées qui rebondissent sur les murs jusqu'à ce qu'elles se reposent, enfin, dans le vide de plus en plus grand entre des oreilles fatiguées. Un catalogue des pop-plunderphonics opprimés qui dispersent le requiem doux; ces entrées sont des voix en retraite et de la fumée de cigarette qui transforment les roucoulades rêvées brillantes et bien polies en paraboles pâles, spectrales, et funèbres. Les rêves sépia entonnés; la buée sur les lunettes et les genoux égratinés par la chaussée rugueuse. La réponse aux échos qui dansent sur une scène à l'envers, les yeux rivés aux ombres qui se déplacent sur les plafonds silencieux.
Electric Eclectics

July 29th – 31st, 2016

Various Artists
Meaford, ON
---