Category: ontario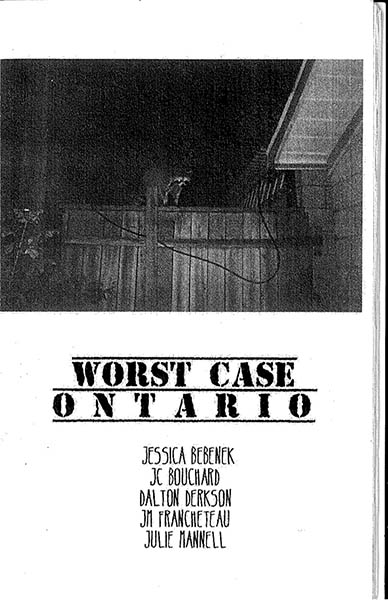 Jessica Berbenok, JC Bouchard, Dalton Derksom, JM Francheteau, and Julie Mannell
Worst Case Ontario
(Self Published)
Toronto, Ontario; Ottawa, Ontario; Montreal, Quebec
47 pages, saddle stitch
From the integrating brainmeats of Eileen Wennekers:
All right. If the kingdom of the symbolic is where we must stage our fight to the death, then there should be a poetry gang. Showing stripes in trajectory, highway lines corralling imploding selves along compass points. No grief here. Look head on into the violent gale of flourescent aisles automobiles x-rays and return the favour and then laugh to hold hands with the limping and soused elemental which is however present as fuck. Qui fait quoi à qui?
"Okay so now I have zero gongs and zero writing implements. Okay so now what am I supposed to do. Write:"
Du *brainmeat* en intégration d'Eileen Wennekers:
(Traduit par Kevin Godbout)
Eh bien. Si le royaume du symbolique est où nous devons présenter notre combat à mort, il devrait y avoir une gang de poètes. Démontrant des bandes en trajet, des voies d'autoroute implosent de l'intérieur au long de points cardinaux. Aucun deuil ici. Regarde droit devant dans le grand vent violent d'allées fluorescentes des rayons x d'automobiles et renvoie l'ascenseur et ensuite rit pour tenir les mains avec l'élément boiteux, imbibé, qui demeure mauditement présent. Who does what to whom?
"D'accord, alors maintenant je n'ai aucun gong ni outil d'écriture. D'accord, alors maintenant ,je suis censé faire quoi? Écrire:"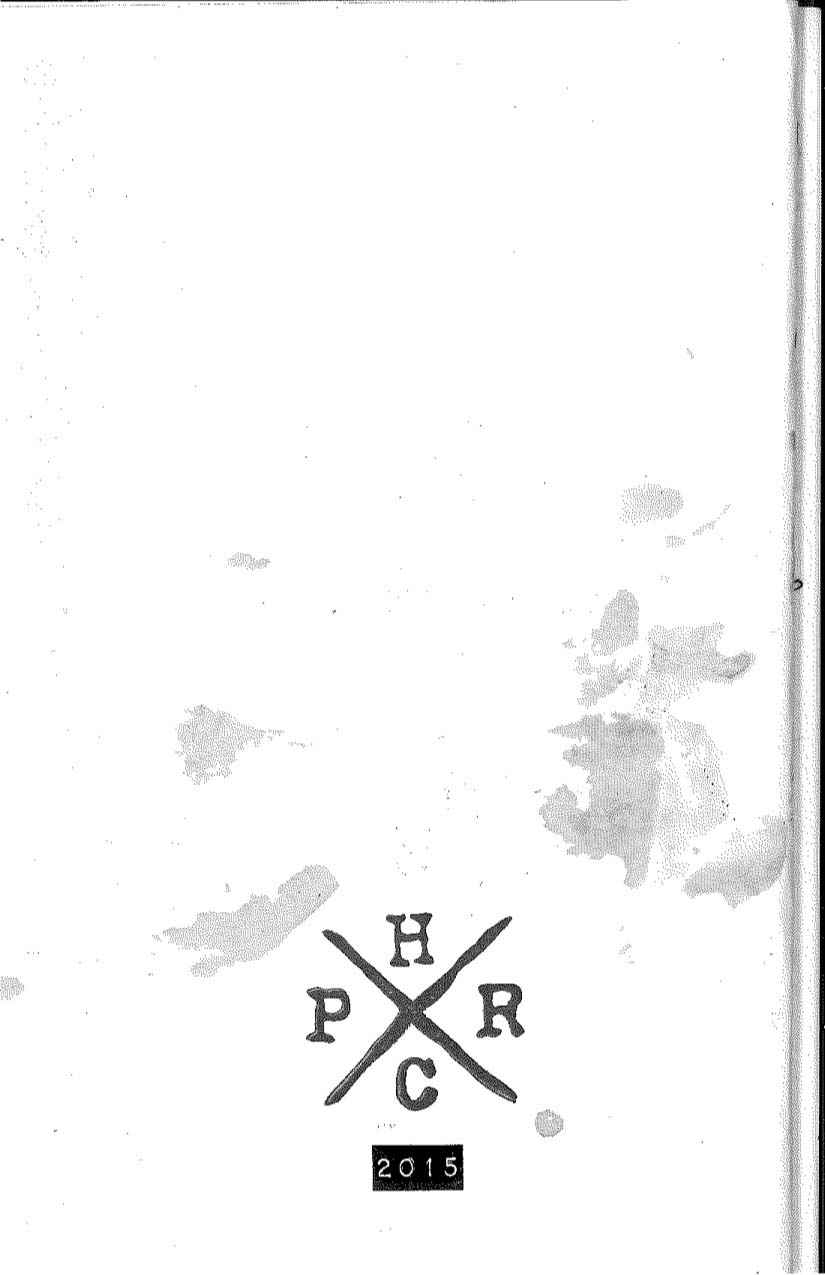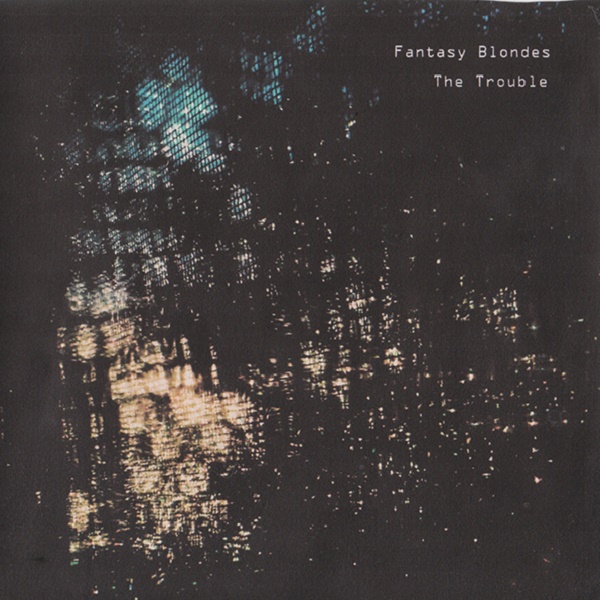 Fantasy Blondes
The Trouble
(Self-Released)
Ottawa, ON
From the moondust of Morgan Cook:
The science fiction of childhood has come to pass. Run to embrace it. Move forward purposefully. Reject the past. Be Inquisitive. Be insectile. Be born anew. Don't let the violin bring tears to your eyes. Push forward into "The Secret Night." "The Trouble" is the first release from Ottawa's Fantasy Blondes. It is instrumental.
De la poussière lunaire de Morgan Cook:
(Traduit par Mylune Quevillon)
Le temps de la science-fiction de l'enfance est arrivé. Cours afin de l'étreindre. Va délibérément de l'avant. Abandonne le passé. Sois curieux. Renais. Ne laisse pas le violon te faire venir les larmes aux yeux. Poursuis vers « The Secret Night ». « The Trouble » est le premier titre des Fantasy Blondes d'Ottawa. C'est une pièce instrumentale.
Fantasy Blondes – Secret Night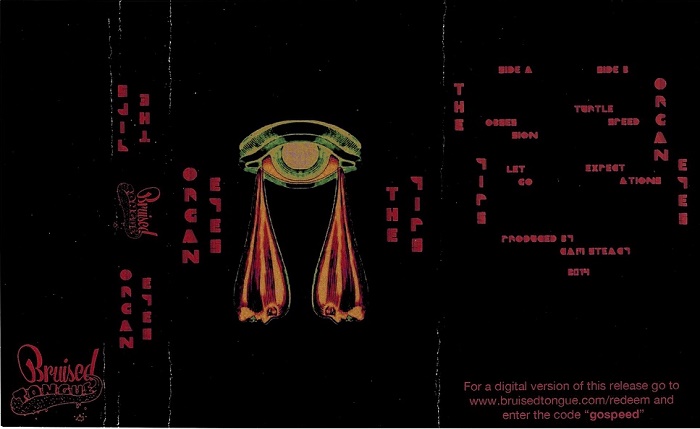 The Yips // Organ Eyes
Split
Ottawa, ON
From the new season of Matthew Blenkarn:
Winter's gone and colour's returned. Bleary-eyed yet bushy-tailed, people snow-crushed souls wake from hibernation and stumble from basement apartments onto clear, sunny sidewalks. Children spout popcorn refrains from recent blockbusters, as radio melodies float from passing cars to rest in pedestrians' ear canals. As bright days fade to humid nights, idle hooks from Centretown streets plants dreams of festivals and patio parties in residents' slumbering subconscious.
De la nouvelle saison de Matthew Blenkarn:
(Traduit par l'hémisphère gauche de Diane Beaupré)
L'hiver est parti, les couleurs reviennent. Les yeux bouffis, mais pleins d'énergie, les âmes des gens écrasées sous le poids de la neige sortent de l'hibernation des sous-sols et émergent sur les trottoirs dégagés et ensoleillés. Tandis que les chansons des radios des voitures qui passent se posent dans les canaux des oreilles des passants, les enfants chantent les refrains entraînants des récents succès. Alors que les journées illuminées se transforment en soirées humides, l'oisiveté s'accroche aux plantes du centre-ville qui rêvent de festivals et de partys sur le patio de résidents endormis béatement.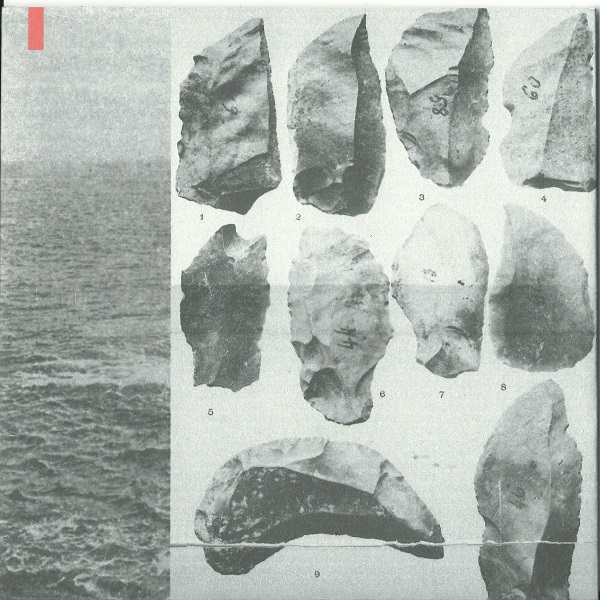 Isles Day
Monoculture
(Self-released)
Toronto, ON
From the dismally desolate & dreary desk of Mitch Jackson:
As many of us look towards the sky, perhaps it is time to consider that the reptilians among us may be emerging from subterranean bases. It is not outside the realm of possibility that our reptilian overlords have constructed these bases to carry out various drone and ambient projects. A majority of G8 countries have confirmed the existence of military drone squadrons and the installation of vast underground networks of modular synthesizers. They feed our fields. Isles Day is a product of Monoculture. The cultivation of the singular organism of sound.
Issu du bureau lugubrement désolé et morne de Mitch Jackson:
(Traduit par les méninges embuées d Émily Traichel)
Alors que plusieurs d'entre nous lèvent les yeux vers le ciel, il est peut-être le temps de prendre en considération que les réptiliens parmi nous pourraient êtres en train de surgir de bases souterraines. Ce n'est pas haut-delà du domaine de ce qui est possible que nos souverains réptiliens ont construit ces bases afin de réaliser divers projets drones et ambiants. Une majorité de pays G8 ont confirmé l'existence d'escadrons drones militaires et la mise en place de vastes réseaux souterrains de synthétiseurs modulaires. Ils alimentent nos champs. Isles Day est un produit de Monoculture. La culture de l'organisme singulier du son.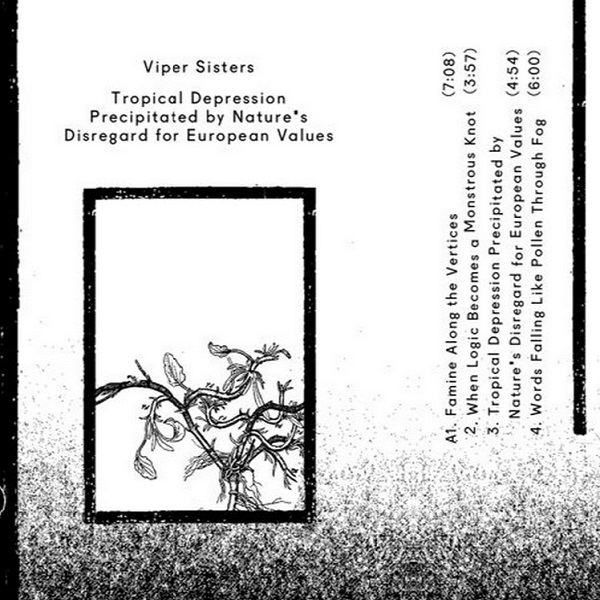 Viper Sisters
Tropical Depression Precipitated by Nature's Disregard for European Values
(Self-Released)
Toronto, ON
From the gordian knot of Robin Jenkins:
Always in motion and never stationary. Viper Sisters' (Jakub Tywoniuk) 'Tropical Depression Precipitated by Nature's Disregard For European Values' creates a vivid sonic landscape. Dense chaotic jungles of noise open up to vistas as you move through a shifting terrain of sound. In a certain abstract sense, there are some sonic cues taken from the more noise-oriented corners of techno, but this is not for dancing. Just as you feel as though you are about to be completely ensnared, the jungle relents and you start again.
Du noeud gordien de Robin Jenkins:
(Traduit par le casse-tête chinois de Julie Mayer)
Toujours en mouvement et jamais stationnaire, « Tropical Depression Precipitated by Nature's Disregard For European Values » de Viper Sisters (Jakub Tywoniuk) crée un paysage acoustique vif. Des jungles de musique bruitiste touffues et chaotiques s'offrent à ta vue alors que tu te déplaces à travers un terrain de son changeant. Dans un certain sens abstrait, cet album a des repères acoustiques issus des coins technos davantage orientés vers la noise, mais il n'est pas fait pour danser. Juste au moment où tu as l'impression que tu vas être complètement pris au piège, la jungle se radoucit et tu recommences.
Viper Sisters – Famine Along the Vertices
Viper Sisters – Tropical Depression Precipitated by Nature's Disregard for European Values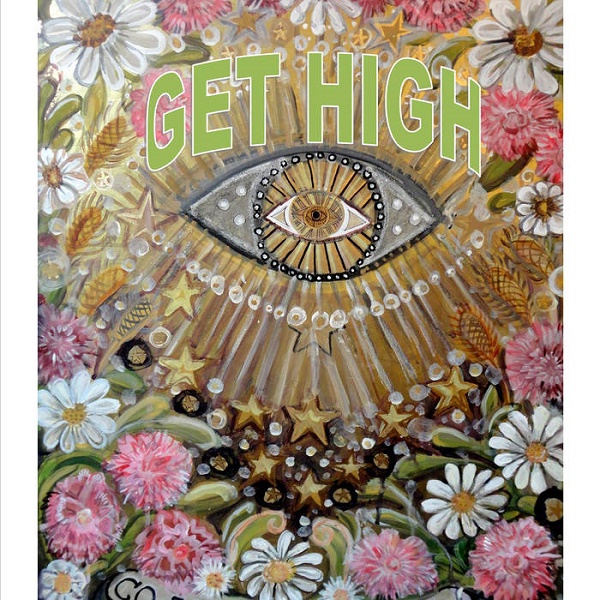 Juliana Lachance
Get High
(Self-Released)
Hamilton, ON
From the gentle whip of Doreen Girard:
Get High is a collection of eight songs from Hamilton, Ontario's Juliana Lachance. This Sweet Music springs from below the water, a distant sound you unconsciously follow while wading into shallow pools and marking the soft sand with smaller foot shaped pools. Anointed with the liquid timbre of reverb bathed bandura and vocals, you sink slowly into the warmth and current, feeling the gentle whip of a sturgeon across your skin as it endures its endless swim.
Par le léger fouet de Doreen Girard:
(Traduit par l'ivresse féérique d' Émily Traichel)
« Get High » est une collection de huit chansons par Juliana Lachance de Hamilton en Ontario. Cette belle musique jaillit des profondeurs, un son lointain que l'on suit par instinct, en traversant des étendues d'eau peu profondes et en marquant le sable mou de petites nappes d'eau en forme de pieds. Oint du timbre liquide de la bandura et du chant baignés dans la réverbe, on s'immerge tranquillement dans la chaleur et dans le courant, sentant le léger fouet d'un esturgeon nous frôler la peau, lui qui endure sa nage éternelle.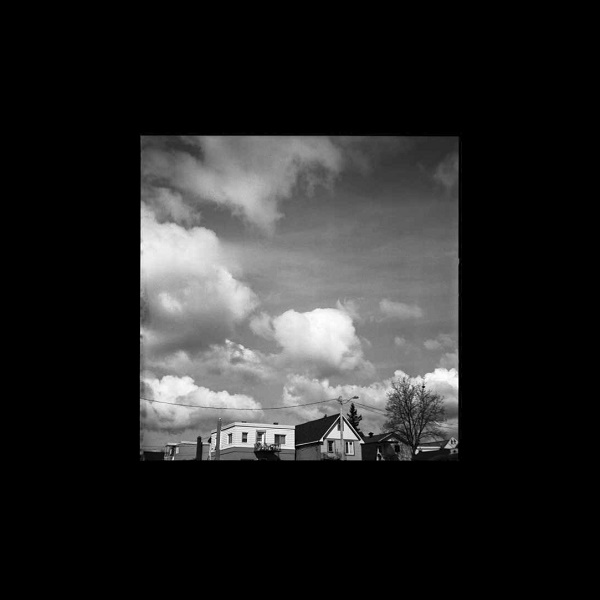 H. de Heutz
Study for Violence and Tape
Hull, QC/Ottawa, ON
From the reductive hemispheres of Rolf Klausener:
H. de Heutz' music is a conversation best had in person: eyes unblinking, breathing slow, and as time collapses, cochlea-searing frequencies radiate through rhythmic stabs that yearn to stop your heart, and lay waste to the passive mind. "Tomorrow should be fine" combines unrelenting percussion by other-worldly drummer/vocalist Olivier Fairfield, with caustic high-frequency samples, protest field recordings, and a bass line skipping through intervals darker than India ink. It descends into live audio of bassist/vocalist Nathan Medema discussing public access to protest-related road closures with RCMP officers, before an unforgiving return to the piece's acerbic closing bars.
Par les hémisphères réducteurs de Rolf Klausener:
(Traduit par les promenades inconscientes d' Émily Traichel)
La musique de H. de Heutz est une conversation qu'il vaut mieux avoir en personne: les yeux fixes, le souffle tranquille, et tandis que le temps s'écroule, des fréquences à calciner les cochlées se répandent à travers le rythme poignardant qui aspire à faire arrêter votre cœur, et ravagent l'esprit passif. « Tomorrow should be fine » amalgame une percussion implacable par le batteur/vocaliste venu d'un autre monde, Olivier Fairfield, avec des échantillons caustiques à haute fréquence, des enregistrements de champs de manifestation, et une ligne de basse qui sautille à travers les intervalles plus noirs que l'encre de Chine. La piste penche vers une trame audio du bassiste/vocaliste Nathan Medema qui discute avec des agents de la GRC de l'accès publique aux routes fermées à cause des manifs, suivie d'une reprise impitoyable des dernières mesures acerbes.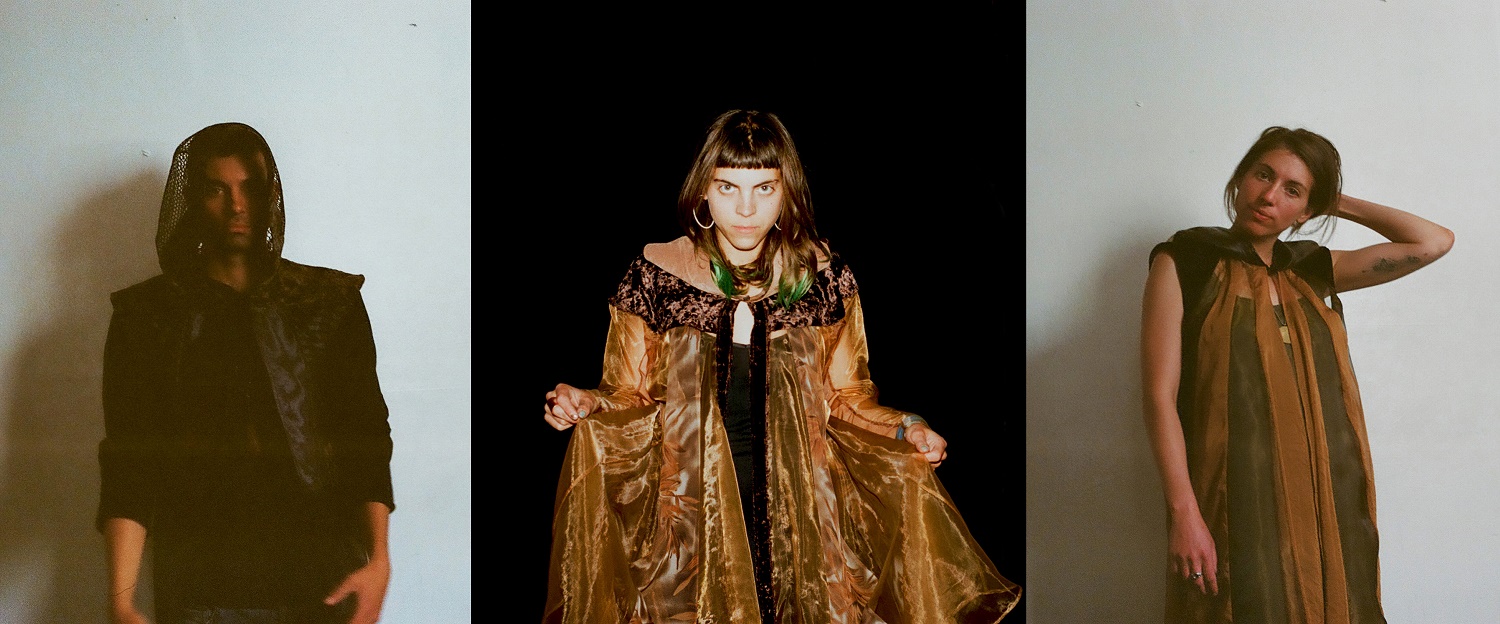 Ephemera of DOOMSQUAD
Existing During the Recording of the Pageantry Suite EP
Toronto, ON
Photos by Brad Casey
From the "yeah"s and "amazing"s of Brad Casey:
Jaclyn Blumas of brother/sister trio DOOMSQUAD is a woman open to the world from the perspective of another world entirely. She talks about mystical experiences with a casualness that most people would reserve for a story about a trip to the grocery store. She moves with an airy quality, like a dancer, but with a childlike nature, a wonderful gracelessness. Everything that comes from her mouth is positive. It's all, "yeah!" and "amazing!", and she speaks to you directly, you're her only focus. When she moves away she's away and somewhere else completely. Her home, which teeters between gypsy comfort and organized mess is warm and well composed. It's no wonder the music that DOOMSQUAD produces is deceivingly complex. It's like a hypnosis wheel; from a distance it's simple and contrasting colours but get close and it's moving uniform into what seems like infinity.
DOOMSQUAD, comprised of Jaclyn, Allie and Trevor Blumas, formed in 2010, making formal, Carter family-like folk music. They quickly and rightly set their acoustic instruments aside for an electro-journey beginning with their Land 'O the Silver Birch EP. That trip brought them into their first full length album, Kalaboogie, a reverb drenched and chant filled album with a light touch of pop sensibility, then into their latest Pageantry Suite EP, which is influenced as much by Talking Heads as it is smoke-filled, bass heavy, dark after-hours weekend parties. They've toured with Tanya Tagaq and Fucked Up, and their next full length album, scheduled to be released in late 2015, will surely bring them to another level of success entirely.
Jaclyn was kind enough to allow us at Weird Canada to photograph some of the ephemera that keeps her moving forward as an artist and a person and to touch on the stories of what gives her precious objects weight.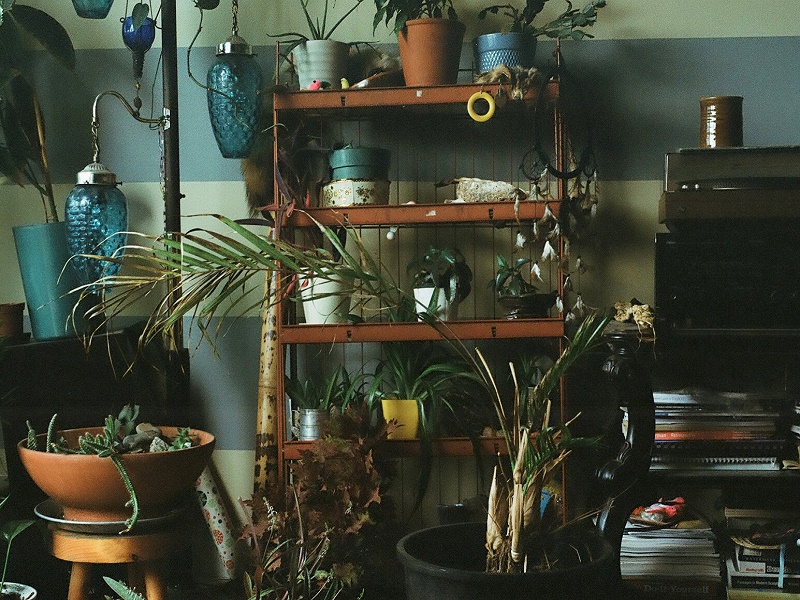 Plants
They're all different, some of them are from my roommate's girlfriend. This one is from my Nanny, we used to decorate it like a Christmas tree. This is a Christmas cactus, this plant turns red in the summer and green in the winter. I don't know the names of anything. I know how to take care of them though, I move them around until they're happy.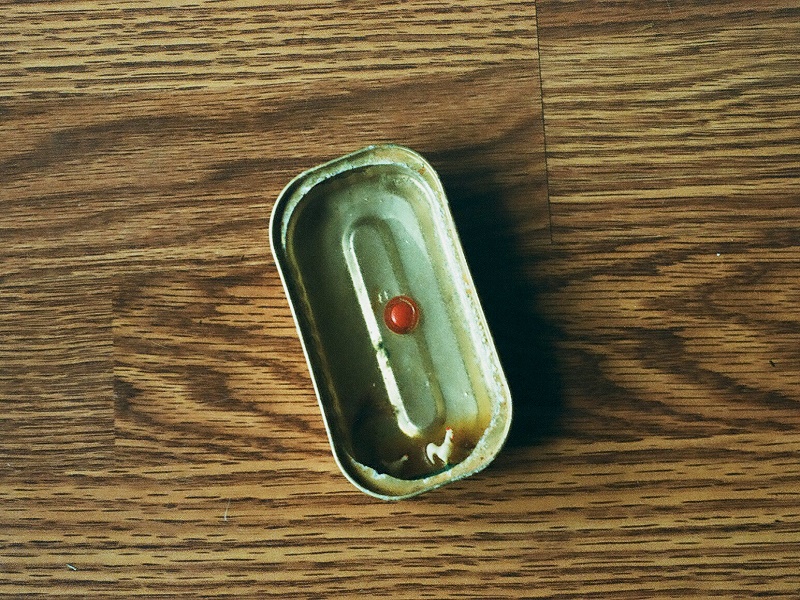 Found Item Art
My roommate and his girlfriend made this. They make these kinds of things then throw them out but I wanted this. It's a sardine can, resin, a little chicken and a sun.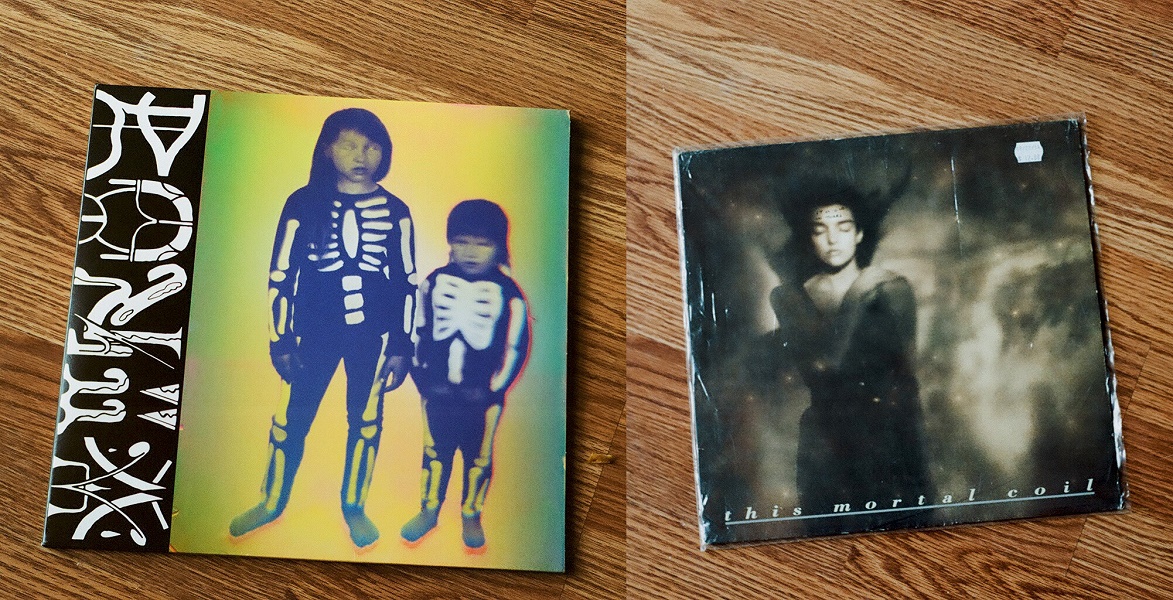 Favourite Records
I'm trying to promote the shit out of Roniia. This is one of my favourite records right now. We know these guys from North America and Roniia are friends of theirs, we hung out with them in Minneapolis. They're so fucking good. They should be playing stadiums, they've got it all figured out. Also, This Mortal Coil. It's a compilation from the 80s, it's so good, it has these great covers of Kangaroo and Song to the Siren.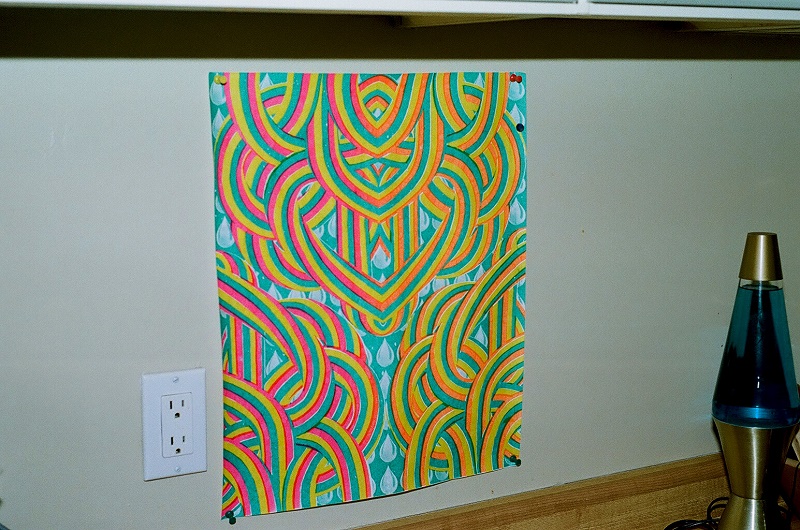 Alex MacKenzie's Art
Alex did this for Come Up to My Room, an event I helped organize at The Gladstone. She made a Moroccan tent with this design. When the light changed from blue to red this would pop out and move. It was this active, moving tent. This is a print of that.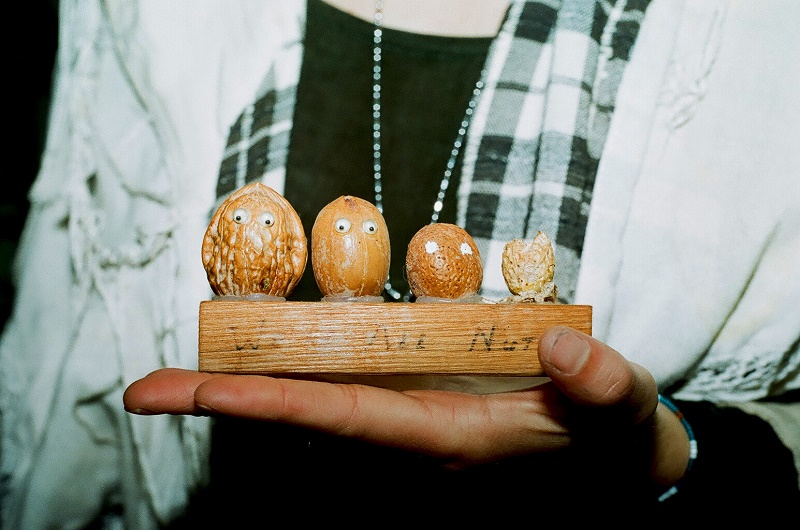 We Are All Nuts
Our family cottage was in Calabogie. We ended up saying goodbye to it last year. It's where we wrote our album Kalaboogie. The cottage was full of things that were important to my grandparents and this was one of them. A little mouse came and ate the peanut out of this nut on the end. It says "We Are All Nuts."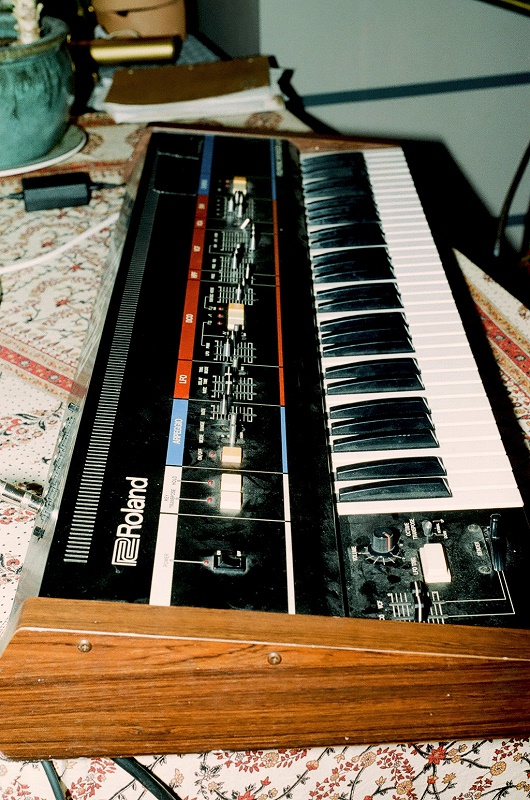 Roland Keyboard
This was given to me to borrow indefinitely. The person hasn't asked for it back yet, I've had it for seven years. His grandparents had it and he didn't know what it was. I've used it on almost every DOOMSQUAD recording. It's too finicky to travel around with.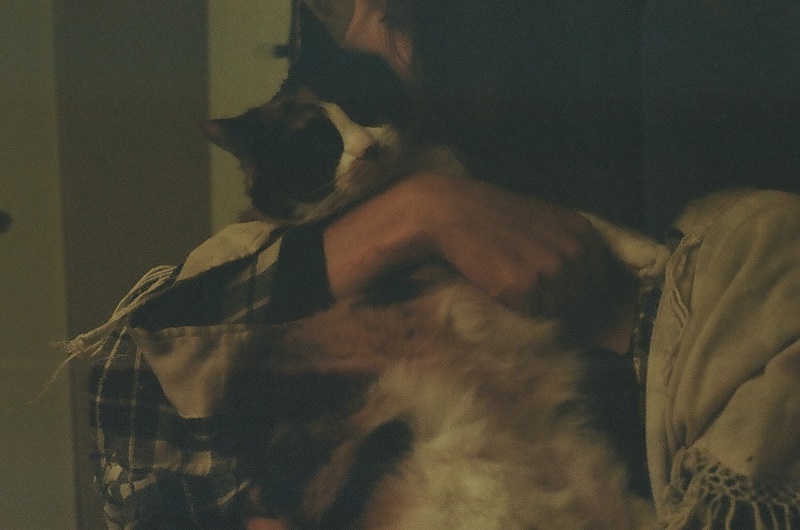 Bowie the Cat
This is Bowie. I got her in Vancouver from a whore house in Surrey, BC. They said she was a boy. All I wanted was a boy cat because all I've ever had were girls, so I was like, "Can you please just make sure it's a boy." The girl was like, "Girl, I've been doing this for years," she had zit cream all over her face and was like, "it's a boy." So for three months me and Bowie were hanging out and I was treating her like a boy. I took Bowie in to get neutered and she came out spayed. The vet was like, "Well, she's a girl." I said, "Are you sure?" and they were like, "Yup. We spayed her." I've had her for nine years.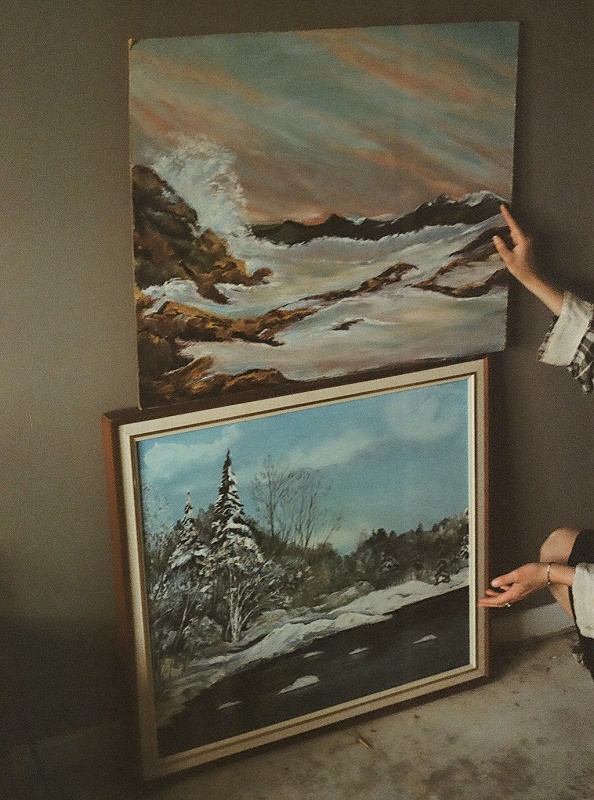 Family Paintings
My grandmother painted both of these. She's a painter, she has nine fingers. She still paints every day.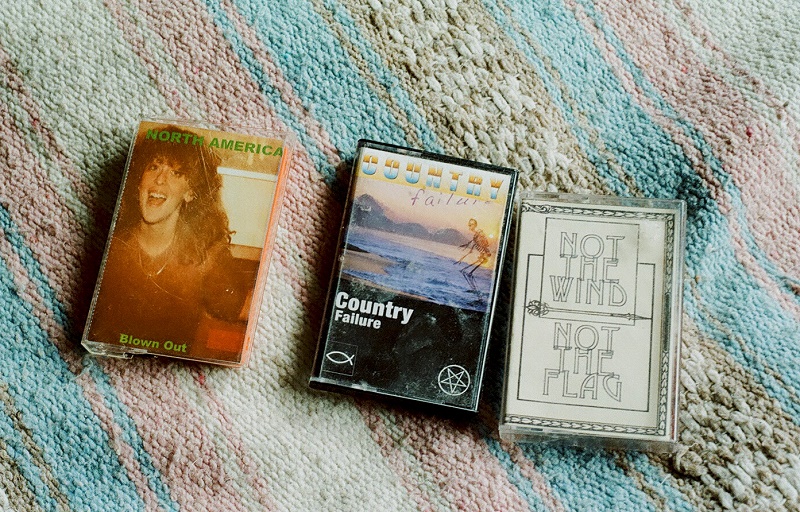 Favourite Cassettes
These are the three cassettes I listen to the most. North America, babes from New York. Their music was love at first sight, for me. It's two brothers who play psychedelic desert rock. Country from Montreal, Beaver Sheppard is the front guy. He's doing all these amazing new things, it's like apocalyptico pop music with freaky dance vibes. This Not the Wind Not the Flag is from a live show that they did a few years ago, Healing Power put it out. I was listening to this tape all through a break up, through moving out of a studio space, everything I did that was traumatizing for me and didn't know how to get through. I would put this tape on and go to another place.
Par les "yeah" et les "génial" de Brad Casey:
(Traduit par les méninges riches en fructose d' Émily Traichel)
Jaclyn Blumas du trio frère/soeur DOOMSQUAD est une femme ouverte au monde, à la perspective d'un autre monde entier. Elle parle d'expériences mystiques avec une désinvolture que la plupart des gens se réserverait pour raconter une simple course à l'épicerie. Elle se déplace avec légèreté, comme une danseuse, mais avec une nature enfantine, une merveilleuse inélégance. Tout ce qui sort de sa bouche est positif. On entend que des "yeah!" puis des "génial!", et elle s'adresse à nous directement, on est son unique centre d'intérêt. Lorsqu'elle nous quitte, elle est complètement ailleurs dans un autre monde. Sa maison, qui vacille entre le comfort bohémien et le bordel organisé, est chaleureux et bien équilibré. Ce n'est pas surprenant que la musique produite par DOOMSQUAD nous trompe avec sa complexité. C'est comme une spirale d'hypnose; de loin c'est simple et les couleurs se contrastent, mais lorsqu'on s'approche, elle avance uniformément vers ce qui semble être l'infini.
DOOMSQUAD, qui comprend Jaclyn, Allie et Trevor Blumas, s'est formé en 2010, créant de la musique trad formelle, style famille Carter. Ils n'ont pas tardé (à juste titre) de mettre leurs instruments acoustiques de côté en échange d'un nouveau départ électro-voyage avec leur EP Land 'O the Silver Birch. Ce voyage les a mené à leur premier album complet Kalaboogie, un album trempé de réverbération et rempli de chants scandés avec un léger brin de sensibilité pop, ensuite vers leur dernier EP, Pageantry Suite, qui fut autant influencé par Talking Heads que par de ténébreux partys de weekend «after-hours» enfumés et lourds de basse. Ils ont tourné avec Tanya Tagaq et Fucked Up, et la sortie de leur prochain album complet, prévu pour fin 2015, leur rapportera surement un tout autre niveau de succès.
Jaclyn était assez sympa pour nous permettre, nous à Weird Canada, de photographier certains articles éphémères qui la motive en tant qu'artiste et en tant que personne, et d'aborder les histoires qui donnent de l'importance à ses objets précieux.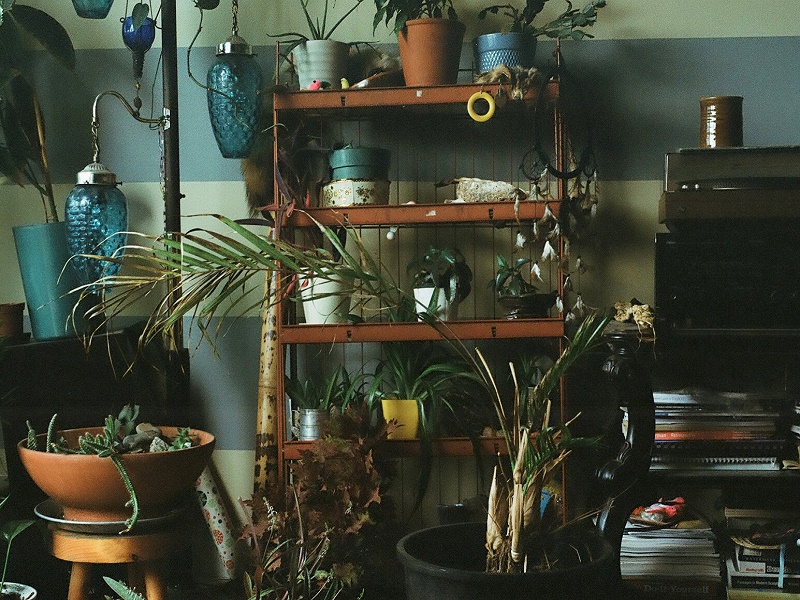 Plantes
Elles sont toutes différentes, certaines viennent de la blonde de mon colocataire. Celle-ci vient de ma nanny- on s'habituait à la décorer comme un sapin de Noël. Voici un cactus de Noël: cette plante devient rouge pendant l'été et verte pendant l'hiver. Je ne connais aucun des noms. Je sais comment m'en prendre soin par exemple, je les déménage de place en place jusqu'à ce qu'elles soient heureuses.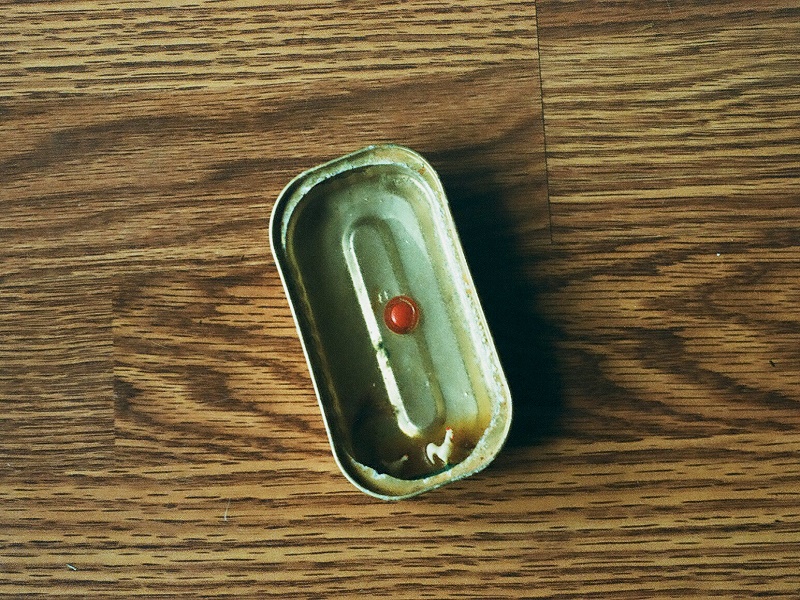 Art objet trouvé
Mon colocataire et sa blonde ont créé ça. Ils créent ce genre de choses et ensuite les jètent, mais celle-ci je voulais la garder. C'est une canette de sardines, de la résine, un petit poulet et un soleil.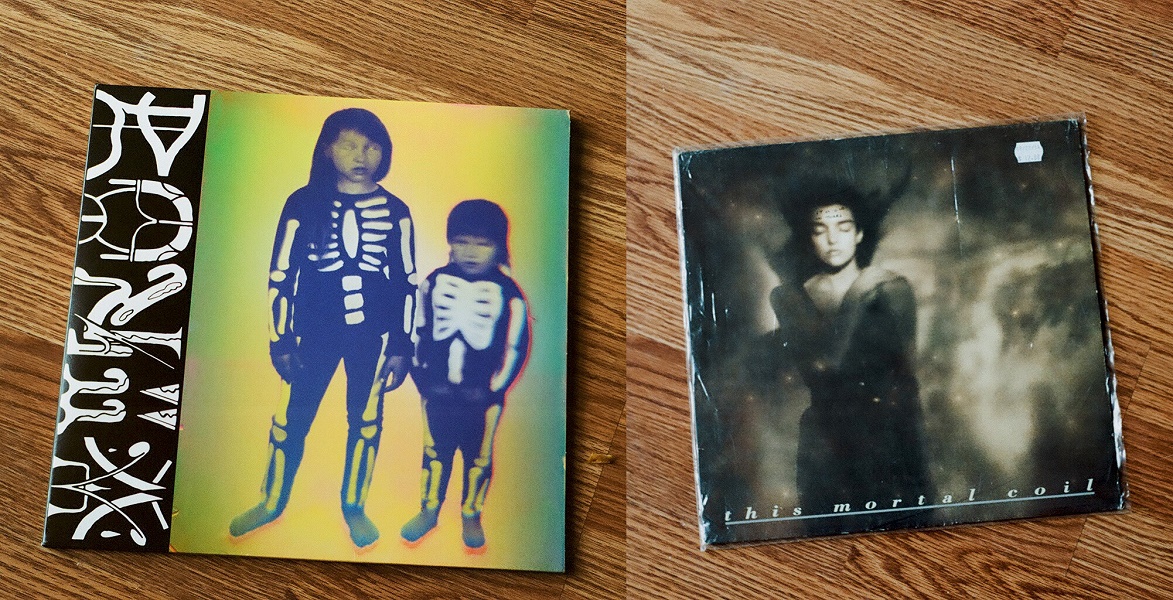 Albums préférés
J'essaie de promouvoir Roniia au max. Voici un de mes albums préférés en ce moment. On les connait de North America et Roniia sont amis avec, on s'est tenu avec eux à Minneapolis. Ils sont crissement bons. Ils devraient jouer dans les stades, ils l'ont vraiment leur affaire. Aussi, This Mortal Coil. C'est une compilation des années 80s, c'est trop bon, il y a des reprises géniales de Kangaroo et de Song to the Siren.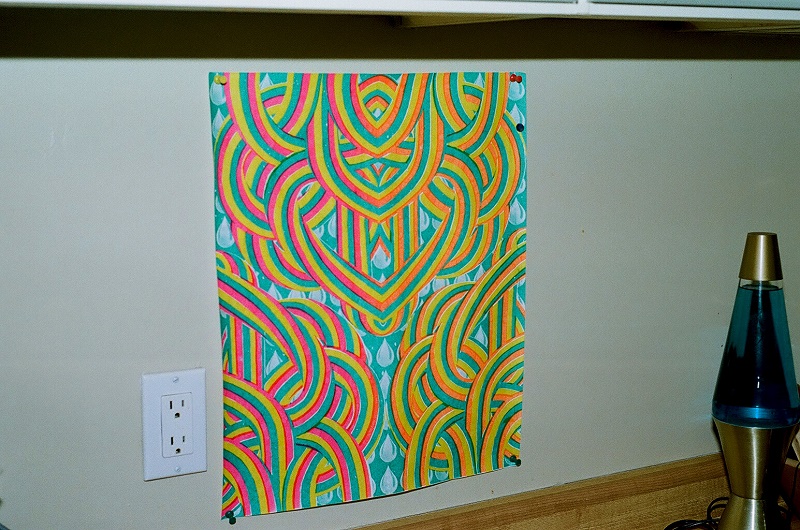 L'art d'Alex MacKenzie
Alex a fait ça pour Come Up to My Room, un évènement que j'ai aidé à organiser au Gladstone. Elle a fabriqué une tente marocaine avec ce motif. Quand la lumière changeait de bleue à rouge, ça sautait aux yeux et ça bougeait. C'était une tente active, dynamique. Ceci en est une image.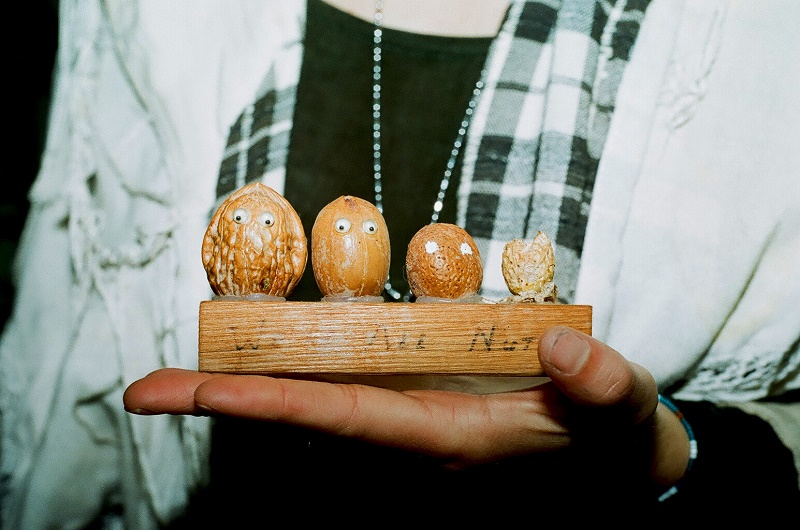 « We Are All Nuts »
Notre chalet de famille était en Calabogie. On y a fait nos adieux l'année passée en fait. C'est là où on avait écrit notre album Kalaboogie. Le chalet était rempli de choses qui étaient importants pour mes grand-parents et ceci en était une. Une petite souris est venue manger la peanut ici au bout. Ça dit « We Are All Nuts. »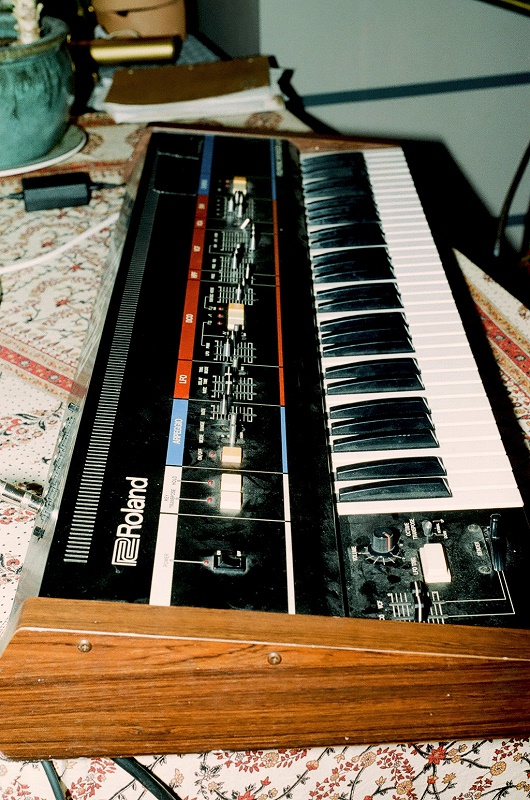 Clavier Roland
Ceci m'a été donné à emprunter indefinitivement. La personne n'a pas encore demandé de le ravoir, ça fait sept ans que je l'ai. Ça appartenait à ses grand-parents puis il ne savait pas ce que c'était. Je m'en suis servie pour presque chaque enregistrement de DOOMSQUAD. Il est trop capricieux pour amener en voyage.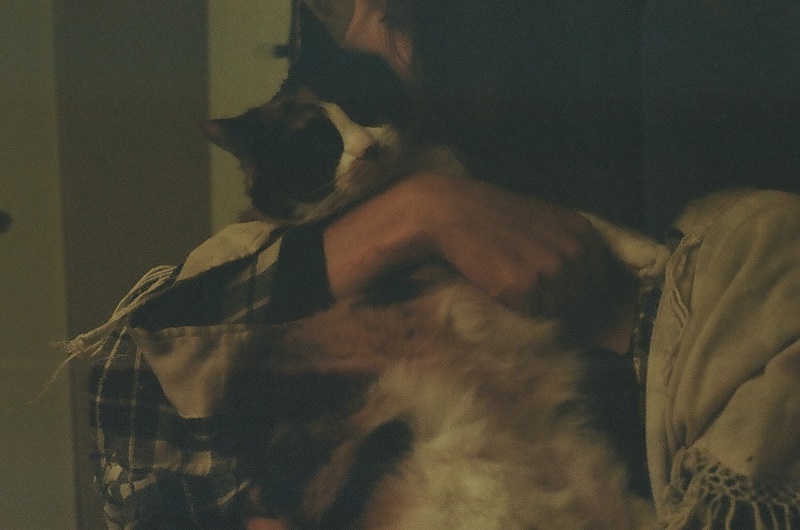 Bowie la chatte
Voici Bowie. Je l'ai eue à Vancouver dans un bordel à Surrey, CB. Ils ont dit qu'elle était mâle. Je voulais surtout un chat mâle parce que je n'ai eu que des chattes, alors j'ai dit, « Pouvez-vous s'il vous plaît juste vérifier que c'est un mâle. » La fille a dit « Écoute, ça fait des années que je fais ça, » elle avait la face pleine de crème pour les boutons et me dit, « c'est un garçon. » Alors pendant trois mois moi et Bowie on se tient ensemble puis je la traite comme un garçon. J'ai amené Bowie se faire stérélisé puis ils lui ont fait une hystérectomie. Le vétérinaire il dit, « Eh bien, c'est une fille. » J'ai dit « Êtes-vous sûr? » puis ils disent, « Oui. Nous lui avons fait une ovariectomie. » Ça fait neuf ans que je l'ai.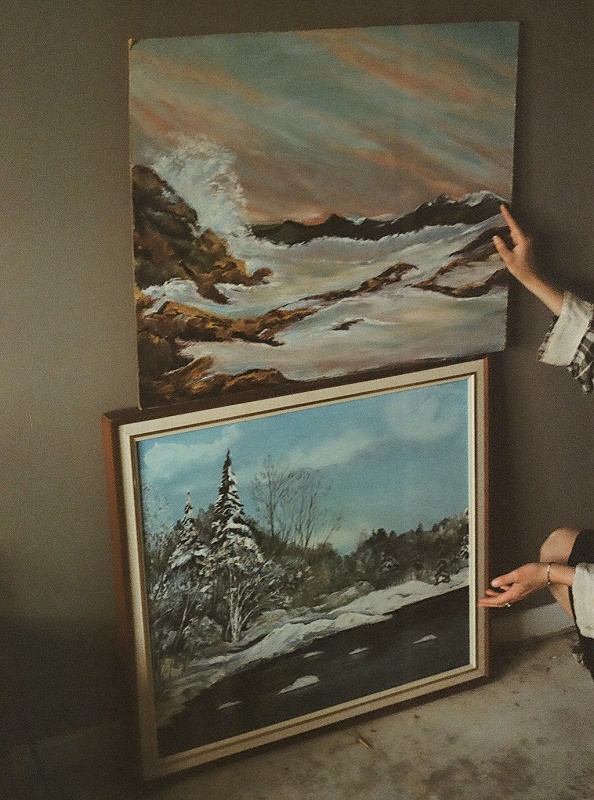 Peintures de famille
Ma grand-mère a peint ces deux-cis. Elle est peintre, elle a neuf doigts. Elle peint encore à tous les jours.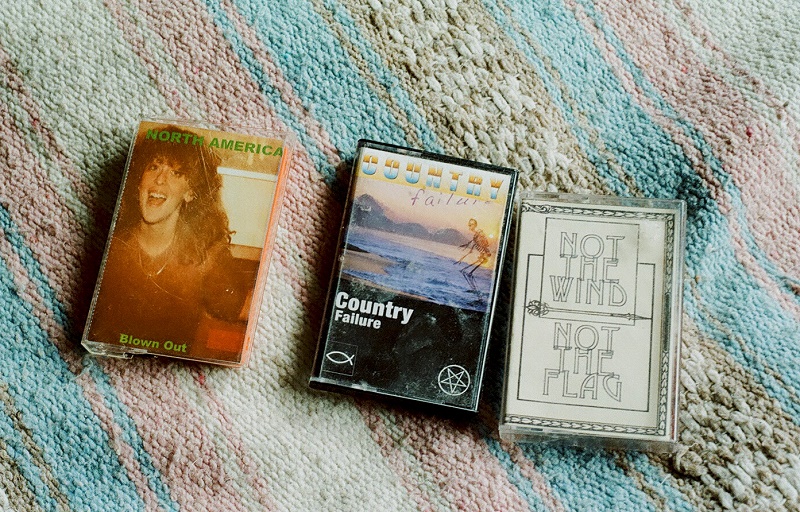 Cassettes préférées
Voici les trois cassettes que j'écoute le plus. North America, mes chéris de New York. Leur musique était le coup de foudre pour moi. Ce sont deux frères qui jouent du desert rock psychédélique. Country de Montréal, Beaver Sheppard est le leader. Il fait plein de nouvelles choses interessantes, on dirait de la musique pop apocalyptico avec un air de danse marrant. Celle-ci de Not the Wind Not the Flag vient d'un gig qu'ils ont fait il y a quelques années, Healing Power l'a publié. J'écoutait cette cassette tout au long d'une rupture, pendant que je déménageais d'un studio, tout ce que je faisais qui m'était traumatisant et que je ne savais comment endurer. Je branchais cette cassette puis je voyageais ailleur.
From the Lizard Cove:
In our ongoing pursuit to encourage, document, and connect creative expression across Canada, we cut through waves upon waves of ethereal sounds, wyld shreddery, and brooding drones. It is magnificent. Some of the best grips escape our grasping fists. We list them here:
Monroeville Music Centre – *Choose Your Own Adventure* (Calgary, AB)
Bold Nonsense – *Farewell, Rodrigue* (Fredericton, NB)
Dead Land – *Montréal (Sway Me To Sleep In Your Embrace)* (Montréal, QC)
sbsst – *Moth Proxy* (Ottawa, ON)
Carl Andre – *Carl Andre* (Toronto, ON)
VIDEO: Bombnivores – "Sweat Test" (Halifax, NS)
Robert T – *Tower EP* (Riverview, NB)
Local Douche – *self-titled* (London, ON)
Isles Day – *Live at the 51 Division* (Toronto, ON)
VIDEO: Veneers – "Lawful Force" (Toronto, ON)
Header – *MD5* (St. John's, NF)
Pedro Monkeyfinger + Protagonist/Antagonist – *Pedro Monkeyfinger + Protagonist/Antagonist* (Calgary, AB)
Jean-Sébastien Truchy – *X Souvenirs Rompus, Oubliés, Ou Ma Vie Réinventée* (Calgary, AB)
Charles Barabé – *Les Confessions II* (Calgary, AB)
Bent Spoon Duo With Christopher Riggs – *Bent Spoon Duo With Christopher Riggs* (Calgary, AB)
Bent Spoon Duo With Jack Wright – *Bent Spoon Duo With Jack Wright* (Calgary, AB)
Paraphonique – *La Traversee du Continent* (Ottawa, ON)
WHIMM – *CS026 Receptors* (Toronto, ON)
Scented Candle – *Neverending Nectar // Part 2* (Montréal, QC)
From the Lizard Cove:
Notre quête constante visant à encourager, à mettre en contact et à décrire les pratiques d'expression créatrice au Canada nous fait traverser vague après vague de sons éthérés, de *shreds* déchaînés et de sinistres bourdonnements; et c'est magnifique. De véritables joyaux échappent parfois à nos mains avides. Ils sont énumérés ici:
Monroeville Music Centre – *Choose Your Own Adventure*
(Calgary, AB)
Bold Nonsense – *Farewell, Rodrigue* (Fredericton, NB)
Dead Land – *Montréal (Sway Me To Sleep In Your Embrace)* (Montréal, QC)
sbsst – *Moth Proxy* (Ottawa, ON)
Carl Andre – *Carl Andre* (Toronto, ON)
VIDEO: Bombnivores – "Sweat Test" (Halifax, NS)
Robert T – *Tower EP* (Riverview, NB)
Local Douche – *self-titled* (London, ON)
Isles Day – *Live at the 51 Division* (Toronto, ON)
VIDEO: Veneers – "Lawful Force" (Toronto, ON)
Header – *MD5* (St. John's, NF)
Pedro Monkeyfinger + Protagonist/Antagonist – *Pedro Monkeyfinger + Protagonist/Antagonist* (Calgary, AB)
Jean-Sébastien Truchy – *X Souvenirs Rompus, Oubliés, Ou Ma Vie Réinventée* (Calgary, AB)
Charles Barabé – *Les Confessions II* (Calgary, AB)
Bent Spoon Duo With Christopher Riggs – *Bent Spoon Duo With Christopher Riggs* (Calgary, AB)
Bent Spoon Duo With Jack Wright – *Bent Spoon Duo With Jack Wright* (Calgary, AB)
Paraphonique – *La Traversee du Continent* (Ottawa, ON)
WHIMM – *CS026 Receptors* (Toronto, ON)
Scented Candle – *Neverending Nectar // Part 2* (Montréal, QC)
From the Lizard Cove:
In our ongoing pursuit to encourage, document, and connect creative expression across Canada, we cut through waves upon waves of ethereal sounds, wyld shreddery, and brooding drones. It is magnificent. Some of the best grips escape our grasping fists. We list them here:
DELICATE PATHS – music for Shô (Toronto, ON)
VIDEO: Nicholas Brotman – "Crystals in the Night" (Toronto, ON)
* ni * – e star (Toronto, ON)
AC – Workers' Comp (Toronto, ON)
Occult Tofu Soup – The Mysterious Mixture of (Alma, QC)
BABEL – Octal (Toronto, ON)
David Disher – Disconnect (Hamilton, ON)
"The Nobodies" – Fruit Flies (Montréal, QC / Okanagan Valley, BC)
VIDEO: The Ineffable – "Doors" (Winnipeg, MB)
VIDEO: Xarah Dion – "Sottises" (Montréal, QC)
VIDEO: Brendan Anderson – "the eternal apocalypse of the spotless mind" (Edmonton, AB)
The Holy Grasp – The Last Generation of Love LP (Toronto, ON)
VIDEO: Highway X//Sister Blanche – "Split Video" (Victoria, BC)
Jared Brown – Reith Kichards (Springhill, NS)
The Spare Me's – The Nothing's Happening Here EP (Toronto, ON)
Lero – Ad Astra (Hamilton, ON)
Notre quête constante visant à encourager, à mettre en contact et à décrire les pratiques d'expression créatrice au Canada nous fait traverser vague après vague de sons éthérés, de shreds déchaînés et de sinistres bourdonnements; et c'est magnifique. De véritables joyaux échappent parfois à nos mains avides. Ils sont énumérés ici:
DELICATE PATHS – music for Shô (Toronto, ON)
VIDEO: Nicholas Brotman – "Crystals in the Night" (Toronto, ON)
* ni * – e star (Toronto, ON)
AC – Workers' Comp (Toronto, ON)
Occult Tofu Soup – The Mysterious Mixture of (Alma, QC)
BABEL – Octal (Toronto, ON)
David Disher – Disconnect (Hamilton, ON)
"The Nobodies" – Fruit Flies (Montréal, QC / Okanagan Valley, BC)
VIDEO: The Ineffable – "Doors" (Winnipeg, MB)
VIDEO: Xarah Dion – "Sottises" (Montréal, QC)
VIDEO: Brendan Anderson – "the eternal apocalypse of the spotless mind" (Edmonton, AB)
The Holy Grasp – The Last Generation of Love LP (Toronto, ON)
VIDEO: Highway X//Sister Blanche – "Split Video" (Victoria, BC)
Jared Brown – Reith Kichards (Springhill, NS)
The Spare Me's – The Nothing's Happening Here EP (Toronto, ON)
Lero – Ad Astra (Hamilton, ON)
---