Category: ontario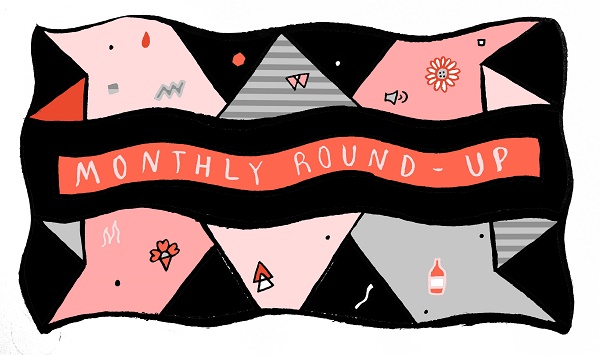 From the Lizard's Cove:
In our ongoing pursuit to encourage, document, and connect creative expression across Canada, we cut through waves upon waves of ethereal sounds, wyld shreddery, and brooding drones. It is magnificent. Some of the best grips escape our grasping fists. We list them here:
Blakkr Nið – Phases of War (Ottawa, ON)
Brandon Gray – Après Midi tape (Toronto, ON)
Pearl's Emeralds – walk all pathways simultaneously at a speed greater than light (Calgary, AB)
VIDEO: Marriage – OK to Disconnect (Toronto, ON)
Isles Day – The Sun I Saw (Toronto, ON)
sp3ct3rs – the crone sessions (Montréal, QC)
Absent Sound – Black Dots (Winnipeg, MB)
BigRiverDream – Isolationist (Kingston, ON)
VIDEO: Nicholas J Brotman – L* (Toronto, ON)
VIDEO: Nicholas J Brotman – ñ* (Toronto, ON)
VIDEO: Nicholas J Brotman – ë* (Toronto, ON)
Tom De la Mer – Even though there is no meaning (Montréal, QC)
Astrolope – Planets And Polygons (Toronto, ON)
Kristopher Smith – Untitled Works 03-13 (Lipton, SK)
From the Lizard's Cove:
( )
Notre quête constante visant à encourager, à mettre en contact et à décrire les pratiques d'expression créatrice au Canada nous fait traverser vague après vague de sons éthérés, de shreds déchaînés et de sinistres bourdonnements; et c'est magnifique. De véritables joyaux échappent parfois à nos mains avides. Ils sont énumérés ici :
Blakkr Nið – Phases of War (Ottawa, ON)
Brandon Gray – Après Midi tape (Toronto, ON)
Pearl's Emeralds – walk all pathways simultaneously at a speed greater than light (Calgary, AB)
VIDEO: Marriage – OK to Disconnect (Toronto, ON)
Isles Day – The Sun I Saw (Toronto, ON)
sp3ct3rs – the crone sessions (Montréal, QC)
Absent Sound – Black Dots (Winnipeg, MB)
BigRiverDream – Isolationist (Kingston, ON)
VIDEO: Nicholas J Brotman – L* (Toronto, ON)
VIDEO: Nicholas J Brotman – ñ* (Toronto, ON)
VIDEO: Nicholas J Brotman – ë* (Toronto, ON)
Tom De la Mer – Even though there is no meaning (Montréal, QC)
Astrolope – Planets And Polygons (Toronto, ON)
Kristopher Smith – Untitled Works 03-13 (Lipton, SK)
From the sunny balcony of Lauren Rabindranath:
GumChewer spits out a personal and uncomfortable experience that makes you hit replay. Droning beats and looping elements compete for attention, creating the sonic sensation of a gum-chewing jaw without the fatigue or fading flavour. Calm tracks offer variation with cresting crescendos and pared down payoffs. The video and artist explication give increased salience and an airtight package. With the full, HD oral cavity in your face you feel Perez's discomfort, pushing you off-centre but not off-put. From sweet tooth to oral asphyxiation: we are here for the ride.
Du balcon ensoleillé de Lauren Rabindranath:
(Par le ciel illuminé d' Aliké Harel)
GumChewer met toute la gomme pour offrir une expérience personnelle et inconfortable qui pousse à appuyer sur « Replay ». Les rythmes bourdonnants et les éléments en boucle s'arrachent votre attention et conçoivent une sensation sonique rappelant la mâchoire chiqueuse de gomme, sans la perte de saveur ni la fatigue. En guise de variation, des pistes douces articulées de crescendos en pics et de finales sans artifice. Le vidéo et l'explication de l'artiste font culminer cet album bien ficelé. Devant la cavité buccale, plein écran et HD, on sent l'inconfort de Perez qui vous éloigne du centre de la zone sans être hors zone. De la dent sucrée à l'asphyxie orale : nous embarquons à bord..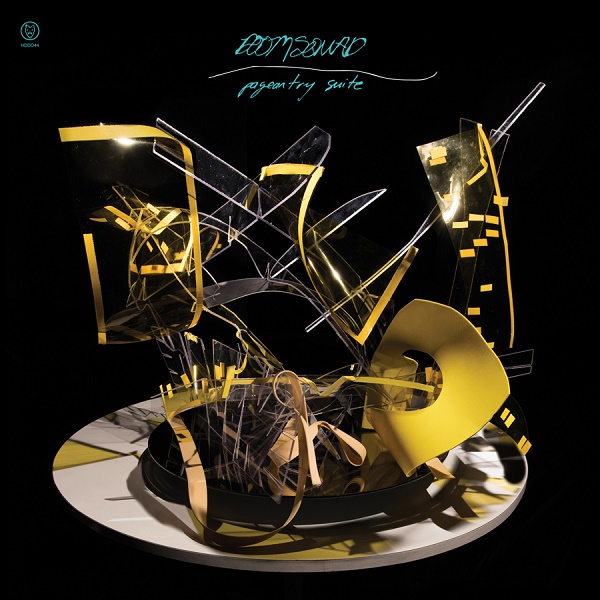 Doomsquad
Pageantry Suite
Toronto, ON
From the sleep deprived trips of Mitch Jackson:
There's a scene in what is objectively the greatest Canadian movie of all time, Hard Core Logo, where a goat is murdered in a bloody, drug induced ritual with a chainsaw. The scene is trippy, frightening and puts you in a weird kind of trance that you can't really escape; until you snap out of it and realize that a goat was murdered and you drank its blood. This EP is kind of like that.
Des voyages en manque de sommeil de Mitch Jackson:
(Traduit par les crises de somnambulisme de Julie Mayer)
Il y a une scène, dans ce qui est (d'un point de vue objectif) le plus grand film canadien de tous les temps, Hard Core Logo, où une chèvre se fait trucider à l'aide d'une tronçonneuse lors d'un rituel sanglant accompli sous l'influence de la drogue. La scène est trippante, épeurante et te plonge dans une sorte de transe bizarre de laquelle tu ne peux pas vraiment t'échapper; jusqu'à ce que tu t'en sortes et que tu te rendes compte qu'une chèvre s'est fait trucider et que tu as bu son sang. Cet EP, c'est à peu près ça.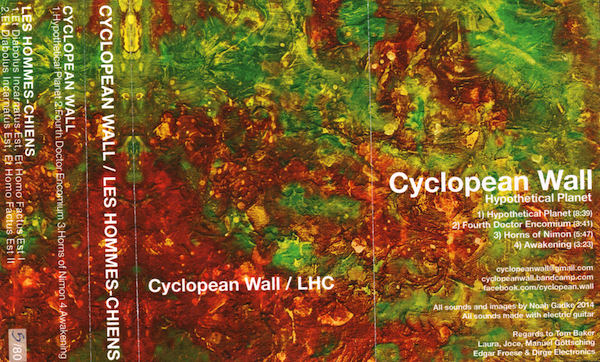 Cyclopean Wall
Hypothetical Planet
(Self Released)
Toronto, ON
From the outer limits of Katie Jensen:
Monophonic guitars swirl towards a silvery nexus like draining bathwater, sucking and sputtering into a hollow vortex.
Spirographic noumena orbit an event horizon, watching time crawl on its hands and feet as magnetic lovers are drawn together in polar opposition, ripping themselves free at the promise of a chance encounter with an alternating current.
Shaking fingers parse cohesion from meaningless conversations. Mouthless smiles leak familiar words; sneered jabs plunged deep into diaphragmatic cradles protecting cloistered emotional hospices. You grit your teeth, you growl. You chew on enameled dust. The moon glowers. It has seen it all before.
Par les limites externes de Katie Jensen:
(Par les contemplations au beurre de peanut d'Émily Traichel)
De guitares monophoniques tourbillonnent vers un noyau argenté comme l'eau du bain qui se vide, suçant et crachotant en un creux vortex.
Des noumènes spirographiques orbitent à l'horizon d'un évènement, observant le temps qui se déplace à quatre pattes tandis que les amoureux magnétiques sont attirés l'un vers l'autre en opposition polaire, s'affranchissant pour la promesse d'une rencontre fortuite avec un courant alternant.
De doigts tremblants examinent la cohésion des conversations dénuées de sens. Des sourires sans bouche laissent écouler des mots familiers; des coups moqueurs plongent profondément dans les berceaux diaphragmatiques qui protègent les hospices émotionnels cloîtrés. Vous serrez les dents, vous grognez. Vous rongez de la poussière émaillée. La lune jette un regard noir. Elle a déjà tout vu.
Cyclopean Wall – Hypothesized Planet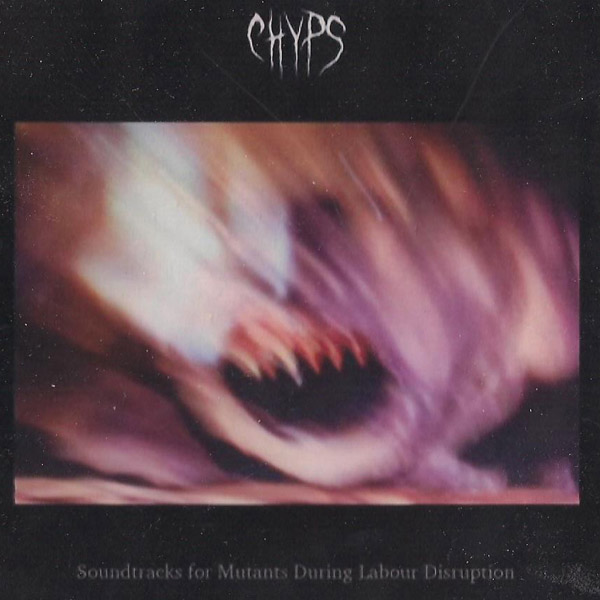 CHYPS
Soundtracks for Mutants During Labour Disruption EP
(Self Released)
Mississauga, ON
From the fingertips of Lauren Rabindranath:
Soundtracks for Mutants During Labour Disruption is also suitable for humans during summer afternoons. The 3-track EP creates space with sound, catapulting the listener into a sonically-driven contemplative journey. Contrast between methodical, calming instruments and tense, upbeat electronic tones form a balanced and coherent whole. Cryptic last (and only) lines provide personality. CHYPS embrace 'empty' space as part of the experience and use silence as effectively as sound. The tracks' raw edges leave the listener with an invitation to ascribe their own meaning – to fill or find comfort in their own silences.
Du bout des doigts de Lauren Rabindranath:
(Traduit par Julie Mayer)
Soundtracks for Mutants During Labour Disruption convient également aux humains pendant les après-midis d'été. Cet EP de trois pistes crée de l'espace avec du son et catapulte les auditeurs et les auditrices dans un voyage contemplatif mené par une motivation sonique. Le contraste entre les instruments méthodiques et apaisants et les tons électroniques, entraînants et tendus forment un tout équilibré et cohérent. Les dernières (et uniques) lignes cryptiques donnent du caractère. Pour CHYPS, l'espace « vide » fait partie de l'expérience et il utilise le silence aussi efficacement que le son. Le côté brut des pistes sonores invite l'auditeur à leur attribuer leur propre sens; remplir leurs propres silences ou y trouver du réconfort.
CHYPS – Soundtracks for Mutants During Labor Disruption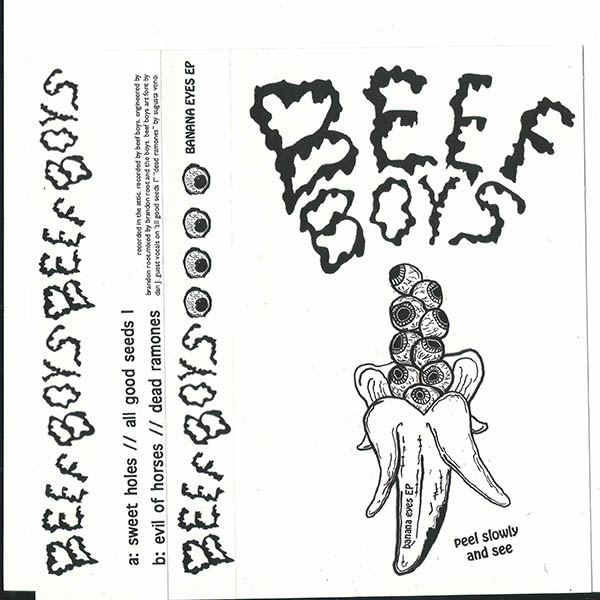 BEEF BOYS
Banana Eyes EP
(Four Eyes Recordings)
Peterborough, ON
From the anxiety ridden thought diarrhea of Mitch Jackson:
The last time I found myself in Peterborough I puked on the hood of someone's Buick. For the unacquainted, Peterborough is a safe haven in the surrounding Mad Max-esque shit storm of all terrain vehicles, and big lifted rigs. Beef Boys emanate from the underbelly of Peterborough, emerging through a slaughterhouse of reverb and fuzz, trading off surf and garage influences. They're decidedly greasy, and I have a sneaking suspicion that they all had a hell of a time tucking their flows into a bucket in minor league puck.
De la diarrhée causée par la pensée chargée d'anxiété de Mitch Jackson:
(Traduit par la surdose d'ipéca de Julie Mayer)
La dernière fois que je me suis retrouvé à Peterborough, j'ai vomi sur le capot de la Buick à quelqu'un. Pour ceux qui ne connaissent pas, Peterborough est un havre de paix situé dans le merdier Mad Max-esque débordant de véhicules tout-terrain et de grosses camionnettes qui font des cascades. Beef Boys émane des entrailles de Peterborough, émerge à travers un abattoir de réverbération et de fuzz et oscille entre des influences surf et garage. Les membres du groupe sont tout à fait louches et je commence à soupçonner qu'ils ont eu un mal fou à rentrer leur tignasse dans leur casque quand ils jouaient au hockey mineur.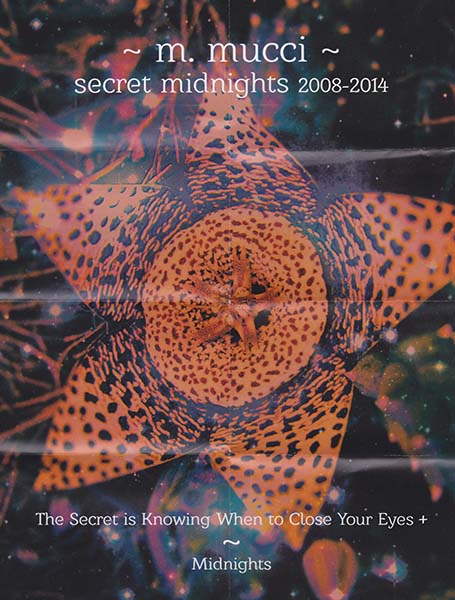 M. Mucci
Secret Midnights
Guelph, ON
From the mesmerized apertures of Joshua Robinson:
Side B of this release was previously written about here.
Slowly, ever so slowly, thought takes form. Nadirs of fleeting melody particulate, each fleck of minute detail whisking away from its source; whisking away from itself. Slowly, ever so slowly, these details coalesce and emerge just as they fray at the seams and come to rest as tablatures too delicate to decipher. The re-release of this material is not only an acknowledgment of its quality, it is the recognition of how fragile permanence (as memory) can be. Incarnate tones tiptoe over themselves, their brittleness that which indentures their longevity. For all that is young and quiet, grow old and fond. For all that is fleeting and transient, stay still.
Des ouvertures ensorcelantes de Joshua Robinson:
(Traduit par Mylène Quevillon)
Lentement, toujours plus lentement, les pensées prennent forme. Les nadirs des particules d'une mélodie fugace, chaque détail minuscule qui passe transporté loin de sa source; transporté loin de son centre. Lentement, toujours plus lentement, ces détails s'amalgament et se décomposent, se déposent en tablatures trop petites pour être déchiffrées. La réédition de ces oeuvres n'est pas seulement un gage de leur qualité, c'est aussi la reconnaissance de la fragilité de la permanence et de la mémoire. Les tonalités incarnées s'entrechoquent, créant une fragilité qui diminue leur longévité. Étant donné que tout ce qui est jeune et tranquille vieillit et se gâte. Étant donné cette fugacité éphémère, restez immobile.
M. Mucci – The Secret is Knowing When To Close Your Eyes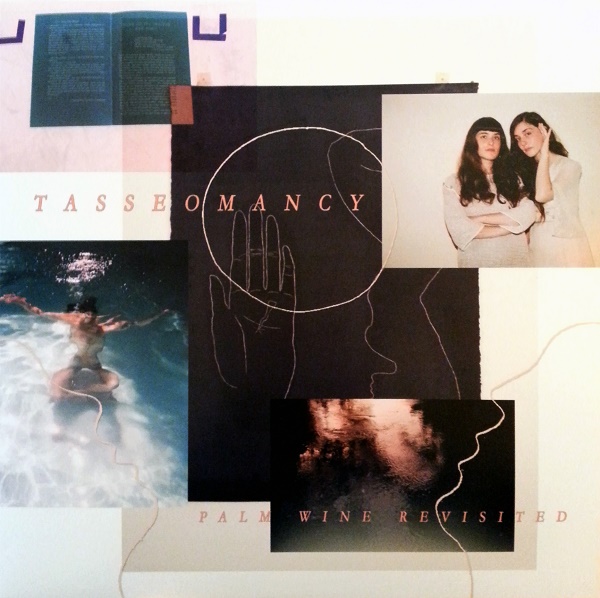 Tasseomancy
Palm Wine Revisited
Toronto, ON
From the wine drunk mutterings of Matthew Swann:
One step beyond madness lays ecstasy. Beyond the 3D, 4D, 4AD, beyond Kate Bush, the Burning Bush, beyond hungry ghosts howling over ethereal darkwave … beyond freaks, and future folk, and avant dark synthesis. Beyond Beyond Beyond – the Lightman sisters' voices sublimely converge. 10 disembodied chorales fill up limitless space. Synthesizers, and steelpans drone. Two twins singing a soundtrack to the killing and creating of worlds, from behind the veil, seated outside the reach of both. The Palm wine makes the colours brighter, the visions more vivid, and reality clearer.
Des marmonnements ivres de Matthew Swann:
(Traduit au vin savoyard par Nicolas Coutlée)
Un pas par-delà la folie se trouve l'extase. Par-delà la 3D, la 4D et 4DA, par-delà Kate Bush et la bouche de Yahvé, par-delà les fantômes affamés qui hurlent sur du darkwave éthéré… par-delà les freaks, le folk futuriste et la sombre avant-garde synthétique. Par-delà Par-delà Par-delà – là où convergent sublimement les voix des sœurs Lightman. Dix chœurs spectraux remplissent l'espace infini. Sur fond de synthés et de steeldrum. Derrière le voile, reposant hors d'atteinte l'une de l'autre, deux jumelles chantent la trame accompagnant la mort et la naissance d'univers. Le vin de palme rend les couleurs plus brillantes, avivent les visions et éclaircit la réalité.
Tasseomancy – Braid. Wind Is Coming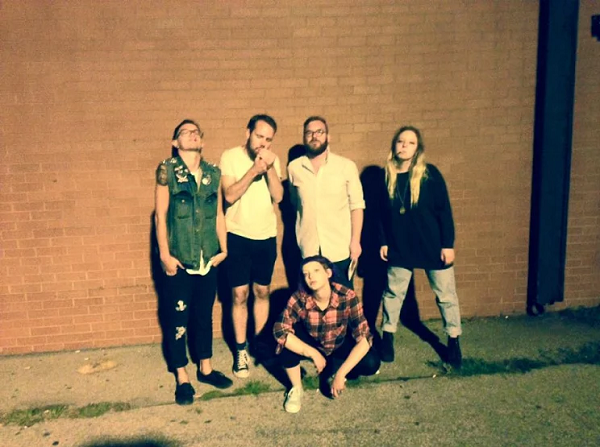 Worst Case Ontario
(Photo by: Madi Moon)
Various, Canada
From the hyperbolic manifesto of Eileen Wennekers:
Worst Case Ontario is a poetry reading tour covering the St. Lawrence basin and the Northeastern USA. The tour wound down in Ottawa on August 29th. While in Toronto, wordsmiths dalton derkson, Jessica Berbenek, JC Bouchard, Julie Manell, and JM Francheteau spoke to us about their trek:
Your work seems to hold a peculiar fascination for having nasty, messy, meaty, pointy bodies in pathological spaces. Thanks.
JB: I don't think we could say it much better than that. I definitely think that's something that ties us together in terms of the subject matter. Dalton and JC chose everyone for the tour.
dd: There's a gutter, small town, grittiness in all of our works, so good eye on that.
JMF: I think a lot of writing, or creative writing, comes from feeling different from people, or from feeling that you can't explain some aspect of your experience to others, so I think in my case poetry came out of not wanting to constantly be explaining myself. I could just take things that were powerfully and at times inexplicably charged with significance to me, that suggested something that I couldn't quite articulate, and then share that. So that fits with those elements of anxiety about the body, or about how you socially fit in with other people.
What happens when all of that gets in the van?
JB: It's what we're all scared of.
JCB: We actually don't know yet. This is the first time we've all been together outside of a chat or a digital communication, JM: It worked out well in the virtual van
JCB: In the virtual van, it worked out well. We don't know what will happen, but I think it will be just as good.
dd: It's going to be a real fun Ford Fusion, for sure
JMF: Or something like that.
JB: We only have the one driver, which I think will be interesting.
Do you have a dream tour manifesto? If you were going to be like the Futurists and say why you're doing this tour, to put it in really hyperbolic language, what would you say?
JCB: Should we huddle first?
dd: I'm just gonna throw one thing, and then just people fuckin' spitball off it or whatever. So my whole thing with JC was: don't wait around for someone else to do it, just do it. Do it yourself. Set it up and go with it. If it's something you want to do, then put in the effort and do it, and it will probably turn out.
JM: We're more powerful together than we are alone at this stage in our writing.
JCB: I hope in the future it may serve as an example to young or emerging poets – or whoever – that they can do the same too, and it's not as hard and daunting as some people might think. I mean, it takes a lot of work, but it's doable. So don't be afraid.
JM: But also no one will ever do it again.
Du manifesto excessif de Eileen Wennekers:
(Du poète traducteur Kevin Godbout)
Worst Case Ontario est une tournée de lecture de poésie qui s'est donnée dans le bassin du Saint-Laurent et dans le nord-est des États-Unis. La tournée a pris fin à Ottawa le 29 août dernier. Lorsqu'ils étaient de passage à Toronto, les artisans des mots dalton derkson, Jessica Berbenek, JC Bouchard, Julie Manell, et JM Francheteau se sont entretenus avec nous pour nous parler de leur périple:
Votre travail semble vouer une fascination particulière aux corps sales, désordonnés, étoffés et pointus au sein d'espaces pathologiques. Merci.
JB: Je ne crois pas que nous pourrions mieux le dire. Je crois définitivement que c'est quelque chose qui nous unit ensemble par rapport à notre matière. Dalton et JC ont choisi toutes les personnes pour la tournée.
dd: Il y a bel et bien un élément de gouttière, de petite ville, de quelque chose qui grince dans toutes nos oeuvres, bien vu.
JMF: Je crois que beaucoup d'écriture, ou d'écriture créative viennent quand on se sent différent des autres, ou quand on se sent incapable d'expliquer un aspect de nos expériences aux autres. Alors je pense que dans mon cas, la poésie est sortie de mon désir de ne pas avoir à constamment m'expliquer. Je pouvais simplement prendre des choses qui étaient puissantes et parfois très chargées de signification pour moi, qui suggéraient quelque chose que je ne pouvais articuler, et ensuite partager tout cela. Alors, ça permet d'expliquer ces éléments d'anxiété à propos du corps, ou de la façon dont on s'adapte socialement avec d'autres personnes.
Qu'arrive-t'il quand tout cela entre dans la fourgonnette?
JB: C'est ça qui nous fait peur.
JCB: Nous l'ignorons en ce moment. C'est la première fois que nous sommes ensemble en dehors d'une causerie, d'une discussion électronique.
JM: Ça fonctionnait bien dans la fourgonnette virtuelle.
JCB: Là, c'était correct, nous ne savons pas ce qu'il arrivera, mais je crois que ce sera aussi bon.
dd: Ce sera une Ford Fusion plaisante, c'est certain.
JMF: Ou l'équivalent.
JB: Et nous avons un seul conducteur, ce qui promet d'être intéressant.
Avez-vous un rêve d'une tournée de genre manifeste? Si vous étiez comme des Futuristes, et disiez pourquoi vous faites cette tournée, pour l'expliquer en langage compliqué, que diriez-vous?
JCB: Est-ce qu'on fait un caucus?
dd: Je vais lancer une autre chose, et les gens pourront l'utiliser pour brainstormer, ou peu importe. Mon affaire avec JC est ceci: n'attend pas que quelqu'un d'autre le fasse, fais-le. Fais-le toi-même. Prépare le nécessaire et va. Si c'est quelque chose que tu veux faire, mets l'effort et fais-le, et ça ira certainement bien.
JM: Nous sommes plus puissants ensemble que seuls à cette étape de notre écriture.
JCB: J'espère que dans le futur, ce sera un exemple aux jeunes ou nouveaux poètes, ou peu importe, qu'ils peuvent faire pareil, et que ce n'est pas aussi difficile et intimidant que les gens croient. Je veux dire, c'est du travail, mais c'est faisable. Il faut ne pas avoir peur.
JM: Mais aussi, personne ne le fera de nouveau.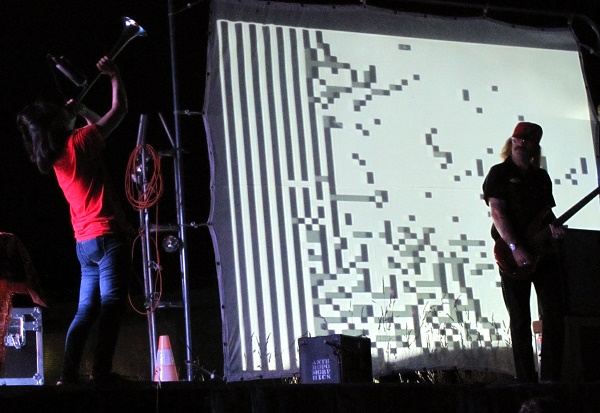 Electric Eclectics
July 31 – Aug 2, 2015
Meaford, ON
Photos by: Joshua Cwintal/li>
From the oily reduction of Joshua Cwintal:
Receptive ears were scattered between the teddy bear adorned pillars found at the Electric Eclectics festival near Meaford, Ontario. Attendees revelled in indoctrinating drones and chest caving noise from acts who embodied the friendly and visionary spirit of the gathering. Installation artists intrigued and captured wanderers as they attempted to cross the picturesque canvas of land christened as "The Funny Farm". Each night refused to end as moonlit dancing and laughter spilled deeper into DJ-led forest festivities. Each morning brought familiar faces together to welcome another day where only the unfamiliar could be expected.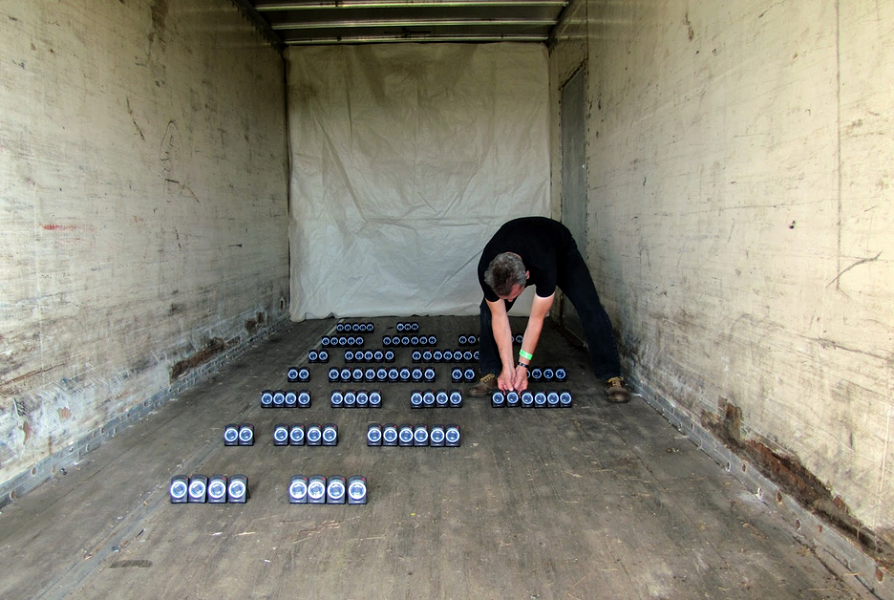 100 metronomes, all clicking in a cicadian like flutter. All arranged to match the physical shape of a companion poem.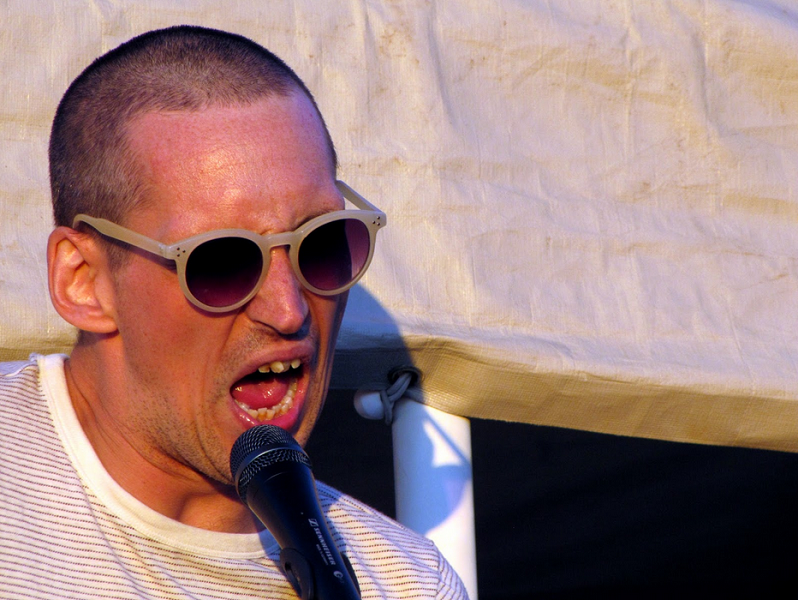 "Anyone get a psychosomatic rash before?" – Dave from Soupcans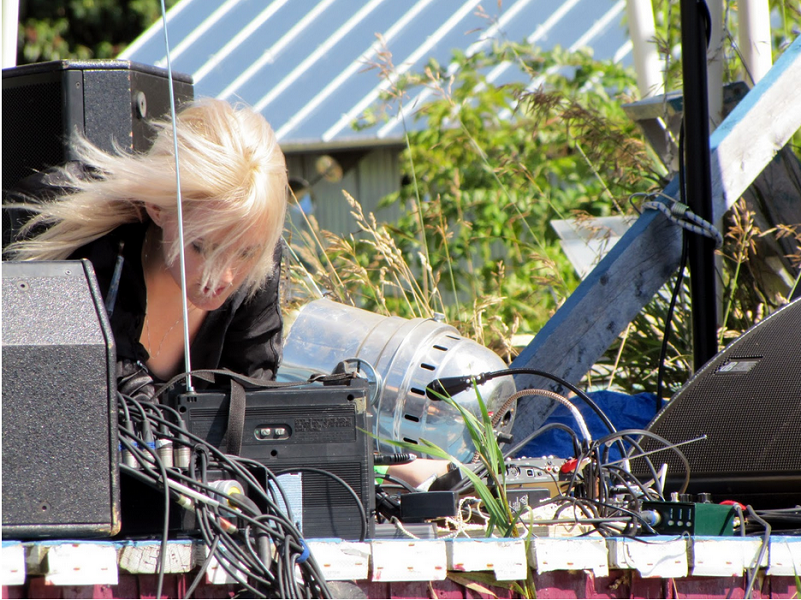 "The Nihilist Spasm Band apologized to me after my set for driving up near the stage while I was playing. I thought, I wish you drove over the stage, that would have been amazing. Also I hadn't noticed – I didn't notice the ambulance for the heat stroke suffering guy either (hope he's okay). I couldn't see my gear, we both don't understand sunshine." – Bridget Bardon't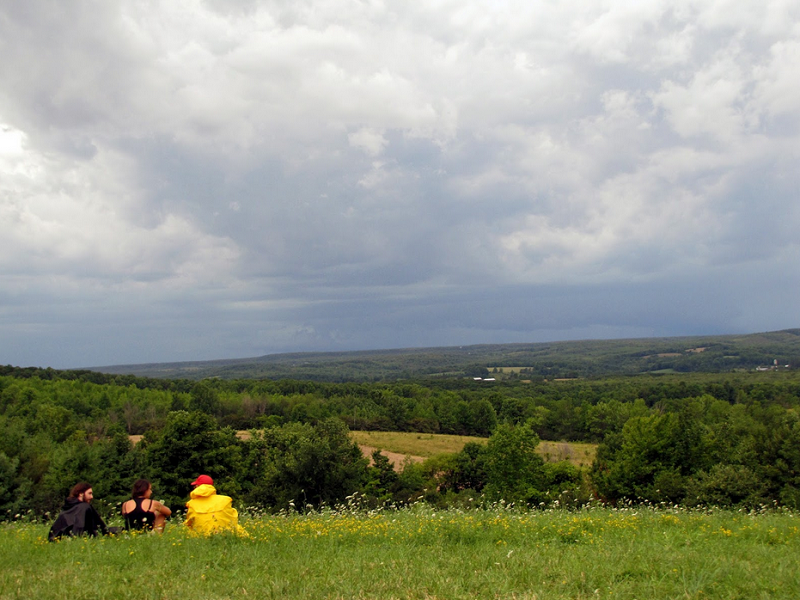 A calming moment before the end of the Festival and a tremendous downpour. Until next year friends.
De la réduction huileuse de Joshua Cwintal:
(Traduit par le sourire fatigué de Jessica Grenier)
Les paires d'oreilles réceptives étaient éparpillées entre les piliers décorés d'oursons en peluche au festival Electric Eclectics, quelque part près de Meaford, en Ontario. Les festivaliers se délectaient de drone endoctrinant et de sons réverbérant dans la cage thoracique; autant de détails personnifiant l'esprit visionnaire et convivial du rassemblement. Avec leurs installations intrigantes, des artistes capturaient les promeneurs alors qu'ils tentaient de traverser le paysage pittoresque baptisé « The funny farm ». Sous l'animation de danses nocturnes rythmées et de rires se déversant toujours plus profondément dans les profondeurs de la forêt, les nuits refusaient de mourir; et chaque jour naissant guidait son lot de visages familiers vers une rencontre où l'inconnu était la seule chose au programme.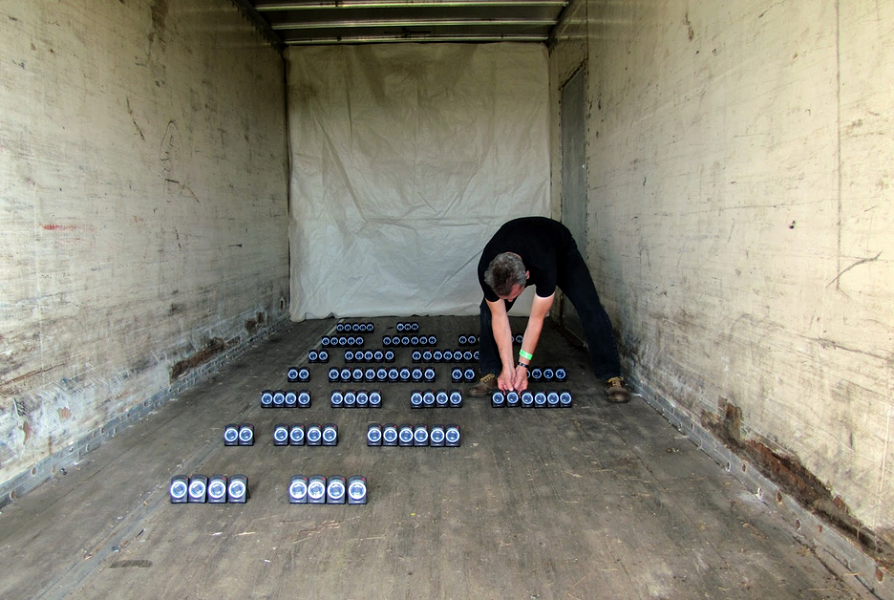 Cent métronomes – autant de battements rappelant les stridulations d'une cigale – placés de façon à reproduire la présentation d'un poème compagnon.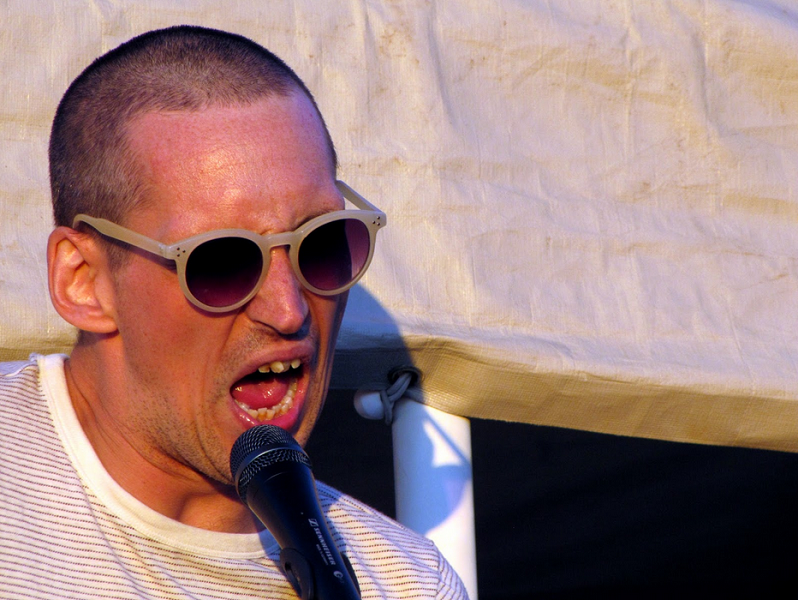 « Quelqu'un a déjà eu une démangeaison psychosomatique? » – Dave de Soupcans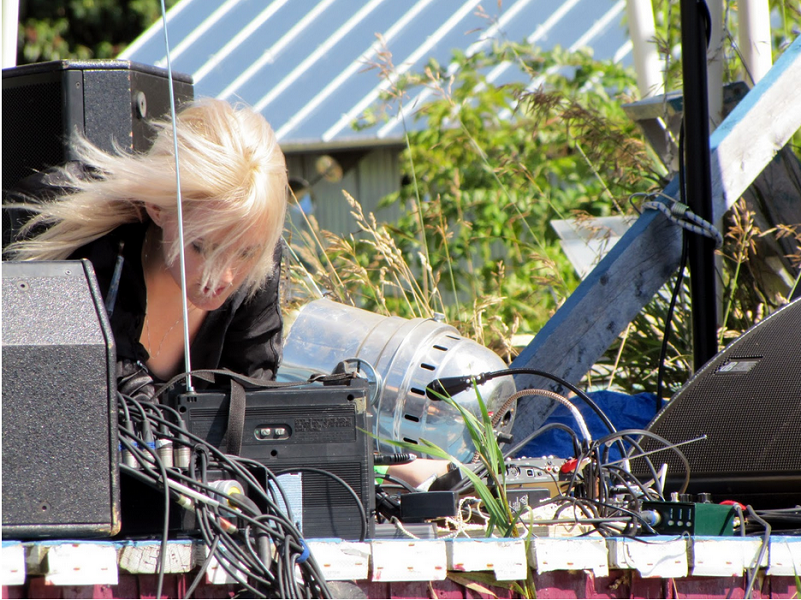 « Le Nihilist Spasm Band s'est excusé d'être passé en voiture juste à côté de la scène pendant que je jouais. Je me suis dit : "vous auriez dû rouler directement dessus, ça aurait été fou!" Et puis je n'avais pas remarqué – je n'avais pas non plus remarqué l'ambulance venue chercher un gars qui avait fait un coup de chaleur (j'espère qu'il est OK). Je n'arrivais pas à voir mon matériel : lui et moi, on a de la misère avec le soleil. » – Bridget Bardon't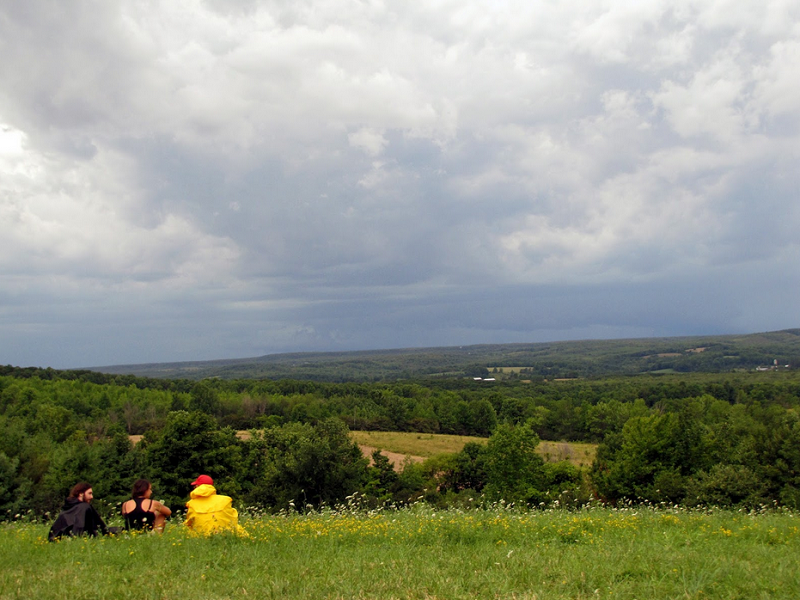 Un moment de répit avant la fin du festival (et une averse phénoménale). Au plaisir de se revoir l'année prochaine.
---