Category: nunavut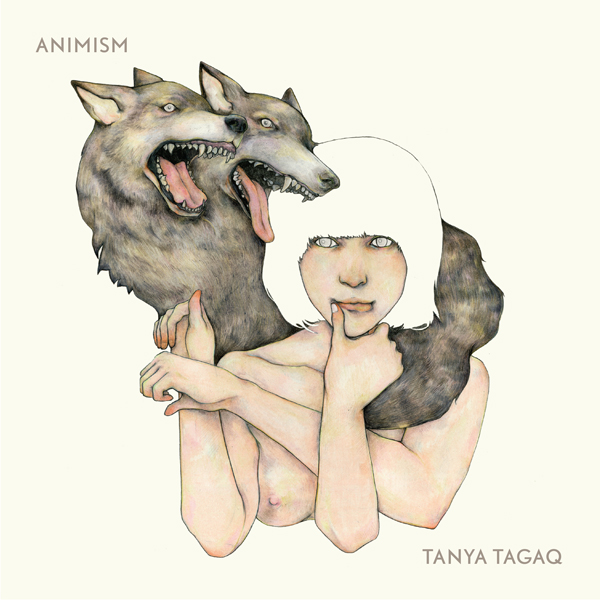 Tanya Tagaq
Animism
Cambridge Bay, NU
From the damp animal spirit of Trevor Blumas:
Nature, "the eternal other" is fractaled through the prism of abstraction and projected onto the sonic canvas for our colonial ears to interpret. Vast kaleidoscopic fragments of wisdom, struggle, spirit and catharsis explode over a cave wall like the square pixels of a badly rendered digital landscape, allowing us to contemplate both the organic image and its digital distortions. Have we come to exist in a holographic world? SWALLOW THE RED PILL.
We've aligned ourselves to the dogmatic frequencies of Western pragmatics for too long. Tanya Tagaq, the great Doula of sonic consciousness, carries our ears through its rebirth and awakening. Her music is in no way exotic, or otherworldly, or avant-garde. This is pure human expression from a woman who has found her humanity within the fragile clutches of mother nature. The fleeting glows of authenticity re-ignite and burn bright like the northern lights. You'll just have to step a little beyond your condominium balcony to actually see it.
De l'esprit animal calme de Trevor Blumas:
(Traduit par les moments mystiques de Julie Forget)
La nature, « l'autre éternel », devient fractale à travers le prisme d'abstraction et est projetée sur les toiles soniques pour que nos oreilles coloniales l'interprètent. De grands morceaux de sagesse, de lutte et de catharsis kaléidoscopiques explosent au-dessus d'une caverne comme des pixels carrés d'un paysage numérique mal crépi, nous laissant contempler autant l'image organique que ses distorsions numériques. En sommes-nous venus à vivre dans un monde holographique? AVALEZ LA PILULE ROUGE.
Nous nous sommes alignés aux fréquences dogmatiques de la pragmatique occidentale pendant trop longtemps. Tanya Tagaq, la grande doula d'esprit sonique, transporte nos oreilles dans sa renaissance et son éveil. Sa musique n'est en aucun cas exotique, mystique ou avant-garde. Il s'agit d'une expression humaine pure de la part d'une femme qui a trouvé son humanité dans les étreintes fragiles de Dame Nature. Les brèves lueurs d'authenticité se rallument et brûlent de façon brillante comme les lumières nordiques. Vous devrez seulement sortir au-delà du balcon de votre condominium pour le voir réellement.
Dan Galway
Human Feelings
(Self Released)
Iqaluit, NU
From the stunned phasers of Eric Rumble:
Submerged. A yawp from the deep, bubbling up to tundra. Time-lapse low tones and light tracers that liquefy the day under cover of night. A droning from the planet's tipping point, coloured by the murky daydream of some suburban gymnasium slow dance.
Dan Galway unpacks the space between anxiety and intent – the tricky idea that "being human is difficult because we have to feel" – with the riddled atmospherics of his remote outpost: a single bulb in an uncluttered room; his stored motorbike's dormant heat; sled dogs howling at the abyss of snow and sky outside; trans-zen-dental single notes and strong cadences decoded through a pair of headphones; his family sleeping down the hall. Galway says his four-month-old likes watching the computer screen but is startled by loud noises, "so he is a harsh critic."
The Iqaluit-based artist gives the scoop on his song titles and what they grapple with.
This song is one of Galway's favourites and the CD-R's title track because it speaks to the prevailing theme of his music: the complexity of emotions. "Human interaction is difficult. We are unable to express ourselves save for a setting in which that is implied. This is resolved by being honest to ourselves and others."
Galway: "This track speaks to the inherent tension within true happiness. The dissonant low tones sound both in opposition to and in harmony with each other. Feeling truly happy is a miracle, but it is not free from self doubt and anxiety."
"Music is a natural process for me – I generally build on an idea I have in my head for how I want a track to flow. This track, like a lot of my music, is based on the layering and manipulation of repetitive rhythms and melodies. At what point does this no longer challenge the listener? Is that the purpose of this music? If it isn't, then what is? This must be something all creative types feel – the nagging idea that what you produce is not special, merely mediocre."
The "slow, lumbering and uncomfortable" jam set against a 7/8 beat that repped Nunavut on the Wyrd Distro coast-to-coast-to-coast launch comp cassette. Galway calls it an experiment with "the juxtaposition of what we say versus how we really feel. Behind the facade we are people who may never truly know each other. The reason this is so troubling is because we need to exist outside of ourselves. But how well can we really know anyone?"
Des lasers stupéfiés d'Eric Rumble:
(Traduit par l'incapacité de Vincent Rondeau à traduire des jeux de mots)
Submersion. Un gémissement venu des profondeurs bouillonne dans la toundra. Des basses en accéléré, des traînées de lumière qui liquéfient le jour à la faveur de l'obscurité. Un ronflement issu du pivot de la planète, coloré par la fantaisie glauque d'un slow de gymnase en banlieue.
Dan Galway déploie l'espace entre l'angoisse et l'intention, l'idée retorse selon laquelle « être humain, c'est difficile parce qu'il faut tout ressentir », à l'aide des atmosphères déchirées de son emplacement reculé : une ampoule seule dans une pièce épurée, la tiédeur latente de sa moto rangée, le jappement des chiens de traîneau dans l'abîme de neige et de ciel, des cadences fortes et des notes solitaires transcendantales décodées par une paire d'écouteurs, sa famille endormie au bout du couloir. Galway mentionne que son fils de quatre mois aime regarder l'écran de l'ordinateur mais que les bruits forts l'effraient : « c'est un critique impitoyable ».
L'artiste et résident d'Iqaluit nous explique les titres de ses chansons et leur signification.

"Human Feelings" (« Sentiments humains »)
C'est une des chansons favorites de Galway et la chanson-titre du CD-R parce qu'elle traite du thème principal de sa musique : la complexité des émotions. « L'interaction entre êtres humains est difficile. On est incapable de s'exprimer en dehors de certains contextes où cette difficulté est sous-entendue. La solution, c'est d'être honnête avec nous-mêmes et avec les autres ».

"Latest Triumphs" (« Triomphes récents »)
Galway : « Cette pièce parle de la tension inhérente au vrai bonheur. Les basses dissonantes sonnent à la fois en opposition et en harmonie entre elles. Le sentiment du bonheur réel est un miracle, mais il ne nous libère ni du doute que l'on ressent à propos de soi ni de l'angoisse ».
« Pour moi, la musique est un processus naturel. D'habitude, je commence à partir d'une idée générale du mouvement de la pièce. Celle-ci, comme plusieurs de mes autres pièces, manipule des mélodies et des rythmes répétitifs et les dispose en couches. Mais jusqu'à quel point est-ce stimulant pour l'auditeur? Est-ce le but de cette musique? Sinon, quel est-il? J'imagine que tous les créateurs ont le même sentiment, la même idée tenace que ce que l'on produit n'est pas spécial, mais médiocre ».

"Real Talk" (« Paroles vraies »)
Ce morceau « lent, lourd et inconfortable » sur un rythme en 7/8 a représenté le Nunavut sur la cassette compilation du lancement de la Wyrd Distro aux quatre coins du pays. Pour Galway, c'est une expérience qui joue avec « la juxtaposition de ce que l'on dit et de ce que l'on ressent vraiment. Derrière la façade, nous ne nous connaîtrons peut-être jamais réellement. C'est troublant parce qu'on ressent le besoin d'exister hors de nous-mêmes, mais à quel point peut-on vraiment connaître qui que ce soit? ».
---