Category: new brunswick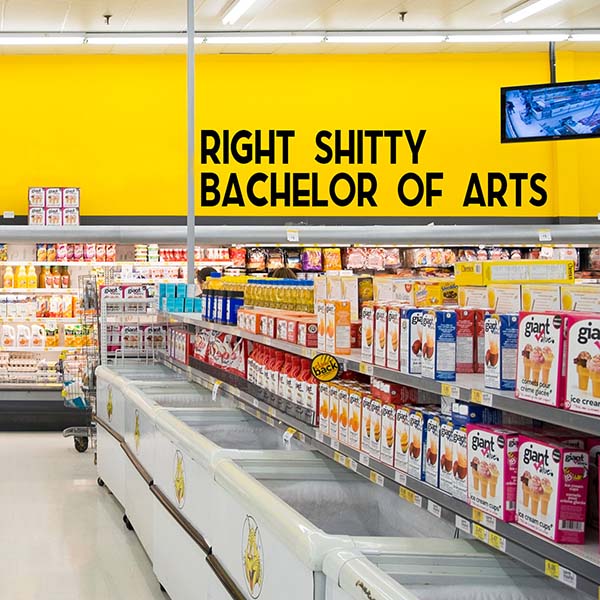 Right Shitty
Bachelor of Arts
Saint John, NB
From the buzzing molars of Brian Cleveland:
Loud guitars continue to dominate the Port City attempting to overpower the din and dominance of the monopolized industrial industry. Blazing another branched off trail alongside the path carved by the likes of the Wooden Wives, Little You Little Me, and Stegosaurus, Right Shitty will wake you up with a splash to the face and molars buzzing. Sign up for this degree program immediately.
Des molaires vibrantes de Brian Cleveland:
(Le chemin sculpté d'Odile Leclerc)
Les guitares bruyantes continuent à dominer le Quai de la ville essayant de vaincre le vacarme et la dominance de l'industrie industrielle. Brûlant un autre sentier qui bifurque aux côtés du chemin sculpté par ceux comme les Wooden Wives, Little You Little Me et Stegosaurus, Right Shitty va vous réveiller avec une éclaboussure au visage et des molaires vibrantes. Inscrivez-vous à ce programme d'études immédiatement.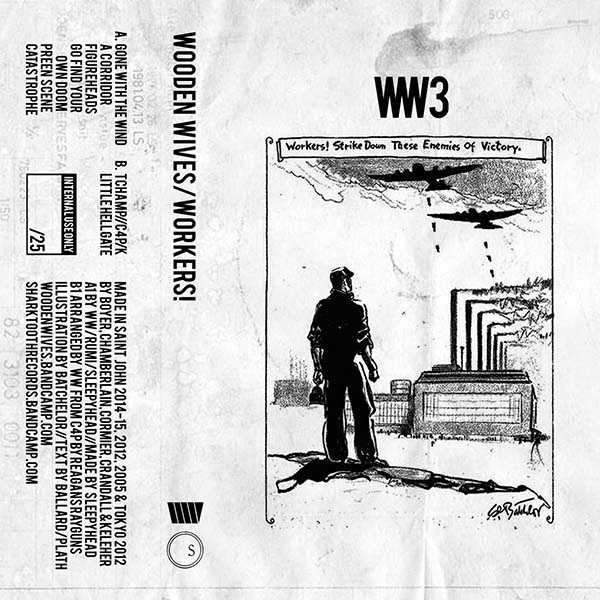 Wooden Wives
Workers! Strike Down These Enemies Of Victory
(Sharktooth Records)
Saint John, NB
From the calloused hands of Brian Cleveland:
WIVES IS OVER. With a decade-long presence that winds throughout Saint John's music scene, the Wooden Wives were unlikely to go out with anything but a bang as their ever-morphing, explosive presence comes to its inevitable conclusion. Despite containing mostly previously unreleased tracks, the final album from the Wooden Wives fittingly plays like a Best Of compilation, running the gamut between spoken word pieces, fast punk snippets, a cover, and long drone selections. Subverting the idea of what constitutes a song, the Wooden Wives relax the mind and energize the body. Influencing innumerable groups from the Maritimes and already splitting off to form a handful of their own exciting new projects, they are gone but hardly forgotten. Wooden Wives 2005-2015 RIP.
Des mains calleuses de Brian Cleveland:
(La sélection de drones d' Odile Leclerc)
Le temps des WIVES est fini Avec une présence sur presque toute la scène musicale de Saint-John's de 10 ans, il était peu plausible que les Wooden Wives n'allaient pas quitter sans frapper fort alors que leur présence explosive et toujours changeante vient à son inévitable conclusion. Malgré qu'il contient majoritairement des pistes précédemment non publiées, l'album final des Wooden Wives joue de façon appropriée comme un Best Of des compilations, dirigeant la gamme entre les fragments de mots parlés, les bribes rapides de punk, une couverture et une longue sélection de drones. Renversant l'idée de quoi constitue une chanson les Wooden Wives relaxent l'esprit et donnent de l'énergie au corps. Influençant d'innombrables groupes des Maritimes et s'étant déjà séparés pour former une poignée de leurs propres nouveaux projets excitants, ils sont partis, mais pas oubliés. Wooden Wives 2005-2015 RIP.
Wooden Wives – Gone With the Wind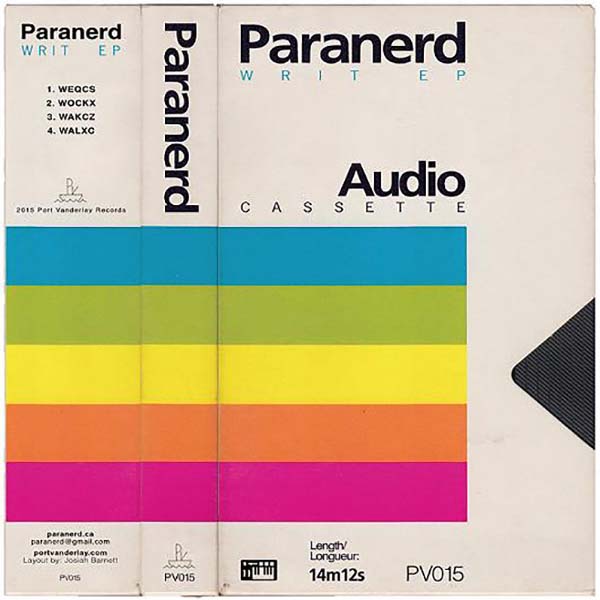 Paranerd
Writ EP
Moncton, NB
From the euphoric seclusion of Trevor Angst:
We've always been inclined to dance together in circles. Mind you, our feet barely shuffle, and our bopping heads merely impose our knees to dip whilst clurbing. The thought of being streaked with ultraviolet light by ceiling projectors is tempting enough to check in, but tonight we're really better off vibin' from each other's houses. Our jiving abilities are overcome by our own reveries, induced by the fluidity of oonts, tweaks and burbles. There are disparate segments of syncopated, burst mode riddums that clatter in sequences. A singular, spacey squelch that typifies a launch into hyperspace and sweeping cut off frequencies for full velocity.
De la solitude euphorique de Trevor Angst:
(Le mode en rafale de Odile Leclerc)
Nous avons toujours été enclins à danser en rond ensemble. Mais attention, nos pieds traînent à peine et nos têtes rebondissantes ne font qu'imposer à nos genoux de se ployer pendant que nous sortons en boîtes. L'idée de se faire strier de lumières ultraviolettes par des projecteurs au plafond est assez tentante pour participer, mais ce soir nous ferions mieux de prendre du bon temps à partir de nos maisons. Nos habilités à giguer sont vaincues par nos propres rêveries, induites par la fluidité des boom boom, des altérations et des gazouillis. Il y a des segments disparates de rythmes en mode rafales syncopés qui se fracassent en séquences. Un bruit de succion singulier qui caractérise un lancement dans l'hyperespace et un balayage coupent les fréquences pour atteindre une pleine vélocité.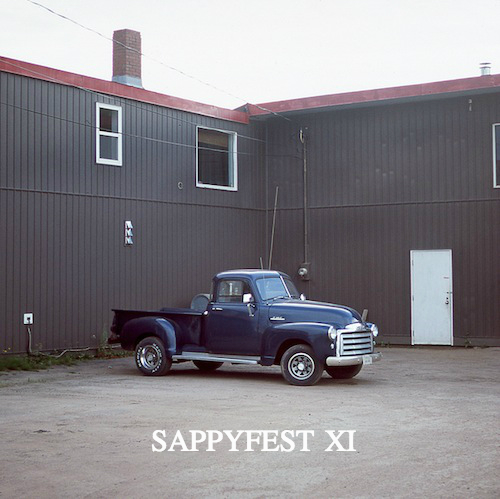 Photo by: Corey J. Isenor
Sappyfest XI

July 29th – 31st, 2016

Various Artists
Sackville NB
Des vagabondages nébuleux de Teddie Brock:
(Traduit par le désastre au chocolat de Maya Keshav)
Tu passes un autre été léthargique mis de côté dans les Maritimes? Secoue cette stupeur confortable en se promenant au cœur sentimental de Sackville au N.-B. cette fin de semaine, et savoure la lueur fluorescente d'un food truck fish-and-chips. Après, suscite ta propre recette du désastre avec Cupcake Ductape, Chocolat, Nancy Pants, et encore plus de petits plaisir saigres-doux faits-maison. Il n'y a nulle part ailleurs que nulle part.
The Winter Coats
Why So Monumental?
(Self-Released)
Fredericton, NB
From the chemical-crusted claws of Brian Cleveland:
The cryptically unknowable Frederictonian duo of Garcia and Le Noir have produced a sophomore record you'd be proud to learn was created in your neck of the woods. Updating fans infrequently, rarely releasing tunes, and playing shows even more interstitially, it's fair to assume they no longer exist at any juncture, but they've somehow surpassed the lifespan of many of their cohorts: Yellowteeth, Lee Harvey Oswalds, etc. Let Luis and Joel become your personal Boris or Glenn Branca.
Des griffes chimiquement tartreuses de Brian Cleveland:
(Traduit par Aliké Harel)
Cryptique et insondable, le duo frédérictonnais Garcia-Le Noir a produit un deuxième album qui, vous serez heureux d'apprendre, a été conçu dans la forêt près de chez vous. Le groupe mettant irrégulièrement leurs admirateurs au fait, lançant rarement de nouvelles chansons et étant en spectacle à intervalle encore plus irrégulier, il aurait été acceptable de croire que le duo s'était éteint à tout moment. Il a pourtant dépassé en longévité ses compères : Yellowteeth, Lee Harvey Oswalds, etc. Laissez Luis et Joel devenir votre Boris ou votre Glenn Branca bien à vous.
The Winter Coats – The Chymical Wedding of Christian Rosenkreutz
Dead Beat Poet Society
Induction
(Self Released)
Sackville, NB
From the Dead Beat mind of Laura Stanley:
Captains! my Captains! our fearful trip has just begun. We're drunk and high, lost in the perpetual agitation brought on by our responsibilities. We're generation Y warriors, wool pulled over our eyes, pretending everything's alright. Our yawp is not savage, but pointed, and matches the fire in our restless bones.
Walk the path where Kay Moon and Zakary Slax stand. Energized and alert.
De l'esprit irresponsable de Laura Stanley:
(Traduit par Aliké Harel)
Ô, Capitaines! Mes capitaines! Notre voyage effroyable ne fait que commencer. Soûls, nous planons, perdus dans le tumulte perpétuel entretenu par nos responsabilités. Nous sommes les guerriers de la génération Y, au regard masqué d'un lainage, affectant un air béat. Notre cri n'est pas sauvage, mais ciselé et aux couleurs du feu, fébrile jusqu'à la moelle. Prenez le chemin où se tiennent Kay Moon et Zakary Slax. D'aplomb et alerte.
Dead Beat Poet Society – Coming of the Age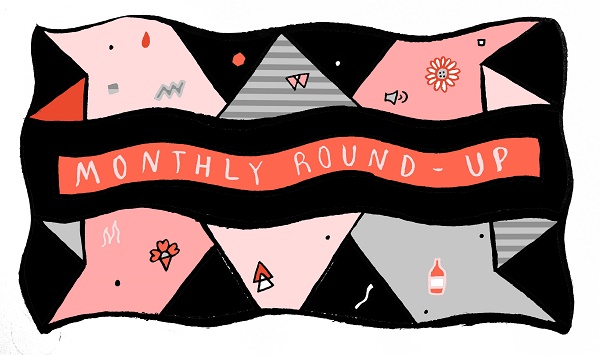 From the Lizard Cove:
In our ongoing pursuit to encourage, document, and connect creative expression across Canada, we cut through waves upon waves of ethereal sounds, wyld shreddery, and brooding drones. It is magnificent. Some of the best grips escape our grasping fists. We list them here:
S.M. – Pheromone Heave (London, ON)
The Famines – Too Cool & Other Songs (Montréal, QC)
p0stm0rtem – Beautiful Pain (Toronto, ON)
བདུད – བདུད (Guelph, ON)
Everything Is Geometry – 2015 (Vancouver, BC / Fredericton, NB)
TELOZKOPE – Grape Steam (Winnipeg, MB)
young truck – Maximum Average (Toronto, ON)
Floridas – Background Themes (Victoria, BC)
The Red Daggers – All Empires Fall (Ottawa, ON)
James Wyatt Crosby – O.T.O.T.W. (Toronto, ON)
From the Lizard Cove:
Notre quête constante visant à encourager, à mettre en contact et à décrire les pratiques d'expression créatrice au Canada nous fait traverser vague après vague de sons éthérés, de shreds déchaînés et de sinistres bourdonnements; et c'est magnifique. De véritables joyaux échappent parfois à nos mains avides. Ils sont énumérés ici:
S.M. – Pheromone Heave (London, ON)
The Famines – Too Cool & Other Songs (Montréal, QC)
p0stm0rtem – Beautiful Pain (Toronto, ON)
བདུད – བདུད (Guelph, ON)
Everything Is Geometry – 2015 (Vancouver, BC / Fredericton, NB)
TELOZKOPE – Grape Steam (Winnipeg, MB)
young truck – Maximum Average (Toronto, ON)
Floridas – Background Themes (Victoria, BC)
The Red Daggers – All Empires Fall (Ottawa, ON)
James Wyatt Crosby – O.T.O.T.W. (Toronto, ON)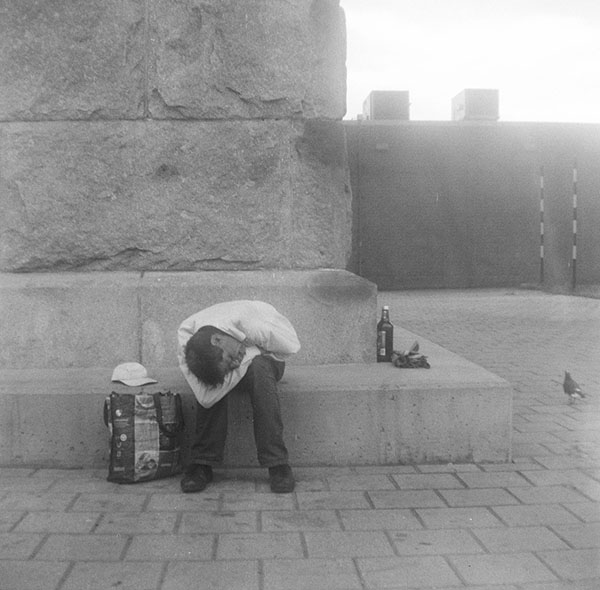 Stegosaurus
PUMMELED
Saint John, NB
From the Riverside dispatches of Ben Burnett:
Like the restless, Bukowski-esque malcontents of the 90's that preceded them – Kasher, Malkmus, Brock, – Stegosaurus desperately want to shed their own skin. Pummeled is a diary of Port City drudgery. Heavy with escapist fantasies, they're too pessimistic to be dreamers. This is a dirty, cathartic processional marching towards a darker horizon.
Des répartitions riveraines de Ben Burnett:
(Traduit par Mylène j'ai besoin de vacances Quevillon)
Tels les insatisfaits et les mécontents des années 90, du genre Bukowski, qui les ont précédés – Kasher, Malkmus, Brock, – Stegosaurus souhaite désespérément se renouveler. Pummeled est le journal de la lutte d'une ville portuaire. C'est la catharsis d'une marche processionnelle morose, vers un horizon encore plus sombre.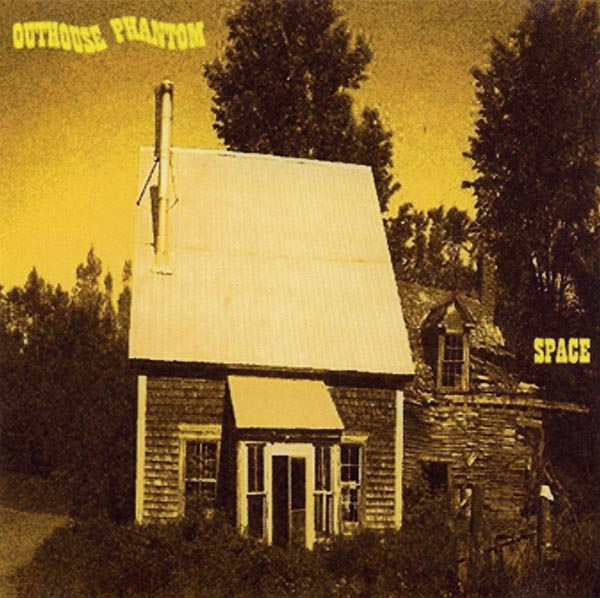 Outhouse Phantom
Space
(Self Released)
Saint John, NB
From the cosmic tool shed of Don L'Orange:
Through the crackle and pulse of handmade electronics, existential questions are skirted. The mundane is analysed right in front of your tired eyes, and yet you cannot be certain if you have even left the house. But not me. I know exactly where I am and I realise I have never interacted with immortal beings before. These are the benefits of childhood indoctrination: superior business skills, a strong body (mainly lower back), and an alien-like approach to tantra. Safe keeping, Noise Fuck.
De la cabane à outils cosmique de Don L'Orange:
(Traduit par la rêverie lassante de Mackenzie Smedmor)
À travers le pétillement et le battement des appareils électroniques faits à la main, des questions existentielles sont contournées. Le banal est analysé devant tes yeux fatigués et, par contre, tu ne peux pas être certain d'avoir même quitté la maison. Mais pas moi. Je sais exactement où je suis et je me rends compte que je n'ai jamais auparavant interagi avec des êtres immortels. Ce sont les bénéfices de l'endoctrinement infantile : des habilités d'affaires supérieures, un corps robuste (surtout au bas du dos) et une approche au tantrisme comme un extraterrestre. Assurer la garde, Noise Fuck.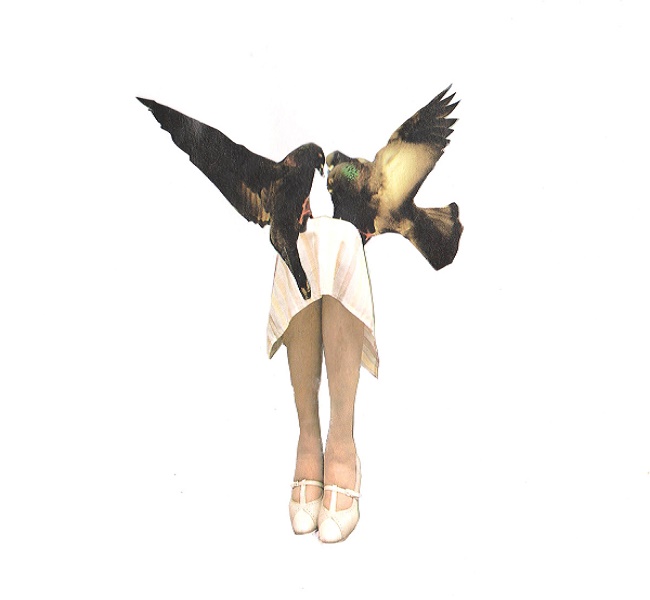 Various Artists
Fredericton's Mine
Fredericton, NB
From the Maritime motivation of Brian Cleveland:
Moncton isn't so bad, so what about the rest of the unfairly characterised No Funswick? Well, Fredericton is mine and it can be yours now, too. Motherhood blasted into our adoring ears in March, and now our tympanic membranes are vibing with a full-on Fredericton invasion. It's time to join the cult, sample the circus, and discover over three dozen new favourites in one fell swoop. So Funswick.
Par la motivation maritime de Brian Cleveland:
(Traduit par les oreilles adorantes d' Émily Traichel)
Moncton n'est pas si pire, alors qu'est-ce qui en est du reste du «Pas de Funswick,» ainsi injustement caractérisé? Eh bien, Frédéricton m'appartient et peut maintenant t'appartenir aussi. Motherhood s'est projeté dans nos oreilles adorantes au mois de mars, et maintenant nos membranes tympaniques vibrent avec une invasion frédérictonnaise totale. C'est le temps de joindre le culte, de goûter au cirque, et de découvrir plus de trois douzaines de nouveaux coups de coeur en un tournemain. Trop l'Funswick.
---