Category: british columbia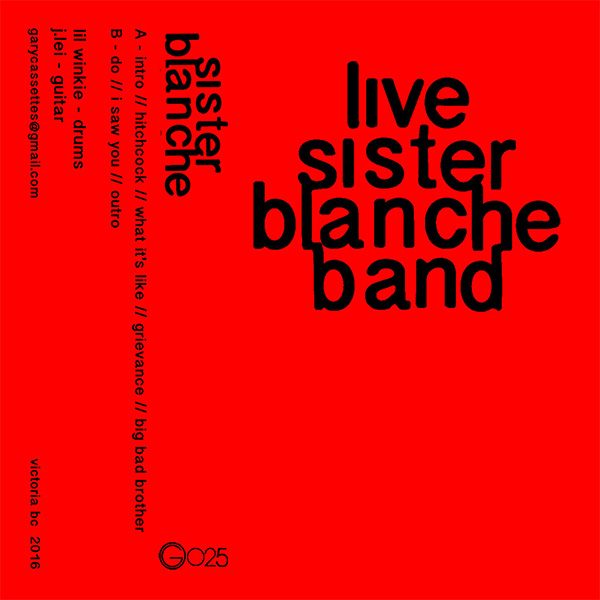 Sister Blanche
Live Sister Blanche Band
Victoria, BC
From the demonic haze of Mark Gillis:
Buried in the heart of the pit, the snarls of Sister Blanche carve through your skin and grind themselves deep inside your soul. With every abrasive noise, the mechanized monster that is Sister Blanche grows larger. As the gears turn, the entire system overheats, spewing smoke and ash. Burnt to a crisp, the remnants of Sister Blanche emit a thick, demonic haze of smog while the world plummets into a deeper despair. No light, no hope.
Du brouillard démoniaque de Mark Gillis:
(Traduit par les déambulations nocturnes de Julie Mayer)
Enterrés au cœur du puits, les hurlements de Sister Blanche transpercent votre peau pour s'enraciner profondément dans votre âme. Chaque bruit abrasif fait grossir le monstre mécanique qu'est Sister Blanche. Tandis que les engrenages tournent, le système tout entier surchauffe, crachant de la fumée et des cendres. Carbonisés, les restes de Sister Blanche émettent un épais brouillard démoniaque alors que le monde plonge dans un désespoir plus profond. Sans lumière, pas d'espoir.
Sister Blanche – Intro//Hitchcock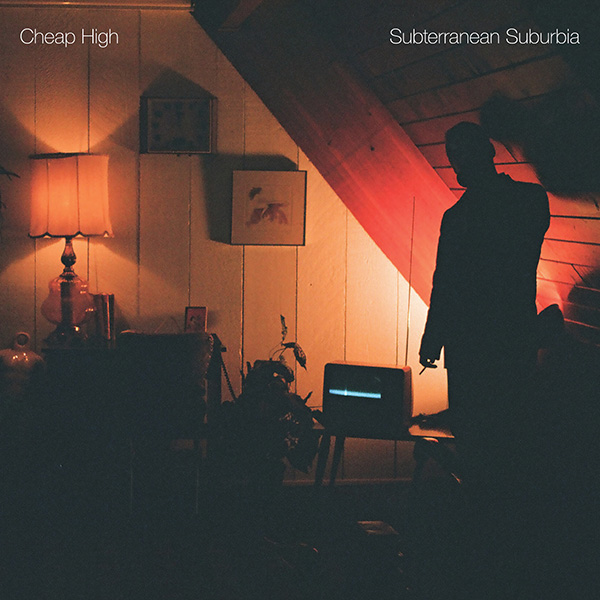 Cheap High
Subterranean Suburbia
Abbotsford, BC // Vancouver, BC
From the illicit parents' basement of Kyle Valade:
Winter nights vectoring towards Vancouver, phone dead, music loud over smoke being sucked out the window, airdrumming the cold from your hands. This band calls themselves suburban, but at least two of the members have been playing around the city for seven years. Cheap High have existed for about three. _Subterranean Suburbia_ is their first full-length and marks the debut of Dipstick Records – so you can be sure the onslaught is measured and explosive. Good thing, because it'll probably be a long time before I change the CD in my car.
De la cave parentale illicite de Kyle Valade:
(Traduit par les doigts frigorifiés de Jessica Grenier)
Les nuits hivernales se dirigent vers Vancouver. Ton cellulaire est mort. De la musique puissante écrase la fumée, qui s'échappe par la fenêtre ouverte. Tu réchauffes tes mains en jouant du airdrum. Ce groupe se dit banlieusard, mais au moins deux de ses membres jouent en ville depuis sept ans – et Cheap High existe depuis trois. _Subterranean Suburbia_ est leur premier album complet, et il inaugure Dipstick Records. Donc, l'assaut est assurément calculé et explosif. C'est une bonne chose, parce que je ne changerai pas le CD dans ma voiture avant un bon moment.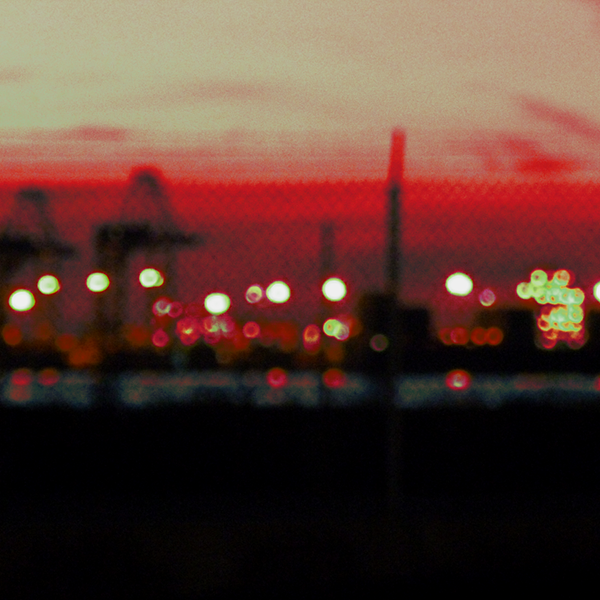 Atrum Machina
Machine Breathing
Self-released
Victoria, BC
From the languid sine wave of Teddie Brock:
Atrum Machina's sonic shadows lurk amidst a graveyard of flickering neon signage and cracked plasmic tubing. Parasitic worms lurch themselves into gutters cratering the stale concrete. Here, damage and rot are imminent as industrial structure gives form to a mycotoxic playground. The evolutionary circuit opens, then closes. Beyond the rusted fence-links, stifled machinations seep from a grey warehouse. The fossil transmissions of Machine Breathing weave a blanket of warm static – as the heartbeat falters, oscillations slow.
De la vague sinusoïdale languide de Teddie Brock:
(Traduit par la tangente hyperbolique de Julie Mayer)
Les ombres acoustiques d'Atrum Machina rôdent parmi un cimetière d'enseignes aux néons vacillants et de tubes plasma craquelés. Des vers parasites rampent dans les caniveaux cratérisant le béton plat. Ici, les dommages et la pourriture sont imminents alors que la structure industrielle donne forme à un terrain mycotoxique. Le circuit révolutionnaire s'ouvre, puis se referme. Au-delà du grillage rouillé, des machinations étouffées suintent d'un entrepôt gris. Les transmissions fossiles de *Machine Breathing* tissent une couverture d'électricité statique chaude. À mesure que le pouls faiblit, les oscillations ralentissent.
Atrum Machina – Grow (Trophus)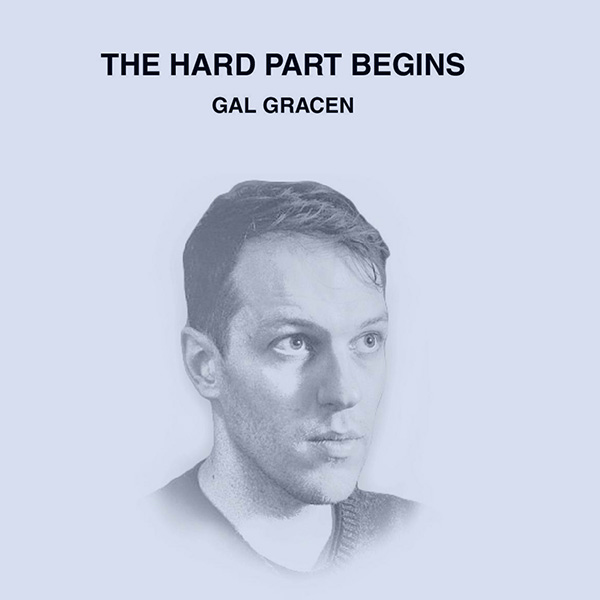 Gal Gracen
The Hard Part Begins
DISNY records
Vancouver, BC
Gal Gracen – Sincerely Baby Dumpling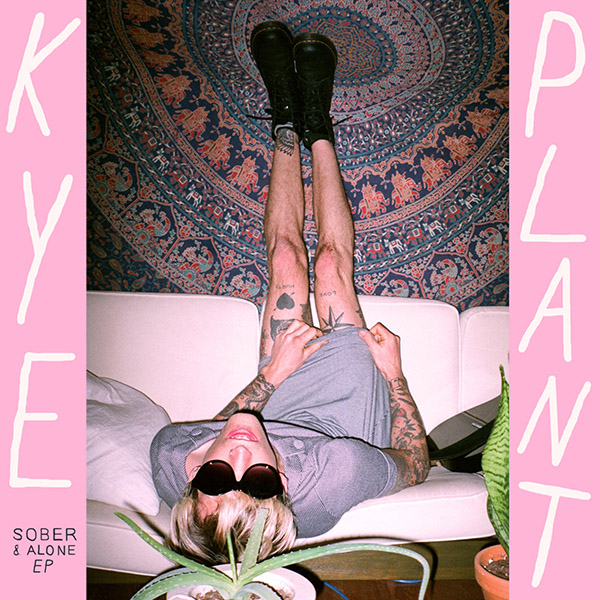 Kye Plant
Sober & Alone EP
(Gary Cassettes)
Victoria, BC
From the questioning self of Johnnie Regalado:
A soft breeze sneaks in an open window, turns the pages of the notebook on the bedside table, and lifts the solemn words out into the ether. Sing along with the sorrow. Nothing remembered is lost forever. Kye Plant's solo harmonies echo an important reminder: there's absolutely nothin' wrong with feelin' weird.
Du soi s'interrogeant de Johnnie Regalado:
(Traduit par les flocons épicés de Marie-Pier Chevrier)
Une douce brise se faufile par la fenêtre ouverte, tourne les pages du cahier de notes sur la table de chevet et en soulève les mots solennels dans l'éther. Chantez en harmonie avec le chagrin. Aucun souvenir n'est perdu à jamais. Les mélodies des solos de Kye Plant répètent un important rappel : il n'y a absolument rien de mal à se sentir étrange.
Kye Plant – The Gender Binary is a Jail Cell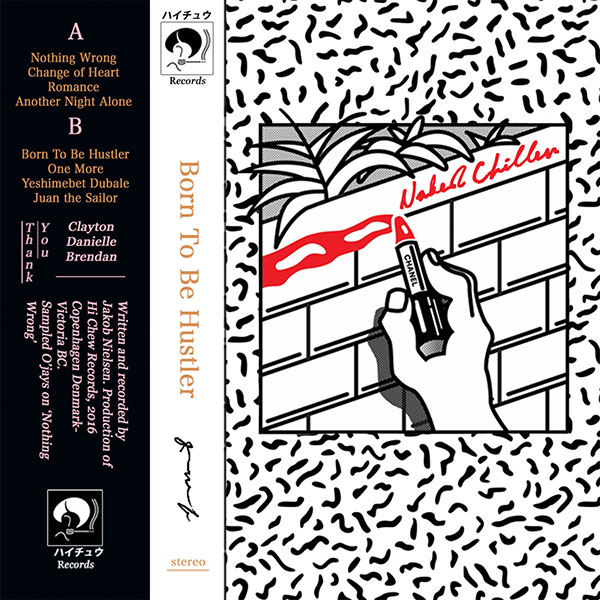 Naked Chillen
Born To Be Hustler
Victoria, BC
From the shaving cream embarrassment of Sam Joseph:
In a sinful city by the sea, angels check their wings at the door. Morose melody lingers in the air of an Art Deco dining hall like the smoke of a million cigarettes. Diamond eyes stare from afar as you look up and down the late-night menu. They know. Your misgivings will be brought to light in the darkroom. Penthouse can become pavement in an instant. Strap yourself in, Casanova. Time to find out if that twin-turbo engine is fast enough to facilitate your safe escape from this pastel hell.
De l'embarrassement de la crème à raser de Sam Joseph:
(Les yeux en diamants d'Odile Leclerc)
Dans une ville pécheresse près de la mer, les anges laissent leurs ailes à la porte. Une mélodie morose persiste dans l'air d'une salle à manger Art déco, telle la fumée d'un million de cigarettes. Des yeux en diamants fixent de loin alors que vous regardez de haut en bas le menu nocturne Ils savent. Vos appréhensions vont être révélées dans la pièce sombre. Un appartement-terrasse peut se transformer en trottoir en un instant. Attache-toi, Casanova. Il est temps de savoir si cette machine à double turbo est assez rapide pour faciliter une évasion sans danger de cet enfer pastel.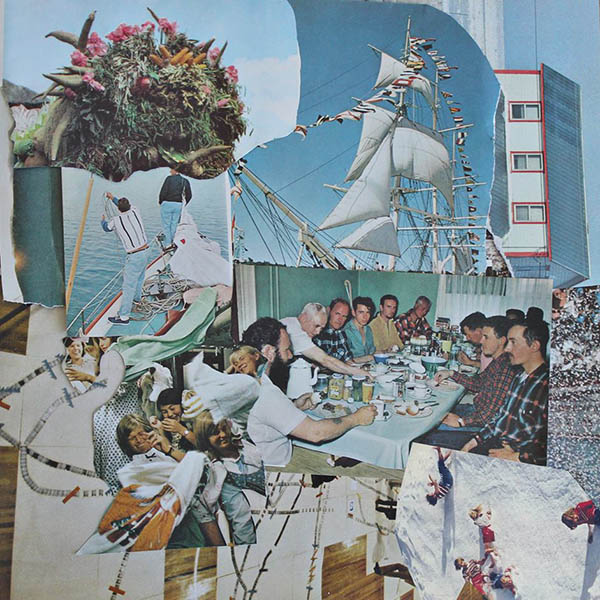 Loving
Loving
(Self-Released)
Victoria, BC
From the trick pony of Katie Jensen:
Trembling jelly words waiting to be scooped up with a plastic spoon. An apology repeated firmly and frequently. Postpunk played on 45 rpm, coated in honey, the needle dragging.
Supine guitar melodies flex their ankles underneath a bleached rim. Carefully selected sentences shift horizontally, mimicking stacked papers lifting their skirts in the wind.
A car crash played in reverse, glass triangles regathering like ants around a nest, front wheels racing backwards from an aquamarine, frothing crest. Once bitten, twice contemplative.
A copper penny placed in the palm of a warm hand like a promise; the most unreliable currency; the most likely to be forgotten on the ground.
Du poney de cirque de Katie Jensen:
(Traduit par les fourmis oubliées de Maya Keshav )
Les mots tremblants de gelée qui attendent d'être ramassés avec une cuillère en plastique. Des excuses qu'on présente et répète avec fermeté, souvent. Du postpunk joué à 45 tr/min, enrobé de miel, l'aiguille traînant.
Les mélodies allongées de guitare fléchissent leurs chevilles en dessous d'un rebord pâle. Les phrases soigneusement choisies se déplacent horizontalement, en imitant les paquets de feuilles qui soulèvent leurs jupes dans le vent.
Un accident de voiture joué à l'envers, des triangles de verre qui se rassemblent comme les fourmis autour d'un nid, les roues avant qui courent en arrière d'une crête bleue-verte moussante. Une fois mordu, deux fois plus songeur.
Un penny en cuivre mis dans la paume d'une main chaleureuse comme une promesse; la devise la moins fiable; celle qui est la plus probable de rester oubliée sur le sol.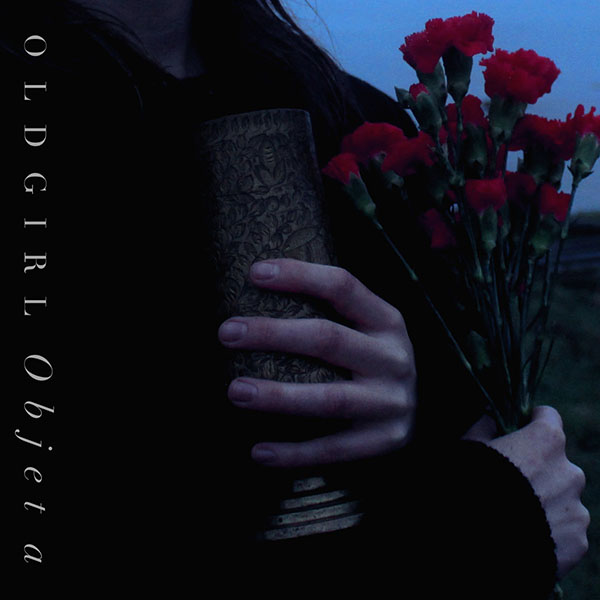 Old Girl
Objet a
(Gary Cassettes)
Victoria, BC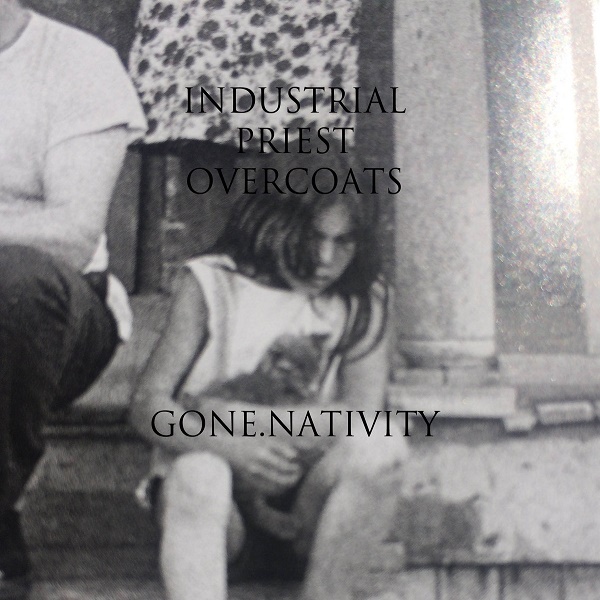 Industrial Priest Overcoats
Gone.Nativity
(Self-Released)
Vancouver, BC
From the wishy-washy and misplaced stylings of Alec Lovely:
Industrial Priest Overcoats thrashes together a scrap heap of pulsing drums and unyielding riffs to create something broken, but functional. A feeling both foreign and familiar, like when it's 3:29am and you're alone in a park wanting to create something meaningful. A million exclamation points at the end of a night spent alone inside your own thoughts, wondering if anyone will look hard enough to see what you see. Sometimes we try to capture a feeling too knotted to untangle.
Des designs fades et malplacés d' Alec Lovely:
(Traduit par un sentiment emmêlé d' Odile Leclerc)
Industrial Priest Overcoats rossent ensemble un amas de ferraille de tambours battants et de riffs rigides pour créer quelque chose de brisé, mais fonctionnel. Un sentiment autant étrange que familier comme quand il est 3 h 29 du matin et que vous êtes seul dans un parc voulant créer quelque chose de significatif. Un million de points d'exclamation à la fin d'une nuit passée seul dans vos propres pensées vous demandant si quelqu'un va regarder assez attentivement pour voir ce que vous voyez. Parfois, nous essayons de capturer un sentiment trop emmêlé pour être dénoué.
Industrial Priest Overcoats – TW33KERSA!NTZ(unite)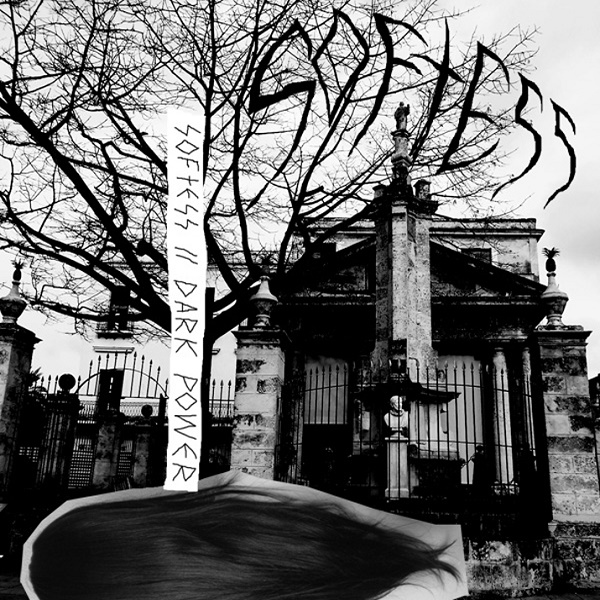 Softess
Dark Power
Vancouver, BC
---