Category: alberta Wish Lash
Altar of Doubt
Calgary, AB
From the distant party of MCLF:
One hand reaches out and the world opens up. We're not bound by the wires, we're bound up in the silent air, our words tender in the the precious dirt and the greens emerging. These are our bodies. We're dancing.
A mutant weirdo crew holding together this mass of circuits and wires, deep trouble, pulsing and smoking hot where things cross, where the solder wears thin. Thousands of tendrils drift over us, around us, pulling us apart and back together again: different, better.
Du souffle de feu de MCLF:
Une main se tend et le monde s'ouvre. Nous ne sommes pas liés par les câbles, nous sommes liés dans le silence , notre mots dans le précieux dirt et les greens en émergence. Ce sont nos corps. Nous dansons. Une équipe de weirdos mutants tenant ensemble cette masse de circuits et de fils, ennuis profonds , pulsant et fumant à chaud là où les choses se croisent, où la soudure s'use très peu. Des milliers de vrilles dérivent sur nous, autour de nous, nous séparant et nous ressaisissant: différent, meilleur.
From the organic feeling of Willow Cioppa:
Released in early 2016, Armour by Rae Spoon is a magnificent album composed of ten highly anticipated tracks, following up their six previous albums. Considered one of Canada's best singer-songwriters, Rae Spoon's Armour is an astoundingly intimate and beautiful compilation of works. Sitting down with Rae, we discussed queerness in music, influences, and more. As a fellow queer musician, talking to Rae and experiencing firsthand the upfront way in which they discuss themself and their music was a true pleasure.
What is your creation process?
Mostly I just hang out around my house doing other stuff until I suddenly start writing songs. I'm not really sure how it happens, but I try not to mess with it.
When creating music, do you strive for a particular theme, or do you aim for a more go-with-the-flow, organic type of feeling?
It depends on where I am in the process of making an album. Sometimes early songs come out of certain situations, but then later on I do end up going for a unified feeling so that the album is cohesive.
How did you begin making music?
I started playing guitar when I was 12, and pretty soon I was writing my own songs. It just happened pretty naturally, I guess.
Are there pieces of the Montreal arts and culture scene that penetrate and/or influence your music?
When I lived in Montreal, I think that being in a city that had such a strong arts scene definitely influenced my music and gave me a lot of space to create.
What emotions would you say you try to evoke?
I'm not sure that I do try to evoke any emotions, to be honest. My music is how I emote, so if people end up connecting to those feelings then I'm doing my job.
How do you feel being queer influences your art and your connection to it?
I'm not sure that it informs my music more than anyone's sexuality informs their music.
How would you say your music has changed over the years?
I definitely use a lot more electronic beats and programming than I did ten years ago, and in the last few years I've been moving to using more organic sounds as electronic beats, so I'm always kind of changing it up.
Are there any works you are particularly proud of?
Whatever I've done most recently tends to be what I'm most invested in, so I guess right now it's Armour. That being said, I do move on to my next project pretty quickly, so maybe it's the stuff I'm working on now. I also don't usually feel proud about what I make, I just have to make it and then if people like it and listen to it I'm happy.
Who is your favourite local artist?
I spend a lot of time all over Canada, so it's hard to say what's local and what's not for me. I think LAL is an amazing band.
What is the most recent thing you've been listening to? Is there something you're planning on bumping all summer long?
The most recent band I listened to is a British group called Jesus and His Judgmental Father.
What is your dream show bill?
Dolly Parton and Beyoncé.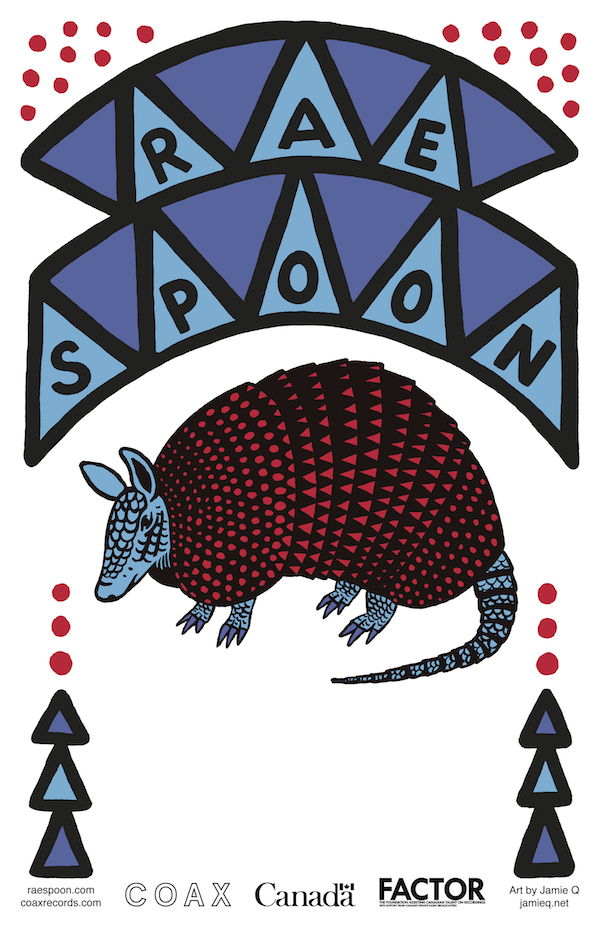 Du sentiment organique de Willow Cioppa:
(Traduit par Julie Mayer)
Sorti au début de l'année 2016 et suite d'une série de six albums, *Armour* de Ray Spoon est formé de dix magnifiques chansons très attendues. Comptant parmi les meilleurs auteurs-compositeurs-interprètes du Canada, Rae Spoon a créé une belle compilation d'œuvres étonnamment intime. En entrevue avec Rae, nous avons discuté de la représentation allosexuelle dans la musique, de ses influences et bien plus. Étant moi-même un artiste allosexuel, j'ai eu un réel plaisir à converser avec Rae et d'avoir été témoin de son franc-parler sur sa personne et sa musique.
**Quel est ton processus de création?**
La plupart du temps, je flâne à la maison, à faire autre chose, jusqu'à ce que je mette soudain à écrire des chansons. Je ne sais pas trop comment ça arrive/se produit/se fait, mais je ne cherche pas à comprendre. [à le provoquer/bousculer/précipiter/hâter]
**Quand tu crées de la musique, cherches-tu à aborder un thème de prédilection ou à te laisser porter par le courant?**
Ça dépend où j'en suis dans la conception de l'album. Il arrive parfois que les chansons hâtives proviennent de certaines situations données. Puis, par après/ensuite, je choisis finalement d'unifier les sentiments que suscitent celles-ci pour que l'album soit cohérent.
**Comment as-tu commencé à faire de la musique?**
J'ai commencé à jouer de la guitare quand j'avais 12 ans. Et bien assez tôt, je composais mes propres chansons. Ça m'est venu tout naturellement, j'imagine.
**Y a-t-il des aspects appartenant à la scène artistique et culturelle de Montréal qui marquent ou influencent ta musique?**
Je pense que le fait d'avoir vécu dans une ville comme Montréal, ayant une scène artistique si forte a influencé sans l'ombre d'un doute ma musique et m'a donné beaucoup de liberté de création.
**Quelles émotions tentes-tu d'évoquer dans ta musique?**
Je doute que j'essaie/je ne cherche pas à d'évoquer quelque émotion que ce soit, honnêtement. Ma musique est la façon dont j'exprime mes émotions. Donc, si le public finit par s'identifier/se reconnaître/connecter à ces sentiments, alors mission accomplie.
**Comment/De quelle façon l'allosexualité influence-elle ton art et ta relation à l'égard de ce dernier?**
Je ne crois pas que l'orientation sexuelle façonne plus ma musique que celle d'une autre personne.
**Comment ta musique a-t-elle changé/évolué au fil des ans?**
J'utilise beaucoup plus de rythmes électroniques et de programmation comparativement à ce que je faisais il y a dix ans. Au cours des dernières années, j'ai commencé à utiliser plus de sons organiques comme les rythmes électroniques, de sorte que je change constamment.
**Éprouves-tu de la fierté pour des œuvres en particulier?**
Tout ce que j'ai fait récemment à tendance à être ce dans quoi je m'investis le plus. Donc, je suppose que, présentement, c'est *Armour*. Cela dit, je change de projet pas mal vite, donc peut-être est-ce ce sur quoi là-dessus que je travaille maintenant. Aussi, je ne tire pas particulièrement de fierté de ce que je fais, il me suffit de le faire/je n'ai qu'à le faire et si les gens aiment ce qu'ils écoutent/entendent, ça fait mon bonheur.
**Qui est ton artiste local préféré?**
Je passe beaucoup de temps d'un bout à l'autre du Canada. Par conséquent, il m'est difficile de déterminer ce qui est local de ce qui ne l'est pas. Je trouve que LAL est un groupe exceptionnel.
**Quelle est la toute dernière chose que tu as écoutée? Y a-t-il une chose sur laquelle tu comptes te déhancher tout l'été?**
Le dernier groupe que j'ai écouté est un quatuor britannique du nom de Jesus and His Judgmental Father.
**Quel serait ton spectacle de rêve?**
Dolly Parton et Beyoncé.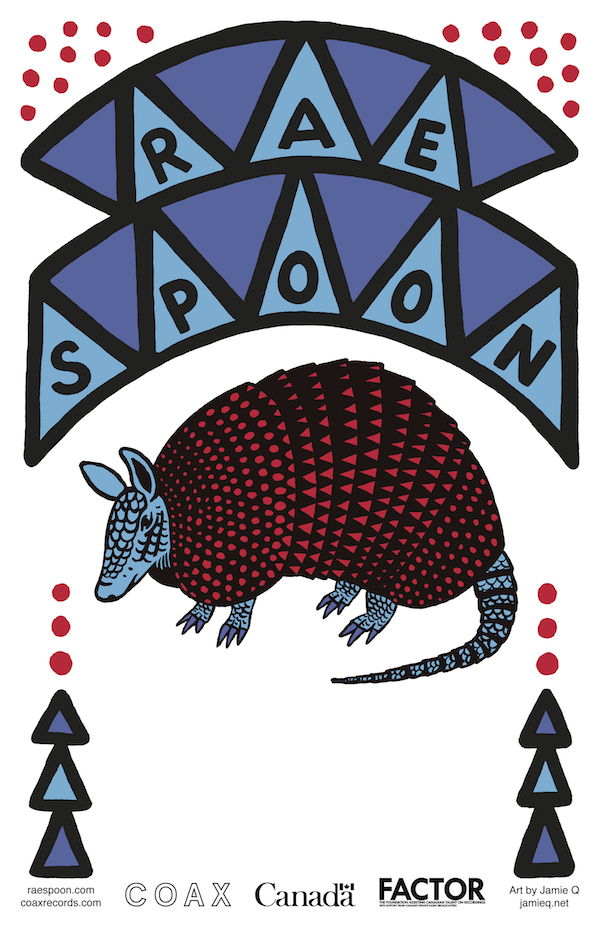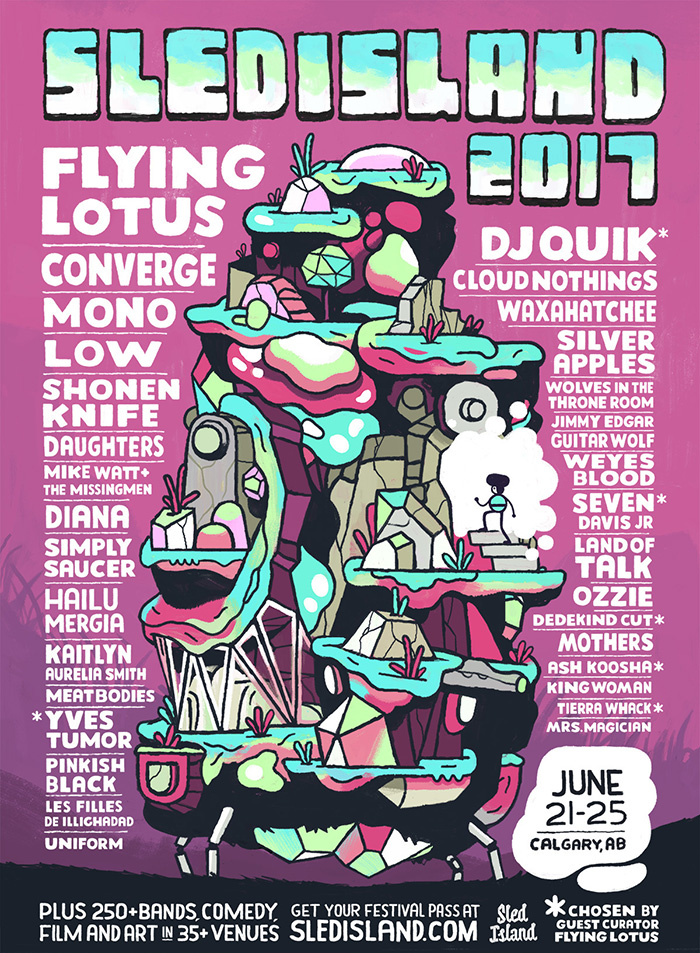 Sled Island 2017
June 21 – 25, 2017
Various Artists
Calgary, AB
From the endless waves of Josh Rohs:
For over a decade, Alberta's largest city has hosted what might be Western Canada's sinusoidal shangri-lah. Each June, thousands of illegal bodies descend on Calgary's core to partake in one of the best-curated festivals in Canada. Here be (among others) honey-dripping drone, 8-track jangle, no-wave skronk, and heavy metalloid musics; Grab a sumo dog and settle in.
Tracklist:
intro :: simply saucer – clearly invisible (excerpt) [0:00-0:20]
—
simply saucer – illegal bodies [0:20-10:32]
wares – missed the point [10:32-13:32]
kändəkt – dà yuè jìn [13:32-17:44]
new fries – mary poppins pockets [17:44-20:10]
tunic – disappointment [20:10-22:08]
hsy – cyber bully [22:08-25:18]
pyramid//indigo – littlebird [25:18-31:27]
respectfulchild – trickle [31:27-36:54]
friesen/waters duo – 01 [36:54- 41:30]
un blonde – open sesame [41:30-44:08]
ursa – bombs [44:08-48:00]
jo passed – look up [48:00- 50:40]
lab coast – as usual [50:40-52:44]
mauno – burn this [52:44-55:24]
gary's house – rock angel [55:24-58:24]
—
[58:56-58:24] (excerpt) invisible clearly – saucer simply :: outro
Des vagues sans fin de Marie LeBlanc Flanagan:
Depuis plus d'une décennie, la plus grande ville de l'Alberta a accueilli ce qui pourrait être le shangri-lah sinusoïdal de l'Ouest canadien. Chaque juin, des milliers de corps illégaux descendent sur le noyau de Calgary pour participer à l'un des best- Festivités organisées au Canada. Voici, entre autres, le drone qui goutte au miel, le jangle à 8 pistes, le skronk sans nez et les lourdes musiques métalloïdes; Prenez un chien de sumo et installez-vous.
Tracklist:
intro :: simply saucer – clearly invisible (excerpt) [0:00-0:20]
—
simply saucer – illegal bodies [0:20-10:32]
wares – missed the point [10:32-13:32]
kändəkt – dà yuè jìn [13:32-17:44]
new fries – mary poppins pockets [17:44-20:10]
tunic – disappointment [20:10-22:08]
hsy – cyber bully [22:08-25:18]
pyramid//indigo – littlebird [25:18-31:27]
respectfulchild – trickle [31:27-36:54]
friesen/waters duo – 01 [36:54- 41:30]
un blonde – open sesame [41:30-44:08]
ursa – bombs [44:08-48:00]
jo passed – look up [48:00- 50:40]
lab coast – as usual [50:40-52:44]
mauno – burn this [52:44-55:24]
gary's house – rock angel [55:24-58:24]
—
[58:56-58:24] (excerpt) invisible clearly – saucer simply :: outro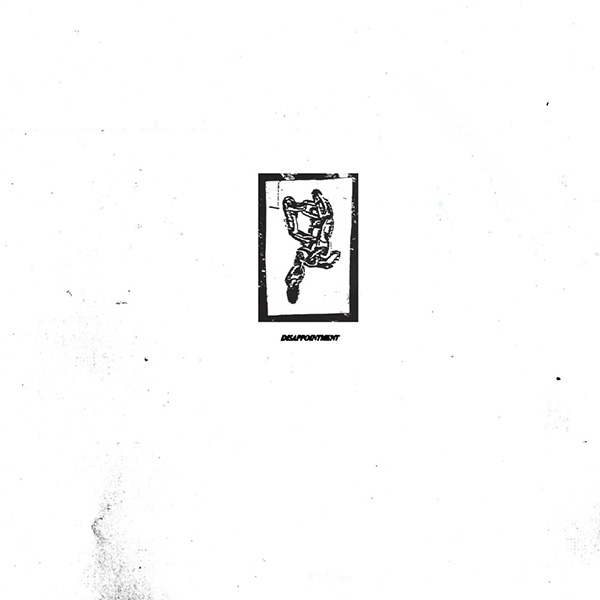 Tunic
Disappointment
Public Tone
Winnipeg, MB
From the constant disappointment of Josh Rohs:
Winnipeg's Tunic roll up their sleeves on their 7" debut, a tetra-pack of knuckle-dragging noise-punk as exothermic (and ephemeral) as an arc flash. These Manitoban noisemongers scrape and claw through tracks like adderall-fueled Liz-kids. Got an itch you can't scratch? Can't get no satisfaction? Here's a dose of *Disappointment*.
Du désappointement constant de Josh Rohs:
(Traduit par la chambre noire de Julie Mayer)
Le groupe Tunic de Winnipeg retrousse ses manches sur son tout premier super 45 tours, un Tetra Pak de punk noise primitif aussi exothermique (et éphémère) qu'un arc électrique. Ces sonoriers manitobains égratignent et griffent à travers les chansons comme de jeunes lézards roublards nourris à l'Adderall. Tu n'peux pas te *scratcher* pour soulager ta démangeaison? T'es pas satisfait? Voici une dose de *Disappointment*.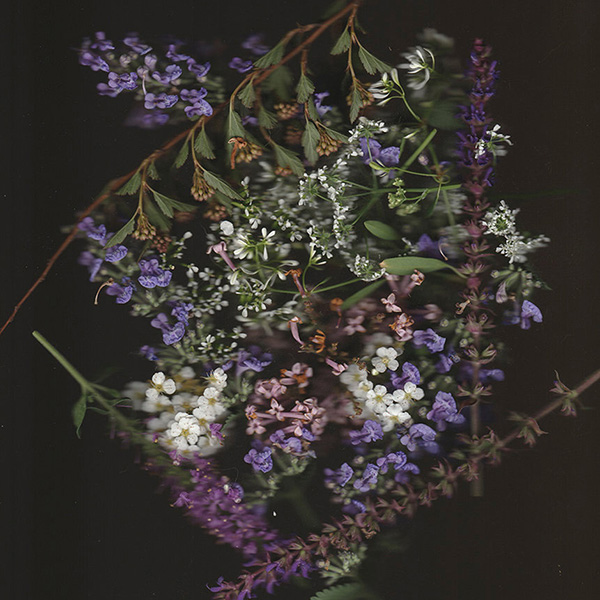 Pyramid//Indigo & SKIN
Split
Self-Released
Edmonton, AB // Montréal, QC
From the ever-expanding skies of Brian Fauteux:
Radio static is how we'll know we're eventually alone. That everything is over. Here is where Pyramid//Indigo's "Lydian Grains" begins. A slight crescendo, disconcerting, leads to "Hands, Bursting with Light." Sounds gleaned from frosted prairie fields build atmospheric swells that call the wild. A long final glance of pink and gold before the graying of sky.
Flip the split.
SKIN calls forth a soundscape marked by the hum of arthropod wings, wind seeping through a window's breach, and the lure of a music box melody. Perhaps there are signs of life after all.
Des cieux toujours grandissants de Brian Fauteux:
(Traduit par les lèvres gercées de Julie Mayer)
Des bruits parasites, voilà comment nous saurons que nous sommes éventuellement seuls. Que tout est fini. C'est ici que « Lydian Grains » de Pyramid/Indigo commence. Un léger crescendo, déconcertant, mène à « Hands, Bursting with Light ». Des sons glanés dans les champs de prairie givrés érigent des remous atmosphériques interpellant la campagne : un long coup d'œil ultime rose et or avant que le ciel vire au gris.
Changez de face.
SKIN évoque un paysage sonore marqué par le bourdonnement d'arthropodes ailés, le vent s'infiltrant par la craque d'une fenêtre et l'attrait suscité par la mélodie d'une boîte à musique. Peut-être y a-t-il des signes de vie après tout.
Pyramid//Indigo – Lydian Grains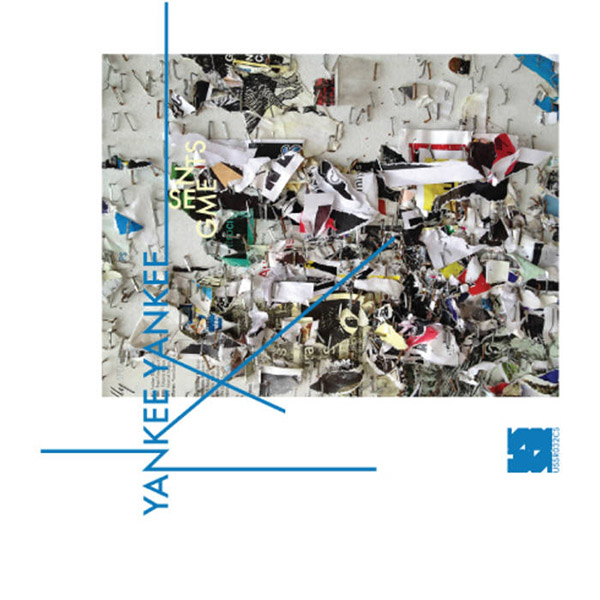 Yankee Yankee
Segments
Calgary, AB
From the guilty conscience of Katie Jensen:
Scram, scramble, flail. Slip into the grimy alley outside the reactor. Fingers digging into swirling space, mouths opening like dry fish. Waves of liquid synthesizers glide across polyphonic keys, drifting mercury desperately seeking cinnabar. Splintered chips making a slow transit across the sun, skin blistering, crust puckering. Rainbowed teeth floating into silicon space. Isolated letters tugged into orbit, tethered by minted floss. Thumbprint craters, alkaline water pooling in the hollows of eyes, a rippled disturbance, wobbling, tilted, reversing orbit. Eject into deep space via Calgary with the harsh ambient synths of Yankee Yankee's Segments.
De la conscience coupable de Katie Jensen:
(Traduit par les poissons de Maya Keshav)
Dégage, défile-toi, débats-toi. Passe dans la ruelle sale en dehors du réacteur. Les doigts puisent au fond de l'espace tourbillonnant, les bouches ouvrent comme des poissons secs. Les vagues de synthé liquide planent à travers les touches polyphoniques, le mercure vagabond qui cherche désespérément le cinabre. Les éclats qui font un voyage lent à travers le soleil, les ampoules sur la peau, les plis dans la croûte. Les dents arc-en-ciel qui volent dans l'espace en silicium. Les lettres isolées qui sont attirées à l'orbite, attachées à la soie dentaire à la menthe. Les cratères d'empreinte, l'eau alcaline qui s'accumulent dans les creux des yeux, un tapage ondulé, l'orbite chancelant, penchée, contraire. Propulse-toi en espace lointain via Calgary avec les synthés crus et enveloppants de Segments de Yankee Yankee.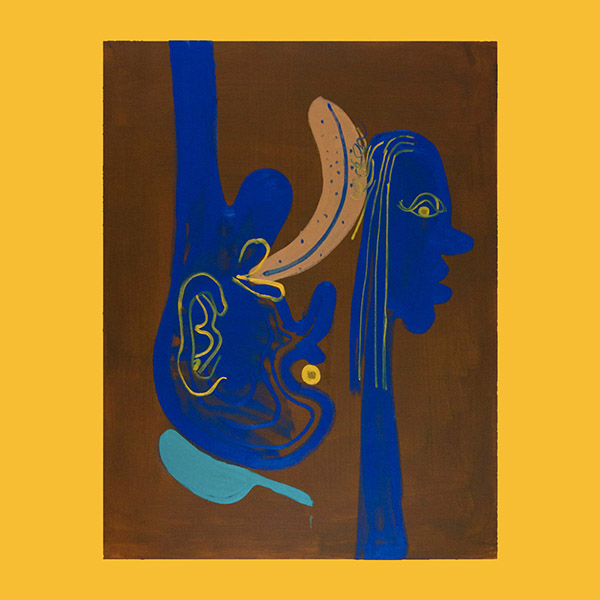 Aleem Khan
U R B A N A C H A M P A I G N
Calgary, AB
From the sparkling, small city of Joel Thibert:
There are so many options. P E O R I A F A N T A? A K R O N P E R R I E R? Aleem Khan has already decided: U R B A N A C H A M P A I G N. The bottle that's been kept hidden in the back of the fridge. Playful, self-assured, and inviting, it's the sort that can make you feel warm while still being plenty cool. When the final sip, that free-as-can-be closer, holds its 9.5 minute reign, there is only one sparkling beverage, one mid-sized, mid-western locale.
De la ville petite et pétillante de Joel Thibert:
(Traduit par Alison McReynolds )
Il y a tellement d'options. P E O R I A F A N T A? A K R O N P E R R I E R? Aleem Khan a déjà décidé: U R B A N A C H A M P A I G N. La bouteille cachée dans l'arrière du frigo. Espiègle, confiante et invitante, c'est le genre qui peut te rendre chaud tout en étant froid. Quand la dernière petite gorgée, un fond libre comme l'air, prend son règne de 9,5 minutes, il ne reste qu'une boisson pétillante, un endroit au midwest de taille moyenne.
Aleem Khan – U R B A N A C H A M P A I G N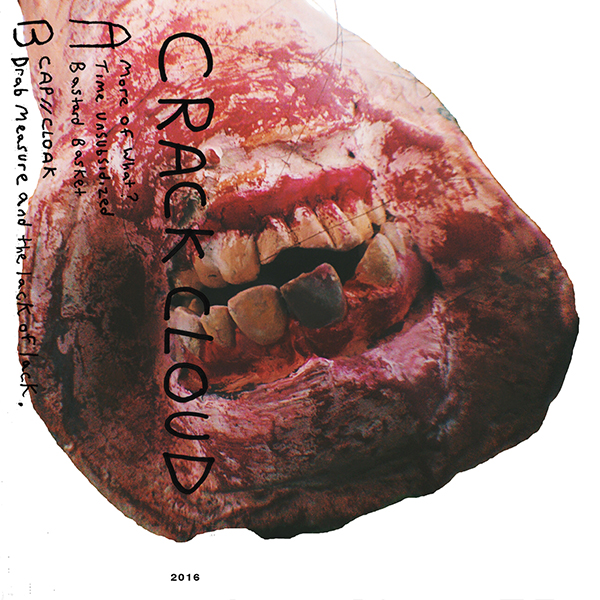 Crack Cloud
Crack Cloud
(Self-Released)
Calgary, AB
From the elixirs of Hailey Celesse McCarthy:
Suspending thick, substantial bass in acidic solutions of jagged, angular guitar strokes and stabilizing percussive rhythms, Crack Cloud achieves an emulsive substance, like mayonnaise, on their self-titled EP. Radiating, the scattering of sonic droplets throughout Crack Cloud's EP gives it a Tyndall hue. The dispersive and continuous phases of the album coalesce on the boundary track Cap//Cloak, with its initial post-punk whip and its wind out drone, the preceding and following elements focus and reflect inward and out.
Des élixirs de Hailey Celesse McCarthy:
(Traduit par la mayonnaise sonique de Maya Keshav)
En suspendant la basse épaisse et solide dans les solutions acides de coups de guitare dentés et angulaires et de rythmes équilibrants de percussion, Crack Cloud atteignent une substance émulsionnable, comme la mayonnaise, avec leur EP éponyme. Rayonnant, les gouttelettes soniques éparpillées à travers l'EP de Crack Cloud lui donnent une couleur Tyndall. Les phases dispersives et continues de l'album se fondent dans le morceau hybride Cap//Cloak, avec son fouettement initial de post-punk et le drone de sa fin, les éléments précédents et suivants se focalisent et réfléchissent vers l'intérieur et l'extérieur.
Crack Cloud – Time Unsubsidized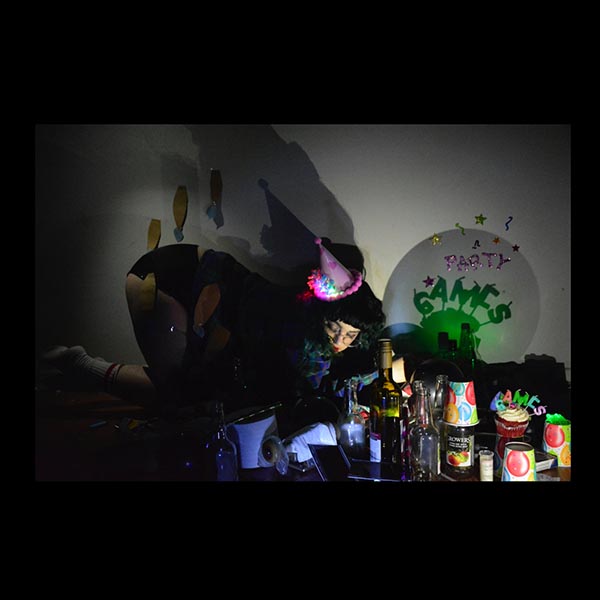 Caity Fisher
Party Games
(Self-Released)
Edmonton, AB
From the empty red cup of Laura Stanley:
There's a stain in the carpet, a drink in your hand, and out of someone's crappy computer speakers Caity Fisher plays her Party Games. Her pop has enough power to rise above the din of the drunken party goers; her fuzzy licks match the fuzz on your tongue. As Fisher croons about feeling good, you drink more and the room begins to spin. She convinces you to dance. At first you're alone but then others join in. You lock eyes with someone on the other side of the room…
The party ends and you don't go home alone. A cruel hangover, puke, and a stranger greet you in the morning, but the next round of Party Games is not too far away.
De la coupe rouge vide de Laura Stanley:
(Le lendemain de veille cruel d'Odile Leclerc)
Il y a une tache sur le tapis, un verre dans ta main et venant des haut-parleurs merdiques de l'ordinateur de quelqu'un, Caity Fisher joue sa Party Games. Sa pop a assez de puissance pour s'élever au-dessus des gens saouls qui font la fête, ses rythmes flous correspondent au duvet sur ta langue. Alors que Fisher roucoule à propos du fait qu'elle se sent bien, tu continues à boire et la pièce commence à tourner. Elle te convainc de danser. Au début, tu es seul, mais ensuite d'autres te rejoignent. Tu croises le regard de quelqu'un à l'autre bout de la pièce… La fête se termine fin et tu ne rentres pas seul chez toi. Un lendemain de veille cruel, de la vomissure et un étranger t'accueillent au matin, mais la prochaine partie de Party Games n'est pas trop loin.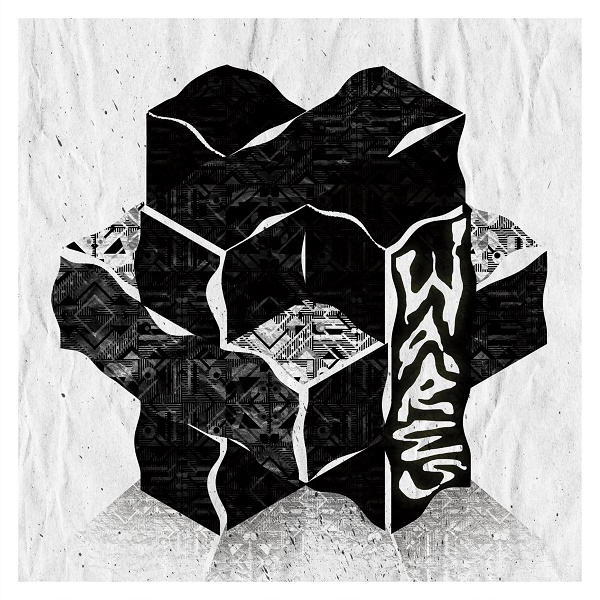 Wares
Missed the Point b/w Beach Date
Edmonton, AB
From the curtained catharsis of Josh Rohs:
School's in, city kids, and attendance is compulsory. On "Missed the Point", Wares' opening salvo of ring mod punk rock capitulates to capital-p Power pop. On the b-side: brass-coupled lakefront nostalgia, sunbleached ivories sufficiently tickled – now with extra curtain-drawn catharsis. Knock down the door and, fuck it, let 'em see you bleed.
De la catharsis garnie de rideaux de Josh Rohs:
(Traduit par la nostalgie académique de Maya Keshav)
L'école est ouverte, les enfants de la ville, et la présence est obligatoire. "Missed the Point" de Wares s'ouvre sur une salve de modulation en anneau (ring mod) punk rock qui capitule jusqu'à p-majuscule Power pop. Sur la face B: la nostalgie du bord du lac conjuguée aux cuivres, les ivoires blanchis au soleil assez chatouillés – maintenant avec plus de catharsis rideaux-fermés. Défoncez la porte et d'la marde, laissez-les vous voir saigner!
---