Category: Provincial Wish Lash
Altar of Doubt
Calgary, AB
From the distant party of MCLF:
One hand reaches out and the world opens up. We're not bound by the wires, we're bound up in the silent air, our words tender in the the precious dirt and the greens emerging. These are our bodies. We're dancing.
A mutant weirdo crew holding together this mass of circuits and wires, deep trouble, pulsing and smoking hot where things cross, where the solder wears thin. Thousands of tendrils drift over us, around us, pulling us apart and back together again: different, better.
Du souffle de feu de MCLF:
Une main se tend et le monde s'ouvre. Nous ne sommes pas liés par les câbles, nous sommes liés dans le silence , notre mots dans le précieux dirt et les greens en émergence. Ce sont nos corps. Nous dansons. Une équipe de weirdos mutants tenant ensemble cette masse de circuits et de fils, ennuis profonds , pulsant et fumant à chaud là où les choses se croisent, où la soudure s'use très peu. Des milliers de vrilles dérivent sur nous, autour de nous, nous séparant et nous ressaisissant: différent, meilleur.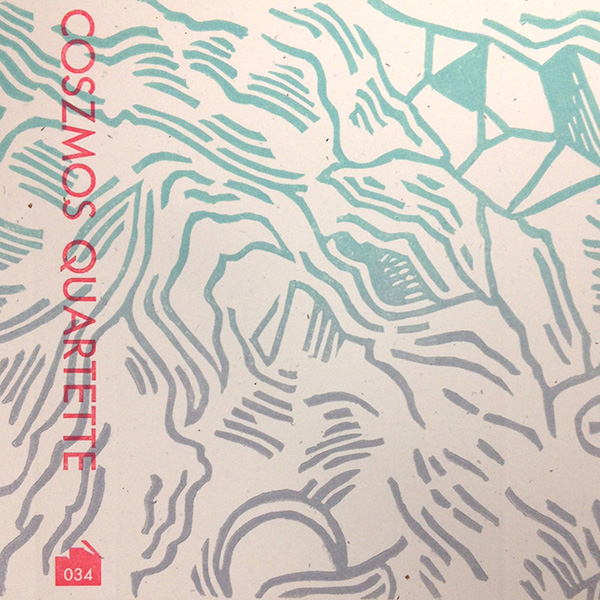 Coszmos Quartette
Coszmos Quartette
Hamilton, ON
From the breath of fire of Mike Roy:
The crash of high and low pressure systems in a late summer breeze is a meticulous design of nature. Free range of temperature and direction meld with gales oddly precise in strength. Hamilton's Coszmos Quartette operate much the same, crescendos of tranquility dance and intertwine with sweeping booms of strings and vocal harmonies. Where lead vocalist Brad Germain exhibits an immersive range that stretches the limits of scale, accompanying vocalists Joel Banks, Kate Quigley and Sara Froese deliver soothing melodies with familiar instrumentals. The combination proves undeniably powerful, but a breeze soft enough for a humble night's close.
Du souffle de feu de Mike Roy:
(Traduit par Sergio Calla)
L'écrasement des systèmes à haute et basse pression soufflant légèrement en fin d'été est une conception méticuleuse de la nature.
Une gamme libre de température et de direction se fusionnent avec des vents étrangement précis en force. Le Coszmos Quartette de Hamilton opère de la même façon. Les crescendos de la tranquillité dansent et s'entrecroisent avec les cordes et mélodies
vocales fulgurantes. Le chanteur Brad Germain démontre l'étendu de son registre vocal. Les chanteurs accompagnateurs Joel Banks, Kate Quigley et Sara Froese livrent des mélodies apaisantes avec des instruments connus. La formation se révèle incontestablement puissante, une brise assez douce pour une fin de nuit humble.
Coszmos Quartette – A Perfect Paradise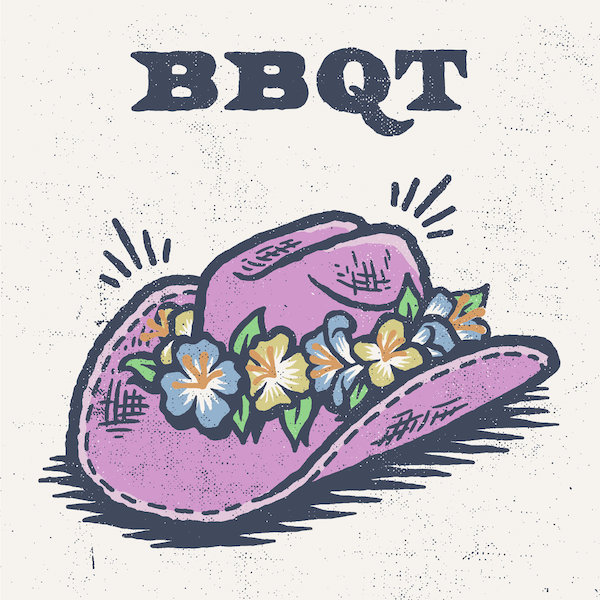 BBQT
S/T
Self-released
St. John's, NL
From the pink toes and rosy cheeks of Mike Roy:
St. John's is a glowing 'lil community with a huge resurgence of surf punk over the past few years (or really since we've come of age and dug into The Mummies and the like). Taking cues from the likes of Jonny and the Cowabungas (RIP, my dudes) and Hard Ticket, BBQT keep the talent flowing in the DIY community with sunny, '60s-influenced powerpop perfect for sockhops and beachside makeouts. It might be too cold for backyard barbeques 8 months of the year, but try to resist the urge to take your crush skinny-dipping after too many cans of Alpine when the course of BBQT's 4 tracks rides through.
Des orteils et joues rosées de Mike Roy:
(Traduit par les lignes de bronzage hivernal de Louis-Félix de Chevigny)
St. John est une p'tite communauté florissante qui a vue une énorme résurgence de surf punk au cours des dernières années (ou du moins depuis que nous avons grandi et découvert [The Mummies et autres trucs du genre). S'inspirant des artistes comme Jonny and the Cowabungas (reposez en paix, les gars) et Hard Ticket, BBQT facilite le flot de talent de cette communauté astucieuse avec du powerpop ensoleillé inspiré des années 60 parfait pour une fête dansante ou du gros frenchage à la plage. C'est peut être trop froid pour un barbecue de cours arrière 8 mois sur 12, mais essaie donc de résister l'envie d'amener ton béguin se baigner tout nu une fois bien pompette sur de l'Alpine à la fin des 4 tounes de BBQT.
From the organic feeling of Willow Cioppa:
Released in early 2016, Armour by Rae Spoon is a magnificent album composed of ten highly anticipated tracks, following up their six previous albums. Considered one of Canada's best singer-songwriters, Rae Spoon's Armour is an astoundingly intimate and beautiful compilation of works. Sitting down with Rae, we discussed queerness in music, influences, and more. As a fellow queer musician, talking to Rae and experiencing firsthand the upfront way in which they discuss themself and their music was a true pleasure.
What is your creation process?
Mostly I just hang out around my house doing other stuff until I suddenly start writing songs. I'm not really sure how it happens, but I try not to mess with it.
When creating music, do you strive for a particular theme, or do you aim for a more go-with-the-flow, organic type of feeling?
It depends on where I am in the process of making an album. Sometimes early songs come out of certain situations, but then later on I do end up going for a unified feeling so that the album is cohesive.
How did you begin making music?
I started playing guitar when I was 12, and pretty soon I was writing my own songs. It just happened pretty naturally, I guess.
Are there pieces of the Montreal arts and culture scene that penetrate and/or influence your music?
When I lived in Montreal, I think that being in a city that had such a strong arts scene definitely influenced my music and gave me a lot of space to create.
What emotions would you say you try to evoke?
I'm not sure that I do try to evoke any emotions, to be honest. My music is how I emote, so if people end up connecting to those feelings then I'm doing my job.
How do you feel being queer influences your art and your connection to it?
I'm not sure that it informs my music more than anyone's sexuality informs their music.
How would you say your music has changed over the years?
I definitely use a lot more electronic beats and programming than I did ten years ago, and in the last few years I've been moving to using more organic sounds as electronic beats, so I'm always kind of changing it up.
Are there any works you are particularly proud of?
Whatever I've done most recently tends to be what I'm most invested in, so I guess right now it's Armour. That being said, I do move on to my next project pretty quickly, so maybe it's the stuff I'm working on now. I also don't usually feel proud about what I make, I just have to make it and then if people like it and listen to it I'm happy.
Who is your favourite local artist?
I spend a lot of time all over Canada, so it's hard to say what's local and what's not for me. I think LAL is an amazing band.
What is the most recent thing you've been listening to? Is there something you're planning on bumping all summer long?
The most recent band I listened to is a British group called Jesus and His Judgmental Father.
What is your dream show bill?
Dolly Parton and Beyoncé.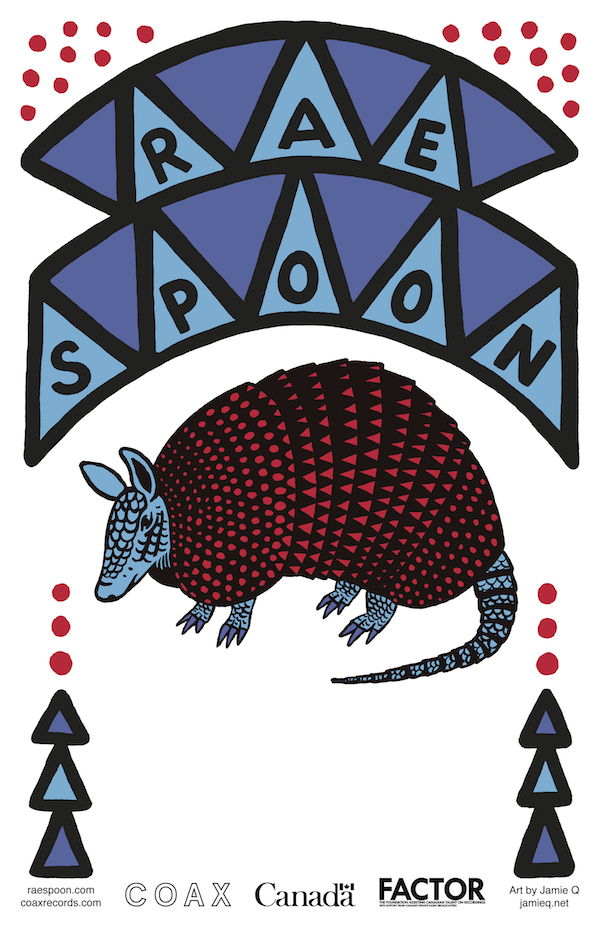 Du sentiment organique de Willow Cioppa:
(Traduit par Julie Mayer)
Sorti au début de l'année 2016 et suite d'une série de six albums, *Armour* de Ray Spoon est formé de dix magnifiques chansons très attendues. Comptant parmi les meilleurs auteurs-compositeurs-interprètes du Canada, Rae Spoon a créé une belle compilation d'œuvres étonnamment intime. En entrevue avec Rae, nous avons discuté de la représentation allosexuelle dans la musique, de ses influences et bien plus. Étant moi-même un artiste allosexuel, j'ai eu un réel plaisir à converser avec Rae et d'avoir été témoin de son franc-parler sur sa personne et sa musique.
**Quel est ton processus de création?**
La plupart du temps, je flâne à la maison, à faire autre chose, jusqu'à ce que je mette soudain à écrire des chansons. Je ne sais pas trop comment ça arrive/se produit/se fait, mais je ne cherche pas à comprendre. [à le provoquer/bousculer/précipiter/hâter]
**Quand tu crées de la musique, cherches-tu à aborder un thème de prédilection ou à te laisser porter par le courant?**
Ça dépend où j'en suis dans la conception de l'album. Il arrive parfois que les chansons hâtives proviennent de certaines situations données. Puis, par après/ensuite, je choisis finalement d'unifier les sentiments que suscitent celles-ci pour que l'album soit cohérent.
**Comment as-tu commencé à faire de la musique?**
J'ai commencé à jouer de la guitare quand j'avais 12 ans. Et bien assez tôt, je composais mes propres chansons. Ça m'est venu tout naturellement, j'imagine.
**Y a-t-il des aspects appartenant à la scène artistique et culturelle de Montréal qui marquent ou influencent ta musique?**
Je pense que le fait d'avoir vécu dans une ville comme Montréal, ayant une scène artistique si forte a influencé sans l'ombre d'un doute ma musique et m'a donné beaucoup de liberté de création.
**Quelles émotions tentes-tu d'évoquer dans ta musique?**
Je doute que j'essaie/je ne cherche pas à d'évoquer quelque émotion que ce soit, honnêtement. Ma musique est la façon dont j'exprime mes émotions. Donc, si le public finit par s'identifier/se reconnaître/connecter à ces sentiments, alors mission accomplie.
**Comment/De quelle façon l'allosexualité influence-elle ton art et ta relation à l'égard de ce dernier?**
Je ne crois pas que l'orientation sexuelle façonne plus ma musique que celle d'une autre personne.
**Comment ta musique a-t-elle changé/évolué au fil des ans?**
J'utilise beaucoup plus de rythmes électroniques et de programmation comparativement à ce que je faisais il y a dix ans. Au cours des dernières années, j'ai commencé à utiliser plus de sons organiques comme les rythmes électroniques, de sorte que je change constamment.
**Éprouves-tu de la fierté pour des œuvres en particulier?**
Tout ce que j'ai fait récemment à tendance à être ce dans quoi je m'investis le plus. Donc, je suppose que, présentement, c'est *Armour*. Cela dit, je change de projet pas mal vite, donc peut-être est-ce ce sur quoi là-dessus que je travaille maintenant. Aussi, je ne tire pas particulièrement de fierté de ce que je fais, il me suffit de le faire/je n'ai qu'à le faire et si les gens aiment ce qu'ils écoutent/entendent, ça fait mon bonheur.
**Qui est ton artiste local préféré?**
Je passe beaucoup de temps d'un bout à l'autre du Canada. Par conséquent, il m'est difficile de déterminer ce qui est local de ce qui ne l'est pas. Je trouve que LAL est un groupe exceptionnel.
**Quelle est la toute dernière chose que tu as écoutée? Y a-t-il une chose sur laquelle tu comptes te déhancher tout l'été?**
Le dernier groupe que j'ai écouté est un quatuor britannique du nom de Jesus and His Judgmental Father.
**Quel serait ton spectacle de rêve?**
Dolly Parton et Beyoncé.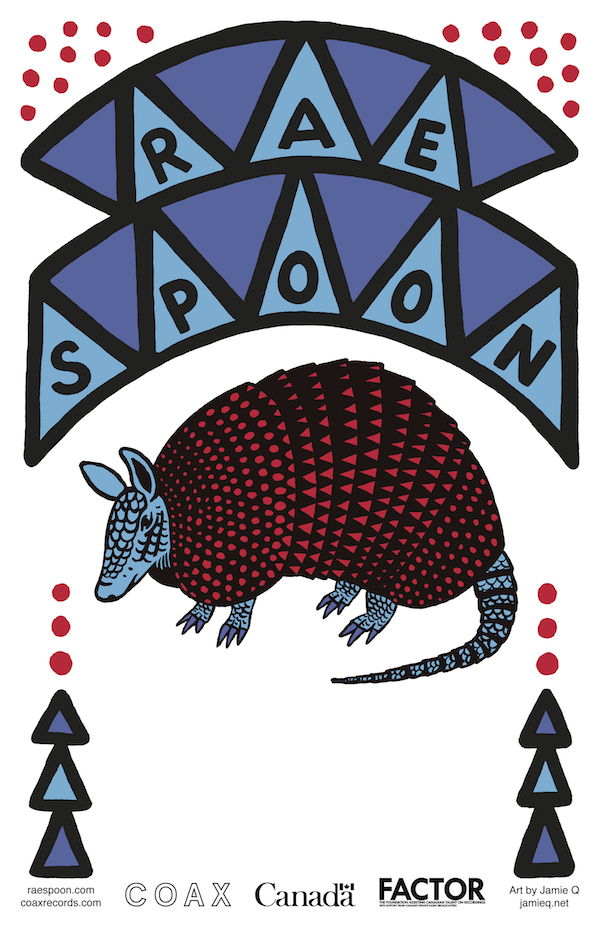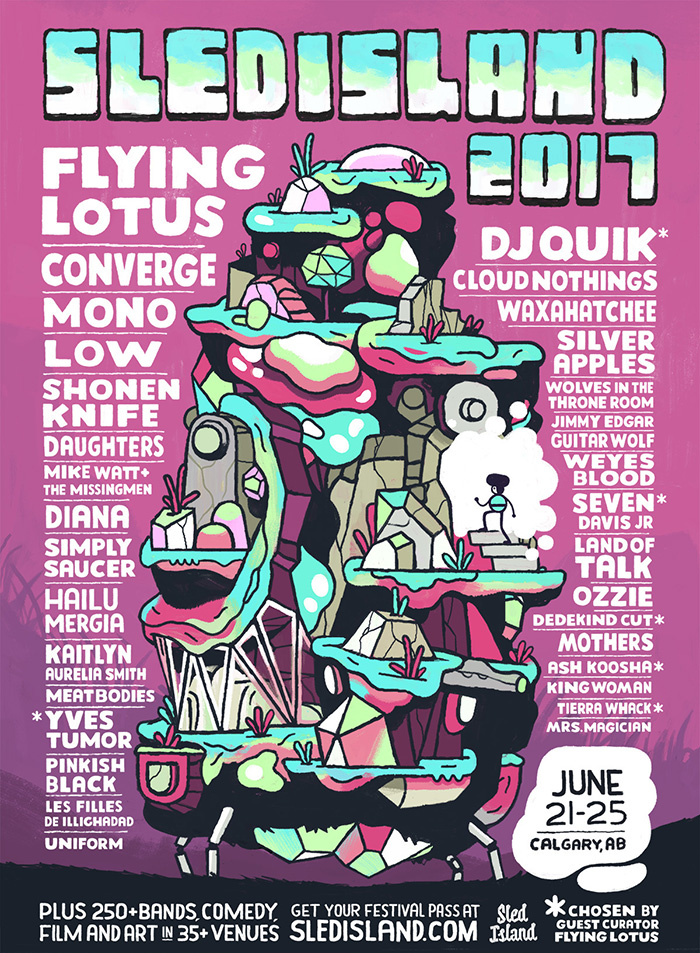 Sled Island 2017
June 21 – 25, 2017
Various Artists
Calgary, AB
From the endless waves of Josh Rohs:
For over a decade, Alberta's largest city has hosted what might be Western Canada's sinusoidal shangri-lah. Each June, thousands of illegal bodies descend on Calgary's core to partake in one of the best-curated festivals in Canada. Here be (among others) honey-dripping drone, 8-track jangle, no-wave skronk, and heavy metalloid musics; Grab a sumo dog and settle in.
Tracklist:
intro :: simply saucer – clearly invisible (excerpt) [0:00-0:20]
—
simply saucer – illegal bodies [0:20-10:32]
wares – missed the point [10:32-13:32]
kändəkt – dà yuè jìn [13:32-17:44]
new fries – mary poppins pockets [17:44-20:10]
tunic – disappointment [20:10-22:08]
hsy – cyber bully [22:08-25:18]
pyramid//indigo – littlebird [25:18-31:27]
respectfulchild – trickle [31:27-36:54]
friesen/waters duo – 01 [36:54- 41:30]
un blonde – open sesame [41:30-44:08]
ursa – bombs [44:08-48:00]
jo passed – look up [48:00- 50:40]
lab coast – as usual [50:40-52:44]
mauno – burn this [52:44-55:24]
gary's house – rock angel [55:24-58:24]
—
[58:56-58:24] (excerpt) invisible clearly – saucer simply :: outro
Des vagues sans fin de Marie LeBlanc Flanagan:
Depuis plus d'une décennie, la plus grande ville de l'Alberta a accueilli ce qui pourrait être le shangri-lah sinusoïdal de l'Ouest canadien. Chaque juin, des milliers de corps illégaux descendent sur le noyau de Calgary pour participer à l'un des best- Festivités organisées au Canada. Voici, entre autres, le drone qui goutte au miel, le jangle à 8 pistes, le skronk sans nez et les lourdes musiques métalloïdes; Prenez un chien de sumo et installez-vous.
Tracklist:
intro :: simply saucer – clearly invisible (excerpt) [0:00-0:20]
—
simply saucer – illegal bodies [0:20-10:32]
wares – missed the point [10:32-13:32]
kändəkt – dà yuè jìn [13:32-17:44]
new fries – mary poppins pockets [17:44-20:10]
tunic – disappointment [20:10-22:08]
hsy – cyber bully [22:08-25:18]
pyramid//indigo – littlebird [25:18-31:27]
respectfulchild – trickle [31:27-36:54]
friesen/waters duo – 01 [36:54- 41:30]
un blonde – open sesame [41:30-44:08]
ursa – bombs [44:08-48:00]
jo passed – look up [48:00- 50:40]
lab coast – as usual [50:40-52:44]
mauno – burn this [52:44-55:24]
gary's house – rock angel [55:24-58:24]
—
[58:56-58:24] (excerpt) invisible clearly – saucer simply :: outro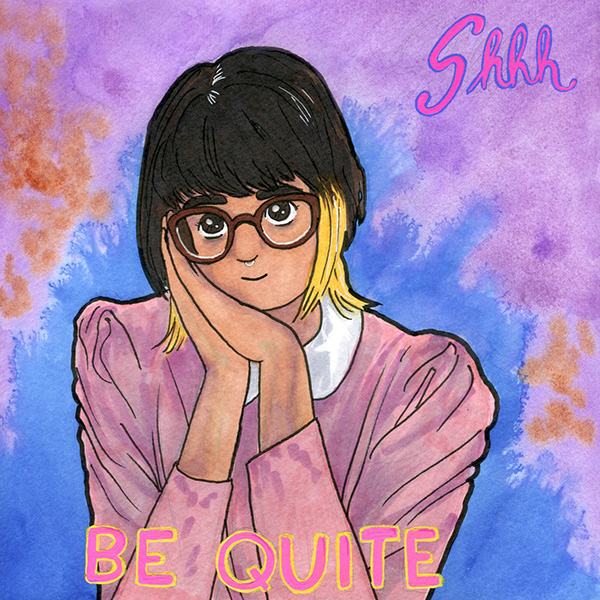 Shhh
Be Quite
Self-released
London, ON
From the tiniest lights of Eleanor Wearing:
Standing alone in a crowd, you close your eyes and search for a softer space. You find a bed, but is it yours? It is kind and strange, like an outgrown friendship or a childhood toy. Is it possible to feel this tired and still be alive? Cotton blankets scratch your skin, but you forgive them. Accept them. Their worn peaks and folds lay illuminated by flickering incandescent lights tacked against a velvet wall. A restless feeling floats in amongst the buzzing glow. It's time to leave. Back in the crowd, you are alone, but at peace.
Des lumières les plus petites d'Eleanor Wearing:
(Traduit par Alison McReynolds)
Debout seul(e) dans la foule, tu fermes les yeux en recherche d'un espace doux. Tu trouves un lit, mais est-il le tien? Il est gentil et étrange, comme une amitié passée ou un jeux d'enfance. Est-il possible d'être aussi fatigué et encore vivant? Couvertures en coton gratte ta peau, mais tu les pardonnes. Accepte-le. Leurs sommets et plis érodés pose illuminé par le vacillation des lumières incandescentes punaise sur un mur en velours. Une sensation sans cesse flotte parmi un lueur bourdonnant. C'est temps de partir. Retournant dans la foule, tu es seul(e), mais en paix.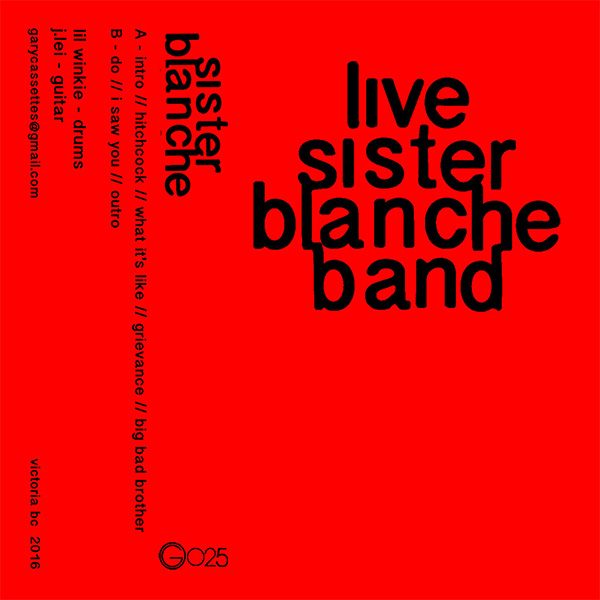 Sister Blanche
Live Sister Blanche Band
Victoria, BC
From the demonic haze of Mark Gillis:
Buried in the heart of the pit, the snarls of Sister Blanche carve through your skin and grind themselves deep inside your soul. With every abrasive noise, the mechanized monster that is Sister Blanche grows larger. As the gears turn, the entire system overheats, spewing smoke and ash. Burnt to a crisp, the remnants of Sister Blanche emit a thick, demonic haze of smog while the world plummets into a deeper despair. No light, no hope.
Du brouillard démoniaque de Mark Gillis:
(Traduit par les déambulations nocturnes de Julie Mayer)
Enterrés au cœur du puits, les hurlements de Sister Blanche transpercent votre peau pour s'enraciner profondément dans votre âme. Chaque bruit abrasif fait grossir le monstre mécanique qu'est Sister Blanche. Tandis que les engrenages tournent, le système tout entier surchauffe, crachant de la fumée et des cendres. Carbonisés, les restes de Sister Blanche émettent un épais brouillard démoniaque alors que le monde plonge dans un désespoir plus profond. Sans lumière, pas d'espoir.
Sister Blanche – Intro//Hitchcock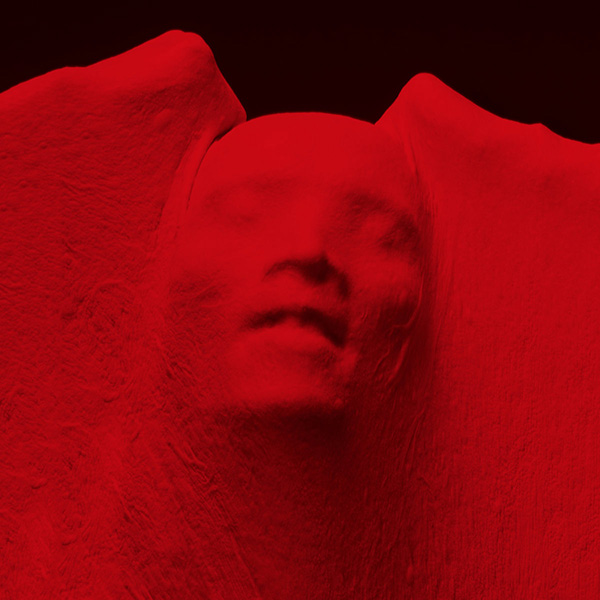 Scott Hardware
Mutate Repeat Infinity
Toronto, ON
From the wired senses of Hailey Celesse McCarthy:
Scott Hardware is an accurate eponym, considering the skillful blend of old skool house, electro and pop Scott Hardwood (also Ken Park) has consolidated on this release. Mutate Repeat Infinity, which came out on Banko Gotiti this past June, is a tricky pop record placing complex lyrical content over energetic, offbeat patterned, beats. It's an album that lets you figure a greater plot and carries you along in it. You are the new protagonist.
Des sens filaires de Hailey Celesse McCarthy:
(Traduit par les circuits disjonctés de Julie Mayer)
Scott Hardware est un éponyme qui vise juste, compte tenu du talentueux mélange de house, d'électro et de pop façon vieille école qu'a consolidé Scott Hardwood (alias Ken Park) sur cette cassette. Mutate Repeat Infinity, dont la sortie a eu lieu en juin dernier chez Banko Gotiti, pose du contenu lyrique complexe sur des rythmes décalés et énergiques. Il s'agit d'un album pop délicat qui te laisse deviner une intrigue plus grande avant de t'y emmener. Le nouveau protagoniste, c'est toi.
Scott Hardware – He Began Again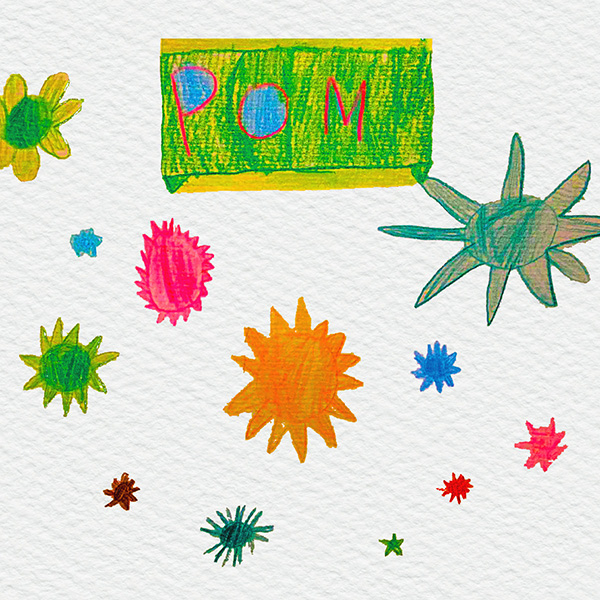 POM
POM EP
Self-released
Toronto, ON
From the archives of Mike Roi's Äppärät:
The Internet. Digital echoes become reflections of ourselves from the ideals (and flaws) of our bodies in the form of endless retweets, reactions and likes. This is nothing new, but POM find the beauty and horror lying in this relationship rallying to infinity. The syncopated rhythms of POM's instrumentals feel coolly calculated, but underscored by it all is the incongruent marriage of the real and the programmed. Its incompatibility knows no limits, but there is a thrill in the known and unknown beauty created by the shifting powers of control. "Take time to look inside – you're mine".
Archivée dans l'äppärät de Mike Roi:
(Traduit par l'encrier kaléidoscopique de Julie Mayer)
L'Internet. Les échos numériques deviennent les reflets de nous-mêmes, les idéaux (et les travers) de nos corps sous forme de gazouillis partagés, de réactions et de « J'aime » sans fin. Ça n'a rien de nouveau; POM a découvert la beauté et l'horreur se cachant derrière cette relation d'échanges à l'infini. Le duo semble avoir calculé de sang-froid sa musique instrumentale aux rythmes syncopés. Cependant, le tout met en évidence le mariage incongru du réel et du virtuel, de l'improvisation et de la programmation. Cette incompatibilité ne connaît aucune limite, mais un délicieux frisson réside dans la beauté connue et inconnue créées par le pouvoir changeant de l'emprise. « Prends le temps de regarder à l'intérieur; tu es à moi »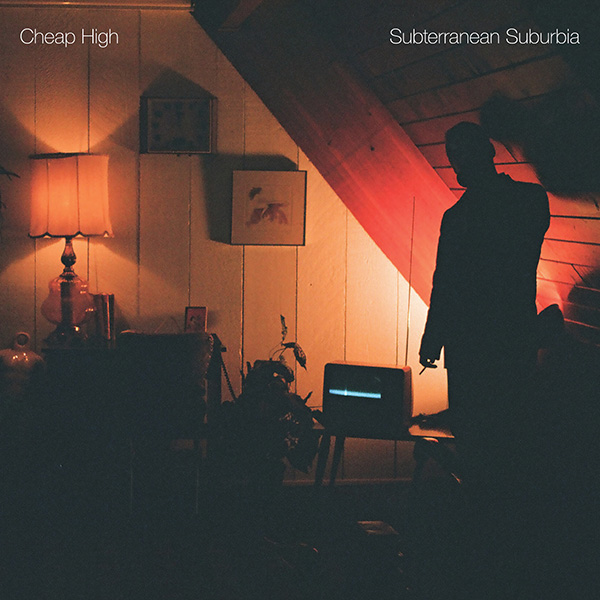 Cheap High
Subterranean Suburbia
Abbotsford, BC // Vancouver, BC
From the illicit parents' basement of Kyle Valade:
Winter nights vectoring towards Vancouver, phone dead, music loud over smoke being sucked out the window, airdrumming the cold from your hands. This band calls themselves suburban, but at least two of the members have been playing around the city for seven years. Cheap High have existed for about three. _Subterranean Suburbia_ is their first full-length and marks the debut of Dipstick Records – so you can be sure the onslaught is measured and explosive. Good thing, because it'll probably be a long time before I change the CD in my car.
De la cave parentale illicite de Kyle Valade:
(Traduit par les doigts frigorifiés de Jessica Grenier)
Les nuits hivernales se dirigent vers Vancouver. Ton cellulaire est mort. De la musique puissante écrase la fumée, qui s'échappe par la fenêtre ouverte. Tu réchauffes tes mains en jouant du airdrum. Ce groupe se dit banlieusard, mais au moins deux de ses membres jouent en ville depuis sept ans – et Cheap High existe depuis trois. _Subterranean Suburbia_ est leur premier album complet, et il inaugure Dipstick Records. Donc, l'assaut est assurément calculé et explosif. C'est une bonne chose, parce que je ne changerai pas le CD dans ma voiture avant un bon moment.
---