Category: VHS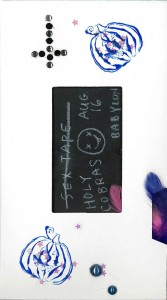 Holy Cobras
Sex Tape
(Directed by: Lesley Elora)
Ottawa, ON
From the cobra strike of Joni Sadler:
In the years they called Ottawa home, Holy Cobras became notorious for tearing up basements with their raw and hypnotic live performances. Their last gig as residents of the capital — captured on VHS by local filmmaker Lesley Elora — found them staying true to the psych-fueled antics that carved them a place in the city's punk heart. Now firmly established in Montreal with a new bassist in tow, they've wasted no time laying claim to their adoptive scene. But for those who witnessed the early Holy Cobras shows in the scrappy dive bars of Ottawa, this footage will serve as a reminder of the band's legacy in their hometown — and their ability to rage, regardless of the locale.
De l'attaque de cobra de Joni Sadler:
(Traduit par la brutale admiration de Catherine Debard)
À l'époque où les membres de Holy Cobras vivaient et traînaient à Ottawa, ils se sont bâtis une renommée mythique grâce à leurs brutales et hypnotiques prestations saccageuses de sous-sols. Pour leur dernier show en tant que résidents de la capitale — capté sur VHS par la cinéaste locale Lesley Elora — ils livrent une performance grotesque et démentielle, fidèle à la légende leur ayant permis de se tailler une place dans le cœur punk de la ville. Maintenant établis à Montréal avec un nouveau bassiste dans leurs rangs, ils n'ont pas perdu de temps pour prendre possession de leur scène adoptive. Mais pour ceux et celles qui ont été témoins des premiers shows de Holy Cobras dans les bars crades d'Ottawa, ce document d'archive servira à rappeler l'héritage qu'ils ont légué à leur ville natale, ainsi que leur habileté à foutre la zizanie, peu importe les circonstances.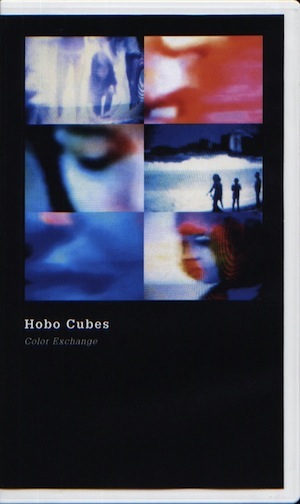 Hobo Cubes
Color Exchange
Montreal, QC
From the VCR dungeon of Jesse Locke:
It's hard to pinpoint any kind of hallmark in the ever-swelling body of Hobo errata, spawning endless outgrowths from the hyperactive hands of Cult leader Frank Ouellette. Yet one thing you can count on across the awe-inspiring multitude of multi-format releases, solo/collab projects and transfixing videos is a hazy atmosphere of unease filtering in like night terrors at the edges of sleep. The Color Exchange VHS feels like a culmination of sorts in its 30-minute voyage through the liminal realms of late night transmissions as pan and scanned visions of distressed facial close-ups, sinister statues and bikini-clad beach babes get the creeper treatment with a stomach-churning synth soundtrack to match. 50 copies! Get it while it's hot…
Du dongeon VCR de Jesse Locke::
(Traduit par Odile Leclerc)
C'est difficile de définir une quelconque sorte de marque dans l'éternellement corps enflant d'Hobo errata, faisant naître des excroissances infinies de mains hyperactives du leader de culte Frank Ouellette. Encore une chose sur laquelle vous pouvez compter à travers la multitude de sorties multi-format inspirante de fascination, des projets solo/ en collaboration et de vidéos pétrifiants est une atmosphère brumeuse de malaise s'infiltrant à l'intérieure comme des terreurs nocturnes aux bords du sommeil. Le VHS de Color Exchange est ressenti comme un genre de culmination dans son voyage de 30-minutes à travers les royaumes liminaux des transmissions tard dans la nuit alors que des plateaux et des visions scannées des conclusions faciales en détresse, de sinistres statues et des minettes de plage en bikini obtiennent le traitement d'obsédé avec une bande sonore de synth à qui retourne l'estomac à égaler. 50 Copies! Attrapez le pendant que c'est chaud…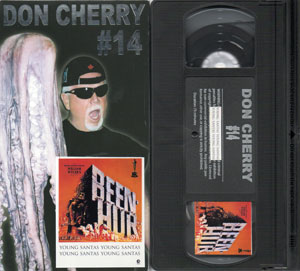 Young Santas
BEEN-HUR VHS EP
(Self-Released)
From the chariot riding of Aaron Levin
Buried within this A-FramesYoung-Santas-inspired jaunt through angular hell is a brilliant vocal-morphing of popular magic and succinctly details the brilliant shapes conjured from this post-everything blip on the Edmonton radar. Guitar wrenching, gutteral chortling, and swashes of western abandon litter the EP's difficult humour, pushed to further limits by the absurd videoYoung-Santas that accompanies the whole travesty. Awesome.
Du voyage en char d'Aaron Levin:
(Traduit par les déferlements de Maya Keshav)
Enterré dans cette balade inspiré par A-Frames à travers l'enfer angulaire est une transformation vocale brillante de la magie populaire qui détaille succinctement les formes brillantes qui sont apparues de ce sommet après-tout sur l'écran radar d'Edmonton. Les arrachements de guitare, les gloussements gutturales, et les déferlements d'abandon de l'ouest tachettent l'humour difficile de l'EP, qui pousse encore le bouchon avec le vidéoclip absurde qui accompagne tout le pastiche. Magnifique.
Young-Santas – Surfband Stevens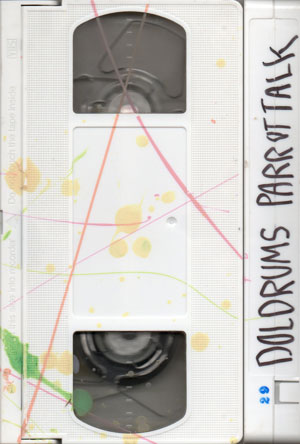 Doldrums
Parrot Talk
(Self Released)
Toronto, ON
From the betamax projections of Aaron Levin:
The twenty minutes of damaged troopadelic beats on Parrot Talk will burn through your grey matter and leave a smelting mess of pulsed lazers, stunted drums, and Wagnerian strings. It's a mire of foot-stimulated addiction; layers of samples folding their intra-rhythms and wooded grooves to create the most danceable video project left of nowhere. The blasted soundtrack joins a burnt mess of digital-soaked colouramas, wonderfully committed to everyone's favorite 80s hold-over (VHS). Thankfully, for those that lack the pawn-shop ephemera, you can view the audible damage here.
Des projections bétamax d'Aaron Levin:
(Traduit par Odile Leclerc)
Les vingt minutes de battements troopadéliques endommagés sur Parrot Talk vont à travers votre matière grise et laissé un fouillis en fusion de lasers pulsés, de batteries retardées et des cordes Wagnériens. C'est un bourbier d'addiction stimulée par un pied; des couches d'échantillons repliant leur intra-rythmes et leurs cadences de bois pour créer le projet vidéo le plus dansable laissé de nulle part. La bande sonore à fond rejoint le gâchis brûlé des colouramas digitales imbibés, merveilleusement engagé aux VHS survivants des années 80 préférés de tous. Heureusement, pour ceux qui manquent l'éphémère du prêteur sur gage, vous pouvez regarder le dommage audible ici.

Doldrums – I'm Homesick Sittin' Up Here in My Satellite

Doldrums – Chase the Tear [remix]
---