Category: 12″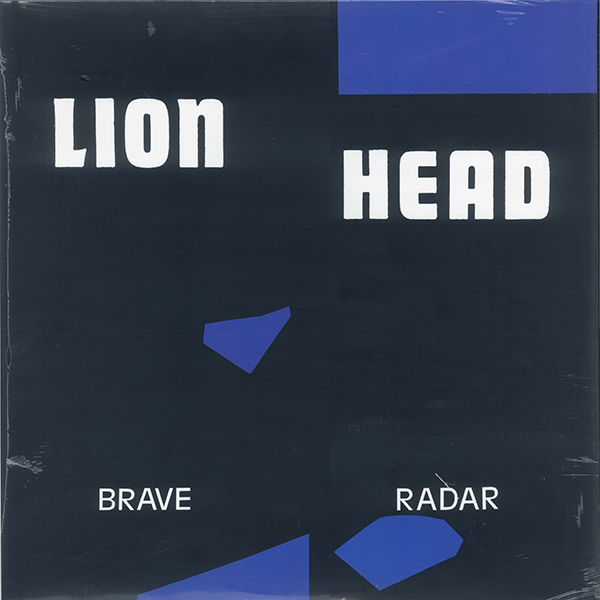 Brave Radar
Lion Head
Montréal, QC
From the littered desk of Laura Donohue:
The elevator's interior is so reflective it is hard to tell when the door has opened. Stepping inside, a million different versions of yourself extend radially from each corner. Tilting sideways to glimpse your other selves, one figure splits from the lattice. The rogue steps forward and presses an arm through the fluid pane. Your fingers almost touch. The elevator chimes the arrival of the 6th floor, ending the fever dream. Where do you go from here?
Du bureau encombré de Laura Donohue:
(Traduit par le voyage en ascenseur de Maya Keshav)
L'intérieur de l'ascenseur est si réfléchissant qu'il est difficile de remarquer que la porte s'est ouverte. En entrant, un million de versions de toi-même se répand en étoile de chaque coin. Tu te penches de côté pour entrevoir tes autres toi, quand un des toi se sépare du treillis. L'intrus s'approche et pousse un bras à travers le carreau fluide. Vos doigts se touchent quasiment. L'ascenseur sonne l'arrivée du sixième étage, mettant fin aux hallucinations. Où tu vas maintenant?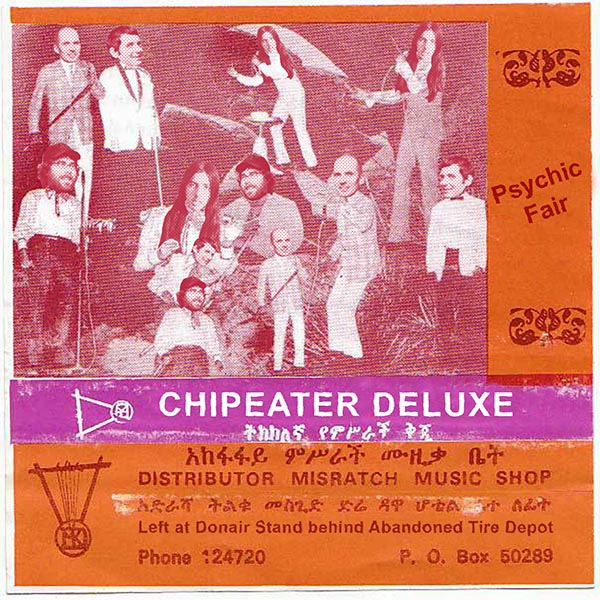 Psychic Fair
Chipeater Deluxe
(Self-Released)
Halifax, NS
From the radar scans of Gabe Girard:
Deep within the caves, recesses, and exposed bedrock strata of the peninsula known as Halifax lie several geological anomalies. Tunnels without entrance or exit. Long dark passages too coarsely shaped, too needlessly circuitous to be of manmade origin wind and bore themselves deep into the earth. At length, they culminate in spacious halls possessing strange resonant qualities. Ground-penetrating radar scans have located some of these halls. One such hall, of particular interest to resident geologist Josh Salter, has been dubbed The Echo Chamber. According to locals, this chamber has been emanating its distinctive vibrations for years. Field recordings have turned up interesting results. For now, these recordings are our only glimpse into what lies beneath.
Des balayages radar de Gabe Girard:
(Traduit par la spéléologue Maya Keshav)
Au fond des grottes, des alcôves et des strates exposées de la roche mère sur la péninsule qui s'appelle Halifax se trouvent plusieurs anomalies géologiques. Des tunnels qui n'ont ni entrée ni sortie. Des passages longs et sombres en forme trop crue, trop inutilement sinueuse pour être créés par l'homme s'enroulent et se creusent au fond extrême de la terre. Plus tard, ils aboutissent dans les corridors spacieux qui possèdent des qualités bizarrement sonores. On a localisé quelques-uns de ces corridors grâce aux balayages radar qui peuvent percer la terre. Un tel corridor, d'un intérêt particulier pour le géologue résident Josh Salter,, était surnommé The Echo Chamber (la chambre de réverbération). Selon les gens du coin, cette chambre dégage ses vibrations distinctives depuis des années. Les enregistrements sur place ont révélé des résultats intéressants. Pour le moment, ces enregistrements sont notre seul aperçu de ce qui se trouve en dessous.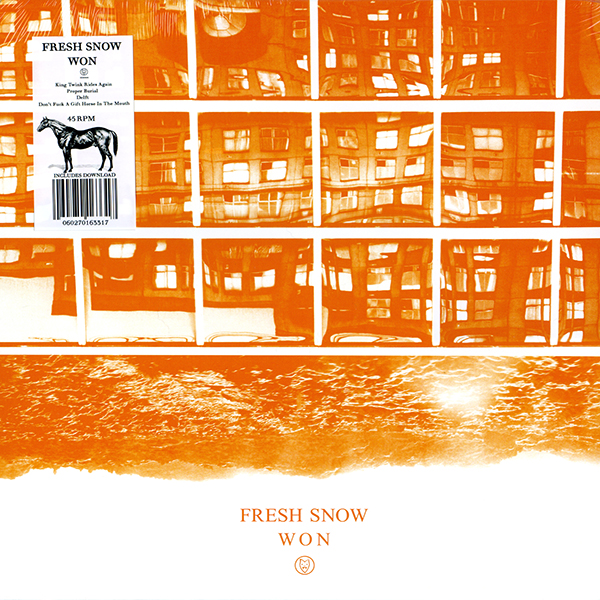 Fresh Snow
WON
Toronto, ON
From the frozen technology of Brendan Lehman:
City streets, forest paths; in and out, up and down. Running from one dirty thrill to the next euphoric hell. Fresh Snow is the score to your chase, sprinting with you as the graceful noise tears down walls and trees alike. Yet still, the sun will rise tomorrow.
De la technologie gelée de Brendan Lehman:
(Traduit par le soleil pensif de Maya Keshav)
Les rues de la ville, les chemins forestiers; ici et là, en haut et en bas. En courant d'un frisson louche vers le prochain enfer euphorique. Fresh-Snow est la bande sonore de ta chasse, qui court à toute vitesse avec toi pendant que les bruits gracieux démolissent les murs et les arbres. Mais tout de même, le soleil se lèvera demain.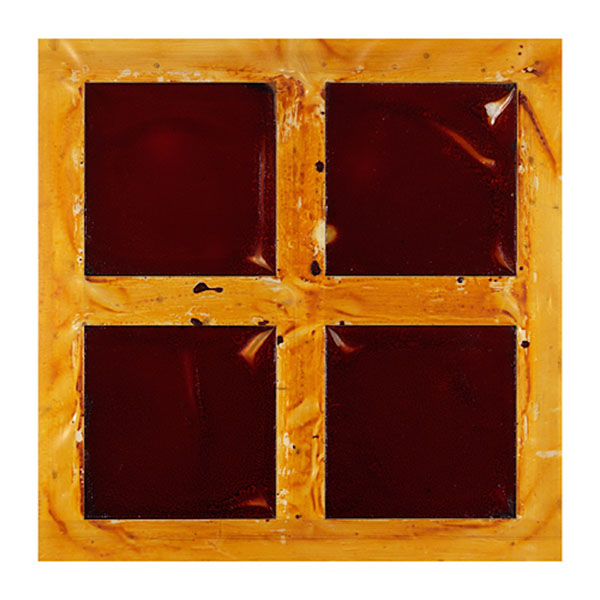 d'Eon
Foxconn / Trios
(Knives)
Montréal, QC
From the rendered mesh of Aaron Levin :
Surfacing tones Hegelian, Foxconn / Trios glides through a MIDIfried dystopia jit-compiled into quantized oblivion. Get lifted by the emotional vanguard as d'Eon explores the ergonomics of labour in an age of continuous data. Catch you in the mesh.
Du réseau transformé Aaron Levin:
(Traduit par la dystopie explosée de Maya Keshav)
En faisant ressortir les tons hégéliens, Foxconn / Trios plane dans une dystopie du genre MIDI explosée qui est compilée à la volée jusqu'à l'inconscience réglée pour atteindre une certaine perfection. Laisse-toi t'envoler par l'avant-garde émouvante alors que d'Eon explore l'ergonomie au travail à l'ère des données continues. À plus tard sur le Web.
d'Eon – Transparency Part III – ii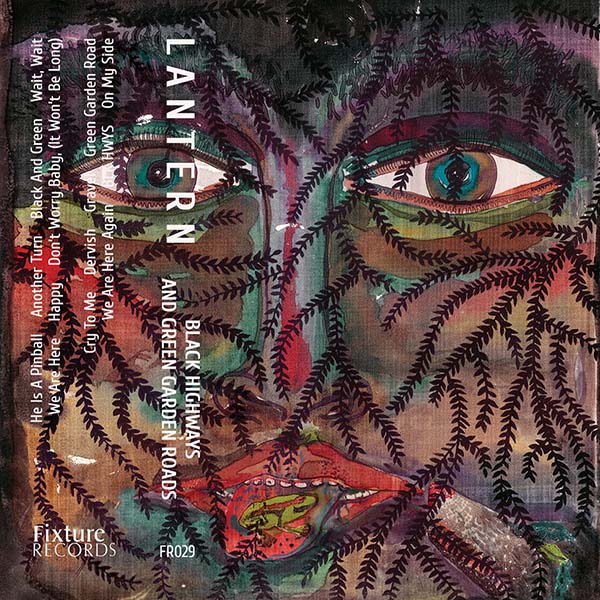 Lantern
Black Highways and Green Garden Roads
Montréal, QC
From the dual citizenship of NPJ:
Another turn, and we are here (again). Lodged in the center of Freelove's green garden, Lantern emits earthly delights from a steady flame. The glow illuminates multiple pathways, leaving the direction of our decision completely up to us, and the result of our decision completely up to them. Don't worry baby, BLK HWYS are on our side.
De la double citoyenneté de NPJ:
(Traduit des jardins verts d' Odile Leclerc)
Un autre virage et nous y serons (encore). Logée au centre du jardin vert de Freelove, Lantern émet des délices terrestres venant d'une flamme constante. La lueur illumine de multiples sentiers, nous laissant la liberté de diriger notre décision et la liberté de leur laisser le résultat de notre décision. Ne t'inquiète pas bébé, BLK HWYS est de notre côté.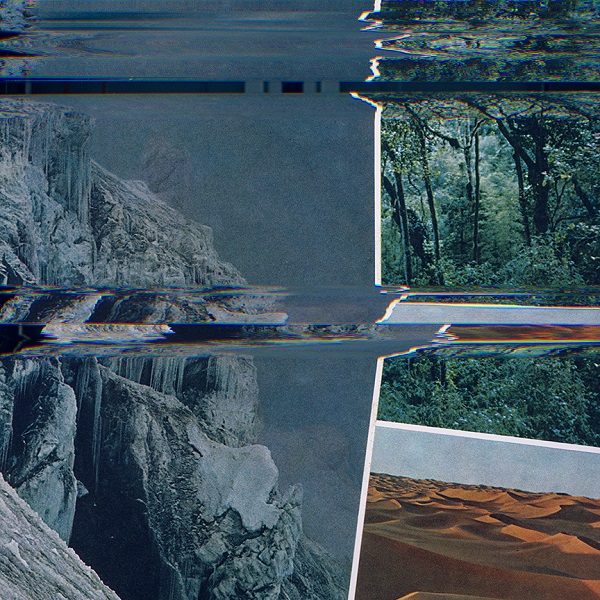 Sarah Davachi
Dominions
Vancouver, BC // Montreal, QC
From the deep chasms of Joshua Robinson:
Soft lulls nudge at the drone-ry of sinusoidal eupnea as electronic orchestration brings to light the staying power of a textured calm. The sonic palette is antiquated, but in being so is refined; the tools of bygone times exhumed to breathe once again, exhaling the fine tones of a mastered craft and the channeled voice of a resonant staticism. These compositions are as delicate as glass, as fragile as they are ethereal. Yet, they are elemental in their resonance; flowing structures and layered depths bridging chasms too deep to truly know.
Des abîmes profondes de Joshua Robinson:
(Traduit par la sérénité texturée de Maya Keshav)
Les tendres accalmies effleurent la drone-essence de la douceur sinusoïdale pendant que l'orchestration électronique met en lumière l'endurance d'une sérénité texturée. La palette des sons est vieillotte, mais en l'étant, elle est raffinée; on exhume les outils d'une époque revolue pour qu'ils respirent encore, en expirant les tons délicats d'un métier maîtrisé et d'une voix transmise, immuable. Ces compositions sont aussi délicates que le verre, aussi fragiles qu'éthérées. Mais, leur résonance est fondamentale; les structures fluides et les fonds superposés s'étendent sur les abîmes trop profondes pour vraiment les connaître.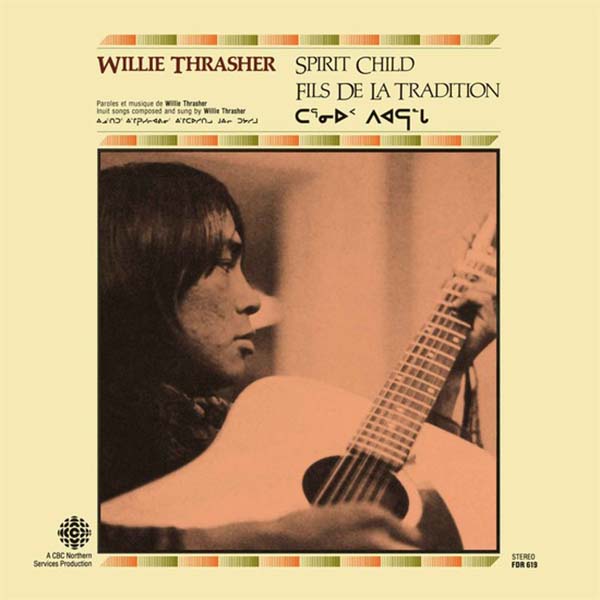 From the quiet elevation of Johnnie Regalado:
When you're ready to listen, you can often find the best stories in the ephemeral space between the tracks. Tales of the creation, the journey, the remembrance. Willie Thrasher's Spirit Child is a collection of those kinds of stories, with melody serving as the vessel transport. Let's not say forgotten, let's say remembered. Spirit Child, is just a single step in a career that still bellows from the park bench, and begs the question: How many other gems await (re)discovery in our public spaces and collective consciousness? Perhaps it is time to take a road trip across the country, only stopping to listen to the voices that are so often drowned in the din.
Du sommet serein de Johnnie Regalado:
(Traduit par Sergio Calla)
Quand on se met à écouter, les meilleures aventures se trouvent souvent dans l'espace éphémère entre les pistes. Les récits de la création, du voyage, le souvenir. Spirit Child de Willie Thrasher est une collection d'histoires véhiculées par les mélodies. Ne disons pas oublié, mais plutôt qu'elles sont dans nos pensées. Spirit Child est un petit pas dans une carrière qui assène encore ses coups depuis un banc de parc. On se pose la question : d'autres découvertes se feront-elles dans nos espaces publics et dans notre conscience collective? C'est peut-être une belle occasion de traverser le pays en voiture, et de s'arrêter uniquement pour écouter les voix qui se noient souvent dans la confusion.
Willie Thrasher – Wolves Don't Live By The Rules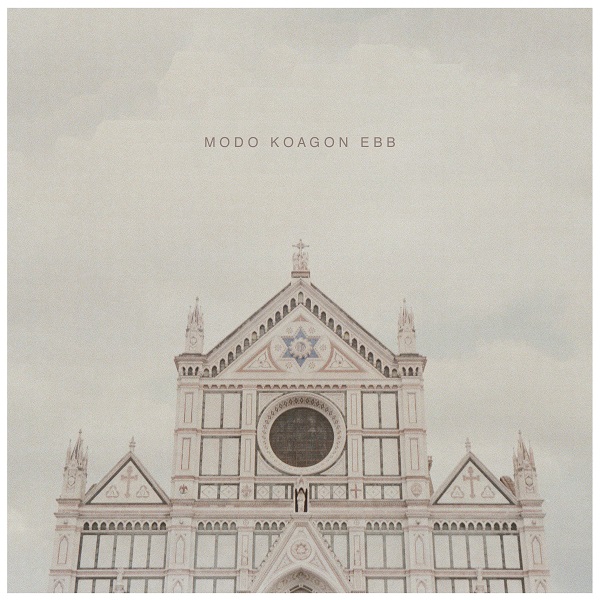 Modo Koagon
Ebb
(Self-Released)
Guelph, ON
From the last breath of Heather Lune:
The field recordist curls up after a long life and goes to sleep. The moment – the fall – the rise – the bridge – the break – eternally suspended in the midst of infinite sound.
A toy xylophone, screaming shoreline wind, liquid sliding on skin, dead radio whirling the drain, while stirring the spoon chinks the glass, razors buzz, the jazz cd skips, the car and the sound the land makes as you pass through it, insects in trees, blades on ice, the gutters melting, tapping typewriter, the beep of the life support machine, the clock on the wall.
You discover the moment of death – that split second before the jump, forever.
Du dernier souffle de Heather Lune:
(Traduit par le gargarisme salé de Julie Mayer)
Le preneur de son se pelotonne après une longue vie et s'endort. L'instant – la chute – l'ascension – la transition – la rupture – l'homme est éternellement suspendu au milieu d'un son infini.
Un xylophone jouet, le hurlement du vent en provenance du rivage, le glissement d'un liquide sur la peau, une radio à plat s'écoule en tourbillons par la bonde, la cuillère fait tinter le verre lorsqu'on la remue, des rasoirs qui bourdonnent, le CD de jazz saute, l'auto et le son que la terre produit alors que vous passez dessus, les insectes dans les arbres, des lames de patin sur la glace, des gouttières fondent, les bruits de frappe d'une machine à écrire, les bips de l'appareil veillant au maintien des fonctions vitales, l'horloge accrochée au mur.
Vous découvrez l'instant de la mort – cette fraction de seconde avant le grand saut, à jamais.
Modo Koagon – Ebb (For Wilhelm and Ellen)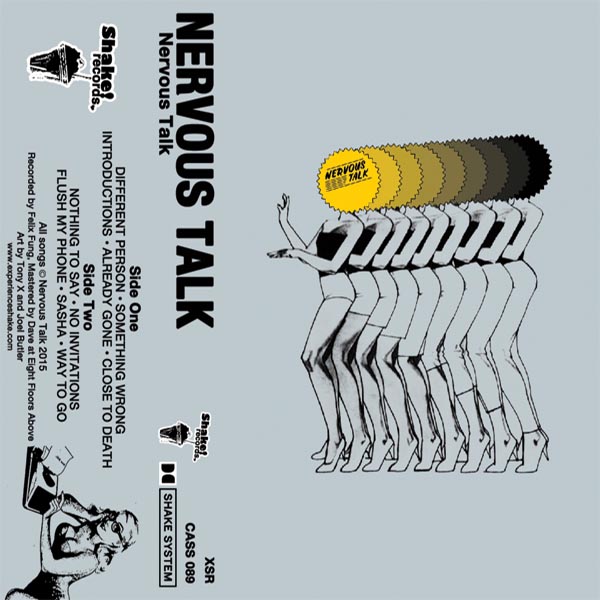 Nervous Talk
Nervous Talk
Vancouver, BC
From the rat face of Kyle Valade:
Nervous Talk's self-titled tape is a violent daydream on a Friday afternoon. Listening at work, you'll have no choice but to play some ferocious air drums while the guitar player throws in tastefully flashy touches all over the place. There's some 60's and 70's ground up and thrown into the mix, but you'll find yourself pining for going from show to show down Hastings. Walking late through the Downtown Eastside with its concrete, rats, and shipping containers, intersecting with pals you only see at shows, heading outside between bands, and listening to the real thing.
De la face de rat de Kyle Valade:
(Traduit par Sergio Calla)
La bande audio éponyme de Nervous Talk est une violente rêverie d'un vendredi après-midi. L'écoute au travail donne le gout de jouer sauvagement à la batterie invisible, alors que le guitariste démontre avec vigueur, son gout « tape à l'œil » charmant. Le mélange des années 60 et 70, donne envie de faire la tournée des spectacles le long du boulevard Hastings. Se promener tard à l'est d'un centre-ville tout en béton, les rats et les conteneurs d'expédition, croisant des copains que vous ne voyez que pendant l'entracte des shows tout en écoutant ce qui est authentique.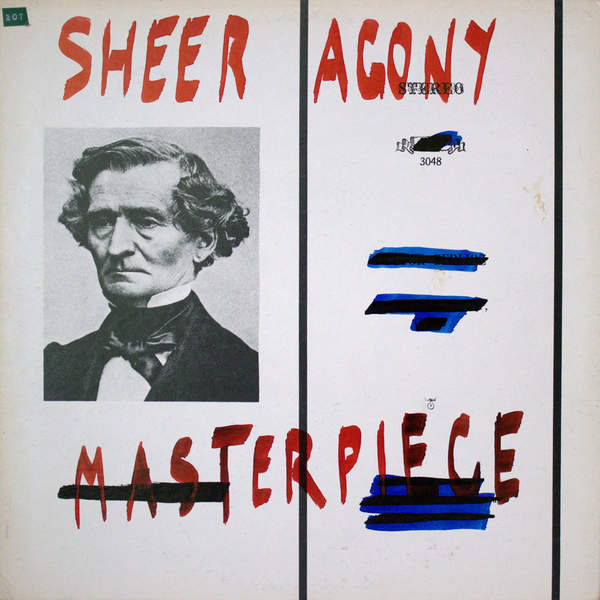 Sheer Agony
Masterpiece
Montreal, QC
From the decrepit eyes of luke mumford:
laying low can involve a lot of things. sometimes being sick of it all or maybe just the opposite. a lot of life can happen in those times and anybody would be happy to come out with a selection like this. 3 years later and this aptly titled album masterpiece by sheer agony is sheer pleasure. this epic is from montreal, but also sounding scotian if that makes any sense. there are many ups, few downs which is important in this musical climate. easy listening takes on a whole other meaning.
Des yeux décrépits de luke mumford:
(Trad¿?¿?¿?¿?¿?¿?¿?¿?oui !!!! par Atheist Michael Jackson)
quand on décide de ne pas se faire remarquer, cela implique parfois beaucoup de choses. d'être tanné de tout ou peut-être l'opposé. beaucoup de la vie peut se passer pendant ce temps et toute personne serait heureuse d'en sortir avec une sélection comme celle-ci. trois ans plus tard, cet album, qui porte bien son nom, Masterpiece par sheer agony est un pur plaisir. cette musique épique est de Montréal, mais elle semble être Néo-Écossaise aussi, si ça fait du sens. il y a beaucoup de hauts et peu de bas, qui est important dans ce climat musical. la musique détente prend un tout nouveau sens.
---