Category: digital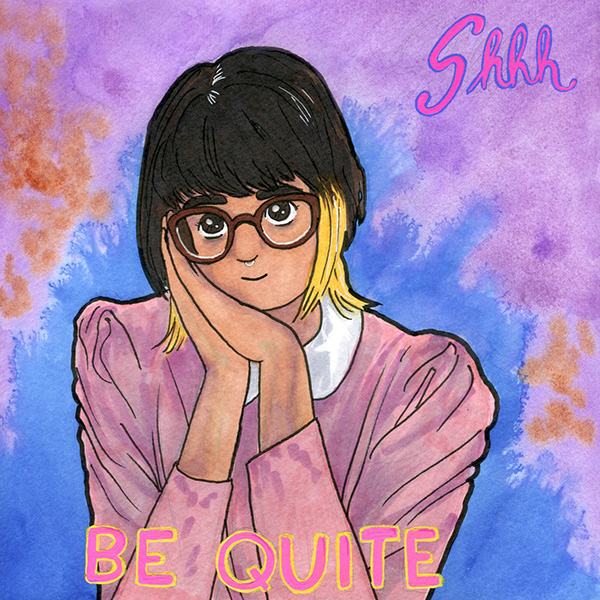 Shhh
Be Quite
Self-released
London, ON
From the tiniest lights of Eleanor Wearing:
Standing alone in a crowd, you close your eyes and search for a softer space. You find a bed, but is it yours? It is kind and strange, like an outgrown friendship or a childhood toy. Is it possible to feel this tired and still be alive? Cotton blankets scratch your skin, but you forgive them. Accept them. Their worn peaks and folds lay illuminated by flickering incandescent lights tacked against a velvet wall. A restless feeling floats in amongst the buzzing glow. It's time to leave. Back in the crowd, you are alone, but at peace.
Des lumières les plus petites d'Eleanor Wearing:
(Traduit par Alison McReynolds)
Debout seul(e) dans la foule, tu fermes les yeux en recherche d'un espace doux. Tu trouves un lit, mais est-il le tien? Il est gentil et étrange, comme une amitié passée ou un jeux d'enfance. Est-il possible d'être aussi fatigué et encore vivant? Couvertures en coton gratte ta peau, mais tu les pardonnes. Accepte-le. Leurs sommets et plis érodés pose illuminé par le vacillation des lumières incandescentes punaise sur un mur en velours. Une sensation sans cesse flotte parmi un lueur bourdonnant. C'est temps de partir. Retournant dans la foule, tu es seul(e), mais en paix.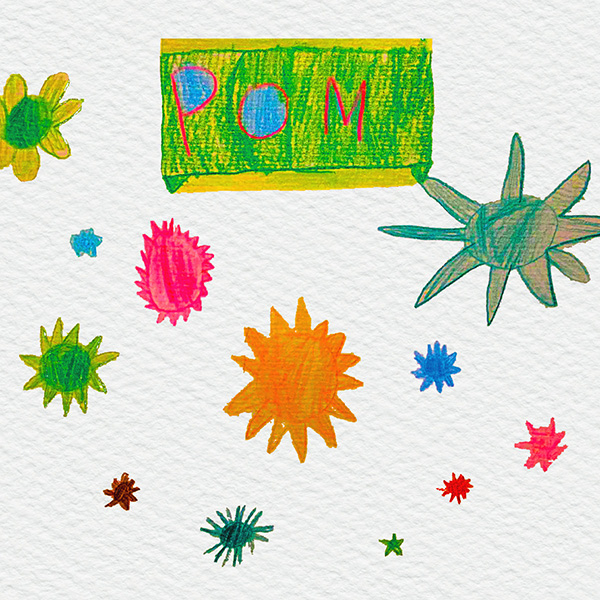 POM
POM EP
Self-released
Toronto, ON
From the archives of Mike Roi's Äppärät:
The Internet. Digital echoes become reflections of ourselves from the ideals (and flaws) of our bodies in the form of endless retweets, reactions and likes. This is nothing new, but POM find the beauty and horror lying in this relationship rallying to infinity. The syncopated rhythms of POM's instrumentals feel coolly calculated, but underscored by it all is the incongruent marriage of the real and the programmed. Its incompatibility knows no limits, but there is a thrill in the known and unknown beauty created by the shifting powers of control. "Take time to look inside – you're mine".
Archivée dans l'äppärät de Mike Roi:
(Traduit par l'encrier kaléidoscopique de Julie Mayer)
L'Internet. Les échos numériques deviennent les reflets de nous-mêmes, les idéaux (et les travers) de nos corps sous forme de gazouillis partagés, de réactions et de « J'aime » sans fin. Ça n'a rien de nouveau; POM a découvert la beauté et l'horreur se cachant derrière cette relation d'échanges à l'infini. Le duo semble avoir calculé de sang-froid sa musique instrumentale aux rythmes syncopés. Cependant, le tout met en évidence le mariage incongru du réel et du virtuel, de l'improvisation et de la programmation. Cette incompatibilité ne connaît aucune limite, mais un délicieux frisson réside dans la beauté connue et inconnue créées par le pouvoir changeant de l'emprise. « Prends le temps de regarder à l'intérieur; tu es à moi »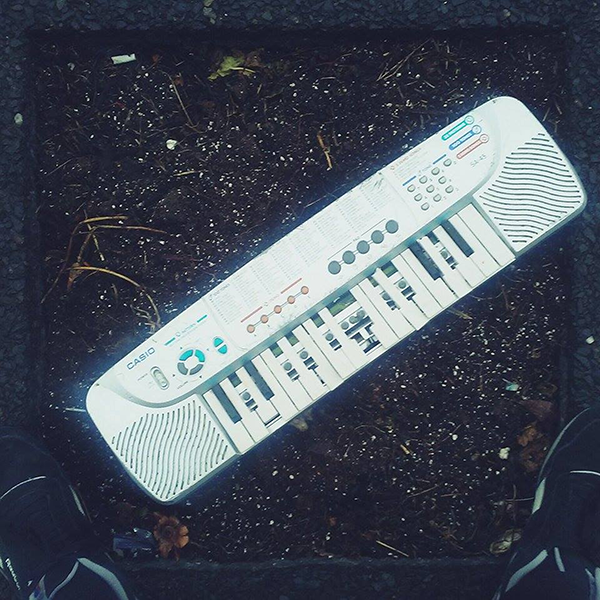 Bone Marrow
A Spiritual Blur / Someone New EP
Self-released
Montréal, QC
From the basement thoughts of Katie Jensen:
You sent yourself a text message last night: "Seeking aural healing. Receiving heaven. Swallowed whole." You must have interfaced with an angel last night. 1080p eyes probe the velvet dark. The room shifted overnight, or maybe just when you got home; piles of clothes heaped on keyboards, jeans weighing down oscillator keys, an organ flipped over and screaming. The phone screen glows, a cheap jellyfish sending tentacles into contact lists. Your long nails catch on the fibres of the blanket, pulling out synthetic fabric in squiggly fibres. It reminds you of shredding dandelions at the lake, feet swinging like Red Rover, slipping on wet wood, splinters gathering in palms, your peach body disappearing into indigo depths.
Des pensées souterraines de Katie Jensen:
(Traduit par l'écharde incrustée dans l'index de Jessica Grenier)
Tu t'es envoyé un message texte hier : « Recherche guérison auditive. Reçois le paradis : engloutissement total. » Tu as dû communiquer avec un ange hier soir. Des yeux en 1080p qui sondent le velours de l'obscurité. La pièce a changé cette nuit, ou peut-être juste quand tu as ouvert la porte de la maison. Des piles de vêtements jonchant des claviers, des jeans appuyant sur les touches d'un oscillateur, un orgue renversé qui se lamente. L'écran du cellulaire brille – une méduse en toc étirant ses tentacules à travers la liste de contacts. Tes longs ongles s'accrochent dans une couverture, tordant ses fibres synthétiques. Ça te rappelle les pissenlits s'effilochant au lac. Tes pieds se balançant comme pour Red Rover, qui glissent sur du bois mouillé; les échardes qui s'accumulent dans tes paumes. Ton corps de pêche qui disparaît dans les profondeurs indigo.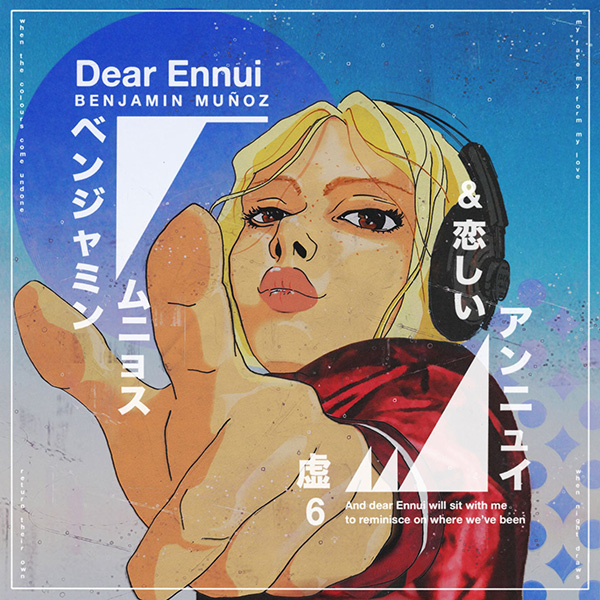 Benjamin Muñoz
Dear Ennui
Hamilton, ON
From the hygge of Rolf Klausener:
The chalky timbre of TUMS rattling in their bottle, the infinite drum roll of heavy rainfall: the right poly-rhythms have a way of both soothing us and sparking contemplation. With its heavy industrial past—echoes of primitive robots stamping out die-cast auto parts—Hamilton seemed destined to be Canada's home of arrhythmic pop. Benjamin Muñoz cobbles warm, percussive electro, where tumbling woodblocks spoon seamlessly with avant-garde jazz-breaks. Delayed pianos dovetail sampled vocals forging sweater-weather melodies. Easily at home among Berlin's Leaf Label, or Caribou's debut explorations as Manitoba, Dear Ennui offers daydream voyages on pleasantly unpredictable oceans, slave to rogue waves, and bound by no anchor.
De l'hygge de Rolf Klausener:
(Traduit par la saudade de Louis-Félix de Chevigny)
Le timbre crayeux d'un flacon de TUMS que l'on secoue, le roulement de tambour perpétuel d'une pluie battante: les bons motifs polyrythmiques apaisent et invitent à la contemplation. Avec son lourd passé industriel -lors duquel retentissait la résonance de robots primitifs martelant des pièces d'automobile moulées – Hamilton semblait destiné à être le foyer canadien du pop arythmique. Benjamin Muñoz nous concocte de l'électro percutante et chaleureuse dans laquelle s'harmonisent le wood-block et les interludes jazzy avant-gardes. Des mélodies de temps frisquet issues de l'accord entre des notes tardives de piano et des échantillons vocaux. Bien à sa place aux côtés de la maison de disque berlinoise Leaf Label, ou de Caribou à ses débuts, sous le pseudonyme Manitoba; Dear Ennui offre une rêverie de voyages sans ancre sur des eaux imprévisibles, esclave aux vagues scélérates.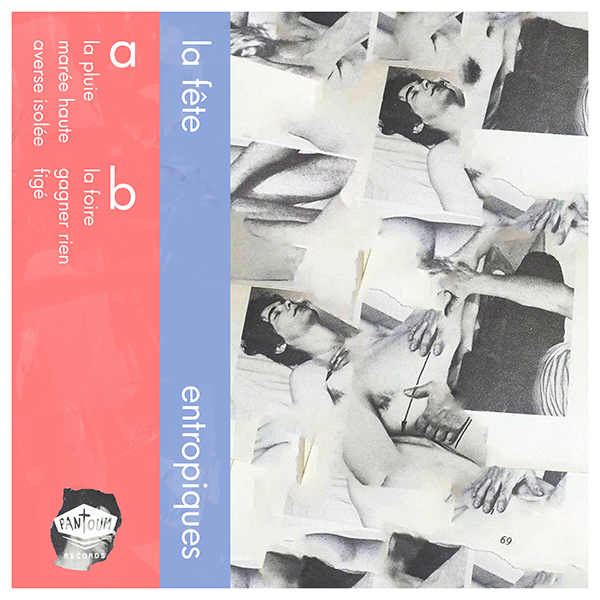 La Fête
Entropiques
Québec, QC
Du ressac lyrique de Mathieu Bédard:
*Entropiques* est un système qui se construit et se défait en permanence, alternant entre des rythmes bondissants et fragmentés et des explorations sonores planantes. Les instruments jouent parallèlement les uns aux autres, sans relâche mais sans se presser, pareils à des gouttes de pluie qui se répondent en tambourinant. L'élément liquide est partout, dans le flux et le reflux de la voix aussi, dont les trémolos agissent comme la marée, qui emporte ou dépose le ruissellement dissonant des guitares. Idéal pour méditer en regardant la pluie, ou pour courir en dessous les yeux fermés.
From the lyrical riptide of Mathieu Bédard:
(Traduit par Sergio Calla)
Alternating between the leaping and fragmented rhythms and soothing sound explorations
*Entropiques* is a system that is constantly created and destroyed. Tirelessly, the instruments calmly play in unison, similar to raindrops which sound like a beating drum. The liquid element is everywhere, in the ebb and flow of the voice too, whose tremolos carry or deposit the guitars' sour runoff like the tide. Ideal to meditate by rainfall, or to blindly run under it.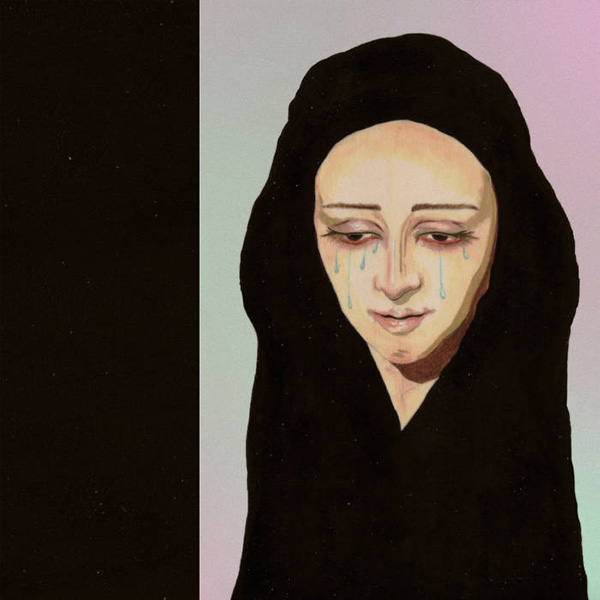 Piith
Sweet Sweet Morning
Montréal, QC
From the cat's cradle tangled fingers of Mackenzie Smedmor:
Crystal-coated electric rhythms are the magnetic lure. Through the cracking glass slowly seeps a beckoning amorphous warmth. Love's voice spins you into a beautifully contorted spiderweb of glistening digital morning dew. Synths and guitars shiver whispers like a holographic brook through the land of the silver birch. A dream is delicately yet so masterfully suspended by silk threads, you believe reality has finally uttered its tantalizing secrets in an escalating impenetrable epic.
Piith's *Sweet Sweet Morning* marvelously slithers electronic dark pop fantasies into consciousness.
Des doigts empêtrés de la toile d'araignées:
Le leurre magnétique est recouvert de cristaux. À travers le verre cassant s'infiltre lentement une chaleur amorphe séduisante. La voix de Love te pirouette dans une toile d'araignée merveilleusement contorsionnée de rosée matinale numérique luisante. Des synthétiseurs et des guitares frissonnent des chuchotement comme un ruisseau holographique à travers le pays du bouleau argenté. Un rêve est délicatement, mais si habilement, suspendu par des ficelles de soie, que tu crois que la réalité a finalement verbalisé ses secrets tentants dans une impénétrable épopée qui s'intensifie.
*Sweet Sweet Morning* de Piith glisse merveilleusement des fantaisies de musique pop sombre électronique jusque dans la conscience.
Piith – Song I Wrote About UUUU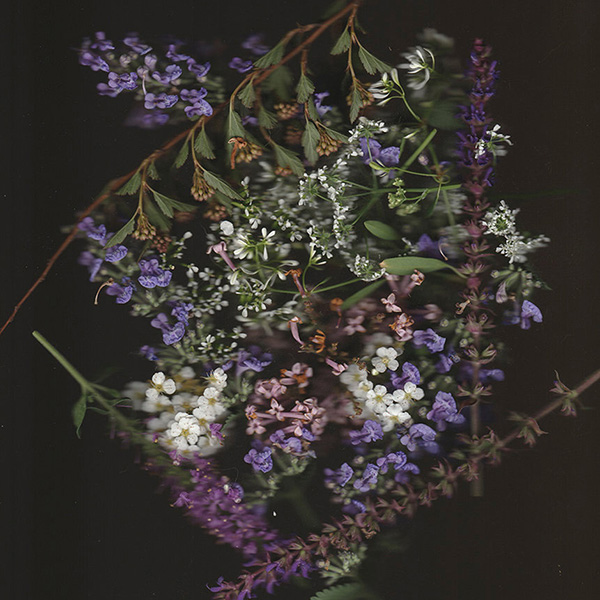 Pyramid//Indigo & SKIN
Split
Self-Released
Edmonton, AB // Montréal, QC
From the ever-expanding skies of Brian Fauteux:
Radio static is how we'll know we're eventually alone. That everything is over. Here is where Pyramid//Indigo's "Lydian Grains" begins. A slight crescendo, disconcerting, leads to "Hands, Bursting with Light." Sounds gleaned from frosted prairie fields build atmospheric swells that call the wild. A long final glance of pink and gold before the graying of sky.
Flip the split.
SKIN calls forth a soundscape marked by the hum of arthropod wings, wind seeping through a window's breach, and the lure of a music box melody. Perhaps there are signs of life after all.
Des cieux toujours grandissants de Brian Fauteux:
(Traduit par les lèvres gercées de Julie Mayer)
Des bruits parasites, voilà comment nous saurons que nous sommes éventuellement seuls. Que tout est fini. C'est ici que « Lydian Grains » de Pyramid/Indigo commence. Un léger crescendo, déconcertant, mène à « Hands, Bursting with Light ». Des sons glanés dans les champs de prairie givrés érigent des remous atmosphériques interpellant la campagne : un long coup d'œil ultime rose et or avant que le ciel vire au gris.
Changez de face.
SKIN évoque un paysage sonore marqué par le bourdonnement d'arthropodes ailés, le vent s'infiltrant par la craque d'une fenêtre et l'attrait suscité par la mélodie d'une boîte à musique. Peut-être y a-t-il des signes de vie après tout.
Pyramid//Indigo – Lydian Grains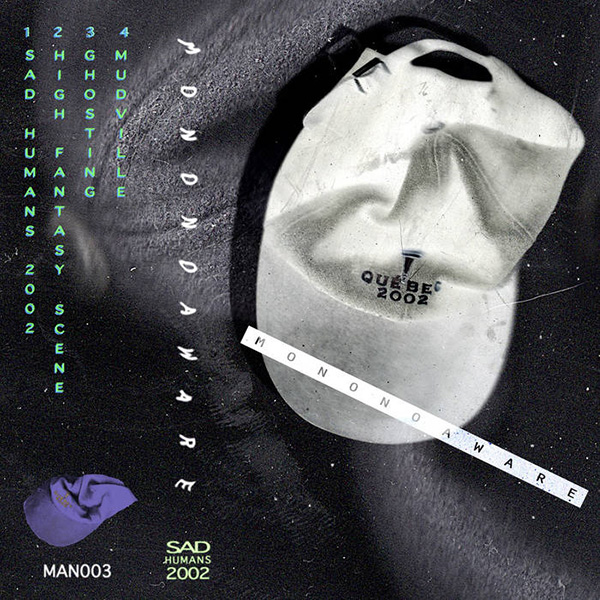 Mono No Aware
SAD HUMANS 2002
Mannequin Tan
Montréal, QC
D'un triste café de banlieue:
Il pleut, la serveuse du café prépare tristement des cupcakes qui seront jetés à la fin de la journée. L'odeur du ruban magnétique encombre mystérieusement les narines des trois clients. Ils s'arrêtent de lire le Journal de Montréal et constatent, en coeur, la fluidité des belles choses. Soudainement, la chanson s'arrête sans crier gare et on retourne à la normalité. 2002 n'aura duré que 6 minutes.
From a sad suburban café:
(Traduit par Alison McReynolds)
It's raining, the café waitress sadly prepares cupcakes that will be thrown out at the end of the day. The scent of a cassette tape mysteriously fill the nostrils of three patrons. They stop reading Le Journal de Montréal and make note of, in their heart of hearts, the fluidity of good things. Suddenly, the song stops without warning and things return to normality. 2002 didn't last more than 6 minutes.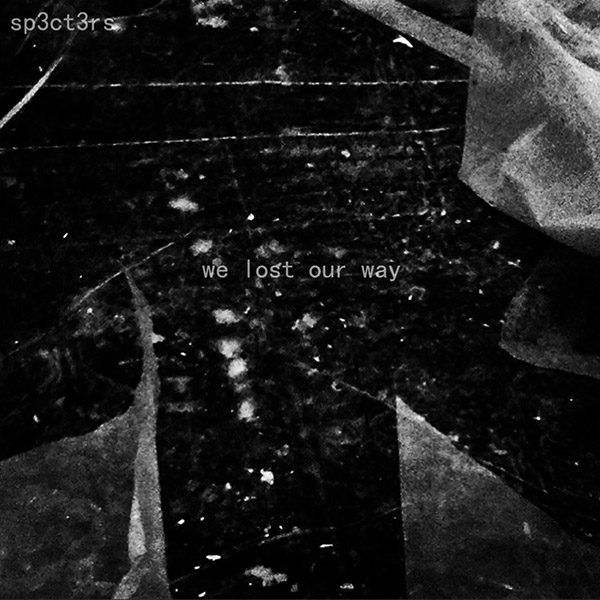 sp3ct3rs
we lost our way
Greenfield Park, QC
From the public appearance of Katie Jensen:
A glowing blue cloud suspended above a jagged metal junkyard. Abstract, scraped melodies rubbing together like the steel shoulders of old cars; rusted robin eggs rolling in a cream-spackled washbasin. The tenderness of fingertips drifting across peach-wrinkled eyelids, thin cotton sheets pulled over restless eyes. A mouth twitching and popping with tension, the copper tang of swallowed words, old scars where the teeth touched down, saving choice words for the lining of cheeks, clamp unyielding, pinching tighter and tighter, screams underwater converted into circular, silver bubbles, canine-gripped flesh, enamel instruments clattering, bowed instruments on metal, dried sand.
De l'apparition publique de Katie Jensen:
(Traduit par les quatre cents coups de Julie Mayer)
Un nuage d'un bleu éclatant suspendu au-dessus d'un dépotoir de ferraille dentée. Des mélodies abstraites et éraflées se frottent les unes aux autres comme les épaules d'acier des vieilles bagnoles; des œufs de merle rouillés roulent dans un lavabo colmaté au mastic. La tendresse des doigts flânant sur des paupières aussi ridées que la peau d'une pêche, de minces draps de coton tirés sur des yeux tourmentés. Une bouche tressaille et produit des bruits secs sous la tension, le goût ferreux de mots ravalés, d'anciennes cicatrices là où les dents se sont enfoncées, gardant des choix de mots à l'intérieur des joues, un serre-joint inflexible, serrant de plus en plus fort, des cris sous l'eau convertis en bulles d'argent sphériques, la chair mordue à pleines dents, le cliquètement d'instruments émaillés, des instruments à cordes sur du métal, du sable séché.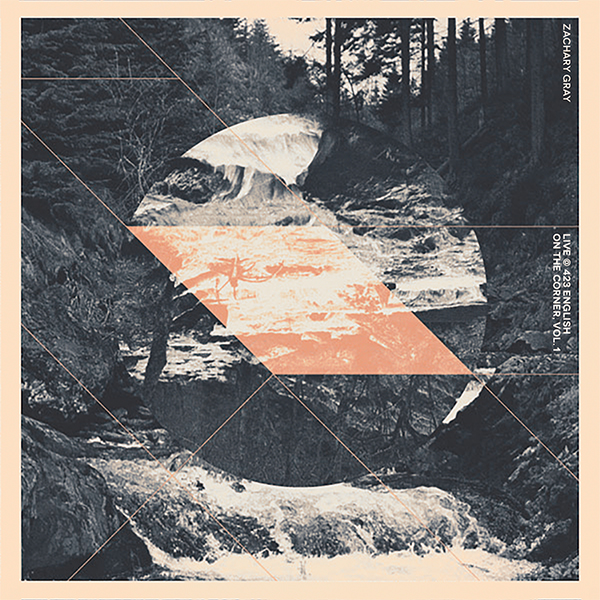 Zachary Gray
Live @ 423 English EP
Self-Released
London, ON
From the mental-pictures of Griffin Martell:
In an unassuming east end abode, Zachary Gray sits "cross-legged" on the floor, painting mental-pictures of the pastoral beyond. High-flying frequencies carry into the vacant lot next door where the legacy of the speed city went up in flames. Still, the warm glare of the horizon beckons us forward. Sepia-tinted scenes flicker in and out of consciousness while layers of modulated soundwaves envelop the room. For a moment no one stirs and time collapses into the present.
Des images mentales de Griffin Martell:
(Traduit par les yeux archi-secs de Julie Mayer)
Dans une humble demeure située dans l'est de London, Zachary Gray, assis « jambes croisées » sur le plancher, est en train de peindre les images mentales d'une pastorale d'antan. Des fréquences de haut vol se portent jusqu'au studio vacant d'à côté où l'héritage de la ville du *speed* est parti en fumée. Pourtant, la lumière vive et chaleureuse de l'horizon nous fait signe d'approcher. Des scènes vacillantes couleur sépia entrent et sortent de la conscience alors que des couches de vagues sonores modulantes enveloppent la pièce. L'espace d'un instant, personne ne bouge tandis que le temps s'écroule dans le présent.
---