Category: compact disc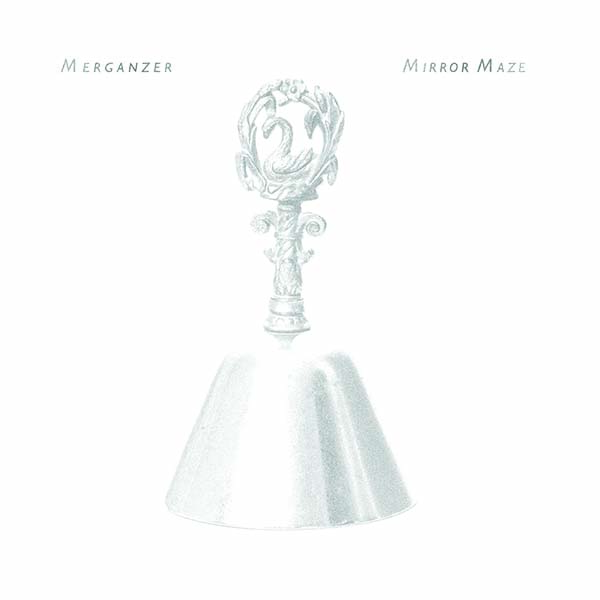 Merganzer
Mirror Maze
(Self Released)
Ottawa, ON
From the refracted vision of Brian Cleveland:
Explosions in a snowy forest never felt so calm. From Sarah Neufeld to Owen Pallett, Canadian violinists are breaking out on their own for dangerous, relaxing records. Their instruments are used for far more than back-up and traditional folk songs. Previously refracting throughout the sounds of Timber Timbre, Feist, and Basia Bulat, it's Mika Posen's time to shine back. Enter into her Berlin labyrinth laid in effigy to Dvorak and Mendelssohn for a pleasant entanglement.
De la vision réfractée de Brian Cleveland:
(Traduit par Mackenzie Smedmor)
Des explosions dans une forêt neigeuse n'ont jamais été aussi calmes. De Sarah Neufeld à Owen Pallett, les violonistes Canadiens se libèrent pour la création solitaire de dangereux disques relaxants. Leurs instruments sont utilisés pour bien plus que le soutien ambiant et les chansons traditionnelles folk. Précédemment réfracter à travers les sons de Timber Timbre, Feist et Basia Bulat, c'est le moment pour Mika Posen de rayonner. Entrez dans son labyrinthe Berlinois étalé en effigie à Dvorak et Mendelssohn pour un imbroglio plaisant.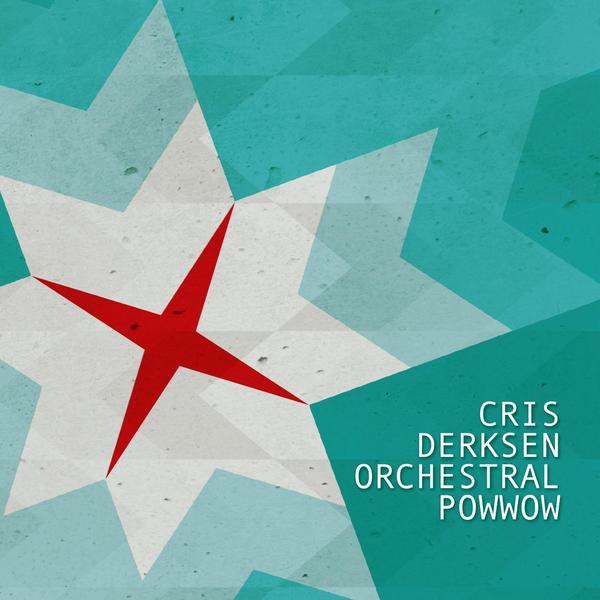 Cris Derksen
Orchestral Powwow
Northern AB
From the wandering spirit of Charlotte White:
Enter through the East facing door. You are immediately drenched in the tears of spirits desperate to be heard over the deafening chatter of demons. You feel the vibrations of howling ghosts as they weave through intricate threads of conflicting comforts: loud and soft, weak and strong, destroyed and rebuilt, mourning and hopeful. In a daze, white light crashes into your body, rejuvenating lost hope and fusing the spirit world with your own. Electrified and covered in flecks of gold, you exit through the West door gasping for air.
De l'esprit en errance de Charlotte White:
(Traduit par Aliké Harel)
Entrez par la porte qui fait face à l'Est. Vous êtes instantanément noyé dans les larmes des esprits désespérés de se faire entendre dans le brouhaha assourdissant des démons. On sent les vibrations des fantômes hurlant pendant qu'ils s'immiscent dans la trame d'un canevas complexe de conforts contradictoires : strident et apaisant, faible et puissant, démoli et rebâti, endeuillé et nourri d'espoir. En un éclair, une lumière blanche s'abat sur votre corps, ravive l'espoir éteint et fusionne le monde des esprits au vôtre. Électrifié et émaillé d'or, vous sortez par la porte de l'Ouest en cherchant à reprendre votre souffle.
Cris Derksen – Round Dance ft. Northern Voice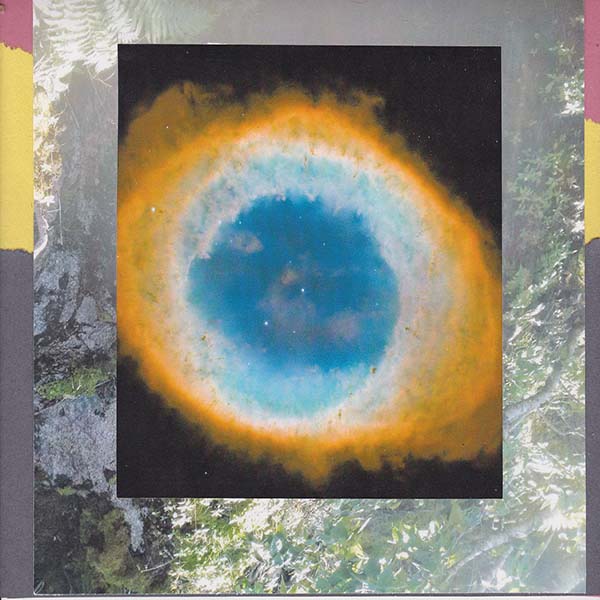 The Original Folk Trio
The Original Folk Trio
(Self Released)
Halifax, NS
From the deep whirrs of Joshua Robinson:
Miasmal free-form jazz from the deep-East of our northernly quilt.
All manner of dirigible sounds carried by lofty winds to the ears of those inclined to dance the dance of whirring vitality.
This is the sonorous embodiment of caring about only that which matters: the sharp pang of saline air, the acknowledgment of the restless spirit, and the gusto required to turn cold months into warm improvisations.
Des profonds vrombissements de Joshua Robinson:
(Traduit par Julie Mayer)
Du jazz libre miasmatique en provenance de l'Est profond de notre courtepointe nordique.
Toutes sortes de sons maniables sont transportés par d'imposants vents aux oreilles de ceux enclins/portés à danser la danse de la vitalité vrombissante.
Voici l'incarnation sonore qui représente le fait de s'occuper seulement de ce qui importe: la pointe acérée de l'air salin, la reconnaissance de l'esprit sans repos et l'entrain nécessaire pour transformer les mois froids en improvisations chaudes.
The Original Folk Trio – All Glory & Praise To Our Reptilian Overlords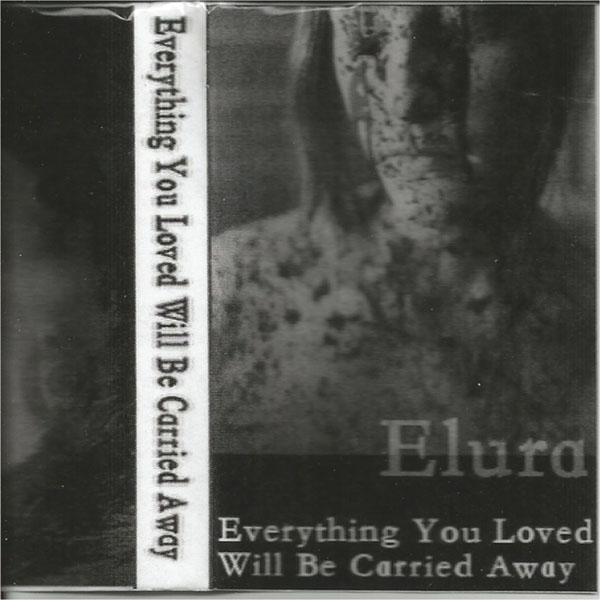 Elura
Everything You Loved Will Be Carried Away
(Midden Records)
Victoria, BC
From the icy inclinations of Mark Anthony Brennan:
The white blanket of the winter sky extends from high to low, blending into the snowy carpet. The mournful strings chill all colour of emotion out of the air, leaving just memory ghosts of things lost. The baritone voice brings the present into clear relief. Frozen in the moment. Beautiful. Untainted by any warmth that would melt the crystal clarity.
Des inclinations glacées de Mark Anthony Brennan:
(Traduit par les lettres ouvertes de Marie-Pier Chevrier)
Le manteau blanc du ciel d'hiver s'étend de haut en bas, se fondant dans le tapis de neige. Les cordes en deuil font résonner dans l'air des émotions de toutes les couleurs, ne laissant des choses perdues que des souvenirs fantômes. La voix baritone mène le présent vers un doux répit. Moment glacé. De toute beauté. Indifférent à toute chaleur capable de venir fondre cette clarté cristalline.
Elura – Statues/Alone In The Winter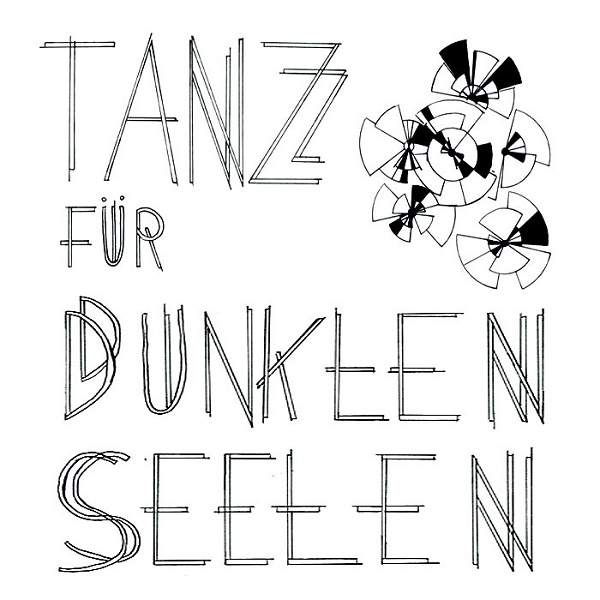 Psychic Pollution
Tanz Für Dunklen Seelen (Dance for Dark Souls)
(Eat Glass Records)
Victoria, BC
From the tonal recall of Johnnie Regalado:
Minimal homage. MIDI remembrance. Tonal recall. Behold, the next stage in the inevitable evolution of Psychic Pollution. An invitation to the cyberpunk after party of a cosmic century. Rub shoulders with the spectres of influence. William Gibson b2b Dieter Moebius. What they really need to know is: can you dance to this?
Du rappel tonal de Johnnie Regalado:
(Traduit par les mélodies programmées de Marie-Pier Chevrier)
Hommage minimal. Souvenirs MIDI. Rappel tonal. Voici la prochaine étape de l'évolution inévitable de Psychic Pollution. Une invitation à l'after party cyberpunk d'un siècle cosmique. Venez jouer du coude avec les spectres de l'influence. William Gibson et Dieter Moebius dos à dos. La question qui leur importe réellement: sauront-ils vous faire danser?
Psychic Pollution – Können Sie Dies Tanzen? (Can you Dance to this​?​)
The Winter Coats
Why So Monumental?
(Self-Released)
Fredericton, NB
From the chemical-crusted claws of Brian Cleveland:
The cryptically unknowable Frederictonian duo of Garcia and Le Noir have produced a sophomore record you'd be proud to learn was created in your neck of the woods. Updating fans infrequently, rarely releasing tunes, and playing shows even more interstitially, it's fair to assume they no longer exist at any juncture, but they've somehow surpassed the lifespan of many of their cohorts: Yellowteeth, Lee Harvey Oswalds, etc. Let Luis and Joel become your personal Boris or Glenn Branca.
Des griffes chimiquement tartreuses de Brian Cleveland:
(Traduit par Aliké Harel)
Cryptique et insondable, le duo frédérictonnais Garcia-Le Noir a produit un deuxième album qui, vous serez heureux d'apprendre, a été conçu dans la forêt près de chez vous. Le groupe mettant irrégulièrement leurs admirateurs au fait, lançant rarement de nouvelles chansons et étant en spectacle à intervalle encore plus irrégulier, il aurait été acceptable de croire que le duo s'était éteint à tout moment. Il a pourtant dépassé en longévité ses compères : Yellowteeth, Lee Harvey Oswalds, etc. Laissez Luis et Joel devenir votre Boris ou votre Glenn Branca bien à vous.
The Winter Coats – The Chymical Wedding of Christian Rosenkreutz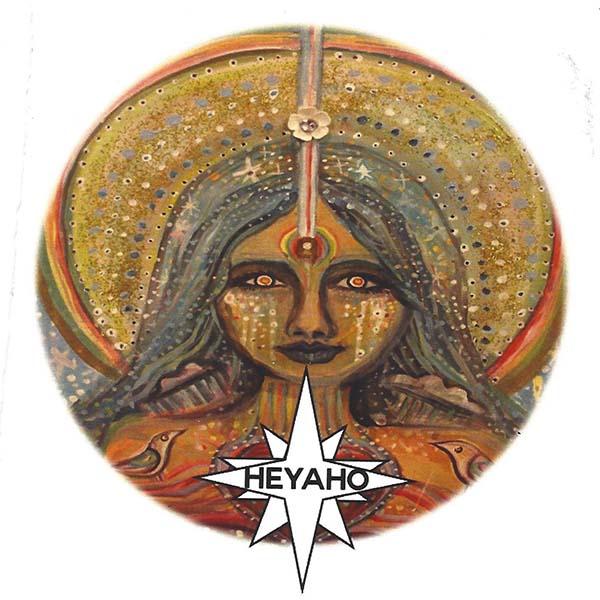 Juliana LaChance
HEYAHO
(Self Released)
Hamilton, ON
From the turned out pockets of Joshua Cwintal:
After climbing all sixteen branches of the astral oak that stands tall beside mirrored waters, you find yourself at the crown, above the leaves. Choral voices rain down and the ancient truths they sing sound familiar and otherworldly. They unhinge you. The message is understood and glassy strings pluck and dance across your eye-lids, encouraging a deep contemplative slumber. Once awake the tree is seen towering above you, just as mysterious as before. It calls to you to climb, and as always, you oblige.
Des poches retournées de Joshua Cwintal:
(Traduit par Julie Mayer)
Après avoir escaladé les seize branches du chêne astral qui s'élève bien haut près des eaux réfléchies, vous vous retrouvez à la cime, au-dessus des feuilles. Des voix chorales pleuvent à verse et les vérités ancestrales qu'elles chantent vous semblent familières et surnaturelles. Elles vous décrochent. Le message est compris et des cordes transparentes pincées dansent à travers vos paupières, encourageant un profond sommeil contemplatif. Une fois réveillé, vous voyez l'arbre se dresser au-dessus de vous, aussi mystérieux qu'avant. Il vous appelle à grimper, et comme toujours, vous accédez à sa requête.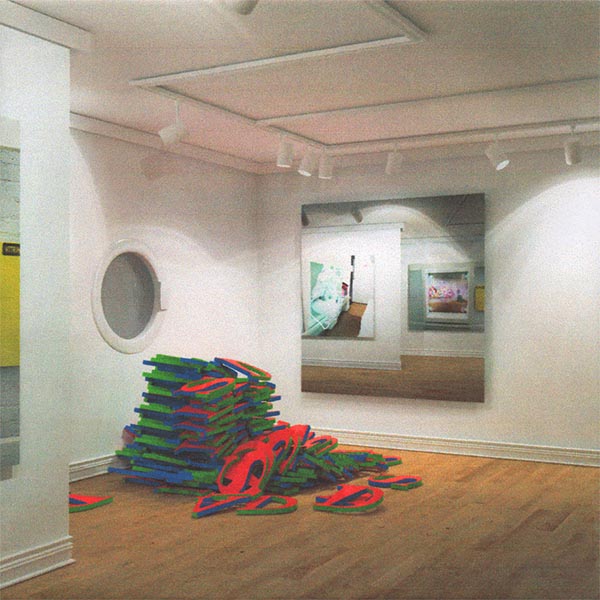 Fulldeck Subhuman
Distraction Motif
(Self Released)
Toronto, ON
From the eternal buffering of James Beardmore:
A fragment of sound has been looping in your head for days, you can't remember where from. It has mutated into an unsettling mantra.
Someone has extracted this sound from your skull and transcribed it into midi notation. The result combines with a scratched CDR of music for corporate motivational powerpoint presentations. It plays in an abandoned building and is currently livestreaming on the deep web.
Slices of glass with high-resolution artefacts hurtle towards an accelerando event horizon before succumbing to entropy. Chaos overlaps until it becomes meditative. Your senses adjust. Calm.
De l'éternelle mise en mémoire tampon de James Beardmore:
(Traduit par Julie Mayer)
Un morceau de son joue en boucle dans ta tête depuis plusieurs jours, tu ne peux pas te rappeler d'où ça vient. Ça s'est transformé en mantra perturbant.
Quelqu'un a extrait ce son de ton crâne et l'a transcrit en notation midi. Le résultat se combine à un CD-R de musique égratigné pour faire des présentations Powerpoint corporatives centrées sur la motivation de soi. Il joue dans un bâtiment abandonné et est actuellement retransmis en direct sur le web caché.
Des tranches de verre accompagnées d'artéfacts en haute résolution foncent à toute allure vers un gouffre en accéléré avant de succomber à l'entropie. Le chaos se chevauche jusqu'à en devenir méditatif. Tes sens s'ajustent. Calme.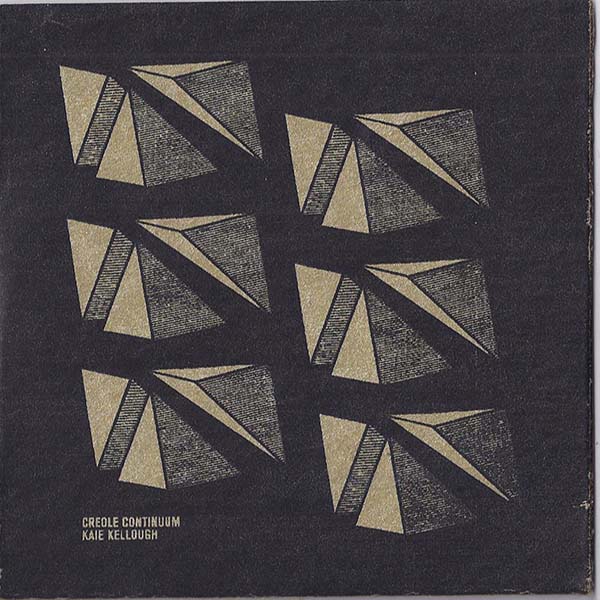 Kaie Kellough
Creole Continuum
Montréal, QC
From the alphabet erasure of Javier Fuentes:
Fluencies and poetries, where to begin? Should the judges come in? To recognize sound, to recognize speech, the voice might speak. Can we get an opinion on the rules of its dominion? The silence speaks volumes, reciting alphabets in record speed. The sharpest voices keep up, giving up at the point of clear confusion. Slow turns towards debris, now there are traces to hear. Pick up the feel. Memories of treasure are fresh, hiding out in the dust around here. The musicians are ready. Some think they are lost, but the conversation is steady.
De tout effacement de l'alphabet de Javier Fuentes:
(übersetzt para l'anglophone Влади́мирович Bабо́ков)
La fluidité et la poésie: par où commencer? Est-ce qu'on doit appeler les juges? Afin de reconnaître le son et afin de reconnaître la parole, c'est avisé que la voix s'exprime. Qui peut fournir une opinion des règles de son dominion? Le silence parle fort et énonce l'alphabet dans une vitesse record. Les voix les plus aiguës maintiennent la vitesse et s'abandonnent seulement au moment d'une confusion certaine. La lenteur se tourne vers les décombres. Maintenant, il y a des traces à entendre. Cherchez le sentiment. Les mémoires du trésor sont fraîches, se cachant dans la poussière autour de nous. Les musiciens sont prêts. Certaines croient qu'ils sont perdus, mais la conversation se poursuit.
Kaie Kellough – International Monetary Funk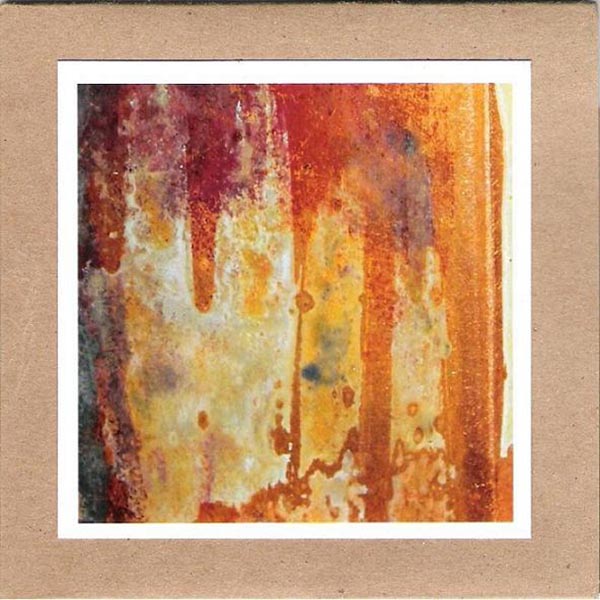 M. Mucci
Don't Be Afraid
Guelph, ON
From the dexterous string cycle laps of Trevor Angst:
"Starkest Darkness" is a song and an inspired cadence to an eponymous poem by Nathanael Larochette. It bands together the truth seekers who are boundlessly searching for pure self-expressionism, and calls to those who creatively jaunt through their unprecedented future. This extended collaborative intermezzo features the caesura of spoken word over M. Mucci's incessantly dexterous finger style pacing. It's your last impressioned coda. Don't Be Afraid is prominent in guitar and lap steel arrangements, assembling cymbal crashes and swells with orchestrated pipe organ drones.
De la corde qui tourne en boucle avec dextérité de Trevor Angst:
(Traduit par Moi Quevillon)
La chanson « Starkest Darkness » possède un rythme inspiré du poème éponyme écrit par Nathanael Larochette. Elle rassemble les chercheurs de vérité, ces êtres inlassablement en quêtent de l'expression personnelle la plus pure, et elle appelle ceux qui se baladent avec créativité vers un futur sans précédent. Cet intermezzo collaboratif prolongé nous offre une césure dans la création orale de M. Mucci constamment articulée virtuose du doigté avec cadence. C'est votre dernière impression – votre coda. La présence de guitare et d'arrangements lap-steel prévalent dans Don't Be Afraid, avec un drone ambiant d'orchestration de cymbales et d'orgue.
---