Category: compact disc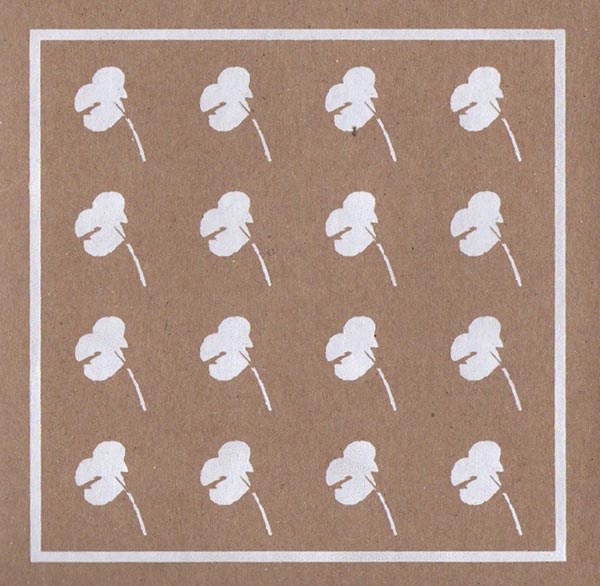 Future States
Cassiopeia
(Self-Released)
Montréal, QC
From the cold cracked lips of Joshua Cwintal:
This Montreal five piece has lovingly crafted a sonic mosaic of shag carpet tones rife with electric molasses. Cassiopeia features synth lines that drip out of the speakers like hot wax, and astral-beach fuzz guitars that peek out for air from the alluringly dense ear carnaval. Skittering drums punctuate delicate and thoughtful lullaby croons, locking the attention trap that you'll quickly return to after your release.
Des lèvres craquées de froid de Joshua Cwintal:
(Traduit par l'hiver tardif de Marie-Pier Chevrier)
Ce quintet montréalais a amoureusement conçu une mosaïque sonique de tons de moquette à poils longs truffés de mélasse électrique. Cassiopeia arbore des lignes de synthé qui dégoulinent des haut-parleurs comme de la cire chaude et de guitares duveteuses, sablonnées et étoilées qui refont surface de sous un carnaval auditif dense et envoûtant pour une bouffée d'air. Les tambours sautillants ponctuent les berceuses chantonnées, délicates et attentionnées, verrouillant ainsi le piège d'attention vers lequel tu retourneras rapidement dès ta libération.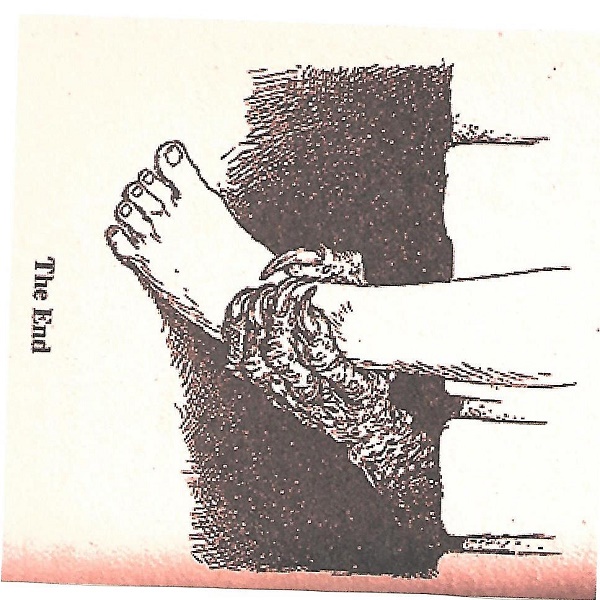 Shōgun
The End
(Self-Released)
Montreal, QC
From the of stirring spectres of Brian Fauteux:
Hiding in an empty room that is waiting to be filled, Shōgun's The End stirs the ghosts that rest under chipped baseboards and deep carpet that has never seen the sun. Some strings loop while others creep outwards, towing in the cloudy glow of the late summer sky. These five songs eagerly fill the imperfect spaces where we sometimes reside. And the corners of our mind that all too easily lay dormant.
Des spectres qui s'éveillent de Brian Fauteux:
(Traduit par le frisson automnal de Julie Mayer)
Caché dans une pièce vide qui n'attend qu'à être remplie, The End de Shōgun tire de leur repos les fantômes qui se trouvent sous les plinthes écaillées et la moquette épaisse qui n'a jamais vu la lumière du jour. Quelques cordes jouent en boucle alors que d'autres se glissent à l'extérieur et remorquent à l'intérieur la lueur ennuagée d'un ciel de fin d'été. Ces cinq morceaux remplissent les espaces imparfaits qu'il nous arrive d'habiter. Et les coins de notre esprit qui se laissent bien trop facilement gagner par le sommeil.
Shogun – Gazing At Your Face Reflecting the Beauty of the Moon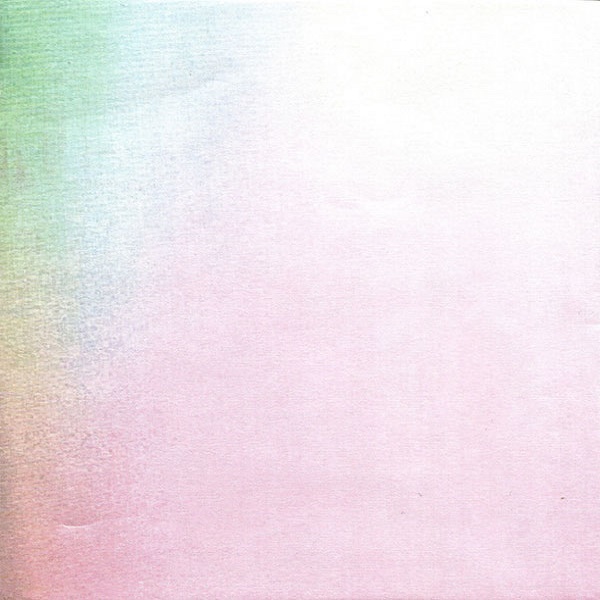 Prison Hair
Relief Patterns
(Self-Released)
Vancouver, BC
From the loose eyelash of Katie Jensen:
Syrupy synths drip over kitchen countertops, warming to the temperature of the human body. From the living room comes a faint, high-pitched whistle; the whirring of a broken television set.
Thick, sluggish beats pulse like cotton balls dabbed on the trembling skin of closed eyelids. Soothing, soft, wet. A rattling snare chews through its harness and rocks itself to sleep.
The radio dial twists past the frequencies of a million collapsing stars, folding inwards like laundry. Galaxies form in cotton creases.
In a house made from memory foam, every surface remembers, and is remembered.
Traduit par les aléas endimanchés Katie Jensen:
(Traduit par les aléas endimanchés Marie-Pier Chevrier)
Des synthétiseurs sirupeux dégoulinent des comptoirs de cuisine et se réchauffent jusqu'à atteindre la température du corps humain. Du salon nous parvient un sifflement aigu et étouffé; le ronronnement d'un téléviseur brisé.
Des rythmes épais et engourdis pulsent comme des balles de coton tamponnant la peau tremblante de paupières closes. Apaisants, doux, humides. Une caisse claire clinquante mâchonne et scinde sa bride et se berce elle-même jusqu'au sommeil.
Le fredonnement de la radio se tord pour atteindre la fréquence d'un million d'étoiles en chute libre, repliées sur elles-mêmes tel le linge propre. Des galaxies se forment dans les plis du coton.
Dans une maison faite de mousse mémoire, chaque surface se souvient et l'on se souvient de chaque surface.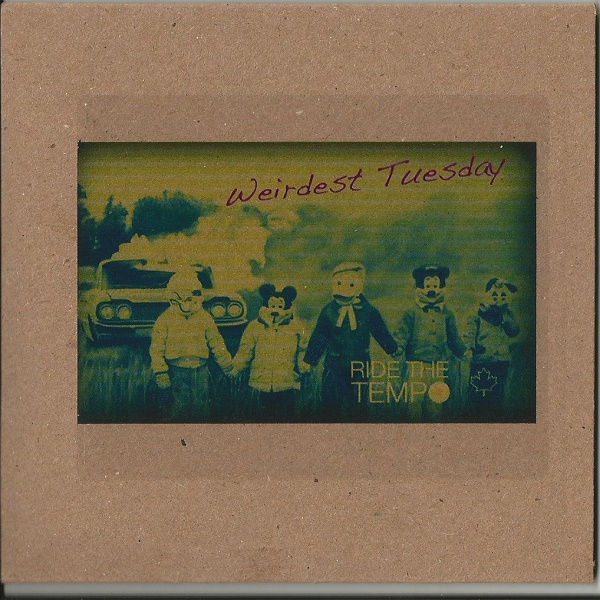 Various Artists
Ride the Tempo presents: Weirdest Tuesday
(Baffled Octopi Records)
Toronto, ON
From the deleterious delusions of Mark Anthony Brennan:
Light bounces over keyboards bringing to life a midway funhouse of irony. A beat poet feigns insult at proffered money as he fabricates a true account of lies. Everyone smirks. Screams rain down from roller coaster riders who allow themselves to be plunged into high definition hell. A thrown ball bursts through skittles, clattering them across the stall in manic discordance. Alarmed patrons feel relief at the sound of children singing. Short-lived. Not children, but wooden puppets with glass eyes. Strange, beautiful, entertaining, and terrifying.
Par les délires délétères de Mark Anthony Brennan:
(Traduit par la frénésie dissonante d' Émily Traichel)
La lumière rebondit sur les claviers donnant vie à un palais du rire ironique de mi-chemin. Un poète du mouvement Beat feint l'insulte vers de l'argent offert tandis qu'il fabrique un véritable rapport de mensonges. Tout le monde a un sourire narquois. Des cris dégringolent des passagers à bord de montagnes russes qui se permettent d'être plongés dans l'enfer haute-définition. Un ballon lancé jaillit à travers des skittles, les envoyant à l'autre bout du cabinet avec fracas, en dissonance frénétique. Des mécènes alarmés sont soulagés d'entendre des enfants chanter. Ça ne dure pas. Non pas des enfants, mais des marionnettes en bois avec des yeux en verre. Étranges, belles, distrayantes et terrifiantes.
Marie Davidson – Balade aux USA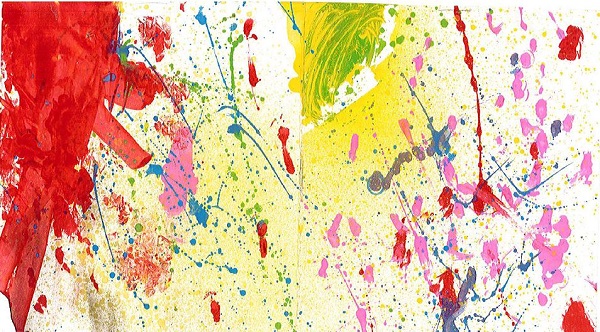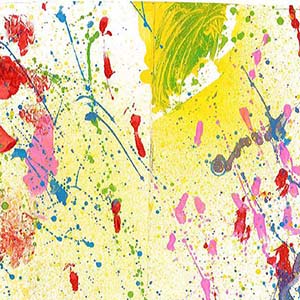 Virgins
Everyone Lost
(Self-Released)
Edmonton, AB
From the bleak worldview of Trevor Angst:
Be still, don't breathe. Doomsday is anthropogenic and takes the form of bio-cybernetic revolt. The planet is threatened and engages to resurrect its biomechanical engines of destruction from its underground dormancy to obliterate humankind. It's the found percussion of hard struck cathedral bells and the incline of a chain hill wooden roller coaster on Everything Dies that mimics dialogue and AI takeover. The droning, Tripod-bass growls are impending. Seismic strides can be mistaken for the sunken heart throbs of those who are enduring a post-apocalyptic world.
Du point de vue austère de Trevor Angst:
(Traduit par les soirées mentholées de Marie-Pier Chevrier)
Immobile, pas un souffle. L'apocalypse est anthropique et prend des airs de révolte biocybernétique. La planète est menacée et s'apprête à ressusciter de leur dormance souterraine ses engins de destruction biomécaniques pour anéantir l'humanité. La percussion retrouvée des cloches de cathédrale sonnées violemment et la pente d'une chaîne de montagnes russes de bois sur Everything Dies mimiquent les dialogues et conquêtes de l'IA. Le bourdonnement et les grognements de basse à Trépied survolent le tout, menaçants. Les éclats sismiques ressemblent à s'y méprendre aux battements de coeur en noyade de ceux qui perdurent dans un monde post-apocalyptique.
Virgins – The Air We Are Breathing (Be Still)
Almonds, Cohen
Ceiling Once Ltd.
(Self Released)
Toronto, ON
From the rat shack of Johnnie Regalado:
Sounds of a picnic in the seabreeze. Friends from years back, and across the country, come together to help pin down the fluttering corners of the beach blanket. The taut fabric reverberates a moment from a resonating relationship. Days might go by, but you can still remember our Old Life.
De la cabane à rats de Johnnie Regalado:
(Traduit par Aliké Harel)
La mélodie d'un pique-nique, l'air du large. Des amis d'autrefois et de partout au pays se rassemblent et donnent un coup de main pour ancrer les coins virevoltants d'une couverture de plage. Le tissage de la toile renvoie l'écho d'un moment dans une relation vibrante. Les jours passent, mais le souvenir des jours passés reste.
Almonds, Cohen – Quantum Summer
Doomking
A Mark of Something No Longer in Existence
(Self Released)
Victoria, BC
From the reductionistic recollections of Mark Anthony Brennan:
Haziness. Clouds drifting around the mind. A dream. A taste, sweet but soured, wells up in the back of the throat and tickles the underside of the brain. A memory. A time when beauty expressed itself so much sharper. The memory of a dream. Floating in a gauzy swirl of happiness. Of undiluted love. Of confident hope. The dream of a memory.
Des souvenirs réducteurs de Mark Anthony Brennan:
(Traduit par Aliké Harel)
Nébuleux. Les nuages roulent autour de la tête. Un rêve. Une saveur, douce mais aigrie, refoule dans la gorge et titille l'arrière-cerveau. Un souvenir. Une époque où la beauté s'exprimait au grand jour. Le souvenir d'un rêve. Flotte dans un tourbillon vaporeux de bonheur. D'amour non dilué. D'espoir certain. Le rêve d'un souvenir.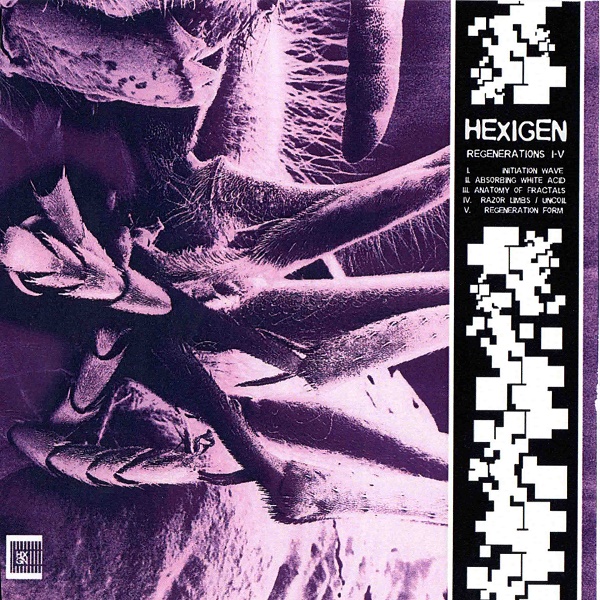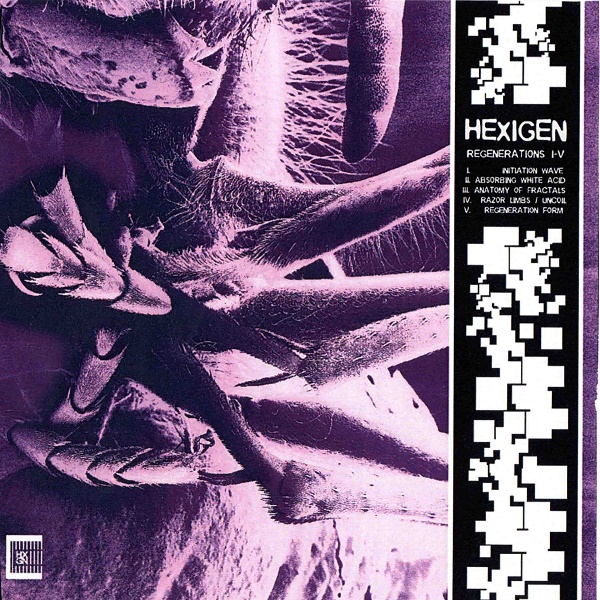 Hexigen
Regenerations I-V
(Self-Released)
Brampton, ON
From the spasming futures of Heather Lune:
It feels like electricity thudding into your body through the nerves of your fingertips. It rockets up into the ticklish base of your brain.
Brampton's Hexigen releases a semi-improvised rainstorm of droning airborne frictions showering out of a near-future dystopia, from a time when the few remaining habitable areas of the earth have been enclosed in impenetrable low-lying domes.
The air, the rain, the sun: just cold and distant projections in the encased and gasping remnants of our dimming organic world. Our once soft bodies now composed of 60% cybernetic parts.
All touch so cold and plastic — but we will long to feel the texture of skin, and shriek for it in our coded dreams.
Des avenirs spastiques de Heather Lune:
(Traduit par la frittata sans patates de Julie Mayer)
C'est une sensation comparable au martèlement de l'électricité qui traverse ton corps par les nerfs situés au bout de tes doigts. Ça se propulse jusqu'à la base chatouilleuse de ton cerveau.
Hexigen, groupe originaire de Brampton, lance une pluie diluvienne semi-improvisée de frictions bourdonnantes portées par le vent. Ces dernières coulent, tel un jet de douche, d'une dystopie de l'avenir proche, d'un temps où le peu de zones habitables restantes de la Terre sont enfermées sous d'impénétrables dômes de faible altitude. L'air, la pluie, le soleil : que des projections froides et distantes dans les vestiges mis sous verre et haletants de notre monde organique déclinant. Nos corps jadis tendres sont désormais composés à 60 % de pièces cybernétiques.
Tout contact est si froid et plastique, mais nous nous languirons de ne pas sentir la texture de la peau, et la réclamerons à grands cris dans nos rêves encodés.
Hexigen – RGN i: Initiation Wave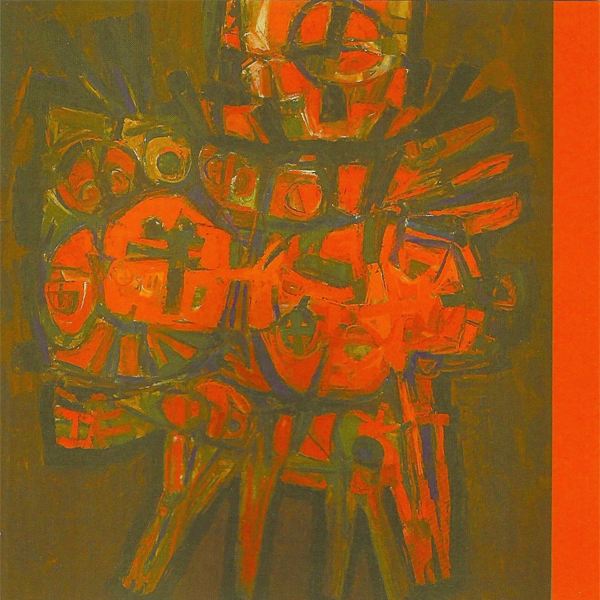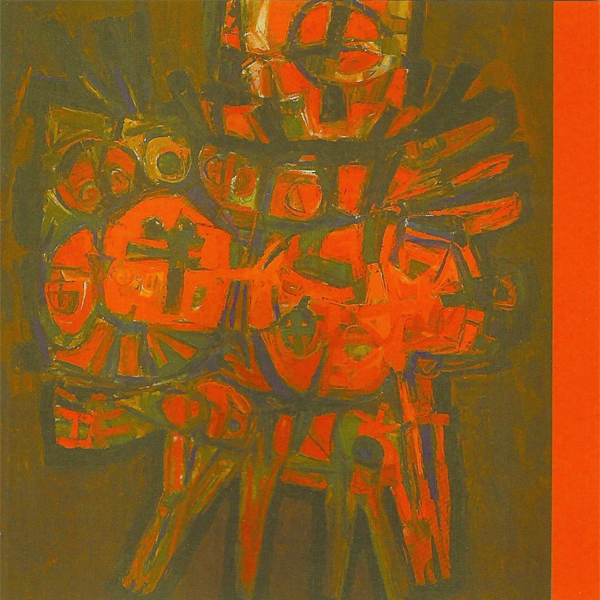 Pith and the Parenchymas
Song of the Neverending Ugly Lizard
(Self Released)
Ottawa, ON
From the bleeding hangnail of Christine McKenna:
Stare into the luminescent fish tank gurgling in your darkened bedroom. Think about the uncanny atmosphere of a convenience store at night. Pick at a hangnail until your cuticle bleeds. Feel overwhelmed by late-summer afternoon lethargy. Answer a phone call from an unknown number, and begin to feel uneasy and exhilarated. Become aware of the sweat in your palms and question whether your lamp just flickered or if you blinked. Anticipate a power outage. Feel compelled to drive somewhere very fast. Get tired. Pull gently into an unpaved, unlit parking lot and approach a cryptic neon sign.
De la petite peau saignante de Christine McKenna:
(Traduit par Mackenzie Smedmor)
Regarde dans l'aquarium luminescent qui gargouille dans ta chambre assombrie. Songe à l'atmosphère troublante d'un dépanneur la nuit. Gratte la petite peau jusqu'à ce que tes cuticules saignent. Sois accablé par la léthargie des après-midis de fin d'été. Réponds à un appel d'un numéro inconnu et commence à te sentir mal à l'aise et exalté. Prends conscience de la sueur dans tes paumes et demande-toi si la lampe vient de trembloter ou si tu as cligné des yeux. Prévoie une panne d'électricité. Sens-toi obligé de conduire quelque part à toute vitesse. Deviens las. Gare-toi dans un stationnement non pavé et obscur, puis approche une enseigne fluorescent énigmatique.
Pith and the Parenchymas – The Rainbow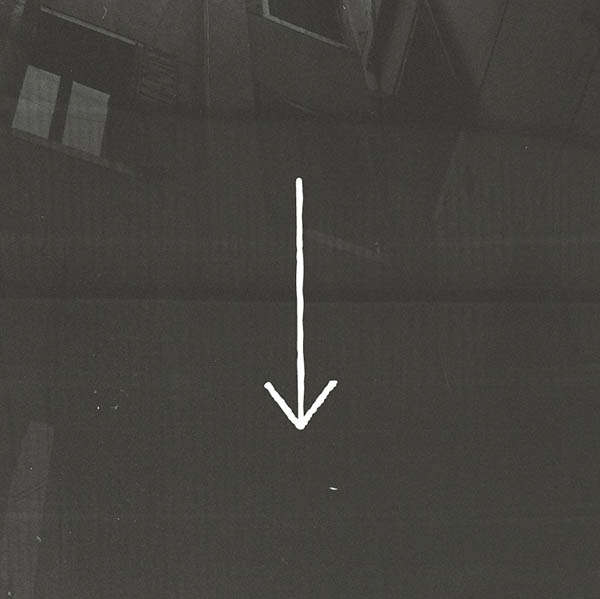 Old Haunt
Refuge
(Self Released)
Montréal, QC
From the night shift mind of Stefan Christoff:
A real integrity is present in Lucas Huang's melodies and tones, with stirring vocals sitting at the heart of Old Haunt. Inside the weaving guitar work, within the perpetual feedback, there is an atmosphere of honesty and spiritual seeking. In many ways this EP is current, but it also recalls the past: all tracks are covers of traditional gospel songs. Recorded in Montréal, this release is about reimagining, Old Haunt transmits beautiful notes of reflection from within this colonial mess now called Canada.
De l'esprit en quart de nuit de Stefan Christoff:
(Traduit par Aliké Harel)
Une intégrité authentique anime les mélodies et les tonalités de Lucas Huang, et des voix émouvantes siègent au cœur d'Old Haunt. L'honnêteté et la quête spirituelle règnent entre les échos, entrelacées dans le canevas musical de la guitare. Sous plusieurs angles, cet EP est au goût du jour, mais il ravive aussi le passé : toutes les pistes sont des reprises de gospel traditionnel. Enregistré à Montréal, l'album se veut un exercice de recréation, car Old Haunt transmet les belles notes d'une réflexion menée depuis cette dérive coloniale qu'on nomme aujourd'hui « Canada ».
---