Category: compact disc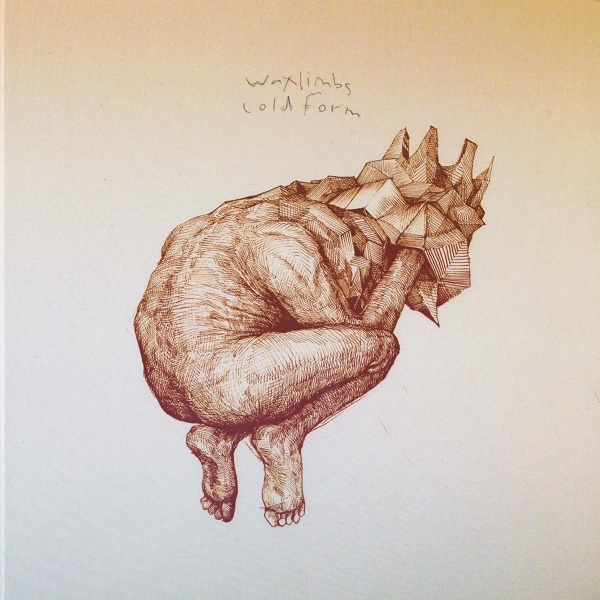 Waxlimbs
Coldform
Toronto, ON
From the Restless Infinity of Bobby Andrews:
From deep within the disjointed experience of the subconscious mind, Toronto's Waxlimbs uncovers a collection of rhythmic and melodic moments that capture the chaotic nature of existence. Occupying the property between serene reflection and manic bliss, this album asks only to submit entirely to the unique and expressive experience that can be found within. Unceasingly shrill beats transition into cerebral tones, creating a thrilling collection of emotion.
Par l'infini agité de Bobby Andrews:
(Par les palpitations chocolatées d'Émily Traichel)
Depuis les profondeurs de l'expérience décousue de l'esprit subconscient, Waxlimbs de Toronto dévoile une collection de moments rythmiques et mélodiques qui capturent la nature chaotique de l'existence. Occupant la propriété entre réflexion sereine et bonheur frénétique, cet album nous demande seulement de succomber entièrement à l'expérience unique et expressive, qui peut être retrouvée à l'intérieur de nous. Le rythme sans cesse perçant fait la transition vers des tonalités cérébrales, créant une palpitante collection d'émotion.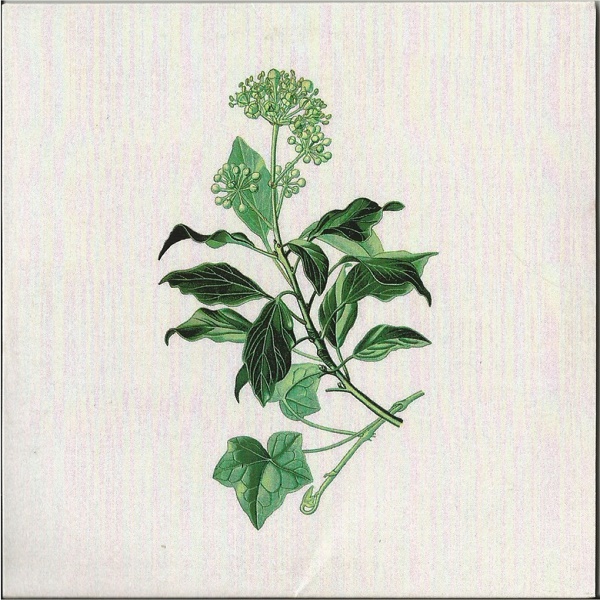 Isaac Vallentin
Hedera
(Self-Released)
Ottawa, ON
From the kinetic keyboard of Mark Anthony Brennan:
The elders became concerned when the young man sang by himself in the woods. They brought him a guitar. Soon the trees were filled with folk songs of imagination. Curious, they gave him an electric guitar. The air then reverberated with sonic emotion. Fascinated, they proceeded to supply him with an assortment of electronic equipment. To their astonishment the young man incorporated it all into his communion with the forest. From far and wide, everyone marvelled at this electronic fusion and interplay; the sounds of the city and the voice of nature; the solitary singer and his global audience.
Du clavier cinétique de Mark Anthony Brennan:
(Traduit par la serpe d'or de Julie Mayer)
Les anciens commencèrent à s'intéresser au jeune homme lorsqu'il chanta seul dans les bois. Ils lui apportèrent une guitare. Sitôt, les arbres furent remplis de chansons folk qui sortent de l'imaginaire. Curieux, ils lui donnèrent une guitare électrique. L'air se mit alors à retentir d'une émotion acoustique. Fascinés, ils continuèrent en lui fournissant un assortiment d'équipement électronique. À leur grand étonnement, le jeune homme incorpora le tout à sa communion avec la forêt. Venu de toutes parts, tout le monde s'émerveilla devant cette fusion électronique et les interactions qu'elle crée: les bruits de la ville et la voix de la nature; le chanteur solitaire et son auditoire mondial.
Isaac Vallentin – Garden Pt. 1 (You Own To Fight)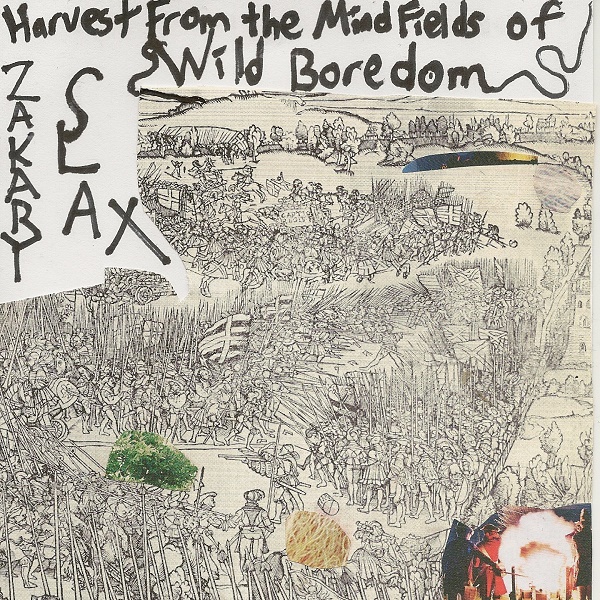 Zakary Slax
Harvest From The Mindfields Of Wild Boredom
(Self-Released)
Montreal, QC
From the murky brainwaves of Justin Crowe:
Old but fresh trax from Zak Slax, a dirge for the stained wasteland of pristine and polished punk, with echoes of vintage junk and modern gunk that ooze into the cells of our frazzled senses. Go for broke and don't read the comments. It's nice and cool down in the sludge. When you feel the heat, slip on the shades and enter the void. The wavy mirage will suck you in. It's gonna be a rager.
Des ondes cérébrales troubles de Justin Crowe:
(Traduit par Julie Mayer)
Des pistes sonores de Zak Slax, nouvelles et familières. Un chant funèbre en l'honneur du terrain vague taché de punk pur et poli, accompagné par des échos de bric-à-brac vintage et de saletés modernes qui suintent dans les cellules de nos sens usés à la corde. Risque le tout pour le tout et ne lis pas les commentaires. C'est bon et cool de se vautrer dans le sludge boueux. Lorsque tu sens que la chaleur monte, enfile tes lunettes de soleil et pénètre dans le vide. Le mirage ondulé va t'aspirer. Ça va être un méchant party.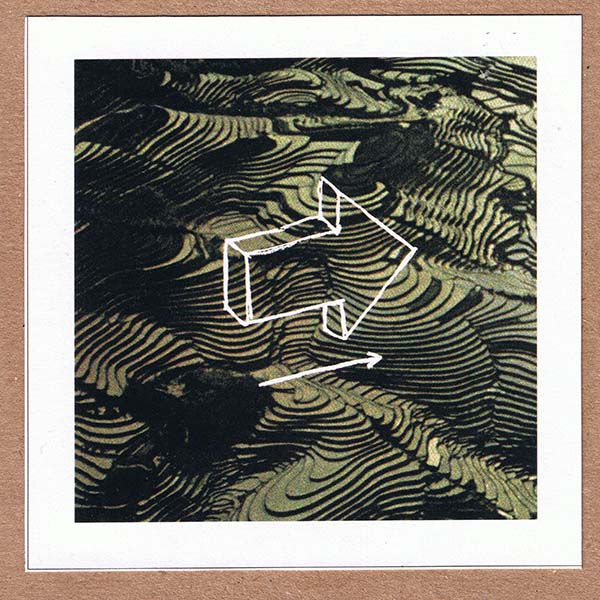 Mauno
Rough Master
(Self Released)
Halifax, NS
From the symphonic sear of Benjamin Anderson:
The stake blazes alight. All around voices like blacksmiths' strikes sing and smoulder on. Cries of "witchcraft" untangle themselves from the din. Bloodthirst glints like an oil slick across irises. The flames are licking your feet, the sear is symphonic; it feels of soaring strings. All for conjuring up tones that shape-shift and maneuver in and out of the ear like a salt water tide gurgling through a rusted pipe. Night is a muscle; you burn in the flex of it.
Du brûlement symphonique de Benjamin Anderson:
(Traduit par Louis-Félix de Chevigny, qui scande avec la foule enflammée)
Le bûcher s'enflamme. Autour de lui, tel un forgeron qui fait chanter son enclume, fusent des voix. Des accusations de «sorcellerie» jaillissent du tumulte. Des yeux qui pétillent d'une lueur assoiffée de sang, telle une nappe de fioul qui s'étend sur leurs iris. Les flammes te lèchent les pieds, leur brûlure est symphonique; tel des cordes en délire. Tout cela évoque des tons qui se métamorphosent et manœuvrent le canal auditif telle une marée d'eau salée qui gargouille dans un tuyau rouillé. Tu brûles dans le fléchissement du muscle de la nuit.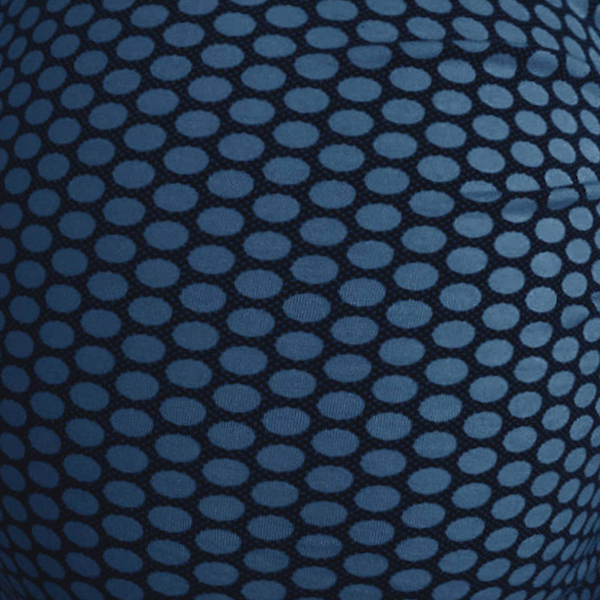 Guidewire
Surges EP
(Self-Released)
Regina, SK
From the flooded ceiling of Katie Jensen:
A scream, a pause. An inch of water magnifies the floor like a shivering, glassy coat. It must have flooded overnight.
Blankly, you catch the reflection of a sallow, moonish face; it isn't yours. A creature echolocates shrilly from behind the couch, the pitch squealing at your outstretched hands. You are not its friend.
Something less than anger retracts its claws inside your gut, tearing the pink, fearful folds, twitching as slowly as a vestigial organ, serving as little function as you do.
Your feet drag forward; you have always been slow; carving up confidence like pale, jellied meats. Fingers click impatiently against the doorframe. They've had enough of you.
Du plafond inondé de Katie Jensen:
(Traduit par Julie Mayer)
Un cri, une pause. Telle une nappe vitreuse secouée de frissons, un pouce d'eau produit un effet grossissant sur le plancher. Ce dernier a du être inondé durant la nuit.
D'un air ahuri, tu saisis le reflet d'un visage lunaire au teint cireux; ce n'est pas le tien. Une créature écholocalise avec stridence depuis l'arrière du sofa, le ton monte à la vue de tes mains tendues. Tu n'es pas son ami.
Quelque chose de moins violent que la colère rétracte ses griffes à l'intérieur de tes tripes et déchire leurs plis roses et terrorisés. Ces derniers tressaillent aussi lentement qu'un organe vestigial qui aurait aussi peu de fonctions que toi.
Tu avances en traînant les pieds (tu as toujours été lent), découpant ton assurance comme si c'était de pâles viandes en gelée. Les doigts de la créature pianotent sur le cadre de porte. Ils en ont eu assez de toi.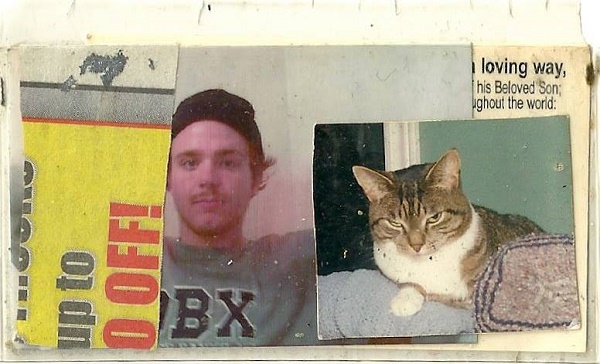 kurt
soft things
(Self-Released)
NFLD
From the cluttered desk of Katie Jensen:
Maybe water will fix everything that's wrong with you. Tighten your internal gears, shift the abstract thoughts, make you loveable. Underneath the surface, your limbs resemble fat peach stems green enough to bend in half.
You swipe your fingers, shooing away bubbles and resisting fluid friction. A fight you can win by yanking out the plug; a fantasy that doesn't translate to dry land.
Deprived of gravity's mulish tug, your face falls like magnetic alphabets slipping from a refrigerator. Plunk, plunk, plunk. They don't spell anything when they hit the ground, just a preschool jumble of half-articulated ideas.
Du bureau encombré de Katie Jensen:
(Traduit par la perspective enfantine de Mackenzie Smedmor)
Peut-être que l'eau réparera tout ce qui ne va pas chez toi; resserrer les engrenages internes, décaler les pensées abstraites, te rendre facile à aimer. Sous la surface, tes membres ressemblent de grosses tiges de pêche vertes que l'on pourrait facilement plier en deux.
Du bout des doigts, tu chasses les bulles et le fluide de friction qui résiste. Une lutte que tu peux gagner en arrachant le bouchon; une fantaisie que la terre ferme ne peut traduire.
Privé de la poigne entêtée de la gravité, ton visage tombe comme des lettres d'alphabet magnétiques glissant d'un frigo. Plouk, plouk, plouk. Elles n'épellent aucun mot en tombant sur le sol; rien qu'un méli-mélo préscolaire d'idées à demi-articulées.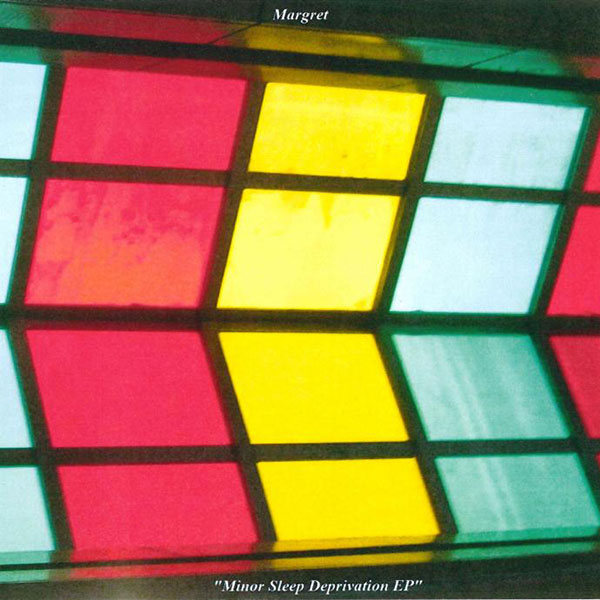 Margret
Minor Sleep Deprivation EP
(Self Released)
Montréal, QC
From the facedown position of Claire Marie Guimond:
I hold you like the sun on the backs of your arms, while you lie facedown in the highway grass. Before you were here I was a kilometre of ice, I ground at the bedrock; and before that, I was ocean. We have always been solar-powered. You understand because you feel it too: light and heat, they are steady as the two fingers on the backs of your arms which have been tracing—through this eternity—the twin timelines of our history. The history of us, because it created us. Once upon a time there was an empty hole in the universe… How it has all come to pause with you, in your frozen genes, when you are at your house, and you shut the yellow curtain, to fall asleep in the afternoon.
Provenant de la face cachée de Claire Marie Guimond:
(Traduit par Jehane Yazami)
Je te tiens comme le soleil sur l'arrière de tes bras, toi allongé, ta face cachée, sur l'herbe de la route. Avant que tu sois là j'étais un kilomètre de glace, je m'ancre sur la roche-mère; et avant ça, j'étais l'océan. Nous avons toujours été alimentés à l'énergie solaire. Tu comprends parce que tu dois aussi le ressentir: la lumière et la chaleur, elles sont constantes comme les deux doigts sur l'arrière de tes bras qui ont – pour cette éternité – tracé les lignes jumelles de notre histoire. L'histoire de nous, parce qu'elle nous a créées. Il était une fois un trou vide dans l'univers… Comme c'est arrivé à une pause avec toi, dans tes gènes gelés, quand tu es chez toi, et tu fermes le rideau jaune, pour t'endormir l'après-midi.
Margret – Laying Around the House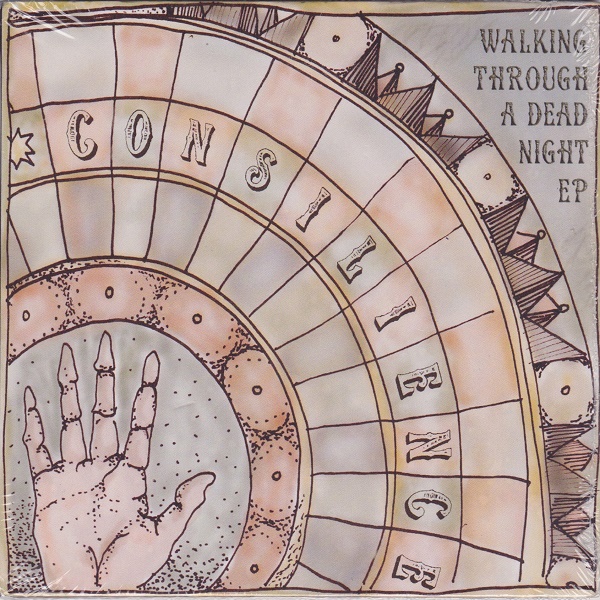 Consilience
Walking Through A Dead Night
(Self-Released)
Edmonton, AB
From the day-old cabinet of Jibril Yassin:
On Walking Through A Dead Night, Consilience are a band of gifted tricksters. What unfolds as gentle dream pop theatrics unfolds into something a lot more vital and energetic. Yet you can't shake off the hazy atmospherics sonic architect Tasy Hudson has grown so fond of incorporating into the songwriting. On "Proud Soul," the band cycle through its coda again and again, Hudson's vocals reaching for the sky as the band begins to erupt all around her. It's a conclusion that delivers.
Du cabinet d'un jour de Jibril Yassin:
(Traduit par Julie Mayer)
Sur l'album Walking Through A Dead Night, les membres de Consilience sont une bande d'arnaqueurs doués. Ce qui se dévoile comme étant une douce théâtralité pop onirique se révèle être une chose bien plus vive et énergique. Toutefois, tu ne peux pas te débarrasser de l'atmosphère brumeuse que l'architecte acoustique Tasy Hudson s'est peu à peu attachée à intégrer à la composition de ses chansons. Dans « Proud Soul », le groupe tourne autour de sa coda encore et encore. La voix de Hudson atteint les étoiles tandis que le groupe entre en éruption tout autour d'elle. Une conclusion libératrice.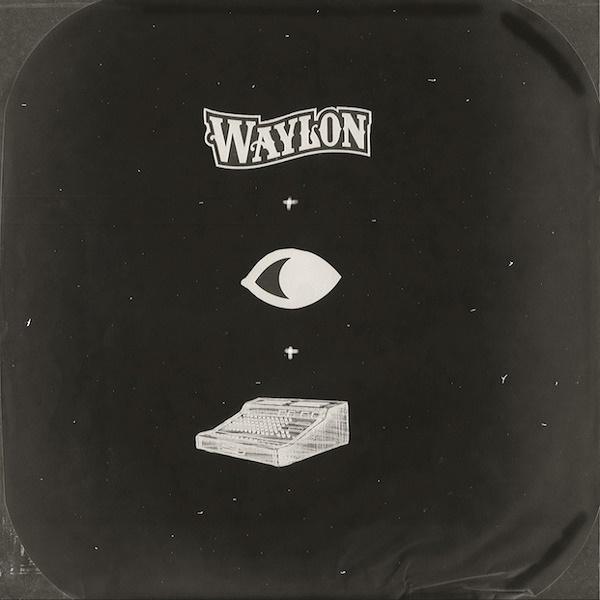 Pee Wee
Tingles
(Self-Released)
Montreal, QC
From the faded shoulder of Katie Jensen:
A shuffling drumbeat echoes the long walk home from school: lazy, fawn-coloured motes drifting diagonally, warm grey rubber smacking down onto dimpled concrete. Each hesitant smile is coloured with the blush of tiny achievements, hoarded in lint-lined, triangular pockets: a creased paper fortune teller, a geometric knob of Pink Pearl, a flat rectangle of tropical gum gnawed into a dented wedge of jaw-achingly sweet rubber. Memories fade like milky water.
De l'épaule délavée de Katie Jensen:
(Traduit par le kit de géométrie incomplet de Julie Mayer)
Après l'école, un battement de tambour à l'allure traînante se répercute sur la longue marche du retour chez soi : de petites particules couleur fauve flottent paresseusement en diagonale, du caoutchouc gris et chaud s'écrase sur du béton alvéolé. Chaque sourire hésitant est teinté du rosissement qui vient avec les petits trophées amassés dans des poches triangulaires doublées de peluche : un coin-coin froissé, un bout d'efface Pink Pearl de forme géométrique, une tablette de gomme à saveur tropicale grugée dans une cale dentée de gomme à mâcher dont le goût sucré donne mal aux dents. Les souvenirs s'effacent comme de l'eau laiteuse.
Jonathan Scherk
Catalogue: 1-12
(Self-Released)
Vancouver, BC
From the grinning tooth of Katie Jensen:
You're at a party and it isn't much fun. Clusters of secrets dangle from the ceiling. Pinched conversationalists poke their noses into everyone's business. On the snack table, pressed against the farthest wall, is a punch bowl brimming with dark, celestial liquid. You shuffle over and clumsily ladle a cupful into a crystal goblet and take a trepidatious sip. All four limbs melt against the cream wall, running down in gooey streaks. The most embarrassing items in your handbag spill out first. Someone steps in your puddle and tracks it across the shag carpet. They laugh and wipe their feet. Your mother always said you were a mess.
De la dent souriante de Katie Jensen:
(Par les mots en coulisses d' Aliké Harel)
Tu te trouves à un party plutôt emmerdant. Des grappes de secrets oscillent suspendues au plafond. Les bavards au bec pincé se mêlent des affaires de tout le monde. Sur la table de grignotines plaquée sur le mur du fond se trouve un bol de punch comble d'un liquide noir et céleste. Tu te faufiles tout près, verses une louche avec maladresse dans un verre de cristal et tu sirotes une gorgée furtive. Les quatre membres fondent sur le mur couleur crème et les coulées visqueuses dégoulinent au sol. Ton sac à main se renverse et le contenu le plus gênant s'en échappe. Quelqu'un pile dans ta flaque et laisse des traces de pas sur le tapis touffeté. Ils rient et s'essuient les pieds. Ta mère disait toujours que tu attirais la poisse.
---