Category: cassette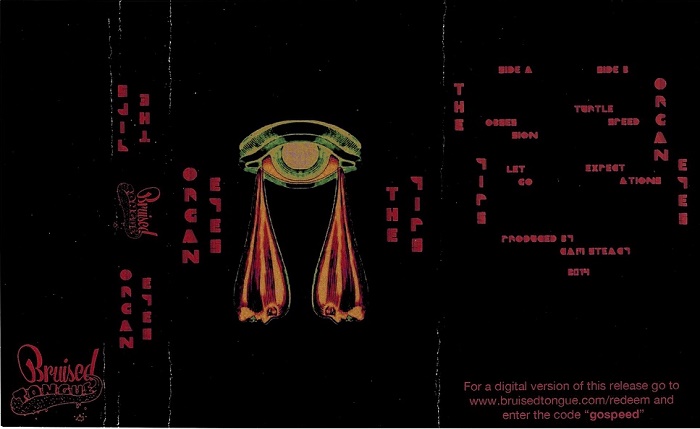 The Yips // Organ Eyes
Split
Ottawa, ON
From the new season of Matthew Blenkarn:
Winter's gone and colour's returned. Bleary-eyed yet bushy-tailed, people snow-crushed souls wake from hibernation and stumble from basement apartments onto clear, sunny sidewalks. Children spout popcorn refrains from recent blockbusters, as radio melodies float from passing cars to rest in pedestrians' ear canals. As bright days fade to humid nights, idle hooks from Centretown streets plants dreams of festivals and patio parties in residents' slumbering subconscious.
De la nouvelle saison de Matthew Blenkarn:
(Traduit par l'hémisphère gauche de Diane Beaupré)
L'hiver est parti, les couleurs reviennent. Les yeux bouffis, mais pleins d'énergie, les âmes des gens écrasées sous le poids de la neige sortent de l'hibernation des sous-sols et émergent sur les trottoirs dégagés et ensoleillés. Tandis que les chansons des radios des voitures qui passent se posent dans les canaux des oreilles des passants, les enfants chantent les refrains entraînants des récents succès. Alors que les journées illuminées se transforment en soirées humides, l'oisiveté s'accroche aux plantes du centre-ville qui rêvent de festivals et de partys sur le patio de résidents endormis béatement.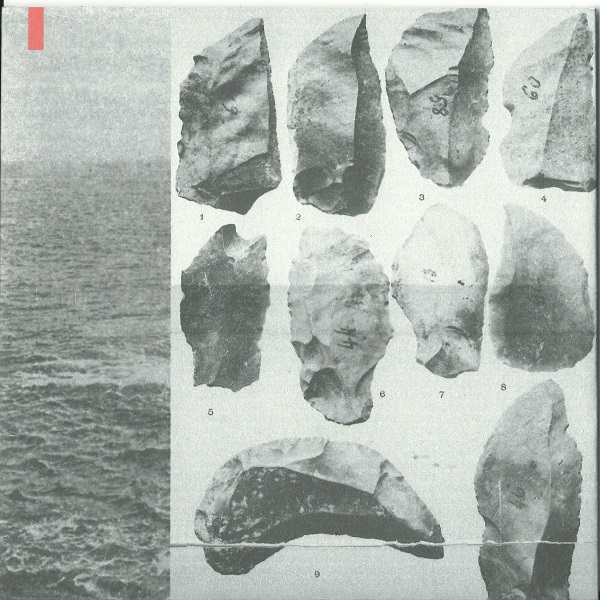 Isles Day
Monoculture
(Self-released)
Toronto, ON
From the dismally desolate & dreary desk of Mitch Jackson:
As many of us look towards the sky, perhaps it is time to consider that the reptilians among us may be emerging from subterranean bases. It is not outside the realm of possibility that our reptilian overlords have constructed these bases to carry out various drone and ambient projects. A majority of G8 countries have confirmed the existence of military drone squadrons and the installation of vast underground networks of modular synthesizers. They feed our fields. Isles Day is a product of Monoculture. The cultivation of the singular organism of sound.
Issu du bureau lugubrement désolé et morne de Mitch Jackson:
(Traduit par les méninges embuées d Émily Traichel)
Alors que plusieurs d'entre nous lèvent les yeux vers le ciel, il est peut-être le temps de prendre en considération que les réptiliens parmi nous pourraient êtres en train de surgir de bases souterraines. Ce n'est pas haut-delà du domaine de ce qui est possible que nos souverains réptiliens ont construit ces bases afin de réaliser divers projets drones et ambiants. Une majorité de pays G8 ont confirmé l'existence d'escadrons drones militaires et la mise en place de vastes réseaux souterrains de synthétiseurs modulaires. Ils alimentent nos champs. Isles Day est un produit de Monoculture. La culture de l'organisme singulier du son.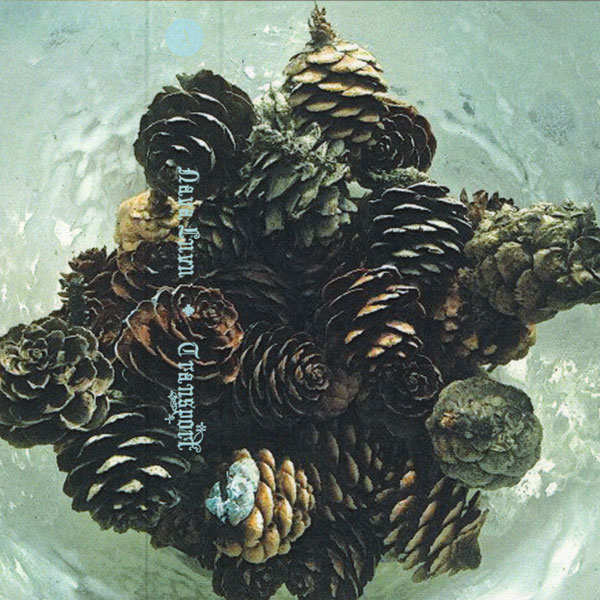 Nava Luvu
Transport
Yellowknife, NWT
From the illegible handwriting of James Beardmore:
Building on a prolific year and a half of self-released material, Transport is Nava Luvu's first release on Apothecary Compositions. The Yellowknife duo's process of improvising through headphones creates an intensely close and intricate experience that, despite playfully hopping between electronic genres, feels fluid and organic. Melodies mutate. Rhythms erode and unexpectedly give way to stuttering glitches. Synths bubble and seethe under washes of tape hiss. Themes emerge out of corroded loops. Interlocking layers and woozy panning create constantly shifting landscapes to explore.
De l'écriture illisible de James Beardmore:
(Par l'écriture en mouvance d Aliké Harel)
Après une année et demie généreuse en enregistrements indépendants, Nava Luvu livre Transport, son premier album avec Apothecary Compositions. Le duo de Yellowknife improvise par l'entremise d'écouteurs et fait vivre une expérience d'une proximité et d'une complexité de détails intenses, qui, malgré un jeu de va-et-vient entre les genres électroniques, reste fluide et naturel. Les mélodies entrent en mutation. Les rythmes s'érodent et font, sans prévenir, place à des accrochages saccadés. Les synthés bouillonnent et sifflent sous une pluie de bandes magnétiques chuintantes. Les thèmes émergent des boucles rouillées. Les couches entrecroisées et le fignolage abasourdissant créent un paysage en perpétuelle mouvance à explorer.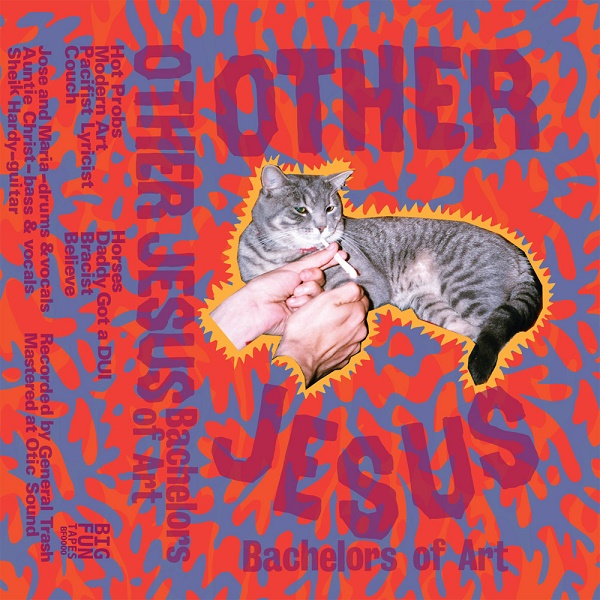 Other Jesus
Bachelors of Art
Vancouver, BC
From the foggy mind and locale of Brian Cleveland:
Seven months of untapped keys have led to an epiphany. Any words would be as distorted as the noise laid overtop this post-punk messiah's debut. Everything is problematic. It's up to you to believe now, true follower. Don't push past the noise and don't try to define. Just experience this Vancouver trio, have some big fun, and rejoice (on your comfy couch)!
De la brume cérébrale et environnante de Brian Cleveland:
(Par la canopée de mots d' Aliké Harel)
Sept mois sans mettre les mains sur les touches ont apporté une révélation. Tout mot serait aussi tordu que le filigrane de bruit sur le premier album de ce messie post-punk. Tout est problématique. Il ne tient qu'à toi d'avoir la foi, fidèle croyant. Ne t'égare pas par-delà le bruit et ne cherche pas de définition. Savoure les mélodies du trio vancouvérois, aie du fun et réjouis-toi (depuis ton sofa confo)!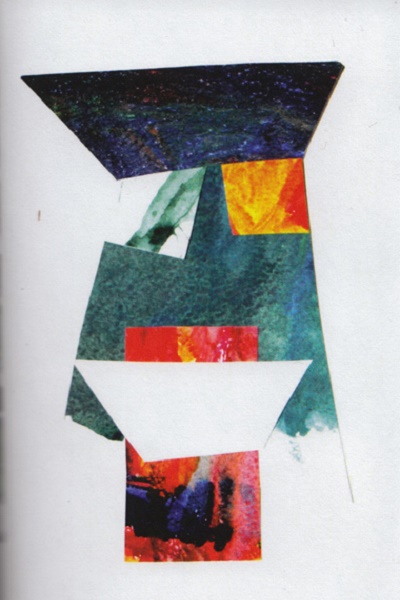 Charles Barabé
Les confessions
Montreal, QC
From the keyboard of Alex Moskos:
Victoriaville is known as the home of the last manufacturer of wood hockey sticks (they make 'em with a composite material now). It's where Merzbow tells you not to smoke in the visitor's dressing room of a hockey rink (yup). They claim there, like every town east of Montreal, that they invented poutine. Also, Victoriaville is from whence comes our man Charles Barabé. The only way to describe this cassette is "monumental". The centrifugal compositional force throughout his set of monstrous pillars of tone and evened synthesis around which dance other sounds, field recordings, what have you. If they were architecture in downtown Montreal a bank would own them and I'd skate the things: marble stairs and straight, shiny ledges. Since I couldn't get my sorry act together to hoof it uptown to get a physical copy, I had to listen off of bandcamp. My jank setup had the Internet throwing me mad shade in the form of French toothpaste ads with a lady talking about gum disease while some awful tune crashed around behind. Not really what I need while I'm checking out Barabé.
Du clavier d' Alex Moskos:
(Traduit chic and swell par Nicolas Coutlée)
Victoriaville abrite la dernière usine de bâtons de hockey en bois (on les fabrique maintenant en matériau composite). C'est là où Merzbow m'a déjà dit de ne pas fumer dans un vestiaire d'aréna (ouaip). Et comme toute municipalité à l'est de Montréal, ses habitants revendiquent la paternité de la poutine. C'est aussi de Victoriaville que vient notre homme, Charles Barabé. Le seul qualificatif qui convienne à cette cassette est « monumentale ». La composition s'articule autour d'une force centrifuge de piliers toniques monstrueux et de synthé régulier autour desquels dansent d'autres sons, des enregistrements divers, alouette. S'il s'agissait d'un bâtiment du centre-ville de Montréal, il appartiendrait à une banque et je le parcourrais en patins : escaliers de marbre et corniches droites et reluisantes. Comme je ne suis pas parvenu à me bouger le cul pour mettre la main sur une copie, j'ai dû l'écouter sur Bandcamp. Mon ordi de merde s'est laissé bombardé de pubs de dentifrice avec une femme parlant de maladie de gencive sur une horrible mélodie. Pas exactement ce dont j'ai besoin quand j'écoute du Barabé.
Charles Barabé – Les Confessions – A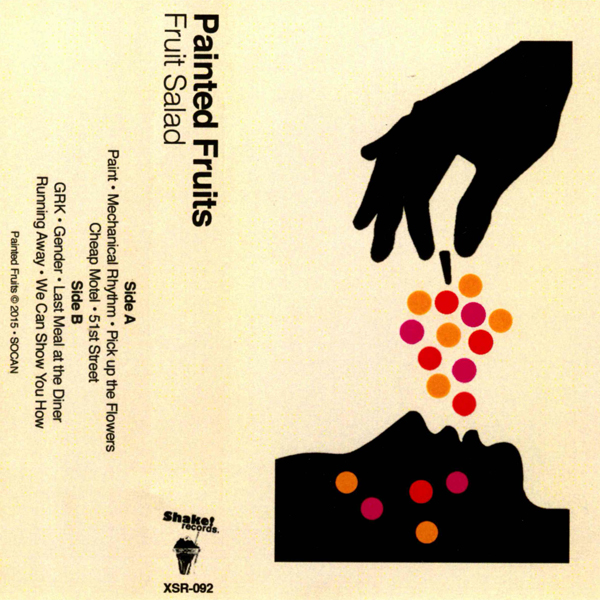 Painted Fruits
Fruit Salad
Victoria, BC
From the fruit medley of Johnnie Regalado:
The Painted Fruits are back with a fresh coat of jangle-pop, layered on thick and dripping vibrant vibes. Their distinct medley of glam and garage is a refreshing and delicious serving of tone. This latest slab of tape is kicked up in the eye of a perfect storm; a harmonic home job recording that balances making noise without being a noisy neighbour. The PF flyers pluck their rhythms along the fine line between a grin and a glare.
Du *medley* de fruits de Johnnie Regalado:
(Traduit par la pêche juteuse à point de Julie Mayer)
Les Painted Fruits sont de retour avec une couche fraîche de cliquetis pop étalée sur d'épaisses coulées d'ambiances vives. Leur medley distinct de glam et garage est une portion de sonorité délicieuse et rafraîchissante. Cette toute dernière cassette a été produite dans l'œil d'une tempête parfaite; un enregistrement harmonique fait maison qui manie l'art de faire du bruit sans être un voisin bruyant. Les baskets volantes de PF cueillent leurs rythmes le long de la mince ligne qui sépare un sourire d'un regard noir.
Painted Fruits – Mechanical Rhythm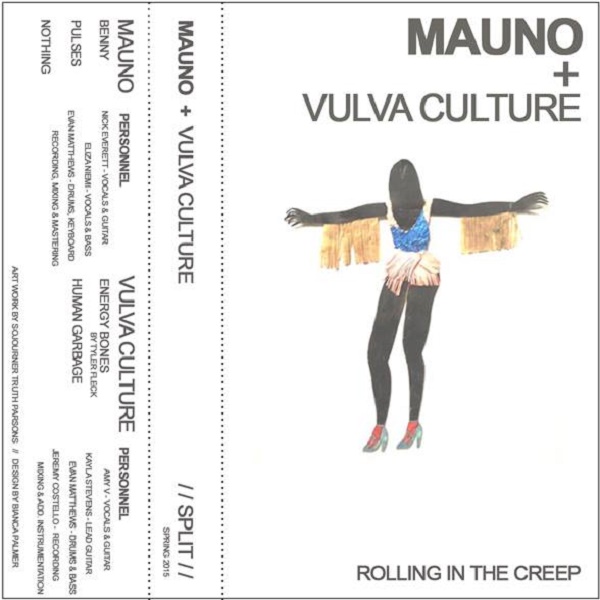 Mauno // Vulva Culture
SPLIT TAPE
(Self-Released)
Halifax , NS
From the rusted car of Laura Stanley:
Buzzy Halifax bands Mauno and Vulva Culture are worth the din. Their SPLIT TAPE of unromantic pop tunes are meant to drip from the exact places they were crafted in; rusted cars, mouldy garages, and musty basements. Mauno's mistakes make them move while Vulva Culture choose to stew in them. The affable bass in Mauno's "Nothing" and Vulva Culture's satisfyingly sad sack "Human Garbage" show that both bands have sat in the sun long enough to start being sweet.
De la bagnole rouillée de Laura Stanley:
(Traduit à grands coups de klaxon par Julie Mayer)
Les vibrants groupes d'Halifax, Mauno et Vulva Culture, en valent le boucan. Leur SPLIT TAPE est constitué de chansons pop peu romantiques censées dégoutter à même les lieux où on les a confectionnées : les bagnoles rouillées, les garages moisis et les sous-sols qui sentent le renfermé. Les erreurs de Mauno les fait avancer alors que Vulva Culture choisit de se complaire en elles. « Nothing » de Mauno et « Human Garbage » (d'une dolence satisfaisante) de Vulva Culture, porteuses d'une basse affable, montrent que les deux groupes se sont assis au soleil assez longtemps pour commencer à être doux à l'oreille.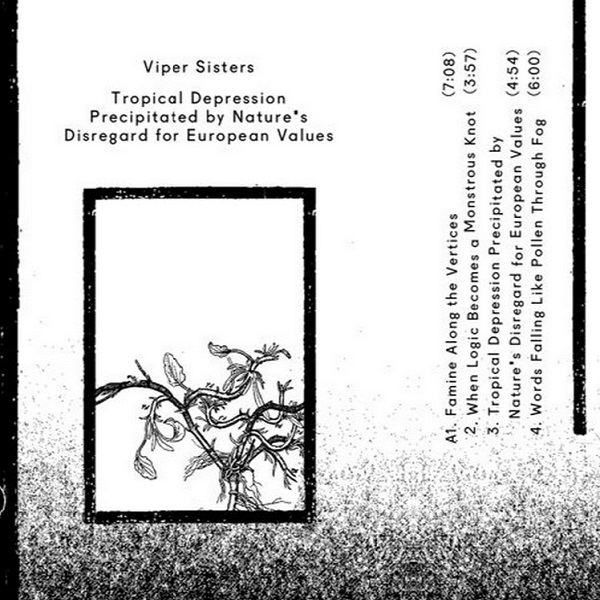 Viper Sisters
Tropical Depression Precipitated by Nature's Disregard for European Values
(Self-Released)
Toronto, ON
From the gordian knot of Robin Jenkins:
Always in motion and never stationary. Viper Sisters' (Jakub Tywoniuk) 'Tropical Depression Precipitated by Nature's Disregard For European Values' creates a vivid sonic landscape. Dense chaotic jungles of noise open up to vistas as you move through a shifting terrain of sound. In a certain abstract sense, there are some sonic cues taken from the more noise-oriented corners of techno, but this is not for dancing. Just as you feel as though you are about to be completely ensnared, the jungle relents and you start again.
Du noeud gordien de Robin Jenkins:
(Traduit par le casse-tête chinois de Julie Mayer)
Toujours en mouvement et jamais stationnaire, « Tropical Depression Precipitated by Nature's Disregard For European Values » de Viper Sisters (Jakub Tywoniuk) crée un paysage acoustique vif. Des jungles de musique bruitiste touffues et chaotiques s'offrent à ta vue alors que tu te déplaces à travers un terrain de son changeant. Dans un certain sens abstrait, cet album a des repères acoustiques issus des coins technos davantage orientés vers la noise, mais il n'est pas fait pour danser. Juste au moment où tu as l'impression que tu vas être complètement pris au piège, la jungle se radoucit et tu recommences.
Viper Sisters – Famine Along the Vertices
Viper Sisters – Tropical Depression Precipitated by Nature's Disregard for European Values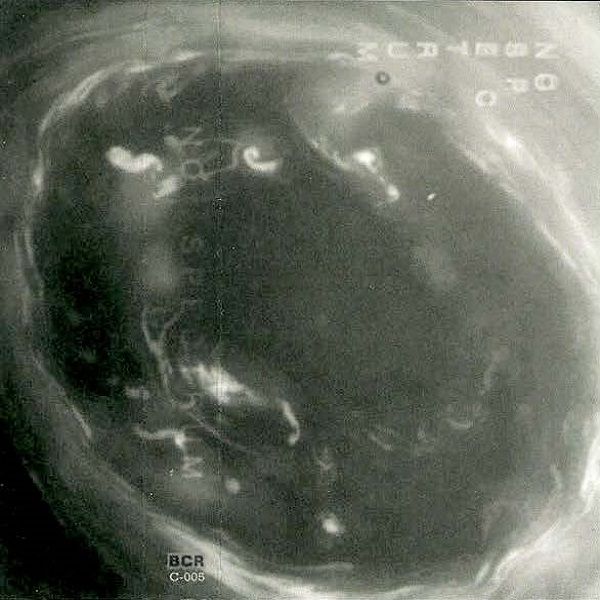 No Spectrum
No Spectrum
Kamloops,BC
From the crippling anxiety of Katie Jensen:
Like a twisting, reverberating steel wire strung between two skyscrapers, feedback loops from on high. Mangled fingers grasp the void, married to some unknown balance; estranged. The slow-motioned clawing frightens tropospheric zephyrs, skittering out of reach.
Beyond the mess of tangled, thrumming guitars, past the vertiginous dipping of your stomach, the melting point arrives.
De l'anxiété paralysante de Katie Jensen:
(Par les mots retors d'Aliké Harel)
Comme un fil de fer tordu et pris de vibrations suspendu entre deux gratte-ciel, l'accrochage acoustique fait de la haute voltige. Les doigts tailladés agrippent le néant, mariés à une sorte d'équilibre inconnu; à l'abandon. Les coups de griffe ralentis effraient les zéphyrs troposphériques, virevoltant hors de portée.
Par-delà les guitares enchevêtrées, après la chute vertigineuse et la peur au ventre, le point de liquéfaction est proche.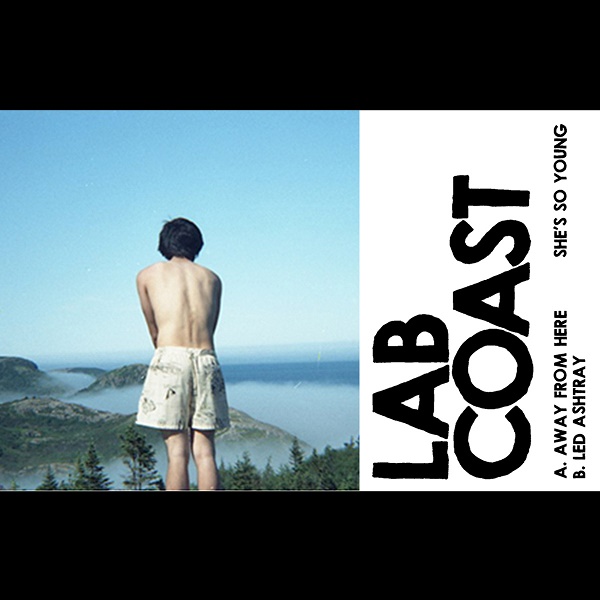 Lab Coast
Away From Here
Calgary, Alberta
From the unending summer breeze of Matthew Swann's hihat hit head:
Oh Lab Coast – ya got me again. You got so many hooks that I'm barbed, reeled in, and hit over the head like a high-hat. You got so many hits that ya bang my dizzy head, and wrap it back up in ribbons of fuzzy, compressed tape. You've got such an amazing cover of late 80's 'the Pursuit of Happiness' that I actually YouTubed 'The Pursuit of Happiness'. All three disparate jams are gold – alchemized from 1 part pop, 1 part cancon throwback, and 1 part pastiche.
De la brise estivale sans fin du crâne-cymbale double de Matthew Swann:
(Traduit par la pierre philosophale de Julie Mayer)
Oh, Lab Coast… Tu m'as encore eu. Tu es si accrocheur que j'ai mordu à l'hameçon. Ramené au moulinet, j'me fais taper sur le crâne comme si c'était une cymbale double. T'as tant de hits que j'en ai la tête qui tourne et se rembobine en rubans de bande magnétique compressée et floue. T'as une interprétation tellement étonnante de « The Pursuit of Happiness » de la fin des années 80 que j'ai vraiment YouTubé « The Pursuit of Happiness ». Les morceaux disparates valent tous les trois de l'or, composé alchimique formé d'une part de pop, une part de retour vers le contenu canadien et une part de pastiche.
---