Category: cassette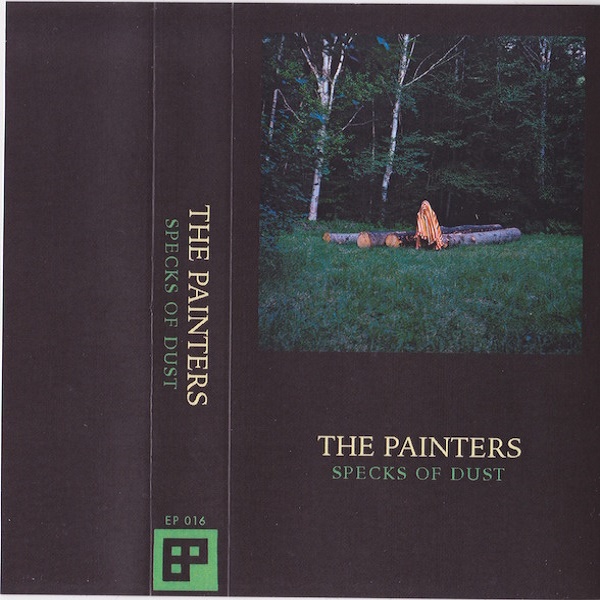 The Painters
Specks of Dust
Montreal, QC
From the mass spillage of Claire Marie Guimond:
Less than dust on the cosmic scale and we still all got sucked into the same nanohole. Some people never find their people, you hardly had to try. Screw your accidents. Have you ever heard your sister say she's lonely? It's because she needs people; her heart is filled to the valves with love and nowhere to let it spill. Truth is, I just had more chances than her, if only for you bloodletters. And I have lots of blood to give… but when the moment comes I can't believe you're really there to drink up.
Des débordements massifs de Claire Marie Guimond:
(Traduit par les désirs à rebours de Marie-Pier Chevrier)
Plus petits que poussière sur l'échelle cosmique et nous sommes tout de même coincés dans le le même trou microscopique. Il y a de ceux qui ne trouvent jamais, et toi qui auras à peine eu à essayer. Au diable tes accidents. As-tu déjà entendu ta sœur dire qu'elle se sentait seule? C'est parce qu'elle a besoin de gens; son cœur est rempli jusqu'aux valves d'amour qui n'a nulle part où aller. En vérité, j'ai eu plus de chance qu'elle, si ce n'est que de tes lettres ensanglantées. Et j'ai tant de sang à donner… mais quand le temps viendra, je n'arrive pas à croire que tu y seras pour le boire.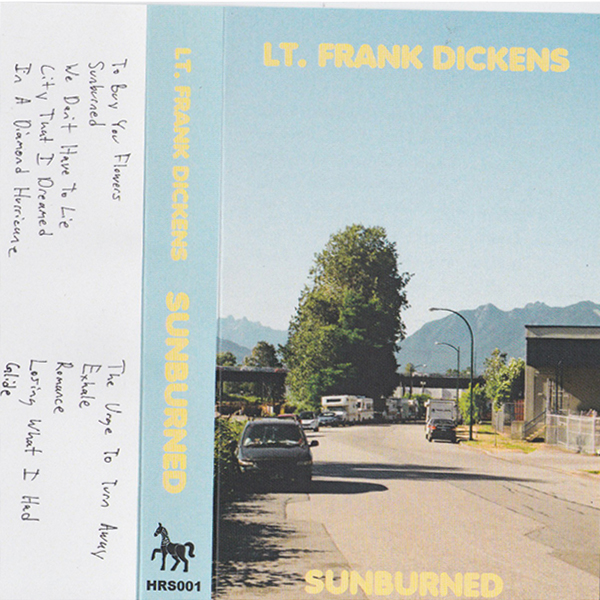 Lt. Frank Dickens
Sunburned
Vancouver , BC
From the pained heart of Morgan Cook:
There is no comparison to this divisive crooner. Lt. Frank Dickens is a poet and a troubadour. The music is the ship, the voice is the siren and the words are the rocks you wreck yourself upon. Tears flood your eyes and emotion purifies your heart as it is broken and lifted, healed and destroyed. From the mind and hand of Peace's Dan Geddes with the help of sensitive souls, friends who share and manifest his vision. Lt. Frank Dickens captains this poetic journey through the darkness.
Du cœur affligé de Morgan Cook:
(Traduit par l'impression de déjà vu Julie Mayer)
Il n'y a rien de comparable à ce crooner diviseur. Lt. Frank Dickens est un poète et un troubadour. La musique est le navire, la voix est la sirène et les mots sont les rochers sur lesquels vous vous brisez. Des larmes inondent vos yeux et l'émotion purifie votre cœur à mesure qu'il se brise et s'élève, qu'il est guéri et ravagé. Cet album est conçu par l'esprit et la main de Dan Geddes, membre de Peace, avec l'aide d'âmes sensibles, d'amis qui partagent et manifestent sa vision. Lt. Frank Dickens dirige ce voyage poétique à travers l'obscurité.
Lt.Frank Dickens – We Don't Have To Lie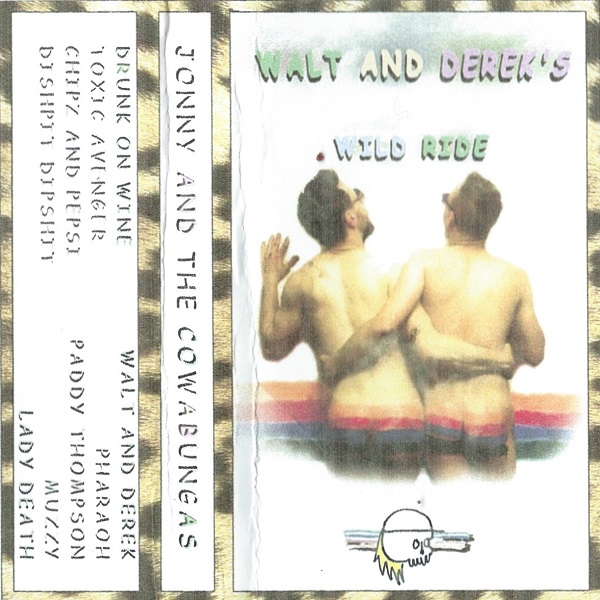 Jonny and the Cowabungas
Walt and Derek's Wild Ride
(Lawnchair Records)
St. John's, NWLD
From the endless summer of Mike Roy:
Born in a vat of b-movie superheroes, jangly guitar chords and surf age nostalgia, Jonny and the Cowabungas are St. John's latest export for a good time. Under the recording guidance of Micah Brown (MAANS), Walt and Derek's Wild Ride effortlessly drift over a wave of mostly instrumental garage rock, with swells of influences like Spaghetti Western soundtracks ("Paddy Thompson") to '60s heartbreak pop ("Muzzy"). The result is both energetic and electrifying, and surely leaves you sun-kissed long into those cold winter months.
De l'été sans fin de Mike Roy:
(Traduit par la coupure à l'annulaire droit de Julie Mayer)
Nés dans une cuve de super-héros de série B, d'accords de guitare cliquetants et de nostalgie du temps où le surf avait la cote, Jonny and the Cowabungas sont la toute dernière exportation de St. John depuis un bon moment. Sous la direction de Micah Brown (MAANS) à l'enregistrement, Walt and Derek's Wild Ride dérive sans effort sur une vague de garage rock surtout instrumental, accompagnée d'une foule d'influences allant du western spaghetti (« Paddy Thompson ») à la heartbreak pop des années 60 (« Muzzy »). Le résultat est à la fois énergique et électrisant, et ensoleillera sans aucun doute nos froids mois d'hiver.
Jonny and the Cowabungas – Drunk On Wine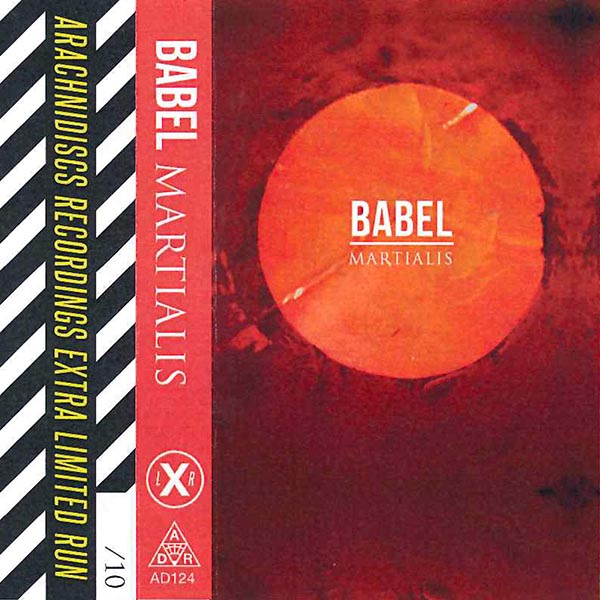 BABEL
Martialis
Toronto, ON
From the expeditions of Johnnie Regalado:
BABEL's meditations on Mars compose a world that does not get to change from red to green to blue. This Martian chronicle is one of a red world turning redder. A sonic world where isolation is salvation and the familiar story of human introduction of course leads to destruction. Curiosity, Odyssey, Orbiter, Spirit, Opportunity, give these exploits whatever name you want: they're all still drones.
Par les expéditions de Johnnie Regalado:
(Traduit par les méditations martiennes d' Émily Traichel)
Les méditations sur Mars de BABEL composent un monde qui n'a pas la chance de changer de rouge à vert à bleu. Cette chronique martienne nait d'un monde pourpré qui s'empourpre toujours. Un monde sonique où l'isolation est le salut et l'histoire familière de l'introduction humaine mène bien sûr à la destruction. Curiosity, Odyssey, Orbiter, Spirit, Opportunity, nommez ces exploits comme vous voulez: ils s'agissent tous toujours de drones.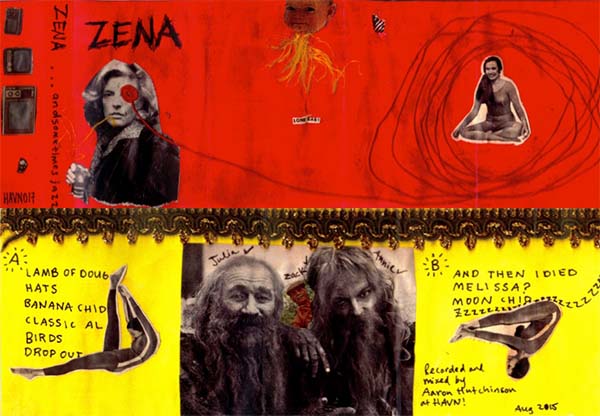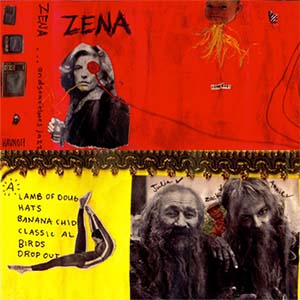 Zena
And Sometimes Jazz
Hamilton, ON
From the Hammer of Talia Jacob:
Zena's latest release, "And Sometimes Jazz," is unhinged, ecstatic, messy, and SO MUCH FUN. Cheeky vocals, lunatic sax, and shamelessly basic drums n bass form a mass of sound that tramples the line between music and noise. Listening to Zena feels a lot like you're listening in on Zena. It sounds like you're in the same building, and they're practicing right below you–the music feels that close, that raw. Put your ear to the floor and listen in on this one.
Du *Hammer* de Talia Jacob:
(Traduit par le tournevis sonique de Julie Mayer)
Le tout dernier album de Zena, « And Sometimes Jazz », est détraqué, extatique, bordélique, et TELLEMENT AMUSANT. Les voix insolentes, le sax démentiel ainsi que la batterie et la basse effrontément basiques forment une masse de son qui piétine la ligne entre la musique et le bruit. Écouter Zena donne la sensation d'écouter à sa porte. Ça sonne comme si vous vous retrouviez dans le même bâtiment, et qu'ils répétaient juste en-dessous de vous; on sent la musique aussi proche, aussi brute que ça. Collez votre oreille sur le plancher et écoutez de manière indiscrète cet album.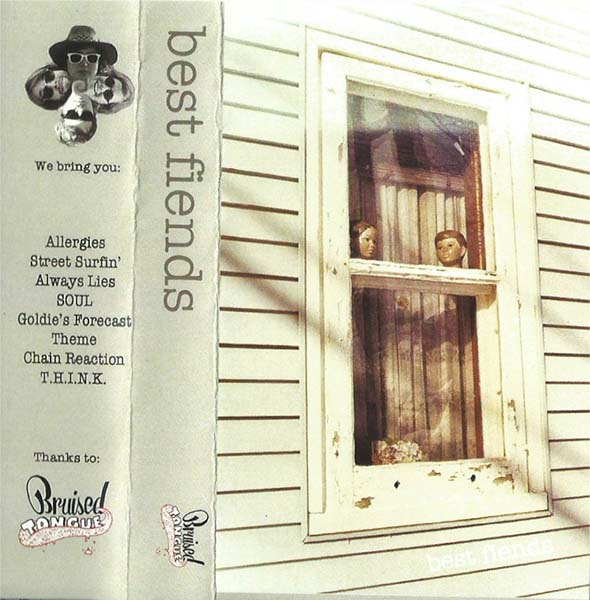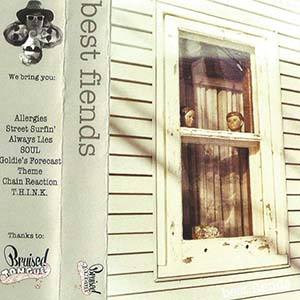 Best Fiends
Best Fiends
Halifax, NS
From the fiendish heart of Laura Stanley:
Beware the heart of Best Fiends. It is not blackened with hate or eroded by bitterness, but it beats in frantic measure; always in bright hues of red and pink. Wrapped in a panoply of anxiety and ardor, it surfs, has SOUL, and is desperate to get outside. But be sure Best Fiends are no villains, these fiends are out for friends.
Du cœur monstrueux de Laura Stanley:
(Traduit par Julie Mayer)
Prenez garde au cœur de Best Fiends. Ce dernier n'est pas noirci de haine ou érodé par l'amertume, mais il bat à un rythme effréné, toujours en teintes vives de rouge et rose. Enveloppé dans une panoplie d'anxiété et d'ardeur, ce cœur surfe, a une âme et veut à tout prix aller dehors. Mais soyez assurés que les Best Fiends ne sont pas méchants, ces monstres sont à la recherche d'amis.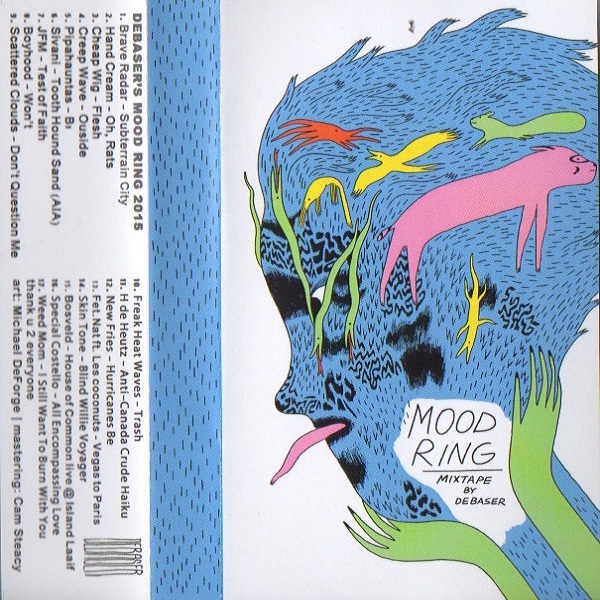 Various Artists
MOOD RING
(Debaser)
Ottawa, ON
From the blonde arm hair of Katie Jensen:
Defiant and pure, a dirty finger brushes away thick tears.
Tricked by the smear of this glass into leaving the apartment. For a good time, call these jeans. For a better time, take them off. Roll them down with exhausted hands; hitch them off stubborn feet; collapse on the bed.
The bar was a pale mess of limp clothes and lukewarm handshakes; a cluster of grimaces copied from grainy school photographs. In one, an eyetooth poked through plump flesh. In another, a yawn that never ends, begging for attention. The clock mutters of lost hours spent grinding its teeth, deciphering glowing, cryptic symbols in the dark. Sleep comes in twitching waves.
Par les poils de bras blonds de Katie Jensen:
(Traduit par l'hiver printanier d' Émily Traichel)
Provocateur et pur, un doigt sale essuie de grosses larmes.
Trompé par la tache de cette vitre et mené à quitter l'appartement. Pour prendre du bon temps, appelez ces jeans. Encore mieux, enlevez-les. Rabaissez-les avec des mains épuisées; décrochez-les des pieds obstinés; effondrez-vous sur le lit.
Le bar était un pâle bordel de vêtements mous et de poignées de mains tièdes; un amas de grimaces copiées de photos d'école grenues. Sur l'une d'elles, une canine a perforé de la chair potelée. Dans une autre, un bâillement qui ne finit jamais, mendiant de l'attention. L'horloge grommèle contre les heures perdues à grincer ses dents, déchiffrant des symboles lumineux et cryptiques dans le noir. Le sommeil vient en vagues spasmodiques.
Sivani – Tooth Hound Sand (AIA)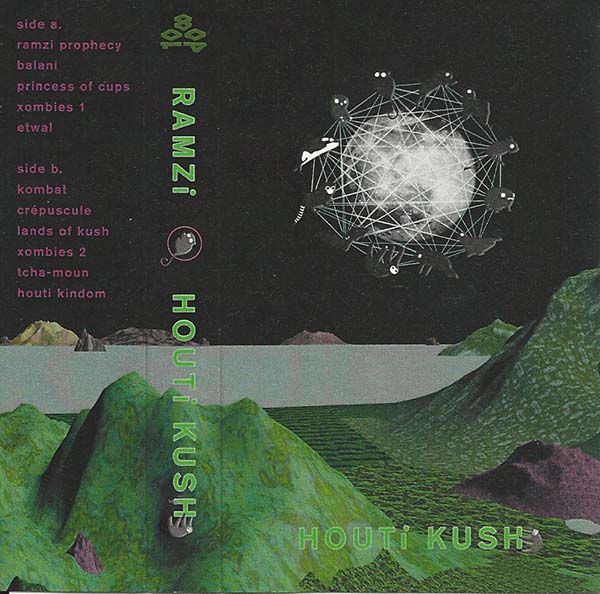 RAMZI
Houti Kush
Montréal, QC
From the toady burps of Adam Bradley:
Deep dream jungle, leafy canopy filtering laser light in dancing geometrics. Toady bass burps beneath crispy aural detritus. Humid warbles and slithering synth tones gurgle around throaty voices of DMT deities. Faint resonance of cumbia rhythms heave and echo where thick bubbles of poisonous gas pop from tar pools. Iridescent invertebrates squirm through blue mists, drawn to the ineffable. A neon finch perched on a sweaty pitcher plant, observing the organic slime-dance of writhing, breathing life.
Des rots de crapeau de Adam Bradley:
(Traduit par les brumes amphibiennes d' Hugo Hyart-Dauv)
Jungle onirique profonde, une canopée touffue filtre la lumière laser en géométries dansantes. Une basse crapotante croasse par-dessous les détritus auraux. D'humides hypodermoses et des tonalités de synthé glissantes gargouillent autour des voix gutturales de déités de DMT. De pâles résonnances de rythmes de cumbia vomissent et font écho là où d'épaisses bulles de gaz empoisonné éclatent des bassins de goudrons. Des invertébrés iridescents se convulsent dans des brumes bleues, attirés par l'ineffable. Un bouvreuil néon perché sur une sarracénie suant, observant la danse gluante de la vie haletante et contorsionnée.

RAMZI – Princess of Cups

RAMZI – Prophecy
anthéne
repose
Toronto, ON
From the burnt fingers of Jessa Runciman:
There's a stillness in the air; the sound of sanctuary. Each one of Brad Deschamps' eight reveries opens like a cavern — reverberant, ancient, serene. Inside: a crackling warmth, and the echo of minimal melodies that shimmer in the depths. It's a glowing kind of peace, anchored in hope or heartbreak. It swells with a sizzling hum. We breathe in and close our eyes.
Des doigts brûlés de Jessa Runciman:
L'air est calme; le son du sanctuaire. Chacun des huit rêveries de Brad Deschamps s'ouvre comme une caverne — pleine de réverbération, ancienne et sereine. Là-dedans, une chaleur crépitant et l'écho des mélodies minimales qui miroitent des profondeurs. C'est une paix rayonnante, qui est ancrée dans l'espoir ou le déchirement. Elle gonfle avec un bourdonnement sifflant. On inspire et ferme les yeux.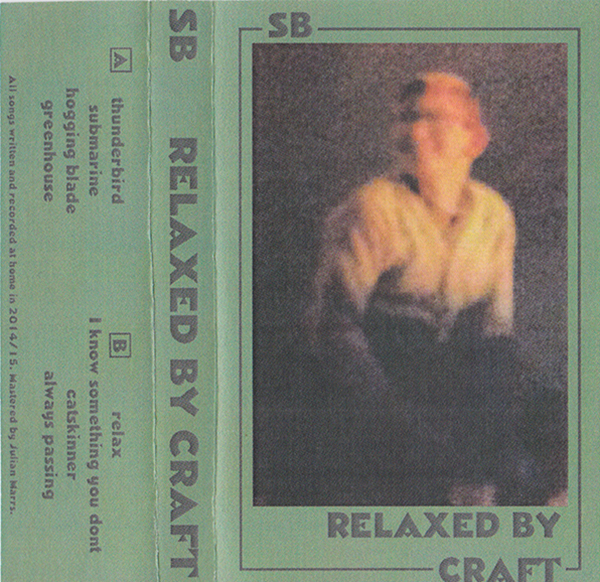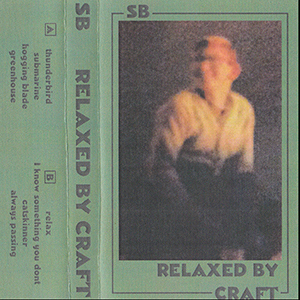 SB
Relaxed by Craft
(Self-Released)
Victoria, BC
From the shaking hands of Morgan Cook:
This smooth, hazy, sunshine-slacker is a moody heavy-lidded atmospheric romp in sun-dappled oblivion. Fully realized and materialized by Logan Holmes in the Greenhouse. At dusk shut your eyes to the sun, lizard-like, and let the last of its heat and light melt your neomammalian complex. Resolution. Beck.
Des mains tremblantes de Morgan Cook:
(Traduit par Julie Mayer)
Ce slacker ensoleillé, fluide et brumeux est une pièce maussade, hermétique et atmosphérique dans un oubli tacheté de soleil. Entièrement réalisé et produit par Logan Holmes aux studios Greenhouse. Au crépuscule, ferme les yeux sous le soleil, comme un lézard, et laisse les dernières parcelles de sa chaleur et de sa lumière fondre ton complexe néo-mammalien. Dénouement. Beck.
---