Category: cassette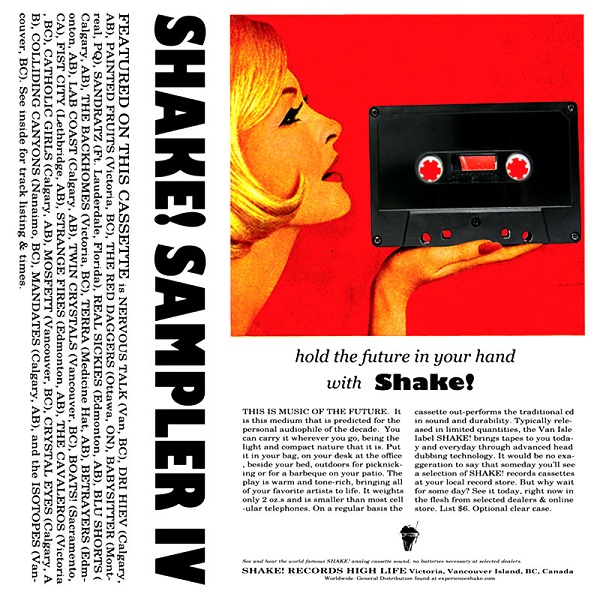 Various Artists
Shake! Sampler IV
Victoria, BC
From the curdling milk of Preacher Katie:
"Hold the future in your hand" while drinking a strawberry milkshake in your other hand that was made by a lady named Ronda from Dennys. No need to leave your lawn chair these days because Shake! Records delivers everything you need, contained into Shake!'s IV sampler cassette is 23 different bands of North America's best. So shake it, twist it, smoke it, squirt it and chug it to this sun-kissed mix tape. Make sure you remember to bring all the boys to the yard.
Du lait caillé de Preacher Katie:
(Traduit par la saveur magnifique de Maya Keshav)
« Tiens l'avenir dans ta main » pendant que de l'autre tu bois un milkshake à la fraise qui a été préparé par une dame qui s'appelle Ronda from Dennys. Pas besoin de quitter ta chaise longue ces temps-ci parce que Shake! Records fournit tout ce dont tu as besoin; la cassette IV de Shake! contient un échantillon de 23 des meilleurs groupes de l'Amérique du Nord. Alors, secoue-le, tourne-le, fume-le, injecte-le et descends-le avec cette compilation bronzée. Assure-toi de ne pas oublier d'amener tous les garçons dans la cour.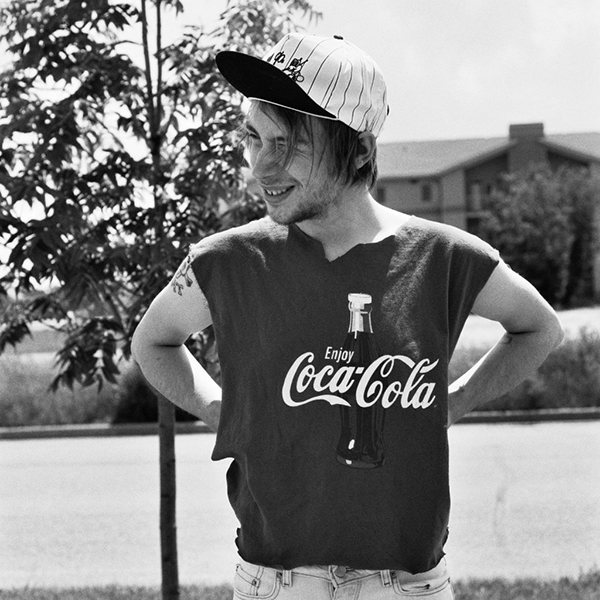 Holding Hands
EP?
(Self-Released)
Montréal, QC
From the ferry secrets of Claire Marie Guimond:
I'm explaining it all on the passage. Ninety minutes of water feels like a mirror when you ride it out to the infinite mainland, and like a photo when you ride back home, like right now, see it? On the island the flowers bloom in winter. Why are you shivering? Is it what I said? It's windier on this side of the boat. I can't see a thing through the forest smoke. Scattered shouting sounds urgent, too low to hear, but I understand completely. Are you igniting something? From this angle it's like your arm's on fire. Hey, you can tell me anything. Smoke and fog look the same to me. You're gonna burn right through to the car deck. Did all that make sense, am I communicating well?
Des secrets du traversier de Claire Marie Guimond:
(Traduit par le miroir infini de Maya Keshav)
J'explique tout en traversier. Quatre-vingt-dix minutes de l'eau donnent l'impression d'être un miroir quand tu tiens le coup jusqu'au continent infini, et d'être une photo quand tu reviens chez toi, comme maintenant, tu le vois? Sur l'île les fleurs éclosent en hiver. Pourquoi tu frissonnes? J'ai dit quelque chose? Il y a plus de vent de ce côté du bateau.. Je peux rien voir à travers la fumée de la forêt. Les cris éparpillés ont l'air urgent, trop bas pour entendre, mais je comprends complètement. Tu mets le feu à quelque chose? Depuis cet angle, ton bras a l'air d'être en feu. Tu sais, tu peux me dire n'importe quoi. La fumée et le brouillard se ressemblent, selon moi. Tu vas brûler jusqu'au pont-garage. Tout ça a du sens, je communique bien?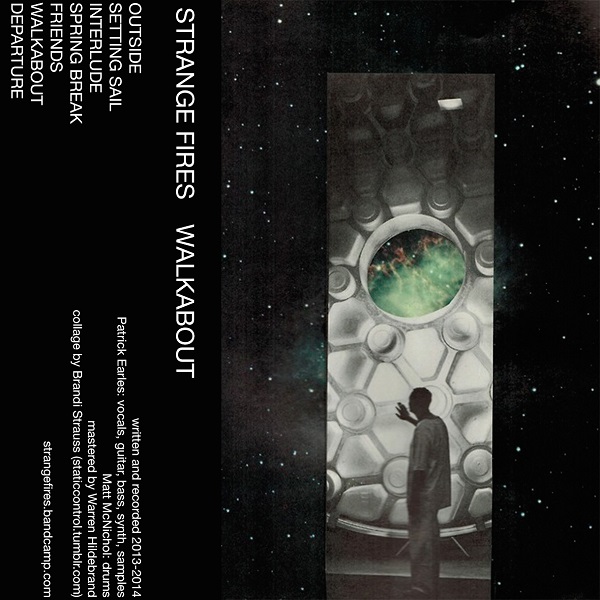 Strange Fires
Walkabout
Edmonton, AB
From the twinkly toes of Kelly MacNeil:
Walkabout is a tumble through town, showing us all of the secret and special places. Edmonton's Strange Fires yips into culverts, taping the echoes and keeping them warm in their front breast pocket. Together we wander, throw stones in ponds, staring at the ripples, watching fish dart. Walkabout is a time of solemn remembrance, the kind that fills your heart with sparks and makes your toes wriggle. Beneath layers of dust, dirt, and snow we come to see the beauty in the old places we know.
Des orteils brillants de Kelly MacNeil:
(Traduit par Julie Mayer)
L'album Walkabout nous montre tous les endroits secrets et spéciaux de la ville qu'il traverse à la course. Originaire d'Edmonton, le groupe Strange Fires jappe dans les caniveaux, enregistre les échos et les garde au chaud dans sa poche poitrine. Ensemble, nous vagabondons, nous lançons des cailloux dans les mares, nous fixons les ondes et regardons les poissons s'enfuir. Walkabout est un moment de commémoration solennelle, du genre qui remplit votre cœur d'étincelles et fait tortiller vos orteils. Sous les couches de poussière, de saleté et de neige, nous parvenons à voir la beauté des lieux qui nous sont bien familiers.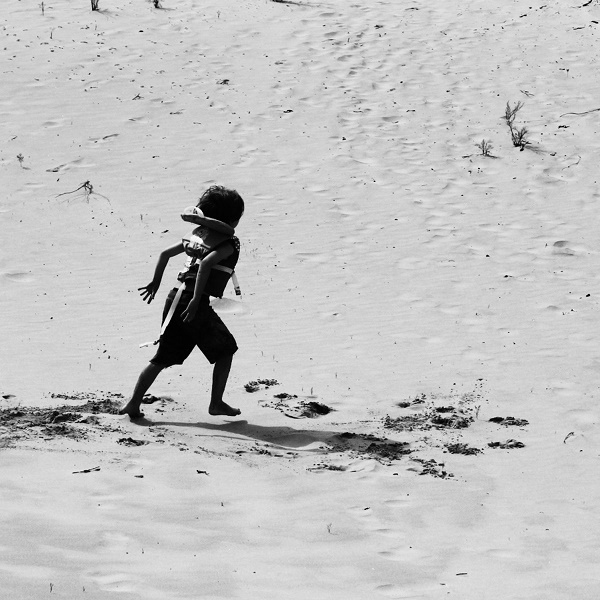 Jo Passed
Out
Vancouver, BC // Montreal, QC
From the shock of Hailey Celesse McCarthy:
A vault of elemental drone converges with a psychedelic, progressive loam on Jo Passed's debut release Out. Each track is an electric field casing a dark cellar, waiting to cast out shadows with the opening switch of an electric current. Jo Passed's vocals drape themselves over Out like soft transmissions – each magnetic composition creates a form that reinforces the crux – hovering in the air tasteless, invisible, but sensed.
De la stupeur de Hailey Celesse McCarthy:
(Traduit par l'ahurissement de Marie-Pier Chevrier?)
Une chambre-forte de drones élémentaires converge vers une glaise psychédélique et progressive sur Out, le premier album de Jo Passed. Chaque piste est un champ électrique enveloppant un sombre caveau, attendant patiemment de libérer ses ombres à l'activation d'un interrupteur de courant électrique. Les harmonies vocales de Jo Passed se drapent autour de Out comme de douces transmissions; chaque composition magnétique crée une forme en renforçant le coeur, voltigeant sans goût et invisible, mais sentie.
Jo Passed – No, Joy (I'm Not Real Girl)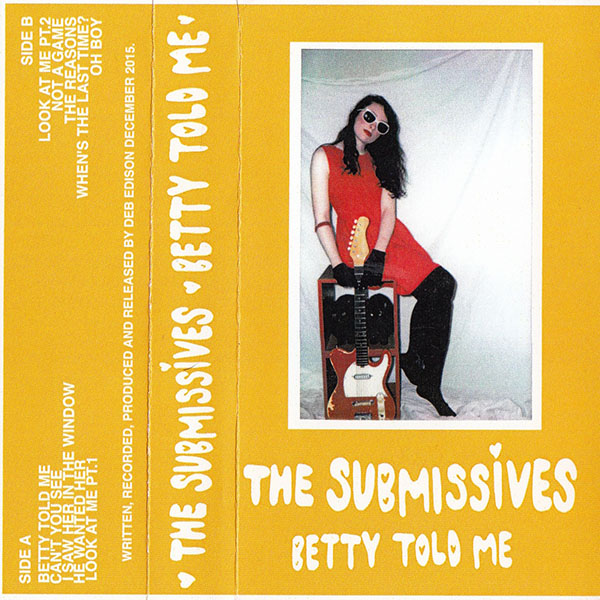 The Submissives
Betty Told Me
(Self-Released)
Montréal, QC
From the hesitating affections of Christina Bell:
Betty Told Me listens like an album-long conversation on the hazards of hesitating affection. It's a swaying drama, jangling out a breezy narrative on navigating the mean streets of fallin' in and outta love. Even though they're mostly singing about losing, The Submissives are an easy kind of cool. They are bent on telling it like it is. Simple. Straight forward. Unaffected? Aching.
De l'affection hésitante de Christina Bell:
(Traduit par le flafla douloureux de Mathieu Bédard)
Betty told me s'écoute comme une conversation qui durerait tout un album au sujet des dangers d'une affection hésitante. C'est un drame ondulant, un récit cliquetant et désinvolte sur le pilotage dans les rues périlleuses de l'amour et du désamour. Même si elles chantent surtout sur le fait d'être perdantes, The Submissives sont cools tout de suite en partant. Elles sont résolues à dire les choses comme elles sont. Simplement. Sans flafla. Sans être affectées? Douloureusement.
The Submissives – I Saw Her in the Window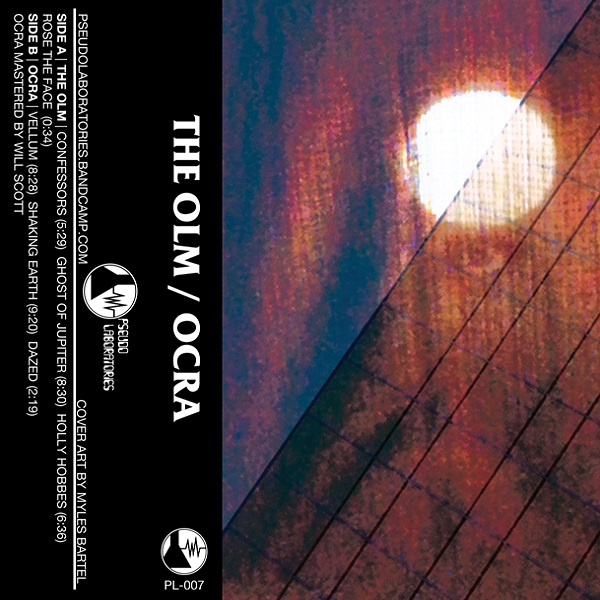 The Olm / Ocra
The Olm / Ocra
Edmonton, AB
From the timeluscent west of Heather Lune:
The Olm moans like a metal wraith, a fossil of the prehistoric ocean that lives in the mountains – badland epigrams malformed. They're a beacon sculling over the solid hide of the skyline, where the sea is held inside sun-risen fumes.
The Ocra hears a ghastly echo of our industrious carvings. Inscriptions knocking into the wind of falling bodies, the mechanisms used to slip through tap dancing waves. The scraping, digging, probing, mining. The generations, the millenia – waterbed bones compressing into an arid ocean floor.
Belonging to us, as we to it, a locked-soul.
Par l'ouest tempslucide de Heather Lune:
(Traduit par l'écho ésotérique des vents ténébreux d' Émily Traichel)
L'Olm gémit comme un spectre en métal, un fossile venu de l'océan préhistorique qui vit dans les montagnes – épigrammes malformées des badlands. Il y a un flambeau qui godille sur la peau solide de l'horizon, où la mer est enfermée dans des émanations solaires.
L'Ocra entend un écho épouvantable de gravures industrieuses. Des inscriptions cognent dans le vent de corps en chute, les mécanismes employés afin de glisser à travers les vagues qui dansent la claquette. Le grattage, creusage, sondage, l'exploitation minière. Les générations, les millénaires – les os du lit d'un fleuve qui se blottissent dans un fond d'océan aride.
Nous appartenant, comme on leur appartient, une âme-barrée.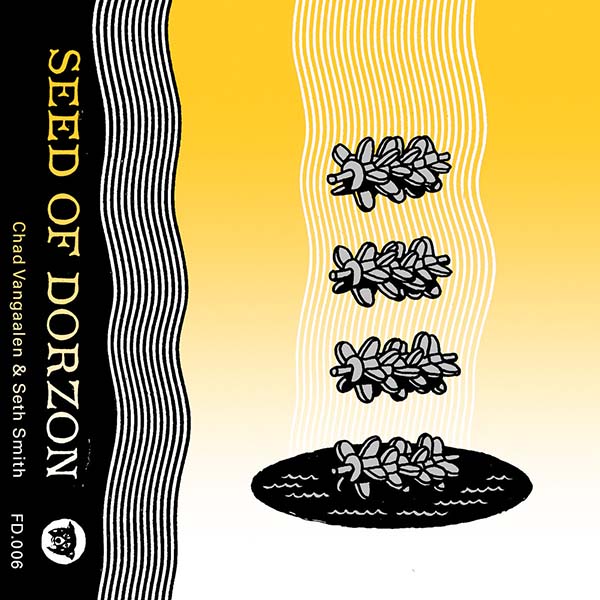 Chad VanGaalen & Seth Smith
Seed of Dorzon
(fundog)
Calgary, AB // Halifax, NS
From the Dusty Mind of Bobby Andrews:
Furious tones and manic cerebral vibrations from Chad Vangaalen and Seth Smith, Seeds of Dorzon is a two-part narrative leaving the listener breathless. Stretching beats across a vast landscape created within the ear, the listener ruminates on the conflict within. Cranked vibrations met with an expert level of grace, Seed of Dorzon erupts the emotional core of being, blossoming the imagination.
De l'esprit poussiéreux de Bobby Andrews:
(Traduit par Lanstratoran Mes!)
Avec des tons furieux et des vibrations cérébrales animées, Seeds of Dorzon, de Chad Vangaalen et Seth Smith est récité en deux parties qui coupent le souffle. Avec des pulsations qui s'allongent à travers un paysage créé par notre écoute, l'auditeur rumine sur le conflit intérieur. Des vibrations montées sont accueillies avec un niveau de grâce élevée. Ce disque fait jaillir le noyau émotionnel de l'âme, permettant l'épanouissement de l'imagination.
Chad VanGaalen & Seth Smith – Part I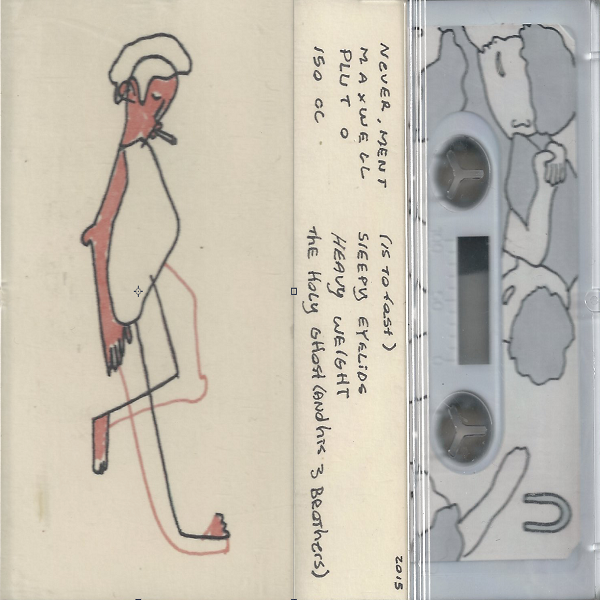 Fish Food
For Mortimer
(Self-Released)
London, ON
From the slack jaw of Rachel Bellone:
Small town Southwestern Ontario is a place with time to kill between house shows. Fish Food fills up the time by mashing hands against instruments and writing lyrics for a brother, a partner, a friend, and even the mean drunk guy, while having big big plans in a small small pond. For Mortimer is homespun and hard hitting, like the smell of cookies in your childhood home which you gobbled for granted. When creativity in this age hits fast and slick, Fish Food reminds us there's still time for new friends, handmade cassettes, and songs with throwback indie vibes and topical beats.
De la mâchoire détendue de Rachel Bellone:
(Traduit par Julie Mayer)
Le sud-ouest de l'Ontario est une petite ville où il y a du temps à tuer entre les spectacles faits main. Fish Food remplit ces temps morts en frappant ses mains contre des instruments de musique et en écrivant des paroles de chansons pour un frère, un partenaire, un ami et même le méchant type saoul, tout en ayant de grands, grands plans dans un petit, petit étang. For Mortimer est fait maison et percutant tout comme l'odeur des biscuits que vous engloutissiez pour acquis quand vous étiez petits. Malgré cette ère dans laquelle la créativité ne fait que passer, Fish Food nous rappelle qu'il est encore temps de se consacrer aux nouvelles amitiés, aux cassettes artisanales, aux rythmes tropicaux ainsi qu'aux chansons composées d'ondes indie qui retournent aux sources.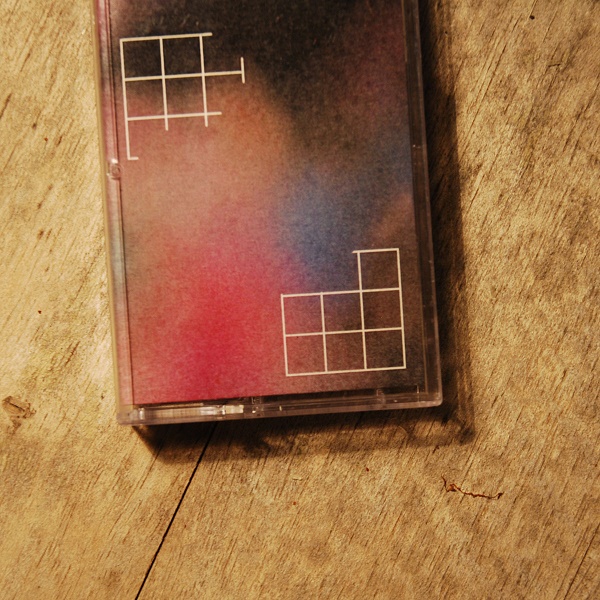 Philippe Vandal
Frag
Montreal, QC
From the splintered mind of Laura Stanley:
Our hearts once beat together. Their united sound displaced the loneliness that lived inside me for so long. But now, the loneliness has returned and I hear the ghosts of our former life: our fights, our joy, your favourite jazz record, the clatter of our dishes, the static from the TV when we forgot to pay our cable bill. In Frag, Montreal's Philippe Vandal summons distant discordance with forgotten feelings. Like us, these memories are fragmented and atonal. Together they sound as fearful of the future as I am.
De l'esprit fragmenté de Laura Stanley:
(Traduit par la mentalité capricieuse de Louis-Félix de Chevigny)
Nos cœurs ont autrefois battu à l'unisson. Ce battement synchronisé a repoussé la solitude qui vivait en moi depuis si longtemps. Maintenant, elle est de retour et je peux entendre les spectres de notre vie d'auparavant : nos chicanes, notre joie, ton disque de jazz favori, le bruit de nos assiettes, les parasites de notre télé la fois où nous avions oublié de payer notre facture de câble. Dans Frag, le Montréalais Philippe Vandal invoque, par des sentiments oubliés, une discordance lointaine. Comme nous, ces souvenirs sont fragmentés et atonaux. En les écoutant, on pourrait penser qu'ils sont aussi effrayés par le futur que je le suis.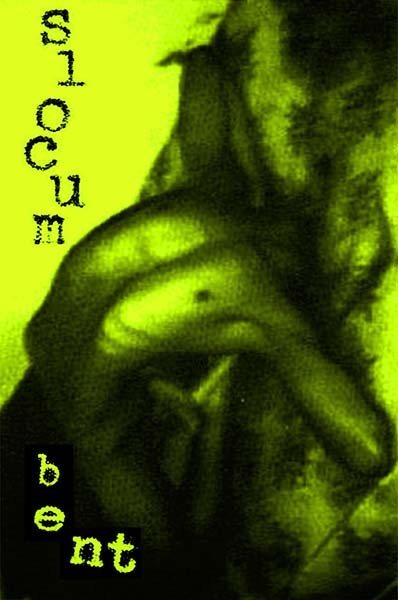 From the unwavering trajectory of Griffin Martell:
Composure will drain the color from your cheeks. Nevermind, stand up straight, tighten the lips and maintain eye contact. Endurance is validation in itself. As the body heaves with the lurch of instinctive dread, the intellect must not flinch. Pure cognitive inertia forms the basis of a superior being. It is only when this law is broken that the unravelling begins. Sink into the viscera and you will find the residue of decomposing visions. To be bent is to be forsaken.
De la trajectoire sans écarts de Griffin Martell:
(Traduit par la vieille âme de Julie Mayer)
Le sang-froid drainera la couleur de tes joues. T'inquiètes, tiens-toi droit, serre les lèvres et maintiens le contact visuel. Conserver les apparences le plus longtemps possible est une validation sociale en soi. Alors que le corps se soulève sous le vacillement que provoque la terreur instinctive, l'intellect ne doit pas flancher. L'inertie cognitive pure forme la base d'un être supérieur. C'est seulement lorsque cette loi est enfreinte que débute le dévoilement. Enfonce-toi dans tes propres viscères et tu y trouveras des résidus de visions en décomposition. Être plié revient à être abandonné.
Slocum – Science Will Bring Me Back
---