Category: cassette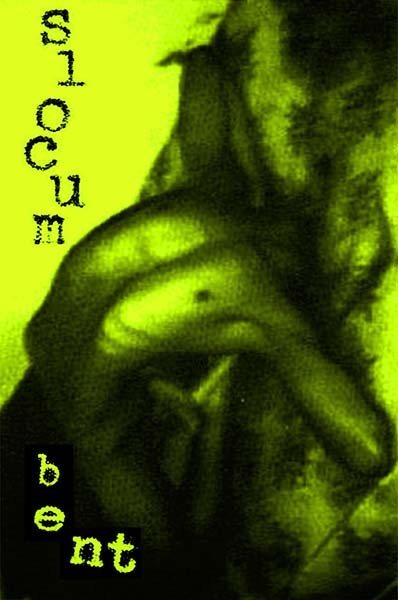 From the unwavering trajectory of Griffin Martell:
Composure will drain the color from your cheeks. Nevermind, stand up straight, tighten the lips and maintain eye contact. Endurance is validation in itself. As the body heaves with the lurch of instinctive dread, the intellect must not flinch. Pure cognitive inertia forms the basis of a superior being. It is only when this law is broken that the unravelling begins. Sink into the viscera and you will find the residue of decomposing visions. To be bent is to be forsaken.
De la trajectoire sans écarts de Griffin Martell:
(Traduit par la vieille âme de Julie Mayer)
Le sang-froid drainera la couleur de tes joues. T'inquiètes, tiens-toi droit, serre les lèvres et maintiens le contact visuel. Conserver les apparences le plus longtemps possible est une validation sociale en soi. Alors que le corps se soulève sous le vacillement que provoque la terreur instinctive, l'intellect ne doit pas flancher. L'inertie cognitive pure forme la base d'un être supérieur. C'est seulement lorsque cette loi est enfreinte que débute le dévoilement. Enfonce-toi dans tes propres viscères et tu y trouveras des résidus de visions en décomposition. Être plié revient à être abandonné.
Slocum – Science Will Bring Me Back
Swim Team
Freedom/Constraint
(Self-Released)
Vancouver, BC
From the quarter life crisis of Eleanor Wearing:
"Are you filled with existential dread?
"Yes. Wait—no. Maybe? Things feel serious most of the time. Very serious. Slow lulls invoke a cloudy comatose state, only to be shot through and shattered by a harsh and unrelenting reality. Voices that once spoke softly surge louder, fighting to be heard."
"When darkness sets in, does obsession follow? Dominating every move you make? If you feel this way, it's ok. You are not alone. Look at the lows, carve out the highs. Push through. Drift beyond. Swim along."
De la crise de la vingtaine de Eleanor Wearing:
(Traduit par Alison McReynolds)
"Es-tu plein d'angoisse existentielle ?"
"Oui. Attend—non. Peut-être? On dirait que les choses sont sérieuses, du moins, la plupart du temps. Très sérieuses. Une douce accalmie invoque un état comateux voilé, pour bientôt être transpercée et mise en pièces par la dure et infatigable réalité. Des voix, qui discutaient doucement, surgissent désormais plus fortement, se battant pour être entendues.
"Lorsque l'obscurité s'installe, est-ce que l'obsession suit ? Dominant chaque geste que tu fais ? Si tu te sens comme ça, c'est correct. Non, tu n'es pas seul(e). Regarde les hauts, sculpte les bas. Passe à travers. Dérive au-delà. Nage avec le courant."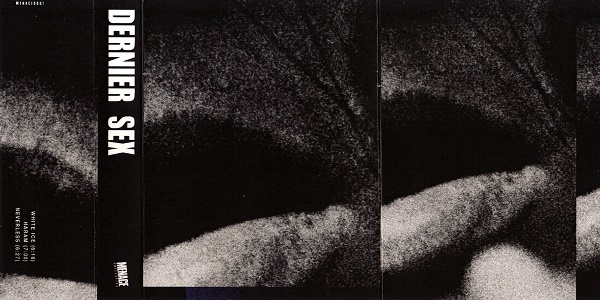 Dernier Sex
3-Song EP
Montreal, QC
From the ethereal web of Charlotte White:
Your blood thickens and the pavement feels warm on your bare feet. Humid air churns around your body creating eddies of fizzing ecstasy as your heartbeat slows to a near standstill.
This is where dreams become nightmares and nightmares become dreams. Here you are lifted above all pain and fears that ooze from dark corners like water seeping under bathroom doors.
At dawn you awake drenched in sweat and blood. You're unsure if it's your own.
Du site web paradisiaque de Charlotte White:
(Traduit par Sergio Calla)
Ton sang s'épaissit et la chaleur du pavé caresse tes pieds nus. L'air humide tourbillonne autour de ton corps générant un tourbillon, un vortex euphorique pétillant provoquant un ralentissement raide du rythme cardiaque.
Il s'agit d'un domaine où les rêves se transforment en cauchemars et les cauchemars en rêves. Ici, cesse la douleur et les craintes qui suintent de tous les coins sombres comme de l'eau qui s'infiltre sous les portes de salles de bains.
Vous vous réveillez à l'aube ensanglanté et en sueur, incertain de votre sort.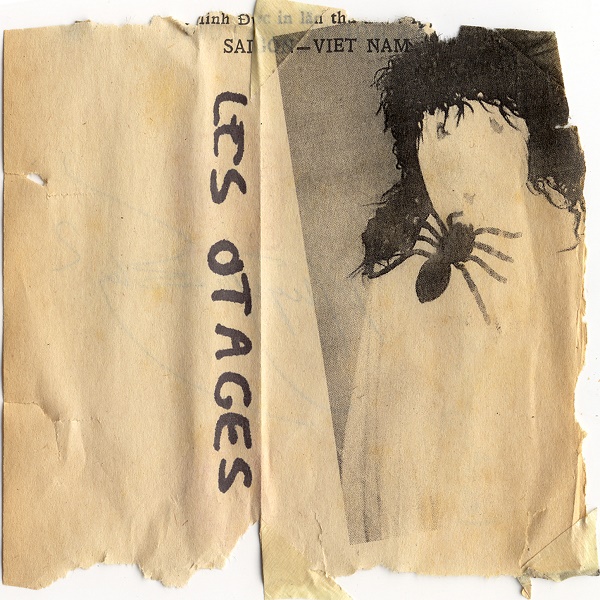 Les Otages
Les Rédemptionnistes
Québec City, QC
From the gothic callisthenics of Don L'Orange:
Emerging from the darkness with a plate of little sandwich pinwheels, the Produce Prince has come to deliver us. Can we break free from these earthly chains and fly with the goats? Freedom is knowing what to eat and when; we have given in to our gastric urges long enough. You need to take your green bin with civic pride. A balance of nutrition and exercise will be your ticket to a healthy and prosperous afterlife. A scrounger's nightmare: we have engaged a cash forward contract. Give the power back to the dollar.
Des callisthénies gothiques de Don L'Orange:
(Traduit par le caséum de Julie Mayer)
Sorti des ténèbres avec un plat de petits sandwichs roulés, le fin bec est venu nous délivrer. Pouvons-nous nous évader de ces chaînes terrestres et voler avec les chèvres? La liberté, c'est de savoir quoi manger et quand; nous avons cédé à nos envies gastriques assez longtemps. Vous devez prendre votre bac vert avec fierté civique. Un équilibre entre la nutrition et l'exercice sera votre billet vers un au-delà sain et prospère. Le cauchemar d'un pique-assiette; nous avons engagé une personne dont le contrat à terme a été négocié de gré à gré. Rendez au dollar son pouvoir.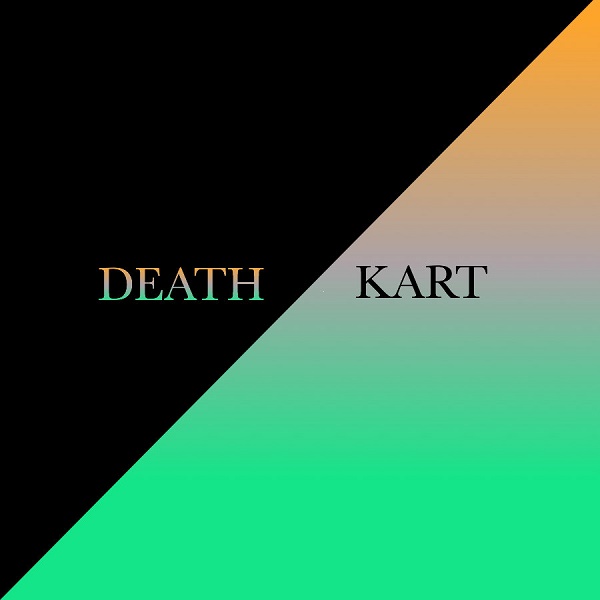 DEATH KART
DEATH KART
Victoria, BC
From the beach bum vigor of Joshua Robinson:
Super poppers from BC's Isle of Slack mix the fuzz with psych proclivities to make a sound brimming with the vigor of beach bummers and the steady flow of lo-fidelities. Down-tempo slackers spill their guts with the richness required to spin lysergic daydreams into hazy somnambulisms, replete with the rich overture of waking to repeat the cycle.
Par la vigueur de flâneurs de plage de Joshua Robinson:
(Par les rêveries lysergiques d' Émily Traichel)
Super poppers venu de l'île du Slack en Colombie-Britannique mixent les tendances fuzz et psych pour produire un son qui déborde de la vigueur de flâneurs de plage et du flux constant de basse-fidélités. Les slackers down-tempo vident leur sac avec la richesse requise pour faire tourner des rêveries lysergiques en somnambulismes vaporeux, remplis de la riche ouverture du réveil pour répéter le cycle.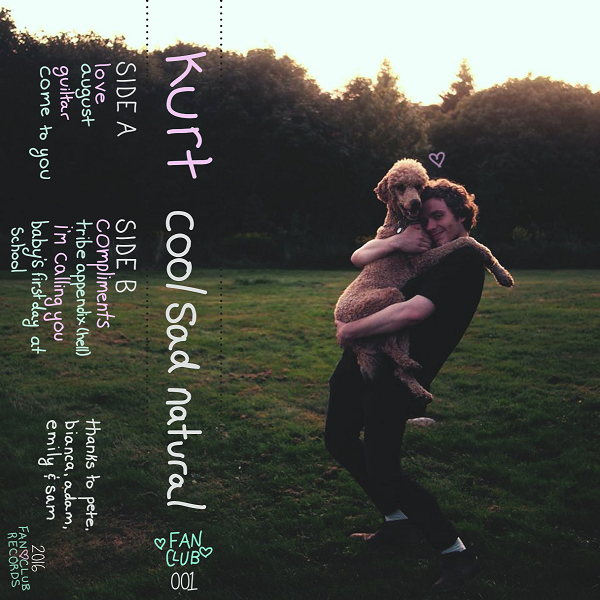 kurt
cool sad natural
Halifax, NS
From the cold shoulder of Katie Jensen:
Items tossed in a hard-shelled suitcase. Voicemails overwritten on glossy brown cassette tape. Damp socks dangling from the railing, heels dripping in quiet splashes. The hall mirror is staging an exclusive viewing of Sadsack Packs Up Things After Breakup, one night only, playing for an audience of precisely no one.
Cardboard boxes are sympathetic storage units, gobbling up smooth-rubbed talismans, creased comics scrawled in blue ballpoint, sweaters threaded with clove cigarette smoke.
A drumbeat taps like gentle pats on the back, or a dog wagging its tail against the hardwood. Tender guitar melodies flutter like a spring breeze, catching the linen skirt of the curtain. The answer couldn't be more obvious, and it couldn't be more miserable.
De l'accueil glacial de Katie Jensen:
(Traduit par Alison McReynolds)
Des objets jetés dans une valise rigide. Des messages vocaux remplacés sur une cassette brune lustrée. Des chaussettes humides pendent sur la rampe, des talons dégoulinent doucement. Le miroir du corridor monte une scène exclusive d'un Personnage Tragique En Train De Faire Ses Valises Après Une Rupture, un soir seulement, pour un public de précisément personne.
Des boites en carton sont des entrepôts sympathiques, engloutissant des talismans lissés, des bandes dessinées gribouillées en stylo bille bleu, des pulls tissés avec de la fumée de cigarette au clou de girofle.
Un tambour bat comme des tapes gentilles dans le dos, ou comme un chien remuant la queue sur un plancher de bois. Des mélodies tendres de guitares flottent comme une brise printanière, saisissant le bas du rideau. La réponse ne peut pas être plus claire et elle ne peut pas être plus misérable.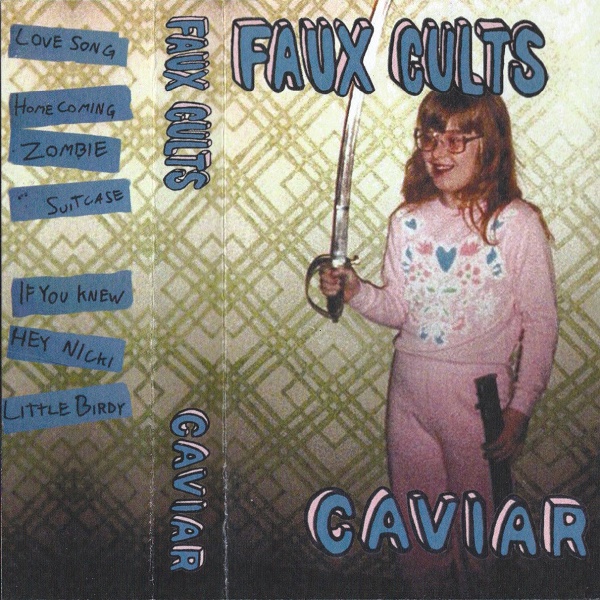 Faux Cults
Caviar
(Self-Released)
Peterborough, ON
From the gnarly swells of Mike Roy:
An abandoned fish tank sits in the corner of your parents' living room. The tank is still half-full, void of life beyond its tropical beach backdrop. An aimless surfer is face down in a growing pit of algae. You approach the glass and tap to find a pulse. Tick. Tick. A hairline crack is formed. It grows and grows. The tank comes to life. Tick. Tick. The surfer twists in his pit of algae to look at you. A longing for a swell to escape Tick. Tick. Crack. Water gushes through the room, liberated to all corners of the room. The surfer rides these currents to land by your feet. The energy of an endless summer from a long forgotten memory warms the room. The look of longing evolves to a smile.
Des gonflements fous de Mike Roy:
(Traduit par l'adulation en série Mackenzie Smedmor)
Un aquarium abandonné est posé au coin du salon de tes parents. Il est toujours à moitié rempli, dépourvu de vie autre que le fond de plage tropicale. Un surfeur vagabond est à plat ventre dans un trou croissant d'algues. Tu t'approches du verre et tapes à la recherche de son pouls. Tick. Tick. Une petite fissure se forme. Elle croît et croît. L'aquarium prend vie. Tick. Tick. Le surfeur se serpente dans son trou d'algues pour te regarder. Une envie pour qu'un gonflement s'échappe. Tick. Tick. Crack. L'eau jaillit dans la salle, libérée dans chaque coin de la salle. Le surfeur monte ces courants pour atterrir à tes pieds. L'énergie d'un été sans fin d'une mémoire longtemps oublié réchauffe le salon. Le regard d'envie s'évolue en sourire.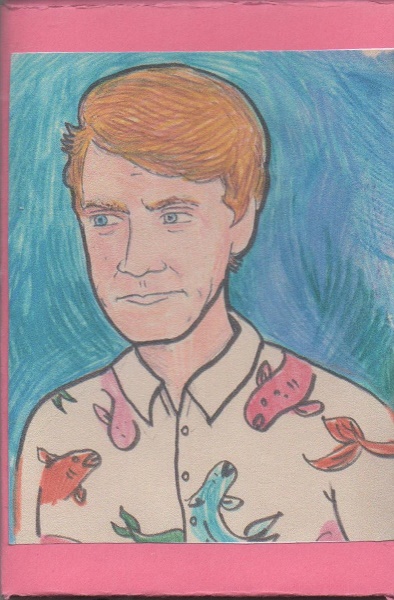 Watershed Hour
From Your Best Friend
(Not Quite)
Peterborough, ON
From the bent antenna of Mackenzie Smedmor:
We interrupt your regularly scheduled saloon shenanigans with a sludgy sonic invasion. Watershed Hour pounds Peterborough's airwaves with femme fatale howls and supernaturally infectious rhythms, hooking your ears faster than you can change the channel. This joint's midnight snack special is blood and guts with a side of crunchy peanut butter straight from the jar. Skip the coffee, the hypnotic harsh bass lull will shake you awake until morning.
From Your Best Friend is an on-the-house tonic of uncensored late-night television escapism.
De l'antenne tordue de Mackenzie Smedmor:
(Traduit par la deuxième bouche de Mackenzie Smedmor)
Nous interrompons votre programmation de niaiserie de saloon régulière avec une invasion sonique boueuse. Watershed Hour frappe fort sur les ondes de Peterborough avec des hurlements de femme fatale et des rythmes surnaturellement contagieux qui vous accrochent les oreilles plus rapidement que vous pouvez changer de chaîne. Le spécial de minuit de ce resto, c'est le sang et la chair accompagné de beurre d'arachide croquant directement du pot. Sautez le café, la berceuse de basse rugueuse et hypnotique vous agitera jusqu'au matin.
From Your Best Friend est un tonic offert par la maison d'évasion non censurée de télévision nocturne.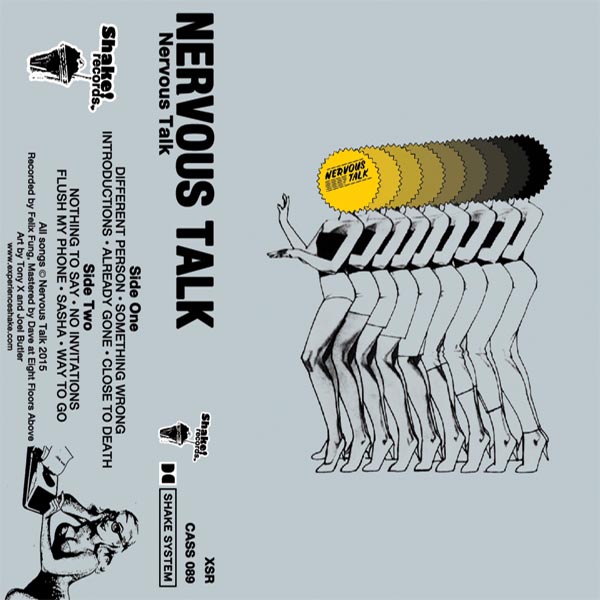 Nervous Talk
Nervous Talk
Vancouver, BC
From the rat face of Kyle Valade:
Nervous Talk's self-titled tape is a violent daydream on a Friday afternoon. Listening at work, you'll have no choice but to play some ferocious air drums while the guitar player throws in tastefully flashy touches all over the place. There's some 60's and 70's ground up and thrown into the mix, but you'll find yourself pining for going from show to show down Hastings. Walking late through the Downtown Eastside with its concrete, rats, and shipping containers, intersecting with pals you only see at shows, heading outside between bands, and listening to the real thing.
De la face de rat de Kyle Valade:
(Traduit par Sergio Calla)
La bande audio éponyme de Nervous Talk est une violente rêverie d'un vendredi après-midi. L'écoute au travail donne le gout de jouer sauvagement à la batterie invisible, alors que le guitariste démontre avec vigueur, son gout « tape à l'œil » charmant. Le mélange des années 60 et 70, donne envie de faire la tournée des spectacles le long du boulevard Hastings. Se promener tard à l'est d'un centre-ville tout en béton, les rats et les conteneurs d'expédition, croisant des copains que vous ne voyez que pendant l'entracte des shows tout en écoutant ce qui est authentique.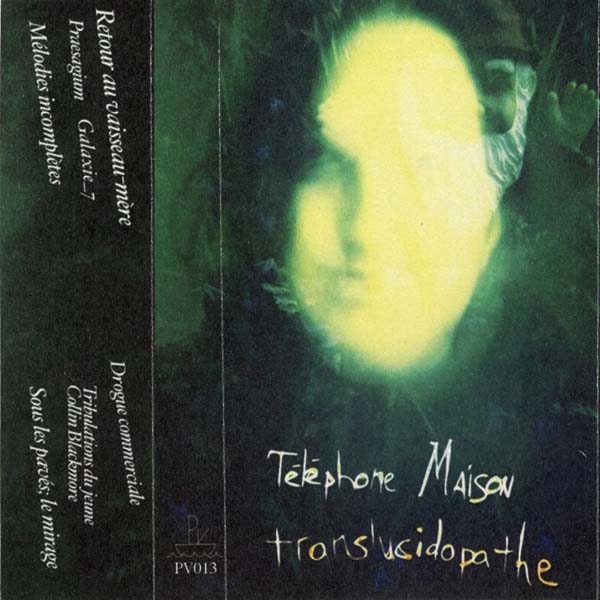 Téléphone Maison
Translucidopathe
Montréal, QC
From the tired mind of Piper Curtis:
Feeling: Incomplete.
Moving through a smoky hallway, loose green fabrics draped from the walls and ceiling. Wires sparking.
Dancing formlessly in this peculiar space. Move with me, see through me. Here we are transient.
Missing: Nothing.
De l'esprit fatigué de Piper Curtis:
(Traduit par Julie Mayer)
Sentiment d'inachevé
Se déplacer le long d'un couloir enfumé, des tissus verts et lâches pendent des murs et du plafond. Des câbles font des étincelles.
Danser de manière abstraite dans cet espace singulier. Bougez avec moi, voyez à travers moi. Ici, nous sommes éphémères.
Ce qui manque : Rien
Téléphone Maison – Praesagium (ft. Velvet Glacier)
---