Category: cassette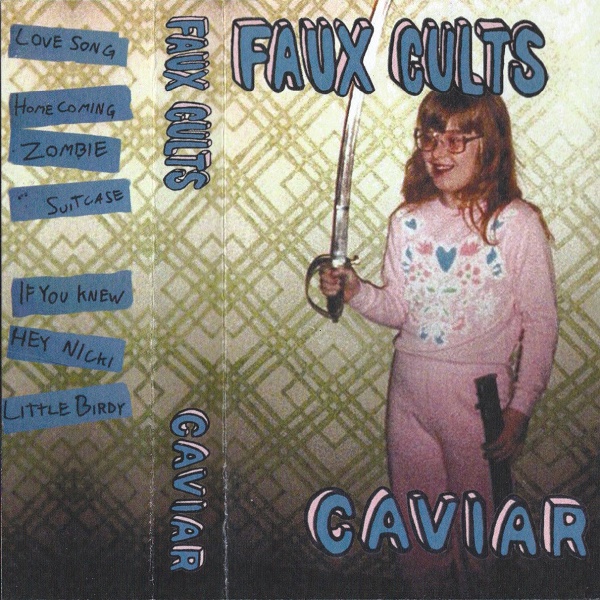 Faux Cults
Caviar
(Self-Released)
Peterborough, ON
From the gnarly swells of Mike Roy:
An abandoned fish tank sits in the corner of your parents' living room. The tank is still half-full, void of life beyond its tropical beach backdrop. An aimless surfer is face down in a growing pit of algae. You approach the glass and tap to find a pulse. Tick. Tick. A hairline crack is formed. It grows and grows. The tank comes to life. Tick. Tick. The surfer twists in his pit of algae to look at you. A longing for a swell to escape Tick. Tick. Crack. Water gushes through the room, liberated to all corners of the room. The surfer rides these currents to land by your feet. The energy of an endless summer from a long forgotten memory warms the room. The look of longing evolves to a smile.
Des gonflements fous de Mike Roy:
(Traduit par l'adulation en série Mackenzie Smedmor)
Un aquarium abandonné est posé au coin du salon de tes parents. Il est toujours à moitié rempli, dépourvu de vie autre que le fond de plage tropicale. Un surfeur vagabond est à plat ventre dans un trou croissant d'algues. Tu t'approches du verre et tapes à la recherche de son pouls. Tick. Tick. Une petite fissure se forme. Elle croît et croît. L'aquarium prend vie. Tick. Tick. Le surfeur se serpente dans son trou d'algues pour te regarder. Une envie pour qu'un gonflement s'échappe. Tick. Tick. Crack. L'eau jaillit dans la salle, libérée dans chaque coin de la salle. Le surfeur monte ces courants pour atterrir à tes pieds. L'énergie d'un été sans fin d'une mémoire longtemps oublié réchauffe le salon. Le regard d'envie s'évolue en sourire.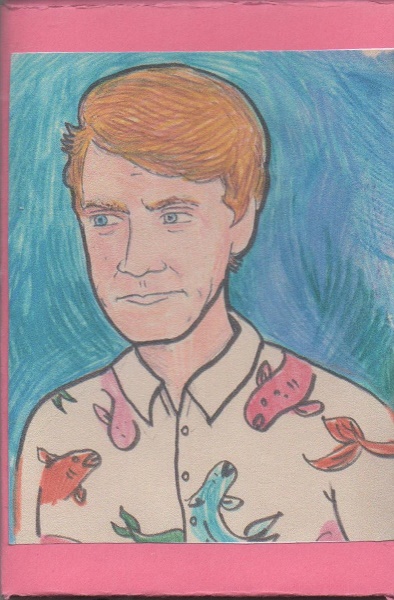 Watershed Hour
From Your Best Friend
(Not Quite)
Peterborough, ON
From the bent antenna of Mackenzie Smedmor:
We interrupt your regularly scheduled saloon shenanigans with a sludgy sonic invasion. Watershed Hour pounds Peterborough's airwaves with femme fatale howls and supernaturally infectious rhythms, hooking your ears faster than you can change the channel. This joint's midnight snack special is blood and guts with a side of crunchy peanut butter straight from the jar. Skip the coffee, the hypnotic harsh bass lull will shake you awake until morning.
From Your Best Friend is an on-the-house tonic of uncensored late-night television escapism.
De l'antenne tordue de Mackenzie Smedmor:
(Traduit par la deuxième bouche de Mackenzie Smedmor)
Nous interrompons votre programmation de niaiserie de saloon régulière avec une invasion sonique boueuse. Watershed Hour frappe fort sur les ondes de Peterborough avec des hurlements de femme fatale et des rythmes surnaturellement contagieux qui vous accrochent les oreilles plus rapidement que vous pouvez changer de chaîne. Le spécial de minuit de ce resto, c'est le sang et la chair accompagné de beurre d'arachide croquant directement du pot. Sautez le café, la berceuse de basse rugueuse et hypnotique vous agitera jusqu'au matin.
From Your Best Friend est un tonic offert par la maison d'évasion non censurée de télévision nocturne.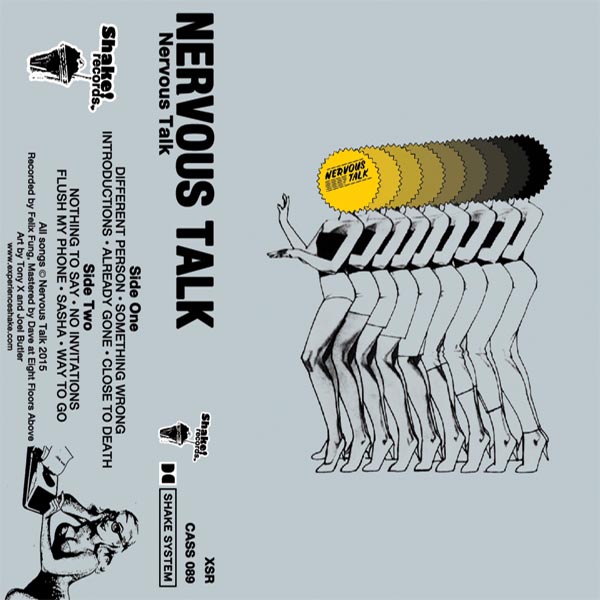 Nervous Talk
Nervous Talk
Vancouver, BC
From the rat face of Kyle Valade:
Nervous Talk's self-titled tape is a violent daydream on a Friday afternoon. Listening at work, you'll have no choice but to play some ferocious air drums while the guitar player throws in tastefully flashy touches all over the place. There's some 60's and 70's ground up and thrown into the mix, but you'll find yourself pining for going from show to show down Hastings. Walking late through the Downtown Eastside with its concrete, rats, and shipping containers, intersecting with pals you only see at shows, heading outside between bands, and listening to the real thing.
De la face de rat de Kyle Valade:
(Traduit par Sergio Calla)
La bande audio éponyme de Nervous Talk est une violente rêverie d'un vendredi après-midi. L'écoute au travail donne le gout de jouer sauvagement à la batterie invisible, alors que le guitariste démontre avec vigueur, son gout « tape à l'œil » charmant. Le mélange des années 60 et 70, donne envie de faire la tournée des spectacles le long du boulevard Hastings. Se promener tard à l'est d'un centre-ville tout en béton, les rats et les conteneurs d'expédition, croisant des copains que vous ne voyez que pendant l'entracte des shows tout en écoutant ce qui est authentique.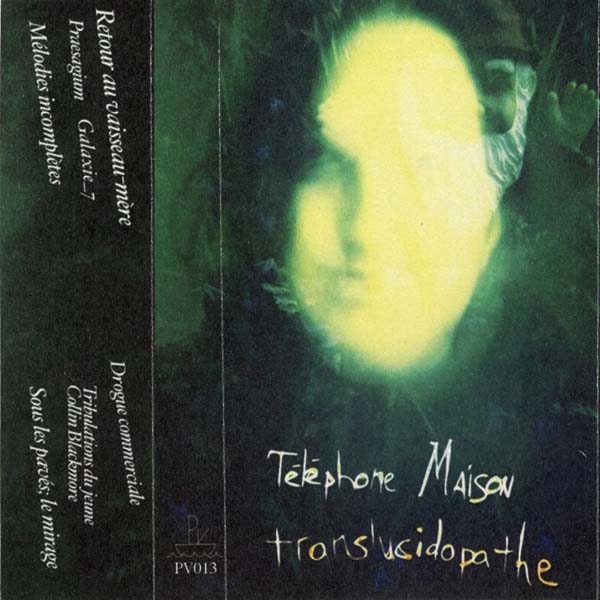 Téléphone Maison
Translucidopathe
Montréal, QC
From the tired mind of Piper Curtis:
Feeling: Incomplete.
Moving through a smoky hallway, loose green fabrics draped from the walls and ceiling. Wires sparking.
Dancing formlessly in this peculiar space. Move with me, see through me. Here we are transient.
Missing: Nothing.
De l'esprit fatigué de Piper Curtis:
(Traduit par Julie Mayer)
Sentiment d'inachevé
Se déplacer le long d'un couloir enfumé, des tissus verts et lâches pendent des murs et du plafond. Des câbles font des étincelles.
Danser de manière abstraite dans cet espace singulier. Bougez avec moi, voyez à travers moi. Ici, nous sommes éphémères.
Ce qui manque : Rien
Téléphone Maison – Praesagium (ft. Velvet Glacier)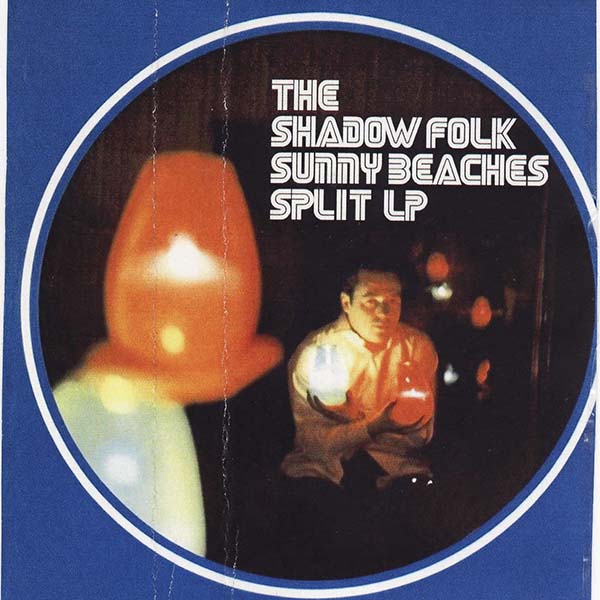 Shadow Folk // Sunny Beaches
Split
Halifax, NS
Des gains capitaux de Gabe Girard:
(Traduit par le chocolat chaud de Julie Mayer)
La Nouvelle-Écosse passe son flambeau de sensibilité pop rock à un autre groupe de mécréants slameurs. Toute la crème de Poncho records figure sur ce split album de The 13th Basement of Hell. Shadow Folk et Sunny Beaches distillent le Kool-Aid, le réduisent, le coupent avec du Tang et se piquent avec. Oseriez-vous en prendre? L'aimeriez-vous?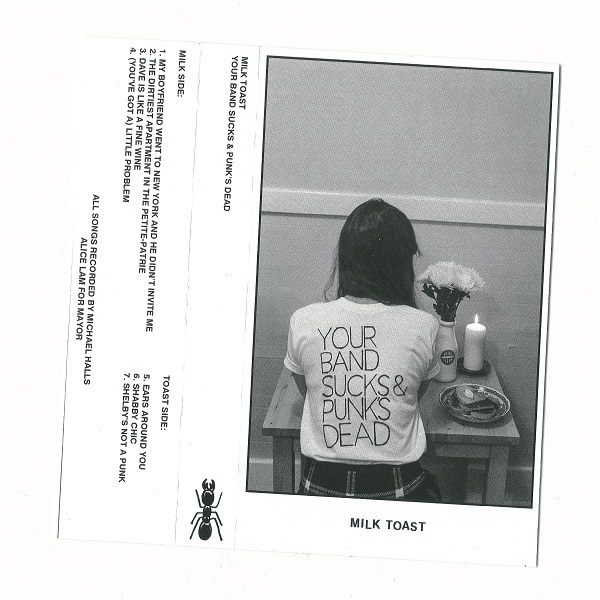 Milk Toast
Your Band Sucks & Punk's Dead
Calgary, AB
From the insulated Ontarios of Mitch Jackson:
What place does punk occupy within the spaces of aggregated, reblogged and retweeted content? Undead punks wander the streets of Canadian cities, looking like Canadian Classic cigs carrying Crass CDs, looking for authenticity. If Calgary's Milk Toast has any say, punk died, and it fuckin' sucked anyways. The only way to fight the surviving incestual punXXX and neo-grunge chic is snarky commentary and Montreal guitar pop with added bite from some westernly wit sculpted in the image of prairie circumpolar winds. Here is a much needed survival guide.
Par les Ontarios isolés de Mitch Jackson:
(Par les humeurs printanières d' Émily Traichel)
Quelle place occupe le punk parmi les lieux du contenu agrégé, rebloggué et retweeté? Les punks mort-vivants flânent dans les rues des villes canadiennes, avec l'air des cigarettes Canadian Classic portant des CDs de Crass, à la recherche d'authenticité. Si Milk Toast de Calgary a son mot à dire, le punk est mort, et c'était crissement nul de toute façon. Le seul moyen de combattre les incestueux punXXX et chic neo-grunge survivants, ce sont les commentaires narquois et le guitar-pop montréalais avec du mordant ajouté par un esprit de l'ouest sculpté à l'image des vents circumpolaires des prairies. Voici un guide de survie très attendu.
Milk Toast – My Boyfriend Went to New York and He Didn't Invite Me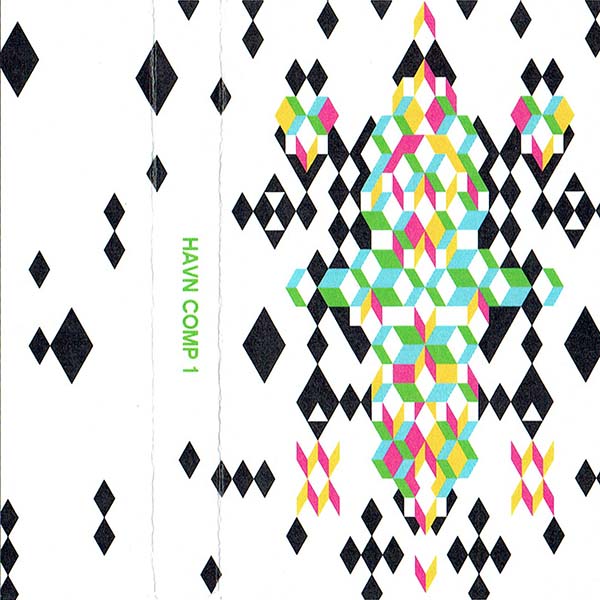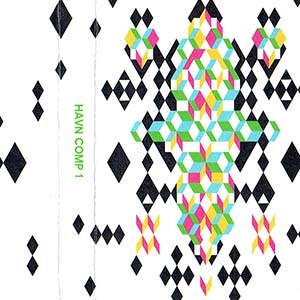 Various Artists
HAVN COMP 1
(HAVN)
Hamilton, ON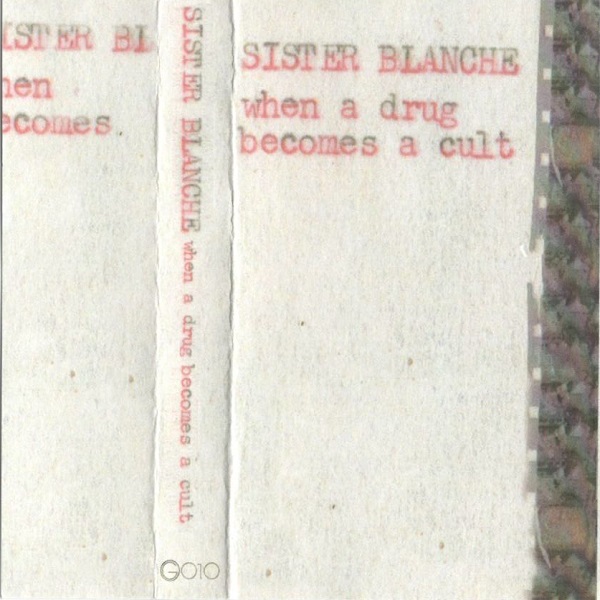 Sister Blanche
When a Drug Becomes a Cult
(Gary Cassettes)
Victoria/Vancouver, BC
From the gnawed appendages of Piper Curtis:
Wandering through a witchy haze, feet not quite touching the ground. Waves of discontent fill the air. Feeling intensely lovely, calm amongst unrest and agitation. There is a dissonance between us and this fuzzy dreamscape.
Static, moving all around. Witches watch through a shroud of fog. Dusk descended before we awoke here and remains, permeating.
Par les appendices rognés de Piper Curtis:
(Traduit par la scansion sabbatique de Benoit Arcand)
Errance dans une brume de sabbat, les pieds pas tout à fait au sol. Des ondes de discorde emplissent l'atmosphère. Le sentiment d'être ardemment aimable et posé dans ce tumulte, ce trouble. Il y a dissonance entre nous et ce paysage onirique flou.
La statique fluctuant tout autour. Des sorcières guettent à travers des linceuls de brouillard. Le crépuscule tombe avant que nous nous réveillions, et demeure, prégnant.
Sister Blanche – When A Drug Becomes A Cult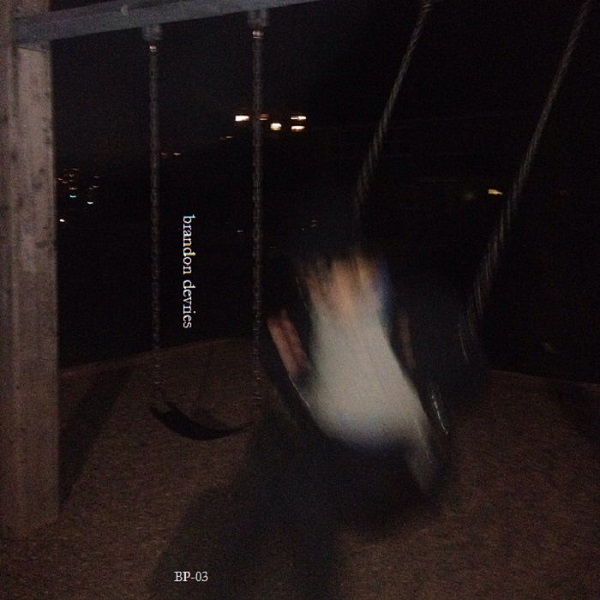 Brandon DeVries
Self-Titled
(Self-Released)
Halifax, NS
From the many couches of Eva Jane:
For a short sweet 12.1 minutes you get to join Brendan DeVries in his bedroom. The intimacy he has with his lyrics provides you with the sense that you're not in the room with him, but sitting outside, leaning against the wall by the door frame, listening in. And one gains an understanding that this is what he intended. He carries the light and delicate parts of an ethereal touch throughout this self titled album, bringing normal terrestrial business (such as in "Peach Pit" and "Shower Song") a little higher. Another good folk sharing his individual, natural feedback.
Des nombreux divans d' Eva Jane:
(Traduit par Diane Beaupré)
Pendant 12,1 brèves et charmantes minutes, vous avez le privilège d'être avec Brendan DeVries dans sa chambre. L'intimité qu'il partage avec les paroles vous donne l'impression que nous n'êtes pas dans la pièce avec lui, mais assis contre la porte à l'extérieur de la chambre. Et vous réalisez que c'est ce qu'il souhaitait. Il donne à tout l'album éponyme une impression aérienne composée de parties légères et délicates, qui emporte les préoccupations terre-à-terre un peu plus haut (comme dans les morceaux "Peach Pit" et "Shower Song"). Un autre bon gars qui exprime ses propres opinions au naturel.
Corridor
Le voyage éternel
(Self-Released)
Montréal, QC
From the apocryphal odyssey of Benoit Arcand:
(Translated by the bottle of Julie Mayer)
No QR code will open a window here to let in a fresh breeze of signifiers. To hear the apocryphal odyssey that is Le voyage éternel, you will have to row upside down, walk the tightrope of a groundswell, then drop right in the hatchway, between Moloch's toes. This hyperbole won't have been vain: with the plume snatched out from the cherub you now tickle the mermaids' bottom while singing trash, the world is trash, waltz with Lazarus among the ruins, delouse the Minotaur and, since you are there, reconstitute the titanomachy with its arthropods. Such is the size of the labyrinth lying under your feet where rock is revealed in a clamour of cyclopean riffs, and sublimated under the pressure of saxifrage rhythms. Carry along its nuggets of good news with this straw until your substantive skull blooms.
Corridor – L'entrée du portail
---