Category: cassette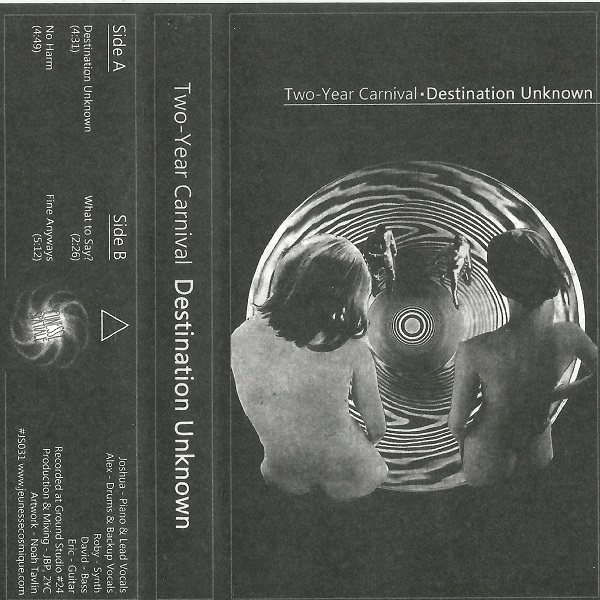 Two-Year Carnival
Destination Unknown
Montreal, QC
From the bruised muse of Mark Anthony Brennan:
Flowers: plucked from the garden of your mind. Now that the destination is known it makes sense that the flowers smell sweeter. They always do when they are about to die. The Two-Year Carnival is about to leave town, never to return.
De la muse flétrie de Mark Anthony Brennan:
(Par la plume esquintée d' Aliké Harel)
Les fleurs : bouquet cueilli au jardin de l'esprit. La destination maintenant dévoilée, le parfum des fleurs est d'autant plus suave. Il en est toujours ainsi lorsqu'elles sont sur le point de mourir. Two-Year Carnival est sur le point de quitter la ville, pour ne jamais revenir.
Two Year Carnival – Destination Unknown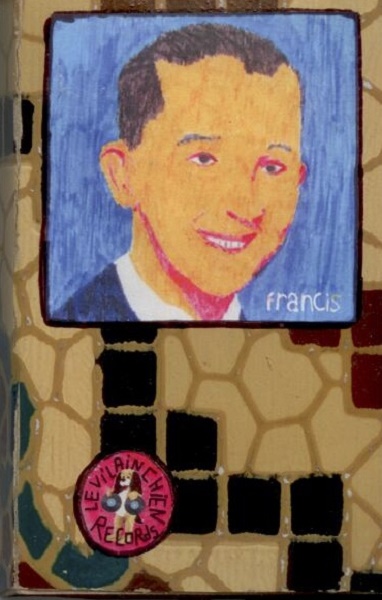 Houtitoutah
Francis
Montreal, QC
From the tribalistic brain of Mailis Rodrigues:
When Montreal becomes a tropical city, yes it's possible! You can slowly feel your body melt. Before you lose all your senses, have a drink with refreshing Francis. Dance like crazy with Martin, sing along with Jym. Exorcise your body with this frenetic, erratic rhythm that transports your soul – sometimes to the middle of a jungle populated with spirits, sometimes to the empty space ahead of us. It's time to discover Houtitoutah, the best soundtrack for your next sci-fi movie. Don't forget the popcorn!
Du cerveau tribaliste de Mailis Rodrigues:
(Traduit par la sarbacane endiablée de Julie Mayer)
Lorsque Montréal se fait ville tropicale (oui, c'est possible!), vous pouvez lentement sentir votre corps fondre. Avant de perdre tous vos sens, prenez un verre avec le rafraîchissant Francis. Dansez comme des fous en compagnie de Martin, chantez avec Jym. Exorcisez votre corps avec ce rythme erratique et frénétique qui transporte l'âme, parfois au milieu d'une jungle peuplée par des esprits, parfois vers le vide qui nous attend. C'est le temps de découvrir Houtitoutah, la meilleure trame sonore pour accompagner votre prochain film de science-fiction. N'oubliez pas le popcorn!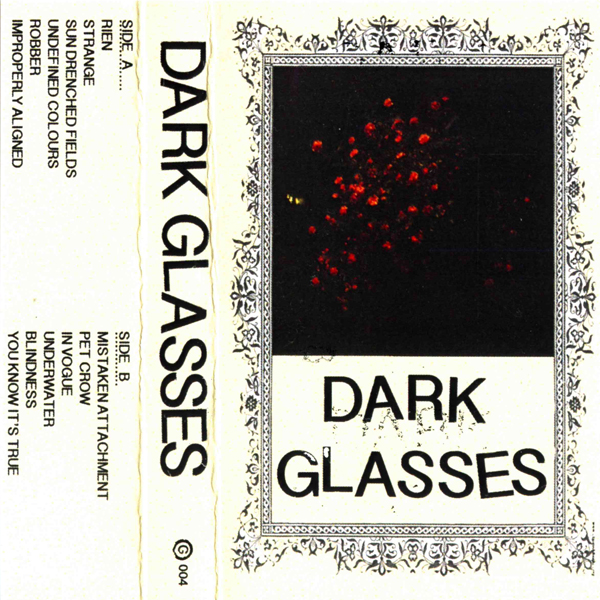 Dark Glasses
Dark Glasses
(Gary Cassettes)
Victoria, BC
From the tinted glass of Johnnie Regalado:
Slow things down and take a look at the world through a slightly darker hue. Fountain bassist, Declan Hughes, steps out from the shadows and into the shade with his debut release as Dark Glasses. A gathering of Victoria's post-punk usual suspects, this finely crafted tape is full of tunes that mutate from brooding, moody melodies into a perpetual downtempo dance party.
Des verres teintés de Johnnie Regalado:
(Traduit avec la tonalité légèrement plus sombre de Virginie Langlois)
Ralentissez la cadence et observez le monde habillé d'une tonalité légèrement plus sombre. Declan Hughes, bassiste de Fountain, sort de l'ombre sans s'exposer au soleil pour autant avec ce premier album du groupe Dark Glasses. Rassemblement des habituels suspects de la scène post-punk de Victoria, cette cassette finement ciselée regorge de chansons alternant entre mélodies sombres et maussades et musiques dansantes au downtempo perpétuel.
Dark Glasses – Mistaken Attachment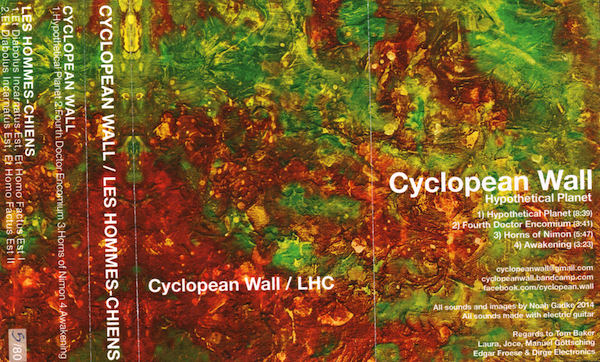 Cyclopean Wall
Hypothetical Planet
(Self Released)
Toronto, ON
From the outer limits of Katie Jensen:
Monophonic guitars swirl towards a silvery nexus like draining bathwater, sucking and sputtering into a hollow vortex.
Spirographic noumena orbit an event horizon, watching time crawl on its hands and feet as magnetic lovers are drawn together in polar opposition, ripping themselves free at the promise of a chance encounter with an alternating current.
Shaking fingers parse cohesion from meaningless conversations. Mouthless smiles leak familiar words; sneered jabs plunged deep into diaphragmatic cradles protecting cloistered emotional hospices. You grit your teeth, you growl. You chew on enameled dust. The moon glowers. It has seen it all before.
Par les limites externes de Katie Jensen:
(Par les contemplations au beurre de peanut d'Émily Traichel)
De guitares monophoniques tourbillonnent vers un noyau argenté comme l'eau du bain qui se vide, suçant et crachotant en un creux vortex.
Des noumènes spirographiques orbitent à l'horizon d'un évènement, observant le temps qui se déplace à quatre pattes tandis que les amoureux magnétiques sont attirés l'un vers l'autre en opposition polaire, s'affranchissant pour la promesse d'une rencontre fortuite avec un courant alternant.
De doigts tremblants examinent la cohésion des conversations dénuées de sens. Des sourires sans bouche laissent écouler des mots familiers; des coups moqueurs plongent profondément dans les berceaux diaphragmatiques qui protègent les hospices émotionnels cloîtrés. Vous serrez les dents, vous grognez. Vous rongez de la poussière émaillée. La lune jette un regard noir. Elle a déjà tout vu.
Cyclopean Wall – Hypothesized Planet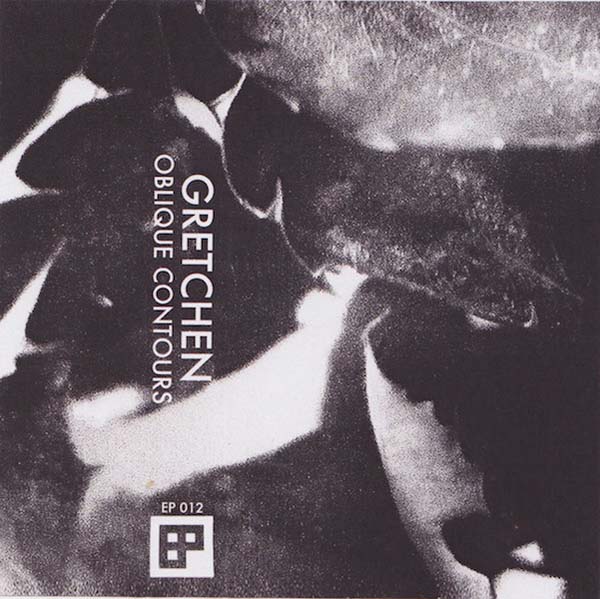 Gretchen
Oblique Contours
Montréal, QC
From the salt crust of Katie Jensen:
A drag race on a long desert plain. The crowd squints through a cage of slatted fingers. Muffled snares struggle beneath impatient feet while guitars churn, stoking revving engines with an ill-tempered, sour heat. Useless torque gathers traction and flings it forward. A brief moment of fervid acceleration, then:
The cord pulls taut, straining against the grip of two nervy guitars. The road becomes a fluttering roll of soiled organza, scattered with bouncing, jagged metal; a conveyor belt sending parts in all directions. Sweat collects in beads, eagerly saved for later, to be drunk in the misery of a darkened basement.
De la croûte de sel de Katie Jensen:
(Traduit par les essuie-glaces désynchronisés de Julie Mayer)
Une course d'accélération sur une longue plaine désertique. La foule plisse les yeux à travers une cage faite de lattes en doigts. Les caisses claires assourdies peinent sous des pieds impatients pendant que les guitares cinglantes ravivent des moteurs vrombissants d'une aigre chaleur maussade. Un couple inutile crée une traction et la projette vers l'avant. Un bref moment d'accélération fervente, puis :
La corde se tend et se débat contre la poigne de deux guitares stressantes. La route se transforme en rouleau flottant d'organza souillé, parsemé de métal denté et bondissant : un convoyeur qui envoie des pièces dans tous les sens. Les perles de sueur recueillies sont gardées avec empressement pour plus tard, afin d'être bues dans la misère d'un sous-sol assombri.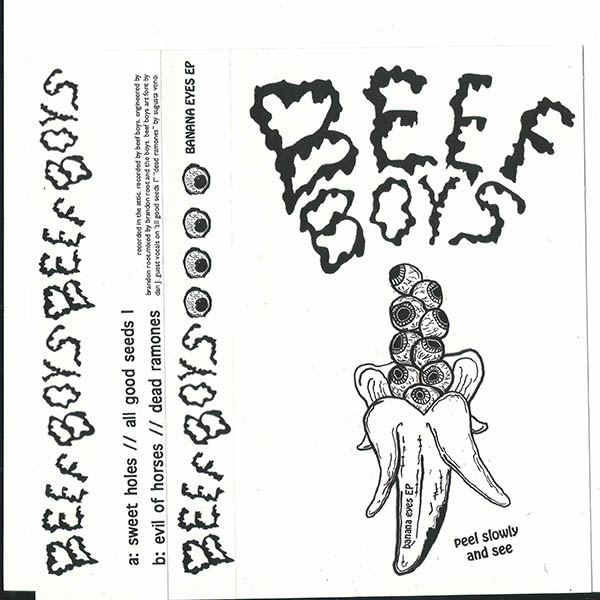 BEEF BOYS
Banana Eyes EP
(Four Eyes Recordings)
Peterborough, ON
From the anxiety ridden thought diarrhea of Mitch Jackson:
The last time I found myself in Peterborough I puked on the hood of someone's Buick. For the unacquainted, Peterborough is a safe haven in the surrounding Mad Max-esque shit storm of all terrain vehicles, and big lifted rigs. Beef Boys emanate from the underbelly of Peterborough, emerging through a slaughterhouse of reverb and fuzz, trading off surf and garage influences. They're decidedly greasy, and I have a sneaking suspicion that they all had a hell of a time tucking their flows into a bucket in minor league puck.
De la diarrhée causée par la pensée chargée d'anxiété de Mitch Jackson:
(Traduit par la surdose d'ipéca de Julie Mayer)
La dernière fois que je me suis retrouvé à Peterborough, j'ai vomi sur le capot de la Buick à quelqu'un. Pour ceux qui ne connaissent pas, Peterborough est un havre de paix situé dans le merdier Mad Max-esque débordant de véhicules tout-terrain et de grosses camionnettes qui font des cascades. Beef Boys émane des entrailles de Peterborough, émerge à travers un abattoir de réverbération et de fuzz et oscille entre des influences surf et garage. Les membres du groupe sont tout à fait louches et je commence à soupçonner qu'ils ont eu un mal fou à rentrer leur tignasse dans leur casque quand ils jouaient au hockey mineur.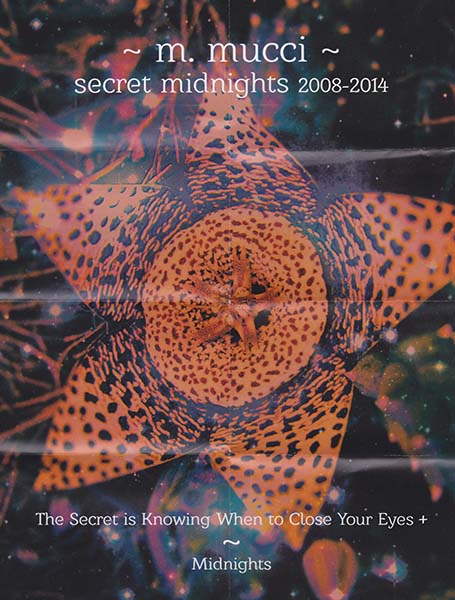 M. Mucci
Secret Midnights
Guelph, ON
From the mesmerized apertures of Joshua Robinson:
Side B of this release was previously written about here.
Slowly, ever so slowly, thought takes form. Nadirs of fleeting melody particulate, each fleck of minute detail whisking away from its source; whisking away from itself. Slowly, ever so slowly, these details coalesce and emerge just as they fray at the seams and come to rest as tablatures too delicate to decipher. The re-release of this material is not only an acknowledgment of its quality, it is the recognition of how fragile permanence (as memory) can be. Incarnate tones tiptoe over themselves, their brittleness that which indentures their longevity. For all that is young and quiet, grow old and fond. For all that is fleeting and transient, stay still.
Des ouvertures ensorcelantes de Joshua Robinson:
(Traduit par Mylène Quevillon)
Lentement, toujours plus lentement, les pensées prennent forme. Les nadirs des particules d'une mélodie fugace, chaque détail minuscule qui passe transporté loin de sa source; transporté loin de son centre. Lentement, toujours plus lentement, ces détails s'amalgament et se décomposent, se déposent en tablatures trop petites pour être déchiffrées. La réédition de ces oeuvres n'est pas seulement un gage de leur qualité, c'est aussi la reconnaissance de la fragilité de la permanence et de la mémoire. Les tonalités incarnées s'entrechoquent, créant une fragilité qui diminue leur longévité. Étant donné que tout ce qui est jeune et tranquille vieillit et se gâte. Étant donné cette fugacité éphémère, restez immobile.
M. Mucci – The Secret is Knowing When To Close Your Eyes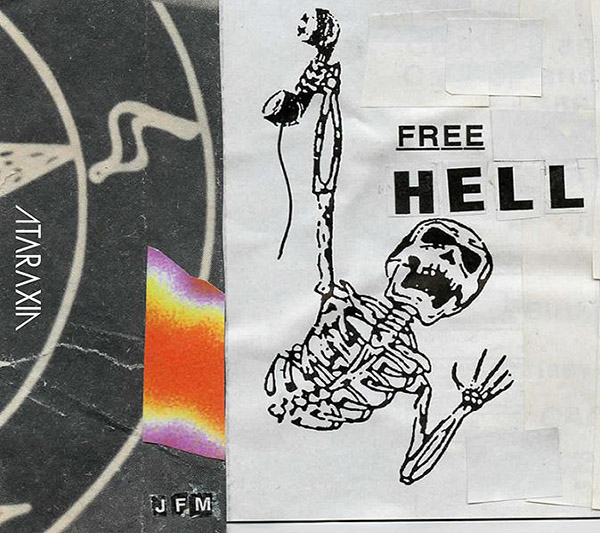 From the dark park head throb of Trevor Angst:
Six decades of Marvin Berry's static activity leaves his skeletal remains in a state of statue. Run a time lapse and watch his hands ossify into a debilitating age of contractured claws to bind an eternal grip around his handset. Pry the landline from his cold dead hands and listen to the receiver closely. Don't mistake it for a dial tone. Jesse Frank Matthews will take you on a journey of a sample-rich miscellany titled Free Hell. Start your descent into this segueing sound collage by dancing to the familiar realms of industrial electro body with a hydraulic lift backdrop. Pan into reverse truncated vocals over a stovetop boil melting BPM breakbeat and carry onward.
De la pulsation de tête au parc sombre de Trevor Angst:
(Traduit par la tempête de cheveux bleu et vert de Mackenzie Smedmor)
Les six décennies d'activité statique de Marvin Berry cèdent ses ossements dans l'état d'une statue. Au fil d'un laps de temps, observez ses mains scléroser en une ère débilitante de griffes contracturées qui serre éternellement dans sa poignée son téléphone. Forcez la téléphonie fixe de ses mains froides mortes et écoutez attentivement le récepteur. Ne le trompez pas pour une tonalité de numérotation. Jesse Frank Matthews vous emmènera en voyage à travers un mélange de prélèvement riche intitulé Free Hell. Débutez votre descente dans ce collage sonore incessant avec une danse au royaume du corps électro industriel devant un fond d'ascenseur hydraulique . Faites un panoramique sur les chants tronqués inversés au-dessus d'une cuisinière aux gros bouillons qui fait fondre les battements par minute du breakbeat et continue vers l'avant.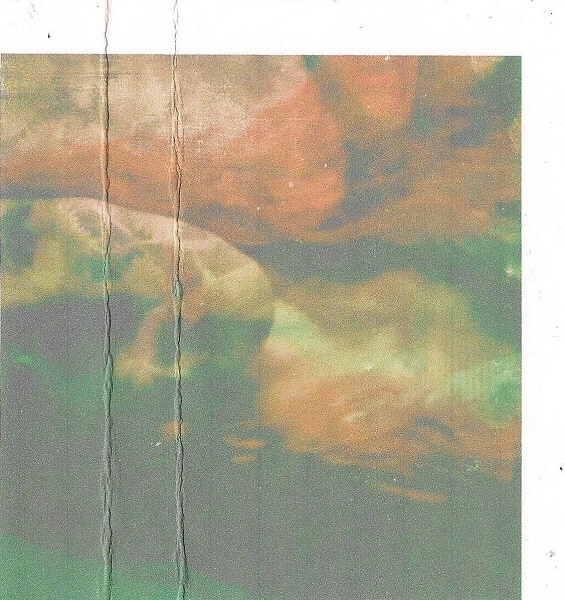 YlangYlang
Mutualism
Montreal, QC
From the gnawed appendages of Piper Curtis:
Don't be afraid. We are embarking on a celestial sojourn. Feel the waves of the cosmic sea washing gently over you. It is calm here. Floating naturally, we need no vessel in the astral plane. A glimpse into the future, or the past. Time here is an uneven flow, drifting in and out of sync with itself. Listen to the hum of the universe. Follow my voice.
All is ethereal. Beautiful. You are safe here.
Par les membres rongés de Piper Curtis:
(Traduction puisée du présent-passé d'Émily Traichel)
N'ayez pas peur. Nous embarquons pour un séjour céleste. Sentez les vagues de la mer cosmique qui vous saucent tout doucement. C'est calme, ici. Flottant naturellement, nous n'avons besoin d'aucun navire sur le plan astral. Un coup d'œil dans le futur, ou bien dans le passé. Le temps ici est un flux irrégulier, dérivant régulièrement de son auto-synchronisation. Écoutez le bourdonnement de l'univers. Suivez ma voix.
Tout est éthéré. Magnifique. Vous êtes en sécurité ici.
YlangYlang – Descent In A Feminine Breakdown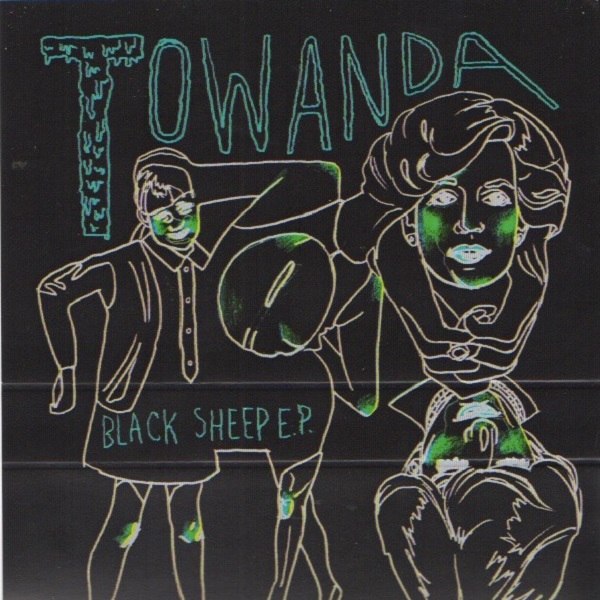 Towanda
Black Sheep
Montreal, QC
From the visual reveries of Simon Provencher:
Evoking rich gouache painted by the best preschoolers in the class, Black Sheep is lively, rich, energetic and almost naïve in its simplicity. This album gives us a powerful brushstroke of vocals that resonates through textured distortions, creating impressive feline rhythms. Without a doubt, there is a ton of creative genius behind and inside the haze of Towanda.
Des rêveries plasticiennes de Simon Provencher:
(From the Bescherelle of Zoë Christmas)
Rappelant une gouache épaisse, peinte par le plus talentueux des enfants de la garderie, Black Sheep est vif, immédiat, énergique et presque naïf par sa simplicité. On obtient, dans la galette, un puissant coup de pinceau vocal étoffé par des distorsions aux textures de carton mouillé et des rythmes fauves redoutables. Un génie créatif indéniable est évident derrière et dans le fuzz!
---