Category: cassette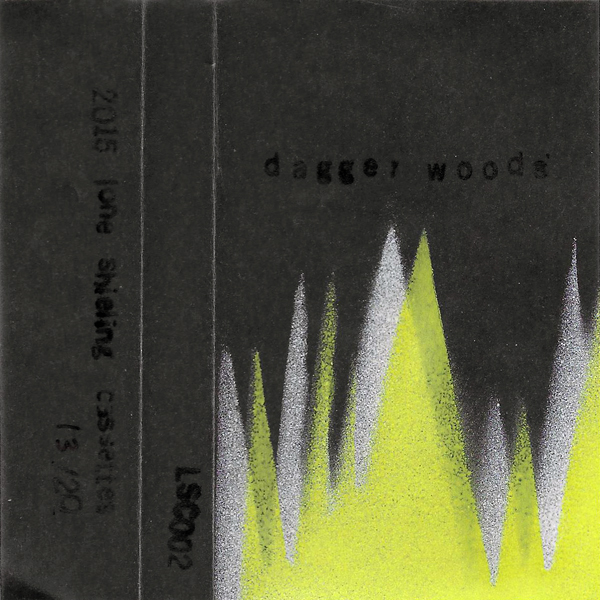 Dagger Woods
Dagger Woods EP
Sydney, NS
From the moss of Hailey Celesse McCarthy:
Pulsing with visceral cacaphonies and attentive soundscapes, Dagger Woods creates a cerebral pulse. Dagger Woods graft lo-fi and hi-fi components on spaced out, and the arrangement of their various sonic branches weave a healthy helix. Perilous at times, new teeth is a disquieting tangent. Though short, the EP is enduring.
De la mousse de Hailey Celesse McCarthy:
(Traduit par le pouls cérébral d' Odile Leclerc)
Palpitant de cacophonies viscérales et d'ambiances sonores attentives, Dagger Woods crée un pouls cérébral. Les composantes de basses et hautes définitions de Dagger Woods sur spaced-out et l'arrangement de leurs diverses branches soniques tissent un processus sain. Parfois périlleuse, new teeth est une tangente inquiétante. Bien que court, le EP est résistant.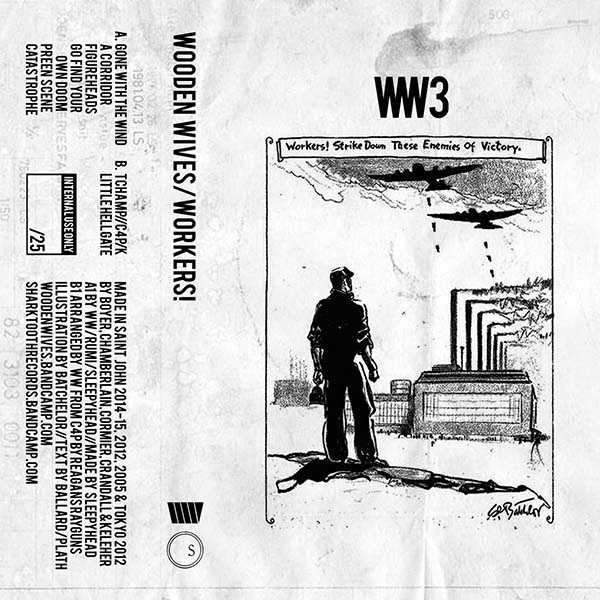 Wooden Wives
Workers! Strike Down These Enemies Of Victory
(Sharktooth Records)
Saint John, NB
From the calloused hands of Brian Cleveland:
WIVES IS OVER. With a decade-long presence that winds throughout Saint John's music scene, the Wooden Wives were unlikely to go out with anything but a bang as their ever-morphing, explosive presence comes to its inevitable conclusion. Despite containing mostly previously unreleased tracks, the final album from the Wooden Wives fittingly plays like a Best Of compilation, running the gamut between spoken word pieces, fast punk snippets, a cover, and long drone selections. Subverting the idea of what constitutes a song, the Wooden Wives relax the mind and energize the body. Influencing innumerable groups from the Maritimes and already splitting off to form a handful of their own exciting new projects, they are gone but hardly forgotten. Wooden Wives 2005-2015 RIP.
Des mains calleuses de Brian Cleveland:
(La sélection de drones d' Odile Leclerc)
Le temps des WIVES est fini Avec une présence sur presque toute la scène musicale de Saint-John's de 10 ans, il était peu plausible que les Wooden Wives n'allaient pas quitter sans frapper fort alors que leur présence explosive et toujours changeante vient à son inévitable conclusion. Malgré qu'il contient majoritairement des pistes précédemment non publiées, l'album final des Wooden Wives joue de façon appropriée comme un Best Of des compilations, dirigeant la gamme entre les fragments de mots parlés, les bribes rapides de punk, une couverture et une longue sélection de drones. Renversant l'idée de quoi constitue une chanson les Wooden Wives relaxent l'esprit et donnent de l'énergie au corps. Influençant d'innombrables groupes des Maritimes et s'étant déjà séparés pour former une poignée de leurs propres nouveaux projets excitants, ils sont partis, mais pas oubliés. Wooden Wives 2005-2015 RIP.
Wooden Wives – Gone With the Wind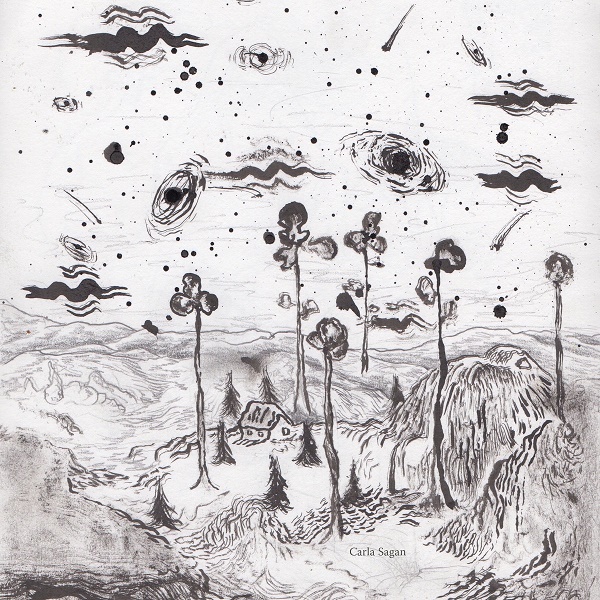 Carla Sagan
Observer Bias
(Self-Released)
Montreal, QC
From the of Local Dimension of Laura Donohue:
Predictably, another cosmic-Rorshach test is passed with flying colours. The Cosmos Update notes that there have been fewer sightings of UFOs and more stories of abductions. Good. Star-gazing on a sticky summer evening, we draw straws to decide who will try to convince the pilot to stop along the way and pick up all remaining pals. As long as we have each other we'll do well on Mars. We'll teach them frisbee.
De la dimension locale de Laura Donohue:
(De la soirée d'été collante d' Odile Leclerc)
Prévisiblement, un autre test de cosmique-Rorshach est passé haut la main. La Mise à jour du Cosmos constate qu'il y avait moins d'apparitions d'ovnis et plus d'histoires d'enlèvement. Bien. Regardant les étoiles par une soirée collante d'été, nous tirons à la courte paille pour décider qui va essayer de convaincre le pilote d'arrêter sur le chemin et de ramasser tous les amis restants. Pourvu que nous nous avons l'un l'autre, nous allons bien réussir sur Mars. Nous allons leur enseigner le frisbee.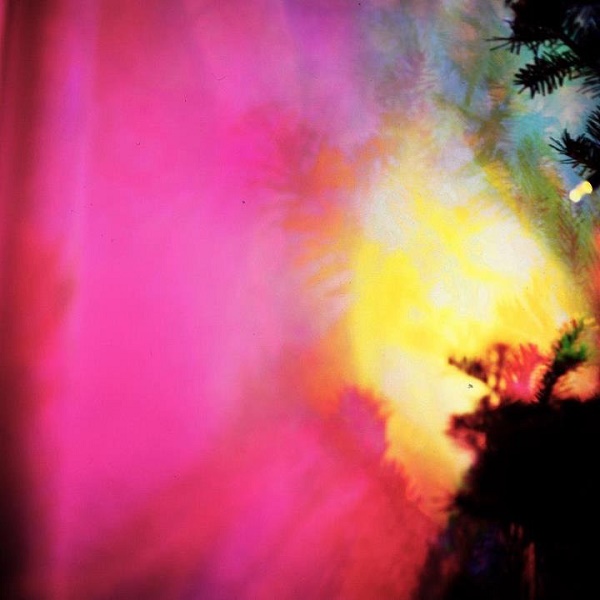 Seri Oko
Seri Oko
(Self-Released)
Montreal, QC
From the criminally soft hands of Simon Petley:
Since the dawn of electric light we have deliberated wildly about what may lurk in freshly rendered darkness, the space ransacked of radiation by the flick of a switch. This narrative replays in the basements and attics of the city's industrial graveyards, when the house lights go down and phantasm reigns. Upon this shade Seri Oko casts their billowing proclamation: sending it sinuating with layers of feedback to the darkest reaches of the room. Gutted, we surface, with visions of silky rapture thwarted by metallic hum.
From the criminally soft hands of Simon Petley:
(Traduit par l'extase soyeuse d'Odile Leclerc)
Depuis l'aube de la lumière électrique nous avons réfléchi furieusement à ce qui peut rôder dans l'obscurité fraîchement retournée, l'espace ravagée de radiation par l'effleurement d'un interrupteur. Cette narration rejoue dans les sous-sols et les greniers des cimetières de villes industrielles quand les lumières de la maison s'éteignent et le fantasme règne. Sur ce ton, Seri Oko jette leur proclamation gonflante, l'envoyant sinuer avec des couches de réactions dans les confins les plus noirs de la pièce. Estomaqués, nous faisons surface avec des visions d'extases soyeuses déformées par un fredonnement métallique.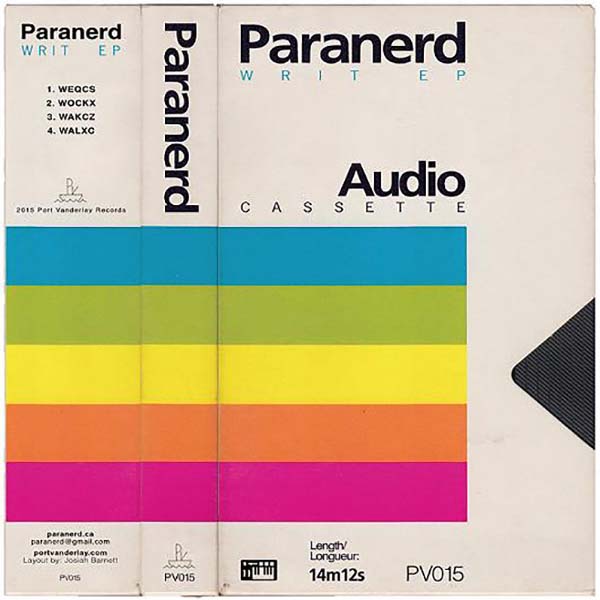 Paranerd
Writ EP
Moncton, NB
From the euphoric seclusion of Trevor Angst:
We've always been inclined to dance together in circles. Mind you, our feet barely shuffle, and our bopping heads merely impose our knees to dip whilst clurbing. The thought of being streaked with ultraviolet light by ceiling projectors is tempting enough to check in, but tonight we're really better off vibin' from each other's houses. Our jiving abilities are overcome by our own reveries, induced by the fluidity of oonts, tweaks and burbles. There are disparate segments of syncopated, burst mode riddums that clatter in sequences. A singular, spacey squelch that typifies a launch into hyperspace and sweeping cut off frequencies for full velocity.
De la solitude euphorique de Trevor Angst:
(Le mode en rafale de Odile Leclerc)
Nous avons toujours été enclins à danser en rond ensemble. Mais attention, nos pieds traînent à peine et nos têtes rebondissantes ne font qu'imposer à nos genoux de se ployer pendant que nous sortons en boîtes. L'idée de se faire strier de lumières ultraviolettes par des projecteurs au plafond est assez tentante pour participer, mais ce soir nous ferions mieux de prendre du bon temps à partir de nos maisons. Nos habilités à giguer sont vaincues par nos propres rêveries, induites par la fluidité des boom boom, des altérations et des gazouillis. Il y a des segments disparates de rythmes en mode rafales syncopés qui se fracassent en séquences. Un bruit de succion singulier qui caractérise un lancement dans l'hyperespace et un balayage coupent les fréquences pour atteindre une pleine vélocité.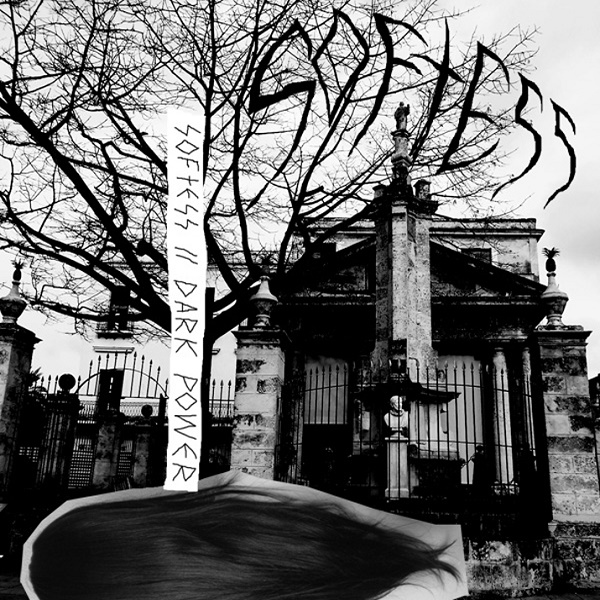 Softess
Dark Power
Vancouver, BC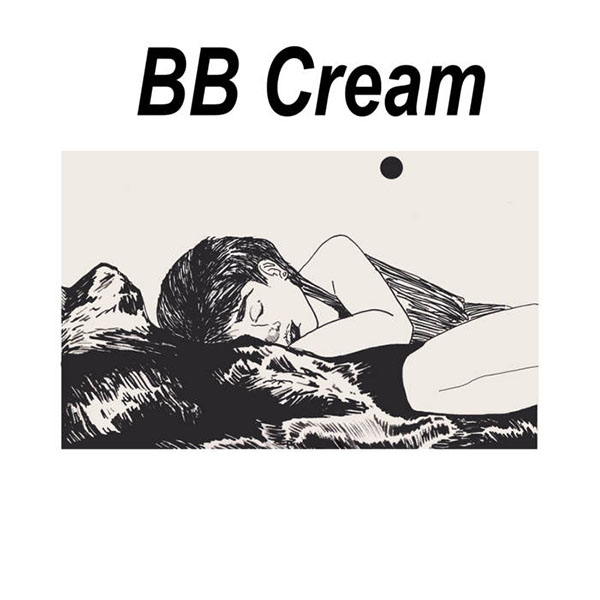 BB Cream
BB Cream
Ottawa, ON
From the sweaty bangs of Christine McKenna:
The inaugural release from Ottawa's BB Cream is an unconcealed visage, a spectacle of intimate feelings, a candid display of self-actualization on tape. A basic trio of instruments forms a Neapolitan ice cream of sound: a guitar, a bass, and set of drums are churned by the phantom hand of Marc Bolan, and a cold and sweet sonic treat drips onto thighs that ache from dancing the previous night. Catch a glimpse of yourself reflected in someone else's glasses and notice the sweaty bangs stuck to your forehead, enclosing the pop hooks stuck into your brain.
Par les franges en sueur de Christine McKenna:
(Traduit par Odile Leclerc)
La sortie inaugurale de BB Cream d'Ottawa est un visage non caché, un spectacle de sentiments intimes, une démonstration candide d'autoréalisation sur cassette. Un trio d'instruments de base forme une tranche napolitaine de sons : une guitare, une basse et un ensemble de batteries sont retournées par la main fantôme de Marc Bolan, et un dessert sonique froid et sucré dégoutte sur des cuisses douloureuses à force d'avoir dansé la nuit précédente. Regarde-toi dans le reflet des lunettes de quelqu'un d'autre et remarque les franges en sueur qui collent à ton front, entourant les idées de musique pop dans ton cerveau.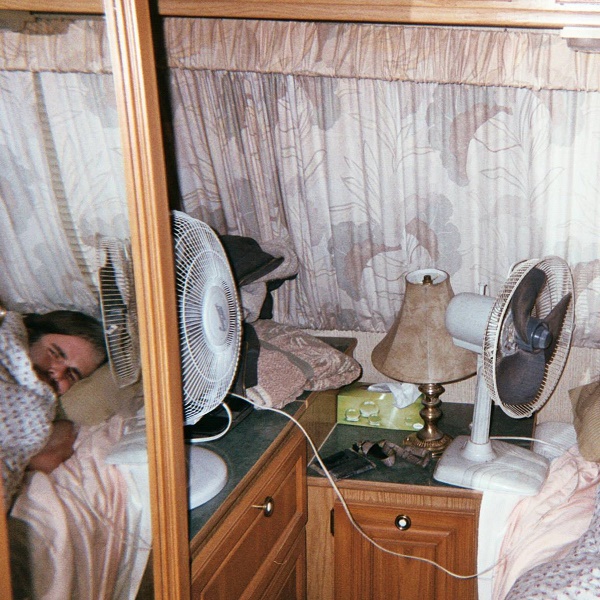 aaronke
backlight on this tablet is starting to hurt my eyes :/
(Self-Released)
Charlottetown, PEI
From the multi-dimensional resonance of Simon Petley:
You shiver from shoulder to hip as the smell of molten rubber seeping up from the tarmac mingles with memories of seawater blasting down your throat. Soon you'll have left, with a tangle of severed emotional tendrils in your wake.
You defy the course of the Trans Canada and rendezvous with solid ground five hours and five provinces later. The scene you left behind morphs beyond your field of vision.
You're left with patchwork: a zine in the mail or a 140 character morsel delineate your narrow lense. A weak connection distills these depictions down to a pixelated array, or else a single frozen frame. But the visage that remains in gleaming high fidelity assures you that this country's grand expanse isn't grand enough to keep swelling hearts from colliding. You'll be back.
De la résonance multidimensionnelle de Simon Petley:
(Traduit par le caoutchouc fondu de Maya Keshav)
Tu frissonnes de l'épaule à la hanche quand l'odeur de caoutchouc fondu qui s'infiltre du tarmac se mélange aux souvenirs de l'eau de mer qui coule dans ta gorge. Bientôt ,tu seras partie,, avec un enchevêtrement des vrilles coupées d'émotions dans ton sillage.
Tu défies le cours de la Trans Canada et te retrouves avec la terre ferme cinq heures et cinq provinces plus tard. Les paysages que tu as laissés derrière toi disparaissent au-delà de ton champ de vision.
Il ne te reste qu'une mosaïque : un zine dans le courrier ou un morceau de 140 caractères qui délimite ton angle étroit. Une mauvaise connexion distille ces représentations jusqu'à un étalage des pixels, ou sinon un seul arrêt sur image. Mais le visage qui reste en haute fidélité étincelante t'assure que la vaste étendue de ce pays n'est pas assez vaste pour empêcher les coeurs qui se gonflent d'entrer en collision. Tu reviendras.
aaronke – backlight on this tablet is starting to hurt my eyes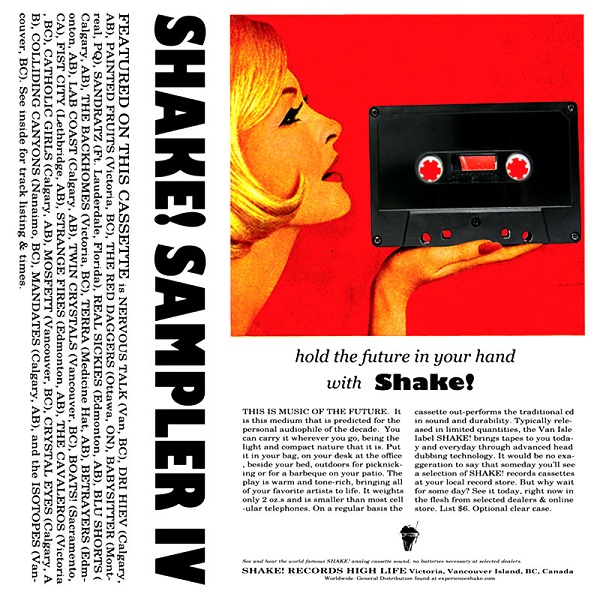 Various Artists
Shake! Sampler IV
Victoria, BC
From the curdling milk of Preacher Katie:
"Hold the future in your hand" while drinking a strawberry milkshake in your other hand that was made by a lady named Ronda from Dennys. No need to leave your lawn chair these days because Shake! Records delivers everything you need, contained into Shake!'s IV sampler cassette is 23 different bands of North America's best. So shake it, twist it, smoke it, squirt it and chug it to this sun-kissed mix tape. Make sure you remember to bring all the boys to the yard.
Du lait caillé de Preacher Katie:
(Traduit par la saveur magnifique de Maya Keshav)
« Tiens l'avenir dans ta main » pendant que de l'autre tu bois un milkshake à la fraise qui a été préparé par une dame qui s'appelle Ronda from Dennys. Pas besoin de quitter ta chaise longue ces temps-ci parce que Shake! Records fournit tout ce dont tu as besoin; la cassette IV de Shake! contient un échantillon de 23 des meilleurs groupes de l'Amérique du Nord. Alors, secoue-le, tourne-le, fume-le, injecte-le et descends-le avec cette compilation bronzée. Assure-toi de ne pas oublier d'amener tous les garçons dans la cour.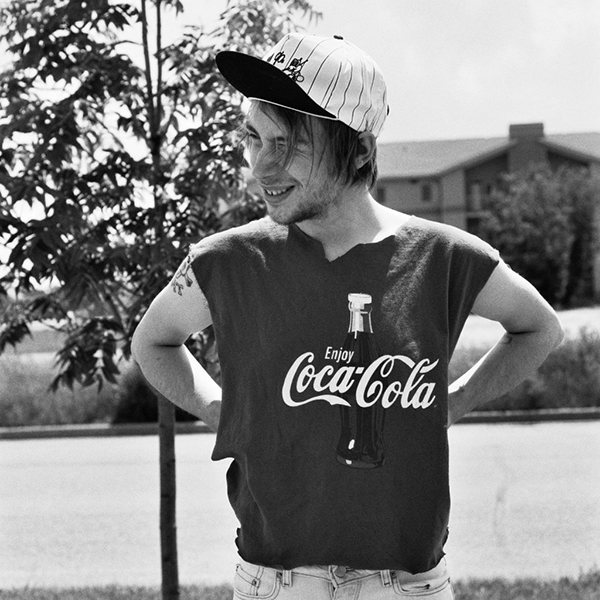 Holding Hands
EP?
(Self-Released)
Montréal, QC
From the ferry secrets of Claire Marie Guimond:
I'm explaining it all on the passage. Ninety minutes of water feels like a mirror when you ride it out to the infinite mainland, and like a photo when you ride back home, like right now, see it? On the island the flowers bloom in winter. Why are you shivering? Is it what I said? It's windier on this side of the boat. I can't see a thing through the forest smoke. Scattered shouting sounds urgent, too low to hear, but I understand completely. Are you igniting something? From this angle it's like your arm's on fire. Hey, you can tell me anything. Smoke and fog look the same to me. You're gonna burn right through to the car deck. Did all that make sense, am I communicating well?
Des secrets du traversier de Claire Marie Guimond:
(Traduit par le miroir infini de Maya Keshav)
J'explique tout en traversier. Quatre-vingt-dix minutes de l'eau donnent l'impression d'être un miroir quand tu tiens le coup jusqu'au continent infini, et d'être une photo quand tu reviens chez toi, comme maintenant, tu le vois? Sur l'île les fleurs éclosent en hiver. Pourquoi tu frissonnes? J'ai dit quelque chose? Il y a plus de vent de ce côté du bateau.. Je peux rien voir à travers la fumée de la forêt. Les cris éparpillés ont l'air urgent, trop bas pour entendre, mais je comprends complètement. Tu mets le feu à quelque chose? Depuis cet angle, ton bras a l'air d'être en feu. Tu sais, tu peux me dire n'importe quoi. La fumée et le brouillard se ressemblent, selon moi. Tu vas brûler jusqu'au pont-garage. Tout ça a du sens, je communique bien?
---