Category: cassette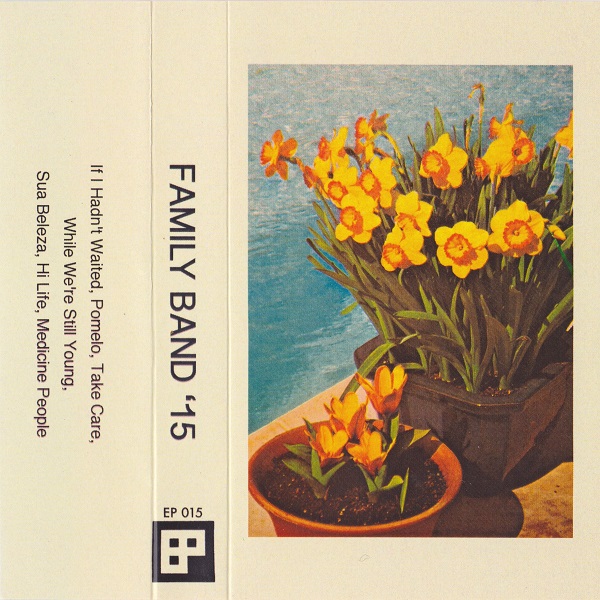 Family Band
Family Band '15
Montreal, QC
From the calculated chaos of Eleanor Wearing:
There is a lot going on here. Some feels old, some new. Some feels strangely familiar. Is it déjà vu or is your mind playing tricks on you?. Spurts of carefully calculated chaos follow lapses of calm. Every few moments it seems there can be no more surprises. No new sounds to add. Listen again. Dig your hands into the bottom corners of this goody bag, sugar sticking to your fingers, until you discover another gem hiding within the folds.
Du chaos calculé d' Eleanor Wearing:
(Traduit par les *paparmanes* de Julie Mayer)
Il se passe beaucoup de choses ici. Certains se sentent vieux, d'autres, neufs. Certains se sentent étrangement familiers. Est-ce une impression de déjà vu, ou serait-ce ton esprit qui te joue des tours?. Des giclées de chaos soigneusement calculé suivent des laps de calme. De temps à autre, il te semble que plus rien ne peut te surprendre. Aucun nouveau son à ajouter. Réécoute. Enfonce tes mains dans les coins inférieurs de cette pochette surprise, le sucre se collant à tes doigts, jusqu'à ce que tu découvres une autre perle cachée dans les replis.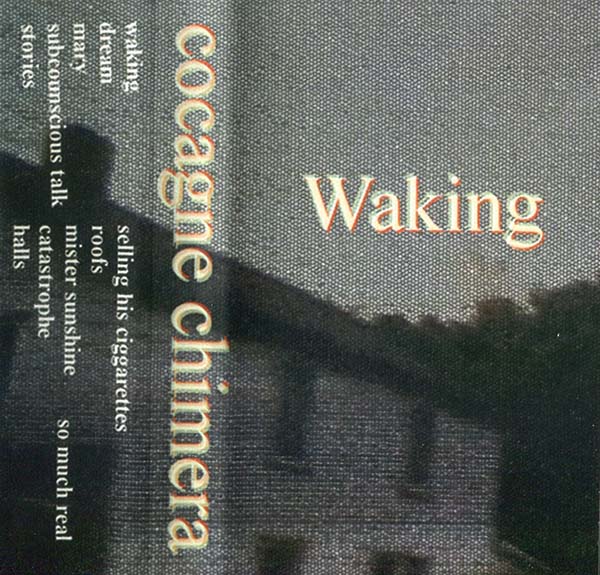 Cocagne Chimera
Waking
(Self Released)
Montréal, QC
From the hallowed halls of Samuel Donovan Joseph:
Five-alarm hangover after Four Loko fantasy under psilocybin sundown. Ripples in time-space like your ugly mug at the ammonia-soaked bottom of the local reflecting trough. Depanneur dance. Gas-bar glissando. Casse-croûte crash. Green light melts into yellow melts into red, like hot tamales in your shoes. Rise and shine, sweetie. It's tea time.
Depuis les salles sanctifiées de Samuel Donovan Joseph:
(Traduit par l'étrange lasagne d' Émily Traichel)
Une très sérieuse gueule de bois après une rêverie arrosée de Four Loko sous le coucher de soleil psilocybine. Des ondulations dans l'espace-temps comme votre tasse laide au fond taché d'ammoniac provenant de l'urinoir du quartier. Danse du dépanneur. Glissando gas-bar. Crash casse-croûte. La lumière verte passe au jaune et au rouge, comme des bonbons hot tamales dans vos chaussures. Debout, mon amour. C'est l'heure du thé.
Cocagne Chimera – Subconscious Talk.mp3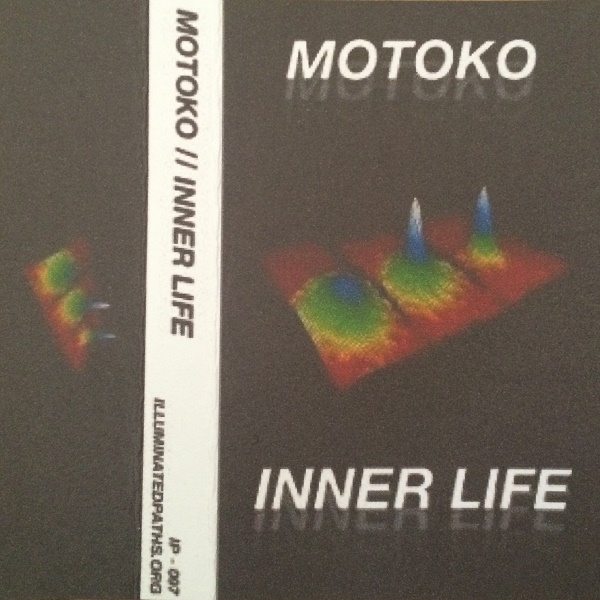 Motoko
Inner Life
(Self-Released)
London, ON
From the drip dry eyes of Julia Dickens:
This instrumental output from the keyboard of Jordan Pearson is the soundtrack to a synthesized contemplative dream state. If your computer screen saver was a shifting stream of consciousness, this current is drifting into a tropical journey, driving top-down down a coastal highway, lounging poolside while a gentle breeze rustles pixilated palms. Wipe your drip dry eyes as you watch phosphorescent waves swell and recede underneath the shimmering cosmos. The scene dissolves into a hazy landscape whizzing by on your sunset drive into the technicolour abyss and reflected on all sides by the shapes and sounds of your own softly aching heart.
Des yeux à séchage spontané de Julia Dickens:
(Traduit au cycle délicat par Julie Mayer)
Cette production instrumentale sortie du clavier de Jordan Pearson est la piste sonore parfaite pour atteindre un état de rêve contemplatif synthétisé. Si l'écran de veille de ton ordinateur était un flux de conscience changeant, ce courant virerait en voyage tropical au cours duquel tu roules avec la capote abaissée sur une autoroute côtière et où tu te détends au bord de la piscine pendant qu'une douce brise bruisse dans des palmiers pixellisés. Essuie tes yeux à séchage spontané pendant que tu regardes des vagues phosphorescentes enfler et refluer sous le scintillement du cosmos. Le tableau, qui se dissout dans un paysage brumeux filant à toute allure lors de ta virée au soleil couchant vers l'abysse technicolor, se reflète de tous côtés par les formes et les sons de ton propre cœur légèrement endolori.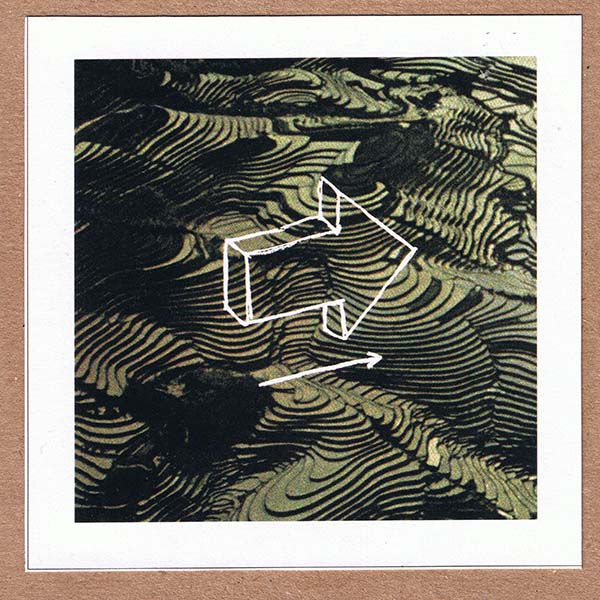 Mauno
Rough Master
(Self Released)
Halifax, NS
From the symphonic sear of Benjamin Anderson:
The stake blazes alight. All around voices like blacksmiths' strikes sing and smoulder on. Cries of "witchcraft" untangle themselves from the din. Bloodthirst glints like an oil slick across irises. The flames are licking your feet, the sear is symphonic; it feels of soaring strings. All for conjuring up tones that shape-shift and maneuver in and out of the ear like a salt water tide gurgling through a rusted pipe. Night is a muscle; you burn in the flex of it.
Du brûlement symphonique de Benjamin Anderson:
(Traduit par Louis-Félix de Chevigny, qui scande avec la foule enflammée)
Le bûcher s'enflamme. Autour de lui, tel un forgeron qui fait chanter son enclume, fusent des voix. Des accusations de «sorcellerie» jaillissent du tumulte. Des yeux qui pétillent d'une lueur assoiffée de sang, telle une nappe de fioul qui s'étend sur leurs iris. Les flammes te lèchent les pieds, leur brûlure est symphonique; tel des cordes en délire. Tout cela évoque des tons qui se métamorphosent et manœuvrent le canal auditif telle une marée d'eau salée qui gargouille dans un tuyau rouillé. Tu brûles dans le fléchissement du muscle de la nuit.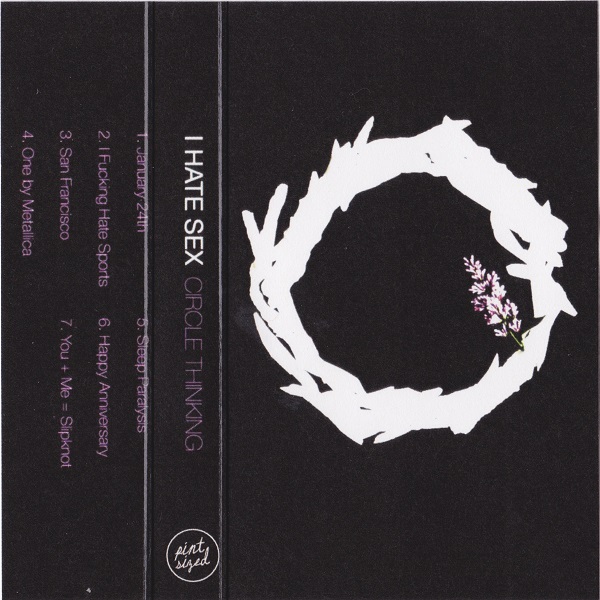 i hate sex
Circle Thinking
Edmonton, AB
From the blaaarrgh of Alec Lovely:
Edmonton's i hate sex are a whirlwind of emotion, raw and unfiltered. Life can be overwhelming, draining, and sad, but there's always comfort in the relationships – reminding yourself that they happened at all gives you solace, despite the cliches. The contrasting melancholic guitar riffs lay underneath the exasperated razor-edged vocals, and what's left is brutally honest and executed to perfection. Feeling totally overwhelmed by everything around, you need to scream for help even if you don't know what to say.
Du blaaarrgh de Alec Lovely:
(Traduit par Julie Mayer)
Le quatuor d'Edmonton i hate sex est un tourbillon d'émotions, crues et non filtrées. La vie peut être accablante, épuisante et triste, mais il y aura toujours moyen de se consoler à travers les relations qu'on a tissées. Le fait de te rappeler que ces dernières ont eu lieu te réconforte, malgré les clichés. Les riffs de guitare mélancoliques et contrastants reposent sous une voix exaspérée aussi tranchante qu'une lame de rasoir. Ce qui reste est brutalement honnête et exécuté à la perfection. Te sentant totalement dépassé par tout ce qui est aux alentours, tu as besoin de crier au secours même si tu ne sais pas quoi dire.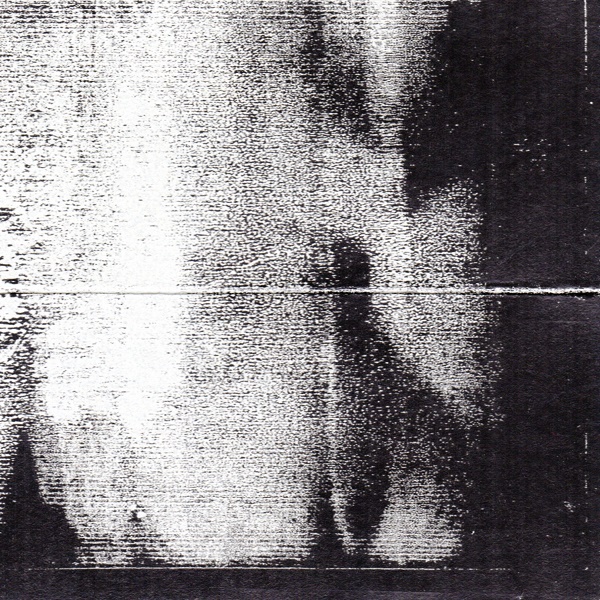 Moss Harvest
Moments Of Inertia
Halifax, NS
From the relentless density of Mark Gillis:
Driving along the coastline, an opaque and impenetrable fog wraps you inside a hazy cloak. Once tender waves crash precipitously on the shore, overflowing with impatience and animosity. The lines on the pavement dissolve into nothing. Trapped, with your senses smothered by the relentless density. There is no option but to push forward, into the isolation, into seclusion, hoping to see a sign of light, but the fog never breaks. You're stuck here forever.
De la densité implacable de Mark Gillis:
(Traduit par Wanying Zhang)
Pendant qu'on conduit le long du littoral, un brouillard obscur et impénétrable t'enveloppe dans un voile flou. Une fois les vagues douces s'écrasent à la hâte sur la rive, qui déborde d'impatience et d'animosité. Les lignes sur la chaussée s'évanouissent. Piégé, avec vos sens étouffés par la densité implacable. Il n'y pas de choix sauf d'avancer, dans l'isolement, dans la solitude, en espérant apercevoir un signe de la lumière, mais le brouillard ne se dissipe jamais. Tu es coincé ici pour toujours.
Moss Harvest – Dusk, Shrouded In Fog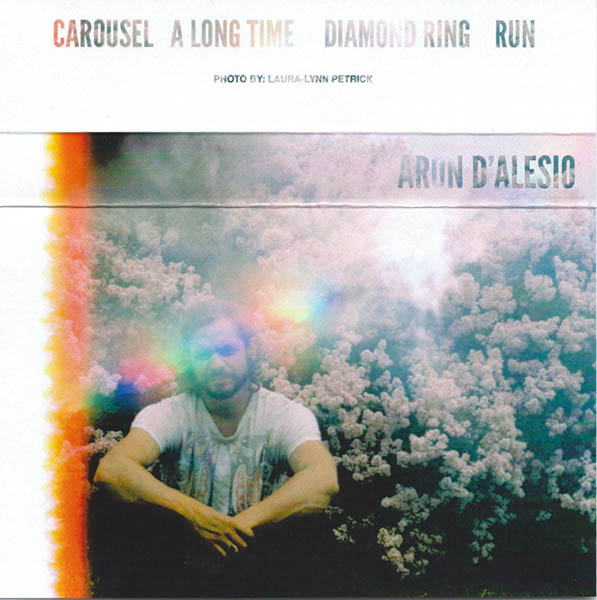 Aron D'Alesio
Cassette EP
(Self Released)
Hamilton, ON
From the dashboard confessional of Mike Roy:
A ride upon the carousel of Aron D'Alesio's Cassette will induce a retrospective haze carried over by jangly, 50s-inspired AM waves. Cassette feels like your parents' favourite Buddy Holly record soaked in bluesy psychedelia, but just as sweet and earnest as his predecessor. D'Alesio builds the soundtrack to help you through those late night drives mourning the end of summer romance without a tumble into total melancholy. Ride on.
Du confessionnal roulant de Mike Roy:
(Traduit par Aliké Harel)
Un tour sur le carrousel de Cassette, d'Aron D'Alesio, provoquera une rétrospective floue sur l'air jovial des ondes AM des années 50. L'album Cassette rappelle les albums préférés de Buddy Holly de vos parents, imbibé de psychédélique légèrement blues, mais aussi mélodieux et dévoué que son prédécesseur. D'Alesio construit la trame sonore qui traversera une nuit au volant avec vous, à écumer le deuil d'une romance de fin d'été sans dégringoler dans la mélancolie absolue. Allez-y, roulez.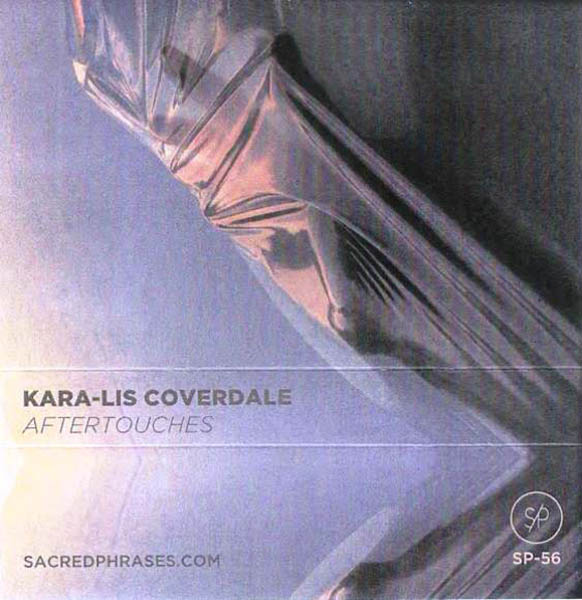 Kara-Lis Coverdale
Aftertouches
Montreal, QC
From the synaptic firings of Griffin Martell:
A forgotten absence becomes present as a trace, an impression, an "aftertouch." Kara-Lis Coverdale glimpses this unknowable truth as she leads us along a trail of evocative signifiers on her latest release for Sacred Phrases. Processing the baroque through synthetic constructions of choral affectivity, she delves the listener into a wormhole perpetually arriving at its present. A new futurity enters the horizon, viscerality in mechanized form. The ghost in the machine was never a delusion.
Des tirs synaptiques de Griffin Martell:
(Traduit par les balbutiements nerveux de Julie Mayer)
Une absence oubliée se présente sous forme de trace, d'impression, d'aftertouch. Kara-Lis Coverdale laisse entrevoir cette vérité inexplicable alors qu'elle nous guide le long d'une traînée de signifiants évocateurs dans son tout dernier opus lancé sous le label Sacred Phrases. Convertissant le baroque à travers des constructions synthétiques de chœurs affectifs, la musicienne plonge l'auditeur dans un trou de ver qui revient sans cesse à son présent. Un nouvel avenir point à l'horizon, une viscéralité sous forme mécanisée. Le cheval dans la locomotive n'a jamais été une désillusion.
Kara-Lis Coverdale – Touch Me & Die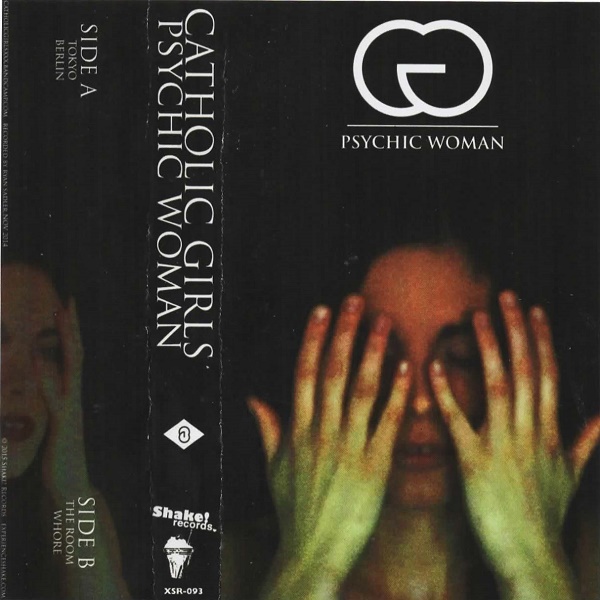 Catholic Girls
Psychic Woman
Calgary, AB
From the black X-marked hands of Mackenzie Smedmor:
An entrancing pulse initiates this party. Harshly contorting you, your body submits to a bewitching dance. Even your fingers are possessed to float on the smoke of hazy synthesizers. No longer a struggle, the rhythm matches your heart rate and sustains you until dawn. The question sprouts and flourishes and re-animates the somnambulist your mind ditched for the night.
Catholic Girls, once again, master the awakening rites of your being.
Des mains marquées d'un X noir de Mackenzie Smedmor:
(Traduit par Julie Mayer)
Des pulsations envoûtantes amorcent ce party. Te contorsionnant avec rudesse, ton corps se soumet à une danse ensorcelante. Même tes doigts flottant sur la fumée des synthétiseurs brumeux semblent possédés. Le rythme de la musique devient facile; il coïncide avec celui de ton pouls et te tient debout jusqu'aux aurores. La question germe et s'épanouit. Elle réanime le somnambule que ton esprit a abandonné pour la nuit.
Encore une fois, Catholic Girls maîtrise les rites d'éveil de ton être.
---