Category: cassette Wish Lash
Altar of Doubt
Calgary, AB
From the distant party of MCLF:
One hand reaches out and the world opens up. We're not bound by the wires, we're bound up in the silent air, our words tender in the the precious dirt and the greens emerging. These are our bodies. We're dancing.
A mutant weirdo crew holding together this mass of circuits and wires, deep trouble, pulsing and smoking hot where things cross, where the solder wears thin. Thousands of tendrils drift over us, around us, pulling us apart and back together again: different, better.
Du souffle de feu de MCLF:
Une main se tend et le monde s'ouvre. Nous ne sommes pas liés par les câbles, nous sommes liés dans le silence , notre mots dans le précieux dirt et les greens en émergence. Ce sont nos corps. Nous dansons. Une équipe de weirdos mutants tenant ensemble cette masse de circuits et de fils, ennuis profonds , pulsant et fumant à chaud là où les choses se croisent, où la soudure s'use très peu. Des milliers de vrilles dérivent sur nous, autour de nous, nous séparant et nous ressaisissant: différent, meilleur.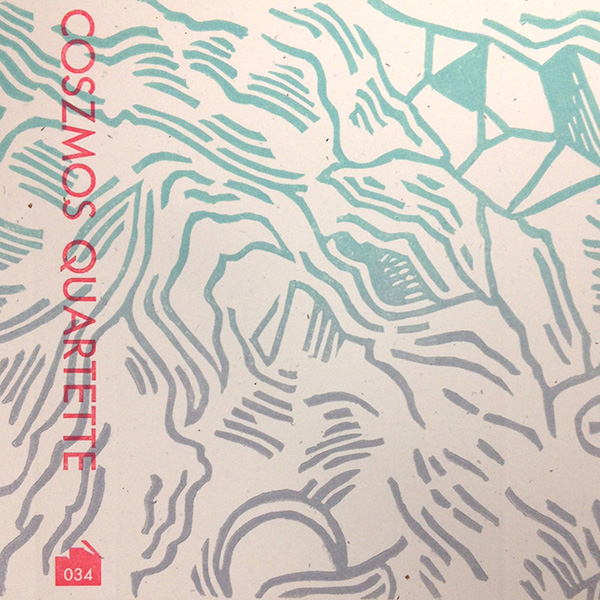 Coszmos Quartette
Coszmos Quartette
Hamilton, ON
From the breath of fire of Mike Roy:
The crash of high and low pressure systems in a late summer breeze is a meticulous design of nature. Free range of temperature and direction meld with gales oddly precise in strength. Hamilton's Coszmos Quartette operate much the same, crescendos of tranquility dance and intertwine with sweeping booms of strings and vocal harmonies. Where lead vocalist Brad Germain exhibits an immersive range that stretches the limits of scale, accompanying vocalists Joel Banks, Kate Quigley and Sara Froese deliver soothing melodies with familiar instrumentals. The combination proves undeniably powerful, but a breeze soft enough for a humble night's close.
Du souffle de feu de Mike Roy:
(Traduit par Sergio Calla)
L'écrasement des systèmes à haute et basse pression soufflant légèrement en fin d'été est une conception méticuleuse de la nature.
Une gamme libre de température et de direction se fusionnent avec des vents étrangement précis en force. Le Coszmos Quartette de Hamilton opère de la même façon. Les crescendos de la tranquillité dansent et s'entrecroisent avec les cordes et mélodies
vocales fulgurantes. Le chanteur Brad Germain démontre l'étendu de son registre vocal. Les chanteurs accompagnateurs Joel Banks, Kate Quigley et Sara Froese livrent des mélodies apaisantes avec des instruments connus. La formation se révèle incontestablement puissante, une brise assez douce pour une fin de nuit humble.
Coszmos Quartette – A Perfect Paradise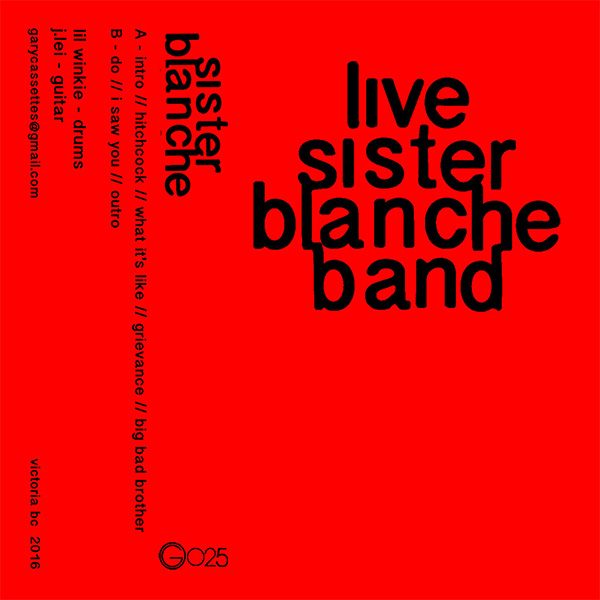 Sister Blanche
Live Sister Blanche Band
Victoria, BC
From the demonic haze of Mark Gillis:
Buried in the heart of the pit, the snarls of Sister Blanche carve through your skin and grind themselves deep inside your soul. With every abrasive noise, the mechanized monster that is Sister Blanche grows larger. As the gears turn, the entire system overheats, spewing smoke and ash. Burnt to a crisp, the remnants of Sister Blanche emit a thick, demonic haze of smog while the world plummets into a deeper despair. No light, no hope.
Du brouillard démoniaque de Mark Gillis:
(Traduit par les déambulations nocturnes de Julie Mayer)
Enterrés au cœur du puits, les hurlements de Sister Blanche transpercent votre peau pour s'enraciner profondément dans votre âme. Chaque bruit abrasif fait grossir le monstre mécanique qu'est Sister Blanche. Tandis que les engrenages tournent, le système tout entier surchauffe, crachant de la fumée et des cendres. Carbonisés, les restes de Sister Blanche émettent un épais brouillard démoniaque alors que le monde plonge dans un désespoir plus profond. Sans lumière, pas d'espoir.
Sister Blanche – Intro//Hitchcock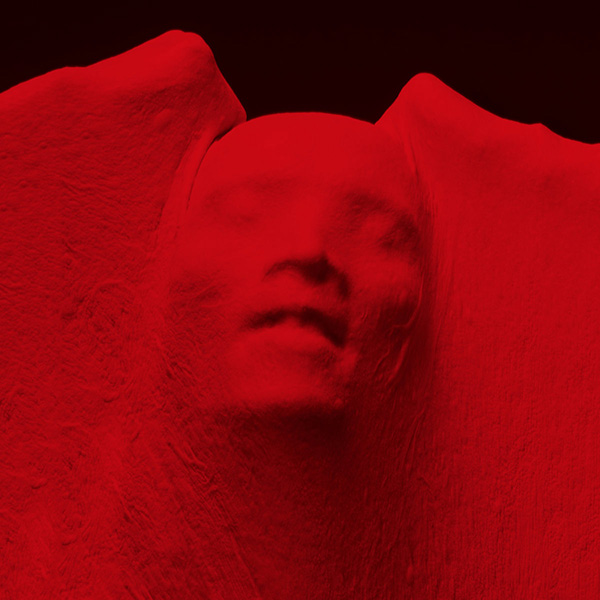 Scott Hardware
Mutate Repeat Infinity
Toronto, ON
From the wired senses of Hailey Celesse McCarthy:
Scott Hardware is an accurate eponym, considering the skillful blend of old skool house, electro and pop Scott Hardwood (also Ken Park) has consolidated on this release. Mutate Repeat Infinity, which came out on Banko Gotiti this past June, is a tricky pop record placing complex lyrical content over energetic, offbeat patterned, beats. It's an album that lets you figure a greater plot and carries you along in it. You are the new protagonist.
Des sens filaires de Hailey Celesse McCarthy:
(Traduit par les circuits disjonctés de Julie Mayer)
Scott Hardware est un éponyme qui vise juste, compte tenu du talentueux mélange de house, d'électro et de pop façon vieille école qu'a consolidé Scott Hardwood (alias Ken Park) sur cette cassette. Mutate Repeat Infinity, dont la sortie a eu lieu en juin dernier chez Banko Gotiti, pose du contenu lyrique complexe sur des rythmes décalés et énergiques. Il s'agit d'un album pop délicat qui te laisse deviner une intrigue plus grande avant de t'y emmener. Le nouveau protagoniste, c'est toi.
Scott Hardware – He Began Again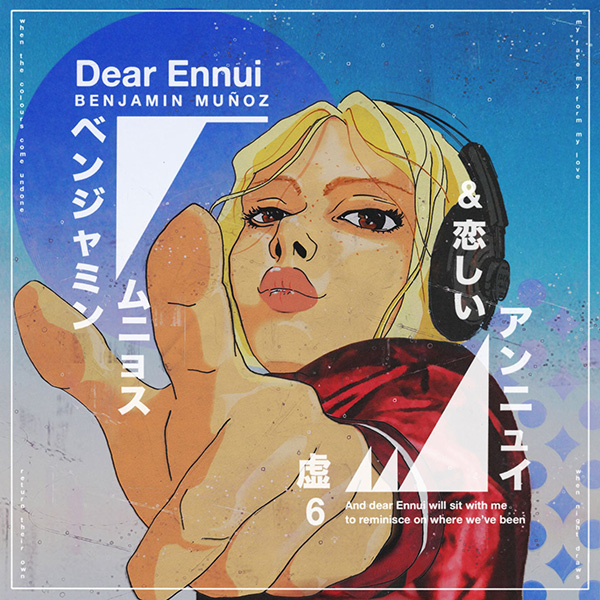 Benjamin Muñoz
Dear Ennui
Hamilton, ON
From the hygge of Rolf Klausener:
The chalky timbre of TUMS rattling in their bottle, the infinite drum roll of heavy rainfall: the right poly-rhythms have a way of both soothing us and sparking contemplation. With its heavy industrial past—echoes of primitive robots stamping out die-cast auto parts—Hamilton seemed destined to be Canada's home of arrhythmic pop. Benjamin Muñoz cobbles warm, percussive electro, where tumbling woodblocks spoon seamlessly with avant-garde jazz-breaks. Delayed pianos dovetail sampled vocals forging sweater-weather melodies. Easily at home among Berlin's Leaf Label, or Caribou's debut explorations as Manitoba, Dear Ennui offers daydream voyages on pleasantly unpredictable oceans, slave to rogue waves, and bound by no anchor.
De l'hygge de Rolf Klausener:
(Traduit par la saudade de Louis-Félix de Chevigny)
Le timbre crayeux d'un flacon de TUMS que l'on secoue, le roulement de tambour perpétuel d'une pluie battante: les bons motifs polyrythmiques apaisent et invitent à la contemplation. Avec son lourd passé industriel -lors duquel retentissait la résonance de robots primitifs martelant des pièces d'automobile moulées – Hamilton semblait destiné à être le foyer canadien du pop arythmique. Benjamin Muñoz nous concocte de l'électro percutante et chaleureuse dans laquelle s'harmonisent le wood-block et les interludes jazzy avant-gardes. Des mélodies de temps frisquet issues de l'accord entre des notes tardives de piano et des échantillons vocaux. Bien à sa place aux côtés de la maison de disque berlinoise Leaf Label, ou de Caribou à ses débuts, sous le pseudonyme Manitoba; Dear Ennui offre une rêverie de voyages sans ancre sur des eaux imprévisibles, esclave aux vagues scélérates.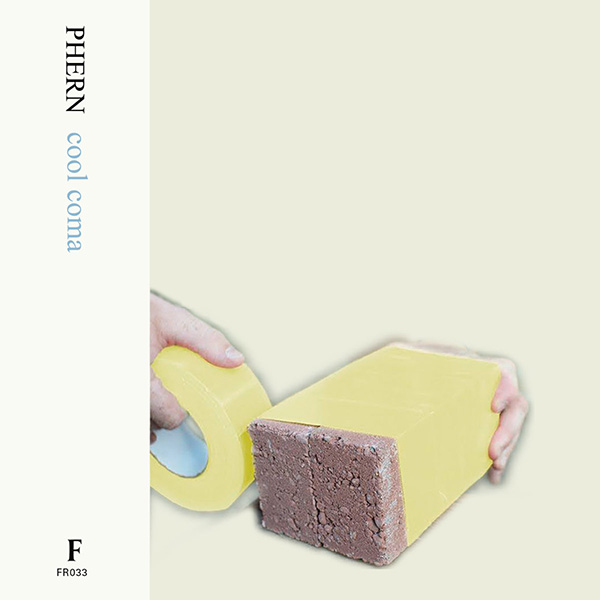 Phern
Cool Coma
Montréal, QC
From the chipped tooth of Katie Jensen:
Pass the sticky note salad. Chomp on words to compensate for gaps in conversation. A dinner party in honour of bobbing guitar necks, bratty bass lines and sloppy-kiss snares. Guests swapping Canadian Post Punk All Starz™ trading cards under the table. Vocals pushed backwards through a cigarette filter until they plant feet firmly on the nose. Serve a second helping of sour tones with angular guitars that lodge sideways. A miserable, memorable meal served on chipped ceramic and splintered toothpicks.
De la dent ébréchée de Katie Jensen:
(Traduit par Hugo Hyart-Dauvergne)
Passe la salade de note toute collante. Mache bruyamment les mots pour compenser les trous dans la conversation. Un dîner de gala en l'honneur des manches de guitares qui se balancent, des lignes de basses qui crânent et des caisses claires au baiser feignant. Les invités s'échangent des cartes à collectionner du jeu du All Starz™ du post-punk canadien sous la table. Les voix sont poussées derrières à travers un filtre de cigarette jusqu'à ce qu'elles plantent fermement leurs pieds dans le nez. Deuxième service en renfort de tons acides avec des guitares anguleuses qui se logent dans le trottoir. Un repas misérable, mémorable servi sur de la céramique ébréchée avec des cure-dents éclatés.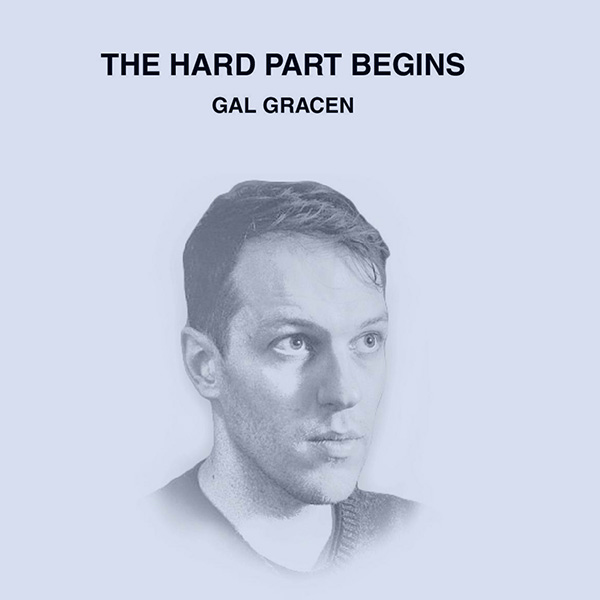 Gal Gracen
The Hard Part Begins
DISNY records
Vancouver, BC
Gal Gracen – Sincerely Baby Dumpling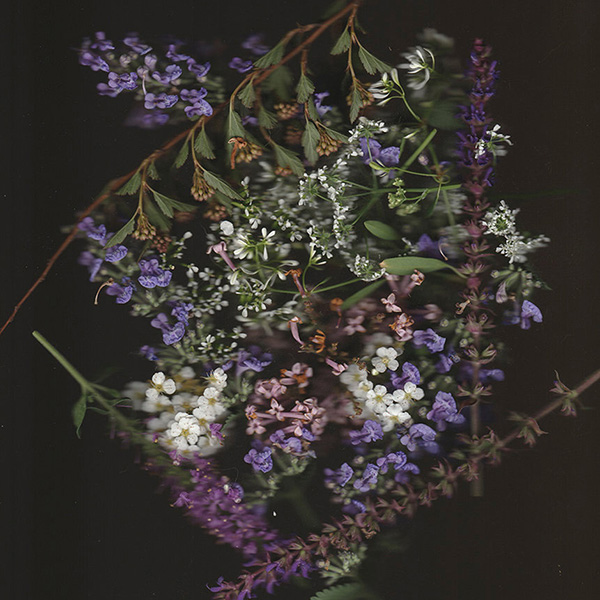 Pyramid//Indigo & SKIN
Split
Self-Released
Edmonton, AB // Montréal, QC
From the ever-expanding skies of Brian Fauteux:
Radio static is how we'll know we're eventually alone. That everything is over. Here is where Pyramid//Indigo's "Lydian Grains" begins. A slight crescendo, disconcerting, leads to "Hands, Bursting with Light." Sounds gleaned from frosted prairie fields build atmospheric swells that call the wild. A long final glance of pink and gold before the graying of sky.
Flip the split.
SKIN calls forth a soundscape marked by the hum of arthropod wings, wind seeping through a window's breach, and the lure of a music box melody. Perhaps there are signs of life after all.
Des cieux toujours grandissants de Brian Fauteux:
(Traduit par les lèvres gercées de Julie Mayer)
Des bruits parasites, voilà comment nous saurons que nous sommes éventuellement seuls. Que tout est fini. C'est ici que « Lydian Grains » de Pyramid/Indigo commence. Un léger crescendo, déconcertant, mène à « Hands, Bursting with Light ». Des sons glanés dans les champs de prairie givrés érigent des remous atmosphériques interpellant la campagne : un long coup d'œil ultime rose et or avant que le ciel vire au gris.
Changez de face.
SKIN évoque un paysage sonore marqué par le bourdonnement d'arthropodes ailés, le vent s'infiltrant par la craque d'une fenêtre et l'attrait suscité par la mélodie d'une boîte à musique. Peut-être y a-t-il des signes de vie après tout.
Pyramid//Indigo – Lydian Grains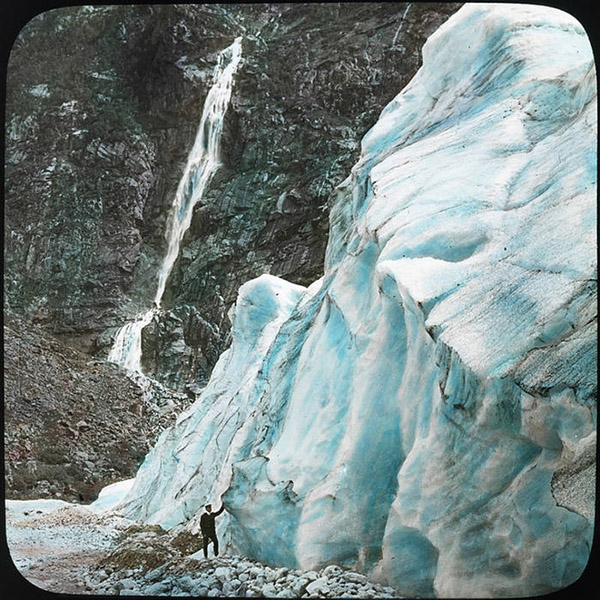 Man Meets Bear
I Want to Be a Gallant Rider Like My Father Was Before Me
Toronto, ON
From the S.A.D. mind of Laura Stanley:
Winter is steadily encroaching; I can see it on the lake. Its once affable body has grown cold and still. Man meets Bear speaks of this change. The swirling reluctance of autumn to end ("Elm"), the ice glistening on the lake's exterior ("Garrison Creek"), how an icy arm will plunge deep below the surface ("The Humber"). Despite the melancholy caught in their talk, Man meets Bear also presents small comforts for those who dread the dark days ahead. They remind us of the warmth of the holidays ("Xmas at Palais Royale"), how Spring always surfaces ("Fortunately, We Survived") and the world blooms anew once again ("Sun's Back").
De l'esprit triste de Laura Stanley:
(Traduit avec de la reconnaissance par Traducteur Interne)
L'hiver s'en vient. C'est constant. La surface du lac en témoigne. Une masse affable devint froide. Man meets bear parle de ce changement. De la réticence tourbillonnante d'automne qui s'éteint : (« Elm »). La glace étincelante du lac : (« Garrison Creek »). Comment un bras refroidi plongera profondément en dessous de la surface (« The Humber »). Malgré l'évidence de la mélancolie, Man meets Bear présent aussi des petits réconforts pour ceux et celle qui redoutent les journées sombres qui s'en viennent. Ils nous rappellent la chaleur des Fêtes: ('Xmas at Palais Royale »), que le printemps refleurit toujours (« Fortunately, We Survived ») et du fait que le monde s'épanouit de nouveau (Sun's Back »).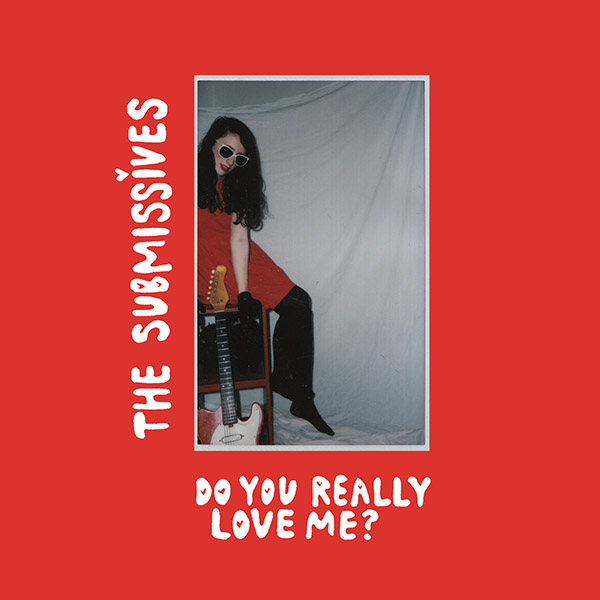 The Submissives
Do You Really Love Me?
Montréal, QC
From the Lovesick Daydream of Eleanor Wearing:
The Submissives' Do You Really Love Me? is the soundtrack to a never ending road trip towards an unreachable destination. Sun beats through dirty car windows. Soft air conditioning hums and sighs as the passengers do the same. Heat melts from a lazy blue expanse, conjuring highway mirages and lucid daydreams. Sweet stale air seeps and suffocates, whispering secrets to the reluctant beat of hands against knees. Finally, the sun slinks out of sight. Stars clatter and clink into place. But there is no rest for the lovesick so the car surges ahead, towards an elusive paradise.
Du rêverie languit d'amour du Eleanor Wearing:
(Traduit par Alison McReynolds)
Do You Really Love Me? de The Submissives est la bande-originale d'un road trip ayant une destination hors de portée. Le soleil tapait à travers des vitres sales. Un climatiseur doux chantonnait et soupirait pendant que les passagers faisaient de même. La chaleur fondait d'une étendue bleue et paresseuse évoquant des mirages de la grande route et de rêveries lucides. L'air doux et rassis coule et nous étouffe chouchotant des secrets aux battements réticents de mains qui frappent sur les genoux. Finalement, le soleil s'éclipse de vue. Les étoiles cliquettent et tintent en place. Mais il n'y a pas de repos pour celui qui souffre d'amour alors la voiture continue de l'avant vers un paradis élusif.
The Submissives – Do You Really Love Me?
---