Category: cassette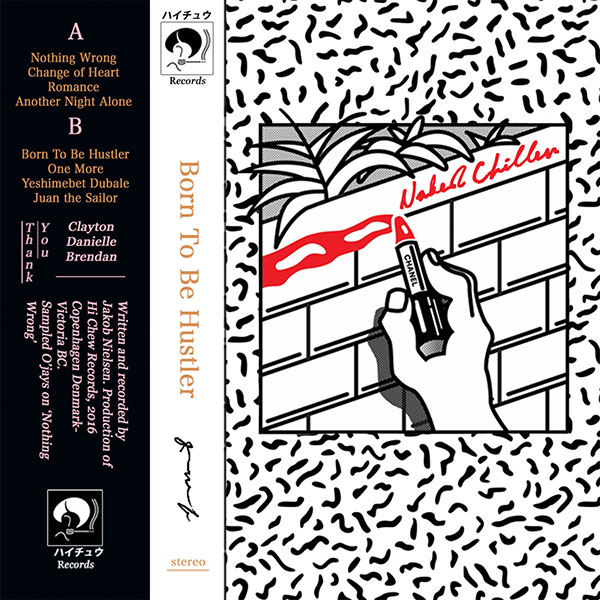 Naked Chillen
Born To Be Hustler
Victoria, BC
From the shaving cream embarrassment of Sam Joseph:
In a sinful city by the sea, angels check their wings at the door. Morose melody lingers in the air of an Art Deco dining hall like the smoke of a million cigarettes. Diamond eyes stare from afar as you look up and down the late-night menu. They know. Your misgivings will be brought to light in the darkroom. Penthouse can become pavement in an instant. Strap yourself in, Casanova. Time to find out if that twin-turbo engine is fast enough to facilitate your safe escape from this pastel hell.
De l'embarrassement de la crème à raser de Sam Joseph:
(Les yeux en diamants d'Odile Leclerc)
Dans une ville pécheresse près de la mer, les anges laissent leurs ailes à la porte. Une mélodie morose persiste dans l'air d'une salle à manger Art déco, telle la fumée d'un million de cigarettes. Des yeux en diamants fixent de loin alors que vous regardez de haut en bas le menu nocturne Ils savent. Vos appréhensions vont être révélées dans la pièce sombre. Un appartement-terrasse peut se transformer en trottoir en un instant. Attache-toi, Casanova. Il est temps de savoir si cette machine à double turbo est assez rapide pour faciliter une évasion sans danger de cet enfer pastel.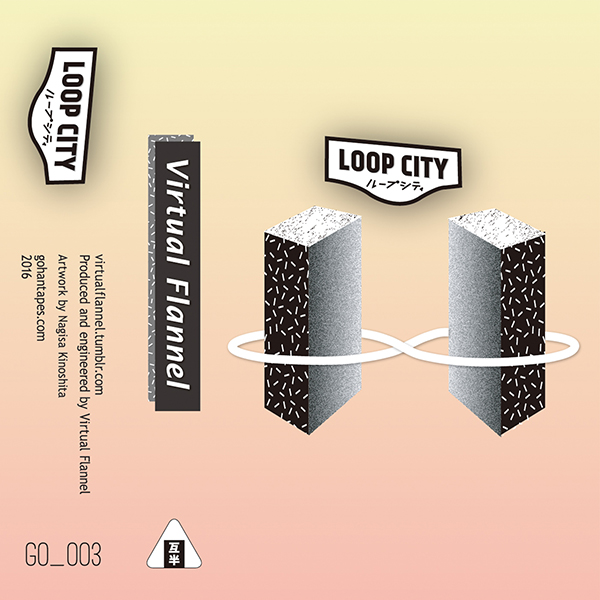 Virtual Flannel
Loop City
(Gohan)
Saskatoon, SK
From the janky jazz of Josh Rohs:
Wary of the blasé beatsmith? Never fear, with OP-1 in hand, your bedroom-bap saviour is here! On a decade of seasick janky jams, Virtual Flannel serves up cassette tape charcuterie, bite-sized vertiginous vamps that dish out more damage than a whole backpack full of thrown stones. Call it chicken soup for the bit-crushed soul.
Du jazz cliquetant de Josh Rohs:
(Traduit par les vamps vertigineuses de Maya Keshav)
Vous vous méfiez du rythmeronnier blasé? Soyez tranquilles, avec OP-1 en main, votre sauveur de chambre-bap est ici! Sur une décennie de morceaux de mal de mer tellement branchés, Virtual Flannel sert la charcuterie de cassette, les petites bouchées de vamps vertigineuses qui encaissent plus de dommages qu'un sac à dos entier rempli de pierres lancées. On dirait que c'est le bouillon de poulet pour l'âme écrasée par le bit.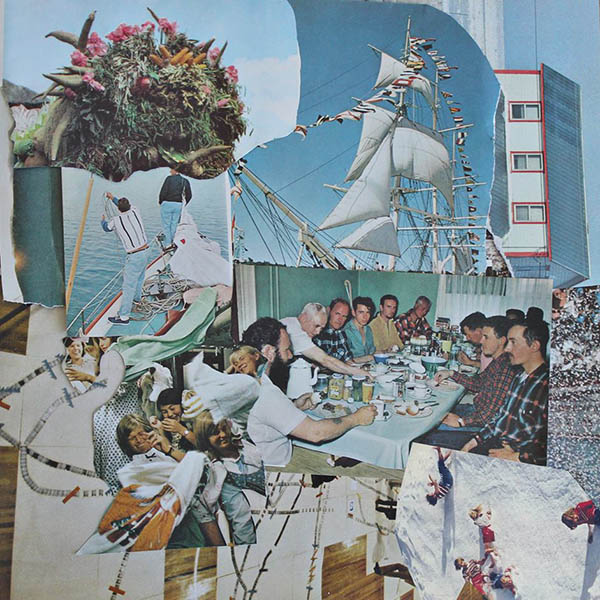 Loving
Loving
(Self-Released)
Victoria, BC
From the trick pony of Katie Jensen:
Trembling jelly words waiting to be scooped up with a plastic spoon. An apology repeated firmly and frequently. Postpunk played on 45 rpm, coated in honey, the needle dragging.
Supine guitar melodies flex their ankles underneath a bleached rim. Carefully selected sentences shift horizontally, mimicking stacked papers lifting their skirts in the wind.
A car crash played in reverse, glass triangles regathering like ants around a nest, front wheels racing backwards from an aquamarine, frothing crest. Once bitten, twice contemplative.
A copper penny placed in the palm of a warm hand like a promise; the most unreliable currency; the most likely to be forgotten on the ground.
Du poney de cirque de Katie Jensen:
(Traduit par les fourmis oubliées de Maya Keshav )
Les mots tremblants de gelée qui attendent d'être ramassés avec une cuillère en plastique. Des excuses qu'on présente et répète avec fermeté, souvent. Du postpunk joué à 45 tr/min, enrobé de miel, l'aiguille traînant.
Les mélodies allongées de guitare fléchissent leurs chevilles en dessous d'un rebord pâle. Les phrases soigneusement choisies se déplacent horizontalement, en imitant les paquets de feuilles qui soulèvent leurs jupes dans le vent.
Un accident de voiture joué à l'envers, des triangles de verre qui se rassemblent comme les fourmis autour d'un nid, les roues avant qui courent en arrière d'une crête bleue-verte moussante. Une fois mordu, deux fois plus songeur.
Un penny en cuivre mis dans la paume d'une main chaleureuse comme une promesse; la devise la moins fiable; celle qui est la plus probable de rester oubliée sur le sol.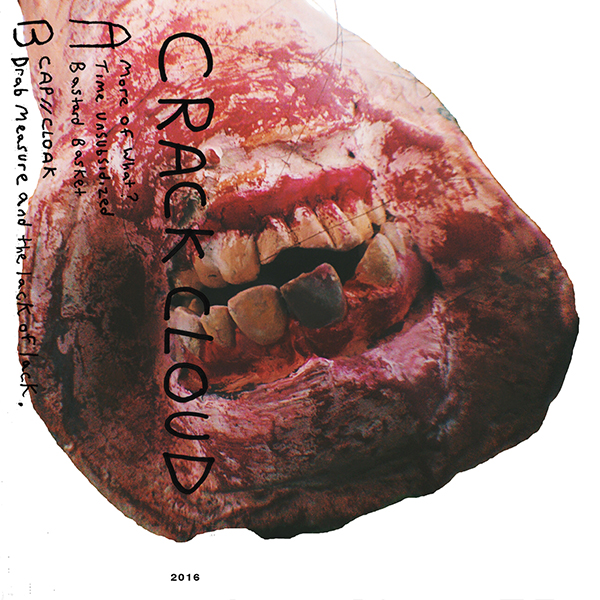 Crack Cloud
Crack Cloud
(Self-Released)
Calgary, AB
From the elixirs of Hailey Celesse McCarthy:
Suspending thick, substantial bass in acidic solutions of jagged, angular guitar strokes and stabilizing percussive rhythms, Crack Cloud achieves an emulsive substance, like mayonnaise, on their self-titled EP. Radiating, the scattering of sonic droplets throughout Crack Cloud's EP gives it a Tyndall hue. The dispersive and continuous phases of the album coalesce on the boundary track Cap//Cloak, with its initial post-punk whip and its wind out drone, the preceding and following elements focus and reflect inward and out.
Des élixirs de Hailey Celesse McCarthy:
(Traduit par la mayonnaise sonique de Maya Keshav)
En suspendant la basse épaisse et solide dans les solutions acides de coups de guitare dentés et angulaires et de rythmes équilibrants de percussion, Crack Cloud atteignent une substance émulsionnable, comme la mayonnaise, avec leur EP éponyme. Rayonnant, les gouttelettes soniques éparpillées à travers l'EP de Crack Cloud lui donnent une couleur Tyndall. Les phases dispersives et continues de l'album se fondent dans le morceau hybride Cap//Cloak, avec son fouettement initial de post-punk et le drone de sa fin, les éléments précédents et suivants se focalisent et réfléchissent vers l'intérieur et l'extérieur.
Crack Cloud – Time Unsubsidized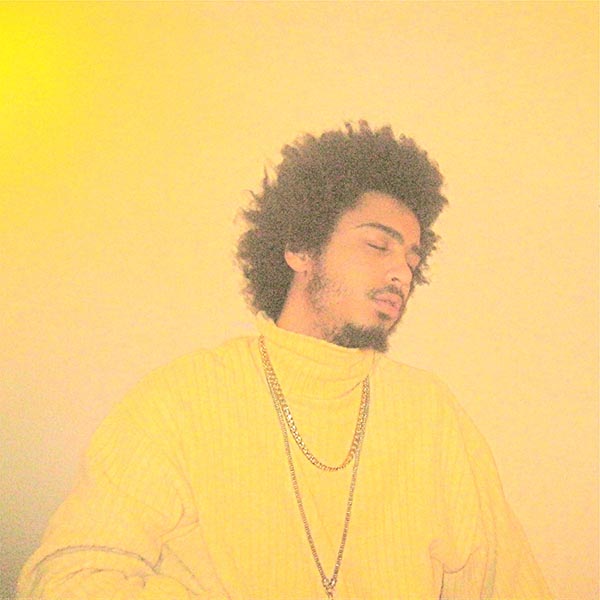 Un Blonde
Good Will Come To You
Montréal, QC
From the rusty sextant of Rolf Carlos:
Mythologies aren't reserved for dusty volumes, or shallowing scriptures on windswept sandstone; new legends are being furtively created by your next door neighbour, in their noisey downtown apartments, long after you've gone to bed. Good Will Come To You, the second in a trilogy of exploratory folk-gospel by Montréal's elusive Jean-Sébastien Audet offers just that. Laying naked at the crossroads of Art&B, spirituals, and Jobim, Un Blonde is reaching into the deep pockets of tradition, but pulling up his own currency. A cow-licked Phil Elverum, heartbroken, layering endless guitars as he builds The Glow Pt. 2; D'Angelo, possessed, determined to break the backbone of harmonic possibility as he croons 16-tracks deep on Voodoo; David Longstreth, strangling impossible chords from his Stratocaster with his middle finger aimed at Yale. This isn't comparison, so much as orientation. Triangulate your compass, and let it lead you to a new mythology; just trust your judgement.
Du sextant rouillé de Rolf Carlos:
(Traduit par le voisin élusif de Maya Keshav)
Les mythologies ne sont réservées ni pour les tomes poussiéreux, ni pour les textes sacrés qui déteignent sur le grès battu par le vent; les nouvelles légendes sont en train d'être créées en catimini par votre voisin d'à côté, dans son appartement bruyant du centre-ville, bien après que vous vous serez couché. Good Will Come To You, le deuxième dans une trilogie de folk-gospel exploratoire de l'élusif Jean-Sébasiten Audet de Montréal vous offre justement cela. Allongé nu au carrefour de l'Air&B, du spirituel et de Jobim, Un Blonde met les mains dans les poches profondes de la tradition, mais il en tire sa propre monnaie. Un Phil Elverum avec une rosette et un coeur brisé, qui étale des guitares interminables pendant qu'il construit The Glow Pt. 2; D'Angelo, possédé, résolu à casser l'épine dorsale de la possibilité harmonique quand il chante 16 morceaux de Voodoo profond; David Longstreth, qui étrangle les accords impossibles avec son Stratocaster en faisant un doigt d'honneur à Yale. Ceci n'est pas une comparaison, c'est plutôt une orientation. Triangulez votre boussole, et laissez-la vous mener à une nouvelle mythologie; faites-vous confiance.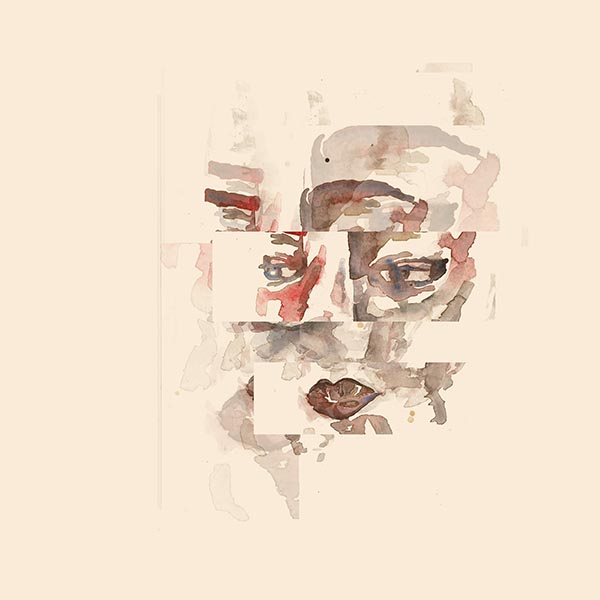 Dories
Outside Observer
Montréal, QC
From the egg salad massacre of Sam Joseph:
You once watched the world go by from the backseat. Now, you grip the wheel as an embittered young adult, as you make your way to a friend's wedding, or perhaps another final exam, or maybe a late-night flight to the end of the world. The starfire syncopation of streetlights and Pantone-perfect Mile End row houses sears your sleep-deprived eyes like flank steak on the grill (and boy does that metaphor make you wish you could break the ramen routine just this one time). You're being waved through. Drive into the darkness; it is only the pretext to a new day.
Du massacre d'une salade d'œufs de Sam Joseph:
(Traduit par le prochain examen final de Maya Keshav)
Autrefois, tu regardais passer le monde sur le siège arrière. Maintenant, tu serres le volant en tant que jeune adulte aigri, pendant que tu te diriges vers le mariage d'un ami, ou peut-être un autre examen final, ou un vol de nuit vers la fin du monde. La syncope scintillante des lampadaires et des maisons Pantone-parfaites en rangée du Mile End calcine tes yeux en manque de sommeil comme une bavette sur le grill (et ouf que cette métaphore te donne envie de rompre la routine du ramen juste une seule fois). Tu es en train d'être invité à passer. Tu roules dans l'obscurité; ce n'est que le prétexte d'une nouvelle journée.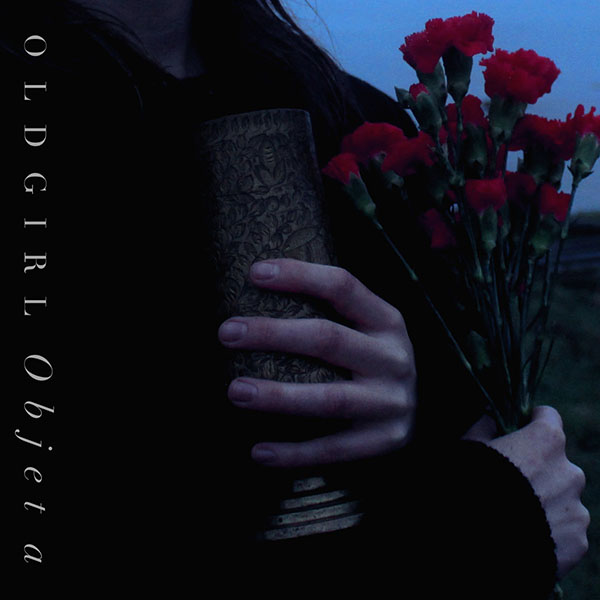 Old Girl
Objet a
(Gary Cassettes)
Victoria, BC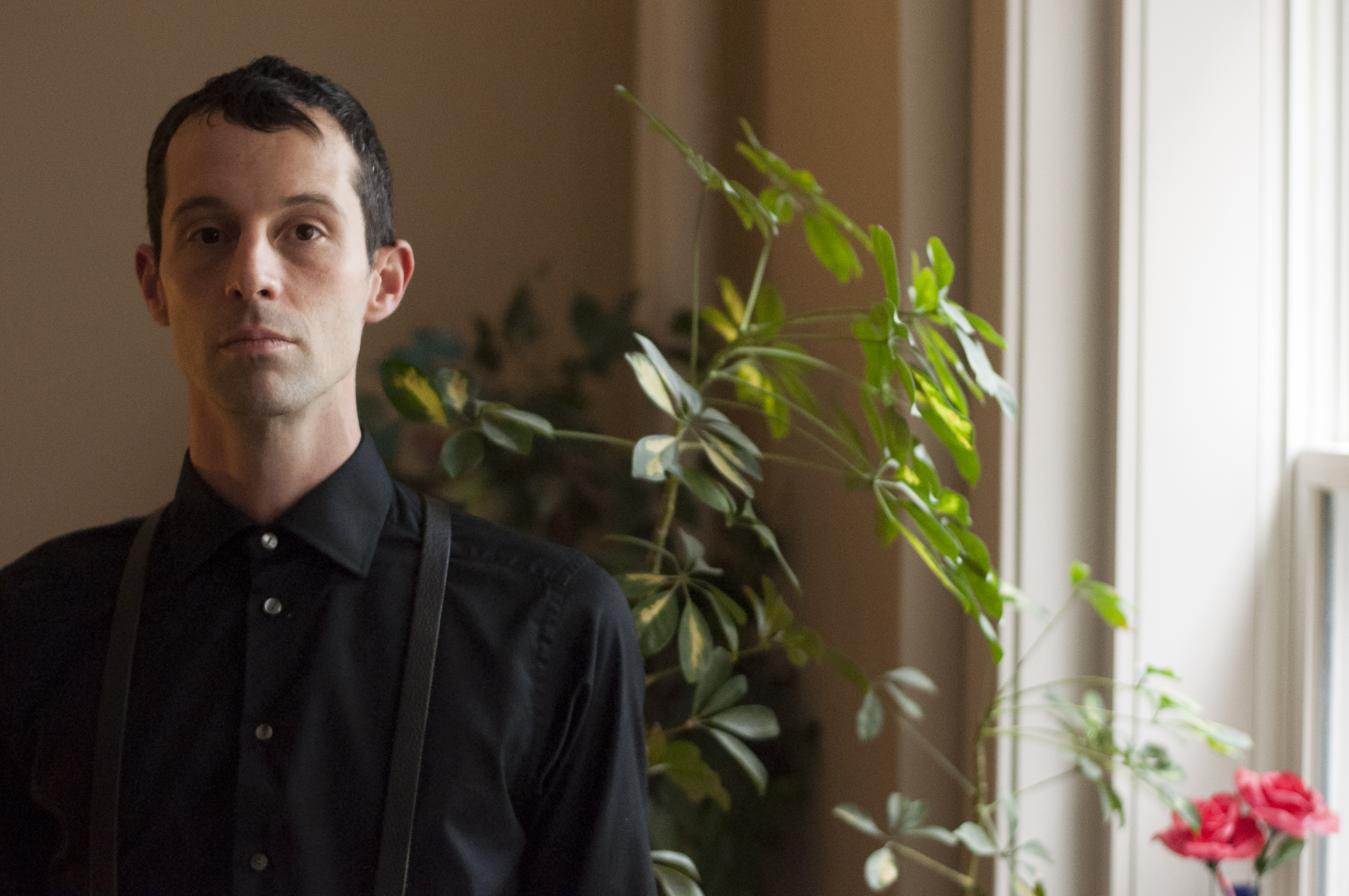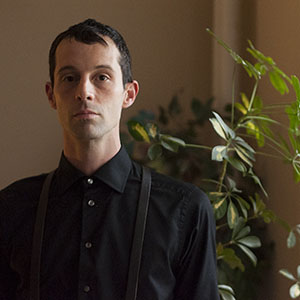 Ephemera of JFM
Existing before, during, and after the recording of Blood Moon
(Photos by: Alex Van Helvoort)
Halifax, NS
From the chill pill journey of Jonathan Park:
Here at Weird Canada, there is an eternal meadow that constantly emits wyrdo frequencies. If you turn the radio dial to 101, you'll hear the yellow sunshine of audio/visual artist Jesse Frank Matthews. For the last six+ years, Matthews has been amassing recorded and found sound for the JFM archives. Much like his visual work, he utilizes his sampler like an x-acto knife; creating audio collages by cutting up, looping and meshing source material. His first debuted cassette Compost was dropped on DIVORCE Records in 2011. Since then he's put out a handful of releases and began collaborating with Broken Deer's Lindsay Dobbin and Secret Colours' Evan Cardwell in JOURNEYS. He was nice eenuff to have us into his space and show us artifacts that have a significant impact on his creative process and daily living.
Take a chill pill, lie down in our meadow and enjoy the melted hypno-grooves under Blood Moon.
Sam & Mr. B Suitcase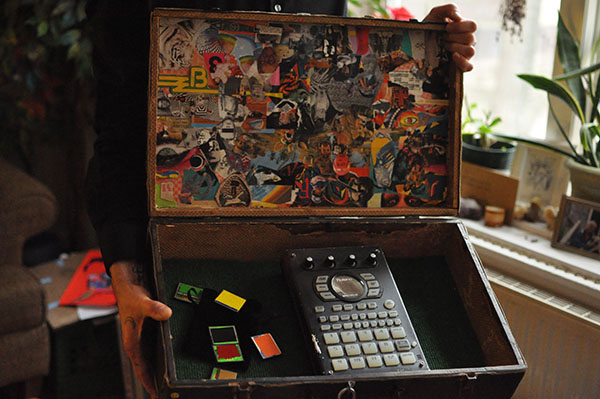 I've used this same old SP 404 sampler since 2010 when I started this JFM project. It's gone through a couple paint jobs, and the ragged suitcase it's been living in was given to me (full of booze) years ago by Mr. B prior to leaving for a Rattail tour in 2011. Every JFM song thus far has been written and recorded with this sampler, and every show I've played has been out of this suitcase. I've recently been on the hunt for some new gear, after receiving my first Canada Council grant a few months back.
The Studio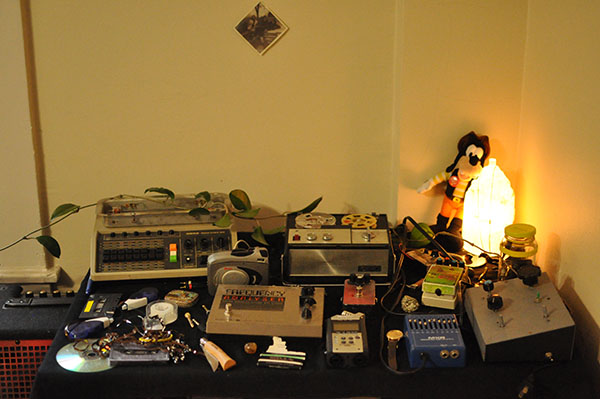 Pictured here is my studio, in its entirety. Spot if you can: Goofy (given to me by my Niece and Nephew), 'Dino-box' chorus/reverb unit (bought at Songbird Music for $25 before they shut their doors), Lucia Stephen's Optimus walkman (records in stereo & has a speaker on it!), Wite-out rollers, handmade tape loops, Frequency Analyzer, MXR EQ, reverb tank, and some other FX and recording devices. Treating, physically manipulating and re-amping the source material is a huge part of my process, I work with the individual sounds until I am satisfied.
Deborah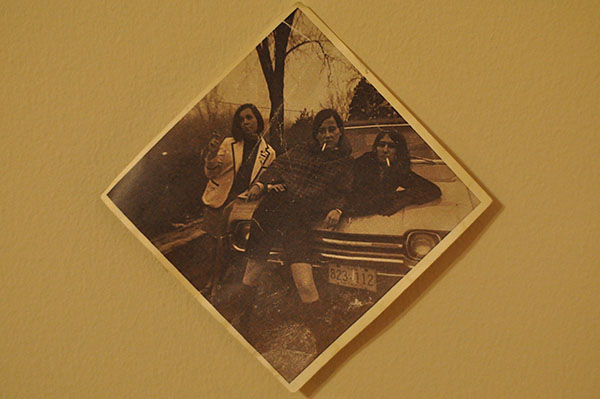 This photograph was taken in the 1950s by my grandfather Frank Dawe, my Mother (Deborah Jane Dawe) is the one in the middle. Not sure how she got away with the 'prop' cigarette, but she looks pretty bad ass.
Ring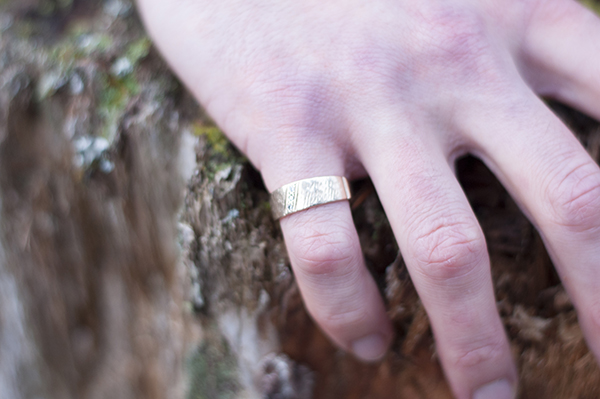 Few days go by that I forget to wear this beautiful piece of my history, my parents' wedding ring. It is the most special thing I own. Seen here on an ageing tree stump in Point Pleasant, a large park on water with trails to get lost in and beaten paths to ride on. I come here in all types of weather, as it's quite close to my apartment.
Matthew's Bugle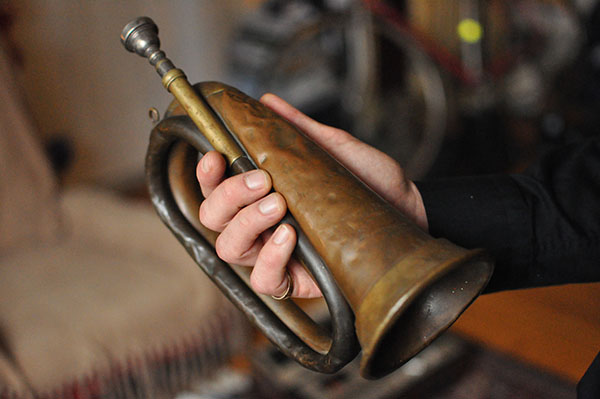 This bugle was made by Boosey & Co. in Toronto in the 30s and given to my grandfather George Matthews during his stint in WWII. It used to hang in my Father's electronics workshop in our basement when I was growing up, and it was one of the first things I put a bottle-cap contact mic on.
Dawe's Snuff Tin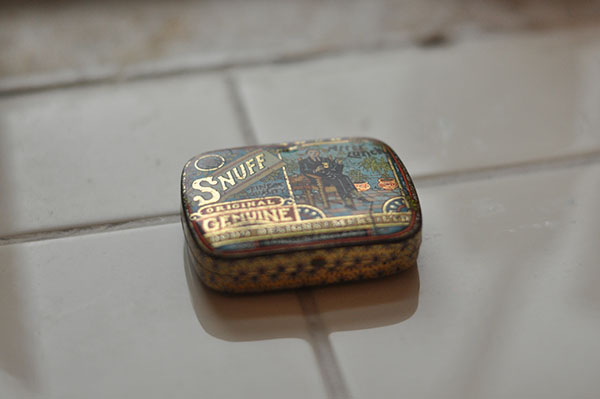 Many strange 'treats' have graced this miniature vintage Snuff tin/pill box. Used by Frank Dawe for his 'after lunch' treats in the 1970s, it's been used by me since the 1990s. What's left in the snuff?
Fuschia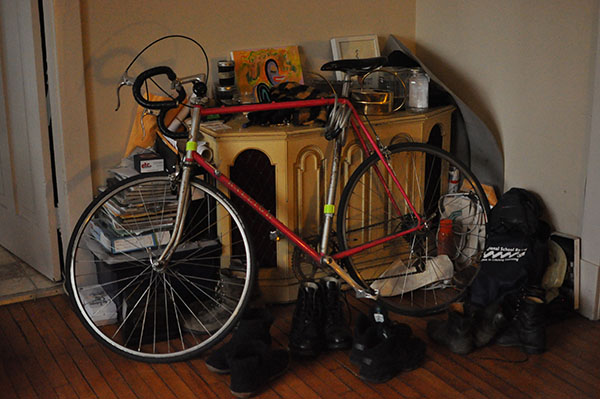 Anyone who knows me, knows I have always loved riding my bike. I was even a courier in downtown Toronto for a while in 2012, and have had more bikes stolen than you could imagine. I bought this gorgeous old Raleigh from Nathan Cameron last year. Fuschia is sleeping now because it's Winter.
Black Dice Tape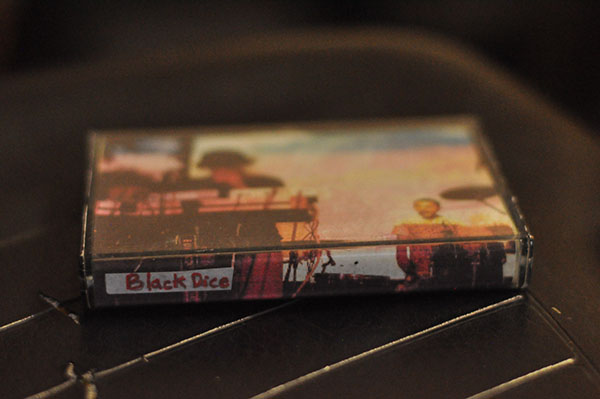 This tape was made by Evan Cardwell and given to me for my birthday in 2004. It's a live recording of a Black Dice set from their 'Creature Comforts' period. You can clearly hear the audiences in their ebbing delight and confusion over the course of the half an hour set. The B side is all the early 7"s and the 'Wastered' 12" which I bought at their Montréal show that same year. I've nearly worn it to pieces.
Berkhout & Welland Canal Monster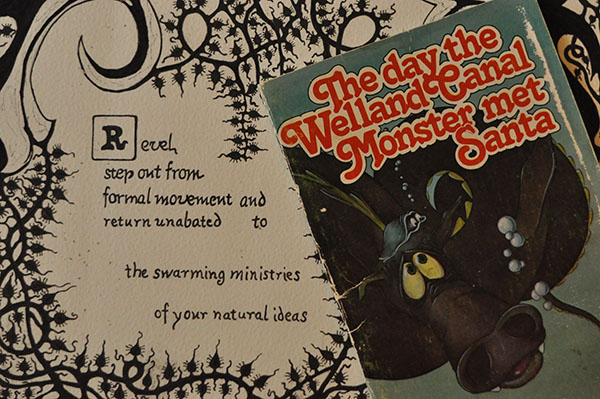 There are two items classic Niagara Region items on display here; a lucid poem given to me by Greg Berkhout in 2003 and a copy of 'The Day the Welland Canal Monster Met Santa' given to me by Kim Delaat. Having an affinity for all lore involving Loch Ness Monsters (Gaasyendietha), this story used to be read live on CKTB in the late 70s and early 80s and was soon turned into this much more compact pamphlet version, available then at the grocery store and dentist office.
Father's Marantz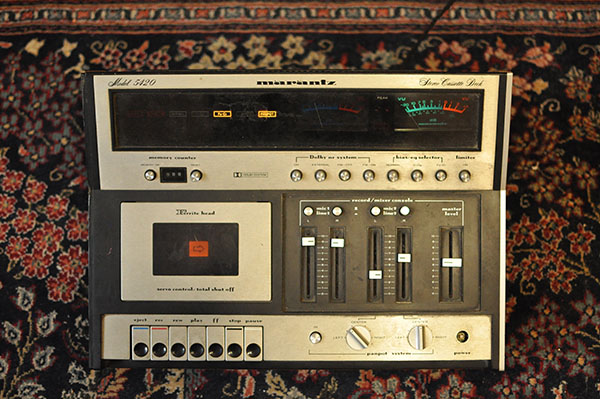 Story goes that my Father and his best friend Gumby drove to California in the late 70s to purchase this Marantz stereo cassette recorder. I have used this endlessly in my work and with every band I've ever played in. It sounds so vivid and is such an important part of my early experiences both listening to, and creating music. Later feeding my curiosity in dub effects, playing a mixer as an instrument and tape as a tactile medium.
Par le voyage narco-calmant de Jonathan Park:
(Traduit par l'ivresse printanière d'Émily Traichel)
Ici à Weird Canada, il y a une prairie éternelle qui émet en permanence des fréquences bizarres. Si vous tournez le cadran de la radio au 101, vous entendrez la couleur du soleil de l'artiste audio-visuel Jesse Frank Matthews. Au cours des six dernières années et plus, Matthews a passé son temps à amasser des sons enregistrés et trouvés pour les archives JFM. Tout comme son ouvrage visuel, il utilise son échantillonneur comme un couteau x-acto; créant des collages audios en découpant, bouclant et engrenant le matériel source. Sa première cassette Compost est sortie avec DIVORCE Records en 2011. Depuis, il a sorti une poignée de morceaux et a commencé à collaborer avec Lindsay Dobbin de Broken Deer et Evan Cardwell de Secret Colours dans JOURNEYS. Il a été assez gentil pour nous accueillir dans son espace et nous montrer les artéfacts qui ont un impact significatif sur son processus créatif et sa vie quotidienne.
Prenez un calmant, étendez-vous dans notre prairie et jouissez des grooves hypnotiques vaporeux sous la lune de sang.
Sam et la valise de Monsieur B.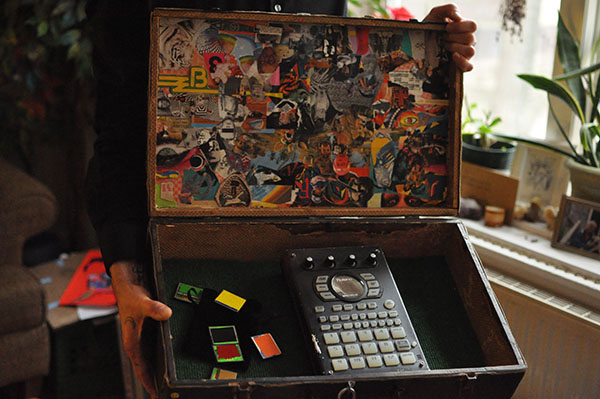 J'utilise le même vieil échantillonneur SP 404 depuis 2010 lorsque j'ai lancé ce projet JFM. Il a connu quelques retouches de peinture et la valise dépenaillée dans laquelle il vit m'a été donnée (pleine de booze) il y a des années par Monsieur B. avant de partir pour une tournée de Rattail en 2011. Jusqu'ici, toutes les chansons JFM ont été écrites et enregistrées avec cet échantillonneur, et chaque spectacle que j'ai joué est sorti de cette valise. Depuis quelque temps, je suis à la recherche d'équipement neuf notamment parce j'ai reçu ma première subvention du Conseil du Canada il y a quelques mois.
Le Studio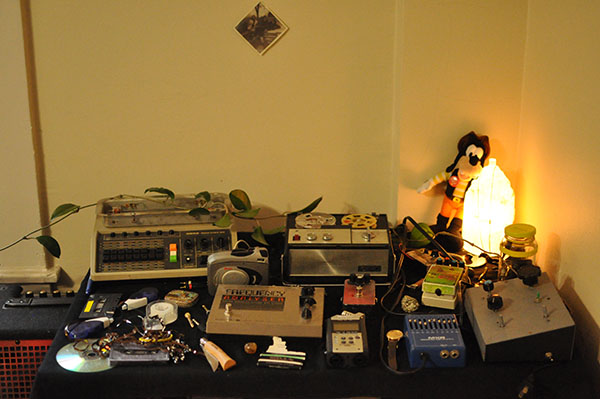 Photographié ici est mon studio, dans son intégralité. On y voit (à vous de les repérer!) : Goofy (que ma nièce et mon neveu m'ont donné), une unité de choeur/réverbe 'Dino-boîte' (achetée à Songbird Music pour 25 $ avant qu'ils ferment leurs portes), le walkman Optimus de Lucia Stephen (qui enregistre en format stéréo et est équipé d'un haut-parleur!), des rouleaux de Wite-out, des boucles de ruban faites à la main, un analyseur de fréquence, MXR EQ, un réservoir de réverbe, et quelques autres appareils FX et d'enregistrement. Le traitement, la manipulation physique et la ré-amplification du matériel source constituent une immense partie de mon processus, je travaille les sons de façon individuelle jusqu'à ce que je sois satisfait.
Deborah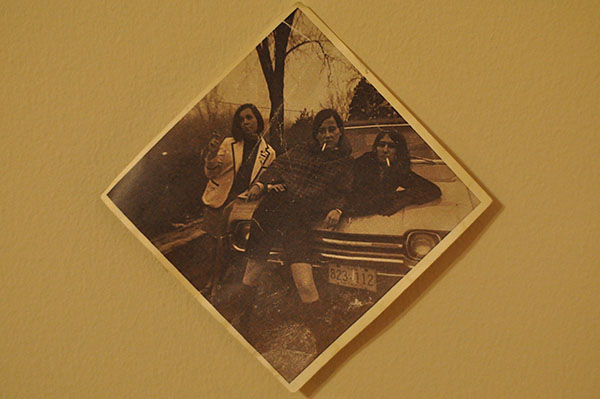 Cette photo a été prise dans les années 50 par mon grand-père Frank Dawe, ma mère (Deborah Jane Dawe) se trouve au milieu. Je ne sais pas comment elle a réussi à passer avec sa fausse cigarette, mais elle a une méchante allure.
Bague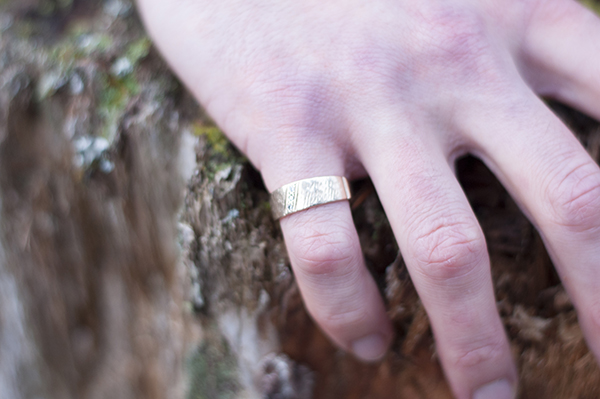 Peu de journées passent où j'oublie de porter ce beau morceau de mon histoire, l'alliance de mes parents. C'est la chose la plus précieuse que je possède. On la voit ici sur une souche d'arbre vieillissante à Point Pleasant, un grand parc au bord de l'eau avec des sentiers sur lesquels on peut se perdre et des chemins pour faire du vélo. Je viens ici par tous les temps, c'est assez proche de mon appartement.
Le clairon de Matthew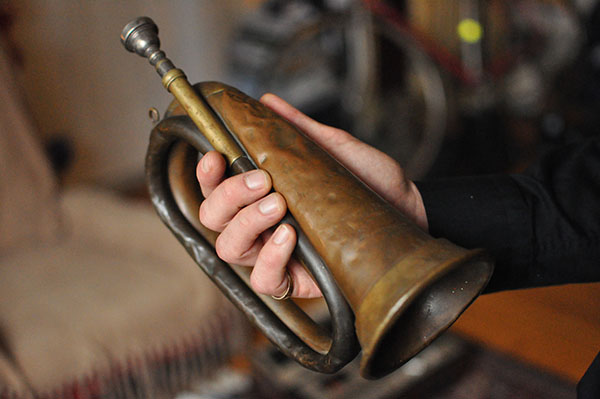 Ce clairon a été fabriqué par Boosey & Co. à Toronto dans les années 30 et a été donné à mon grand-père George Matthews pendant sa période de service durant la deuxième guerre mondiale. Quand j'étais petit, il était accroché dans l'atelier électronique de mon père au sous-sol, et c'est une des premières choses sur lesquelles j'ai fixé un micro de contact bricolé avec des bouchons.
La tabatière de Dawe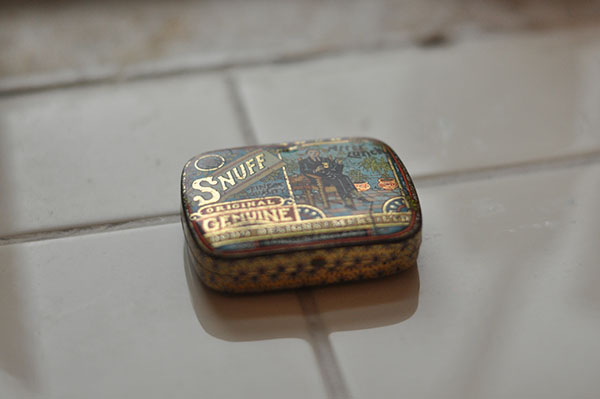 De nombreuses étranges 'friandises' ont honoré cette tabatière/boîte à pilules miniature ancienne. Utilisée par Frank Dawe pour ses friandises après le dîner dans les années 70, je m'en sers moi-même depuis les années 90. Qu'est-ce qu'il reste dans le tabac?
Fuschia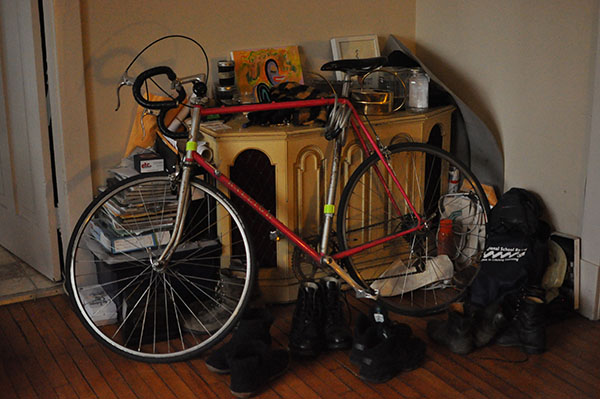 Ceux qui me connaissent savent que j'ai toujours adoré faire du vélo. J'ai même été coursier au centre-ville de Toronto pendant quelque temps en 2012, et je me suis fait volé un nombre inimaginable de bicyclettes. J'ai acheté une vieille Raleigh sublime de Nathan Cameron l'année passée. Fuschia dort pour l'instant car c'est l'hiver.
Cassette Black Dice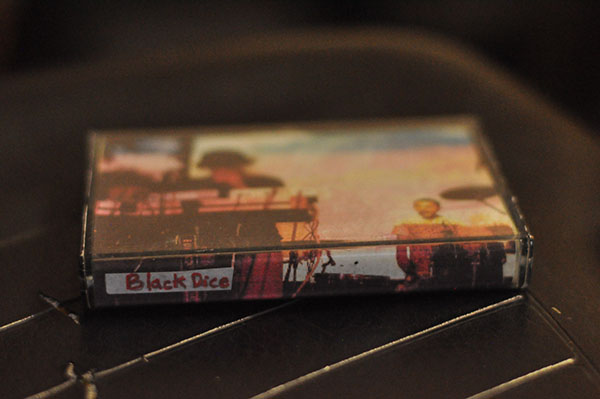 Cette cassette a été faite par Evan Cardwell et m'a été offerte pour mon anniversaire en 2004. C'est un enregistrement en direct d'un concert de Black Dice pendant leur période 'Creature Comforts'. On peut clairement entendre les spectateurs dans leur reflux de plaisir et de confusion tout au long de la demi-heure de leur concert. Sur la face B figurent tous les anciens 7 pouces et le 12 pouces 'Wastered' que j'ai achetés à leur spectacle à Montréal la même année. La cassette tombe quasiment en morceaux tellement je l'ai écoutée.
Berkhout & le monstre du canal de Welland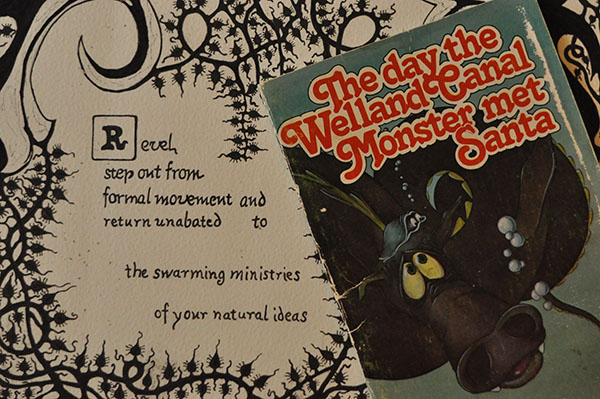 Il y a deux items classiques de la région de Niagara qui sont exposés ici; un poème lucide qui m'a donné Greg Berkhout en 2003 et une copie de 'Le jour où le monstre du canal de Welland a rencontré le Père Noël' offert par Kim Delaat. Ayant une affinité pour toute connaissance traditionnelle liée aux monstres du Loch Ness (Gaasyendietha), cette histoire était lue en direct sur CKTB à la fin des années 70 et au début des années 80. Elle est ensuite parue dans cette version brochée compacte; on pouvait la trouver à l'épicerie et chez le dentiste.
Marantz de papa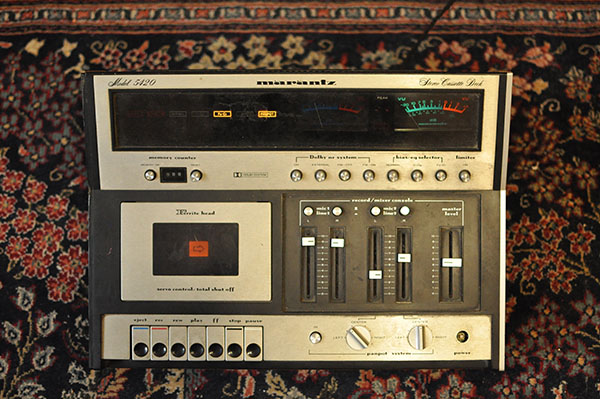 On raconte que mon père et son meilleur ami Gumby se sont rendus en auto jusqu'en Californie vers la fin des années 70 pour acheter cet enregistreur stéréo cassette Marantz. Je n'ai jamais cessé de l'utiliser pour mon travail et avec tous les groupes auxquels j'ai participé. Il a vraiment un son captivant et a joué un rôle très important depuis mes débuts, que ce soit pour écouter de la musique ou pour créer de la musique. Plus tard, il a alimenté ma curiosité pour les effets dub, le fait de jouer avec un mixeur comme instrument et l'idée d'une cassette en tant que médium tactile.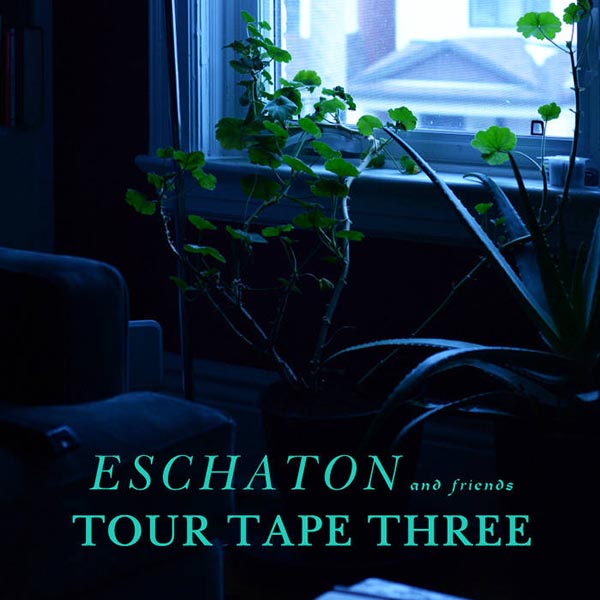 Eschaton
Tour Tape Three
Hamilton, ON
From the bottom line of Rolf Carlos Klausener:
You're in a pitch black room as time slows. A flash goes off. As each fraction of a second passes, a scene reveals itself: colourless shapes, then a face, shadows, furniture, the texture of the stucco ceiling, dust and flakes of dead skin floating weightless past your eyes. Fast or slow, mercilessly loud or impossibly quiet, improvised music is a slow reveal. In this live tour series, Hamilton's Eschaton and friends Strangebarn bask in the resonance of brass bells before sinking into a tension-filled horror show of grinding electric drones, cursing saxophones, and vulgar percussion on the verge of manic violence. A slow-motion assault, perhaps a reflection of ancient tensions, the kind that even among earth's most peaceful denizens emerges when the wrong buttons are pushed.
De la ligne du bas de Rolf Carlos Klausener:
(La résonnance des cloches de Odile Leclerc)
Tu es dans une pièce complètement noire alors que le temps ralentit. Un flash apparaît. À chaque fraction de seconde qui passe, une scène se révèle : des formes sans couleurs, puis un visage, des ombres, des meubles, la texture d'un plafond stuc, de la poussière et des résidus de peau morte flottent légèrement devant tes yeux. Rapide ou lente, cruellement bruyante ou impossiblement silencieuse, la musique improvisée est une révélation lente. Dans ces suites de visites en direct, Eschaton de Hamilton et amis Strangebarn se prélassent dans la résonance des cloches en laiton avant de s'enfoncer dans un spectacle tendu d'horreur de drones électriques grinçant, de saxophones qui jurent et de percussions vulgaires au bord d'une violence maniaque. Un assaut au ralenti, peut-être une réflexion d'anciennes tensions, du genre qui même parmi les habitants les plus paisibles de la terre émergent quand on appuie sur les mauvais boutons.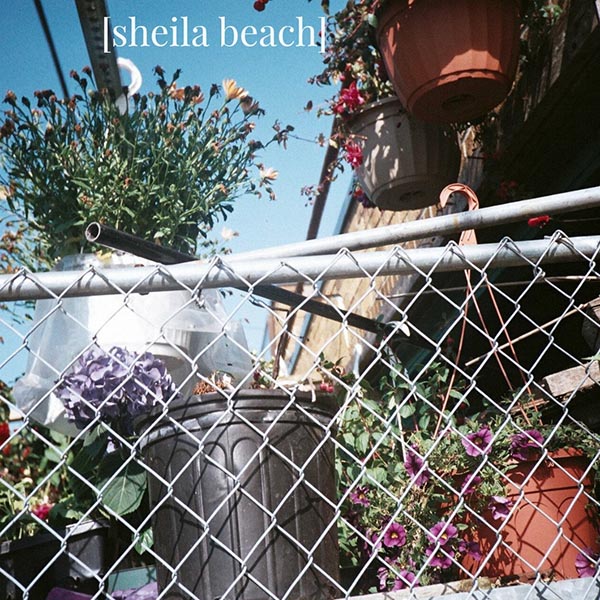 Sheila Beach
Walk Home
(Self-Released)
Peterborough, ON
From the suburban submarine of Mike Roy:
Taking cues from their other projects in The Lonely Parade and Faux Cults, young Peterborough innovators Charlotte Dempsey and Luca Mo spread their undeniable chemistry over the length of Sheila Beach's "Walk Home". Their crunchy and gravelly stride strikes a DIY approach to finely tuned pop gems with results as warm, earnest and glossy as a memory of teenage romance. The album standout "Wally M" is playfully ephemeral like the gentle caress of an unassuming summer love, washing waves of feedback through messy hair and rosy cheeks.
Du sous-marin de banlieue de Mike Roy:
(La chimie indéniable de Odile Leclerc)
Suivant l'exemple de leurs autres projets dans The Lonely Parade et Faux Cults, les jeunes innovateurs de Peterborough, Charlotte Dempsey et Luca Mo, répandent leur indéniable chimie sur tout de "Walk Home" par Sheila Beach. Leur foulée crissante et graveleuse frappe une approche DIY aux joyaux de la pop avec des résultats aussi chaleureux, sincères et reluisants qu'un souvenir d'une romance d'adolescent. Le remarquable album "Wally M'' est joyeusement éphémère comme la douce caresse d'un amour d'été modeste, faisant des vagues de réactions qui se brisent à travers des cheveux en bataille et des joues rosées.
---