Category: cassette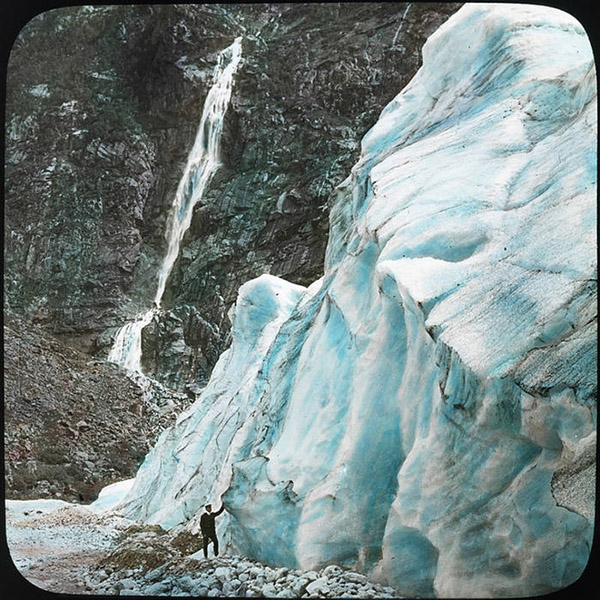 Man Meets Bear
I Want to Be a Gallant Rider Like My Father Was Before Me
Toronto, ON
From the S.A.D. mind of Laura Stanley:
Winter is steadily encroaching; I can see it on the lake. Its once affable body has grown cold and still. Man meets Bear speaks of this change. The swirling reluctance of autumn to end ("Elm"), the ice glistening on the lake's exterior ("Garrison Creek"), how an icy arm will plunge deep below the surface ("The Humber"). Despite the melancholy caught in their talk, Man meets Bear also presents small comforts for those who dread the dark days ahead. They remind us of the warmth of the holidays ("Xmas at Palais Royale"), how Spring always surfaces ("Fortunately, We Survived") and the world blooms anew once again ("Sun's Back").
De l'esprit triste de Laura Stanley:
(Traduit avec de la reconnaissance par Traducteur Interne)
L'hiver s'en vient. C'est constant. La surface du lac en témoigne. Une masse affable devint froide. Man meets bear parle de ce changement. De la réticence tourbillonnante d'automne qui s'éteint : (« Elm »). La glace étincelante du lac : (« Garrison Creek »). Comment un bras refroidi plongera profondément en dessous de la surface (« The Humber »). Malgré l'évidence de la mélancolie, Man meets Bear présent aussi des petits réconforts pour ceux et celle qui redoutent les journées sombres qui s'en viennent. Ils nous rappellent la chaleur des Fêtes: ('Xmas at Palais Royale »), que le printemps refleurit toujours (« Fortunately, We Survived ») et du fait que le monde s'épanouit de nouveau (Sun's Back »).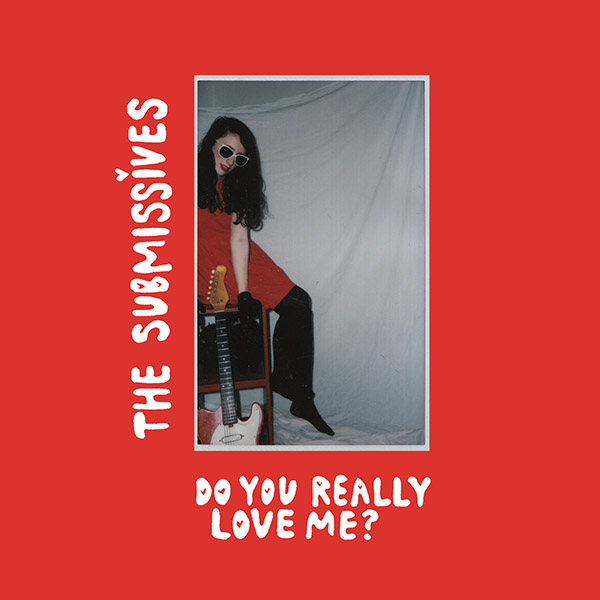 The Submissives
Do You Really Love Me?
Montréal, QC
From the Lovesick Daydream of Eleanor Wearing:
The Submissives' Do You Really Love Me? is the soundtrack to a never ending road trip towards an unreachable destination. Sun beats through dirty car windows. Soft air conditioning hums and sighs as the passengers do the same. Heat melts from a lazy blue expanse, conjuring highway mirages and lucid daydreams. Sweet stale air seeps and suffocates, whispering secrets to the reluctant beat of hands against knees. Finally, the sun slinks out of sight. Stars clatter and clink into place. But there is no rest for the lovesick so the car surges ahead, towards an elusive paradise.
Du rêverie languit d'amour du Eleanor Wearing:
(Traduit par Alison McReynolds)
Do You Really Love Me? de The Submissives est la bande-originale d'un road trip ayant une destination hors de portée. Le soleil tapait à travers des vitres sales. Un climatiseur doux chantonnait et soupirait pendant que les passagers faisaient de même. La chaleur fondait d'une étendue bleue et paresseuse évoquant des mirages de la grande route et de rêveries lucides. L'air doux et rassis coule et nous étouffe chouchotant des secrets aux battements réticents de mains qui frappent sur les genoux. Finalement, le soleil s'éclipse de vue. Les étoiles cliquettent et tintent en place. Mais il n'y a pas de repos pour celui qui souffre d'amour alors la voiture continue de l'avant vers un paradis élusif.
The Submissives – Do You Really Love Me?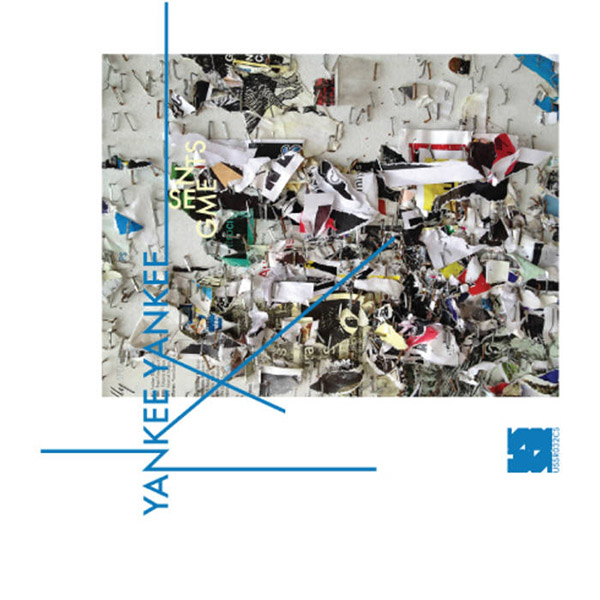 Yankee Yankee
Segments
Calgary, AB
From the guilty conscience of Katie Jensen:
Scram, scramble, flail. Slip into the grimy alley outside the reactor. Fingers digging into swirling space, mouths opening like dry fish. Waves of liquid synthesizers glide across polyphonic keys, drifting mercury desperately seeking cinnabar. Splintered chips making a slow transit across the sun, skin blistering, crust puckering. Rainbowed teeth floating into silicon space. Isolated letters tugged into orbit, tethered by minted floss. Thumbprint craters, alkaline water pooling in the hollows of eyes, a rippled disturbance, wobbling, tilted, reversing orbit. Eject into deep space via Calgary with the harsh ambient synths of Yankee Yankee's Segments.
De la conscience coupable de Katie Jensen:
(Traduit par les poissons de Maya Keshav)
Dégage, défile-toi, débats-toi. Passe dans la ruelle sale en dehors du réacteur. Les doigts puisent au fond de l'espace tourbillonnant, les bouches ouvrent comme des poissons secs. Les vagues de synthé liquide planent à travers les touches polyphoniques, le mercure vagabond qui cherche désespérément le cinabre. Les éclats qui font un voyage lent à travers le soleil, les ampoules sur la peau, les plis dans la croûte. Les dents arc-en-ciel qui volent dans l'espace en silicium. Les lettres isolées qui sont attirées à l'orbite, attachées à la soie dentaire à la menthe. Les cratères d'empreinte, l'eau alcaline qui s'accumulent dans les creux des yeux, un tapage ondulé, l'orbite chancelant, penchée, contraire. Propulse-toi en espace lointain via Calgary avec les synthés crus et enveloppants de Segments de Yankee Yankee.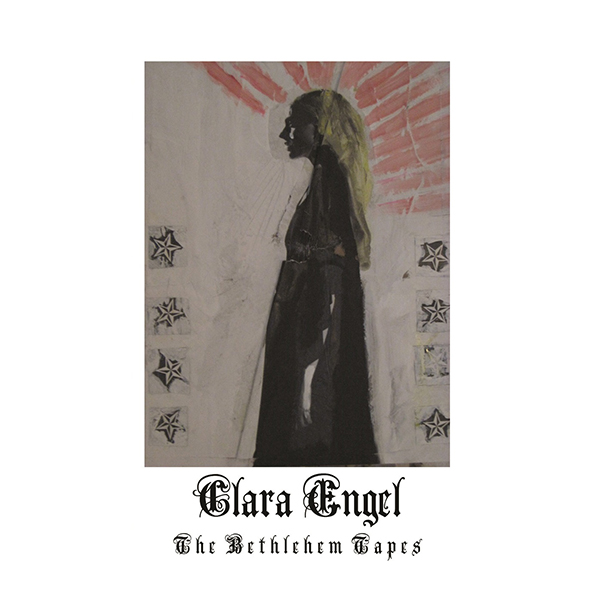 Clara Engel
The Bethlehem Tapes
Toronto, ON
From the folk noir of Joshua Robinson:
Dark lulls of quiet repose drift like so many memories in the night. Cathedrals echo with the pitter patter of a soft voice as it speaks of the space that exists between the spaces that take up the shape and form of the sounds we see behind closed eyes. The revenants that lilt from such great heights are far too misremembered to dare touch down once more. Rather, they stay in the rafters as their whispers and musky laughter fall onto the heads below, present again in the moment as they once were.
Du folk glauque de Joshua Robinson:
(Traduit par les sommets gargouillants de Marie-Pier Chevrier)
De sombres accalmies de repos tranquille dérivent comme autant de souvenirs dans la nuit. Les cathédrales résonnent du tapotement de la douce voix qui raconte l'espace existant entre les espaces ayant la taille et la forme des sons que l'on voit les yeux fermés. Les revenants qui se dandinent de ces hauteurs vertigineuses ont bien trop sombré dans l'oubli pour oser redescendre une fois de plus. Ils restent plutôt dans les poutres d'où leurs murmures et leurs rires musqués tombent sur les têtes plus bas, présents encore pour un moment tels qu'ils l'ont déjà été.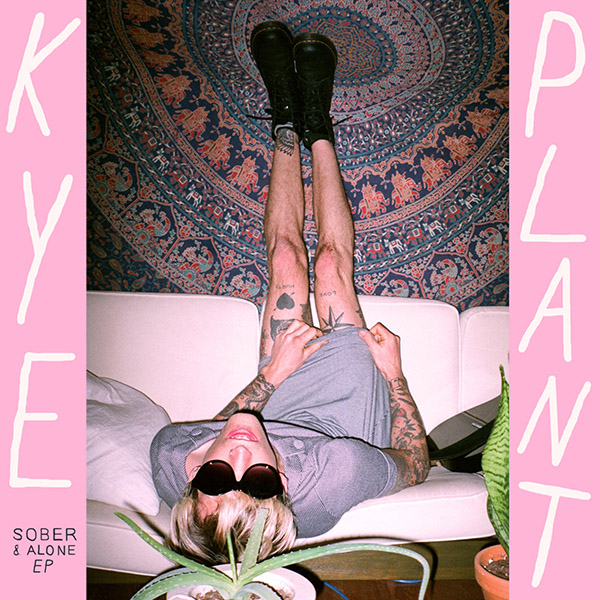 Kye Plant
Sober & Alone EP
(Gary Cassettes)
Victoria, BC
From the questioning self of Johnnie Regalado:
A soft breeze sneaks in an open window, turns the pages of the notebook on the bedside table, and lifts the solemn words out into the ether. Sing along with the sorrow. Nothing remembered is lost forever. Kye Plant's solo harmonies echo an important reminder: there's absolutely nothin' wrong with feelin' weird.
Du soi s'interrogeant de Johnnie Regalado:
(Traduit par les flocons épicés de Marie-Pier Chevrier)
Une douce brise se faufile par la fenêtre ouverte, tourne les pages du cahier de notes sur la table de chevet et en soulève les mots solennels dans l'éther. Chantez en harmonie avec le chagrin. Aucun souvenir n'est perdu à jamais. Les mélodies des solos de Kye Plant répètent un important rappel : il n'y a absolument rien de mal à se sentir étrange.
Kye Plant – The Gender Binary is a Jail Cell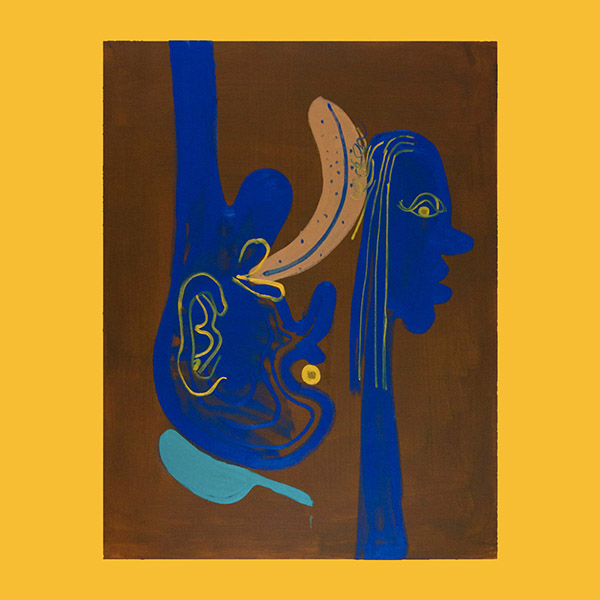 Aleem Khan
U R B A N A C H A M P A I G N
Calgary, AB
From the sparkling, small city of Joel Thibert:
There are so many options. P E O R I A F A N T A? A K R O N P E R R I E R? Aleem Khan has already decided: U R B A N A C H A M P A I G N. The bottle that's been kept hidden in the back of the fridge. Playful, self-assured, and inviting, it's the sort that can make you feel warm while still being plenty cool. When the final sip, that free-as-can-be closer, holds its 9.5 minute reign, there is only one sparkling beverage, one mid-sized, mid-western locale.
De la ville petite et pétillante de Joel Thibert:
(Traduit par Alison McReynolds )
Il y a tellement d'options. P E O R I A F A N T A? A K R O N P E R R I E R? Aleem Khan a déjà décidé: U R B A N A C H A M P A I G N. La bouteille cachée dans l'arrière du frigo. Espiègle, confiante et invitante, c'est le genre qui peut te rendre chaud tout en étant froid. Quand la dernière petite gorgée, un fond libre comme l'air, prend son règne de 9,5 minutes, il ne reste qu'une boisson pétillante, un endroit au midwest de taille moyenne.
Aleem Khan – U R B A N A C H A M P A I G N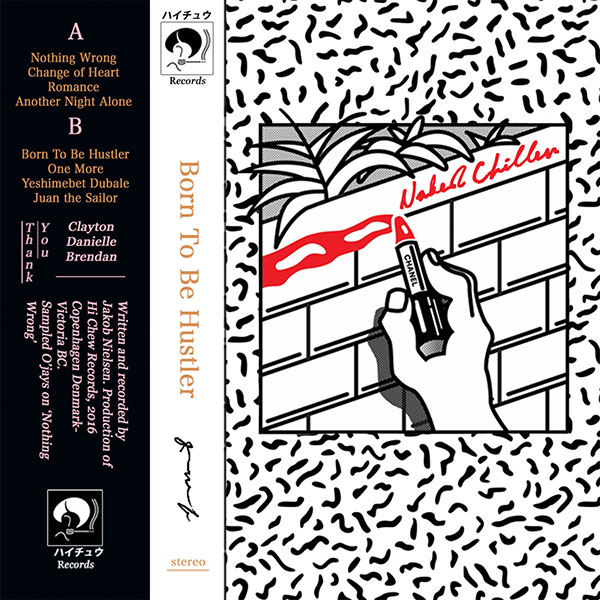 Naked Chillen
Born To Be Hustler
Victoria, BC
From the shaving cream embarrassment of Sam Joseph:
In a sinful city by the sea, angels check their wings at the door. Morose melody lingers in the air of an Art Deco dining hall like the smoke of a million cigarettes. Diamond eyes stare from afar as you look up and down the late-night menu. They know. Your misgivings will be brought to light in the darkroom. Penthouse can become pavement in an instant. Strap yourself in, Casanova. Time to find out if that twin-turbo engine is fast enough to facilitate your safe escape from this pastel hell.
De l'embarrassement de la crème à raser de Sam Joseph:
(Les yeux en diamants d'Odile Leclerc)
Dans une ville pécheresse près de la mer, les anges laissent leurs ailes à la porte. Une mélodie morose persiste dans l'air d'une salle à manger Art déco, telle la fumée d'un million de cigarettes. Des yeux en diamants fixent de loin alors que vous regardez de haut en bas le menu nocturne Ils savent. Vos appréhensions vont être révélées dans la pièce sombre. Un appartement-terrasse peut se transformer en trottoir en un instant. Attache-toi, Casanova. Il est temps de savoir si cette machine à double turbo est assez rapide pour faciliter une évasion sans danger de cet enfer pastel.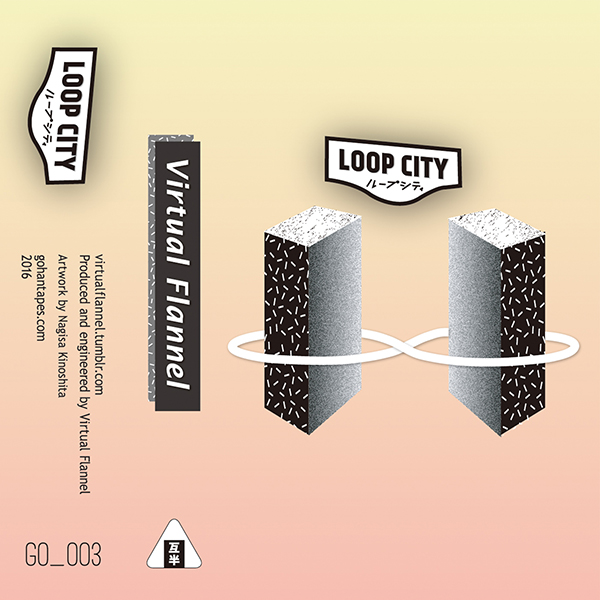 Virtual Flannel
Loop City
(Gohan)
Saskatoon, SK
From the janky jazz of Josh Rohs:
Wary of the blasé beatsmith? Never fear, with OP-1 in hand, your bedroom-bap saviour is here! On a decade of seasick janky jams, Virtual Flannel serves up cassette tape charcuterie, bite-sized vertiginous vamps that dish out more damage than a whole backpack full of thrown stones. Call it chicken soup for the bit-crushed soul.
Du jazz cliquetant de Josh Rohs:
(Traduit par les vamps vertigineuses de Maya Keshav)
Vous vous méfiez du rythmeronnier blasé? Soyez tranquilles, avec OP-1 en main, votre sauveur de chambre-bap est ici! Sur une décennie de morceaux de mal de mer tellement branchés, Virtual Flannel sert la charcuterie de cassette, les petites bouchées de vamps vertigineuses qui encaissent plus de dommages qu'un sac à dos entier rempli de pierres lancées. On dirait que c'est le bouillon de poulet pour l'âme écrasée par le bit.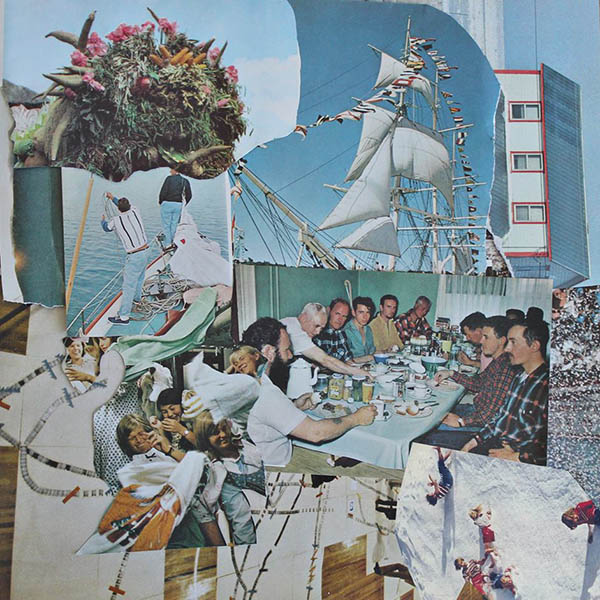 Loving
Loving
(Self-Released)
Victoria, BC
From the trick pony of Katie Jensen:
Trembling jelly words waiting to be scooped up with a plastic spoon. An apology repeated firmly and frequently. Postpunk played on 45 rpm, coated in honey, the needle dragging.
Supine guitar melodies flex their ankles underneath a bleached rim. Carefully selected sentences shift horizontally, mimicking stacked papers lifting their skirts in the wind.
A car crash played in reverse, glass triangles regathering like ants around a nest, front wheels racing backwards from an aquamarine, frothing crest. Once bitten, twice contemplative.
A copper penny placed in the palm of a warm hand like a promise; the most unreliable currency; the most likely to be forgotten on the ground.
Du poney de cirque de Katie Jensen:
(Traduit par les fourmis oubliées de Maya Keshav )
Les mots tremblants de gelée qui attendent d'être ramassés avec une cuillère en plastique. Des excuses qu'on présente et répète avec fermeté, souvent. Du postpunk joué à 45 tr/min, enrobé de miel, l'aiguille traînant.
Les mélodies allongées de guitare fléchissent leurs chevilles en dessous d'un rebord pâle. Les phrases soigneusement choisies se déplacent horizontalement, en imitant les paquets de feuilles qui soulèvent leurs jupes dans le vent.
Un accident de voiture joué à l'envers, des triangles de verre qui se rassemblent comme les fourmis autour d'un nid, les roues avant qui courent en arrière d'une crête bleue-verte moussante. Une fois mordu, deux fois plus songeur.
Un penny en cuivre mis dans la paume d'une main chaleureuse comme une promesse; la devise la moins fiable; celle qui est la plus probable de rester oubliée sur le sol.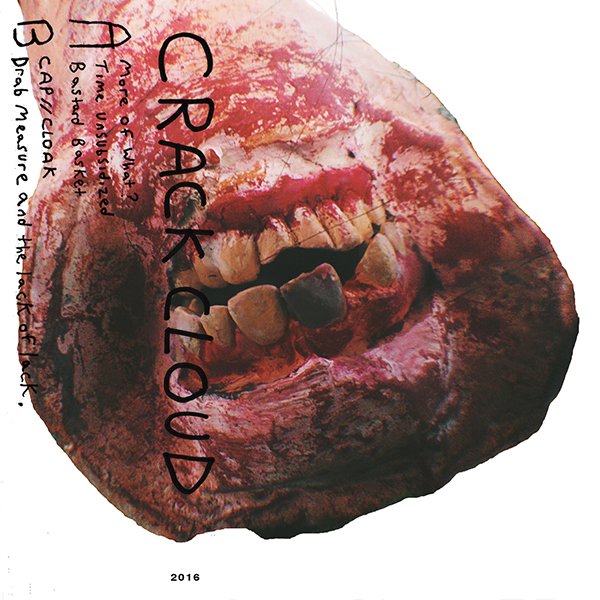 Crack Cloud
Crack Cloud
(Self-Released)
Calgary, AB
From the elixirs of Hailey Celesse McCarthy:
Suspending thick, substantial bass in acidic solutions of jagged, angular guitar strokes and stabilizing percussive rhythms, Crack Cloud achieves an emulsive substance, like mayonnaise, on their self-titled EP. Radiating, the scattering of sonic droplets throughout Crack Cloud's EP gives it a Tyndall hue. The dispersive and continuous phases of the album coalesce on the boundary track Cap//Cloak, with its initial post-punk whip and its wind out drone, the preceding and following elements focus and reflect inward and out.
Des élixirs de Hailey Celesse McCarthy:
(Traduit par la mayonnaise sonique de Maya Keshav)
En suspendant la basse épaisse et solide dans les solutions acides de coups de guitare dentés et angulaires et de rythmes équilibrants de percussion, Crack Cloud atteignent une substance émulsionnable, comme la mayonnaise, avec leur EP éponyme. Rayonnant, les gouttelettes soniques éparpillées à travers l'EP de Crack Cloud lui donnent une couleur Tyndall. Les phases dispersives et continues de l'album se fondent dans le morceau hybride Cap//Cloak, avec son fouettement initial de post-punk et le drone de sa fin, les éléments précédents et suivants se focalisent et réfléchissent vers l'intérieur et l'extérieur.
Crack Cloud – Time Unsubsidized
---