Category: Video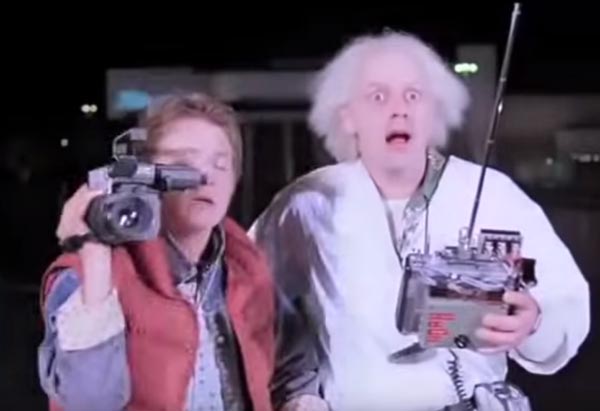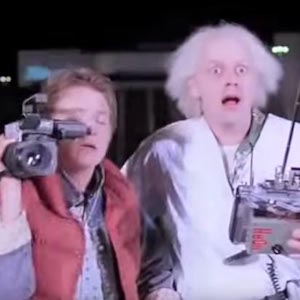 POST3RBOY
TIME2DIE
Director: POST3RBOY
Toronto, ON
From the bottomless microphone of Gabe Girard:
Industrial gears grind themselves into oblivion. Tortured vocals scream into bottomless microphones. The hum of an accelerating futuristic car saturates unsuspecting speakers. The man at the wheel – Marty Mcfly – flees the chaos behind him. Back to the Future finally gets the soundtrack it's been begging for all these long years.
Du micro sans fond de Gabe Girard:
(De l'hémisphère gauche de Diane Beaupré)
Des engrenages industriels se broient eux-mêmes dans l'oubli. Des voix torturées crient dans des micros sans fond. Le vrombissement d'une auto futuriste qui accélère sature les haut-parleurs naïfs. L'homme derrière le volant, Marty Mcfly, fuit le chaos derrière lui. Retour vers le futur a finalement la trame sonore attendue depuis de si longues années.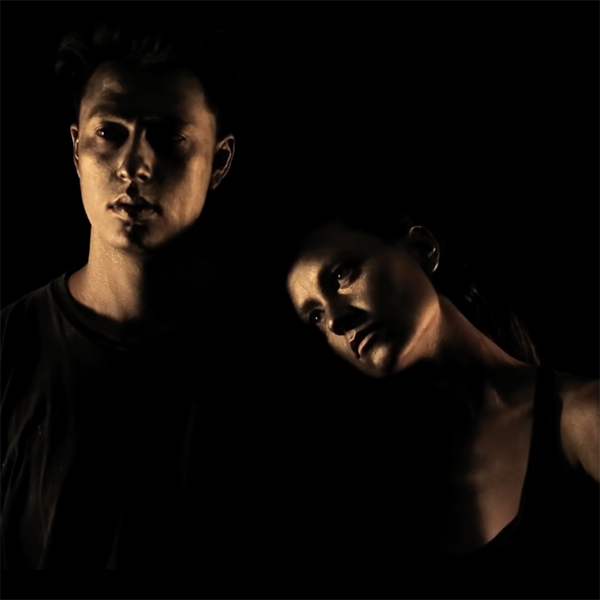 Hey Mother Death
Deranged My Love
Snake Power
Halifax, NS
From the neon obsession of Gabe Girard:
Complementing the idyllic, honeymoon, cinnamon heart notion of love – written in the stars – is an equal and opposing force. Not so much written but scrawled in the margins, deranged love is a connection all its own. A la Hey Mother Death's spirited new video release, it takes the form of neon obsession, forestry escapism and insectoid paranoia. Not for the faint of heart. All you need is love.
De l'obsession du néon de Gabe Girard:
(Traduit par Ryleigh Lightbourn)
Complément à la notion d'amour idyllique, lune de miel, et cœur à la cannelle – écrite dans les étoiles – est une force égale et opposée. L'amour dérangé, qui n'est pas exactement écrit, mais plutôt griffonné dans les marges, est un tout autre type de relation. La toute nouvelle vidéo de Hey Mother Death prend la forme d'une obsession de tout ce qui est néon, d'un exutoire en forêt et d'une paranoïa insectoïde. Ce n'est pas fait pour les cœurs sensibles. Vous n'avez besoin que d'amour.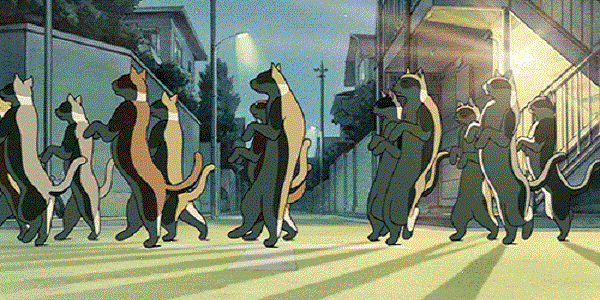 sarah denim
Finding Out
(directed by: sarah denim)
Halifax, NS
From the transformed paws of Brian Cleveland:
"Follow me." We begin a hypnotic feline trance to a place where everyone loves you. 189 seconds: find yourself, know yourself, love yourself, and believe in yourself. It takes a particular skill to make a popping piece of broken electronic sounds to match a silent film. Who knew a cat would provide the best advice to stand up for yourself and speak from the heart.
Des pattes transformées de Brian Cleveland:
(De la transe féline d' Odile Leclerc)
« Suivez-moi. » Nous commençons une transe féline et hypnotique vers un endroit où tout le monde t'aime. 189 seconds: trouve-toi, connais-toi, aime-toi et crois en toi. Ça prend un talent particulier pour faire correspondre un morceau de sons électroniques brisés qui saute à un film silencieux. Qui savait qu'un chat fournirait le meilleur conseil pour s'affirmer et parler du fond du cœur.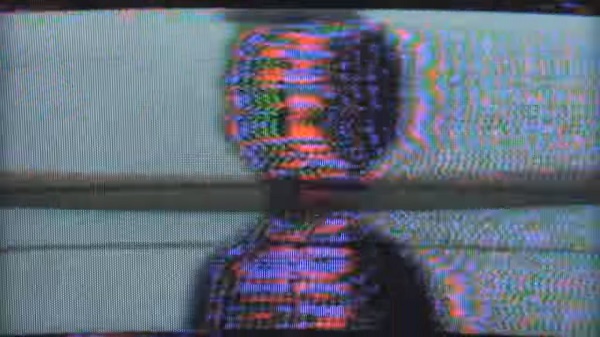 Eccinaccea & Hutchi
La Mode Des Pêches
Hamilton, ON
From the loquacious lexicon of Brian Cleveland:
Created by Liam Carlisle Eccinaccea from Montreal and Aaron Hutchinson HUTCHI from Hamilton, "La Mode Des Pêches" is a split-tape creation inspired by Depeche Mode tracks. The samples go beyond the namesake to include contributions from T-Pain, MF Doom, Lil Wayne, and Claude Debussy. Andrew O'Connor has put the cassette debate to rest by improvising with every piece of new and old technology imaginable: VHS tapes, video synthesizers, video effects, a cellphone, and mixers bred of multiple generations. Improvising the material, O'Connor performs a mashed collage as manic and temptingly indecipherable as its source material.
Du lexique éloquent de Brian Cleveland:
(De l'anti-byline de Mylène Quevillon)
Créé par Liam Carlisle Eccinaccea de Montréal et Aaron Hutchinson HUTCHI de Hamilton, "La Mode Des Pêches" est la création d'un split inspiré par différents morceaux de Dépêche Mode. Ces extraits musicaux vont au-delà de l'homonyme en y incluant des contributions de T-Pain, MF Doom, Lil Wayne, et Claude Debussy. Andrew O'Connor a clos le débat concernant la cassette en improvisant avec tous les dispositifs techniques imaginables, anciens et nouveaux, qu'il a pu trouver : cassettes VHS, synthétiseurs, effets vidéo, téléphone cellulaire et plusieurs générations de consoles de mixage. En improvisant avec ces matériaux, O'Connor réalise un collage éclaté aussi maniaque et indéchiffrable que sa matière première.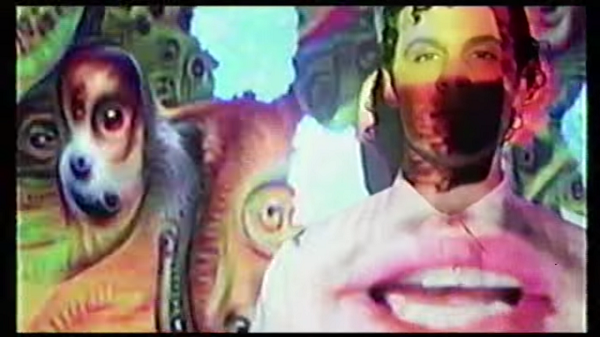 Booker T On Acid
I Need To Fall In Love
(Directed by: jjj)
Vancouver, BC
From the deep dark desire of Justin Crowe:
You see their face everywhere. Their bright eyes, shining lips; calling to you. It certainly isn't always this easy, love is creeping on in. Plucking at heart strings, a distant yet intimate sound fills the psyche and you can hear your chest beating. Illuminating across the walls, thoughts crackling like static. We accept it as we want it, as we need it. As we fall into the warm pools of affection, a calm and enigmatic pull as you smile and close your eyes.
Du désir profond et sombre de Justin Crowe:
(Traduit par Myl Quevillon)
Vous voyez leur visage partout. Leurs yeux brillants, leurs lèvres pulpeuses; ils vous attirent. Ce n'est certainement pas toujours aussi facile, et l'amour s'insinue. Directement sur la corde sensible, un son distant, mais déjà intime emplit votre psyché et vous entendez battre votre cœur. Vos pensées crépitent comme de l'électricité statique illuminant la surface d'un mur. Nous l'acceptons, étant donné que nous le voulons, que nous en avons besoin. Au moment où nous sombrons dans cette affection liquide et chaude, vous êtes envahi par une sensation calme et énigmatique : vous souriez et fermez vos yeux.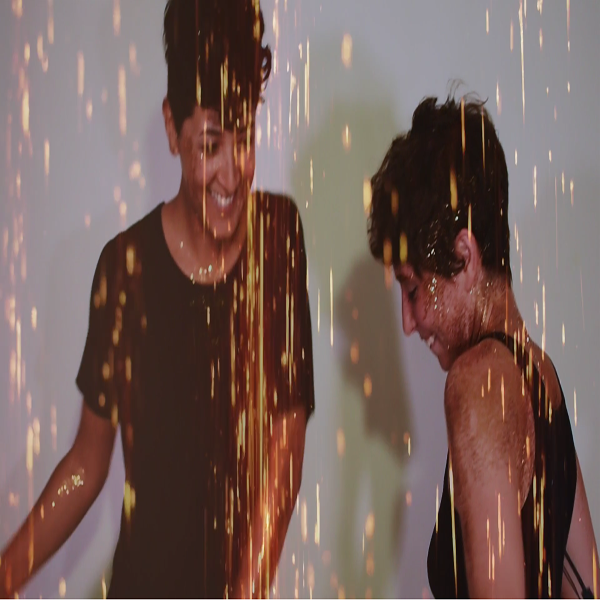 Archery Guild
Progeny
(Directed by: Surah Field-Green)
Montréal, QC
From the tired brain of Bobby Andrews:
The music video for "Progeny" offers a delicate cluster of manic images backed by the soothing and euphoric sounds of one of Montreal's most capable bands, Archery Guild. A collection of film segments range from the intensely chaotic, to the incredibly serene. Deconstructing the ever-fragile state of the human mind, creating an incredibly effective combination of audio-visual stimulation. An effectiveness that has been accomplished with the seamless integration of these two mediums, allowing each to coexist harmoniously.
Du cerveau fatigué de Bobby Andrews:
(Traduit par Julie Mayer)
Le vidéoclip mettant en vedette « Progeny » offre un délicat amas d'images soutenu par les sons apaisants et euphoriques d'un des groupes les plus compétents de Montréal : Archery Guild. Une collection de films segmentés va de l'intensément chaotique à l'incroyablement serein et déconstruit l'état toujours fragile de l'esprit humain, créant ainsi une combinaison de stimulation audio-visuelle dont l'efficacité est inouïe. Cette dernière est accomplie par l'intégration sans heurt de ces deux techniques, permettant à chacune de coexister en harmonie.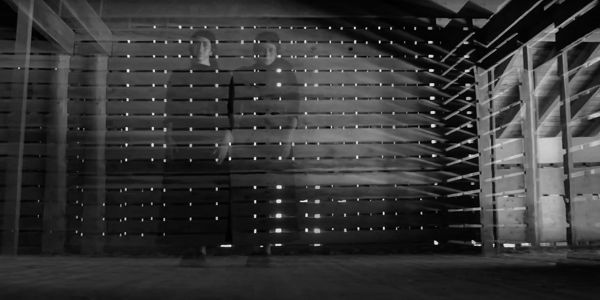 Ora Cogan
End of Nowhere
(Directed by: Angelo Scaia)
Vancouver, BC
From the bush whacked Preacher Katie:
Creeping guitar twangs of Ora Cogan linger on black 'n white reels while you brace yourself on the old, weathered barndoor of your double vision lucid dream. Old haunts of Sibylle Baier and Vashti Bunyan bush-whack through the farmer's hay bales and you're lost in the dark again, but this time you know there is nowhere else to go.
De Preacher Katie l'assommée:
(Traduit par les mèches graisseuses de Julie Mayer)
Les sons insidieux issus des cordes pincées par Ora Cogan s'attardent sur les bobines en noir et blanc tandis que vous vous cramponnez à la vieille porte de grange patinée de votre rêve lucide à vision double. De vieux repères évoquant Sibylle Baier et Vashti Bunyan se frayent un chemin à travers les balles de foins du fermier. Vous vous perdez encore dans le noir, mais cette fois vous savez qu'il n'y a plus nulle part où aller.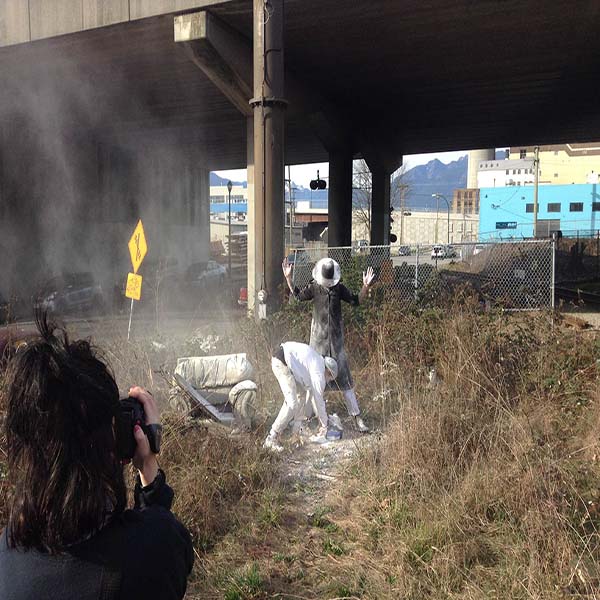 Flyin'
Death Has Lost It's Sting
(Directed by: Andrea Lukic)
Vancouver, BC
From the flour-dusted dome of Brian Cleveland:
In Andrea Lukic's world, general inexplicable weirdness occurs. Dig a little deeper and you find their friends in Weed being similarly haunted by their inner workings. Local skateboarders and artists fall into the roles of geriatric villains on an improvised, silent mission. Dazzled by shiny things, smoke and mirrors leave them with nothing of value. It likely took just as much time to clean flour out of their hair as it will take to get this earworm out of your head.
Du dôme fariné de Brian Cleveland:
(Des épices diluées de Marie-Pier Chevrier)
Dans l'univers d'Andrea Lukic, la bizarrerie est généralisée et inexplicable. Creusez un peu, et vous y trouverez leurs amis de Weed, tout aussi hantés par leurs mécanismes internes. Les skateboarders et artistes locaux succombent au rôle de vilain gériatrique en mission silencieuse et improvisée. Émerveillés par l'éclat de choses scintillantes, ils se retrouvent les poches vides devant tant de poudre aux yeux. Il aura probablement fallu aussi longtemps pour débarrasser leurs cheveux de farine qu'il vous en prendra pour oublier leurs vers d'oreille.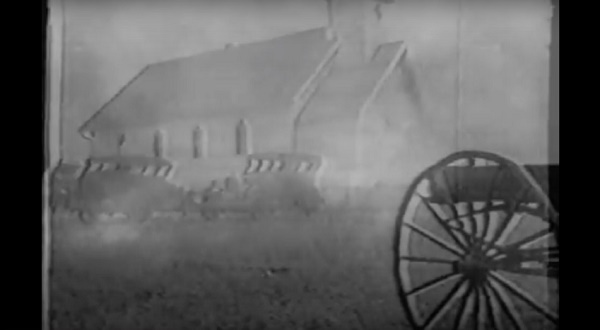 Black Tremor
Impending
(Directed by: Peter Grier)
Saskatoon, SK
From the prodding madness of Joshua Robinson:
The arid dystopianism creeps in underneath my door. The wind, carrying granules of parched earth, taps against my cheek:
——-'Shhhhhhhhhhhh'——–: the sound of a madness prodding my brain.
"What is this?", it asks, knowing full well that I could not speak as dust filled my mouth.
——-'Shhhhhhhhhhhh'——-: the sound of walls giving way to prairie cyclones.
"The broken earth," speaking with my eyes yet insinuating with my hand as I reach for the cracked glass sitting on my bedside table. Water rolls down my forearm, reaching my chapped lips and meeting the grime in my mouth as I choke on my first taste of mud.
Des petits coups de folie de Joshua Robinson:
(Traduit par les lèvres gercées de Julie Mayer)
Le dystopianisme aride s'insinue en dessous de ma porte. Le vent, porteur de granules de terre asséchée, tape contre ma joue :
——-'Shhhhhhhhhhhh'——–: le son de la folie frappant mon cerveau à petits coups.
« C'est quoi ça?», demande-t-il, sachant très bien que je ne pouvais parler alors que la poussière remplissait ma bouche. ——-'Shhhhhhhhhhhh'——-: le son des murs qui cèdent sous les cyclones des prairies.
La « terre brisée » parle avec mes yeux, mais se lie d'amitié avec ma main alors que je tends le bras pour prendre le verre craquelé posé sur ma table de chevet. L'eau coule le long de mon avant-bras, atteint mes lèvres gercées et rejoint la crasse de ma bouche alors que je m'étouffe à mon premier goût de boue.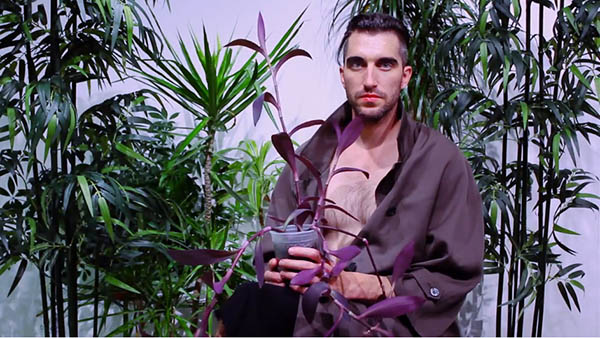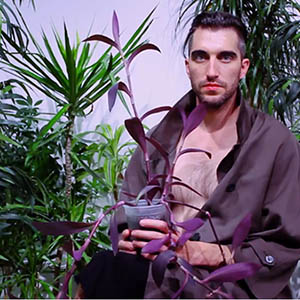 From the heavy textures of Halloway Jones:
Britl Binary thumps and soars, floating through kaleidoscopic nature, vivid and poised. Bodies across the gender spectrum, adorned in colourful costumes and lush textures, lean back in their thrones. Meet Pale Eyes' Ben McCarthy's intense gaze beyond a veil of pale pink orchids, "Hey, just 'cause I love you, doesn't mean I know" – but you will certainly want to find out.
Par les lourdes textures de Halloway Jones:
(Traduction distillée par les nuances pondérées d' Émily Traichel)
Tambour battant et s'élançant, Britl Binary flotte à travers la nature kaléidoscopique, vivide et pondérée. Des corps qui couvrent tout le spectre du genre, ornés de costumes colorés et de textures luxuriantes, se laissent aller dans leurs trônes. Croisez le regard de Ben McCarthy de Pale Eyes au-delà d'un voile d'orchidées rose pâle, «Hey, just 'cause I love you, doesn't mean I know» – mais vous allez certainement vouloir le savoir.
---