Category: New Canadiana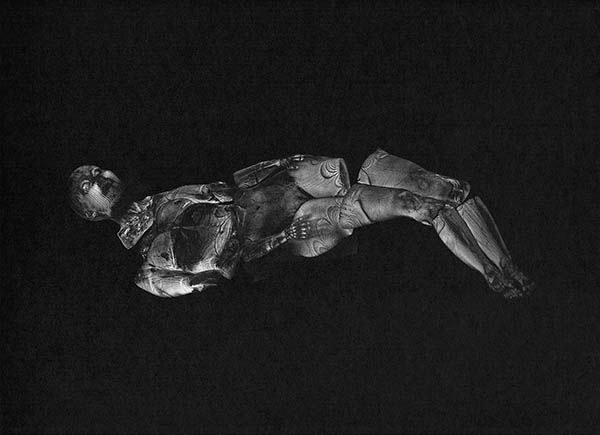 Scattered Clouds
The First Empire
Hull, QC
From the gnawed appendages of Piper Curtis:
You are in a dark manor, deep in a thick wood, in the black of night. Stumbling through the maze of hallways you find yourself in a great, cavernous chamber. Distraught, swaying as the looming darkness closes in, you feel the end is near. There is a reprieve, the dark clouds scatter and an eerie calm sets in. For a moment there is euphoria, before you are consumed by the night.
Des appendices rongés de Piper Curtis:
(Traduit par Julie Forget)
Tu te trouves dans un manoir sombre, au plus profond d'une forêt dense dans la noirceur de la nuit. Ta démarche est chancelante le long du dédale de couloirs. Te voilà dans une immense chambre caverneuse. Fou d'angoisse et chancelant alors que la pénombre s'installe, tu sens que la fin approche. Tu obtiens un sursis : les nuages sombres se dispersent et un calme étrange règne. Pendant un moment, c'est l'euphorie avant que tu sois consumé par la nuit.

Scattered Clouds – Deepest Night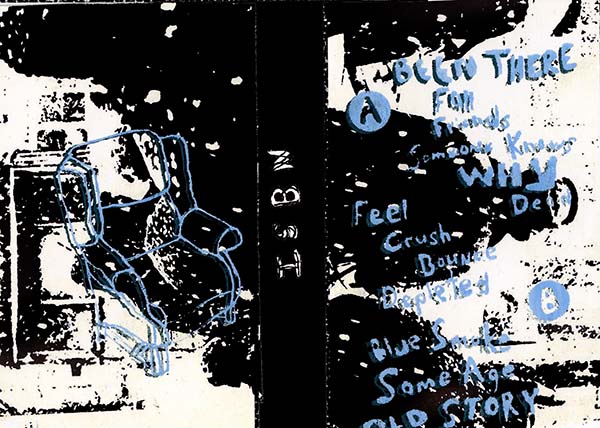 ISBN
Grimmed Out
(Self Released)
Halifax, NS
From the mild surprise of Ezra Lipton:
The new 14-song cassette from ISBN is complete with their catchy-balanced-blended sound. Their balance lies in the punchy bass and responsive drums that form the melody, and construct a foundation for the scratchy exploratory twangings of Dave Burns' guitar which fills in the rest of the sound spectrum. The existential lyrics of Luke Langille are clean and clear. Songs such as "Feel" contain honest, depressive lyrics, but when matched with melody, they create an uplifting, foot-stomping tune that will hurl itself into your memory vaults. Building and maintaining, stopping, and reapplying ensue through their audible expositions, developing a compelling 33 minute release.
De la surprise quelque peu surprenante d'Ezra Lipton:
(Traduit par l'expression légèrement stupéfaite de Louis-Félix Pellerin de Chevigny)
La nouvelle cassette de 14 morceaux d'ISBN s'harmonise avec leur musique entrainante et mélangée, mais équilibrée. Cet équilibre se trouve dans la mélodie formée par une basse dynamique et une batterie réactive; les fondements pour le grattage exploratoire de la guitare de Dave Burns, qui remplit le reste du spectre sonore. Les paroles existentielles de Luke Langille sont nettes et précises. Des morceaux comme « Feel » contiennent des paroles honnêtes et déprimantes qui, une fois couplées à la mélodie, garrochent dans la voûte de tes souvenirs une chanson inspirante qui te fera taper du pied. Construction, poursuite, arrêt et reprise naissent de ces expositions sonores, produisant un album captivant de 33 minutes.
Sea Nymph Science
I do the Beats, I do the Rosary
Montreal, QC // Yellowknife, NWT
From the soaked fingers of Katie Jensen:
Bubbling blackness seeps into the pelagic gloom like a pool of spilled ink.
The suction of compressed air rises and falls with each intake of breath. A slow tidal pulse pulls and tugs, sending swollen bodies swaying in syncopation.
Incongruent geometric microorganisms float past a clutch of moaning hatchetfish with mouths pressed close together. Long-echoing snares collide with filtered vocals in a waterlogged tangle.
A grey-lipped, underslung jaw of jagged, interlocking teeth snap open and shut silently, catching nothing but dark water for infinity.
Des doigts trempés de Katie Jensen:
(Par les neurones néréïdés d'Aliké Harel)
Une noirceur bouillonne et perfuse dans l'obscurité pélagique, puis s'étend comme une tache d'encre.
La succion d'air compressée s'accentue et s'apaise à chaque respiration. Le battement de la vague va et vient lentement, et rapporte les corps gonflés ballottant sur une même onde.
Les micro-organismes aux formes géométriques et incongrues flottent devant un banc de characidés, geignant, les mâchoires serrées l'une contre l'autre. L'écho lointain des percussions se heurte aux voix dans le remous des vagues.
La mâchoire retombante aux lèvres grises et hérissées de dents juxtaposées claque en s'ouvrant, mais se referme en silence pour n'attraper que l'eau sombre à l'infini.

Sea Nymph Science-There is a Cloud in Our Vision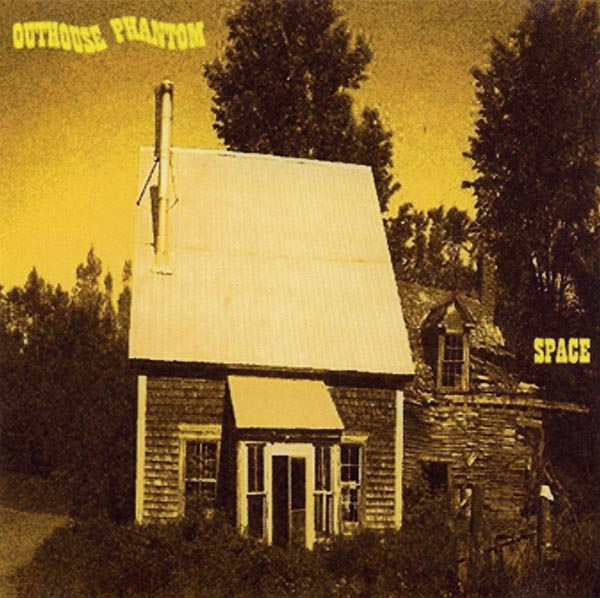 Outhouse Phantom
Space
(Self Released)
Saint John, NB
From the cosmic tool shed of Don L'Orange:
Through the crackle and pulse of handmade electronics, existential questions are skirted. The mundane is analysed right in front of your tired eyes, and yet you cannot be certain if you have even left the house. But not me. I know exactly where I am and I realise I have never interacted with immortal beings before. These are the benefits of childhood indoctrination: superior business skills, a strong body (mainly lower back), and an alien-like approach to tantra. Safe keeping, Noise Fuck.
De la cabane à outils cosmique de Don L'Orange:
(Traduit par la rêverie lassante de Mackenzie Smedmor)
À travers le pétillement et le battement des appareils électroniques faits à la main, des questions existentielles sont contournées. Le banal est analysé devant tes yeux fatigués et, par contre, tu ne peux pas être certain d'avoir même quitté la maison. Mais pas moi. Je sais exactement où je suis et je me rends compte que je n'ai jamais auparavant interagi avec des êtres immortels. Ce sont les bénéfices de l'endoctrinement infantile : des habilités d'affaires supérieures, un corps robuste (surtout au bas du dos) et une approche au tantrisme comme un extraterrestre. Assurer la garde, Noise Fuck.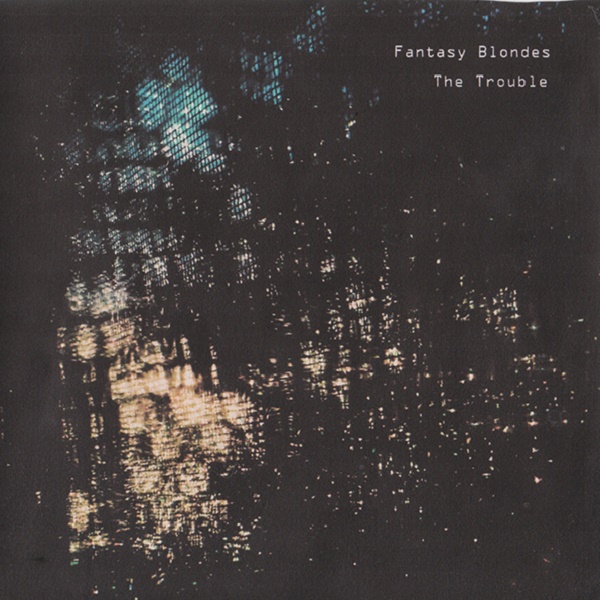 Fantasy Blondes
The Trouble
(Self-Released)
Ottawa, ON
From the moondust of Morgan Cook:
The science fiction of childhood has come to pass. Run to embrace it. Move forward purposefully. Reject the past. Be Inquisitive. Be insectile. Be born anew. Don't let the violin bring tears to your eyes. Push forward into "The Secret Night." "The Trouble" is the first release from Ottawa's Fantasy Blondes. It is instrumental.
De la poussière lunaire de Morgan Cook:
(Traduit par Mylune Quevillon)
Le temps de la science-fiction de l'enfance est arrivé. Cours afin de l'étreindre. Va délibérément de l'avant. Abandonne le passé. Sois curieux. Renais. Ne laisse pas le violon te faire venir les larmes aux yeux. Poursuis vers « The Secret Night ». « The Trouble » est le premier titre des Fantasy Blondes d'Ottawa. C'est une pièce instrumentale.
Fantasy Blondes – Secret Night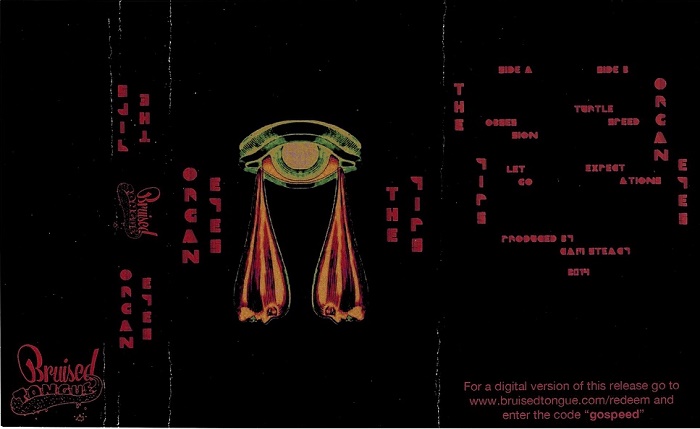 The Yips // Organ Eyes
Split
Ottawa, ON
From the new season of Matthew Blenkarn:
Winter's gone and colour's returned. Bleary-eyed yet bushy-tailed, people snow-crushed souls wake from hibernation and stumble from basement apartments onto clear, sunny sidewalks. Children spout popcorn refrains from recent blockbusters, as radio melodies float from passing cars to rest in pedestrians' ear canals. As bright days fade to humid nights, idle hooks from Centretown streets plants dreams of festivals and patio parties in residents' slumbering subconscious.
De la nouvelle saison de Matthew Blenkarn:
(Traduit par l'hémisphère gauche de Diane Beaupré)
L'hiver est parti, les couleurs reviennent. Les yeux bouffis, mais pleins d'énergie, les âmes des gens écrasées sous le poids de la neige sortent de l'hibernation des sous-sols et émergent sur les trottoirs dégagés et ensoleillés. Tandis que les chansons des radios des voitures qui passent se posent dans les canaux des oreilles des passants, les enfants chantent les refrains entraînants des récents succès. Alors que les journées illuminées se transforment en soirées humides, l'oisiveté s'accroche aux plantes du centre-ville qui rêvent de festivals et de partys sur le patio de résidents endormis béatement.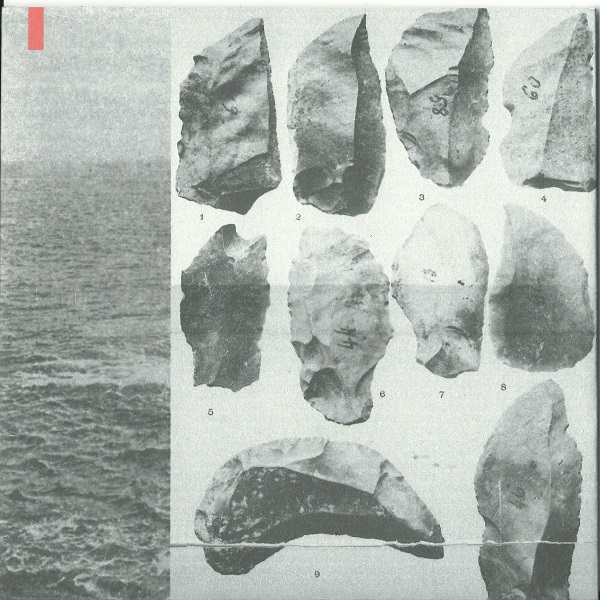 Isles Day
Monoculture
(Self-released)
Toronto, ON
From the dismally desolate & dreary desk of Mitch Jackson:
As many of us look towards the sky, perhaps it is time to consider that the reptilians among us may be emerging from subterranean bases. It is not outside the realm of possibility that our reptilian overlords have constructed these bases to carry out various drone and ambient projects. A majority of G8 countries have confirmed the existence of military drone squadrons and the installation of vast underground networks of modular synthesizers. They feed our fields. Isles Day is a product of Monoculture. The cultivation of the singular organism of sound.
Issu du bureau lugubrement désolé et morne de Mitch Jackson:
(Traduit par les méninges embuées d Émily Traichel)
Alors que plusieurs d'entre nous lèvent les yeux vers le ciel, il est peut-être le temps de prendre en considération que les réptiliens parmi nous pourraient êtres en train de surgir de bases souterraines. Ce n'est pas haut-delà du domaine de ce qui est possible que nos souverains réptiliens ont construit ces bases afin de réaliser divers projets drones et ambiants. Une majorité de pays G8 ont confirmé l'existence d'escadrons drones militaires et la mise en place de vastes réseaux souterrains de synthétiseurs modulaires. Ils alimentent nos champs. Isles Day est un produit de Monoculture. La culture de l'organisme singulier du son.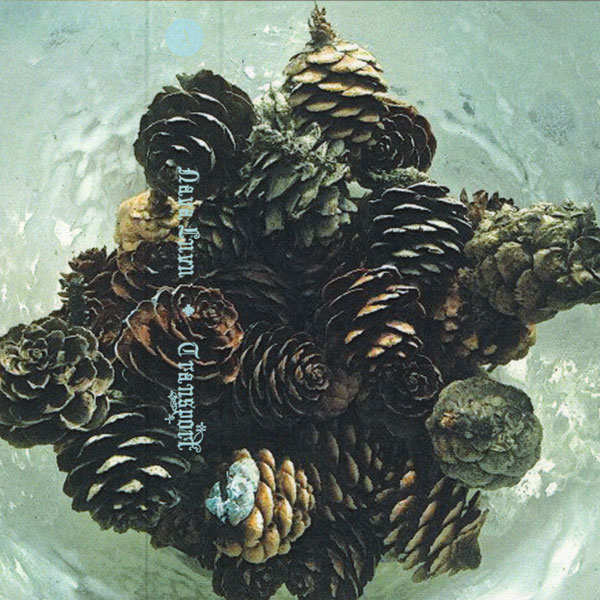 Nava Luvu
Transport
Yellowknife, NWT
From the illegible handwriting of James Beardmore:
Building on a prolific year and a half of self-released material, Transport is Nava Luvu's first release on Apothecary Compositions. The Yellowknife duo's process of improvising through headphones creates an intensely close and intricate experience that, despite playfully hopping between electronic genres, feels fluid and organic. Melodies mutate. Rhythms erode and unexpectedly give way to stuttering glitches. Synths bubble and seethe under washes of tape hiss. Themes emerge out of corroded loops. Interlocking layers and woozy panning create constantly shifting landscapes to explore.
De l'écriture illisible de James Beardmore:
(Par l'écriture en mouvance d Aliké Harel)
Après une année et demie généreuse en enregistrements indépendants, Nava Luvu livre Transport, son premier album avec Apothecary Compositions. Le duo de Yellowknife improvise par l'entremise d'écouteurs et fait vivre une expérience d'une proximité et d'une complexité de détails intenses, qui, malgré un jeu de va-et-vient entre les genres électroniques, reste fluide et naturel. Les mélodies entrent en mutation. Les rythmes s'érodent et font, sans prévenir, place à des accrochages saccadés. Les synthés bouillonnent et sifflent sous une pluie de bandes magnétiques chuintantes. Les thèmes émergent des boucles rouillées. Les couches entrecroisées et le fignolage abasourdissant créent un paysage en perpétuelle mouvance à explorer.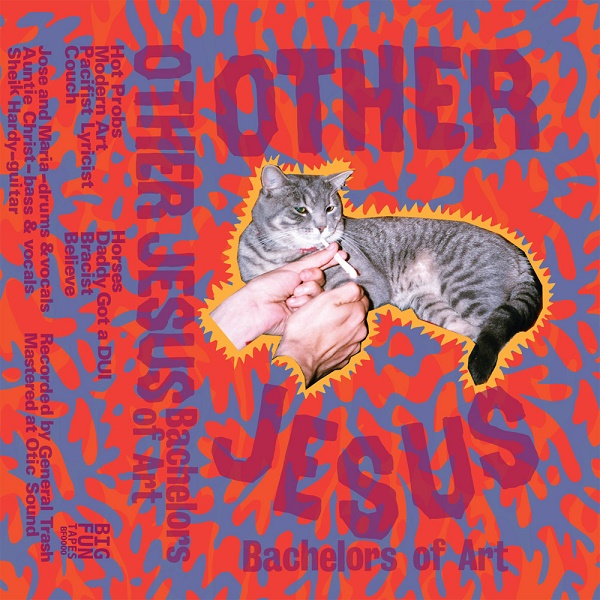 Other Jesus
Bachelors of Art
Vancouver, BC
From the foggy mind and locale of Brian Cleveland:
Seven months of untapped keys have led to an epiphany. Any words would be as distorted as the noise laid overtop this post-punk messiah's debut. Everything is problematic. It's up to you to believe now, true follower. Don't push past the noise and don't try to define. Just experience this Vancouver trio, have some big fun, and rejoice (on your comfy couch)!
De la brume cérébrale et environnante de Brian Cleveland:
(Par la canopée de mots d' Aliké Harel)
Sept mois sans mettre les mains sur les touches ont apporté une révélation. Tout mot serait aussi tordu que le filigrane de bruit sur le premier album de ce messie post-punk. Tout est problématique. Il ne tient qu'à toi d'avoir la foi, fidèle croyant. Ne t'égare pas par-delà le bruit et ne cherche pas de définition. Savoure les mélodies du trio vancouvérois, aie du fun et réjouis-toi (depuis ton sofa confo)!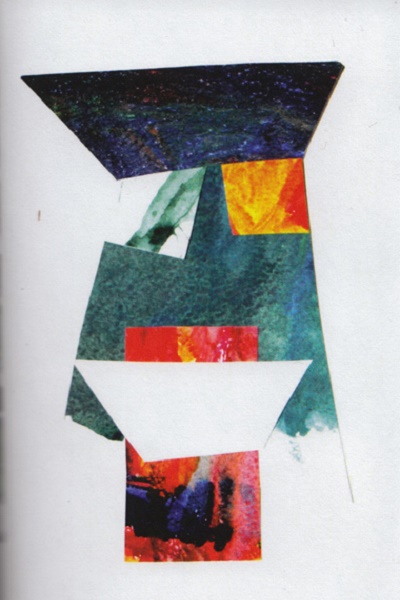 Charles Barabé
Les confessions
Montreal, QC
From the keyboard of Alex Moskos:
Victoriaville is known as the home of the last manufacturer of wood hockey sticks (they make 'em with a composite material now). It's where Merzbow tells you not to smoke in the visitor's dressing room of a hockey rink (yup). They claim there, like every town east of Montreal, that they invented poutine. Also, Victoriaville is from whence comes our man Charles Barabé. The only way to describe this cassette is "monumental". The centrifugal compositional force throughout his set of monstrous pillars of tone and evened synthesis around which dance other sounds, field recordings, what have you. If they were architecture in downtown Montreal a bank would own them and I'd skate the things: marble stairs and straight, shiny ledges. Since I couldn't get my sorry act together to hoof it uptown to get a physical copy, I had to listen off of bandcamp. My jank setup had the Internet throwing me mad shade in the form of French toothpaste ads with a lady talking about gum disease while some awful tune crashed around behind. Not really what I need while I'm checking out Barabé.
Du clavier d' Alex Moskos:
(Traduit chic and swell par Nicolas Coutlée)
Victoriaville abrite la dernière usine de bâtons de hockey en bois (on les fabrique maintenant en matériau composite). C'est là où Merzbow m'a déjà dit de ne pas fumer dans un vestiaire d'aréna (ouaip). Et comme toute municipalité à l'est de Montréal, ses habitants revendiquent la paternité de la poutine. C'est aussi de Victoriaville que vient notre homme, Charles Barabé. Le seul qualificatif qui convienne à cette cassette est « monumentale ». La composition s'articule autour d'une force centrifuge de piliers toniques monstrueux et de synthé régulier autour desquels dansent d'autres sons, des enregistrements divers, alouette. S'il s'agissait d'un bâtiment du centre-ville de Montréal, il appartiendrait à une banque et je le parcourrais en patins : escaliers de marbre et corniches droites et reluisantes. Comme je ne suis pas parvenu à me bouger le cul pour mettre la main sur une copie, j'ai dû l'écouter sur Bandcamp. Mon ordi de merde s'est laissé bombardé de pubs de dentifrice avec une femme parlant de maladie de gencive sur une horrible mélodie. Pas exactement ce dont j'ai besoin quand j'écoute du Barabé.
Charles Barabé – Les Confessions – A
---