Category: New Canadiana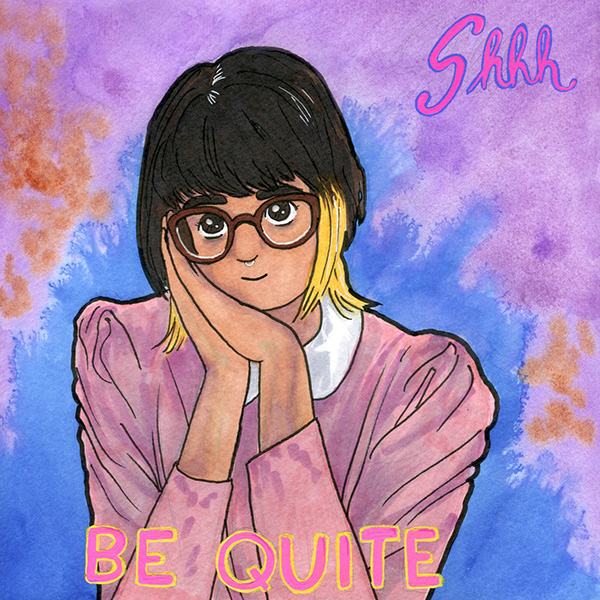 Shhh
Be Quite
Self-released
London, ON
From the tiniest lights of Eleanor Wearing:
Standing alone in a crowd, you close your eyes and search for a softer space. You find a bed, but is it yours? It is kind and strange, like an outgrown friendship or a childhood toy. Is it possible to feel this tired and still be alive? Cotton blankets scratch your skin, but you forgive them. Accept them. Their worn peaks and folds lay illuminated by flickering incandescent lights tacked against a velvet wall. A restless feeling floats in amongst the buzzing glow. It's time to leave. Back in the crowd, you are alone, but at peace.
Des lumières les plus petites d'Eleanor Wearing:
(Traduit par Alison McReynolds)
Debout seul(e) dans la foule, tu fermes les yeux en recherche d'un espace doux. Tu trouves un lit, mais est-il le tien? Il est gentil et étrange, comme une amitié passée ou un jeux d'enfance. Est-il possible d'être aussi fatigué et encore vivant? Couvertures en coton gratte ta peau, mais tu les pardonnes. Accepte-le. Leurs sommets et plis érodés pose illuminé par le vacillation des lumières incandescentes punaise sur un mur en velours. Une sensation sans cesse flotte parmi un lueur bourdonnant. C'est temps de partir. Retournant dans la foule, tu es seul(e), mais en paix.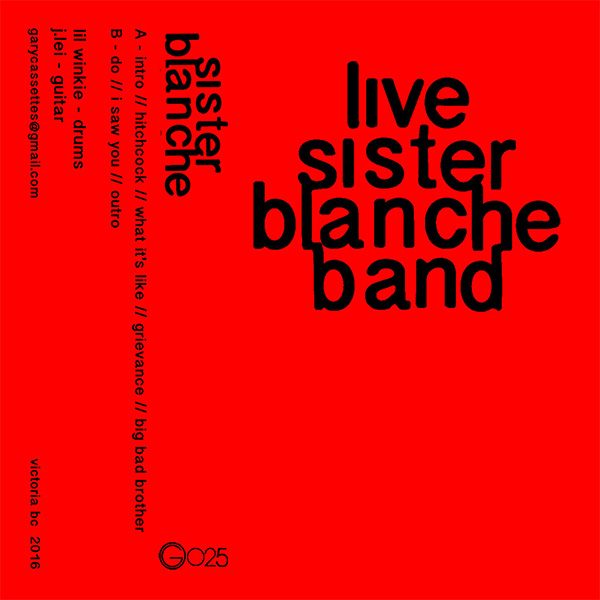 Sister Blanche
Live Sister Blanche Band
Victoria, BC
From the demonic haze of Mark Gillis:
Buried in the heart of the pit, the snarls of Sister Blanche carve through your skin and grind themselves deep inside your soul. With every abrasive noise, the mechanized monster that is Sister Blanche grows larger. As the gears turn, the entire system overheats, spewing smoke and ash. Burnt to a crisp, the remnants of Sister Blanche emit a thick, demonic haze of smog while the world plummets into a deeper despair. No light, no hope.
Du brouillard démoniaque de Mark Gillis:
(Traduit par les déambulations nocturnes de Julie Mayer)
Enterrés au cœur du puits, les hurlements de Sister Blanche transpercent votre peau pour s'enraciner profondément dans votre âme. Chaque bruit abrasif fait grossir le monstre mécanique qu'est Sister Blanche. Tandis que les engrenages tournent, le système tout entier surchauffe, crachant de la fumée et des cendres. Carbonisés, les restes de Sister Blanche émettent un épais brouillard démoniaque alors que le monde plonge dans un désespoir plus profond. Sans lumière, pas d'espoir.
Sister Blanche – Intro//Hitchcock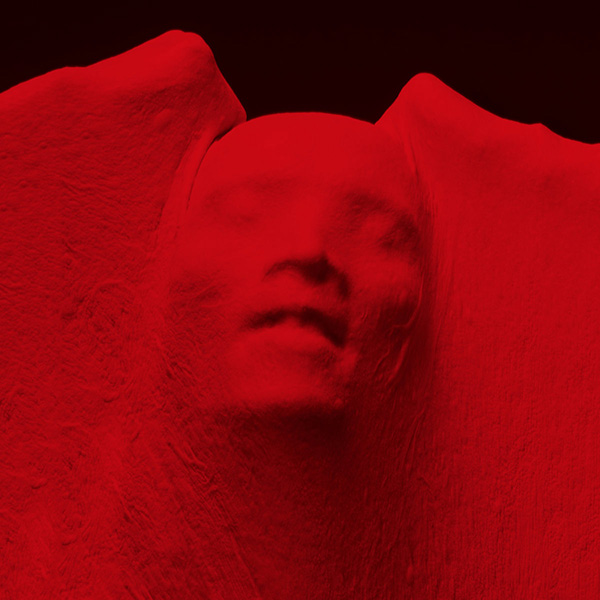 Scott Hardware
Mutate Repeat Infinity
Toronto, ON
From the wired senses of Hailey Celesse McCarthy:
Scott Hardware is an accurate eponym, considering the skillful blend of old skool house, electro and pop Scott Hardwood (also Ken Park) has consolidated on this release. Mutate Repeat Infinity, which came out on Banko Gotiti this past June, is a tricky pop record placing complex lyrical content over energetic, offbeat patterned, beats. It's an album that lets you figure a greater plot and carries you along in it. You are the new protagonist.
Des sens filaires de Hailey Celesse McCarthy:
(Traduit par les circuits disjonctés de Julie Mayer)
Scott Hardware est un éponyme qui vise juste, compte tenu du talentueux mélange de house, d'électro et de pop façon vieille école qu'a consolidé Scott Hardwood (alias Ken Park) sur cette cassette. Mutate Repeat Infinity, dont la sortie a eu lieu en juin dernier chez Banko Gotiti, pose du contenu lyrique complexe sur des rythmes décalés et énergiques. Il s'agit d'un album pop délicat qui te laisse deviner une intrigue plus grande avant de t'y emmener. Le nouveau protagoniste, c'est toi.
Scott Hardware – He Began Again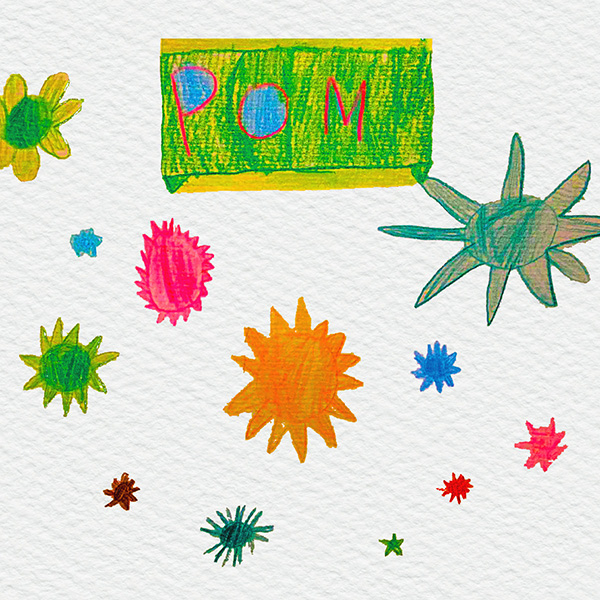 POM
POM EP
Self-released
Toronto, ON
From the archives of Mike Roi's Äppärät:
The Internet. Digital echoes become reflections of ourselves from the ideals (and flaws) of our bodies in the form of endless retweets, reactions and likes. This is nothing new, but POM find the beauty and horror lying in this relationship rallying to infinity. The syncopated rhythms of POM's instrumentals feel coolly calculated, but underscored by it all is the incongruent marriage of the real and the programmed. Its incompatibility knows no limits, but there is a thrill in the known and unknown beauty created by the shifting powers of control. "Take time to look inside – you're mine".
Archivée dans l'äppärät de Mike Roi:
(Traduit par l'encrier kaléidoscopique de Julie Mayer)
L'Internet. Les échos numériques deviennent les reflets de nous-mêmes, les idéaux (et les travers) de nos corps sous forme de gazouillis partagés, de réactions et de « J'aime » sans fin. Ça n'a rien de nouveau; POM a découvert la beauté et l'horreur se cachant derrière cette relation d'échanges à l'infini. Le duo semble avoir calculé de sang-froid sa musique instrumentale aux rythmes syncopés. Cependant, le tout met en évidence le mariage incongru du réel et du virtuel, de l'improvisation et de la programmation. Cette incompatibilité ne connaît aucune limite, mais un délicieux frisson réside dans la beauté connue et inconnue créées par le pouvoir changeant de l'emprise. « Prends le temps de regarder à l'intérieur; tu es à moi »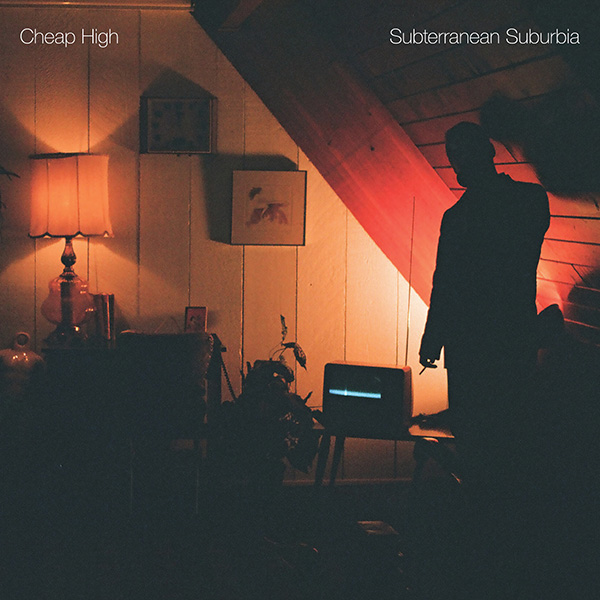 Cheap High
Subterranean Suburbia
Abbotsford, BC // Vancouver, BC
From the illicit parents' basement of Kyle Valade:
Winter nights vectoring towards Vancouver, phone dead, music loud over smoke being sucked out the window, airdrumming the cold from your hands. This band calls themselves suburban, but at least two of the members have been playing around the city for seven years. Cheap High have existed for about three. _Subterranean Suburbia_ is their first full-length and marks the debut of Dipstick Records – so you can be sure the onslaught is measured and explosive. Good thing, because it'll probably be a long time before I change the CD in my car.
De la cave parentale illicite de Kyle Valade:
(Traduit par les doigts frigorifiés de Jessica Grenier)
Les nuits hivernales se dirigent vers Vancouver. Ton cellulaire est mort. De la musique puissante écrase la fumée, qui s'échappe par la fenêtre ouverte. Tu réchauffes tes mains en jouant du airdrum. Ce groupe se dit banlieusard, mais au moins deux de ses membres jouent en ville depuis sept ans – et Cheap High existe depuis trois. _Subterranean Suburbia_ est leur premier album complet, et il inaugure Dipstick Records. Donc, l'assaut est assurément calculé et explosif. C'est une bonne chose, parce que je ne changerai pas le CD dans ma voiture avant un bon moment.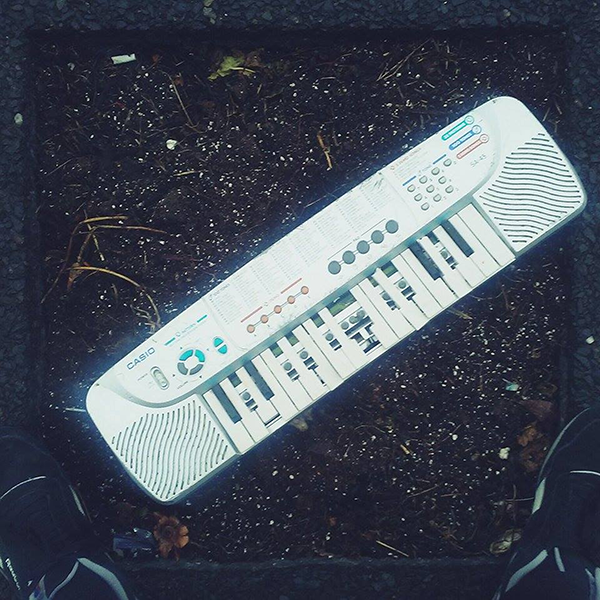 Bone Marrow
A Spiritual Blur / Someone New EP
Self-released
Montréal, QC
From the basement thoughts of Katie Jensen:
You sent yourself a text message last night: "Seeking aural healing. Receiving heaven. Swallowed whole." You must have interfaced with an angel last night. 1080p eyes probe the velvet dark. The room shifted overnight, or maybe just when you got home; piles of clothes heaped on keyboards, jeans weighing down oscillator keys, an organ flipped over and screaming. The phone screen glows, a cheap jellyfish sending tentacles into contact lists. Your long nails catch on the fibres of the blanket, pulling out synthetic fabric in squiggly fibres. It reminds you of shredding dandelions at the lake, feet swinging like Red Rover, slipping on wet wood, splinters gathering in palms, your peach body disappearing into indigo depths.
Des pensées souterraines de Katie Jensen:
(Traduit par l'écharde incrustée dans l'index de Jessica Grenier)
Tu t'es envoyé un message texte hier : « Recherche guérison auditive. Reçois le paradis : engloutissement total. » Tu as dû communiquer avec un ange hier soir. Des yeux en 1080p qui sondent le velours de l'obscurité. La pièce a changé cette nuit, ou peut-être juste quand tu as ouvert la porte de la maison. Des piles de vêtements jonchant des claviers, des jeans appuyant sur les touches d'un oscillateur, un orgue renversé qui se lamente. L'écran du cellulaire brille – une méduse en toc étirant ses tentacules à travers la liste de contacts. Tes longs ongles s'accrochent dans une couverture, tordant ses fibres synthétiques. Ça te rappelle les pissenlits s'effilochant au lac. Tes pieds se balançant comme pour Red Rover, qui glissent sur du bois mouillé; les échardes qui s'accumulent dans tes paumes. Ton corps de pêche qui disparaît dans les profondeurs indigo.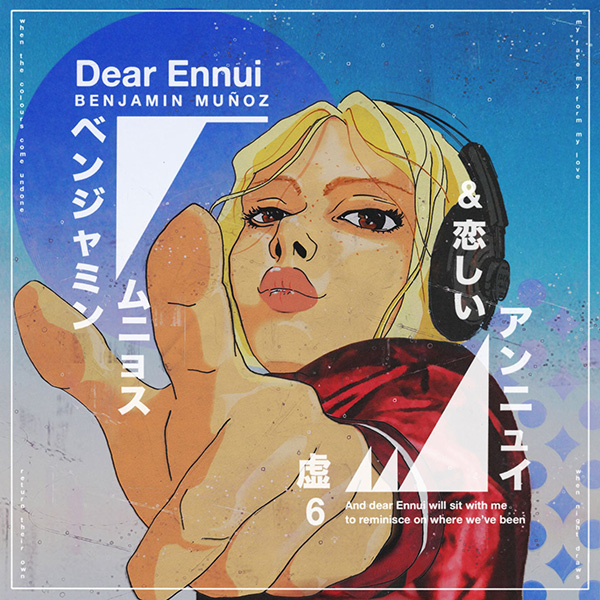 Benjamin Muñoz
Dear Ennui
Hamilton, ON
From the hygge of Rolf Klausener:
The chalky timbre of TUMS rattling in their bottle, the infinite drum roll of heavy rainfall: the right poly-rhythms have a way of both soothing us and sparking contemplation. With its heavy industrial past—echoes of primitive robots stamping out die-cast auto parts—Hamilton seemed destined to be Canada's home of arrhythmic pop. Benjamin Muñoz cobbles warm, percussive electro, where tumbling woodblocks spoon seamlessly with avant-garde jazz-breaks. Delayed pianos dovetail sampled vocals forging sweater-weather melodies. Easily at home among Berlin's Leaf Label, or Caribou's debut explorations as Manitoba, Dear Ennui offers daydream voyages on pleasantly unpredictable oceans, slave to rogue waves, and bound by no anchor.
De l'hygge de Rolf Klausener:
(Traduit par la saudade de Louis-Félix de Chevigny)
Le timbre crayeux d'un flacon de TUMS que l'on secoue, le roulement de tambour perpétuel d'une pluie battante: les bons motifs polyrythmiques apaisent et invitent à la contemplation. Avec son lourd passé industriel -lors duquel retentissait la résonance de robots primitifs martelant des pièces d'automobile moulées – Hamilton semblait destiné à être le foyer canadien du pop arythmique. Benjamin Muñoz nous concocte de l'électro percutante et chaleureuse dans laquelle s'harmonisent le wood-block et les interludes jazzy avant-gardes. Des mélodies de temps frisquet issues de l'accord entre des notes tardives de piano et des échantillons vocaux. Bien à sa place aux côtés de la maison de disque berlinoise Leaf Label, ou de Caribou à ses débuts, sous le pseudonyme Manitoba; Dear Ennui offre une rêverie de voyages sans ancre sur des eaux imprévisibles, esclave aux vagues scélérates.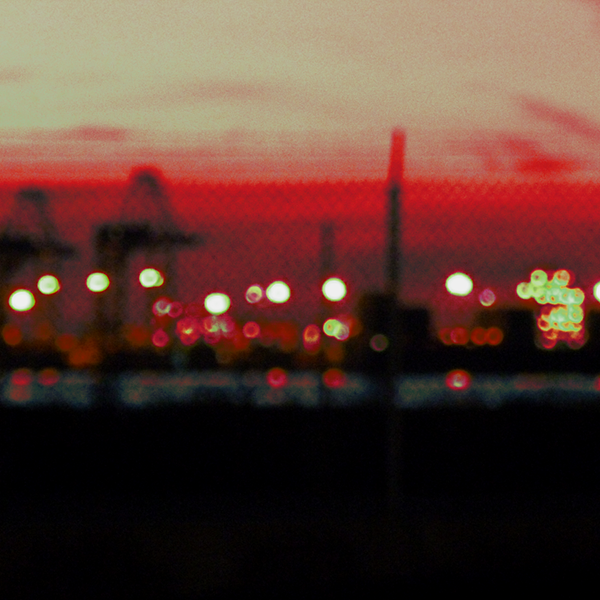 Atrum Machina
Machine Breathing
Self-released
Victoria, BC
From the languid sine wave of Teddie Brock:
Atrum Machina's sonic shadows lurk amidst a graveyard of flickering neon signage and cracked plasmic tubing. Parasitic worms lurch themselves into gutters cratering the stale concrete. Here, damage and rot are imminent as industrial structure gives form to a mycotoxic playground. The evolutionary circuit opens, then closes. Beyond the rusted fence-links, stifled machinations seep from a grey warehouse. The fossil transmissions of Machine Breathing weave a blanket of warm static – as the heartbeat falters, oscillations slow.
De la vague sinusoïdale languide de Teddie Brock:
(Traduit par la tangente hyperbolique de Julie Mayer)
Les ombres acoustiques d'Atrum Machina rôdent parmi un cimetière d'enseignes aux néons vacillants et de tubes plasma craquelés. Des vers parasites rampent dans les caniveaux cratérisant le béton plat. Ici, les dommages et la pourriture sont imminents alors que la structure industrielle donne forme à un terrain mycotoxique. Le circuit révolutionnaire s'ouvre, puis se referme. Au-delà du grillage rouillé, des machinations étouffées suintent d'un entrepôt gris. Les transmissions fossiles de *Machine Breathing* tissent une couverture d'électricité statique chaude. À mesure que le pouls faiblit, les oscillations ralentissent.
Atrum Machina – Grow (Trophus)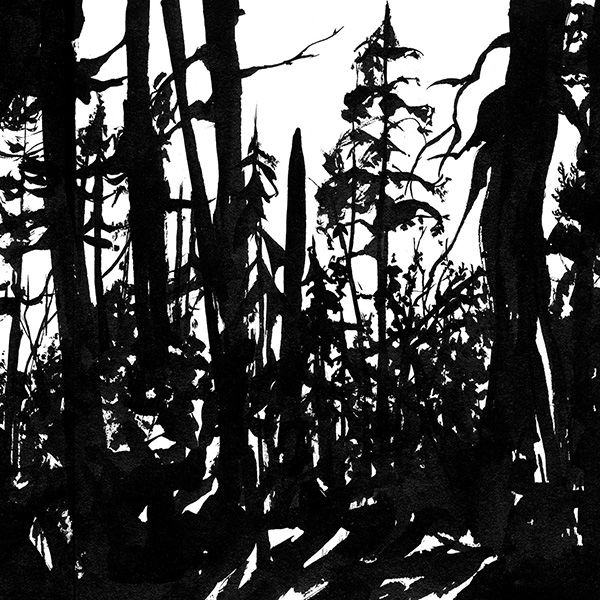 Totenbaum Träger
Ouverture du cadavre de Sade
Montréal, QC
De la kabbale morbide de Mathieu Bédard:
Replaçant Sade dans le contexte néolibéral, Ouverture du cadavre de Sade est un livre-disque qui se soustrait au ton gourmand des chercheurs de scandale et souligne plutôt le caractère sinistre du banquet. Dans son requiem pour trompette au « souffle malade » et pulsations de guitare lancinantes, Totenbaum Träger nous offre la trame sonore d'un saccage planétaire du point de vue de ses échos. Les collages des éditrices juxtaposant bribes d'actualités économiques et images dérangeantes forment quant à eux une kabbale morbide qui révèle, entre des pages que le lecteur doit déchirer, la réalité abjecte de nos pulsions collectives : des coulées d'or se substituent au sang, au sperme et aux larmes des illustrations de tortures. Le tout nous propose une alchimie renversée qui nous pousse jusque dans les derniers retranchements de la chair, là où de toute part ça crie « non ».
From the morbid Kabbalah of Mathieu Bédard:
(Translated by L. Langille)
Replacing Sade in a neoliberal context, Ouverture du cadavre de Sade is a book-album which focuses less on the gourmet elements of those looking for scandal and underlines instead the sinister character of the banquet. With its requiem for sick trumpet and darting guitar pulsations, Totenbaum Träger signs this sonic fabric with a planetary plunder from the point of view of its echos. The collages of the books juxtapose snippets of business news and deranged images to form a morbid Kabbalah which has, within the pages that the reader must tear apart, the abject reality of what we collectively draw on; streams of gold replace streams of blood, sperm and tears in these illustrations of torture. It is a reversed alchemy which pushes us until the edge of flesh, where we scream no from all sides.
Totenbaum Träger – Offertorium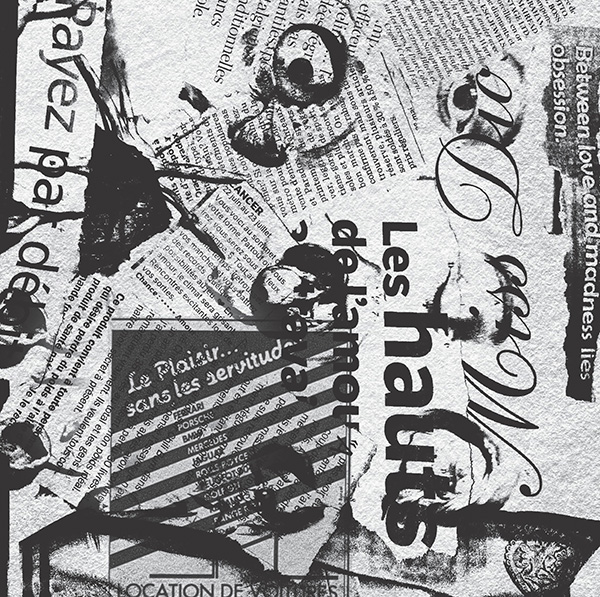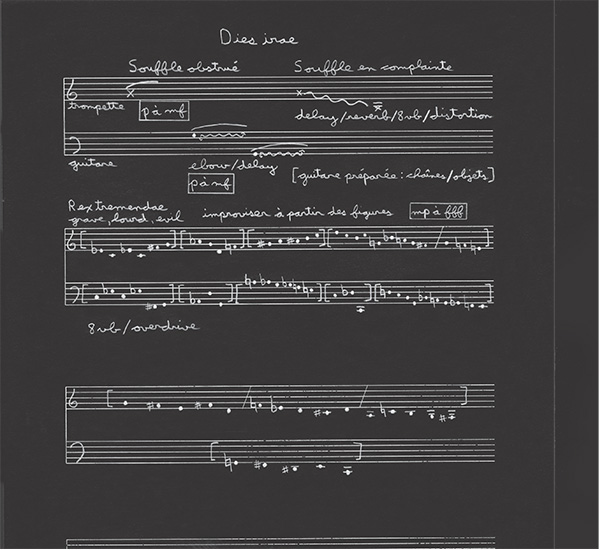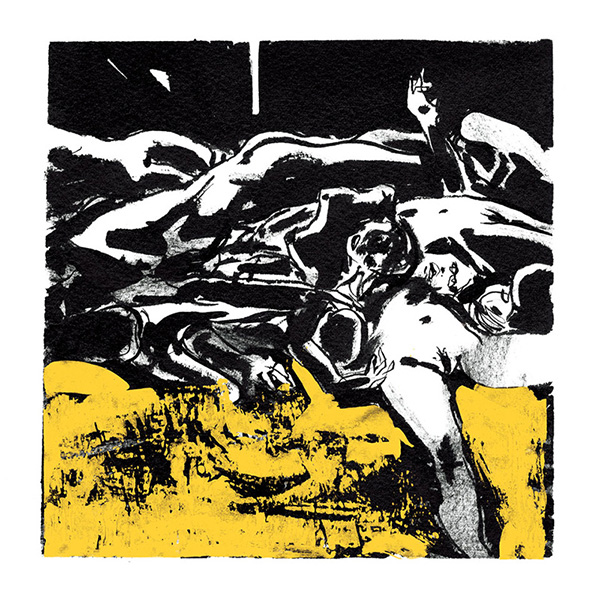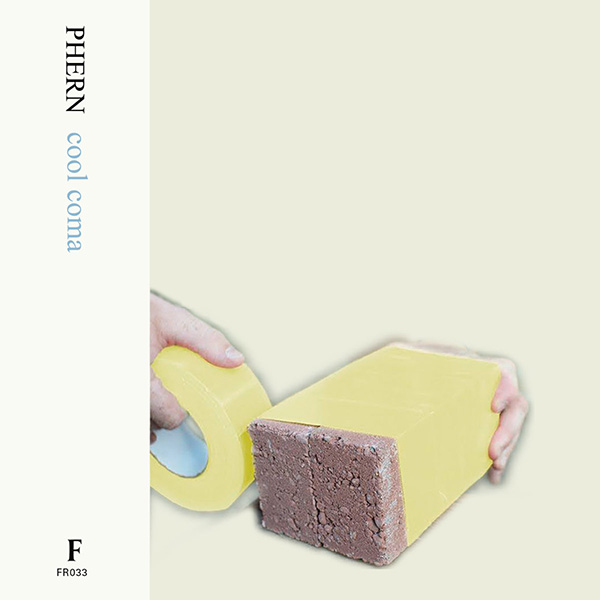 Phern
Cool Coma
Montréal, QC
From the chipped tooth of Katie Jensen:
Pass the sticky note salad. Chomp on words to compensate for gaps in conversation. A dinner party in honour of bobbing guitar necks, bratty bass lines and sloppy-kiss snares. Guests swapping Canadian Post Punk All Starz™ trading cards under the table. Vocals pushed backwards through a cigarette filter until they plant feet firmly on the nose. Serve a second helping of sour tones with angular guitars that lodge sideways. A miserable, memorable meal served on chipped ceramic and splintered toothpicks.
De la dent ébréchée de Katie Jensen:
(Traduit par Hugo Hyart-Dauvergne)
Passe la salade de note toute collante. Mache bruyamment les mots pour compenser les trous dans la conversation. Un dîner de gala en l'honneur des manches de guitares qui se balancent, des lignes de basses qui crânent et des caisses claires au baiser feignant. Les invités s'échangent des cartes à collectionner du jeu du All Starz™ du post-punk canadien sous la table. Les voix sont poussées derrières à travers un filtre de cigarette jusqu'à ce qu'elles plantent fermement leurs pieds dans le nez. Deuxième service en renfort de tons acides avec des guitares anguleuses qui se logent dans le trottoir. Un repas misérable, mémorable servi sur de la céramique ébréchée avec des cure-dents éclatés.
---