Category: New Canadiana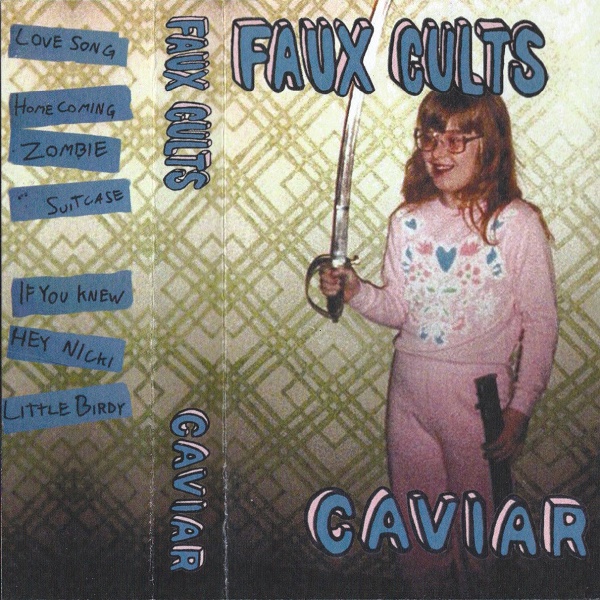 Faux Cults
Caviar
(Self-Released)
Peterborough, ON
From the gnarly swells of Mike Roy:
An abandoned fish tank sits in the corner of your parents' living room. The tank is still half-full, void of life beyond its tropical beach backdrop. An aimless surfer is face down in a growing pit of algae. You approach the glass and tap to find a pulse. Tick. Tick. A hairline crack is formed. It grows and grows. The tank comes to life. Tick. Tick. The surfer twists in his pit of algae to look at you. A longing for a swell to escape Tick. Tick. Crack. Water gushes through the room, liberated to all corners of the room. The surfer rides these currents to land by your feet. The energy of an endless summer from a long forgotten memory warms the room. The look of longing evolves to a smile.
Des gonflements fous de Mike Roy:
(Traduit par l'adulation en série Mackenzie Smedmor)
Un aquarium abandonné est posé au coin du salon de tes parents. Il est toujours à moitié rempli, dépourvu de vie autre que le fond de plage tropicale. Un surfeur vagabond est à plat ventre dans un trou croissant d'algues. Tu t'approches du verre et tapes à la recherche de son pouls. Tick. Tick. Une petite fissure se forme. Elle croît et croît. L'aquarium prend vie. Tick. Tick. Le surfeur se serpente dans son trou d'algues pour te regarder. Une envie pour qu'un gonflement s'échappe. Tick. Tick. Crack. L'eau jaillit dans la salle, libérée dans chaque coin de la salle. Le surfeur monte ces courants pour atterrir à tes pieds. L'énergie d'un été sans fin d'une mémoire longtemps oublié réchauffe le salon. Le regard d'envie s'évolue en sourire.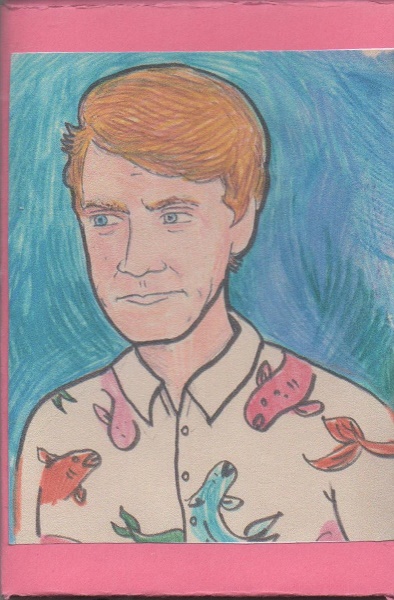 Watershed Hour
From Your Best Friend
(Not Quite)
Peterborough, ON
From the bent antenna of Mackenzie Smedmor:
We interrupt your regularly scheduled saloon shenanigans with a sludgy sonic invasion. Watershed Hour pounds Peterborough's airwaves with femme fatale howls and supernaturally infectious rhythms, hooking your ears faster than you can change the channel. This joint's midnight snack special is blood and guts with a side of crunchy peanut butter straight from the jar. Skip the coffee, the hypnotic harsh bass lull will shake you awake until morning.
From Your Best Friend is an on-the-house tonic of uncensored late-night television escapism.
De l'antenne tordue de Mackenzie Smedmor:
(Traduit par la deuxième bouche de Mackenzie Smedmor)
Nous interrompons votre programmation de niaiserie de saloon régulière avec une invasion sonique boueuse. Watershed Hour frappe fort sur les ondes de Peterborough avec des hurlements de femme fatale et des rythmes surnaturellement contagieux qui vous accrochent les oreilles plus rapidement que vous pouvez changer de chaîne. Le spécial de minuit de ce resto, c'est le sang et la chair accompagné de beurre d'arachide croquant directement du pot. Sautez le café, la berceuse de basse rugueuse et hypnotique vous agitera jusqu'au matin.
From Your Best Friend est un tonic offert par la maison d'évasion non censurée de télévision nocturne.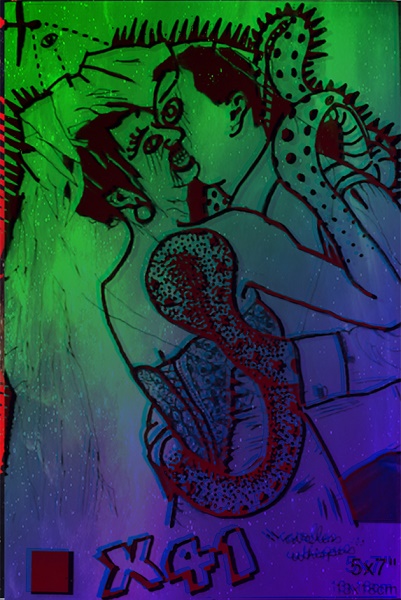 x41
S'up, Pluto?
Vancouver, BC
From the garbage dome of Katie Jensen:
The bedroom is a black hole. Dangling books with fluttering pages. Creased jeans crossing and uncrossing their worn out, indigo legs. A long-lost retainer, spackled with dried spittle and dust. Routine detritus shaken free by the swirling magnetism of a nameless void. Something stirring underneath the crumpled sheets and billowy comforter, pulsing with electromagnetic puffs. It struggles, whispering word-salad. Like an over-stuffed envelope, the bedroom collapses around itself. Contained, but bulging at the seams. Mail it away. Make it someone else's problem.
Venu du dôme d'ordures de Katie Jensen:
(Traduit par les facultés sacadées d' Émily Traichel)
La chambre à coucher est un trou noir. Des livres ballants avec des pages voltigeantes. Des jeans plissés se croisent et se décroisent les jambes indigo usées. Un appareil dentaire, perdu de vue depuis longtemps, enduit de crachat et de poussière. Détritus routiniers libérés par le magnétisme tourbillonnant d'un vide intersidéral sans nom. Quelque chose qui s'agite sous les draps froissés et la literie houleuse pulse avec des bouffées électromagnétiques. Elle a de la misère, murmurant une salade de mots. Comme une enveloppe surchargée, la chambre à coucher s'effondre sur elle-même. Close, mais pleine à bomber. Postez-la ailleurs. Rendez-la le problème d'un autre.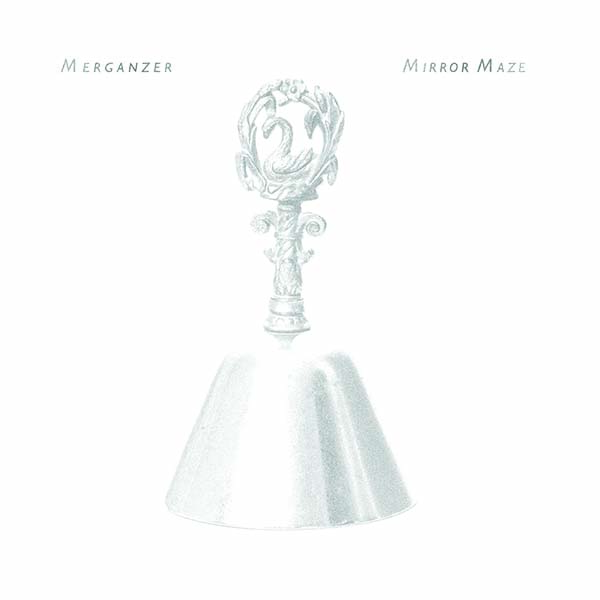 Merganzer
Mirror Maze
(Self Released)
Ottawa, ON
From the refracted vision of Brian Cleveland:
Explosions in a snowy forest never felt so calm. From Sarah Neufeld to Owen Pallett, Canadian violinists are breaking out on their own for dangerous, relaxing records. Their instruments are used for far more than back-up and traditional folk songs. Previously refracting throughout the sounds of Timber Timbre, Feist, and Basia Bulat, it's Mika Posen's time to shine back. Enter into her Berlin labyrinth laid in effigy to Dvorak and Mendelssohn for a pleasant entanglement.
De la vision réfractée de Brian Cleveland:
(Traduit par Mackenzie Smedmor)
Des explosions dans une forêt neigeuse n'ont jamais été aussi calmes. De Sarah Neufeld à Owen Pallett, les violonistes Canadiens se libèrent pour la création solitaire de dangereux disques relaxants. Leurs instruments sont utilisés pour bien plus que le soutien ambiant et les chansons traditionnelles folk. Précédemment réfracter à travers les sons de Timber Timbre, Feist et Basia Bulat, c'est le moment pour Mika Posen de rayonner. Entrez dans son labyrinthe Berlinois étalé en effigie à Dvorak et Mendelssohn pour un imbroglio plaisant.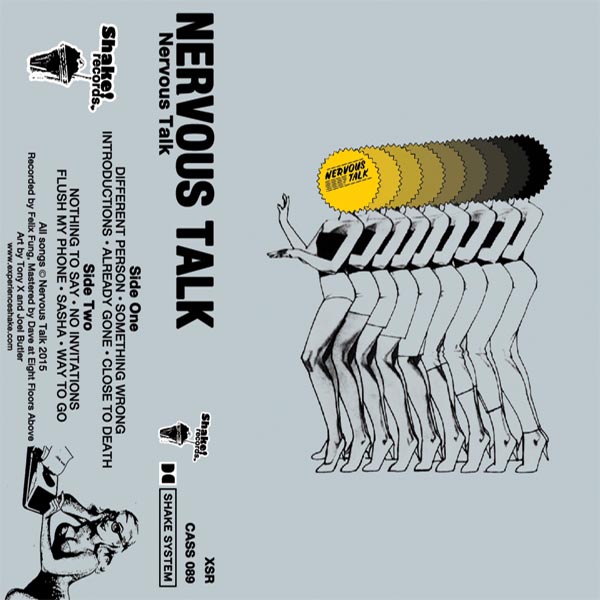 Nervous Talk
Nervous Talk
Vancouver, BC
From the rat face of Kyle Valade:
Nervous Talk's self-titled tape is a violent daydream on a Friday afternoon. Listening at work, you'll have no choice but to play some ferocious air drums while the guitar player throws in tastefully flashy touches all over the place. There's some 60's and 70's ground up and thrown into the mix, but you'll find yourself pining for going from show to show down Hastings. Walking late through the Downtown Eastside with its concrete, rats, and shipping containers, intersecting with pals you only see at shows, heading outside between bands, and listening to the real thing.
De la face de rat de Kyle Valade:
(Traduit par Sergio Calla)
La bande audio éponyme de Nervous Talk est une violente rêverie d'un vendredi après-midi. L'écoute au travail donne le gout de jouer sauvagement à la batterie invisible, alors que le guitariste démontre avec vigueur, son gout « tape à l'œil » charmant. Le mélange des années 60 et 70, donne envie de faire la tournée des spectacles le long du boulevard Hastings. Se promener tard à l'est d'un centre-ville tout en béton, les rats et les conteneurs d'expédition, croisant des copains que vous ne voyez que pendant l'entracte des shows tout en écoutant ce qui est authentique.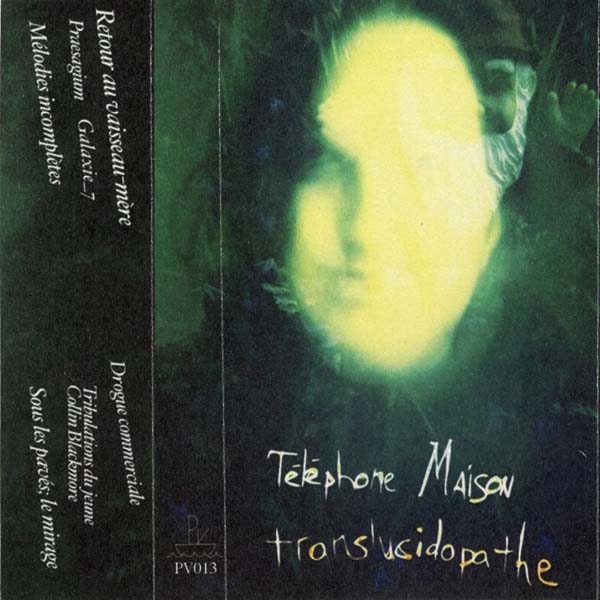 Téléphone Maison
Translucidopathe
Montréal, QC
From the tired mind of Piper Curtis:
Feeling: Incomplete.
Moving through a smoky hallway, loose green fabrics draped from the walls and ceiling. Wires sparking.
Dancing formlessly in this peculiar space. Move with me, see through me. Here we are transient.
Missing: Nothing.
De l'esprit fatigué de Piper Curtis:
(Traduit par Julie Mayer)
Sentiment d'inachevé
Se déplacer le long d'un couloir enfumé, des tissus verts et lâches pendent des murs et du plafond. Des câbles font des étincelles.
Danser de manière abstraite dans cet espace singulier. Bougez avec moi, voyez à travers moi. Ici, nous sommes éphémères.
Ce qui manque : Rien
Téléphone Maison – Praesagium (ft. Velvet Glacier)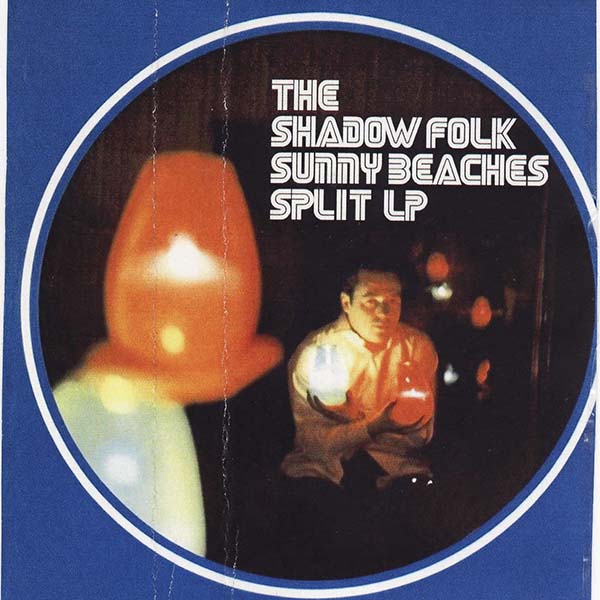 Shadow Folk // Sunny Beaches
Split
Halifax, NS
Des gains capitaux de Gabe Girard:
(Traduit par le chocolat chaud de Julie Mayer)
La Nouvelle-Écosse passe son flambeau de sensibilité pop rock à un autre groupe de mécréants slameurs. Toute la crème de Poncho records figure sur ce split album de The 13th Basement of Hell. Shadow Folk et Sunny Beaches distillent le Kool-Aid, le réduisent, le coupent avec du Tang et se piquent avec. Oseriez-vous en prendre? L'aimeriez-vous?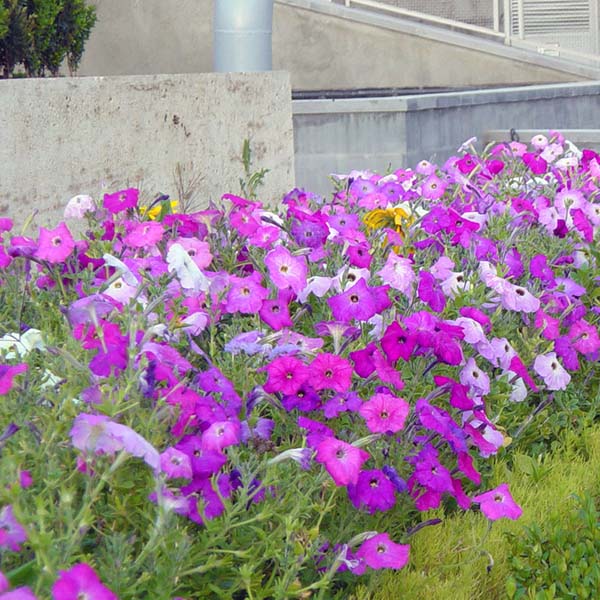 Tax Haven
H&M Interior
(Self Released)
Toronto, ON
From the disparate constraints of Josh Silver:
Frenetic movement breaks through melody, forming a pathway of rhythmic content. For net *cum* vim, one too breaks the rig; home led you from a no-go path away. Free improv ends ever-around repos of light and any a polyrhythm in order. **W**here **h**ectic** i**nfiltration **p**ierces a **k**it **i**n **s**umptuous **s**ets of **e**rratic **r**est, one may **f**ind **a** **t**otal **h**ospice **e**ver **r**ustic, **s**urging.
Note: This text utilizes textual constraint and wordplay as a means of extending the text into the music's pattern; interwoven rhythms and melodies become reorganized constrained text.
Des contraintes disparates de Josh Silver:
(Traduit par l'art de lire entre les lettres de Julie Mayer)
Un mouvement frénétique démolit la mélodie pour former une voie de contenu rythmique. Pour le net-entrain, on brise également le matos; la maison t'a mené d'une voie interdite au loin. L'impro libre met fin à un réceptacle de lumière omniprésent et toute polyrythmie ordonnée. **W**ow, l'**h**ectique **i**nfiltration **p**erce un **k**it pour **i**soler de **s**omptueux **s**ets d'**e**rratique **r**epos, on peut **f**aire la découverte d'un **a**gréable et **t**otal **h**ospice **e**n constante **r**usticité **s**'abattre.
Note : Ce texte utilise des contraintes textuelles et des jeux de mots afin de prolonger le texte dans la disposition de la musique ; les rythmes et les mélodies entrelacés sont réorganisés en texte contraint.
Tax Haven – Go Athletic Stay Fashion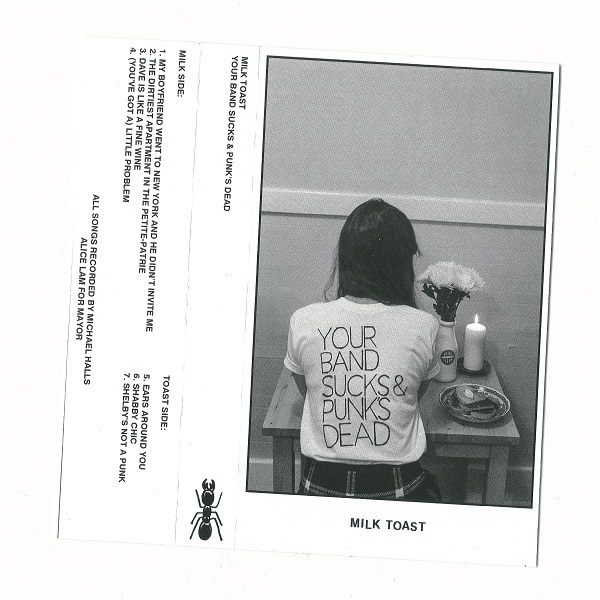 Milk Toast
Your Band Sucks & Punk's Dead
Calgary, AB
From the insulated Ontarios of Mitch Jackson:
What place does punk occupy within the spaces of aggregated, reblogged and retweeted content? Undead punks wander the streets of Canadian cities, looking like Canadian Classic cigs carrying Crass CDs, looking for authenticity. If Calgary's Milk Toast has any say, punk died, and it fuckin' sucked anyways. The only way to fight the surviving incestual punXXX and neo-grunge chic is snarky commentary and Montreal guitar pop with added bite from some westernly wit sculpted in the image of prairie circumpolar winds. Here is a much needed survival guide.
Par les Ontarios isolés de Mitch Jackson:
(Par les humeurs printanières d' Émily Traichel)
Quelle place occupe le punk parmi les lieux du contenu agrégé, rebloggué et retweeté? Les punks mort-vivants flânent dans les rues des villes canadiennes, avec l'air des cigarettes Canadian Classic portant des CDs de Crass, à la recherche d'authenticité. Si Milk Toast de Calgary a son mot à dire, le punk est mort, et c'était crissement nul de toute façon. Le seul moyen de combattre les incestueux punXXX et chic neo-grunge survivants, ce sont les commentaires narquois et le guitar-pop montréalais avec du mordant ajouté par un esprit de l'ouest sculpté à l'image des vents circumpolaires des prairies. Voici un guide de survie très attendu.
Milk Toast – My Boyfriend Went to New York and He Didn't Invite Me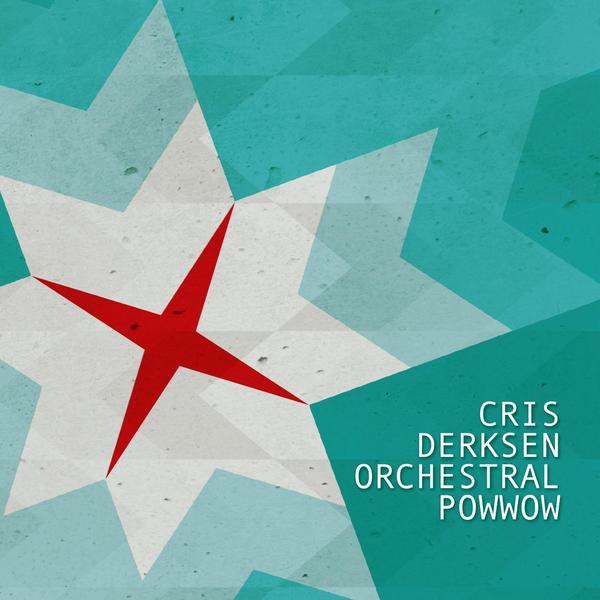 Cris Derksen
Orchestral Powwow
Northern AB
From the wandering spirit of Charlotte White:
Enter through the East facing door. You are immediately drenched in the tears of spirits desperate to be heard over the deafening chatter of demons. You feel the vibrations of howling ghosts as they weave through intricate threads of conflicting comforts: loud and soft, weak and strong, destroyed and rebuilt, mourning and hopeful. In a daze, white light crashes into your body, rejuvenating lost hope and fusing the spirit world with your own. Electrified and covered in flecks of gold, you exit through the West door gasping for air.
De l'esprit en errance de Charlotte White:
(Traduit par Aliké Harel)
Entrez par la porte qui fait face à l'Est. Vous êtes instantanément noyé dans les larmes des esprits désespérés de se faire entendre dans le brouhaha assourdissant des démons. On sent les vibrations des fantômes hurlant pendant qu'ils s'immiscent dans la trame d'un canevas complexe de conforts contradictoires : strident et apaisant, faible et puissant, démoli et rebâti, endeuillé et nourri d'espoir. En un éclair, une lumière blanche s'abat sur votre corps, ravive l'espoir éteint et fusionne le monde des esprits au vôtre. Électrifié et émaillé d'or, vous sortez par la porte de l'Ouest en cherchant à reprendre votre souffle.
Cris Derksen – Round Dance ft. Northern Voice
---