Category: New Canadiana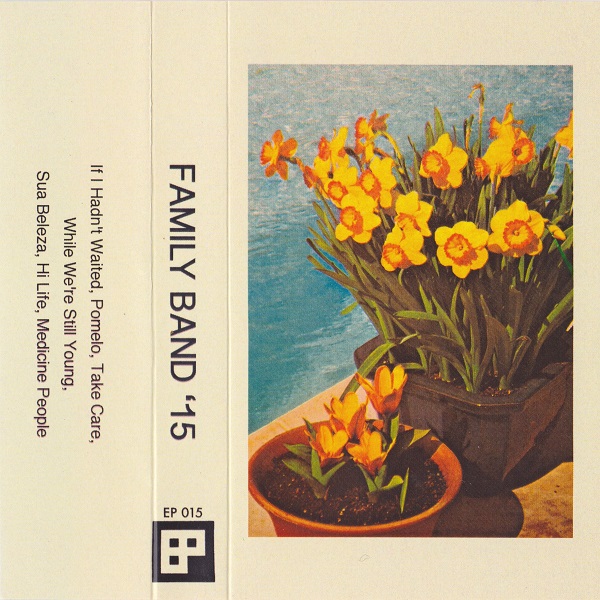 Family Band
Family Band '15
Montreal, QC
From the calculated chaos of Eleanor Wearing:
There is a lot going on here. Some feels old, some new. Some feels strangely familiar. Is it déjà vu or is your mind playing tricks on you?. Spurts of carefully calculated chaos follow lapses of calm. Every few moments it seems there can be no more surprises. No new sounds to add. Listen again. Dig your hands into the bottom corners of this goody bag, sugar sticking to your fingers, until you discover another gem hiding within the folds.
Du chaos calculé d' Eleanor Wearing:
(Traduit par les *paparmanes* de Julie Mayer)
Il se passe beaucoup de choses ici. Certains se sentent vieux, d'autres, neufs. Certains se sentent étrangement familiers. Est-ce une impression de déjà vu, ou serait-ce ton esprit qui te joue des tours?. Des giclées de chaos soigneusement calculé suivent des laps de calme. De temps à autre, il te semble que plus rien ne peut te surprendre. Aucun nouveau son à ajouter. Réécoute. Enfonce tes mains dans les coins inférieurs de cette pochette surprise, le sucre se collant à tes doigts, jusqu'à ce que tu découvres une autre perle cachée dans les replis.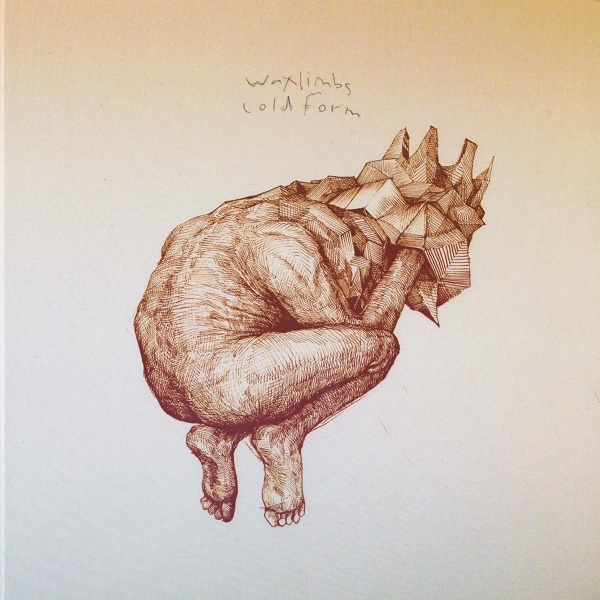 Waxlimbs
Coldform
Toronto, ON
From the Restless Infinity of Bobby Andrews:
From deep within the disjointed experience of the subconscious mind, Toronto's Waxlimbs uncovers a collection of rhythmic and melodic moments that capture the chaotic nature of existence. Occupying the property between serene reflection and manic bliss, this album asks only to submit entirely to the unique and expressive experience that can be found within. Unceasingly shrill beats transition into cerebral tones, creating a thrilling collection of emotion.
Par l'infini agité de Bobby Andrews:
(Par les palpitations chocolatées d'Émily Traichel)
Depuis les profondeurs de l'expérience décousue de l'esprit subconscient, Waxlimbs de Toronto dévoile une collection de moments rythmiques et mélodiques qui capturent la nature chaotique de l'existence. Occupant la propriété entre réflexion sereine et bonheur frénétique, cet album nous demande seulement de succomber entièrement à l'expérience unique et expressive, qui peut être retrouvée à l'intérieur de nous. Le rythme sans cesse perçant fait la transition vers des tonalités cérébrales, créant une palpitante collection d'émotion.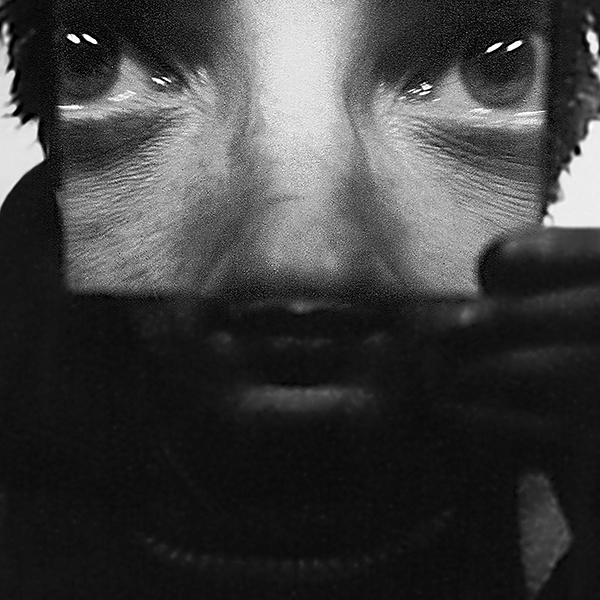 Andy Haas
Taballah
(Self Released)
Toronto, ON
From the lapsed dance of Jesse Locke:
Every piece on Andy Haas begins with his sax blurts for Martha and the Muffins, but he's drifted far beyond Echo Beach in collaboration with John Zorn, Zeena Parkins or Toronto's Doc Dunn. On this solo outing, the horns of Haas soar off the map with squelched electronics and the ping-ponging pulse of the taal tarang (tabla drum machine). Sightings of Craig Leon's Nommos become even more alien, beaming into fourth world impossible musics.
Par la danse révolue de Jesse Locke:
(Traduit par le pouls indécis d' Émily Traichel)
Chaque morceau sur Andy Haas commence par ses interjections saxophoniques pour Martha and the Muffins, mais il a dérivé loin au-delà d'Echo Beach en collaboration avec John Zorn, Zeena Parkins ou Doc Dunn de Toronto. Sur cet album solo, les cornes de Haas s'élancent dans de nouveaux territoires avec l'électronique étouffée et le pouls allant et venant du taal tarang (tambour tabla numérique). Les observations de Nommos de Craig Leon deviennent encore plus étranges, nous transportant vers des musiques impossibles d'une quatrième dimension.
Andy Haas – Upon Their Golden Asses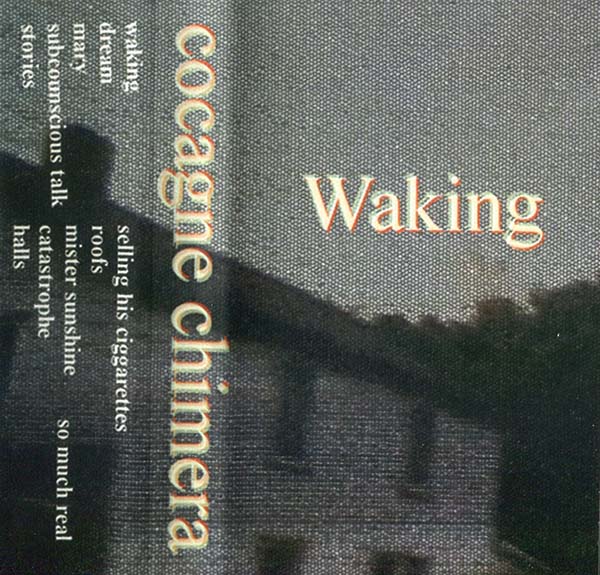 Cocagne Chimera
Waking
(Self Released)
Montréal, QC
From the hallowed halls of Samuel Donovan Joseph:
Five-alarm hangover after Four Loko fantasy under psilocybin sundown. Ripples in time-space like your ugly mug at the ammonia-soaked bottom of the local reflecting trough. Depanneur dance. Gas-bar glissando. Casse-croûte crash. Green light melts into yellow melts into red, like hot tamales in your shoes. Rise and shine, sweetie. It's tea time.
Depuis les salles sanctifiées de Samuel Donovan Joseph:
(Traduit par l'étrange lasagne d' Émily Traichel)
Une très sérieuse gueule de bois après une rêverie arrosée de Four Loko sous le coucher de soleil psilocybine. Des ondulations dans l'espace-temps comme votre tasse laide au fond taché d'ammoniac provenant de l'urinoir du quartier. Danse du dépanneur. Glissando gas-bar. Crash casse-croûte. La lumière verte passe au jaune et au rouge, comme des bonbons hot tamales dans vos chaussures. Debout, mon amour. C'est l'heure du thé.
Cocagne Chimera – Subconscious Talk.mp3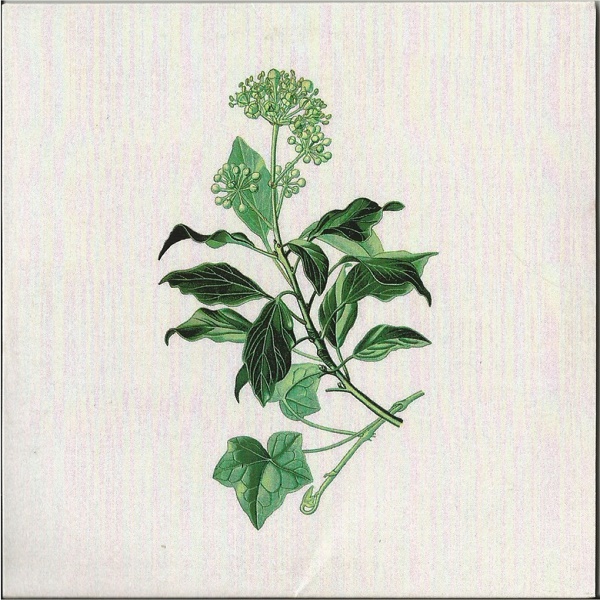 Isaac Vallentin
Hedera
(Self-Released)
Ottawa, ON
From the kinetic keyboard of Mark Anthony Brennan:
The elders became concerned when the young man sang by himself in the woods. They brought him a guitar. Soon the trees were filled with folk songs of imagination. Curious, they gave him an electric guitar. The air then reverberated with sonic emotion. Fascinated, they proceeded to supply him with an assortment of electronic equipment. To their astonishment the young man incorporated it all into his communion with the forest. From far and wide, everyone marvelled at this electronic fusion and interplay; the sounds of the city and the voice of nature; the solitary singer and his global audience.
Du clavier cinétique de Mark Anthony Brennan:
(Traduit par la serpe d'or de Julie Mayer)
Les anciens commencèrent à s'intéresser au jeune homme lorsqu'il chanta seul dans les bois. Ils lui apportèrent une guitare. Sitôt, les arbres furent remplis de chansons folk qui sortent de l'imaginaire. Curieux, ils lui donnèrent une guitare électrique. L'air se mit alors à retentir d'une émotion acoustique. Fascinés, ils continuèrent en lui fournissant un assortiment d'équipement électronique. À leur grand étonnement, le jeune homme incorpora le tout à sa communion avec la forêt. Venu de toutes parts, tout le monde s'émerveilla devant cette fusion électronique et les interactions qu'elle crée: les bruits de la ville et la voix de la nature; le chanteur solitaire et son auditoire mondial.
Isaac Vallentin – Garden Pt. 1 (You Own To Fight)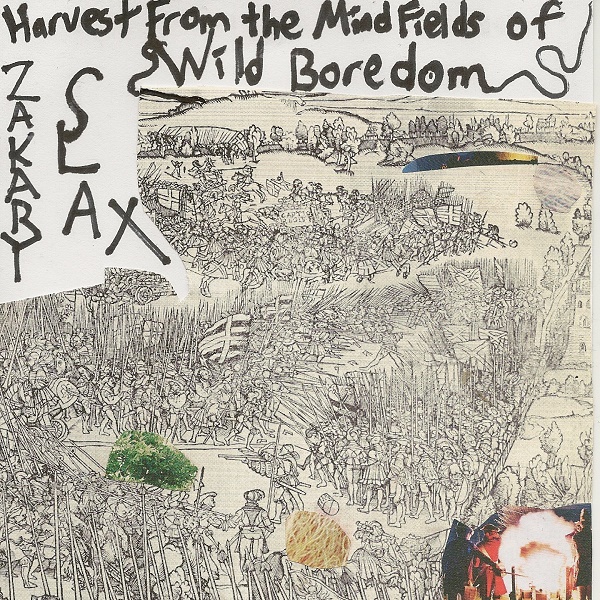 Zakary Slax
Harvest From The Mindfields Of Wild Boredom
(Self-Released)
Montreal, QC
From the murky brainwaves of Justin Crowe:
Old but fresh trax from Zak Slax, a dirge for the stained wasteland of pristine and polished punk, with echoes of vintage junk and modern gunk that ooze into the cells of our frazzled senses. Go for broke and don't read the comments. It's nice and cool down in the sludge. When you feel the heat, slip on the shades and enter the void. The wavy mirage will suck you in. It's gonna be a rager.
Des ondes cérébrales troubles de Justin Crowe:
(Traduit par Julie Mayer)
Des pistes sonores de Zak Slax, nouvelles et familières. Un chant funèbre en l'honneur du terrain vague taché de punk pur et poli, accompagné par des échos de bric-à-brac vintage et de saletés modernes qui suintent dans les cellules de nos sens usés à la corde. Risque le tout pour le tout et ne lis pas les commentaires. C'est bon et cool de se vautrer dans le sludge boueux. Lorsque tu sens que la chaleur monte, enfile tes lunettes de soleil et pénètre dans le vide. Le mirage ondulé va t'aspirer. Ça va être un méchant party.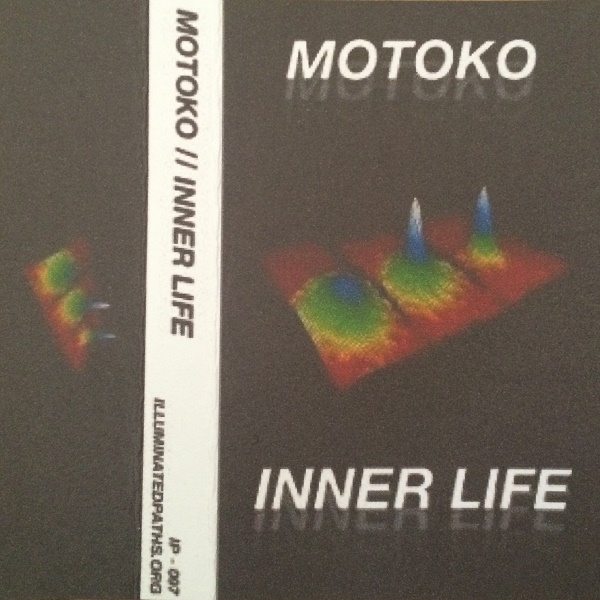 Motoko
Inner Life
(Self-Released)
London, ON
From the drip dry eyes of Julia Dickens:
This instrumental output from the keyboard of Jordan Pearson is the soundtrack to a synthesized contemplative dream state. If your computer screen saver was a shifting stream of consciousness, this current is drifting into a tropical journey, driving top-down down a coastal highway, lounging poolside while a gentle breeze rustles pixilated palms. Wipe your drip dry eyes as you watch phosphorescent waves swell and recede underneath the shimmering cosmos. The scene dissolves into a hazy landscape whizzing by on your sunset drive into the technicolour abyss and reflected on all sides by the shapes and sounds of your own softly aching heart.
Des yeux à séchage spontané de Julia Dickens:
(Traduit au cycle délicat par Julie Mayer)
Cette production instrumentale sortie du clavier de Jordan Pearson est la piste sonore parfaite pour atteindre un état de rêve contemplatif synthétisé. Si l'écran de veille de ton ordinateur était un flux de conscience changeant, ce courant virerait en voyage tropical au cours duquel tu roules avec la capote abaissée sur une autoroute côtière et où tu te détends au bord de la piscine pendant qu'une douce brise bruisse dans des palmiers pixellisés. Essuie tes yeux à séchage spontané pendant que tu regardes des vagues phosphorescentes enfler et refluer sous le scintillement du cosmos. Le tableau, qui se dissout dans un paysage brumeux filant à toute allure lors de ta virée au soleil couchant vers l'abysse technicolor, se reflète de tous côtés par les formes et les sons de ton propre cœur légèrement endolori.
L CON
The Distance of the Moon
(Self Released)
Toronto, ON
From the celestial chatter of Mark Anthony Brennan:
This is about distance. In the distance between any two objects there is space. Space is eternal. You can never get rid of it. You cannot fill it because space will always surround any object you place in it. Work with it, don't ignore it or pretend it isn't there. Music exists as much in the empty air as in the sound waves that travel through it. Rejoice in the distance. Listen to the spaces in between.
Par le bavardage célestial de Mark Anthony Brennan:
(Traduit par les synapses intersidéraux d' Émily Traichel)
Il s'agit de la distance. Dans la distance entre n'importe quelle paire d'objets, il y a de l'espace. L'espace est éternel. On ne peut jamais s'en débarrasser. On ne peut le remplir, car l'espace entourera toujours tout objet que l'on y place. Composez avec, ne l'ignorez pas et ne prétendez pas qu'il n'est pas là. La musique existe autant dans l'air vide que dans les ondes sonores qui voyagent à travers. Réjouissez-vous de la distance. Écoutez les espaces qui s'y figurent.
L CON – The Distance of the Moon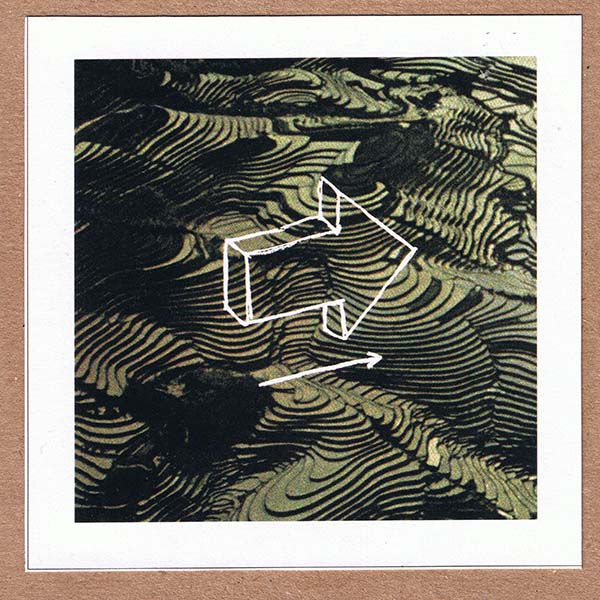 Mauno
Rough Master
(Self Released)
Halifax, NS
From the symphonic sear of Benjamin Anderson:
The stake blazes alight. All around voices like blacksmiths' strikes sing and smoulder on. Cries of "witchcraft" untangle themselves from the din. Bloodthirst glints like an oil slick across irises. The flames are licking your feet, the sear is symphonic; it feels of soaring strings. All for conjuring up tones that shape-shift and maneuver in and out of the ear like a salt water tide gurgling through a rusted pipe. Night is a muscle; you burn in the flex of it.
Du brûlement symphonique de Benjamin Anderson:
(Traduit par Louis-Félix de Chevigny, qui scande avec la foule enflammée)
Le bûcher s'enflamme. Autour de lui, tel un forgeron qui fait chanter son enclume, fusent des voix. Des accusations de «sorcellerie» jaillissent du tumulte. Des yeux qui pétillent d'une lueur assoiffée de sang, telle une nappe de fioul qui s'étend sur leurs iris. Les flammes te lèchent les pieds, leur brûlure est symphonique; tel des cordes en délire. Tout cela évoque des tons qui se métamorphosent et manœuvrent le canal auditif telle une marée d'eau salée qui gargouille dans un tuyau rouillé. Tu brûles dans le fléchissement du muscle de la nuit.
Casper Skulls
King of Gold
(Hip Priest Records)
Toronto, ON
From the peasant revolt of Rachel Bellone:
His majesty the King of Gold has ordered you to lend your ears to Casper Skulls. The title track keeps the pace of a slow and steady march before moving into a set of narrative lyrics with a familiar political unease . This is matched with guitar/bass tones and drum stylings that have a royal buzz about them. The vocals slice through the distortion, they sincerely want to be heard, especially in the playful call-and-response chorus in "King Of Gold." Casper Skulls taps into the swelling feeling in your head after a good cry.
De la révolte paysanne de Rachel Bellone:
(Traduit par Diane Beaupré)
Sa Majesté le King of Gold vous a ordonné de prêter l'oreille à Casper Skulls. La pièce du même titre débute avec un rythme lent et régulier avant d'entamer une narration aux accents familiers de malaise politique. Les tonalités des percussions qui accompagnent donnent un air royal à la pièce. La voix se fend à travers la distorsion, elle veut réellement se faire entendre, particulièrement quand elle joue à répondre à la guitare dans le refrain de King of Gold. Casper Skulls touche à ce sentiment d'avoir la tête pleine d'ouate lorsqu'on a pleuré un bon coup.
---