Category: New Canadiana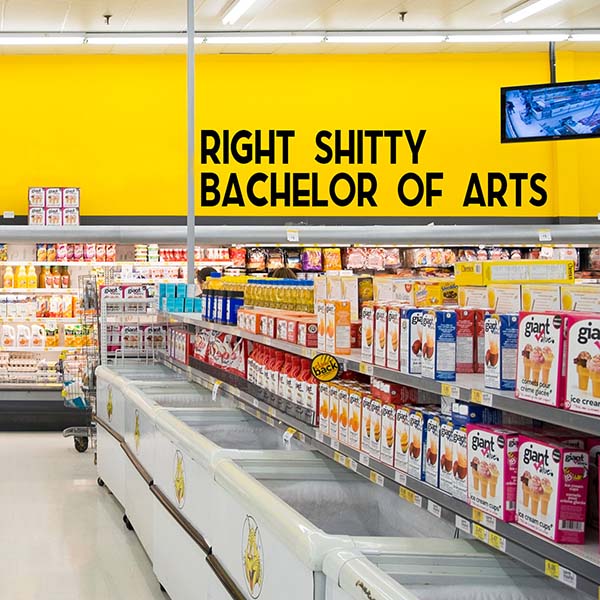 Right Shitty
Bachelor of Arts
Saint John, NB
From the buzzing molars of Brian Cleveland:
Loud guitars continue to dominate the Port City attempting to overpower the din and dominance of the monopolized industrial industry. Blazing another branched off trail alongside the path carved by the likes of the Wooden Wives, Little You Little Me, and Stegosaurus, Right Shitty will wake you up with a splash to the face and molars buzzing. Sign up for this degree program immediately.
Des molaires vibrantes de Brian Cleveland:
(Le chemin sculpté d'Odile Leclerc)
Les guitares bruyantes continuent à dominer le Quai de la ville essayant de vaincre le vacarme et la dominance de l'industrie industrielle. Brûlant un autre sentier qui bifurque aux côtés du chemin sculpté par ceux comme les Wooden Wives, Little You Little Me et Stegosaurus, Right Shitty va vous réveiller avec une éclaboussure au visage et des molaires vibrantes. Inscrivez-vous à ce programme d'études immédiatement.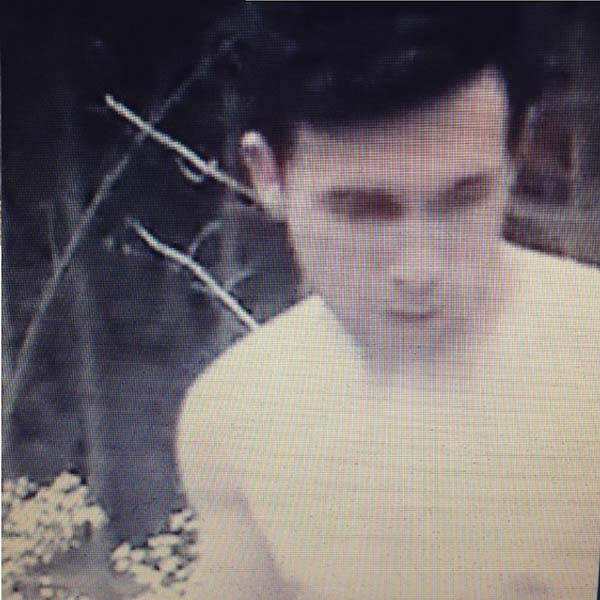 Alex Curtis
Sheer Curtain
(Self-Released)
La Ronge, SK
From the stop-start -isms of Joshua Robinson:
Icy wind and the whir of a stop-start motor on a frozen driveway. Broken is the one whose overtures are those of semi-northernly frigidity; intoned voices commixed to the point of spililng through the frosted windows of a basement too cold to keep itself warm. The yearning is obvious; spoken even. Pale blue eyes and the reckoning of humanity, fragile while loosening itself from the drapery of iconoclastic figures of the past. To breathe while sleeping is a gift, given that nihilism is the sad voyeur whose eyes frost the warm heart in the early dark of a prairie morning.
Des tressaillements de Joshua Robinson:
(Traduit par les yeux ni bleus ni pâles de Maya Keshav)
Le vent glacial et le ronronnement intermittent d'un moteur sur une allée gelée. Brisé est celui dont les ouvertures sont d'une frigidité quelque peu nordique, les voix qui s'élèvent se métissent jusqu'à ce qu'elles se renversent par les fenêtres givrées d'un sous-sol trop froid pour se garder au chaud. Le souhait est clair; même prononcé à voix haute. Les yeux bleus pâles et le jugement de l'humanité, fragile tout en se dénouant de la draperie des personnages iconoclastes du passé. Respirer en dormant, c'est un don, étant donné que le nihilisme est le voyeur triste, duquel les yeux gèlent le cœur chaud dans le noir de la prairie tôt le matin.
Alex Curtis – I Was A Bad Person Blues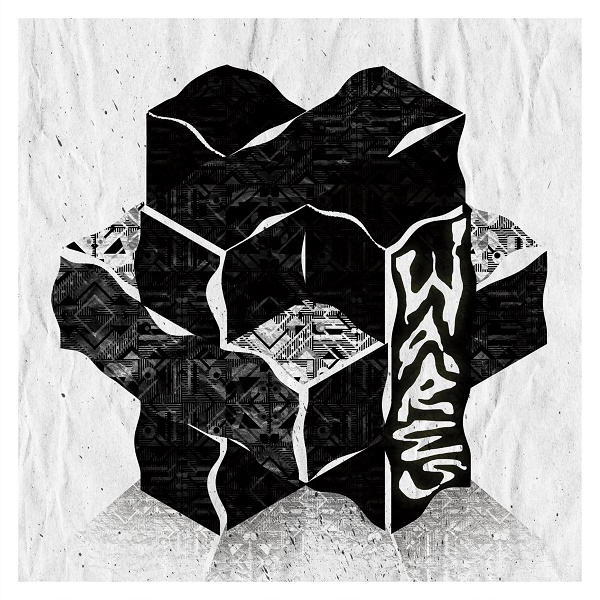 Wares
Missed the Point b/w Beach Date
Edmonton, AB
From the curtained catharsis of Josh Rohs:
School's in, city kids, and attendance is compulsory. On "Missed the Point", Wares' opening salvo of ring mod punk rock capitulates to capital-p Power pop. On the b-side: brass-coupled lakefront nostalgia, sunbleached ivories sufficiently tickled – now with extra curtain-drawn catharsis. Knock down the door and, fuck it, let 'em see you bleed.
De la catharsis garnie de rideaux de Josh Rohs:
(Traduit par la nostalgie académique de Maya Keshav)
L'école est ouverte, les enfants de la ville, et la présence est obligatoire. "Missed the Point" de Wares s'ouvre sur une salve de modulation en anneau (ring mod) punk rock qui capitule jusqu'à p-majuscule Power pop. Sur la face B: la nostalgie du bord du lac conjuguée aux cuivres, les ivoires blanchis au soleil assez chatouillés – maintenant avec plus de catharsis rideaux-fermés. Défoncez la porte et d'la marde, laissez-les vous voir saigner!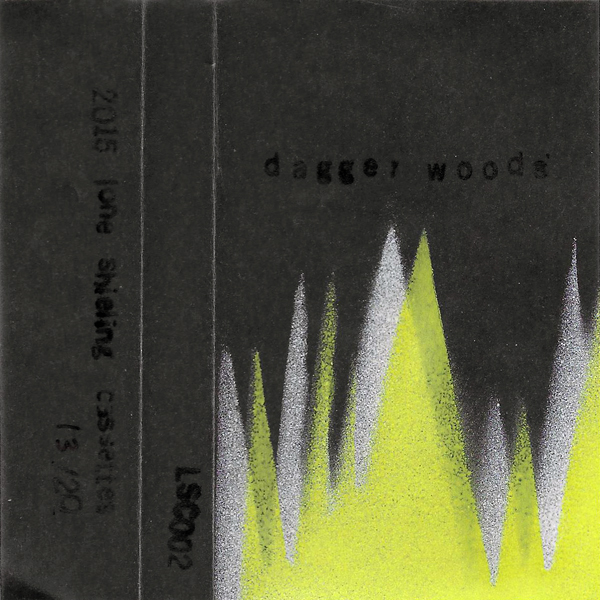 Dagger Woods
Dagger Woods EP
Sydney, NS
From the moss of Hailey Celesse McCarthy:
Pulsing with visceral cacaphonies and attentive soundscapes, Dagger Woods creates a cerebral pulse. Dagger Woods graft lo-fi and hi-fi components on spaced out, and the arrangement of their various sonic branches weave a healthy helix. Perilous at times, new teeth is a disquieting tangent. Though short, the EP is enduring.
De la mousse de Hailey Celesse McCarthy:
(Traduit par le pouls cérébral d' Odile Leclerc)
Palpitant de cacophonies viscérales et d'ambiances sonores attentives, Dagger Woods crée un pouls cérébral. Les composantes de basses et hautes définitions de Dagger Woods sur spaced-out et l'arrangement de leurs diverses branches soniques tissent un processus sain. Parfois périlleuse, new teeth est une tangente inquiétante. Bien que court, le EP est résistant.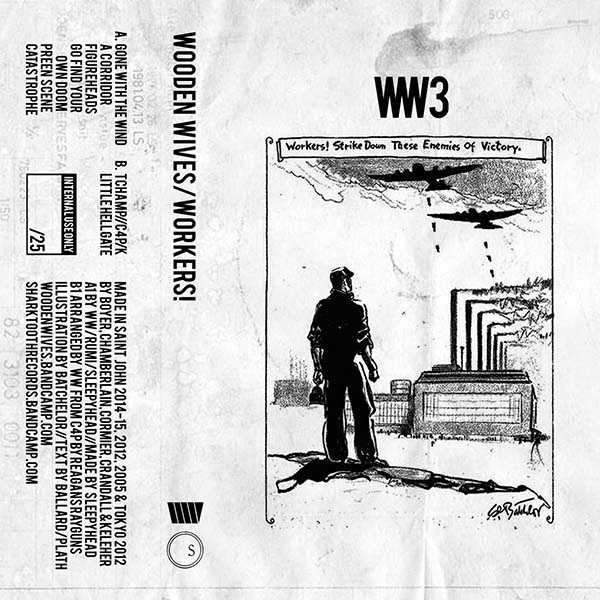 Wooden Wives
Workers! Strike Down These Enemies Of Victory
(Sharktooth Records)
Saint John, NB
From the calloused hands of Brian Cleveland:
WIVES IS OVER. With a decade-long presence that winds throughout Saint John's music scene, the Wooden Wives were unlikely to go out with anything but a bang as their ever-morphing, explosive presence comes to its inevitable conclusion. Despite containing mostly previously unreleased tracks, the final album from the Wooden Wives fittingly plays like a Best Of compilation, running the gamut between spoken word pieces, fast punk snippets, a cover, and long drone selections. Subverting the idea of what constitutes a song, the Wooden Wives relax the mind and energize the body. Influencing innumerable groups from the Maritimes and already splitting off to form a handful of their own exciting new projects, they are gone but hardly forgotten. Wooden Wives 2005-2015 RIP.
Des mains calleuses de Brian Cleveland:
(La sélection de drones d' Odile Leclerc)
Le temps des WIVES est fini Avec une présence sur presque toute la scène musicale de Saint-John's de 10 ans, il était peu plausible que les Wooden Wives n'allaient pas quitter sans frapper fort alors que leur présence explosive et toujours changeante vient à son inévitable conclusion. Malgré qu'il contient majoritairement des pistes précédemment non publiées, l'album final des Wooden Wives joue de façon appropriée comme un Best Of des compilations, dirigeant la gamme entre les fragments de mots parlés, les bribes rapides de punk, une couverture et une longue sélection de drones. Renversant l'idée de quoi constitue une chanson les Wooden Wives relaxent l'esprit et donnent de l'énergie au corps. Influençant d'innombrables groupes des Maritimes et s'étant déjà séparés pour former une poignée de leurs propres nouveaux projets excitants, ils sont partis, mais pas oubliés. Wooden Wives 2005-2015 RIP.
Wooden Wives – Gone With the Wind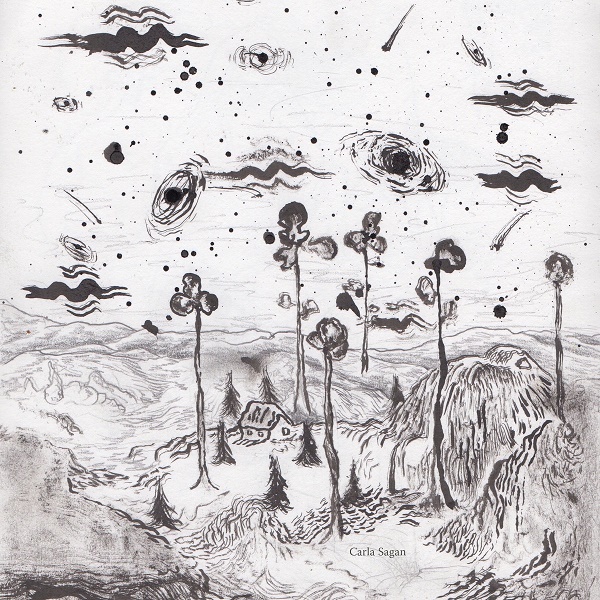 Carla Sagan
Observer Bias
(Self-Released)
Montreal, QC
From the of Local Dimension of Laura Donohue:
Predictably, another cosmic-Rorshach test is passed with flying colours. The Cosmos Update notes that there have been fewer sightings of UFOs and more stories of abductions. Good. Star-gazing on a sticky summer evening, we draw straws to decide who will try to convince the pilot to stop along the way and pick up all remaining pals. As long as we have each other we'll do well on Mars. We'll teach them frisbee.
De la dimension locale de Laura Donohue:
(De la soirée d'été collante d' Odile Leclerc)
Prévisiblement, un autre test de cosmique-Rorshach est passé haut la main. La Mise à jour du Cosmos constate qu'il y avait moins d'apparitions d'ovnis et plus d'histoires d'enlèvement. Bien. Regardant les étoiles par une soirée collante d'été, nous tirons à la courte paille pour décider qui va essayer de convaincre le pilote d'arrêter sur le chemin et de ramasser tous les amis restants. Pourvu que nous nous avons l'un l'autre, nous allons bien réussir sur Mars. Nous allons leur enseigner le frisbee.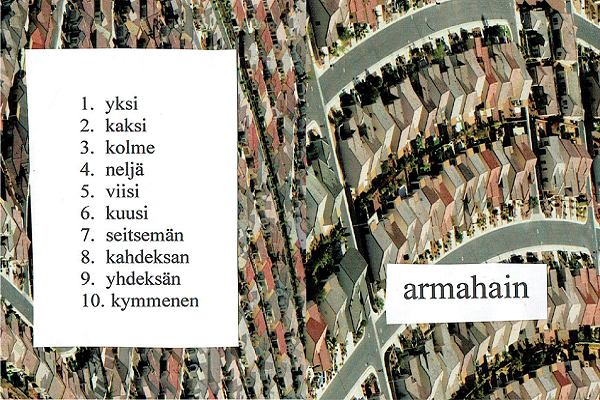 armahain
being human
(Self-Released)
St. John's, NFLD
From the endless refreshing of Joel Thibert:
You've been lying in bed a lot lately, putting it all off and endlessly refreshing. You spend time in the backseats of cars at night and your friends talk without you up front. Someone you haven't seen in a long time says something achingly, sincerely kind about you. You can't remember the last time you blushed like this. If there are synths, they are shifting glaciers. If there are drums, they are stuttering teenagers. If you go walk alone it's all better and worse at the same time. "I'm doing well; things are going great."
Tomorrow is the day you will wake up and be productive, you swear.
Du rafraîchissement sans fin de Joel Thibert:
(Traduit par les glaciers bougeant d'Odile Leclerc)
Tu t'allonges beaucoup sur ton lit dernièrement, fermant tout et restant frais. Tu passes du temps sur la banquette arrière des voitures la nuit et tes amis parlent sans toi à l'avant. Quelqu'un que tu n'as pas vu depuis longtemps dit quelque chose de douloureusement, sincèrement gentil à propos de toi. Tu ne peux pas te rappeler de la dernière fois que tu as rougie ainsi. S'il y a des synthétiseurs, ils sont des glaciers qui bougent. S'il y a des batteries, ils sont des adolescents qui bégayent. Si tu vas marcher seul, tout est mieux et pire à la fois. « Je m'en sors bien; les choses vont bien. »
Demain c'est le jour où tu vas te réveiller et être productif, tu le jures.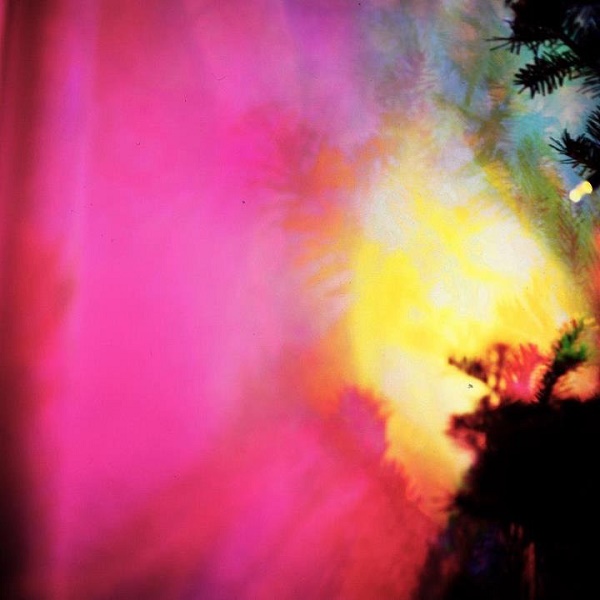 Seri Oko
Seri Oko
(Self-Released)
Montreal, QC
From the criminally soft hands of Simon Petley:
Since the dawn of electric light we have deliberated wildly about what may lurk in freshly rendered darkness, the space ransacked of radiation by the flick of a switch. This narrative replays in the basements and attics of the city's industrial graveyards, when the house lights go down and phantasm reigns. Upon this shade Seri Oko casts their billowing proclamation: sending it sinuating with layers of feedback to the darkest reaches of the room. Gutted, we surface, with visions of silky rapture thwarted by metallic hum.
From the criminally soft hands of Simon Petley:
(Traduit par l'extase soyeuse d'Odile Leclerc)
Depuis l'aube de la lumière électrique nous avons réfléchi furieusement à ce qui peut rôder dans l'obscurité fraîchement retournée, l'espace ravagée de radiation par l'effleurement d'un interrupteur. Cette narration rejoue dans les sous-sols et les greniers des cimetières de villes industrielles quand les lumières de la maison s'éteignent et le fantasme règne. Sur ce ton, Seri Oko jette leur proclamation gonflante, l'envoyant sinuer avec des couches de réactions dans les confins les plus noirs de la pièce. Estomaqués, nous faisons surface avec des visions d'extases soyeuses déformées par un fredonnement métallique.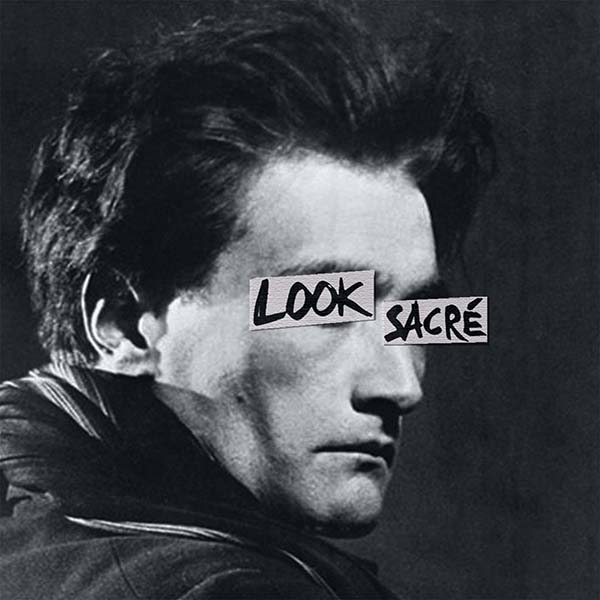 Look Sacré
Nécromensonge
(Self-Released)
Montréal, QC
From the merry-go-round of the feet of Mathieu Bédard:
(Translated by the the warped gravity of Maya Keshav)
If it sounds "like a ton of bricks", how do you dance to it? With a sledgehammer? Post-punk rhythms waltz in Nécromensonges, and send us to the floor with every new turn of the grid. It's like a merry-go-round playing with gravity: it pushes you to the ground, then up in the air you become all light, your head empty of blood. It's there that the poetry of Look Sacré consumes itself (the blood has returned to your feet); you feel your way along between the corpses and the loose soil, full of images which you touch without eyes. Bring your hippest phantoms…
Du manège de pieds de Mathieu Bédard:
Si ça sonne « comme une tonne de briques », ça se danse comment? Avec une massue? Les rythmes post-punk valsent dans Nécromensonges, et nous renvoient au plancher à chaque nouveau tour de quadrille. C'est comme un manège jouant avec la gravité : ça t'appuie au sol, puis tu deviens tout léger dans les airs, la tête vide de sang. C'est là que la poésie de Look Sacré se consomme (le sang est rendu dans les pieds); on erre à tâtons entre les morts et la terre meuble, plein d'images qu'on touche sans les yeux. Amenez vos fantômes les plus hip…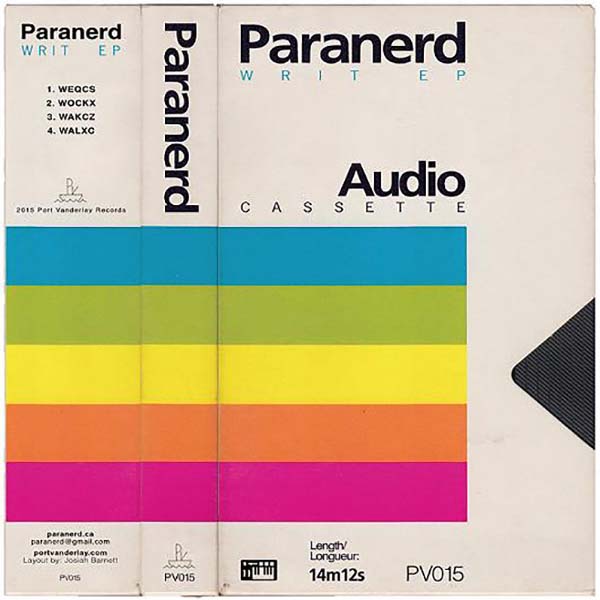 Paranerd
Writ EP
Moncton, NB
From the euphoric seclusion of Trevor Angst:
We've always been inclined to dance together in circles. Mind you, our feet barely shuffle, and our bopping heads merely impose our knees to dip whilst clurbing. The thought of being streaked with ultraviolet light by ceiling projectors is tempting enough to check in, but tonight we're really better off vibin' from each other's houses. Our jiving abilities are overcome by our own reveries, induced by the fluidity of oonts, tweaks and burbles. There are disparate segments of syncopated, burst mode riddums that clatter in sequences. A singular, spacey squelch that typifies a launch into hyperspace and sweeping cut off frequencies for full velocity.
De la solitude euphorique de Trevor Angst:
(Le mode en rafale de Odile Leclerc)
Nous avons toujours été enclins à danser en rond ensemble. Mais attention, nos pieds traînent à peine et nos têtes rebondissantes ne font qu'imposer à nos genoux de se ployer pendant que nous sortons en boîtes. L'idée de se faire strier de lumières ultraviolettes par des projecteurs au plafond est assez tentante pour participer, mais ce soir nous ferions mieux de prendre du bon temps à partir de nos maisons. Nos habilités à giguer sont vaincues par nos propres rêveries, induites par la fluidité des boom boom, des altérations et des gazouillis. Il y a des segments disparates de rythmes en mode rafales syncopés qui se fracassent en séquences. Un bruit de succion singulier qui caractérise un lancement dans l'hyperespace et un balayage coupent les fréquences pour atteindre une pleine vélocité.
---