Category: New Canadiana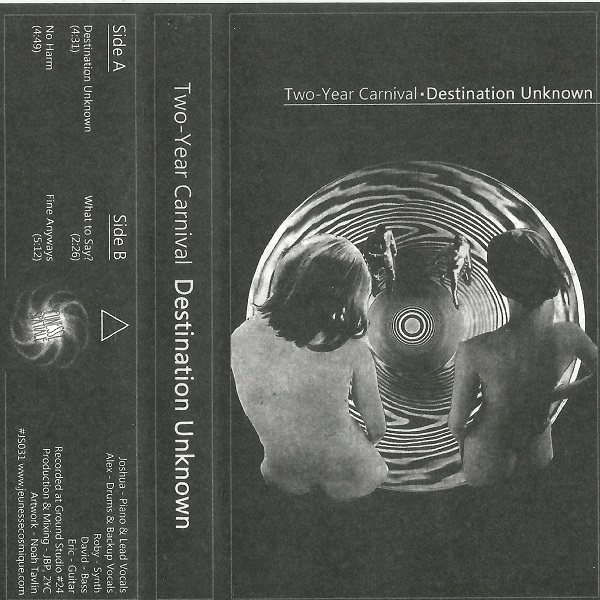 Two-Year Carnival
Destination Unknown
Montreal, QC
From the bruised muse of Mark Anthony Brennan:
Flowers: plucked from the garden of your mind. Now that the destination is known it makes sense that the flowers smell sweeter. They always do when they are about to die. The Two-Year Carnival is about to leave town, never to return.
De la muse flétrie de Mark Anthony Brennan:
(Par la plume esquintée d' Aliké Harel)
Les fleurs : bouquet cueilli au jardin de l'esprit. La destination maintenant dévoilée, le parfum des fleurs est d'autant plus suave. Il en est toujours ainsi lorsqu'elles sont sur le point de mourir. Two-Year Carnival est sur le point de quitter la ville, pour ne jamais revenir.
Two Year Carnival – Destination Unknown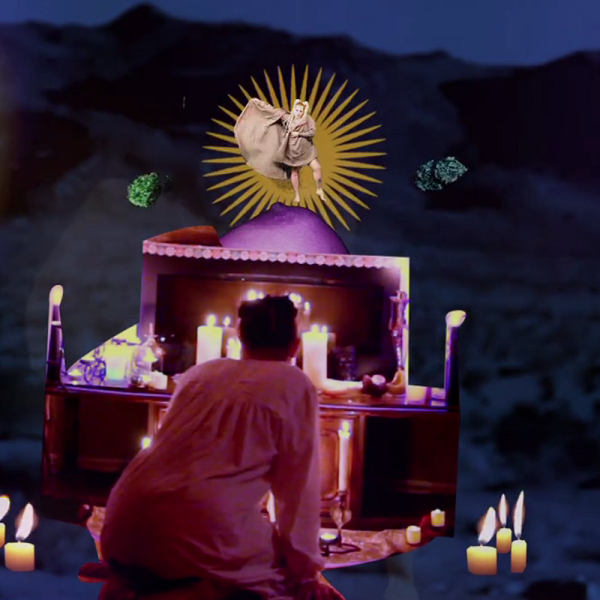 Psych-Ich Lie
Trolling
Montreal, QC
From the glitch libido of Johnnie Regalado:
From the acid-glitch sands of Arrakis to a twisted hall of family portraits, these apparitions portray all your favourite protagonists from all your worst nightmares. Synthetic sleep paralysis has never vibrated so sweet.
De la libido parasite de Johnnie Regalado:
(Traduit par Julie Mayer)
Des sables acides-parasites d'Arrakis vers un couloir tordu où sont accrochés des portraits de famille, ces apparitions dépeignent tous tes protagonistes préférés de tous tes pires cauchemars. La paralysie artificielle du sommeil n'a jamais vibré de manière si douce.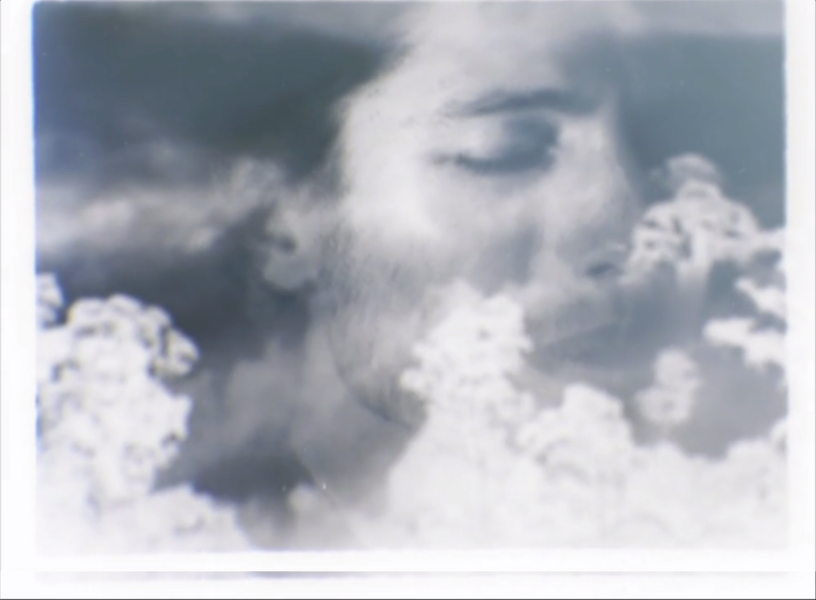 Robert Loveless and the Loveland Band
Go Beyond
(dir. Erin McDonald)
Halifax, NS
From the ebb of Brennan McCracken:
"Go beyond" urges Robert Loveless. Go beyond— permission given to feel, to get lost in Erin McDonald's doubly-exposed reels, to let yourself move a little in this band's glorious ebb and flow. Go beyond— a willing to do something, make something, fill up the time while it's here. Go beyond— an invitation to pass through the fog toward dawn.
Du flux et reflux de Brennan McCracken:
(Traduit par la double exposition de Virginie Langlois)
"Go beyond", aller au-delà : c'est ce que Robert Loveless nous exhorte à faire. Aller au-delà, comme une autorisation qui nous serait donnée de ressentir, de se perdre dans les bandes de films doublements exposées d'Erin McDonald, de se laisser dériver au rythme du flux et du reflux de ce groupe. Aller au-delà, comme une volonté de faire quelque chose, d'occuper son temps pendant que c'est encore possible. Aller au-delà, comme une invitation à traverser le brouillard pour atteindre l'aube.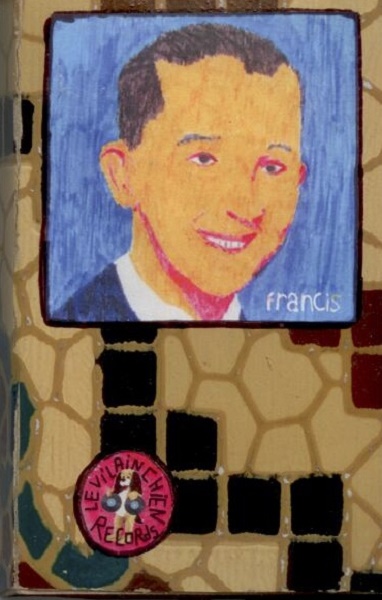 Houtitoutah
Francis
Montreal, QC
From the tribalistic brain of Mailis Rodrigues:
When Montreal becomes a tropical city, yes it's possible! You can slowly feel your body melt. Before you lose all your senses, have a drink with refreshing Francis. Dance like crazy with Martin, sing along with Jym. Exorcise your body with this frenetic, erratic rhythm that transports your soul – sometimes to the middle of a jungle populated with spirits, sometimes to the empty space ahead of us. It's time to discover Houtitoutah, the best soundtrack for your next sci-fi movie. Don't forget the popcorn!
Du cerveau tribaliste de Mailis Rodrigues:
(Traduit par la sarbacane endiablée de Julie Mayer)
Lorsque Montréal se fait ville tropicale (oui, c'est possible!), vous pouvez lentement sentir votre corps fondre. Avant de perdre tous vos sens, prenez un verre avec le rafraîchissant Francis. Dansez comme des fous en compagnie de Martin, chantez avec Jym. Exorcisez votre corps avec ce rythme erratique et frénétique qui transporte l'âme, parfois au milieu d'une jungle peuplée par des esprits, parfois vers le vide qui nous attend. C'est le temps de découvrir Houtitoutah, la meilleure trame sonore pour accompagner votre prochain film de science-fiction. N'oubliez pas le popcorn!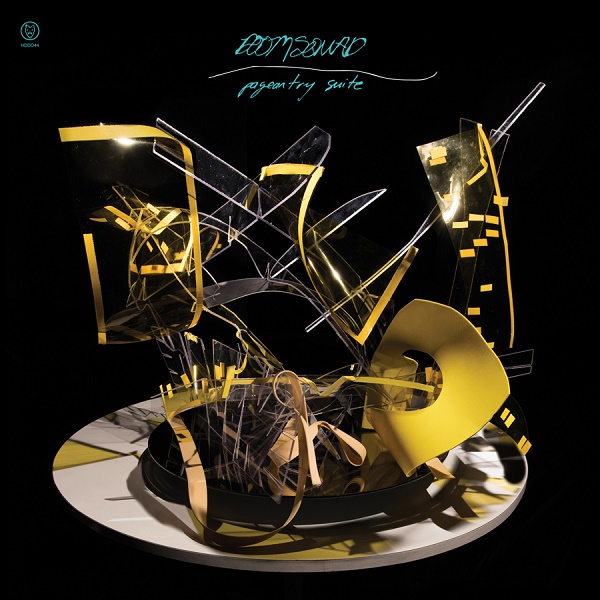 Doomsquad
Pageantry Suite
Toronto, ON
From the sleep deprived trips of Mitch Jackson:
There's a scene in what is objectively the greatest Canadian movie of all time, Hard Core Logo, where a goat is murdered in a bloody, drug induced ritual with a chainsaw. The scene is trippy, frightening and puts you in a weird kind of trance that you can't really escape; until you snap out of it and realize that a goat was murdered and you drank its blood. This EP is kind of like that.
Des voyages en manque de sommeil de Mitch Jackson:
(Traduit par les crises de somnambulisme de Julie Mayer)
Il y a une scène, dans ce qui est (d'un point de vue objectif) le plus grand film canadien de tous les temps, Hard Core Logo, où une chèvre se fait trucider à l'aide d'une tronçonneuse lors d'un rituel sanglant accompli sous l'influence de la drogue. La scène est trippante, épeurante et te plonge dans une sorte de transe bizarre de laquelle tu ne peux pas vraiment t'échapper; jusqu'à ce que tu t'en sortes et que tu te rendes compte qu'une chèvre s'est fait trucider et que tu as bu son sang. Cet EP, c'est à peu près ça.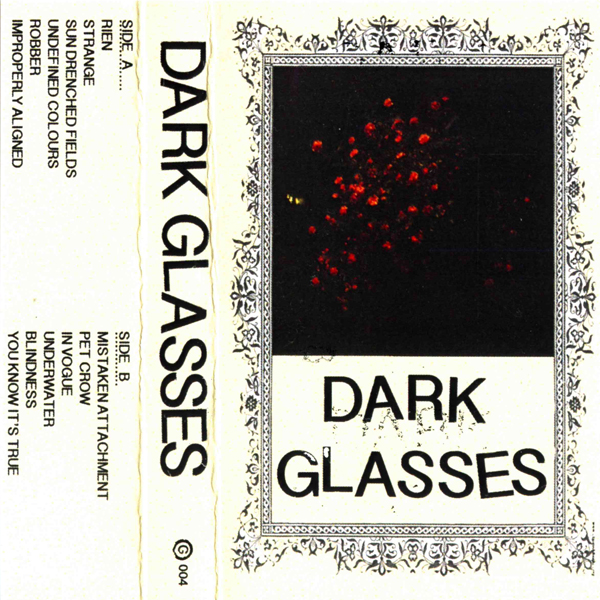 Dark Glasses
Dark Glasses
(Gary Cassettes)
Victoria, BC
From the tinted glass of Johnnie Regalado:
Slow things down and take a look at the world through a slightly darker hue. Fountain bassist, Declan Hughes, steps out from the shadows and into the shade with his debut release as Dark Glasses. A gathering of Victoria's post-punk usual suspects, this finely crafted tape is full of tunes that mutate from brooding, moody melodies into a perpetual downtempo dance party.
Des verres teintés de Johnnie Regalado:
(Traduit avec la tonalité légèrement plus sombre de Virginie Langlois)
Ralentissez la cadence et observez le monde habillé d'une tonalité légèrement plus sombre. Declan Hughes, bassiste de Fountain, sort de l'ombre sans s'exposer au soleil pour autant avec ce premier album du groupe Dark Glasses. Rassemblement des habituels suspects de la scène post-punk de Victoria, cette cassette finement ciselée regorge de chansons alternant entre mélodies sombres et maussades et musiques dansantes au downtempo perpétuel.
Dark Glasses – Mistaken Attachment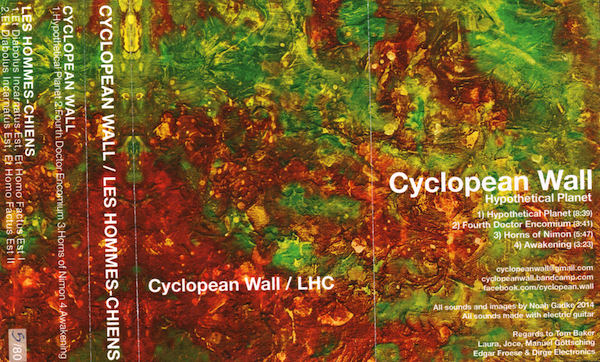 Cyclopean Wall
Hypothetical Planet
(Self Released)
Toronto, ON
From the outer limits of Katie Jensen:
Monophonic guitars swirl towards a silvery nexus like draining bathwater, sucking and sputtering into a hollow vortex.
Spirographic noumena orbit an event horizon, watching time crawl on its hands and feet as magnetic lovers are drawn together in polar opposition, ripping themselves free at the promise of a chance encounter with an alternating current.
Shaking fingers parse cohesion from meaningless conversations. Mouthless smiles leak familiar words; sneered jabs plunged deep into diaphragmatic cradles protecting cloistered emotional hospices. You grit your teeth, you growl. You chew on enameled dust. The moon glowers. It has seen it all before.
Par les limites externes de Katie Jensen:
(Par les contemplations au beurre de peanut d'Émily Traichel)
De guitares monophoniques tourbillonnent vers un noyau argenté comme l'eau du bain qui se vide, suçant et crachotant en un creux vortex.
Des noumènes spirographiques orbitent à l'horizon d'un évènement, observant le temps qui se déplace à quatre pattes tandis que les amoureux magnétiques sont attirés l'un vers l'autre en opposition polaire, s'affranchissant pour la promesse d'une rencontre fortuite avec un courant alternant.
De doigts tremblants examinent la cohésion des conversations dénuées de sens. Des sourires sans bouche laissent écouler des mots familiers; des coups moqueurs plongent profondément dans les berceaux diaphragmatiques qui protègent les hospices émotionnels cloîtrés. Vous serrez les dents, vous grognez. Vous rongez de la poussière émaillée. La lune jette un regard noir. Elle a déjà tout vu.
Cyclopean Wall – Hypothesized Planet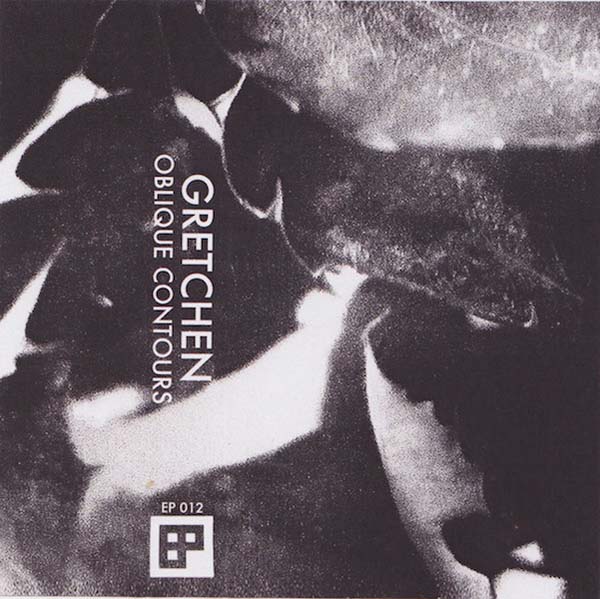 Gretchen
Oblique Contours
Montréal, QC
From the salt crust of Katie Jensen:
A drag race on a long desert plain. The crowd squints through a cage of slatted fingers. Muffled snares struggle beneath impatient feet while guitars churn, stoking revving engines with an ill-tempered, sour heat. Useless torque gathers traction and flings it forward. A brief moment of fervid acceleration, then:
The cord pulls taut, straining against the grip of two nervy guitars. The road becomes a fluttering roll of soiled organza, scattered with bouncing, jagged metal; a conveyor belt sending parts in all directions. Sweat collects in beads, eagerly saved for later, to be drunk in the misery of a darkened basement.
De la croûte de sel de Katie Jensen:
(Traduit par les essuie-glaces désynchronisés de Julie Mayer)
Une course d'accélération sur une longue plaine désertique. La foule plisse les yeux à travers une cage faite de lattes en doigts. Les caisses claires assourdies peinent sous des pieds impatients pendant que les guitares cinglantes ravivent des moteurs vrombissants d'une aigre chaleur maussade. Un couple inutile crée une traction et la projette vers l'avant. Un bref moment d'accélération fervente, puis :
La corde se tend et se débat contre la poigne de deux guitares stressantes. La route se transforme en rouleau flottant d'organza souillé, parsemé de métal denté et bondissant : un convoyeur qui envoie des pièces dans tous les sens. Les perles de sueur recueillies sont gardées avec empressement pour plus tard, afin d'être bues dans la misère d'un sous-sol assombri.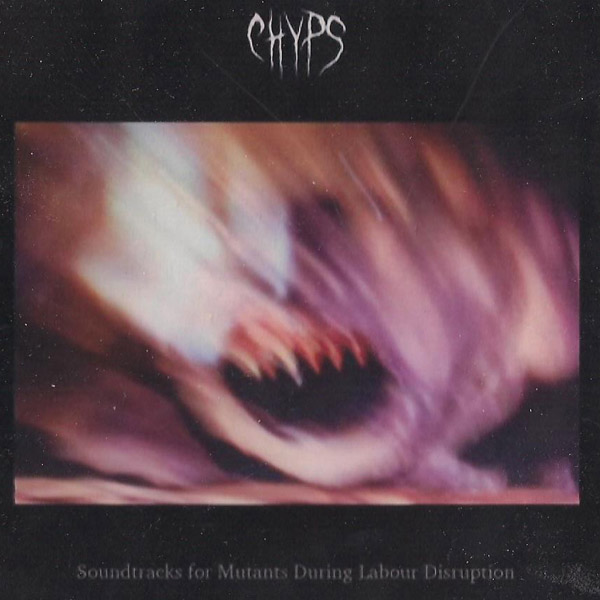 CHYPS
Soundtracks for Mutants During Labour Disruption EP
(Self Released)
Mississauga, ON
From the fingertips of Lauren Rabindranath:
Soundtracks for Mutants During Labour Disruption is also suitable for humans during summer afternoons. The 3-track EP creates space with sound, catapulting the listener into a sonically-driven contemplative journey. Contrast between methodical, calming instruments and tense, upbeat electronic tones form a balanced and coherent whole. Cryptic last (and only) lines provide personality. CHYPS embrace 'empty' space as part of the experience and use silence as effectively as sound. The tracks' raw edges leave the listener with an invitation to ascribe their own meaning – to fill or find comfort in their own silences.
Du bout des doigts de Lauren Rabindranath:
(Traduit par Julie Mayer)
Soundtracks for Mutants During Labour Disruption convient également aux humains pendant les après-midis d'été. Cet EP de trois pistes crée de l'espace avec du son et catapulte les auditeurs et les auditrices dans un voyage contemplatif mené par une motivation sonique. Le contraste entre les instruments méthodiques et apaisants et les tons électroniques, entraînants et tendus forment un tout équilibré et cohérent. Les dernières (et uniques) lignes cryptiques donnent du caractère. Pour CHYPS, l'espace « vide » fait partie de l'expérience et il utilise le silence aussi efficacement que le son. Le côté brut des pistes sonores invite l'auditeur à leur attribuer leur propre sens; remplir leurs propres silences ou y trouver du réconfort.
CHYPS – Soundtracks for Mutants During Labor Disruption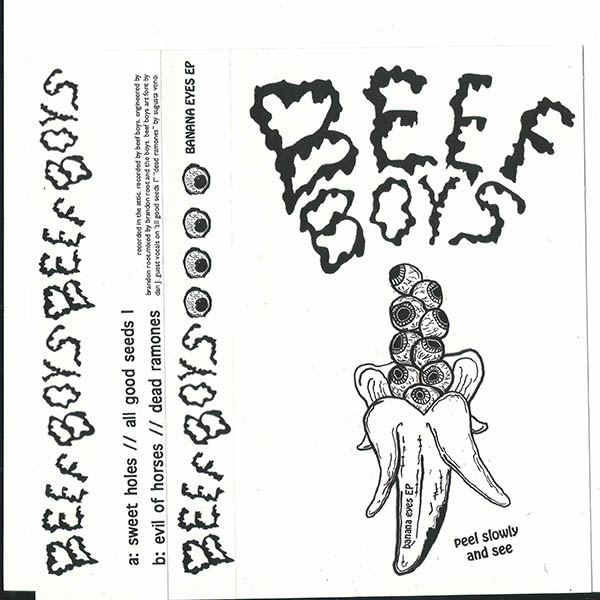 BEEF BOYS
Banana Eyes EP
(Four Eyes Recordings)
Peterborough, ON
From the anxiety ridden thought diarrhea of Mitch Jackson:
The last time I found myself in Peterborough I puked on the hood of someone's Buick. For the unacquainted, Peterborough is a safe haven in the surrounding Mad Max-esque shit storm of all terrain vehicles, and big lifted rigs. Beef Boys emanate from the underbelly of Peterborough, emerging through a slaughterhouse of reverb and fuzz, trading off surf and garage influences. They're decidedly greasy, and I have a sneaking suspicion that they all had a hell of a time tucking their flows into a bucket in minor league puck.
De la diarrhée causée par la pensée chargée d'anxiété de Mitch Jackson:
(Traduit par la surdose d'ipéca de Julie Mayer)
La dernière fois que je me suis retrouvé à Peterborough, j'ai vomi sur le capot de la Buick à quelqu'un. Pour ceux qui ne connaissent pas, Peterborough est un havre de paix situé dans le merdier Mad Max-esque débordant de véhicules tout-terrain et de grosses camionnettes qui font des cascades. Beef Boys émane des entrailles de Peterborough, émerge à travers un abattoir de réverbération et de fuzz et oscille entre des influences surf et garage. Les membres du groupe sont tout à fait louches et je commence à soupçonner qu'ils ont eu un mal fou à rentrer leur tignasse dans leur casque quand ils jouaient au hockey mineur.
---