Category: New Canadiana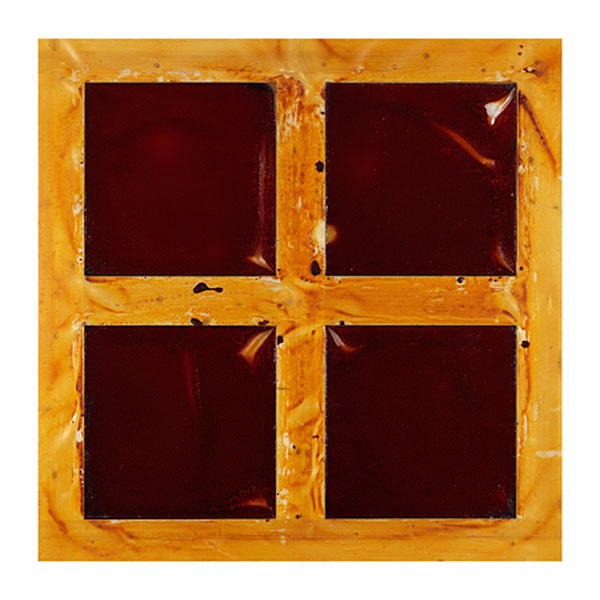 d'Eon
Foxconn / Trios
(Knives)
Montréal, QC
From the rendered mesh of Aaron Levin :
Surfacing tones Hegelian, Foxconn / Trios glides through a MIDIfried dystopia jit-compiled into quantized oblivion. Get lifted by the emotional vanguard as d'Eon explores the ergonomics of labour in an age of continuous data. Catch you in the mesh.
Du réseau transformé Aaron Levin:
(Traduit par la dystopie explosée de Maya Keshav)
En faisant ressortir les tons hégéliens, Foxconn / Trios plane dans une dystopie du genre MIDI explosée qui est compilée à la volée jusqu'à l'inconscience réglée pour atteindre une certaine perfection. Laisse-toi t'envoler par l'avant-garde émouvante alors que d'Eon explore l'ergonomie au travail à l'ère des données continues. À plus tard sur le Web.
d'Eon – Transparency Part III – ii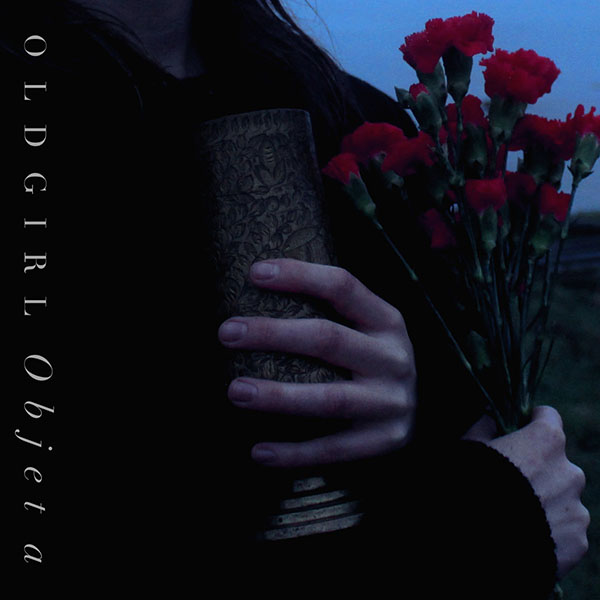 Old Girl
Objet a
(Gary Cassettes)
Victoria, BC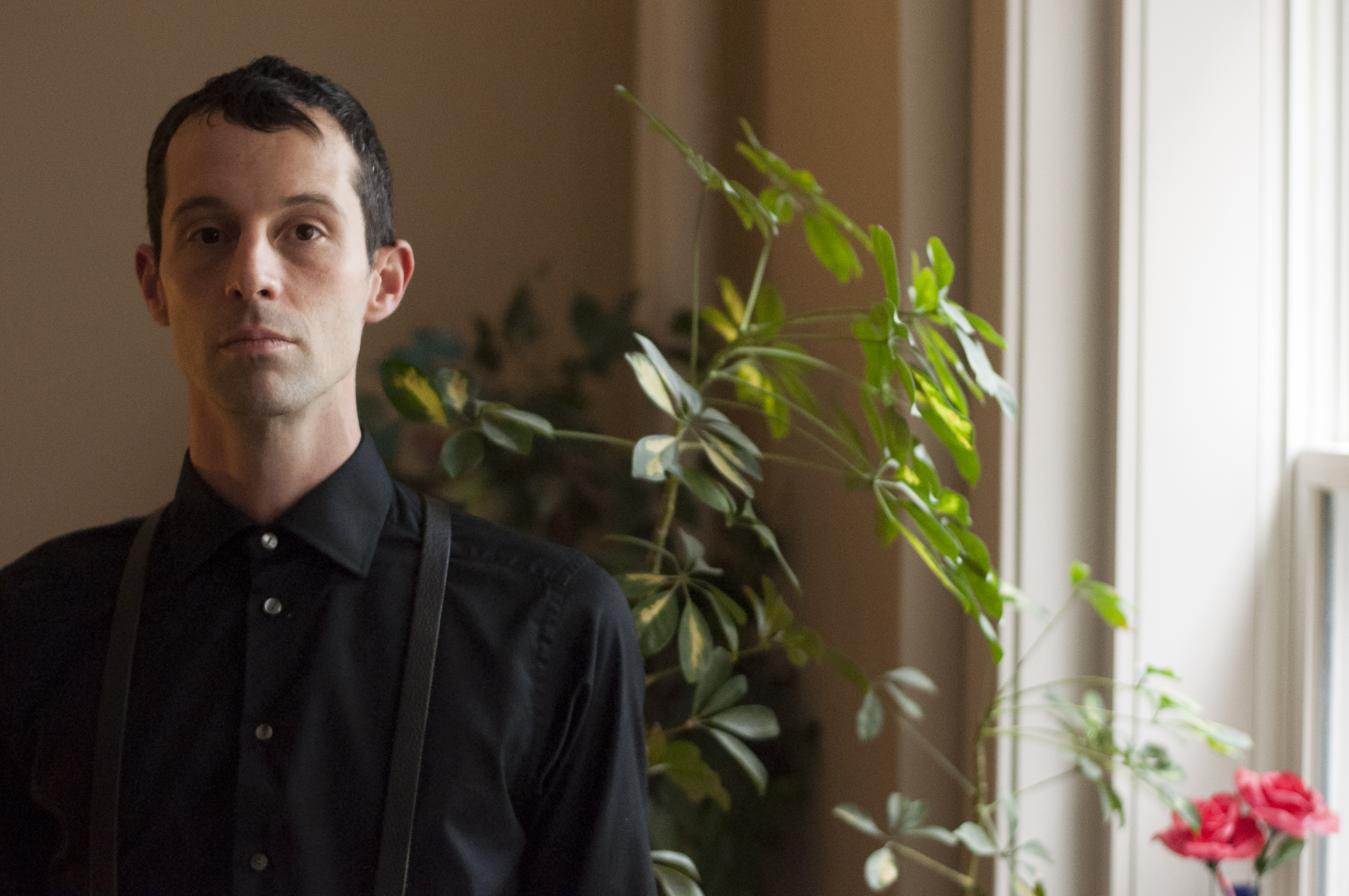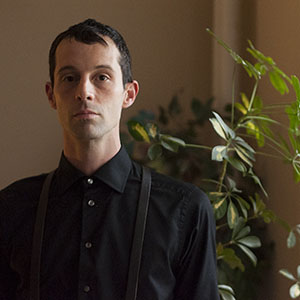 Ephemera of JFM
Existing before, during, and after the recording of Blood Moon
(Photos by: Alex Van Helvoort)
Halifax, NS
From the chill pill journey of Jonathan Park:
Here at Weird Canada, there is an eternal meadow that constantly emits wyrdo frequencies. If you turn the radio dial to 101, you'll hear the yellow sunshine of audio/visual artist Jesse Frank Matthews. For the last six+ years, Matthews has been amassing recorded and found sound for the JFM archives. Much like his visual work, he utilizes his sampler like an x-acto knife; creating audio collages by cutting up, looping and meshing source material. His first debuted cassette Compost was dropped on DIVORCE Records in 2011. Since then he's put out a handful of releases and began collaborating with Broken Deer's Lindsay Dobbin and Secret Colours' Evan Cardwell in JOURNEYS. He was nice eenuff to have us into his space and show us artifacts that have a significant impact on his creative process and daily living.
Take a chill pill, lie down in our meadow and enjoy the melted hypno-grooves under Blood Moon.
Sam & Mr. B Suitcase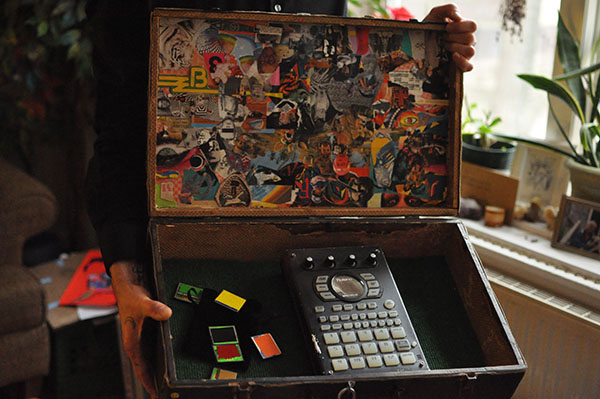 I've used this same old SP 404 sampler since 2010 when I started this JFM project. It's gone through a couple paint jobs, and the ragged suitcase it's been living in was given to me (full of booze) years ago by Mr. B prior to leaving for a Rattail tour in 2011. Every JFM song thus far has been written and recorded with this sampler, and every show I've played has been out of this suitcase. I've recently been on the hunt for some new gear, after receiving my first Canada Council grant a few months back.
The Studio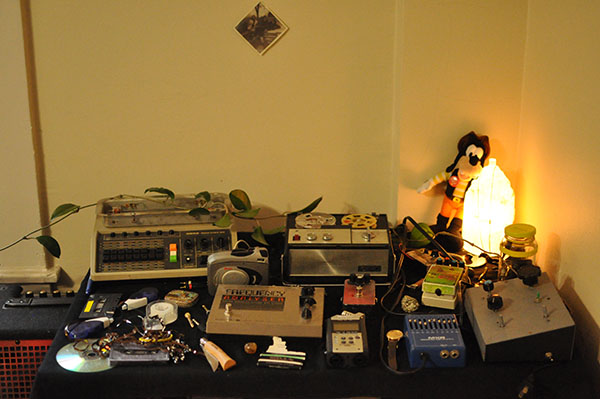 Pictured here is my studio, in its entirety. Spot if you can: Goofy (given to me by my Niece and Nephew), 'Dino-box' chorus/reverb unit (bought at Songbird Music for $25 before they shut their doors), Lucia Stephen's Optimus walkman (records in stereo & has a speaker on it!), Wite-out rollers, handmade tape loops, Frequency Analyzer, MXR EQ, reverb tank, and some other FX and recording devices. Treating, physically manipulating and re-amping the source material is a huge part of my process, I work with the individual sounds until I am satisfied.
Deborah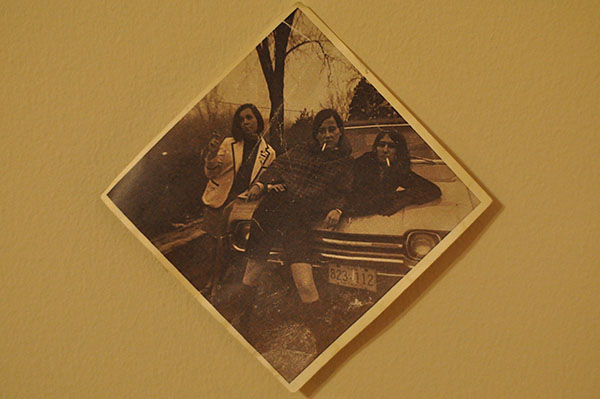 This photograph was taken in the 1950s by my grandfather Frank Dawe, my Mother (Deborah Jane Dawe) is the one in the middle. Not sure how she got away with the 'prop' cigarette, but she looks pretty bad ass.
Ring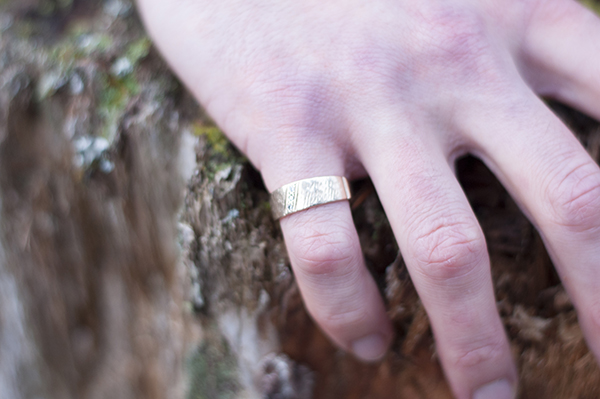 Few days go by that I forget to wear this beautiful piece of my history, my parents' wedding ring. It is the most special thing I own. Seen here on an ageing tree stump in Point Pleasant, a large park on water with trails to get lost in and beaten paths to ride on. I come here in all types of weather, as it's quite close to my apartment.
Matthew's Bugle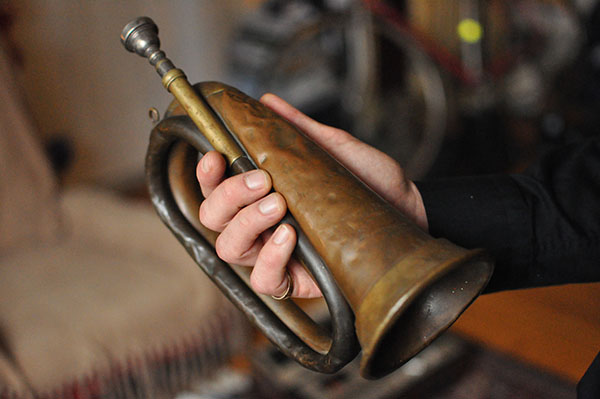 This bugle was made by Boosey & Co. in Toronto in the 30s and given to my grandfather George Matthews during his stint in WWII. It used to hang in my Father's electronics workshop in our basement when I was growing up, and it was one of the first things I put a bottle-cap contact mic on.
Dawe's Snuff Tin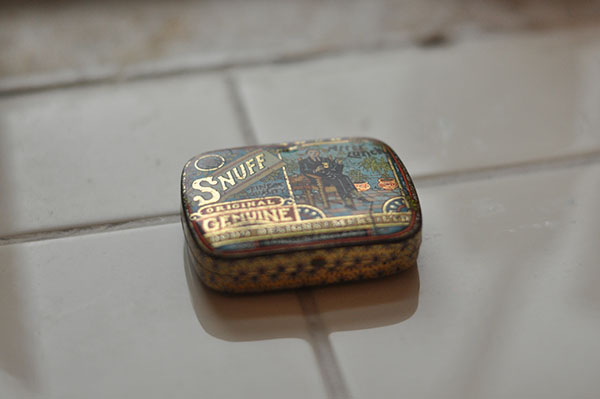 Many strange 'treats' have graced this miniature vintage Snuff tin/pill box. Used by Frank Dawe for his 'after lunch' treats in the 1970s, it's been used by me since the 1990s. What's left in the snuff?
Fuschia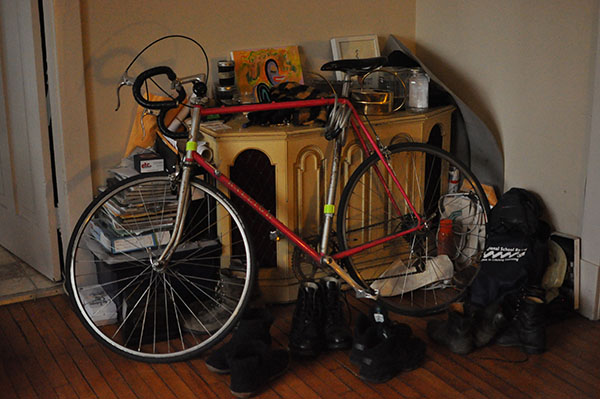 Anyone who knows me, knows I have always loved riding my bike. I was even a courier in downtown Toronto for a while in 2012, and have had more bikes stolen than you could imagine. I bought this gorgeous old Raleigh from Nathan Cameron last year. Fuschia is sleeping now because it's Winter.
Black Dice Tape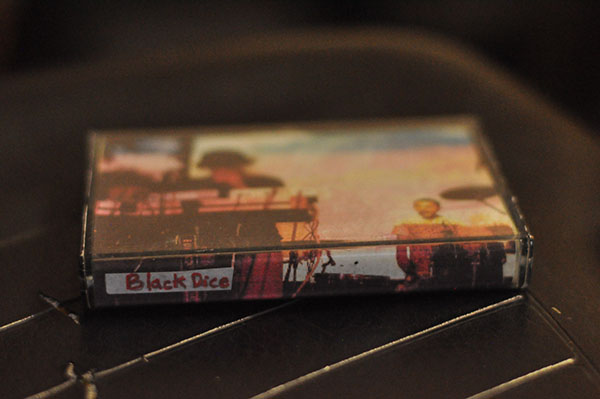 This tape was made by Evan Cardwell and given to me for my birthday in 2004. It's a live recording of a Black Dice set from their 'Creature Comforts' period. You can clearly hear the audiences in their ebbing delight and confusion over the course of the half an hour set. The B side is all the early 7"s and the 'Wastered' 12" which I bought at their Montréal show that same year. I've nearly worn it to pieces.
Berkhout & Welland Canal Monster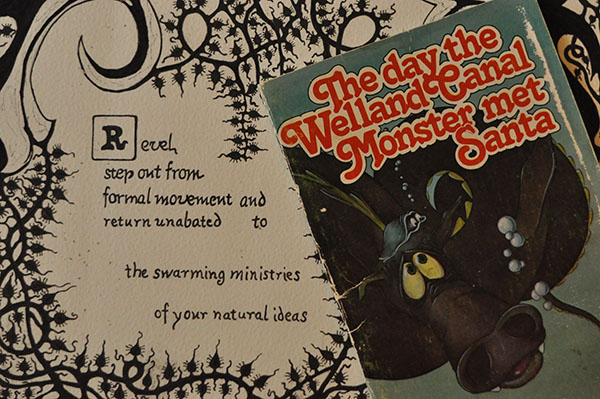 There are two items classic Niagara Region items on display here; a lucid poem given to me by Greg Berkhout in 2003 and a copy of 'The Day the Welland Canal Monster Met Santa' given to me by Kim Delaat. Having an affinity for all lore involving Loch Ness Monsters (Gaasyendietha), this story used to be read live on CKTB in the late 70s and early 80s and was soon turned into this much more compact pamphlet version, available then at the grocery store and dentist office.
Father's Marantz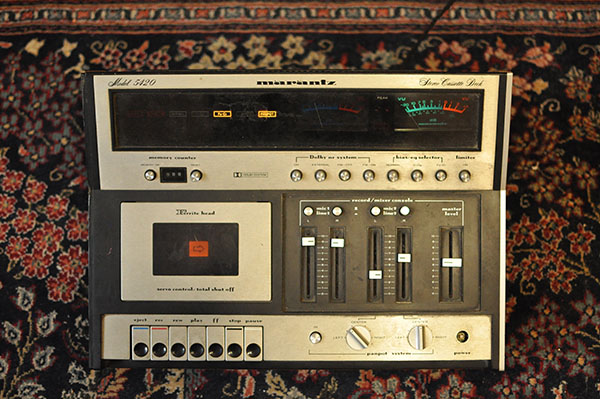 Story goes that my Father and his best friend Gumby drove to California in the late 70s to purchase this Marantz stereo cassette recorder. I have used this endlessly in my work and with every band I've ever played in. It sounds so vivid and is such an important part of my early experiences both listening to, and creating music. Later feeding my curiosity in dub effects, playing a mixer as an instrument and tape as a tactile medium.
Par le voyage narco-calmant de Jonathan Park:
(Traduit par l'ivresse printanière d'Émily Traichel)
Ici à Weird Canada, il y a une prairie éternelle qui émet en permanence des fréquences bizarres. Si vous tournez le cadran de la radio au 101, vous entendrez la couleur du soleil de l'artiste audio-visuel Jesse Frank Matthews. Au cours des six dernières années et plus, Matthews a passé son temps à amasser des sons enregistrés et trouvés pour les archives JFM. Tout comme son ouvrage visuel, il utilise son échantillonneur comme un couteau x-acto; créant des collages audios en découpant, bouclant et engrenant le matériel source. Sa première cassette Compost est sortie avec DIVORCE Records en 2011. Depuis, il a sorti une poignée de morceaux et a commencé à collaborer avec Lindsay Dobbin de Broken Deer et Evan Cardwell de Secret Colours dans JOURNEYS. Il a été assez gentil pour nous accueillir dans son espace et nous montrer les artéfacts qui ont un impact significatif sur son processus créatif et sa vie quotidienne.
Prenez un calmant, étendez-vous dans notre prairie et jouissez des grooves hypnotiques vaporeux sous la lune de sang.
Sam et la valise de Monsieur B.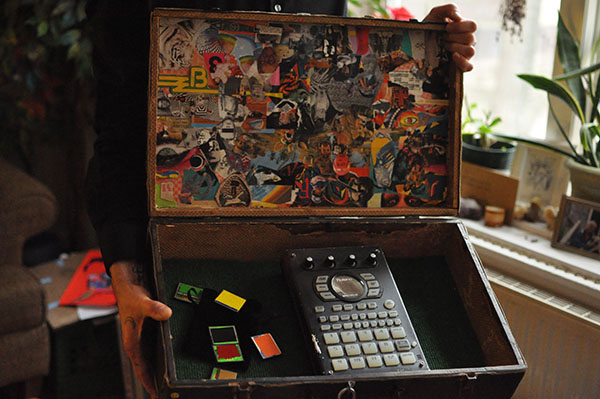 J'utilise le même vieil échantillonneur SP 404 depuis 2010 lorsque j'ai lancé ce projet JFM. Il a connu quelques retouches de peinture et la valise dépenaillée dans laquelle il vit m'a été donnée (pleine de booze) il y a des années par Monsieur B. avant de partir pour une tournée de Rattail en 2011. Jusqu'ici, toutes les chansons JFM ont été écrites et enregistrées avec cet échantillonneur, et chaque spectacle que j'ai joué est sorti de cette valise. Depuis quelque temps, je suis à la recherche d'équipement neuf notamment parce j'ai reçu ma première subvention du Conseil du Canada il y a quelques mois.
Le Studio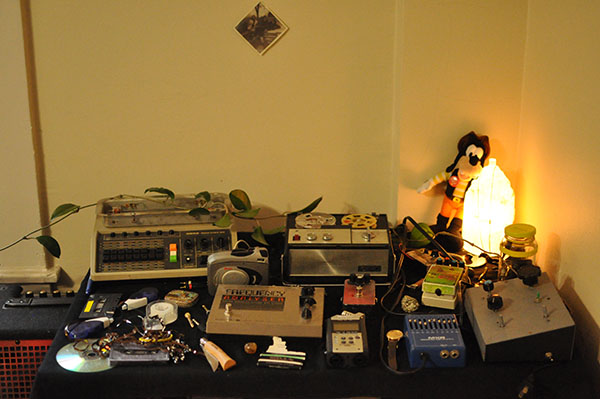 Photographié ici est mon studio, dans son intégralité. On y voit (à vous de les repérer!) : Goofy (que ma nièce et mon neveu m'ont donné), une unité de choeur/réverbe 'Dino-boîte' (achetée à Songbird Music pour 25 $ avant qu'ils ferment leurs portes), le walkman Optimus de Lucia Stephen (qui enregistre en format stéréo et est équipé d'un haut-parleur!), des rouleaux de Wite-out, des boucles de ruban faites à la main, un analyseur de fréquence, MXR EQ, un réservoir de réverbe, et quelques autres appareils FX et d'enregistrement. Le traitement, la manipulation physique et la ré-amplification du matériel source constituent une immense partie de mon processus, je travaille les sons de façon individuelle jusqu'à ce que je sois satisfait.
Deborah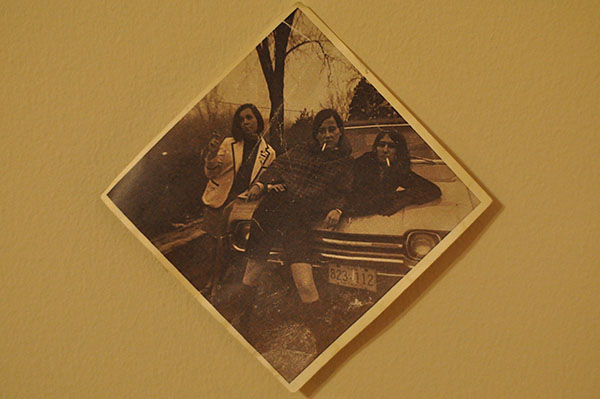 Cette photo a été prise dans les années 50 par mon grand-père Frank Dawe, ma mère (Deborah Jane Dawe) se trouve au milieu. Je ne sais pas comment elle a réussi à passer avec sa fausse cigarette, mais elle a une méchante allure.
Bague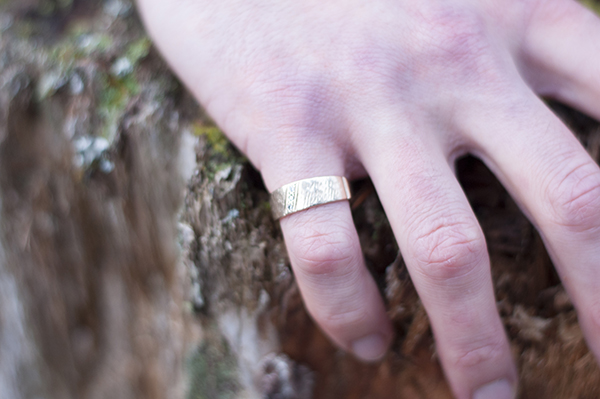 Peu de journées passent où j'oublie de porter ce beau morceau de mon histoire, l'alliance de mes parents. C'est la chose la plus précieuse que je possède. On la voit ici sur une souche d'arbre vieillissante à Point Pleasant, un grand parc au bord de l'eau avec des sentiers sur lesquels on peut se perdre et des chemins pour faire du vélo. Je viens ici par tous les temps, c'est assez proche de mon appartement.
Le clairon de Matthew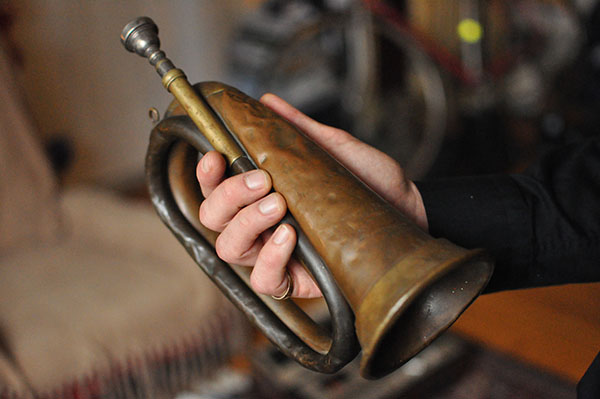 Ce clairon a été fabriqué par Boosey & Co. à Toronto dans les années 30 et a été donné à mon grand-père George Matthews pendant sa période de service durant la deuxième guerre mondiale. Quand j'étais petit, il était accroché dans l'atelier électronique de mon père au sous-sol, et c'est une des premières choses sur lesquelles j'ai fixé un micro de contact bricolé avec des bouchons.
La tabatière de Dawe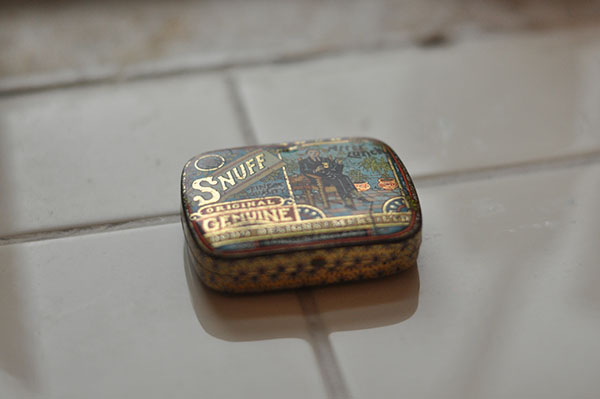 De nombreuses étranges 'friandises' ont honoré cette tabatière/boîte à pilules miniature ancienne. Utilisée par Frank Dawe pour ses friandises après le dîner dans les années 70, je m'en sers moi-même depuis les années 90. Qu'est-ce qu'il reste dans le tabac?
Fuschia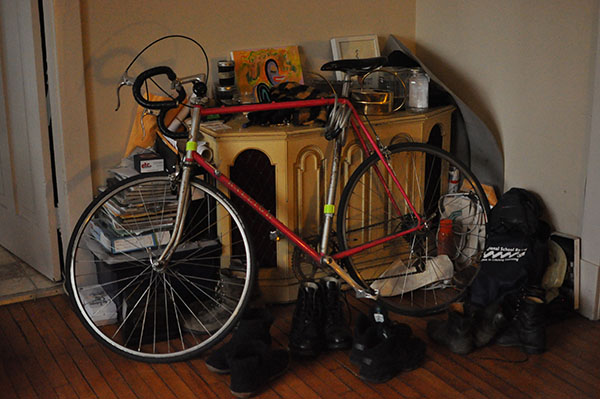 Ceux qui me connaissent savent que j'ai toujours adoré faire du vélo. J'ai même été coursier au centre-ville de Toronto pendant quelque temps en 2012, et je me suis fait volé un nombre inimaginable de bicyclettes. J'ai acheté une vieille Raleigh sublime de Nathan Cameron l'année passée. Fuschia dort pour l'instant car c'est l'hiver.
Cassette Black Dice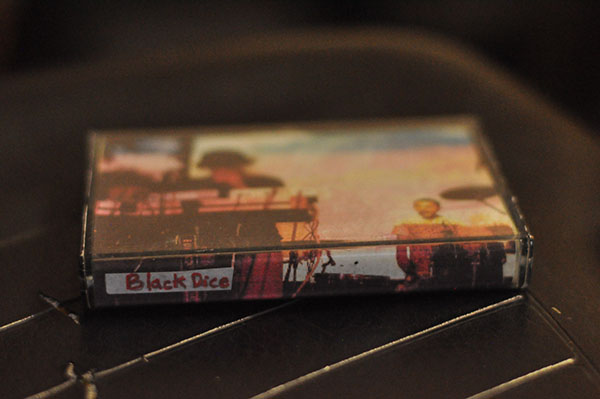 Cette cassette a été faite par Evan Cardwell et m'a été offerte pour mon anniversaire en 2004. C'est un enregistrement en direct d'un concert de Black Dice pendant leur période 'Creature Comforts'. On peut clairement entendre les spectateurs dans leur reflux de plaisir et de confusion tout au long de la demi-heure de leur concert. Sur la face B figurent tous les anciens 7 pouces et le 12 pouces 'Wastered' que j'ai achetés à leur spectacle à Montréal la même année. La cassette tombe quasiment en morceaux tellement je l'ai écoutée.
Berkhout & le monstre du canal de Welland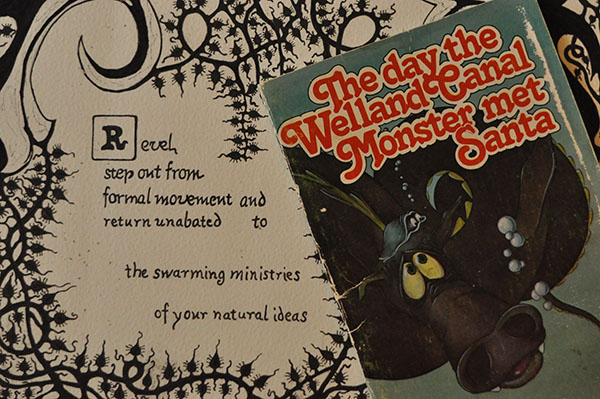 Il y a deux items classiques de la région de Niagara qui sont exposés ici; un poème lucide qui m'a donné Greg Berkhout en 2003 et une copie de 'Le jour où le monstre du canal de Welland a rencontré le Père Noël' offert par Kim Delaat. Ayant une affinité pour toute connaissance traditionnelle liée aux monstres du Loch Ness (Gaasyendietha), cette histoire était lue en direct sur CKTB à la fin des années 70 et au début des années 80. Elle est ensuite parue dans cette version brochée compacte; on pouvait la trouver à l'épicerie et chez le dentiste.
Marantz de papa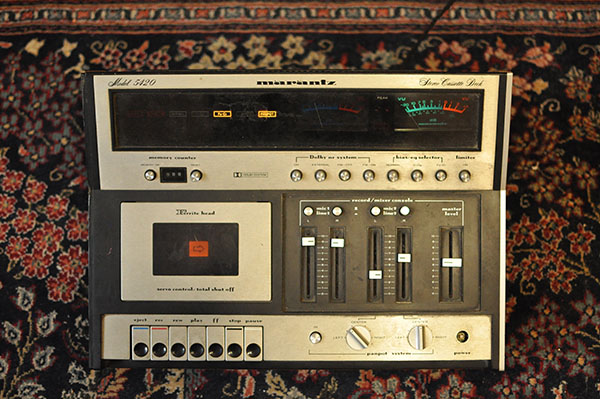 On raconte que mon père et son meilleur ami Gumby se sont rendus en auto jusqu'en Californie vers la fin des années 70 pour acheter cet enregistreur stéréo cassette Marantz. Je n'ai jamais cessé de l'utiliser pour mon travail et avec tous les groupes auxquels j'ai participé. Il a vraiment un son captivant et a joué un rôle très important depuis mes débuts, que ce soit pour écouter de la musique ou pour créer de la musique. Plus tard, il a alimenté ma curiosité pour les effets dub, le fait de jouer avec un mixeur comme instrument et l'idée d'une cassette en tant que médium tactile.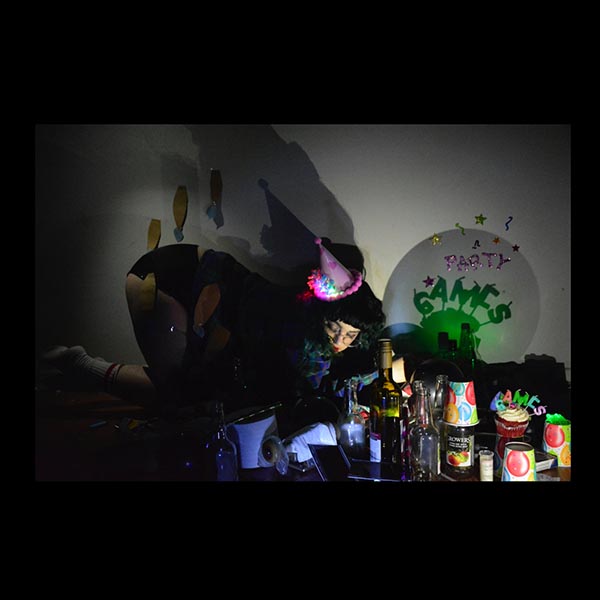 Caity Fisher
Party Games
(Self-Released)
Edmonton, AB
From the empty red cup of Laura Stanley:
There's a stain in the carpet, a drink in your hand, and out of someone's crappy computer speakers Caity Fisher plays her Party Games. Her pop has enough power to rise above the din of the drunken party goers; her fuzzy licks match the fuzz on your tongue. As Fisher croons about feeling good, you drink more and the room begins to spin. She convinces you to dance. At first you're alone but then others join in. You lock eyes with someone on the other side of the room…
The party ends and you don't go home alone. A cruel hangover, puke, and a stranger greet you in the morning, but the next round of Party Games is not too far away.
De la coupe rouge vide de Laura Stanley:
(Le lendemain de veille cruel d'Odile Leclerc)
Il y a une tache sur le tapis, un verre dans ta main et venant des haut-parleurs merdiques de l'ordinateur de quelqu'un, Caity Fisher joue sa Party Games. Sa pop a assez de puissance pour s'élever au-dessus des gens saouls qui font la fête, ses rythmes flous correspondent au duvet sur ta langue. Alors que Fisher roucoule à propos du fait qu'elle se sent bien, tu continues à boire et la pièce commence à tourner. Elle te convainc de danser. Au début, tu es seul, mais ensuite d'autres te rejoignent. Tu croises le regard de quelqu'un à l'autre bout de la pièce… La fête se termine fin et tu ne rentres pas seul chez toi. Un lendemain de veille cruel, de la vomissure et un étranger t'accueillent au matin, mais la prochaine partie de Party Games n'est pas trop loin.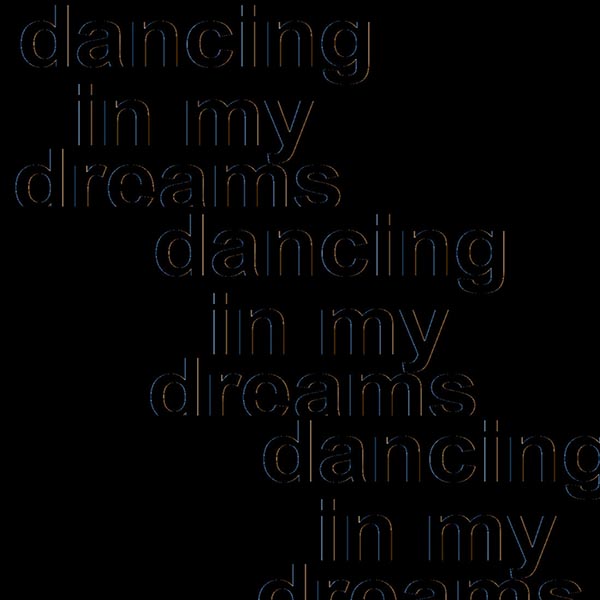 Dancing in my Dreams
Demo
(Self-Released)
Charlottetown, PEI
From the hellish nightmare of Mark Gillis:
This is the crossroads where your sleek and shiny dreams are synthesized into sinister, hellish nightmares. Swaths of ghastly turbulence envelop you as you fall deeper into depressing hopelessness. Eyes shut, body pulsating with every beat, sending tremors to your outmost extremities. Sharp, angular melodies abruptly fling your body, performing a cult-like ritual dance. This is music that enters through the ears, and infests the rest of you.
Des cauchemars infernales de Mark Gillis:
(Traduit par l'horrible turbulence d' Odile Leclerc)
Ceci est la croisée des chemins où tes rêves onctueux et reluisants sont synthétisés en atroces cauchemars sinistres. Des bandes d'horribles turbulences t'enveloppent pendant que tu tombes plus profondément dans un triste désespoir. Les yeux fermés, le corps palpitant à chaque battement, envoyant des trépidations à tes extrémités les plus lointaines. Des mélodies tranchantes et angulaires balancent ton corps, effectuant une danse rituelle de culte. C'est une musique qui entre par les oreilles et infeste le reste de ta personne.
Dancing in my Dreams – Neverland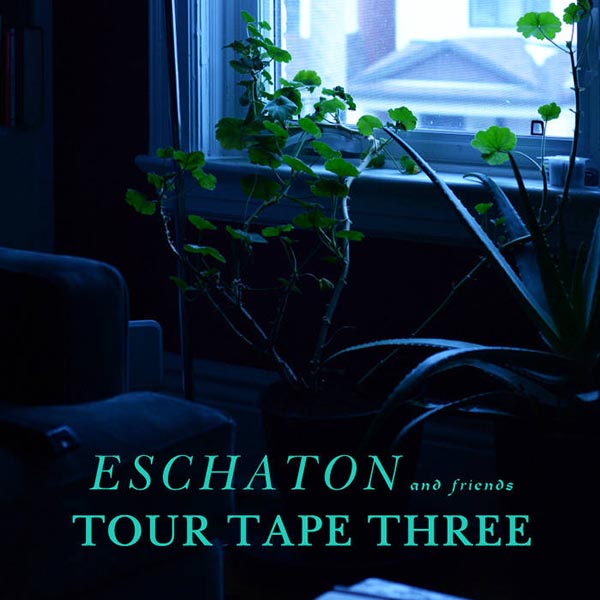 Eschaton
Tour Tape Three
Hamilton, ON
From the bottom line of Rolf Carlos Klausener:
You're in a pitch black room as time slows. A flash goes off. As each fraction of a second passes, a scene reveals itself: colourless shapes, then a face, shadows, furniture, the texture of the stucco ceiling, dust and flakes of dead skin floating weightless past your eyes. Fast or slow, mercilessly loud or impossibly quiet, improvised music is a slow reveal. In this live tour series, Hamilton's Eschaton and friends Strangebarn bask in the resonance of brass bells before sinking into a tension-filled horror show of grinding electric drones, cursing saxophones, and vulgar percussion on the verge of manic violence. A slow-motion assault, perhaps a reflection of ancient tensions, the kind that even among earth's most peaceful denizens emerges when the wrong buttons are pushed.
De la ligne du bas de Rolf Carlos Klausener:
(La résonnance des cloches de Odile Leclerc)
Tu es dans une pièce complètement noire alors que le temps ralentit. Un flash apparaît. À chaque fraction de seconde qui passe, une scène se révèle : des formes sans couleurs, puis un visage, des ombres, des meubles, la texture d'un plafond stuc, de la poussière et des résidus de peau morte flottent légèrement devant tes yeux. Rapide ou lente, cruellement bruyante ou impossiblement silencieuse, la musique improvisée est une révélation lente. Dans ces suites de visites en direct, Eschaton de Hamilton et amis Strangebarn se prélassent dans la résonance des cloches en laiton avant de s'enfoncer dans un spectacle tendu d'horreur de drones électriques grinçant, de saxophones qui jurent et de percussions vulgaires au bord d'une violence maniaque. Un assaut au ralenti, peut-être une réflexion d'anciennes tensions, du genre qui même parmi les habitants les plus paisibles de la terre émergent quand on appuie sur les mauvais boutons.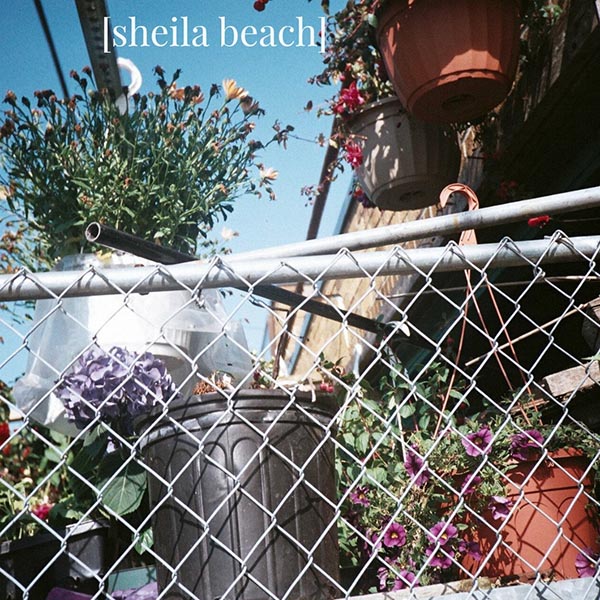 Sheila Beach
Walk Home
(Self-Released)
Peterborough, ON
From the suburban submarine of Mike Roy:
Taking cues from their other projects in The Lonely Parade and Faux Cults, young Peterborough innovators Charlotte Dempsey and Luca Mo spread their undeniable chemistry over the length of Sheila Beach's "Walk Home". Their crunchy and gravelly stride strikes a DIY approach to finely tuned pop gems with results as warm, earnest and glossy as a memory of teenage romance. The album standout "Wally M" is playfully ephemeral like the gentle caress of an unassuming summer love, washing waves of feedback through messy hair and rosy cheeks.
Du sous-marin de banlieue de Mike Roy:
(La chimie indéniable de Odile Leclerc)
Suivant l'exemple de leurs autres projets dans The Lonely Parade et Faux Cults, les jeunes innovateurs de Peterborough, Charlotte Dempsey et Luca Mo, répandent leur indéniable chimie sur tout de "Walk Home" par Sheila Beach. Leur foulée crissante et graveleuse frappe une approche DIY aux joyaux de la pop avec des résultats aussi chaleureux, sincères et reluisants qu'un souvenir d'une romance d'adolescent. Le remarquable album "Wally M'' est joyeusement éphémère comme la douce caresse d'un amour d'été modeste, faisant des vagues de réactions qui se brisent à travers des cheveux en bataille et des joues rosées.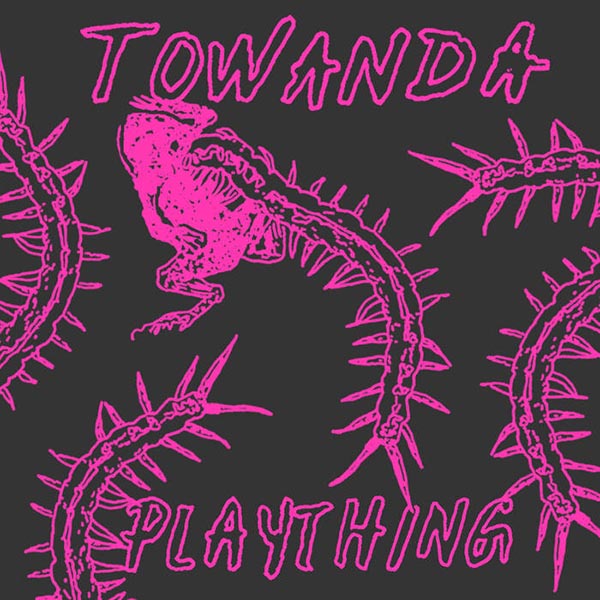 TOWANDA
Plaything
(Self-Released)
Montréal, QC
From the shadow puppet sonata of Mackenzie Smedmor:
The air is thick with sonic fuzz, and the overbearing shadow of unease hangs above. While most suck in the bitter smog, Towanda lets out the snarls we've learned to outwardly deny and inwardly accept. The inexpressible desires churn the hedonist angst in the belly of your existence… because "love is wasted on the loved." The demanding pulsations rupture the peaceful plastic façade in a chaotic yet oddly soothing mantra.
Plaything unapologetically toys with its players amidst devastating intimacy and snarky euphoria.
De la sonate de marionnettes de l'ombre de Mackenzie Smedmor:
(Le brouillard amer de Odile Leclerc)
L'air est épais de duvet sonique et l'ombre de malaise impérieuse se balance au-dessus. Pendant que la plupart aspirent le brouillard amer, Towanda laisse sortir les grognements que nous avons appris à nier extérieurement et à accepter intérieurement. Les désires inexprimables retournent la colère hédoniste dans le ventre de votre existence…parce que ''L'amour est gaspillé sur l'aimé.''. Les pulsations exigeantes rompent la façade paisible de plastique dans un mantra chaotique, mais étrangement apaisant. Le jouet joue sans honte avec ses joueurs parmi une intimité dévastatrice et une euphorie mordante.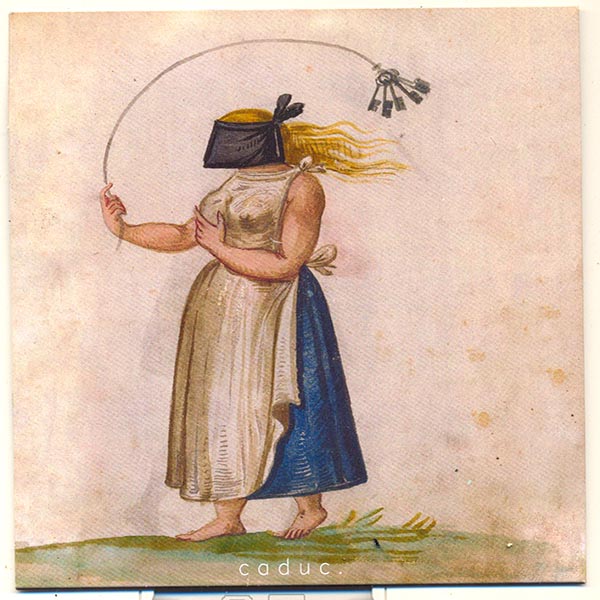 Chris Strickland
Animal Expert
Montréal, QC
From the listening salon of Alexander Moskos:
The Saint Henri crew used to have a record listening salon called Difficult Sundays and basically this new Chris Strickland CD made us cancel us the series. We held them at Dom's house and this CD made you realize how first-level boss some of these Ivy League Synth and Poetry records really are.
Strickland is a long time participant in Montreal's avant-garde music community. He famously ran cables out of the top floor of a downtown hippy burrito joint to mic Bishop Street during Garbage Night, a now-legendary gathering place for Montreal's weirdo music scene back in the mid-oughts. Half the country's out-music community came up through Garbage Night.
Animal Expert, which took ten years to make, is a catalog of difficult sounds beautifully organized by Strickland. It's the record the Canadian Electroacoustic Community wishes they'd used to promote their game. And hey, Strickland was a graduate of the Concordia Electroacoustic program so makes sense. There are tones that hang around just long enough, gunshots and laughing through shaky digital passages. The dynamics are absolutely crazy – you'll run over to your set-up to turn the volume down and then have to reconsider because the shit eases off and some light contact mic chewing and high tone suddenly appear, maybe too high though but reprieve comes in the form of analog wind and chimes. Martial sound effects are eerie premonitions of digital gore, faintly human sounds and horrible breathing like R Murray Schafer soundwalked your ass through the Battle Of Ypres.
Can't wait for the next Strickland drop. Hope it doesn't take the guy ten years to bust but hey can't rush this kind of compositional genius…unless your name is Rushie McGenes but nah mine's Moskos.
Du salon d'écoute d' Alexander Moskos:
(Traduit par Julie Mayer)
Les gens de Saint-Henri avaient l'habitude de tenir un salon d'écoute du nom de Difficult Sundays et, grosso modo, ce nouveau CD de Strickland a fait qu'on a annulé cet événement hebdomadaire. Ça se déroulait chez Dom et ce CD vous fait comprendre à quel point certains de ces disques issus des synthés et de la poésie de la Ivy League sont réellement des boss de premier niveau.
Ça fait un bail que Strickland fait partie de la communauté musicale avant-gardiste de Montréal. Il est connu pour avoir fait courir des câbles du haut d'une place à burritos hippie située dans le centre-ville afin d'enregistrer la rue Bishop lors de la Garbage Night, un événement désormais légendaire qui rassemblait la scène bizarro-musicale au milieu des années 2000. La moitié de la communauté hors-la-musique du pays vient de la Garbage Night.
Animal Expert, qui a pris dix ans à faire, est un catalogue de sons complexes magnifiquement arrangés par Strickland. C'est l'enregistrement que la Communauté électroacoustique canadienne aurait souhaité utiliser pour promouvoir son art. Et hé, Strickland est diplômé du programme électroacoustique de Concordia. Donc, ça a du sens. Il y a des sons qui persistent juste assez de temps, des coups de feu et des rires à travers les passages numériques tremblotants. La dynamique est absolument capotante, si bien que tu te ruerais sur ta chaîne stéréo pour baisser le volume… Puis, tu devrais changer d'avis, car la zik diminue d'un cran. Surgissent un chuintement de micro et un son aigu, peut-être trop aigu, mais le répit vient sous forme de carillons analogiques. D'étranges prémonitions de gore numérique, de sons à peine humains et de respiration horrible constituent les effets sonores martiaux. C'est comme si R. Murray Schafer passait ton cul à travers les bruits de la bataille d'Ypres.
J'ai trop hâte au prochain opus de Strickland. J'espère que le type ne prendra pas dix ans à le livrer, mais, hé, on ne peut pas bousculer cette sorte de génie de la composition… à moins que ton nom soit Rushie McGenes, mais nan, le mien c'est Moskos.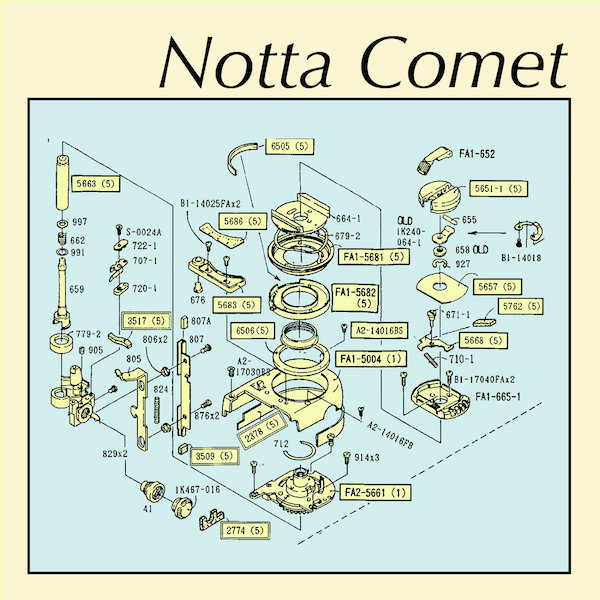 Notta Comet
Embankments
(Self-Released)
Montréal, QC
From the silken bursts of Hailey Celesse McCarthy:
Teeming with legs and scales, Notta Comet's Embankments is a nest of sounds built to cradle an exquisite form. Each sound telescopes outwards and inwards from the chaotic, silken bursts of 'Goon Glang' and 'Warehouse Blues' which bookend the setae of tracks like 'Slipstream' and 'Freehold Mall' – where 'Outro' is part of the grooming limb of the album. The tapeta lucida of Embankments illuminates their previous works and acts as the penultimate eyelid close before Notta Comet rests.
De l'éclat soyeux de Hailey Celesse McCarthy:
(Le nid de sons d' Odile Leclerc)
Grouillant de pattes et d'écailles, Embankments de Notta Comet est un nid de sons bâti pour bercer une forme exquise. Chaque son se télescope vers l'extérieur et l'intérieur des soyeux éclats chaotiques de « Goon Glang » et « Warehouse Blues » lesquels entourent la soie des pistes comme « Slipstream » et « Freehold Mall » – où « Outro » fait partie du membre en préparation de l'album. Le papier peint luisant, de Embankments illumine leurs créations précédentes et agit comme l'avant-dernier battement de paupière avant que Notta Comet se repose.
---