Category: New Canadiana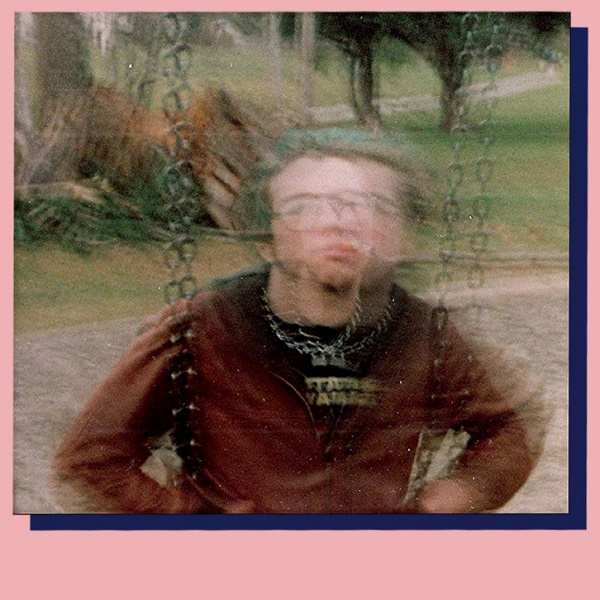 Milk
Late Bloomer
(Self-Released)
Vancouver, BC
From the summer soul of Steph Kvellestad:
Milk's self-released EP packs grunge, weirdo rock, and surf into 6 tracks, conjuring early summer barbeques that become late night adventures under the stars. The soft, almost beachy guitar chords are reminiscent of long days spent listening to waves at the beach while the lyrics are like sand: they stay with you for ages after you've left the shore. It's the soundtrack to the summer you'll remember forever with songs you'll never forget.
De l'âme estivale de Steph Kvellestad:
(Traduit par les doigts prolifiques de Julie Mayer)
Le maxi autoproduit de Milk case du grunge, du rock zarbi et du surf dans 6 morceaux. Il rappelle ainsi les barbecues estivaux précoces qui, tard en soirée, se prolongent en aventures sous les étoiles. Évocateurs de la plage, les doux accords de guitare sont empreints du souvenir des longues journées passées à écouter les vagues. Les paroles sont, quant à elles, comme le sable : elles restent avec vous un temps fou après avoir quitté le rivage. C'est la trame sonore de l'été dont vous vous souviendrez toujours grâce à des chansons que vous n'oublierez jamais.
Swim Team
Freedom/Constraint
(Self-Released)
Vancouver, BC
From the quarter life crisis of Eleanor Wearing:
"Are you filled with existential dread?
"Yes. Wait—no. Maybe? Things feel serious most of the time. Very serious. Slow lulls invoke a cloudy comatose state, only to be shot through and shattered by a harsh and unrelenting reality. Voices that once spoke softly surge louder, fighting to be heard."
"When darkness sets in, does obsession follow? Dominating every move you make? If you feel this way, it's ok. You are not alone. Look at the lows, carve out the highs. Push through. Drift beyond. Swim along."
De la crise de la vingtaine de Eleanor Wearing:
(Traduit par Alison McReynolds)
"Es-tu plein d'angoisse existentielle ?"
"Oui. Attend—non. Peut-être? On dirait que les choses sont sérieuses, du moins, la plupart du temps. Très sérieuses. Une douce accalmie invoque un état comateux voilé, pour bientôt être transpercée et mise en pièces par la dure et infatigable réalité. Des voix, qui discutaient doucement, surgissent désormais plus fortement, se battant pour être entendues.
"Lorsque l'obscurité s'installe, est-ce que l'obsession suit ? Dominant chaque geste que tu fais ? Si tu te sens comme ça, c'est correct. Non, tu n'es pas seul(e). Regarde les hauts, sculpte les bas. Passe à travers. Dérive au-delà. Nage avec le courant."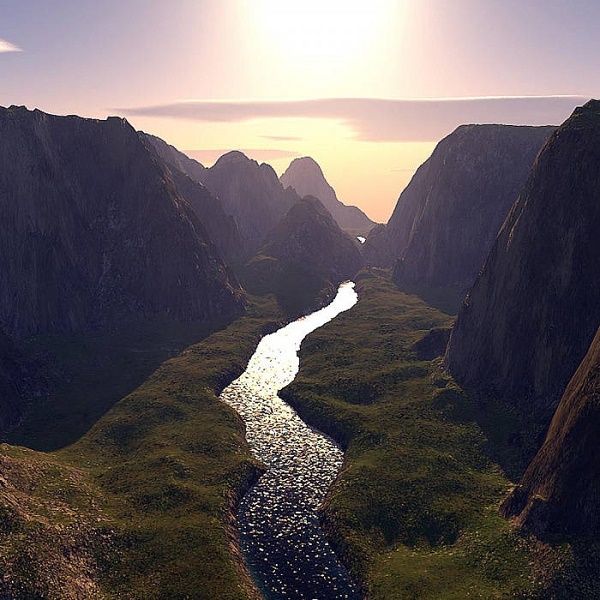 Amy Casper
One of the Lucky Ones
(Self-Released)
Victoria, BC
From the selfish selflessness of Mark Anthony Brennan:
Amy Casper is the voice of vulnerability, as her mirror self sings melodiously "Down by the River" or ghostly "Gave You My All". Down by the River is stripped down to a fish-bone skeleton, leaving Amy Casper to flesh out the compositions with her painfully human voice. She calls to us from a reedy distance, finding that there is no way to go back home "Into the Rope", and turns strange as she explores the forces around us "Silver Hands".
De l'égoïste désintéressement de Mark Anthony Brennan:
(Traduit par Mylène Quevillon)
Amy Casper incarne la voix de la vulnérabilité, alors que sa réflexion chante mélodieusement "Down by the River" ou fantomatiquement "Gave You My All". * Down by the river * est épuré, tel un squelette d'arrêtes de poisson, laissant Amy Casper étoffer les compositions avec sa voix douloureusement humaine. Elle nous appelle d'une maigre distance, réalisant qu'il n'y a aucun moyen de rentrer à la maison "Into the Rope", et elle devient bizarre alors qu'elle explore les forces qui nous entourent "Silver Hands".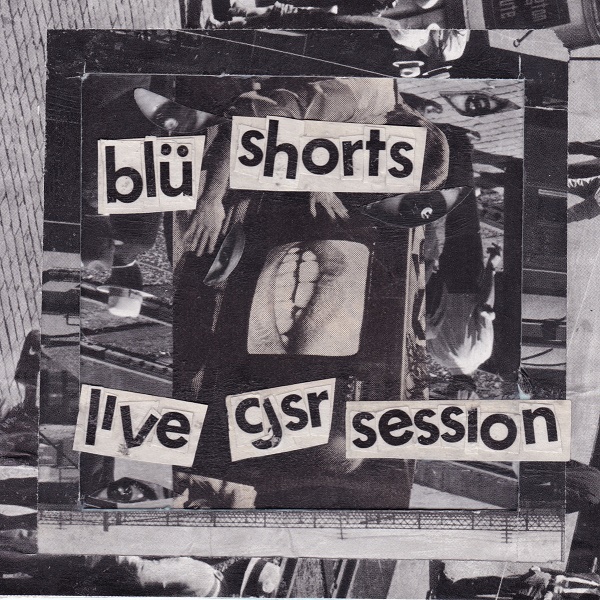 Blü Shorts
CJSR Session
(Self-Released)
Calgary, AB
From the joyful panic of Eleanor Wearing:
At the heart of an overcrowded amusement park is the messy, maniacal fun-house of Calgary's Blü Shorts. At its entrance, suspense tugs at an endless line of attendees as they feverishly await their taste of the upside down. Inside, Blü Shorts do not disappoint. The din of the park amplifies, distorts; laughter twists into screams, talking becomes nonsensical. Jagged smudged mirrors shoot grotesque faces across floors and walls that tilt and sink as they please. Joy crashes with panic, fear engulfs insanity. It is violent, it is unpredictable, it is sublime.
De la panique joyeuse d' Eleanor Wearing:
(Traduit par Sergio Calla)
Au cœur d'un parc d'attractions bondé se trouve la maison enchantée désordonnée et délirante de Blü Shorts, groupe de Calgary. La file interminable à l'entrée montre une foule attirée par l'angoisse qui attend fiévreusement sa dose de vertige. À l'intérieur, Blü Shorts ne déçoit pas. Le bruit du parc s'amplifie et se déforme. Le rire se transforme en cris, les paroles deviennent insondables.Les miroirs déformés tachés renvoient des visages grotesques sur les sols et les murs qui se penchent et sombrent comme bon leur semble. La joie se mêle à la panique, la peur engloutit la folie. C'est violent, c'est imprévisible, c'est sublime.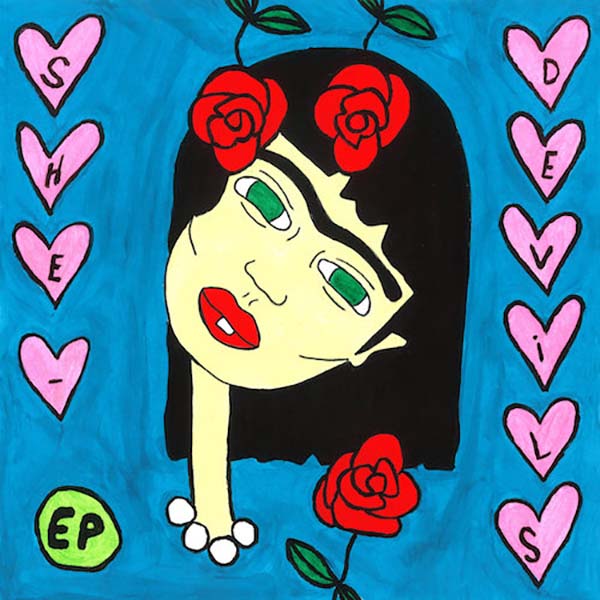 She-Devils
She-Devils EP
(Self-Released)
Montréal, QC
From the lost Hollywood dreams of Mike Roy:
Through the shifting gaze of a kaleidoscope dream, She-Devils appear in a call of absorbing desire. "Come" draws you into its core through the whirring inversion of '60s surf rock, slowly deconstructing the pop processes that breathe life through the meticulous repetition of lyrics and guitar rhythms. "Where There's No One" crackles as it spins classic ballads into a new web of aesthetics, while "I Wanna Touch You" rises up-and-down like an elevator caught between floors of ecstacy and confusion. The additional remix of "Come" cements the experimental nature that is embedded in the album – a collection of puzzle pieces ready for play.
Des rêves d'Hollywood perdus de Mike Roy:
(Traduit par la plage fondante de Mackenzie Smedmor)
À travers le regard changeant d'un rêve de kaléidoscope, She-Devils apparaît dans un appel de désir absorbant. "Come" vous attire jusqu'au plus profond de lui grâce au bourdonnement inversé du surf rock des années 60, en décomposant lentement les processus pop réanimés par la répétition méticuleuse de paroles et de rythmes de guitare. "Where There's No One" crépite en jouant des ballades classiques se transformant en une nouvelle toile d'esthétiques, tandis que "I Wanna Touch You" soulève les ascensions et les descentes comme un ascenseur coincé entre les étages de l'extase et la confusion. Le remix additionnel de "Come" cimente la nature expérimentale qui est gravée dans l'album telle une collection de morceaux de casse-tête de pièce prête `à être jouée.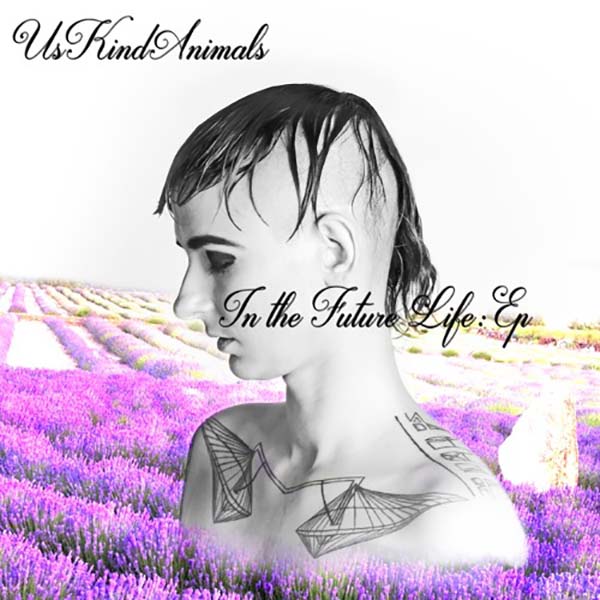 UsKindAnimals
In the Future Life EP
(Self-Released)
Montréal, QC
From the 4am catharthis of Heather Lune:
Is it holy to dance? Flee a frozen night in the dark underground chambers, to carve into the archaic beats and feel so new, so modern. And the summer comes: the long long sun, you need to get drunk in that hot light with desperation. But the anxiety as the frost creeps in again, the sun slips. In the manic chill, UsKindAnimals sing wild hymns to the soul over blindness-seeking carnal rhythms. Hear the auld disco dirge of ecstatic mourning? It's the death dance of winter, a skeleton shaking yourself out of your own cold corpse.
De la purge matinale de Heather Lune:
(Traduit par Sergio Calla)
La danse est-elle sacrée ? Fuir des tunnels souterrains pendant une nuit glaciale pour s'intégrer dans les sons archaïques afin de se régénérer et de se moderniser. Puis l'été arrive avec ses rayons de soleil étendus, donnant envie de se soûler désespérément dans cette lumière chaude pour encore une fois angoisser au départ du soleil et à l'arrivée du gel. Dans cette frénésie frisquette, UsKindAnimals chantent à l'âme des hymnes sauvages cherchant aveuglement des mélodies bestiales. Faire un deuil euphorique en écoutant de la bonne vieille musique d'enterrement? C'est la macabre danse hivernale. Un squelette qui vous secoue pour vous faire sortir de votre propre corps refroidi.
UsKindAnimals – Animal Dream feat. Emilie Monnet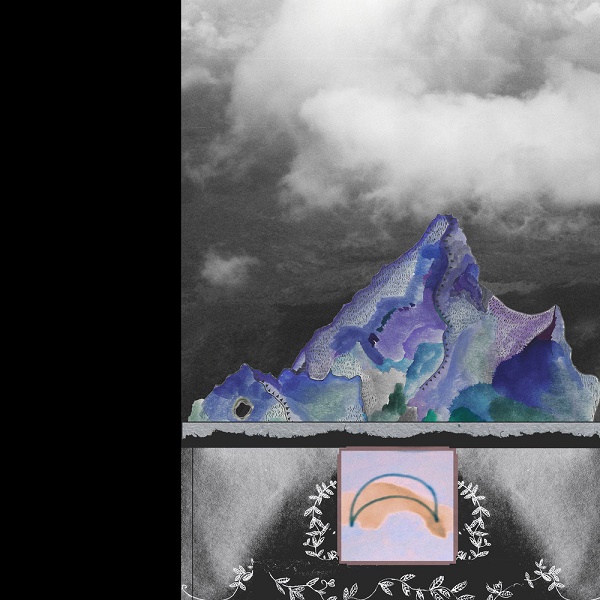 Kaine, Fili and the Believing Box
Free and Easy Wanderer
(Self-Released)
Montreal, QC
From the unwitnessed observations of Mark Anthony Brennan:
Kainé and Fili wander free and easy through a soundscape they seemingly create by magic. Unsullied by human discoloration, the experience is exquisitely primal, unblemished. The senses you've relied on become useless to you, so you allow your hand to be taken in the music's delicate grasp. It leads you, guides you. The secret of the cosmos is encapsulated in a single strident note. This mystery is further explored in a quiet conversation between violin and cello. Electronic murmurings remind you that you are indeed human, and that you are a sightless observer. Vocals echo your displacement.
Par les observations inaperçues de Mark Anthony Brennan:
(Traduit par les humeurs ensommeillées d' Émily Traichel)
Kainé et Fili vagabondent libre et aisé à travers un paysage sonore qu'ils semblent créer par magie. Non souillé par la décoloration humaine, l'expérience est exquisément primale, sans imperfections. Les sens sur lesquels vous aviez dépendu vous deviennent inutiles, alors vous vous permettez de vous faire prendre la main dans la prise délicate de la musique. Elle vous mène, vous guide. Le secret du cosmos est encapsulé dans une seule note stridente. Ce mystère est davantage exploré dans une conversation tranquille entre violon et violoncelle. Des murmures électroniques vous rappellent que vous êtes en effet humain, et que vous êtes un observateur aveugle. Les chants évoquent votre déplacement.
Kainé, Fili and the Believing Box – Crickets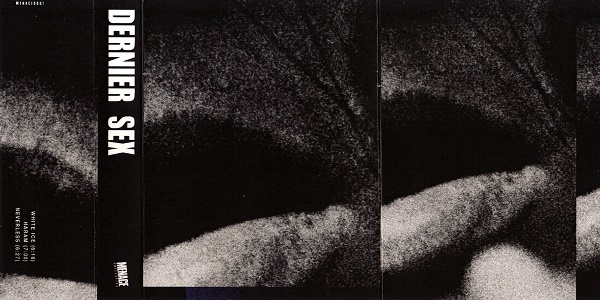 Dernier Sex
3-Song EP
Montreal, QC
From the ethereal web of Charlotte White:
Your blood thickens and the pavement feels warm on your bare feet. Humid air churns around your body creating eddies of fizzing ecstasy as your heartbeat slows to a near standstill.
This is where dreams become nightmares and nightmares become dreams. Here you are lifted above all pain and fears that ooze from dark corners like water seeping under bathroom doors.
At dawn you awake drenched in sweat and blood. You're unsure if it's your own.
Du site web paradisiaque de Charlotte White:
(Traduit par Sergio Calla)
Ton sang s'épaissit et la chaleur du pavé caresse tes pieds nus. L'air humide tourbillonne autour de ton corps générant un tourbillon, un vortex euphorique pétillant provoquant un ralentissement raide du rythme cardiaque.
Il s'agit d'un domaine où les rêves se transforment en cauchemars et les cauchemars en rêves. Ici, cesse la douleur et les craintes qui suintent de tous les coins sombres comme de l'eau qui s'infiltre sous les portes de salles de bains.
Vous vous réveillez à l'aube ensanglanté et en sueur, incertain de votre sort.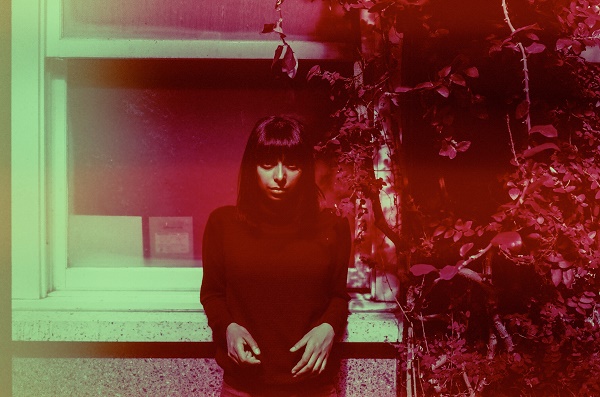 Aleem Khan
Aleem Khan
(Self-Released)
Calgary, AB
From the salty lip of Hailey Celesse McCarthy:
Aleem Khan's self-titled release achieves a synthesis of delicately and intimately arranged sounds. The bay of Aleem's vocals acts as an estuary for the emotive, sensuous and, nostalgic elements of each piece. The album is like a river meeting a sea: blurring is diffused, the curves of sediment emerge and, the salient, spatial variability allows us to escape delineation. Flooded with cinematic freak folk murder ballad tones, Aleem Khan is a specimen not to be left undiscovered.
De la lèvre salée de Hailey Celesse McCarthy:
(Traduit par la dent sucrée de Joannie Pharand)
L'album éponyme d'Aleem Khan fait entendre une synthèse de sons arrangés délicatement et intimement. La baie de la voix d'Aleem agit comme une entrée pour des éléments émotionnels, sensuels et nostalgiques sur chaque pièce. L'album est comme une rivière qui rencontre la mer : la confusion est estompée, les courbes des débris ressortent et la variabilité saillante et spatiale nous permet d'échapper à la délimitation. Submergé par les tons d'une ballade meurtrière cinématographique de folk déformé, Aleem Khan est un spécimen à conserver sous la loupe.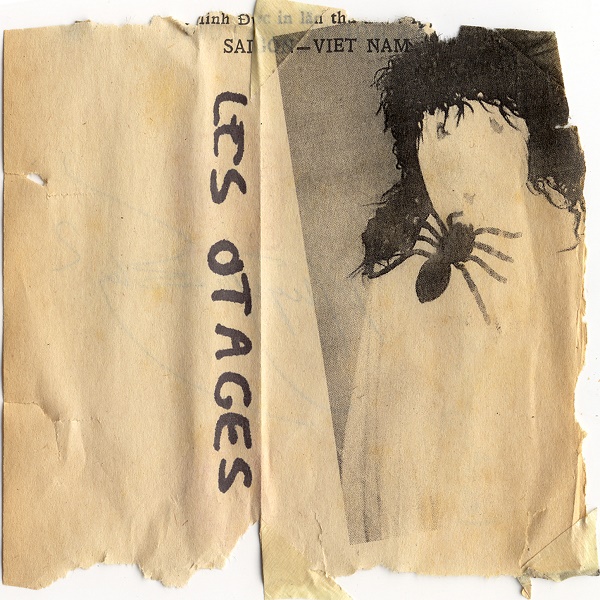 Les Otages
Les Rédemptionnistes
Québec City, QC
From the gothic callisthenics of Don L'Orange:
Emerging from the darkness with a plate of little sandwich pinwheels, the Produce Prince has come to deliver us. Can we break free from these earthly chains and fly with the goats? Freedom is knowing what to eat and when; we have given in to our gastric urges long enough. You need to take your green bin with civic pride. A balance of nutrition and exercise will be your ticket to a healthy and prosperous afterlife. A scrounger's nightmare: we have engaged a cash forward contract. Give the power back to the dollar.
Des callisthénies gothiques de Don L'Orange:
(Traduit par le caséum de Julie Mayer)
Sorti des ténèbres avec un plat de petits sandwichs roulés, le fin bec est venu nous délivrer. Pouvons-nous nous évader de ces chaînes terrestres et voler avec les chèvres? La liberté, c'est de savoir quoi manger et quand; nous avons cédé à nos envies gastriques assez longtemps. Vous devez prendre votre bac vert avec fierté civique. Un équilibre entre la nutrition et l'exercice sera votre billet vers un au-delà sain et prospère. Le cauchemar d'un pique-assiette; nous avons engagé une personne dont le contrat à terme a été négocié de gré à gré. Rendez au dollar son pouvoir.
---