Category: Festivities
Sled Island
Various Artists
Calgary, AB
From the excited ears of Matthew Swann:
Since 2007, Sled Island's thoughtful, eclectic programming and independent spirit have fused with Calgary's youthful energy to produce a one-of-a-kind festival experience. Each June, the five-day music and arts festival brings together a community of over 250 bands, comedians, filmmakers and artists as well as over 30,000 attendees in more than 35 venues, transforming the city into an arts lover's paradise that has earned rave reviews from artists, fans and media from across the globe.
From the excited ears of Matthew Swann:
(Traduit par GT)
Depuis 2007, réfléchi, programmation éclectique Sled Island et esprit indépendant ont fusionné avec énergie de la jeunesse de Calgary pour produire une expérience du festival unique. Chaque Juin , le festival de musique de cinq jours et les arts rassemble une communauté de plus de 250 groupes, comédiens, cinéastes et artistes , ainsi que plus de 30.000 participants dans plus de 35 lieux, transformant la ville en un paradis pour les arts amant qui lui a valu des critiques élogieuses d' artistes, les fans et les médias de partout dans le monde.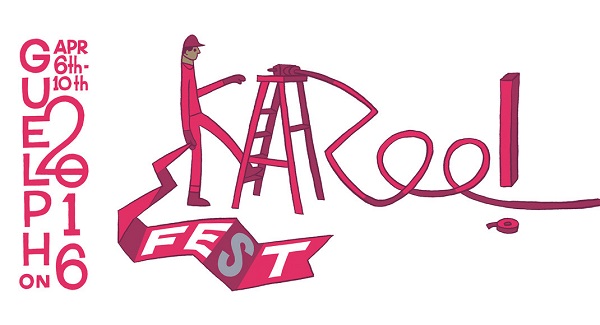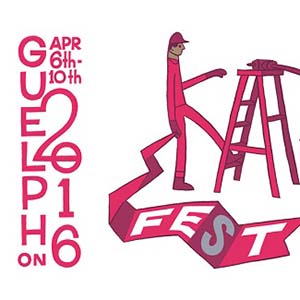 Kazoo! Fest 2016
Guelph, ON
From the ruling fingers of Sara Bortolon-Vettor:
Kazoo! Fest oozes out over 5 days in the intimate downtown core of Guelph. The 8th Kazoo! runs from April 6-10 2016, and soars to hit every weird sweet spot imaginable. An experiential annual delight, lifting our sneakers above the clouds.
What can you expect this year in the Royal City, where everything rules? A tightly curated lineup of everyone's favourite darlings, dreamers, stoners, visionaries, originators, best bad dads, experimenters, soul lifters, and heart tuggers are charming your ears over 5 blissed-out days.
Check out the Guelph Night Market (buy handmade stuff at night); Golden Bus Film Screenings (featuring Life of a Craphead's Bugs); contemporary dance; improv with The Making Box; the Kazoo! Print Expo; experiential art installations like the TrinkeTron 6750; plus live visuals and art gushing all over town.
Meet us at Vienna's for breakfast?
Par les doigts gouvernants de Sara Bortolon-Vettor:
(Traduit par les orifices fleurissants d'Émily Traichel):
Kazoo! Fest s'écoule le long de 5 jours dans l'intimité du coeur du centre-ville de Guelph. Le 8e Kazoo! a lieu du 6 au 10 avril 2016, et s'enligne pour toucher à tous les points forts du weird. Un délice annuel expérientiel, qui élève nos baskets par dessus les nuages.
À quoi pouvez-vous vous attendre cette année dans la cité royale, où régnent toutes sortes d'expression créative? Une programmation soigneusement sélectionnée des bien-aimés, rêveurs, stoners, visionnaires, initiateurs, méchants pères, expérimenteurs, leveurs d'esprit, et vibreurs de cordes sensibles préférés de tout le monde vous enchante les oreilles pendant 5 jours de félicité.
Découvrez le marché de nuit, le Guelph Night Market (achetez des items faits à la mains la nuit); les Golden Bus Film Screenings (en vedette, Bugs de Life of a Craphead); de la danse contemporaine; de l'impro chez The Making Box; l'exposition d'imprimerie de Kazoo!; des installations d'art expérientielles telle que le TrinkeTron 6750; et encore bien plus de montages visuels en direct et d'art qui jaillissent partout dans la ville. 
Rendez-vous chez Vienna pour le déjeuner?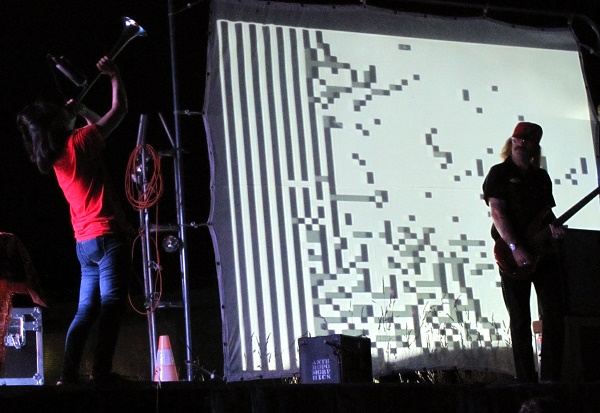 Electric Eclectics
July 31 – Aug 2, 2015
Meaford, ON
Photos by: Joshua Cwintal/li>
From the oily reduction of Joshua Cwintal:
Receptive ears were scattered between the teddy bear adorned pillars found at the Electric Eclectics festival near Meaford, Ontario. Attendees revelled in indoctrinating drones and chest caving noise from acts who embodied the friendly and visionary spirit of the gathering. Installation artists intrigued and captured wanderers as they attempted to cross the picturesque canvas of land christened as "The Funny Farm". Each night refused to end as moonlit dancing and laughter spilled deeper into DJ-led forest festivities. Each morning brought familiar faces together to welcome another day where only the unfamiliar could be expected.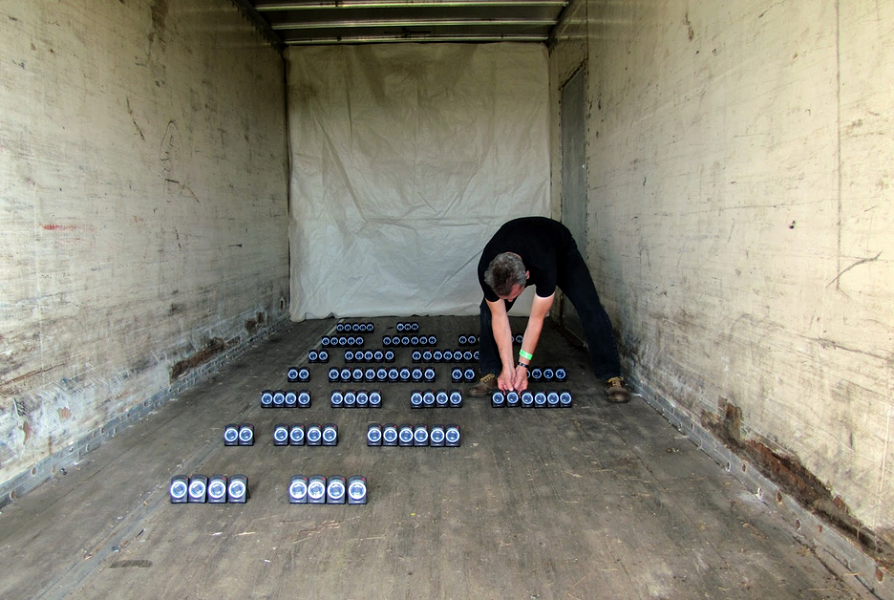 100 metronomes, all clicking in a cicadian like flutter. All arranged to match the physical shape of a companion poem.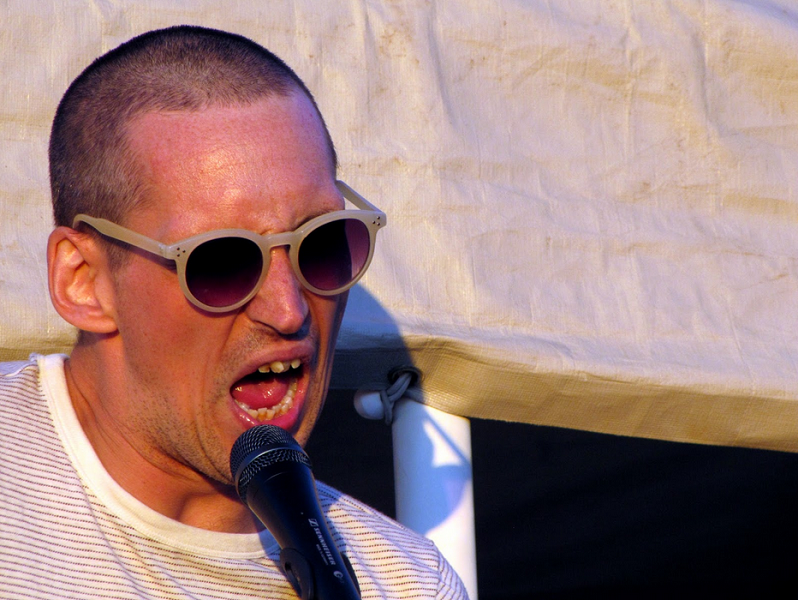 "Anyone get a psychosomatic rash before?" – Dave from Soupcans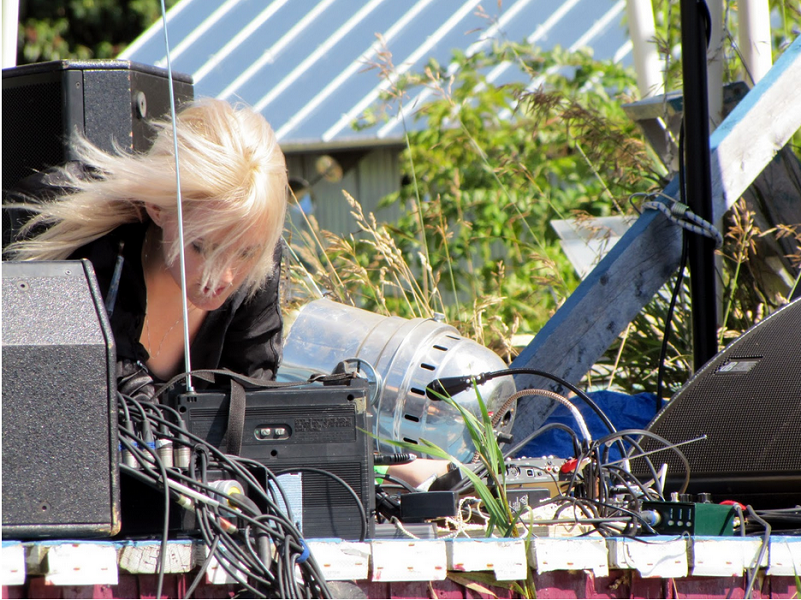 "The Nihilist Spasm Band apologized to me after my set for driving up near the stage while I was playing. I thought, I wish you drove over the stage, that would have been amazing. Also I hadn't noticed – I didn't notice the ambulance for the heat stroke suffering guy either (hope he's okay). I couldn't see my gear, we both don't understand sunshine." – Bridget Bardon't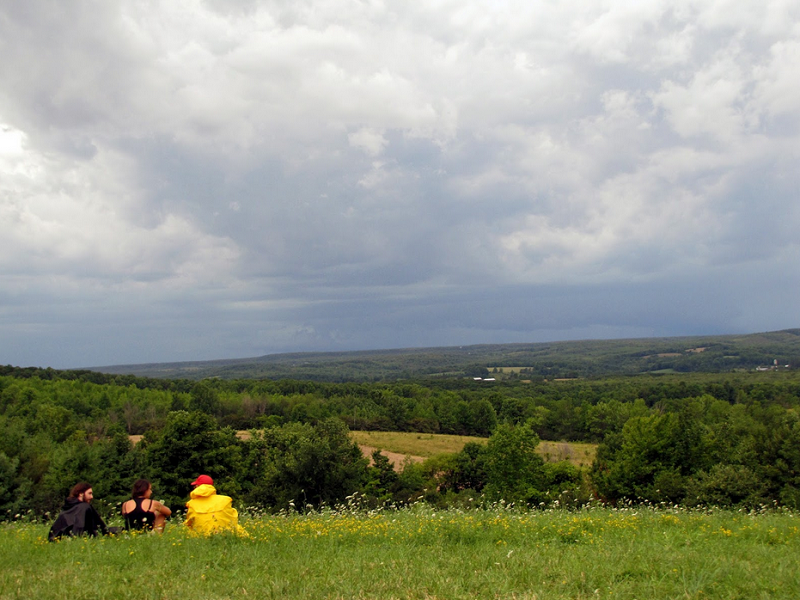 A calming moment before the end of the Festival and a tremendous downpour. Until next year friends.
De la réduction huileuse de Joshua Cwintal:
(Traduit par le sourire fatigué de Jessica Grenier)
Les paires d'oreilles réceptives étaient éparpillées entre les piliers décorés d'oursons en peluche au festival Electric Eclectics, quelque part près de Meaford, en Ontario. Les festivaliers se délectaient de drone endoctrinant et de sons réverbérant dans la cage thoracique; autant de détails personnifiant l'esprit visionnaire et convivial du rassemblement. Avec leurs installations intrigantes, des artistes capturaient les promeneurs alors qu'ils tentaient de traverser le paysage pittoresque baptisé « The funny farm ». Sous l'animation de danses nocturnes rythmées et de rires se déversant toujours plus profondément dans les profondeurs de la forêt, les nuits refusaient de mourir; et chaque jour naissant guidait son lot de visages familiers vers une rencontre où l'inconnu était la seule chose au programme.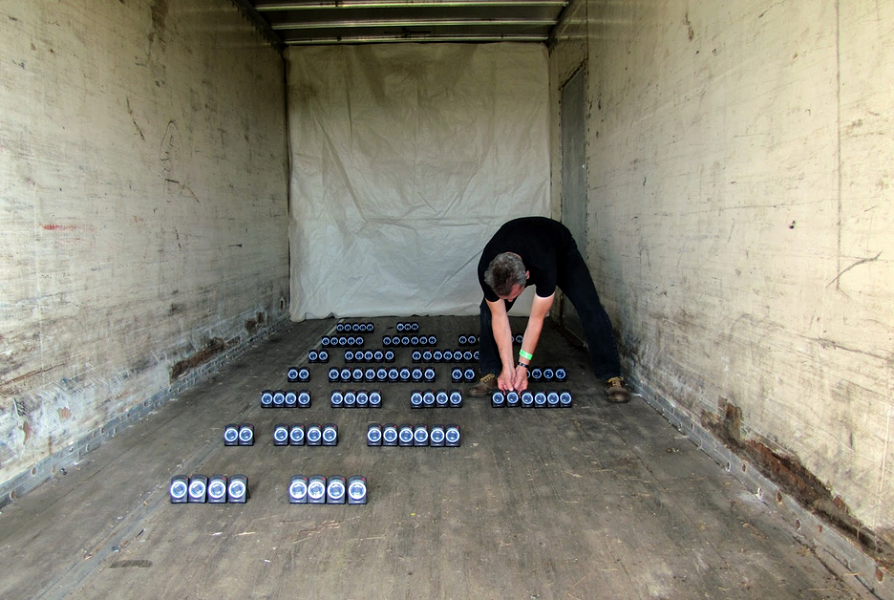 Cent métronomes – autant de battements rappelant les stridulations d'une cigale – placés de façon à reproduire la présentation d'un poème compagnon.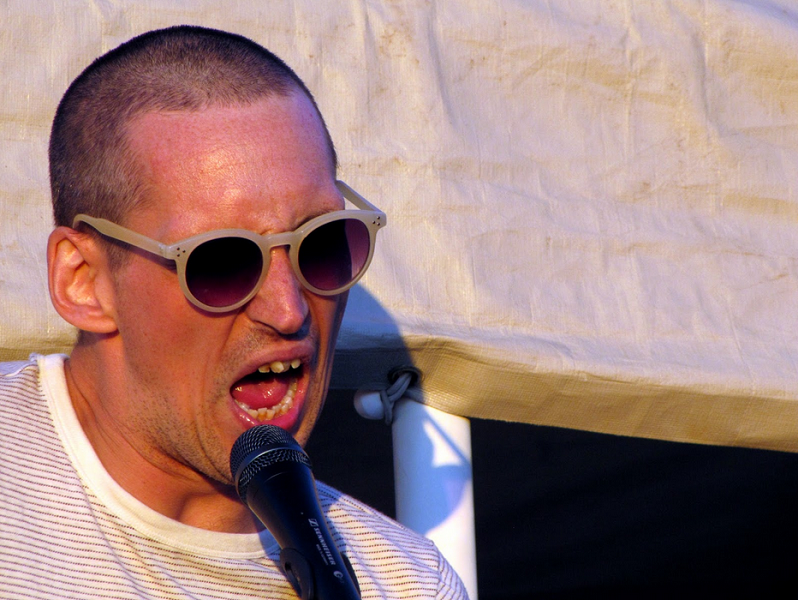 « Quelqu'un a déjà eu une démangeaison psychosomatique? » – Dave de Soupcans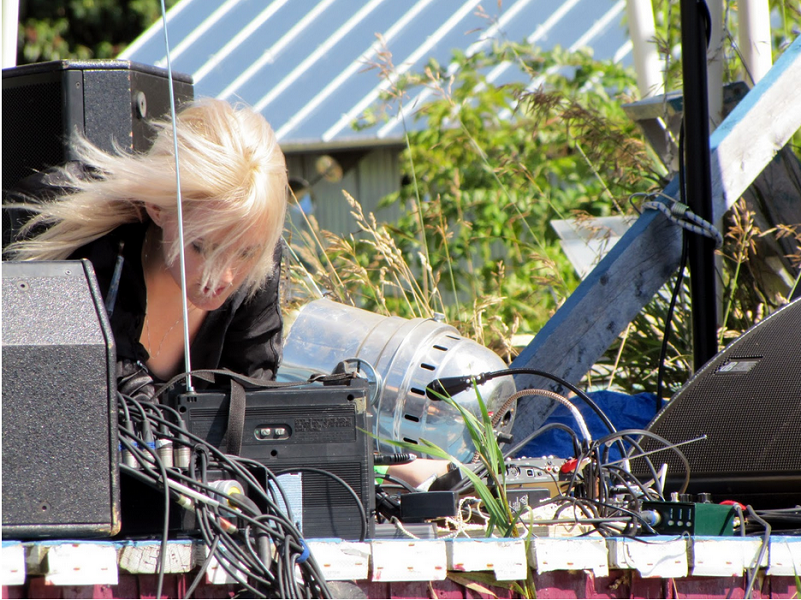 « Le Nihilist Spasm Band s'est excusé d'être passé en voiture juste à côté de la scène pendant que je jouais. Je me suis dit : "vous auriez dû rouler directement dessus, ça aurait été fou!" Et puis je n'avais pas remarqué – je n'avais pas non plus remarqué l'ambulance venue chercher un gars qui avait fait un coup de chaleur (j'espère qu'il est OK). Je n'arrivais pas à voir mon matériel : lui et moi, on a de la misère avec le soleil. » – Bridget Bardon't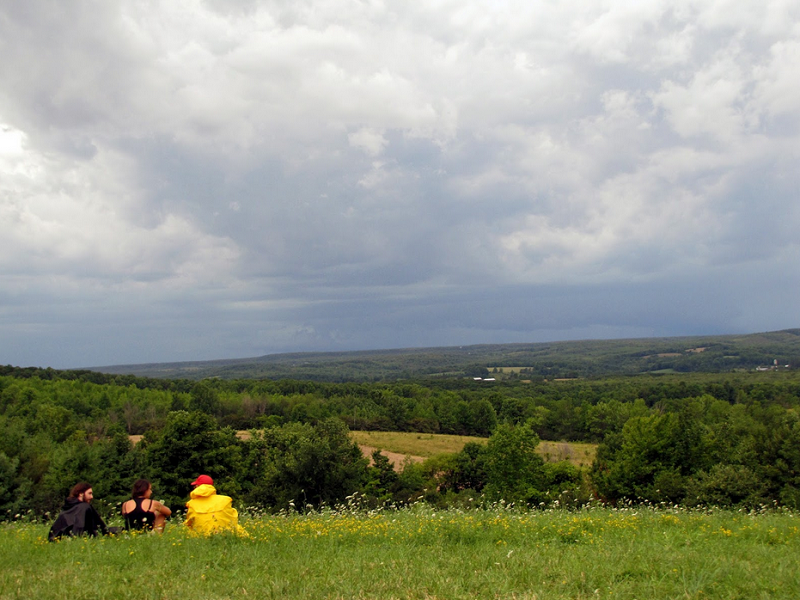 Un moment de répit avant la fin du festival (et une averse phénoménale). Au plaisir de se revoir l'année prochaine.
Suoni Per Il Popolo Festival
Montreal, QC
From the fresh festivities of Bobby Andrews:
Suoni Per Il Popolo festival is a celebratory eruption of Montreal's notoriously exceptional independent music scene. This collection of weird-noise and soft-tones will push the limits of what Montreal has to offer, as well as introducing outside Canadian talent. A festival spanning three weeks, featuring approximately fifty concerts across numerous venues within the downtown core, Suoni, parades Montreal's unique ability to embrace artistic expression like a hug from an old friend.
Mixtape:
1. Xarah Dion – XXX
2. Petra Glynt – Of This Land
3. Big Brave – A Song for Foxes
4. Un Blonde – For You to Drink
5. Porn Persons – Underrated Talkshow
6. Birds of Paradise – The Little Death
7. Heathers – Donna
8. Zones – Not Chet
9. No.Negative. – Feelin' The Heat
10. Not the Wind, Not the Flag- Conceal
11. Babel – ZWERM.01
12. YlangYlang – Emerald Atoll Eye
13. The Past – Thru a Confusing Zone
14. Les Zerreurs – Beaux Animaux
15. Myriam Gendron – Threnody
16. Blankets – Learning to Drive
Provenant des festivités rafraichissantes de Bobby Andrews:
(Traduit par Nicolas Coutlée)
Le festival Suoni Per Il Popolo célèbre dans l'effervescence la scène musicale indépendante montréalaise, reconnue pour son exceptionnelle qualité. Cette collection de bruits étranges et de douces tonalités repoussera les limites de ce que Montréal a à offrir, en plus de révéler d'autres talents canadiens. Avec près de 50 concerts sur trois semaines dans différentes salles au cœur de la ville, le Suoni fait montre de la capacité unique de Montréal à embrasser l'expression artistique comme elle le ferait avec un vieil ami.
Mixtape:
1. Xarah Dion – XXX
2. Petra Glynt – Of This Land
3. Big Brave – A Song for Foxes
4. Un Blonde – For You to Drink
5. Porn Persons – Underrated Talkshow
6. Birds of Paradise – The Little Death
7. Heathers – Donna
8. Zones – Not Chet
9. No.Negative. – Feelin' The Heat
10. Not the Wind, Not the Flag- Conceal
11. Babel – ZWERM.01
12. YlangYlang – Emerald Atoll Eye
13. The Past – Thru a Confusing Zone
14. Les Zerreurs – Beaux Animaux
15. Myriam Gendron – Threnody
16. Blankets – Learning to Drive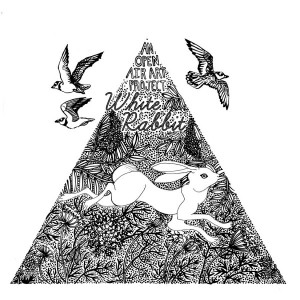 6th Annual White Rabbit Celebration
Aug 7th – Aug 16th
(Photos by Eli Gordon, Illustration by Anna Bald)
Red Clay Farm, Upper Economy, NS
From the Blaring Third Eye of Jonathan Rotszstain:
White Rabbit is wild ocean waves crashing opposite deep woods. You're listening to 92 Nothing FM. First, there is the residency. Ten or so artists selected to come to Red Clay, Parasborough way. Site specific and found material projects are encouraged. Seven feverish days pass: discussion, labour and summer rites. Last comes the festival. Intimate gives way to audience, an explosion of song, feast and triumph. Long nights on the Bay of Fundy, world's highest tides.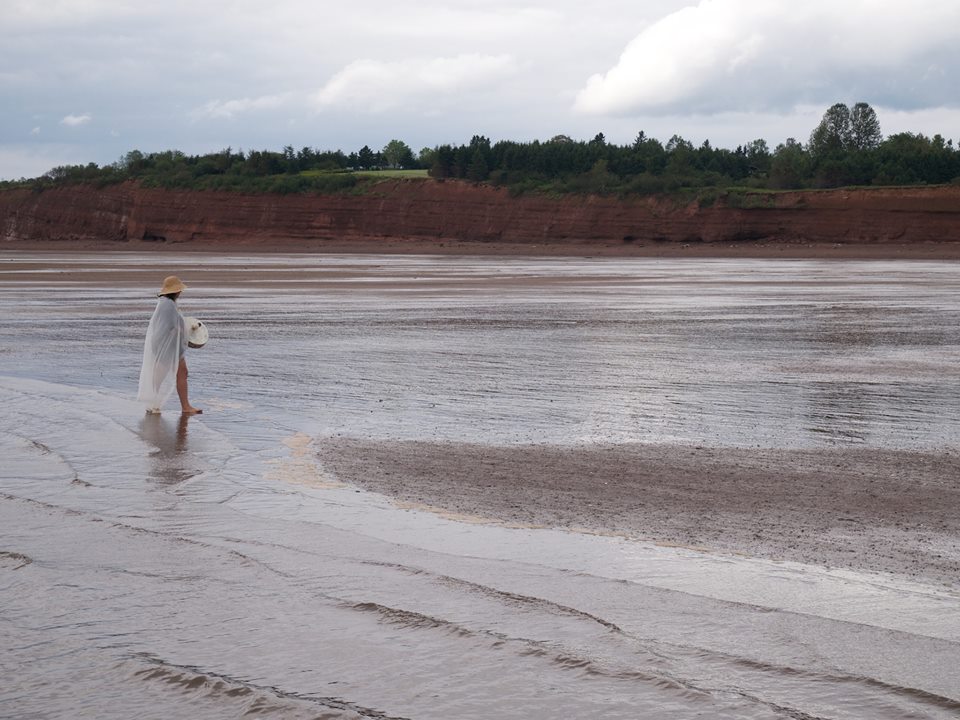 Lindsday Dobbin walks the beat.
Lindsay Dobbin drums forward as the water rises. Backwoods Nova Scotia all lit up. Kate Walchuk knows. She's your KJ rocking Jefferson Airplane's song of the same name on repeat. Feed your head.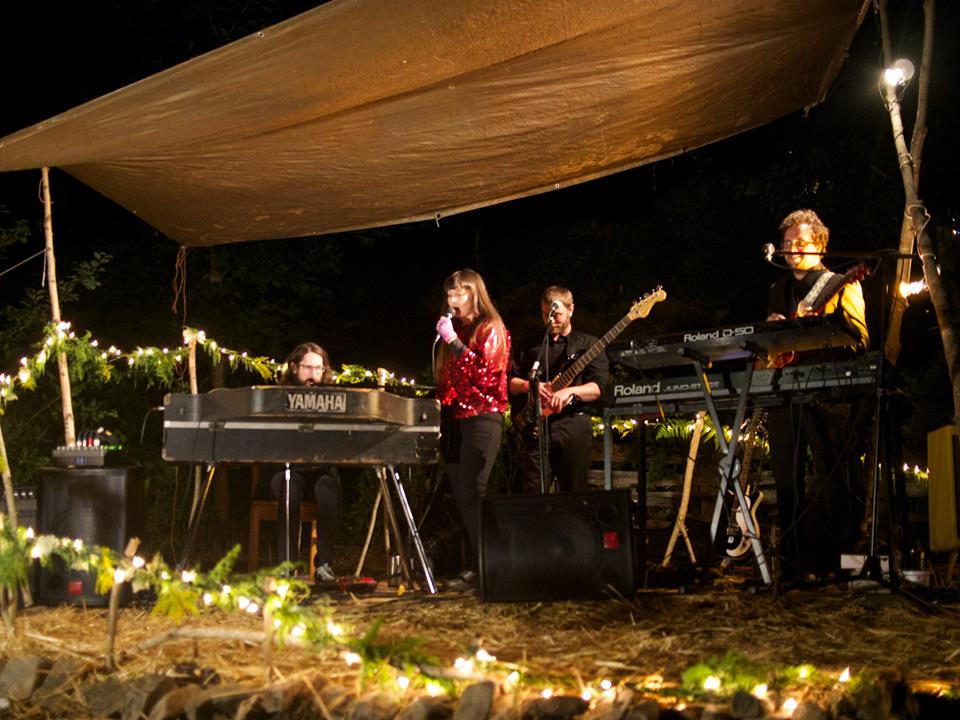 Alana Yorke, you got this.
There's a little stage illuminated by candles. Alana Yorke belting piano cheese. Tears roll down cheeks. Falling for it. The meadow is for dancing. Big stage, undulating boys—EFG —fake ESG. Groove backwards. DJ Goldilocks. Holy shit. Body movement. Great feelings.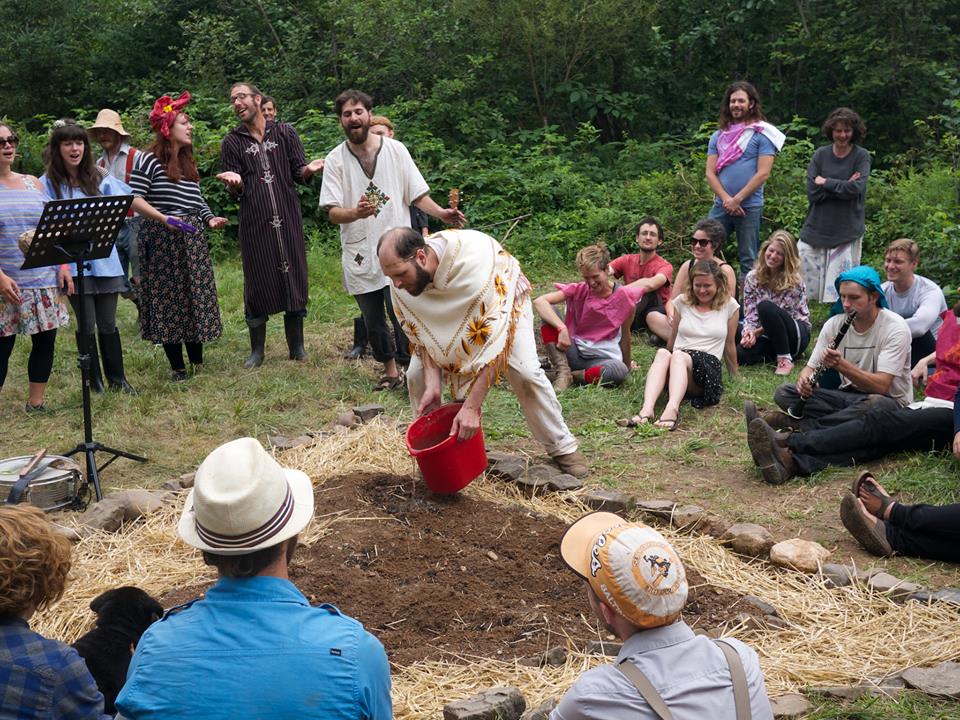 Gurotszta and the Great Garlic Gazing.
Next morning, pancake breakfast. We praise the sun, soil and water and ceremoniously plant garlic. Truly incredible experience. I'm a believer.
Du troisième œil tonitruant de Jonathan Rotszstain:
(De la plaine qui pousse au milieu de Flora Hammond)
White Rabbit est un océan sauvage dont les vagues s'échouent contre une forêt profonde. Vous écoutez 92 Néant FM. D'abord la résidence. Une dizaine d'artistes sont sélectionnés pour se rendre à Red Clay, Parasborough way. Interactions locales et projets d'objets trouvés sont encouragés. Sept jours fiévreux passent : discussions, labeur et rites d'été. Enfin, vient le festival. L'intimité est remplacée par un public, une explosion de chants; festins et triomphe. De longues nuits au cœur des marées imposantes de la Baie de Fundy.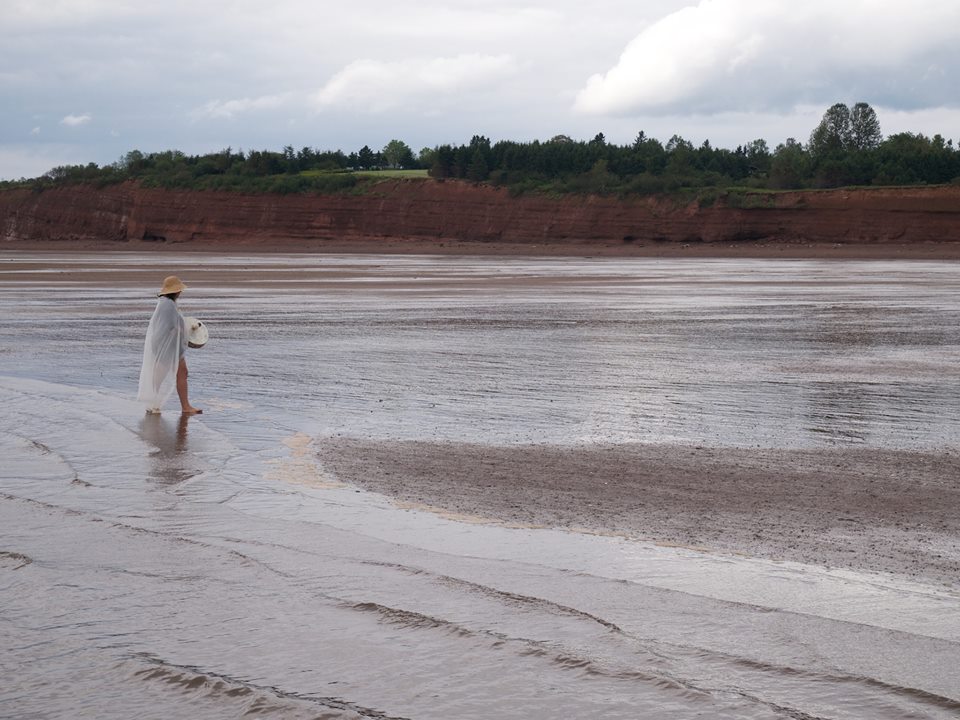 Lindsay Dobbin promène le rythme.
Lindsay Dobbin marche son tambour pendant que la marée monte. Un trou de nouvelle écosse tout allumé. Kate Walchuk sait. Elle est votre KJ, jouant à l'infini la chanson homonyme du festival par Jefferson Aiplaine. Nourrissez vos pensées.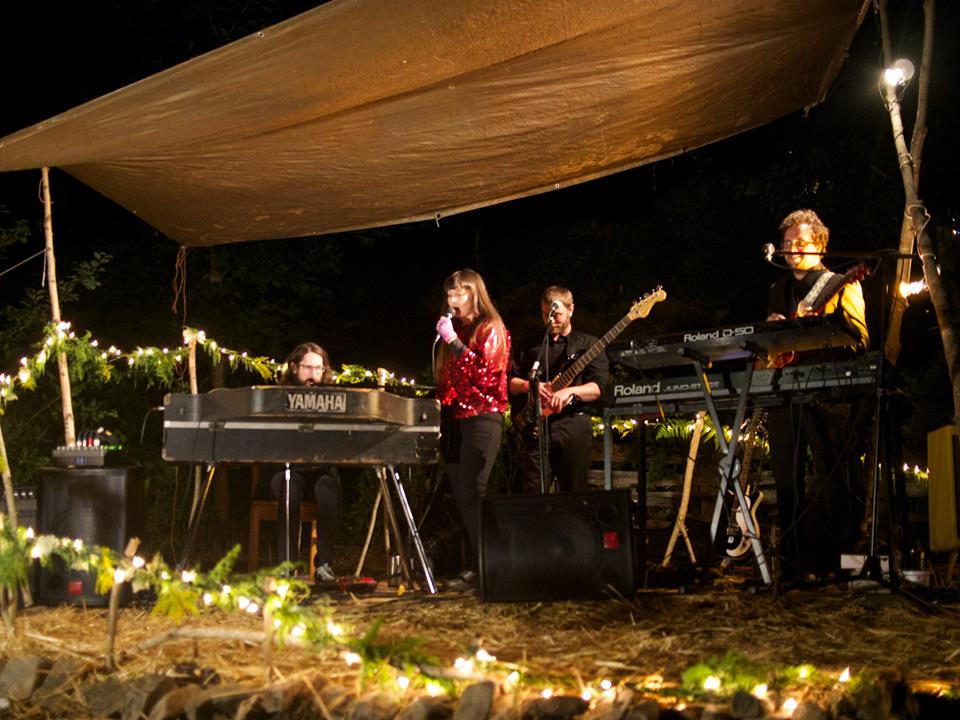 Alana Yorke sait quoi faire.
Il y a une petite scène illuminée par des bougies. Alana Yorke epoustouflante au piano. Les larmes coulent le long des joues. J'y crois. La plaine pousse pour qu'on y danse. Grande scène, garçons ondulants —EFG— ersatz d'ESG. Danse renversée. DJ Goldilocks. Holy shit. Mouvements du corps. Émotions du cœur.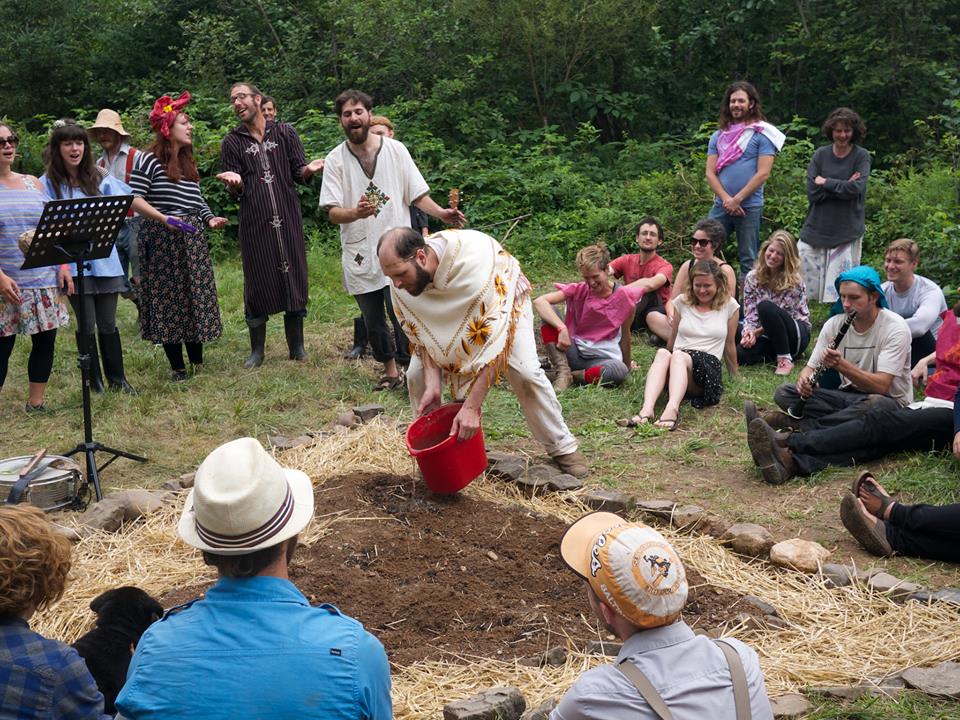 Gurotszta et la grande observation de l'ail.
Le matin suivant, déjeuner aux pancakes. Nous prions soleil, terre et eau et plantons cérémonieusement des bulbes d'ail. Une expérience simplement incroyable. J'ai la foi.
From the Guelph loving mind of Mike Deane:
I moved to Guelph from Edmonton in 2012, and after going to my first Kazoo! show (feat. Slim Twig, U.S. Girls, Legato Vipers, and The Furys), I realized that Kazoo! Fest was doing some of the most exciting and interesting musical programming in Guelph. After volunteering with Kazoo! Fest 2013 (with Sean Nicholas Savage, Doldrums, Jennifer Castle, Esther Grey, and more), I was sold: this was something that was both community-minded and challenging. I got involved with the festival shortly thereafter on a more official level. I still believe Kazoo! Fest is the most exciting thing in Guelph, as it brings together a group of people that truly believe in and love creative expression and try to bring their favourite music and art to a city that they value. It's entirely volunteer-run, it's 5 days of mostly all ages shows with affordable ticket prices, and there are 50+ bands, 1 dance performance, multiple visual arts events, multimedia events, a pancake breakfast and more. It's an amazing time in a small-ish Ontario town, and this year is definitely the most exciting that I could imagine.
1. Familiar Fiends – Hey Moocha
2. Badminton Racquet – You Boys and Your Quilts
3. Alanna Gurr and the Greatest State – Swimmer
4. New Zebra Kid – Romantic Illusions
5. Fist City – Debbie Get Yr Boa
6. Phedre – Supernatural
7. Darlene Shrugg – Freedom Comes in a Plastic Card
8. Last Ex – Girl Seizure
9. New Fries – Oil and Water
10. Bernice – Oh My Days
11. THOMAS (Love thy Will Be Done) – So Many Dreams About You
12. Fet.Nat – Poule Mange Poule
13. Lido Pimienta – I Want You to Do Well
14. BattleWulf – Captcha
15. Tyson and the Trepids – Live in the Dark
16. No Joy – Hare Tarot Lies
17. MOTEM – Chasm
18. Spencer Burton – Love is Fast
19. Tough Age – We're Both to Blame
De l'âme amoureuse de Guelph de Mike Deane:
(Des doigts éclairs de Flora Hammond)
Ancien résident d'Edmonton, j'ai déménagé à Guelph en 2012. Après avoir assisté à mon premier concert Kazoo! (Slim Twig, U.S. Girl. Legato Vipers et The Furys) j'ai réalisé que Kazoo! était responsable des programmations musicales les plus intéressantes et excitantes à Guelph. Après avoir été bénévole au Kazoo! Fest 2013 (qui a amené Sean Nicholas Savage, Doldrums, Jennifer Castle, Esther Grey et bien d'autres), j'étais conquis : c'est une expérience pleine de défis et taillée sur mesure pour et par sa communauté. Peu après, j'ai commencé à m'impliquer avec le festival à un niveau plus officiel. Je crois toujours que Kazoo! Fest est l'évènement le plus excitant à Guelph : il réunit un groupe d'individus qui aiment et croient réellement à l'expression créative et qui essayent d'amener leur musique et art préférés dans une ville qu'il chérissent. Le festival fonctionne entièrement grâce à ses volontaires. Cinq jours de concerts accessible —pour la plupart— à tous les âges et à tous les portes-monnaie, plus d'une cinquantaine de groupes, un spectacle de danse, plusieurs évènements d'arts visuels, des évènements multimédias, un petit déjeuner avec pancakes, et bien plus. Ce sont quelques jours fantastiques dans une petite ville d'Ontario, et cette année est définitivement la plus excitante que je puisse imaginer.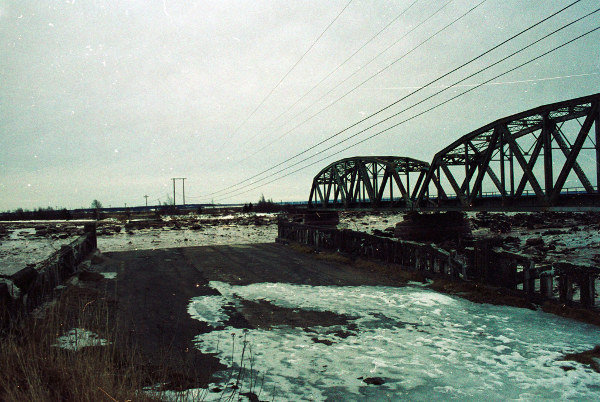 Stereophonic 12
January 22-24
Sackville, NB
Photo: Colin Medley
From the snow-flecked eyebrows of Kevin Brasier:
Stereophonic, is a winter fundraiser/hellraiser for Sackville's community station, CHMA 106.9FM. If you've ever wondered "what's in that Sackville water" that produces the finest bands in the land, the answer is CHMA's FM-freakuencies. Stereophonic is how Sackville says thank you to CHMA for offering the community free postering services, PA equipment for shows, and much more. Far from an ordinary fundraiser– co-directors Scott Brown and Ilse Kramer (also bandmates in the mighty Kappa Chow) are throwing a three-day rager featuring musical legends from bag-town and beyond including Astral Gunk, Bry Webb, Old and Weird, and Monomyth. Check out the release video for the full-line up, and listen to the festival mix-tape to preview the sweetest sounds of the marshes.
Des sourcils parsemés de flocons de neige de Kevin Brasier:
(Traduit par le nez incandescent de Jessica Grenier)
Stereophonic est une collecte de fonds infernale/hivernale pour la station radio communautaire de Sackville, CHMA 106.9FM. Si vous vous êtes déjà demandé ce qu'il y a dans l'eau de la ville pour qu'elle produise les meilleurs groupes du pays, la réponse se trouve dans les freakences de CHMA. Stereophonic, c'est aussi Sackville qui dit merci à CHMA pour le service d'affichage qu'elle offre gratuitement à la communauté, l'équipement de sonorisation lors des spectacles, et bien d'autres choses encore. Stereophonic est loin d'être un spectacle-bénéfice ordinaire : les codirecteurs Scott Brown et Ilse Kramer (aussi membres du grandiose Kappa Chow préparent une fête de trois jours avec des légendes de la musique povenant de la ville ou d'ailleurs, comme Astral Gunk, Bry Webb, Old and Weird et Monomyth. Regardez l'annonce vidéo pour savoir la programmation et écoutez la cassette du festival pour vous donner un aperçu des meilleurs sons du marécage.
1 Best Fiends – "Uh Huh"
2 Zakary Slax – "Remains"
3 Monomyth – "Candleholder"
4 Coach Longlegs – "Baycation With You"
5 Klarka Weinwurm – "TMSB"
6 Bry Webb – "Prove Me Wrong"
7 Corey Isenor – "Beneath The Bramble"
8 Jon Mckiel – "I Know, I Know"
9 Astral Gunk – "Astral Theme"
10 Heaven For Real – "Hard Done By"
11 Union Suit – "Delirious Vista"
12 Adam Mowery – "Follow Me To The Bottom*"
13 The Kavorkas – "The Grocery Store (demo)*"
14 Old and Weird – "She Seems Stressed"
15 Legendary Golden River Show Band – "Stay Yonder (Honeysuckle)"
16 Zachary Lucky – "Salty Air"
17 Old Bones – "I Can See Through You*"
18 Painful Shivers – "Blu"
* denotes that the track is unreleased
---