Category: Ephemera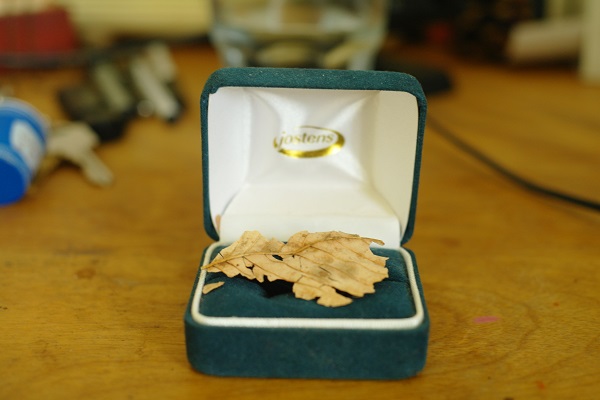 The Ephemera of: Cosi e Cosi
Existing during the recording of Self-Titled and Untitled
(Photos by: Flora Hammond)
Montréal, QC
From the tantalizing oddities of Hailey Celesse McCarthy: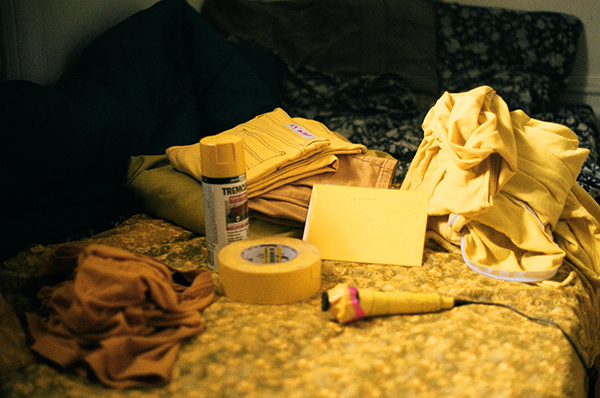 Seeing Yellow
Flora and I met up with Vincent Ferrari, a.k.a Cosi e Cosi, at Psychic City. The large, dark sub-basement space was filled with gesticulating instruments, props and aesthetically tantalizing oddities. Vincent lifted his belongings from a small dark corner. His minimal equipment, identified easily by his signature yellow tape, was wrapped in a yellow square of fabric. "The yellow cloth is from a decrepit shack between Winnipeg and the Minnesota border, where I lived in a cabin… it was the winter and there was no heating and I was walking through this frozen wasteland." The cloth is symbolically similar to the ones babes are wrapped in when they've stretched from the womb. In a frozen white wasteland, the yellow cloth wrapped itself around a new creation – Cosi e Cosi.
"I don't even really like yellow. It's not my favorite colour," he said.
From there, we made our way to his flat by Parc Laurier where Vincent produced a deal of yellow items.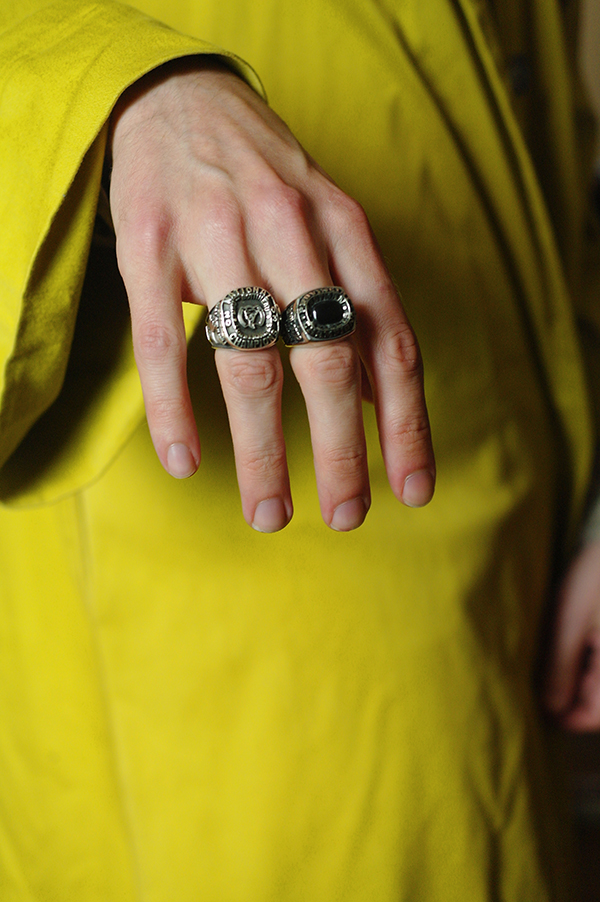 The Rings
"The last time I played hockey was two-thousand… I don't remember anymore. 2004, 2005? I don't play hockey anymore, but I used to play hockey a lot and this is a provincial championship ring from when I was 18 and this one is from a college championship in 2003. Two years in a row after that I lost in overtime in championship games and then I quit and I didn't skate for five years at all," he passes the rings through his fingers, puts them on. "When I quit, I started music."
"Five years later I skated for the first time on the river at the forks with a girl… and it took another five years until I skated again with another girl on the river at the forks in Winnipeg. I haven't skated otherwise. I won these rings and I had never worn them ever. I had put these rings in a box and left them with my parents and I found them and I've put them on because I've come to terms with my hockey past and I want to put them on."
Lambs
Vincent produces a small plush toy which looks like it's seen time. "This is lamby," he says, "very important to Cosi e Cosi, I've never really explained it, but Lamby sits at every show. I just like having a teddy bear there because it shows the side of vulnerability I like to have in contrast to my stage performance which is, I mean I am very vulnerable, but I like portraying the femininity in contrast to the masculinity. Keeping in touch with the tender side."
"Are you playing with dialectics of gender – in one sense you have a hyper-masculine presence and simultaneously, it's hyper feminine?" I ask. Vincent is at once a beautiful and handsome man who presents himself with thoughtfulness and ease. It is quickly discovered that each of the items in his space is symbolic of something.
"This project started in 2013 and before that I was playing guitar in a duo with a female singer and, touring around, we were just always playing with guitar bros and I was one of them. But, I never really felt like one of them. I just got so sick of guitars. I was burnt out."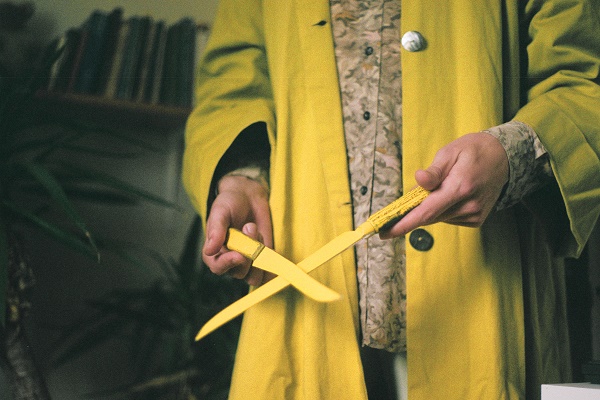 Knives
Vincent sneaks his body around the space, trying to avoid being directly photographed with his objects. He picks up a pair of knives and starts touching them together, non-menacingly. I ask, "what's with the knives?"
"Uh, well, I have a song called 'Knife Play Forever' which is part of a conceptual series, and I made a video for this song in Winnipeg and at that point I had a little yellow knife." Vincent says 'little,' soft and quick on the t's, 'yellow' soft and quick on the l's and, 'knife' with a grand ease. He goes on to say for the final installment of the conceptual series, Worthy Knife Stab, "I made a video with Jean Bourbonnais et and I used this knife in that video, so there is a knife series."
"And your fascination with knives is…?" I ask, remembering that despite my fear of knives (wielded), I feel in no danger.
"The depth that knives can penetrate."
"Do you consider knives a weapon… an instrument… a tool? Like, how do you see it as an object?"
"Knives are a symbol… it's more about the action." He says, his voice becoming gravelly. "What you can do with it. So, it can be extremely dangerous, but also when I say depth of penetration I mean going really deep into something."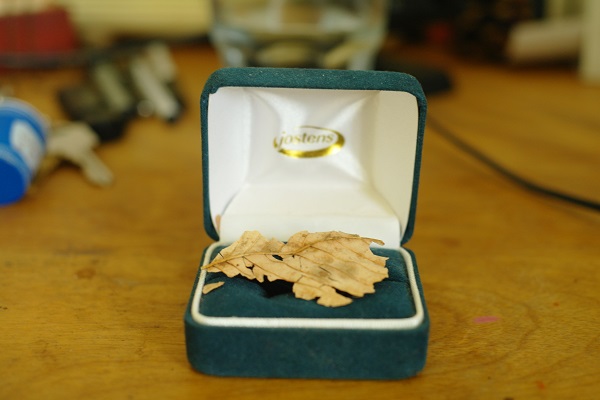 Leaf
"When I started Cosi e Cosi I drove around at night delivering newspapers and there was a very special night, one of those deeper than romantic nights, and as I was delivering papers leaves were blowing into my car and that's one of the leaves."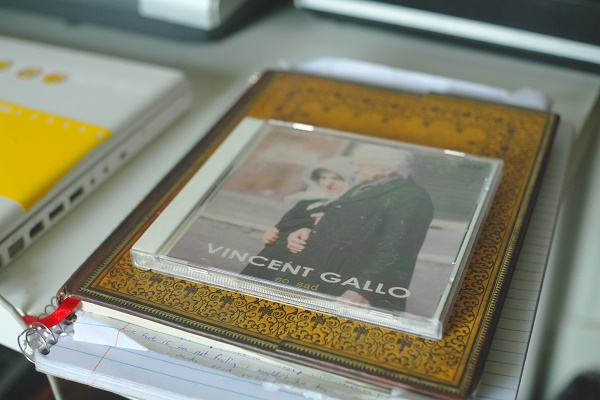 Vincent Gallo
"I used to be a very big fanboy…" Vincent Ferrari holds the case in his ringed hands. "When I was younger people used to tell me I looked like him, but I never get it anymore so I've grown to not look like him."
"This CD, there's only 500. I'm not a collector, I'm not actually into material. Objects," he pauses and repeats with intent, "objects are made of what you put into them, the object itself has no meaning."
From the tantalizing oddities of Hailey Celesse McCarthy:
(Traduit par Sergio Calla)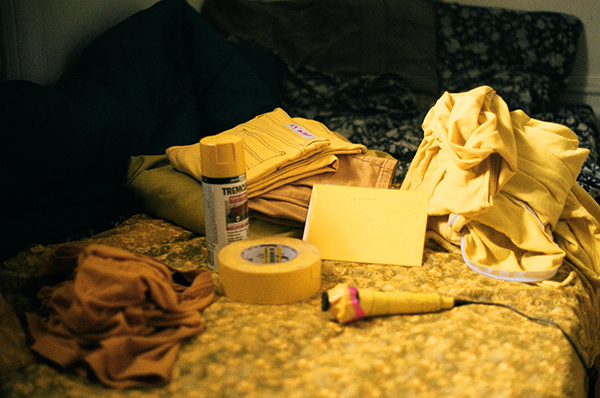 Jaune partout
Nous avons rencontré, Flora et moi, Vincent Ferrari, alias Cosi e Cosi, au Psychic City. Le grand sous-sol sombre était rempli d'instruments gesticulants, d'accessoires et de bizarreries esthétiquement alléchantes. D'un petit coin sombre, Vincent a soulevé ses effets. Emballé d'un carré de tissu jaune, son équipement minimaliste est identifié par son ruban jaune habituel; « Ce tissu jaune provient d'une cabane délabrée située sur une terre gelée à la frontière entre Winnipeg et Minnesota où je suis resté pendant l'hiver, sans chauffage. Je marchais sur cette terre gelée. » C'est représentatif d'un linge servant à dorloter un nouveau-né. À travers un terrain vague gelé, le tissu jaune s'enroulait autour d'une nouvelle création – Cosi e Cosi
« Le jaune ne fait même pas vraiment triper. Ce n'est pas ma couleur préférée, » dit-il.
Nous nous sommes rendus à son appartement près du parc Laurier où Vincent fabrique plein de choses jaunes.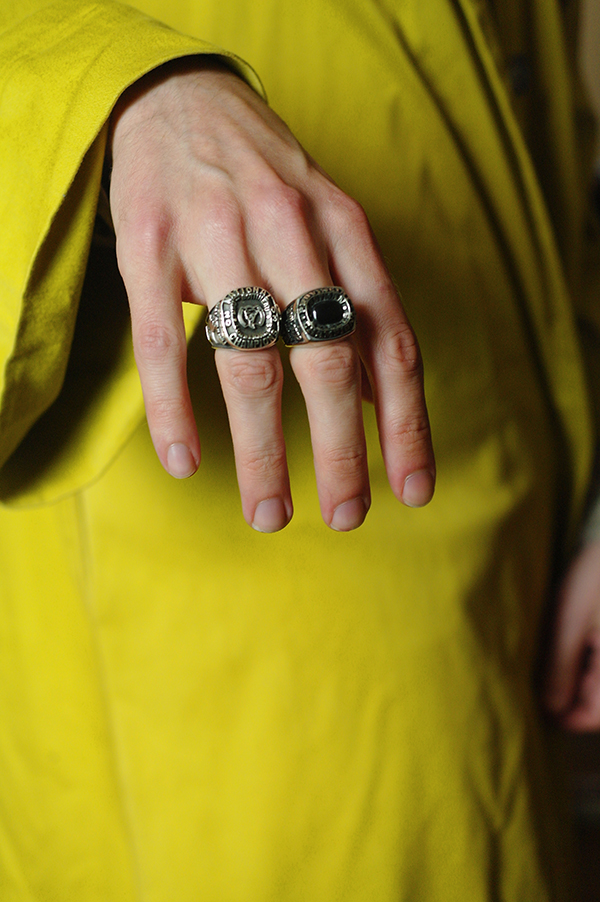 Les bagues
« La dernière fois que j'ai joué au hockey remonte à 2004-2005, je crois. Je jouais souvent, mais je ne joue plus. Cette bague a été méritée au championnat provincial lorsque j'avais 18 ans et l'autre en 2003 lors d'un championnat collégial. Deux années de suite après cela, j'ai perdu des matchs de championnat en surtemps. J'ai donc abandonné et je n'ai pas patiné du tout pendant 5 ans, » dit-il en tournant ses bagues. « C'est à ce moment-là que je me suis intéressé à la musique. »
« Cinq ans plus tard, j'ai patiné pour la première fois au Forks à Winnipeg avec une fille, et encore une fois 5 ans plus tard avec une autre fille, au Forks. Sinon, je n'ai plus vraiment rechaussé mes patins. Les bagues ont été mises dans une boîte chez mes parents sans jamais les avoir portées. Lorsque je les ai retrouvées, j'avais envie de les porter afin d'accepter mon passé de hockeyeur. »
Les Agneaux
Vincent sort son petit jouet en peluche qui semble très vieux. « C'est Lamby, il est très important pour Cosi e Cosi, » dit-il. « Je ne sais pas comment l'expliquer, mais Lamby est présent à chaque spectacle. Cet ourson aide à montrer ma nature fragile contrairement à la façon dont je performe sur scène. Je suis effectivement fragile, mais j'aime révéler la féminité versus la masculinité et garder le contact avec le caractère fragile. »
Je demande : « Vous jouez sur la dialectique des sexes ? D'un côté, vous avez une présence hyper-masculine, mais en même temps très féminine. » Vincent est quelqu'un d'élégant et aisé qui se présente avec délicatesse. Il a été noté que chaque élément qui l'entoure a une portée symbolique.
« Avant ce projet, qui a débuté en 2013, j'étais guitariste en duo avec une chanteuse et parfois en tournée. Je faisais partie d'une bande de guitaristes, mais je ne me sentais jamais à l'aise. Je me suis tanné de la guitare. J'étais épuisé. »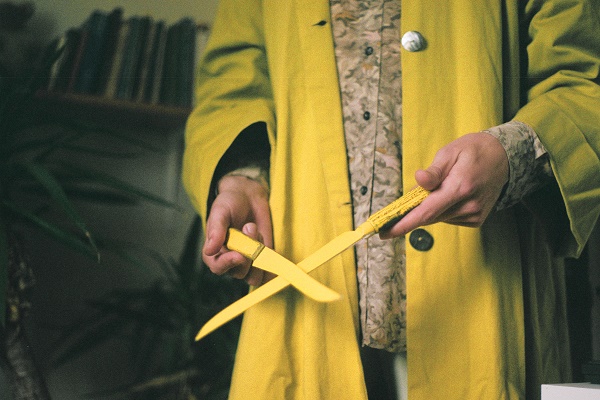 Les Couteaux
En se faufilant autour de la pièce, Vincent tente d'éviter d'être photographié avec ses objets. Il ramasse deux couteaux et les manipule avec soin. « Pourquoi les couteaux ? », je demande.
« Bien, j'ai une chanson qui s'appelle *Knife Play Forever* qui fait partie d'une série conceptuelle. J'ai fait une vidéo pour cette chanson à Winnipeg et à ce moment-là j'avais un petit couteau jaune. » Vincent prononce les mots « petit » et « jaune » rapidement et doucement et « couteau » en toute confiance. Il ajoute ceci pour la dernière phase de la série conceptuelle
*Worthy Knife Stab*: « J'ai créé une vidéo avec Jean Bourbonnais et j'ai utilisé le couteau dans la vidéo. Il y a donc une série avec des couteaux."
« Et la fascination avec les couteaux…? », je demande, en me souvenant que malgré ma phobie du maniement de couteaux, il n'y a aucun danger ici.
« La profondeur que peuvent pénétrer les couteaux. »
« Vous considérez les couteaux comme une arme… un instrument… un outil ? Vous les voyez comme des objets ? »
« Les couteaux sont un symbole… tout est dans l'acte, » dit-il avec une voix rauque. « Ce que tu peux faire avec. C'est très dangereux et quand je parle d'une pénétration profonde, c'est d'y aller dans la profondeur des choses. »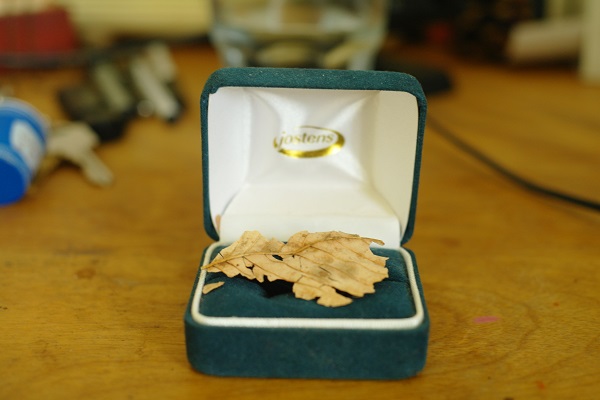 La feuille
« Lors du lancement de Cosi e Cosi, je faisais la livraison de journaux et un soir en particulier, disons fortement romantique, des feuilles soufflaient sur ma voiture et c'est une de ces feuilles. »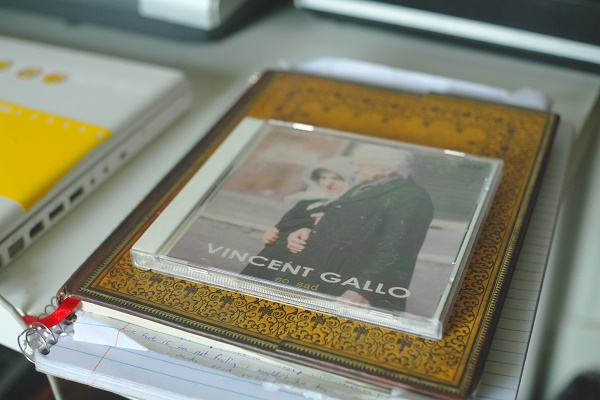 Vincent Gallo
« J'étais un grand admirateur » Vincent Ferrari tient l'étui dans ses mains baguées. « Dans ma jeunesse les gens me disaient que je lui ressemblais, mais avec le temps, ce commentaire a
cessé. »
« Il n'y a que 500 copies de ces CD. Je ne suis pas un collectionneur d'objets matériels. » Il arrête et répète avec conviction.
« L'objet lui-même n'a pas de signification. Un objet est la création de l'effort investi. »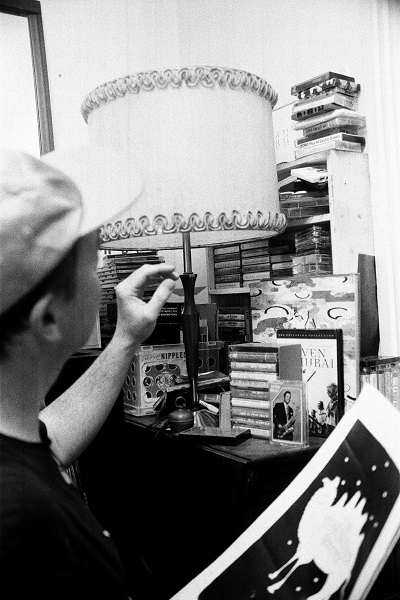 Ephemera of Brodie West
Existing during the recording of Fascination In Sound
(Photos: Josh Silver)
Toronto, ON
From the banjolele idylls of Joe Strutt:
Back a few seasons ago, while he was preparing to decamp to Hamilton, we ducked into the Kensington Market apartment of Brodie West, leader of the avant-calypso all-star band Eucalyptus. Brodie keeps busy as a father, saxophone soloist and sideman with many units, including Drumheller, The Ryan Driver Sextet, and the Lina Allemano 4 locally (and with legends like The Ex, Han Bennink and Getatchew Mekuria internationally). We spoke about banjo-ukuleles, grandmothers, cassettes (spooled and unspooled), and the nuances of heating foil as Brodie showed us the objects that inspire and move his art.
Album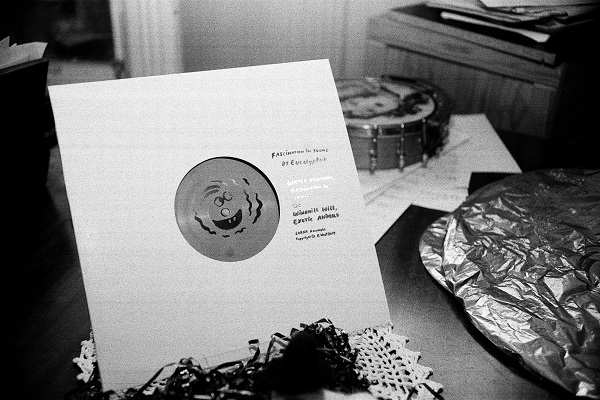 This the second 10″ Eucalyptus has done. The art's a collaboration again with Sandy Plotnikoff and Seth, just like the first one. They're all handmade, and each has slight variations with the design.
Stamp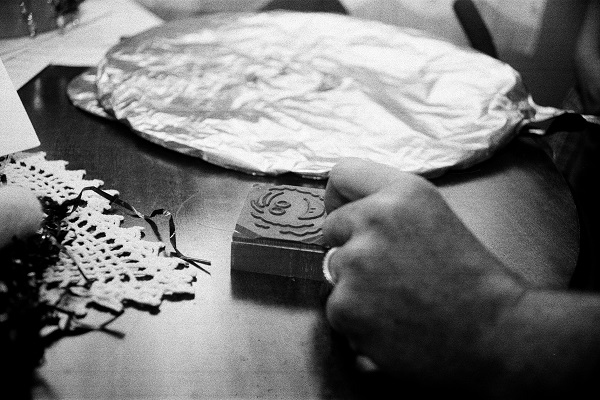 This is the stamp used for the face on the record. It was really fun to make all the little decisions about which foil, what colour to use… we tried so many things, I still have a bag of leftover foil bits. Just getting the right temperature was also tricky… we had to find out as we went along what was going to work and what didn't, cause Sandy has a lot of foil options, but not all of them were sticking. And the other thing was dealing with the heat, how much it heats the record up. People have asked if that's meant as a picture of my son Willie, but it kind of just came together that way. Seth brought a few options for different directions to go and we just made a quick decision. This one seemed really fun and playful… Sandy and I actually made a video of the record spinning, 'cause it actually pulsates, it shimmers in a really cool way as it's spinning around and catches the light.
Fuzzy + Tape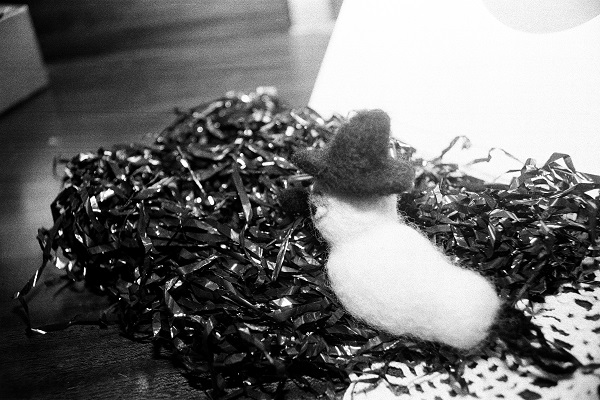 We had this as part of our series of release gigs at Hirut. One of the nights was my son's first birthday, so this is something that Meagan LaCroix made to give to him. This is a character of Seth's, from the movie Asphalt Watches. Megan liked the film and made a reproduction of this guy. The tape it's resting on was something Sandy gave me for my birthday eight or so years ago. It's a tape of the band Blurt.
Charts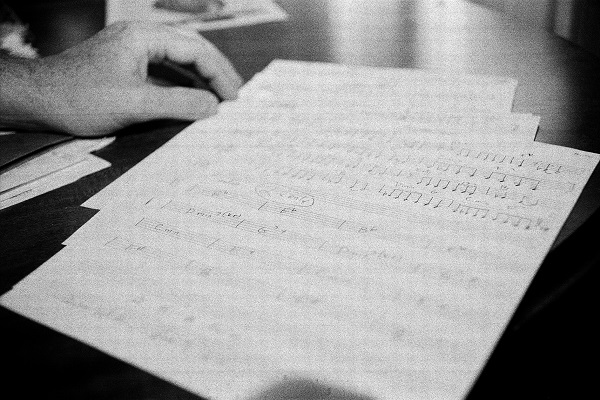 These are the charts for some of the songs. There aren't arrangements for every member of the band. I mostly say, "here's the tune", and then we rehearse and talk about the arrangements. I wish I could say everything everyone needed to know right from the beginning. That's the ultimate aim, but I'm learning as I do it. Ryan Driver's really good at seeing what little thing I missed, what little details aren't there, because he really reads. He's a good person to test your accuracy with.
Sax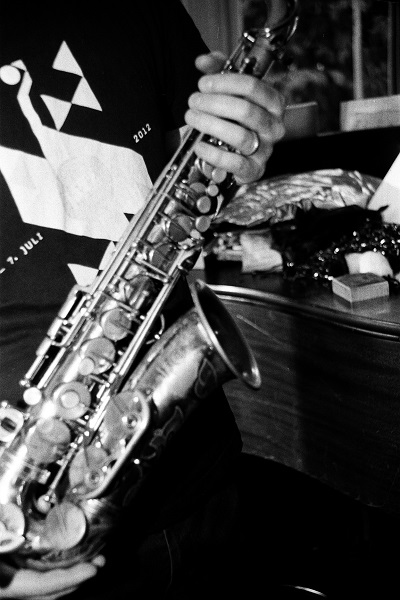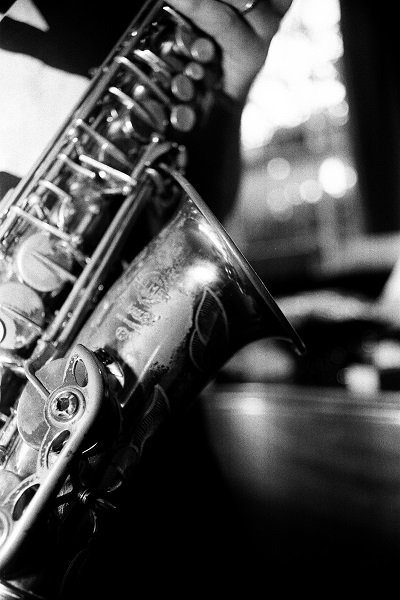 My mom bought this for me when I was in high school. She was a high school teacher and she knew a student who was selling his horn. I was fourteen or fifteen when I got it and I was lucky to get a really nice one straight from the beginning. It's been amazing to have one horn all that time. It's certainly a precious thing, and it has a lot of nice details on it in the engraving.
Cassettes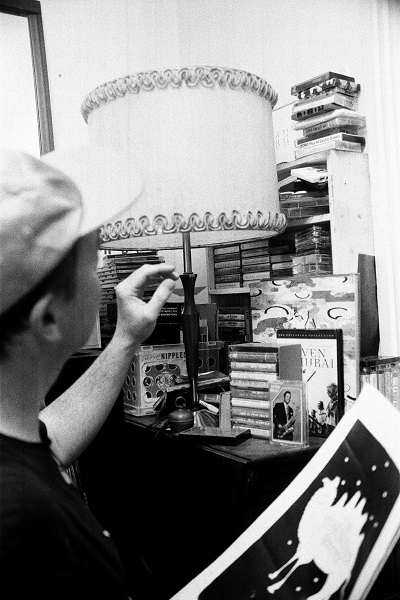 I like cassettes a lot. To have stuff like CCMC, a lot of Healing Power, and things that I found in Ethiopia. I've been there three times. The first time we didn't have any gigs, but the second time we played in big theatres and everything. I've been playing with Getatchew Mekuria and The Ex for almost ten years now. The first album with Getachew, there was a cassette edition for Ethiopia, made for sale in Addis. I think they made 3000, because that was the smallest amount the label would do!
Mighty Blue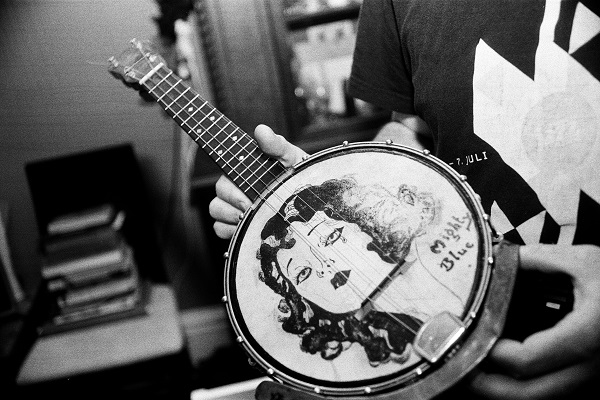 My grandmother taught me how to play ukulele. She gave me a George Formby book, she was really into him. He played banjolele, which is what this is. This was something she left to me in her will… she must have found it at a garage sale. I don't play it any more, not much. I did play it with Zebradonk. My grandmother's name was Lorna, so that's why my label's name is Lorna Records. She had a lot of musical instruments and she loved music. She took me under her wing as soon as I started showing any interest in music. She was the first to teach me jazz songs, 30's-style tunes. She subscribed to sheet-music magazines and she always had music in her house, a piano in the living room so the whole family with six kids would sing together. A really cool grandma, and really outgoing. She was a big influence on me.
Du bajo-ukulélé sous l'arbre à palabres de Joe Strutt:
(Traduit par Alike Harel)
Il y a de cela quelques saisons, lorsqu'il se préparait à décamper pour Hamilton, nous avons fait une escapade à l'appartement de Brodie West, leader du groupe étoile avant-calypso Eucalyptus, dans Kensington Market. Brodie est un homme occupé par la vie de père, de saxophoniste soliste et de collaborateur à plusieurs ensembles, dont Drumheller, The Ryan Driver Sextet, et Lina Allemano 4 sur la scène locale (et avec des légendes comme The Ex, Han Bennink et Getatchew Mekuria sur la scène internationale). Nous avons jasé de banjo-ukulélé, de grand-mères, de cassettes (bobinées et débobinées), et des nuances sur une pellicule sous l'effet de la chaleur pendant que Brodie nous présentait les objets qui inspirent et donnent forme à son art.
L'album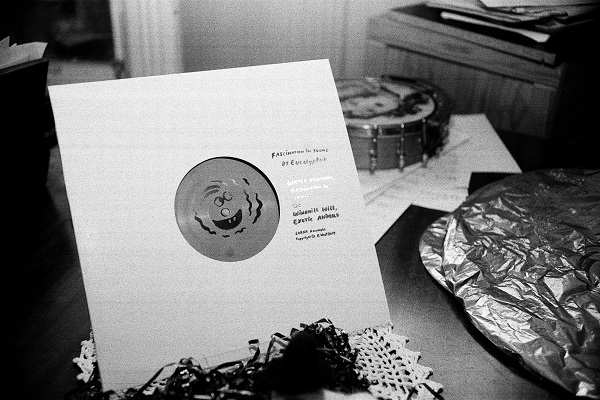 C'est le deuxième vinyle de 10 po qu'Eucalyptus a fait. L'illustration est encore une fois une collaboration avec Sandy Plotnikoff et Seth, tout comme pour le premier. Ils sont tous faits main et le design de chacun varie un peu.
L'étampe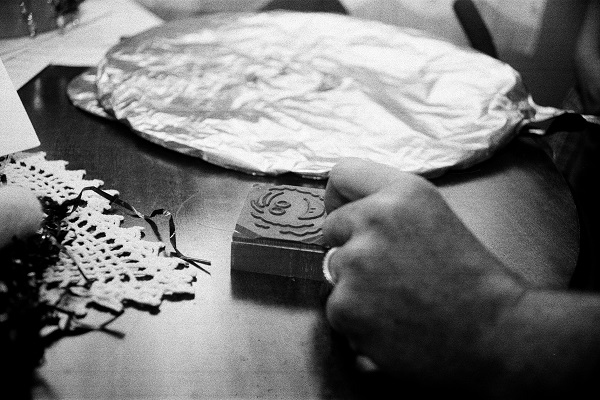 Cette étampe est utilisée sur le dessus de l'album. C'était vraiment génial de prendre toutes les décisions sur la sorte de pellicule, le choix de couleur… On a essayé tellement de choses, j'ai encore un sac de retailles de pellicules. Obtenir la bonne température était laborieux… on devait apprendre au fur et à mesure ce qui fonctionnait ou pas parce que Sandy offre beaucoup d'options de pellicule. L'autre aspect était de manipuler la chaleur et de savoir quelle quantité de chaleur l'album pouvait tolérer. Les gens m'ont demandé s'il s'agissait d'une représentation de mon fils Willie, mais je crois que c'est juste sorti comme ça. Seth a proposé différentes avenues et nous avons pris la décision rapidement. L'idée semblait amusante et joviale… Sandy et moi avons même filmé l'album pendant qu'il tourne puisqu'il fait des pulsations. Il scintille d'une façon vraiment cool et, en tournant, reflète la lumière.
Toutou + Cassette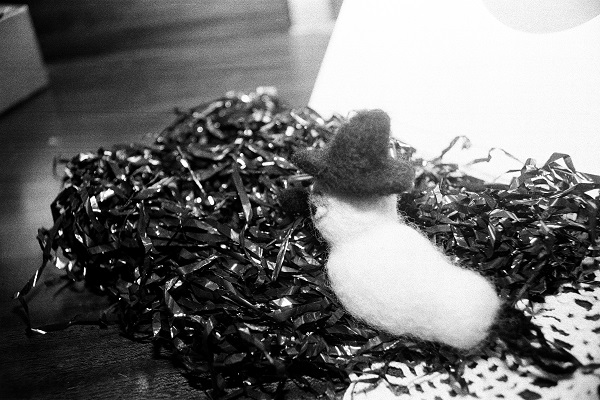 Nous avions ceci pendant notre série de représentations de lancement au Hirut. L'anniversaire de mon fils a eu lieu un de ces soirs, Meagan LaCroix l'a fabriqué pour lui en faire cadeau. C'est un personnage de Seth's, du film Asphalt Watches. Megan a aimé le film et a fait une version en peluche de ce personnage. La cassette sur lequel il repose est un truc que Sandy m'a donné pour mon anniversaire il y a environ huit ans. C'est une cassette du groupe Blurt.
Feuilles de musique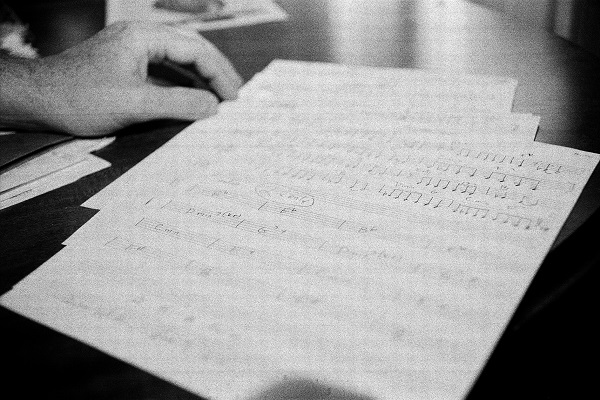 Ce sont les feuilles de musique de certaines chansons. Je n'ai pas d'arrangement pour chaque membre du groupe. En somme, je dis « voici l'air », puis on pratique et on discute des arrangements. J'aimerais pouvoir expliquer à tout le monde ce qu'ils ont besoin de savoir dès le départ. C'est le but ultime, mais j'apprends au fur et à mesure. Ryan Driver a vraiment l'œil pour voir les petits détails que j'oublie, étant donné qu'il lit vraiment. Il est la personne idéale pour vérifier sa justesse.
Sax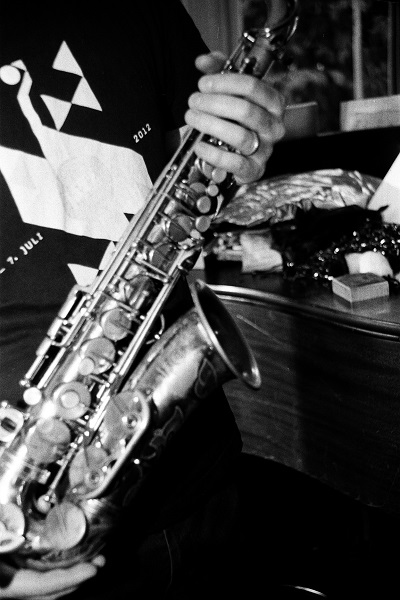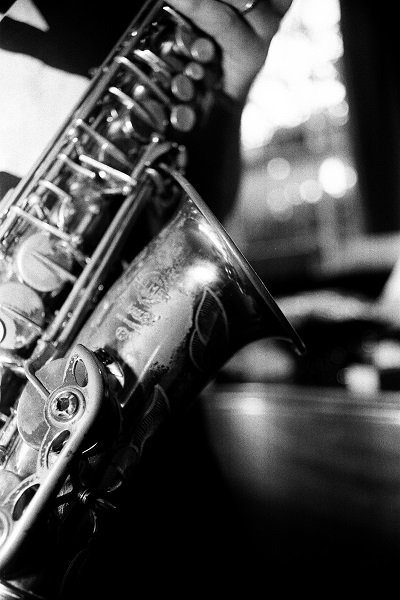 Ma mère me l'a acheté quand j'étais au secondaire. Elle était une enseignante au secondaire et elle connaissait un élève qui voulait vendre son instrument. J'avais quatorze ou quinze ans et j'ai eu la chance d'en avoir un bon dès le départ. Ce fut génial d'avoir un sax tout le temps. C'est vraiment un objet précieux, et il a beaucoup de gravures détaillées.
Cassettes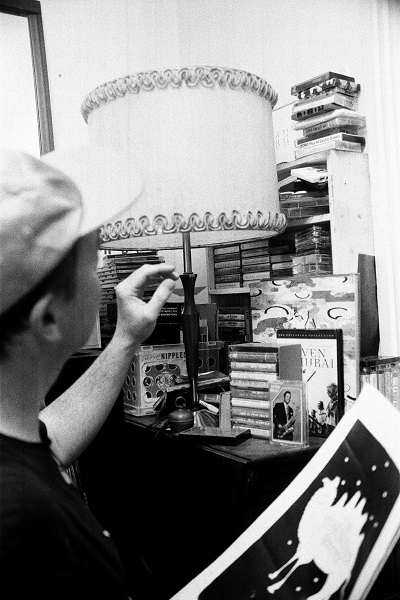 J'aime beaucoup les cassettes. Avoir des trucs comme CCMC, beaucoup de Healing Power, et d'autres choses que j'ai trouvées en Éthiopie. J'y suis allé trois fois. La première fois je n'avais pas de concert, mais la deuxième fois, on a joué dans de grandes salles et tout. Je joue avec Getatchew Mekuria et The Ex depuis presque dix années. Au premier album avec Getachew, on a fait une édition sur cassette pour l'Éthiopie pour la vente à Addis. Je crois qu'ils en ont enregistré 3000 parce que c'était le nombre minimal que la maison pouvait faire!
Mighty Blue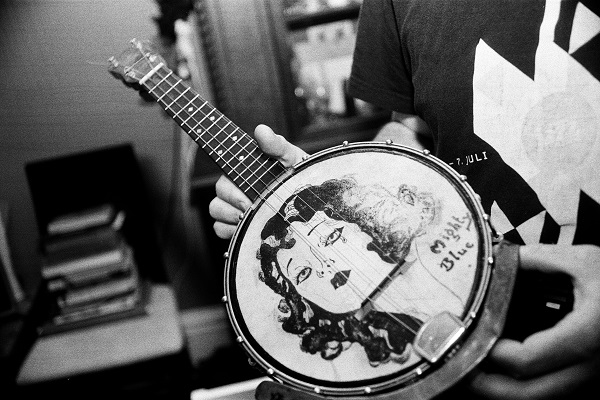 Ma grand-mère m'a appris à jouer le ukulélé. Elle m'a donné un livre de George Formby,elle l'aimait vraiment. Il jouait du banjo-ukulélé, et c'en est un. Elle me l'a donné en héritage… elle l'a probablement trouvé dans une vente-débarras. Je n'en joue plus vraiment, mais j'en ai joué avec Zebradonk. Ma grand-mère s'appelait Lorna, c'est pourquoi le nom de la maison de disques est Lorna Records. Elle avait beaucoup d'instruments et adorait la musique. Elle m'a prise sous son aile dès que j'ai commencé à montrer de l'intérêt pour la musique. Elle a été la première à m'apprendre du jazz, des airs des années 30. Elle s'est abonnée à des revues avec des feuilles de musique et il y avait toujours de la musique dans la maison, un piano au salon pour que toute la famille puisse chanter ensemble. Une grand-mère vraiment cool et dégourdie. Elle a eu une grande influence sur moi.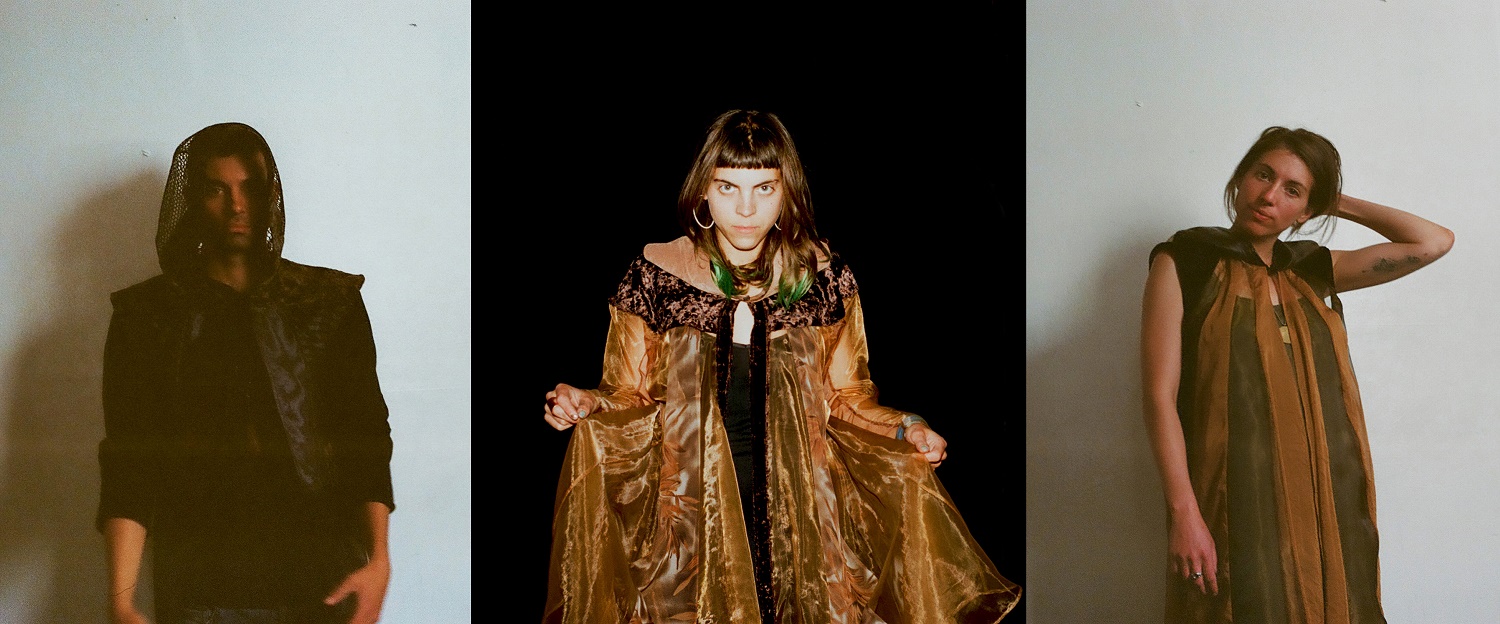 Ephemera of DOOMSQUAD
Existing During the Recording of the Pageantry Suite EP
Toronto, ON
Photos by Brad Casey
From the "yeah"s and "amazing"s of Brad Casey:
Jaclyn Blumas of brother/sister trio DOOMSQUAD is a woman open to the world from the perspective of another world entirely. She talks about mystical experiences with a casualness that most people would reserve for a story about a trip to the grocery store. She moves with an airy quality, like a dancer, but with a childlike nature, a wonderful gracelessness. Everything that comes from her mouth is positive. It's all, "yeah!" and "amazing!", and she speaks to you directly, you're her only focus. When she moves away she's away and somewhere else completely. Her home, which teeters between gypsy comfort and organized mess is warm and well composed. It's no wonder the music that DOOMSQUAD produces is deceivingly complex. It's like a hypnosis wheel; from a distance it's simple and contrasting colours but get close and it's moving uniform into what seems like infinity.
DOOMSQUAD, comprised of Jaclyn, Allie and Trevor Blumas, formed in 2010, making formal, Carter family-like folk music. They quickly and rightly set their acoustic instruments aside for an electro-journey beginning with their Land 'O the Silver Birch EP. That trip brought them into their first full length album, Kalaboogie, a reverb drenched and chant filled album with a light touch of pop sensibility, then into their latest Pageantry Suite EP, which is influenced as much by Talking Heads as it is smoke-filled, bass heavy, dark after-hours weekend parties. They've toured with Tanya Tagaq and Fucked Up, and their next full length album, scheduled to be released in late 2015, will surely bring them to another level of success entirely.
Jaclyn was kind enough to allow us at Weird Canada to photograph some of the ephemera that keeps her moving forward as an artist and a person and to touch on the stories of what gives her precious objects weight.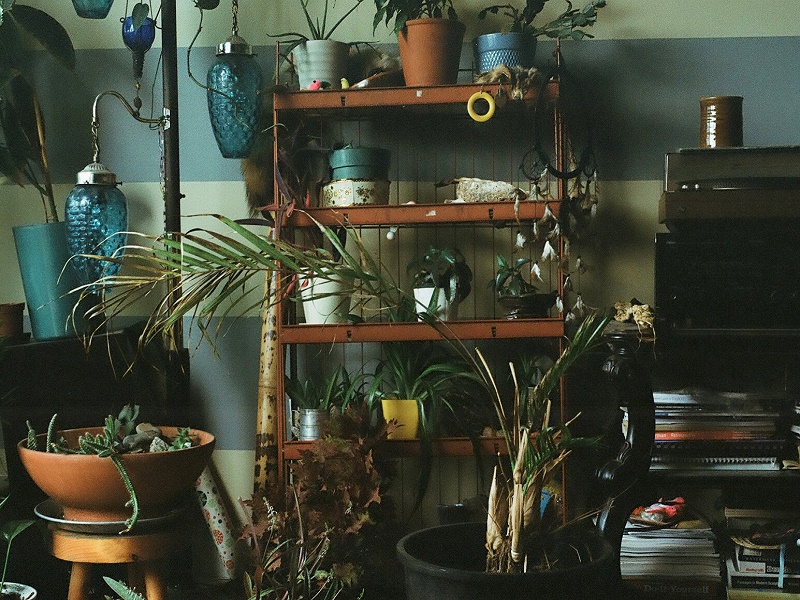 Plants
They're all different, some of them are from my roommate's girlfriend. This one is from my Nanny, we used to decorate it like a Christmas tree. This is a Christmas cactus, this plant turns red in the summer and green in the winter. I don't know the names of anything. I know how to take care of them though, I move them around until they're happy.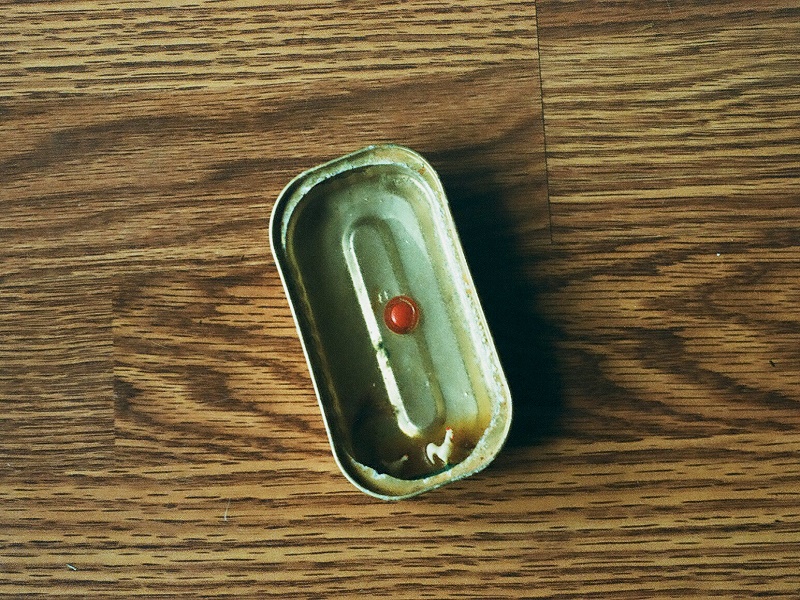 Found Item Art
My roommate and his girlfriend made this. They make these kinds of things then throw them out but I wanted this. It's a sardine can, resin, a little chicken and a sun.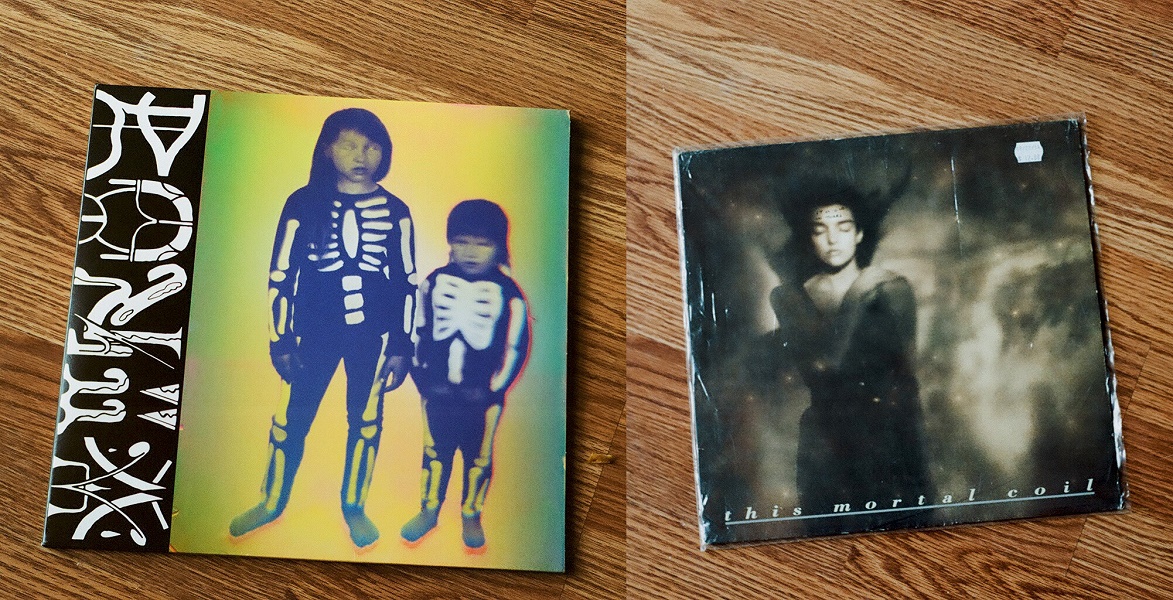 Favourite Records
I'm trying to promote the shit out of Roniia. This is one of my favourite records right now. We know these guys from North America and Roniia are friends of theirs, we hung out with them in Minneapolis. They're so fucking good. They should be playing stadiums, they've got it all figured out. Also, This Mortal Coil. It's a compilation from the 80s, it's so good, it has these great covers of Kangaroo and Song to the Siren.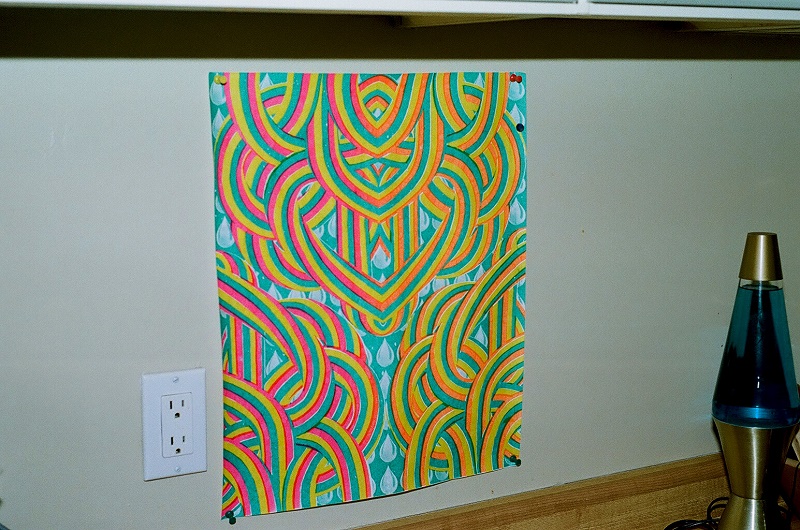 Alex MacKenzie's Art
Alex did this for Come Up to My Room, an event I helped organize at The Gladstone. She made a Moroccan tent with this design. When the light changed from blue to red this would pop out and move. It was this active, moving tent. This is a print of that.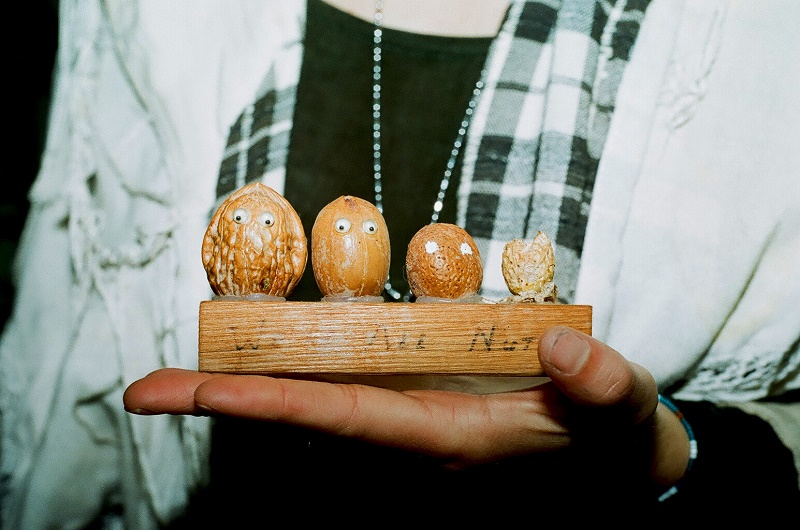 We Are All Nuts
Our family cottage was in Calabogie. We ended up saying goodbye to it last year. It's where we wrote our album Kalaboogie. The cottage was full of things that were important to my grandparents and this was one of them. A little mouse came and ate the peanut out of this nut on the end. It says "We Are All Nuts."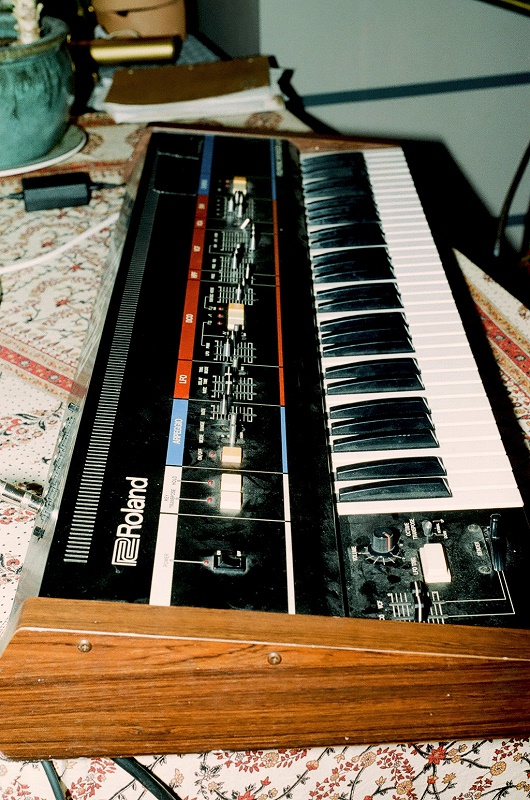 Roland Keyboard
This was given to me to borrow indefinitely. The person hasn't asked for it back yet, I've had it for seven years. His grandparents had it and he didn't know what it was. I've used it on almost every DOOMSQUAD recording. It's too finicky to travel around with.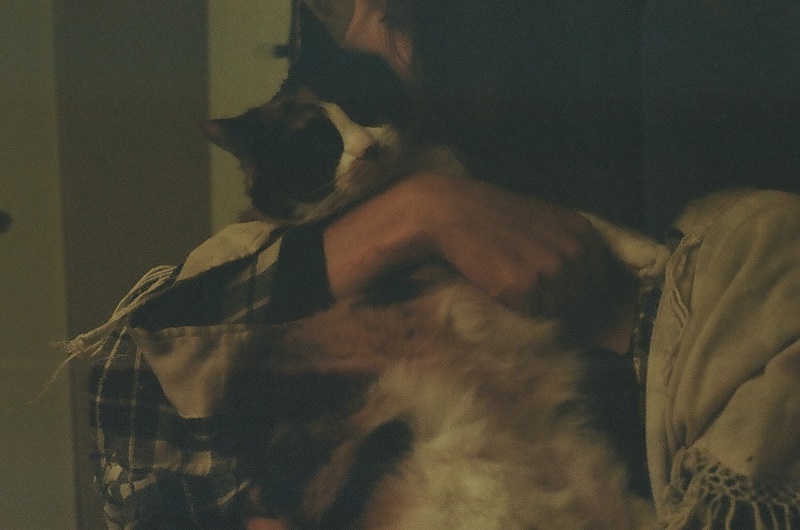 Bowie the Cat
This is Bowie. I got her in Vancouver from a whore house in Surrey, BC. They said she was a boy. All I wanted was a boy cat because all I've ever had were girls, so I was like, "Can you please just make sure it's a boy." The girl was like, "Girl, I've been doing this for years," she had zit cream all over her face and was like, "it's a boy." So for three months me and Bowie were hanging out and I was treating her like a boy. I took Bowie in to get neutered and she came out spayed. The vet was like, "Well, she's a girl." I said, "Are you sure?" and they were like, "Yup. We spayed her." I've had her for nine years.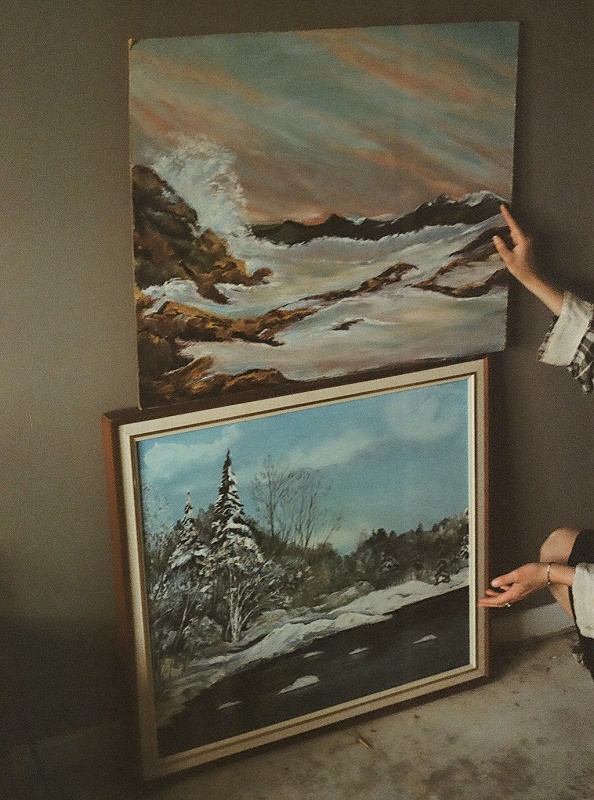 Family Paintings
My grandmother painted both of these. She's a painter, she has nine fingers. She still paints every day.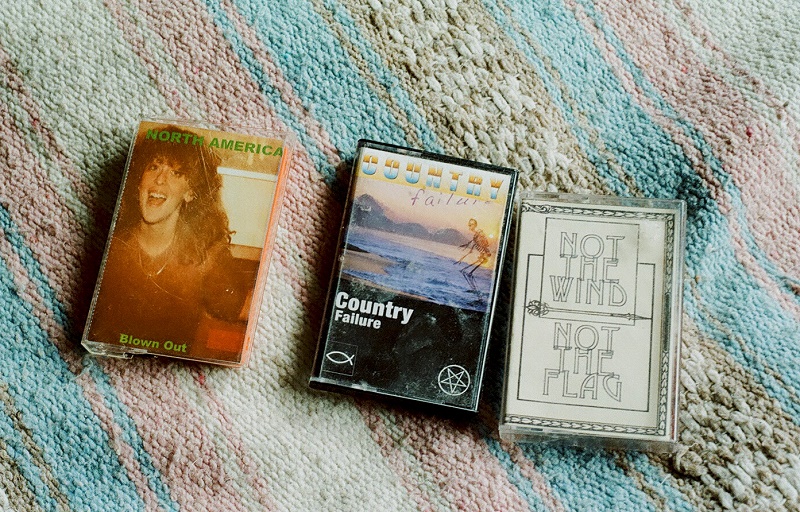 Favourite Cassettes
These are the three cassettes I listen to the most. North America, babes from New York. Their music was love at first sight, for me. It's two brothers who play psychedelic desert rock. Country from Montreal, Beaver Sheppard is the front guy. He's doing all these amazing new things, it's like apocalyptico pop music with freaky dance vibes. This Not the Wind Not the Flag is from a live show that they did a few years ago, Healing Power put it out. I was listening to this tape all through a break up, through moving out of a studio space, everything I did that was traumatizing for me and didn't know how to get through. I would put this tape on and go to another place.
Par les "yeah" et les "génial" de Brad Casey:
(Traduit par les méninges riches en fructose d' Émily Traichel)
Jaclyn Blumas du trio frère/soeur DOOMSQUAD est une femme ouverte au monde, à la perspective d'un autre monde entier. Elle parle d'expériences mystiques avec une désinvolture que la plupart des gens se réserverait pour raconter une simple course à l'épicerie. Elle se déplace avec légèreté, comme une danseuse, mais avec une nature enfantine, une merveilleuse inélégance. Tout ce qui sort de sa bouche est positif. On entend que des "yeah!" puis des "génial!", et elle s'adresse à nous directement, on est son unique centre d'intérêt. Lorsqu'elle nous quitte, elle est complètement ailleurs dans un autre monde. Sa maison, qui vacille entre le comfort bohémien et le bordel organisé, est chaleureux et bien équilibré. Ce n'est pas surprenant que la musique produite par DOOMSQUAD nous trompe avec sa complexité. C'est comme une spirale d'hypnose; de loin c'est simple et les couleurs se contrastent, mais lorsqu'on s'approche, elle avance uniformément vers ce qui semble être l'infini.
DOOMSQUAD, qui comprend Jaclyn, Allie et Trevor Blumas, s'est formé en 2010, créant de la musique trad formelle, style famille Carter. Ils n'ont pas tardé (à juste titre) de mettre leurs instruments acoustiques de côté en échange d'un nouveau départ électro-voyage avec leur EP Land 'O the Silver Birch. Ce voyage les a mené à leur premier album complet Kalaboogie, un album trempé de réverbération et rempli de chants scandés avec un léger brin de sensibilité pop, ensuite vers leur dernier EP, Pageantry Suite, qui fut autant influencé par Talking Heads que par de ténébreux partys de weekend «after-hours» enfumés et lourds de basse. Ils ont tourné avec Tanya Tagaq et Fucked Up, et la sortie de leur prochain album complet, prévu pour fin 2015, leur rapportera surement un tout autre niveau de succès.
Jaclyn était assez sympa pour nous permettre, nous à Weird Canada, de photographier certains articles éphémères qui la motive en tant qu'artiste et en tant que personne, et d'aborder les histoires qui donnent de l'importance à ses objets précieux.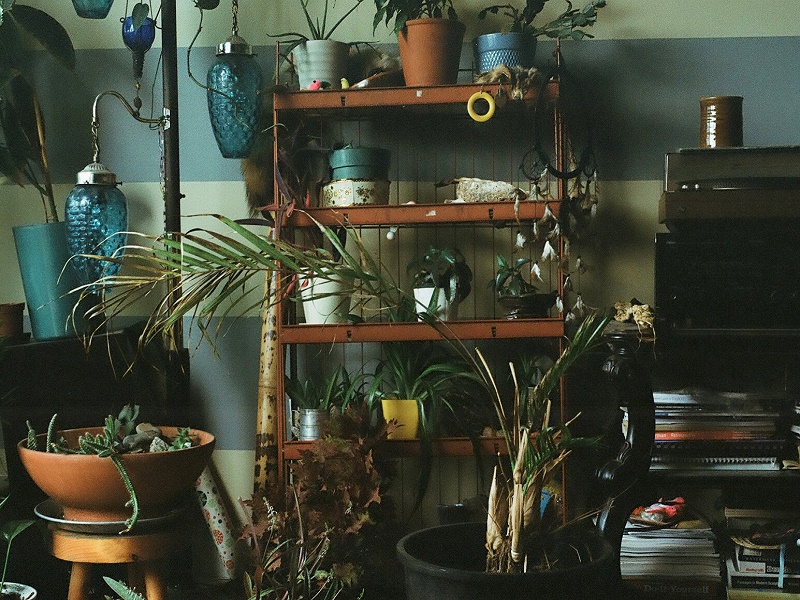 Plantes
Elles sont toutes différentes, certaines viennent de la blonde de mon colocataire. Celle-ci vient de ma nanny- on s'habituait à la décorer comme un sapin de Noël. Voici un cactus de Noël: cette plante devient rouge pendant l'été et verte pendant l'hiver. Je ne connais aucun des noms. Je sais comment m'en prendre soin par exemple, je les déménage de place en place jusqu'à ce qu'elles soient heureuses.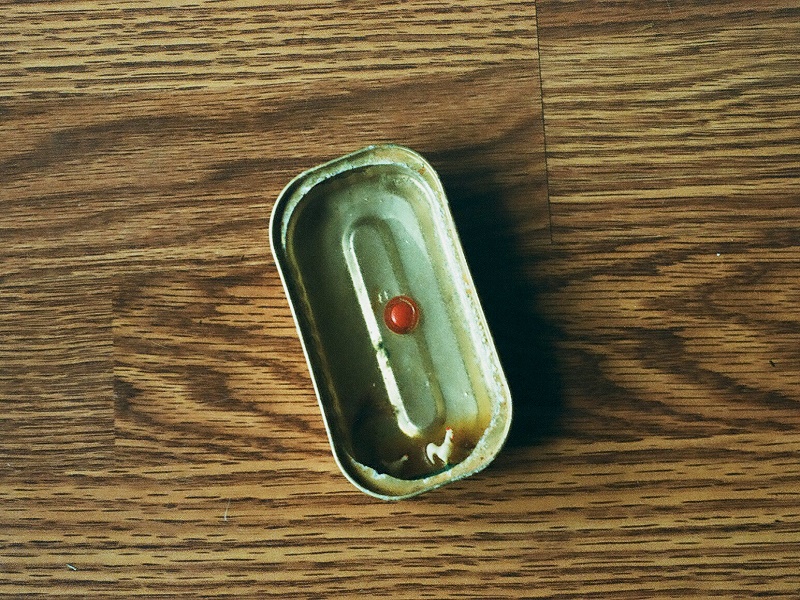 Art objet trouvé
Mon colocataire et sa blonde ont créé ça. Ils créent ce genre de choses et ensuite les jètent, mais celle-ci je voulais la garder. C'est une canette de sardines, de la résine, un petit poulet et un soleil.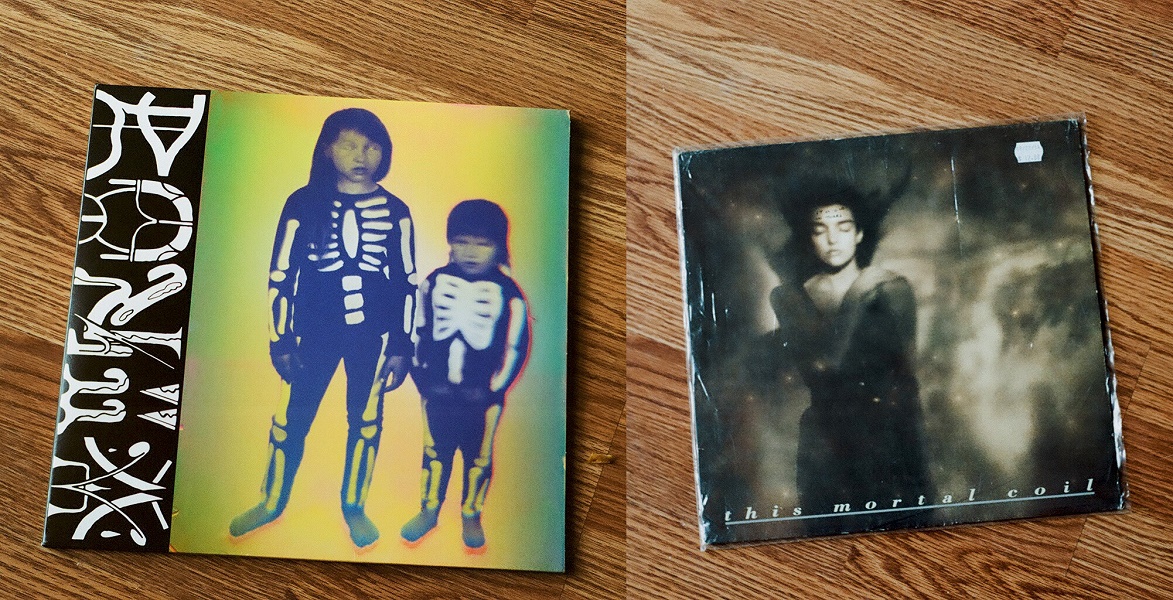 Albums préférés
J'essaie de promouvoir Roniia au max. Voici un de mes albums préférés en ce moment. On les connait de North America et Roniia sont amis avec, on s'est tenu avec eux à Minneapolis. Ils sont crissement bons. Ils devraient jouer dans les stades, ils l'ont vraiment leur affaire. Aussi, This Mortal Coil. C'est une compilation des années 80s, c'est trop bon, il y a des reprises géniales de Kangaroo et de Song to the Siren.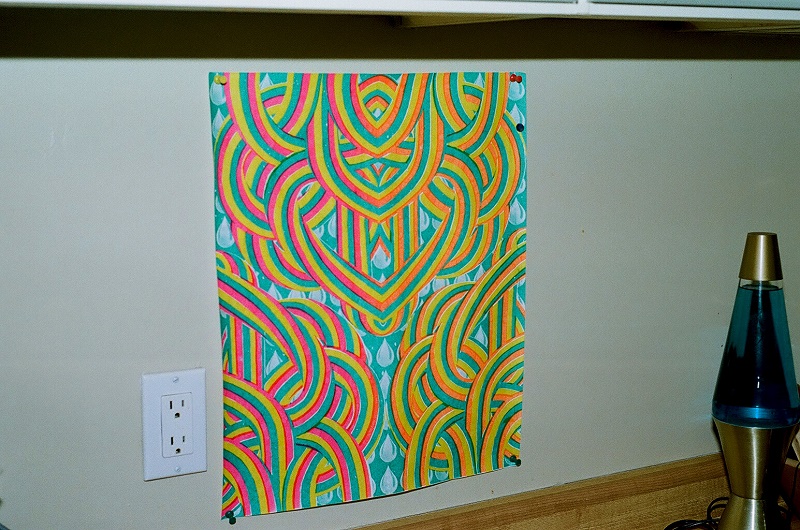 L'art d'Alex MacKenzie
Alex a fait ça pour Come Up to My Room, un évènement que j'ai aidé à organiser au Gladstone. Elle a fabriqué une tente marocaine avec ce motif. Quand la lumière changeait de bleue à rouge, ça sautait aux yeux et ça bougeait. C'était une tente active, dynamique. Ceci en est une image.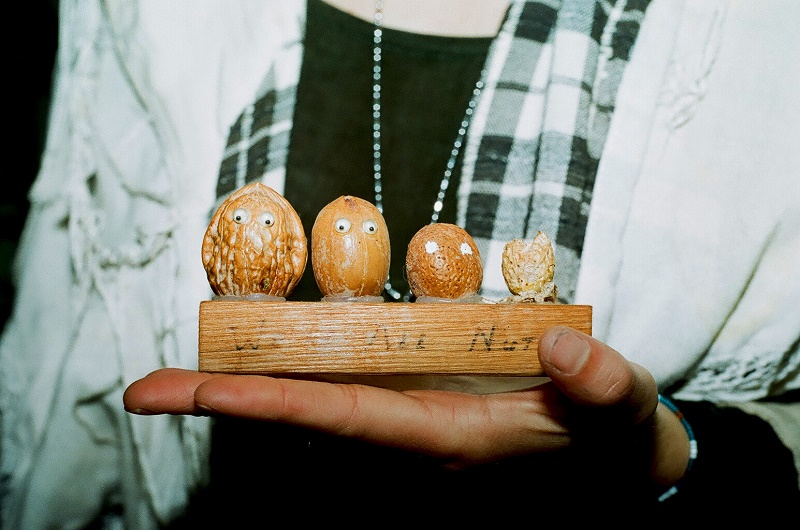 « We Are All Nuts »
Notre chalet de famille était en Calabogie. On y a fait nos adieux l'année passée en fait. C'est là où on avait écrit notre album Kalaboogie. Le chalet était rempli de choses qui étaient importants pour mes grand-parents et ceci en était une. Une petite souris est venue manger la peanut ici au bout. Ça dit « We Are All Nuts. »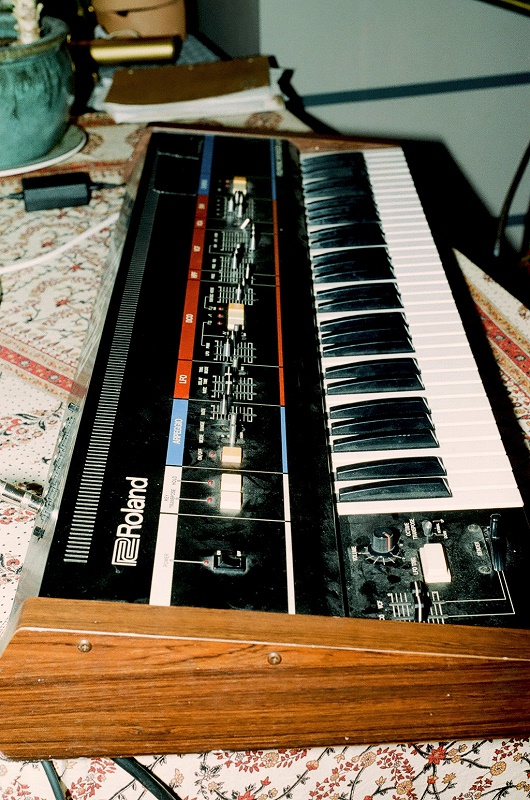 Clavier Roland
Ceci m'a été donné à emprunter indefinitivement. La personne n'a pas encore demandé de le ravoir, ça fait sept ans que je l'ai. Ça appartenait à ses grand-parents puis il ne savait pas ce que c'était. Je m'en suis servie pour presque chaque enregistrement de DOOMSQUAD. Il est trop capricieux pour amener en voyage.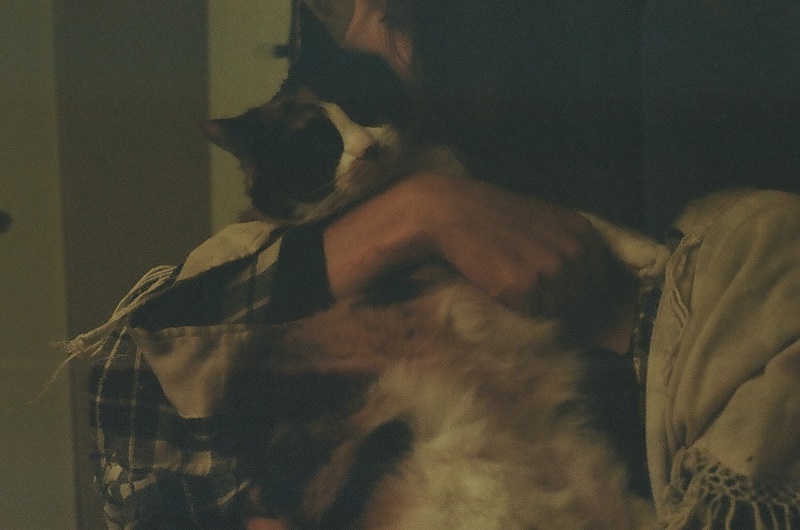 Bowie la chatte
Voici Bowie. Je l'ai eue à Vancouver dans un bordel à Surrey, CB. Ils ont dit qu'elle était mâle. Je voulais surtout un chat mâle parce que je n'ai eu que des chattes, alors j'ai dit, « Pouvez-vous s'il vous plaît juste vérifier que c'est un mâle. » La fille a dit « Écoute, ça fait des années que je fais ça, » elle avait la face pleine de crème pour les boutons et me dit, « c'est un garçon. » Alors pendant trois mois moi et Bowie on se tient ensemble puis je la traite comme un garçon. J'ai amené Bowie se faire stérélisé puis ils lui ont fait une hystérectomie. Le vétérinaire il dit, « Eh bien, c'est une fille. » J'ai dit « Êtes-vous sûr? » puis ils disent, « Oui. Nous lui avons fait une ovariectomie. » Ça fait neuf ans que je l'ai.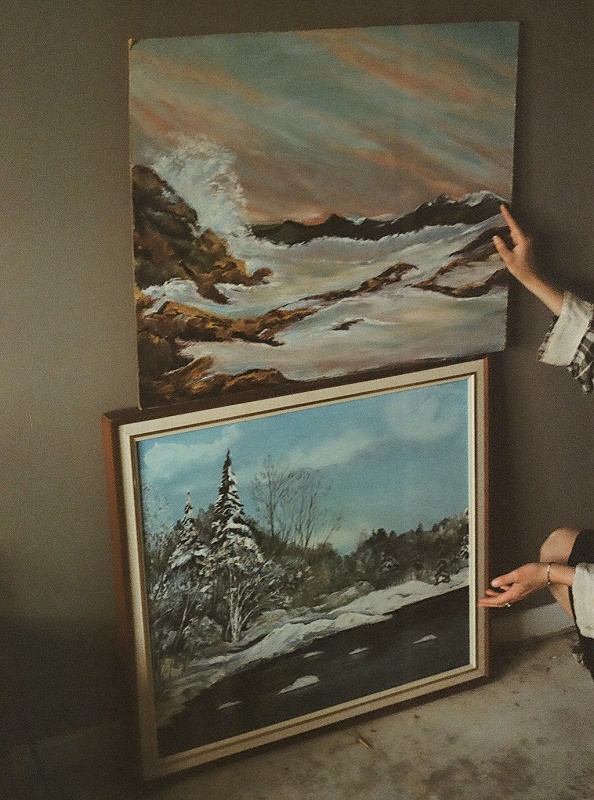 Peintures de famille
Ma grand-mère a peint ces deux-cis. Elle est peintre, elle a neuf doigts. Elle peint encore à tous les jours.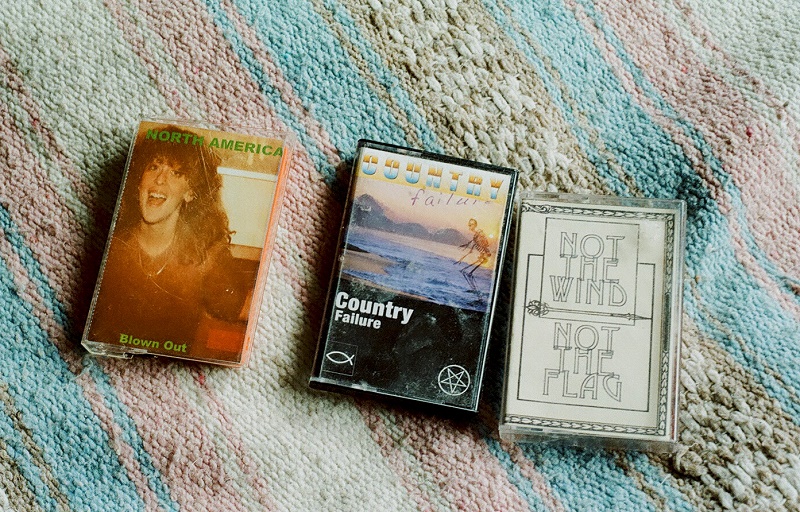 Cassettes préférées
Voici les trois cassettes que j'écoute le plus. North America, mes chéris de New York. Leur musique était le coup de foudre pour moi. Ce sont deux frères qui jouent du desert rock psychédélique. Country de Montréal, Beaver Sheppard est le leader. Il fait plein de nouvelles choses interessantes, on dirait de la musique pop apocalyptico avec un air de danse marrant. Celle-ci de Not the Wind Not the Flag vient d'un gig qu'ils ont fait il y a quelques années, Healing Power l'a publié. J'écoutait cette cassette tout au long d'une rupture, pendant que je déménageais d'un studio, tout ce que je faisais qui m'était traumatisant et que je ne savais comment endurer. Je branchais cette cassette puis je voyageais ailleur.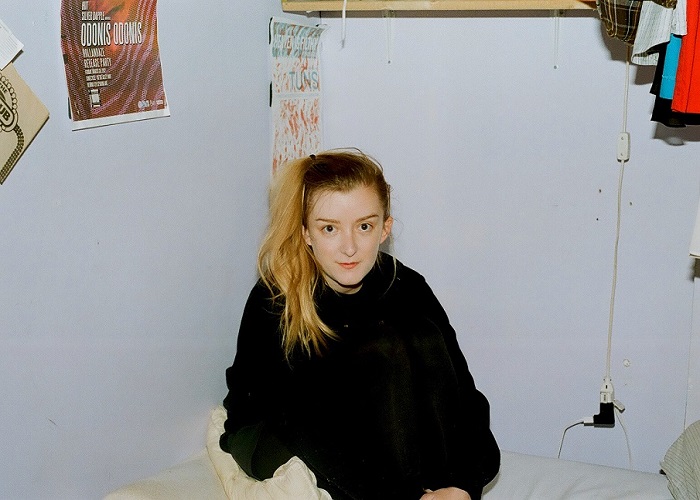 Ephemera of: Anamai
Existing during the recording of: Sallows
Toronto, ON
Photos by: Brad Casey
From the small objects of Brad Casey:
"As a kid I was always into small things. I think all the things I think are special are really small objects." Anna Mayberry is leading me through her small apartment that she shares with her partner and HSY bandmate Jude in Toronto's Chinatown. It's a white, one room dwelling, almost barren but for scattered books and show posters, basic necessities that make a home like pots and pans, a mattress on the floor. The kitchen doubles as a living room, the bedroom is low-ceilinged below a storage space and there is barely any natural light. She explains to me that this is meant to be a temporary housing solution as HSY rests between tours and any left over money goes into projects like the ethereal, beautiful, dark ANAMAI.
ANAMAI is comprised of Anna Mayberry and Dave Psutka, with Allie Blumas helping with live support when not wrapped in duties with her band DOOMSQUAD. After releasing a lo-fi, self-titled EP in late 2013 with Buzz Records, ANAMAI went into Halocline Trance studios in Toronto to record their first full length, Sallows. It's just under an hour of songs that push and pull between formal songwriting and formless structure, often with a drone in the background keeping the listener grounded to Anna's strong, small voice.
Anna tells me, before I begin photographing, "I feel like I've gotten rid of so many things and tried to detach from things. So choosing the most special things? I've been trying hard not to do that!" But a detachment, a poverty of things, doesn't mean she's lacking in special objects. Anna proudly displays to me the things she hasn't yet detached from, each with a story that pulls her back, sometimes hundreds of years, into family, love and the magic with which most special objects are imbued.
Barbie the Bike: It used to be pink and purple and I named it Barbie. I had it for a few years and now it's just a reminder that you have to take care of your bike. I named it Barbie because it was really girly but it was awesome, like a tough road bike. Until I have a new bike I'll keep Barbie under my table.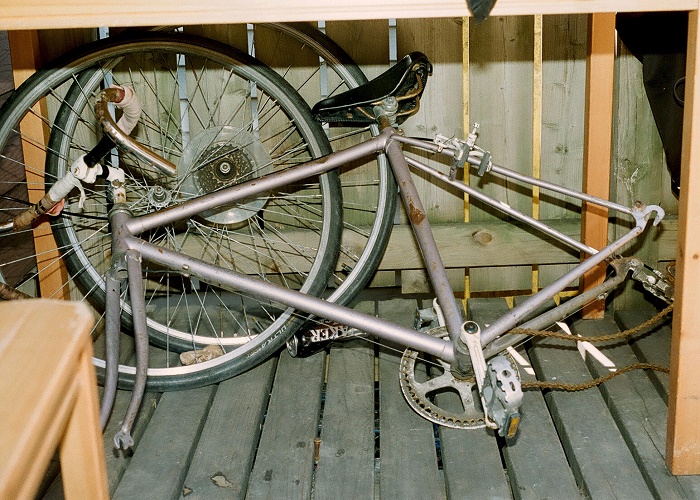 Winter Coat: This coat reminds me of the Lion King. It always makes me feel like a more awesome, animal version of myself. I got it at this store in Montreal, I went in five times to look at it and it was always still there. Every time I went in and talked to the guy who ran the store he'd tell me things about myself while I wore it. Like, "Oh, it goes with your eyes. You want people to look at you." And I'd be like, "Noooo!" (laughs).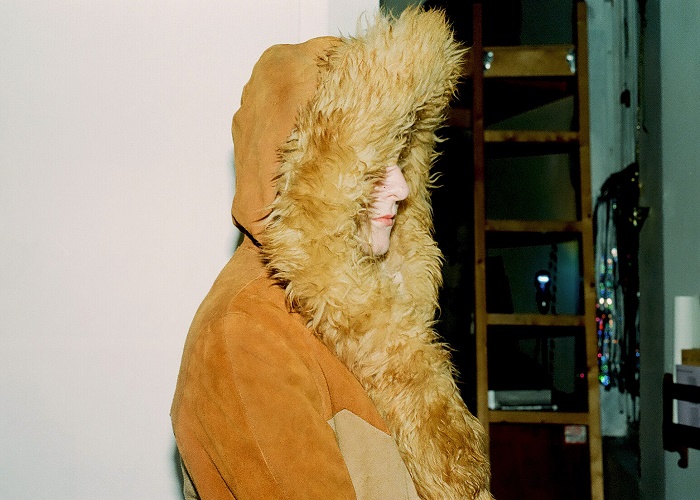 Swedish Book of Psalms: My Swedish grandmother gave this to me. I think it was my great-great grandmother's. I can't read Swedish. This is really old, there's a date in here…1825. It's all hand stitched together. I posted a picture of it to a blog from Sweden and someone said it was the most unreal, illegible Swedish they'd ever read. I think it's a bunch of psalms but there's funny little notes in it and this two of spades for some reason, which is a pretty auspicious thing for a person who's very Christian to keep in this book.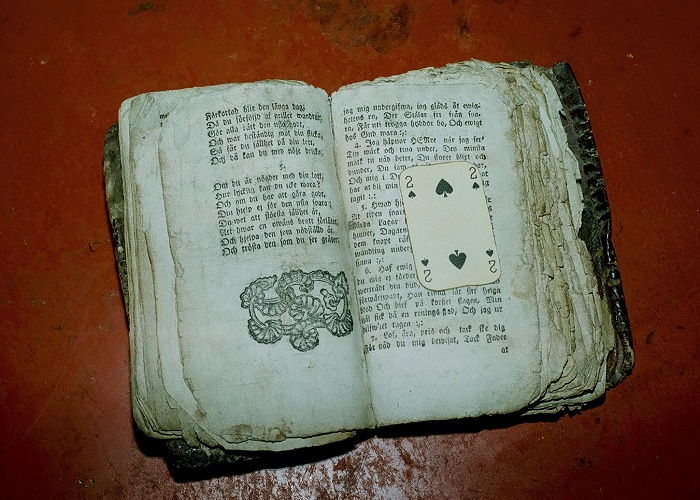 Secret Tin: I've had this for a long time. It was my secret tin when I was younger. When I was a kid I also went through all the provinces on road trips so it's like a token of my childhood. I don't think I've seen all those flowers though.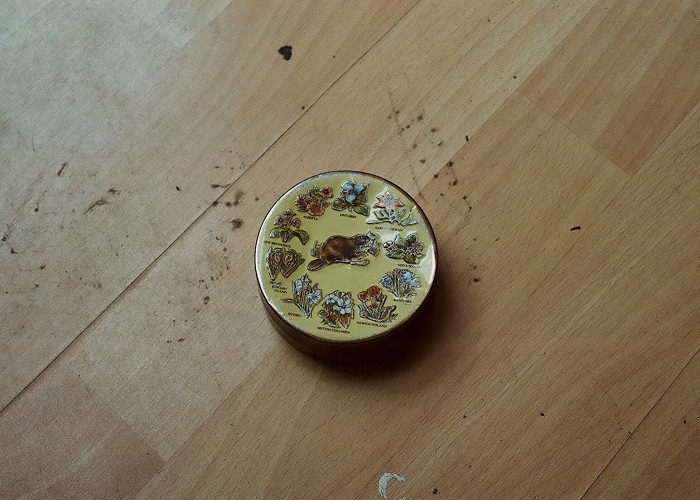 Dead Air Plant: I got an air plant and it died because I didn't water it. So I put this guy in the water. I think this is like how I feel. I'm not good at taking care of plants but I think I'm getting better.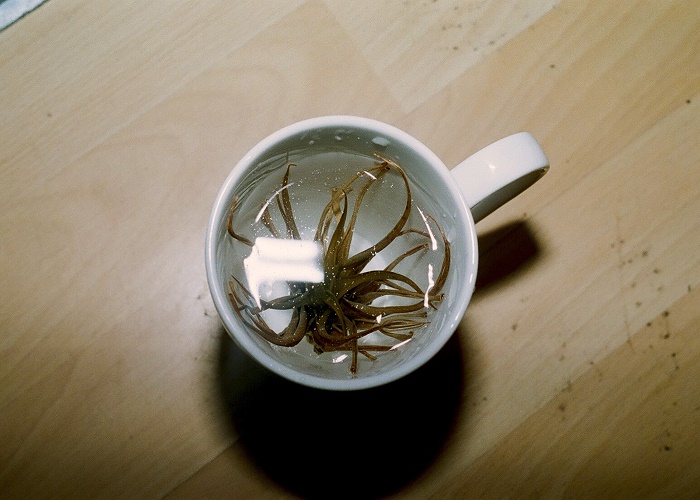 Problem Book: This I found in a second hand store. It's called "Drum and Candle: First Hand Experiences and Accounts of Brazilian Voodoo and Spiritism." There's a lot of interesting problems with this. It's all about witchcraft but it's from this very colonial perspective. It's by this white guy who investigated witchcraft, but there's some great graphics in it. I've always wanted to use them for something. I like the clinical, sort of colonial way all these crazy, awesome spiritual events are written about. Like, why are these characters in suits? I don't think this is how it happened at all.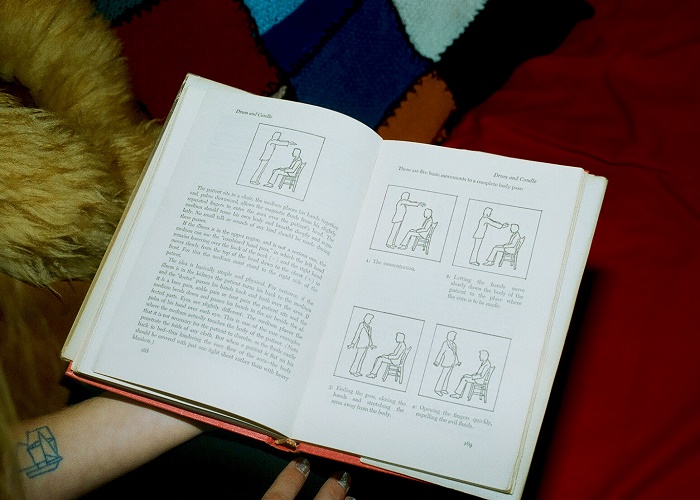 Strange Elvis: This was a gift. I don't know anything about it. I mean, it's Elvis but I don't know what these symbols mean. It's just funny to me. I like how someone went to all the trouble to make this and varnish it. Maybe it was someone's school project? I hope those symbols say, "Elvis," or, "The King."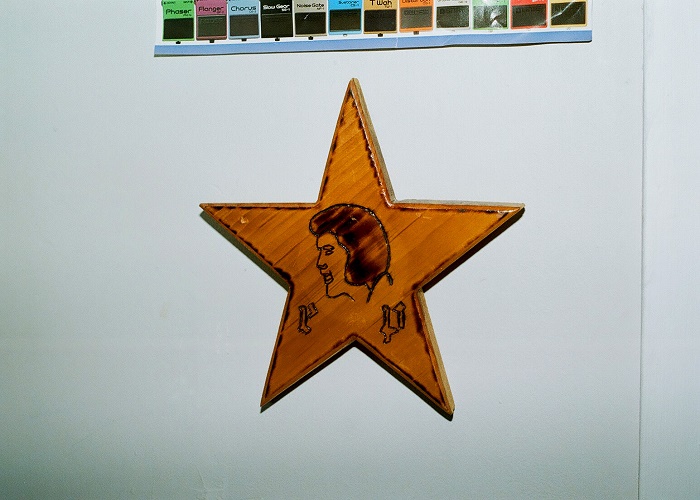 Light Refracting Glass: These are made to refract light. This brown one is kind of sad because we don't get light in this window, plus there are these bars, so it's kind of depressing. But I like the blue and clear ones.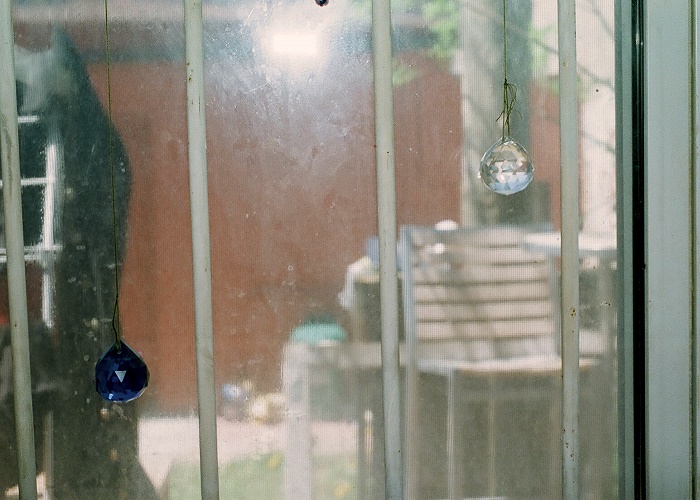 Tiny Elephants: My Dad used to have a couple little carved elephants. At some point I decided that elephants were "his thing" so I always used to find little elephants and give them to my Dad. Even though he only had two, it's like I made him start collecting elephants. So this is for him.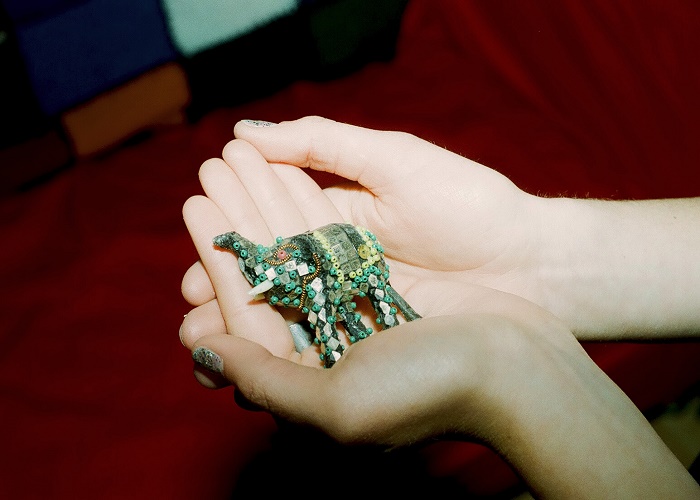 Des petits objets de Brad Casey:
(Traduit par le capharnaüm de petits objets d' Aliké Harel)
« Petite, j'aimais toujours les petites choses. Je crois que toutes les choses que j'aime sont de petits objets. » Dans le quartier chinois de Toronto, Anna Mayberry me guide dans son petit appartement qu'elle partage avec Jude, conjoint et co-membre de HSY. L'habitation se résume à une pièce aux murs blancs, presque dénudée, hormis çà et là quelques livres et affiches de spectacle, les essentiels d'une maison, ustensiles, chaudrons et un matelas au sol. La cuisine fait également office de salon, sous un espace de rangement se trouve la chambre à coucher au plafond bas, et la lumière du jour y est rarissime. Elle m'explique qu'il s'agit d'un logement temporaire pour poser pied à terre entre les tournées de HSY et pour que tout surplus d'argent retourne dans les projets comme le beau, sombre et éthéré ANAMAI. ANAMAI comprend Anna Mayberry et Dave Psutka, Allie Blumas au soutien technique pendant les concerts… lorsque le devoir ne l'appelle pas pour son propre groupe DOOMSQUAD. Après le lancement d'un album EP lo-fi à la fin de 2013 pour Buzz Records, ANAMAI s'est rendue chez Halocline Trance studios à Toronto pour l'enregistrement d'un album LP, Sallows. Un peu moins d'une heure de chansons qui oscillent entre la composition en règle et la structure sans règles, un drone en trame de fonds accompagne souvent la petite et forte voix d'Anna et garde le mélomane sur la terre ferme. Avant que je commence à prendre les photos, Anna me dit : « J'ai l'impression que je me suis débarrassée de tant de choses pour essayer de me détacher. Choisir les choses les plus spéciales… je me suis vraiment efforcée de le faire! » Un détachement, une pauvreté de biens ne signifie en rien qu'elle manque d'objets spéciaux. Anna me montre fièrement les choses desquelles elle ne s'est pas départie, chacune a une histoire qui la ramène, parfois des centaines d'années en arrière, à la famille, à l'amour et à la magie qui se sont imprégnés dans chaque objet.
Le vélo Barbie: Il était rose et mauve avant, je l'ai donc appelé Barbie. Je l'ai utilisé quelques années et maintenant il me rappelle simplement qu'il faut prendre soin de son vélo. Je lui ai donné le nom de Barbie parce qu'il fait vraiment petite fille, mais il est génial, un vélo de ville solide. Jusqu'à ce que j'aie un nouveau vélo, je vais garder Barbie sous la table.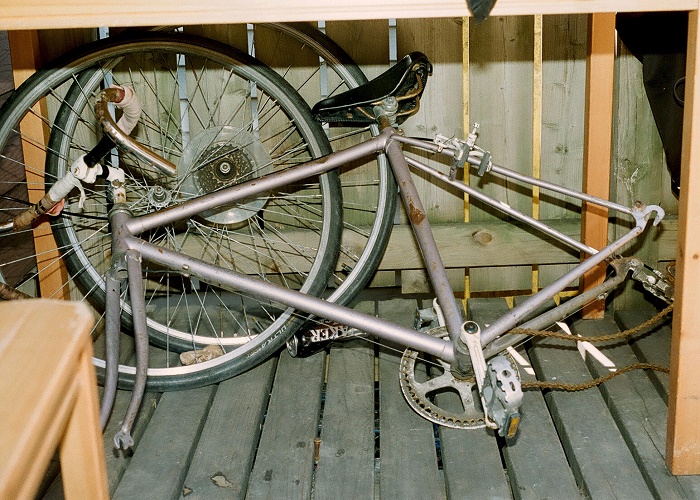 Manteau d'hiver: Ce manteau me fait penser au Roi Lion. Il me donne l'impression d'être une autre moi, une version augmentée et bestiale de moi-même. Je l'ai déniché dans une boutique de Montréal, j'y suis entré cinq fois pour le regarder et il y était toujours. À chaque fois que j'entrais et parlais avec le gars propriétaire de la boutique, il faisait des commentaires à mon sujet pendant que je portais le manteau. Du genre « Oh, ça match avec tes yeux. Tu veux attirer le regard. » Ce à quoi j'ai répondu, « Nooon! » (rires).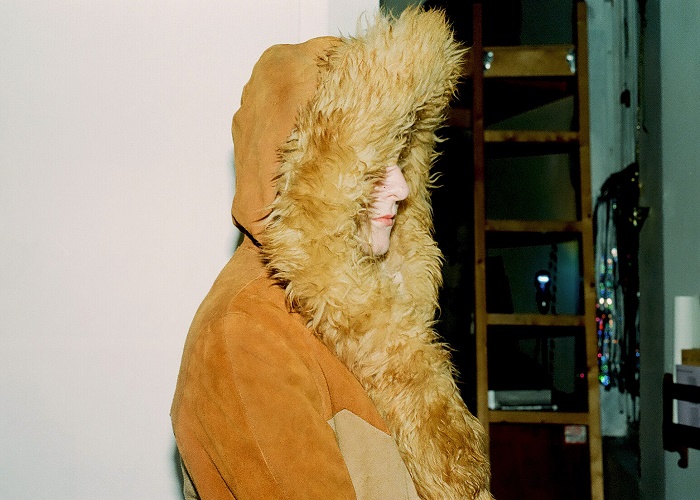 Les Psaumes en suédois: Ma grand-mère suédoise m'a donné ce livre. Je crois qu'il appartenait à mon arrière-arrière-grand-mère. Je ne sais pas lire le suédois. C'est vraiment un vieux bouquin, il y a une date à l'intérieur…1825. Il a été assemblé à l'aiguille. J'en ai envoyé une photo à un blogue suédois et quelqu'un a dit que c'était le suédois le plus irréel et indéchiffrable jamais lu. À mes yeux, ce ne sont rien que des psaumes, mais il y a de drôles de notes d'écrites et ce deux de pique, pour je ne sais quelle raison… un peu louche qu'une personne très croyante l'ait gardé dans un livre biblique.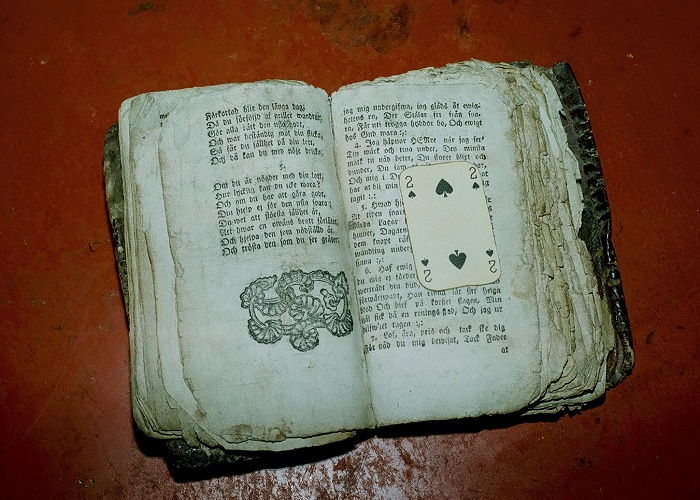 Coffret secret: J'ai ce coffret depuis longtemps. C'était mon coffre secret étant petite. Quand j'étais plus jeune, j'ai aussi voyagé dans toutes les provinces, donc ce coffre représente mon en enfance. Je ne crois pas avoir vu toutes ces fleurs par contre.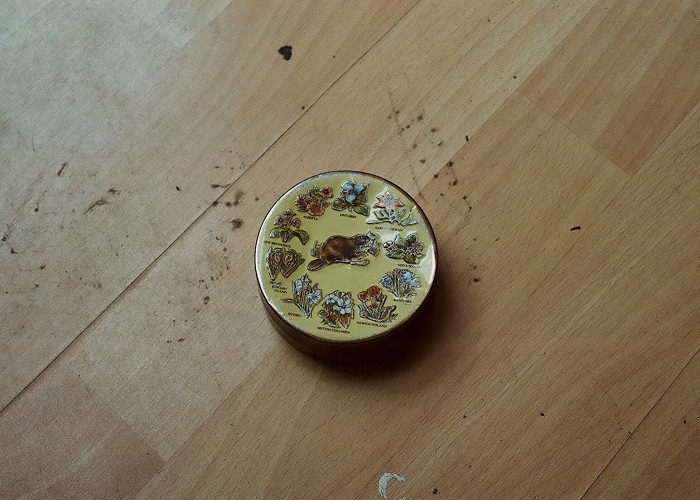 Fille de l'air morte: J'avais cette plante, une fille de l'air, et elle est morte parce que je ne l'arrosais pas. Alors, je l'ai mise dans l'eau. Je crois que c'est comme ça que je me sens aussi. Je n'ai pas le tour pour m'occuper des plantes, mais je crois que je m'améliore.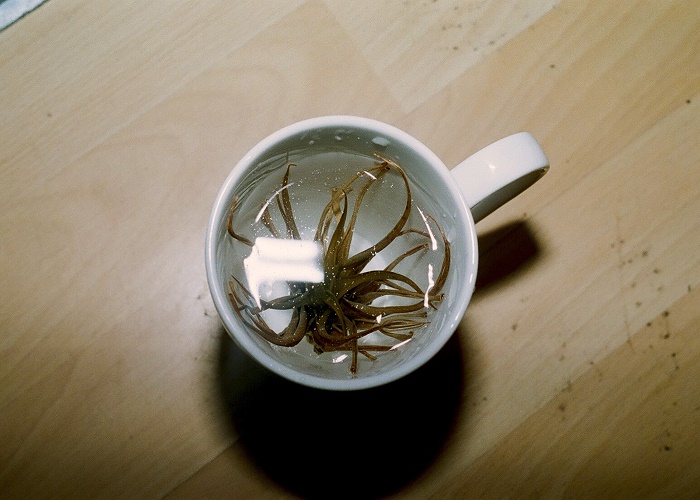 Livre à problèmes: J'ai trouvé ce livre dans une boutique d'occasion. Il s'intitule « Tambour et chandelle : Expériences et témoignages de vaudouisme et de spiritisme brésiliens ».* Ce livre pose une foule de problèmes. Il parle de sorcellerie, mais d'un point de vue totalement colonialiste. L'auteur est un Blanc qui a étudié la sorcellerie, les images restent intéressantes. J'ai toujours voulu les utiliser pour un projet. J'aime l'approche clinique, un peu coloniale utilisée pour raconter des expériences spirituelles déroutantes et fantastiques. Par exemple, pourquoi tous les personnages sont en habit-cravate? Je suis certaine que ça ne s'est pas du tout passé comme ça.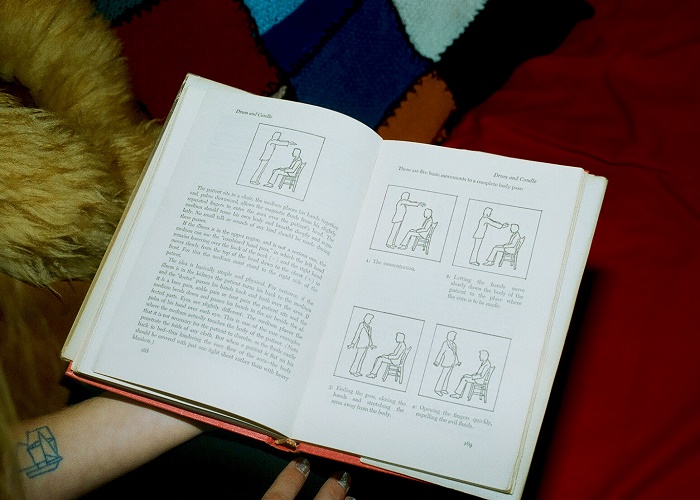 Étrange Elvis: Je l'ai eu en cadeau. Je ne sais rien de son histoire. Oui, c'est Elvis, mais je ne connais pas la signification des symboles. C'est un objet étrange. J'aime savoir que quelqu'un s'est démené pour le fabriquer et le vernir. Un projet scolaire, peut-être? J'espère que ces symboles veulent dire « Elvis » ou « The King ».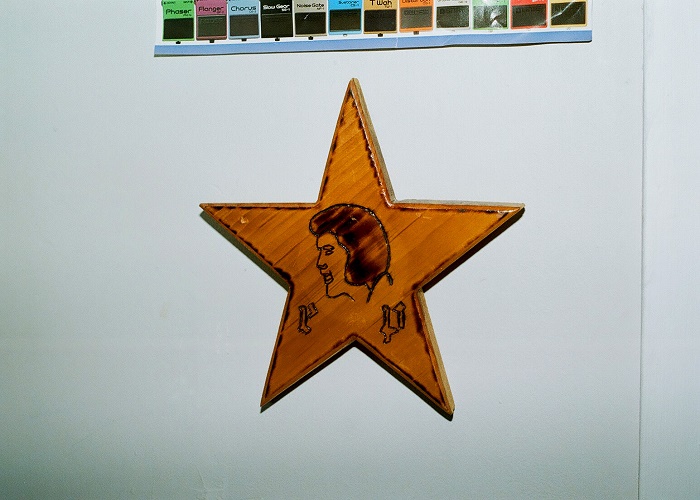 Pierre qui réfracte la lumière: Ces pierres servent à réfracter la lumière. La brune est un peu triste parce la lumière ne traverse pas cette fenêtre. En plus, il y a ces barreaux, c'est plutôt déprimant. Par contre, j'aime la bleue et la transparente.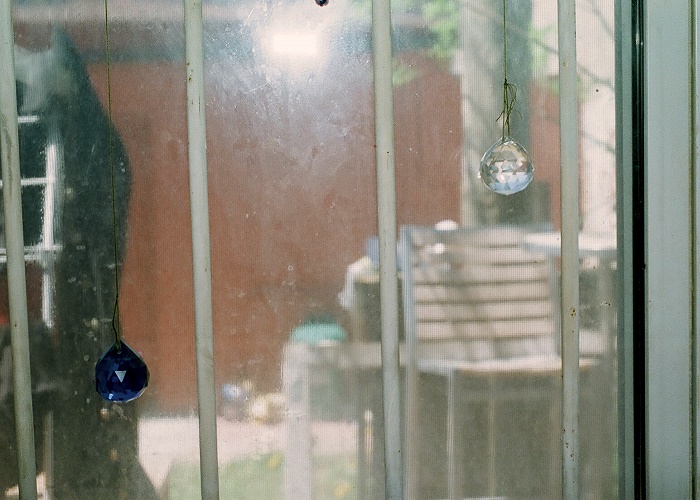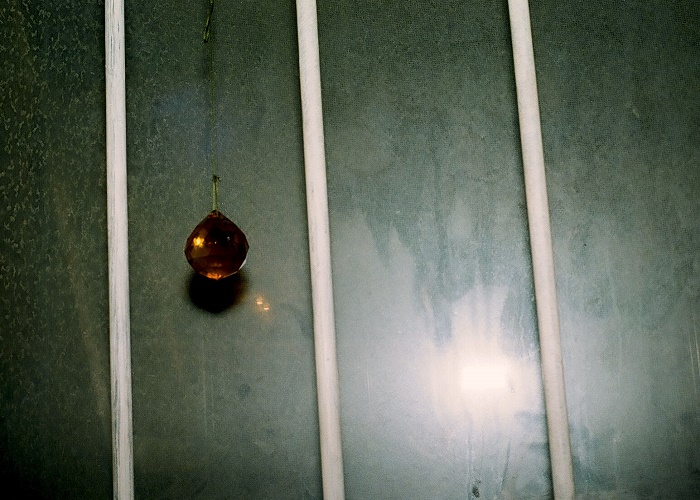 Éléphants miniatures: Mon père avait quelques petites sculptures d'éléphants. À un moment donné, j'ai décidé que, les éléphants, c'était « son truc » et je trouvais tout le temps de petits éléphants à lui donner. Il en avait pourtant seulement deux. C'est comme si je l'avais poussé à collectionner les éléphants. Celui-ci, c'est pour lui.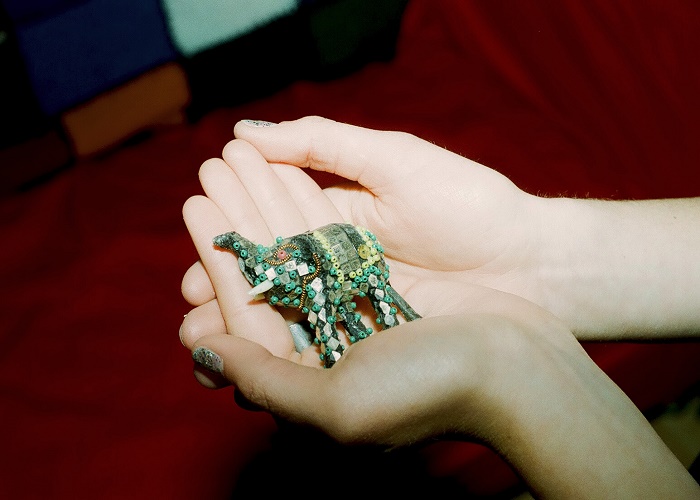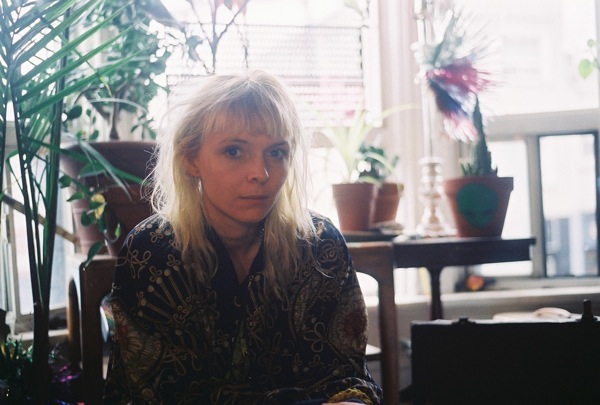 Ephemera of: Alexandra Mackenzie
Existing the recording of: Petra Glynt
Toronto, ON
Photos by: Brad Casey
From the yoyo hand of Brad Casey:
"Is this ephemera?" Alex Mackenzie, who is Petra Glynt, keeps asking me. Alex has a nervous energy that comes across charming, she fiddles with her fingernails and looks into the middle distance, away from you, when she speaks. When she does make eye contact she opens her eyes wide, her eyes constantly asking, "Right? You know what I mean?" with a demure, reserved sort of affection. She giggles a lot. She gets you on her wavelength this way. I reassure her constantly that whatever she wants to show me can be ephemera, as long as it's important to her. Everything seems important to her. She covers every object she owns with her personality. She chooses her few words in quick bursts. She expresses herself most strongly in her visual art and her music. And her music is expressive. Sharp, multi-layered, foreboding, warm, with a darkness that doesn't overpower her very bright light.
Petra Glynt released her lush 5-song EP Of This Land in 2013. Currently she is recording a full length which she aims to release late 2015. The photos contained herein were taken both at her Toronto apartment on Bloor St and at her partner Brian's apartment in Parkdale.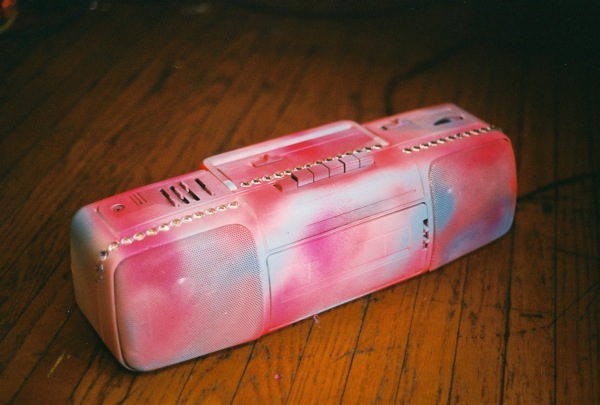 I got this to listen to the radio. I listen to Coast to Coast a lot. It's a conspiracy radio show. Sometimes it's good, sometimes it's super out there. It's really entertaining.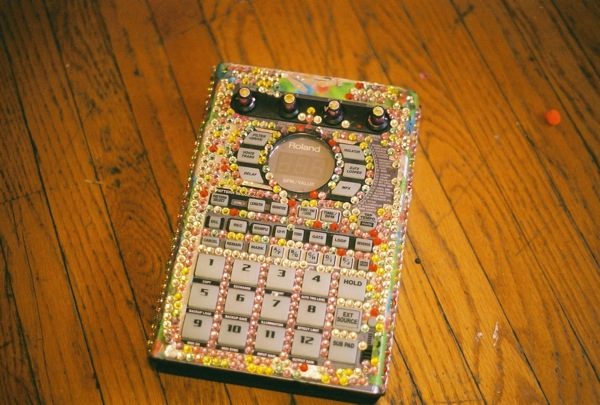 I cover a lot of things in rhinestones. Mostly I don't like to look at the brands. I use this sampler for live shows a lot.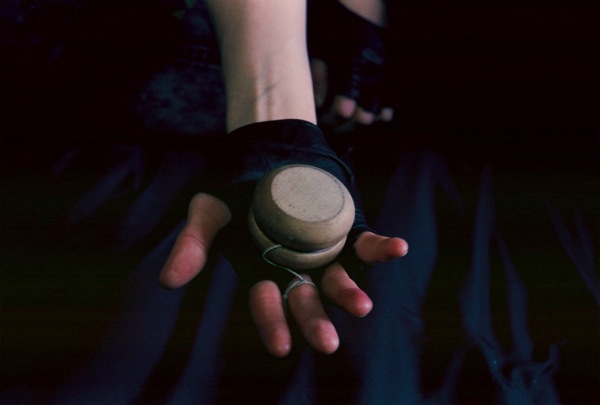 One day I decided I really wanted a yo-yo. My friend, she's a bike courier, she was delivering stuff and she went out of her way and delivered this to me. I can't do any tricks on it, it's the kind you just use. I want to get one of those fancy weighted ones.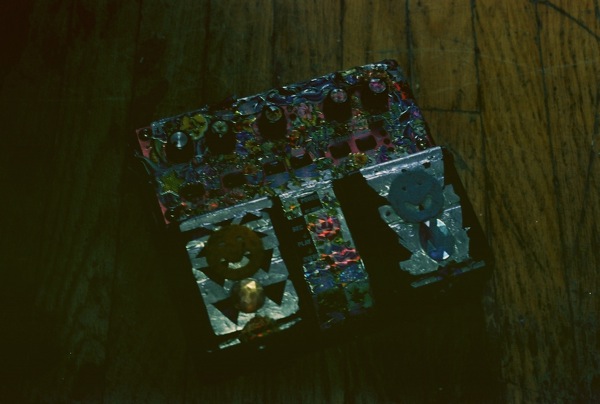 This one has lots of stories. It was one of my first pedals I ever got and it opened up my whole world. I was like shit, I can jam with myself. So I started doing that a lot, it's a lot of fun.
I used these patterns for an event at the Gladstone recently. I was DJing reggae songs in this huge tent and this pattern was surrounding it. I used three screens to make this print, which I've used a couple times now.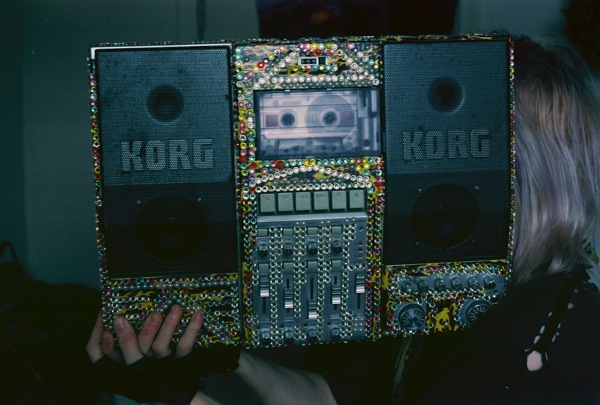 I bought this off eBay. It's really funny, it has speakers and effects. It has a doom metal setting! It's very tacky, like serious kitch. I used to record to it all the time. Not as much anymore though.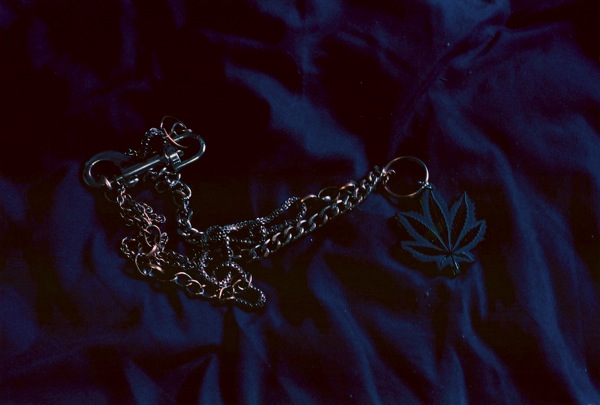 I wear this a lot. My friend made it. He works at Toronto Laser Services and he made it at work with lasers. I attached it to a bunch of metal chains.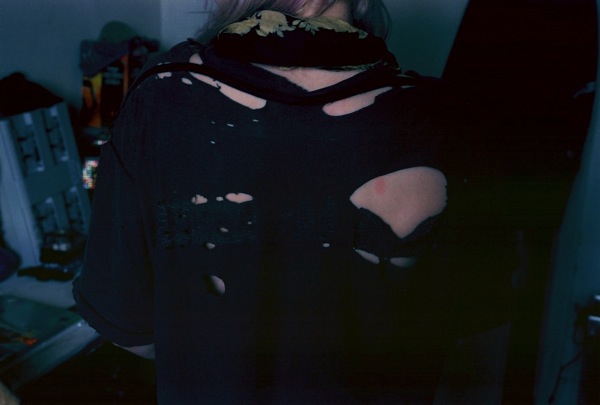 It's not nice but it's my friend Blake's Dad's shirt so it's important. Blake is my buddy. We lived together, he made the video for "Sour Paradise". I don't see him much now. I miss him.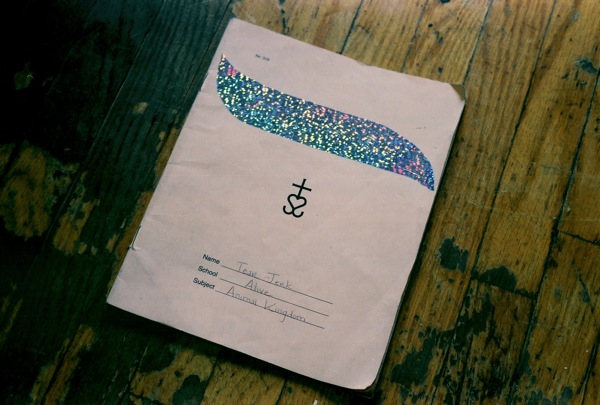 This is a journal. I write dreams and songs in it. I have a bunch of these. I like them because they are short and small so I can fill them quick and move on to the next one. I like to start a new book, it's exciting that way.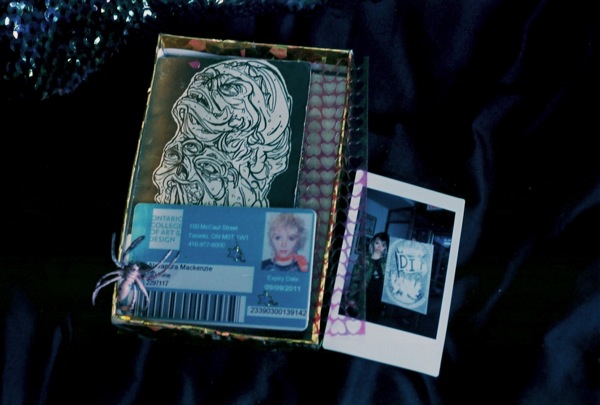 This is a box I gave to Brian. There's a spider ring, my old student ID, an old business card and a picture of me. That's ephemera, right?
De la main au yo-yo de Brad Casey:
(Traduit par Jessica Grenier)
« Est-ce que c'est éphémère? » C'est ce qu'Alex Mackenzie, alias Petra Glynt, n'arrête pas de me demander. Son énergie nerveuse la rend charmante : elle joue après ses ongles et quand elle parle, elle regarde dans le vide, à mi-chemin entre elle et moi. Quand elle établit le contact visuel, elle écarquille les yeux, comme s'ils demandaient, à chaque instant, « Tu vois ce que je veux dire? », avec une cordialité timide, pudique. Elle ricane souvent, et c'est de cette façon qu'elle t'amène sur sa longueur d'onde. Je la rassure sans cesse en lui disant que tout ce qu'elle veut bien me montrer peut être dans Ephemera, tant que c'est quelque chose d'important pour elle. Et tout semble important pour elle. Elle étale sa personnalité sur tous les objets qu'elle possède. Elle choisit ses quelques mots par élans impulsifs. Elle s'exprime plus fortement en art visuel et en musique – et sa musique est expressive : incisive, multidimensionnelle, précurseure, chaleureuse, avec une obscurité qui ne parvient pas à éclipser son éclat brillant. C'est en 2013 qu'est sorti Of This Land, son premier EP de cinq chansons luxuriantes. Elle enregistre présentement un album complet, qui devrait être terminé vers la fin de 2015. Les photos figurant ici ont été prises dans son appartement sur la rue Bloor, à Toronto, et dans celui de son copain, Brian, à Parkdale.
Chanson : (Of This Land) Chanson : (Sour Paradise)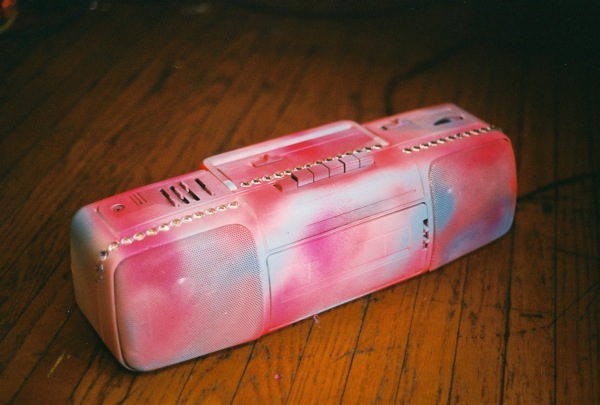 Je l'ai achetée pour écouter la radio. J'écoute souvent l'émission conspirationniste Coast to Coast. Des fois c'est bon, des fois c'est vraiment n'importe quoi, mais c'est toujours divertissant.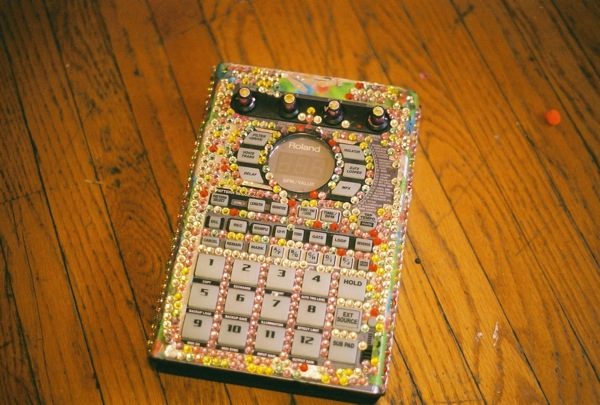 Je recouvre plein de trucs de faux brillant, principalement parce que je n'aime pas voir les noms de marque. J'utilise souvent cet échantillonneur pour mes spectacles en direct.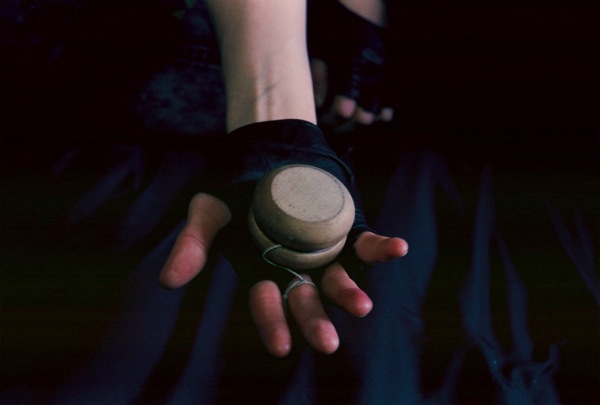 Un jour, j'ai décidé que je voulais vraiment avoir un yo-yo. Une amie, qui est messagère à vélo, était en pleine livraison, mais elle a fait un détour pour venir m'en porter un. Je ne sais pas faire de figures, c'est plus le genre avec lequel tu ne fais que jouer. J'en veux un lesté, de luxe.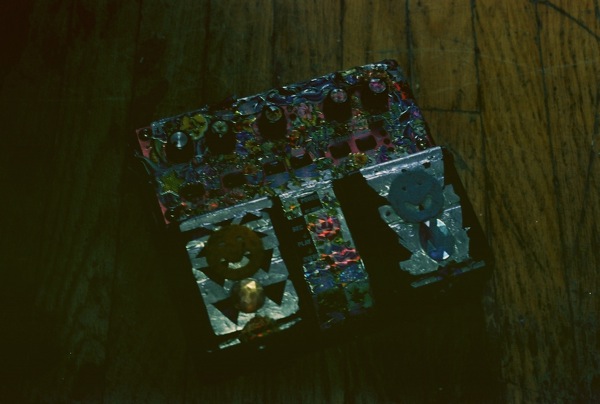 Il y a beaucoup d'anecdotes sur celle-là : c'est une de mes premières pédales, elle a ouvert mon univers. J'étais comme : shit, je peux jammer toute seule. Alors, j'ai commencé à le faire souvent, c'est vraiment l'fun.
J'ai utilisé ces motifs récemment, pour un événement au Gladstone. Je faisais jouer des chansons reggae sous un chapiteau qui avait ce motif tout autour. Ça fait quelques fois que je l'utilise, il a fallu trois pochoirs pour le faire. (4-Track)
Je l'ai acheté sur eBay. C'est vraiment drôle parce qu'il a des haut-parleurs et des effets. Il y a même un réglage doom metal! C'est vraiment quétaine, genre kitch assumé. Avant, j'enregistrais plein de trucs dessus, mais c'est plus vraiment le cas aujourd'hui. (Chaîne avec feuille de pot)
Je la porte souvent. C'est un ami qui l'a faite où il travaille, avec des lasers (il travaille chez Toronto Laser Services). Je l'ai attachée à des chaînes en métal. (Chandail déchiré)
Il n'est pas beau, mais c'est le chandail du père de mon ami Blake, alors il est important pour moi. Blake, c'est un copain, on a déjà habité ensemble. Il a fait le vidéo pour « Sour Paradise ». Aujourd'hui, je le vois moins souvent. Je m'ennuie de lui.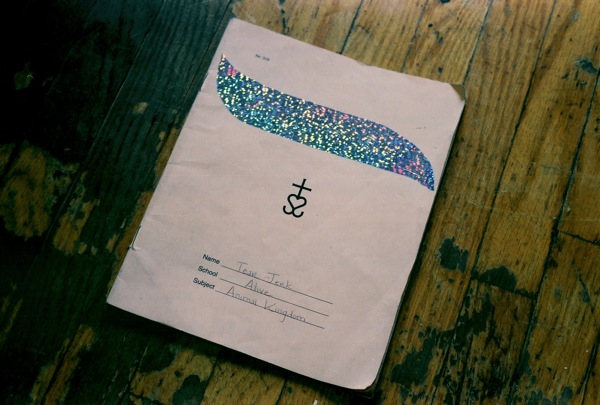 C'est un journal où j'écris des rêves et des chansons. J'en ai plein comme ça. J'aime ces cahiers parce qu'ils sont petits et minces, alors on peut les remplir rapidement et en commencer un autre. J'adore commencer de nouveaux carnets, c'est stimulant.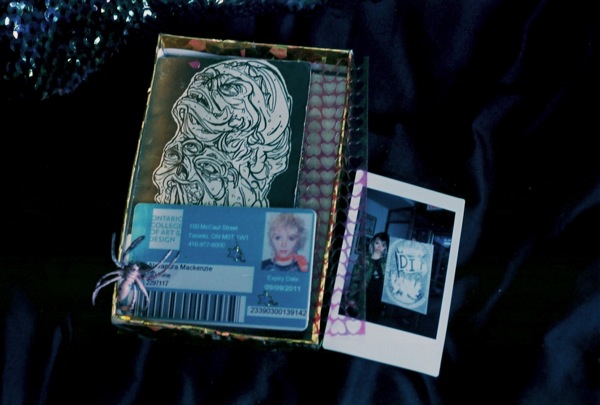 J'ai donné cette boîte à Brian. Dedans, il y a une bague en araignée, mon ancienne carte étudiante, une vieille carte d'affaires et une photo de moi. C'est éphémère, tu crois?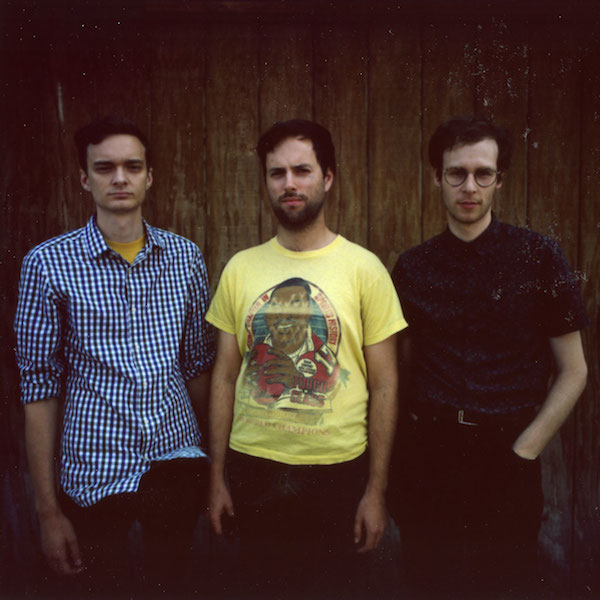 From the left – Mike Claxton, Matt King, and Moshe Rozenberg.
Ephemera of: Absolutely Free
Existing before, during, and after the recording of Absolutely Free
Toronto, ON
From the free mind of Colin Medley:
Toronto three-piece Absolutely Free just released their debut LP, Absolutely Free, so for this edition of Ephemera, the boys decided to look to the past, contemplate the present, and gaze towards the future.

Absolutely Free – Beneath the Air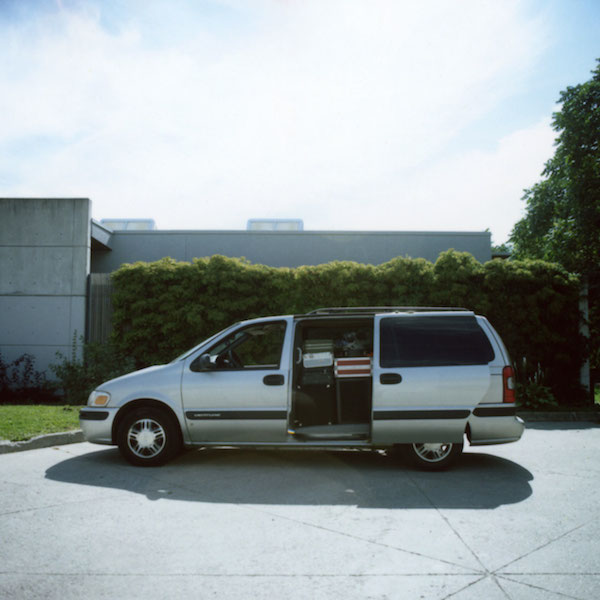 Van (Past)
This is our van. It's name is David Silver. At 9 yrs and 512000kms old, David has taken on many forms. At times it's been our office, living room, bedroom and bathroom (don't ask). But most of the time, David is our trusty steed. Taking us from point A to point B with minimal complaints. And like all trusty steeds, David will soon go off to pasture. Godspeed you silver steed!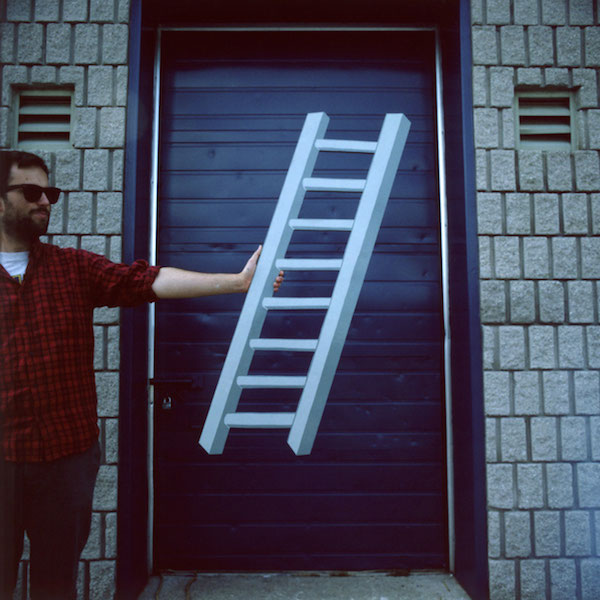 Ladder (Present)
The ladder is from a series of plywood signs that Matt made for his art practice. When conceptualizing the album art, we were interested in having something that created a subtle disruption of visual expectations, so the ladder in the corner creates this weird perception of depth. Correspondingly, the idea of a ladder is more often associated with ascension, but is just as possible to be a conduit for descending. This contradiction builds a grey area that our music and lyrics explore. Absolutism and freedom are contradictions. Nothing is absolute, nothing is free.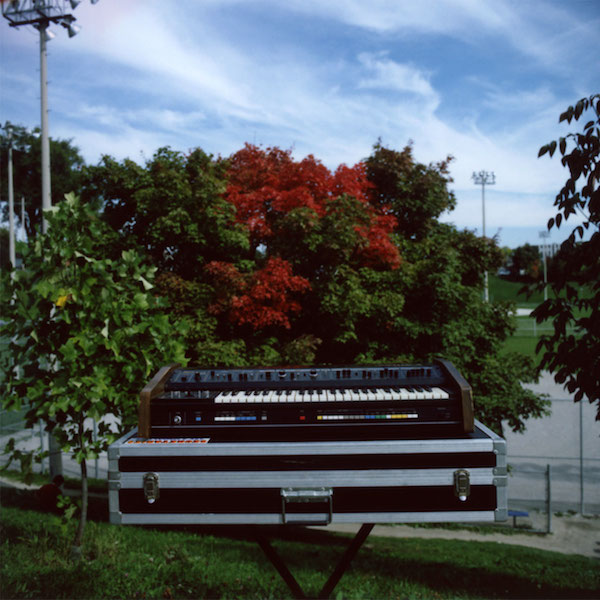 Jupiter-4 (Future)
This is a really beautiful synthesizer we just acquired. If we'd gotten it any sooner, our album would have turned out pretty differently; basically every song would have been Rio by Duran Duran. But honestly, the arpeggiator is really charming and the overall sound is somewhere between Terry Riley & Vangelis. We'll use it like crazy on Two Cares Due None (the feature film score we're working on) and it's also likely to springboard a handful of newer, possibly groovier Absolutely Free songs.
De l'esprit libre de Colin Medley:
(Traduit par Jessica Grenier)
Le trio torontois Absolutely Free vient de lancer son premier album, Absolutely Free; alors pour cette édition d'Ephemera, les gars ont décidé de regarder le passé, de contempler le présent et d'entrevoir le futur.

Absolutely Free – Beneath the Air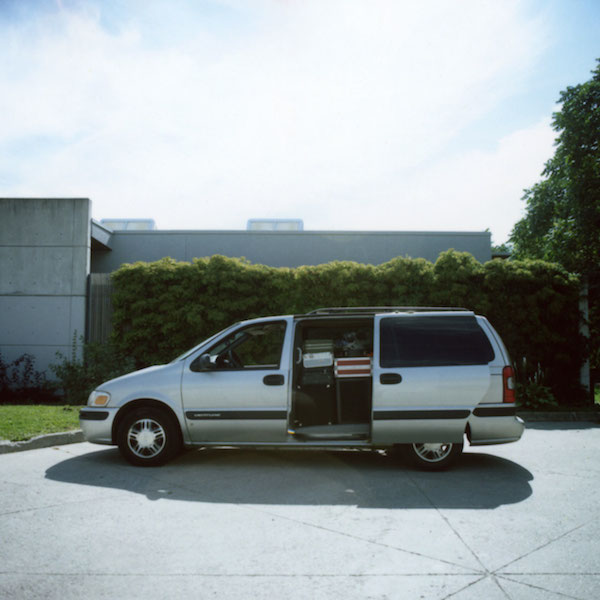 Van (Passé)
C'est notre van. Son nom est David Silver. gé de 9 ans et avec 512 000 km au compteur, David a connu plusieurs formes : c'était parfois notre bureau, notre salon, notre chambre et notre salle de bain (ne demandez pas de détails). Mais la plupart du temps, David était notre fidèle destrier, nous amenant du point A au point B sans trop se plaindre. Et comme tous les fidèles destriers, David partira bientôt vers des pâturages. Bon voyage, destrier grisonnant!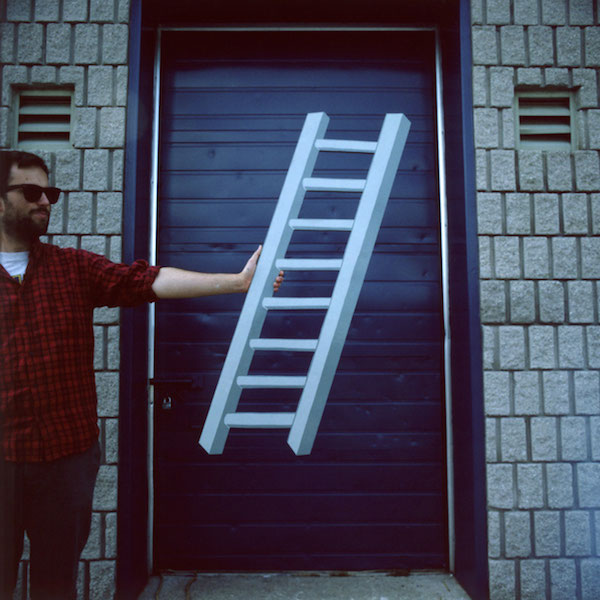 Échelle (Présent)
L'échelle est tirée d'une des œuvres de Matt – une série de panneaux en contreplaqué. Au moment de conceptualiser l'album, on voulait quelque chose qui vienne perturber subtilement les attentes visuelles, et l'échelle dans le coin fait qu'on perçoit une espèce de profondeur. Parallèlement, l'idée d'une échelle est plus souvent associée au fait de grimper, mais elle peut tout autant être un moyen de descendre. Cette contradiction construit une zone grise que notre musique et nos paroles explorent. L'absolutisme et la liberté sont des contradictions : rien n'est absolu, rien n'est libre.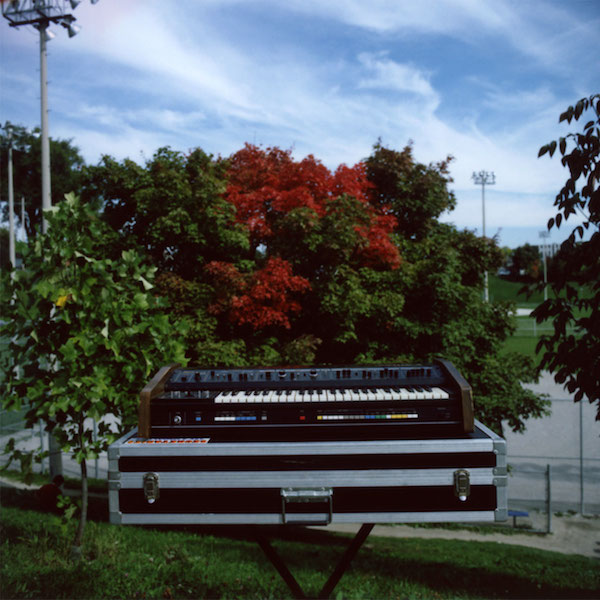 Jupiter-4 (Futur)
C'est un synthétiseur vraiment beau qu'on vient juste d'acheter. Si nous l'avions eu plus tôt, notre album aurait été très différent : presque toutes les chansons auraient ressemblé à « Rio » de Duran Duran. Mais honnêtement, l'arpégiateur est vraiment génial, et l'ensemble sonne quelque part entre Terry Riley et Vangelis. On va l'utiliser énormément sur Two Cares Due None (la musique de long-métrage sur laquelle on travaille) et c'est aussi possible qu'il fasse naître d'autres chansons tirées de Absolutely Free, nouvelles et plus rythmées.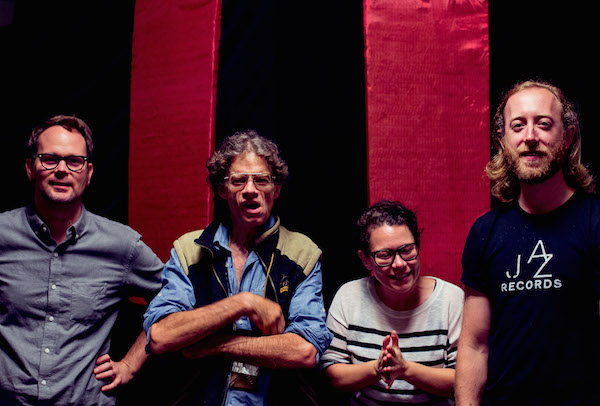 Ephemera of: COOL TV
Existing before, during, and after the recording of PAINT
Vancouver, BC
Photos by: Yuko Inoue
From the COOL LAPTOP of Scott Brown:
COOL TV is new to the Canadian musical landscape in name and sound, but with a storied past. Its members have been involved with multiple groups in and around Vancouver, B.C., perhaps most notably Apollo Ghosts. Following the end of that project Adrian Teacher and Amanda Pezzutto joined forces with Shawn Mrazek to form COOL, which was recently rechristened as COOL TV. The band has musical and lyrical ties to the Apollo Ghosts songbook, but goes further with the dance-friendly jams. COOL TV is the introspective, thoughtful life of the party.
The group is just about a year old as of this writing, but they have released more music than most bands would have over a handful of years rather than months. Their prolific year started with the colour-focused debut LP, Paint. The trio has followed that up with an EP, Best New Music, a split 7" with Sackville, N.B.'s Weird Lines, and most recently an extended single for the tracks "I Can Handle That" and "Modern Europeans".
When Vancouver-based photographer Yuko Inoue met with the band at their practice space the items they chose to share with Weird Canada were in large part personally historical, but show how past endeavours inform present pursuits.
Metal Mike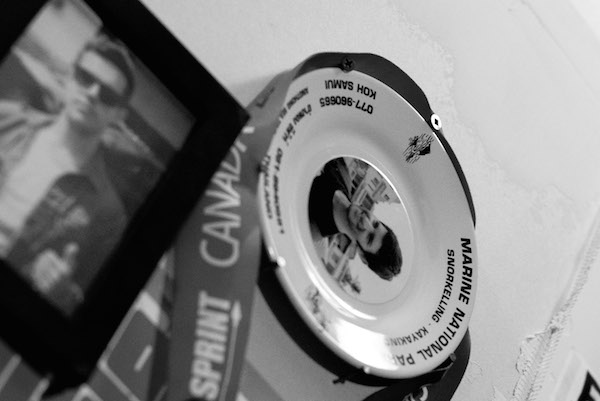 Amanda used to play with Mike (pictured) in a band called Barf Burn. "I guess we're still in Barf Burn, [it] never ends. He was at a wedding in Thailand, and when he came back he was like 'look at this commemorative plate I got from the wedding, it's a present for you.' It sat in our drawer for a long time, and every time he came over he'll go to the drawer, and set it up on the display." – Amanda
Gord, a.k.a. Gorb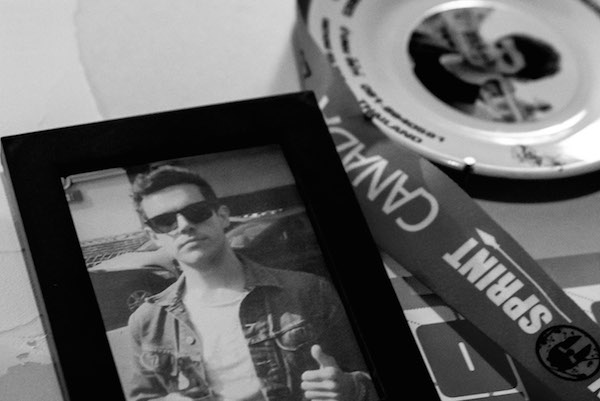 "He's a legendary Calgary rambling man… I played in a band with him called Rick White's Hair." – Adrian
Chris-a-riffic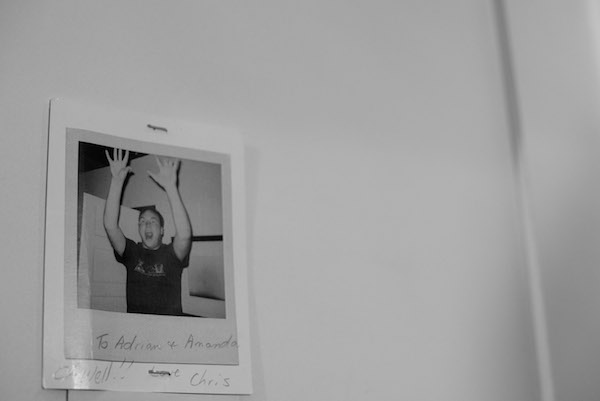 "In that picture he wrote 'Oh well!!' That was because we missed the show where he proposed to his wife. We had a show the same night, so he gave that picture of himself to us as a jab." – Adrian
Sappyfest shirt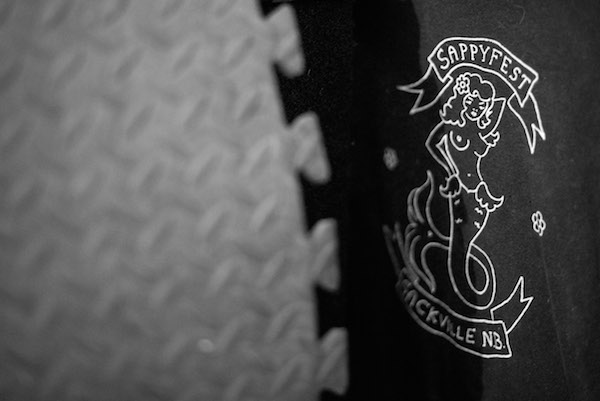 "I can't wear it because it has breasts on it. I'm a school teacher (music), but I love that shirt. And our band just played that festival this summer." – Adrian
Hubcap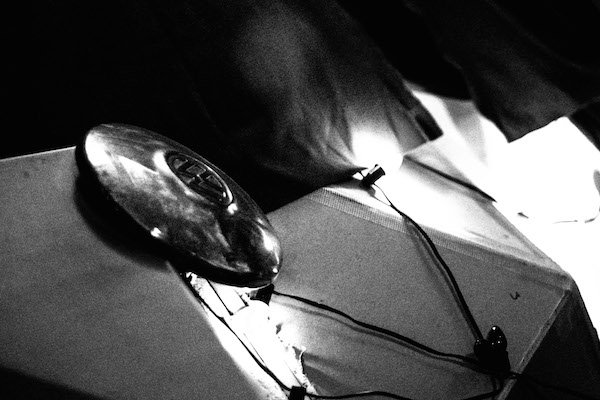 "That was my first car. It was a Volkswagen. I crashed it twice. It's the only thing I have left of the car. I smashed it so badly that the hood of the car, I had to tie it down with a piece of string, and so I was on Highway 1, driving out to jam at my friend Chris' house, and the string blew, and I was driving with the hood blown up. I had to pull over to the side and re-tie it down. Anyhow, my friends used to call my car Keith, because it was like Keith Richards – it should be dead, but it's not." – Shawn
Drawings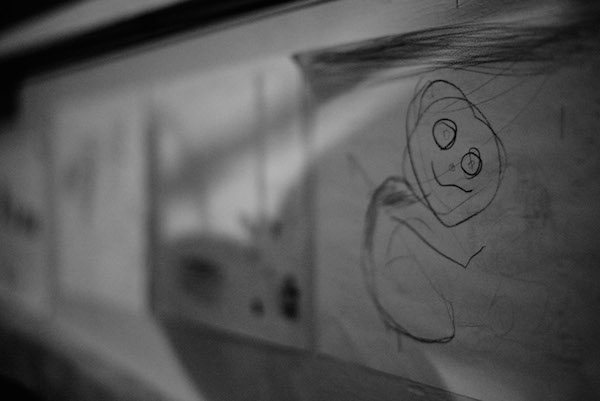 "I asked them [Adrian's students] to help me decorate [the wall], and they were like 'okay.' I said, you can draw a pizza, a robot or a castle. I got the kids to draw [these] because we sang songs about those items in our music class." – Adrian
Soundproofing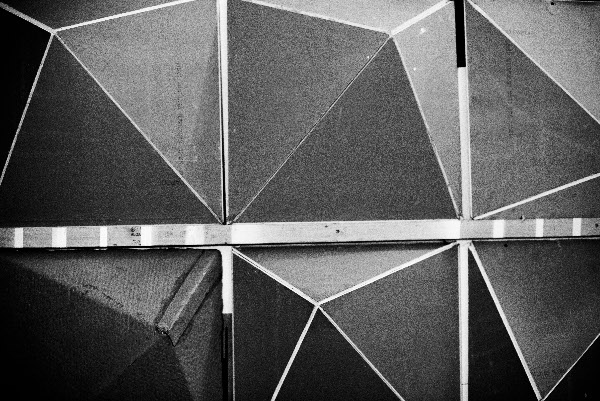 "There's an eccentric genius that lives and works here, called Frank. I asked him if he would build me some soundproofing, so he made these unique, pyramid sound blocks out of old dry wall." – Adrian
Du LAPTOP COOL de Scott Brown:
(Traduit par Jessica Grenier)
COOL TV est un petit nouveau dans le paysage musical canadien, pour ce qui est du nom et du son, mais son passé est chargé d'histoire. Ses membres ont joué dans plusieurs groupes de la région de Vancouver, le plus connu étant probablement Apollo Ghosts. Une fois ce projet terminé, Adrian Teacher et Amanda Pezzutto se sont joints à Shawn Mrazek pour former COOL, qui a récemment été rebaptisé COOL TV : un groupe qui a des liens musicaux et lyriques avec les chansons d'Apollo Ghosts, mais qui pousse plus loin avec ses jams invitant la danse. COOL TV est la vie pensive et introspective de la fête.
Le groupe a tout juste un an au moment d'écrire ces lignes, mais il a produit plus de musique que bien des groupes qui existent depuis des années – et non depuis des mois. Leur année prolifique a débuté avec un premier album axé sur la couleur, Paint. Le trio a ensuite poursuivi avec un EP (Best New Music), un vinyle split avec Sackville (le groupe Weird Lines du Nouveau-Brunswick) et dernièrement un long single avec les pistes « I Can Handle That » et « Modern Europeans ».
La photographe Yuko Inoue de Vancouver est allée les rencontrer dans leur local de pratique, et les objets qu'ils ont choisi de partager avec Weird Canada avaient souvent une histoire personnelle, ce qui démontre comment les actions d'hier influencent les quêtes d'aujourd'hui.
Metal Mike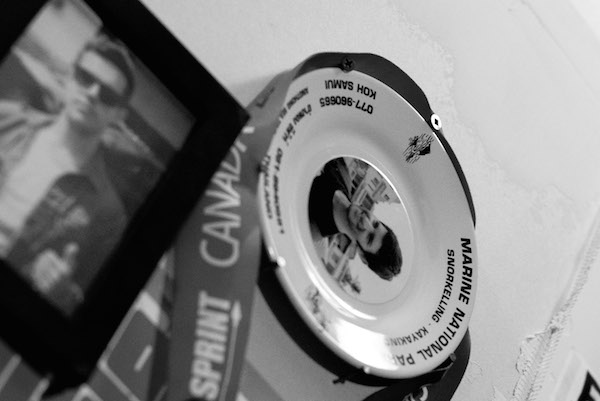 Amanda jouait avec Mike (sur la photo) dans un groupe appelé Barf Burn. « J'imagine qu'on est toujours dans Barf Burn, [ça s'est] jamais fini. Il était en Thaïlande pour un mariage, et quand il est revenu, il était comme 'regarde, j'ai eu une plaque commémorative au mariage, c'est un cadeau pour toi.' Elle est longtemps restée dans un tiroir, et chaque fois qu'il venait, il allait la chercher pour la mettre en vue ». – Amanda
Gord, a.k.a. Gorb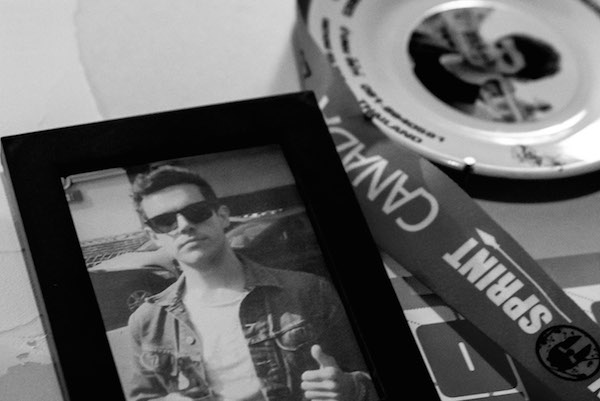 « C'est l'éternel voyageur de Calgary… J'ai joué avec lui dans un groupe qui s'appelait Rick White's Hair. » – Adrian
Chris-a-riffic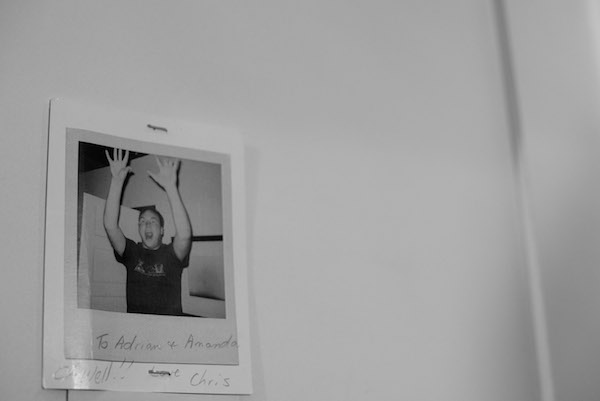 « Il a écrit 'Oh well!! ' sur cette photo, parce qu'on a manqué le spectacle où il a demandé sa femme en mariage – étant donné qu'on en donnait un le même soir. Il nous a donné cette photo de lui comme petite vengeance. » – Adrian
Chandail du Sappyfest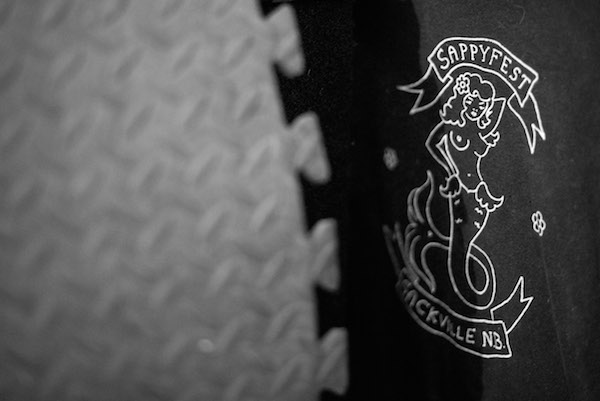 « Je ne peux pas le porter vu qu'il y a des seins dessus – je suis professeur de musique – mais j'adore ce chandail. Cet été-là, notre groupe venant juste de jouer au festival. » – Adrian
Enjoliveur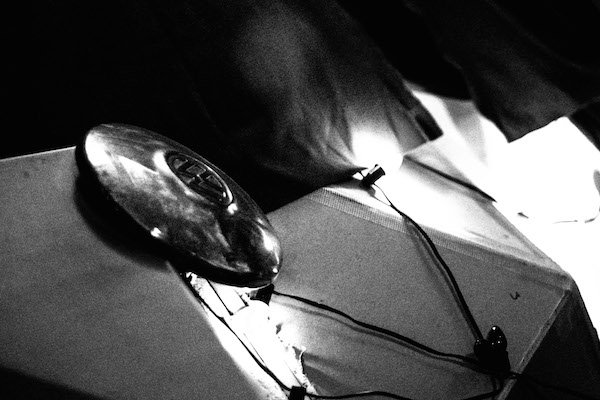 « C'était ma première auto, une Volkswagen. J'ai eu deux accidents. C'est la seule chose qu'il me reste de cette auto. Elle était tellement massacrée que je devais attacher le capot avec de la corde : une fois, je me rendais à un jam chez mon ami Chris, et j'étais sur l'autoroute, et la corde a pété, alors je conduisais avec le capot levé… Il a fallu que j'arrête sur le côté pour le rattacher. En tout cas, mes amis appelaient mon auto Keith, parce qu'elle était comme Keith Richards : elle aurait dû être morte, mais elle ne l'était pas. » – Shawn
Dessins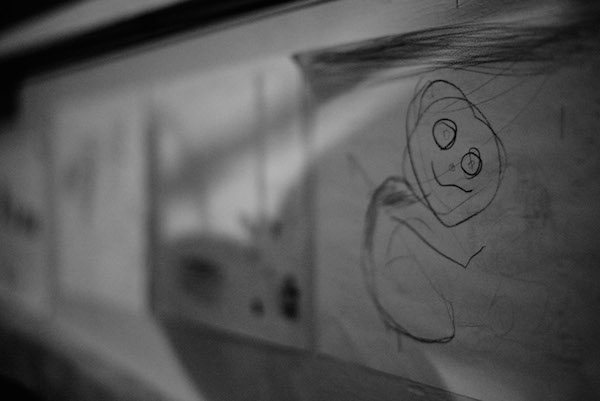 « Je leur ai demandé [aux élèves d'Adrian] de m'aider à décorer [le mur], et ils ont dit 'OK'. Je leur ai dit qu'ils pouvaient dessiner une pizza, un robot, un château… J'ai pu [les] leur faire dessiner parce qu'on avait vu des chansons qui en parlait dans notre cours. » – Adrian
Insonorisation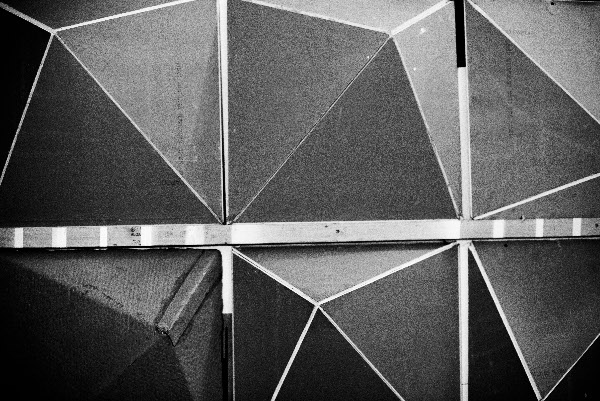 « Il y a un génie excentrique qui vit ici, il s'appelle Frank. Je lui ai demandé s'il pouvait me construire quelque chose pour insonoriser, alors il a fait ces blocs pyramidaux uniques avec des vieilles cloisons sèches. » – Adrian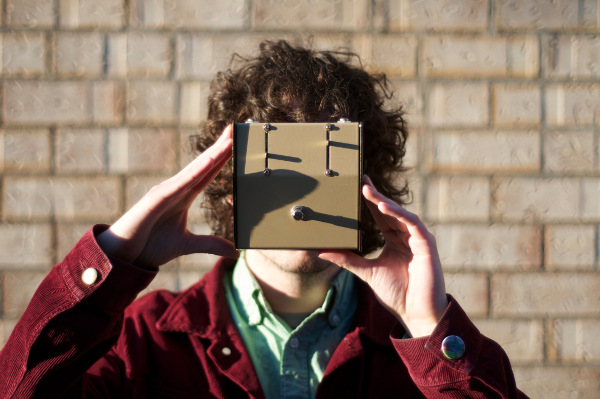 Perpetual arranger of words, recordings and epic experi-riffs Devin Friesen says the month he crafted The Life Story of the Fish was one "of many disappointments, more isolation than usual, and being frugal after an exhausting, long and bitter winter." Dribbled-together, guitar pedal-painted assemblages eke out the grainy hot flash of elsewhere, an ever-melting taste of connectivity. Each hovering pluck is a suture; each distortion wave a snug wound dressing; each grey-sky glaze of drone a tender bite of anesthesia. The album's name taps a gurgled lyric on Friesen's 2011 tape, Looper Pedal Blues, but his fishbowl-trapped feedback trips are the sound of a seething need to leave oil-city purgatory.
Ephemera of Devin Friesen (Bitter Fictions)
Existing during the recording of The Life Story of the Fish
Calgary, AB
From the escape hatchery of Eric Rumble:
Perpetual arranger of words, recordings and epic experi-riffs Devin Friesen says the month he crafted The Life Story of the Fish was one "of many disappointments, more isolation than usual, and being frugal after an exhausting, long and bitter winter." Dribbled-together, guitar pedal-painted assemblages eke out the grainy hot flash of elsewhere, an ever-melting taste of connectivity. Each hovering pluck is a suture; each distortion wave a snug wound dressing; each grey-sky glaze of drone a tender bite of anesthesia. The album's name taps a gurgled lyric from Friesen's 2011 tape, Looper Pedal Blues, but his fishbowl-trapped feedback trips are the sound of a seething need to leave oil-city purgatory.

Bitter Fictions – a vision of vision
The Library window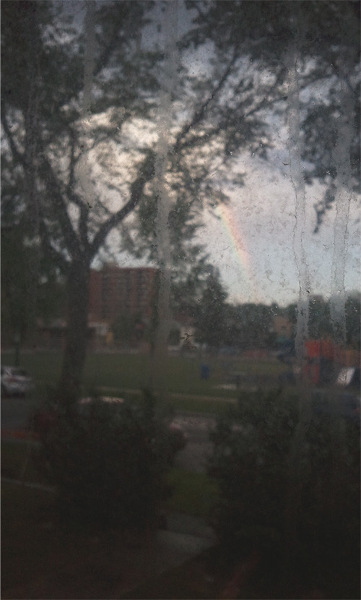 Devin Friesen: "The Library is the name Kevin Stebner (my roommate) and I gave our house when we moved in here about four years ago. Both of us run record labels (Shaking Box Music for me, Revolution Winter/Bart Records for Kev), meaning there's a room in our house that's just boxes and boxes of unsold LPs. We both also have (frankly) ridiculous amounts of music in our possessions – in addition to my working in a record store for many years, Stebs has been working in book stores for many years, so we've amassed a lot of cool stuff. The basement is where all of our music happens. Stalwart Sons and Extra Happy Ghost!!! jammed there for a while, Cold Water jams there now, and most of the Bitter Fictions recordings have been done there."
The view out the living room window of The Library – "when it's 'nice' out," notes Friesen – will be part of the artwork from a forthcoming Bitter Fictions release, No Fun in the Sun, which was recorded a few months after The Life Story of the Fish (TLSOTF).
Studio corner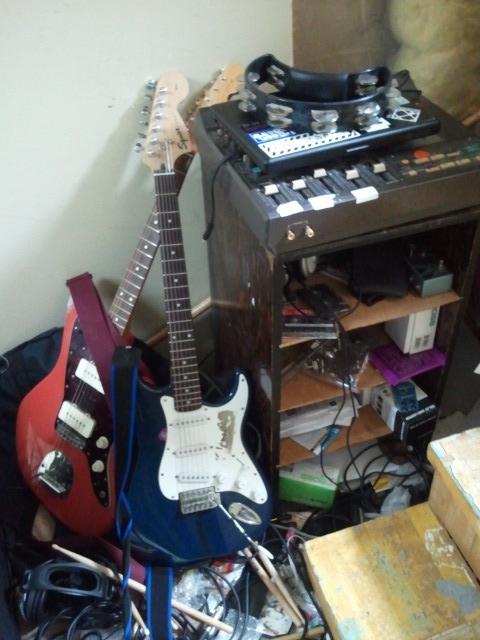 DF: "The Library basement is a small, cramped room, especially with Stebner's wall of amplifiers and drum kit taking up most of it. It's crazy that we've fit bands in there at all, since it's basically just an expanded hallway that leads to our bedrooms and the bathroom. Works great for me, being solo, anyways. We have a Tascam 244 four-track from the '80s set up in the corner, and a couple of condenser mics. Most of what I do is improvised, so I usually just record everything and return to those recordings later. This is the 'studio corner,' I guess. Those are my two guitars, a bunch of drumsticks, tapes, boxes and the Tascam. Both guitars could use tuneups – the Strat only has one working pickup selector, and the Jazzmaster won't ring out if you play it high on the neck. But on the other hand, those limitations can sometimes produce more interesting results."
<<< read more >>>
Basement inspiration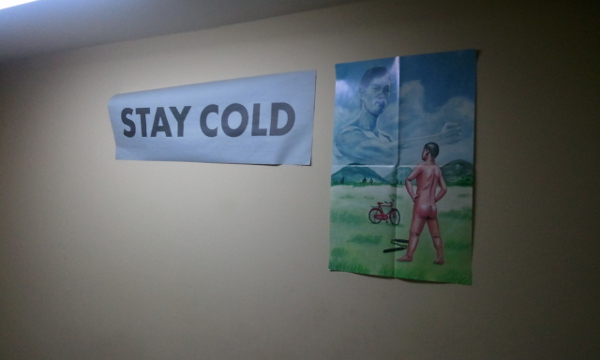 DF: "On one of the walls of the basement: a Stay Cold banner from the Stalwart Sons LP of the same name, and the Bruce Lee poster insert from LP editions of Jim O'Rourke's Eureka. Endlessly amused by that kid's neck wrinkles. I also really dig Stay Cold, and not just because there's an essay I wrote for it on the back cover. I think that banner might be there more for Kevin's bands, mind you… It gets very cold downstairs, especially in the winter – there are no windows in the recording space, but if one leaves a glass of water near the window in my room overnight, it'll be ice in the morning."
bpNichol books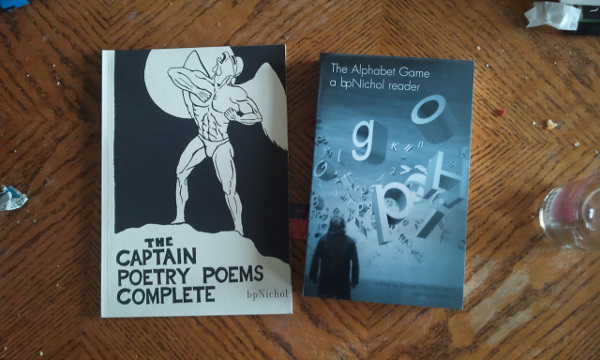 DF: "These are some books from bpNichol. My attitude towards song titles is that they're often rather arbitrary, so I've occasionally turned to what I've been reading to mark them – call it the ephemeral bookmark. A bunch of the track titles on TLSOTF are from bpNichol poems collected in The Alphabet Game; EP no. 2 was all chapter titles from Luigi Pirandello's The Late Mattia Pascal; and the Bitter Fictions 10" lathe, Journeying and the Returns, is a bpNichol reference too. I've named several of my tracks without stealing titles, but I like taking references from works around me. bpNichol is great for more reasons than I can get into here – he may as well be a Weird Canada section unto himself, with all the ground he covered across literary/visual/sound/etc. fields."
Harmonic Percolator and Walkman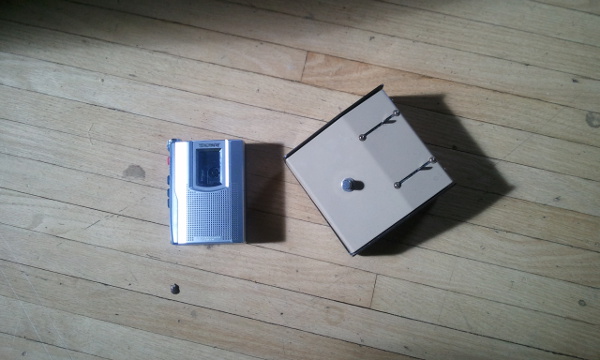 DF: "Rather than describing my whole pedal setup – which is kinda dull: 'Look, a delay pedal!' – I'll just describe my favourite pedal. The tan box on the right is the Harmonic Percolator, one of two distortion pedals I use on the regular. The gear-curious usually ask about either the Percolator or the Feedbacker first, since I use both so frequently – and, y'know, one of them is an unmarked box. For the tech schematics of what it is, you should just watch this video of Steve Albini talking about it. I bought mine around 2007 from a fellow named Chuck Collins out of Milwaukee, and haven't looked back since. There's also a Sony Walkman in there with a built-in microphone recorder. This thing has seen all kinds of use: guitar pick, tape decay mixer, interview transcription, vocal mic, something handy to record choice quotes from movies with, etc. It's usually kicking around somewhere…"
Records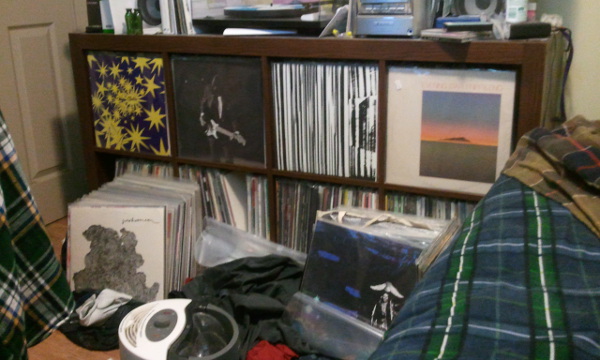 (L-R: Cluster – II; Loren Connors – The Departing of a Dream; The Dead C – Harsh 70s Reality; Fripp & Eno – Evening Star)
DF: "I can't remember exactly what I was listening to around [the recording of TLSOTF], but I can go into a few things I was probably spinning. The weight of my record collection bears on my creative process to some extent – if you're going to go out and make music worth hearing these days, you'd better have a damn good idea of what's already been done.
"Cluster II is a personal favourite. I really like much of the German duo's output – as well as the Harmonia records with Neu!'s Michael Rother – but II satisfies the most on the whole space/noise/drone drift. I appreciate the duo's ear for tone, and since this LP sits nicely between the more structured/'pop' leanings of Zuckerzeit and the free noise of Kluster, I find myself returning to it quite often. I think much of the music I enjoy can be traced back to this record, frankly.
"Loren Connors is an especially huge one for me. He was one of the first names I came across as a teenager branching out from Sonic Youth records into the larger world of free improv/outré music – the Harmony of the Spheres box set comes to mind, where he appears alongside other huge favourites/likely influences such as Roy Montgomery and Flying Saucer Attack. So there's that, but more important is the way Connors commands sound so distinctly. On his own, as on any number of his masterful solo electric guitar suites throughout the '90s, his guitar can be the most desolate and harrowingly lonesome sound in existence. It also manages to be light and ghostly, but also crushingly heavy and textural, as on The Bridge – which I named "& under the bridge" in slight homage to. Loren Connors proves that one doesn't need crushing volume to be 'heavy.' In fact, the absence of volume can be just as startling. When one talks about 'soulful playing,' Connors is the first name I always think of – I don't think of the instrument, I think of the soul enveloping a room. The loneliest guitar.
"I'm not a huge King Crimson fan – frankly, outside of American Primitivism I usually don't care when the guitar is played 'well,' and most '70s rock flat-out nauseates me, but I can dig on the Fripp & Eno LPs. Like Cluster, super formative recordings here. I bought Evening Star from the record store near my house, and I still find it quite funny that for almost a year afterwards the owner kept trying to 'High Fidelity' Robert Fripp solo albums on me – that's record store clerk slang for 'play in store so I'll buy it.'
"Calgary isn't as isolated from the world as New Zealand, but it sure feels like it sometimes, especially if your interests fall outside of getting drunk and 'party rock.' That's partly why I find the Dead C endlessly fascinating – I love their records, but I also love how they've been making their noise on the edge of the world for longer than I've been alive. I once interviewed their amplifier player, Bruce Russell, and some of the things he wrote have stuck with me: BR: We were doing the right thing (however you describe it) out to the weird side of Sonic Youth, where noise, rock, improv and industrial all kind of ran out of steam together, leaving us charging towards the edge of the fucking universe. DF: "Plug in, play, see what happens. Maybe record it with a mic in a room.
BR: That's the big difference between what we do and groups who 'write songs' or even 'write pieces' – we don't write them, they quite literally 'just happen.' DF: "This type of music can be a largely transient and experiential; sometimes it gets captured to tape, other times lost to memory. Such is life, I suppose. Now that I'm well beyond accepting that guitar feedback is my favourite sound, I'm just happy that tape lends itself so well to all kinds of feedback work."
De l'élevage d'évasion d'Eric Rumble:
(Traduit par la fantaisie acidulée de Jessica Grenier)
Arrangeur infatigable de mots, d'enregistrements et de riffs expérimentaux épiques, Devin Friesen explique que le mois où il a façonné l'album The Life Story of the Fish en était un qui était alourdi par de nombreuses déceptions, un isolement plus grand que de coutume et des dépenses restreintes par un hiver long et glacial. L'assemblage de sonorités superposées, teinté par la pédale de guitare, fait durer la bouffée de chaleur granuleuse d'un ailleurs, le goût d'une connectivité fondant à l'infini. Chaque vibration planante est un point de suture; chaque vague de distorsion, un pansement bien ajusté; chaque bourdonnement d'acier, la douce morsure d'un analgésique. Le titre de l'album prend source dans un borborygme, des paroles de Looper Pedal Blues (2011), mais ce feedback dérapant confiné dans un aquarium est le son d'un violent besoin de fuir le purgatoire de la ville pétrolière.

Bitter Fictions – a vision of vision
La fenêtre Bibliothèque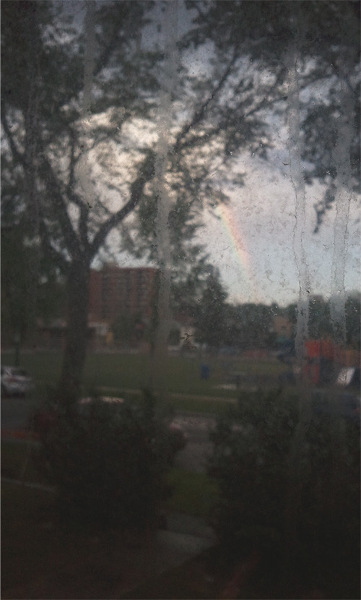 Devin Friesen : « La Bibliothèque. C'est le nom que nous avons choisi – Kevin Stebner, (mon colocataire), et moi – pour notre maison quand nous y avons aménagé il y a quatre ans. Nous dirigeons chacun notre maison de disque (j'ai Shaking Box Music et Kev a Revolution Winter/Bart Records,ce qui veut dire qu'une pièce dans notre maison est remplie par des boîtes et des boîtes de vinyles invendus. Nous avons aussi tous les deux une quantité (ridiculement) impressionnante de musique – j'ai travaillé dans un magasin de disques pendant plusieurs années, et en plus Kev travaille depuis longtemps dans une librairie, alors on a amassé beaucoup de trucs vraiment bien. C'est au sous-sol que se fait toute la musique. Stalwart Sons et Extra Happy Ghost!!! y jammaient pendant un moment, maintenant c'est Cold Water. La majorité des enregistrements de Bitter Fictions ont aussi été faits là. »
Une photo de la vue depuis la fenêtre du salon de la Bibliothèque – quand il fait « beau » dehors, ajoute Friesen – fera partie des illustrations du prochain album de Bitter Fictions, No Fun in the Sun, qui a été enregistré quelques mois après The Life Story of the Fish (TLSOTF).
Coin studio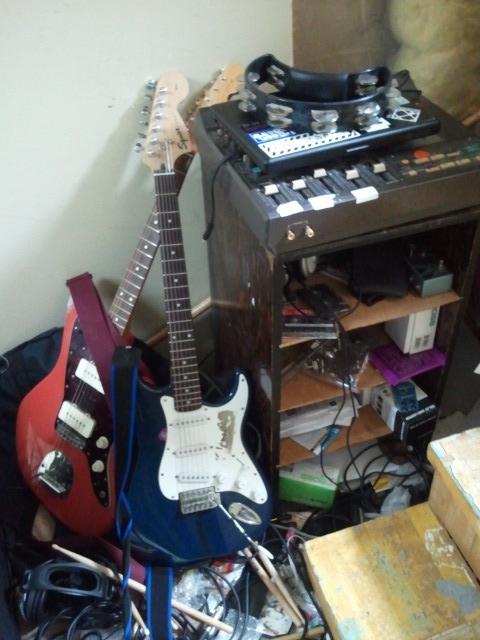 DF : « Le sous-sol de la Bibliothèque est petit. On y est à l'étroit, surtout avec la batterie de Kev et son mur d'amplificateurs. C'est fou de penser qu'on a réussi à y faire entrer des groupes – en gros, c'est juste un couloir élargi qui mène à nos chambres et à la salle de bain. Mais, ça marche bien pour moi, je joue solo. Nous avons une Tascam 244 quatre pistes des années 80 installée dans un coin avec quelques condensateurs et des micros. Comme je fais surtout de l'improvisation, je vais généralement enregistrer tout ce que je fais puis écouter les enregistrements plus tard. C'est ce qu'on pourrait appeler le « coin studio ». Il y a mes deux guitares, un paquet de baguettes, des cassettes, des boîtes et la Tascam. Les guitares auraient besoin d'une mise au point – il n'y a qu'une des sélections de micros qui fonctionne sur la Strat et si on joue trop haut sur le manche de la Jazzmaster, le son ne va pas sortir. Mais d'un autre côté, ces limites peuvent parfois donner des résultats intéressants. »
<<< la suite >>>
Affiches motivationnelles au sous-sol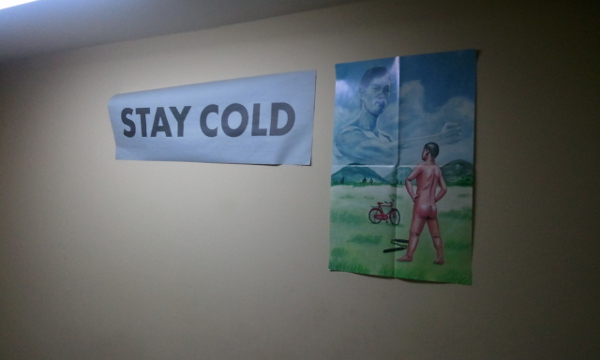 DF : « L'affiche de l'album Stay Cold de Stalwart Sons et celle montrant Bruce Lee, qui était dans l'édition vinyle de Eureka de Jim O'Rourke, sont sur un des murs du sous-sol. Les rides dans son cou me font toujours rire. J'aime aussi beaucoup Stay Cold, et pas simplement parce que j'ai écrit l'essai qui est au verso de la pochette. Ceci étant dit, je pense que l'affiche est surtout là pour le groupe de Kevin… La température devient très froide au sous-sol, surtout l'hiver – il n'y a pas de fenêtre dans le studio, mais si on laissait un verre d'eau une nuit près de la fenêtre de ma chambre, il serait gelé le lendemain matin. »
Livres de bpNichol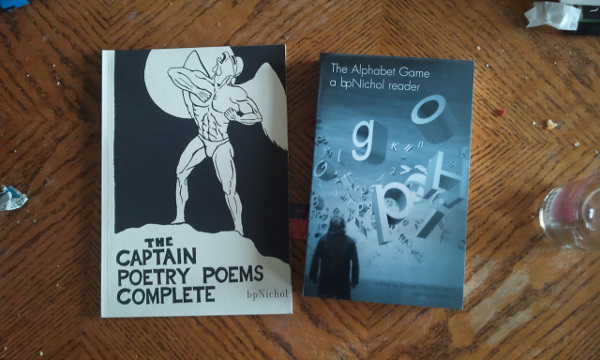 DF : « Ce sont des livres de bpNichol. De façon générale, je préfère donner aux pistes des titres arbitraires. Il m'est arrivé de m'inspirer de ce que j'étais en train de lire pour les marquer – comme un signet éphémère. Plusieurs titres sur TLSOTF sont tirés des poèmes parus dans The Alphabet Game de pbNichol; ceux du EP no. 2 étaient tous des titres de chapitres de The Late Mattia Pascal, écrit par Luigi Pirandello; et Journeying and the Returns, le vinyle de Bitter Fictions, fait aussi référence à bpNichol. Sans voler les titres, j'ai nommé plusieurs de mes pistes ainsi parce que j'aime faire des références aux œuvres qui m'entourent. J'adore pbNichol – je n'aurais pas le temps d'expliquer toutes mes raisons ici –, mais il pourrait constituer une section entière de Weird Canada à lui tout seul vu tout le terrain qu'il a couvert dans les domaines de la littérature, de l'art visuel/sonore, etc. »
Walkman et Harmonic Percolator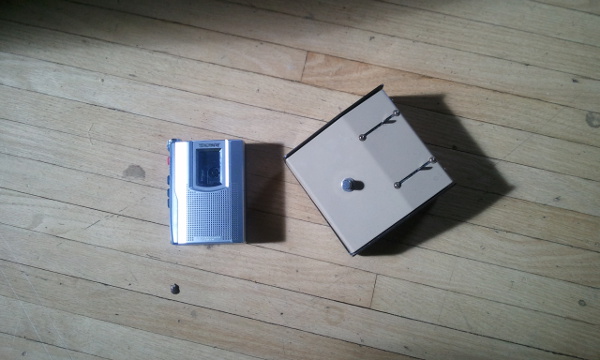 DF: « Plutôt que d'expliquer comment j'ai installé mes pédales – ce qui est assez ennuyeux : 'Regardes, une pédale de délai! ' – je vais juste décrire ma pédale préférée. La boîte brune sur la droite, c'est le Harmonic Percolator , un des deux accessoires que j'utilise le plus souvent. Les fans de matériel demandent généralement tout de suite des détails sur le Percolator ou sur le Feedbacker, puisque je les utilise très souvent et puis, vous savez, l'un des deux est une simple boîte. Si vous voulez les détails techniques, vous pouvez simplement regarder cette vidéo de Steve Albini qui en parle. J'ai acheté le mien en 2007 d'un homme qui arrivait du Milwaukee, Chuck Collins, et je ne l'ai jamais regretté. À l'intérieur, il y a aussi un Walkman Sony avec un enregistreur intégré. Je l'ai utilisé comme micro, pic de guitare, mixeur de déclin sur cassette, et aussi pour transcrire des entrevues, enregistrer des citations de films, bref pour faire toutes sortes de choses. Il traine toujours, quelque part… »
Disques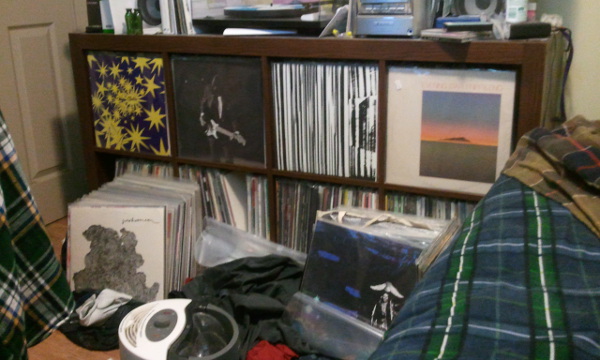 (L-R: Cluster – II; Loren Connors – The Departing of a Dream; The Dead C – Harsh 70s Reality; Fripp & Eno – Evening Star)
DF : « Je ne me rappelle pas de ce que j'écoutais précisément au moment où [j'enregistrais TLSOTF], mais je peux deviner quelques pièces qui me tournaient sûrement en tête. Le poids de ma collection de musique laisse une empreinte sur ma créativité – aujourd'hui, si on veut sortir et faire de la musique qui mérite d'être entendue, on est mieux d'avoir une très bonne idée de ce qui a déjà été fait. » « Cluster * II* est un de mes albums préférés. J'aime presque tout ce que fait le duo allemand – tout comme les enregistrements de Harmonia qu'ils ont fait en collaboration avec Michael Rother de Neu! –, mais II est plus satisfaisant côté espace/bruit/dérive bourdonnante. Ils ont l'oreille pour le ton, et comme ce vinyle est à mi-chemin entre Zuckerzeit, qui est plus structuré, plus pop, et le free noise de Kluster, je le réécoute souvent. En fait, je pense qu'une grande partie de la musique que j'écoute a un lien avec cet enregistrement. » « Loren Connors est vraiment quelqu'un d'important pour moi. C'est un des premiers noms que j'ai croisé quand j'ai commencé, adolescent, à diversifier la musique que j'écoutais, en m'éloignant de Sonic Youth. Je me lançais dans le monde beaucoup plus vaste de l'improvisation libre et de la musique expérimentale. Le coffret Harmony of the Spheres me revient en tête, où il joue avec d'autres grands noms que j'adore, comme Roy Montgomery et Flying Saucer Attack. Il y a ça, mais c'est surtout la façon particulière qu'il a de jouer avec le son. Jouant seul – comme dans n'importe lequel de ses solos magistraux de guitare électrique des années 90 – sa guitare peut être le son le plus désespéré de l'univers, une musique infiniment triste. Il est également léger et fantomatique, ou incroyablement lourd et texturé – comme dans The Bridge, auquel j'envoie un clin d'œil par son titre & under the bridge. Loren Connors prouve qu'il ne faut pas nécessairement un volume assourdissant pour être 'lourd'. En fait, l'absence de volume peut être tout aussi surprenante. Quand on parle de jouer avec son âme, c'est toujours le premier nom auquel je pense – je ne pense pas à l'instrument, je pense à l'âme qui enveloppe la pièce, à la guitare esseulée. »
« Je ne suis pas un grand fan de King Crimson – pour être honnête, à part le primitivisme américain, ça ne m'intéresse pas vraiment quand la guitare est « bien » jouée, en fait la majorité du rock des années 70 m'écœure, mais j'aime bien les vinyles de Fripp & Eno. Comme ceux de Cluster, ces albums ont été formateurs pour moi. C'est drôle parce que j'ai acheté Evening Star dans un magasin de disque près de chez moi et pendant l'année qui a suivi, le propriétaire essayait de me vendre des albums solos de Robert Fripp en faisant jouer la musique dès que j'entrais dans le magasin. » « Calgary n'est pas aussi isolée du monde que la Nouvelle-Zélande, mais on en a l'impression parfois, surtout si on s'intéresse à autre chose que se soûler en écoutant du 'party rock'. C'est en partie pour ça que Dead C me fascine. J'adore leurs albums, et aussi le fait qu'ils faisaient déjà leur noise à la limite du monde avant même que je ne sois né. J'ai déjà interviewé Bruce Russell, le joueur d'amplificateurs, et certains trucs qu'il a écrits me sont entrés dans la tête : BR : On faisait la bonne chose (peu importe ce que ça veut dire) dans le côté étrange de Sonic Youth, où le bruit, le rock, l'industriel et l'improvisation ont manqué de souffle comme tous ensemble, nous laissant seuls, fonçant vers la limite de cet univers merdique. DF : « Branchez les instruments, jouez et voyez ce qu'il va se passer. Peut-être l'enregistrer dans une pièce avec un micro. »
BR : C'est la grande différence entre ce qu'on fait et les groupes qui 'écrivent des chansons' ou même 'écrivent des pièces' – on n'écrit pas, ça se passe, tout simplement. DF : « Ce style de musique peut être très éphémère et expérimental; parfois il est enregistré sur une cassette, parfois juste dans les mémoires. C'est la vie, j'imagine. Maintenant que j'ai réussi à accepter que mon son préféré est le feedback d'une guitare, je suis juste heureux que la cassette permette de le travailler de plein de façons. »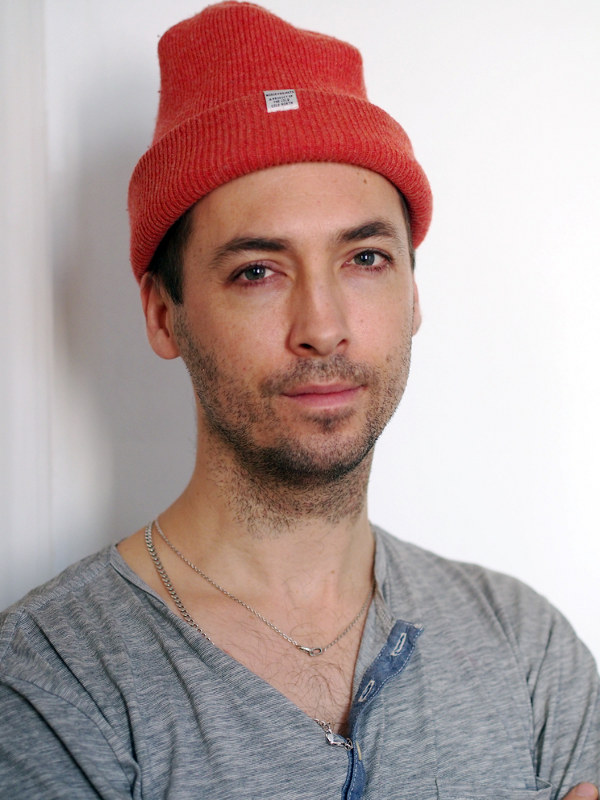 From the constant plasticity of Christina Bell:
Intricate electronic sound experimentation is the lifeblood of Tim Hecker's ambient creations. His most recent release, Virgins, is an album composed with the refined musicality of an academic that also effectively taps into an aural world of static-drenched, emotionally charged, melodic noise. As a result of the involved process of treating and re-treating sound, the whole album steadily resonates with a majestic and eerie luminosity. Weird Canada met up with Hecker to explore some of the ways in which the physical world inherently shapes his final product.
Tupac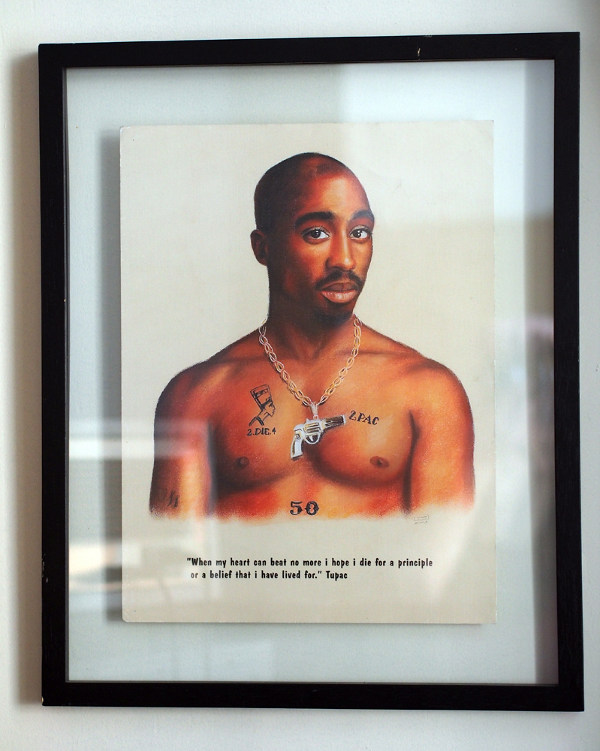 I have this picture of Tupac over my speakers. When I'm doing a mix or something, I actually look at the speakers to zone in on the sound and when I look up, he's always peripheral, just out of the plane of vision. His eyes are sort of floating too [Ed: Think the Mona Lisa], so it always encourages me to not step back [from what I'm doing], but push it because [the picture] makes me think "what would Tupac do?" I'm not making music like Tupac but there is a certain shared spirit.
ARP Omni MkII String Synthesizer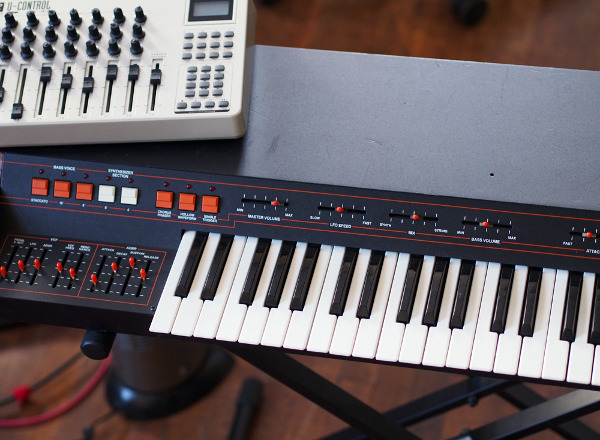 This is a vintage string synthesizer that I used a lot on this record. It's a synthesizer that specifically plays string sounds and I would treat it a lot. It's a big aspect of some of the pieces. The synth has this kind of weird creepy presence to it. It's a strange, very simple synthesizer that is relatively cheap compared to a lot of vintage things. It has a very limited purpose. It's not that flexible, but I love it.
Traynor Studio Mate Amplifiers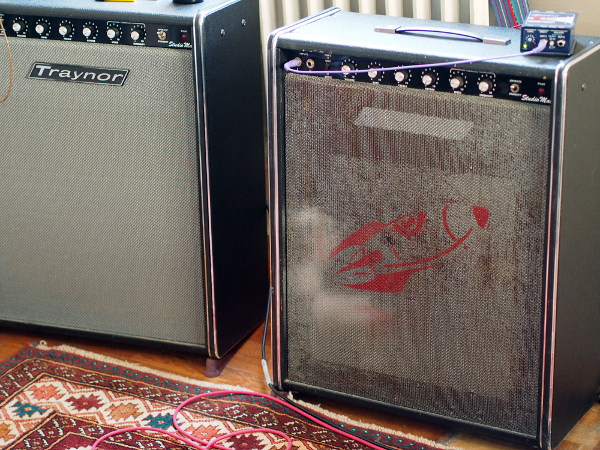 I use these a lot to move digital audio into a room and then re-record. I moved the more digital pieces I was working out through the amps and hit them pretty hard, then re-record them with microphones and bring [the sound] back in. It's this constant plasticity of taking sound and pushing it, and pushing it, analog to digital, digital to analog until it starts to take a weird uncanny specialness that's different than what you started out with. That's my general way of working.
The Studio Next Door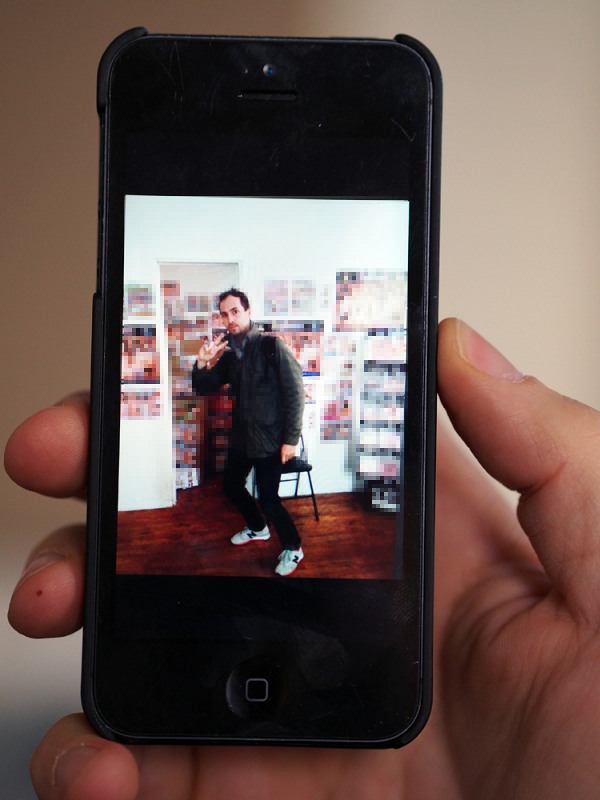 The tenants have changed in this building. The fact that next door became a casting couch at the end of my time here has led to an energy that affects how I work. You can hear the coming and going on the other side of the door and even though I tried to soundproof the room, it's not soundproof at all. The energy bleeds through. It's a give and take. I've received a lot of sonic energy. The presence of neighbours has an effect…
De la plasticité constante de Christina Bell:
(Traduit par l'analogie audionumérique glauque de Julie Mayer)
L'expérimentation à base de sons électroniques complexes est le souffle des créations ambiantes de Tim Hecker. Composé avec la musicalité raffinée d'un académicien, son album le plus récent, Virgins, rejoint de manière efficace un monde auditif formé de musique bruitiste inondée d'électricité statique et chargée d'émotivité. Après un processus complexe de traitement et de retraitement sonore, l'album ne cesse de résonner d'une luminosité mystérieuse et majestueuse. Weird Canada a rencontré Hecker afin d'explorer en quoi le monde physique façonne l'essence de son produit fini.
Tupac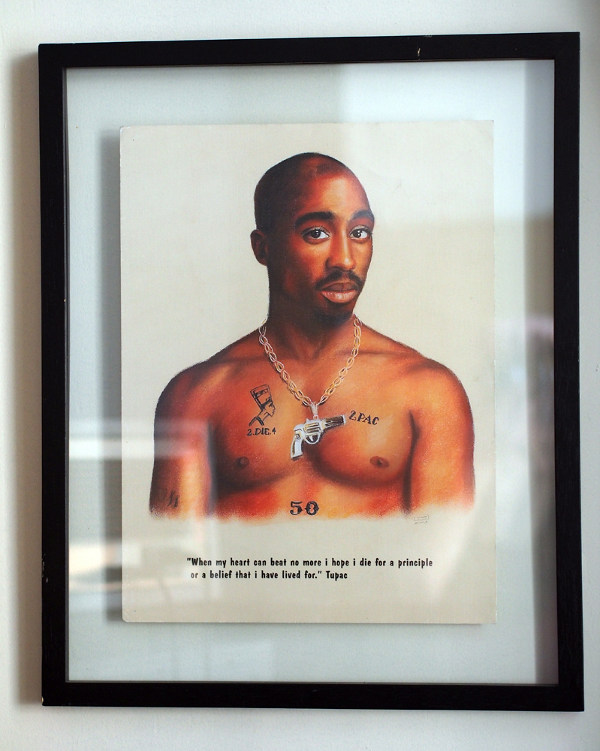 J'ai cette photo de Tupac au-dessus de mes haut-parleurs. Quand je fais du mixage ou quelque chose du genre, je fixe attentivement les haut-parleurs pour contempler le son et quand je regarde vers le haut, il est toujours en périphérie, tout juste hors de mon champ de vision. De plus, ses yeux sont animés d'une sorte de mobilité [N. D. É. : pensez à la Joconde]; ça m'encourage à ne pas m'éloigner [de que je suis en train de faire], à aller plus loin parce que [la photo] me fait penser : « Qu'est-ce que Tupac ferait? » La musique que je fais n'est pas comme celle de Tupac, mais il y a une certaine ressemblance dans l'esprit.
Le synthétiseur ARP Omni MkII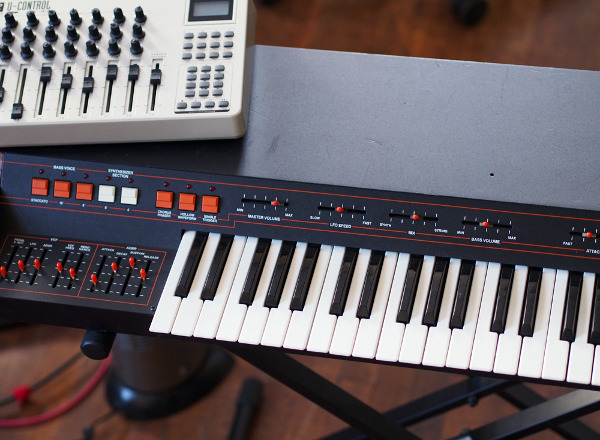 J'ai pas mal utilisé ce synthétiseur de cordes vintage sur cet enregistrement. Il joue exclusivement des sons d'instruments à cordes auxquels j'ai fait subir de nombreux traitements. C'est un aspect majeur dans quelques-uns des morceaux. Le synthé y ajoute une sorte de présence louche qui fiche la trouille. C'est un synthétiseur étrange, très simple, relativement bon marché comparé à bien d'autres trucs d'époque. Il a très peu d'utilité. Il n'est pas si flexible, mais je l'aime.
Les amplificateurs Traynor Studio Mate?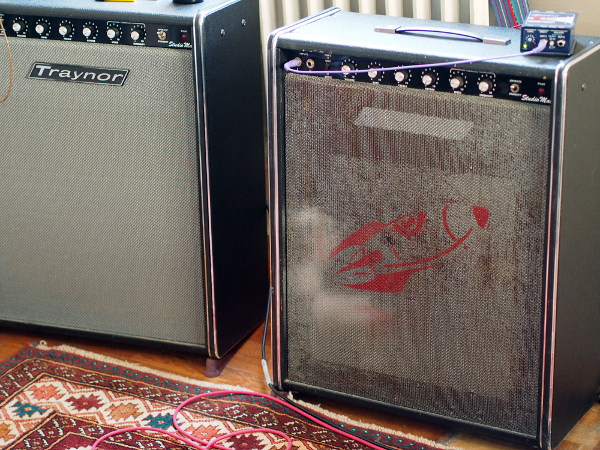 Je les utilise souvent pour transférer de l'audio numérique dans un espace avant de le réenregistrer. J'envoie à travers les amplis les morceaux les plus numériques sur lesquels je planche, puis je les joue assez fort pour les enregistrer à nouveau avec des microphones et ramener [le son] dans le tout. C'est un mouvement de plasticité constante : prendre le son et le forcer encore et encore, de l'analogique au numérique, du numérique à l'analogique jusqu'à ce qu'il commence à prendre une tournure singulière et troublante, différente du son d'origine. Voilà comment je travaille en général.
Le studio d'à côté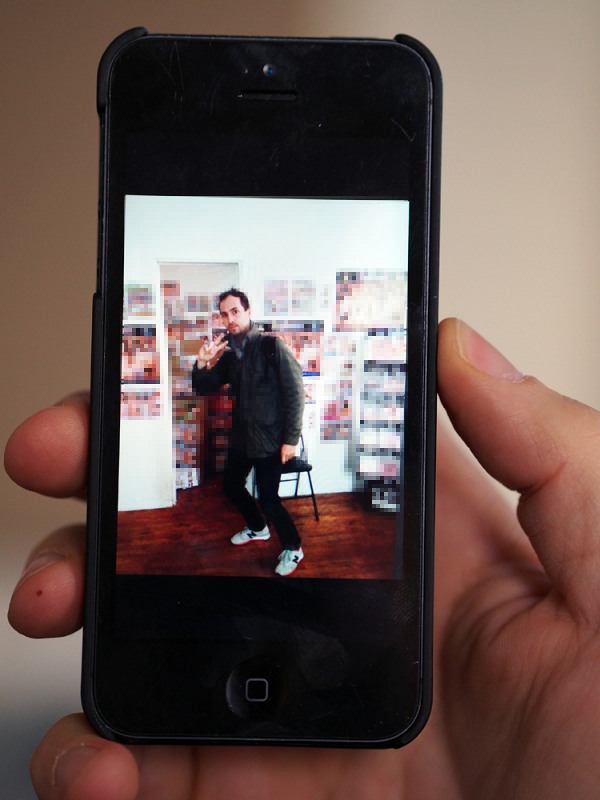 Les locataires de ce bâtiment ont changé. Le fait que le local voisin soit devenu un studio de « promotion canapé » vers la fin de mon séjour a apporté une énergie qui affecte la manière dont je travaille. On peut entendre les va-et-vient de l'autre côté de la porte et même si j'ai essayé d'insonoriser la pièce, elle n'est pas insonorisée du tout. L'énergie passe au travers. C'est donnant, donnant. J'ai reçu beaucoup d'énergie sonore. La présence des voisins me fait un certain effet…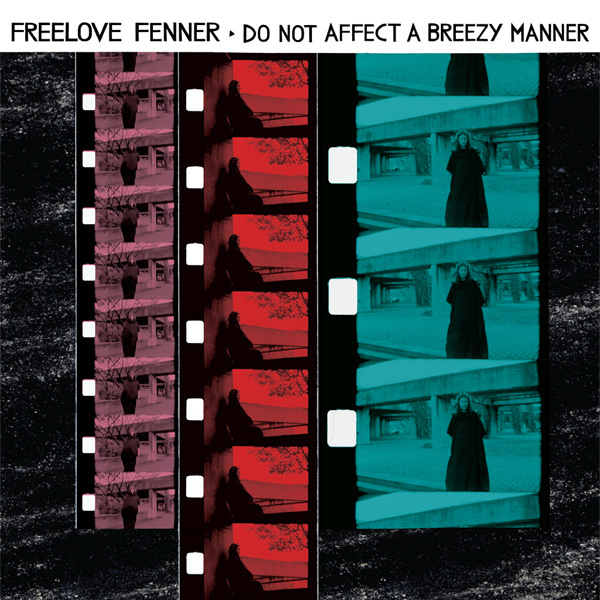 Ephemera of: Freelove Fenner
Existing during the recording of: Do Not Affect A Breezy Manner
Montréal, QC
From the nimble digits of Nick Schofield:
With an element of style, shoulder sway to the basement haze of Freelove Fenner's latest LP, Do Not Affect a Breezy Manner. The Mile-End trio deliver dry-as-bone tone with an audible sepia filter courtesy of the Bottle Garden's analog gear. Straight to tape, Caitlin Loney tracks ultra-caj vox over starry-eyed drums and tightly wound guitar riffs. Meanwhile, de facto producer George Harrison Cat purrs approvingly from behind an Otari MX70 8-track machine and takes stock of the diminishing Quantegy 456 supply. In line with Rule 9, DNABM is a felicitous release, neither fanciful or plain. We popped the bottle with the band to imbibe the elements that produced their instant fixture record.
Freelove Fenner – All Things Break Through
Freelove Fenner – George Harrison Cat
Mr. Brown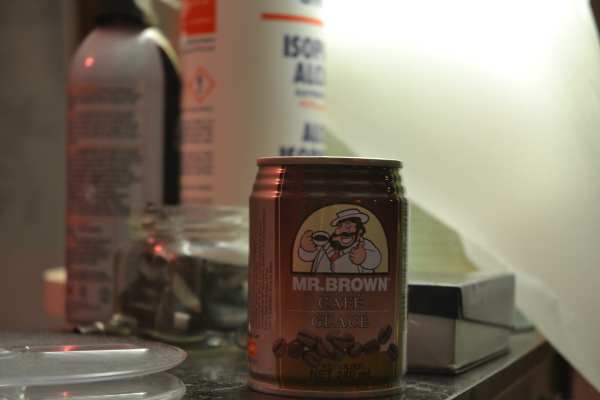 We would drink this a lot during recording sessions. It's like a coffee/milk beverage. You gotta shake it. It's in a very small can and I think it's made in Taiwan. They're at certain deps. You can even mix it with vodka. Caitlin
Tambourine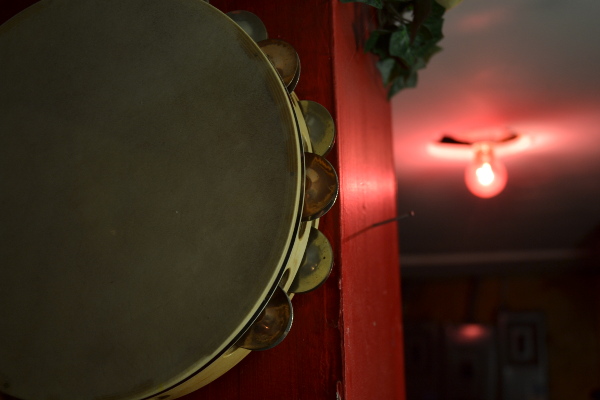 There's always space for a tambourine, even though there's only eight tracks. We make room for it. Caitlin
People are usually scandalized when they find out that I paid over $100 for a tambourine. It did feel pretty painful at the time, but I've used it on almost every song we've recorded. It's a very underrated instrument. People always think of it as an afterthought but for us it's sometimes as important as the drum kit. A lot of our all-time favourite songs have nice tambourine. Peter
Super 8 still/cover art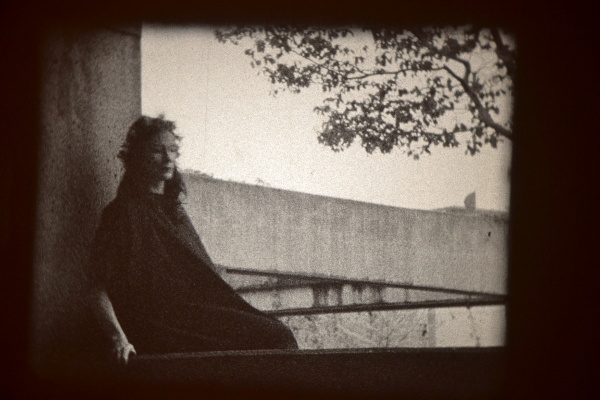 These are scanned Super 8 strips from our video for "In The Sound". We just took stills from that and photographed them with a macro lens for the album's cover art. It's filmed in Parc Viger, the name of the sculpture is the Agora. It's just this bizarre nuevo-Greek structure. I think the word Agora refers to public space. It's basically me in this black robe and vines in my hair. It's a Quebecois architect that designed this space. Caitlin
I do think it's an endangered space; there are some plans to demolish it. As it is right now, it's mostly a brutalist park that heroin addicts like to hang out at. But it's one of my favourite places in Montreal, though. I wish more people would hang out there. Peter
Tape machine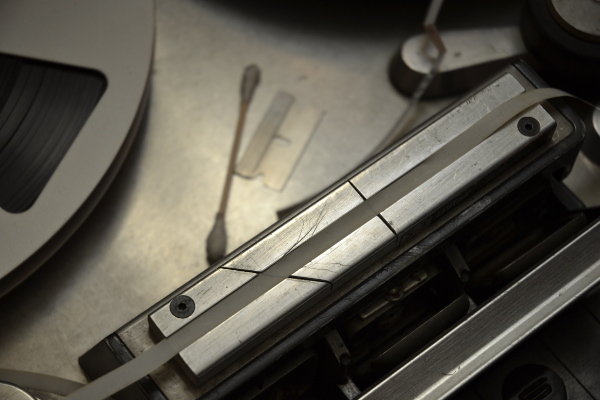 This is the part of the tape machine where we do the cutting on the Studer. The splicing block tends to get worn out from razor blades. It's from making loops. This machine's from 1965; it's been used a lot. Peter
There are usually q-tips everywhere. And for people who don't understand they're for cleaning equipment they think we're really gross dirtbags who have an ear-cleaning fetish. We just constantly have to clean the tape heads. The tape will be rolling and Peter will yell "did you clean the heads?" It's a common thing you hear in the house. Caitlin
Practical Techniques For The Recording Engineer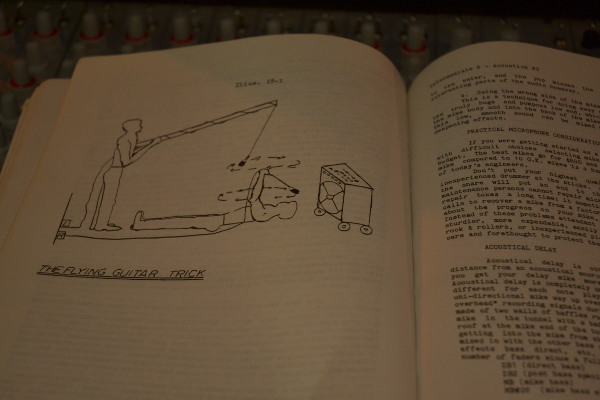 One of my favourite recording books is Sherman Keene's Practical Techniques For The Recording Engineer. He played bass in the band Spirit and worked at Ike Turner's recording studio. It was self published in the '70s; it was typed out. The illustrations in the book look like they were done by a deranged child. He would have the most wonderful advice. Stuff like "don't do too many drugs when you're recording or the client will haggle at the end of the session." This is also coupled with superb technical advice. It's probably the best technical recording book I've ever seen. Peter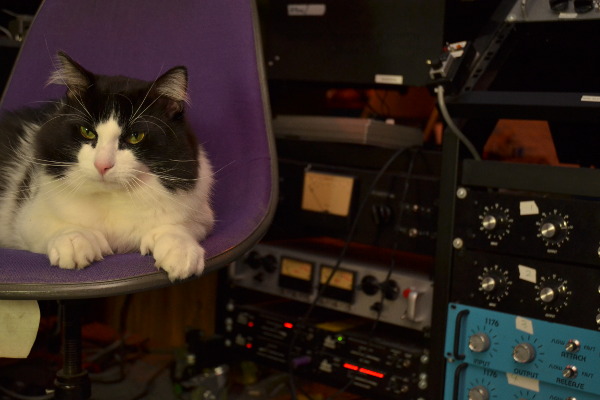 There are probably a lot of songs about him, two on this record. He's pretty special. He's like our boss, I guess. Caitlin
I've written at least five songs about him. Peter
Des chiffres agiles de Nick Schofield:
(Traduit par la nostalgie douce de Catherine Debard)
Avec une touche de style et un roulement d'épaules élégant, descendons dans le sous-sol embrumé de Freelove Fenner, encore imprégné de leur nouveau LP Do Not Affect a Breezy Manner. Le trio du Mile-End livre un son très sec, recouvert d'un doux filtre sepia, gracieuseté de l'équipement analogique de the Bottle Garden. Caitlin Loney dépose sa voix naturellement décontractée directement sur le ruban, au-dessus de la batterie aux yeux étoilés et des riffs de guitares comme des blessures soigneusement dessinées. Pendant ce temps, le producteur de fait George Harrison le Chat ronronne derrière son 8-pistes Otari MX70 et observe la lente diminution des réserves de Quantegy 456. Dans la lignée de Rule 9, DNABM est un album heureux, sans être fantaisiste, ni simplet. Nous avons ouvert une bouteille avec le groupe afin d'imbiber les éléments environnants qui se trouvent dans leur album.
Freelove Fenner – All Things Break Through
Freelove Fenner – George Harrison Cat
Mr. Brown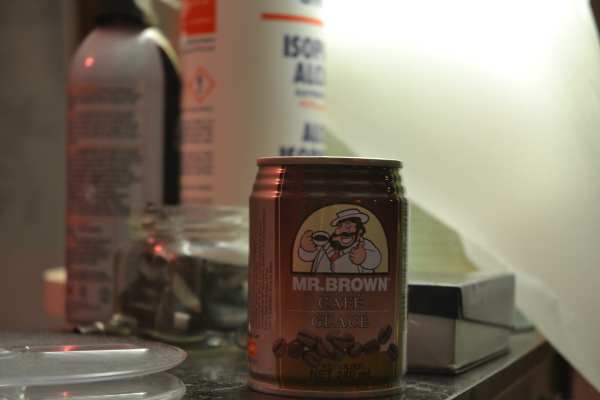 Nous en buvions beaucoup durant nos sessions d'enregistrement. C'est une boisson qui ressemble à un mélange de café et de lait. Il faut la secouer. C'est dans une toute petite boîte de conserve et je crois que ça vient de Taiwan. On peut en trouver dans certains dépanneurs. On peut même la mélanger avec de la vodka.Caitlin
Tambourin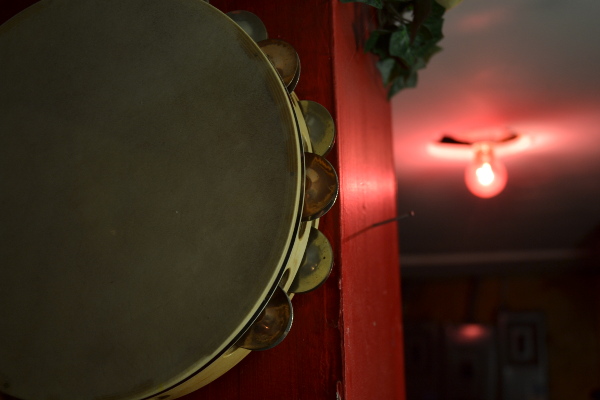 Il y a toujours de l'espace pour du tambourin, même s'il n'y a que huit pistes. Nous faisons de la place pour lui.Caitlin
Les gens sont généralement scandalisés lorsqu'ils apprennent que j'ai payé plus de 100 $ pour un tambourin. Ça a été assez douloureux sur le coup, mais je l'ai utilisé sur presque toutes les chansons que nous avons enregistrées. C'est un instrument très sous-estimé. Généralement, les musiciens y pensent après coup, mais pour nous, c'est parfois aussi important que la batterie. Beaucoup de nos chansons préférées (à vie) contiennent du tambourin. Peter
Image fixe de Super 8 / Visuel de la pochette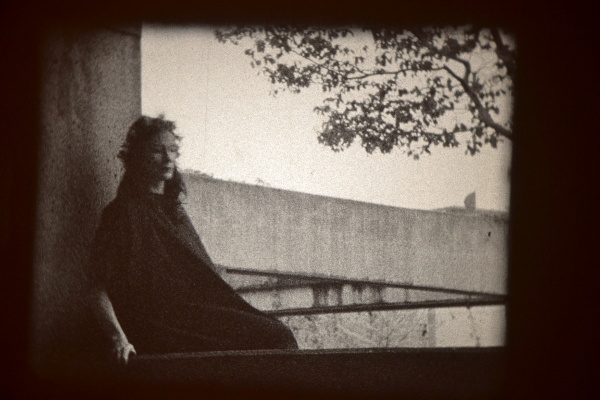 Ce sont des bandes de Super 8 scannées de notre vidéo pour la chanson "In The Sound". On a choisi des images puis on les a photographiées avec une lentille macro pour faire la pochette de l'album. Ça a été filmé au Parc Viger, le nom de la sculpture est "L'Agora". C'est une sorte de structure néo-grecque bizarre. Je crois que le terme "Agora" fait référence à l'espace public. C'est essentiellement moi dans une robe noire avec de la vigne dans les cheveux. C'est un architecte québécois qui a conçu l'espace. Caitlin

Je crois que c'est un endroit en danger; il existe déjà des projets visant à démolir cet espace. Dans son état actuel, c'est principalement un parc inspiré de l'architecture brutaliste où les toxicomanes aiment bien traîner. Ça reste tout de même l'un de mes endroits préférés à Montréal et j'aimerais que plus de gens viennent s'y promener. Peter

Magnétophone

C'est la partie du magnétophone qui permet de faire le montage sur Le Studer. Les blocs de découpage ont tendance à être usés à cause des lames de rasoir. C'est à force de faire des boucles. Cette machine date de 1965, elle a été beaucoup utilisée. Peter

Il y a généralement des cotons-tiges partout. Pour ceux qui ne comprennent pas : c'est pour nettoyer l'équipement, pas parce qu'on est des fétichistes du nettoyage d'oreilles! On doit constamment nettoyer les têtes de bande magnétique. Le ruban sera en train de dérouler et Peter va hurler "As-tu nettoyé les têtes?" C'est une chose qu'on entend souvent à la maison. Caitlin

Practical Techniques For The Recording Engineer

L'un de mes livres préférés sur l'enregistrement est Practical Techniques For The Recording Engineer de Sherman Keene. L'auteur a joué de la basse dans le groupe Spirit et a travaillé dans le studio d'enregistrement de Ike Turner. Il a publié lui-même son livre durant les années 70, tapé à la machine à écrire. Les illustrations ont l'air d'avoir été faites par un enfant un peu perturbé. Ce livre est truffé d'excellents conseils tels que "ne prenez pas trop de drogue lorsque vous enregistrez sinon le client va tenter de marchander à la fin de la session." Ajoutez à ça des conseils techniques superbes et ce livre est probablement l'un des meilleurs livres sur les techniques d'enregistrement que j'aie jamais vu. Peter

Il y a probablement beaucoup de chansons sur ce chat, deux sur cet album. Il est assez spécial. C'est notre patron en quelque sorte.

Caitlin

J' ai écrit au moins cinq chansons sur lui. Peter
---