Category: Departures Revisited
From the discreet music of Jesse Locke:
The pained strains of violin, viola and cello open this collection of compositions from Mark Ellestad — father of Kris and Kiesza. "No Moon No Flowers," the 32-minute centerpiece for woodwind quintet, jabs at the empty space with sooty fingers like a clarion call to remember your past. "Discreet Angel," 16 minutes of solo guitar from Annette Chretién, is a lingering gaze outside a grey window. "Sigrid," the curtain call, finds Ellestad's own hands on hardanger fiddles and pump organs, fading into the myst of desolation sound.
De la musique discrète de Jesse Locke:
(Traduit par Allison McReynolds)
Les accords peinés de violon, alto et violoncelle ouvrent cette collection de compositions de Mark Ellestad – père de Kris et Kiesza. "No Moon No Flowers," la pièce maîtresse pour quintette à vent (qui dure 32 minutes), frappe dans le vide avec des doigts noir de suie, comme l'appel d'un clairon pour vous souvenir de votre passé. "Discreet Angel," un solo de guitare de 16 minutes de Annette Chretién, est un regard s'attardant à travers une fenêtre grise. "Sigrid," le rappel, trouve les mains de Ellestad sur des violons Hardanger et des harmoniums, se fondant dans un [brouillard] ((http://weirdcanada.com/2009/12/review-aidan-baker-noveller-colorful-disturbances/) de désolation sonore.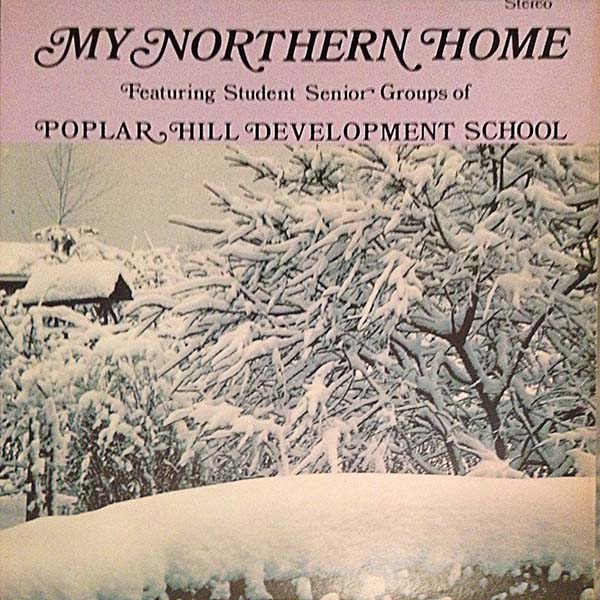 Poplar Hill Development School
My Northern Home
(Self Released)
Poplar Hill, ON
originally released: 1972
From the feverish mind of Charlotte:
Located near the Manitoba-Ontario border is Poplar Hill, home to the Anishnaabe (Ojibway) Poplar Hill First Nation. Many of the children there attended the Poplar Hill Development School, an Indian Residential school that operated between 1962 and 1989. A quick Google search shows that many survivors have spoken openly about their experience, the good and the bad, but no one mentions the audio record of the experienced pain. To mark its tenth anniversary, the school released a 12-inch vinyl record called My Northern Home, which features fifteen recorded songs that had been sung by the children of Poplar Hill Development School between 1969 and 1972. Yet, as I scavenged for even a hint of information about its recordings or release, its existence seemed doubtful except for the fact that I had held the vinyl in my own two hands and heard it playback through my speakers as the needle took a plastic ride through history.
Of the fifteen songs, two were sung in Cree, a surprising feature considering the total suppression of Indigenous languages in residential schools, but even the Cree song "Down At The Cross" suggests a Western religious theme. If not exploring Christian teachings of Jesus Christ, the songs mentioned the land, the seasons or school life. As much as My Northern Home may feel like salt poured into open wounds, the powerful sound of these voices is an important learning experience to share. These songs eerily capture an oppressive past so distant, yet so near; they are acapella time capsules that run through the veins of Indigenous cultures and the current issues that echo so loudly.
De l'esprit fiévreux de Charlotte:
(Traduit par Jessica Grenier)
Poplar Hill est située près de la frontière entre l'Ontario et le Manitoba. La Première Nation Anishnaabe (Ojibway) de Poplar Hill y habite. Là-bas, de nombreux enfants ont étudié à la Poplar Hill Development School, un pensionnat indien qui a été en activité entre 1962 et 1989. Une rapide recherche sur Google montre que plusieurs survivants ont parlé ouvertement de leur expérience, tant du bon que du mauvais, mais personne ne mentionne l'enregistrement audio de la douleur vécue. Pour souligner son dixième anniversaire, l'école avait lancé un vinyle 12'' intitulé My Northern Home, qui comprenait quinze pistes chantées par les enfants de l'école entre 1969 et 1972. Mais, alors que je recherche toujours activement des informations sur cet enregistrement, son existence même semble incertaine, si ce n'est que j'ai tenu le vinyle dans mes propres mains et que j'ai entendu le son sortir de mes haut-parleurs au rythme de l'aiguille en plastique remontant le cours de l'histoire.
Deux des quinze chansons étaient chantées en Cri, ce qui est étonnant si l'on considère l'interdiction totale des langues indigènes dans les pensionnats, mais même la chanson en cri « Down At The Cross » suggère un thème religieux de l'Ouest. Quand elles ne traitaient pas des enseignements chrétiens de Jésus Christ, les chansons mentionnaient la terre, les saisons et la vie à l'école. Bien que My Northern Home puisse être vu comme du sel versé sur des plaies ouvertes, une leçon importante peut être tirée de ces voix au son puissant. Ces chansons sont la sinistre capture d'un passé oppressant éloigné, mais proche à la fois; elles sont des capsules temporelles a capella qui coulent tant dans les veines des cultures autochtones que dans les problématiques qui se font entendre actuellement.
Poplar Hill Development School – Down At The Cross (Cree)
From the smoke-drenched greasy hair of Eddie & Alexis:
(Translated by Eddie & Alexis)
Dionysos is considered the first Québécois rock band with a full repertoire of originals. Proof may still be required, but they sure didn't need any covers! A bunch of stoner drifters from Valleyfield fuelled by Deep Purple and Mexican Gold took over the studio of Donald Lautrec, the king of yé-yé pop in Québec. There they recorded six heavy psychedelic progressive monsters, tightly wrapped in blues. Through the hypnotic organ spirals ("L'âge du Chlore") and bursts of fuzzed-up guitar ("Narcotique") singer Paul-André Thibert delivers a roaring worker's poetry on "Suzie," a song with lyrics always rhyming with its title. Yet we can't ignore P-A's performance on flute and harmonica. Most of the time, awkward, out of breath or flaky aren't great terms when it comes to music, but P-A gets to the core of these concepts as a raw, free, back-of-the-bus poet. Tripping way over the known parts of Québec rock at the time, Dionysos transcends Black Sabbath and Aut'Chose to become a revolted god who will fall into oblivion after its time.
Eddie & Alexis:
Dionysos serait le premier groupe rock québécois à avoir un répertoire entièrement francophone et formé de compositions. On ne sait pas si c'est complètement vrai, mais c'est tout un groupe rock et ils n'ont en effet pas besoin de faire de reprises. Une bande de zonards stoneurs de Valleyfield carburant au Deep Purple et au Mexican Gold ont pris d'assaut les studios de Donald Lautrec, le roi du yé-yé au Québec, avec un éventail de morceaux progressifs et psychédéliques solidement ancrés dans le blues. À travers des spirales d'orgues Hammond hypnotiques (L'âge du Chlore) et des déflagrations de guitare électrique (Narcotique), le chanteur Paul-André Thibert nous délivre une performance rugissante de poésie ouvrière. Notamment, dans Suzie, leur premier single, où il s'évertue à faire rimer toutes les lignes en i et laisse donc place à des phrases mémorables. On s'en voudrait également de ne pas donner une mention honorable à toutes les apparitions de flûte à bec et d'harmonica. En temps normal, les termes essoufflé, hésitant et mal à l'aise ne sont pas très bien vus pour parler d'instruments de musique, mais c'est mal connaître Thibert. En ses qualités de poète cru et libre, il réussit à en tirer le maximum et à puiser l'essence même de ces concepts. Voyageant bien au-delà des terres connues du rock québécois de l'époque, Dionysos transcende Black Sabbath et Aut'Chose et devient un dieu révolté qui tombera pourtant dans l'oubli.
Dionysos – Narcotique [extract]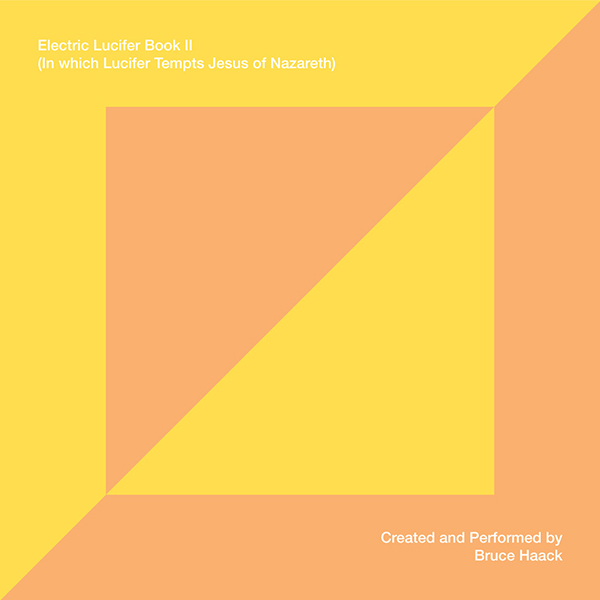 Bruce Haack
Electric Lucifer Book II
Calgary, AB
From the prairie talismans of Jared Majeski:
From the gruff hinterlands of Rocky Mountain House, Bruce Haack is a perpetual anomaly. A prodigious and delightfully confusing lone wolf way, way ahead of his time, he has become revered for personal, technological advances — both in the physical machinery he created and the resulting audio output. Book II, his follow-up to the legendary Electric Lucifer, is lyrically heavy; nursery rhythms and vocoded ruminations layered upon Haack's electronic landscapes. Perhaps it's the premonitory bullseye on the dizzying, beautiful and intensely distracting influence technology has on our lives, but the Haackified vision of the man-machine humanoid has become a perilously real possibility. At this point, one is asked not to just hear and listen, but to try and understand our (d)evolved techno existence.
Des talismans des prairies de Jared Majeski:
(Traduit par Jessica Grenier)
Bruce Haack est une anomalie perpétuelle venant de l'arrière-pays rude de Rocky Mountain House. C'est un prodige de loup solitaire délicieusement confondant et très, très en avance sur son temps, que l'on révère pour ses avancées personnelles et technologiques – tant les machines qu'il a créées que le son qui en sort. Book II, la suite du légendaire Electric Lucifer, est lyriquement lourd : rimes de comptines et ressassages vocodés s'empilent sur les paysages électroniques de Haack. Peut-être qu'il a misé juste en prédisant l'influence intense, belle et étourdissante de la technologie sur nos vies, mais la vision Haackienne de l'humanoïde homme-machine est une possibilité réelle et périlleuse. Rendu là, il ne faut pas se contenter d'écouter, il faut essayer de comprendre la (d)évolution de notre existence techno.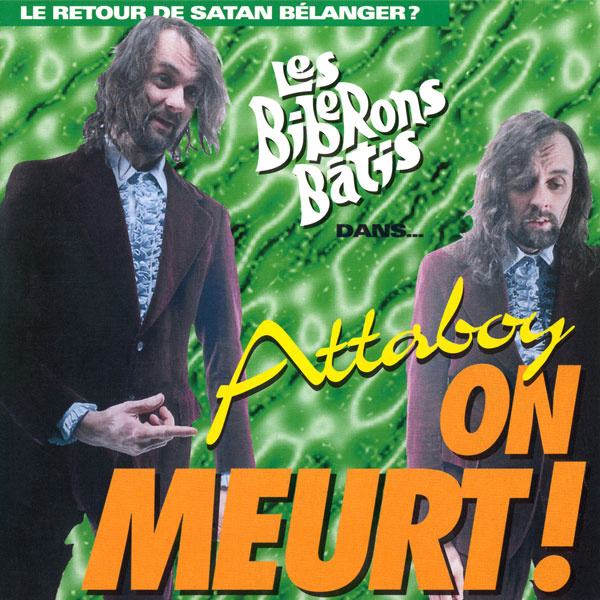 Alex Brien and Eddie Wagner unearth a uber-strange nihilistic punk shredder for Psyché.qc.ca: Les Biberons Bâtis! Embrace their madness; it is inescapable. What remains is a work transcending comedy and punk nihilism, without giving any shit, ever.
Les Biberons Bâtis
Attaboy on meurt!
Montréal, QC
[originally released: 1993]
From the orchestral straightjacket of Alexis Brien and Eddie Wagner:
(Translated by Alexis Brien and Eddie Wagner)
Attaboy on meurt! is a CD anthology of two tapes, Attaboy on souffre (1984) and Attaboy on agonise (1985), with the addition of nine previously unreleased songs. This is where things stop being normal. Les Biberons Bâtis is only one man. They/he never played any shows. Once the record starts to spin, it's a parade of post-punk hallucinations that goes right through your brain for the next hour. One-man orchestra in a straightjacket Satan Bélanger offers us garage-post-surf nuggets, mixing phone calls with imaginary friends and tormented feelings. Between the fuzz and Suicide-esque noise in songs like "Action", there are also sparkers like "La Santé" that could have been recorded by Amen Dunes with a sore throat, noisy rock sitcoms loaded with musical references, and the search for happiness through Québec's Nordiques hockey team. Les Biberons Bâtis embrace their madness; it is inescapable. What remains is a work transcending comedy and punk nihilism, without giving any shit, ever.
De la camisole orchestre d'Alexis Brien et Eddie Wagner:
Attaboy on meurt! est une anthologie CD comprenant deux cassettes, Attaboy on souffre (1984) et Attaboy on agonise (1985) et complétée avec neuf chansons inédites. C'est ici que les choses cessent d'être normales. Les Biberons Bâtis ne sont qu'un seul homme. Ils n'ont jamais fait de concert. Une fois le disque lancé, c'est un défilé d'hallucinations post-punk qui traverse votre cerveau pour la prochaine heure. Véritable homme-orchestre en camisole de force, Satan Bélanger nous présente des pépites post-surf-garage, mêlant conversations téléphoniques avec des amis imaginaires et sentiments tourmentés. À travers le fuzz et le tapage Suicide-esque de chansons comme « Action », on trouve aussi des perles comme « La Santé », qui pourrait avoir été écrit par Amen Dunes avec un mal de gorge, des sketchs noise rock bourrés de références musicales et la recherche du bonheur à travers le hockey des Nordiques de Québec. Les Biberons acceptent leur folie; elle est inévitable. Ce qui reste, c'est une oeuvre qui transcende l'humour et le nihilisme punk, en s'en foutant complètement.
Les Biberons Bâtis – Attaboy on meurt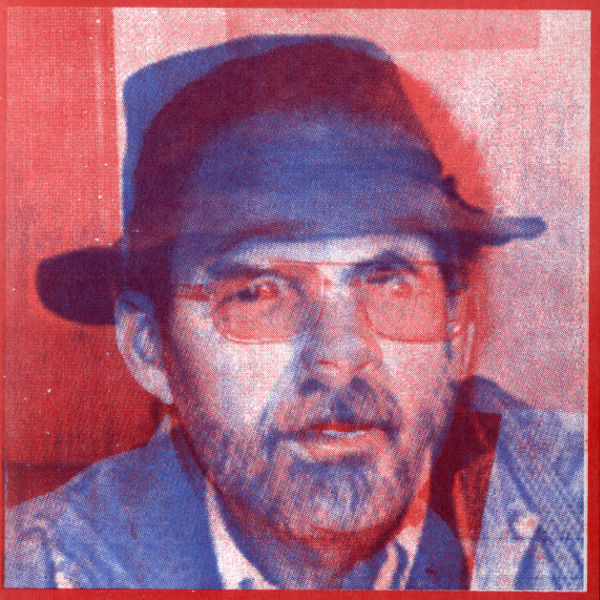 Michael Horwood
Musique Concrète Realizations by Michael S. Horwood of Two Poems by Robert Creeley
Toronto, ON
Originally Recorded 1968
From the patterned dimensions of Kevin Hainey:
Michael Horwood is a 20th century composer who began recording in the late '60s. Horwood composes multi-instrumental works and is particularly interested in percussion. One of his apples didn't fall too far from the tree, and son Jacob Horwood (Gastric Female Reflex, Claudio, sole proprietor of avant imprint extraordinaire Beniffer Editions) opened up his label's gates to his father's vaults back in 2007. That began with a live cassette dose of Music Gallery goodness from the percussion-led free-jazz quartet Convergence that Horwood Sr. served with during the late '70s and early '80s. An unforgettable Convergence LP followed.
This time around we have nearly 13 minutes of prime wax in white 7" form, wrapped in an eye-popping silkscreened gatefold executed to the max by Horwood Jr. "The Pattern" and "Dimensions" might be inspired by Robert Creeley's poems, but for 1968 these skewed chamber pieces for tapes, voices and alarming sounds were wonderfully contemporary when you consider the like-minded back-room madness being recorded at the time. In fact, you could compare the cut-up, spliced, re-arranged and flipped sensibilities at play within this EP's tight confines to be part and parcel of the same culture-chopping insanity that brought us the warped visions behind cut-up art-noise frontiersmen Gastric Female Reflex. Heady generational goodness!
Des dimensions modèles de Kevin Hainey:
(Traduit dans une ambiance feutrée par Geneviève Simard)
Michael Horwood est un compositeur du 20e siècle ayant commencé à enregistrer à la fin des années 60. Horwood compose des oeuvres multi-instrumentales et s'intéresse particulièrement aux percussions. Puisqu'on n'échappe pas facilement à sa descendance, son fils Jacob Horwood (Gastric Female Reflex, Claudio, unique propriétaire de l'extraordinaire étiquette de disque avant-gardiste Éditions Beniffer, a ouvert ses portes aux archives de son père en 2007, commençant par une cassette d'un divin enregistrement en direct de la Music Gallery du quartet percussionniste free-jazz Convergence dans lequel Horwood père a joué à la fin des années 70 et au début des années 80. Un inoubliable LP de Convergence a suivi.
Cette fois-ci, nous avons près de 13 excellentes minutes gravées sur un vinyle 7 pouces, emballé dans une époustouflante couverture en sérigraphie exécutée par Horwood fils. « The Pattern » et « Dimensions », ces morceaux de chambre distordus sur cassettes, ces voix et ces sons alarmants, bien qu'inspirés de poèmes de Robert Creeley, étaient magnifiquement contemporains en 1968 quand on considère la folie similaire qui était enregistrée à l'époque. En fait, on peut comparer la coupe, le collage, le réarrangement et les différentes sensibilités qui entrent en jeu dans les limites étroites du EP comme faisant partie intégrante de ces démentes coupes en culture qui nous ont aussi amenés les visions tordues du groupe art-noise, Gastric Female Reflex. Divine offrande générationnelle !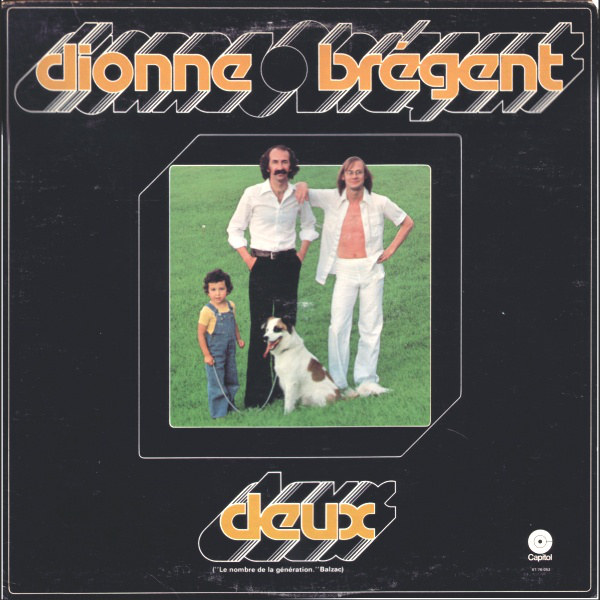 Dionne-Brégent
Deux
(Capitol Records)
Montréal, QC
Originally Released: 1977
From the invocation of Alexis Brien and Eddie Wagner:
(Translated by Alexis Brien)
Two, the number of the generation, the number of duality. Dionne-Brégent, a unique group in Québec's 1970s musical landscape, became prophets on their second record. The duo began by casting a spell through a long invocation reminiscent of foreign devotional music, like an Asian El Topo soundtracked by Tangerine Dream. Once under the charm of the initiation ritual, the flipside sucks listeners into the swirling synths of Brégent, backed up strongly and effortlessly by a variety of complex rhythms from Dionne. Alongside them comes an arrangement of brass, strings and choir vocals, adding finishing touches to the already wide spectrum of sounds and worldly instruments played by the pair of multi-instrumentalists. These elements combine to form a unique album in its own right. Two stars out of two.
De l'invocation d'Alexis Brien et Eddie Wagner :
Deux, le nombre de la génération, le nombre de la dualité. Dionne-Brégent, groupe unique dans le répertoire québécois des années 70, se font prophètes dans leur deuxième album. Le duo commence par nous envoûter dans une longue invocation aux accents rappelant autant de la musique de dévotion étrangère qu'une trame sonore d'un El Topo asiatique faite par Tangerine Dream. Sur la deuxième face, déjà charmés par le rituel d'initiation, vous êtes happés par toute la force des synthétiseurs tourbillonnants de Brégent si bien appuyés par une variété de rythmes complexes si aisément confectionnés par Dionne. Toute une brochette de collaborateurs vient encore rajouter de la couleur à la déjà très grande diversité de sons et d'instruments du monde joués par les deux multi-instrumentistes. Le tout forme un album unique se méritant deux étoiles sur deux.
Dionne-Brégent – Campus (extract)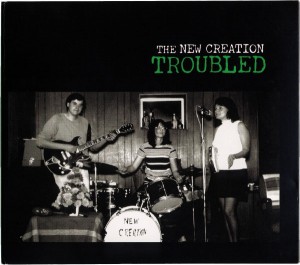 The New Creation
Troubled
(Alphaomega Records // Companion Records)
Vancouver, BC
Originally Released: 1970
From the countdown to revolution of Matthew Swann:
If you ask the average layperson, "Hey! You! What's the best album by a Canadian band in the last half of the 20th century?" Obviously, they're gonna say "Love Tara, by Eric's Trip." Duh, every time. However, ask Jesus the same question, and you're gonna get a different answer; one spoken resolutely in Aramaic, and shouted through an echoplex. Jesus is gonna say… "Troubled, by the New Creation (((((((((((((( !!!!!!!!!!"
And here's why! Originally released in 1970 on Vancouver's Alphomega Records, and finally re-issued on California's Companion Records, Troubled is sloppy, trippy, apocalyptic garage-psych. Imagine the Velvet Underground, Skip Spence, and the Shaggs holed up in a bomb shelter with the Partridge Family, while some loving Quakers homeschool them in Essene eschatology! Now imagine all that in 12 hot tracks. I'm not talking your parent's apocalyptic, Jesus Freak scene (oh wait — it's from the '70's, maybe it is). Anyway, pick this gem up, turn the other cheek (toward the speaker), and get down (((((((((((((( !!!!!!!!!!
Matthew Swann is the mastermind behind Astral Swans and previously haunted ears as Extra Happy Ghost!!!.
Du compte à rebours vers la révolution de Matthew Swann:
(Traduit par le saint-suaire tye dye de Justine Gabias)
Si vous demandez au profane ordinaire, « Hé! Toi! Quel est le meilleur album d'un groupe canadien de la deuxième moitié du XXe siècle? » Immanquablement, il va répliquer: « Love Tara, d'Eric's Trip. » Ça va de soi. Par contre, demande la meme question à Jésus, et tu auras une réponse différente, en araméen bien sûr, et gueulée à travers un Echoplex. Jésus répondra… « Troubled par the New Creation (((((((((((((( !!!!!!!!!! »
Et voici pourquoi! Lancé en 1970 par le label Alphomega Records de Vancouver, et maintenant enfin re-distribué par California's Companion Records, Troubled est du garage-psych bâclé, trippant et apocalyptique. Imagine le Velvet Underground, Skip Spence et les Shaggs terrés dans un abri nucléaire avec la Partridge Family, se faisant enseigner l'eschatologie des Esséniens par de charmants Quakers! Maintenant, imagine tout ça dans 12 chansons du tonnerre. Je ne parle pas des trucs apocalyptiques Jesus freak de tes parents (oh, mais attends… ça date des années '70, alors oui, peut-être.) Qu'importe, empare-toi de cette perle, tends l'autre joue (vers tes haut-parleurs), et laisse-toi aller! (((((((((((((( !!!!!!!!!!
Matthew Swann est le cerveau derrière Astral Swans et a hanté les oreilles dans le passé en tant qu'Extra Happy Ghost!!!.

The New Creation – Countdown To Revolution !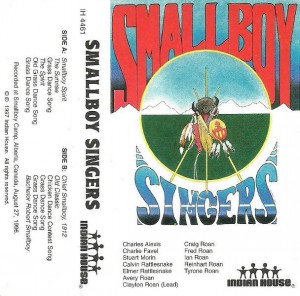 Smallboy Singers
Smallboy Singers
Smallboy Camp, AB
[Originally Released: 1997]
From the complex vortex of Adam Bradley:
In 1967, Chief Robert Smallboy and a group of followers left the socially and politically deteriorating conditions of their allotted Reserve to avoid losing their traditions and language to encroaching outside influence. Upon the Kootenay Plains, in the wilderness of the Albertan Rockies, they established the Smallboy Camp (now known as the Mountain Cree Camp). This settlement of Ne Wi Yow (Cree) followed and still follows the direction of the Natural Law, in honour of their traditional practices and beliefs.
In 1996, Tony Isaacs of the Taos, New Mexico based label Indian House Records traveled to the remote location of the Smallboy Camp to make these recordings. Of the twelve songs on this cassette, sung by twelve singers, some are new and some, like "Chief Smallboy,1912", are quite old. The recording is dedicated to the honour of their elders.
The experience of listening to Smallboy Singers is one characterized by the power of the sound, the burning expression found therein and the beauty of communal hearts coalescing to produce thundering beats and music meant for dancing. Impossibly skilled voices unite in an oscillating, complex vortex of communication, rhythm and intensity. The steady, hammering beat upon the Pow Wow drum is entrancing and conveys urgent tones of respect and reverence. Yet, as it is phrased in the liner notes: "These songs are for your listening and dancing pleasure. Traditionally yours, Smallboy Singers."
Du vortex complexe d'Adam Bradley:
(Traduit par l'intensité de Hugo Hyart-Dauvergne)
En 1967, le Chef Robert Smallboy et un groupe de ses fidèles quittèrent les conditions sociales et politiques de la Réserve qui se dégradaient de plus en plus pour éviter de perdre leurs traditions et leur langue face à l'insinuation rampante de l'influence externe. Sur les plaines de Kootenay, dans la nature sauvage des Rocheuses albertaines, ils ont fondé le camp Smallboy (aujourd'hui connu sous le nom de Camp de Mountain Crees). Ce village de Ne Wi Yow (Cree) a suivi, et suit encore, la direction de la Loi Naturelle, en l'honneur de leurs pratiques et croyances traditionnelles.
En 1996, Tony Isaacs du label [Indian House Records] basé à Taos, Nouveau Mexique, a voyagé jusqu'au lointain camp Smallboy pour faire ces enregistrements. Des 12 chansons de cette cassette, chantées par 12 chanteurs, certaines sont nouvelles et certaines, comme "Chief Smallboy, 1912" sont assez anciennes. Cet enregistrement est dédié à l'honneur de leurs ancêtres.
L'expérience d'écouter les Smallboy Singers est caractérisée par la puissance du son, l'expression brûlante que l'on y trouve et la beauté de coeurs partagés s'unissant pour produire des battements tonitruants et une musique faite pour danser. Des voix extrêmement qualifiées s'unissent en un vortex oscillant et complexe de communication, rythme et intensité. Le battement constant et martelé sur le tambour Pow Wow induit en transe et colore avec urgence l'expérience d'un ton de respect et de révérence. Et pourtant, comme cela est formulé dans les notes d'accompagnement : "These songs are for your listening and dancing pleasure. Traditionally yours, Smallboy Singers." « Ces chansons sont pour votre plaisir d'écoute et de danse. Traditionnellement votre, Smallboy Singers »
[audio:https://s3.amazonaws.com/wc-tracks/Weird_Canada-Smallboy_Singers-TheSunrise.mp3]
Smallboy Singers – The Sunrise
[audio:https://s3.amazonaws.com/wc-tracks/Weird_Canada-Smallboy_Singers-ChickenDance.mp3]
Smallboy Singers – Chicken Dance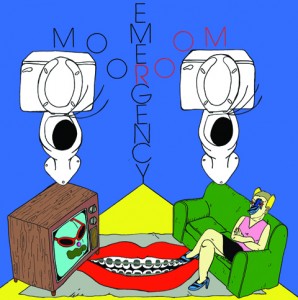 From the Vancouver complication of Janelle Hollyrock:
The Emergency Room was a former fish-processing factory turned back alley recording/performing/practice space in Vancouver's notorious drug- and rat-infested Downtown Eastside. Originally started in 2006 by Keith Wecker of Sex Negatives while hosting shows in Emily Carr University's underground garage with Justin Gradin of Random Cuts and recording engineer Jordan Koop of Twin Crystals, the ER moved to East Hastings in '07 and for a little over a year became the hub of Vancouver's art punk community. When I reviewed this LP for my zine back in 2008 I wrote that the growing popularity of "the ER as a secret, illegal venue is at risk of imploding at any minute" and to get it "before this souvenir becomes an artifact." And sure enough the Emergency Room did end up shutting down soon after this comp was released. But while secret venues and warehouse spaces pop up in East Van just as often as they're closed down, the ER was the first to leave behind a vinyl compilation of what went down.
Optimistically titled "Vol. 1", the comp features eight bands who performed or recorded at the space in its first year including Defektors, Petroleum By-Product, Vapid, White Lung, Mutators, Twin Crystals, Nü Sensae, and Sick Buildings plus a 20-page stitch-bound photo book of bands who played the space like Montreal's AIDS Wolf and others. At the time, Mutators had toured North America and were arguably the most well known outside Vancouver, but that spot's now definitively taken up by the Pitchfork-approved White Lung, who back in 2008 had only released one 7" ("Local Garbage" on Ryan Dyck of B-Lines' label Hockey Dad).
Five years later, I like this comp even more than when it came out. It opens with two straight ahead garage-punk tracks from Defektors (misspelled as Defectors on the sleeve) before offering two more by Petroleum By-Product, who were still going by The Petroleum By-Products at the time and only just beginning to tweak their sound away from a focus on garage-pop towards the minimal-synth-driven New Wave sound they've achieved in the last few years. Side A wraps up with Mish Way screaming over White Lung's raw, frenetic "Therapy" right after Vapid burst off the vinyl with two energetic pop-punk blasts, "Sex Stain" and "Die". After taking a two-year break, Vapid are finally playing shows again, now with The Tranzmitors' Bryce Dunn on drums and a new LP coming out this summer on Nominal / Deranged Records.
On the flipside is Mutators' harsh and experimental "Instinct" and "VVV". Their dark screamo is as intense and confusing as early '80s Vancouver noise band Tunnel Canary. Listening to Twin Crystals and Nü Sensae I can almost taste the cigarette smoke and smell the stale beer and vomit that epitomized shows at the ER. Yet it's the fucked up, scary noise of Sick Buildings' "The Commuter" that tips this LP from just a crazy good compilation of songs to a snapshot of Vancouver's underground DIY ethos.
As important as 1979's Vancouver Complication LP featuring DOA, Subhumans, U-J3RK5 and other seminal Vancouver punk bands, Emergency Room Vol. 1 wasn't just capturing Vancouver's weird punk scene at its pinnacle, it was a jumping off point for a lot of these bands. It's a testament to them that, except for the two sadly defunct noise bands Mutators and Sick Buildings, all are not only still performing but deservedly getting reviewed and approved outside Vancouver. Limited edition vinyl of 924, and I still see this around in record stores. Pick it up if you find it!
Janelle Hollyrock runs Mongrel Zine, a fanzine and record label out of Vancouver, with her partner Bob Scott.
Du fait de la complication vancouvéroise de Janelle Hollyrock:
(Traduit de l'âme vancouvéroise de Dominic MPILÉ)
The Emergency Room était situé dans une ancienne usine d'apprêtage de poisson transformée en lieu d'enregistrement, de spectacle et de pratique dans l'est du centre-ville de Vancouver infesté de rats et où circule de la drogue. Ouvert en 2006 par Keith Wecker de Sex Negatives lorsqu'il animait des spectacles dans un sous-sol de la Emily Carr University aux côtés de Justin Gradin de Random Cuts, et de l'ingénieur aux enregistrements Jordan Koop de Twin Crystals. La ER a ensuite déménagé à East Hastings en 2007 et après un peu plus d'un an, est devenue le lieu par excellence de la communauté punk de Vancouver. Lorsque j'ai écouté ce LP pour mon zine en 2008, j'ai alors écrit que la popularité grandissante de "la ER, un lieu secret, illégal, peut prendre fin à tout moment" et qu'il fallait se procurer le vinyle "avant que ce souvenir ne devienne un artéfact." Évidemment, la Emergency Room a dû fermer ses portes quelques temps après la sortie de cette compilation. Lorsque le lieu gardé secret accueillait des artistes en son sein et gagnait en succès dans l'est de Vancouver juste avant la fermeture, la ER a été le premier lieu de spectacle à accoucher d'une compilation vinyle sur des raisons de sa fermeture.
Titrée avec optimisme "Vol. 1", la compilation réunit huit groupes qui se sont produits ou qui ont enregistré pendant la première année du studio, dont: Defektors, Petroleum by-Product, Vapid, White Lung, Mutators, Twin Crystals, Nü Sensae et Sick Buildings; de plus a été publié un album photo de 20 pages des groupes qui s'y sont produits, comme le groupe Montréalais AIDS Wolf et bien d'autres. À cette époque, les Mutators étaient en tourné en Amérique du nord et étaient sans doute le groupe le plus connu à l'extérieur de Vancouver, mais cette place est depuis tenu par White Lung, encensé par le site Pitchfork. White Lung, en 2008, avait seulement sorti un tube de 7" ("Local Garbage" sur Ryan Dyck de B-Lines du label Hockey Dad).
En effet, cinq ans plus tard, j'aime encore plus cette compilation qu'à sa sortie. Elle débute avec deux chansons underground d'un son sec punk de Defektors (mal écrit sur l'étui comme ceci : Defectors), suivent deux autres chansons produites par Petroleum By-Product, qui à l'époque s'appelaient encore The Petroleum By-Products et venaient tout juste de sampler leur son (différent de sons pop-garage) par le biais du synthétiseur minimaliste produisant du son new wave qu'ils ont produit les dernières années. La face A emballe par la voix de Mish Way qui crie sur ce cru frénétique de White Lung, "Therapy", qui suit Vapid, lequel fait exploser le vinyl avec deux tubes énergiques pop punk, "Sex Stain" et "Die." Après s'être offert une pause de deux ans, Vapid se produit en spectacle de nouveau, accompagné maintenant du membre de The Tranzmitors, Bryce Dunn au tambour, un nouveau LP sortira cet été sur le label Nominal / Deranged Records. Sur l'autre face de l'album, se trouve Mutators avec respectivement des tubes rigoureux et expérimental "Instinct" et "VVV". Leur cri sinistre est aussi intense que confus comme celui du groupe bruitiste de Vancouver du début des années 1980 Tunnel Canary. En écoutant Twin Crystals et Nü Sensae, je peux presque goûter à la saveur de cigarette et sentir le gout de mauvaise bière et de vomi ressentis lors des spectacles à l'ER, mais c'est le foutu et effrayant bruit de la chanson «The Commuter» de Sick Buildings qui fait basculer ce LP de bonne compilation enthousiasmante vers un éthos fait-le-toi-même de l'underground vancouvérois.
Aussi important que Vancouver Complication de 1979, le LP rassemble DOA, Subhumans, U-J3RK5 et d'autres groupes punk séminaux de Vancouver. Emergency Room Vol. 1 ne rassemblait pas seulement l'étrange genre punk de Vancouver à son sommet, mais permettait à plusieurs de ces groupes de s'exprimer. C'est un souvenir pour ces groupes, à l'exception des deux défunts groupes bruitistes Mutators et Sick Buildings, en ce sens que tous ne faisaient pas que se produire en spectacle mais méritaient à juste titre de se faire connaitre et de se faire acclamer hors de Vancouver. Une édition limitée du vinyl de 924 est toujours disponible, et je la vois souvent dans des magasins de disque. Quand vous la verrez, achetez-la!
Janelle Hollyrock dirige Mongrel Zine, un fanzine et label hors de Vancouver, avec son partenaire Bob Scott.

---