Category: Cityscape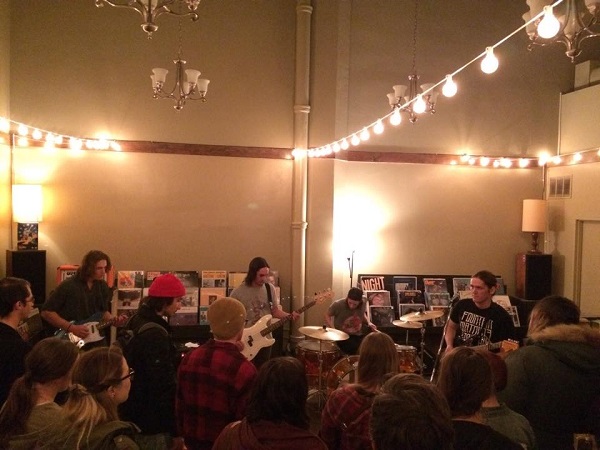 Weird Place :: Saskatoon, SK
Saskatoon, SK
From the whirring vituperations//wanting chronologies of Joshua Robinson:
All of this in loving, grateful, and ardent memory of Derek Bachman.
Saskatoon—that frigid, clandestine, temperamental spirit of sorts—masquerades paradoxically; caught in the confines of weather that seeps in through the cracks in floorboards and masonries, imbuing its denizens with the silent stutter-step of an enlivening cold-warmth.
It is a city landlocked in the expanse of the prairies, but it is much more than a mere point on the map. For many, it is a burgeoning creative community: lo-fi and humming with the rich analogues of the undercurrent of Canadian artistry. It is a city—as many cities are—with haunting histories, anxious presents, and hopeful futures. But for the musical, artistic, and creative sorts manifesting the city's virile spirit, Saskatoon is a place of welcoming; of communal warmth overpowering the whirring vituperations of its temperate climates.
The city's creativities seem forever influenced and inspired by the geographies surrounding them: space defined as place, rooms ripe with weathered canvas, aged musical stirrings, and invigorated poetics. Inasmuch, Saskatoon is the colorful conflagration of the seasons combined into one multi-spirited entity; raising and tempering its creative bodies; the kindling of our kindred fires, both present and enigmatic. Its defining spaces are many, but I've chosen to focus our lens on those places and events that exist to incubate and develop the communities for which they exist. And thusly, the calloused skin of an often misunderstood and underappreciated city will be pulled back, briefly, to expose it's circuitous and humbling personage (February 28, 2014). ______ and then I moved…………. ______
Now, I long for home. For those of you east of me, remember that Saskatoon is the birthplace of what you do and who you are. It is a comfort knowing that music, and its many stakeholders, is and are the result(s) of your variegated efforts.
Saskatoon: forever my spine, my whirling dervish; my root and my reason for leaving. (August 4, 2015).
This is not an exhaustive list. Rather, it is meant to reflect those places which meant the most to me while I was one lucky enough to be living in Saskatoon [September 23, 2015].
---
The Horse Room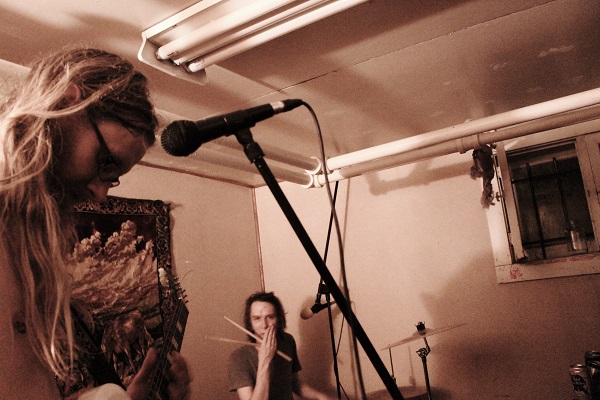 (Creative House/Local shows/Jam space/Glorified Party Dome)
Location: The sepulchral bowels of Saskatoon's belly-gut
Contact: Speak into the ground and wait for the dirt to spit back at you Was LGBTQIA+ friendly, was not wheelchair accessible.
What it was: the giant within the giant within the giant within the giant within the giant….
Picture the urban prairies in the throes of winter: scalpel-esque winds; biting cold; ice as dark as the nocturnal spread overhead.
Transplant this generalized imagery.
Suture it onto something more articulable. Something more… perfect.
Rickety wooden steps leading up to a screen door, the steel doorknob worn to translucent silver by frequent turning. Warmth and dim light emanating from the lower level, sneaking up the declining staircase; pushed forcefully by the sound of voices gathered en masse for yet another home concert.
This venue, The Horse Room, equine to the -nth degree, was nothing more than a 2.5 bedroom basement dwelling, complete with Mario Tennis and the fabric-endowed carnate form of The Big Comfy Couch.
Yet, for all it lacked in square footage and capacity to accommodate, housed it did.
This was the abode for musicians touring through Saskatoon.
This was the house that opened its doors to friends, strangers, and friendly strangers. Saskatoon grew, exponentially and musically, by virtue of this one household venue. It smelled of old books, soil-sodden vegetables, and stale beer—commixed to the point of sweet disarray.
Its upper floor was antiquated instruments, furniture, and open windows. The basement was Nardwuar's wet dream: all grime, gross, and noise. No longer breathing, this pony was put down and its denizens have moved on to other subterranean dwellings.
The Horse Room was the CBGB of Saskatoon-basement venues. It was my home away from home; the venue where I played my first solo show, and—literally—the venue where my best friends lived. It served as a redacted Nirvana, perfectly permanent to those who resided, frequented, and remember; brilliantly and ephemerally nostalgic for those who momentarily stepped inside it's glorious grime.
RIP, Ponyroom. You'll always be golden to me.
---
PAVED Arts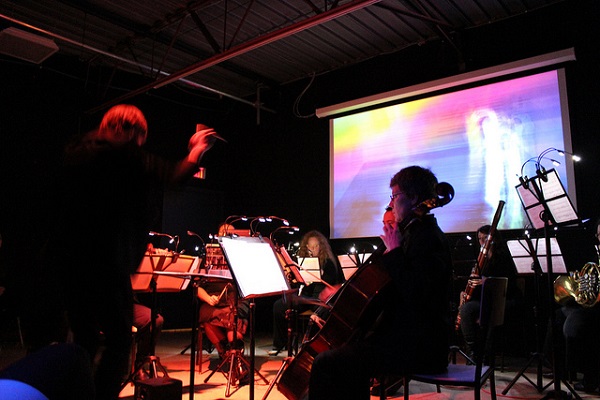 (Audio Suite/Video Suite/Digital Photo Suite/Darkroom/Film Processing/Event Space/Gallery)
Location: 424 20th Street W, S7M 0X4
Contact: [email protected]
Is LGBTQIA+ Friendly, is wheelchair accessible.
Quiet… Bed sheets hung from rafters, loose fabric rippling in the stagnant non-current of absent air conditioning. Populated by art and artist alike, the venue stirs with the whisperings of voices faint yet profound. Voices searching for something more than themselves in the form of community, safety, acceptance, and expression.
This place is a furnace.
But it doubles, triples—quadruples even—as an accessible venue for industry-grade audio and visual equipment, an accepting live venue space emphasizing the presentation and curation of the work and effort of marginalized communities and individuals, and it stands as a champion for the local arts.
The bottom floor is a tapestry of colours and styles; it is the housing of all things visual, cultural, and meaningful—meaningful in a counter-contemporary sense. It is art made by the people who understand the meaning of art. This work has meaning for the artists who create art and for the audience who benefit from its viewing.
The upper floor: a sprawling open event space. Cement floor and black walls; an expansive abyss until purpose challenges imposed limitations of identity. PAVED Arts supports and curates the most fragile yet poignant expressions of self: those which are rooted in culture, self-expression, identity, and reclamation.
'Bed of Mercury' was recorded by Reilly Forbes (Technical Coordinator w/ PAVED Arts) in the live-event space. Mixed by Reilly Forbes and Jeffrey Popiel.
---
Beaumont Film & Record (RIP)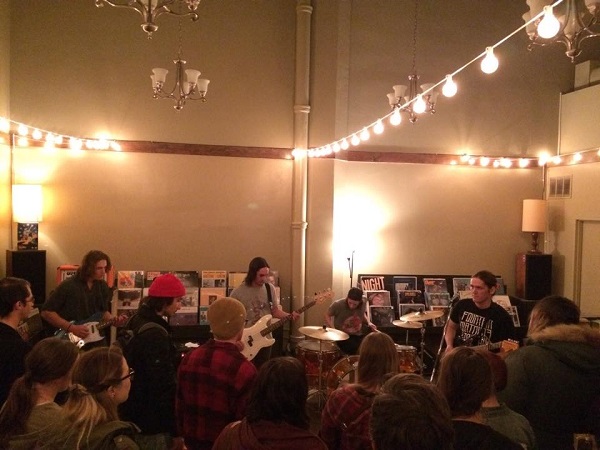 (Vinyl/Local Releases/DVDs/Shows)
Location: 100-220 3rd Avenue South
Contact: Scott Gowen – [email protected]
Was LGBTQIA+friendly, was wheelchair accessible. The record-label embodiment of the record store is still both of these things.
As Saskatoon grows—financially, geographically, and vertically—quiet charms are increasingly hard to come by. Caricatured walkways, silvered slush underfoot; a gradual countdown from the sound of the city to the sound of human-mediated expression looms. The whirring of The Smiths juxtaposed with the pitter-patter of leather-clad and busy feet. The jarring stir of Susan pressed firmly against the long-hanging smog of a city close to the breaking point. The iced South Saskatchewan yielding yet another flooding expulsion of seasonally influenced spates. For a while, this was the only all-ages venue in Saskatoon. More importantly, it was a place where all-ages bands and audiences performed and appreciated said performances. This was the home for many of the city's younger-than-us performers, opening their throngs to the likes of underaged-and-beyond-their-years Cookin' With Grandma, while at the same time serving as the inaugural stage for local emergent mainstays Black Tremor and Susan. It served as the home of Saskatoon's Wyrd Distro Launch Gathering (circa February 2014) and, as a record store, as the go-to purveyor of all materials lo-fi, ambient, punk, and otherwise. Owned by The Moas Scott Gowen, the former record store has transmorphed into Saskatoon's most prominent micro-independent label, dabbling in shoegaze, garage punk, ambient rock, and the variegated musical genres you can only find under your grandparent's shower rug or your younger sister's glue-bound word-stack of Vonnegut publications. What was once a beautiful record store has since become a stellar record label. Congratulations, Beaumont, on continuing to hold artistry above all else, even when the price-of-being becomes inexplicably untenable.
---
Vangelis Tavern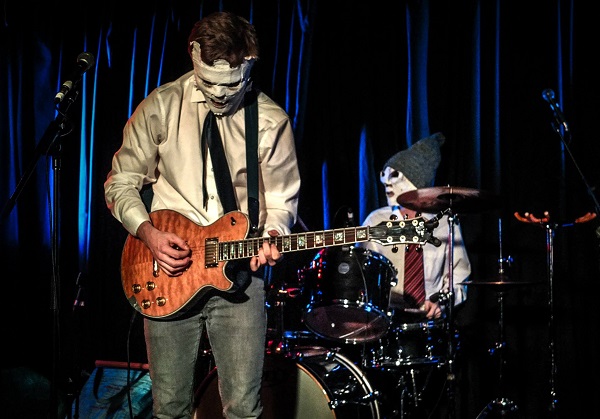 (Everything music… Literally)
Location: 801 Broadway Ave. Saskatoon, SK S7N 1B5
Contact: [email protected]
LGBTQIA+ friendly, wheelchair friendly. Friendly to out-of-towners, local noisemakers, and audiences in need of momentarily disembodied disintegration.
In situ nextdoor to a Subway, Vangelis Tavern is the public and open-staged venue that serves as an extension of—and main stage for—those many acts which graced the bellowing folds of The Horse Room. It was, in my mind now and in actuality then (when I still lived in Saskatoon), the most hospitable stage and venue the city had to offer. It was dingy. It was loud. It was open to all forms of musical fodder. From Michael Feuerstack to Thee Silver Mt. Zion. From Pandas In Japan to Little Criminals. Allow me a moment to wax nostalgic: this was the venue at which I performed my first show as part of a full-bodied band, impromptly named 'nvr mtns'.
It was, and has been, the furtive performance ground of countless initiatives driving to build ties and influence between local musicians and peoples-of-industry. Kiddy corner (almost) to the former body of Saskatoon's Lydia's and just down the street from Amigo's Cantina, Vangelis is still the warm coal on Broadway Avenue's cold winters.
It is, for lack of poetically descriptive prowess, the miner's jewel: brilliance for those who care enough to look for it ('it' being music). Somethin' special brews within the cauldrons of Vangelis Tavern. The name lacks uniform consensus regarding pronunciation, but it holds its own as an absolutely crucial venue for emerging, established, and real Saskatoon-based talent.
Par les vitupérations ronronnantes//chronologies en manque de Joshua Robinson:
(Traduit par le remous musical vieilli d' Émily Traichel)
Tout ce qui suit est à la douce et ardent mémoire et en reconnaissance de Derek Bachman.
Saskatoon, cet esprit frigide, clandestin et tempéramental, porte un masque paradoxal; coincé dans les limites de la température, qui se faufile entre les craques dans le plancher et dans la maçonnerie, imprégnant ses habitants du pas saccadé muet d'une froideur-chaleur vivifiante. C'est une ville enclavée dans l'étendue des prairies, mais c'est bien plus qu'un simple point sur la carte. Pour beaucoup, c'est une communauté créative bourgeonnante : lo-fi et bourdonnant par les riches analogues du sous-courant de talent artistique canadien. C'est une ville, comme le sont bien des villes, avec des passés qui hantent, de présents anxieux et des avenirs remplis d'espoir. Mais pour les types musicaux, artistiques et créatifs qui manifestent l'esprit viril de la cité, Saskatoon est une place de bienvenue; d'ardeur communautaire qui engloutit les vitupérations ronronnantes de ses climats tempérés.
Les créativités de la ville semblent influencées et inspirées à jamais par les géographies qui les entourent: un espace défini en tant que lieu, des chambres pleines de toiles usées, des remous musicaux vieillis et de poétiques revigorés. Dans cette mesure, Saskatoon est la conflagration colorée des saisons combinées en une entité à plusieurs esprits; s'élevant et tempérant ses corps créatifs; le petit bois de nos feux de parenté, à la fois présents et énigmatiques. Ses espaces déterminants sont nombreux, mais j'ai choisi de nous focaliser sur ces places et ces évènements qui existent pour incuber et développer les communautés pour lesquelles ils existent. Et ainsi, la peau calleuse d'une ville souvent méconnue et sous-estimée sera rétractée, brièvement, pour exposer son personnage tortueux qui rend humble (le 28 février 2014). ______ Et puis j'ai déménagé…………. ______
Maintenant, j'ai envie de chez moi. Pour ceux d'entre vous à l'est de moi, souvenez-vous que Saskatoon est le lieu de naissance de votre occupation et de votre identité. Il est réconfortant de savoir que la musique, et ses nombreuses parties intéressées, est, et sont, le(s) résultat(s) de vos efforts panachés. Saskatoon: mon épine dorsale à jamais, mon derviche tourneur; ma racine et ma raison de départ. (le 4 août 2015).
Ceci n'est pas une liste exhaustive. Plutôt, elle est destinée à refléter ces places qui m'étaient les plus chères pendant que j'étais de ceux ayant la chance d'habiter à Saskatoon [le 23 septembre 2015].
---
The Horse Room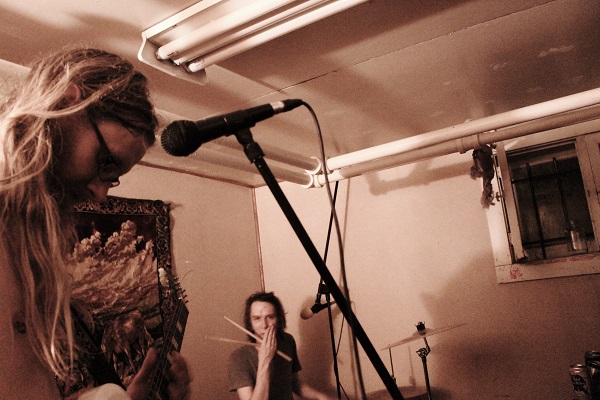 (Maison créative/concerts locaux/espace jam/dôme de party glorifié)
Lieu: Les entrailles sépulcrales de la bedaine de Saskatoon
Contact: Parlez dans le sol et attendez que la terre vous recrache une réponse Accueillait les personnes LGBTQIA+, n'était pas accessible aux fauteuils roulants.
Ce que c'était: le géant à l'intérieur du géant à l'intérieur du géant à l'intérieur du géant à l'intérieur du géant….
Imaginez des prairies urbaines dans les affres de l'hiver: des vents scalpel-esques; un froid mordant; de la glace aussi sombre que l'envergure nocturne au-dessus de la tête. Transplantez cette image généralisée. Suturez-la à quelque chose de plus articulable. Quelque chose de plus… parfait. Des marches en bois branlantes mènent à une porte-moustiquaire, la poignée en acier usée jusqu'à un argent translucide à force de la tourner. De la chaleur et un faible éclairage émanent de l'étage inférieur, grimpant furtivement l'escalier déclinant; poussés avec force par le son des voix rassemblées en masse pour encore un autre concert maison. Cette salle, The Horse Room, équine au xième degré, n'était rien de plus qu'une demeure à 2,5 chambres à coucher au sous-sol, équipée de Mario Tennis et la forme carnée et textile du Big Comfy Couch. Pourtant, malgré tout ce qu'il manquait en mètres carrés et en capacité d'accommoder, ça hébergeait quand même. Il s'agissait de la demeure des musiciens en tournée passant par Saskatoon. C'était la maison qui ouvrait ses portes aux amis, aux étrangers et aux étrangers sympathiques. Saskatoon a grandi, exponentiellement et musicalement, grâce à cette unique salle domestique. Ça sentait les vieux livres, les légumes boueux et la bière éventée – le tout mélangé au point de tendre désarroi. L'étage supérieur consistait de vieilleries d'instruments, meubles et fenêtres ouvertes. Le sous-sol était le fantasme de Nardwuar: toute chose crasse, dégueu et vacarme. Ayant cessé de respirer, ce poney fût euthanasié et ses résidents ont passé à d'autres demeures subtérannéennes. The Horse Room était le CBGB des salles sous-sol de Saskatoon. C'était mon chez-soi loin de chez soi; la salle où j'ai joué mon premier spectacle solo, et, littéralement la salle où mes meilleurs amis habitaient. Elle servait d'une Nirvana rédigée, parfaitement permanente à ceux qui résidaient, fréquentaient et se souviennent; brillamment et épheméralement nostalgique pour ceux qui entrèrent momentanément dans sa saleté splendide.
Repose en paix, Ponyroom. Tu seras toujours de l'or pour moi.
---
PAVED Arts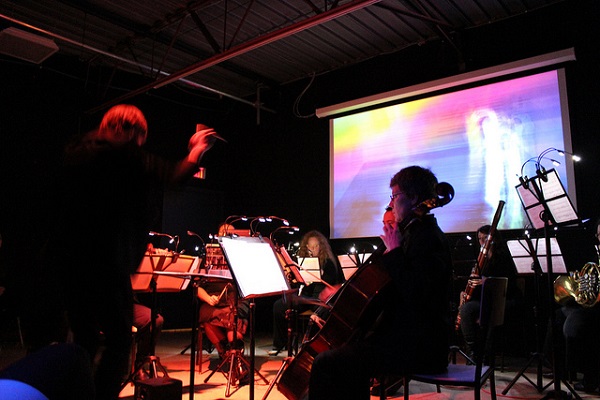 (Suite audio/suite vidéo/suite photo digitale/chambre noire/traitement des films/salle réservée aux évènements/galerie)
Lieu: 424 20th Street W, S7M 0X4
Contact: [email protected]
Accueille les personnes LGBTQIA+, accessibles aux fauteuils roulants.
Le calme… des draps suspendus au plafond, du tissu lousse, flottant dans le non-courant dormant d'air conditionné absent. Peuplée tant par l'art que par l'artiste, la salle nous réveille avec les chuchotis de voix faibles, mais profondes. Des voix à la recherche de quelque chose qui les surpasse dans la forme d'une communauté, d'une sécurité, de l'acceptation et de l'expression.
Cet endroit est une fournaise.
Mais elle agit également, ayant en fait plusieurs fonctions, en tant que salle accessible pour de l'équipement audio et visuel de qualité industrielle, lieu de spectacle en direct accueillant avec l'emphase sur la présentation et la sélection des oeuvres et des efforts des communautés et individus marginalisés, et elle se fait une championne pour les arts locaux.
Le rez-de-chaussée est une tapisserie de couleurs et de styles; elle abrite toute chose visuelle, culturelle et significative—significative dans le sens contrecontemporain. Il s'agit d'art créé par les personnes qui comprennent le sens de l'art. Cet ouvrage signifie quelque chose pour les artistes qui créent de l'art et pour le public qui bénéficient de son visionnement.
À l'étage supérieur: un espace réservé aux évènements ouvert et dégagé. Un plancher en ciment et des murs noirs; un abysse expansif jusqu'à ce que la raison d'être pose un défi aux limitations imposées sur l'identité. PAVED Arts soutient et organise les auto-expressions les plus fragiles, mais poignantes: celles qui sont enracinées dans la culture, dans l'expression individuelle, dans l'identité et la réclamation.
'Bed of Mercury' fût enregistré par Reilly Forbes (coordinateur technique chez PAVED Arts) dans le lieu de spectacle en direct. Mixé par Reilly Forbes et Jeffrey Popiel.
---
Beaumont Film & Record (RIP)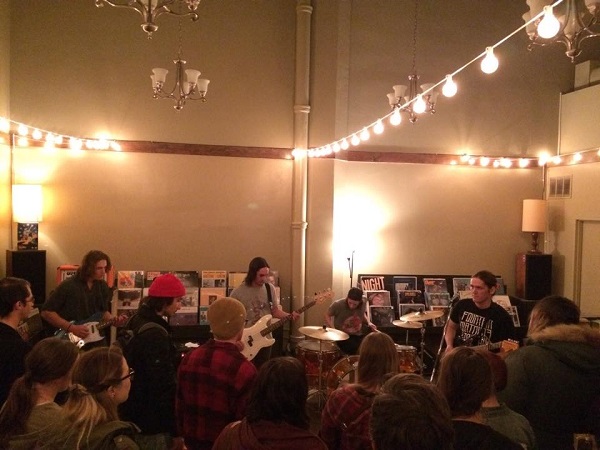 (Vinyl/Morceaux locaux/DVDs/spectacles)
Lieu: 100-220 3ème Avenue South
Contact: Scott Gowen – [email protected] Accueillait les personnes LGBTQIA+, était accessible aux fauteuils roulants. Le label discographique, l'incarnation du disquaire, est encore ces deux choses.
À fur et à mesure que Saskatoon se développe financièrement, géographiquement, et verticalement les p'tits trésors de tranquillité sont de plus en plus difficile à trouver. Des sentiers caricaturés, de la sloche argentée sous les pieds; un décompte graduel depuis le son de la ville jusqu'au son des métiers à tisser d'expression médiés par la main humaine. Le vrombissement de The Smiths juxtaposé aux petits pas de pieds pressés et vêtus de cuir. Le mouvement perturbant de Susan collé fermement contre le smog suspendu depuis longtemps dans une ville pas loin de son point de rupture. Le sud glacé de la Saskatchewan produit encore une autre expulsion débordante de déluges influencés par la saison. Pendant un bout de temps, ceci était l'unique salle tous âges à Saskatoon. Plus important encore, c'était une place où les groupes et spectateurs de tous âges performaient et appréciaient ces performances. C'était le foyer pour de nombreux musiciens plus-jeunes-que-nous, qui ouvrait ses foules aux mineurs-qui-dépassent-leurs-âges Cookin' With Grandma, tout en servant de scène inaugurale des piliers locaux émergents Black Tremor et Susan. La salle a servi de terrain d'accueil pour le lancement du Wyrd Distro à Saskatoon (circa février 2014) et, en tant que disquaire, de fournisseur de choix pour tous matériaux lo-fi, ambiant, punk et autrement. Propriété de Scott Gowen de The Moas, l'ancien disquaire a été transmorphé en label micro-indépendant le plus connu à Saskatoon, touchant au shoegaze, punk de garage, rock ambiant, et à des genres musicaux diversifiés qu'on ne peut trouver que sous le tapis de douche de nos grand-parents ou sous la pile de mots collés de publications de Vonnegut à votre soeur. Ce qui était une fois un magnifique disquaire est depuis devenu une étiquette de disque remarquable. Félicitations, Beaumont, de continuer de valoriser le talent artistique au-dessus de toute autre chose, même lorsque le coût d'exister devient inexplicablement insoutenable.
---
Vangelis Tavern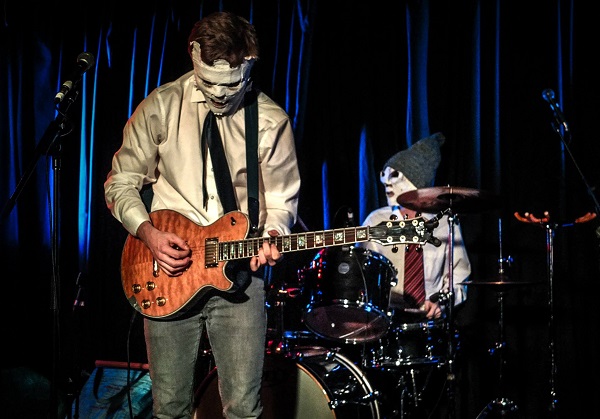 (Tout sur la musique… Littéralement)
Lieu: 801 Broadway Ave. Saskatoon, SK S7N 1B5
Contact: [email protected]
Accueille les personnes LGBTQIA+ et les fauteuils roulants. Accueille les étrangers à la ville, fabriqueurs de noise locaux, et spectateurs nécessitant une désintégration momentanément désincarnée.
In situ à côté d'un Subway, Vangelis Tavern est la salle publique et ouverte qui sert d'une extension ainsi que d'une scène principale pour ces nombreuses performances qui ont honoré les replis beuglant du Horse Room. C'était, dans mon esprit présent et dans l'actualité de ce temps (quand j'habitais encore à Saskatoon), la scène et la salle la plus accueillante que la ville avait à offrir. C'était miteux. C'était bruyant. C'était ouvert à toutes les formes de matière musicale. De Michael Feuerstack à Thee Silver Mt. Zion. De Pandas In Japan à Little Criminals. Permettez-moi un moment pour me dilater de nostalgie: il s'agit de la salle où j'ai joué mon premier spectacle dans un groupe à part entière, inpromptement nommé 'nvr mtns'. C'était, et a été, le terrain furtif de performances et d'innombrables initiatives qui poussent à former des liaisons et une influence entre musiciens locaux et personnes de l'industrie. À côté (quasiment) de l'ancien corps de Lydia's de Saskatoon et à quelques pas d'Amigo's Cantina, Vangelis est le charbon chaud des hivers froids sur l'avenue Broadway. Il s'agit, faute de prouesse poétiquement descriptive, du bijou du mineur: offrant une brillance pour ceux qui y tiennent assez pour la chercher (en voulant dire, la musique). Qu'que chose de spécial mijote dans les chaudrons de Vangelis Tarven. Le nom manque de consensus uniforme pour ce qui est de la prononciation, mais ça tient son rang en tant que salle absolument cruciale pour le talent émergeant, établie, et véritable de Saskatoon.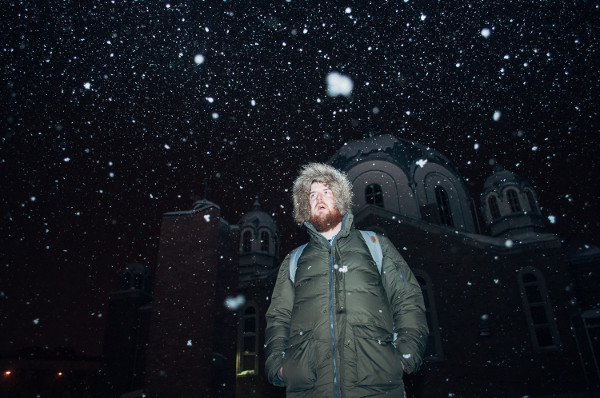 From the purple city of Jared Majeski:
Edmonton feels alone up north. Our geography, our isolation and our resources help shape us; there is an enduring adventurousness in the things created here. The pockets where society and expression percolate do so out of passion, fun and above all: survival.
So what is this place that's a bit too far north for many touring bands to come to? Edmonton is a small town. Edmonton is part work camp, a subtly aware and modern haven burgeoning; a youthful city eager to grow. The imminent changes (good or bad) from an ever-fracturing future help incubate energy and inspiration.
Before the arrival of explorers and immigration, the Edmonton area was home to tribes of Cree, Dene, Nakota Sioux, Saulteaux, Blackfoot and Metis people. In the early 1900s Alberta's economy, and inevitably its future, changed from respecting the land to resource extraction and influence-peddling from all corners of the globe. Our role as a confused world player in the oil game has thickened people's skin, for good and bad.
Along with the intended structures and tangible places that facilitate creative endeavour, inspiration penetrates through the intangible: seasons, geography and rural sensibilities. Our summers are fleeting and busy; our winters long and eerily comfortable, and more than you know were raised in small towns off secondary highways. Our public art and our distinctive architecture sheen metallic and utilitarian.
Thanks in part to the irreplaceable CJSR, and our remaining arts weekly, people soon find out there's an impressive genre-span in Edmonton. Delightfully opposite to the deep suburban "contributors", bands in town get 'er done at home, while the performance and pageantry bears out within intimate dwellings and in the Great Whyte Schlubbery.
Because Edmonton is geographically sheltered from many (most) major centres, there's an incubatorial element to this city. Artists and bands try anything they want, and if and when it catches on beyond Lloydminster, those that make their name beyond Alberta tend to relocate to larger places. There is money and opportunity for many; and dim prospects for the same. What manifests itself is creativity that's honest, supportive and grounded: working class. The winds of change are beginning to blow all around the province, and people here take what they know and what they love and just do their thing.

Rhythm of Cruelty – Nothing's Left
<<< read more >>>
Summer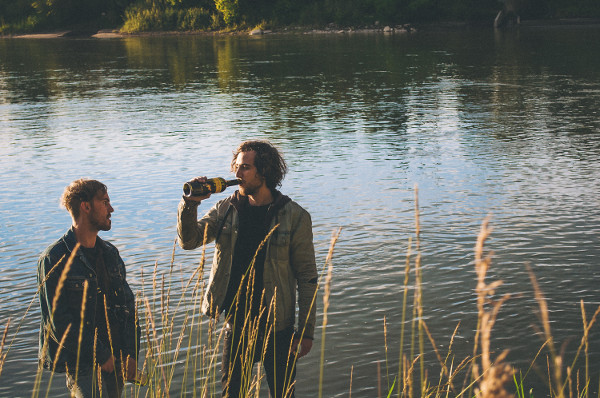 Summer is the comforting riposte to the (usually) soul-sucking, snail's-pace winter. Will summer be two months long this year, or three? Edmonton summers are green, invigorating and the best excuse to do as much as possible. Lots of time spent in our precious river valley, one of the largest urban green spaces around. It's part local lore, campsite, performance space and existential blanket.
Festivals
Hot Plains: http://hotplainsmusic.com/
Endless Bummer: https://www.facebook.com/endlessbummeredmonton
Bermuda Fest: http://bermudafest.com/
Interstellar Rodeo: http://interstellarrodeo.com/
Up + Downtown Festival: http://updt.ca/
Fringe Festival: https://www.fringetheatre.ca/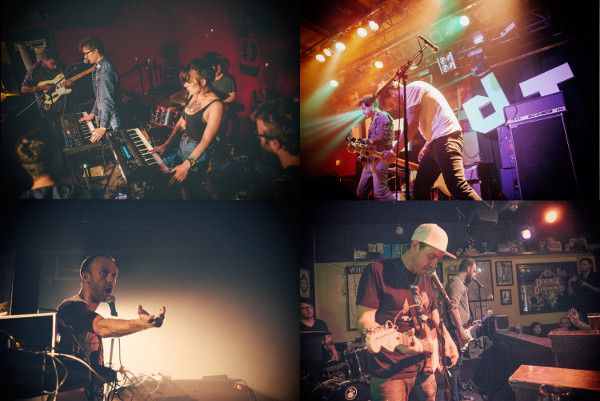 There's a
need
to be festive here, born from the geography and fleeting warm seasons. Bursts of creativity, loosening the blue and white collars (mostly blue) to celebrate all genres in groovy compartmentalization. These days, there's more thirst and more support for regularly large hoe-downs. Newer festivals continue to grow right along with the modern weirdness alive here today.
Wunderbar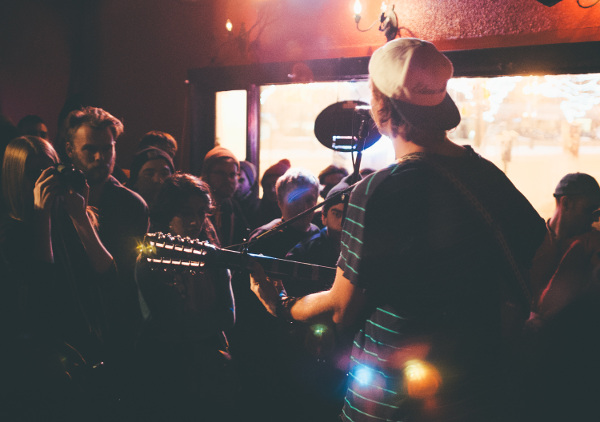 Address: 8120 101 Street
Contact: http://wunderbar-edmonton.com/
(LGBTQ friendly)
It's hard to put into words the personal and financial sacrifice that has gone into turning an old German soccer pub with
extremely
questionable clientele into a venue bands from around the country know about
(and love)
. But here goes: for almost half a decade, Martell and the fellas have been the doorway darkening facilitators for all kinds of music all across this damn northern epic, and around the world. In over four years, Wunderbar has become the epicentre of the weird, beautiful and unkempt musicians, artists, comedians and people who dig what they do. For bands who've had the task and pleasure of touring the country, Wundi is a very necessary stop. And for the uninitiated, show some passion, sensibility (and a with-it sound) and you may get a spot on a bill.
Update: As of this writing, Craig and his partners have officially put the Wunderbar up for sale.
Ramshackle Day Parade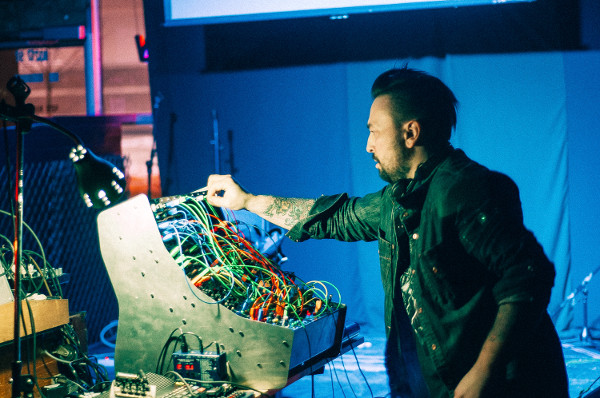 Contact: http://ramshackledayparade.wordpress.com/
(LGBTQ friendly)
Started around 2008, Ramshackle Day Parade (RDP) is the creation of
Parker James Thiessen
: a means to host performance,
release records
and expose the city to the outsiders and their experiments. Damn-near seven years later, RDP continues to be thee showcase of weirdness, mind expansion and destitute expression of those trapped in this icy fortress; sinistral cigarettes burn and the future looks unknowingly bright.
Whyte Avenue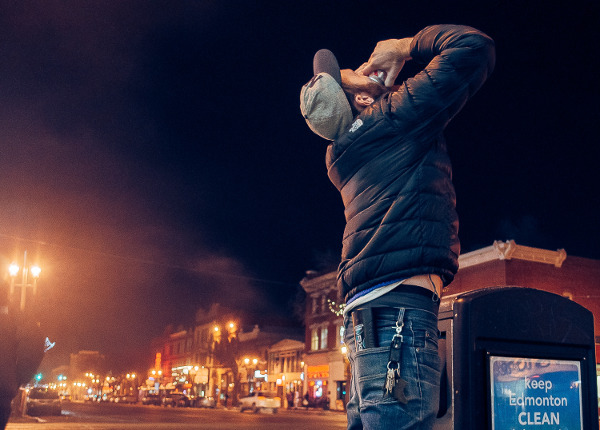 One of the more salient examples of our urbanity – Whyte Avenue – starts the day as a hub of shops, food, drink,
one-armed pushups
and buskers. At night, the historic strip turns into a haunted vestige of money, booze and disconcerting moments of stabby avoidance. Artists and musicians happily pass through the weekend; the drudgery and money is but a blip on the righteous path to good times.
The Log Cabin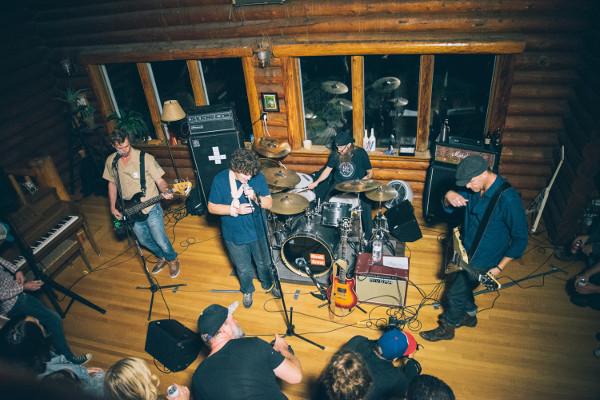 (LGBTQ friendly)
A fortunate situation has manifested itself in a safe, beautiful space to do the familiar things we enjoy – eat, drink, experience. Belonging to a local social worker, she along with family and friends have used this unique space, at one point to another, as a
vegan breakfast joint
, wedding venue, film set,
stand-in studio
and performance space. Edmonton has a tendency to put aside forethought and bulldoze irreplaceable structures. But here we are…a log cabin in the city, standing the test of time.
Listen/Freecloud/Blackbyrd

Blackbyrd: http://www.blackbyrd.ca/
Listen: http://listenrecords.net/
Freecloud: http://www.freecloud.ca/
Listen: Part of the underpinning of a renewed 124 Street west of downtown, Listen ain't large but there's a good chunk of everything there. Always good finds in the world music and international reissure section. Freecloud: Located across the street from the city's major arts high school (coincidence?!), Freecloud seems to have a classic, old punk record shop kind of vibe. Large curated used section and lots of local gems. Blackbyrd: Maintained by the consumers and creators, Blackbyrd's the magnet for neighbourhood dwellers and curios determined Northsiders. Located smack-dab in the midst of Whyte, stop by for a chat, and a dig through reissues and local sounds.
De la ville violette de Jared Majeski:
(Traduit par les curieuses mains d'AnneMarie Papillon)
Edmonton semble toute seule là-bas, au nord. Son emplacement géographique, son isolement et ses ressources nous façonnent : il y a une audace persistante dans toutes les choses créées ici. Société et expression s'animent dans ces creusets par passion, par plaisir mais surtout, pour survivre.
Alors, c'est quoi cet endroit, juste un peu trop au nord pour que les groupes viennent y jouer? Edmonton, c'est une petite ville c'est un havre moderne subtilement conscient, toujours en chantier : c'est une ville jeune qui ne demande qu'à grandir. Les changements imminents (bons ou mauvais) de son futur de plus en plus fragmenté aident à y faire éclore énergie et inspiration.
Avant l'arrivée des explorateurs et les vagues d'immigration, Edmonton était la terre des Cris, des Dénés, des Nakota Sioux, des Saulteaux, des Blackfoots et des Métis. Au début des années 1900, l'économie de l'Alberta – et inévitablement son futur – a changé. Elle est passée du respect de la terre) à l'extraction des ressources et au trafic d'influence venant de partout autour du globe. Son rôle en tant que joueur incertain dans le grand jeu du pétrole a endurci les gens, pour le meilleur et pour le pire.
En plus des structures et des lieux tangibles encourageant l'esprit créatif, l'inspiration provient de l'immatériel : les saisons, la géographie et la sensibilité rurale. Nos étés sont fugaces et sans repos, nos hivers sont longs et étrangement confortables. Plus de gens qu'on ne le pense ont grandi dans des villages sur le bord d'une route secondaire. Notre art public et notre architecture distincte ont le reflet métallique et utilitaire.
Les gens sont de plus en plus conscients de la panoplie de genres artistiques d'Edmonton, en partie grâce à l'irremplaçable CJSR et à notre dernier hebdomadaire artistique. S'opposant délicieusement à leurs collaborateurs des banlieues profondes, les groupes locaux remportent la coupe à la maison, comme dans le bon vieux temps.
Puisqu'Edmonton est éloigné géographiquement de nombreuses (presque toutes) grandes villes, on s'y retrouve comme dans un incubateur. Les artistes et les groupes essaient ce qu'ils veulent et si ça se rend jusqu'à Lloydminster; ceux qui ont réussi à se faire un nom au-delà des frontières de l'Alberta ont tendance à déménager vers de plus grandes villes.
Il y a de l'argent et des occasions pour plusieurs, mais le contraire est aussi vrai. Ce qui ressort est honnête, encourageant et solide : une créativité ouvrière. Les vents de changement commencent à souffler sur la province et ses habitants utilisent ce qu'ils connaissent et ce qu'ils aiment pour faire leurs trucs.

Rhythm of Cruelty – Nothing's Left
<<< la suite >>>
L'été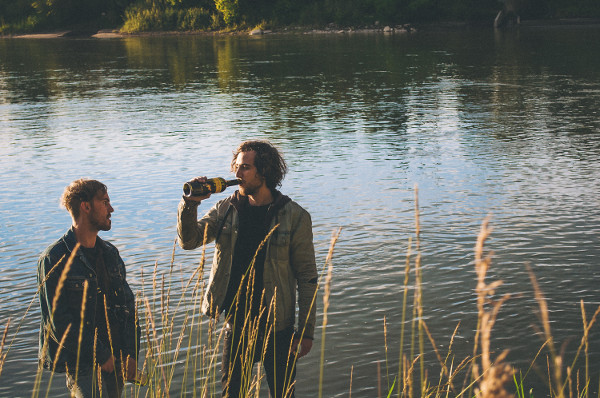 L'été est la riposte réconfortante à un hiver (trop) souvent éreintant et interminable. Est-ce qu'il durera deux mois cette année, ou trois? Les étés d'Edmonton sont verts et revigorants : la meilleure des excuses pour en profiter au max. On passe beaucoup de temps dans notre chère vallée fluviale, un des plus grands espaces verts urbains aux alentours. C'est tant une tradition locale, un terrain de camping et un lieu de performance qu'une doudou existentielle.
Festivals
Hot Plains : http://hotplainsmusic.com/
Endless Bummer : https://www.facebook.com/endlessbummeredmonton
Bermuda Fest : http://bermudafest.com/
Interstellar Rodeo : http://interstellarrodeo.com/
Up + Downtown Festival : http://updt.ca/
Fringe Festival : https://www.fringetheatre.ca/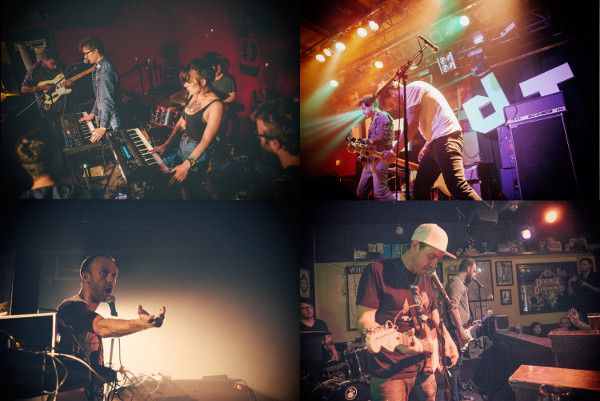 Ici, il y a un profond besoin d'être festifs causé par la géographie et la saison chaude fugace. Ces festivals sont des explosions créatives desserrant les cols bleus et blancs (surtout les bleus), pour célébrer tous les genres en morcellement groovy. Il y a aujourd'hui une plus grande soif et un meilleur soutien pour les festivals à grande échelle. Les festivals plus récents continuent de grandir au même rythme que la bizarrerie contemporaine caractéristique d'Edmonton.
Wunderbar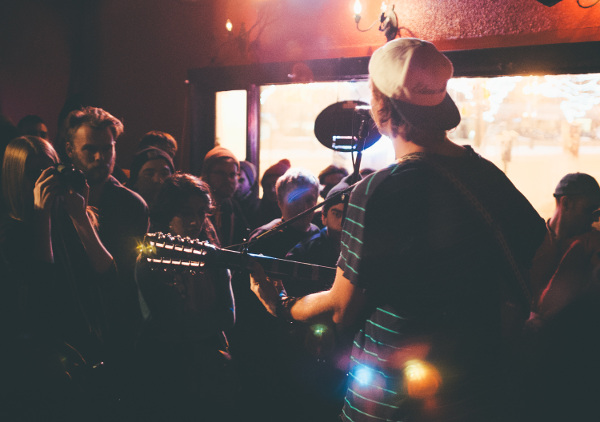 Adresse : 8120 101 Street
Contact : http://wunderbar-edmonton.com/
(Bienvenue aux LGBTQ)
Il est difficile de décrire tous les sacrifices personnels et financiers qui ont été faits pour ce projet : transformer un vieux pub sportif allemand, où on présentait des matchs de soccer à une clientèle
extrêmement
douteuse, en un lieu de spectacle connu (et
adoré
) par des groupes de partout au Canada. Mais je me lance : pendant près d'une demi-décennie, Martell et ses chums ont soutenu ce foutu bled nordique pour présenter de la musique de tout genre en provenance des quatre coins du globe. Sur plus de quatre ans, Wunderbar est devenu l'épicentre des musiciens, comédiens et artistes bizarres, superbes et débraillés; et des gens qui aiment ce qu'ils font. Pour les groupes qui avaient la mission (et le plaisir) de partir en tournée au Canada, Wundi est un arrêt incontournable. Et pour les non-initiés, si vous montrez de la passion, de la sensibilité et un son qui va avec, vous obtiendrez peut-être votre place pour une soirée.
Mise à jour : Au moment d'écrire ces lignes, Craig et ses associés avaient officiellement mis en vente le Wunderbar.
Ramshackle Day Parade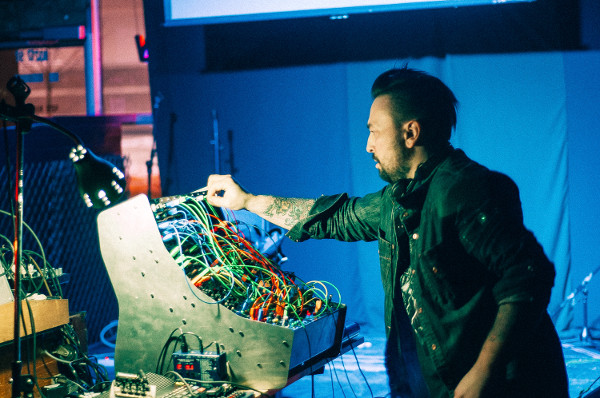 Contact : http://ramshackledayparade.wordpress.com/
(Bienvenue aux LGBTQ)
Ramshackle Day Parade (RDP) a été créé en 2008 par
Parker James Thiessen
. C'est un moyen de présenter des performances, de
sortir des disques
et d'exposer la ville à toutes ces expériences marginales. À peu près sept ans plus tard, RDP continue d'être la référence en matière de bizarre, d'ouverture d'esprit et de l'expression démunie de ceux prisonniers de cette forteresse de glace; une sinistre brûlure de cigarette et un futur semblant plus clair, à notre insu.
Avenue Whyte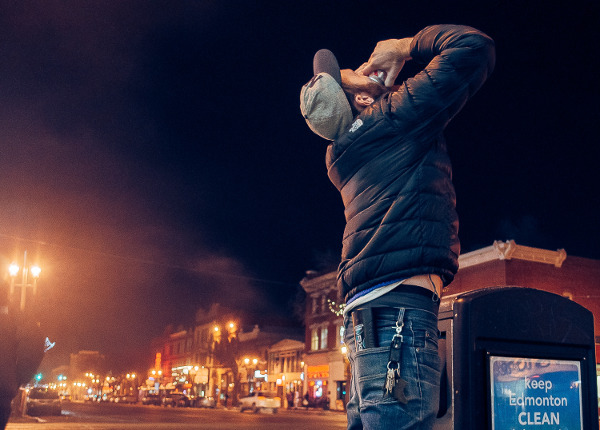 L'avenue Whyte est un des meilleurs exemples de notre urbanité : de jour, c'est un bourdonnement de boutiques, de nourriture, de boissons et de
pushups à un bras
; de nuit, ce coin historique devient un endroit hanté par les fantômes de l'argent, l'alcool et d'instants tranchants qu'on aimerait éviter. Les artistes et les musiciens passent des fins de semaine heureuses, la corvée et l'argent ne sont qu'un courant d'air sur le chemin menant au plaisir.
The Log Cabin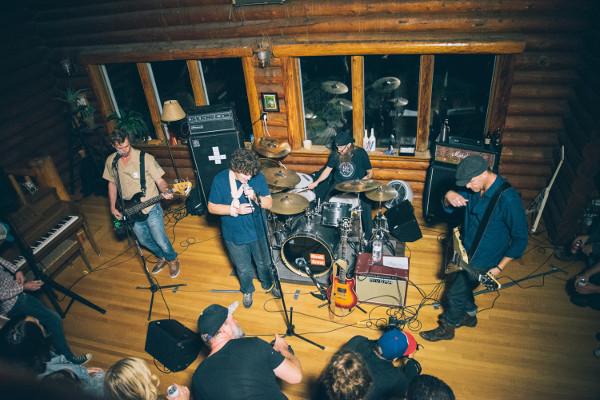 (Bienvenue aux LGBTQ)
Un évènement heureux s'est réalisé dans un bel endroit sécuritaire pour nous permettre de faire les choses que nous aimons : manger, boire, expérimenter. L'endroit appartient à une travailleuse sociale de coin, et à un moment ou un autre, elle et ses amis ont utilisé l'endroit comme
resto de déjeuners végétaliens
, salle de réception de mariage,
plateau de tournage
, et lieu de performance. Edmonton a cette tendance d'ignorer les prévisions et de détruire les structures indispensables. Mais nous voilà, une cabane en rondin au milieu de la ville, à l'épreuve du temps.
Listen/Freecloud/Blackbyrd

Blackbyrd : http://www.blackbyrd.ca/
Listen : http://listenrecords.net/
Freecloud : http://www.freecloud.ca/
Listen
: Faisant partie de la revitalisation de la 124e Ouest du centre-ville, Listen n'est pas très grand, mais on y trouve une bonne pelletée de tout. Il y a toujours des trouvailles dans les sections musique du monde et rééditions internationales.
Freecloud
: Situé en face d'une école secondaire spécialisée en art (coïncidence?!), Freecloud a une atmosphère classique, style vieux magasin de disques punks. On y trouve une superbe section de trucs usagés.
Blackbird
: Entretenu par ses fondateurs et ses clients, Blackbyrd est un aimant pour les citadins curieux. Fais-y un arrêt pour discuter et pour fouiller dans la section rééditions et découvertes locales.
---