Frequencies :: CJLO 1690 AM (Montréal)
---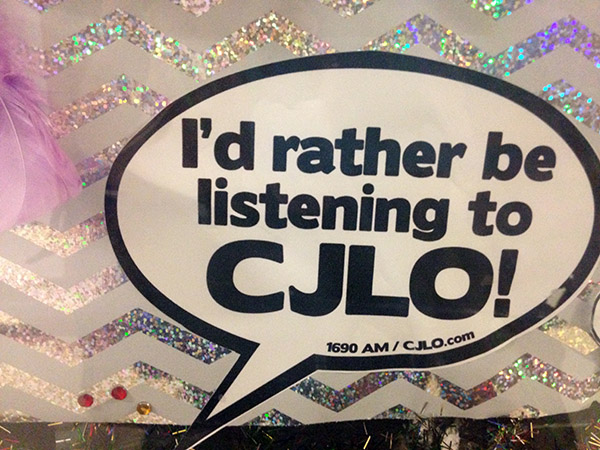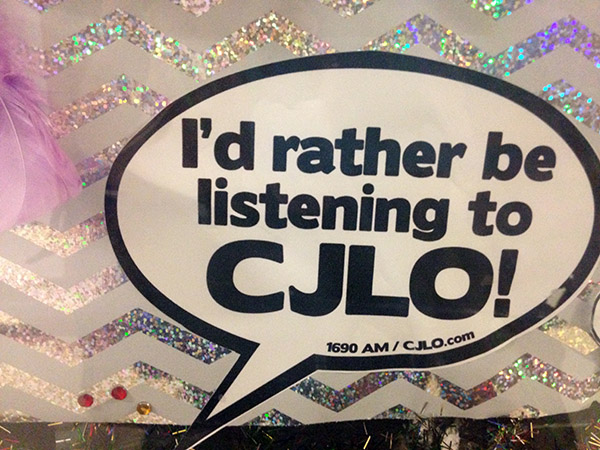 Frequencies :: CJLO 1690 AM (Montréal)
Montréal, QC
(Photos by: Carol Fraser)
From the drowned-out dronefields of Carol Fraser:
Concordia University's campus/community radio station may be a bit hard to find, but it sure isn't hard to love. When not having their Fundrive or just plain having fun, the team at CJLO is hard at work making soundscapes for their city and the world to enjoy.
Recently I met up with three magic-makers: Omar Husain, CJLO's hard-listening Music Director; Denis Arsenault, "Dirty Work" host and CJLO Board member; and Lucy Marshall-Kiparissis, CJLO's Volunteer Coordinator. We met in The Oven, CJLO's recording studio, for a conversation about the station, the state of radio, and never giving up.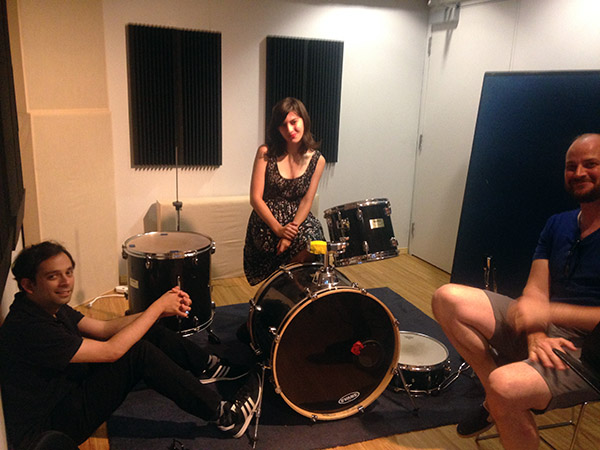 What are the origins of CJLO?
Omar Husain: There were two campus radio stations initially, one on the Sir George Williams campus and one on the Loyola campus, who merged together to become CJLO, which was given this space by the University. From that point onwards, the space has taken different shapes.
When I first started volunteering, this room, The Oven, was offices, and the production studios were all in the small control room (now the on-air studio). The DJ booth, production studios and offices have moved around quite a bit. A few years into CJLO, they decided to turn this room into a full fledged production studio. The odd thing was they were using this as the control room and using a much smaller room as a production studio. I remember being here with the production director at the time, before I was volunteering here, and I just mentioned, "Why don't we switch this?" It was like a lightbulb went off in his head. We took carpets from the station manager's grandma's basement and made it soundproof, even more soundproof than it is today, in my opinion. That's when we started getting bands in to do sessions in it.
There was a lot of charm to how things were run back then. There was a true DIY aesthetic. We had a small group of people, and we just wanted to make a radio station, so we did.
It usually takes much longer for a station to develop a culture, a reputation, quality programming, and to get on air. In a weird sort of way, we've done a lot of that backwards. We had quality programming before we got an AM frequency in 2008, back when we were online-only. We used to say, "If we can only be online, then let's really focus on programming, and push the online aspect." That really helped, because when we flipped the switch to go on AM, we already had professional DJs.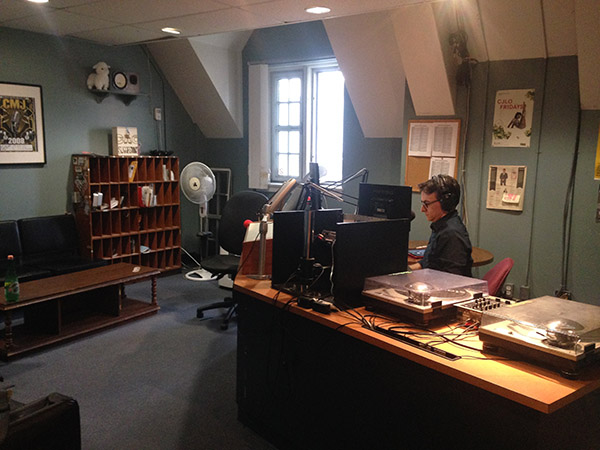 How and why do people get interested and involved in CJLO?
Lucy Marshall-Kiparissis: A lot of the student volunteers and DJs who come in, they've found us by chance. They haven't really found anywhere else on campus or in the city where they can develop their interests or their skills. Campus radio really just attracts a certain kind of person, and that makes for a very vibrant community.
OH: Weirdos is what she means!
LMK: It's people who are bored and restless and want to find an outlet. We're young – we don't have a super rigid structure. If you want to go on air, we have the space for people to really develop what they want to be doing.
How do you think that CJLO supports Weird Canada artists? Where do you see cross-over between CJLO and Weird Canada?
OH: A lot of the bands that are featured on Weird Canada are left of the dial compared to what's on regular radio. That's exactly our mandate: to play new, non-mainstream artists that are doing something interesting, original, weird. A lot of the bands that we catch wind of through Weird Canada are eventually played on CJLO's shows, and many of our volunteers' bands get featured on Weird Canada. There is very much a symbiotic relationship.
LMK: I name-drop Weird Canada a lot on my show, because any given week, if I'm coming up empty, Weird Canada is my first resource, and I know it's the same with a lot of other DJs. A few of us really jumped on getting involved in Drone Day here at CJLO for the past couple of years. Julie Matson of Echo Beach, a long time DJ at the station and a CJLO Board Member, was organizing it here in Montreal. I know she promoted it a lot through CJLO, and I did as well, and there was the Drones against Drones mixtape, too.
What's the relationship between radio and other media? Why do people listen to CJLO specifically?
OH: Radio is where you go to hear a variety of things with human connection instead of an algorithm. I never really liked radio stations where there are no talk spots. What's the point? I might as well just put my WinAmp on shuffle.
LMK: Even if you're listening to us online, you're making the conscious choice to listen to something you don't control. Kids who grew up on being able to curate their music are now choosing to let go. There can be a lot of value in letting someone else choose the music for you. It's something that a lot of young people, who never knew anything but making their own Youtube playlists, are really revelling in.
What's the relationship of CJLO to Montreal, the rest of Canada, and to other campus-community radio stations?
OH: To Montreal, it provides a way for Concordia students and community members to get involved in making radio in the area they want to learn: if they want to go on air, they can come and learn how to do that; if they want to record bands, they can learn that, too. Locally and nationally, it provides a medium for musicians and artists to get their art out to people, another way to help promote it. Sharing your music on Bandcamp or Facebook can only go so far.
LMK: There's a media monopoly in Canada right now. There's just not that many campus-community radio stations in Canada, and we all play an extremely valuable part in the alternative landscape. Not even just for alternative culture – anything slightly beyond the mainstream: we're keeping that alive. The internet has been a boon to music outside of these pre-selected playlists, but you can't rely entirely on the blogosphere.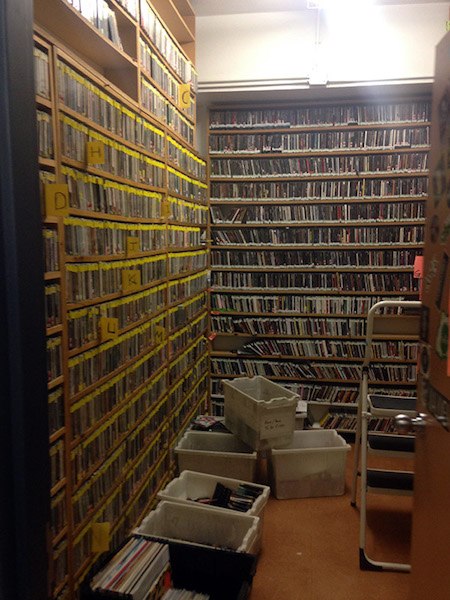 How have you seen the station change and grow in your time here?
OH: It's grown like crazy. When I started it was just a handful of us cobbling things together. Now we have a volunteer base of about 200 people. I don't even know many of their first names, whereas before everyone knew each other and we all hung out together.
It's become what we were hoping it might become. At the same time, there's always room for improvement. It's not quite at the stage where it's exactly how we want it, which is good, because that means there's room to grow.
What advice do you have for radio programmers and musicians?
Denis Arsenault: Don't expect money!
OH: Do it because you love it. 'Cause if you don't love it, you're going to hate yourself. I'm giving you the straight dope here! Honestly, if you're not passionate about it, if you don't love it, if you're doing it 'cause you think it's cool, if you're doing it to get on Pitchfork or Weird Canada or something, you're going to end up hating it and you're not going to keep doing it.
When you put out a record, you don't know how people are going to react. People might love it. People might not even pay attention to it. That can be discouraging. But at the end of the day, it's your art. Are you putting that art out there for yourself? Are you happy with the finished product? Is it something you can look back on and be proud of? If so, you're doing it for the right reasons.
Par les champs de drones étouffés de Carol Fraser:
(Traduit par L. Frank)
Ça se peut que la station de radio communautaire universitaire de Concordia soit difficile à trouver, mais elle n'est pas difficile à aimer. Quand ils ne sont pas en train de faire leur « Fundrive » ou tout simplement de s'amuser, les membres de l'équipe de CJLO sont en plein action créant des paysages sonores pour que leur ville et le monde entier puissent en profiter.
Récemment, j'ai pu rejoindre trois supervedettes de la station: le directeur de musique Omar Husain, l'animateur de « Dirty Work » et membre du conseil d'administration Denis Arsenault et la coordonatrice des bénévoles Lucy Marshall-Kiparissis. On s'est rencontrés dans la salle d'enregistrement de musique de CJLO qui s'appelle [«le four»] On a parlé de la station, de l'état de la radio et de motivation.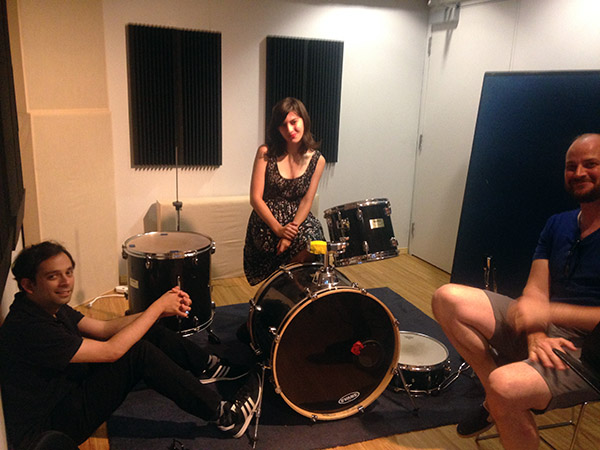 D'abord, parle-moi des origines de CJLO…
Omar Husain: Au début, il y avait deux stations de radio communautaire. La station au campus Sir George Williams et l'autre au campus Loyola se sont fusionnés pour devenir CJLO. L'endroit pour mettre le radio était un don de l'université. D'ici-là, l'espace à pris plusieurs formes.
Quand j'ai commencé, cette salle le four était plusieurs bureaux et les studios de production étaient tous dans la petite salle de contrôle (qui est maintenant le studio en direct). L'espace DJ, les studios de production et les bureaux on tous été déplacés. Quelques années après le début de CJLO une décision a été prise pour que cette salle devienne un véritable studio de production. En fait, c'était bizarre que cette salle ait été utilisée comme salle de contrôle et l'autre comme salle de production même si cette dernière était plus petite. Avant que je me sois impliqué, je me souviens que j'étais ici avec le directeur de production à l'époque et je me suis demandé: « pourquoi pas échanger les salles? ». Pour lui, c'était comme une révélation. On a pris des tapis qui était dans le sous-sol de la grand-mère du gérant et on a insonorisé la salle. À mon avis, la salle était encore plus insonorisé à l'époque qu'aujourd'hui. C'est à ce moment-là qu'on a commencé à avoir des sessions d'enregistrement avec des groupes de musique.
À l'époque, on a géré la station avec beaucoup de charme. Disons que l'esthétique était DIY. Nous étions un petit groupe qui voulait faire une station de radio, alors on l'a fait.
Généralement, ça prend beaucoup plus de temps qu'il nous a fallu pour développer une culture, une réputation, la programmation de qualité et à se mettre en ondes. On l'a fait de façon inverse, ce qui est un peu bizarre. On avait la programmation de qualité avant qu'on soit diffusé sur la fréquence AM en 2008. Auparavant on était diffusé en ligne seulement. On disait, «Si notre seule moyen d'exister est en ligne, concentrons-nous là-dessus et allons au-delà de nous-mêmes. Un fois qu'on a démarré la fréquence AM, on avait déjà des DJ professionnels.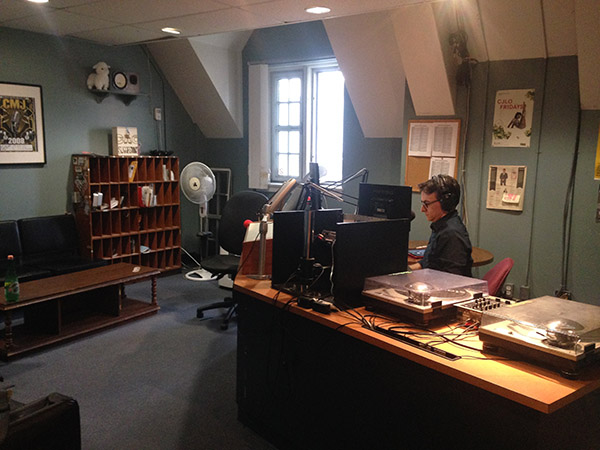 CF: Pourquoi est-ce que les gens peuvent s'impliquer à CJLO? Comment le faire?
Lucy Marshall-Kiparissis: Quant aux bénévoles de la station, un grand nombre d'entre eux sont des étudiants et des DJs qui se sont impliqués incidemment. Ils n'ont pas trouvé d'endroits ni au campus ni en ville où ils pouvaient développer leurs intérêts et leurs talents. Bref, les radios du campus attirent un certain genre de citoyen.ne et ces personnes deviennent le nœud de cette communauté qui est tout à fait vibrante.
OH: La radio communautaire attire des personnes bizarres. C'est ça qu'elle veut vraiment dire!
LMK: Ce sont des gens ennuyés et agités qui veulent trouver une façon de se débarrasser de cette animosité. La plupart d'entre nous sont jeunes et nous n'avons pas vraiment de structure rigide. En effet, si vous voulez vous impliquer, c'est possible: il y a de l'espace pour que les gens puissent vraiment développer ce qu'ils veulent faire.
CF: Est-ce que CJLO soutient des artistes-interprèts de Weird Canada? Est-ce qu'il y a un croisement entre les deux organisations?
OH: Plusieurs groupes qui sont presentés par Weird Canada sont à gauche du cadran quand on les compare avec la radio conventionnelle. C'est notre mandat de jouer des artistes de la relève qui font des choses intéressantes, bizarres et originales. Plusieurs groupes de musique qui ont été médiatisé initialement grâce à Weird Canada sont diffusées à travers nos ondes. De façon inverse, il y a plusieurs groupes de musique de nos bénévoles qui sont publiées par Weird Canada. Il y a vraiment une relation symbiotique.
LMK: Je mentionne Weird Canada souvent pendant mes émissions. Si je n'ai pas de contenu, je consulte Weird Canada et je suis pas mal certaine que bien d'autres DJs de CJLO le font aussi. Depuis quelques années, plusieurs gens se sont impliqués dans [DRONE DAY]. Julie Matson de [Echo Beach] est membre du conseil exécutif et, comme une autre DJ à CJLO, elle était organisatrice de Drone Day ici à Montréal. Elle promouvait l'événement à travers nos ondes, comme je le faisait, et il y avait aussi un mixtape Drones contre Drones.
CF: Pourriez-vous m'expliquer la relation entre la radio et d'autres médias? Plus précisément, pourquoi choisit-on d'écouter CJLO?
OH: La radio est un nœud où on peut y entendre diverses choses qui viennent d'un être humain et non d'un algorithme. Je n'aime pas les stations de radio qui n'ont pas d'espace pour que le monde puisse s'exprimer. À quoi sert-il d'entendre que de la musique? Je préférerais jouer des chansons au hasard de mon WinAmp!
LMK: Même si vous écoutez CJLO en ligne, vous effectuez le choix conscient d'écouter quelque chose qui est hors de votre contrôle. Même ceux et celles qui ont grandi en fabriquant leur propre listes de chansons veulent maintenant l'abandonner. Ça se peut qu'il y a une véritable valeur quand on laisse quelqu'un d'autre choisir. Effectivement, c'est quelque chose que plusieurs jeunes apprécient beaucoup puisque avant ils ne savaient que créer leurs propres playlists Youtube.
CF: Serait-il possible de décrire la relation entre CJLO et Montréal, entre CJLO et le reste du Canada et entre CJLO et d'autres stations de radio communautaires?
OH: Ici, à Montréal, la station offre un moyen de s'impliquer non seulement pour les étudiants de Concordia, mais aussi pour des membres de la communauté. Ceux et celles qui veulent s'impliquer peuvent profiter d'une opportunité dans le domaine qu'ils veulent, soit en direct, soit pour enregistrer de la musique. Il y a plusieurs avenues pour apprendre. Au niveau local et au niveau national la station fourni un moyen aux artistes, aux musiciennes et aux interprètes de promouvoir leurs oeuvres. Au bout du compte, Bandcamp et Facebook ont des limites.
LMK: Présentement, il y a un monopole au Canada. Il n'y a pas grand nombre de stations de radio communautaire et on joue tous un rôle précieux dans le paysage médiatique alternatif. En effet, on offre une bouée non seulement à la culture alternative, mais aussi aux gens qui sont à peine hors de la culture dominante. On ne peut pas se fier absolument à la blogosphère, même si L'Internet a agi comme un coup de pouce pour un genre de musique qui existe hors de ces listes présélectionnées.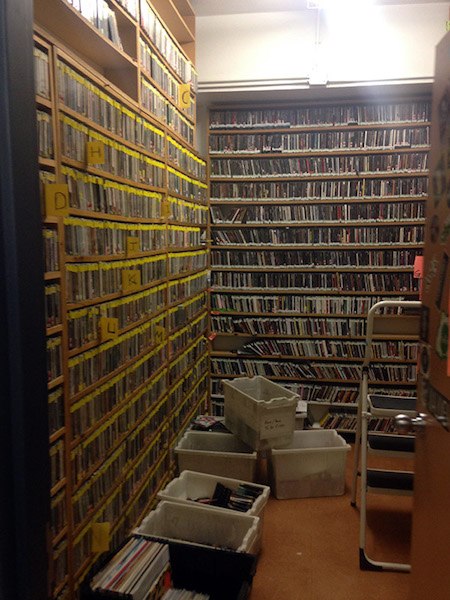 CF: Est-ce que vous avez aperçu des changements à CJLO? Est-ce que la station a connu une importante croissance?
OH: Elle a beaucoup grandi. Au début, c'était une petite poignée de personnes qui bricolaient une station. Maintenant, on a une base de 200 bénévoles. Je ne suis plus au courant des prénoms de la plupart, alors qu'avant je connaissais tout le monde et nous nous soutenions tous.
C'est devenu ce qu'on avait espéré, même si on peut toujours s'améliorer. On pourra dire que nous ne sommes pas arrivés là où on voulait, ce qui est une bonne nouvelle selon moi, parce que ça veut dire qu'il y a quand même du potentiel.
CF: Avez vous des conseils pour des programmeurs radio et/ou pour des musiciens?
Denis Arsenault: Ne vous attentez pas à faire de l'argent!
OH: Faites-le par amour. Si vous n'aimez pas ça, vous allez finir par détester ça. Honnêtement, si vous n'êtes pas passionnés par la radio, si vous le faites parce que vous pensez que c'est à la mode, si vous le faites pour obtenir une revue de Pitchfork ou de Weird Canada, enfin vous détesterez ce que vous faites et peu après vous arrêterez.
Quand vous sortez un disque, la réaction du grand public est toujours inconnue. Peut-être les gens seraient ravis du disque. Peut-être que personne ne tiendra compte du fait que le lancement a eu lieu. Vu que le monde est précaire, on ne sait jamais. Ça peut être décourageant, mais en fin de compte, c'est votre art. Est-ce que vous le faites pour vous-même? Êtes-vous satisfait de l'effort et du processus? Avec le recul, est-ce que vous êtes fier? Si oui, vous le faites pour la bonne raison.
---
---
file under: Frequencies, quebec.
birthed: 2016-12-07
Comments Off

on Frequencies :: CJLO 1690 AM (Montréal)
---