How To Understand Band Partnership Agreements
---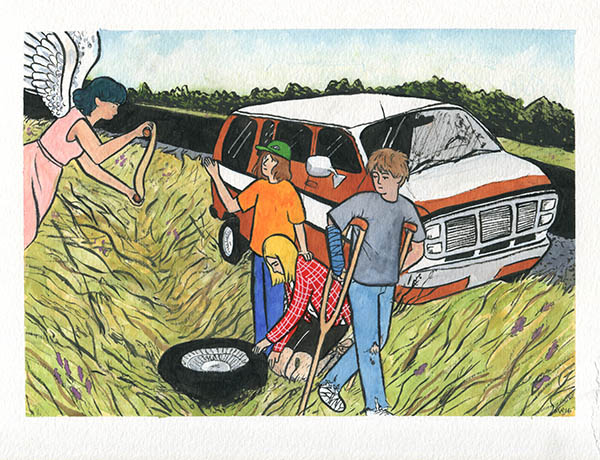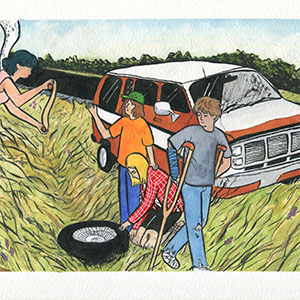 How To Understand Band Partnership Agreements
Avoid pitfalls, disputes, and unintended consequences with proper planning
Steve Carey
Vancouver, BC
(Illustration by: Megan Arnold)
Steve Carey is lawyer in British Columbia and Ontario, as well as a former entertainment and arts journalist. He practices at Alexander Holburn Beaudin + Lang LLP, a full-service law firm.
Business law doesn't matter to most bands until it's too late to know it. For most DIY bands, you form, write, play some venues, release an album, tour a bit, then split, hopefully with some cash in hand. It's fun to jam, but when money starts to change hands, there's the possibility for serious disputes. An on-stage blowout, backstage rager, or an unwanted debt can be avoided by understanding default partnership rules or through the creation of a band partnership agreement.
A partnership agreement, also called a band agreement, is a contract explaining how the band operates, how decisions are to be made, and how profits are tallied up and split.
Without an agreement, automatic rules set out in the various provincial partnership acts apply. If you're playing in a band with a view to making a profit, you're already a partnership and the default rules apply to you. These are fine in most circumstances, but may expose members to liability, limit the band's ability to add or remove members, or cause problems with overly litigious bandmates. Understanding these goes a long way towards resolving conflicts and saving friendships.
If you're thinking of drafting a band agreement yourself, consideration should be given to flexibility and ensuring the interests of the band as an entity and the artists as individuals are protected and balanced. For the majority of Canadian bands, a DIY two to three page agreement is an easy precaution to avoid disputes and financial problems.
As a side note, if you're quitting your day job, consider Employment Insurance (up to 15 weeks for the self-employed), Workers Compensation benefits, and private insurance, particularly if the band is touring: health bills can be huge and replacement policies for equipment critical. If you're not quitting your day job, know that you can offset your personal income tax using the band's losses, so long as your band has a reasonable chance of profit over time.
Band Agreements
Your band agreement can be as complex or simple as you'd like it to be. The various partnership acts across Canada typically impose the following default terms:
All profits are split in equal shares between members;
Each partner can agree to binding contracts on behalf of all others;
Partners are liable for the debts of the entire partnership, not just their own share;
No partner can be kicked out;
The death or insolvency of a partner will dissolve the partnership, which may not be intended if the group is to continue on;
Partners may not compete with the band; and
Each partner has a right to take part in management.
These default terms can be overwritten by a band agreement. Typical band agreements include terms for dealing with:
the responsibilities of members of the band;
how decisions are to be made – must they be unanimous, a majority, or only by specific persons;
limits on the ability of certain partners to spend funds without approval, or to enter into contracts on the partnership's behalf;
financial controls, such as signing authority, banking limitations, and otherwise;
what expenses the band covers (i.e. repairs to the tour bus are okay, but you pay your own bar tab);
distribution of profits and specific royalty calculation for music sales, licensing of songs, live performances, merchandise and other income;
conditions for removing/leaving members, such as buyouts, morality clauses, whether or not leaving members may refer to the band in self-promotion or perform the band's songs;
hiring temporary members;
what specific assets belong to the partnership (such as the name, goodwill, intellectual property) and a schedule to the agreement with physical assets listed (i.e. stage sets, props, lighting equipment);
and the date the agreement terminates, how it is renewed, and how it is amended.
Your agreement doesn't need to cover everything. Partnership agreements can be re-written to address situations as they occur, provided clear provisions are inserted for doing so.
Consider the following scenarios, and the way the default rules or an agreement may handle them.
The band stores their personal equipment at their shared jam space. One member brings a side-project band in, and they use the main band's equipment. Is this acceptable? An agreement may set guidelines around the use of band or member equipment without consent (necessary if you've got a sweet BC Rich Warlock you don't want anyone changing the tuning on).
The default rules say the side-project should not exist if it competes with the band, which is not desirable.
The bassist takes on merchandising and promotion. She spends hours designing t-shirts and pressing buttons, selling the merch before and after shows. She books all the shows and does all the band's mail-order. Should she be compensated in an equal share with the other members, or would some other payment be appropriate? The default rules state partners share profits equally, while an agreement may compensate her separately for her additional work. It's up to the band to decide what's fair compensation for its members.
A band starts gaining momentum and booking shows. Without telling the others, one member starts a side-project. The gigs wind-up double booked with the side-project. What recourse do the band members have? The default rules state if the side-project gig is played, the bandmate must pay the profits into the main band, which will almost certainly lead to a fight. An agreement may state the band's gigs have priority. It can also have terms to compel attendance or prohibit competition. Unless you're a mainstream hit machine, the financial expense of getting a court order isn't worthwhile when the band can just replace the member or the member can leave.
A band records an album. All agree the album is complete. Without telling anyone, the guitarist re-records all their his tracks and incurs extra studio time. Who pays? The default rules state the partners are on the hook as a group, while an agreement may allow the partners to recover from the member for the amounts incurred without authority. Debt recovery is something that most people can handle in the various provincial small claims courts without a lawyer. It is relatively painless.
A band member falls ill before a gig. A fill-in musician is hired. Who pays the fill-in, and is the band member entitled to a share of profits, even though she didn't play? The default rules state the band as a whole pays the fill in, and the absent member still gets a share. An agreement may say otherwise, depending on how your band operates.
Solo Artists and Corporations
What do you do if you're an individual? You're a "sole-proprietor": one person operating with a view to profit. You keep everything. Losses from your business can be used to offset income from your day job, and reduce your income tax, with some exceptions. However, any debts or liabilities you incur can be claimed against your personal assets: you don't have other members to bail you out. If you need others, you may choose to hire other musicians as employees to tour with you, or to record with you, and should take care to structure a deal with them to avoid a partnership.
Groups or individuals may chose to act as a corporation. It is a separate legal person, owned by its shareholders and managed by its directors. All profits and losses are the corporation's, who can structure payouts to its directors and shareholders as it sees fit. Its shareholders and directors are limited in their liability, with exceptions. Due to the time and financial costs involved in maintaining a corporation, and the short life-span of most music groups (five to seven years), there is no special benefit to incorporation for most bands. If you begin to turn a significant profit an accountant or legal professional should be consulted relating to incorporations and tax treatment, but for most Canadian bands, this is unnecessary.
Sample Agreements and Conclusions
A number of sample band agreements are available for free online or for a small fee. Pay attention to definitions of terms and ensure the language of the pre-drafted agreement is clear before all members agree to it. If you are concerned with how the agreement operates, have a lawyer review it.
The point of a band agreement is to avoid conflicts and allow every band member to know how the band operates. Whether it be sharing the cost of tour bus repairs or paying the hardest working member a little more for their effort, a band agreement can cover a lot of ground and prevent a lot of disputes before they happen. That way, your band can focus on what it does best: play shows, entertain crowds, and contribute to the Wyrd music scene.
(Traduit par Odile Leclerc et Maya Keshav)
Steve Carey est avocat en Colombie-Britannique et en Ontario, ainsi qu'ancien journaliste de l'art et du divertissement. Il travaille à Alexander Holburn Beaudin + Lang LLP, un cabinet juridique à service complet.
La plupart des groupes sont indifférents au droit des affaires jusqu'à ce qu'il soit déjà trop tard. Pour plusieurs groupes amateurs, il y a la rencontre initiale, l'écriture, les spectacles et performances, les albums, la tournée, puis la séparation avec un peu d'argent, si tout se passe bien. C'est plaisant de créer de la musique, mais quand l'argent change de mains, il peut y avoir des disputes graves. On peut éviter les explosions de rage sur scène, les crises en coulisses, ou les dettes non désirées si on comprend les règles par défaut, ou si on crée un accord de partenariat pour le groupe.
Un accord de partenariat, c'est un contrat qui explique comment le groupe fonctionne, comment les décisions sont prises et comment les bénéfices sont partagés.
Sans accord, les diverses lois provinciales automatiques sur les sociétés en nom collectif s'appliquent. Si vous jouez dans un groupe en vue de réaliser des profits, vous êtes déjà en partenariat et les lois provinciales s'appliquent à vous. La plupart du temps, ces lois ne causent pas de problèmes, mais elles peuvent exposer les membres à des poursuites en responsabilité, limiter la capacité du groupe d'ajouter ou d'expulser des membres du groupe, ou peuvent poser des problèmes avec des membres trop litigieux. Comprendre ces règles aide énormément à la résolution des conflits et à empêcher de désunir les gens.
Si vous pensez à écrire votre propre accord de partenariat, il faut être flexible et s'assurer que les intérêts des artistes, des individus et du groupe en tant qu'entité soient protégés et équilibrés. Pour la plupart des groupes amateurs canadiens, un accord de deux ou trois pages est une précaution simple pour éviter les disputes et les problèmes financiers.
En passant, si vous quittez votre emploi « normal », considérez l'assurance-emploi (jusqu'à 15 semaines pour les travailleurs indépendants), les indemnités d'accident du travail et l'assurance privée, surtout si le groupe est en tournée : les frais médicaux peuvent être immenses et les politiques de remplacement d'équipement peuvent être graves. Si vous conservez votre emploi, vous pouvez compenser vos propres impôts de revenu personnel avec les pertes du groupe, tant que le groupe prévoit générer des profits au fil du temps.
Les ententes de partenariat entre les membres d'un groupe
Votre accord de partenariat peut être aussi complexe ou simple que vous le voulez. Les divers accords de partenariat à travers le Canada imposent typiquement les termes par défaut suivants :
Les membres partagent en parts égales tous les profits;
Chaque membre peut accepter les contrats obligatoires au nom du groupe;
Les membres sont responsables des dettes du partenariat au complet, pas seulement chacun de sa propre part;
Aucun membre ne peut être expulsé par les autres;
Le décès ou l'insolvabilité d'un membre dissout le partenariat, un résultat possible qui ne serait pas prévu si le groupe continue;
Les membres ne peuvent pas rivaliser avec le groupe; et
Chaque membre a le droit de participer à la gestion.
Ces termes par défaut peuvent être remplacés par un accord de groupe. Les accords de groupe typiques incluent des termes pour gérer :
les responsabilités des membres du groupe;
comment les décisions sont prises; doivent-elles être unanimes, majoritaires ou seulement prises par des personnes spécifiques;
les limites de certains partenaires à dépenser les fonds sans approbation ou à conclure des contrats au nom du groupe;
les contrôles financiers, tels que le pouvoir de signature, les limitations bancaires et autres;
les dépenses que le groupe peut effectuer (par exemple, les réparations de l'autobus de tournée sont acceptables, mais les membres doivent payer leur verre dans les bars);
la distribution des profits et le calcul de redevances spécifiques des ventes musicales, délivrer les licences des chansons, les performances en direct, la marchandise et autre revenu;
les conditions pour expulser un membre ou lorsqu'un membre quitte de son plein gré, comme les indemnités, les clauses de moralité, si les membres qui quittent peuvent faire référer ou non au groupe pour des fins d'autopromotion ou s'ils peuvent jouer les chansons du groupe;
l'embauche de membres temporaires;
quels biens spécifiques appartiennent au groupe (comme le nom, la bonne volonté, les propriétés intellectuelles) et un horaire pour l'accord avec des biens physiques énumérés (par exemple les décors, les accessoires, le matériel d'éclairage); et
la date à laquelle l'accord prend fin, comment peut-il être renouvelé et comment peut-il être modifié.
Votre accord n'a pas besoin d'être exhaustif. Un accord de partenariat peut être réécrit pour aborder de nouvelles situations lorsqu'elles surviennent, à condition que des dispositions claires soient introduites pour la réécriture. Tenez compte des scénarios suivants et de la façon dont les règles par défaut ou l'arrangement pourrait aider à l'accord .
Le groupe entrepose leur équipement personnel dans leur espace de jam partagé. Un membre apporte un groupe faisant partir d'un projet différent et utilise l'équipement principal du groupe. Est-ce acceptable? Un accord peut mettre en place les lignes directrices concernant l'utilisation de l'équipement du groupe ou d'un membre sans le consentement (ce qui est nécessaire si vous avez une pièce rare comme la BC Rich Warlock que vous ne voulez être désaccordée)
Les règles par défaut stipulent que ce projet en parallèle ne devrait pas exister s'il entre en compétition avec le groupe, ce qui n'est pas souhaitable.
La bassiste se charge de faire le commerce et la promotion. Elle passe des heures à esquisser des chandails et à appuyer sur des boutons, vendant la marchandise avant et après les spectacles. Elle réserve tous les spectacles et s'occupe de toutes les ventes par correspondance du groupe. Devrait-elle être payée également avec les autres membres du groupe ou est-ce qu'un autre paiement serait approprié? Les règles par défaut stipulent que les partenaires partagent les profits également, alors qu'un accord séparé peut lui offrir un supplément pour son travail. C'est le groupe qui décide ce qui est une compensation juste pour ses membres.
Un groupe commence à devenir populaire et à réserver des salles de spectacle. Sans le dire aux autres, un membre commence un projet à part. Les réservations de spectacle finissent par entrer en conflit avec ce projet. De quel recours dispose le groupe? Les règles par défaut stipulent que si le concert du projet parallèle est joué, le membre doit rapporter les profits au groupe principal, ce qui peut mener à une dispute. Une entente peut stipuler que les concerts du groupe ont la priorité. Elle peut également inclure des termes qui obligent la présence de tous les membres ou qui interdit les membres d'entrer en compétition. À moins d'être une machine à succès, les charges financières pour avoir une ordonnance du tribunal ne valent pas la peine lorsque le groupe peut simplement remplacer un membre ou si le membre peut partir.
Un groupe enregistre un album. Tous sont d'accord pour dire que l'album est terminé. Sans le dire à personne, le guitariste réenregistre toutes ses pistes et accumule des heures supplémentaires en studio. Qui paiera? Les règles par défaut stipulent que les partenaires sont tous dans le même bateau, alors qu'une entente peut permettre aux partenaires de récupérer le montant dépensé par le guitariste sans avoir recours aux autorités. Procéder au recouvrement de dettes peut être fait dans des cours de petites créances sans avocat et sans chichi.
Un membre du groupe tombe malade avant un concert. Un musicien remplaçant est embauché. Qui paie ce dernier et est-ce que le membre qui est en arrêt maladie peut recevoir sa part des profits même s'il n'a pas joué? Les règles par défaut stipulent que le groupe dans son ensemble paie le remplaçant et le membre absent reçoit quand même sa part. Une entente pourrait dire le contraire, dépendamment de la gestion du groupe.
Les artistes en solo et les sociétés :
Que fais-tu si tu es un individu? Tu es un propriétaire unique : une personne opérant avec le but de faire un profit. Tu gardes tout. Les pertes de ton entreprise peuvent être utilisées pour contrebalancer le revenu de ton travail quotidien et réduire tes impôts sur le revenu avec quelques exceptions. Cependant, toutes dettes ou responsabilités qui s'en suivent peuvent être utilisées contre tes actifs personnels : tu n'as pas d'autres membres pour t'aider à t'en sortir. Si tu as besoin des autres, tu peux choisir d'engager d'autres musiciens comme employés pour aller en tournée ou enregistrer avec toi; tu devrais t'assurer de monter un accord avec eux qui va éviter un partenariat.
Des groupes ou des individus peuvent choisir d'agir en tant que société. C'est une personne juridique distincte appartenant à des actionnaires et dirigée par ses directeurs. Tous les profits et les pertes sont ceux de la société, laquelle peut organiser des paiements à ses directeurs et ses actionnaires comme elle le veut. Ses actionnaires et directeurs ont une responsabilité limitée, avec des exceptions. À cause des coûts ponctuels et financiers provenant de l'administration d'une société et de la brève durée de vie de la plupart des groupes de musique (cinq à sept ans), il n'y pas vraiment d'avantages à constituer en personne morale un groupe de musique. Si tu commences à générer un profit substantif, un comptable ou un spécialiste du droit devrait être consulté concernant l'incorporation et le traitement fiscal, mais pour la plupart des groupes canadiens, ce n'est pas nécessaire.
Des exemples d'ententes et conclusions:
Plusieurs exemples d'ententes de groupe sont disponibles en ligne gratuitement ou pour des frais minimes. Faites attention aux définitions des termes et assurez-vous que le langage de l'entente préétablie est clair avant que tous les membres l'approuvent. Si vous êtes inquiet à propos de comment l'entente fonctionne, faites-le réviser par un avocat. Le but d'une entente de groupe est d'éviter des conflits et de permettre à tous les membres du groupe de savoir comment le groupe fonctionne. Que ce soit pour partager les coûts des réparations de l'autobus de tournée ou pour payer un peu plus le membre le plus travaillant du groupe pour ses efforts, une entente de groupe peut aborder beaucoup de choses et empêcher plusieurs disputes entre les membres. De cette façon, le groupe peut se concentrer sur ce qu'il fait de mieux : jouer ses concerts, divertir les foules et contribuer à la scène musicale de Wyrd.
---
---
file under: How To.
birthed: 2016-10-05
Comments Off

on How To Understand Band Partnership Agreements
---