New Canadiana :: Dead Beat Poet Society – Deimos
---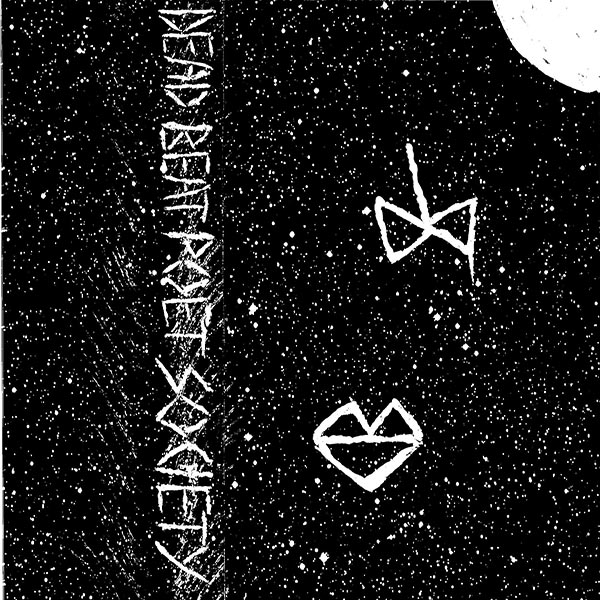 Dead Beat Poet Society
Deimos
(Self-Released)
Montréal, QC
From the gnarled heartbeat of Justin Crowe:
Far from dead and on the beat, these mysterious souls wail from beyond, rocking into the sun and then crawling back into the shadows. A vision of tiptoeing through a darkened house while a secret performance is happening in the next room; sensing a hidden beauty. Spider-like guitar affectionately weaving through words of devotion that are not afraid of dipping toes into colder water. Avoiding the total dark, these songs could easily be heard under brighter skies, behind the garage, eyes focused on the ones you love.
Des battements coeur noueux de Justin Crowe:
(Les lamentations de l'au-delà d'Odile Leclerc)
Loin d'être mortes et sur la touche, ces âmes mystérieuses se lamentent de l'au-delà, se bercent au soleil avant de ramper pour retrouver les ombres. L'impression d'être en train de marcher sur la pointe des pieds dans une maison sombre pendant qu'une performance secrète a lieu dans la pièce d'à-côté; la sensation d'une beauté cachée. Telle une araignée, une guitare tisse affectueusement avec des mots de dévouement qui n'ont pas peur de se tremper les orteils dans des eaux plus froides. Évitant la noirceur totale, ces chansons pourraient facilement être entendues sous des ciels plus clairs, derrière le garage, les yeux fixés sur ceux qu'on aime.
Dead Beat Poet Society – Fly Fly
Dead Beat Poet Society – Passage
---
---
file under: Uncategorized.
birthed: 2016-09-19
Comments Off

on New Canadiana :: Dead Beat Poet Society – Deimos
---