New Canadiana :: Bénédicte – Bénédicte EP
---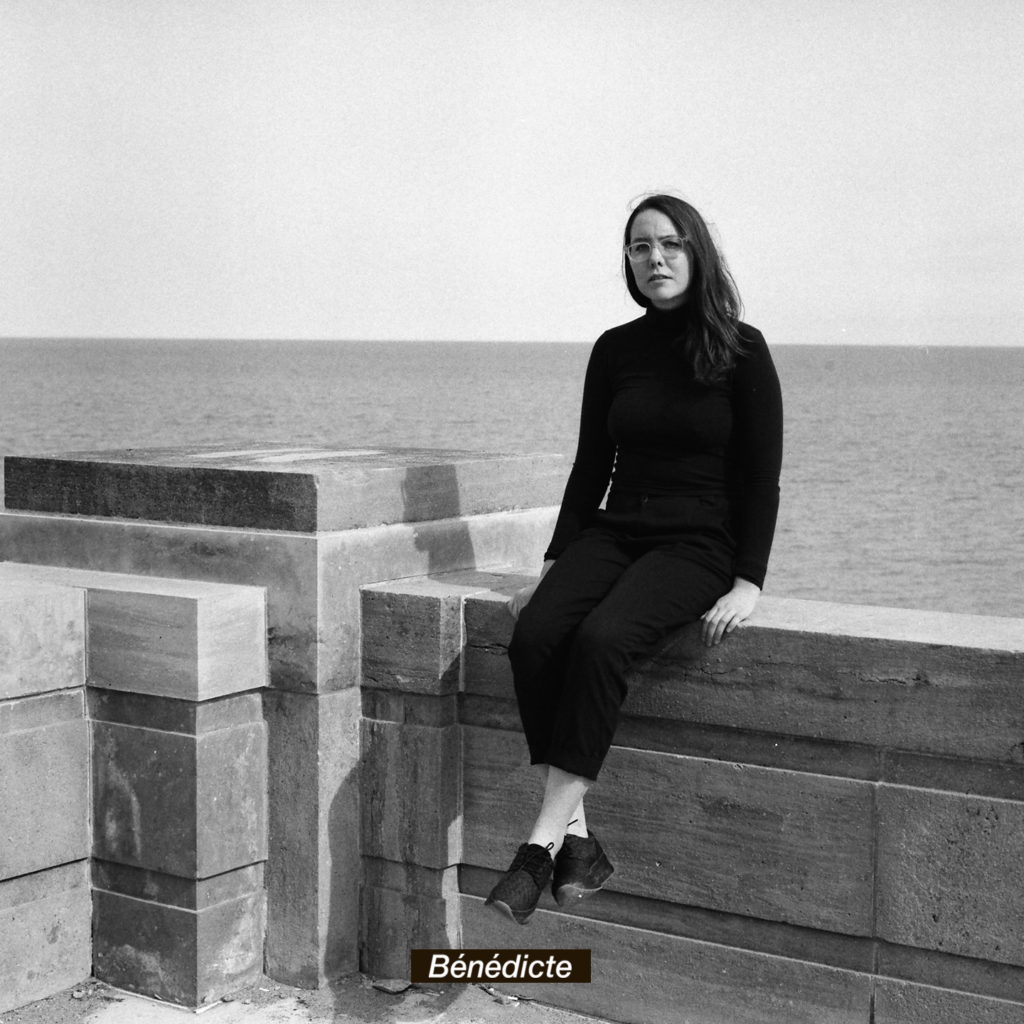 Bénédicte
Bénédicte
(Self-Released)
Toronto, ON
From the Famicon of Aaron Levin:
It's 1993 and your parents just got divorced. You don't really understand why because your entire life is Nintendo and there's no such thing as "divorce lawyers" in Bubble Bobble. But you persevere. Alone. Drifting. The universe is so big you just swim from planet to planet. You jam with some aliens on Mars before napping in the tidal overtures of Jupiter's gravity waves. It's 10,000 years before you realize you're being watched. Every move, thought, and frequency is permeated by The Watcher. The eyes. The gaze. The warrant-less destruction of private sanctity. It's arresting. It's jarring. You hate it. You want out. But how? You are the universe. Your death is the death of everything, all things, even the watcher itself. ¿ƃuᴉɥʇʎuɐ uǝʌǝ sᴉ ʇɐɥʍ ¿puǝ sƃuos ʇǝᴉnb ǝɥʇ op ǝɹǝɥʍ
Bénédicte's new EP, produced/performed entirely by Maxime Gordon, will be released on the 8th of September, grip it at their SoundCloud here.
Du Famicon d'Aaron Levin:
(Traduit par le Bubble Bobble d'Odile Leclerc)
C'est 1993 et tes parents viennent juste de divorcés. Tu ne comprends pas vraiment pourquoi parce que ta vie entière est le Nintendo et qu'il n'y a pas de chose comme des « avocats de divorce » dans Bubble Bobble. Mais tu persévères. Seul. Dérivant. L'univers est tellement grand que tu nages simplement de planète en planète. Tu jam avec des extraterrestres sur Mars avant de faire une sieste dans le raz-de-marée des ouvertures de la gravité de Jupiter. Ça prend 10 000 ans avant que tu réalises que tu es surveillé. Chaque mouvement, pensée et fréquence est filtré par les Observateurs. Les yeux. Le regard. La destruction sans garantie de la sainteté privée. C'est frappant. C'est choquant. Tu détestes ça. Tu veux t'en aller, mais comment? Tu es l'univers. Ta mort est la mort de tout, de toutes les choses, même des l'observateur lui-même. ¿ɐç ʇnoʇ uoçɐɟ ǝʇnoʇ ǝp ʇsǝ'ɔ ǝnb ǝɔ-ʇsǝ'no ¿sǝllǝ-ʇuǝssᴉuᴉɟ sǝsnǝᴉɔuǝlᴉs suosuɐɥɔ sǝl ùo
Le nouvel EP de Bénédicte, produit/réalisé entièrement par Maxime Gordon, sera publié le 8 Septembre, la saisir à leur SoundCloud ici.
---
---
file under: New Canadiana, ontario.
birthed: 2016-09-05
Comments Off

on New Canadiana :: Bénédicte – Bénédicte EP
---