Festivities :: Dawson City Music Festival (DCMF)
---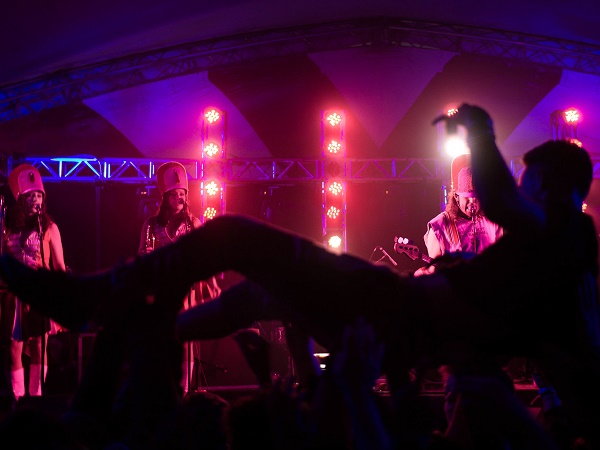 Dawson City Music Festival (DCMF)
Dawson City, YK
From the frost bitten toe of Preacher Katie:
Set in the whiskey drinking miner's heart, Dawson City Yukon gathers travellers, gamblers, ramblers, huskies and artists alike to celebrate the 38th annual Dawson City Music Festival. Once the epicentre of the Klondike Gold Rush, Dawson City's scenery hasn't changed too much. Smoke a cigar while the piano is drunk because you're in a surreal dream set in 1896.
Walk from venue to venue on the dirt roads in the midnight sun with a backdrop of colourful saloons, mountains and the vast Yukon river. Get tipsy and listen to the festival's all-Canadian line-up, either in an old stain glassed church, a circus tent, a grassy knoll by the river, or stroll to other offbeat stages scattered throughout Dawson City. With a familial sideshow of eccentric characters, this music festival is one for the rusty bucket list.
"I love how very extraordinary lives are lived so casually here" Mozart's Sister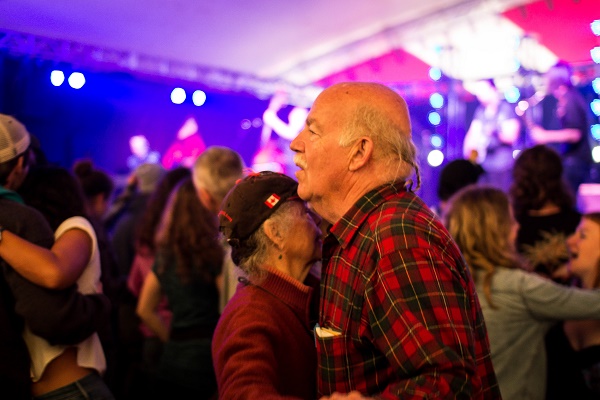 Photo Credit: Preacher Katie
A stolen intimate moment at the Minto Park Mainstage tent area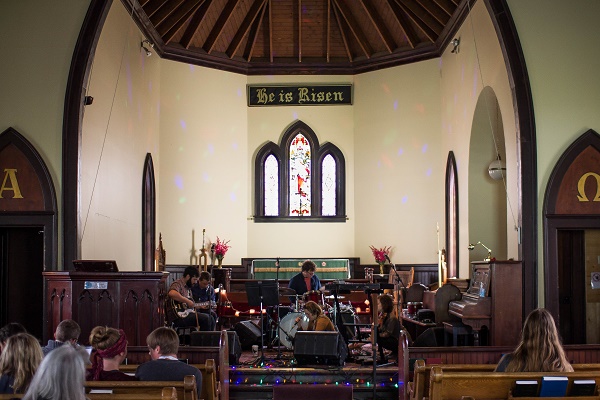 Photo Credit: Preacher Katie
During an Effective Effects performance, Merganzer, Mozart's Sister and Old Cabin joined forces for an experimental set where they asked the crowd to tell them about a dream they have had, then the musicians interpreted the audience member's dream through unique sounds. This session resonated through St. Paul's Anglican Church with beautiful acoustic.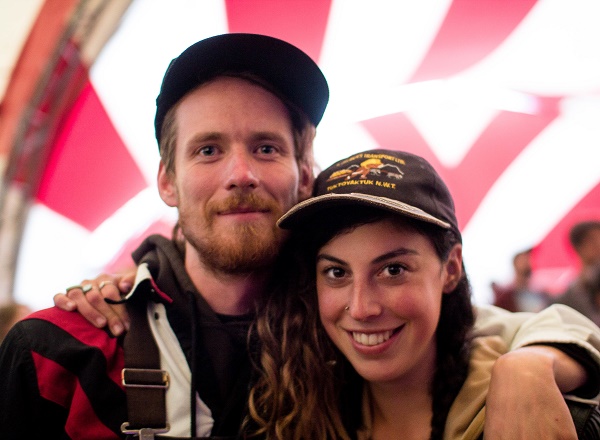 Photo Credit: Preacher Katie
Two locals' perspective on the festival Justin Apperley (Left) Emily Cypher (Right).
Justin Apperley (Local attendee) "The festival always brings a massive influx of people to the city, I like seeing it come alive with a new energy".
Emily Cypher, Owner of Bonana Jellybeans DIY, a caravan/gallery space "I loved being a vendor and showing off the artistic talents of the north in my new caravan store. Our town is the best kept and not so kept secret heaven and it's always cool to open the doors for a bit and see what magic happens!"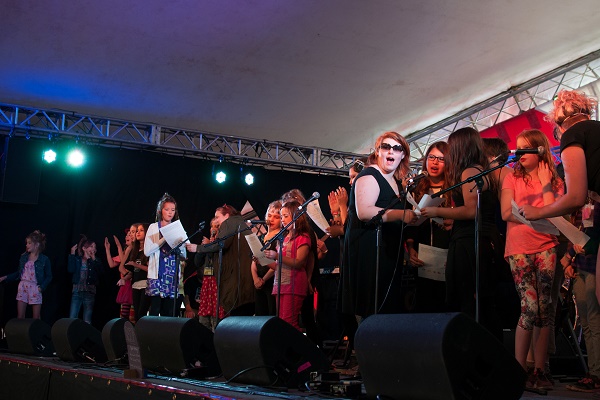 Photo Credit: Aaron Woronuik
Yukon Girls Rock Camp perform on DCMF's Mainstage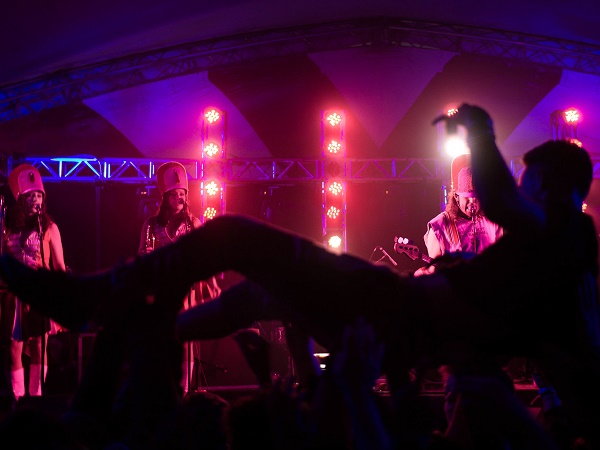 Photo Credit: Preacher Katie
The Wet Secrets from Edmonton had audience members surfing the crowd.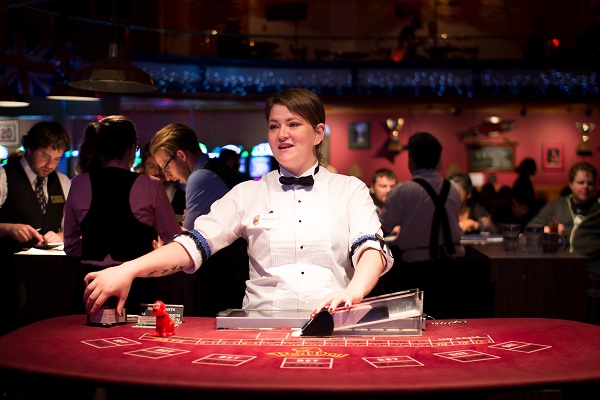 Photo Credit: Preacher Katie
A blackjack dealer at Diamond Tooth Gerties
It's hard to sleep when the sun doesn't set and you're wandering around a dim lit town drunk. The rarest part of DCMF is that when the festivities end, the town doesn't. Play blackjack at the saloon and watch Cancan dancers perform for you at Gerties Diamond Tooth Saloon, watch more music at The Pit with local bands like The Midnight Sons or do a shot with a real frost bitten toe in it at The Downtown Hotel. You will never want to leave.
De l'orteil avec une engelure de Preacher Katie:
(Traduit par Maya Keshav)
Se déroulant dans le cœur d'un mineur buveur de whiskey, La Cité de Dawson au Yukon rassemble les voyageurs, les gageurs, les radoteurs, les huskies et les artistes voisins pour célébrer le 38e Festival de Musique de Dawson City. Autrefois l'épicentre de la ruée vers l'or du Klondike, le décor de Dawson City n'a pas tellement changé. Fumer un cigare pendant que le piano est saoul parce que vous êtes dans un rêve surréel se déroulant en 1896.
Marchez de site en site sur les routes de terre dans le soleil de minuit avec en arrière plans des saloons colorés, des montagnes et le vaste Yukon. Devenez pompette et écoutez le programme entièrement Canadien du festival, soit dans une vieille église aux vitres tachées, une tente de cirque, une butte de gazon près de la rivière, ou promenez-vous aux autres scènes différentes éparpillées à travers la Cité de Dawson. Avec un spectacle familial de personnages excentriques, ce festival de musique en est un pour une bucket list rouillée.
« J'aime à quel point les vies extraordinaires sont vécues avec tant de désinvolte ici. » Mozart's Sister.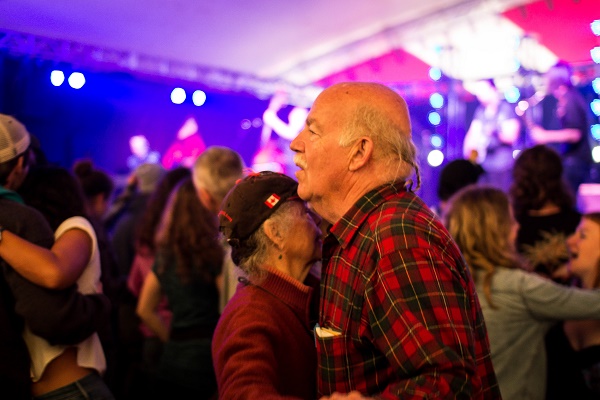 Crédit photographique: Preacher Katie
Un moment intime volé dans la zone principale de la tente de Minto Park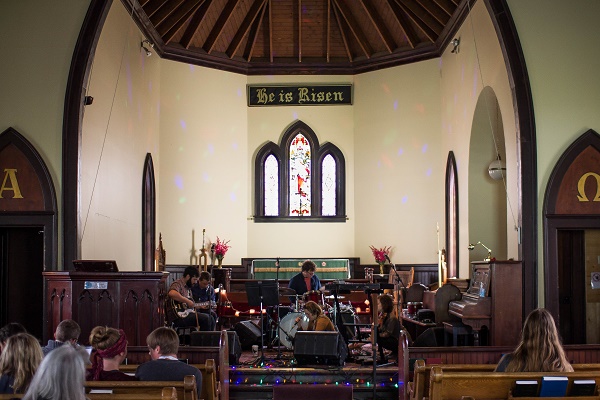 Crédit photographique : Peacher Katie
Durant une performance de Effective Effects, Merganzer, Mozart's Sister et Old Cabin ont joint leurs forces pour un ensemble expérimental où ils ont demandé à la foule de leur parlé à propos d'un rêve qu'ils ont eu, puis les musiciens ont interprété le rêve du membre de l'audience à travers des sons uniques. Cette session a résonné à travers l'église anglicane de St. Paul avec des sons acoustiques magnifiques.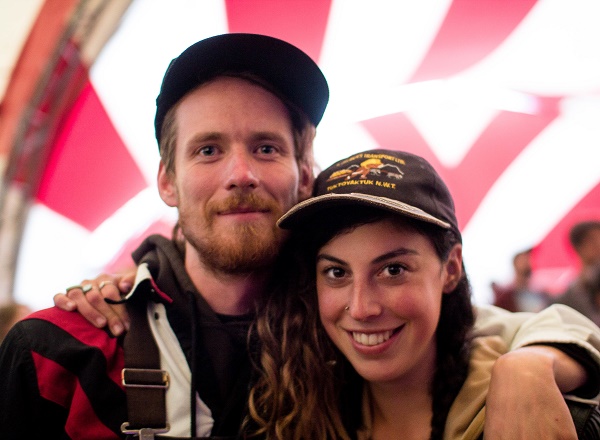 Crédit photographique: Preacher Katie
La perspective de deux locaux sur le festival, Justin Apperley (à gauche) et Emily Cypher (à droite)
Justin Apperley (participant local) « Le festival apporte toujours un flux massif de gens à la cité, j'aime les voir prendre vie avec une nouvelle énergie. »
Emily Cypher, propriétaire de Bonana Jellybeans DIY, un espace caravan/gallerie « J'aime être une vendeuse et mettre en valeur mes talents artistiques du nord dans mon nouveau magasin caravan. Notre ville est un paradis secret et bien connu en même temps et c'est toujours cool d'ouvrir les portes pour un moment et voir la magie! »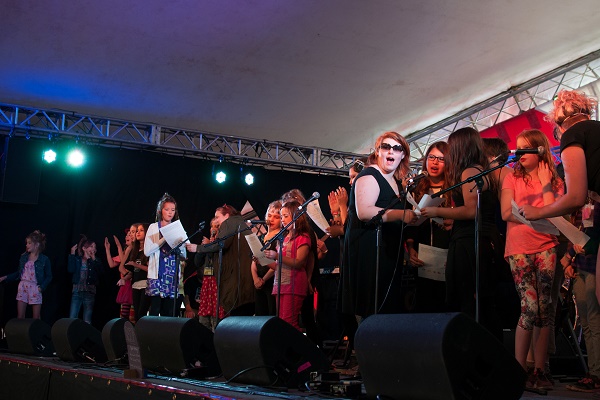 Crédit photographique: Preacher Katie
Un camp Rock Feminin du Yukon performe sur la scène principale de DCMF.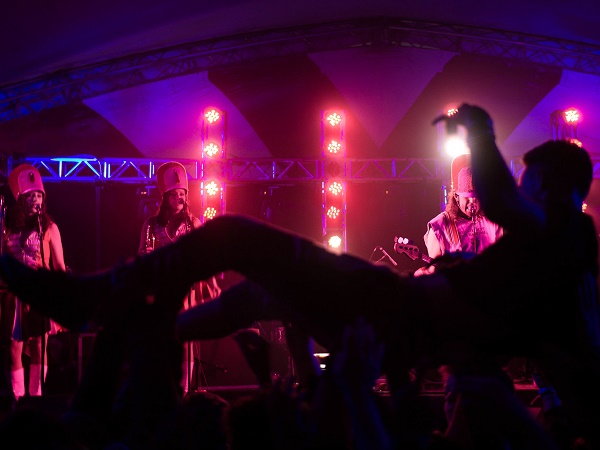 The Wet Secrets d'Edmonton avait des membres du public surfant la foule.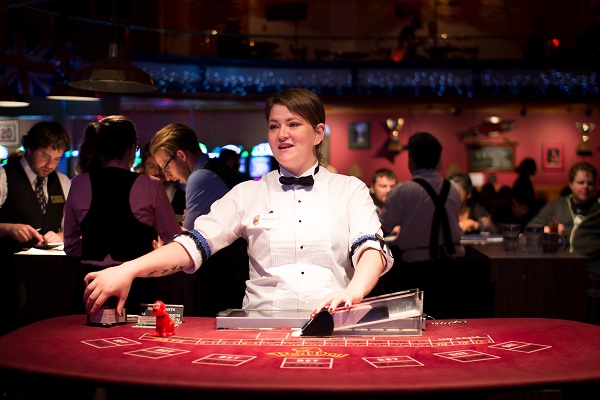 Crédit photographique: Preacher Katie
Un croupier de blackjack à Diamond Tooth Gerties
C'est dur de dormir quand le soleil ne se couche pas et que vous errez autour d'une ville faiblement éclairée, saoul. La partie la plus rare de DCMF c'est quand les festivités se terminent, la ville n'arrête pas. Jouez au blackjack au saloon et regardez les danseuses de cancan performer pour vous au saloon Gerties Diamond Tooth, regardez plus de musique au The Pit avec des groupes locaux comme The Midnight Sons ou faites un cul sec avec un orteil vraiment gelé à l'hôtel du centre-ville. Vous ne voudrez jamais partir.
---
---
file under: Festivities, yukon.
birthed: 2016-08-22
Comments Off

on Festivities :: Dawson City Music Festival (DCMF)
---