They exist in your spaces too
---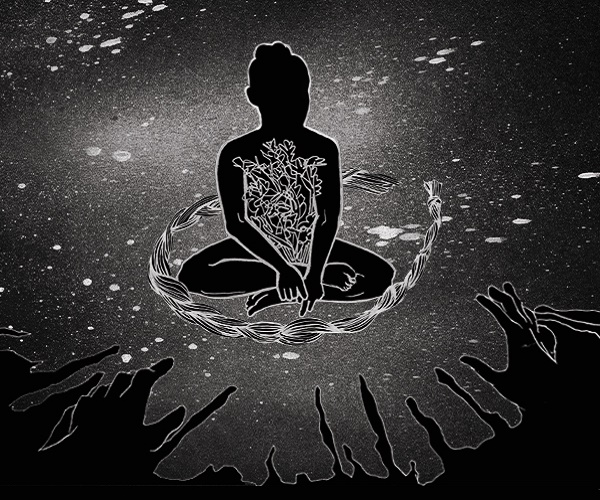 (cover art: anonymous)
Everywhere, Everywhere
From the hands of anonymous:
CONTENT WARNING: The following contains writing that references to sexual assault relating to violence against indigenous women and childhood sexual abuse.
As I write this I can feel my body rejecting the words, my instinct from watching the history of men being sexually violent towards women tells me I should keep quiet. The ongoing destructive force of colonialism on indigenous women's bodies tells me I should keep quiet. My memory now includes the years that I have spent reliving and burying these injuries to my spirit. I have a history of different men disregarding me and my body.
Relive. Bury. Dig up once again – unwillingly.
For the majority of my life I've made a vow of silence. A silence meant to protect white fragility. The words that I do not speak are a shield made for sexually violent men. The words do not change anything. The words simply reflect my experience.
Say it out loud.
Say it out loud.
It doesn't make it your fault.
It was never your fault.
It already happened, I did not speak it into existence.
It already happened.
When I tell people that the 34 year old male musician I "dated" when I turned 19 was exploitative and emotionally abusive, it was nothing newsworthy. I should have known when he said he "just wanted to have fun."
When I tell people that foster care is awful, systemically racist and makes room for sexual predators – I'm jaded.
These are two of my separate experiences born of the same colonial processes – dehumanization, disregard for indigenous women's bodies, erasure, silencing, and upheld patriarchal systems.
People will pass my experiences off as something that I did. They dismiss my words before they even have a chance to leave my mouth. They don't want to know what I haven't said yet – that men in their lives are abusers, predators and consequence deflectors. That their privilege affords them shields against this non-existent consequence – my indigeneity and femininity does not come with this. The consequence returns to my body, daily. The thing is that I don't want to delve in deeper about my traumas; I don't want to pick at a scar before it heals. I haven't gotten there yet.
"I'll need to know details before I choose a side."
I invested myself into fragile music community – one that unknowingly and knowingly upholds predators. I tried to use this community as my safety net, but my experiences were too heavy.
"Why aren't you supporting your community?"
Many people knew most of the details of our "relationship", but the known rumours weren't enough to deter people from supporting him.
He ignored me when I said no.
Maybe it was because I was brown, didn't have a family to back me up.
Maybe it was because I had just turned 19.
Maybe it was because I kept it a secret for him.
Maybe he thought I'd never say anything.
Maybe he didn't think it was as serious as it is.
But also, maybe it was none of these things – maybe he's done this before.
He ignored me when I said no.
Maybe he's done this before.
When I told my friend what happened she cried with me and she told me her story. I told another friend – and she told me her story. I heard several similar stories involving different men.
Maybe something's wrong.
14 years earlier, sexual abuse from a man with more power than he should have had began. I remember it, but didn't understand.
Fuck the child welfare system.
I swore to him I would never say a thing. I swore to myself I would never say a thing.
I wanted to protect him.
I said it out loud for the first time years ago. I buried it again after that. The seeds grew into anxiety. Anxiety chipped away at my body. I can feel the impact every time I lay down to sleep.
I dream of a space where sexual predators aren't upheld.
My parents and their parents went to residential schools.
I landed in foster care.
I was sexually abused.
The cycle of abuse doesn't end at being apprehended.
I started my own life and adulthood in a new city. I made friends. I built up the music community in my mind. I started dating a musician.
He was 14 years older than me.
He ignored me when I said no.
He kept it a secret.
He ignored me when I menstruated.
He ignored me in public.
He used me for sex.
He ignored me when I said no.
He ignored me when I said no.
He ignored me when I said no.
I'll smile and bear what I hold on to. I'll keep going to shows even though he's there. I'll stop going to shows because he's in charge now. I'll realise that I've been pushed out of the community because I make people uncomfortable. I'll go over it in my head once again.
Fuck the music scene.
His friends said he created a safe space. (Without doing the work to ensure safety)
Kick him out.
There is and has always been a safety net for the men who do these things. Structural violence has kept me quiet until now, it has silenced many other indigenous women, it continues to silence many indigenous women. I don't expect that to go away immediately. I dream of a community that doesn't pay lip service to indigenous women while being complicit in our silencing.
"I believe survivors."
Will you still believe survivors if the predator is your friend, your father, or someone held in high regard in your community?
They exist in your spaces too.
Des mains anonymes:
AVERTISSEMENT : le texte suivant traite de propos concernant la violence faite aux femmes indigènes et d'agression sexuelle subis à l'enfance.
Pendant que j'écris ceci, je peux sentir mon corps rejeter les mots, mon instinct, appris en regardant l'historique d'hommes qui sont violents sexuellement envers les femmes, me dit que je dois garder le silence. La force destructrice en continu du colonialisme sur le corps des femmes autochtones me dit que je dois garder le silence. Ma mémoire inclut maintenant les années que j'ai passées à revivre et à enterrer ces blessures faites à mon esprit. J'ai un passé qui inclut des hommes différents qui m'ont maltraité et qui ont maltraité mon corps.
Revis. Enterre. Déterre encore – sans le vouloir.
Pour la plupart de ma vie j'ai fait voeu de silence. Un silence construit pour protéger la fragilité des Blancs. Les mots que je ne dis pas sont un bouclier pour les hommes sexuellement violents. Les mots ne changent rien. Les mots reflètent simplement mon expérience.
Dis-le tout haut. Dis-le tout haut.
Ça ne rejette pas le blâme sur toi.
Ce n'était jamais ta faute.
Ça s'est déjà passé, je ne l'ai pas inventé avec mes mots. Ça s'est déjà passé.
Quand je dis aux gens que le musicien de 34 ans avec qui j'étais « en couple » quand j'avais 19 ans m'a exploité, qu'il m'a abusé émotionnellement, ce n'était rien de notable. J'aurais dû le savoir quand il m'a dit qu'il voulait juste « s'amuser. »
Quand je dis aux gens que le modèle des familles d'accueil est affreux, que c'est systématiquement raciste, et qu'il fait de la place pour les prédateurs sexuels – je suis blasée.
Voici deux de mes expériences distinctes nées des mêmes processus coloniaux ; la déshumanisation, le mépris du corps des femmes autochtones, l'effacement, le silence forcé et les systèmes patriarcaux maintenus.
Les gens rejettent mes expériences comme si c'était quelque chose que j'ai fait. Ils rejettent mes mots avant qu'ils aient eu l'occasion de sortir de ma bouche. Ils ne veulent pas savoir ce que je n'ai pas encore dit ; que les hommes dans leurs vies sont des agresseurs, des prédateurs et des gens qui détourent l'attention des conséquences. Que leurs privilèges les protègent contre cette conséquence inexistante – mon identité d'autochtone et ma féminité ne viennent pas avec ceci. La conséquence revient à mon corps, chaque jour. Je n'ai pas envie de plonger dans mes traumatismes; je ne veux pas gratter une cicatrice avant qu'elle guérisse. Je ne suis pas encore là.
« J'ai besoin de détails avant de choisir mon camp. »
Je me suis investie dans la communauté fragile de la musique – qui soutient inconsciemment et consciemment les prédateurs. J'ai essayé d'utiliser cette communauté en tant que filet de protection, mais mes expériences étaient trop lourdes.
« Pourquoi tu ne soutiens pas ta communauté? »
La plupart des gens connaissaient les détails de notre « relation », mais les rumeurs connues n'étaient pas assez pour que les gens arrêtent de le soutenir.
Il m'a ignoré quand j'ai dit non.
Peut-être c'était parce que j'avais la peau sombre, que je n'avais pas une famille pour me soutenir.
Peut-être c'était parce que je venais d'avoir 19 ans.
Peut-être c'était parce que je l'ai tenu secret pour lui.
Peut-être qu'il a pensé que je ne dirais rien, jamais.
Peut-être qu'il ne considère pas ça si grave.
Mais aussi, peut-être que c'était pour aucune des ces raisons – peut-être qu'il a fait ça déjà.
Il m'a ignoré quand j'ai dit non.
Peut-être qu'il a déjà fait ça.
Quand j'ai raconté à mon amie ce qu'il s'est passé, elle a pleuré avec moi et elle m'a raconté son histoire. Je l'ai raconté à une autre amie – et elle m'a raconté son histoire. J'ai entendu plusieurs histoires semblables à propos d'hommes différents.
Peut-être que quelque chose ne va pas.
14 ans plus tôt, les agressions sexuelles par un homme ayant plus de pouvoir qu'il le faut avaient commencé. Je me souviens, mais je ne comprenais pas.
J'encule les services de protection de l'enfance.
Je lui ai promis que je ne dirais rien.
Je me suis promis que je ne dirais rien.
Je voulais le protéger.
Je l'ai dit à voix haute pour la première fois il y a des années. Je l'ai enterré encore après ça. Les germes sont devenus de l'angoisse. L'angoisse a rogné progressivement mon corps. Je peux sentir l'impact chaque fois que je m'endors.
Je rêve d'un espace où on ne soutient pas les prédateurs sexuels.
Mes parents et ses parents sont allés aux écoles résidentielles.
Je me suis retrouvée dans une famille d'accueil.
J'ai été abusée sexuellement.
Le cycle d'abus n'arrête pas à l'arrestation.
J'ai commencé ma vie d'adulte dans une nouvelle ville. Je me suis fait des amis. J'ai créé une communauté musicale dans ma tête. J'ai commencé à sortir avec un musicien.
Il avait 14 ans de plus que moi.
Il m'a ignoré quand j'ai dit non.
Il l'a tenu secret. Il m'a ignoré quand j'avais mes règles.
Il m'a ignoré en public.
Il m'a utilisé pour le sexe.
Il m'a ignoré quand j'ai dit non.
Il m'a ignoré quand j'ai dit non.
Il m'a ignoré quand j'ai dit non.
Je souris et je demeure brave face à mon vécu. Je continuerai d'assister aux spectacles même s'il est là. J'arrêterai d'assister aux spectacles parce qu'il est maintenant le responsable. Je me rendrai compte qu'on m'a poussé à quitter la communauté parce que je mets les gens mal à l'aise. Je me souviendrai encore.
Je l'encule, la scène musicale.
Ses amis ont dit qu'il a créé un espace sécuritaire. (Sans avoir fait le travail pour garantir la sécurité.)
Foutez-le dehors.
Il y a et il y a toujours eu une mesure de protection pour les hommes qui font ces choses. La violence structurelle a forcé mon silence jusqu'à maintenant, elle a forcé le silence de plusieurs autres femmes autochtones, elle continue de forcer le silence de plusieurs femmes autochtones. Je ne m'attends pas à ce que ça change tout de suite. Je rêve d'une communauté qui ne fait pas semblant de soutenir les femmes autochtones pendant qu'elle demeure complice au silence soutenu.
« Je crois les survivantes. »
Est-ce que tu vas toujours croire les survivantes si le prédateur est ton ami, ton père, ou quelqu'un à qui ta communauté accorde une grande importance?
Ils existent dans tes espaces aussi.
---
---
file under: Ideas, New Canadiana.
birthed: 2016-07-18
Comments Off

on They exist in your spaces too
---