Far Shores // Inferred Views :: An Interview with Justin Gordon
---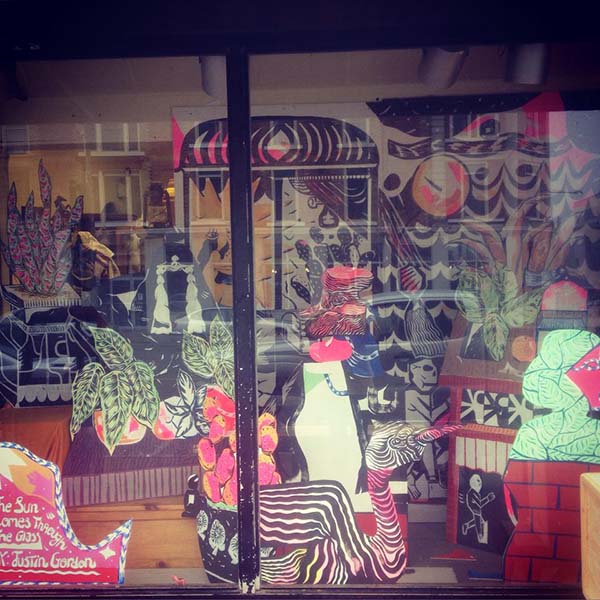 Justin Gordon

Montreal QB via Guelph ON
From the plush heart of Megan Arnold: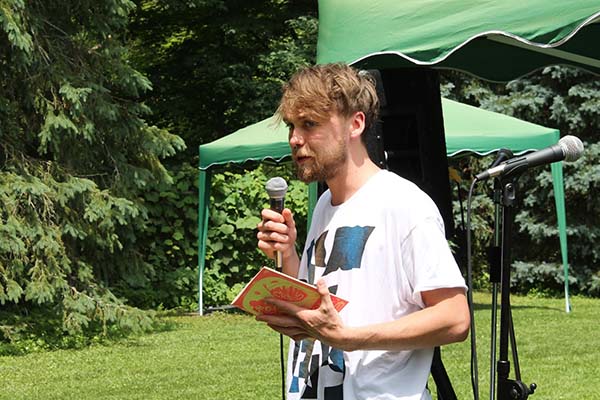 Justin Gordon at the "Hot Mess" comic launch at INCLINE/DECLINE fest in Guelph.
Cartoonists Justin Gordon and Megan Arnold met up at Incline/Decline Fest last summer, where Justin launched their most recent comic project, "Hot Mess." Together they found a nice tree on a hill during some downtime to talk about Justin's work—new and old—their tattoos, and their hometown of Guelph, Ontario.
————
You had something up for Kazoo! Fest 2015, and I noticed there's still a little bit left of it in Dis-A-Ray.
Yeah, the owner of Dis-A-Ray, Ray Mitchell, lends his window space to Kazoo! each year. I had a series of freestanding four-foot wood panels, and I cut the shapes out around them and painted the background so it was three-dimensional but still very flat and illustrative. It's called "The Sun Comes Through the Glass" and it was sort of a play on still lives, like recreating still lives and the idea of stillness coming into windows. I was kinda feeling like Kazoo! and festivals like Incline/Decline are so fast-moving that it's nice to have those breathing points.
In comparison to other places that you've lived, how do you feel about the Guelph art scene?
There are some great illustrators here. It's very small and very friendly. I feel very connected to other people who draw things and make animations. Marc Bell and Amy Lockhart were also living here for the last six or seven, maybe eight years. Having them living down the street from me really shaped the way that I think about art.
I can definitely see their influence in your style.
Yeah, there was a lot from Marc and Amy. But there's also younger illustrators, and a few people who do silkscreening. I've had some good collaborations with people and everyone is very receptive. Because it is a smaller city, things can have a big impact, and it keeps people working. I find it very laid-back here, in a way, where I think that maybe I'm craving an inner-city, confrontational thing, or like making art in response to other people. Whereas here it's sort of like "everything is cool and nothing sucks," and I wouldn't want to be the person that makes a response piece to someone. But I think that really helps generate an idea flow and some kind of lineage between people. But maybe I'm just romanticizing being a painter in an era that I couldn't fathom.


1. Sun Comes Through The Glass (window installation, Kazoo! Festival, Guelph 2015)
2. Sketch for upcoming project. 3. En Masse painting for NXNE (toronto, 2015) collaborators include: Jason Botkin, Waxhead, Bonar, Snail, Jerry Rugg.
What was your process like while working on "Hot Mess," which was launched at Incline/Decline?
It was very much in this way of re-enacting a 9-to-5 job but over a comic book. I was diligent with it. I was also considering a lot of feminist theory and queer theory and identity politics – like the way people express feeling about their bodies in change and transition. I felt like I was listening to a lot of people talk about how they fit into social spaces and how they fit into their bodies, so I was just trying to re-enact that through a lighthearted, accessible comic book, and trying to relate that with softer shapes and identifiable figures. It took me a month to make. I kind of wanted to make it as a classic comic book, where it's 6"x8" and 24 pages, and has nice opening credits.
Are themes of bodies and queer/feminist theory something that you work with a lot, or was it just a focus for "Hot Mess"?
I think they are. I'm trying to abstract a lot of things. It was a really big instigation for "Hot Mess." I feel like it's important for me to solidify my identity within that before I even start making things. There's really few reminders to breathe and drink enough water and rest and take time for yourself before you jump the gun and start to produce something.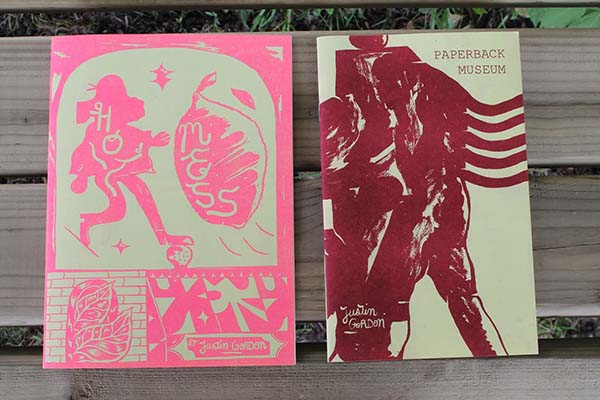 Hot Mess and Paperback Museum.
Do you have any more books planned?
My next book is gonna come out with Swimmers Group in Toronto and I'm gonna build things out of clay and paint more panels and take photos of them. I'd really like to have it be more like a gut instinct, or more about feeling than trying to maintain a certain format for it. 'Cause I think it's fun to play and good for your health to just experiment.
Is this one gonna have a narrative to it?
I think it's gonna be a lot of short pieces, allowing the narratives to come up with different mediums, like having painting be contained in its own colour schematic and placement, and then switching it for pencil drawings. Just allowing things to collect themselves. I'm going to school in Montreal next year to study art theory. It's sort of fun watching things change, and everything that you do recreates, reconstructs and informs what you would do after. And I think that's why it's funny to do an interview because I don't have any answers.
That's okay! Do you know when your next book will be done?
No. I might take some time with it. I might really feel it out. I feel like it's easy for me to get into production mode and lose the content a bit. Living in a cabin in the woods over the summer has given me enough space to look at what I've been doing and what things are about. So I'm gonna try to keep this small part of me that's like, "You're still in your cabin in the woods. Don't rush it."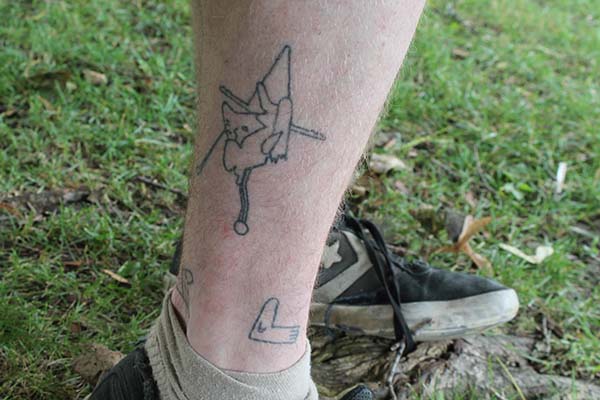 Justin's tattoo of a Patrick Kyle drawing.
Are there any of your contemporaries that you think people should know about?
Yeah! What Alicia Nauta is doing with the Klassic Kool Shoppe is the best. Folks should all know about Colour Code Printing – they do the best work. I like what Boogerbrie is doing. They seem really rad, and are really working with femininity in panel comics. Jesi the Elder is forever the best. I'm always a really big fan of what Patrick Kyle does. There's a lot of amazing and totally inspiring people. There is a subcultural community that has such amazing characters in it. It's really why I wanna make things ever, is just to be able to engage with those people.
Du coeur séduisant de Megan Arnold:
(Traduit par Sergio Calla)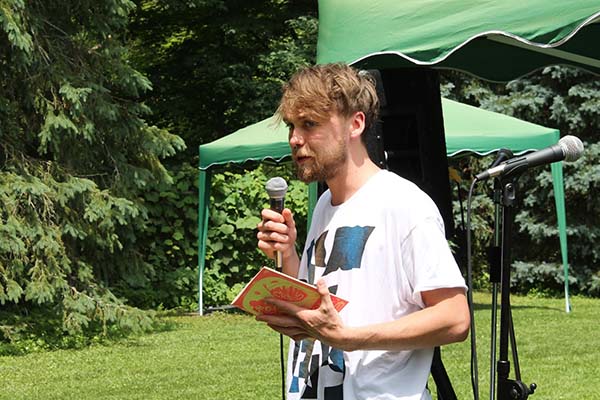 *Justin Gordon au festival Incline/Decline à Guelph pour le lancement de la bande dessinée « Hot Mess » *
Les caricaturistes Justin Gordon et Megan Arnold se sont retrouvés au festival Incline/Decline l'été dernier, où Justin a lancé son plus récent projet de bandes dessinées s'intitulant « Hot Mess ». Ils se sont installés sous un arbre sur une colline lors d'une pause afin d'échanger sur les projets récents et précédents de Justin, ses tatouages, et sa ville natale de Guelph en Ontario.
————
Vous avez fait quelque chose pour le festival « Kazoo » en 2015, et j'ai remarqué qu'il en reste encore un peu chez « Dis-A-Ray ». 
Oui, chaque année, le propriétaire de « Dis-A-Ray », Ray Mitchell, prête la vitrine de son commerce comme espace publicitaire à Kazoo!. J'avais une série de panneaux en bois mesurant quatre pieds de hauteur et j'ai coupé des formes autour et peint l'arrière-plan afin de donner une certaine illusion tridimensionnelle en gardant le tout plat et explicatif. Il est appelé « The Sun Comes Through the Glass » pour donner une apparence en quelque sorte d'inactivité et de bien recréer l'idée de l'immobilité qui entre par les fenêtres. Je me sentais un peu comme « Kazoo » et ce genre de festival comme Incline/Decline est en constant mouvement, il est agréable d'avoir ces moments de pause.
Quelle est votre opinion de la scène artistique à Guelph comparé aux endroits où vous avez déjà habité?
Il y a d'excellents illustrateurs ici. C'est très intime et très sympathique. Je me sens très lié avec d'autres dessinateurs et ceux qui font de l'animation. Marc Bell et Amy Lockhart ont également demeurés ici depuis six ou sept ans, peut-être même huit ans, et j'ai eu le plaisir de les côtoyer pendant plusieurs années. Ils ont influencé la façon dont je vois les arts par leur proximité.
Leur influence se démontre définitivement dans votre style.
Effectivement Marc et Amy ont donné beaucoup. Il y a aussi de jeunes illustrateurs et quelques personnes qui font de la sérigraphie. Il y a un bel esprit de collaboration et les gens sont très ouverts. Puisqu'il s'agit d'une petite ville, beaucoup de choses peuvent avoir un gros impact, ce qui peut encourage les gens à continuer leur travail. Je trouve ça très décontracté ici, au point d'avoir le gout d'un affrontement dans la ville en quelque sorte ou bien de réaliser des créations en réaction aux autres. Ici par contre, tout semble être cool, il n'y a rien de déplaisant et je ne voudrais pas semer de la controverse en réagissant à quelqu'un, mais je crois que ceci sert à générer des idées et un certain historique entre nous. Peut-être que j'idéalise être peintre dans une époque mystérieuse.

1. Sun Comes Through The Glass (installation de vitrine, Festival Kazoo, Guelph 2015)
2. Dessin pour un projet futur 3. La peinture « En Masse » pour le NXNE (Toronto 2015) les collaborateurs inclus : Jason Botkin, Waxhead, Bonar, Snail, Jerry Rugg
Expliquez-nous le cheminement du projet « Hot Mess » lancé au festival Incline/Decline?
C'était pas mal un travail de recréer une journée de travail de 9h à 17h, mais dans la création d'une bande dessinée avec des idées de théories féministes et queer et aussi de politique identitaire. Un peu comme la façon dont les gens s'y prennent pour s'exprimer sur l'évolution de leur physique lors de transition et de changement. J'avais le sentiment d'écouter tout le monde parler de la façon dont ils se situent dans les espaces sociaux et comment ils s'adaptent à leur image corporelle. C'est d'essayer de tout reconstituer par le biais d'une bande dessinée accessible et plaisante tout en tentant de relier l'ensemble avec des formes plus souples et des silhouettes reconnaissables. Ça m'a pris un mois pour la réaliser. J'ai voulu créer une bande dessinée classique de 6''x 8" de 24 pages, avec un générique d'ouverture agréable.
Travaillez-vous beaucoup avec les idées de théories féministes et queer et avec les corps ou bien était-ce un projet unique pour « Hot Mess » ?
Je crois que oui et j'essaie de rendre abstraites beaucoup de choses. Ce fut un facteur motivateur pour « Hot Mess ». J'ai l'impression que c'est important pour moi de solidifier mon identité même avant que je me mette à créer quelque chose. Il faut prendre le temps de respirer, s'hydrater et se reposer avant de faire le saut vers une création.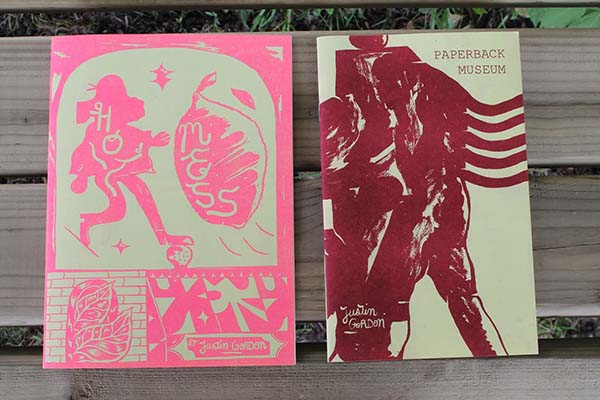 Hot Mess et Paperback Museum.
Avez-vous d'autres livres de planifiés ?
Mon prochain livre verra le jour avec la collaboration de Swimmers group à Toronto dont le but est de fabriquer des objets avec de l'argile et de peinturer plus de panneaux et de les prendre en photo. J'aimerais être plus spontané et faire confiance à mon intuition au lieu de garder la même tendance. Je crois que l'expérimentation est très plaisante et bonne pour la santé.
Est-ce qu'il y aura une narration?
Je pense que ce sera de courts extraits avec des récits qui diffèrent selon la plateforme. C'est comme une peinture ayant ses propres couleurs et son propre lieu pour ensuite faire le virage vers des dessins au crayon et voir comment ça se passe. L'année prochaine, je serai à Montréal pour suivre des cours sur la théorie des arts. Je m'amuse à voir les choses changer, car tout ce que l'on fait aujourd'hui nous amène aux créations de demain et à nos aspirations futures. Pour moi, c'est drôle de faire des entrevues, car je n'ai pas les réponses.
C'est correct ! Savez-vous quand votre prochain livre sera terminé ?
Non. Je prendrai le temps qu'il faut. Je vais y aller intuitivement. C'est trop facile pour moi de me mettre en « mode production » et de perdre du contenu. Avoir passé du temps dans un chalet dans le bois pendant l'été m'a donné la chance de me retrouver et de découvrir la vérité. Alors sans trop me ruer, je vais tenter de rester fidèle à moi-même.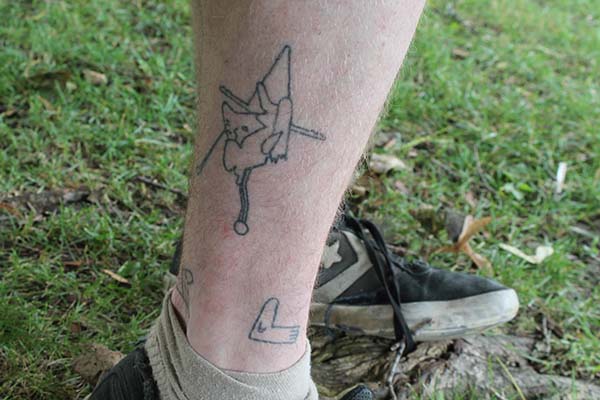 Le tatouage de Justin basé sur un dessin de Patrick Kyle.
Voulez-vous reconnaitre certains de vos camarades ?
Oui! J'aime beaucoup ce que Alicia Nauta fait avec Klassic Kool Shoppe. Tout le monde devrait connaitre le travail d'impression par code de couleur. C'est un travail impeccable. J'aime aussi les créations de Boogerbrie. Ils se démarquent par leurs vignettes avec un point de vue féministe. Jesi the Elder est l'une des meilleurs. J'ai une grande admiration pour le travail de Patrick Kyle. Il y a plein d'artistes qui sont une source d'inspiration incroyable. Il y a une communauté subculture qui a des superbes personnages. C'est pourquoi je fais des créations, afin de pouvoir côtoyer ce genre de personnes.
---
---
file under: Far Shores, Inferred Views.
birthed: 2016-06-13
Comments Off

on Far Shores // Inferred Views :: An Interview with Justin Gordon
---