New Canadiana :: FATHERS – Live @ The Vibrafusion Lab
---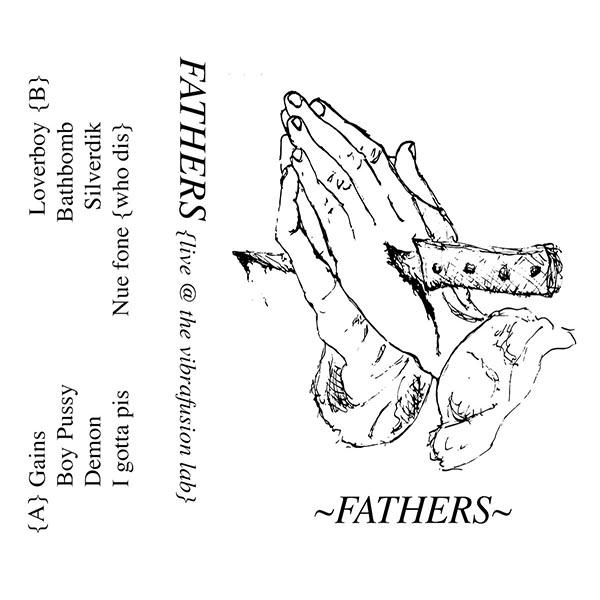 FATHERS
Live @ The Vibrafusion Lab
(Self-Released)
Toronto, ON
From the swollen finger muscles of Rachel Bellone:
Take your favorite dad jokes and turn them into dank memes. Then turn them back into dad jokes. In 30 years, dig them up out of a time capsule and write DIY punk riffs while eating a can of beans over the sink in your WW3 bunker. Even if you followed this recipe exactly, FATHERS could not be replicated. They were born from a web of underground Toronto punk bands and venues (RIP SHIBGB'S). FATHERS are both topical in content and timeless in style. I think it's safe to say we are all children of FATHERS.
Des muscles de doigts enflés de Rachel Bellone:
(Traduit par Julie Mayer)
Prends tes blagues poches préférées et transforme-les en mèmes d'enfer. Puis retransforme-les en blagues poches. Dans 30 ans, déterre-les d'une capsule temporelle et compose des riffs punk DIY tout en mangeant une boîte de haricots au-dessus de l'évier dans ton bunker de la Troisième Guerre mondiale. Même si tu as été fidèle à la recette, les FATHERS ne peuvent être reproduits. Le quatuor est issu d'une toile groupes et de salles appartenant au punk underground torontois (RIP SHIBGB'S). Les FATHERS ont à la fois du contenu actuel et un style intemporel. Je crois qu'on peut dire qu'on est tous les enfants des FATHERS.
---
---
---