New Canadiana :: French Pretzel – Kimono
---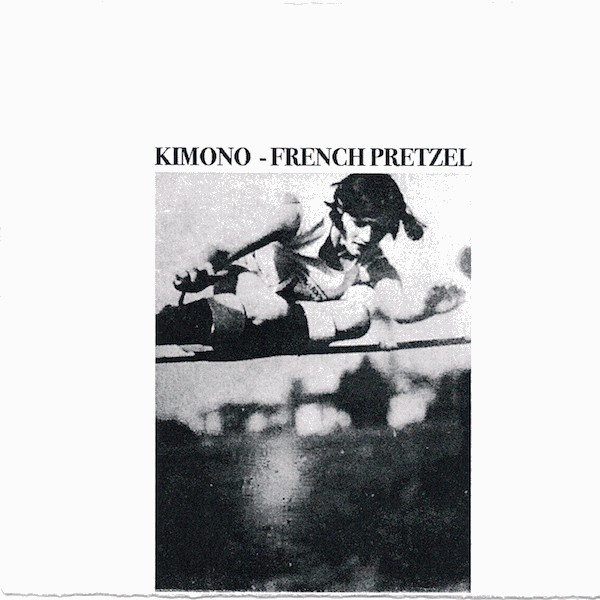 French Pretzel
Kimono
(Self-Released)
Halifax, NS
From the darkroom of Katie Jensen:
A militaristic march into a dark grove of trees, javelin spikes raised into the soft underbelly of clouds. Teeth bared, glinting like nacreous, dripping stalactites throwing diffused ire. Black trees shift like bad photocopies; migrating clusters of inky drops probe into smeared mountains and craggy falls. A metallic whirring tears open the sky, giving the thrumming bass and persistent drum cadence empyrean breathing room. Inside the forest, the mossy soil exhales into the folded hands of the canopy. A creeping mist wanders through spindly trunks, collecting samples that echo and absorb.
Par la chambre noire de Katie Jensen:
(Traduit par la forêt vrombissante d' Émily Traichel)
Un défilé militariste dans un bois sombre, pointes de javelots levées dans le bas-ventre doux de nuages. Les dents dévoilées, scintillantes comme des stalactites ruisselantes et nacrées, lançant de l'ire diffusée. Des arbres noirs se déplacent comme des photocopies ratées; des amas migrants de gouttes obscures sondent des montagnes brouillées et des falaises escarpées. Un bourdonnement métallique déchire le ciel, donnant à la basse vrombissante et à la cadence persistante de la batterie de l'oxygène empyréenne. À l'intérieur de la forêt, le sol moussu expire dans les mains repliées de la canopée. Une brume glissante erre à travers des troncs filiformes, recueillant des échantillons qui résonnent et absorbent.
French Pretzel – Boudoir Chez Bambou
---
---
---